UPDATE 20. July 2020: HOLDING THE WORLD TO RANSOM
UPDATE 08. July 2021: MISCONDUCT IN PUBLIC OFFICE
UPDATE 16. March 2021: Finding Remedy in a Corporate Criminal System. Max Igan
UPDATE 08. February 2021: Lawyer Serene Teffaha explains the Law & CLASS ACTION - Australian Bio-security act - forced medical measures & procedures
UPDATE 18. September 2020: Australia Considers Jailing All COVID19 'Conspiracy Theorists'
UPDATE 15. September 2020: Melbourne HAS PASSED a new law that will give permission to ANYONE who works in the government to arrest ANYONE with Covid-19 as the excuse. Anyone arrested will be indefinitely detained in a detention camp. WTF is UP down under??? This is crazy!!!
UPDATE 09. September 2020: Fascism Rearing Its Ugly Head In Australia.
UPDATE 08. September 2020: Australian Govt's OWN WEBSITE admits Covid tests are totally unreliable
UPDATE 05. September 2020: DANIEL ANDREWS MUST STEP DOWN! Anti-lockdown protesters confront police in Australia's Covid-19 hotspot demonstration in Victoria, where fascist premier Andrews extends Lockdown, and in the state capital of Melbourne.
UPDATE 04. September 2020: MEDICAL POLICE STATE TYRANNY: Australian police smash down the door of a man and violently arrest him for mentioning anti-lockdown protest
ICYMI: THE POWER OF NO! & Full Film: How they pulled off the 'pandemic'
PROLOGUE: That fascists are actually always wimps is once again proven by the fact that the Australian head of regime, Scott Morrison, cannot even bring Australia's most famous, most awarded and most honest journalist back home, and rescue Julian Assange from the blood-thirty fangs of his US-American and British 5-Eye buddies.
Australians Living the Covid New World Order Nightmare
By Rainbowwarrior - 03. September 2020
This is appalling. Billions of us have said many things. And if we want to stand up for our rights then, that is what we do. We have the right to be free.
Hello World! Australians need our help.
Anyone have any brilliant ideas?
This could be everyone, on the planet, if we don't all stand up for our freedoms.
Are there no world leaders who can stand against this kind of tyranny?
Oh right many of them are doing the very same thing. This is what insanity looks like.
Good on Sky News for getting this out there.
Victorian Police State Statistics
04. September 2020
In the last 24 hours Victorian Police have issued a total of 132 fines to individuals for breaching the Chief Health Officer directions, including:
13 for failing to wear a face covering when leaving home for one of the four approved reasons
42 at vehicle checkpoints
49 for curfew breaches
Daniel Andrews (picture above) and his Chief Health Officer plus Deputy Chief Health Officer Allen Cheng as well as the Victoria police commissioner must be put on trial.
Police conducted 3,776 spot checks on people at homes, businesses and public places across the state. A total of 383,332 spot checks have been conducted since 21 March.
Here is an update on that pregnant mother's arrest:
The Police should be ashamed of themselves. Talk about going after, extremely petty garbage.
They are now stalking people online as well. Only abusive people do things like that.
So the police are now abusive stalkers.
Maybe the abusive police and Andrews should be flushing themselves down the toilet.
They all should feel small enough, to fit in right nice.
And what did this offending post that warranted this heavy-handed raid say? What was its treasonous message? Simply: "Anyone from Ballarat please join us in our fight for freedom and human rights!"
Maybe everyone should open their windows and scream those exact same words.
Lets say, how about at Midnight, when the witching hour hits, as this is nothing more then a witch hunt. It would echo through the streets right nice. Just a thought. Everything sounds better at night. We are still allowed to think, are we not? Or is that right gone too?
Australia should be ashamed & appalled by this video of police handcuffing a pregnant woman for posting an anti-lockdown message
Urgent Message To Australia (No more Lockdowns!)
Not sure how long this will be there for. Odds are good Youtube will remove it, like they have many other videos. That censorship is a big thing now. They have to hide the truth.
Can't dare let anyone insight, freedom seekers. Obviously Andrews is a bit off and should be in a psychiatric hospital. Mentally ill people, make rash mistakes you know.
Urgent Message To Australia (MUST SHARE!)
•Aug 28, 2020 https://www.youtube.com/watch?v=_JuxFdvfKPE&feature=youtu.be
Mirrored from https://www.youtube.com/user/PathToAs... (If his Youtube channel gets banned - he is banned on Twitter and Fascistbook already check on BITCHUTE for "MORE TRUTH" or look for him on https://mewe.com/ or https://parlor.me/)
ALERT: Also LinkedIn, the unsocial BigTech network of professionals, is now compromised: Helen Edwards, the most prominent whistleblower standing against the widesprad governmental corruption in Australia was BANNED on LinkedIn - so better prepare for leaving LinkedIn too.
===
Fascism Rearing Its Ugly Head In Australia.
09 Sep 2020
There is a currently a 'Public Consultation' flying under the radar which proposes:

Temporary authorisation of unlicensed vaccines.
Reduction of liability for providers of vaccines, including issues with side effects.
Expansion of workforce to allow 'people who are not registered healthcare professionals, to safely administer a licensed or temporarily authorised COVID-19 or influenza vaccine.'
Here is the document:
https://www.gov.uk/government/....consultations/distri
===
COVID Cult Arrests Pregnant Mother in Her Home Over a Facebook Post
In front of her children
By Covid Pol Pots - 0
In a grotesque act of authoritarianism, Australian police have arrested a pregnant woman, in her own home, after she posted an anti-lockdown event on Facebook.
In a video of the arrest, a visibly distressed Zoe Buhler, 28, is handcuffed in front of her partner and children. She is told their laptops and other devices will be confiscated. She has now been charged with 'incitement'.
Buhler is the fourth person to be arrested and charged for incitement in the state of Victoria in the past few days, as police try to clamp down on anti-lockdown protests.
Freedom and democracy are disappearing in Victoria. Its capital, Melbourne, currently has an 8pm curfew in place. Residents breaching it can be fined $5,000. The state parliament's lower house has also closed completely.
And it's not just in Victoria that basic rights have been suspended in Australia. Astonishingly, Australians currently cannot leave the country without permission.
Civil liberties have been shelved in a previously free country. This is the dangerous road lockdown hysteria can lead us down.
Source: Spiked
===
===
UPDATES:
HOLDING THE WORLD TO RANSOM
First published on BITCHUTE July 20th, 2021.
"Man cannot be reduced to slavery if he is not distorted first. The politician and the priest have been in a deep conspiracy down the ages. They have been reducing humanity to a crowd of slaves. They are destroying every possibility of rebellion in man—and love is rebellion, because love listens only to the heart and does not care a bit about anything else." - Osho
===
No to Lockdowns, Masks and Vaccines
===
MISCONDUCT IN PUBLIC OFFICE
Re-Published on BITCHUTE July 8th, 2021.
===
Finding Remedy in a Corporate Criminal System. Max Igan
•Mar 16, 2021
Mirror from Max Igan Bitchute Channel. Very good information everyone should know. https://www.bitchute.com/channel/tj99... Derek Balogh Contact: or
===
Lawyer Serene Teffaha explains the Law & CLASS ACTION
re: Bio-security act - forced medical measures & procedures
Republished on BITCHUTE February 8th, 2021.
Original Video on GooTube already CENSORED
Lawyer Serene Teffaha explains the Law re: Bio-security act - forced medical measures & procedures..
Advocate Me is taking action in relation to the continuing Declaration of a State of Emergency across Australia and specifically in the States. We are also taking action in relation to the dangers associated with the fast-tracked COVID-19 vaccine approvals. We are also spearheading a number of actions to protect whistle-blowers including police officers and health professionals.
Due to the large number of people engaged in these actions, the only form of contact will be via submitting our forms. Once your details have been submitted we will contact you.
Serene Teffaha is the principal Lawyer of Advocate Me and has over 8 years experience in challenging Governments specialising in Whistleblower protections, Human Rights & Public Law and Administration. At this stage Serene will only be taking cases in relation to these class actions.
Advocate Me - Home | Facebook https://www.facebook.com/advocatemelawyers/
Advocate Me Lawyers (@advocatemelaw) | https://twitter.com/advocatemelaw
Advocate Me (@ advocate _ me ) • Instagram photos and videos https://www.instagram.com/advocate_me/?hl=en
===
Australia Considers Jailing All COVID19 'Conspiracy Theorists'
Australia Pushes New Measure To Detain COVID "Conspiracy Theorists"
By Tyler Durden - 18. September 2020
Weekend demonstrations have flared up in Australia over the last month, as Aussies have vented their frustrations and attempted to take back control of their communities after a surge in virus cases prompted the government to re-implement some of the world's most draconian social-distancing measures.
And if there is one thing that terrifies increasingly tyrannical governments, it's a loss of control of the narrative, which is why the Australian government is getting a jump start on curbing any so-called "conspiracy theorists" daring to spread information that questions the fear-mongering being used to keep Aussie citizens under lock and key.
A new bill is expected to be debated by the Victorian government in the State Parliament this week. It gives local authorities the power to detain "conspiracy theorists" and people who refuse to self-isolate, reported Caldron Pool.
If passed, the COVID-19 Omnibus (Emergency Measures) allows the government to detain anyone labeled as a "high risk" or likely to spread COVID-19 negligently.
A state government spokesman told The Age that the rule could be applied to "conspiracy theorists who refuse to self-isolate or severely drug-affected or mentally impaired people who do not have the capacity to quarantine." Those arrested under the new rule will be housed in quarantine facilities.
Attorney-General Jill Hennessy said the new bill would "allow us to continue responding to the challenges the pandemic presents, so we can keep protecting Victorians and delivering the services they rely on."
So far, many of the anti-lockdown demonstrations have been held on the weekends. At least 200 people were fined and 74 arrested at a protest in Melbourne on Sunday. If the bill is passed, some protesters would be rounded up and arrested, and could spend time in a quarantine facility.
Clearly, the government's intent to extend powers and detain conspiracy theorists and those who pose a risk of spreading the virus should be alarming to readers.
In a glimpse of what is ahead, authorities have already arrested a Melbourne woman for allegedly writing pro-anti lockdown posts on social media.
Notably, after widespread social media account deletions, TheConversation notes that QAnon has attracted a lot of followers in Australia, so what comes next? 'Re-education centers' for QAnons?
===
HEADS UP AUSTRALIA:
By JS - 15. September 2020
Melbourne HAS PASSED a new law that will give permission to ANYONE who works in the government to arrest ANYONE with Covid-19 as the excuse.
Anyone arrested will be indefinitely detained in a detention camp.
They throw everyone under this OMNIBUS.
That's obviously the type of thing Bill Gates wanted in that video where he praises Australia for going off the rails with Covid and says the rest of the world did not listen, so the next virus WILL get attention.
This is a major escalation of events in Australia, the actual government document that goes over this is here: COVID-19 Omnibus (Emergency Measures) and Other Acts Amendment Bill 2020
At this time, there are only 15 active cases of Covid in Melbourne yet they are pushing THIS through. Why???
READ & DOWNLOAD THAT LAW ... and YES, about half way down this crap is in there. WTF is UP down under??? This is crazy.
Separation of families, EVERYTHING is in this bill, all of which can be activated on hearsay against anyone, just like the communists want, with Commievid-19 as the excuse and cover for the actions needed in any communist takeover.
===
Australian Govt's OWN WEBSITE Admits Covid Tests are Totally Unreliable
Australian Govt's OWN WEBSITE admits Covid tests are totally unreliable – Therapeutic Goods Administration, a government office, claims there is "little evidence" to assess "clinical utility" of PCR or blood tests
By DAVID JAMES - September 8, 2020
Imagine going to a doctor suspecting you may have a serious illness and being told that there are 2 tests available. With the first test, a swab, they do not know, should you record a positive result, whether or not you have the disease. With the second test, a blood test, they know for certain that the test is of no value in detecting the disease.
Would a patient find that situation satisfactory? Obviously not.
Yet that is exactly what the Australian government is admitting is the situation with its coronavirus testing. It is on the Therapeutic Goods Administration web site for "health professionals":
The extent to which a positive PCR result correlates with the infectious state of an individual is still being determined."
And:
There is limited evidence available to assess the accuracy and clinical utility of available COVID-19 tests."
[We also have a screenshot, just in case they take the info down – Off-Guardian ed.]
In other words, what are risibly described as the health 'authorities' do not know whether, if a person tests positive, they are infected or not. The TGA also admits that the 'reliability of the evidence' is uncertain because of the 'limited evidence base'.
They know their PCR tests are dodgy and the serology tests are useless, so they are hiding it in plain sight in the hope that no-one picks up on it.
Yet testing positive is what is being called a 'case' (a word that usually applies people who are obviously sick) and the rise in so-called 'cases' is being used as the rationale for abusive and absurd lockdowns in Melbourne (where this writer lives).
Worse, most of the population has believed the propaganda and is more than willing to turn on any fellow citizens who have a different view, demonising them as 'so selfish' and cheering when they are subjected to fines of tens of thousands of dollars.
Meanwhile, the number of serious and critical patients (which should be the real definition of a 'case') has not risen above 70 in Australia since the pandemic scare started – in a population of 24 million. The per capita deaths are about 26 per million over a six month period, a fraction of the toll in other countries.
Worse, the same dodgy practices about causes of death have been followed in Australia as happened elsewhere. The chief health officer in Victoria admitted that they were not testing for the virus, just assuming that if there were flu-like symptom it must be COVID-19. Deaths by flu in Australia, it should be added, are running unusually low.
The blood tests are even worse. The Doherty Institute has tested about half a dozen of the serological (blood) tests and concluded in each case:
Overall, our findings continue to support recent position statements by the Public Health Laboratory Network (PHLN) and the Royal College of Pathologists Australasia (RCPA) that serological assays have limited, if any, role in the diagnosis of acute COVID-19 infection."
This conclusion has been replicated elsewhere. Beaumont Health in Michigan ran a longitudinal study, starting in mid-April, which was supposed to look at the rates of infection in health workers exposed to the virus. It was based on large scale serological testing.
So what was the study's conclusion (which was not easy to locate)?:
Higher quality clinical studies assessing the diagnostic accuracy of serological tests for covid-19 are urgently needed. Currently, available evidence does not support the continued use of existing point-of-care serological tests."
Same result: the blood tests are useless. You have to wonder why. The first explanation that comes to mind is that they don't have the information they need about the virus to reliably test for its existence.
The Doherty Institute in its test of a Chinese PCR kit used an artificially created virus. Why are they creating it artificially?
There are some serious questions to be answered here, but the Australian so-called journalists are, with some exceptions, not of a mind to ask any of them. They are too busy generating traffic by scaring people. So they mindlessly parrot the politicians' and health advisor's reasons for turning Victoria into a medical police state.
In Melbourne, there are lockdowns between 8 pm and 5 am, people being sent to jail for not wearing masks, police patrolling public places to ensure the health officer's dictates are being followed, violently if necessary, and other outrages.
The premier, Daniel Andrews, wants to extend the state of emergency for another 12 months so he can hand all decisions over to the Chief Health Officer and claim he is doing the right thing.
Both the politicians and the mainstream media quack endlessly about 'evidence-based policy' and 'following the science'. That is a lie.
They are relying on tests that, by the government's own admission, are not reliable. This is not conflicting views amongst 'experts'. This is the government itself. It is an extraordinary scandal and if there was a functioning media, the government would be exposed for gross incompetence and political aggression.
Victorian citizens who try to organise peaceful protests are being arrested in their homes and charged with 'incitement', whatever that means. The police have descended into total hypocrisy.
Author:
David James has been a business and finance journalist, editor, and satirical columnist for over 30 years. He has PhD in English Literature and his web site is bardbitesback.com
===
MELBOURNE / VICTORIA the PETRIE DISH EXPERIMENT FOR THE GLOBALISTS ... TYRANNY IS HERE and the MEDIA COMPLICIT. Having sold in a secret deal the 99year lease for the port of Melbourne to the CCP of Communist China, Premier Daniel Andrews is fully compromised and follows LOCKSTEP to the dot. The Australian port of Darwin is already compromised.
(ABC News)
Mr Andrews' LOCKSTEP roadmap examples:
Melbourne roadmap:
Regional Victoria roadmap:
They also have a number of other reports of things going on down under. At lease someone out there, is taking notice of what is happening. A few others also took note She made it around the world.
https://www.rt.com/op-ed/499726-victoria-police-arrest-pregnant-woman-lockdown/
They want to steal their children. Some one at WHO thought that was a great idea. I remember him saying just that. Take the kids or whoever from their homes. What a sick thing to say. Is Andrews and company really daft enough to follow that lead? The fellow from WHO should be fired of course. I did have a video of that one, but of course, like many things, was removed. If anyone has that, please do put it in the commemt section.
Australia: Authorities Give Themselves Power to Remove Children From Parents to Ensure COVID Compliance
https://summit.news/2020/08/19/australia-authorities-give-themselves-power-to-remove-children-from-parents-to-ensure-covid-compliance/?fbclid=IwAR2xckJsSfyiKXG7McXT6hT7Qzyv5fmS4hpawQCXfknMsXZK8IfTg2CBWGI
They want to force and experimental drug into them. One that could kill them or maim them for life.
Australia Prime Minister Puts Citizens On Notice: All Will Likely Undergo Mandatory COVID-19 Vaccinations
https://www.zerohedge.com/medical/no-jab-no-play-australian-leader-puts-citizens-notice-all-undergo-mandatory-covid-19?fbclid=IwAR09kv5ZSBQtosDPOFFskPTk1xRmrQBNASeYtCSJtU0a0mF7mYmN08JdqiA
MASKS MAKE PEOPLE MORE STUPID
I found a nice little article that's quite serious about it's title– that wearing a mask induces stupidity. I would add that the longer people are wearing masks, the worse the effect is. It's cumulative.
I think I have to agree with that report. Masks do make people stupider.
Be brave people you have over a 99 percent chance of not dying, from this so called virus. Throw down those masks. They don't help anyway.
The war we have, is the war against WE the people.
Fourteen Defining
Characteristics Of Fascism
https://rense.com/general37/char.htm
How they pulled off the 'pandemic' - an animated film explanation by David Icke
First published on July 24th, 2020.
We release this free of copyright and so please share, download and post wherever you can. Let's make this go globally viral.
We live in extraordinary times …
===
... and the lies continue:
Wear a mask while having sex, Canada's top doctor suggests
Dr Theresa Tam advises WHO She is just a tad bit nuts too. This is just so daft. I can't believe anyone, would say anything so stupid. I bet she wears a mask like all the time. See Australia, Canada has daft people too. Please never take her advise. But if you need to giggle this is the report to check out. To funny. Ignore the fake numbers and enjoy the show.,
https://montrealgazette.com/life/sex-files/wear-a-mask-while-having-sex-canadas-top-doctor-suggests/wcm/3c2d7a9c-e15f-48ad-b3f1-a5492859118a?utm_term=Autofeed&utm_medium=Social&utm_source=Twitter#Echobox=1599090595
THE COVIDIOTS IN THIS CASE ARE REUTERS NEWSAGENCY, THAT SPREAD IT ALSO INTO AUSTRALIA, AND THE SUN NEWSPAPER, A CANADIAN GUTTER-PRESS. THAT FURTHER DUMBED IT DOWN.
===
(ABC News: Margaret Paul)
Anti-lockdown protesters confront police in Australia Covid-19 hotspot demonstration in Victoria state capital of Melbourne
Several of the protesters chanted "freedom" (ABC News: Margaret Paul)
By Jessica Riga -
More than a dozen demonstrators have been arrested in Melbourne on Saturday after hundreds of people ignored social restrictions to protest over the city's stage four lockdown. From Video: Reuters
Protesters against a Covid-19 lockdown defied police in Australia's hotspot on Saturday, prompting 15 arrests, even as the state of Victoria continued its gradual improvement in stemming new cases due to the nearly five weeks of restrictions.
Around 200 protesters in the state capital Melbourne rallied with chants of "freedom" and "human rights matter", surrounded by swarms of police.
One of the arrests was for assaulting police, while others were arrested or fined for breaching health restrictions, Victoria police said in a statement.
"It is not safe, it is not smart, it is not lawful. In fact, it is absolutely selfish for people to be out there protesting," state Premier Daniel Andrews told a news conference.
Victoria reported 76 new Covid-19 infections and 11 deaths on Saturday. Mr Andrews is due to outline plans on Sunday for easing Melbourne's stage 4 restrictions, which shut large parts of the economy, required everyone to stay home except for essential business and imposed a night curfew.
There were two rallies in Sydney and one in Byron Bay in the state of New South Wales, which also breached local restrictions against large gatherings.
No arrests as hundreds protest in Brisbane
A number of protesters are at Brisbane's botanical gardens for Saturday afternoon's Freedom Day Protest.
A police spokesman said no arrests had been made and that hundreds of people are at the site.
Authorities are monitoring the scene.
200 people rally in Adelaide
About 200 people have rallied in Adelaide to protest against government coronavirus restrictions, a possible vaccine and privacy breaches.

The peaceful protest started in Rundle Park before the crowd moved from East Terrace along North Terrace to South Australia's Parliament House.
More from the protests happening in Perth
Kenneth and Charmaine were at the rally in Perth.
"We're here just to share our solidarity with our fellow human beings in Victoria, that are locked down at the moment," they said.
"They can't go about their own business, what they want to do, and we're concerned about that.
"Our economy is going to crash because if we don't start opening up borders and letting people have freedom of choice to do what they want to do, how are we going to exist?
"We're going to have homelessness, we're going to have people without jobs because of all of this, so we need to have the freedom to decide what we want with our bodies and our time."
Author:
Jessica Riga
===
'Rise like Lions after slumber
In unvanquishable number,
Shake your chains to earth like dew
Which in sleep had fallen on you -
Ye are many - they are few.'
Percy Bysshe Shelley - Shelley wrote the poem about the events of 16 August 1819, when cavalrymen charged reform campaigners in St Peter's Field, leaving 15 dead and 700 injured. It was dubbed the Peterloo Massacre.
===
MEDICAL POLICE STATE TYRANNY: Australian police smash down the door of a man and violently arrest him for mentioning anti-lockdown protest
By Mike Adams - 04. Septmber 2020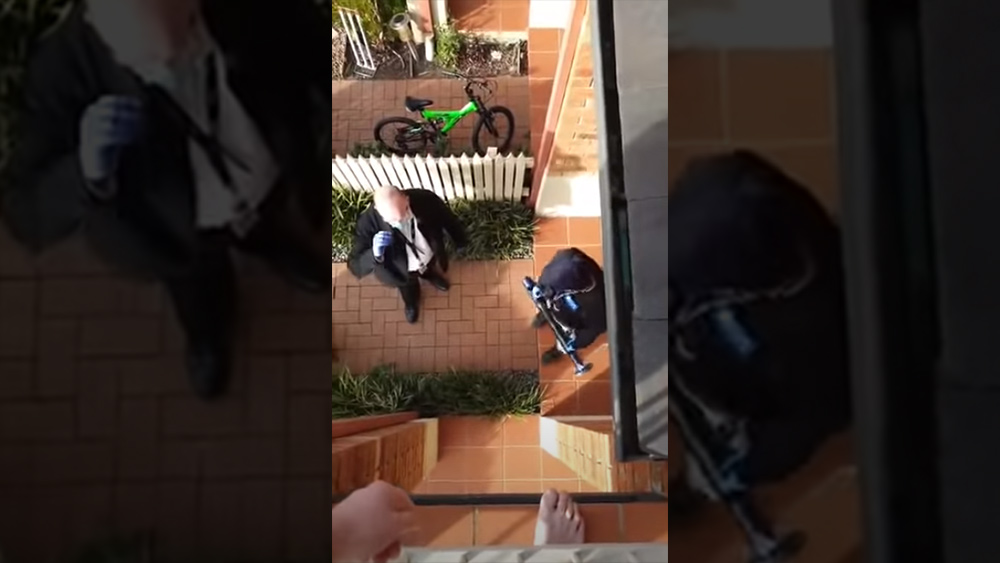 There's more breaking news out of Australia, where a full-blown medical police state is now raging out of control, arresting and imprisoning people for merely linking to peaceful anti-lockdown protest events.
The latest police state tyranny event involves a man named James Bartolo, who was arrested after Victoria police smashed his front door and violently arrested him in the hallway of his home.
As LifeSiteNews reports, "James Bartolo, formerly a soldier in the Australian Army, filmed police arriving at his home in Melbourne, breaking down his door with a battering ram and arresting him on the morning of Sept. 3."
Like Zoe Buhler, the pregnant mother arrested at home by Victoria Police officers earlier this week, Bartolo was arrested for 'incitement' after publicizing an anti-lockdown protest this coming weekend.
Here's the scene that went down:
Brighteon.com video link:
Brighteon.com/4635c8dd-fa49-4f5e-a516-bc588cc200cc
"A 27-year-old male who was arrested at the address has been charged with incitement, possession of prohibited weapons and two counts of resisting police," said a police spokeswoman. The "prohibited weapons" were Samurai swords, which are apparently illegal in Victoria, Australia, which is rapidly descending into a COVID-19 slave camp run by out-of-control lunatic tyrants seething with a desire for power over others.
Bartolo hosts the Conscious Truth Network website which explains its mission, "to expose the evil in the world and in Australia and to elevate your level of consciousness to new heights."
He further explains on his site:
I stand for choice, freedom and elevated consciousness. Having served in the Australian army, I know first hand just how bad the system is. I vowed to do whatever it takes to change that corrupt and failed system. I have always known there was something terribly wrong with the world and from a very young age was certain I would have an impact in fixing this broken planet. My personal mission is to help wake people up and the together we can serve justice to the corrupt, twisted and sick individuals, corporations and entities who have caused such massive harm to the people of this world. After justice has been delivered, then we can focus on creating the world we are all happy to live in peacefuly together.
According to LSN, Bartolo is facing a $20,000 fine for his online post.
If you can reach Bartolo, we would like to invite him for an exclusive interview for "Brighteon Conversations." He can contact us through Brighteon support.
Listen to my podcast on this topic, covering how Australia is being transformed into a medical police state in preparation for the pandemic death camps that are coming.
Brighteon.com/2a5f55c2-6af1-4133-ad09-ca64fcacc092
===
Melbourne cops may now enter homes without warrant, after 11 people die of Covid – Australia, this is madness, not democracy
By Guy Birchall - 04 .August 2020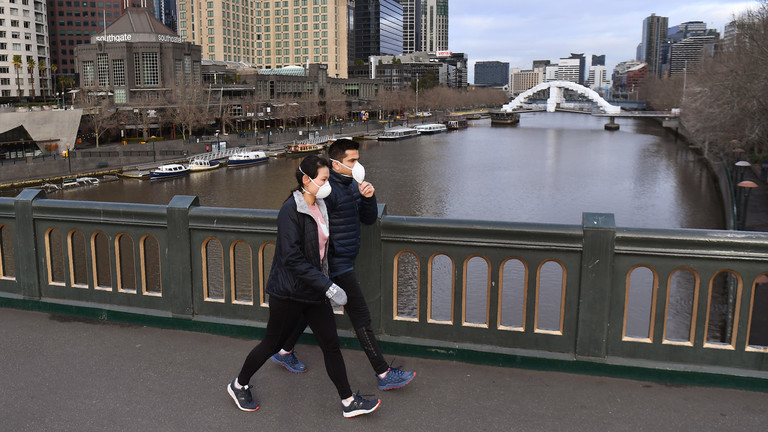 FILE PHOTO. © AFP / William WEST Australia's second-largest city is now subjected to some of the most extraordinary Covid-19 lockdown measures on the planet, and all over an additional eleven deaths.
A total of 147 people have lost their lives to coronavirus in Victoria, making it undoubtedly the worst hit area of Australia, which has only experienced 232 deaths in total. However, internationally these are vanishingly small numbers, even adjusting for population.
Australian Defence Force personnel are helping Victorian health authorities doorknock positive cases. (AAP: David Crosling)
Recently the Victoria government ramped up testing and, predictably, it has seen an uptick in cases. They discovered 671 new cases of coronavirus on Sunday and, sadly, eleven more people were found to have died with the illness. That's up from 295 new cases last Wednesday, but down from 723 on Friday.
This uptick prompted Andrews to impose the kind of restrictions on the lives of five million people in Melbourne that would have looked harsh in 1950s East Berlin. Desperate Dan's authoritarian greatest hits include:
A six-week curfew from 8pm to 5am across the entire Melbourne metro area, with the only exceptions being work, medical care and caregiving

Outside those curfew hours the only reasons to leave your home are: shopping for food and essential items, care and caregiving, daily exercise and work.

Daily exercise can only take place within a 5km radius of your home, cannot last longer than an hour and can't be with more than one other person.

You cannot buy more than two units of certain essential items, including dairy, meat, vegetables, fish and toilet paper.

Masks are compulsory when outdoors, across the entire state.
All these measures are extraordinary, but the piece de resistance has to be that now police officers can enter homes with neither a warrant nor permission. This is an astonishing violation of civil liberties. Police officers should not be allowed to demand entry to a property without cause or due process. They especially shouldn't be allowed on "public health" grounds when the median age of Australians who have died from or with Covid-19 is exactly the same as the nation's average life expectancy - 82 years old.
The reason the police now have these draconian powers is that the situation in Melbourne has been upgraded from a "state of emergency" to a "state of disaster." The last time a state of disaster was declared in Victoria was in January of this year, when a huge swathe of it was literally on fire. How can a 1.2 million-hectare bushfire that destroyed at least 200 homes warrant the same alert level as the admittedly upsetting deaths of eleven care home residents, all of whom were over 70 and one over 100? Deaths of this kind are undoubtedly tragic for the friends and families of the deceased, but are not normally cause for government action, let alone the effective house arrest of an entire city.
Australia has a reputation of being a carefree kind of place, "where beer does flow and men chunder" in the immortal words of music heroes Men at Work. While, in my experience, this is certainly true of the people, the governments, both state and federal, can be extraordinarily strict. Anyone who has ever flown there will be familiar with how monumentally concerned thelanding card is about whether or not you have been within 50 feet of an animal in the last month and if, for some baffling reason, you are trying to bring soil into the country. But even by their standards this lockdown is extreme.
Closed playing grounds in Australia
Take this statement from state commandant, sorry I mean premier, Andrews. As he was bringing these new restrictions he told Victorians: "There is literally no reason for you to leave your home and if you were to leave your home and not be found there, you will have a very difficult time convincing Victoria police that you have a lawful reason."
How can a politician in a free country even conceive of uttering a statement like that? In a free country you don't need a reason to leave your home, you can just go out, that is what freedom means. As if it were not bad enough that you can't leave your house without being muzzled and without a "lawful reason" under this new regime you can't even remain in your house unmolested by the cops, they can just pop 'round anytime to make sure you haven't had Bruce and Sheila from next door round for a couple of drinks. All over a disease that is simply not that fatal.
Putting the numbers into perspective, a total of 221 people in Australia have died from Covid-19 so far this year. In 2019, 1,146 people died on the roads, that evens out to around three deaths a day and makes driving statistically five times more fatal than coronavirus. Surely by the Victorian tinpot dictator's logic this means cars should be banned immediately? After all, people are dying.
What makes this decision even more insane is when one looks at flu statistics for 2019. Last year more than 310,000 Australians were hospitalised with flu and over 900 died. By all metrics that makes flu a worse threat than Covid-19 but police weren't granted Stasi-like powers during the flu season. Millions of people weren't confined to their homes and threatened with AUS$5,000 fines for not having a good reason for being out of their homes.
By some (social) distance, this reaction by Daniel Andrews and the state of Victoria has to be one of the most extreme in the world and seems to be born more out of panic than concerns for public safety. Victoria, and Melbourne in particular, has the highest rates of Covid-19 in Australia, this is true, but they are still vanishingly small with an even lower fatality rate. Government is not supposed to panic, and public officials should have worried far more about abolishing freedoms, regardless of the reasons behind the measures.
Especially when those reasons backed up with facts like four million tests having been carried out across Australia, with less than one per cent coming back positive.
Author:

Guy Birchall - British journalist covering current affairs, politics and free speech issues. Recently published in The Sun and Spiked Online. Follow him on Twitter @guybirchall
READ MORE: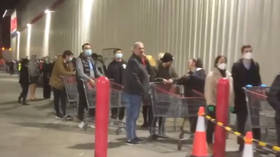 This again? New coronavirus lockdown triggers second wave of panic buying in Australia (VIDEOS)
Face masks at home: The latest sign that public health officials have lost any sense of perspective
Australia to close border between two states for first time in 100 years after Covid-19 makes comeback in Melbourne