UPDATE 19. March 2021: EU Breaks Solidarity Against Ethiopian Atrocities
UPDATE 01. January 2021: Ethiopian forces killed scores in June-July unrest, report says
UPDATE 09. December 2020: Ethiopian opposition party calls for release of its leaders
UPDATE 03. November 2020: PROLOGUE: The US-inspired soft-coup by installing the former intelligence operative Abiy Ahmed as Prime Minister, who earlier worked for decades for the Tigrai installed governance in Addis Ababa, is coming to an end. Now the federal state of Tigrai has closed its borders and airspace while Abiy Ahmed annouced to send federal troops to quell the uprising, though actually federal soldiers are defecting in large numbers. The Oromo, the largest ethnicity and state in Federal Ethiopia, have since long seen him as traitor, who just continued to oppress them, though he is half-Oromo. The Oromo Liberation Army therefore has expelled now Amhara, the other ethnic half of the Ethiopian leader from their territory in Wagalla in Western Oromiya, but the Anglo-American media decry this in a completely distorted way in order to hold their poster boy in power, whom they bestowed even with a peace-nobel prize to make the fake picture perfect.
UPDATE 18. October 2020: POLITICAL PRISONERS HELD IN ETHIOPIA WITHOUT DUE PROCESS
UPDATE 04. October 2020: Irrecha celebratiations bogged down by security forces using medical-martial law.
UPDATE 02. October 2020: Hachalu killing: Suspects 'charged with terrorism' & Deaths at Saudi Arabia detention centre for Ethiopians
UPDATE 30. September 2020:
Over 500 Youth arrested by Ethiopian security forces all over Oromiya ahead of the annual Irrecha traditional festival of the Oromo to be clebrated on the coming weekend. The medical-martial law will be used by the dictatorship to curb and hamper the event.
UPDATE 21. September 2020: Top Ethiopia opposition figure Jawar Mohammed 'proud' of terror charge
DEMAND TO RELEASE ALL POLITICAL PRISONERS FROM ETHIOPIAN JAILS !!!
UPDATE 19. September 2020: Ethiopia charges opposition figures with terrorism
UPDATE 10. September 2020: Ethiopian Opposition Leader Charged With Terrorism & POLICE BRING SEVERAL ONN JOURNALISTS, OTHERS TO COURT; SEEK CHARGES ON LINKS WITH ARMED GROUP, INCITING VIOLENCE
UPDATE 05. September 2020: Over 100 mostly women arrested today by regime forces in Habe town and Shashemanne town from the renewed demonstrations held by Oromo women in many towns of Harargee and Arsii zones.
UPDATE 04. September 2020: Why there are fears that Ethiopia could break up. & Berlin Demo: FREE ALL POLITICAL PRISONERS IN ETHIOPIA!
UPDATE 04. September 2020: Due to the international uproar about the conditions under which Ethiopians are held in Saudi detention centres, the Ethiopian government under PM Abiy Ahmed, which had declared earlier that it would not accept them to be brought home, now changed and stated they would allow a certain number to be flown to Addis Ababa. But especially those of Oromo or Tigray nationalities would only agree to voluntary repatriation if not handed over to the regime of Abiye Ahmed. Tigray and Oromiya have declared they would welcome them to be directly flown into their homelands. UNHCR and IOM are mum so far.
UPDATE 03. September 2020: Ethiopia tried to silence its own citizens stuck in hellish Saudi detention centres & Oromo-Frauen Demo in Berlin / Germany: Free all political prisoners! & Qeerroo: from 'revolt against subjugation' to 'popular uprising against tyranny'
The Government of the United States of America has stopped funding the regime of Prime Minister Abiy Ahmed in Ethiopia. Now Canada, Germany and the rest of the EU as well as the AU and UN must follow swiftly.
By Mustefa Ebro - 02. September 2020
After Ethiopia's Prime Minister Abiy Ahmed, a high-ranking intelligence officer of the previous regime, double-crossed the very people who brought him to power, he gradually is now realizing this as the gravest mistake he made so far during his lifetime. His former supporters have turned against him, who is for one the USA – having been behind the soft-coup - and more importantly the Oromo people, which supported his stage-managed power-grab based on his false promises.
Meanwhile also the Oromo in the diaspora are curbing Abiy Ahmed's diplomatic struggle on the international plane, and the Oromo Youth at home are stalling the regime's economy wherever they can.
The Oromo communities, which previously seemed to be divided into the camp of those opting for a free and independent Republic of Oromiya - under their traditional and world-renowned Gada system of just governance and peace - and those, who believed the Oromo questions could perhaps be answered by keeping Oromia within the context of a Federal Ethiopia, are now at once and for all times reunited in their demand for their full freedom and independence.
In this the Oromo from all walks of life are fully united - country-wide as well as internationally - and stand against the Ethiopian federal government that kills, jails, rapes and robs the Oromo people, the Oromo Nation and also many people of the other nationalities within Oromiya as well as in the other territories of the federal realm.
Surrounded by questionable advisors, the undeserving 2019 Nobel peace-prize winner became the worst dictator in Ethiopia's leadership history.
According to Human Rights Watch, ECOTERRA Intl. and Amnesty International, as well as Activists across the globe, many verified reports of targeted murders, mass arrests, torture and extrajudicial killings of Oromo are on record for the past few years - even assassinations abroad.
Since 29. June 2020 and the political assassination of Artist Hachalu Hundessa, the Oromo communities across the world are staging a non-stop protest that is strongly counter-acting and depleting Abiy Ahmed's diplomatic egg-dance.
The Ethiopian PM, Abiy Ahmed who was celebrated during his first six months in office for his extraordinary gestures such as opening up of political space, freeing political prisoners, widening freedom of speech and making peace with Eritrea, became now the most hated dictator among the very people he claims to be his own - though he is only half-Oromo - and all other nations and nationalities of what is called Ethiopia today, despite the fact that the real Ethiopia is located in Sudan and the regime is based more or less on what was called Abyssinia before.
In the history of the Oromo struggle for freedom and democracy, the Oromo people paid a very bitter price and yet learned a very important lesson. But during the past 40 years the Oromo people in the diaspora - most of them former refugees - never took to such coordinated and targeted action and employed measures that crippled the state's image and diplomatic standing. Today many U.S. Senators and 62 members of the U.S. Congress wrote strong letters to the State Department of the USA about their serious concerns and the brutal human rights violations committed by the present regime ruling the Ethiopian state.
Some U.S. as well as Canadian Senators clearly and openly came out and joined the protest and expressed their intention to help in the struggle of the Oromo people for their freedom.
Just last week and as soon as the news of the visit to Sudan by the U.S. Secretary of State, Mike Pompeo, was made public, Abiy Ahmed gathered an entourage of journalists and camera-wo/men together and flew to Sudan to seek a photo op with Mike Pompeo for his political grand-standing.
But the Oromo activists immediately launched a worldwide twitter storm and a social media campaign urging the U.S. Secretary of State to avoid meeting the Ethiopian PM.
The graphic images of slaughtered youth, women and children - killed by government forces - flooded Mike Pompeo's twitter page. Even though multiple requests were made by Abiy Ahmed, Mike Pompeo outrightly refused to meet him even for a single hand shake and photo opportunity - as leaked reports from the PM's inner circle show.
A likewise leaked video-clip then showed distressed and embarrassed Abiy Ahmed being held in a waiting area, while restlessly scanning the surroundings.
Mike Pompeo then tweeted, what most interpreted as him referring to Abiy Ahmed's regime as a threat, and bluntly stated: "Free nations must work together to confront authoritarian threats".
The very next day the USA announced that it would withhold 1.8 million USD of foreign aid to Ethiopia due to Ethiopia's position on the Grand Renaissance Dam (GRED) dispute with Sudan and especially Egypt, though the present severe flood of the river Nile somehow justifies the retention of the waters from the Ethiopian Highlands and use them to fill the dam.
At the #Ethiopian embassy in Berlin the #qarre & #qerro are since the 01. of September occupying the street, demanding justice for Haacaalu & freedom for all political prisoners with #OromoProtests.
The strong Oromo group in Germany has been on it since the beginnng of July after the asassination of Hachalu Hundessa:
"Hin sodaanu!" We are not afraid!#OromoProtests #JusticeForHaacaaluu pic.twitter.com/VsobEkPi9X

— diasporadical (@rootedroute) July 10, 2020
Meanwhile on the ground inside Ethiopia the Qerro [also Qeeroo Oromoo or Qeerroo, from ቄሮ ኦሮሞ = Qero Oromo, sometimes written as Qero or Qeeyroo (for the male Oromo Youth Activists)] and Qarre (or Qaaree or Qare for the female Oromo Youth activists) are engaged in a series of specifically targeted and direct actions on the economic constructs of the regime and are overall paralyzing the country's infrastructure.
Above all, and that became a nightmare for the Prosperity Party (PP) of the ruling regime, the unexpected women-only march that flooded the East-Oromian town of Awaday in Hararge rocked the news. Thousands of brave women and girls took to the streets with slogans such as:
- and overwhelmingly:
#Abiy Must Go (aggregator)
#Abiy Must Go (already censored and deleted by twitter)
"Hin sodaanu!" We are not afraid!
as well as the general #oromo protest campaign.
It must be recalled that Hararge in Eastern Oromia was the birthplace of the Oromo Liberation Front (OLF), from where it grew and from where it got to this point today. The political consciousness of the Eastern Oromiya people is exceptionally mature and sophisticated. While the government was still recovering from the embarrassment they faced in Awaday, the West Hararge town of Hirna launched likewise an all-women protest, followed by the same in Bordode - another West Hararge town. But despite the peace agreement and the full registration as party, the OLF offices in Addis Ababa have been frequently raided by regime forces, equipment destroyed and staff detained in unknown locations.
The saddest part is, that Abiy's mad soldiers rounded up those brave and peacefully protesting women and kidnapped them them into to a military camp. A young woman told Voice of America (VOA) that there are now reports of torture and rape committed against those arrested women and girls.
It is evident that the Qerro and Qarre achieved the tasks of their sabotage operations targeting the governace of the regime, though the price is high for the activists.
Their demand is clear: Free the political prisoners! Free our land! Abiy Must Go!
At the same time Qerro from the diaspora came up with very new ways of protest, like occupying the Ethiopian embassies. The Oromo youth in England for example shut down the embassy in London for a week, brought down the Ethiopian Flag and raised the Oromo resistance flag - known as OLF flag or as some call it "Qoricha Budda", literally meaning the "Medicine Against the Evil Spirit".
Qerro and Qarre in Seattle / Canada, Stockholm / Sweden, Amsterdam / The Netherlands, Minnesota and Washington DC / USA, Berlin / Germany and Ottawa / Canada all occupied and forced the Ethiopian Embassy to be out of business for almost two weeks now. The Oromo Community is on hunger strike outside @NorwayMFA protesting Norway's support to the brutal regime in Ethiopia. The reason? Gross human rights atrocities, rapes, killings and imprisonments of political opponents by the regime! For more follow: https://t.co/y0ujbv0Bdv
The corrupted Ethiopian embassy officials were seen pleading with the British police officers to arrest those protesting youngsters, but London is not Addis Ababa and in several instances we have seen police assisting and congratulating those young activists for exercising their God-given and constitutional rights.
Museba Taha , a student shot and killed by Ethiopian security forces in her own house. We can't protest on streets without getting killed or jailed. Now things has reached another level..getting killed in our own house. @SecPompeo @amnesty @UN_Women @AJEnglish pic.twitter.com/IHsxs0KFif

— Samuel Bekele (@SamBekeleGerba) September 2, 2020
Meanwhile in Saudi Arabia detained Oromo refugees and others, who are migrants, are held in squalid conditions and are tortured, but Abiy Ahmed refused to have them returned to their homeland. What a shame! International condemnation now rains on Saudi Arabia and the Ethiopian regime.
The Telegraph was able to geolocate two of the centres through encrypted channels. One of the sites is Al Shumaisi in Western Saudi Arabia near the holy city of Mecca. CREDIT: Google Earth Pro
The Oromiya Nation and the governance of Tigray have communicated to the Saudi ruler that the detained can be flown directly into the local airports, while Addis Ababa, where the land-grab continues, is refusing.
The portion shown encircled in the map is the official map of Addis Ababa pre-1987. All the rest is annexed by evicting Oromo farmers from their land, many of whom have become destitute or were only employed by the illegal settlers as guards and daily labourers. #Ethiopiahttps://t.co/36M586Mei7
#AbiyMustGo #AbiyMustGo #AbiyMustGo
Author:
Mustefa Ebro is a Canada-based Human and Oromo Rights Activist and a Registered Nurse. He can be reached via
R.I.P Hachalu Hundessa
===
UPDATES:
EU Breaks Solidarity Against Ethiopian Atrocities
19. March 2021
Ethiopia and the European Union (EU) have held consultations on their future cooperation for the next 2021-2027 period. The discussion focused on incorporating Ethiopia's 10-year development plan and EU's development policy in a draft document prepared regarding their future cooperation. Ethiopia is the largest aid recipient from EU in Africa under the post-Cotonou Agreement.

L'Éthiopie et l'Union européenne (UE) ont tenu des consultations sur leur future coopération pour la prochaine période 2021-2027. La discussion a porté sur l'incorporation du plan de développement décennal de l'Éthiopie et de la politique de développement de l'UE dans un projet de document préparé concernant leur future coopération. L'Éthiopie est le plus grand bénéficiaire de l'aide de l'UE en Afrique dans le cadre de l'accord post-Cotonou.
===
PROLOGUE: This report by the Ethiopian Human Rights Commission (EHRC) - a governmental entity - is a two-edged sword: It tries to fool Western observers and media into believing that there would be an outspoken human rights organization in Ethiopia defending the people, while in reality it is just part of the governmental regime PR. It only "reports" on atrocities, which already have been properly documented by independent organizations and monitors to an extend that they can no longer be denied, but then EHRC injects "reason" for the governmental atrocities and misdeeds. In this case it is worst, because with the report under the headline ‹‹IT DID NOT FEEL LIKE WE HAD A GOVERNMENT›› EHRC plays the role to "demand" stronger governmental action, like "Based on recognition that an atrocity crime can occur in Oromia or in other regions elsewhere in the country, it is imperative to design and set up a comprehensive atrocity crimes prevention mechanism." Such means in the Ethiopian context only stronger laws and more powers to oppress the people. And no word about the opposition figures Abiy Ahmed still has holed up in th infamous Ethiopian prisons as political prisoners. Based on their reporting it is clear that at least the BBC and Deutsche Welle got fooled by this report - or are mainstream media in support of the current regime. Abiy Ahmed, however,should finally realize the famous song by Bob Marley: "You can fool someone sometimes, but you can't fool all the peole all the times."
Ethiopian forces killed scores in June-July unrest, report says
By DW - 01. January 2020
Ethnic violence erupted in Ethiopia after the killing of singer Hachalu Hundessa. A local human rights watchdog says Ethiopian security officers used "highly questionable" force.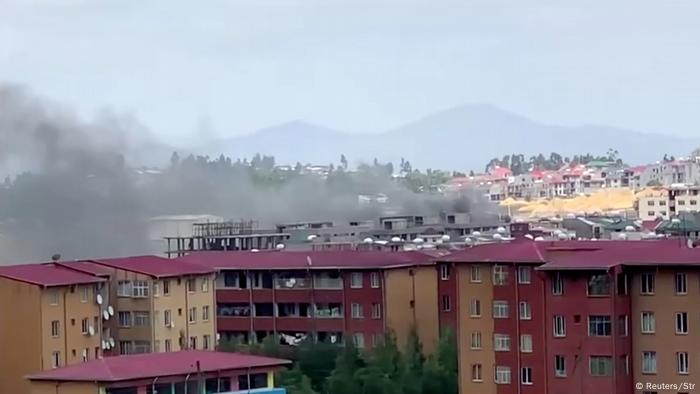 Smoke rises from Addis Abeba in Ethopia a day after singer Hachalu Hundesa's assassination
Ethiopia's security forces were responsible for 76 deaths during the unrest following the killing of popular singer Hachalu Hundessa, a local human rights watchdog has found.
The Ethiopian Human Rights Commission (EHRC) said in a report published on Friday that Ethiopian security officers employed "highly questionable" force while trying to restore order. It also found evidence of ethnic violence and crimes against humanity amid the chaos.
The death of Hundessa, an Oromo singer-songwriter who was shot dead on June 29, 2020, sparked weeks of violent protests in Ethiopia. It also again laid bare ethnic conflicts in the East African nation, which is home to more than 80 different ethnic groups.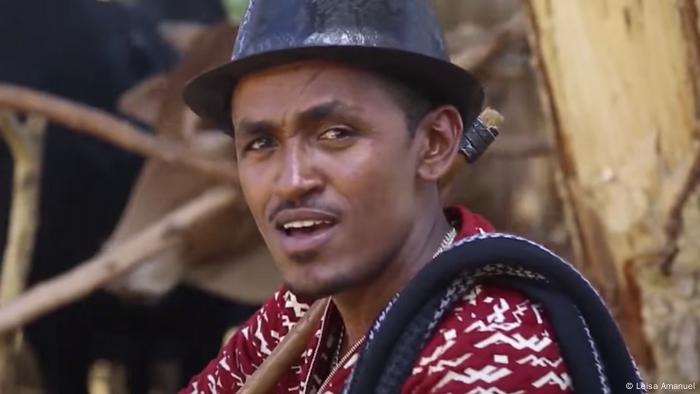 Hachalu Hundessa, an Omoro singer-songwriter and activist, was shot dead in June 2020
What did the EHRC report say?
During the unrest following Hundessa's death, groups of attackers injured and killed people in a gruesome manner, including through torture and beheading," according to the report.
Across some 40 Ethiopian localities the EHRC investigated, at least 123 people were killed and at least 500 others injured from June 29 to July 1 of last year. Nearly 6,500 were displaced and at least 900 properties were looted, burned or vandalized during the unrest, the report said.
The human rights watchdog said 76 deaths and at least 190 injuries could be attributed to government security forces.
"While it is understandable that security forces had the challenging task of restoring order in the face of such widespread violence, the proportionality of the force employed in some contexts is highly questionable," the report said.
The report also said that security forces failed to respond to repeated calls for help. Witness statements claimed that police sometimes stood watching as attacks took place.
The EHRC called on the Ethiopian government to investigate suspected incidents of excessive force and hold those security officers to account.
Government yet to respond
Prime Minister Abiy Ahmed's government has yet to comment on the EHRC's findings.
Abiy, who faces a general election on June 5 of this year, has struggled to quell ethnic violence in Ethiopia during his two and a half years in office. His government conducted an aggressive military operation in the northern Tigray region, which, according to the United Nations, displaced more than 1 million people.
The unrest following Hundessa's assassination was not related to the Tigray conflict, but it's another sign of tensions straining the country.
===
Ethiopian opposition party calls for release of its leaders
By Bekele Atoma Boru - 09. December 2020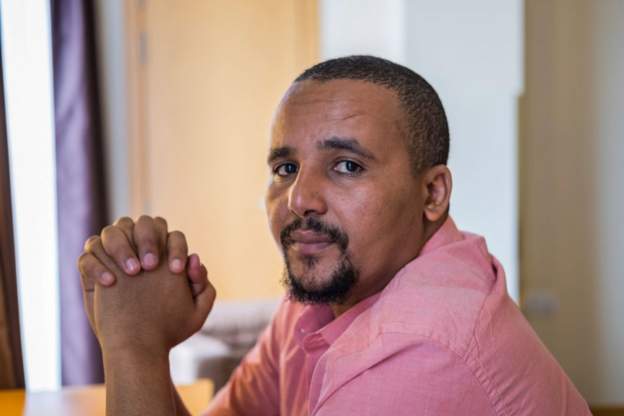 Ethiopia's main opposition party, the Oromo Federalist Congress (OFC), has called for the release of its jailed leaders, saying it was difficult to prepare for elections without them.
In a statement, the party also demanded its closed offices be opened and for the right to freely campaign across the country before the elections.
The general election had been planned for August but was postponed to next year but a date has not been announced.
The OFC said those in prison include potential candidates, organisers and election observers.
Senior party leaders including its vice-chairperson Bekele Gerba and prominent member Jawar Mohammed were arrested in July following violence that rocked the country after the killing of Hachalu Hundessa, a popular singer and activist.
They are now facing terrorism charges.
Last week Prime Minister Abiy Ahmed met and discussed plans for the election with opposition and civic society leaders.
He re-affirmed his government's commitment to free and fair elections.
===
POLITICAL PRISONERS HELD IN ETHIOPIA WITHOUT DUE PROCESS
Kanneen Hiree Isaa Qabdan Waan Armaan Gadii Kanaa Qaamoota Dhimma Laaluun Gahaa! ---
''Date Octobet 18, 2020
To Amnesty International East Africa (Nairobi, Kenya)
To Human Right Watch East Africa To Ethiopian Human Rights Commission
To Laetitia Bader Director, Horn of Africa
To FDRE Federal Attorney General
To President of the Federal Supreme Court of Ethiopia
Purpose: Request the court to respect our constitutional rights.
Baatuu/Zuway
As we mention our name below, following the assassination of Artist Haacaaluu Hundeessaa during June, we have been arrested arbitrarily on date 25/10/2012E.C and the security forces did not possess court warrant or any document that authorizing us to the arrest.
We are in prison almost for four months in Baatuu police station (Former youth center).
The court order the police for evidence and the police did not submit any evidence on us for the case we have been detained. The police closed the case after pretrial investigation result found on us has been confirmed evidence-less.
Following this, we request the court for bail.
But, Baatuu town court has dismisses our right to bail motion, the right to bail guaranteed under Article 19(6) of the Federal Democratic Republic of Ethiopia.
The court has not ordered the prosecutors for further case investigation. We are not been allowed bail and are not supposed to be released. There has no charge or case to be seeing on us by the court until October 19/2020.
We are neither verdict nor released from police station. We are not been held for proceedings and are not released on bail from prison.
We request the court to respect our constitutional rights.
Name of Prisoner--Position in Opposition party
1. Tedese Elu, OLF Head at Batu office
2. Mengistu Teshite, Vice OLF Head at Batu office
3. Derejje H/Mariyam, KFO youth head at Batu office
4. Tammiru Roorisa, OLF member
5. H/Xaahaa Gelaso, PBO Head at Batu office
6. Dekebo Guto, OLF Member
7. Abiti Dule, ODA Head at Batu office
8. Dalee Tushuru, KFO Members
9. Mammush Wondifirew, OLF member
10. Lemma Tulu, KFO member With regard!''
Signatures:
===
Ethiopia's Oromos celebrate thanksgiving amid tight security
By Kalkidan Yibeltal - 04. October 2020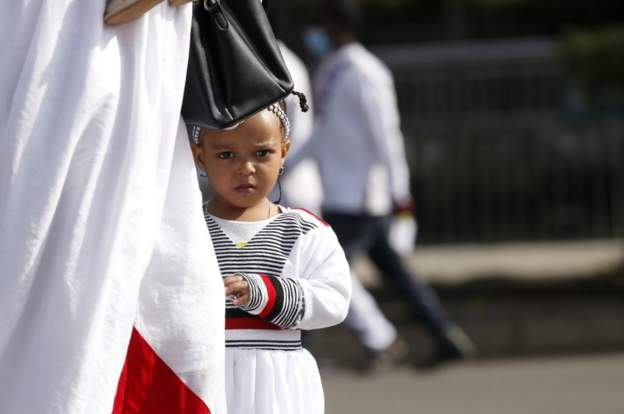 Copyright: AFP
In Ethiopia an annual thanksgiving festival observed by the country's largest ethnic group, the Oromo, has been held amid tight security due to fears of political unrest.
Unlike previous years only a few thousand attended the event, known as Irreecha, in the capital Addis Ababa and the town of Bishoftu.
The authorities said this was to stop the spread of the coronavirus.
Ahead of the festival police said they had arrested more than 500 people who had been planning to cause unrest and a terror plot had been foiled.
However, the festival is being held at a time of growing anti government resentment amongst the Oromo population, the authorities may have feared the festival would be used as a platform for protests.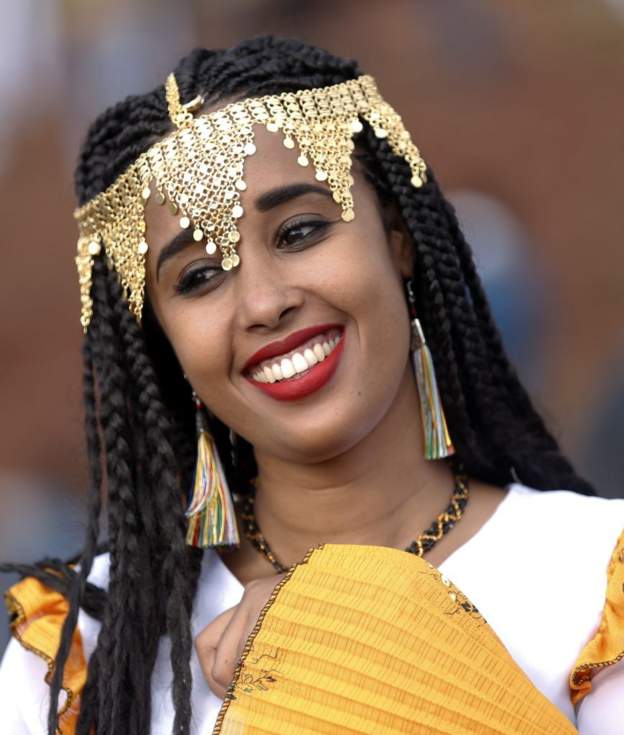 Copyright: AFP
===
Hachalu killing: Suspects 'charged with terrorism'
02. October 2020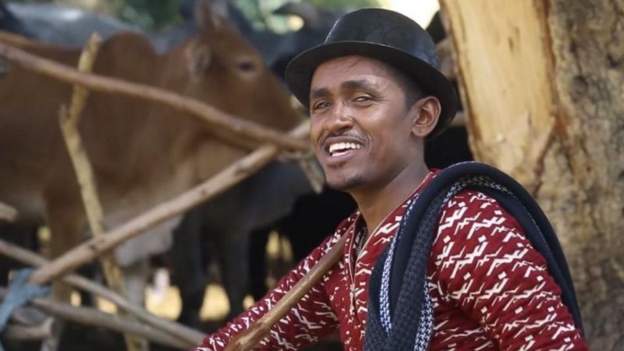 The Ethiopian authorities have charged the four people accused of killing popular musician Hachalu Hundeasa with terrorism, the Reuters news agency reports, quoting a spokesman for the attorney general.
Hachalu's death in late June led to a wave of protests during which more than 150 people died.
Thousands have been arrested in relation to the trouble, including politician and former media mogul Jawar Mohammed, who himself has been charged with terrorism.
Reuters quotes the Ethiopian Broadcasting Corporation as saying that the suspects who are accused of killing Hachalu are believed to have been colluding with others to kill several prominent people.
===
Deaths at Saudi Arabia detention centre for Ethiopians - Amnesty
02. October 2020 (see also earlier report below)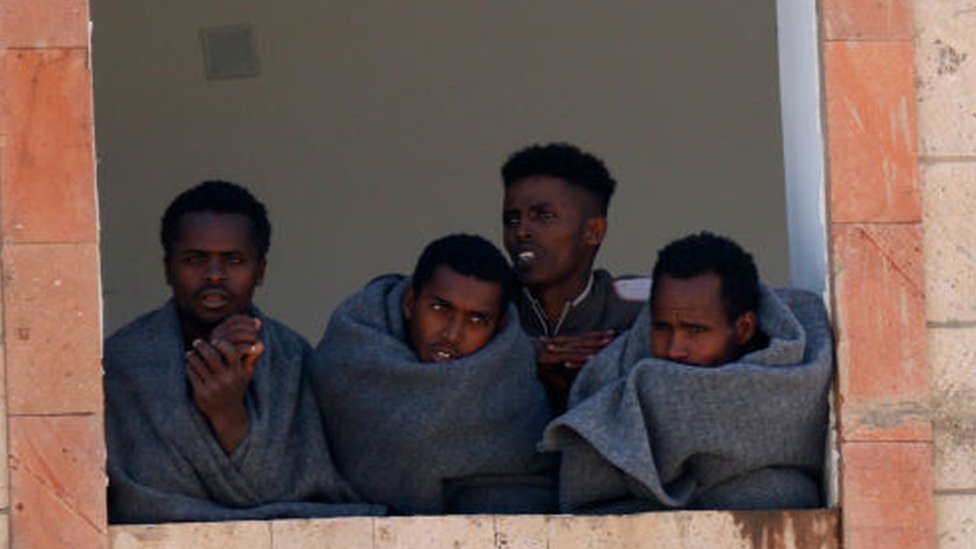 At least three people died in detention centres housing thousands of Ethiopian migrants in Saudi Arabia, rights group Amnesty International says.
The migrants were facing "unimaginable cruelty" - including being chained together in pairs, and using their cells floors as toilets, the rights group said.
It also urged Saudi authorities to improve conditions of the centres.
The detainees were expelled from neighbouring Yemen.
The migrants from Ethiopia and other countries had been working in northern Yemen but were forced out by Houthi rebels, Amnesty said.
According to UN's International Organization for Migration (IOM), some 2,000 Ethiopians remain stranded on the Yemeni side of the border, without food, water or healthcare.
Thousands of Ethiopians go to Saudi Arabia for work, making the kingdom nation a key investor and source of foreign remittances for Ethiopia.
Saudi Arabia has also been cracking down on illegal migrants.
There were up to 500,000 illegal migrants from Ethiopia in the country when Saudi authorities began the operation in 2017, according to the IOM.
At least 10,000 Ethiopians on average were being deported each month, but earlier this year Ethiopian officials requested a moratorium because of the coronavirus pandemic, news agency AFP reports.
In recent months, Ethiopia has struggled to create enough space in quarantine to welcome the people back and make sure that they are not bringing coronavirus with them.
Dead bodies
Amnesty interviewed 12 detained Ethiopian migrants about conditions in the al-Dayer detention centre, Jizan central prison, and prisons in Jeddah and Mecca.
Conditions are especially dire in al-Dayer and Jizan, where detainees report sharing cells with 350 people, Amnesty says.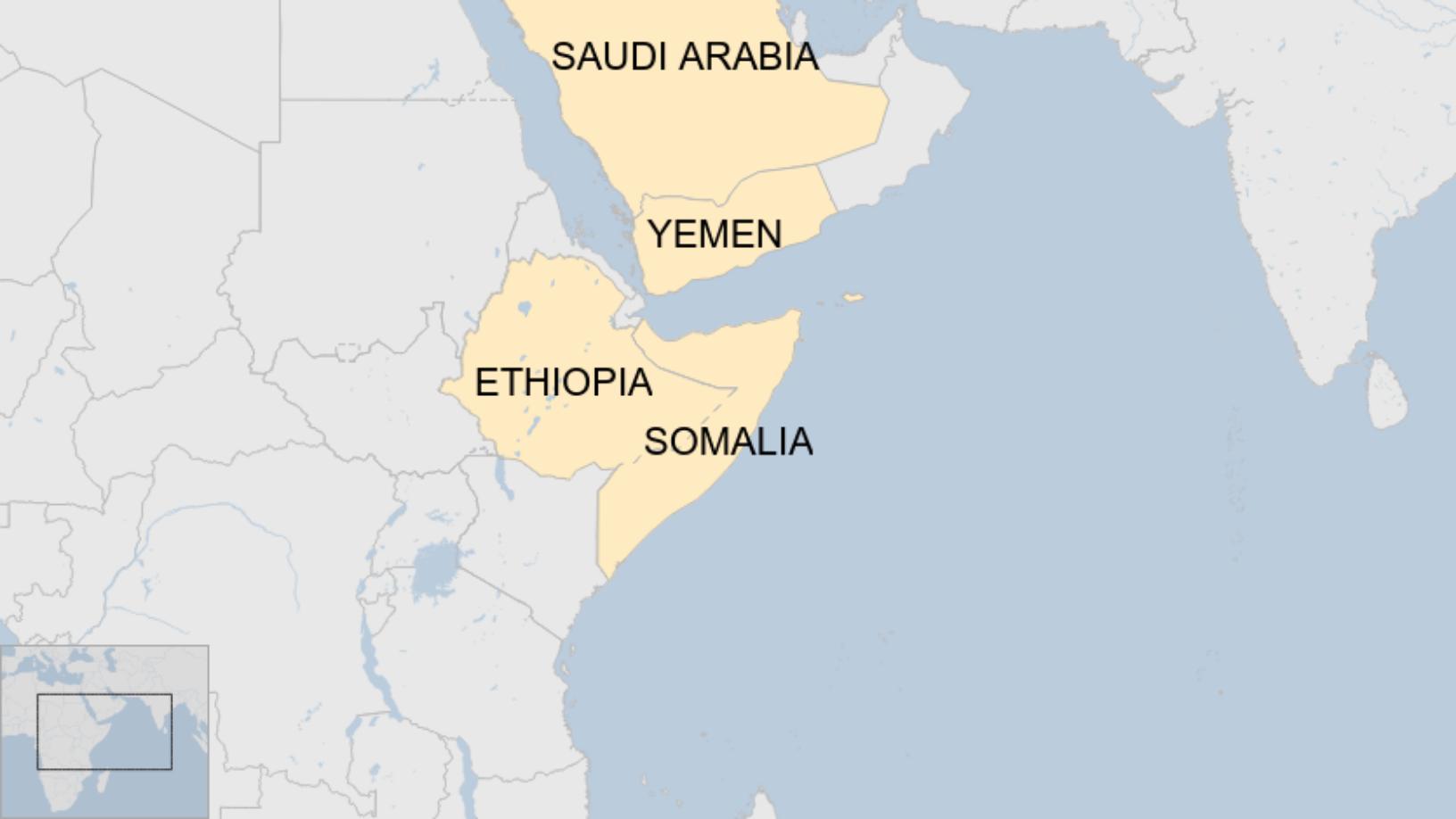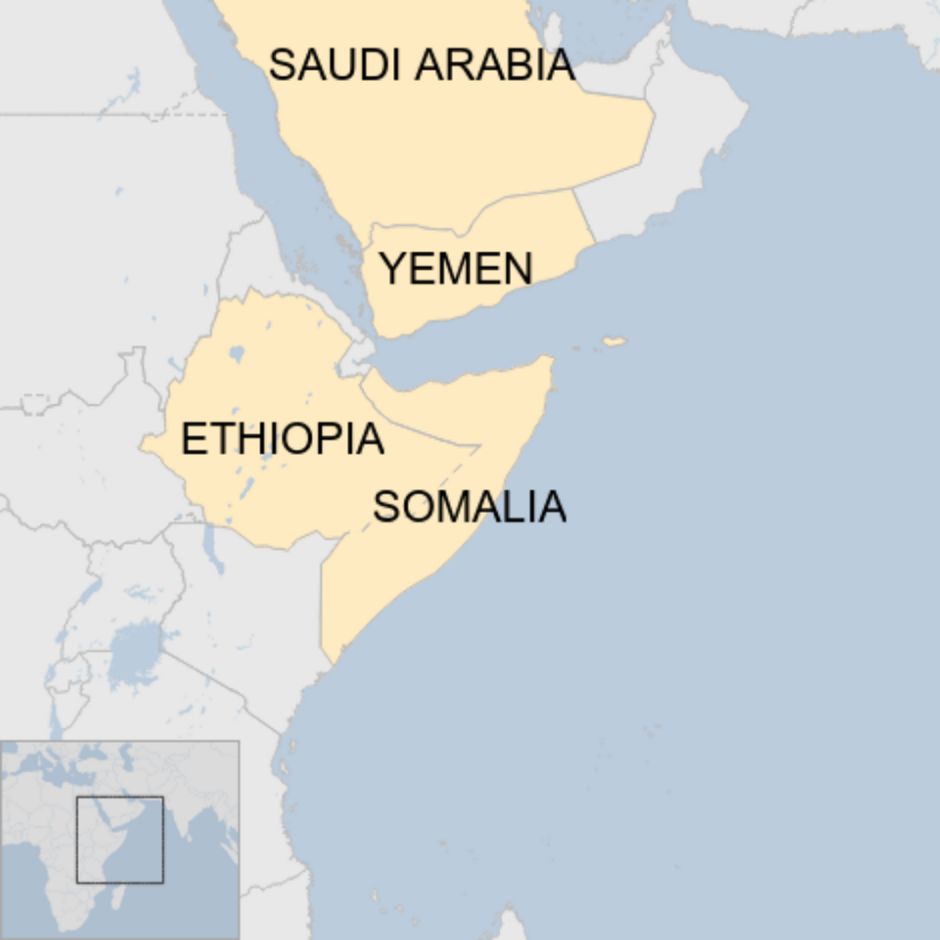 The organisation said two migrants reported personally seeing dead bodies of three men - from Ethiopia, Yemen and Somalia - in al-Dayer.
"However, all those interviewed said they knew of people who had died in detention, and four people said they had seen bodies themselves," the report said.
Amnesty said the allegations have been corroborated by videos, photos and satellite imagery.
The rights group urged the Ethiopian government to urgently facilitate the voluntary repatriation of its nationals, while asking the Saudi authorities to improve detention conditions in the meantime.
Ethiopia plans to repatriate 2,000 detained migrants by mid-October, Tsion Teklu, a state minister at Ethiopia's foreign ministry, told AFP last month.
She said the total number of Ethiopian migrants in Saudi detention facilities was 16,000 earlier this year but that it had since gone down.
Last month three migrants told AFP that visiting Ethiopian diplomats had warned migrants to stop speaking out about detention conditions.
===
Jawar Mohammed: Top Ethiopia opposition figure 'proud' of terror charge
By BBC - 21. September 2020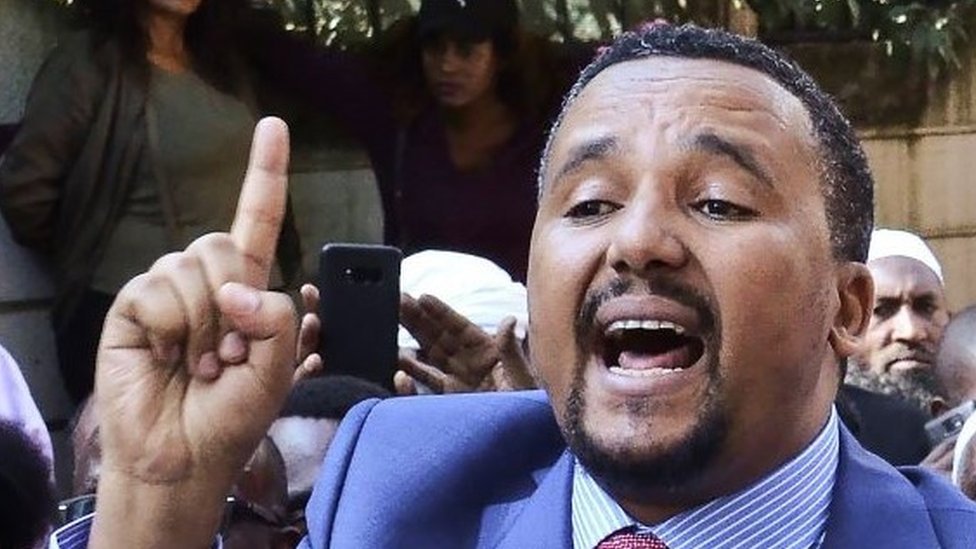 Leading Ethiopian opposition figure Jawar Mohammed has told a court in the capital that he was "proud" to have been charged with terrorism.
The influential former media mogul was not admitting guilt but accusing the government of targeting opposition figures like him.
Mr Jawar was charged alongside 22 other individuals and one media house.
The charges relate to a wave of ethnic unrest that followed the murder in June of popular musician Hachalu Hundessa.
More than 150 died in the violence after the ethnic Oromo performer was gunned down in Addis Ababa.
Mr Jawar, the 22 others and the Oromia Media Network (OMN), which he used to run, are being charged with terror and firearm offences and telecom fraud.
The exact details of the charges have not yet been released but they have been accused of fomenting the violence.
This was the first court appearance since the charges were made public on Saturday. Mr Jawar has been held since 30 June.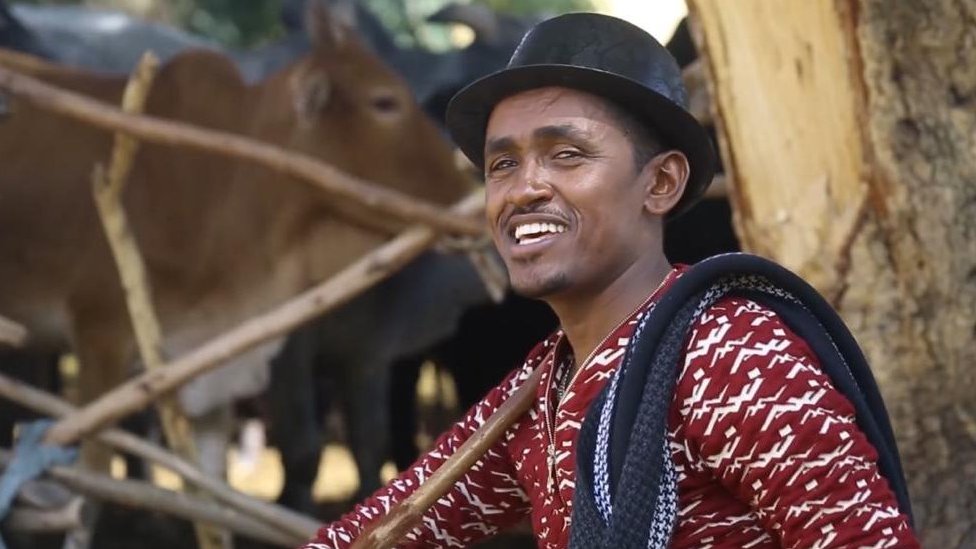 Dressed in a suit in the Addis Ababa court, Mr Jawar seemed tired, as if his 12-week detention had taken its toll, the BBC's Kalkidan Yibeltal reports.
But when he started speaking he was his old, fiery and energetic self, our correspondent adds.
"I am proud to be charged with terrorism for the second time in my life," he told the court.
He had been charged before, while living in exile in the US, for his work with the OMN, but the charges were dropped when reformist Prime Minister Abiy Ahmed came to power in April 2018.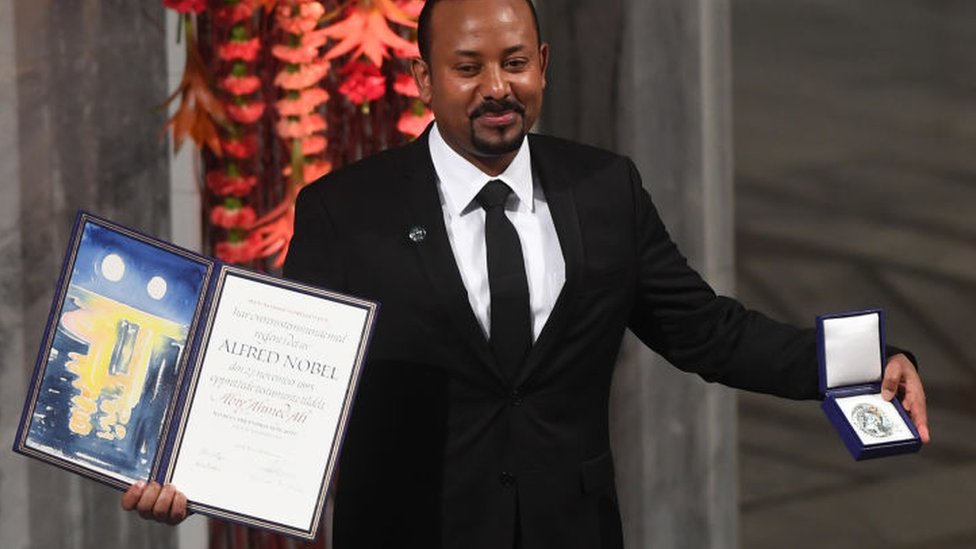 In court, Mr Jawar accused the government of locking up anyone they suspected of being a strong opponent in the next election. He said the authorities had seen that his party, the Oromo Federalist Congress, was more popular than the governing Prosperity Party.
Elections were due to take place in August but were postponed because of the coronavirus pandemic.
A former ally of Mr Abiy, Mr Jawar has criticised the Nobel Peace Prize winner for not having done enough to address the long-felt grievances of the Oromo people, which they both belong to.
In an opinion piece published online by the Economist on Friday, Mr Abiy said people opposed to his reforms were harvesting the seeds of inter-ethnic and inter-religious division and hatred.
He came to office promising an end to decades of authoritarian rule, but this case along with other arrests have led some to accuse the government of harking back to its old methods.
But Mr Abiy said that "demagogues and... those who peddle hatred [were] using the ethnic and religious diversity of our nation as a tool of division".
Ethiopia charges opposition figures with terrorism
By BBC - 19. September 2020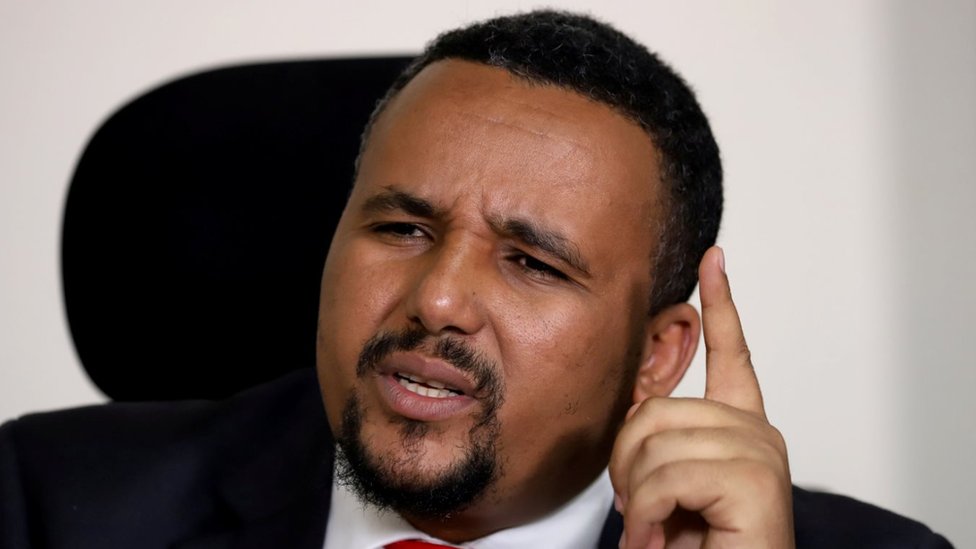 Prominent opposition figures are among 24 people charged with terrorism in Ethiopia.
The charges were laid in connection with a wave of ethnic unrest which followed the killing of popular Oromo singer Hachalu Hundessa, leaving more than 150 people dead in late June.
The country's attorney general said the group would appear in court on Monday.
Critics have accused Prime Minister Abiy Ahmed of locking up those who oppose his government.
Jawar Mohammed - a media mogul turned opposition politician with a huge following among young people in Oromo - was among those charged. He was arrested in July as security forces cracked down. His lawyer dismissed the charges announced on Saturday as baseless.
A former ally of Mr Abiy, Mr Jawar has criticised the Nobel Prize winner for not having done enough to address the long-felt grievances of the Oromo people, the group which they both belong to.
In an opinion piece in this week's Economist, Mr Abiy said people opposed to his reforms were harvesting the seeds of inter-ethnic and inter-religious division and hatred.
A number of other critics, some of whom are not in the country, were also named as being among the group of suspects.
According to a statement posted by the attorney general on social media, they have also been charged under telecom fraud and firearms laws.
Rights groups have criticised the fact that it has taken weeks for any charges to be brought against them.
At least 166 people died in the days which followed the killing of Hachalu, 34, back in June.
The father-of-two was seen as a hero in Oromia. His songs focused on the rights of the country's Oromo people, Ethiopia's largest ethnic group, and became anthems in a wave of protests that led to the downfall of the previous prime minister in 2018.
The motive remains unclear. Hachalu had said he had received death threats.
===
Ethiopian Opposition Leader Charged With Terrorism, Lawyer Says
By Samuel Gebre and Simon Marks - 10. September
Four members of the Balderas party are among those accused
Charges relate to violence in wake of musician's assassination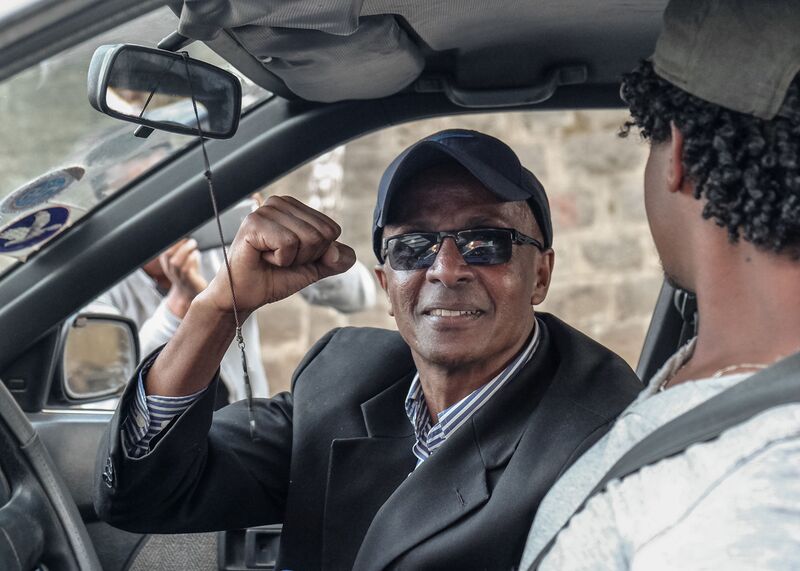 Eskinder Nega in 2018. Photographer: Yonas Tadesse/AFP via Getty Images Ethiopian authorities charged an opposition party leader and seven other people with terrorism following violent protests that erupted in the capital earlier this year after the killing of a musician.

Eskinder Nega, the leader of the Balderas for Genuine Democracy party, was accused of inciting clashes and seeking to overthrow the government through violent means, according to his lawyer, Henok Aklilu. Four other members of Balderas are among those charged, he said.

"I believe this is politically motivated," Henok said by phone Thursday. The charges were reported earlier by the state-affiliated Fana Broadcasting Corp.

Authorities arrested more than 9,000 people during the protests in Addis Ababa, which were sparked by the assassination of Haacaalu Hundeessa on June 29. The singer-songwriter was a popular voice during protests by the Oromo, Ethiopia's biggest ethnic group, for reforms in the ruling Ethiopian People's Revolutionary Democratic Front that led to the appointment of Prime Minister Abiy Ahmed in 2018.

Eskinder was sentenced to 18 years in prison on terrorism charges under former Prime Minister Meles Zenawi, but was released after seven years when Abiy came to power.
===
Ethiopia: News Update - Prosecutors File Terrorism, Criminal Charges On Eskinder Nega Et.al
By Mahlet Fasil @MahletFasil - 10. SEPTEMBER 2020
Addis Abeba — The federal prosecutors have charged Eskendir Nega, founder and leader of the opposition Balderas for Genuine Democracy, with terrorism, and four others with criminal charges (two of them in absentia), at the Federal High Court Lideta Branch.
News Alert: Federal prosecutors have filed terrorism charges on @eskinder_nega, leader of the opposition party @BalderasAddis & two others with him. Criminal charges were also filed on 3 other defendants in the same file at the Fed. High Court, FBC said.
- Addis Standard (@addisstandard) September 10, 2020
Henok Aklilu, Eskinder's lawyer, told Addis Standard that the charges were brought against the defendants in their absence and they are yet to receive copies of the charge sheet. Henok said he first heard the news from state affiliated Fana Broadcasting Corporation. Henok is the currently at the premises of the Federal Court waiting for more information on the nature of the charges, he said.
#Ethiopia court sentenced Keleb Seyoum, executive member of the opposition Unity Party in #Gonder, to 4yrs in prison on terrorism charges https://t.co/16ng8qFNZj
- Addis Standard (@addisstandard) May 23, 2017
Addis Standard has learnt that in addition to Eskinder, Sintayehu Chekol, another senior member of Balderas party, Keleb Seyoum, former executive member of the opposition Unity Party and is originally from Gonder, Amhara regional state, are among the seven charged today. Like Eskinder, Keleb was serving a prison term after being convicted of terrorism before the release of political prisoners in March 2018. She was arrested in Addis Abeba while looking for a job soon after her university graduation. A mother of one at that time, Keleb was nursing her first born when she was convicted of terrorism.
It is not clear if Keleb and Sintayehu are the other two defendants facing terrorism charges. The remaining defendants are: Askale Demmissie, Getnet Bekele, Ashenafi Aweke and Tithawi Gebremedihin (the later two in absentia).
#Ethiopia: @AddisPolice detained Eskinder Nega, founder & leader of the opposition party Balderas for Genuine Democracy today from his office, lawyer Henok Aklilu told AS's @MahletFasil. He added that the police didn't say why Eskinder was detained, nor where he was detained at. pic.twitter.com/n6dcjvpGOU
- Addis Standard (@addisstandard) July 1, 2020
Eskinder, Sintayehu and Keleb were arrested in the first week of July following the June 29 assassination of prominent Oromo artist Hachalu Hundessa. The police accused them of inciting violence in Addis Abeba in the aftermath of the assassination.
===
POLICE BRING SEVERAL ONN JOURNALISTS, OTHERS TO COURT; SEEK CHARGES ON LINKS WITH ARMED GROUP, INCITING VIOLENCE
BY MAHLET FASIL - 10. Septmber 2020
Addis Abeba, September 10/2020 – The federal police have brought 22 people, including eight journalists, camera crew and technicians working for the online based Oromo Media Network (ONN), at the Federal First Instance Court Arada Branch on September 09.
On September 05, the police raided Kaku Mame Oromo Traditional Cuisine Restaurant, located in Lideta Sub City, Awash Insurance Bank Building, 5th floor, and arrested a total of 29 people who were taking part in a New Year special program production for ONN. The detained individuals include ONN crew, artists and other invited guests.
The police brought 22 of the 29 detainees to the Court yesterday where they sought additional 14 days to remand and investigated them. Seven of the 29 were already released.
Tuli Bayissa, one of the lawyers, told Addis Standard that the police accused the detainees of preparing to incite violence in collaboration with the armed group Oromo Liberation Army (OLA), a group the government is currently involved in military engagements in western and southern Oromia regional state. The lawyers deny the accusation and said the detainees were arrested while filming a special program production for Ethiopia's New Year, which will be celebrated tomorrow. Broadcast media houses often organize holiday specials from known places such as hotels, restaurants and other entertainment places.
The investigation file is opened in journalist Desu Dula name, Tuli said, adding that yesterday, the judges have adjourned the hearing for today. This is the second time in as many months that Dula is being held in police custody. In March, Oromia police arrested two journalists, Dula and Waqo Nole, from the network while they were visiting a prisoner in Burayu town, in Oromia Regional State Special Zone Surrounding Finfinne, some 25 km north of the capital Addis Abeba. They were both released since.
During Yesterday's hearing the judges allowed a 10, 000 birr bail for Artist Garumma Hunde, who was severely ill and has collapsed during the hearing. Garumma is on 16 different types of medication for health complications, Tuli said.
During today's hearing, the court allowed the police seven days (beginning from the day they were arrested) to remand and investigate the and subsequently adjourned the next hearing until Saturday September 12.
Author:
MAHLET FASIL @MAHLETFASIL
===
===
Why there are fears that Ethiopia could break up
After Oromiiya now also Tigray goes it own way.
By Desta Gebremedhin - 04. September 2020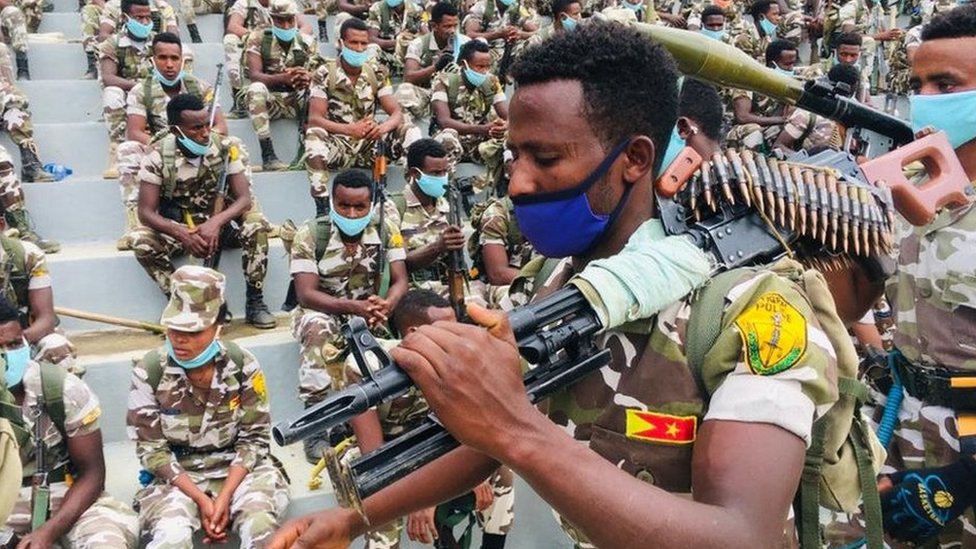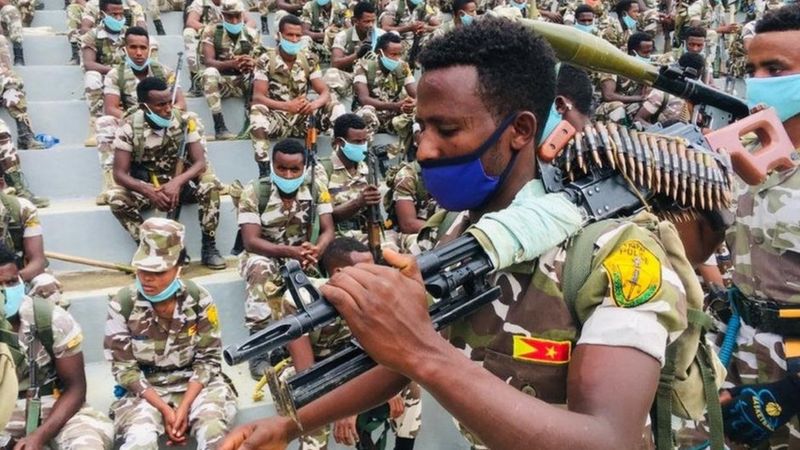 The feud between Ethiopian Prime Minister Abiy Ahmed and the ruling party in the strategically important Tigray region is escalating, raising fears of military confrontation and the break-up of Africa's second most-populous nation.
The tensions revolve around the regional government's decision to press ahead with organising its own election for the Tigray parliament on Wednesday, in an unprecedented act of defiance against the federal government.
This is the latest sign that Mr Abiy is struggling to retain his reputation as a peace-broker - about a year after he won the Nobel Peace Prize for ending a border war with Eritrea and for his efforts to democratise Ethiopia.
About 9,000 people have been arrested in Ethiopia in the deadly clashes which followed the killing of singer Hachalu Hundessa in June, human rights activists say, leading to concerns that there could be a return to the authoritarian rule that the prime minister had promised to end when he took office in 2018.
What is the cause of tensions?
The ruling party in the region, the Tigray People's Liberation Front (TPLF), sent political shockwaves across Ethiopia, when it announced that elections for a regional parliament would take place despite the federal government and electoral board announcing the postponement of all elections.
Since the end of Marxist rule in 1991 and up until recently, the TPLF had been in a ruling coalition of ethnically based parties, each in control of their own region in a federal system. So its disagreement with Mr Abiy is a deep fracture at the very core of power in the country.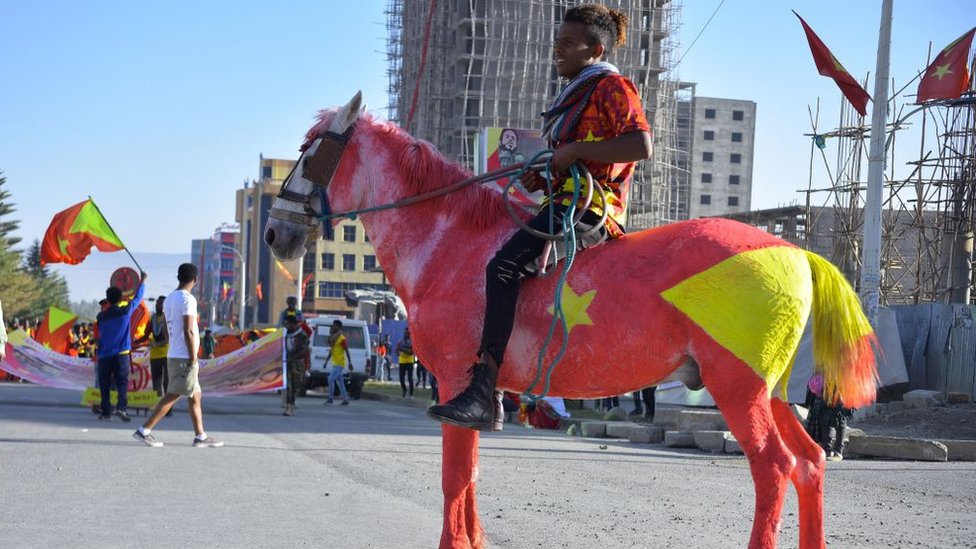 The TPLF argued - like opposition groups - that Mr Abiy's mandate should end this month as the parliamentary terms comes to an end, and the postponement of elections that were supposed to have happened in August, was in breach of the constitution and raised the prospect of Mr Abiy becoming an "illegitimate" ruler.
Mr Abiy's allies say the electoral commission postponed the election because of the outbreak of coronavirus, and not because the prime minister wants to cling to power, as opposition parties argue.
They say that he remains a legitimate ruler, as the federal parliament has extended his term for a further 12 months, by when the threat posed by the pandemic would hopefully recede and elections would be held.
So what is the significance of the TPLF's decision?
It has raised concern that the TPLF could be laying the groundwork for the creation of a breakaway state, with a parliament and government taking office without the blessing of the federal government.
The TPLF maintains that it is committed to keeping the region within Ethiopia, but it will defend "self-rule" and oppose what it calls Mr Abiy's attempt build a strong "unitary" state.
"We will never back down for anyone who is intending to suppress our hard-won right to self-determination and self-rule," the region's leader, Debretsion Gebremichael, said last month.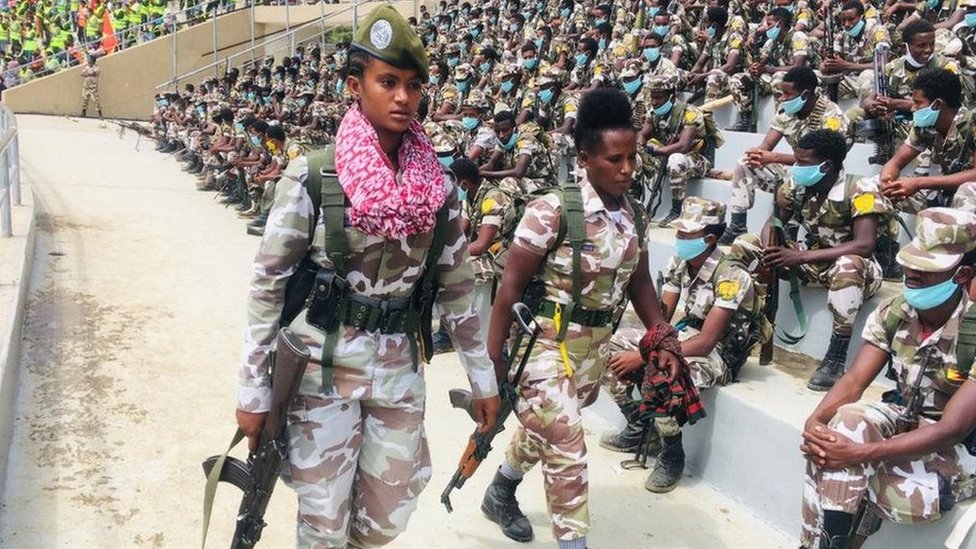 His statement came a few days after regional security forces - armed with AK-47 rifles and RPG rocket launchers - marched in major cities in Tigray, in a display of military might that intensified worries about armed confrontation.
"We are ready to pay the necessary price for our peace," the region's security office wrote on Facebook on the day of the parade.
What has been Mr Abiy's government's response?
It has declared the Tigray elections illegal, saying that only the national electoral board has the power to organise polls.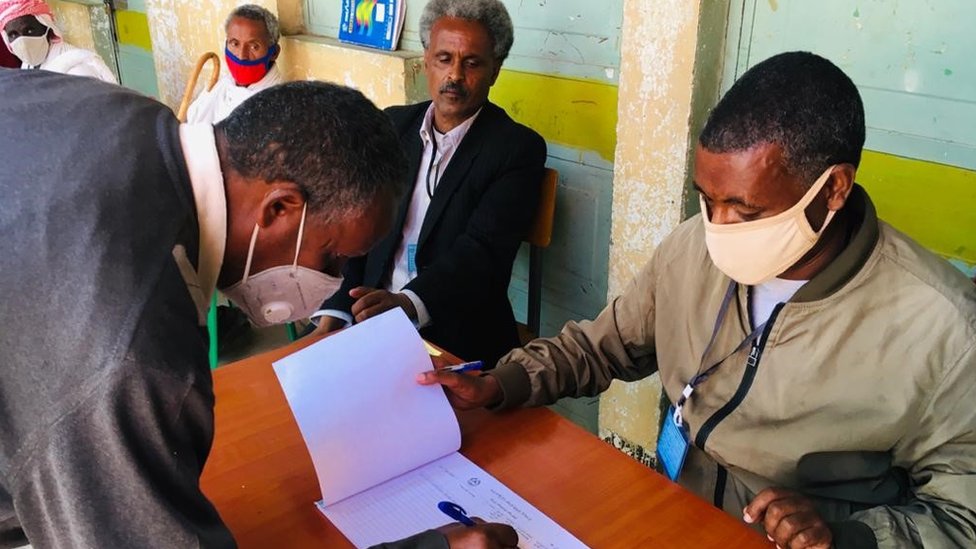 However, Mr Abiy has ruled out sending federal troops into the region to stop the election, saying it would be "madness" to do so.
"The federal government has no intention and interest to attack its own people," he said on 25 July.
But pro-Abiy hardliners, including former army General Kassaye Chemeda, have called for military intervention in Tigray.
"The government should plan well, and they should be attacked," he said in an interview with the government-affiliated Walta TV.
The International Crisis Group (ICG) think-tank says that some federal official have raised the possibility of retaliating by taking "punitive" action against the Tigray government - for instance, by withholding financial grants, which amount to half the region's budget.
Responding to a call by the upper house of the federal government to meet on Saturday to discuss Tigray's election, the regional government warned that any decision to stop or disrupt the regional election is "tantamount to declaration of war".
Furthermore, Tigrayan members of the upper house said they would boycott the meeting.
Why have relations soured so much?
The TPLF - which was extremely influential in the federal government since Marxist rule ended in 1991, with its leader, Meles Zenawi, serving as prime minister from 1995 to 2012 - has keenly felt the loss of power under Mr Abiy.
It saw the prime minister's widely welcomed campaign to end human rights abuses and corruption as a victimisation of TPLF members, especially after senior military and security officers were either purged or arrested soon after Mr Abiy took office in 2018 following mass protests against the former regime.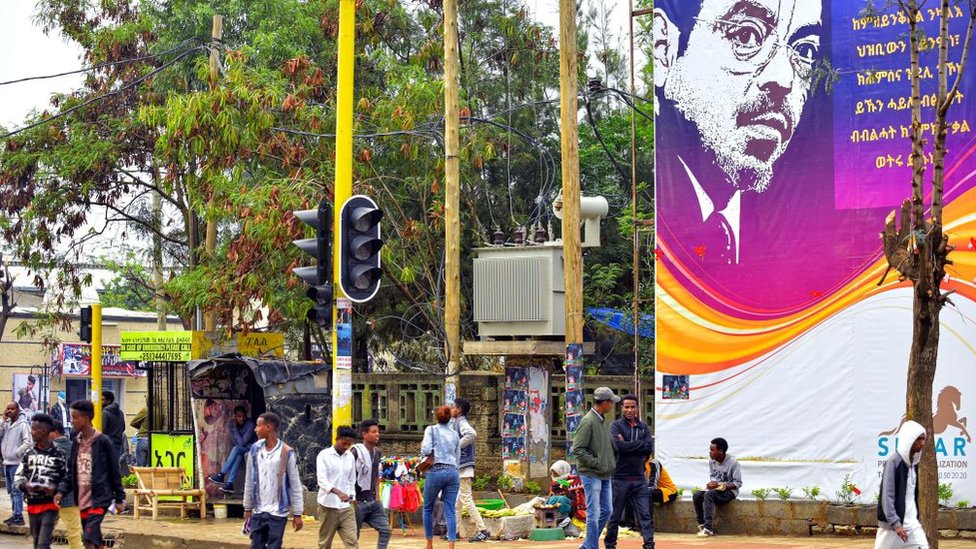 Ex-spy chef Getachew Assefa managed to evade arrest after reportedly fleeing to Tigray.
The TPLF's influence at the centre weakened even further after Mr Abiy launched the Prosperity Party (PP) - a merger of ethnically-based parties that used to form the ruling coalition.
The TPLF refused to join the PP, leaving it without any influence in the federal government for the first time since Marxist rule ended. Mr Abiy sacked some of its members from the cabinet, while others resigned.
As a result, the TPLF has increasingly retreated to its regional headquarters, Mekelle, raising concerns that its ties with the rest of Ethiopia were loosening.
The federal government crackdown following Hachalu's killing has also fuelled what some analysts call a siege mentality within the TPLF.
Security forces raided and closed the office of a TPLF-affiliated television station, Dimtsi Woyane, in the capital. They also shut the Oromo Media Network's television station, which is linked to detained opposition politician Jawar Mohammed.
Federal and PP officials accused the TPLF of involvement in Hachalu's murder, and of "working to destabilise the country".
The TPLF responded by saying that the party was being scapegoated for Mr Abiy's "incompetent rule" and the "mess created by his administration".
How serious is the threat of secession?
The TPLF played a pivotal role in the overthrow of the Marxist regime in 1991, and the drafting of the constitution that gives ethnic groups the right to self-determination and their own state.
Although the party has never expressed any desire for Tigray to secede, it has always said this right should be respected.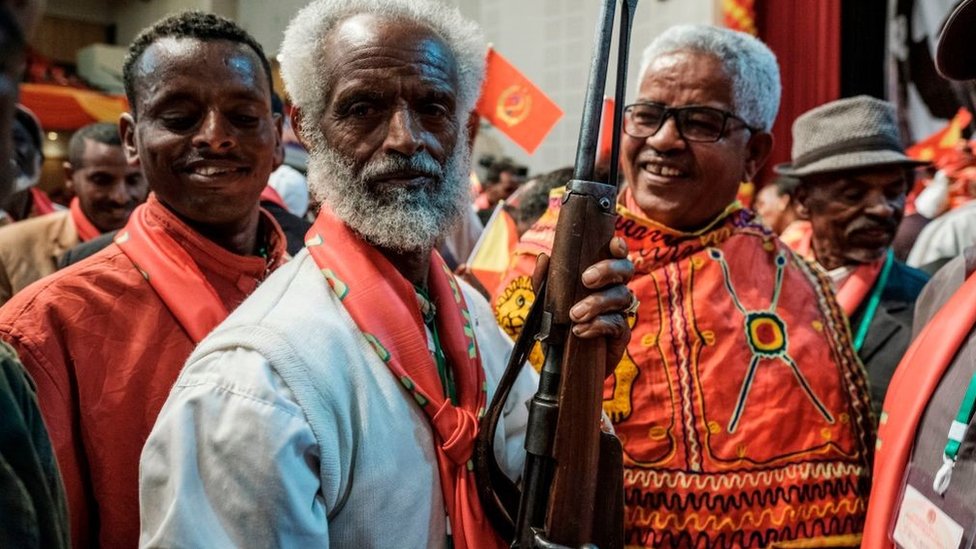 Furthermore, a new opposition party, the Tigray Independence Party (TIP), has emerged to contest the regional election. It describes Ethiopia as an "empire", and says its prime mission is to secure Tigray's independence.
Some academics in Tigray are also entertaining the idea of secession. So for the first time since 1991, the topic is on the agenda of mainstream politics in Tigray.
Two other Tigray nationalist parties contesting the poll, Salsay Woyane Tigrai and Baytona, say they want the region to have more autonomy to secure its territorial integrity, promote its language, and preserve its heritage.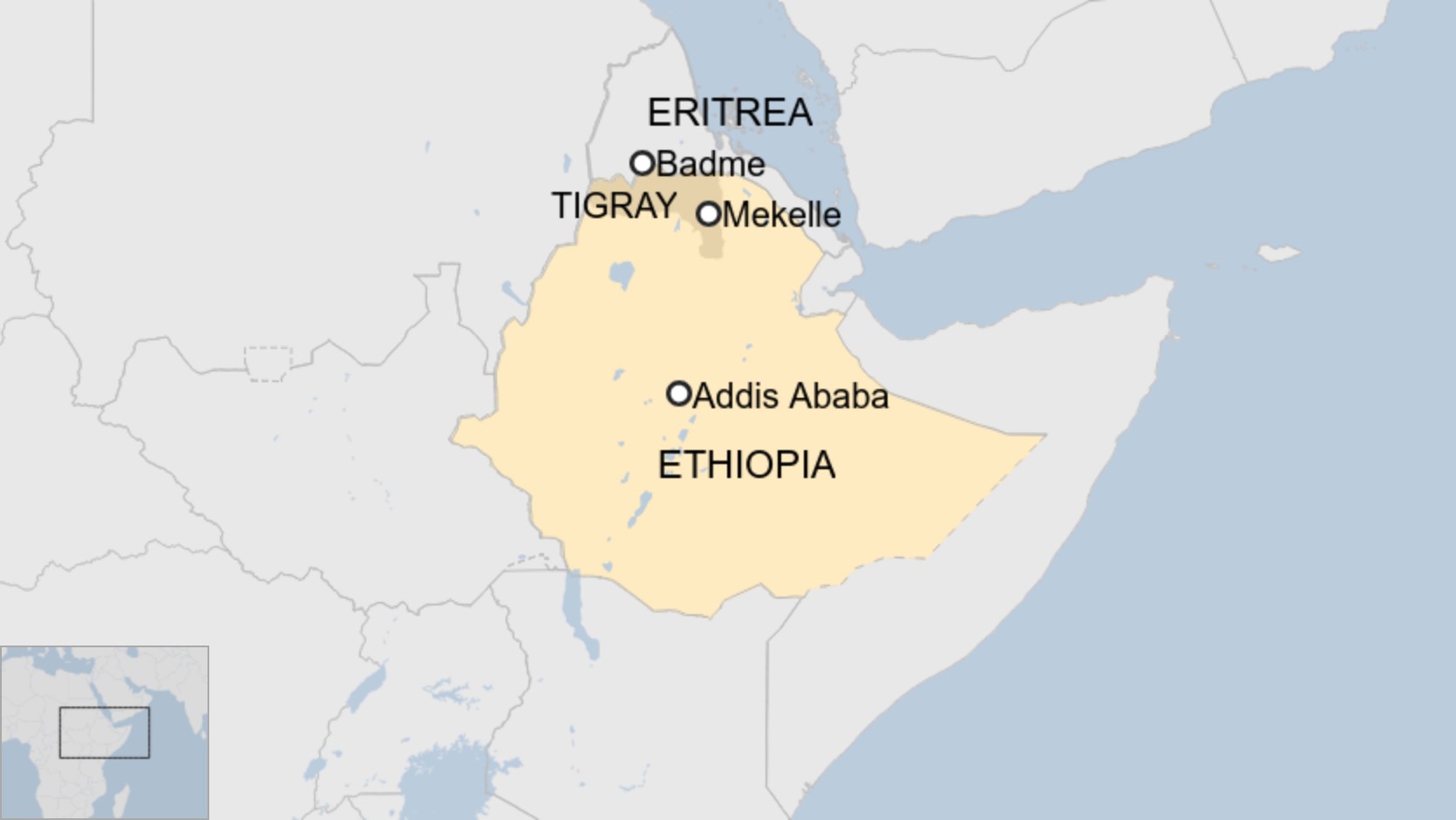 The TPLF currently controls all the seats in the regional parliament, and the election will be carefully watched to see if the more nationalist and pro-secession parties win some seats to pursue their agenda further.
As for Mr Abiy, he has repeatedly said that Ethiopia will "never" disintegrate, indicating that he is confident that he can hold the nation together, despite the ethnic, religious and political violence that has hit different parts of the country, leaving about two million people homeless since he took office.
The TPLF says the displaced include about 120,000 Tigrayans, who constitute, according to the 2007 census, around 6% of the population.
What about mediation efforts?
On 16 August, more than 50 religious leaders, elders and prominent personalities travelled from the federal capital, Addis Ababa, to Mekelle city in an attempt to ease tensions. The fruit of their efforts are yet to be seen.
The ICG think-tank said "weightier" mediators may be needed.
"Prominent African statesmen with strong ties to both the TPLF and Abiy could play this role," it added.
Other analysts say this is vital as the success of Ethiopia's peace initiative with Eritrea hinges on stability in Tigray.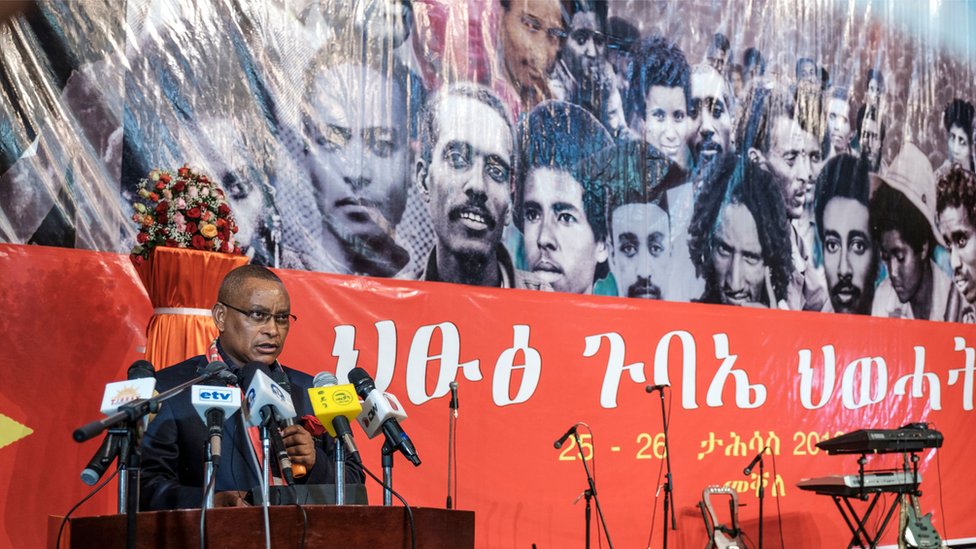 The region borders Eritrea, and was at the centre of the 1998 war between the two nations.
Tens of thousands were killed in the conflict after Eritrea launched an offensive to gain control of the town of Badme from Ethiopia's Tigray region.
Mr Abiy signed a deal in 2018 with Eritrea's President Isaias Afwerki to end the "state of war", resulting in border crossings between the two countries reopening.
However, the border crossings are once again shut. The reasons are unclear, but the Ethiopian government at one point said that the two countries were working to establish proper customs posts.
Nor has the status of Badme been resolved. Eritrea wants Ethiopia to abide by a UN-backed border commission ruling to hand over the town. But this cannot be achieved without the cooperation of the government in Tigray, as it administers the area.
So, the Nobel laureate may find that to achieve lasting peace with Eritrea, he will first need to resolve his differences with the TPLF.
===
Exclusive: Ethiopia tried to silence its own citizens stuck in hellish Saudi detention centres
Migrants were warned to shop sharing accounts of the horrific conditions because it was causing 'distress' for families and wider community
ByZecharias Zelalem and Will Brown - 0
Conditions in the Saudi detention centres were described as 'like hell' and migrants were warned off sending out pictures, leaked document suggests CREDIT: Telegraph Exclusive
A document leaked to The Telegraph shows that the Ethiopian government tried to silence hundreds of its own citizens stuck in hellish detention centres in Saudi Arabia and cover-up allegations of horrendous abuse.
The official document, which bears the stamp of the Ethiopian consulate in the city of Jeddah, warned Ethiopians of "legal repercussions" if they continued to upload photos and videos from the detention centres on social media.
The statement warned migrants to stop sharing their accounts of the horrific conditions because it was causing "distress for families and the greater Ethiopian community."
The damning revelations come after an investigation by The Sunday Telegraph revealed that Saudi Arabia is keeping hundreds if not thousands of African migrants locked in detention centres flooded with raw sewage as part of a drive to stop the spread of coronavirus.
Conditions in the centres are so bad that people are dying of heatstroke, disease or by suicide. Images sent to The Telegraph on encrypted channels have been shared around the world and compared to slave camps.
Saudi Arabia and the United Nations say they have launched investigations into detention centres since the investigation was published on Sunday.
Earlier this week, Ethiopia's Minister for Diaspora Affairs told The Telegraph that the first time the government had heard of the conditions in the centres was from the investigation.
However, the leaked document proves that the government was aware of the conditions inside the centres months ago.
The document is dated 24 June 2020 (Sene 17, 2012 in the Ethiopian calendar), meaning that Ethiopia's foreign ministry was aware of the conditions at least two months before The Telegraph investigation was published.
It is believed the Ethiopian foreign ministry has been engaging in a cover-up to avoid a damaging diplomatic fallout with oil-rich Saudi Arabia, which is a major source of foreign exchange and investment for the Horn of Africa nation.
When The Telegraph asked Abdo Yassin, Ethiopia's Consul General in Jeddah, about the document, he responded: "You are not aware of what we deal with on a daily basis here."
Mr Yassin claimed that prisoners had grown violent, attacked Saudi prison guards and attempted to escape on multiple occasions. However, photos and videos of the migrants show they are emaciated, suffering from heatstroke, disfiguring facial skin infections and barely able to move.
Mr Yassin also claimed that he had liaison officers at the detention centres where the Ethiopians have been kept for months on end.
But the Consul General claimed he had not heard any reports of abuse, even though his office warned the migrants in June to stop sharing disturbing footage.
The Consul General also refused to commit to a timetable to repatriate the migrants in the Al Shumaisi and Jazan centres, which the Telegraph was able to geolocate.
There are believed to be other detention centres where migrants have not been able to smuggle in phones past prison guards to communicate.
Earlier this week, the Saudi embassy in London made the astonishing claim that it was the Ethiopian government that was unwilling to repatriate its citizens, citing Covid-19 concerns.
"We believe there are about 20,000 Ethiopian immigrants who recently crossed the border into Saudi via Yemen and their repatriation is being negotiated with the Ethiopian government," it said.
"Sadly, the Ethiopian authorities have refused their re-entry under the claim of not being able to provide adequate quarantine facilities upon their arrival."
===
How students, abducted from their Unversities are mistreated and tortured by the armed forces in Ethiopia. Part of the armed forcs is also the militaried police in the country, which receives equipment and funding from Germany - among others.
===
Qeerroo: from 'revolt against subjugation' to 'popular uprising against tyranny'
By Worku Burayu - 03. September 2020
Attempts to discredit Qeerroo will not deter the movement from pursuing its goals
You might well have heard mischaracterizations of Qeerroo and its institution, Qeerroo Bilisummaa Oromoo (QBO), as part a defamation campaign against the Oromo and the Oromo Liberation Front (OLF).
To mischaracterize and attack Qeerroo organization whose sole mission is to end tyranny is disgraceful. Yet, the Abiy Ahmed administration and some media outlets including ESAT, Ethio 360 Media and all government affiliated medias continue to undermine Qeerroo, going as far as tainting the popular peaceful resistance it waged that once aroused the glimmer of hope for Ethiopia until it was snatched away by the new regime.
Some have opposed just about everything QBO has been doing. The question is why.
Who is Qeerroo?
Qeerroo is an Afaan Oromo word literally meaning 'unmarried young man', as Qaarree is for 'unmarried young woman'.
In Oromo's Gadaa socio-economic and political system, Qeerroo represents the youth in the social strata of Gadaa structure that signifies the potential force of the Oromo society who are full of energy, enthusiasm, and defenders of the dignity of the Oromo people and their homeland Oromia.
Qeerroo played a vital role in the organized Oromo struggle of the early 1970s.
For example, the song Gaaddisaa Abdullaahii sung titled 'Qeerroo-mataa-tuutaa, hin jarjartu suuta' in 1970s was to signify that Qeerroo is the engine of the Oromo Struggle. Since 1991, Qeerroo has re-occurred as what is called the "Qubee generation" to mark the era of introduction of Qubee script and Afaan Oromoo as medium of instruction in schools for the first time in Ethiopian history. This was the result of decades resistance spearheaded by the OLF and realized during the brief period that the OLF participated in the transitional government of Ethiopia.
Unlike its traditional meaning, the origin of the Qeerroo term in Qeerroo Bilisummaa Oromoo's setting, is derived from the word "Qeerrensa/Qeerramsa" whose literal meaning is "tiger," to symbolize a fierce fighter, a dignified being, active and defenders of survival and dignity. "Qeerrenso" and "Jaajjabee" are very common terms in OLF and Oromo Liberation Army (OLA) often used to adore those fierce young fighters.
In short, as Qeerroo represents the dynamism of the Oromo youth in a peaceful struggle against tyranny, Jaajjabee represents an admirable special young force in Oromo armed struggle. Hence, in this context, Qeerroo and Jaajjabe are gender neutral. Qeerroo is an idea of cultured resistance, represents a relentless pursuit of liberty, equipped with mental readiness and resilience which leaves no stone unturned to get what it pursues.
What Qeerroo and QBO is not
Qeerroo and its institution Qeerroo Bilisummaa Oromoo isn't a terrorist and isn't about violence, greediness, or demanding supremacy of Oromos over others. Qeerroo vehemently opposes terrorism. QBO hasn't emerged from spontaneous social movements and it isn't imported institution. It isn't led from abroad and no diaspora activist has authority over its movements or institution.
QBO operates based on well laid out plans and strategies; its movements are not unstructured nor emotional, no activist has remote control to QBO to turn it on or off. To see the validity of this statement, it will be enough to look at the volume of information provided by Qeerroo website , frequently updated since the formation of the group in 2011.
Origin of QBO
As OLF was born out of the Macha-Tulama Self-Help Association, the Oromo National Youth Movement for Freedom and Democracy emerged out of the drives of organized Oromo youth movement called "Revolt Against Subjugation" better known as Fincila Diddaa Gabruma. This functioned from 2005 to 2011. In 2011, when the creation of formal Qeerroo structure was finalized, the movement transformed itself into Qeerroo Bilisummaa Oromoo (Oromo National Youth Movement for Freedom and Democracy), so did their motto from Fincila Diddaa Gabruma ('Revolt Against Subjugation') to Fincilaa Xumura Gabruma ('Revolt to End the Tyranny').
Since 2011, QBO has continued to stage popular peaceful demonstrations and movements in a well-organized, strategized, disciplined and tactical manner led by highly intellectual youths.
Between 2011 and 2014, QBO worked diligently on systematizing and improving their structure and extending their organization down to district level in Oromia. Since 2014, the struggle intensified inside the country with many activists supporting the movement through disseminating information on the resilience of Qeerroo and brutality of the Ethiopian government using all social media platforms particularly, through Facebook, live video streams, and other medias such as radio and TV channels.
Qeerroo: A regimented organization or a spontaneous movement?
By Mosisa Aga
This caused the Tigray People's Liberation Front to face its ultimate defeat, but only to get Abiy climbing to power on the Qeerroo's back by hijacking the Qeerroo movement and the Oromo struggle. Unlike Terje Ostebo claims on Addis Standard, Qeerroo hasn't emerged from spontaneous social movements. We want to educate people that Qeerroo Bilisummaa Oromoo emerged as a trained, planned, organized unit with formal but secretive structure and clear purpose.
Hence, QBO emerged as a lead organization for youth driven resistance force that connects young Oromos through peer support, leadership development, and advocacy. Their organizational model support Oromo youth in starting, strengthening and sustaining strong youth network that advocates, defends and fights for freedom, justice and equality.
It is unquestionable that every member of the QBO is part and parcel of the Oromo society. However, every Oromo youth is not necessarily a member of QBO. While QBO has successfully organized thousands of well-informed youths into its skeletal structure and mobilized millions of Oromo youth under the QBO institution, there are obviously many youths that are not yet embraced by the structure.
Vision and mission of QBO
The Oromo people overwhelmingly recognize QBO as its most organized, covert structure with broader horizon and deep commitment to advance the Oromo liberation struggle for freedom and democracy.
QBO has proved itself to be the latest political engine in the Oromo struggle for freedom with clear vision and mission that is capable of leading organized resistance against domination, and free from emotions and spontaneity in its actions. Its vision is to envisage free and viable nation where Oromo people can live in peace, justice and harmony with others.
They have vibrant and unambiguous mission to promote and advance popular movement of Oromo youth for freedom, justice and equality through advocacy, youth unification and mobilization, raising awareness and peer support. Until, this mission is met, the journey of QBO is unstoppable and their struggle will continue through peaceful resistance, brilliance, humility and determination.
From 8 June 2020, the Qeerroo movement was further heightened to Warraaqsa Galaana Uummataa (Popular Uprising Against Tyranny) with the motto "Oromoon Galaana Irra Dhangalaana," which literally signifies the birth of the "largest wave of Oromo's political movement against the oppressive systems."
Led by transformational leaders, the Oromo National Youth Movement for Freedom and Democracy aka Qeerroo Bilisummaa Oromoo has transformed from "Revolt Against Subjugation" to "Popular Uprising Against Tyranny." The 3 August 2020 popular uprising is the continuation of the 8 June 2020 that will continue by formulating different tactic until their demand for freedom, democracy, and self-rule is achieved.
Unbreakable Oromummaa
QBO has set a new bar as to what the youth can do in east Africa as a whole.
It played a significant role in bringing down the most brutal tyrants to their knees and transitioned Ethiopia in to the so-called "the change era" that was sabotaged and came back to haunt its members. But make no mistake, Qeerroo will prevail again.
The current Ethiopian government after climbing up the power ladder on the back of Qeerroo has singled out the Oromo youth as its staunch enemy and deployed all the state power to destroy Qeerroo and its institution. We like to remind the government that it is facing the roaring lion fire that long defeated fear of death, of rape, of torture and mutilation and sworn not to rest until dignity is restored to the Oromo people and their land Oromia.
We know that the Ethiopian government is ready to kill, arrest, rape, torture and displace the Oromo people and it is at work at this time. However, Qeerroo is ready to die rather than live reduced to second-class citizens on their own land. They are demanding the right to dignity, peace, democracy, rule of law, economic rights, land rights, the right to equal opportunity and the right to govern their own country.
The terrible human rights records of the Abiy regime and the selective targeting of the Oromo political leadership including the illegal arrest of members and leaders of OLF and OFC, prominent human right activists, and torture of grassroots Oromos is only fueling the already heightened grievance among the Oromo people.
Amid blackout, western Oromia plunges deeper into chaos and confusion
By Ermias Tasfaye
As thousands of protestors gathered all over Oromia to protest the killing of a popular singer and demand the release of political prisoners in early July, Abiy's officials ordered the federal and regional security forces including military mass to use live bullets and batons to break up crowds. This disproportionate use of force led to the killing of more than 329 people in just three days of protest and an arrest of more than 10,000 over one-month period.
However, the killing didn't stop the unstoppable journey.
The unrest and popular protests continued into the following days, weeks, at different places leading to closure of major highways and restricting movements to and from Finfinne (Addis Ababa). The mass mobilization of youths and the civil resistance do no rest even for a second.
Rather than open up for political dialogue, Abiy and his Prosperity Party declared unwinnable war on the Oromo people repeating the same mistake its predecessors made. The dream to destroy Oromo nationalism, the ideal of Oromo national struggle, by launching military crackdown on Oromo people and its youth Qeerroo has never worked for TPLF and will not work for PP.
Arrests, tortures, killings, and character assassinations of Oromo leaders will never deter Oromos from fighting for their freedom, justice and equality.
Armed with unbreakable resolve and the spirit of Oromummaa, the journey of QBO is going nonstop.
===