Communities mark Indigenous People's day amid evictions and broken promises
By Caroline Chebet - 09. August 2020
As the world celebrates the International Day of World's Indigenous Peoples today, it is a dull moment for those living in Kenya.
Local forest indigenous groups say while courts have come to their protection, marginalisation continues with long-standing unimplemented court rulings, evictions and ethnic clashes amid a raging global pandemic.
"But we have nothing to celebrate because of continued marginalisation and empty promises. The indigenous communities have won big in both local and international courts while fighting for their rights but the ruling in their favour against the government remain empty years later," said Joseph Towett, chairperson of the Ogiek Supreme Council of Elders.
The theme of this year's celebrations is "Covid-19 and Indigenous People's Resilience", a pandemic that Minority Rights Group International has termed as a crisis deepening poverty and discrimination for minorities and indigenous peoples.
"It is time the government realised that rights of all people matter and should be respected because most of them have faced forceful evictions amid the pandemic. The Ogiek and the Sengwer communities have been subjected to forceful evictions from their homes during the pandemic period, which is really sad," Towett said.
Richard Yegon, one of the elders from Endorois community, an indigenous minority community living on the shores of Lake Baringo, said community is yet to be given land after it was forcefully evicted to create a national reserve in 1970s.
Following unsuccessful efforts to resolve the situation at the national level, in 2003, Endorois lodged a case before the African Commission on Human and Peoples' Rights. The case challenged lack of consultation or compensation for the forced displacement, and lack of protection to the Endorois' traditional way of life, and claimed violations of the Endorois' rights to non-discrimination, property, access to natural resources on their land, religious and cultural life, and to development.
In a landmark decision adopted by the African Union on February 2, 2010, the African Commission declared the expulsion of Endorois from their ancestral lands illegal.
The African Commission found the Kenyan Government failed to recognise and protect Endorois' ancestral land rights and failed to provide sufficient compensation or alternative grazing land following their eviction, or to grant restitution of their land, and similarly failed to include the community within the relevant development processes. It also made a series of recommendations for the government to follow.
"We won the case but what has only been implemented is that we are only allowed to access the park. The government is yet to give us alternative land or compensate us. Marking this day however is a recognition that we still exist and that we are still fighting on," Yegon said.
Ogiek Peoples Development Programme Director Daniel Kobei said the day is a special recognition for indigenous communities land rights and territories and their aspirations as well as their dignity as a people. "This year however, we have been affected by evictions where the communities have been forced to seek refuge and congest themselves. It is a scare in containing spread of pandemic within the community," Kobei said.
According to ECOTERRA Intl. and Minority Rights Group, coronavirus pandemic is deepening poverty and discrimination for minorities and indigenous peoples worldwide.
"As cold weather prevails mid-year in Kenya and temperatures plummet in the highlands where traditional forest peoples live, Covid-19 is surging across the country. But rather than being able to shelter safely in their homes, Indigenous and forest-dwelling communities are being evicted from their ancestral lands, and their homes and farms destroyed by their own government," the report said.
===
Why region near Mau is beset by perennial land rows, flare-ups
By Steve Mkawale and Kennedy Gachuhi - 09. August 2020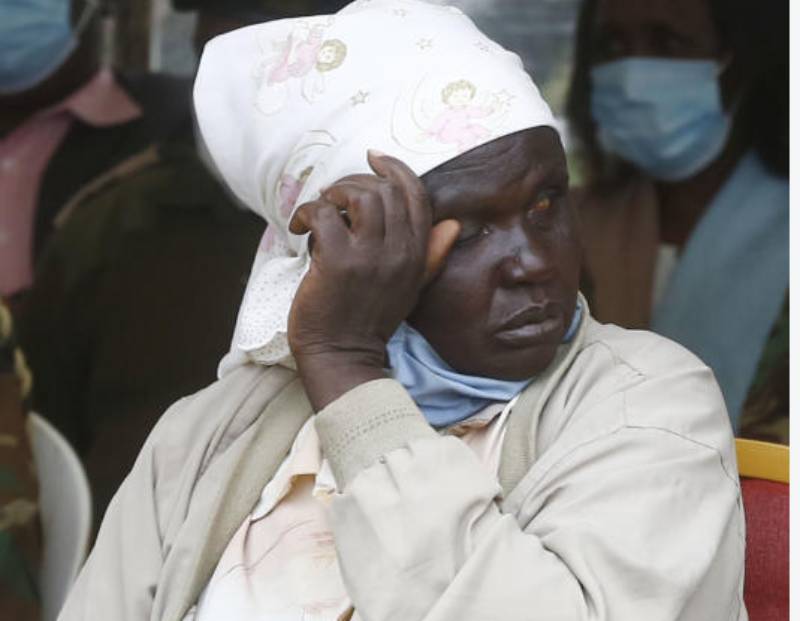 The recent wave of violence in Nessuit, Mariashoni and Ndoswa villages in the Eastern Mau Forest have brought to the fore the simmering tensions over land in Nakuru County.
The county has the dubious distinction of having the highest number of land rows that usually degenerate into ethnic conflicts.
The killings, maiming and burning of houses have been the hallmark of the violence in the region since 1992.
Like seasons, the trouble spots in the county are the same and rotational.
If it is not the communities living in parts of Molo and Kuresoi feuding, it is those in Njoro sub-County, the home to Kipsigis, Kikuyus and the minority Ogiek community.
The clashes in Njoro, Kuresoi, Likia and Molo relate to conflicts over land that date back to colonial era.
Every five years, the county is gripped by a cycle of violence as politicians eager to capitalise on the issue inflame passions among voters.
And interestingly, every time they are triggered by minor incidents like theft of livestock, which mutate quickly to full-blown ethnic conflicts that lead to deaths and destruction of property.
In the wake of the new wave of violence, at least six people had been killed, dozens left nursing injuries and hundreds of houses torched.
At least 80 families who fled their homes for fear of attacks have sought refuge in local schools including Oinoptich Primary School in Mariashoni.
In the recent attacks, intervention by both the county and the national governments has stopped the spread of the violence that came in the wake of the Covid-19 pandemic.
Local leaders led by Governor Lee Kinyanjui, Senator Susan Kihika, MPs Charity Kathambi (Njoro), Kuria Kimani (Molo), Joseph Tonui (Kuresoi South) and Woman Representative Liza Chelule joined the Rift Valley Regional Coordinator George Natembeya in asking the warring communities to be peaceful.
The violence has been linked to the recent evictions or illegal settlers in Eastern Mau forest land and alleged political incitement.
Residents and various government agencies involved in restoring peace in the region talk about deep-seated suspicion and mistrust among communities in the region over land-related issues and politics.
On June 27, the Kenya Forest Services (KFS) announced an elaborate plan remove illegal settlers from the Eastern Block of Mau Forest.
According to Frank Njenga, the Mau Forest Ecosystem Conservator, almost 28,500 hectares of the forest land had been encroached on. That is approximate half of the 57,000-hectare forest block, he said.
KFS has been undertaking a multi-agency operation to flush out squatters and reclaim Logoman, Sururu, Likia, Kiptunga, Mariashoni, Nessuit, Baraget and Oleposmoru forests within the complex.
Political incitement
Several settlers have already been kicked out. Leaders and residents interviewed linked the violence to the thorny Mau Forest land issue and political incitement among other factors.
Joseph Tonui, the Nakuru County Assembly deputy speaker, who has filed a petition in court seeking to stop evictions on behalf of 44,000-odd families in Mau, says it's all about land.
He revealed that a long-standing conflict over land is the cause of the tension that often calumniates in violence at the slightest provocation.
"Before the evictions, everything was alright. But when the government started the exercise, tension rose in Njoro and other areas around the Mau Forest. Our neighbours who were evicted now want to push us away from parcels of land which they had sold to us and moved into the forest," Tonui says.
As the Nessuit ward representative blames the evictions on the violence, State agencies want to evict some 20,000 more people in Nessuit, Tachasis Chepkosa, Sururu and Likia areas.
Paul Bargetuny, a resident of Sururu, concurs with the MCA saying the conflicts experienced in the areas were as a result of land disputes and bad blood between the two warring communities.
Human rights activists and representative of the Ogiek community want the government to involve the Ministry of Environment and Lands in a joint team to address the land issue.
Magenyi, who has done extensive research on land conflict in Nakuru County, says ethnic flare-ups usually cause instability in the region where residents accuse successive governments of failing to address historical injustices.
However, Kathambi attributed the recurring clashes to unclear government policies on conservation.
"There have been evictions almost every year and the government has never shown us exactly where the boundary is. Some people were legally resettled," Kathambi said.
Governor Kinyanjui said his administration has already initiated peace talks. "In the fullness of time, we must realise that peace is priceless and we all have a role in its preservation," he said.
===
Saving water towers: Aberdare and Mt Kenya forests face combination of odds
By Boniface Gikandi and Phares Mutembei - 08. August 2020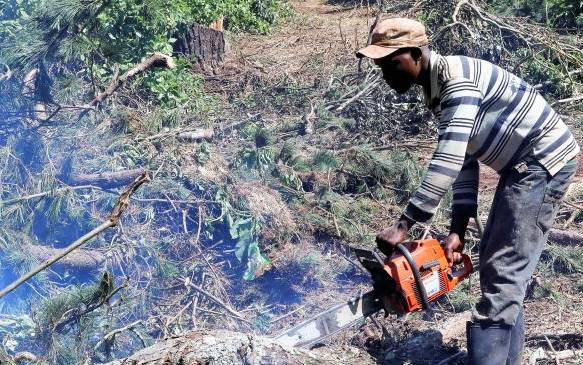 Aberdare, Mt Kenya forests under attack from fires, projects and illegal loggers
The Aberdare Ranges, the second main water tower in the Mt Kenya region, is facing an unprecedented threat from infrastructure development and hundreds of water abstractions by surrounding downstream communities.
Along the edge of the forest, hundreds of trees have been earmarked for felling to pave way for the construction of water and roads projects.
A notable project that will have an effect on the Aberdares ecosystem is the Sh30 billion Mau Mau road which will cut through the Aberdare Forest to connect Murang'a to Naivasha via Nyandarua.
Peace Nobel Laureate Wangari Mathai had vehemently opposed the project over environmental concerns.
During public participation on the construction of the road, it emerged that there will be two tarred sections cutting across the Aberdare Forest in addition to the existing Thika-Magumu highway in Kiambu, which will be expanded to include climbing lanes, eating into more of the forest.
The new sections cutting across the forest will commence from Kigumo and Gatanga constituencies, converging inside the forest to emerge at Njabini Township in Nyandarua County.
Besides this road, Peter Muchiri, Green Future Foundation Kenya director claimed that a road that will connect Nyeri and Nyandarua will cut across the moorland, an extremely fragile ecosystem, and the gazetted Aberdare National Park.
"This area is one of the major water catchment zones and there could subsequently be flooding of developments along the highway corridor," Muchiri said.
But Dennis Kerengo, Murang'a Kenya Forest Service Conservator disputes that the project will entail destruction of the environment.
Kerongo said there is an agreement with Kenya National Highways Authority (Kenha) that more trees will be planted within the forest or elsewhere to replace those removed during the construction.
"Most of these projects are outside the forest catchment area but a lot of care is taken during the execution not to destroy the ecosystem," Kerengo said.
James Mukuna of Ndakaini Dam Conservation team also claims that there is a silent destruction of the forested area around Nairobi's largest water reservoir.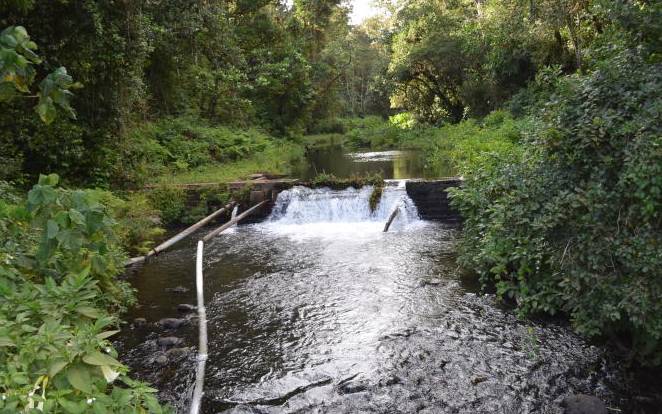 Charcoal kilns
Makuna said areas around Ndakaini Dam previously secured and forested to protect the reservoir, have become popular for logging and charcoal burning.
"The community around the dam planted trees for 17 years. It is demoralising to have the indigenous trees targeted for destruction," he said.
In the Chuka section of the Mt Kenya Forest in Tharaka Nithi County, 3,500 elders petitioned the National Land Commission (NLC) claiming ownership of 24,000 acres and were awarded 10,000 acres plus a 2,000-acre forest buffer zone but are still waiting for the settlement.
If this excision succeeds, it will be one of the largest official reduction of the Mount Kenya Forest which was designated by Unesco as a Biosphere Reserve and World Heritage Site in 1978 and 1997 respectively. In Nyeri County, the biggest threat to the water towers is forest fires that often break out yearly, decimating forest cover and animal habitat.
Ernest Wang'ombe of Afrika Green Revolution for Sustainable Ecosystems said it is important to note that not all fires are caused by humans as some occur naturally due to dry brush and lightning strikes. "There has been conflict on who starts forest fires usually blamed on honey hunters and arsonists. Other times, it can be caused by nature," he said.
Wang'ombe advocates the use of natural methods such as planting of fire-resistant plants and trees around areas in the forest that are prone to fires.
Moses Wahome, the Kenya Forest Service Nyeri Ecosystem Conservator said the service continues to train members of the community forest associations as scouts to help in managing the borders of the major forests.
"We have been working closely with the community because our rangers need their support to protect the forests," he said.
In Meru, illegal logging and other human activities in the Upper Imenti, Lower Imenti and Nyambene Hills forests have been blamed for the reduction in water levels in rivers and other reservoirs.
The Nyambene Forest in northern Meru, which is the source of more than 10 permanent rivers flowing to areas such as Tharaka and Tana, is an important water tower but is under threat from illegal loggers.
[Boniface Gikandi, Phares Mutembei, Wainaina Ndung'u and Lydia Nyawira]
===
===
'We hope that our land will become ours again'
Max Bearak meets the indigenous Ogiek who claim the Mau Forest in Kenya as their ancestral home but now face eviction at the hands of a hostile government - 08. August 2020
The two women were born in the forest more than 70 years ago, when it covered much of Kenya's highlands.
Over the years, successive waves of people with their axes and plows came, from British colonists to other Kenyans in search of fertile land, and the expanse of green shrank to just a few small patches of untouched woodland: the Mau Forest. Now tens of millions rely on the water that flows from its springs and live in houses built out of its wood.
The women's people, the Ogiek, claim to be the indigenous inhabitants of the Mau, and with the felling of the trees came the felling of much of their way of life: hunting tree hyraxes and antelope for meat and fur, and harvesting honey and medicinal herbs. A landmark 2017 ruling by the African Court on Human and Peoples' Rights affirmed the Ogiek's right to live in the forest.
Kenya's government, which owns the forest, has barely acknowledged the ruling. In late June, it began evicting hundreds of Ogiek families from the Mau in the name of conservation. Ogiek leaders say the government has promised to allow them back into the Mau when non-indigenous settlers in the forest have been cleared out. But powerful Kenyan officials have said in interviews that they have no intention of permitting the Ogiek to return.
"By evicting us, we hope that our land will become ours again," says Raeli Nalotwesha, one of the two women.
She and Agnes Tapkili were rendered homeless last month, in the middle of the cold and rainy season and as a pandemic that seems to target the elderly spreads. They were sheltering in a shuttered school. It was the fourth time in their lives they've been evicted.
Kenyan governments have been trying to kick the Ogiek and other settlers out of the Mau for more than 40 years, ostensibly to conserve its resources, even as they have allowed countless thousands to encroach on the forest and convert it into farming and grazing land. In many parts of the Mau, the Kenya Forest Service has transformed the land into a commercial timber operation.
Since 2018, over 50,000 people – mostly non-Ogiek settlers – have been evicted, often violently, from the Mau, Human Rights Watch says.
Amid cries from rights groups that the Ogiek are being abused, the community's leaders and many of its 30,000 to 50,000 members are putting faith in a long-shot plan they believe the government is enacting.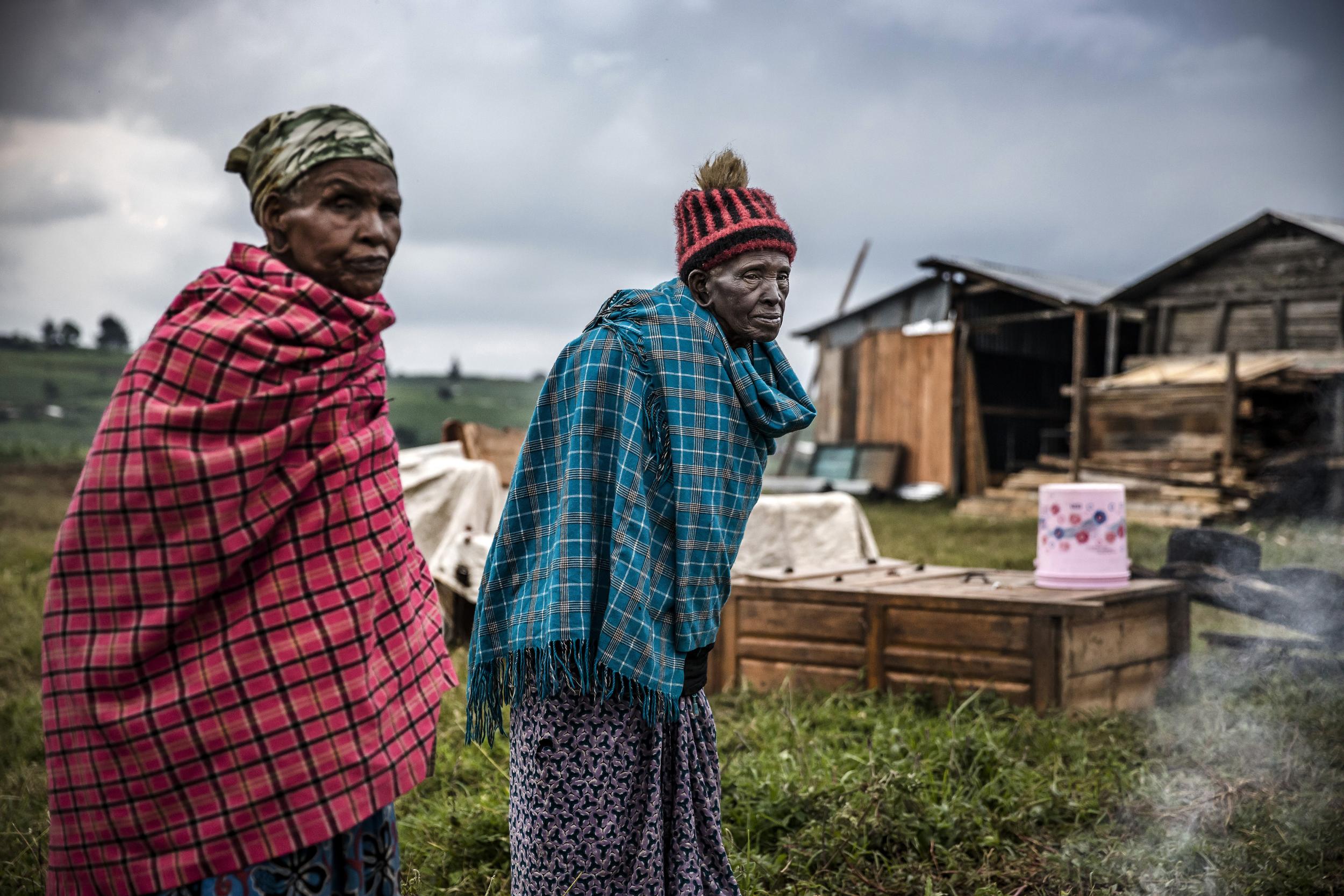 "Over 300 families have been evicted, even from deep into the forest since June," says Daniel Kobei, an Ogiek activist and the Ogik's more prominent public figures. "In most cases, we are complying voluntarily. We want the evictions completed and, after, we want implementation of court rulings."
The gambit relies on the Kenyan government's respect for the 2017 ruling by the Tanzania-based court, which doesn't have enforceable jurisdiction in Kenya. It's an even riskier strategy considering the government has evicted thousands of poor people from their homes during the coronavirus pandemic despite a self-imposed moratorium on doing so.
Although Kobei says he has regular and constructive discussions with government officials that lead him to believe in their intention to respect the ruling, officials painted a different picture in interviews with The Washington Post.
"You tell me that people can survive on honey and herbs. What a nonsense story. Nobody dwells inside a forest," says George Natembeya, an Interior Ministry official in charge of security for a large part of Kenya that includes the Mau. "There is no such thing as a forest-dwelling person – these are misnomers. The forest should not have people residing there. With the evictions, what we are stopping is destruction, by Ogieks, and by other Kenyans, and we make no distinction."
Meanwhile, some Ogiek families have razed their houses in hopes they will be resettled in the forest. Daniel and Lilian Tuimising now sleep in a cramped shack with their seven children after Daniel took a hammer and posthole digger to his house and shop, reducing it to rubble.
"Even if we suffer now, it is good for the Mau," he says. "We want to show that we agree with forest protection so they will allow us back."
His optimism is echoed by others who yearn for non-Ogiek settlers to be banished from the Mau and were willing to pay what they hope is the temporary price of their homes for it. "We support it 100 per cent. We have no choice but to trust," says Dominic Letuya, 23.
But the Kenya Forest Service doesn't see the Ogiek as the forest's protectors. Officials see that as their own role, and one they can carry out only if the forest is void of people.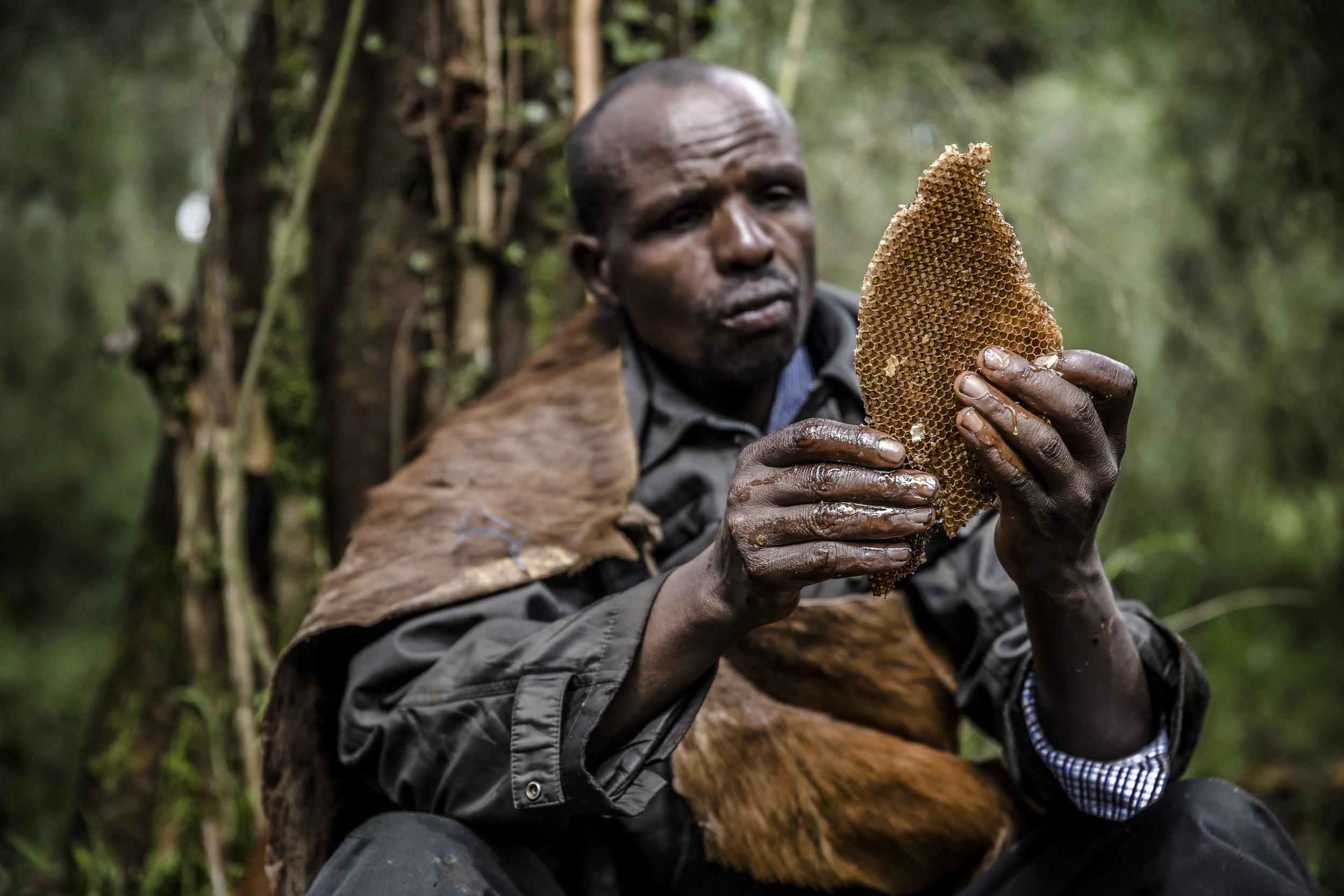 "It's an issue of people understanding that they are in the wrong place and upgrading themselves, moving to another, safer place so they do not have to spend my time fighting with the owner of the forest," says George Njenga, the service's top official in the Mau.
The Ogiek and the Kenya Forest Service say they are both trying to return the Mau to its natural state, but to many Ogiek, that includes their living there again, using the forest's bounty responsibly.
"We want this land to be how nature created it, with services that allow us to live," says Joseph Kipkemoi Lesingo, 55, adept in hunting, foraging and beekeeping. "We need to start from scratch again."
Recently, Lesingo went into the forest with his two hunting dogs to survey beehives he'd made out of hollow logs from trees of the Dombeya genus. He's fastened the hives into the canopies of the same trees, which he says yield the sweetest honey.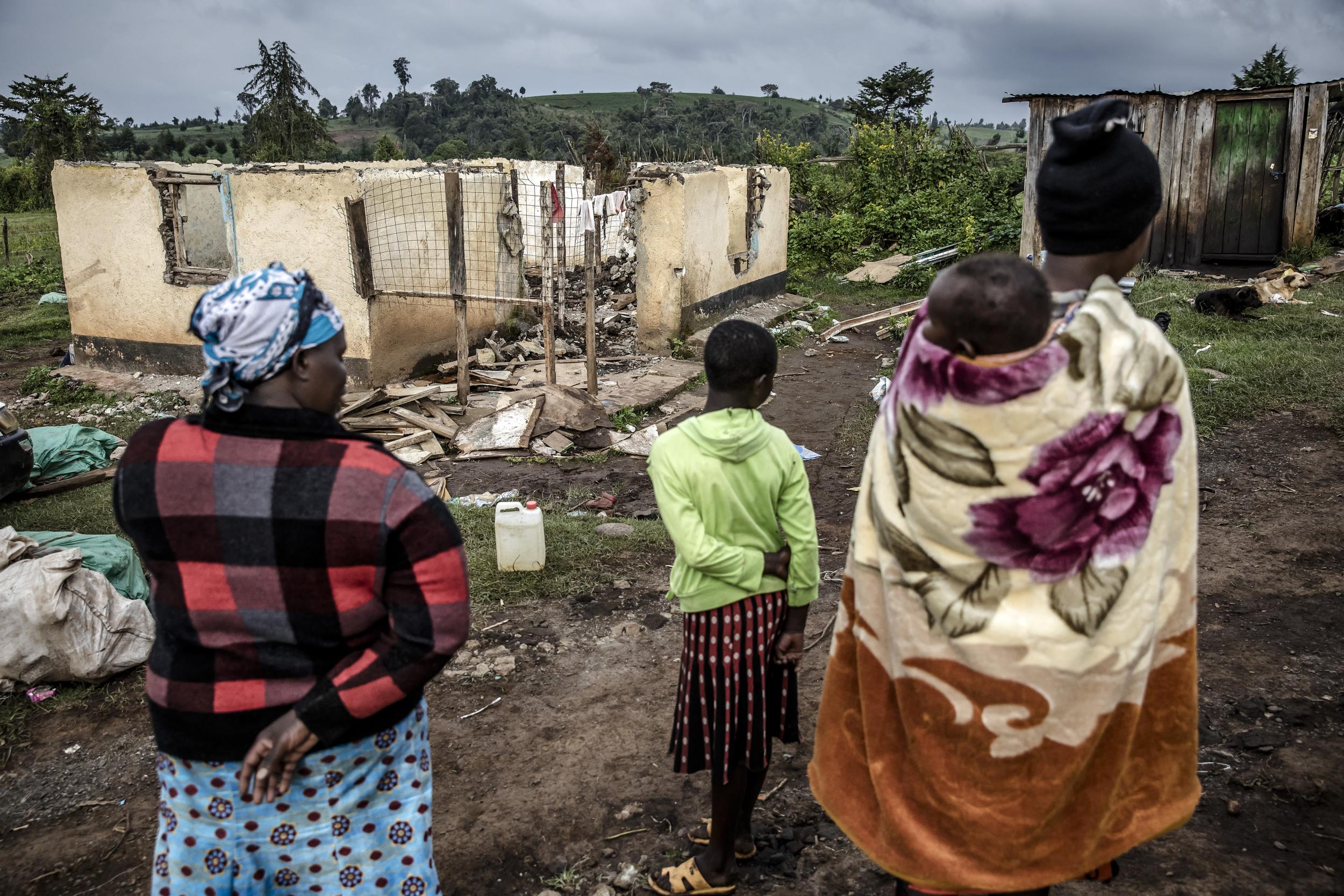 He vigorously rubs two specially carved pieces of wood together – without any flint – to create an ember, which he places into a ball of moist moss, creating a smoker. He places it in a satchel made of hyrax hide, warding away the bees while he gathers golden hunks of honeycomb so flavourful they leave a burn in the throat like whiskey.
"That stuff you get in the city – it's all mixed with sugar," he says. If a newly pregnant woman eats a full honeycomb in April, it is potent enough to give her twins, according to Ogiek legend. "This is the strong stuff."
After holding on to his culture despite the government appropriating the forest for its own purposes and encroaching farmers and herders using it for theirs, Lesingo is happy to coexist with the newcomers as long as they leave the Ogiek to restore not just their homes but their traditions and the forest itself – as they believe is their right.
"If – and it is all about if," says Lesingo. "If they listen to us."
Rael Ombuor contributed to this report.
© The Washington Post
===
===
IN AUSTRALIA THE ABORIGINAL PEOPLE STILL DON'T GET JUSTICE
Leading human rights lawyers back calls for NSW and ACT to establish Walama Court and adopt 10 year justice targets to end Indigenous imprisonment
August 11, 2020
Australian Lawyers for Human Rights (ALHR) has joined calls for urgent action by the NSW and ACT Governments to address the crisis of Indigenous overrepresentation in their criminal justice systems.
With recent data from the Australian Bureau of Statistics (ABS) showing that Indigenous people in NSW are imprisoned at a rate of more than 10 times the general population, Jo Byrne, Co-Chair of ALHR's Indigenous Rights Subcommittee said, "State and territory governments across Australia can no longer deny the need for urgent action to end the over-imprisonment of First Nations people."
Last week prominent First Nations lawyers including Australia's first Indigenous silk, Tony McAvoy SC, Professors Larissa Behrendt (UTS), Megan Davis (UNSW), and Teela Reid signed a Ngalaya Indigenous Corporation open letter to the NSW Government calling for the "immediate establishment of a Walama Court". The Aboriginal Legal Service (NSW/ACT) Limited (ALS) echoed this call while urging the NSW and ACT Governments to voluntarily adopt ambitious jurisdictional-based justice targets to reduce the imprisonment of Aboriginal people.
Ms Byrne said, "ALHR strongly supports these calls. The Walama Court would involve Aboriginal and Torres Strait Islander Elders in sentencing discussions, rehabilitation and monitoring and has been recommended by both the NSW 'Ice' Inquiry (2020) and the ALRC's 'Pathways to Justice' Report (2017). Costings from the NSW Department of Justice indicate profound economic policy benefits associated with the establishment of the Walama Court, including estimated savings of millions of taxpayer dollars with net reductions in incarceration and recidivism, as well as productivity gains."
Citing figures from the NSW Bureau of Crime Statistics and Research (BOSCAR), Ms Byrne, said, "ALHR welcomes the empirical evidence in support of the Circle Sentencing hybrid model, which illustrates the need to look beyond traditional common law principles in order to achieve better Indigenous sentencing outcomes.The proposed Walama Court would leverage the respect for Elder cultural authority in Circle Sentencing to reduce the probability of Indigenous incarceration and reduce the probability of, and length of time before, reoffending."
Ms Byrne continued, "The open letter from Ngalaya follows the release of the new National Agreement on Closing the Gap last week which sets a target to reduce incarceration of Indigenous Peoples by 15% by 2031. While ALHR welcomes the release of the new targets we note that empirical evidence observed during the COVID-19 period depict an 11% and 27% decline in Indigenous adult prison and youth detention populations respectively. This shows us that Governments and our criminal justice system can move swiftly to reduce the number of First Nations people being held in custody."
"ALHR joins ALS in calling on the NSW and ACT governments to voluntarily increase the Closing the Gap Agreement justice targets as part of their mandated jurisdictional plans. We further echo the call for evidence-based reforms such as diversion, bail reform, justice reinvestment, raising the age of criminal responsibility, addressing systemic discrimination across the entire criminl justice and prison system, increased investment in early intervention, healing and rehabilitation programs."
Ms Byrne concluded,"On Sunday we observed the International Day of the World's Indigenous Peoples, a timely reminder that state and territory governments must continue to develop their jurisdictional-based policy frameworks to ambitiously address the new Closing the Gap targets and implement evidence-based community led solutions. Establishing the Walama Court is a crucial next step."
Contact: Matt Mitchell, ALHR media manager 0431 980 365.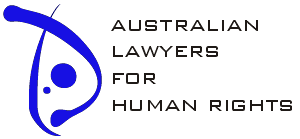 ===
First Nations lawyers in NSW have urged the state government to act swiftly to establish the long-awaited Walama Court to help divert Indigenous offenders from prison and reduce reoffending.
Sydney barrister Tony McAvoy, SC, the nation's first Indigenous silk, and Professors Larissa Behrendt and Megan Davis are among high-powered Indigenous lawyers calling in an open letter for the government to set up the court "as a matter of urgency".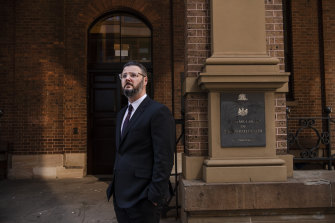 The proposed court, located in and backed by the NSW District Court, takes its name from the word for "come back" in Dharug language and would involve Aboriginal and Torres Strait Islander Elders in sentencing discussions, rehabilitation and monitoring.
Sydney barrister Damian Beaufils, who signed the letter, told the Herald it was clear First Nations people are incarcerated at a rate much higher than non-Indigenous people and that the court was urgently required.
"The government clearly needs a new approach to help reduce this shocking over-representation and to better meet the needs of First Nations people caught up in the criminal justice system," Mr Beaufils said.
Professor Behrendt, from the University of Technology, Sydney, and Professor Davis, from the University of NSW, lent crucial backing to the letter from the Ngalaya Indigenous Corporation, the peak body for First Nations lawyers and law students in NSW.
Professor Davis is a member of the NSW Sentencing Council, which provides independent advice to government on sentencing matters.
The Walama Court is based on intensive supervision of offenders and draws on aspects of other initiatives, including the Koori Court inside the Magistrates' Court of Victoria and the NSW Local Court's circle sentencing initiative, which involves Indigenous offenders' communities in sentencing.
Mr Beaufils said the court would recognise "Elders' cultural authority and the importance of community-centred, holistic support for First Nations people".
The court would be open to 75 to 100 participants a year who have pleaded guilty to an offence, excluding sexual offences.
Ganur Maynard, a law graduate at Herbert Smith Freehills and a signatory to the letter, said the Walama Court was a "perfect example of very well-researched, evidence-based reform that makes sense from a social point of view and a financial point of view".
"It just takes a little bit of political courage to implement it, and that's the only thing that we can really see that's impeding the proposal," Mr Maynard said.
A business case by the NSW Justice Department and Treasury in December 2018 costed a five-year pilot of the court at $19.3 million, or less than $3.9 million a year.
It calculated potential savings over six to eight years of $16.2 million on prison beds and $5.6 million from lowered recidivism, plus potential productivity gains.
Legal Aid lawyer and signatory Teela Reid, a member of the Walama Working Group, has described the court's objective as returning Aboriginal people to the safety of their communities and ensuring they don't "languish inside a prison cell".
Author: