PROLOGUE: What specialists like Prof. Dr. Francis Boyle, who drafted the U.S. domestic implementing legislation for the Biological Weapons Convention, known as the Biological Weapons Anti-Terrorism Act of 1989, that was approved unanimously by both Houses of the U.S. Congress and signed into law by President George H.W. Bush, and we among others have been saying since the beginning of the COVID-19 travesty, comes now out into the open: SARS-CoV-2 IS A SYNTHETIC NANO-BIO-CHEMICAL AGENT AND A BIO-WEAPON. WHY ARE GOVERNMENTS AROUND THE WORLD, WHO KNOW EXACTLY WHAT IS GOING ON IN REALITY, NOT INFORMING THEIR PEOPLE HONESTLY, PROHIBIT INDEPENDENT SCIENTIFIC RESEARCH (like in Italy), BUT INSTEAD ARE HELPING TO COVER UP, RUIN THEIR ECONOMIES AND TORTURE THEIR CITIZENS??? IN ADDITION A GENOME-CHANGING VACCINE SHALL BE FORCED INTO INNOCENT HUMANS AND A TOTALITARIAN SURVEILLANCE SCAM IS IMPLEMENTED. THE NOW ABSOLUTELY NECESSARY INDEPENDENT INTERNATIONAL TRIAL ON THE PANDEMIC WILL ALSO HAVE TO TAKE THE NUREMBERG CODE INTO CONSIDERATION AND DRAG IRRESPONSIBLE AND OUTRIGHT CRIMINAL GOVERNMENT OFFICALS INTO THE STAND.
Sign the Demand for an Immediate Global Ban on Gain-of-Function 'Biomedical' and 'Biodefense Research'!
UPDATE 04. December 2020: Dr. Lorraine Day Warns People of What's Coming
UPDATE 25. September 2020: Engineering Contagion: UPMC, Corona-Thrax And "The Darkest Winter"
UPDATE 25. September 2020: Still Questions about China? Pete Santilli Interviews Serial Entrepreneur Chris Kitze
ICYMI: Wuhan-Virus?
Corporate Media and Big Tech Trying to Stop Judy Mikovits Interview Exposing Dr. Fauci from Airing this Weekend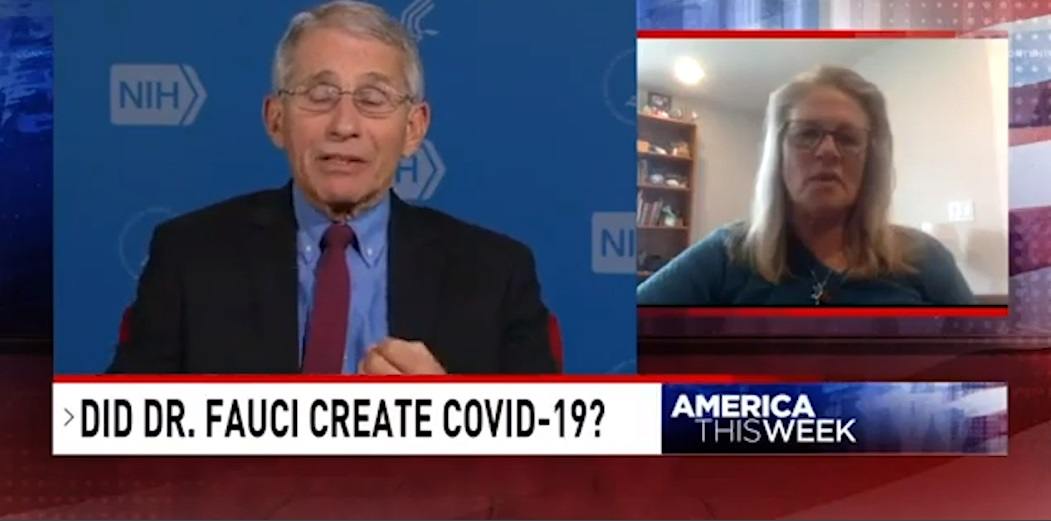 UPDATE 26. July 2020
Sinclair Broadcasting was apparently pressured to not air this. This is what they announced via their Twitter account:
After further review, we have decided to delay this episode's airing. We will spend the coming days bringing together other viewpoints and provide additional context. All stations have been notified not to air this and will instead be re-airing last week's episode in its place.
Corporate Media and Big Tech Trying to Stop Judy Mikovits Interview Exposing Dr. Fauci from Airing this Weekend
By Brian Shilhavy - 25. July 2020
The national corporate media giants like CNN, along with Big Tech, are trying hard to censor a video produced by America this Week with Eric Bolling and distributed to local media sources via the Sinclair Broadcast Group.
The video is an interview with whistle-blower Dr. Judy Mikovits and her attorney, Larry Klaman, where Dr. Mikovits is claiming that Dr. Fauci was manufacturing coronaviruses in monkey cell lines at Ft. Detrick in the U.S., a biosafety level 4 facility, and shipping them to Wuhan, China.
CNN may have unwittingly drawn more attention to the show than it would have otherwise received by publishing an article condemning the host, Eric Bolling, who used to work for Fox News, and also slandering both Larry Klaman and Dr. Mikovits in an effort to discredit them.
The text used by CNN was picked up by almost every other national corporate media organization by Friday, July 24, 2020.
One of the sources who also condemned the interview is an organization called "Media Matters" who also embedded the video of the interview, which has now been deleted from Facebook, as well as local affiliate WJLA ABC 7, where the video was originally published.
We have embedded the video below. (If it disappears, let us know.)
As a matter of policy, Health Impact News generally does not link to and provide traffic to the websites like CNN, but here is a write-up on CNN's hit piece from RT.com:
CNN has whipped up an army of outraged Twitter liberals after it slammed a network of local news stations for airing an interview with a disgraced scientist who blamed Dr Anthony Fauci for the coronavirus.

Dr Judy Mikovits is the star of 'Plandemic,' a conspiracy documentary claiming that Covid-19 is a ploy by National Institute of Allergy and Infectious Diseases head Dr Anthony Fauci and Bill Gates to poison the masses with vaccines and get rich doing so. The film has been pulled from YouTube, censored in internet searches, and denounced by almost every single mainstream media outlet.

Mikovits, however, will appear on hundreds of local news outlets owned by the Sinclair Broadcast Group this weekend, during a segment of 'America This Week', hosted by Eric Bolling.

Her appearance alone rubbed CNN the wrong way. In an article slamming Sinclair for airing such a "baseless conspiracy theory," CNN hammered Bolling for allowing Mikovits to "continue to make her case" without pushing back enough. CNN even texted both Bolling and Mikovits' fellow guest Larry Klayman, a lawyer who backed up her claims, to ask them about the segment.

Taking a page from the Media Matters playbook, CNN asked Bolling if he had any "second thoughts" about airing the segment. Bolling simply replied "I don't second guess my producers and bookers."

Online, CNN's liberal viewership clamored for a boycott of Sinclair. Some even demanded that anyone spreading such "dangerously false propaganda" be imprisoned.

Whatever its standing in the information war, CNN is losing the ratings war against Sinclair and its affiliates. Local broadcasters like the 294 owned or operated by Sinclair and its subsidiaries draw in five times as many primetime viewers as cable networks like CNN. Among these local broadcasters, Sinclair is king, reaching 40 percent of American households. (Source.)
As of the time of this writing (Saturday, 7/25/2020), I have not seen anything about Sinclair changing their mind, but outside of Media Matters and a couple of other sites also embedding their video of the interview, I have not been able to locate it.
Here is the interview:
Transcript via MediaMatters.org
ERIC BOLLING (HOST): Larry Klayman is the founder of Judicial Watch and Freedom Watch. He's teamed up with Dr. Judy Mikovits, who worked with Dr. Anthony Fauci and is an expert in virology. I spoke to them both recently about the potential legal action they are seeking against Dr. Fauci. Then I brought in Dr. Nicole Saphier to weigh in on all their allegations. Take a listen.
(VIDEO BEGINS)
BOLLING: Dr. Mikovits, tell me about the — what you believe Dr. Fauci has done wrong?
JUDY MIKOVITS: I believe Dr. Fauci has manufactured the coronaviruses in monkey cell lines and shipped them from and paid for and shipped the cell lines to Wuhan, China, now for at least since 2014. He published that fact and funded the studies that were published in 2015 in Nature Medicine that stated that the original cell line the Chinese used to grow the virus was shipped from Ft. Detrick, USAMRIID, the biosafety level 4 facility there.
BOLLING: Doctor, that's a pretty hefty claim. You're claiming that there was a virus that Fauci discovered, the coronavirus — again, there are many coronaviruses — but he shipped this specific version to China —
MIKOVITS: No.
BOLLING: And then somehow it leaked? Tell us.
MIKOVITS: No. I'm not saying that he discovered it, I'm saying they were manufacturing these animal tissues. They were using these animal tissues at Ft. Detrick, and this has been done for decades. It was illegal in this country, so instead of continuing the work there, he funded the studies. He's the head of NIAID. He didn't discover this particular coronavirus, but they had been working on isolating coronaviruses from bats, both at USAMRIID since the mid to late '90s, and they had shipped — originally funded the studies to Wuhan, China, when it was illegal in this country to do these types of studies further.
BOLLING: All right, let's bring you in Larry, let's talk about the law here. What is your claim and, you know, how is it steeped in law?
LARRY KLAYMAN: Well we're looking at a possible RICO case, Eric, and we're analyzing that right now, but what it appears happened is the Chinese got that virus. And we know that $3.7 million was given as a grant during the Obama administration to that Wuhan laboratory, that's not in dispute. And the Chinese then engineered it into a bioweapon. So what happened here, actually, is relevant to our lawsuit in Dallas, Texas, our class action against the communist Chinese who are releasing, either accidentally or by design, this pandemic. So, it's a very serious matter, and it needs to be looked into. No one wants to discuss it, and I suspect the president probably knows about this right now, which is why — and I support the president personally, but I don't think that's why he's — I think that's why he's going not real strong against China right now, because this virus actually had its origins, apparently, in a lab in Ft. Detrick, Maryland.
BOLLING: And Larry, we know about the funding the Obama administration sent to China, the Wuhan lab, but allegedly it was for discovery of a vaccine of this exact virus. Earlier, the doctor talked about something that Fauci may have been doing, experimenting here illegal. Tell us about that piece of it.
KLAYMAN: Well, let me just say this. I think one thing the left and the right have in common these days, Eric, is that we don't believe a word the government tells us. And the fact that they claim they're looking for a vaccine — you know, they were doing research, and Judy could talk about this more, at Ft. Detrick to combat bioweapons. OK, so, they weren't there just for vaccines. I mean, they were there for a number of different reasons. But let me turn it over to her because she's the expert here.
BOLLING: Go ahead, doctor.
MIKOVITS: Ah, yes, Eric, these — since the mid '90s, we've been working with Ebola and other strains of viruses from bats and animals. And we — I did that work at USAMRIID, that means U.S. Army Research Institute for Infectious Disease. So we were doing those studies, allegedly then, to provide vaccines or therapeutics, but we were working, mixing animal tissues in these human cell lines, the exact same cell lines used in China. And these viruses have escaped before, the Ebola strain in 2014 that killed 21,000 Liberians came from that same USAMRIID facility in Ft. Detrick, Frederick, Maryland.
BOLLING: All right, we're going to leave it there. I think there's a lot more as we go forward. Larry, you've been talking about suing China for quite a while now, you'll keep us up to date on where that legal proceeding is headed and where it is. Larry Klayman everybody, Dr. Judy Mikovits. Thank you very much for your time.
(VIDEO ENDS)
Here is the trailer for the Plandemic film that has been banned and censored, but by some estimates has been viewed by over 1 BILLION people in the past couple of months.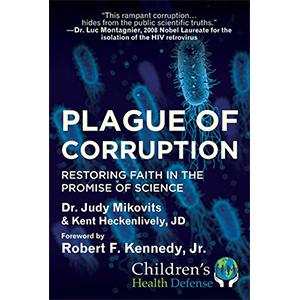 ===
UPDATES:
Dr. Lorraine Day Warns People of What's Coming
Republished on BITCHUTE December 4th, 2020.
Dr. Lorraine Day interviewed by Jana Bennun of Israeli News LIVE.
Dr. Lorraine Day is one of the most fearless truth-tellers alive. Topics include the CV19 fraud, the patenting of CV19 and the coming patenting of human beings, staying healthy, vaccines and the coming CV19 injections, genocide of the white Christian population, satanic influence in the Agenda being imposed upon the world and much more!
===
Engineering Contagion: UPMC, Corona-Thrax And "The Darkest Winter"
By Whitney Webb - 25. September 2020
Researchers at a BSL-3 lab tied to the organizers of the 2001 Dark Winter simulation, DARPA, and the post-9/11 biodefense industrial complex are genetically modifying anthrax to express Covid-19 components, according to FOIA documents.
Soon after having been fired from his post as secretary of the treasury in December 2002, after a policy clash with the president, Paul O'Neill became a trustee of the University of Pittsburgh Medical Center. Despite having just worked under and clashed with George W. Bush and Dick Cheney, it wasn't until O'Neill began answering to UPMC CEO Jeffrey Romoff as a member of the Center's board that he chose to publicly denounce a superior as "evil."
"He wants to destroy competition. He wants to be the only game in town," O'Neill would later stateof Romoff, adding that "after 18 months I quit [the UPMC board] in disgust" due to Romoff's "absolute control" over the board's actions. O'Neill subsequently noted that UPMC "board members who have wealth of hundreds of millions of dollars are not willing to take this guy on." When pressed by a local reporter, O'Neill further elaborated that he had been told by other board members that they were "afraid" of Romoff because Romoff might "harm them in some way."
O'Neill's criticisms of Romoff are hardly an outlier, as local community activists and even a state attorney general have noted that UPMC's board lets Romoff do as he pleases.
Jeffrey Romoff has ruled UPMC with an iron fist since his predecessor, Thomas Detre, had a heart attack in 1992. As a result of the Center's massive wealth accumulation, at first spurred by his magic touch for receiving National Institutes of Health (NIH) grants, Detre was able to use the financial power afforded to him to consolidate control over enough of the University of Pittsburgh to create his "own personal fiefdom," which is now the stand-alone corporation known as UPMC.
Not long after Romoff took over the Center's reins, he made his intentions clear to faculty and staff, stating at one 1995 UPMC meeting that his "vision" for the future of American health care was "the conversion of health care from social good to a commodity." Motivated by profit above all else, Romoff aggressively expanded UPMC, gobbling up community hospitals, surgery centers, and private practices to create a "health-care network" that has expanded throughout much of Pennsylvania and even abroad to other countries, including China. Under Romoff, UPMC has also expanded into the health-insurance business, with 40 percent of the medical claims it pays outgoing straight back into places of care that are owned by UPMC—meaning UPMC is essentially paying itself.
In addition, since UPMC is officially a "charitable nonprofit corporation," it is exempt from property taxes and has special access to the tax-exempt municipal bond market. UPMC can also solicit tax-deductible grants from private individuals and organizations, as well as governments. These grants totaled over $1 billion dollars between 2005 and 2017.
Despite these perks being officially justified because of UPMC's "charitable institution" status, the UPMC board, with Romoff at the top, have seen their own multimillion-dollar-per-year salaries continue to climb. Perhaps this perk also comes from UPMC being a nonprofit corporation, as there are no stockholders to whom Romoff and the board must explain their increasingly exorbitant salaries. For instance, Romoff made $8.97 million last year as UPMC's CEO, a marked increase over the $6.12 million he had raked in the prior year.
UPMC's financial chicanery is so out of control that even Pennsylvania's attorney general has taken action against it, suing UPMC in February 2019 for violations of the state's charity laws based on their "unjust enrichment" and engaging in "unfair, fraudulent or deceptive acts or practices." Though UPMC decided to settle out of court, the Center and Romoff came out of the affair relatively unscathed.
Now, thanks to the crisis caused by Covid-19, UPMC is once again on the path toward growing even larger and more powerful in pursuit of Romoff's ultimate goal, which is, in his own words, to make UPMC the "Amazon of health care."
In this fourth installment of the The Last American Vagabond series "Engineering Contagion: Amerithrax, Coronavirus and the Rise of the Biotech-Industrial Complex", the "nonprofit" health-care behemoth that is UPMC is squarely placed at the intersection of post-9/11 "biodefense" public-private partnerships; corporate-funded academics who shape public policy on behalf of their private-sector benefactors; and risky research on dangerous pathogens that threatens to unleash the very "bioterror" that these institutions claim to guard against.
The Odd Trajectory of UPMC's Covid-19 Vaccine Efforts
In January 2020, when much of the world remained blissfully unaware of the coming global pandemic, UPMC was already at work developing a vaccine to protect against the novel coronavirus that causes Covid-19, known as SARS-CoV-2. That month, before the state of Pennsylvania had a single case of Covid-19, UPMC formed a "coronavirus task force," which was initially focused on lobbying the US Centers for Disease Control and Prevention (CDC) to obtain samples of live SARS-CoV-2 for research purposes. That research was to be conducted at the Biosafety Level 3 (BSL-3) Regional Biocontainment Laboratory (RBL) housed within UPMC's Center for Vaccine Research. A day after the director of UPMC's Center for Vaccine Research, W. Paul Duprex, revealed UPMC's efforts to access the SARS-CoV-2 virus, he announced that the virus samples, containing an estimated 50 to 60 million coronavirus particles, were already en route to the university. At the time, UPMC was one of only a handful of institutions on the CDC's short list to receive live SARS-CoV-2 samples.
UPMC later stated that they began work on a vaccine for Covid-19 on January 21st, weeks before the February 14th announcement that the virus was on its way to the university. That original vaccine candidate used the published genetic sequence of SARS-CoV-2, released in early January 2020 by Chinese researchers, to synthetically produce SARS-CoV-2 spike proteins that would be transported into cells by an adenoviral vector, which is commonly used in a variety of vaccines. The vaccine candidate was nicknamed PittCoVacc, short for Pittsburgh Coronavirus Vaccine.
A little over a month after the live SARS-CoV-2 samples were received by UPMC's Center for Vaccine Research, UPMC received a $5 million grant from the Coalition for Epidemic Preparedness Innovations (CEPI), an international organization founded in 2017 by the governments of Norway and India along with the World Economic Forum and the Bill and Melinda Gates Foundation. The grant was officially awarded to "an international academic-industry partnership" that the Center for Vaccine Research had recently formed with the Institut Pasteur in France and Austrian vaccine manufacturer Themis. Soon after, in May, Themis was acquired by vaccine giant Merck, which began recruiting volunteers for human trials earlier this month on September 11. Merck has incredibly close ties with UPMC, particularly its commercialization arm known as UPMC Enterprises.
The CEPI grant seems to have drastically altered the Center for Vaccine Research's interest in the original adenovirus-vector vaccine candidate, PittCoVacc, as the CEPI grant was specifically aimed at funding a different vaccine candidate that instead uses the measles virus as a vector. The measles virus and the genetic manipulation of measles for use in the measles vaccine is, notably, the principal research interest and expertise of Center for Vaccine Research director Paul Duprex.
This measles-based vaccine candidate has been described as "a modified [genetically altered] measles virus that delivers bits of the new coronavirus into the body to prevent Covid-19" as well as an "attenuated [genetically modified yet weakened] measles virus as a vector with which to introduce genetic material from SARS-[CoV-]2 to the immune system." The combination of this weakened measles virus and SARS-CoV-2, per Duprex, will produce a "more benign version of coronavirus [that] will acquaint a person's immune system" with SARS-CoV-2. No vaccine using this modality has ever been licensed.
On April 2nd, less than a week after the CEPI award had been announced, the UPMC researchers who had developed the original vaccine candidate using the more traditional adenovirus-vector approach published a study in EBioMedicine (a publication of the medical journal Lancet) that reported promising results of their vaccine candidate in animal studies. The news that a US institution was among the first in the world to develop a Covid-19 vaccine candidate with promising results from an animal study was heavily amplified by mainstream US media outlets, with those reports noting that UMPC was requesting government permission to quickly move onto human trials.
This original vaccine candidate, however, was mysteriously dropped from subsequent reports and statements from UPMC regarding its Covid-19 vaccine efforts. Indeed, in recent months, Duprex's statements on the center's Covid-19 vaccine candidates no longer mention the once-promising PittCoVacc at all. Instead, new reports, citing Duprex, claim that the only UPMC vaccine candidates are the CEPI-funded measles-vaccine candidate and another, more mysterious vaccine candidate, whose nature has only been recently revealed by documents obtained through a Freedom of Information Act (FOIA) request.
Equally odd is that recent media reports on the original vaccine candidate have stoppedmentioning UPMC at all, instead citing only Themis, its new owner Merck, and France's Institut Pasteur. There are no reports indicating a break-up of the original "academic-industry partnership" that had received the CEPI grant. It seems that this is what may have come to pass, as Duprex stated that the UPMC measles-vector vaccine candidate had partnered with the Serum Institute of India for mass production, first for trials and then for public use, depending on how the vaccine advances through the regulatory process. In contrast, Themis/Merck have stated that their vaccine is being produced in France. It remains unclear what the relation is between these two, and apparently analogous, vaccine candidates.
Though Duprex has been relatively forthcoming about the nature of the first UPMC vaccine candidate (i. e., the CEPI-funded measles-vector vaccine), he has been much more tight-lipped about its second vaccine candidate. In late August, he told the Pittsburgh Business Times that the second vaccine candidate that UPMC was developing "works by delivering genetic material coding for a viral protein instead of the entire weakened or killed virus as is standard in other vaccines." Yet Duprex declined to state what vector will be used to deliver the genetic material into human cells. Recent FOIA revelations, nevertheless, have revealed that UPMC's second vaccine candidate involves genetically engineering a combination of SARS-Cov-2 and anthrax, a substance better known for its potential use as a bioweapon.
Corona-thrax
The recently obtained documents reveal that the BSL-3 lab that is part of UPMC's Center for Vaccine Research is conducting eyebrow-raising research involving combining SARS-CoV-2 with Bacillus anthracis, the causative agent of anthrax infection. Per the documents, anthrax is being genetically engineered by a researcher, whose name was redacted in the release, so that it will express the SARS-CoV-2 spike protein, which is the part of the coronavirus that allows it to gain access into human cells. The researcher asserts that "the [genetically engineered anthrax/SARS-CoV-2 hybrid] can [be] used as a host strain to make SARS-CoV-2 recombinant S protein vaccine," and the creation of said vaccine is the officially stated purpose of the research project. The documents were produced by the University of Pittsburgh's Institutional Biosafety Committee (IBC), which held an emergency meeting on June 22nd of this year to "discuss specific protocols involving research with the coronavirus," which included a vote on the aforementioned proposal.
Edward Hammond, the former director of the Sunshine Project, an organization that opposed chemical and biological weapons and the expansion of "dual use" biodefense/bioweapon research, obtained the documents. Other FOIA documents recently obtained by Hammond have revealed an "explosion" of risky Covid-19-related research at other academic institutions, such as the University of North Carolina, which has already had lab accidents involving genetically engineered variants of SARS-CoV-2.
Hammond told The Last American Vagabond that the experiment, which he dubs "Corona-thrax," is "emblematic of the pointless research excesses that often characterize the response of scientists to the federal government throwing billions of dollars at health crises." Hammond added, "While I don't think that Corona-thrax would be infectious, it falls into the categories of pointless and crazy. The biggest immediate risk of all this activity is that a researcher will deliberately or inadvertently create a modified form of SARS-CoV-2 that is even more difficult to treat, or more deadly, and this virus will escape the lab. It only takes a stray droplet."
Jonathan Latham, a virologist who previously taught at the University of Wisconsin and who is the current editor of Independent Science News, agreed with Hammond that the Corona-thrax experiment is odd and said that he was "concerned here specifically about the research process and the risks of these specific experiments at Pittsburgh." In an interview with The Last American Vagabond, Latham asserted that it is "unusual by historical standards . . . the combining of two highly pathogenic organisms in a single experiment." He did note, however, that such studies for the purposes of vaccine research have become more common in recent years, as is made clear in a 2012 study.
Few experiments have been conducted that specifically utilize anthrax in this way. Since 2000, the studies that have examined the use of genetically modified anthrax as a potential vaccine vector have been affiliated with Harvard University. One of these studies was on the use of anthrax as a vector in a potential HIV vaccine and was jointly conducted in 2000 by Harvard researchers and the vaccine company Avant Immunotherapeutics (now part of Celldex).
Despite reporting positive preliminary results in their experiments, Avant/Celldex did not fund further experiments into a vaccine that used this anthrax-based modality, and it does not currently market or have any such vaccine in its product pipeline. This suggests that, for whatever reason, this company did not see much value in this vaccine, despite the preliminary study with Harvard claiming that the methodology was safe and effective.
The Harvard researchers involved in that 2000 study, however, continued to investigate the possibility of an anthrax-based HIV vaccine in 2003, 2004, and 2005, though without corporate sponsorship. Related yet different research has explored the use of "disarmed" anthrax components as an adjuvant in vaccines and as the basis for enzyme-linked immunospot assays.
The aforementioned Harvard researchers patented their methodology of using anthrax in this way for the production of a vaccine in 2002. This means that the anthrax-based "vaccine" currently being developed by UPMC's Center for Vaccine Research would have to develop a new method that utilizes anthrax in much the same way so as not to infringe on the patent, which is unlikely. The other alternative is that UPMC would pay the patent holders for use of their methodology if they want to commercialize it in a vaccine. Yet, given UPMC's business model in general, as well as that of UPMC's Center for Vaccine Research specifically, this also seems unlikely.
Also odd is what sort of incentive UPMC's Center for Vaccine Research possesses for the Corona-thrax experiment. There are currently over a hundred vaccine candidates that use existing and tested vaccine platforms in pursuit of a Covid-19 vaccine, a fact Duprex himself has acknowledged. As Hammond told The Last American Vagabond, "It is perfectly obvious that there are numerous existing vaccine platforms for Covid-19 and that some of them will, sooner or more likely later, succeed. There is no serious need for some sort of quite strange bacterial platform, much less one that happens to be anthrax. It's completely unnecessary and frankly bizarre."
The Crown Jewel of the Biotech-Industrial Complex
The Corona-thrax experiment is being conducted at the Center for Vaccine Research's Regional Biocontainment Laboratory (RBL), where the center's work with pathogenic agents, such as anthrax and SARS-CoV-2, is conducted.
The creation of UPMC's RBL was first announced in 2003, when the National Institute of Allergy and Infectious Diseases (NIAID, then and currently led by Anthony Fauci) stated it would fund the laboratory's construction with an $18 million grant. It was originally planned to be mainly "dedicated to research on agents that cause naturally occurring and emerging infections, as well as potential agents of bioterrorism." The plan to create the lab was part of the US government decision to dramatically ramp up "biodefense" research in the wake of the 2001 anthrax attacks.
The lab was also intended to work on "developing a vaccine program focusing on basic and translational research" related to viruses of pandemic potential that are at risk of being "weaponized," including SARS. After the creation of the lab was initially announced, the project expanded, eventually becoming UPMC's Center for Vaccine Research, which was launched in 2007. The Center for Vaccine Research was the second such institution to be officially added to the NIAID's "biodefense" RBL network.
The opening of both this lab and UPMC's Center for Vaccine Research was made reality thanks to the efforts of the main authors of the June 2001 Dark Winter bioterror simulation, a controversial exercise that eerily predicted the 2001 anthrax attacks as well as the initial, yet bogus, narrative that Iraq and Islamic extremist terror groups were responsible for those attacks. However, the anthrax used in the attacks was later revealed to be of US military origin. As noted in Part I of this series, participants in the Dark Winter exercise had foreknowledge of the anthrax attacks and others were involved in the subsequent "investigation," which many experts and former FBI investigators describe as a cover-up.
Dark Winter was largely written by Tara O'Toole, Thomas Inglesby, and Randall Larsen, all three of whom played integral roles in the founding or operations of UPMC's Center for Biosecurity, along with O'Toole's mentor, D. A. Henderson. UPMC's Center for Biosecurity was launched in September 2003, just days before the NIAID announced it would fund the RBL lab that would later become the UPMC's Center for Vaccine Research.
Notably, just days after the attacks on September 11, 2001, O'Toole, Inglesby, and Larsen personally briefed Vice President Cheney on Dark Winter. Simultaneously, Cheney's office at the White House began taking the antibiotic Ciprofloxacin to prevent anthrax infection. In the weeks between that briefing and the 2001 anthrax attacks, Dark Winter participants and several associates of Cheney, namely members of the Project for a New American Century (PNAC) like Donald Kagan and Richard Perle, asserted that a bioterror attack involving anthrax would soon take place.
In the aftermath of the 2001 anthrax attacks, Henderson "was tapped by the federal government to vastly increase the number of [biodefense] labs, both to detect suspected pathogens like anthrax and to conduct bio-defense research, such as developing vaccines," with the announcement of UPMC's RBL being part of the launch of the O'Toole-led Center for Biosecurity at UPMC, where Henderson was named senior adviser. In 2003, the Center for Biosecurity was set upat UPMC partially at the request of Jeffrey Romoff to be "the country's only think tank and research center devoted to the prevention and handling of biological attacks," with UPMC's Center for Vaccine Research being the hub of a new "biodefense research" lab network Henderson was setting up and managing at the time. That network remains technically managed by the Fauci-led NIAID.
Also noteworthy is that the Center for Vaccine Research's director, from its opening in 2007 until 2016, was Donald Burke. Burke is a former biodefense researcher for the US military at Fort Detrick and other installations and, immediately prior to heading the UPMC center, was a program director at the Johns Hopkins Bloomberg School of Public Health, where he worked closely with O'Toole and Inglesby.
At the time of the 2003 announcement regarding the creation of what would become UPMC's Center for Vaccine Research, Tara O'Toole stated:
"This new laboratory will enable University of Pittsburgh medical researchers to delve further into possible treatments and to develop vaccines against diseases that might result from bioterrorist attack or from natural outbreaks."
A few years later, after she was nominated to a top post at the Department of Homeland Security, O'Toole was slammed by experts over her excessive lobbying "for a massive biodefense expansion and relaxation of provisions for safety and security." Rutgers microbiologist Richard Ebright remarked at the time that "she makes Dr. Strangelove look sane." It was also noted in hearings that O'Toole had worked as a lobbyist for several "life sciences" companies specializing in the sale of biodefense products to the U.S. government, including Emergent Biosolutions – a very controversial company and a key suspect in the 2001 anthrax attacks.
The history of the Center for Vaccine Research's RBL, particularly the network of people who prompted the lab's creation, raises concerns about the nature of the Corona-thrax experiment currently being conducted within the facility. This is especially true because the researcher conducting the experiment appears to be ignorant about key parts of the research he or she is conducting.
For instance, the FOIA-redacted researcher incorrectly states that a recombinant virus proposed for use in the study is incapable of infecting human cells, while the IBC members note that this is not the case. In addition, the unnamed researcher falsely claimed that one of the viral vectors for use in the investigator's study did not express Cas9 (a protein associated with CRISPR gene editing) and gRNA ("guide RNA," also used in CRISPR) and was unaware that handling those agents requires an enhanced BSL-2 lab (BSL-2+) as opposed to a typical BSL-2 lab.
Apparently such errors among researchers involved in Covid-19 research at UPMC is not an anomaly. During another UPMC IBC meeting included in the FOIA release, the IBC noted the following about a separate research proposal:
"In the investigator's notes in responses to changes requested by the IBC pre-reviewers, the investigator indicates that RNA from SARS-CoV-1 and SARS-CoV-2 infected cells will be obtained from BEI resources. Genomic RNA isolated from cells infected with SARS-CoV-1 is regulated as a Select Agent by the Federal Select Agent Program and neither the University nor this investigator are registered for possession and use of these materials[emphasis added] (SARS-CoV-1). The investigator must NOT obtain SARS-CoV-1 genomic RNA without prior consultation with the University's RO/AROs for Select Agents."
This part, in particular, caught the attention of Jonathan Latham, who noted that it was odd that "a university researcher is trying to obtain approval for an experiment which no one at the university is allowed to do." Latham added in an interview that "apparently this applicant is totally ignorant of the regulatory environment and by extension the risks of SARS-CoV, which is a highly infectious virus whose escape from a lab has already led to at least one death."
While Latham assumed that this was a "university researcher," it is worth noting that the use of the UPMC Center for Vaccine Research's RBL is not exclusive to researchers affiliated with the university. Indeed, as noted on the NIH website, "Investigators in academia, not-for-profit organizations, industry, and government studying biodefense and emerging infectious diseases may request the use of biocontainment laboratories," including the RBL managed by the Center for Vaccine Research.
In addition, the Center for Vaccine Research website notes that "scientists from outside the University of Pittsburgh can work in the RBL through a collaboration or contract. Outside scientists must comply with all University of Pittsburgh training, documentation, regulatory, and medical requirements." This means that outside scientists using the facility are also subject to IBC review. Both the NIH and Center for Vaccine Research sites note that, for an outside researcher to use the UPMC RBL facility, approval from the center's director must be obtained.
Since the name of the Corona-thrax researcher is redacted, there is no way of knowing if he or she is affiliated with the university or a separate institution, corporation, or government agency. Regardless of who is conducting this experiment, however, it is possible to examine the history and motivations of the man who ultimately signed off on it—the Center for Vaccine Research's director, Paul Duprex.
Paul Duprex: DARPA-Funded Researcher and Gain-of-Function Enthusiast
Paul Duprex is a former chief scientist for Johnson & Johnson whose subsequent foray into academia was largely funded with research grants from the NIH and the Pentagon's Defense Advanced Research Projects Agency (DARPA). Much of Duprex's research has focused on recombinant (i. e., genetically engineered) viruses or viral evolution.
In terms of his research funded by DARPA, Duprex was most closely associated with DARPA's "Prophecy" program, the creation of which was overseen by Michael Callahan. Callahan's suspect past and his ties to the origin of the current Covid-19 crisis in Wuhan, China, were the subject of a recent Unlimited Hangout article by Raul Diego.
In that article, Diego notes that the now-defunct Prophecy program had "sought to 'transform the vaccine and drug development enterprise from observational and reactive to predictive and preemptive' through algorithmic programming techniques" and that the program further "proposed that 'viral mutations and outbreaks' could be predicted in advance to more rapidly counter the unknown disease with preemptive drug and vaccine development."
By all indications, Prophecy was DARPA's first major foray into "predictive" AI-powered health care, which has expanded considerably in the years since. It also involved a component, which Duprex was particularly involved in advancing, whereby the "predictive" viral evolutions algorithms would be "validated and tested . . . by using multiple selective pressures on at least three closely related virus strains in an experimental setting."
Such experiments, like this study by Duprex, involved the genetic engineering of three viral pathogen strains and then seeing which would become most transmissible and virulent in an animal host. Such studies are often referred to as gain-of-function (GOF) research and are incredibly controversial given that they often create pathogens that are more virulent and/or transmissible than they otherwise would be. It is also worth noting that UPMC, before Duprex joined the center, had also received millions in funding from DARPA's Prophecy program "to develop in vitro and computational models for predicting viral evolution under selection pressure from multiple evolutionary stressors."
Duprex has also been involved in conducting research for DARPA's current INTERfering and Co-Evolving Prevention and Therapy (INTERCEPT) program, a successor to Prophecy that "aims to harness viral evolution to create a novel, adaptive form of medical countermeasure—therapeutic interfering particles (TIPs)—that outcompetes viruses in the body to prevent or treat infection." TIPs are genetically engineered viruses with defective genomes that theoretically compete with real viruses for viral components in the human body but "evolve with" the viruses they are meant to protect the body against and are "susceptible to mutation over time."
The goal of the INTERCEPT program is to use TIPs as "therapeutics" and have them injected into the human body to "preemptively" protect against the virus from which a particular TIP was developed. It is worth noting that, while DARPA frames much of its gene-editing research (including its "genetic extinction" technology research) as being aimed at promoting either human or environmental health, it has also openly admitted that these same technologies are of interest to DARPA for their ability to "subvert" the genes of human adversaries of the US military via "genetic weapons."
Duprex led an INTERCEPT study published in February of this year in which he and his coauthors explored how to create a synthetic TIP of the Nipah virus, a deadly virus with a fatality rate of over 70 percent. In that study, they used both wild and genetically engineered strains of Nipah virus. Notably, the Clade X pandemic simulation, which will be discussed in detail in the next installment of this series, involved a genetically engineered combination of the Nipah virus and a parainfluenza disease.
Clade X took place in 2018 and was led by much of the same team that was responsible for the 2001 Dark Winter bioterrorism simulation, including former FDA commissioner Margaret Hamburg and Tara O'Toole and Thomas Inglesby of the UPMC Center for Biosecurity. Another notable participant at Clade X was Julie Gerberding, former CDC director and current executive vice president at Merck, which has close ties to UPMC as well as the Center for Biosecurity's failed "21st Century Biodefense" project.
A few months after publishing the study funded by DARPA's INTERCEPT program, Duprex coauthored another study on the use of synthetic "nanobodies" (i. e., bioengineered synthetic nanoparticles acting as antibodies) that was published in August. This effort mirrors other DARPA "health-focused" projects. That study was funded by the University of Pittsburgh, the NIH, and Israel's Ministry of Science and Technology.
In addition to his ties to DARPA programs involving the genetic engineering of viral pathogens, Duprex is a leading advocate for controversial gain-of-function research and was appointed to direct UPMC's Center for Vaccine Research less than three months after the federal moratoriumon GOF research ended.
In October 2014, five days after that moratorium was first imposed, Duprex gave a talk to the National Science Advisory Board for Biosecurity entitled "Gain-of-Function Studies: Their History, Their Utility, and What They Can Tell Us." In the talk, he asserted that "cross-species infection studies have already helped to improve surveillance in the field, have shed new light on basic influenza virus biology, and could assist in growing vaccine viruses better" and argues against the recently imposed moratorium.
In 2014, Duprex also wrote in a paper published in Nature that "GOF approaches are absolutely essential in infectious disease research; although alternative approaches can be very useful, these can never replace GOF experiments." He added that, in his view, there were only two reasons for GOF research, the first being to "improve surveillance or to develop therapeutics" and the second being merely to learn "interesting biology."
In that same paper, he also argued that "genetic engineering that is intended and likely to endow a low-pathogenicity, low-transmissibility agent with either enhanced pathogenicity or enhanced transmissibility may be appropriate if the benefits are substantial." He also suggested in this 2014 paper that it "might" be necessary "to enhance pathogenicity of coronaviruses in order to develop a valid animal model for coronaviruses." Years later, during the current coronavirus crisis, Duprex and other officials from the UPMC's Center for Vaccine Research co-developed a Covid-19 research and development "blueprint" for the UN's World Health Organization.
In addition, Duprex's work for DARPA's Prophecy program involved GOF research, as noted above, and the creator of that program, Michael Callahan – former head of DARPA's biodefense therapeutics initiatives, is also a proponent of GOF who believes that such risky research is inseparable from "the research and development enterprise in the life sciences and for biotechnology."
Duprex is also a founding member of Scientists for Science, a group of researchers (most of whom are involved in GOF research) who opposed the GOF moratorium and were "confident that biomedical research on potentially dangerous pathogens can be performed safely and is essential for a comprehensive understanding of microbial disease pathogenesis, prevention and treatment." Another of the group's founding members is Yoshihiro Kawaoka, whose controversial GOF experiments that made pathogenic viruses more deadly have garnered considerable media attention.
When the moratorium on GOF was lifted in December 2017, Duprex called it a "sign of progress," adding that "on a personal level I'm really pleased these NIH funded scientists [conducting GOF research] get some clarity." As previously mentioned, he became the Center for Vaccine Research's director less than three months later, in March 2018.
The "Darkest Winter" Looms
After a cursory examination of the background of UPMC, its Regional Biocontainment Laboratory, and the man directing its Center for Vaccine Research, the question about the nature of the Corona-thrax experiment becomes: Is this yet another ill-advised experiment by a lab led by a GOF enthusiast and fueled by a feeding frenzy over the billions of dollars thrown by the government and other entities into Covid-19 research? Or is there perhaps a more nefarious motive to genetically engineering something as bizarre as Corona-thrax?
While the latter question may appear conspiratorial, it is worth pointing out that the institutions most likely to have been the sources for the anthrax used in the 2001 anthrax attacks were conducting GOF research on anthrax funded by the Pentagon and the CIA that was justified as "improving" the controversial anthrax vaccine known as BioThrax.
For instance, Battelle Memorial Institute—a Pentagon and CIA contractor—began genetically engineering a more virulent form of anthrax "to see if the [anthrax] vaccine the United States intends to supply to its armed forces is effective against that strain." While these experiments were going on, the embattled manufacturer of the anthrax vaccine now known as Emergent Biosolutions, entered into a contract with Battelle that gave Battelle "immediate exposure to the vaccine" it was using in connection with the genetically modified anthrax program.
As noted in Part II of this series, BioPort was set to lose its Pentagon contract for anthrax vaccine entirely in September 2001, and the entirety of its anthrax vaccine business was rescued by the 2001 anthrax attacks, which saw concerns over BioPort's corruption and its horrendous safety track record replaced with fervent demands for more of its anthrax vaccine. Furthermore, as noted in detail in Part III of this series, Battelle was the most likely source of the anthrax used in the 2001 attacks. The ties between UPMC's Center for Biosecurity, Battelle, and Emergent Biosolutions will be discussed in the next installment in the series.
What is also notable about these Corona-thrax experiments occurring at UPMC are the ties of UPMC's RBL and Center for Vaccine Research to another key component of the center's "biodefense" complex, the UPMC Center for Biosecurity. As previously mentioned, the people recruited to head this center at its founding in 2003 were intimately involved in the 2001 bioterror simulation Dark Winter, namely Tara O'Toole and Thomas Inglesby.
While leading the UPMC's Center for Biosecurity, O'Toole and/or her successor Inglesby engaged in other notable bioterror simulations, including one that took place last year— Event 201, which eerily predicted the coronavirus crisis that began this year. Inglesby, who is also the director of the Johns Hopkins Center for Health Security in addition to his post at UPMC, was the moderator at Event 201.
Though Event 201 has garnered considerable scrutiny in recent months, another but less well-known exercise in 2018 that involved O'Toole and Inglesby, examined how a bioterror attack involving a genetically engineered pathogen could trigger a Continuity of Government (CoG) scenario, a government roadmap for the imposition of martial law in the United States. As other investigative series of mine have noted, there have recently been a myriad of intelligence agency–linked simulations that predict the imminent imposition of martial law in the United States following the 2020 election.
It is also notable that George W. Bush's controversial and classified update to CoG plans in 2007, known as Executive Directive 51, was directly inspired by Dark Winter, and Barack Obama's subsequent executive orders on CoG gave near-complete control of American infrastructure to the Department of Homeland Security in a such a situation. At the time Obama issued those executive orders, O'Toole was the DHS undersecretary for science and technology and also influenced those updates to the CoG plans. O'Toole is currently the executive vice president of the CIA's In-Q-tel.
The simulation known as Clade X will be examined in greater detail in the next installment of this series as will the numerous and recent "predictions" from US government sources, controversial billionaires such as Bill Gates, and a web of individuals tied to UPMC who have warned that a bioterror attack or related public health catastrophe is set to take place in the United States in the latter half of 2020. As one high-ranking government official put it earlier this year, this allegedly imminent event will result in "the darkest winter in modern history."
Question Everything, Come To Your Own Conclusions.
===
Still Questions about China?
Pete Santilli Interviews Serial Entrepreneur Chris Kitze
Published on Sep 25, 2020
It's now well known that gain-of-function (intentional rendering of a naturally occurring virus so as to be lethal to humans) corona virus reasearch was done earlier done in the United States, then exported to Wuhan – while still being funded by a United States institution! Now the funding to Wuhan Insitute of Virology for that programme has reportedly been stopped. But who knows what still goes on???
===
COVID-19—Reckless 'Gain-of-Function' Experiments Lie at the Root of the Pandemic
By Ronnie Cummins & Alexis Baden-Mayer - 23. July 2020
"Gain-of-function studies are, according to the U.S. Department Health and Human Services, research which involves increasing the capacity of a pathogen to cause illness. The method is controversial because it can also risk new viruses leaking out of laboratories and into the population. In the period 2014 to 2018 this type of research was prohibited in the U.S., but in December 2017, American authorities announced that these kinds of studies would again be allowed." From "The Evidence Which Suggests That This Is No Naturally Evolved Virus," by Aksel Fridstrøm, July 13, 2020
Despite an ongoing cover-up by government authorities, the biotech industry, the military industrial complex and the mass media, there is growing scientific consensus that the COVID-19 virus was created and (most likely accidentally) leaked from a dual-use military/civilian lab in Wuhan, China.
The ensuing pandemic (currently with 14 million infected and 585,000 dead, which has precipitated a global economic meltdown) is the predictable, yet preventable, collateral damage of a reckless, decades-long, and accident-prone biodefense/biowarfare program carried out by the U.S. (including both the Obama and Trump administrations, and their predecessors), China, Russia and other highly industrialized and militarized nations.
Unbeknownst to the public, a shadowy international network of thousands of virologists, gene engineers, military scientists and biotech entrepreneurs are weaponizing viruses and microorganisms in civilian and military labs under the euphemism of gain-of-function research. They hide behind the guise of "biodefense" and "biomedicine." But as investigative reporter and bioweapons expert Sam Husseini writes, gain-of-function/biowarfare scientists in labs such as Wuhan, China or Fort Detrick, Maryland, are deliberately and recklessly evading international law:
"Governments that participate in such biological weapon research generally distinguish between 'biowarfare' and 'biodefense,' as if to paint such 'defense' programs as necessary. But this is rhetorical sleight-of-hand; the two concepts are largely indistinguishable. 'Biodefense' implies tacit biowarfare, breeding more dangerous pathogens for the alleged purpose of finding a way to fight them. While this work appears to have succeeded in creating deadly and infectious agents, including deadlier flu strains, such 'defense' research is impotent in its ability to defend us from this pandemic."
A growing arsenal of Frankenstein viruses and microorganisms have been created, despite U.S. and international laws supposedly banning biowarfare weapons and experimentation. A disturbing number of these so-called "dual-use" biowarfare/biodefense labs have experienced leaks, accidents, thefts and even deliberate releases like the 2001 anthrax attacks over the past three decades.
The creation of COVID-19, engineered by repeatedly "passaging" a bat virus through animal and human cells and/or genetic engineering or splicing specific genetic sequences into the virus, violated a ban on gain-of-function experiments called for by many of the world's top scientists. These experiments also violated the precautionary principle of a Global Biowarfare Convention, designed to prevent the accidental or deliberate release of biological weapons of mass destruction.
Despite the 24/7 story—that the virus jumped accidentally from bats into humans—relentlessly peddled by the Chinese government, the World Health Organization (which was supposedly monitoring the Wuhan Lab), the U.S. National Institutes of Health, which provided funding for the Wuhan gain-of-function experiments, the Trump Administration, global military and intelligence agencies, government- and corporate-funded entities such as the EcoHealth Alliance and the mass media, there is mounting evidence that COVID-19 was caused, not by an accident in nature, but by a lab escape or leak.
Fortunately, some media outlets aren't afraid to question this carefully orchestrated narrative. Here are a few examples:
• GM Watch, "Lab Escape Theory of SARS-CoV-2 Origin Gaining Scientific Support," May 28, 2020
• Bulletin of Atomic Scientists, "Did the SARS-CoV-2 Virus Arise from a Bat Coronavirus Research Program in a Chinese Laboratory? Very Possibly," June 4, 2020
• The Times (UK), "Revealed: Seven-Year Coronavirus Trail from Mine Deaths to a Wuhan Lab," July 4, 2020
• Newsweek, "Scientists Shouldn't Rule Out Lab As Source of Coronavirus, New Study Says," May 17, 2020
• Independent Science News, "The Case Is Building That COVID-19 Had a Lab Origin," June 2, 2020
• Taiwan News, "Norwegian virologist claims coronavirus is 'chimera' Made in Chinese Lab," June 10, 2020
Gain-of-function experiments on bat viruses aren't new. Going back decades, these types of experiments have been publicly documented in a series of peer-reviewed scientific papers co-authored by the Director of the Wuhan lab, Dr. Zhengli Shi, popularly known as the "Bat Woman." Published papers reveal that researchers have been collecting samples, and carrying out experiments to manipulate the bat coronavirus so that it can readily infect human cells.
For example, in a 2008 article in the Journal of Virology, Zi Sheng Li and other scientists report on how Chinese and U.S. scientists have genetically engineered SARS-like viruses from horseshoe bats, to enable the viruses to gain entry into human cells.
These highly controversial gain-of-function experiments at the Wuhan lab were funded in large part by the U.S. National Institutes of Health (NIH), the National Institute of Allergies and Infectious Diseases NIAID (under the direction of Dr. Anthony Fauci) and the U.S.-based EcoHealth Alliance, led by Peter Daszak, who's become a ubiquitous spokesperson for the "it evolved in nature and jumped to humans" story.
Fauci, who since 1984 has held government positions under six presidents, both Republican and Democrat, has been a strong advocate for U.S. government funding of gain-of-function experimentation. Fauci claims, with little or no justification, that risky gain-of-function research can help develop new vaccines for pandemics, despite the fact that 30 years of these dangerous experiments have not delivered any tangible benefits, such as cures or safe vaccines.
In 2014 the Obama administration, following a series of lab accidents, and responding to a petition signed by more than 300 global scientists, declared a temporary, albeit partial "pause" on funding gain-of-function experiments in the U.S. Exemptions to this "pause," eventually reviewed by a secret government panel, were nonetheless allowed to go forward.
The Obama administration's ban was lifted in 2017, under Trump. Yet between 2014 – 2016, the NIH and Fauci-led NIAID, first under Obama and later under Trump, continued funding gain-of-function research, overseas at the Wuhan lab, via Daszak's EcoHealth Alliance.
Not surprisingly both Fauchi and Daszak have been staunch defenders of the official Chinese government story that the virus that causes COVID-19 (SARS-CoV-2) "naturally" evolved from bats and/or other host species to infect humans.
While Trump has at times attempted to fire up his xenophobic base by talking about the "Chinese Virus" or "Kung Flu," he hasn't uttered a word about how his administration (as Obama before him) has been funding and participating in gain-of-function experiments. Not surprising, given Trump's ongoing collaboration with Xi Jinping, the Chinese dictator, who just happens to control not only trillions of dollars in U.S. Treasury Bonds and exports, but the medical equipment, Pharma drugs and lab chemicals that are in such short supply in the U.S. Trump also has millions of dollars in real estate loans coming due from Chinese banks next year.
In 2017, the Trump administration officially reversed Obama's "funding pause" on risky gain-of-function projects. A government panel was instituted to review each research project. Only those lab experiments that were supposedly 1) scientifically sound; 2) conducted in a high-security lab; 3) intended to produce knowledge that benefits humans; and 4) without a safer alternative, would be funded.
As the New York Times reported, many scientists protested the decision, correctly pointing out that gain-of-function researchers risk creating a monster germ that could escape the lab and seed a pandemic.
Richard H. Ebright, a molecular biologist and bioweapons expert at Rutgers University, told the Times that he applauded the requirement for review panels. However, he said the NIH should have created clearer minimum safety standards and a mandate that the benefits "outweigh" the risks instead of merely "justifying" them.
Marc Lipsitch, an epidemiologist who directs the Center for Communicable Disease Dynamics at the Harvard School of Public Health, told the Times that recent disease-enhancing experiments "have given us some modest scientific knowledge and done almost nothing to improve our preparedness for pandemics, and yet risked creating an accidental pandemic." Lipsitch said hoped the panels would turn down such work.
Though the ban was overturned in December 2017, it wasn't until February 2019, when news of the first approved studies was leaked to Science Magazine, that the public learned that the reviews of grant proposals involving gain-of-function research—funded with U.S. taxpayer dollars—were to be conducted in secret. Names of the expert-panel members have been kept secret, along with the panels reviews of gain-of-function and other virus and pathogen experiment proposals.
The idea of the U.S. government, under any administration, funding dangerous experiments it doesn't want you to know about became a literal public relations time bomb in January 2020, when the emergence of a new, highly contagious virus in China hit the news.
For damage control, the White House and the NIH convened a meeting of the National Science Advisory Board for Biosecurity (NSABB), the panel that had previously written the rules for reviewing gain-of-function research, in with the intent of getting the NSABB on board with keeping everything secret.
At that meeting, the man who chairs the committee that decides which gain-of-function research can be funded by the government revealed himself.
Christian Hassell, former Deputy Assistant Secretary of Defense for Chemical and Biological Defense, Senior Science Adviser to the Health and Human Services Office of the Assistant Secretary for Preparedness and Response—and chair of the secret NSABB gain-of-function risk review committee—acted as one of the spokespersons for the Trump Administration. Hassell cautioned that disclosing the names of the government (likely including military) scientists who sat on his committee could "chill" people from serving. He claimed that the administration was "committed to enhancing transparency," but warned that this would probably require new action by Congress.
Clearly the Trump administration, just like the Obama administration and those before it, isn't going to do the right thing, and ban dangerous gain-of-function experiments unless we the people force them to.
It's time for a permanent ban on the lab creation of deadly viruses.
Newsweek recently reported some of the details relating to the Trump administration funding scientists at the Wuhan Institute of Virology and other institutions for work on gain-of-function research on bat coronaviruses:
"In 2019, with the backing of the National Institute for Allergy and Infectious Diseases, the National Institutes of Health committed $3.7 million over six years for research that included some gain-of-function work. The program followed another $3.7 million, 5-year project for collecting and studying bat coronaviruses, which ended in 2019, bringing the total to $7.4 million."
In April 2020, Trump finally cut off NIH aid to Wuhan for gain-of-function research as COVID-19 ravaged the globe. EcoHealth Alliance President Pete Daszak said that he and his team were merely studying how coronaviruses spread from bats to humans and claimed not to understand the rationale behind the decision to yank his grant.
But Daszak and his collaborators at the Wuhan Institute of Virology weren't just studying how coronavirus spread from bats to humans, they were actually making coronavirus capable of spreading from bats to humans. They were the first to create a bat coronavirus capable of directly infecting humans (rather than first needing to evolve in an intermediate animal host).
EcoHealth Alliance has since funded additional gain-of-function research that Daszak has championed—without acknowledging his connection. Gain-of-function research funded by EcoHealth Alliance included the 2015 coronavirus-SARS chimaera, created by a team that included the Wuhan Institute of Virology. This research has been widely criticized by fellow scientists.
In 2015, a team of researchers, including scientists at the Wuhan Institute of Virology, created a hybrid version of a bat coronavirus from a virus called SHC014, which is found in horseshoe bats in China, and a virus that causes SARS (severe acute respiratory syndrome). Their chimaera infected human airway cells, proving that the surface protein of SHC014 had the necessary structure to bind to a key receptor on the cells and to infect them.
Concerned scientists sounded the alarms.
In 2015, Simon Wain-Hobson, a virologist at the Pasteur Institute in Paris, told Nature magazine that researchers had created a novel virus that "grows remarkably well" in human cells. "If the virus escaped, nobody could predict the trajectory."
Wain-Hobson disapproved of the study because it provided little benefit, and revealed little about the risk that the wild SHC014 virus in bats posed to humans.
Richard Ebright, a biodefense expert from Rutgers University, spoke out about the same research, saying, "The only impact of this work is the creation, in a lab, of a new, non-natural risk."
But Daszak spoke out in favor of the research, saying the study's findings "move this virus from a candidate emerging pathogen to a clear and present danger."
Daszak's statement is odd, as it seems obvious that it was the research itself that made the virus a clear and present danger, and that couldn't be what he meant.
Nature failed to mention that EcoHealth Alliance had funded the research with a U.S. grant.
Even the creators of the coronavirus-SARS chimaera questioned the wisdom of tinkering with viruses to make them more dangerous to humans. As Nature reported, in their paper, the study authors conceded that funders may think twice about allowing such experiments in the future. "Scientific review panels may deem similar studies building chimeric viruses based on circulating strains too risky to pursue," they write, adding that discussion is needed as to "whether these types of chimeric virus studies warrant further investigation versus the inherent risks involved."
It's time for the U.S. government, and all the governments of the world to demonstrate their compliance with a global ban on chemical and biological weapons of mass destruction, dropping the dangerous pretense that lab-created viruses and microorganisms constitute valid biomedical and biodefense research.
We need a total U.S. and global ban on dangerous gain-of-function experimentation, and we need it now, before the next pandemic escapes or is deliberately released.
Please join thousands of other concerned citizens and sign our petition here.
Ronnie Cummins is co-founder of the Organic Consumers Association (OCA) and Regeneration International, and the author of "Grassroots Rising: A Call to Action on Food, Farming, Climate and a Green New Deal."
Alexis Baden-Mayer is OCA's political director.
===
Hong Kong scientist claiming China 'covered up' coronavirus data speaks out
•Premiered Jul 13, 2020
Scientist Dr. Li-Meng Yan says supervisors covered up her potentially life-saving coronavirus research. #FoxNews
===
Demand an Immediate Global Ban on Gain-of- Function 'Biomedical' and 'Biodefense' Research!
As the global COVID-19 death toll mounts, the debates rage on. Masks, or no masks? This drug, or that one? Send kids to school, or keep them home?
Yet absent from most of the day-to-day mainstream coverage of COVID-related issues is the life-or-death conversation we should be having: How do we make sure that this—or something much worse—never happens again?
On that question, there should be no debate: It's time to end the reckless genetic engineering and weaponizing of pathogenic viruses and organisms, carried out under the guise of "biomedicine" and "biodefense," by demanding an immediate and total global ban all gain-of-function research.
SIGN THE PETITION: Demand an Immediate Global Ban on Gain-of-Function 'Biomedical' and 'Biodefense Research'!
Unbeknownst to the vast majority of U.S. citizens, hundreds of millions of taxpayer dollars are granted to scientists, working in labs around the world, to tinker with viruses, bacteria and microorganisms for one purpose: to make them as infectious and as deadly as possible to
===
Norwegian virologist claims coronavirus is 'chimera' made in Chinese lab
British-Norwegian study alleges COVID-19 has 'inserted sections'

By Keoni Everington 10. June 2020
Shi Zhengli (left) in WIV lab in 2017. (AP photo)
TAIPEI (Taiwan News) — A joint British-Norwegian study alleges that the Wuhan coronavirus (COVID-19) is a "chimera" constructed in a Chinese lab.
A study, authored by University of London Professor Angus Dalgleish and Norwegian virologist Birger Sorensen and published in Cambridge University's QRB Discovery, claims that Sars-CoV2, the virus that causes COVID-19, did not evolve naturally but rather was artificially manipulated. Specifically, the authors allege that the spike proteins of the virus contain "inserted sections."
The study's authors also pointed out that the virus has hardly mutated since it began to infect humans, apparently suggesting that it was already fully adapted to human biology in the laboratory. Sorensen told Norway's NRK on Monday (June 8) that this is "quite unusual for viruses that cross species barriers."
He added that the virus has properties that differ greatly from SARS and "which have never been detected in nature." After carefully examining the genetic sequence of the virus, he said that it did not appear to have evolved from natural processes.

Table showing "inserted sections." (Screenshot)
Sorenson told the news agency that he believes the virus is related to a number of "gain of function studies" being carried out in China. He also said that the U.S. and China had been collaborating on such research in advanced labs for many years.
The purpose of the gain of function studies is to artificially increase the transmissibility of a virus to make it easier to repeat scientific experiments quickly. Such manipulated viruses are referred to as "chimera."
Sorensen claims that at the early stages of the outbreak, Chinese scientists discussed the modified sequences in the virus. However, he said he believes that in recent months, the Chinese government has suppressed all public discourse on the subject.
"The inserted sequences should never have been published. Had it been today, it would never have happened. It was a big mistake the Chinese made. The inserted sequences have a functionality that we describe. We explain why they are essential. But the Chinese pointed to them first."
In response to the study, former M16 Chief Sir Richard Dearlove on June 4 told the Telegraph that the findings indicate the outbreak started with a leak from a Chinese lab. "I think this started as an accident. This raises the question of whether China will assume responsibility and whether China should pay compensation," said Dearlove.
Indeed, a report by Medium notes that Wuhan Institute of Virology (WIV) scientist Shi Zhengli, also known as "Bat Woman," and her team had been making "chimeric constructs" as early as 2007 and as recently as 2017. As part of a US$3.7 million U.S. NIH grant, Shi in 2019 wrote about using "S protein sequence data, infectious clone technology, in vitro and in vivo infection experiments" on Sarsr-CoV.
When the Sars-CoV2 genome was first sequenced and released to the public on Jan. 10, no closely related strains were known. However, on Jan. 23, Shi published a paper in which she stated that Sars-CoV2 was 96 percent identical to RaTG13, a strain she and her team had discovered in bats in Yunnan in 2013.
Shi claimed that Sars-CoV2 is too different from RaTG13 to have leaked from her lab. However, she has never provided the original samples from Yunnan to allow independent labs to sequence them to confirm that they have not been tampered with.
China has yet to allow an outside team of scientists to enter the WIV and review records of and samples from Shi's gain of function studies on bat coronaviruses. Beijing has also not allowed independent investigators to review lab security camera footage or interview staff.
Currently, the scientific community is relying on Shi's claim "on my life" that the pandemic did not start in her lab.
===
Did the SARS-CoV-2 virus arise from a bat coronavirus research program in a Chinese laboratory? Very possibly.
By Milton Leitenberg - 04. June 2020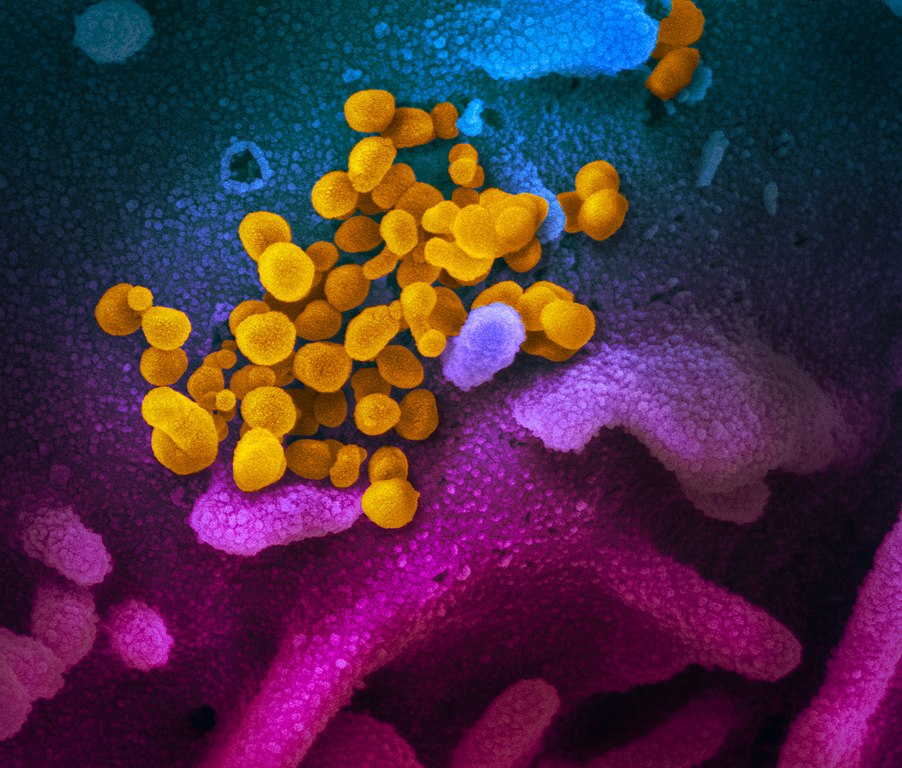 This scanning electron microscope image allegedly shows SARS-CoV-2 in yellow. (Photo credit: Credit: NIAID-RML)
On May 15, the Bulletin of the Atomic Scientists published a short commentary titled, "Let evidence, not talk radio, determine whether the outbreak started in a lab," by Ali Nouri, a biologist and president of the Federation of American Scientists. "The outbreak" referred to the pandemic of SARS-CoV-2 now circling the globe. It is a thin commentary, and it is puzzling why the Bulletin thought it desirable to publish it at all. Only two weeks earlier the journal had published a reasoned and competent appraisal by Kings College London biosecurity expert Filippa Lentzos titled, "Natural spillover or research lab leak? Why a credible investigation is needed to determine the origin of the coronavirus pandemic."
The Nouri article very correctly pilloried the statements by President Donald Trump, Secretary of State Mike Pompeo, presidential legal advisor Rudy Giuliani, and radio personality Rush Limbaugh. These are as notorious a gang of four fabricators as will ever likely be recorded in American history. They were ably assisted by Fox News, which the Nouri critique also mentions. Nouri ended his commentary with these lines: "Our leaders ought to … take steps to prevent the next pandemic, instead of diverting our attention to unsupported sensationalist theories spread by cable TV and talk radio."
Perhaps the most damaging blows to efforts to obtain a certain answer as to the origin of the SARS-CoV-2 "outbreak" have been the pronouncements by Trump, Pompeo, and their echo chambers. But they and their remarks are not the measure by which the question of the possibility that a laboratory escape began the pandemic should be examined. Trump's diversionary ranting comes from a president who did nothing for two months in the face of an oncoming lethal pandemic, actively denied and denigrated intelligence warnings of the imminent danger, and said that SARS-CoV-2 would "just go away … like a miracle" and that "within a couple of days is going to be down close to zero." All this has been widely and thoroughly chronicled.1
But long before Trump, Pompeo and Co. sought a Chinese scapegoat for the president's gross and willful incompetence, researchers understood that the possibility of laboratory escape of the pathogen was a plausible, if unproven, possibility. It is most definitely not "a conspiracy theory."
The circumstantial evidence for a lab escape. By way of introduction, there are two virology institutes in Wuhan to consider, not one: The Wuhan Center for Disease Control and Prevention (WHCDC) and the Wuhan Institute of Virology (WIV). Both have conducted large projects on novel bat viruses and maintained large research collections of novel bat viruses, and at least the WIV possessed the virus that is the most closely related known virus in the world to the outbreak virus, bat virus RaTG13. This virus was isolated in 2013 and had its genome published on January 23, 2020. Seven more years of bat coronavirus collection followed the 2013 RaTG13 isolation.
One component of the novel-bat-virus project at the Wuhan Institute of Virology involved infection of laboratory animals with bat viruses. Therefore, the possibility of a lab accident includes scenarios with direct transmission of a bat virus to a lab worker, scenarios with transmission of a bat virus to a laboratory animal and then to a lab worker, and scenarios involving improper disposal of laboratory animals or laboratory waste.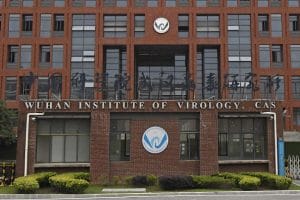 A May 20, 2020, Photo of the Wuhan Institute of Virology in Wuhan, where research on bat coronaviruses was conducted. (Photo by Kyodo News via Getty Images)
Documentary evidence indicates that the novel-bat-virus projects at Wuhan CDC and the Wuhan Institute of Virology used personal protective equipment and biosafety standards that would pose high risk of accidental infection of a lab worker upon contact with a virus having the transmission properties of the outbreak virus.
In assessing the possibility of a lab accident, one must take into consideration each of the following eight elements of circumstantial evidence:
1. Official Chinese government recognition early in the SARS-CoV-2 outbreak of biosafety inadequacies in China's high containment facilities. In February 2020, several weeks after the outbreak of the disease in Wuhan, China's President Xi Jinping stressed the need to ensure "biosafety and biosecurity of the country."2 This was followed immediately by a China Ministry of Science & Technology announcement of new guidelines for laboratories, especially in handling viruses.3 Almost at the same time, the Chinese newspaper Global Times published an article on "chronic inadequate management issues at laboratories, including problems of biological wastes."4
A PBS NewHour presentation on May 22, 2020 provided the following information:
On January 1, Wuhan Institute of Virology's director general, Yanyi Wang, messaged her colleagues, saying the National Health Commission told her the lab's COVID-19 data shall not be published on social media and shall not be disclosed to the media. And on January 3, the commission sent this document, never posted online, but saved by researchers, telling labs to destroy COVID-19 samples or send them to the depository institutions designated by the state. Late Friday [May 16, 2020] the Chinese government admitted to the destruction … but said it was for public safety.
The Chinese government explanation for the destruction of SARS-CoV-2 samples has no scientific credibility. For purposes of "public safety" any samples would surely be stored and studied, exactly as with the ones that were isolated from patients, and their RNA genomes decoded and published.
2. Recognition by Zhengli Shi, a renowned scientist who leads a research team at the Wuhan Institute of Virology, that a laboratory escape was a possibility. Shi took the possibility of a laboratory escape perfectly seriously. Jonna Mazat of the University of California-Davis, a collaborator with Dr Shi, told Josh Rogin of the Washington Post, "Absolutely, accidents can happen." In an interview with Scientific American, Shi admitted that her very first thought was "If coronaviruses were the culprit, she remembers thinking 'Could they have come from our lab?'"
Meanwhile she frantically went through her own lab's records from the past few years to check for any mishandling of experimental materials, especially during disposal. She breathed a sigh of relief when the results came back: none of the sequences matched those of the viruses her team had sampled from bat caves. 'That really took a load off my mind,' she says. 'I had not slept a wink for days.'
3. Questions surrounding Chinese government attribution of the Wuhan's Huanan South China Seafood Market as the source of the SARS-CoV-2 virus. Many China scholars noted that it was quite unusual for Chinese government authorities to identify Wuhan's Huanan South China Seafood Market so quickly as the source of the outbreak. They thought this behavior so uncharacteristic that it raised suspicions in their minds. The authors of a newly published paper wrote that
…we were surprised to find that SARS-CoV-2 resembles SARS-CoV in the late phase of the 2003 epidemic after SARS-CoV had developed several advantageous adaptations for human transmission. Our observations suggest that by the time SARS-CoV-2 was first detected in late 2019, it was already pre-adapted to human transmission to an extent similar to late epidemic SARS-CoV. However, no precursors or branches of evolution stemming from a less human-adapted SARS-CoV-2-like virus have been detected…. It would be curious if no precursor or branches of SARS-CoV-2 evolution are discovered in humans or animals….Even the possibility that a non-genetically-engineered precursor could have adapted to humans while being studied in a laboratory should be considered, regardless of how likely or unlikely.5
It is important to note that no intermediary host has yet been identified for the SARS-CoV-2 virus. The authors also noted that "[n]o animal sampling prior to the shutdown and sanitization [of the Wuhan fish market] was done."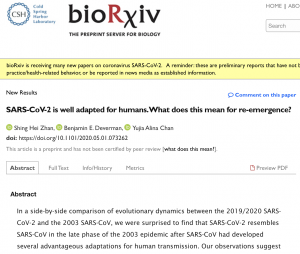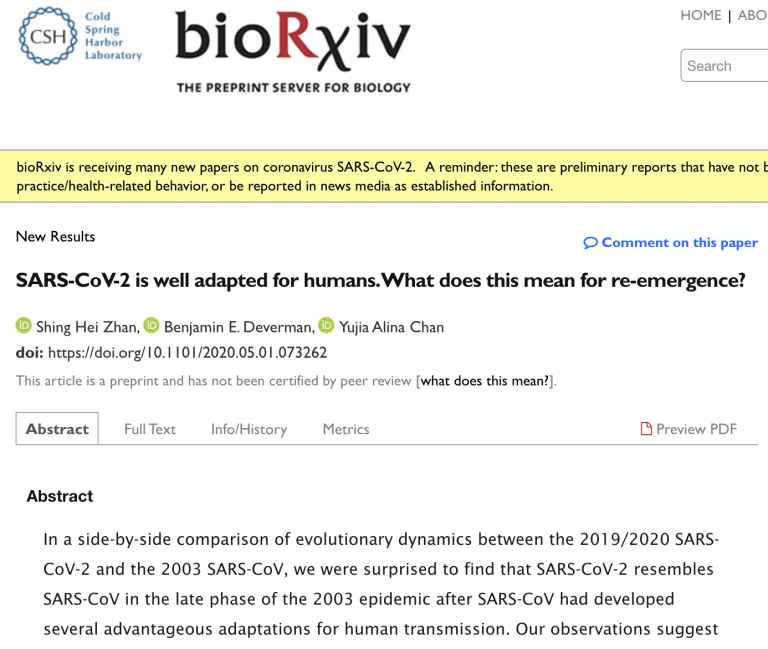 The question of whether the index case appeared in the Wuhan fish market appears to be moot in any case. Chinese researchers have published data showing that there were 41 cases of SARS-CoV-2 between December 1, 2019 and January 2, 2020. Fourteen of these had no contact with the Huanan seafood market, including the very first recorded case on December 1, 2019.6 And that supposes that the true index case was December 1, which is doubtful.
On May 26, the Chinese government scrapped the previous official story about the Wuhan fish market:
China's top epidemiologist said Tuesday that testing of samples from a Wuhan food market, initially suspected as a path for the virus's spread to humans, failed to show links between animals being sold there and the pathogen. Gao Fu, director of the Chinese Center for Disease Control and Prevention, said in comments carried in China state media.7
No SARS-CoV-2 isolates were detected in any of the animals or fish sold at the market, only in environmental samples, including sewage. Gao Fu added, "At first, we assumed the seafood market might have the virus, but now the market is more like a victim. The novel coronavirus had existed long before."8
4. Suppression of information and individuals by Chinese authorities. A publication by two Chinese university academics discussed both the WHCDC and the WIV and concluded that "the killer coronavirus probably originated from a laboratory in Wuhan"; the publication was removed from the internet by Chinese government officials. The paper had been posted on Research Gate but was blocked after 24 hours. After being placed on an archive file by internet users, it was again blocked after a week, and the two Chinese authors were pressured to retract the paper. However, it is still available on Web archives.9
The Chinese government closed the laboratory in Shanghai that first published the genome of COVID-19 on January 10, explaining that it had been shuttered for "rectification"; the closure happened on January 11. The government then permitted the same genome to be published by Shi on January 12.10 Chinese citizens who reported on the coronavirus were censured and, in some cases, "disappeared."11 These have included businessman Fang Bin, lawyer Chen Qiushi, former state TV reporter Li Zehua and, most recently, Zhang Zhan, a lawyer. They are reportedly being held in extrajudicial detention centers for speaking out about China's response to the pandemic. They are usually accused of "picking quarrels and provoking trouble."12
Another aspect of Chinese government secrecy involved in the SARS-CoV-2 pandemic relates to official reporting by Chinese government officials on the severity of the outbreak in China and on levels of mortality. The number of cases and deaths are suspected of being undercounted by at least an order of magnitude, and possibly two, meaning that the reported figures could be as little as one percent of the actual totals. In the last week of April 2020, Caixin, one of the most reliable publications in China, reported that a serological study had been carried out in Wuhan on 11,000 inhabitants. Extrapolating from its results, which showed that five to six percent of the sample of 11,000 persons carried antibodies for SARS-CoV-2, Caixin estimated that 500,000 people in the city had been infected, or 10 times the level of official Chinese government reporting. The publication was quickly deleted by Chinese government censors.13
The Chinese government has also attempted to obscure the origins of the pandemic with disinformation. On March 13, Chinese Foreign Ministry spokesperson Zhao Lijian suggested that the United States might have introduced the coronavirus to Wuhan.14 A month later, Zhao Lijian again posted Russian coronavirus and biowarfare-related disinformation, this time followed by online posts from Chinese ambassadors in 13 countries spread across the world.15 This was unprecedented diplomatic behavior for China, but not an accident. It was a concerted, deliberate, and preposterous disinformation campaign, repeated in May by CGTN, the China Global Television Network, which reposted the disinformation to the social media sites Weibo, Facebook, and Twitter.16 The history of Soviet and then Russian government biowarfare disinformation suggests that a country spreading such disinformation has or may have something to hide.17
5. Laboratory accidents and the escape of highly dangerous pathogens from laboratories are frequent occurrences worldwide. The accidental infection of researchers in the highest containment biosafety facilities—labelled BSL-2, BSL-3 and BSL-4—occurs worldwide, as do accidental releases by other means. In an excellent review published in February 2019, Lynn Klotz of the Center for Arms Control and Non-Proliferation noted that three releases of Ebola and Marburg viruses from BSL-4 and lower-containment facilities in the United States had occurred due to incomplete inactivation of cultures. Releases via infection of researchers took place in the highest containment facilities in the United States—at the Centers for Disease Control and Prevention (CDC) in Atlanta and at the US Army Medical Research Institute of Infectious Diseases (USAMRIID)—but in all cases only the researcher became ill, and there was no further transmission of the pathogen.
"In an analysis circulated at the 2017 meeting for the Biological Weapons Convention, a conservative estimate shows that the probability is about 20 percent for a release of a mammalian-airborne-transmissible, highly pathogenic avian influenza virus into the community from at least one of 10 labs over a 10-year period of developing and researching this type of pathogen," Klotz wrote. "This percentage was calculated from FSAP [US Federal Select Agent Program] data for the years 2004 through 2010. Analysis of the FOIA NIH (National Institutes of Health) data gives a much higher release probability—that is, a factor five to 10 times higher, based on a smaller number of incident reports."18
Between 2009 and 2015, the FSAP recorded 749 incidents in seven categories—not solely releases or researcher infections—from 276 facilities. In addition, Klotz recorded 11 confirmed releases of select agents that resulted in a laboratory-acquired infection in roughly 280 specifically approved laboratories in the United States between 2003 and 2017, a rate of just under one per year.19 A second publication in the Bulletin that covered closely-related subject matter and a personal communication from its author suggested that federally reported cases involving select agents were likely to be substantially undercounted:20
There is a fundamental problem of using the defined select agents as a surrogate for potential pandemic agent releases from research labs. The vast majority of 'classical BW agents' that initially defined select agents in the US were selected specifically to be NOT capable of sustained transmission so as to better define the military tactical limits of a military employment and because the establishment of progressive transmission was considered unpredictable and possibly counterproductive in military operations, at least on the US side of offensive development in the 1940s-1960s.
As my historical review of lab escapes that resulted in pandemics or wide area epidemics published in the BAS found, most pandemic, continental or large scale community outbreaks originating from lab escapes came from civilian labs working with public or veterinary pathogens of non-military interest.
It takes only one superspreading graduate student or maintenance worker to start a pandemic.
It is known that a very large percentage of the individuals infected with the SARS-CoV-2 virus show no symptoms and do not become clinically ill, which would facilitate an unrecognized infection of one or more laboratory researchers.
6. There have been laboratory accidents and escapes of highly dangerous pathogens in China in general and biosafety issues at the Wuhan Institute of Virology in particular. After the SARS epidemic in 2002-2003, which originated naturally in China and which China initially kept secret, work on the coronavirus pathogen that was responsible for the outbreak was undertaken in laboratories around the world. This research led to six cases of infection in laboratory workers: four in the National Institute of Virology in Beijing and one each in laboratories in Singapore and Taiwan.
Arms control 2.0? With open source tools, desktop sleuths can go where governments won't
The laboratory-acquired infections of lab workers in Beijing led to short-lived outbreaks of SARS in the Beijing region in 2004.21
A second case of infected researchers in China resulted in brief outbreaks of disease in early December 2019. An outbreak of brucellosis began in an agricultural laboratory in Lanzhou (Gansu Province, central China) and spread to China's premier bird flu laboratory in Harbin (Heilongjiang Province, northeast China). It was linked to index cases involving graduate students who were exposed while conducting research and included at least 96 people.22
7. Under what biosafety conditions was bat coronavirus research carried out at the Wuhan Institute of Virology? Most work—including all published work using live bat coronaviruses that were not SARS-CoV and MERS-CoV—was conducted under BSL-2 conditions.23 This was consistent with both WHO and CDC recommendations.24 BSL-2 provides only minimal protection against infection of laboratory researchers, and these regulations were almost certainly too lenient for working with bat coronaviruses. All such work should have been carried out under BSL-3 conditions. However, extremely high-risk gain of function (GoF) studies with bat SARS-related coronaviruses were carried out at BSL-3 or BSL-4. Statements made by various commentators claiming that the WIV worked only with RNA isolates and not with live viruses are untrue (as discussed in further detail in a following section).
In regard to the Wuhan Institute of Virology in particular, relevant information is again available from both Chinese and Western sources. Information from official Chinese government sources appeared in a Voice of America report which noted:
[T]here is Chinese evidence that the lab had safety problems. VOA has located state media reports showing that there were security incidents flagged by national inspections as well as reported accidents that occurred when workers were trying to catch bats for study.
About a year before the corona virus outbreak, a security review conducted by a Chinese national team found the lab did not meet national standards in five categories.
The document on the lab's official website said after a rigorous and meticulous review, the team gave a high evaluation of the lab's overall safety management. "At the same time, the review team also put forward further rectification opinions on the five non-conformities and two observations found during the review."
In addition to problems in the lab, state media also reported that national reviewers found scientists were sloppy when they were handling bats.
One of the researchers working at the Wuhan Center for Disease Control & Prevention described to China's state media that he was once attacked by bats, and he ended up getting bat blood on his skin.
In another incident, the same researcher forgot to take protective measures, and the urine of a bat dripped "like rain onto the top of his head," reported China's Xinhua state news agent.25
Also, information was leaked from the US Department of State and published in the Washington Post on April 14:
Two years before the novel coronavirus pandemic upended the world, U.S. Embassy officials visited a Chinese research facility in the city of Wuhan several times and sent two official warnings back to Washington about inadequate safety at the lab, which was conducting risky studies on corona viruses from bats. The cables have fueled discussions inside the U.S. government about whether this or another Wuhan lab was the source of the virus – even though conclusive proof has yet to emerge.
In January 2018, the U.S. Embassy in Beijing took the unusual step of repeatedly sending U.S. science diplomats to the Wuhan Institute of Virology, which had in 2015 become China's first laboratory to achieve the highest level of international bioresearch safety (known as BSL-4). WIV issued a news release in English about the last of these visits, which occurred on March 27, 2018. The U.S. delegation was led by Jamison Fouss, the consul general in Wuhan, and Rick Switzer, the embassy's counselor of environment, science, technology and health. Last week, WIV erased that statement from its website, though it remains archived on the Internet.
What the U.S. officials learned during their visits concerned them so much that they dispatched two diplomatic cables categorized as Sensitive But Unclassified back to Washington. The cables warned about safety and management weaknesses at the WIV lab and proposed more attention and help. The first cable … also warns that the lab's work on bat coronaviruses and their potential human transmission represented a risk of a new SARS-like pandemic.
"During interactions with scientists at the WIV laboratory, they noted the new lab has a serious shortage of appropriately trained technicians and investigators needed to safely operate this high-containment laboratory," states the Jan. 19, 2018, cable, which was drafted by two officials from the embassy's environment, science and health sections who met with the WIV scientists.
"Most importantly," the cable states, "the researchers also showed that various SARS-like coronaviruses can interact with ACE2, the human receptor identified for SARS-coronavirus. This finding strongly suggests that SARS-like coronaviruses from bats can be transmitted to humans to cause SARS-like diseases. From a public health perspective, this makes the continued surveillance of SARS-like coronaviruses in bats and study of the animal-human interface critical to future emerging coronavirus outbreak prediction and prevention.26
The US government had supplied a portion of the funds to build the Wuhan Institute of Virology and these cables were an appeal for funds to support additional training in biosafety and biosecurity. There were similar concerns about the nearby Wuhan Center for Disease Control and Prevention lab, which operates entirely at BSL-2. Chinese government authorities did not provide the US government with samples of the virus obtained from either the earliest cases or from the Wuhan fish market. A US intelligence official commented: "The idea that it was just a totally natural occurrence is circumstantial. The evidence it leaked from the lab is circumstantial. Right now, the ledger on the side of it leaking from the lab is packed with bullet points, and there's almost nothing on the other side."27
8. What is the nature of the research being carried out in Zhengli Shi's laboratory at the Wuhan Institute of Virology? Details of the most recent National Institute of Allergy and Infectious Diseases (NIAID) grant for WIV bat coronavirus surveillance and WIV bat coronavirus gain of function research are publicly available. The key activity for bat coronavirus surveillance is "Aim 1 … We will sequence receptor binding domains (spike proteins) to identify viruses with the highest potential for spillover which we will include in our experimental investigations (Aim 3)." The key activity for bat coronavirus gain of function investigation is "Aim 3…. We will use S protein sequence data, infectious clone technology, in vitro and in vivo infection experiments, and analysis of receptor binding to test the hypothesis that % divergence thresholds in S protein sequences predict spillover potential."28
Translated into something approaching lay language, Aim 3 states that de novo synthesis is to be used to construct a series of novel chimeric viruses, comprising recombinant hybrids using different spike proteins from each of a series of unpublished natural coronaviruses in an otherwise-constant genome of a bat coronavirus. The ability of the resulting novel viruses to infect human cells in culture and to infect laboratory animals would be tested. The underlying hypothesis is that a direct correlation would be found between the receptor-binding affinity of the spike protein and the ability to infect human cells in culture and to infect laboratory animals. This hypothesis would be tested by asking whether novel viruses encoding spike proteins with the highest receptor-binding affinity have the highest ability to infect human cells in culture and laboratory animals.
The WIV began its gain of function research program for bat coronaviruses in 2015. Using a natural virus, institute researchers made "substitutions in its RNA coding to make it more transmissible. They took a piece of the original SARS virus and inserted a snippet from a SARS-like bat coronavirus, resulting in a virus that is capable of infecting human cells."29 This meant it could be transmitted from experimental animal to experimental animal by aerosol transmission, which means that it could do the same for humans. In other words, gain of function techniques were used to turn bat coronaviruses into human pathogens capable of causing a global pandemic.
There have been three publications, in 2015,30 2016 and 2017, describing the WIV gain of function research. The WIV, having learned both basic and traceless infectious-clone technology from joint research with a laboratory at the University of North Carolina (UNC) in 2015, initiated construction of novel chimeric coronaviruses without UNC immediately thereafter. WIV's first publication on the use of basic infectious-clone technology to construct novel chimeric coronaviruses at WIV appeared in 2016.31 WIV's first publication on the use of traceless, signature-free infectious-clone technology also appeared in 2016.32
As this article was being edited, two excellent publications appeared that provide greater technical detail on WIV's gain of function research, and readers should certainly examine these with care.33 The two papers strongly support the argument that the SARS-CoV-2 outbreak was the results of an escape from one of the two Chinese virology laboratories in Wuhan.
The Chinese government has proudly stated that the WIV "preserves more than 1,500 strains of virus," the largest collection in Asia of bat and other coronaviruses.34 (The government statement probably should have said 1,500 isolates rather than "strains.") The 2019 interview with Shi in Scientific American reports that the WIV had at least hundreds of individual strains.35 These numbers have been reported by Chinese government authorities, and they are being taken at face value here.
From 2004 on, the WIV published many dozens of partial or full genome sequences of coronaviruses in their collection. On June 1, Daszak and Shi published partial genetic sequences of 781 Chinese bat coronaviruses, more than one-third of which had never been published previously.36 There are also multiple published records of animal infection research with bat coronaviruses at the WIV. In order to carry out the research program described above, the WIV laboratory needs to use live viruses, and not just RNA fragments. This contradicts two of the assertions, made by some commentators, that Shi worked only with RNA fragments and that her laboratory did not maintain live viruses. On May 24, 2020, the director of the WIV acknowledged that the laboratory did have "three live strains of bat corona viruses on site," but implied only three.37 Knowledgeable virologists assume that the number must be much higher, probably hundreds of live viral isolates.38
It is precisely in the course of the kind of gain of function research that the WIV conducted that there would be the greatest likelihood of infection of a laboratory researcher. Many commentators have noted that millions of people in several western Chinese provinces, as well as in other South Asian countries, live their lives in daily proximity to bat caves and that serological testing has shown a fraction of these villagers to have antibodies to bat coronaviruses, showing that natural infection had occurred. The commentators argue therefore that "the odds" are in favor of SARS-CoV-2 having arisen in the field, and that a laboratory escape is so implausible that it is out of consideration. The logic of "the odds" is specious: It would take only a single laboratory infection to overcome "the odds," if such could in fact be reckoned. That is essentially what happened in the four SARS laboratory infections that occurred in the Beijing laboratory in 2004; "the odds" for exposure of villagers in Yunnan province were irrelevant.
Since the SARS-CoV-2 genome was decoded and published, there have been numerous statements from virologists that the genome shows no indication of genetic manipulation, and that this too supports the argument that it arose in the field and did not escape from a laboratory. Although this argument implicitly recognizes that the WIV laboratory was using genetic engineering technology, there is no reason to arbitrarily assume that only a bat coronavirus that was genetically modified might have escaped from the laboratory. Nevertheless, the second portion of the NIAID research grant design made absolutely clear that the WIV would be applying genetic engineering techniques to bat coronaviruses. Using the current standard genetic engineering technology, many alterations of several bases in the RNA genome would be undetectable, including construction of a chimeric coronavirus encoding an unpublished spike protein in an unpublished genome. This would be the equivalent of a natural mutation in several bases that coded for the spike proteins.
An article in Independent Science News by Jonathan Latham and Allison Wilson discusses another mechanism, described by Nikolai Petrovsky of Flinders University in Australia, that could have resulted in the SARS-CoV-2 virus that produced the pandemic:
Take a bat coronavirus that is not infectious to humans, and force its selection by culturing it with cells that express human ACE2 receptor, such cells having been created many years ago to culture SARS coronaviruses and you can force the bat virus to adapt to infect human cells via mutations in its spike protein, which would have the effect of increasing the strength of its binding to human ACE2, and inevitably reducing the strength of its binding to bat ACE2.
Viruses in prolonged culture will also develop other random mutations that do not affect its function. The result of these experiments is a virus that is highly virulent in humans but is sufficiently different that it no longer resembles the original bat virus. Because the mutations are acquired randomly by selection there is no signature of a human gene jockey, but this is clearly a virus still created by human intervention.39
Final comments. On April 30, Newsweek described a report produced by the US Defense Intelligence Agency which stated that "in early February, China's Academy for Military Medical Sciences 'concluded that it was impossible for them to scientifically determine whether the Covid-19 outbreak was caused naturally or accidentally from a laboratory incident.'" The author of a newly published paper analyzing the genome of SARS-COV-2 reported that "the COVID-19 virus is exquisitely adapted to infect humans… The virus's ability to bind protein on human cells was far greater than its ability to bind the same protein in bats, which argues against bats being a direct source of the human virus."40
Overall, the data indicates that SARS-CoV-2 is uniquely adapted to infect humans, raising important questions as to whether it arose in nature by a rare chance event or whether its origins might lie elsewhere.
Geng Shuang, a spokesman for the Chinese Ministry of Foreign Affairs, said. "China has mentioned many times that the origin of the virus is a scientific question, which should be evaluated by scientists and medical experts, and should not be politicized."41 Essentially the same position on the possibility that a lab leak originated the pandemic was expressed by Xiao Qiang, a research scientist at the School of Information at the University of California, Berkeley. "I don't think it is a conspiracy theory. I think it's a legitimate question that needs to be investigated and answered. To understand exactly how this originated is critical knowledge for preventing this from happening in the future."42
But Chinese officials reacted angrily in April when Australian officials suggested that the World Health Organization should be able to quickly investigate a disease outbreak that could lead to a pandemic, retaliating by instituting trade restrictions on several Australian agricultural exports to China. In early May, the World Health Organization's representative in China, Gauden Galea, publicly complained that China had refused repeated requests to permit the WHO to participate in whatever investigations the Chinese government was undertaking itself. He said that the WHO had not been given access to laboratory logs at the WIV or the Wuhan Chinese Center for Disease Control and Prevention.43
On May 18, prior to a meeting of the WHO governing board, the European Union submitted a draft resolution supported by 100 nations that asked the WHO "to work with other United Nations agencies to 'identify the zoonotic source of the virus and the route of introduction to the human population, including the possible role of intermediate hosts. … The document does not propose a review to identify missteps in how countries handled the outbreak and is instead forward-looking. It calls on the WHO to potentially arrange 'scientific and collaborative field missions' to help prevent similar future outbreaks. It also appears to rule out the possibility that the virus was man-made or experimented upon."44
The draft resolution did not mention Wuhan or China.45
On May 18, China's President Xi addressed the meeting of the governing body of the WHO via video. Ironically, Xi asked that countries "step up information sharing" but declared that China would support a review of the pandemic led by the WHO as long as it was "objective and impartial" and held after the pandemic was under control or over. The operative WHO resolution focuses on identifying "the zoonotic source of the virus" and says nothing about any forensic investigation.46 The Chinese Foreign Ministry spokesman Zhao Lijian declared that "China supported an international inquiry all along," and China's Global Times asked: "Will China oppose scientific research into the virus' origin? No, because it is a necessary move to fight COVID-19 in a scientific way and conducive to prevention measures and development of vaccines and medicine," but added "Not only China-related factors but also those related to the US and other countries need to be included. Earlier confirmed cases than the previously known first infected case have continuously been found in the US. Among those diagnosed as having flu last winter, how many were coronavirus infections? All these clues shouldn't be missed."47
What does this all mean at the present time? We have in China:
• a record of laboratory escape of the SARS virus in 2004 from a premier Chinese research institute.
• a record of poor biosafety in some of its high-containment facilities, including in the Wuhan institutes.
• a record of suppression of information in general, and in the case of SARS-CoV-2 in particular.
• the initiation of a disinformation campaign in regard to the origin of SARS-CoV-2, targeting US biological laboratories.
• a record of gain of function research at the Wuhan Institute of Virology, including passage of a bat coronavirus construct through experimental animals.
Writing in the Bulletin of the Atomic Scientists before the WHO governing board was convened, Filippa Lentzos advocated for a forensic investigation and described what it would entail:
Investigating the range of possible spillover sites—from the wet market, to an accidental lab or fieldwork infection, or an unnoticed lab leak—requires a forensic investigation. Obtaining case histories, epidemiological data, and viral samples from different times and places, including the earliest possible samples from infected individuals and samples from wildlife, is paramount… A forensic investigation would additionally involve auditing and sampling viral collections at relevant labs that had been studying coronaviruses, examining the types of experiments carried out and the viruses used, and reviewing the safety and security practices in place. Key data would also come from documents, including standard operating procedures at the labs and during fieldwork, risk assessments of individual experiments, experiment logs and fieldwork notebooks, training records, waste management logs, accident and infection records, facility maintenance and automated systems records, access logs, security camera footage and communications logs. …A COVID-19 origins investigation will need to be negotiated and begun rapidly before relevant data diminishes or disappears entirely as time passes.48
There is no semblance of any of this in the WHO resolution, and one can scarcely imagine that any of it would be permitted by the current administration in China. An investigation held after the pandemic "is under control" cannot possibly be carried out "rapidly," and is in fact postponed into the indefinite future. Unfortunately, if there were any documentation in either of the two Wuhan virology institutes that recorded the infection of a laboratory researcher or an escape, or that either had a virus sample that was extremely similar to SARS-CoV-2, one has to assume that such information has already been removed or destroyed.
Others have suggested that an international "commission, independent of the WHO, needs to be set up with the broad objective of how to ameliorate the next pandemic. Its mandate should go well beyond that of the WHO and part of its work could be to look at how COVID-19 started."49 Unfortunately it is equally difficult to envision such a commission coming to pass.
At present, the origin of SARS-CoV-2 remains unknown. The pros and cons regarding the two alternative possibilities—first, that it arose in the field as a natural evolution, as many virologists maintain, or second, that it may have been the consequence of bat coronavirus research in one of the two virology research institutes located in Wuhan that led to the infection of a laboratory researcher and subsequent escape—are equally based on inference and conjecture. The points gathered in this paper can be no more than suggestive. There is no hard scientific evidence to support either position. Both are inferences from circumstantial evidence. The US administration's political hectoring only assures that it will be very difficult if not impossible to ever find out which is true.
Acknowledgements: The author would like to thank several colleagues with far-better computer skills than he has for supplying many of the electronic references. I would also like to thank several colleagues for reading and commenting on the paper. This manuscript was submitted for publication on May 27, 2020.
Notes
1 ↑ Shane Harris et al, "Intelligence officials' early alarms about possible pandemic went unheeded," Washington Post, March 21, 2020; Eric Lipton et al, "Despite timely alerts, Trump was slow to act," New York Times, April 12, 2020; Philip Rucker et al, "As deaths mounted, Trump fixated on stalled economy," Washington Post, May 3, 2020; Edward Luce, "Inside Trump's Corona Virus Meltdown," Financial Times Magazine, May 14, 2020; Fintan O'Toole, "Vector in Chief," New York Review of Books, 67:8, May 14, 2020; and Fintan O'Toole, "Donald Trump has destroyed the country he promised to make great again," Irish Times, April 25, 2020.
2 ↑ See https://www.scmp.com/news/china/society/article/3050754/xi-jinping-calls-overhaul-chinas-health-crisis-response-system; https://www.bloomberg.com/news/articles/2020-02-04/xi-warns-virus-may-impact-china-s-stability-at-rare-meeting.
3 ↑ Liu Caiyu and Leng Shumai, "Biosafety guidelines issued to fix chronic management loopholes at virus labs," Global Times, February 16, 2020, https://www.globaltimes.cn/content/1179747.shtml.
4 ↑ Liu Caiyu and Leng Shumai, "Biosafety guidelines issued to fix chronic management loopholes at virus labs," Global Times, February 16, 2020, https://www.globaltimes.cn/content/1179747.shtml, and Yuan Zhiming, "Current status and future challenges of high-level biosafety laboratories in China, Journal of Biosafety and Biosecurity, Volume 1, Issue 2, September 2019, pp. 123-127. Accessed at: https://doi.org/10.1016/j.jobb.2019.09.005.
5 ↑ Shing Hei Zhan, Benjamin E. Deverman and Yujia Alina Chan, "SARS-CoV-2 is well adapted for humans. What does this mean for re-emergence?" BioRxiv, posted May 2, 2020 on: https://doi.org/10.1101/2020.05.01.073262.
6 ↑ Chaolin Huang Yeming Wang, Xingwang Li, Lili Ren, Jianping Zhao, Yi Hu, Li Zhang et al, "Clinical Features of Patients Infected with 2019 Novel Coronavirus in Wuhan, China," The Lancet, Vol. 395, no. 10223 (February 15, 2020): 497-506, https://doi.org/10.1016/S0140-6736(20)30183-5.
7 ↑ James T. Areddy, "China rules out Animal Market and Lab as Coronavirus origin," Wall Street Journal, May 26, 2020, https://www.wsj.com/articles/china-rules-out-animal-market-and-lab-as-coronavirus-origin-11590517508.
8 ↑ "Wuhan's seafood market a victim of COVID-19: CDC director," Global Times [China], May 26, 2020, https://www.globaltimes.cn/content/1189506.shtml.
9 ↑ Botao Xiao and Lei Xiao, "The possible origins of 2091-nCoV coronavirus," https://img-prod.tgcom24.mediaset.it/images/2020/02/16/114720192-5eb8307f-017c-4075-a697-348628da0204.pdf.
10 ↑ Jon Cohen, "Chinese researchers reveal draft genome of virus implicated in Wuhan pneumonia outbreak," Science, January 11, 2020, https://www.sciencemag.org/news/2020/01/chinese-researchers-reveal-draft-genome-virus-implicated-wuhan-pneumonia-outbreak.
11 ↑ Christian Shepherd and Don Weinland, "China Rounds up Wuhan's Citizen Journalists for 'Provoking Quarrels'," Financial Times, May 28, 2020, https://www.ft.com/content/3fd5c031-2152-4cab-8bd7-f7871f6ecf64; Aylin Woodward, "At least 5 people in China have disappeared, gotten arrested, or been silenced after speaking out about the coronavirus — here's what we know about them," Business Insider, February 20, 2020, https://businessinsider.com/china-coronavirus-whistleblowers-speak-out-vanish-2020-2; "Coronavirus: Wuhan doctor speaks out against authorities," The Guardian, March 11, 2020, https://www.theguardian.com/world/2020/mar/11/coronavirus-wuhan-doctor-ai-fen-speaks-out-against-authorities; Scott Neuman, Emily Feng and Huojingnan, "China To Investigate After Whistleblower Doctor Dies From Coronavirus," February 7, 2020, https://www.npr.org/sections/goatsandsoda/2020/02/07/803680463/china-to-investigate-after-whistleblower-doctor-dies-from-coronavirus; Verna Yu, "'Hero who told the truth': Chinese rage over coronavirus death of whistleblower doctor," The Guardian, February 7, 2020, https://wwwthe.guardian.com/global-development/2020/feb/07/coronavirus-chinese-rage-death-whistleblower-doctor-li-wenliang.
12 ↑ "A 4th Chinese citizen journalist was reportedly detained after livestreaming what life was like in Wuhan at the height of its coronavirus outbreak," Business Insider, https://www.businessinsider.com/zhang-zhan-fourth-chinese-journalist-arrested-for-livestreaming-in-wuhan-2020-5. This paper does not attempt to resolve allegations that have been published claiming that a former graduate student at the WIV, Huang Yan Ling, was the index case and subsequently died or disappeared. The allegations have been denied by the Chinese government as well as by members of the WIV staff. Jun Mai, "Chinese research lab denies rumours of links to first coronavirus patient," South China Morning Post, February 16, 2020, https://www.scmp.com/news/china/society/article/3050872/chinese-research-lab-denies-rumours-links-first-coronavirus.
13 ↑ Keoni Everington, "Chinese Media Estimates 500,000 Coronavirus Cases in Wuhan, Quickly deletes News," Taiwan News, May 19, 2020, https://www.taiwannews.com.tw/en/news/3936718.
14 ↑ Elise Thomas, "Chinese diplomats and Western fringe media outlets push the same coronavirus conspiracies," Australian Strategic Policy Institute, March 24, 2020, https://www.aspistrategist.org.au/chinese-diplomats-and-western-fringe-media-outlets-push-the-same-coronavirus-conspiracies/. The "Western fringe media" were reposting earlier Russian disinformation posts.
15 ↑ Matt Schrader, "Analyzing China's Coronavirus Propaganda Messaging in Europe," https://securingdemocracy.gmfus.org/analyzing-chinas-coronavirus-propaganda-messaging-in-europe/.
16 ↑ CGTN, "US operates over 200 military biological laboratories worldwide," 21 May 2020, https://news.cgtn.com/news/2020-05-21/U-S-deployed-over-200-military-biological-laboratories-worldwide-QFtLkqhuVy/index.html.
17 ↑ Milton Leitenberg, " Russian Disinformation Campaigns re Biological Weapons in the Putin Era," https://cissm.umd.edu/sites/default/files/2020-05/Russian%20Disinformation%20on%20Biological%20Weapons%20in%20the%20Putin%20PPT
%2011%20Dec%202019_Rev%208%20May%202020.pdf.
18 ↑ Lynn Klotz, "Human error in high-biocontainment labs: a likely pandemic threat," Bulletin of the Atomic Scientists, February 25, 2019.
19 ↑ Lynn Klotz, "The risk of lab-created potential pandemic influenza," March 2020, https://armscontrolcenter.org/wp-content/uploads/2020/03/Quantifying-the-risk-9-17-Supplementary-material-at-end.pdf.
20 ↑ Martin Furmanski, "Threatened pandemics and laboratory escapes: Self-fulfilling prophecies," Bulletin of the Atomic Scientists, March 31, 2014 and Martin Furmanski, personal communication, May 29, 2020.
21 ↑ Robert Walgate, "SARS escaped Beijing lab twice: Laboratory safety at the Chinese Institute of Virology under close scrutiny," The Scientist, April 24, 2004, https://www.the-scientist.com/news-analysis/sars-escaped-beijing-lab-twice-50137.
22 ↑ Rosie McCall, "Almost 100 Lab Workers in China Infected With Potentially Deadly Pathogen," Newsweek, December 17, 2019, https://www.newsweek.com/almost-100-lab-workers-china-infected-potentially-deadly-pathogen-1477652.
23 ↑ Lei-Ping Zeng et al, "Bat SARS-like coronavirus WIV1 encodes an extra accessory protein ORFX involved in modulation of host immune response," Journal of Virology 2016 May 11:JVI-03079, https://jvi.asm.org/content/jvi/early/2016/05/05/JVI.03079-15.full.pdf.
24 ↑ Laboratory biorisk management for laboratories handling human specimens suspected or confirmed to contain novel coronavirus: Interim recommendations, https://www.who.int/csr/disease/coronavirus_infections/Biosafety_InterimRecommendations_
NovelCoronavirus_19Feb13.pdf; Centers for Disease Control and Prevention, "Appendix F5— Laboratory Biosafety Guidelines for Handling and Processing Specimens Associated with SARS-CoV. Supplement F: Laboratory Guidance. Public Health Guidance for Community-Level Preparedness and Response to Severe Acute Respiratory Syndrome (SARS) Version 2/3," https://www.cdc.gov/sars/guidance/f-lab/app5.html.
25 ↑ John Xie, "Chinese Lab with Checkered Safety Record Draws Scrutiny over Covid-19," VOA News, April 21, 2020, https://www.voanews.com/covid-19-pandemic/chinese-lab-checkered-safety-record-draws-scrutiny-over-covid-19.
26 ↑ Josh Rogin, "State Department cables warned of safety issues at Wuhan lab studying bat coronaviruses," Washington Post, April 14, 2020.
27 ↑ Josh Rogin, "State Department cables warned of safety issues at Wuhan lab studying bat coronaviruses." A press item reported that an alleged 15-page "Five Eyes" intelligence report shared among the US, UK, Australia, Canada and New Zealand validated many of the charges against the WIV. Dave Makichuk, "Dossier an indictment of China's virus response," The Saturday Telegraph [UK], May 3, 2020. However, the Australian government announced that the "report" had been prepared from open source materials by the US alone, was not an agreed intelligence report, and was leaked by the US embassy to a Rupert Murdoch publication. Anthony Galloway and Eryk Bagshaw, "Australian intelligence knocks back US government's Wuhan lab virus claim," Sydney Morning Herald, May 4, 2020, https://www.smh.com.au/politics/federal/australian-intelligence-knocks-back-us-government-s-wuhan-lab-virus-claim-20200504-p54pk3.html; Anthony Galloway and Eryk Bagshaw, "Australian concern over US spreading unfounded claims about Wuhan lab," Sydney Morning Herald, May 7, 2020, https://www.smh.com.au/politics/federal/australian-concern-over-us-spreading-unfounded-claims-about-wuhan-lab-20200506-p54qhp.html.
28 ↑ See https://projectreporter.nih.gov/project_info_description.cfm?aid=9819304&icde=49645421&ddparam=&ddvalue=&ddsub=&cr=1&csb=default&cs=ASC&pball=
29 ↑ Fred Guteri et al, "The Controversial Experiments and Wuhan Lab suspected of Starting Pandemic," Newsweek, April 30, 2020.
30 ↑ Vineet D. Menachery et al, "A SARS-like Cluster of Circulating Bat Coronaviruses Shows Potential for Human Emergence," Nat Med. 2015 Dec; 21(12):1508-13. doi: 10.1038/nm.3985. Epub 2015 Nov 9, https://pubmed.ncbi.nlm.nih.gov/26552008/.
31 ↑ LP Zeng et al, "Bat Severe Acute Respiratory Syndrome-Like Coronavirus WIV1 Encodes an Extra Accessory Protein, ORFX, Involved in Modulation of the Host Immune Response," J Virol. 2016 Jun 24;90(14):6573-6582. doi: 10.1128/JVI.03079-15. Print 2016 Jul 15, (methods for construction of chimeric coronaviruses, https://pmlegacy.ncbi.nlm.nih.gov/pubmed/27170748.
32 ↑ B. Hu et al, "Discovery of a rich gene pool of bat SARS-related coronaviruses provides new insights into the origin of SARS coronavirus," PLoS Pathog. 2017 Nov 30;13(11):e1006698. doi: 10.1371/journal.ppat.1006698. eCollection 2017 Nov, (construction of chimeric coronaviruses encoding different S proteins), https://pmlegacy.ncbi.nlm.nih.gov/pubmed/29190287.
33 ↑ Yuri Deigin, "Lab-Made? SARS-CoV-2 Genealogy Through the Lens of Gain-of-Function Research, April 22, 2020, https://medium.com/@yurideigin/lab-made-cov2-genealogy-through-the-lens-of-gain-of-function-research-f96dd7413748 and Jonathan Latham and Allison Wilson, "The Case is Building That COVID-19 Had a Lab Origin," Independent Science News, June 2, 2020, https://www.independentsciencenews.org/health/the-case-is-building-that-covid-19-had-a-lab-origin/.
34 ↑ Wuhan Institute of Virology, CAS, "Take a look at the largest virus bank in Asia," 2018, http://english.whiov.cas.cn/ne/201806/t20180604_193863.html.
35 ↑ Jane Qiu, "How China's 'Bat Woman' Hunted Down Viruses from SARS to the New Coronavirus," Scientific American, June 2020, https://www.scientificamerican.com/article/how-chinas-bat-woman-hunted-down-viruses-from-sars-to-the-new-coronavirus1/
36 ↑ Jon Cohen and Kai Kupferschmidt, "NIH-halted study unveils ist massive analysis of bat coronaviruses," Science, June 2, 2020, https://www.sciencemag.org/news/2020/06/nih-halted-study-unveils-its-massive-analysis-bat-coronaviruses.
37 ↑ Agence France Presse, "Wuhan lab had three live bat coronaviruses: Chinese state media," May 24, 2020, https://au.news.yahoo.com/wuhan-lab-had-three-live-bat-coronaviruses-chinese-033127925–spt.html.
38 ↑ Personal communication, May 24, 2020.
39 ↑ Jonathan Latham and Allison Wilson, "The Case is Building That COVID-19 Had a Lab Origin," Independent Science News, June 2, 2020, https://www.independentsciencenews.org/health/the-case-is-building-that-covid-19-had-a-lab-origin/.
40 ↑ Press Release, Flinders University, "Origins of COVID-19 still a mystery", May 14, 2020; Sakshi Piplani et al, "In Silico Comparison of Spike Protein-ACE2 Binding Affinities across Species: Significance for the Possible Origin of the SARS-CoV-2 Virus," ArXiv:2005.06199 [q-Bio], May 13, 2020, http://arxiv.org/abs/2005.06199. See also, Jeremy Andre, "Origine du coronavirus: 'L'Infection d'un employé de laboratoire de Wuhan est plus probable'," Le Point International, April 18, 2020 and Jef Akst, "Lab-Made Coronavirus Triggers Debate," The Scientist, November 16, 2015 (updated March 11, 2020), https://www.the-scientist.com/news-opinion/lab-made-coronavirus-triggers-debate-34502.
41 ↑ John Xie, "Chinese Lab with Checkered Safety Record Draws Scrutiny over COVID-19," VOA News, April 21, 2020, https://www.voanews.com/covid-19-pandemic/chinese-lab-checkered-safety-record-draws-scrutiny-over-covid-19.
42 ↑ Kenneth Rapoza, "China Lab in Focus of Corona Virus Outbreak," Forbes, April 14, 2020, https://www.forbes.com/sites/kenrapoza/2020/04/14/the-washington-post-goes-rogue-china-lab-in-focus-of-coronavirus-outbreak/.
43 ↑ Patrick Smith, "WHO official says agency not invited to take part in China's coronavirus investigation," NBC News, May 1, 2020, https://nbcnews.com/news/world/who-official-says-agency-not-invited-take-part-china-s-n1197516.
44 ↑ Gerry Shih, "China's Xi backs WHO-led review of covid-19 outbreak, proposes aid for developing world," Washington Post, May 18, 2020, https://www.washingtonpost.com/world/asia_pacific/chinas-xi-backs-who-led-review-of-covid-19-outbreak-proposes-aid-for-developing-world/2020/05/18/911a1544-98df-11ea-ad79-eef7cd734641_story.html.
45 ↑ Gerry Shih, "China's Xi backs WHO-led review of covid-19 outbreak, proposes aid for developing world," Washington Post, May 18, 2020, https://www.washingtonpost.com/world/asia_pacific/chinas-xi-backs-who-led-review-of-covid-19-outbreak-proposes-aid-for-developing-world/2020/05/18/911a1544-98df-11ea-ad79-eef7cd734641_story.html.
46 ↑ WHO, Draft Resolution: COVID-19 response, A73/CONF./1 Rev.1, May 18, 2020, https://apps.who.int/gb/ebwha/pdf_files/WHA73/A73_CONF1Rev1-en.pdf.
47 ↑ "Editorial: Virus investigation must be fair, scientific," Global Times, May 17, 2020, https://www.globaltimes.cn/content/1188620.shtml. On May 4, 2020, a Chinese Hsinhua publication asked the question "Where did the virus in the U.S. originate?": "On March 11, CDC Director Robert Redford told a hearing on Capitol Hill that some COVID-19 deaths have been diagnosed as flu-related in the United States. Washington needs to clarify the number of COVID-19 cases previously diagnosed as flu, and make public the samples and genetic sequence of the influenza virus in the country." "Spotlight: Five Questions Washington needs to answer on coronavirus pandemic," XINHUANET, May 4, 2020.
48 ↑ Filippa Lentzos, "Will the WHO call for an international investigation into the coronavirus's origins?", The Bulletin of the Atomic Scientists, May 18, 2020.
49 ↑ Personal communication, Rod Barton, May 25, 2020.
===
The Case Is Building That COVID-19 Had a Lab Origin
By Jonathan Latham, PhD and Allison Wilson, PhD - 02. June 2020
If the public has learned a lesson from the COVID-19 pandemic it is that science does not generate certainty. Do homemade face masks work? What is the death rate of COVID-19? How accurate are the tests? How many people have no symptoms? And so on. Practically the lone undisputed assertion made so far is that all the nearest known genetic relatives of its cause, the Sars-CoV-2 virus, are found in horseshoe bats (Zhou et al., 2020). Therefore, the likely viral reservoir was a bat.
However, most of these ancestor-like bat coronaviruses cannot infect humans (Ge et al., 2013). In consequence, from its beginning, a key question hanging over the pandemic has been: How did a bat RNA virus evolve into a human pathogen that is both virulent and deadly?
The answer almost universally seized upon is that there was an intermediate species. Some animal, perhaps a snake, perhaps a palm civet, perhaps a pangolin, served as a temporary host. This bridging animal would probably have had an ACE2 cellular receptor (the molecule which allows cellular entry of the virus) intermediate in protein sequence (or at least structure) between the bat and the human one (Wan et al., 2020).
In the press and in the scientific literature, scenarios by which this natural zoonotic transfer might have occurred have been endlessly mulled. Most were fuelled by early findings that many of the earliest COVID-19 cases seem to have occurred in and around Wuhan's Huanan live animal market. [The latest data are that 14 of the 41 earliest cases, including the first, had no connection to the animal market (Huang et al. 2020)].
Since the two previous coronavirus near-pandemics of SARS (2002-3) and MERS (2012) both probably came from bats and both are thought (but not proven) to have transitioned to humans via intermediate animals (civets and dromedaries respectively), a natural zoonotic pathway is a reasonable first assumption (Andersen et al., 2020).
The idea, as it applied to the original (2002) SARS outbreak, is that the original bat virus infected a civet. The virus then evolved briefly in this animal species, but not enough to cause a civet pandemic, and then was picked up by a human before it died out in civets. In this first human (patient zero) the virus survived, perhaps only barely, but was passed on, marking the first case of human to human transmission. As it was successively passed on in its first few human hosts the virus rapidly evolved, adapting to better infect its new hosts. After a few such tentative transmissions the pandemic proper began.
Perhaps this scenario is approximately how the current COVID-19 pandemic began.
But one other troubling possibility must be dispensed with. It follows from the fact that the epicentre city, Wuhan (pop. 11 million), happens to be the global epicentre of bat coronavirus research (e.g. Hu et al., 2017).
Prompted by this proximity, various researchers and news media, prominently the Washington Post, and with much more data Newsweek, have drawn up a prima facie case that a laboratory origin is a strong possibility (Zhan et al., 2020; Piplani et al., 2020). That is, one of the two labs in Wuhan that has worked on coronaviruses accidentally let a natural virus escape; or, the lab was genetically engineering (or otherwise manipulating) a Sars-CoV-2-like virus which then escaped.
Unfortunately, in the US at least, the question of the pandemic's origin has become a political football; either an opportunity for Sinophobia or a partisan "blame game".
But the potential of a catastrophic lab release is not a game and systemic problems of competence and opacity are certainly not limited to China (Lipsitch, 2018). The US Department of Homeland Security (DHS) is currently constructing a new and expanded national Bio and Agro-defense facility in Manhattan, Kansas. DHS has estimated that the 50-year risk (defined as having an economic impact of $9-50 billion) of a release from its lab at 70%.
When a National Research Council committee inspected these DHS estimates they concluded "The committee finds that the risks and costs could well be significantly higher than that".
A subsequent committee report (NAP, 2012) continued:
"the committee was instructed to judge the adequacy and validity of the uSSRA [updated Site-Specific Risk Assessment]. The committee has identified serious concerns about (1) the misapplication of methods used to assess risk, (2) the failure to make clear whether and how the evidence used to support risk assessment assumptions had been thoroughly reviewed and adequately evaluated, (3) the limited breadth of literature cited and the misinterpretation of some of the significant supporting literature, (4) the failure to explain the criteria used to select assumptions when supporting literature is conflicting, (5) the failure to consider important risk pathways, and (6) the inadequate treatment of uncertainty. Those deficiencies are not equally problematic, but they occur with sufficient frequency to raise doubts about the adequacy and validity of the risk results presented. In most instances (e.g., operational activities at the NBAF), the identified problems lead to an underestimation of risk; in other instances (e.g., catastrophic natural hazards), the risks may be overestimated. As a result, the committee concludes that the uSSRA is technically inadequate in critical respects and is an insufficient basis on which to judge the risks associated with the proposed NBAF in Manhattan, Kansas."
China, meanwhile, having opened its first in Wuhan in 2018, is planning to roll out a national network of BSL-4 labs (Yuan, 2019). Like many other countries, it is investing significantly in disease surveillance and collection of viruses from wild animal populations and in high-risk recombinant virus research with Potential Pandemic Pathogens (PPPs).
On May 4th, nations and global philanthropies, meeting in Brussels, committed $7.4 billion to future pandemic preparedness. But the question hanging over all such investments is this: the remit of the Wuhan lab at the centre of the accidental release claims is pandemic preparedness. If the COVID-19 pandemic began there then we need to radically rethink current ideas for pandemic preparation globally. Many researchers already believe we should, for the sake of both safety and effectiveness (Lipsitch and Galvani, 2014; Weiss et al., 2015; Lipsitch, 2018). The worst possible outcome would be for those donated billions to accelerate the arrival of the next pandemic.
Historical lab releases, a brief history
An accidental lab release is not merely a theoretical possibility. In 1977 a laboratory in Russia (or possibly China), most likely while developing a flu vaccine, accidentally released the extinct H1N1 influenza virus (Nakajima et al., 1978). H1N1 went on to become a global pandemic virus. A large proportion of the global population became infected. In this case, deaths were few because the population aged over 20 yrs old had historic immunity to the virus. This episode is not widely known because only recently has this conclusion been formally acknowledged in the scientific literature and the virology community has been reluctant to discuss such incidents (Zimmer and Burke, 2009; Wertheim, 2010). Still, laboratory pathogen escapes leading to human and animal deaths (e.g. smallpox in Britain; equine encephalitis in South America) are common enough that they ought to be much better known (summarised in Furmanski, 2014). Only rarely have these broken out into actual pandemics on the scale of H1N1, which, incidentally, broke out again in 2009/2010 as "Swine flu" causing deaths estimated variously at 3,000 to 200,000 on that occasion (Duggal et al., 2016; Simonsen et al. 2013).
Many scientists have warned that experiments with PPPs, like the smallpox and Ebola and influenza viruses, are inherently dangerous and should be subject to strict limits and oversight (Lipsitch and Galvani, 2014; Klotz and Sylvester, 2014). Even in the limited case of SARS-like coronaviruses, since the quelling of the original SARS outbreak in 2003, there have been six documented SARS disease outbreaks originating from research laboratories, including four in China. These outbreaks caused 13 individual infections and one death (Furmanski, 2014). In response to such concerns the US banned certain classes of experiments, called gain of function (GOF) experiments, with PPPs in 2014, but the ban (actually a funding moratorium) was lifted in 2017.
For these reasons, and also to ensure the effectiveness of future pandemic preparedness efforts­, it is a matter of vital international importance to establish whether the laboratory escape hypothesis has credible evidence to support it. This must be done regardless of the problem–in the US–of toxic partisan politics and nationalism.
The COVID-19 Wuhan lab escape thesis
The essence of the lab escape theory is that Wuhan is the site of the Wuhan Institute of Virology (WIV), China's first and only Biosafety Level 4 (BSL-4) facility. (BSL-4 is the highest pathogen security level). The WIV, which added a BSL-4 lab only in 2018, has been collecting large numbers of coronaviruses from bat samples ever since the original SARS outbreak of 2002-2003; including collecting more in 2016 (Hu, et al., 2017; Zhou et al., 2018).
Led by researcher Zheng-Li Shi, WIV scientists have also published experiments in which live bat coronaviruses were introduced into human cells (Hu et al., 2017). Moreover, according to an April 14 article in the Washington Post, US Embassy staff visited the WIV in 2018 and "had grave safety concerns" about biosecurity there. The WIV is just eight miles from the Huanan live animal market that was initially thought to be the site of origin of the COVID-19 pandemic.
Wuhan is also home to a lab called the Wuhan Centers for Disease Prevention and Control (WCDPC). It is a BSL-2 lab that is just 250 metres away from the Huanan market. Bat coronaviruses have in the past been kept at the Wuhan WCDPC lab.
Thus the lab escape theory is that researchers from one or both of these labs may have picked up a Sars-CoV-2-like bat coronavirus on one of their many collecting (aka '"virus surveillance") trips. Or, alternatively, a virus they were studying, passaging, engineering, or otherwise manipulating, escaped.
Scientific assessments of the lab escape theory
On April 17 the Australian Science Media Centre asked four Australian virologists: "Did COVID-19 come from a lab in Wuhan?"
Three (Edward Holmes, Nigel McMillan and Hassan Vally) dismissed the lab escape suggestion and Vally simply labeled it, without elaboration, a "conspiracy".
The fourth virologist interviewed was Nikolai Petrovsky of Flinders University. Petrovsky first addressed the question of whether the natural zoonosis pathway was viable. He told the Media Centre:
"no natural virus matching to COVID-19 has been found in nature despite an intensive search to find its origins."
That is to say, the idea of an animal intermediate is speculation. Indeed, no credible viral or animal host intermediaries, either in the form of a confirmed animal host or a plausible virus intermediate, has to-date emerged to explain the natural zoonotic transfer of Sars-CoV-2 to humans (e.g. Zhan et al., 2020).
In addition to Petrovsky's point, there are two further difficulties with the natural zoonotic transfer thesis (apart from the weak epidemiological association between early cases and the Huanan "wet" market).
The first is that researchers from the Wuhan lab travelled to caves in Yunnan (1,500 Km away) to find horseshoe bats containing SARS-like coronaviruses. To-date, the closest living relative of Sars-CoV-2 yet found comes from Yunnan (Ge et al., 2016). Why would an outbreak of a bat virus therefore occur in Wuhan?
Moreover, China has a population of 1.3 billion. If spillover from the wildlife trade was the explanation, then, other things being equal, the probability of a pandemic starting in Wuhan (pop. 11 million) is less than 1%.
Zheng-Li Shi, the head of bat coronavirus research at WIV, told Scientific American as much:
"I had never expected this kind of thing to happen in Wuhan, in central China." Her studies had shown that the southern, subtropical provinces of Guangdong, Guangxi and Yunnan have the greatest risk of coronaviruses jumping to humans from animals—particularly bats, a known reservoir. If coronaviruses were the culprit, she remembers thinking, "Could they have come from our lab?"
Wuhan, in short, is a rather unlikely epicentre for a natural zoonotic transfer. In contrast, to suspect that Sars-CoV-2 might have come from the WIV is both reasonable and obvious.
Was Sars-CoV-2 created in a lab?
In his statement, Petrovsky goes on to describe the kind of experiment that, in principle, if done in a lab, would obtain the same result as the hypothesised natural zoonotic transfer–rapid adaptation of a bat coronavirus to a human host.
"Take a bat coronavirus that is not infectious to humans, and force its selection by culturing it with cells that express human ACE2 receptor, such cells having been created many years ago to culture SARS coronaviruses and you can force the bat virus to adapt to infect human cells via mutations in its spike protein, which would have the effect of increasing the strength of its binding to human ACE2, and inevitably reducing the strength of its binding to bat ACE2.
Viruses in prolonged culture will also develop other random mutations that do not affect its function. The result of these experiments is a virus that is highly virulent in humans but is sufficiently different that it no longer resembles the original bat virus. Because the mutations are acquired randomly by selection there is no signature of a human gene jockey, but this is clearly a virus still created by human intervention."
In other words, Petrovsky believes that current experimental methods could have led to an altered virus that escaped.
Passaging, GOF research, and lab escapes
The experiment mentioned by Petrovsky represents a class of experiments called passaging. Passaging is the placing of a live virus into an animal or cell culture to which it is not adapted and then, before the virus dies out, transferring it to another animal or cell of the same type. Passaging is often done iteratively. The theory is that the virus will rapidly evolve (since viruses have high mutation rates) and become adapted to the new animal or cell type. Passaging a virus, by allowing it to become adapted to its new situation, creates a new pathogen.
The most famous such experiment was conducted in the lab of Dutch researcher Ron Fouchier. Fouchier took an avian influenza virus (H5N1) that did not infect ferrets (or other mammals) and serially passaged it in ferrets. The intention of the experiment was specifically to evolve a PPP. After ten passages the researchers found that the virus had indeed evolved, to not only infect ferrets but to transmit to others in neighbouring cages (Herfst et al., 2012). They had created an airborne ferret virus, a Potential Pandemic Pathogen, and a storm in the international scientific community.
The second class of experiments that have frequently been the recipients of criticism are GOF experiments. In GOF research, a novel virus is deliberately created, either by in vitro mutation or by cutting and pasting together two (or more) viruses. The intention of such reconfigurations is to make viruses more infectious by adding new functions such as increased infectivity or pathogenicity. These novel viruses are then experimented on, either in cell cultures or in whole animals. These are the class of experiments banned in the US from 2014 to 2017.
Some researchers have even combined GOF and passaging experiments by using recombinant viruses in passaging experiments (e.g. Sheahan et al., 2008).
Such experiments all require recombinant DNA techniques and animal or cell culture experiments. But the very simplest hypothesis of how Sars-CoV-2 might have been caused by research is simply to suppose that a researcher from the WIV or the WCDCP became infected during a collecting expedition and passed their bat virus on to their colleagues or family. The natural virus then evolved, in these early cases, into Sars-CoV-2. For this reason, even collecting trips have their critics. Epidemiologist Richard Ebright called them "the definition of insanity". Handling animals and samples exposes collectors to multiple pathogens and returning to their labs then brings those pathogens back to densely crowded locations.
Was the WIV doing experiments that might release PPPs?
Since 2004, shortly after the original SARS outbreak, researchers from the WIV have been collecting bat coronaviruses in an intensive search for SARS-like pathogens (Li et al., 2005). Since the original collecting trip, many more have been conducted (Ge et al., 2013; Ge et al., 2016; Hu et al., 2017; Zhou et al., 2018).
Petrovsky does not mention it but Zheng-Li Shi's group at the WIV has already performed experiments very similar to those he describes, using those collected viruses. In 2013 the Shi lab reported isolating an infectious clone of a bat coronavirus that they called WIV-1 (Ge et al., 2013). WIV-1 was obtained by introducing a bat coronavirus into monkey cells, passaging it, and then testing its infectivity in human (HeLa) cell lines engineered to express the human ACE2 receptor (Ge et al., 2013).
In 2014, just before the US GOF research ban went into effect, Zheng-Li Shi of WIV co-authored a paper with the lab of Ralph Baric in North Carolina that performed GOF research on bat coronaviruses (Menachery et al., 2015).
In this particular set of experiments the researchers combined "the spike of bat coronavirus SHC014 in a mouse-adapted SARS-CoV backbone" into a single engineered live virus. The spike was supplied by the Shi lab. They put this bat/human/mouse virus into cultured human airway cells and also into live mice. The researchers observed "notable pathogenesis" in the infected mice (Menachery et al. 2015). The mouse-adapted part of this virus comes from a 2007 experiment in which the Baric lab created a virus called rMA15 through passaging (Roberts et al., 2007). This rMA15 was "highly virulent and lethal" to the mice. According to this paper, mice succumbed to "overwhelming viral infection".
In 2017, again with the intent of identifying bat viruses with ACE2 binding capabilities, the Shi lab at WIV reported successfully infecting human (HeLa) cell lines engineered to express the human ACE2 receptor with four different bat coronaviruses. Two of these were lab-made recombinant (chimaeric) bat viruses. Both the wild and the recombinant viruses were briefly passaged in monkey cells (Hu et al., 2017).
Together, what these papers show is that: 1) The Shi lab collected numerous bat samples with an emphasis on collecting SARS-like coronavirus strains, 2) they cultured live viruses and conducted passaging experiments on them, 3) members of Zheng-Li Shi's laboratory participated in GOF experiments carried out in North Carolina on bat coronaviruses, 4) the Shi laboratory produced recombinant bat coronaviruses and placed these in human cells and monkey cells. All these experiments were conducted in cells containing human or monkey ACE2 receptors.
The overarching purpose of such work was to see whether an enhanced pathogen could emerge from the wild by creating one in the lab. (For a very informative technical summary of WIV research into bat coronaviruses and that of their collaborators we recommend this post, written by biotech entrepreneur Yuri Deigin).
It also seems that the Shi lab at WIV intended to do more of such research. In 2013 and again in 2017 Zheng-Li Shi (with the assistance of a non-profit called the EcoHealth Alliance) obtained a grant from the US National Institutes of Health (NIH). The most recent such grant proposed that:
"host range (i.e. emergence potential) will be tested experimentally using reverse genetics, pseudovirus and receptor binding assays, and virus infection experiments across a range of cell cultures from different species and humanized mice" (NIH project #5R01Al110964-04).
It is hard to overemphasize that the central logic of this grant was to test the pandemic potential of SARS-related bat coronaviruses by making ones with pandemic potential, either through genetic engineering or passaging, or both.
Apart from descriptions in their publications we do not yet know exactly which viruses the WIV was experimenting with but it is certainly intriguing that numerous publications since Sars-CoV-2 first appeared have puzzled over the fact that the SARS-CoV-2 spike protein binds with exceptionally high affinity to the human ACE2 receptor "at least ten times more tightly" than the original SARS (Zhou et al., 2020; Wrapp et al., 2020; Wan et al., 2020; Walls et al., 2020; Letko et al., 2020).
This affinity is all the more remarkable because of the relative lack of fit in modelling studies of the SARS-CoV-2 spike to other species, including the postulated intermediates like snakes, civets and pangolins (Piplani et al., 2020). In this preprint these modellers concluded "This indicates that SARS-CoV-2 is a highly adapted human pathogen".
Given the research and collection history of the Shi lab at WIV it is therefore entirely plausible that a bat SARS-like cornavirus ancestor of Sars-CoV-2 was trained up on the human ACE2 receptor by passaging it in cells expressing that receptor.
[On June 4 an excellent article in the Bulletin of the Atomic Scientists went further. Pointing out what we had overlooked, that the Shi lab also amplified spike proteins of collected coronaviruses, which would make them available for GOF experimentation (Ge et al., 2016).]
How do viruses escape from high security laboratories?
Pathogen lab escapes take various forms. According to the US Government Accountability Office, a US defense Department laboratory once "inadvertently sent live Bacillus anthracis, the bacterium that causes anthrax, to almost 200 laboratories worldwide over the course of 12 years. The laboratory believed that the samples had been inactivated." In 2007, Britain experienced a foot and mouth disease outbreak. Its' origin was a malfunctioning waste disposal system of a BSL-4 laboratory leaking into a stream from which neighbouring cows drank. The disposal system had not been properly maintained (Furmanski, 2014). In 2004 an outbreak of SARS originating from the National Institute of Virology (NIV) in Beijing, China, began, again, with the inadequate inactivation of a viral sample that was then distributed to non-secure parts of the building (Weiss et al., 2015).
Writing for the Bulletin of The Atomic Scientists in February 2019, Lynn Klotz concluded that human error was behind most laboratory incidents causing exposures to pathogens in US high security laboratories. While equipment failure was also a factor, of the 749 incidents reported to the US Federal Select Agent Programme between 2009-2015, Klotz concluded that 79% resulted from human error.
But arguably the biggest worry is incidents that go entirely unreported because escape of the pathogen goes undetected. It is truly alarming that a significant number of pathogen escape events were uncovered only because investigators were in the process of examining a completely different incident (Furmanski, 2014). Such discoveries represent strong evidence that pathogen escapes are under-reported and that important lessons still need to be learned (Weiss et al., 2015).
The safety record of the WIV
The final important data point is the biosafety history of the WIV. The WIV was built in 2015 and became a commissioned BSL-4 lab in 2018. According to Josh Rogin of the Washington Post, US embassy officials visited the WIV in 2018. They subsequently warned their superiors in Washington of a "serious shortage of appropriately trained technicians and investigators needed to safely operate this high-containment laboratory".
And according to VOA News, a year before the outbreak, "a security review conducted by a Chinese national team found the lab did not meet national standards in five categories."
Credible reports from within China also question lab biosafety and its management. In 2019, Yuan Zhiming, biosecurity specialist at the WIV, cited the "challenges" of biosafety in China. According to Yuan: "several high-level BSLs have insufficient operational funds for routine yet vital processes" and "Currently, most laboratories lack specialized biosafety managers and engineers." He recommends that "We should promptly revise the existing regulations, guidelines, norms, and standards of biosafety and biosecurity". Nevertheless, he also notes that China intends to build "5-7" more BSL-4 laboratories (Yuan, 2019).
And in February 2020, Scientific American interviewed Zheng-Li Shi. Accompanying the interview was a photograph of her releasing a captured bat. In the photo she is wearing a casual pink unzipped top layer, thin gloves, and no face mask or other protection. Yet this is the same researcher whose talks give "chilling" warnings about the dire risks of human contact with bats.
All of which tends to confirm the original State Department assessment. As one anonymous "senior administration official" told Rogin:
"The idea that it was just a totally natural occurrence is circumstantial. The evidence it leaked from a lab is circumstantial. Right now, the ledger on the side of it leaking from the lab is packed with bullet points and there's almost nothing on the other side."
The leading hypothesis is a lab outbreak
For all these reasons, a lab escape is by far the leading hypothesis to explain the origins of Sars-CoV-2 and the COVID-19 pandemic. The sheer proximity of the WIV and WCDCP labs to the outbreak and the nature of their work represents evidence that can hardly be ignored. The long international history of lab escapes and the biosafety concerns from all directions about the labs in Wuhan greatly strengthen the case. Especially since evidence for the alternative hypothesis, in the form of a link to wild animal exposure or the wildlife trade, remains extremely weak, being based primarily on analogy with SARS one (Bell et al,. 2004; Andersen et al., 2020).
Nevertheless, on April 16th Peter Daszak, who is the President of the EcoHealth Alliance, told Democracy Now! in a lengthy interview that the lab escape thesis was "Pure baloney". He told listeners:
"There was no viral isolate in the lab. There was no cultured virus that's anything related to SARS coronavirus 2. So it's just not possible."
Daszak made very similar claims on CNN's Sixty Minutes: "There is zero evidence that this virus came out of a lab in China." Instead, Daszak encouraged viewers to blame "hunting and eating wildlife".
Daszak's certainty is highly problematic on several counts. The closest related known coronaviruses to Sars-CoV-2 are to be found at the WIV so a lot depends on what he means by "related to". But it is also dishonest in the sense that Daszak must know that culturing in the lab is not the only way that WIV researchers could have caused an outbreak. Third, and this is not Daszak's fault, the media are asking the right question to the wrong person.
As alluded to above, Daszak is the named principal investigator on multiple US grants that went to the Shi lab at WIV. He is also a co-author on numerous papers with Zheng-Li Shi, including the 2013 Nature paper announcing the isolation of coronavirus WIV-1 through passaging (Ge et al., 2013). One of his co-authorships is on the collecting paper in which his WIV colleagues placed the four fully functional bat coronaviruses into human cells containing the ACE2 receptor (Hu et al. 2017). That is, Daszak and Shi together are collaborators and co-responsible for most of the published high-risk collecting and experimentation at the WIV.
An investigation is needed, but who will do it?
If the Shi lab has anything to hide, it is not only the Chinese Government that will be reluctant to see an impartial investigation proceed. Much of the work was funded by the US taxpayer, channeled there by Peter Daszak and the EcoHealth Alliance. Virtually every credible international organisation that might in principle carry out such an investigation, the WHO, the US CDC, the FAO, the US NIH, including the Gates Foundation, is either an advisor to, or a partner of, the EcoHealth Alliance. If the Sars-CoV-2 outbreak originated from the bat coronavirus work at the WIV then just about every major institution in the global public health community is implicated.
But to solve many of these questions does not necessarily require an expensive investigation. It would probably be enough to inspect the lab notebooks of WIV researchers. All research scientists keep detailed notes, for intellectual property and other reasons, but especially in BSL-4 labs. As Yuan Zhiming told Nature magazine in an article marking the opening of the facility in Wuhan: "We tell them [staff] the most important thing is that they report what they have or haven't done."
Meticulous lab records plus staff health records and incident reports of accidents and near-accidents are all essential components (or should be) of BSL work. Their main purpose is to enable the tracking of actual incidents. Much speculation could be ended with the public release of that information. But the WIV has not provided it.
This is puzzling since the Chinese government has a very strong incentive to produce those records. Complete transparency would potentially dispel the gales of blame coming its way; especially on the question of whether Sars-CoV-2 has an engineered or passaged origin. If Zheng-Li Shi and Peter Daszak are correct that nothing similar to Sars-CoV-2 was being studied there, then those notebooks should definitively exonerate the lab from having knowingly made an Actual Pandemic Pathogen.
Given the simplicity and utility of this step this lack of transparency suggests that there is something to hide. If so, it must be important. But then the question is: What?
A thorough investigation of the WIV and its bat coronavirus research is an important first step. But the true questions are not the specific mishaps and dissemblings of Drs Shi or Daszak, nor of the WIV, nor even of the Chinese government.
Rather, the bigger question concerns the current philosophy of pandemic prediction and prevention. Deep enquiries should be made about the overarching wisdom of plucking and counting viruses from the wild and then performing dangerous 'what if' recombinant research in high tech but fallible biosafety labs. This is a reductionistic approach, we also note, that has so far failed to predict or protect us from pandemics and may never do so.
Footnote: This article was updated on June 3rd to broaden the estimates of "Swine Flu" deaths, from 3,000 to 3- to 200,000.
References
Andersen, K. G., Rambaut, A., Lipkin, W. I., Holmes, E. C., & Garry, R. F. (2020). The proximal origin of SARS-CoV-2. Nature medicine, 26(4), 450-452.
Bell, D., Roberton, S., & Hunter, P. R. (2004). Animal origins of SARS coronavirus: possible links with the international trade in small carnivores. Philosophical Transactions of the Royal Society of London. Series B: Biological Sciences, 359(1447), 1107-1114.
Duggal, A., Pinto, R., Rubenfeld, G., & Fowler, R. A. (2016). Global variability in reported mortality for critical illness during the 2009-10 influenza A (H1N1) pandemic: a systematic review and meta-regression to guide reporting of outcomes during disease outbreaks. PloS one, 11(5), e0155044.
Furmanski, M. (2014). Laboratory Escapes and "Self-fulfilling prophecy" Epidemics. Report: Center for Arms Control and Nonproliferation. PDF available online.
Ge, X. Y., Li, J. L., Yang, X. L., Chmura, A. A., Zhu, G., Epstein, J. H., … & Zhang, Y. J. (2013). Isolation and characterization of a bat SARS-like coronavirus that uses the ACE2 receptor. Nature, 503(7477), 535-538.
Ge, X. Y., Wang, N., Zhang, W., Hu, B., Li, B., Zhang, Y. Z., … & Wang, B. (2016). Coexistence of multiple coronaviruses in several bat colonies in an abandoned mineshaft. Virologica Sinica, 31(1), 31-40.
Hu, B., Zeng, L. P., Yang, X. L., Ge, X. Y., Zhang, W., Li, B., … & Luo, D. S. (2017). Discovery of a rich gene pool of bat SARS-related coronaviruses provides new insights into the origin of SARS coronavirus. PLoS pathogens, 13(11), e1006698.
Huang, C., Wang, Y., Li, X., Ren, L., Zhao, J., Hu, Y., … & Cheng, Z. (2020). Clinical features of patients infected with 2019 novel coronavirus in Wuhan, China. The lancet, 395(10223), 497-506.
Klotz, L. C., & Sylvester, E. J. (2014). The consequences of a lab escape of a potential pandemic pathogen. Frontiers in public health, 2, 116.
Letko, M., Marzi, A., & Munster, V. (2020). Functional assessment of cell entry and receptor usage for SARS-CoV-2 and other lineage B betacoronaviruses. Nature microbiology, 5(4), 562- 569.
Li, W., Shi, Z., Yu, M., Ren, W., Smith, C., Epstein, J. H., … & Zhang, J. (2005). Bats are natural reservoirs of SARS-like coronaviruses. Science, 310(5748), 676-679.
Lipsitch, M. (2018). Why Do Exceptionally Dangerous Gain-of-Function Experiments in Influenza?. In Influenza Virus (pp. 589-608). Humana Press, New York, NY.
Lipsitch, M., & Galvani, A. P. (2014). Ethical alternatives to experiments with novel potential pandemic pathogens. PLoS Med, 11(5), e1001646.
Menachery, V. D., Yount, B. L., Debbink, K., Agnihothram, S., Gralinski, L. E., Plante, J. A., … & Randell, S. H. (2015). A SARS-like cluster of circulating bat coronaviruses shows potential for human emergence. Nature medicine, 21(12), 1508-1513.
Nakajima, K., Desselberger, U., & Palese, P. (1978). Recent human influenza A (H1N1) viruses are closely related genetically to strains isolated in 1950. Nature, 274(5669), 334-339.
National Research Council. (2012). Evaluation of the updated site-specific risk assessment for the national bio-and agro-defense facility in Manhattan, Kansas. National Academies Press.
Piplani, S., Singh, P. K., Winkler, D. A., & Petrovsky, N. (2020). In silico comparison of spike protein-ACE2 binding affinities across species; significance for the possible origin of the SARS- CoV-2 virus. arXiv preprint arXiv:2005.06199.
Roberts, A., Deming, D., Paddock, C. D., Cheng, A., Yount, B., Vogel, L., … & Zaki, S. R. (2007). A mouse-adapted SARS-coronavirus causes disease and mortality in BALB/c mice. PLoS Pathog, 3(1), e5.
Sheahan, T., Rockx, B., Donaldson, E., Sims, A., Pickles, R., Corti, D., & Baric, R. (2008). Mechanisms of zoonotic severe acute respiratory syndrome coronavirus host range expansion in human airway epithelium. Journal of virology, 82(5), 2274-2285.
Simonsen, L., Spreeuwenberg, P., Lustig, R., Taylor, R. J., Fleming, D. M., Kroneman, M., … & Paget, W. J. (2013). Global mortality estimates for the 2009 Influenza Pandemic from the GLaMOR project: a modeling study. PLoS Med, 10(11), e1001558.
Walls, A. C., Park, Y. J., Tortorici, M. A., Wall, A., McGuire, A. T., & Veesler, D. (2020). Structure, function, and antigenicity of the SARS-CoV-2 spike glycoprotein. Cell, 180, 281-292.
Wan, Y., Shang, J., Graham, R., Baric, R. S., & Li, F. (2020). Receptor recognition by the novel coronavirus from Wuhan: an analysis based on decade-long structural studies of SARS coronavirus. Journal of virology, 94(7).
Weiss, S., Yitzhaki, S., & Shapira, S. C. (2015). Lessons to be Learned from Recent Biosafety Incidents in the United States. The Israel Medical Association Journal: IMAJ, 17(5), 269-273.
Wertheim, J. O. (2010). The re-emergence of H1N1 influenza virus in 1977: a cautionary tale for estimating divergence times using biologically unrealistic sampling dates. PloS one, 5(6), e11184.
Wrapp, D., Wang, N., Corbett, K. S., Goldsmith, J. A., Hsieh, C. L., Abiona, O., … & McLellan, J. S. (2020). Cryo-EM structure of the 2019-nCoV spike in the prefusion conformation. Science, 367(6483), 1260-1263.
Zhan, S. H., Deverman, B. E., & Chan, Y. A. (2020). SARS-CoV-2 is well adapted for humans. What does this mean for re-emergence?. bioRxiv. doi: https://doi.org/10.1101/2020.05.01.073262
Zimmer, S. M., & Burke, D. S. (2009). Historical perspective—emergence of influenza A (H1N1) viruses. New England Journal of Medicine, 361(3), 279-285.
Zhou, P., Fan, H., Lan, T., Yang, X. L., Shi, W. F., Zhang, W., … & Zheng, X. S. (2018). Fatal swine acute diarrhoea syndrome caused by an HKU2-related coronavirus of bat origin. Nature, 556(7700), 255-258.
Zhou, P., Yang, X. L., Wang, X. G., Hu, B., Zhang, L., Zhang, W., … & Chen, H. D. (2020). A pneumonia outbreak associated with a new coronavirus of probable bat origin. nature, 579(7798), 270-273.
===
Lab escape theory of SARS-CoV-2 origin gaining scientific support
Claire Robinson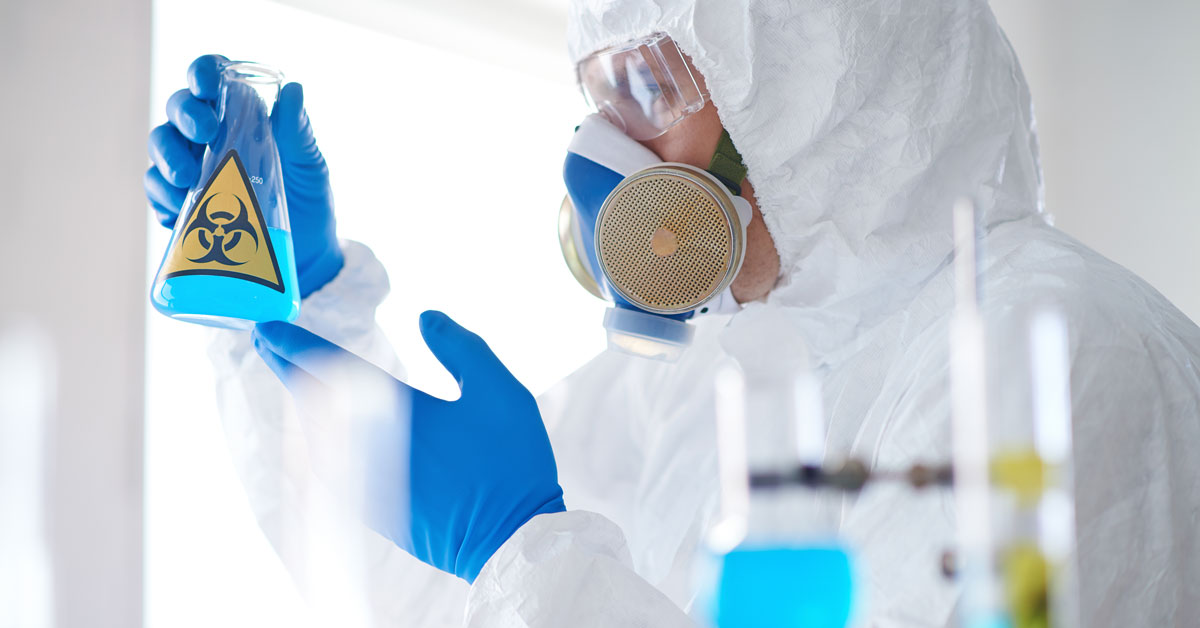 "We can't exclude the possibility that this came from a laboratory experiment rather than from an animal" – Prof Nikolai Petrovsky
The possibility that SARS-CoV-2 is a human-manipulated virus that escaped from a lab has been flagged up by a whole series of scientists, such as Prof Richard Ebright, Prof Stuart Newman, Dr Michael Antoniou, Dr Jonathan Latham, Yuri Deigin, Dr Billy Zhang, and Prof Jonathan J. Couey.

Now it is gaining further scientific support in the form of two papers, recently posted on academically established pre-peer review websites. Although these studies have not yet been peer-reviewed, they are being taken seriously by the scientific community, which has opened up a lively discussion on social media.

The first study, led by Dr Alina Chan at the Broad Institute, MIT (USA), strongly challenges the much promoted narrative that the virus jumped from animals to humans at the Huanan seafood and wildlife market in Wuhan, China.

The researchers compared SARS-CoV-2 to the earlier SARS virus, SARS-CoV, which caused a human epidemic in 2003. They found that by the time SARS-CoV-2 was first officially announced and its genetic sequence reported in late 2019, it was already pre-adapted to human transmission, to an extent similar to late epidemic SARS-CoV. This is very different from how SARS-CoV first emerged. That virus was initially far less well adapted to infecting humans and had to acquire many mutations gained though many rounds of infectious cycles to reach peak infectivity. This type of progressive adaptation (mutation and selection) is exactly what is expected and known to happen in animal to human virus disease transmission. But SARS-CoV-2, even at very early stages of its detection in humans, was already highly adapted for human infectivity. In other words, no sufficiently similar natural "parent" animal virus or, in the researchers' words, "branches of evolution stemming from a less well-adapted human SARS-CoV-2-like virus" have been found.

Casting further doubt on the "zoonosis" (jump from animal to human) theory of the virus's origin is that samples taken from the Huanan market in Wuhan were found to contain viruses that were genetically identical to human SARS-CoV-2. According to Dr Chan, "This makes it unlikely for the Huanan market isolates to have come from an intermediate animal host; likely from SARS2-infected humans who visited the market."

Interestingly, just in the last few days Chinese scientists have themselves thrown cold water on the "wet market" theory. According to the Wall Street Journal, "China's top epidemiologist said Tuesday that testing of samples from...[the wet market]...failed to show links between animals being sold there and the pathogen." As all pandemic-related communications from scientists in China are now centrally vetted, we can conclude that the Huanan market theory is being walked back at an official level because of the lack of supporting evidence.

Indeed, on 27 May the Chinese government came up with another theory for the virus's emergence. The Huanan market is now described as "more of a victim rather than the origin" of SARS-CoV-2 and the the virus is now claimed to have "multiple origins" – a suitably vague term that says nothing about laboratory escapes.
Lab escape theory "should be considered"
Alina Chan and colleagues say, "The sudden appearance of a highly infectious SARS-CoV-2 presents a major cause for concern that should motivate stronger international efforts to identify the source and prevent near future re-emergence." In this context they conclude that the possibility of a lab escape "should be considered regardless of how likely or unlikely".

In GMWatch's view, Dr Chan's research suggests one of three potential origin scenarios:
1) SARS-CoV-2 has a natural origin in animals. If this is the case, it must have been circulating in humans in Wuhan long before the Chinese government alerted the international authorities to the COVID-19 epidemic, thus giving the animal virus the time needed to adapt to humans, as was seen with SARS-CoV in the 2003 epidemic.
2) SARS-CoV-2 is a natural animal-derived virus that has been studied in a laboratory for human infectivity for a considerable period of time, during which it acquired mutations that make it highly infectious to humans. The human-adapted virus then escaped from the lab that was studying it, with the Wuhan Institute of Virology (WIV) being a prime candidate.
3) SARS-CoV-2 is a genetically engineered virus that escaped from a lab that constructed it, such as the WIV.

Interestingly, however, the researchers pre-emptively close off the third option. They define the potential lab-origin virus as "non-genetically engineered", even though their paper presents no evidence that such a virus could not have been genetically engineered. Given the long history of genetic engineering of coronaviruses at the WIV, this is an unwarranted assumption.

GMWatch pointed out to Alina Chan on Twitter that based on her research, the virus could be GM, or not. Dr Chan conceded that this was the case – "That's right" – adding that "there is no direct evidence for any particular origin scenario". Her latter comment is correct, but her admission that the virus could be GM shows that her claim in the paper that it is non-genetically engineered is inaccurate and requires correction in any final published paper.

Another Twitter commentator responded to our tweet by citing data from biotech entrepreneur Yuri Deigin's blog post, which lays out strong evidence in support of the virus being genetically engineered.
Human intervention possible
The other paper pointing to a possible lab escape is more forthright about the possibility of human intervention. The paper is authored by a team led by Nikolai Petrovsky, a vaccine developer and a professor at the College of Medicine and Public Health at Flinders University in Adelaide, Australia. Using cutting edge computer molecular modelling tools, the researchers conclude that SARS-CoV-2 contains unique properties that mean it could have been cultured and selected in the laboratory to increase human infectivity.

Prof Petrovsky said his team considers that human manipulation is plausible because of the unmatched ability of the virus's protruding spike protein to infect human cells. The virus's ability to bind to human cells "far exceeds" its ability to infect other animals, he said. He added, "This, plus the fact that no corresponding virus has been found to exist in nature, leads to the possibility that COVID-19 is a human-created virus. It is therefore entirely plausible that the virus was created in the biosecurity facility in Wuhan [WIV] by selection on cells expressing human ACE2 [receptor], a laboratory that was known to be cultivating exotic bat coronaviruses at the time."

Prof Petrovsky told Sky News that he also doesn't exclude the natural origin theory: "The two possibilities which I think are both still open is that it was a chance transmission of a virus from an as yet unidentified animal to human. The other possibility is that it was an accidental release of the virus from a laboratory. Certainly we can't exclude the possibility that this came from a laboratory experiment rather than from an animal. They are both open possibilities."
Genetic engineering the quicker way to human infectivity
Commenting on Prof Petrovsky's conclusion that SARS-CoV-2 could have originated from culture of a wild virus and selection in human cells, the London-based molecular geneticist Dr Michael Antoniou agreed that this scenario was plausible: "You can certainly develop a human-infective virus like SARS-CoV-2 by repeatedly passing a wild bat virus through human cells, in the way that Prof Petrovsky describes. You culture human cells with the virus, allowing the virus to replicate, and harvest the resulting viruses. This selects for the most human-infective viruses, which you use to re-infect more cells. By going through successive rounds of this process, you are gradually selecting for viruses that have acquired mutations leading to enhancement of human infectivity. Eventually you end up with a virus that is optimized for human infectivity."

However, Dr Antoniou added that there are far quicker and more efficient ways to achieve this aim.

For example, if you start with little information about what your human-infective virus looks like, you can genetically engineer a large number of SARS-CoV spike protein variants within phages. Phages are viruses that can infect bacteria. Phages can be genetically engineered to express on their exterior coat the CoV spike protein with a different variant of the receptor binding domain (RBD) – the part of the spike protein that allows the virus to bind to the ACE2 protein on human cell surfaces and thus enables infection to take place. This collection of phage variants with different RBDs is called a "phage display library". The "library" of variants is then cultured with human cells in order to select for those phages with spike protein variants that bind to the ACE2 receptor.

Then the DNA is extracted from the phage with the best-binding spike protein and sequenced. Based on the sequence, a whole virus optimized for human infectivity can be synthesized.

Alternatively, Dr Antoniou explained, if you start with some information, as is likely with a group of researchers experienced in coronavirus gain-of-function research, there is an even quicker way to create a human-infective virus. Given that past research indicates that the nature of the spike protein alone doesn't determine infectivity, it seems sensible to generate a library of spike mutant proteins directly within a whole coronavirus, which would also contain any other components necessary for infectivity.

In this case, you would take a DNA clone of a coronavirus that you know to be close to human infectivity, based on the sequence of its RBD. (Manipulation of DNA clones of coronaviruses is the standard procedure used to generate mutant viruses, including chimeras, in gain-of-function experiments, such as those carried out by scientists at the University of North Carolina and the Wuhan Institute of Virology.) You would then use the genetic engineering technique of DNA synthesis to generate a large number of randomly mutated versions of the spike protein RBD. The RBD mutations that you engineer could be more narrowly targeted by focusing on those regions encoding the amino acids whose nature and positions you know to be most critical for docking onto the human ACE2 receptor. The mutant versions of the RBD would then be selected for strong binding to the ACE2 receptor and consequently high infectivity of human cells.

Both methods described above would not leave any "signature" of genetic engineering. That's an important consideration, given that Prof Petrovsky believes that genetic engineering was not involved in the development of SARS-CoV-2 due to the absence of such a signature.
Genetic engineering likely
In GMWatch's view, to bypass the efficient genetic engineering-based methods described by Dr Antoniou in favour of the more laborious culture and selection-only method suggested by Prof Petrovsky would seem a curious decision for any laboratory committed to investigating coronavirus gain-of-function, such as the WIV.

The conclusions that we draw from these two new papers and Dr Antoniou's input are that the "zoonosis" theory of SARS-CoV-2's origin looks increasingly open to question, that the lab escape theory appears to be a solidly based scenario and, if that is what happened, genetic engineering is highly likely to have played a part in the development of the virus.

===
Wuhan-Virus?
By Dirk Pohlmann
On May 8, 2015, coincidentally the 70th anniversary of the end of World War II in Europe, the World Health Organization published a recommendation for the designation of infectious diseases.
Authorities and the media should avoid naming a new disease after the alleged location or nation of the outbreak, as was done for the "Spanish flu", or after the carrier organism, as was done for the"swine flu" or "bird flu", or after professional groups, as was done for the "Legionnaires' disease", or after the name of the discoverer, as was done for the "Chagas disease".
The official name is ultimately determined by the WHO, which avoids attributions of the aforementioned types.
The WHO justifies this as follows: "WHO, in consultation and collaboration with the World Organisation for Animal Health (OIE) and the Food and Agriculture Organization of the United Nations (FAO), has identified best practices for the naming of new human diseases, with the aim to minimize unnecessary negative impact of disease names on trade, travel, tourism or animal welfare, and avoid causing offence to any cultural, social, national, regional, professional or ethnic groups.".
This could perhaps be explained to Donald Trump, who speaks of the "Chinese virus", or Mike Pompeo, who calls it the "Wuhan virus", because Trump would probably find it at least "very, very sad" if the Spanish flu of 1917, which killed between 25 and 50 million people, depending on estimates, i.e. caused more deaths than World War I, were to be called the "US epidemic". Because it is now assumed that the Spanish flu originated in the USA. The only reason it was named the Spanish flu was due to the fact that the first reports of the disease were published in Spain, and its existence there, unlike in the other countries where it occurred, was not subject to military censorship.
Trump said at a recent press conference that he called the disease "Chinese virus" because it originated in China. This statement is false, possibly in two ways incorrect.
Firstly, it is not clear whether the disease really first appeared in Wuhan and originated there. General practitioners from northern Italy report that a previously unknown pneumonia with the same symptoms as COVID-19 already occurred in northern Italy in November 2019, well before the official outbreak of the disease on February 21. So perhaps the high case numbers in Italy are the result of an undetected spread of the disease in northern Italy before the first tests.
There may also have been cases in the USA before that. In fact, the argument of Dr. Wolfgang Wodarg, who has now been officially maligned because of his different analysis, cannot be dismissed: COVID-19 is only registered in areas where it is tested, but neither the origin, nor the number of cases, nor the mortality rate are known.
The fact that the number of cases of the disease is now exploding in the USA and that COVID-19 could become a deadly disease for the poor is probably related to the fact that the USA only had 10,000 tests and that they were used very restrictively. The death rates in the US might surpass the rates in China and Italy.
Calling the disease a "Chinese virus" or "Wuhan virus" is also a deliberate mistake by the US president for a second reason. He wants to classify it as foreign, as an evil intruder from outside into good America, just as the illegal Mexican immigrants are intruders who are urgently needed by US entrepreneurs as ultra cheap labor for exploitation in agriculture, but are denounced as social parasites. A wall should protect the US from the evil or the evil from abroad. That is why someone in the USA is planning to build a wall. It just hasn't worked out yet.
If the virus originated in China, it would fit perfectly into the current scheme of conspiracy theories in the USA, which are currently permitted by the state. While the Democrats suspect the Russian world conspiracy of Vladimir Putin behind all evil, the Republicans rather believe in the yellow danger, in the protocols of the Wise Men of Beijing, whose discovery must be imminent, no doubt. A fact that Prof. Michael Butter, the greatest Americanist of all time, beautiful, the greatest expert, we have the greatest experts, as Trump would say, has so far missed in his intense search for research topics. How can this be?
But let's get back from the rampant nonsense to the virus. …and to belligerence. Anyone looking for statements about the inevitability of the coming war between the descending economic power USA and the rising economic power China will be swept away by a tsunami of such statements on the Internet. Simply google and let yourself be carried away by the waves, which Elmar Theveßen on ZDF, for example, is helping to reinforce. He is concerned about the effects of Donald Trump's policies on NATO's fighting strength. In his view, Trump is diminishing NATO's fighting capacity against Russia, and this at a time when the US war with China is inevitable. As the now-retired General Hodges explained to him.
Fox News, probably the most stupid station on the globe despite Thevessen's competition, had set a stage for Republican US Senator Tom Cotton, who claimed the coronavirus came from a Chinese bioweapons laboratory in Wuhan. Trump and Pompeo are referring to this devastating fake news infection with the word "Chinese virus" or "Wuhan virus".
Regarding the fact that in July 2019 there had apparently been a release of a pathogen in the greatest bioweapon lab in the world, beautiful, we have the greatest bioweapon labs in the world, Fort Detrick in the US state of Maryland, and that the lab was demonstrably closed in August, further details were denied by the US health authority CDC with reference to the national security of the USA, gave the Chinese secret services and the Chinese government another idea. Namely that the "Wuhan virus" could in reality be a "Fort Detrick virus". They have requested since then a release of the data and a scientific discussion of the origins of the disease.
Especially because there were people in the USA among the first to fall ill who were demonstrably not in China and had no contact with people who were in China, or even in Hubei province, where Wuhan is located. In addition, among the first 40 Chinese sufferers in Wuhan, there were several people who had no connection with the wildlife market where the virus is said to have first spread to humans. Among these unrelated patients was the first known infected person in Wuhan. That's odd.
The market is a so-called "wet" market. Wet refers to blood. In China it is common to buy live fish, but also wild animals like snakes and bats, which are slaughtered at the market.
So far, two precursor viruses have been found that are very similar to the SARS Cov-2 virus that triggers COVID-19. One virus occurs in a species of bat, the other in a species of pangolin. The causative virus is probably a chimera, a mixture of both viruses. But in which host animal did this union take place? Or was it a mutation in humans? This is still unclear, and the search for the first sick person, the so-called "patient zero", should now be extended to Italy and the USA.
At any rate, bats are sold at the famous market in Wuhan, but most probably not pangolins, because their sale is not only forbidden, but they are almost extinct in China.
It is very likely that both the American and Chinese assumptions about the origin of the new coronavirus from a bioweapons laboratory are wrong, as a new publication in Nature proves.
But Xi Jin Ping and various Chinese officials have made the same statement after the attacks from the USA, and this is also a reality – and not a good development. Especially because the USA under Trump is not interested in good relations with its power rivals, as it was once under Ronald Reagan, who had maneuvered the world almost into World War 3 during the Able Archer operation. Simply put, but factually correct, the USA is seeking dispute with China wherever possible.
Trump even plays with insinuations in his remarks that this is his way to restrain China. He said at a press conference on the corona virus: "Think of it: biggest economy in the world, by far. China would have overtaken us in this year; they were expected to for five years. 2019, they were going to overtake us. They're not even close, and they won't be close as — as long as somebody smart is right here, they won't be close." It is very difficult not to see a connection to the virus here because Trump uttered these sentences at a press conference on the coronavirus. But I'm sure that Spiegel and ARD won't.
Especially in view of the fact that since 2001 the USA has no longer complied with the Biological Weapons Convention, which it signed in 1972. They spend hundreds of millions every year on bioweapons research and in 2005 they published that they had succeeded in reproducing perfectly the Spanish flu virus. What is this research for and what is the purpose of its publication?
The Chinese are also aware that since 2018, swine flu has been circulating in China, killing over 300 million animals. Some of the pathogens have been released by drones over pigsties. Allegedly by criminals, who then acquired the urgently slaughtered pigs to sell the meat under false declaration. But in some cases the drones' attacks happened at different places at the same time.
The Chinese authorities do not really want to believe in an accumulation of coincidences, given the catastrophic effects of a normal flu in 2019, swine flu and COVID-19, which broke out just before the Chinese New Year.
It is also really tricky. The Chinese New Year resembles the Western Christmas. The family gets together, the whole of China is on its feet and there are many "Christmas parties" of companies and authorities. So the New Year is the ideal time to start an infection. The effects of these epidemics, not just COVID-19, are as immense as Trump claimed. China's economic output has collapsed by 40%.
Two weeks before the outbreak of COVID-19, a military Olympics was held in Wuhan from 18-27 October, with 172 athletes and 369 participants from the USA. The Chinese were astonished that this strong US team, one of the largest delegations at the Games, which otherwise has a number of top athletes, won almost no medals in 2019, ranking 35th in the medal table behind Tunisia and Namibia. The Chinese are wondering what the US team's task was in Wuhan.
Two weeks after the military Olympics, which is the incubation period of COVID-19, the first known infection occurred in Wuhan.
On the same day as the games started, an exercise was held in the USA to simulate a coronavirus pandemic. Organized by the Johns Hopkins Center for Health and Safety, the exercise also involved the Bill and Melinda Gates Foundation and former Deputy CIA and Deputy National Security Advisor to Barack Obama, Avril Haines.
Event 201 simulated the effects of a pandemic with a fictitious coronavirus called 2019-nCoV, which incidentally became the exact original name of the new virus causing COVID-19 before it was renamed SARS CoV 2 by the WHO. As already mentioned, the naming is not intended to make any associations with specific countries or persons. The WHO follows its own guidelines.
The Event 201 simulation assumed 65 million deaths and dealt with the effects of a global economic shutdown caused by the pandemic. So the US authorities are now experiencing a Déjà-vu. Like 9/11, when the exercise and the real event even got mixed up and many people did not know whether they were dealing with the exercise or the real terrorist attack. And as with 9/11, the contingency plan, known as the Contiunitiy of Government, was declared and a parallel government was set up to keep the state functioning. This can also be seen as an enabling act. It is advisable what is made possible by it. Already known is the possibility to imprison people indefinitely without charge. What is the use of this in combating a pandemic?
All these strange facts have raised a lot of questions in China, not only in official circles, but especially there. Among other things, there is great interest in finding a scientific answer to the possible origins of the disease outside Wuhan.
Will the publication in Nature, which is a clear indication against the bioweapons thesis, be sufficient to eliminate these thoughts? That is open to doubt.
And the developments that are now taking place will lead governments, the military and intelligence services to think about the possible use of new kinds of bioweapons, with great impact, but different from any bioweapon before.
They are not aimed at maximizing death rates, but at damage to the economy, you could call them disruptive biological weapons, where it remains unclear whether they are being used and who is behind it. An instrument that is as effective as a terrorist attack, but where questions or investigations into reality and authorship are treated as a conspiracy theory. And this has also been taken care of. The news situation of the mainstream media is not clouded by any doubt.
Recent history is full of events that are dealt with in this way, despite a strangely unclear set of facts, from the shooting down of MH17 to the chemical weapons attacks in Douma, to the Skripal affair.
And, a final drop of bitterness: the alternative media should also make an effort to provide critical coverage, and that does not mean seeing dark forces at work everywhere and all the time.
Because whatever the causes of this pandemic are, it is one. It must be fought. It is not a fake. We can see the effects it can have in Italy and soon probably also in the USA. We should just be careful that the measures to combat it do not cause more damage than the pandemic itself.
The task is to use one's own intellect, using all the truthful information available. It applies to all media. It is not an easy task. It would do both the mainstream and the alternative media good to search more, to gather many facts before judging. Maybe it is also too early to judge.
We all don't know exactly what is happening, why, and what is right. Corona is in many ways the first time.
Sources:
1. February 29, 2020 https://www.whitehouse.gov/briefings-statements/remarks-president-trump-vice-president-pence-members-coronavirus-task-force-press-conference-2/
---
If this compilation was useful to you please consider sharing it with your networks.