UPDATE 16. January 2021: The death toll of the genocidal massacre near Rutshuru stands now at 48 - many girls and women. We demand an independent international inquiry and that the killers are brought to justice immediately.
Since the "global governments" and the international community are deeply corrupted and can no longer be trusted to uphold justice, we call for a worldwide CARGO BOYCOTT on any consignment from the DR Congo until this genocide against the Twa Forest People has been brought to justice! Dockworkers, air cargo handlers, container shippers and transporters - anybody handling any consignment from the DR Congo show your solidarity: Do not handle, process, ship, transport anything - you otherwise will also have blood on your hands by helping, aiding and abetting the bloody looters of Congolese resources, who are ultimately guilty and behind these horrific and genocidal massacres of innocent civilians. Think about your sister, your wife, your mother - if you don't help to stop these atrocities out there, they soon will come close to you. Most "authorities" have become useless or are even involved - so it is us all who have to hold up humanity. STAND UP AGAINST GENOCIDE AND ECOCIDE!
UPDATE 15. January 2021: Dozens killed, some decapitated, in suspected rebel attack in the Democratic Republic of Congo - THIS IS GENOCIDE AGAINST THE ABORIGINAL TWA FOREST PEOPLE !!! CALL TO ARMS!!!
UPDATE 06. January 2021: DR Congo: At least 20 killed in raid on village + THE EU AND THE USA MUST PUT PRESSURE ON PRESIDENT TSHISEKEDI - DRTCONGO TO PROTECT REFUGEES
UPDATE 05.January 2021: At least 22 killed in eastern Congo village - END THIS CARNAGE OF INNOCENT CIVILIANS!
UPDATE 01. January 2021: These Atrocities MUST END: At least 17 villagers hacked to death in eastern Congo
UPDATE 16. December 2020: Children among group hacked to death in DRC
UPDATE 18. October 2020: Call for Urgent Actions: Everyone should do what it takes to put an end to the recruitment of "Congolese Tutsi" refugees in Rwanda, Burundi, Uganda, Kenya and Tanzania for the civil war in DRCongo
UPDATE 06. August 2020: Mining billionaire denies any link to online abuse aimed at an investigative consortium's report on money-laundering and grand corruption
UPDATE 25. July 2020: Many more people of the Bantu speaking ethnicities of the Bembe, Lega, Nyindu, Vira and Fuliru people have been killed in a new aggression by allegedly Rwanda-backed groups under Col. Makanika. The pictures and videos of the killed, brutally mutilated, shot and decapitated people we received are far too horrific to publish, but were forwarded to the ICC. The situation has all characteritics of a genocide, but neither the national army (FARDC) nor the United Nations peacekeepers (MONUSCO) intervened. Actually MONUSCO peacekeepers stayed at the now attacked villages a few days before, but then suddenly withdrew and allowed the massacre to happen without any attempt to stop it, though their base is in Mikenge (Mi'enge) not far from the epicentre of this massacre in and around Kipupu (Epùpù).
PROLOGUE: Next time you look at your mobile phone or your golden wedding ring - think about its hidden cost from these blood-stained resource wars. Black Lives Matter also in DR Congo. At least 350 civilians and a chief were killed, while the world is mesmerized by watching Corona-News.
Deadly attack reported from Kipupu in South Kivu
By ENP Local Staff - 18. July 2020
EXCLUSIVE - South Kivu - Heavy fighting was reported on Thursday (July 16th) in and around the town of Kipupu, in the Itombwe sector, in the highlands of Mwenga territory in the South Kivu province of the Democratic Republic of Congo (DRC).
According to local sources, at around 4 o'clock in the morning fighters from the Gumino group and its allies, including Burundian FNL Nzabampema rebels attacked from four axes, before taking Kipupu, the capital of the Itombwe sector, into a stranglehold.
Provisional assessment reports speak of 343/363 or 400 civilians being killed, including a widely respected custormary Chief.
The majority of the people killed hails from the Bembe, the Nyindu and the Fuliru people. Also some Rega people are among the victims
In three localities at least 1,000 houses were burned down and the families fled uncoordinated into the bush.
Over 1,700 cattle were driven away by the attackers.
The Coalition of the attacking Gumino Group found on their way to Kipupu no resistance from the usual defence manned by Mai-Mai militiamen. Regular army troops had recently withdrawn from this village to concentrate around Mikenge, where rumours of an immanent attack by militiamen had popped up. The diversion tactics of the attackers succeeded. Sources contacted in Kipupu say the situation remains unclear at this time.
The militia killed everybody they met on their way, raped and mutilated females and took the children away.
"Yes, the attackers attacked the village from four sides. The population no longer had an escape route, so they fled all over though the forest. So far, there are many families not accounted for. It is not clear who is still alive and who is already dead," said one of the residents who had fled from Kipupu.
Gruesome pictures of women and girls, who were raped before they were killed, circulate.
Civil society and members of the region's national communities told UN Radio Okapi only that the clashes erupted in disputes over cows looted last week in Kalingi by the Mai-Mai rebels. That this is not correct information is obvious due to the ongoing resource war for precious metals.
For his part, the army spokesman for the Sokola 2 operational sector in South Kivu, Captain Dieudonné Kasereka, confirmed the clashes between two local armed groups in Kipupu, and said that significant material damage and burned houses were reported in the villages Kalulu, Kipupu, Natulonge and Kalinga.
Though he announced, that the army would take all measures to secure the civilian population, the insecurity persists.
North Kivu: At least 20 Mai-Mai militiamen to Kanyabayonga surrender after the death of their leader
At least 20 Mai-Mai fighters loyal to self-proclaimed general Kitete Bushu visited the DDRRR section of MONUSCO in Kanyabayonga, south of Lubero territory, on Friday (July 17th).
These militiamen left the bush a few hours after the death of their leader who led the Mai-Mai UPDI/Mazembe faction.
According to the mayor of the rural commune of Kanyabayonga, Paluku Vutseme Heri who delivered the news, they came with their arms. He encourages the other militiamen to follow in their footsteps.
"I coordinated their surrender because they called me and asked me to facilitate their surrender. I asked MONUSCO to go and get them. There are about 20 of them. At least 24 items plus 9 weapons (AK47) and a rocket launcher were recovered. They said that they realized that they enlisted in a story that has no head or tail," said Paluku Vutseme Heri.
According to him, this surrender is beneficial for the region:
"This is one less danger against our people and we encourage those who are still in the bush to follow in the footsteps of those who have made surrender."
Earlier armed groups operating in Lubero, North Kivu, who had surrendered to the army, resumed committing abuses stated Lieutenant Antony Mwalushayi, the army communicator in Greater North Kivu, on Monday (July 13th) in Butembo.
He cites the example of the group led by the self-proclaimed general Kabido, which he says continues to commit abuses in villages under his control.
"We (FARDC) encourage the goodwill to lay down our arms first. And we don't just have to talk. This goodwill must be followed by action. You show good will but you continue to hunt down the population, you continue to attack our positions. I don't know if it's really goodwill," he said.
According to him, the armed groups that resumed the atrocities after signing the declaration of their will to surrender in Lubero territory will be hunted down by the FARDC.
"So you ask why we waited when Kabido showed a willingness to surrender. Showing the will is good. You are unaware that as recently as two weeks ago may be, the one you consider to have shown the good will to surrender had tried to ambush our troops. How can someone who has good will try such actions?"? he wondered.
In a statement signed on Monday, May 18, 2020, a dozen armed groups active in Lubero territory had opted for voluntary disarmament and demobilization.
According to him, these armed groups should stop intimidating the population:
"Let us stop talking about the Mai-Mai, the self-defense movements at the moment when the army is there."
The FARDC launched an operation against the militiamen in Lubero last week. The provisional death toll is 10 assailants killed and soldiers wounded.
North Kivu: Militia leader Mai-Mai Dragon lays down his arms in Liboyo
The militia leader Mai Mai Dragon, leader of the "Congo ebebi" group, laid down his arms, the problems persist, but the population doubts the excercise.
"When there is, for example, a lack of food there will be a hassle. What we are fearing. If the government still lets these militiamen there they risk going back to the bush," stated the president of the civil society of Bapère, Samuel Kagheni, who wants to see these Mai-Mai fighters relocated from the region as soon as possible.
Jacques Makata, coordinator of the Inter-Provincial Commission for Support for the Process of Demobilization, Disarmament and Community Reintegration in North Kivu, says that so far the government has not released funds to launch the process of surrender of armed groups in Lubero.
"First of all, we must congratulate the people who welcomed them. What must be said is that the government has not so far begun to give a Congolese franc".
Violence in Ituri has already claimed nearly 1,000 lives in 3 years
Further North, the violence in Ituri, in northeastern DRC, has already claimed nearly 1,000 lives since December 2017 and neither the UN peacekeepers nor the governmental forces seem to be interested to establish lasting peace.
In its report published on Tuesday (July 15th), The International Crisis Group also counts half a million displaced people. To end this new cycle of violence, the NGO calls on Kinshasa to "prioritize a strategy to negotiate the surrender of the Lendu militias while supporting a broader dialogue between the Hema, lendu, and other Ituri communities."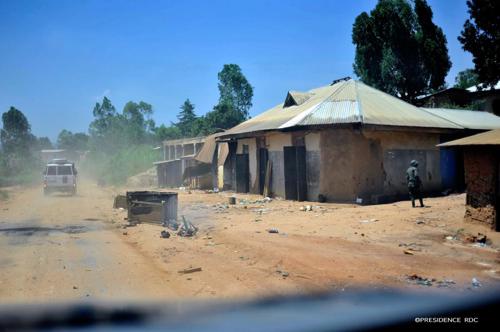 President Felix Tshisekedi should simultaneously work with neighbouring countries to stop all support for the attackers in the region, human rights organizations demand.
Initially located in the territory of Djugu, the small-range attacks initially pitted the two main Ituri communities, the Hema and the Lendu, against each other.
Subsequently, the Lendu militias targeted the Hema, and then the national army, before attacking the neighbouring territories.
External actors, including from North Kivu province and neighbouring countries, are also involved in the conflict.
The current crisis differs from the 1999-2003 conflict in Ituri, in which the Hema and Lendu communities participated in large-scale massacres, by interposed militias. But differnt to the previous conflict, the Lendu did not assume the leadership of these militias, though these attack-groups were recruited mainly from the Lendu community and fall, for the most part, under a militia association: the Cooperative for the Development of Congo (CODECO),
However, the government's military response has shown its limits and the scenario of a more widespread inter-communal escalation cannot be ruled out, reports International Crisis Group, since the Lendu militias continue to gain strength. The Hema have so far not organized systematic reprisals, but will mobilize their young people, if the attacks continue.
The organization of young Hema into self-defence groups that erect roadblocks on the roads of Ituri must be a warning sign of a comming escalation of the conflict.
Ituri MPs denounce the movement of arms among the population
National MPs, elected from Ituri, are concerned about the rise in insecurity in their province. Speaking to the press on Tuesday (July 14th), MP Gratien Irachan of Saint Nicolas called on the government to take steps to prevent the large-scale massacre in and around the city of Bunia. "There are many firearms currently in the city of Bunia and on the outskirts. It is the civilians and sheltering people, who are who hold these weapons," said MP Gratien Irachan.
He said there is a massive displacement of the population from the periphery to the urban centre.
"We found lifeless bodies outside the city. Many civilians are killed, even in the city. We deplore it because there is no good communication with the central command of the army. The provincial safety committee is giving a positive report, and yet the real information is that the public is at risk," said MP Irachan.
He said that Ituri MPs alerted the government to the situation during their meeting on Monday (July 13th) with Prime Minister Sylvestre Ilunga.
According to MP Irachan, the Prime Minister is promising to take urgent action in the face of this instability.
Ituri province is plagued by insecurity as a result of the activities of armed groups. The CODECO militia in particular kills and loots almost every day in the villages of the territory of Djugu.
In Irumu, ADF rebels killed 27 people in the space of three weeks. More than 45 others were taken hostage in several villages in the Banyali-Tchabi chiefdom.
===
UPDATES:
PROLOGUE: This is totally outragious and unacceptable. The international community must tell Rwanda and Uganda to keep their hands out of Eastern DRC. We have received many reports, pictures and videos (too cruel to publish) directly from the ground. The ADF and their backers must must be neutralized and their key figures must face the brunt at the ICC.
Since neither the criminal DRC government army nor the corrupt cowards from the so-called UN Peacekeeping Mission can be relied on, the Twa of Eastern Congo need now friends from all over the world to defend their lives. It is a question of survival or extinction. Write to

if you can help and want to provide assistance to achieve defence.
Twa man rescues assaulted victims and bears witness
The Twa (Bantu speakers call them BaTwa or in plural WaTwa) are after the San Bushmen of Southern Africa the oldest still existing ancestors of all of humanity - older than the Aboriginals of Australia. Based on their decent and sustainable lifestyle as forest people in harmony with nature they have become an endangered minority in the face of the natural resources looters backed by the international corporations. On paper the Twa have the full protection of the international community and special rights as Indigenous peoples. But in reality they are not protected, their music has been stolen (e.g. Enigma - 'Deep Forest') and marketed for multi-million dollar deals of which the Twa saw nothing and their territories are looted for diamonds, coltan, gold and timber every day by the voracious demand from the so-called 'developed' world. China, the USA, Europe are all guilty in this genocide and mass-murder. Which humane nation will finally be the first, have the guts to say 'Enough is Enough!' and slap serious sanctions on the DR Congo, Rwanda and Uganda? Those who don't are all involved in these atrocities and guilty an you, who is buying the products like jewellery, computers or mobile phones are guilty too. The boycotts must not only target the "blood-diamonds" - the timber, the bushmeat, the gold and first of all the rare minerals like coltan must be seen for what they are: Dripping of human blood - now coming even from the most gentle people on Earth and our all ancestors: The Twa.
Dozens killed, some decapitated, in suspected rebel attack in the Democratic Republic of Congo
By Gabrielle Nina Mitch and Eoin McSweeney - 15. January 2021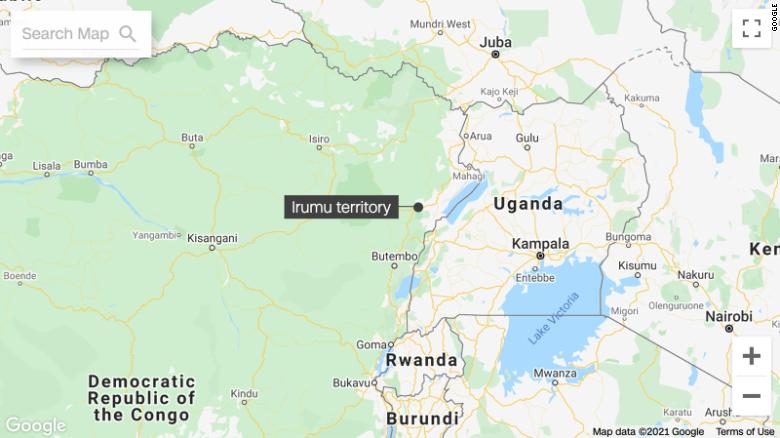 (CNN) Forty-six people from the ethnic Pygmy Twa (the Twa are 'forest people') group were killed -- some of them decapitated -- on Wednesday in a suspected militant attack in northeast Democratic Republic of Congo, according to an NGO official based in the central African country.
An armed group shot civilians and decapitated others with machetes in Ambedi, a village in Irumu territory in Ituri province, said Christophe Munyanderu, regional coordinator for the NGO Convention pour le respect de droit de l'homme, or Convention for the Respect of Human Rights.
A spokesman for the Armed Forces of the DRC in Ituri attributed the attack to the Allied Democratic Forces, a rebel group that operates in the region. Two of the assailants were arrested and are currently under interrogation, the spokesman said.
Most of the victims were women and children, said Rachel Taruwayo, the regional coordinator for the provincial government.
Munyanderu said that a Pygmy Twa man who was out hunting during the attack determined the death toll. When he returned to the village, Munyanderu said, he found a female survivor with a gunshot wound and a two-year-old child whose hand had been chopped off.
On Thursday, they reached a police post about 20 kilometers (12 miles) from the scene of the attack and were taken to a hospital. The woman and child are now out of danger, said David Dedonga, a doctor at Bwanasura hospital.
The ADF has intensified its attacks against civilians in the eastern provinces of the DRC in recent years, the United Nations said in July.
These attacks have left more than 1,000 dead between January 2019 and June 2020 and may amount to war crimes and crimes against humanity, according to the UN.
The group has battled governments in East Africa since the 1990s and has ties to several international jihadi groups.
(*) Pygmy is a derogatory term and should not be used - these people have a name!
Read also: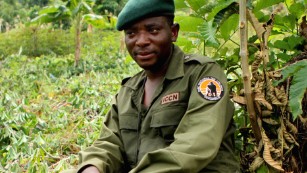 Former child soldier wins prize for risking his life to protect Congo's wildlife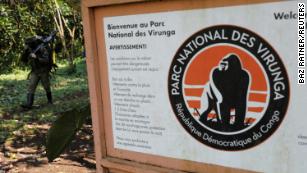 ===
DR Congo: At least 20 killed in raid on village
It was the second mass killing in a week to hit the Democratic Republic of Congo, with local officials blaming the ADF militia group for the attack.
Local authorities said at least 22 civilians were killed in an overnight raid in the Mwenda village in eastern Democratic Republic of Congo on Monday.
Local officials and sources with the United Nations peacekeeping mission in the region said the massacre was conducted by Allied Democratic Forces (ADF), news agency Agence France Presse reported.
The militia group has been held responsible for multiple killings in the past year.
The United Nations Organization Stabilization Mission in the Democratic Republic of the Congo (MONUSCO) estimated the death toll at at least 21.
It was the second mass killing in a week to hit the Democratic Republic of Congo. On New Year's Eve, an estimated 25 civilians were killed in the village of Tingwe.
Repeated attacks
The civil society leader of Mwenda village, Jeremi Mbweki, told Reuters news agency that militants killed the residents with machetes and guns.
"Now we live in total fear, with no certainty about the future," he said.
Donat Kibwana, administrator of the territory of Beni, said ten of the 22 killed had been women.
"Ten other people have been injured, and others are unaccounted for. The army intervened after the crime was committed," Kibwana told news agency AFP.
He also said that nine more were found murdered in another village in the area, in a similar attack by suspected ADF militants.
In 2019 and 2020, more than a 1000 civilians had been killed in attacks by the ADF, despite repeated interventions by UN peacekeeping forces.
The ADF originated in the 1990s, as a Ugandan Muslim rebel militia group. It is now one of the dozens of groups that functions in the eastern parts of DR Congo.
===
At least 22 killed in eastern Congo village
By Reuters - 05. January 2021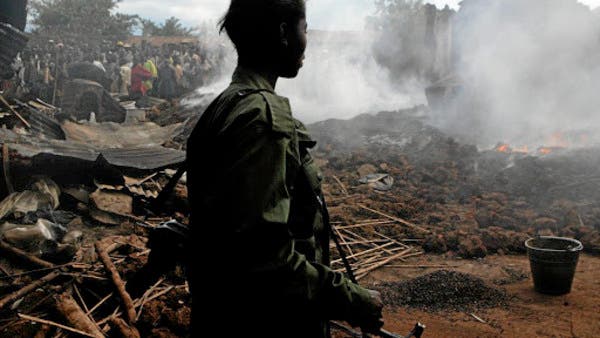 An ANC soldier watches torched houses in DRC. (Reuters)
BENI, Congo - At least 22 people were killed in an overnight raid on a village in a part of eastern Democratic Republic of Congo plagued by Islamist rebel attacks, local authorities said on Tuesday.
The militants struck late on Monday, killing residents of Mwenda village with machetes and guns, its civil society leader Jeremi Mbweki said.
He blamed the Allied Democratic Forces (ADF), a Ugandan Islamist group which has emerged as the most lethal militia in Congo's eastern borderlands and is suspected of hacking to death at least 17 people in a nearby village last week.
"Now we live in total fear, with no certainty about the future," Mbweki said by phone. The administrator of Beni territory, Donat Kibwana, confirmed the death toll and said the ADF was responsible.
More than 1,000 civilians were killed in attacks attributed to the ADF in 2019 and 2020, according to U.N. figures, despite repeated offensives by the army and U.N. peacekeepers against the group over the past decade.
Nine more bodies were discovered on Monday in another village in the area - also victims of an alleged ADF attack, Kibwana said.
Congo's eastern borderlands with Uganda, Rwanda and Burundi have been ravaged by attacks by militias, many formed of remnants of groups that fought in Congo's civil wars around the turn of the century.
Islamic State has claimed responsibility for many suspected ADF attacks in the past, although U.N. experts said last week that they have been unable to confirm any direct link between the two groups.
Reporting by Erikas Mwisi Kambale,; Writing by Alessandra Prentice, editing by Ed Osmond
===
THE EU AND THE USA MUST PUT PRESSURE ON PRESIDENT TSHISEKEDI - DRTCONGO TO PROTECT REFUGEES
06. January 2021
WE CALL UPON THE EUROPEN UNION AND THE UNITED STATES OF AMERICA TO INFLUENCE PRESIDENT FELIX TSHISEKEDI TO PROTECT REFUGEES: STOP RWANDAN SECURITY OPERATION IN EASTERN DRCONGO
The Global Refugee Leaders Forum is highly concerned about the situation of refugees in the Democratic Republic of Congo who lost protection from the state and from the United Nations Mission in Congo since 1996 up to now. Thousands of these refugees are killed by Rwandan security services which operate in eastern DRCongo.
Despite President Felix Tshisekedi's promise in Ethiopia during the African Union summit in 2019 to ensure the protection of refugees in DRCongo nothing much has been done, many refugees remain invisible and left only to the mercy of Rwandan security services which are operating in Eastern DRCongo in order to kill them.
We strongly support the UN's Experts Report which has been published showing that Rwandan army has operated in Eastern DRCongo last year in various operations against refugees, more than that the UN should take actions against both governments.
The protection of refugees in DRCongo should be a priority and such a debate should not be ignored by key strategic partners of the DRCongo mainly the European Union Mission and the United States of America among others.
We are very clear on our position for the protection of refugees in DRCongo so that Rwanda will not get excuses to invade the Congolese soil citing "refugee pretext", we also believe that well protected refugees are not a threat to peace in Rwanda and that Rwanda has interests to promote the protection of its citizens in DRCongo. Let us try something else the policy of killing Rwandan refugees has not achieved much.
While this is happening, we continue observing the silence of the United Nations High Commissioner for Refugees (UNHCR), the silence of the United Nations Mission in DRCongo, the fear of Humanitarian Actors and the threats against human rights defenders who are struggling for the protection of refugees.
In order to move forward, the world should encourage the current Congolese leadership to put to end to the influence of Rwandan Security Services in Eastern DRCongo, and then after put in place refugee camps for all those in need.
It is now time to bring to table issues of refugees and peace in the great lakes region. We cannot anymore run away from this date and all those responsible should take up their responsibilities.
Done in Goma, North Kivu – DRCongo
Jakson Ntamuzinda
Regional Coordinator
===
At least 17 villagers hacked to death in eastern Congo
By Reuters - 01. January 2021
GOMA, Democratic Republic of Congo (Reuters) - At least 17 people were found hacked to death in a part of eastern Democratic Republic of Congo ravaged by attacks from Islamist militants, a local official said on Friday.
ADF fighters
Donat Kibwana, the administrator of Beni territory, blamed the deaths near the town of Eringeti on the Allied Democratic Forces (ADF), a Ugandan armed Islamist group which has emerged in recent years as the most lethal of the militias in Congo's eastern borderlands.
"Yesterday morning, Congolese army soldiers were on patrol when they found 17 bodies," Kibwana told Reuters. "The modus operandi allows us to say that the ADF rebels are responsible."
More than 1,000 civilians have been killed in attacks attributed to the ADF in 2019 and 2020, according to U.N. figures.
Congo's eastern borderlands with Uganda, Rwanda and Burundi have been plagued by attacks by militias, many formed of remnants of groups that fought in Congo's civil wars around the turn of the century.
Islamic State has claimed responsibility for many suspected ADF attacks in the past, although U.N. experts said this week that they have been unable to confirm any direct link between the two groups.
Reporting by Fiston Mahamba; Writing by Aaron Ross; Editing by Peter Graff
===
Children among group hacked to death in DRC
At least 21 found dead in eastern Democratic Republic of Congo, UN says, with women and a baby among those killed.
The killings highlight the challenge facing Congo's army and UN forces [EPA]
By AJ - 16. December 2013
At least 21 people, including women and a baby, were killed over the weekend in eastern Democratic Republic of Congo, the UN peacekeeping mission there has said.
Most of those killed appeared to have been hacked to death on Friday and Saturday in villages not far from Beni in Congo's North Kivu province, according to a statement on Monday by Martin Kobler, head of the peacekeeping mission, known as MONUSCO.
It was not clear who was responsible for the killings, but they highlighted the challenge facing Congo's army and UN forces pacifying Congo's east despite the defeat of M23 rebels, the most serious uprising in years.
"These atrocities will not go unpunished," Kobler said in a statement. Three girls appear to have been raped and then beheaded while one of the victims was just months old, the statement added.
The statement did not say who was believed to be responsible.
Congo-based Ugandan ADF-NALU rebels operate in the region alongside a plethora of other groups still plaguing civilians.
Source : News Agencies
===
Call for Urgent Actions:
Everyone should do what it takes to put an end to the recruitment of "Congolese Tutsi" refugees in Rwanda, Burundi, Uganda, Kenya and Tanzania for the civil war in DRCongo
By Jakson Baguma Ntamuzinda - 18. October 2020
Consistent, hard information has emerged - based on earlier allegations of recruitment of "Congolese Tutsi" who are living in Burundi, Rwanda, Uganda, Kenya and Tanzania – showing that these refugees are forced to join rebel groups fighting in D.R.Congo - mainly in Minembwe, Fizi South Kivu.
Since last year, 2019, we alerted the international community about the massive displacement of Tutsi people from Hauts Plateaux of South Kivu towards neighbouring countries, but our voices have obviously not been seriously taken into consideration. If a response had led to action back then, we would not be having fighters in Minembwe who joined now different Tutsi Rebel Groups such as "Twegineho, Android and Ngumino".
These three rebel groups in Hauts Plateaux are composed of "Congolese Tutsi" refugees, students and other Tutsi who deserted from the Congolese Army. These people were broght from Rwanda, Burundi, Uganda, Kenya and Tanzania, which was also confirmed by Mdm. Sonia Rolley, the Radio France International (RFI) correspondent, who is currently in Minembwe.
The gold-rich South-Kivu Province in DRC.
Last week the Government of Burundi got alerted about the recruitment of Congolese refugees - young people living encamped in Burundi - together with Burundians, who are sent to Rwanda for military training in order to fight in Minembwe, South Kivu. But also we observed that the Massacre in Kipupu / Hauts Plateaux in July 2020 targeting mainly the Babembe people was spearheaded by a Commandant who is allegedly a former refugee, who had lived in Kenya. Lately the Congolese army together with the Ugandan Army visited Kyaka II and Nakivale Refugee Settlements in Uganda in order to discourage the recruitment of refugees for the fights in Eastern DRCongo.
But according to various sources of information the recruitment of refugees - mainly Tutsi who lived in DRCongo and who are now in neighbouring countries – continues in order to force them to join militia groups in Minembwe. Often left destitute and hopeless by UNHCR the young people feel they have no other choice.
When Tanzania cleansed their refugee camps last year and forced Burundian refugees to return home they also took all Tutsi who do not stem from Burundi by force and brought them into a transit centre quickly errected by UNHCR - the Chishemere Transit Centre near Chibitoki in Burundi close to the border with the DRC. From the initially 176 people held there by Burundian Police and looked after by the International Red Cross (ICRC), while UNHCR is nowhere to be seen any longer, only four families (3 from Uganda) remain there. It is a kind of ghost camp, because all the others wre already forcibly deported into the DRC.
Unfortunately the concerned authorities in charge of refugees have remained silent on the core problems and these issues, which are currently pushing so many Congolese into exile and into camps of Internally Displaced Peoples (IDPs). Before the lockdown due to COVID19, a high number of refugees in Uganda were composed of Tutsi from Minembwe, who had fled to Uganda to seek asylum.
We still recall our position: Refugee Status should not be abused by criminals we declare and the Refugee Status is not for warlords but rather for victims of atrocities. Similarly refugee camps are not a military service or recruitment centre for warlords but a place for protection of victims.
UN peacekeepers are like everywhere either useless or siding with one party in the conflict.
All measures possible should be quickly taken by the United Nations High Commissioner for Refugees (UNHCR) together with governments in the neighbouring countries to stop this recruitment and forced deportations. The manner in which recruitment is done violates the right of refugees to enjoy protection and to be free from threats coming from their country of origin. First of all, the Tutsi in different countries have been separated from other Congolese in various refugee camps and other settings, this might have created a safer environment to recruit them in total secrecy.
Clear decisions must be made by those who manage refugees to ensure that Congolese are not separated into groups based on ethnicity.
Secondly, most Tutsi are compelled to contribute their children in order to go and fight and/or cows for those who do not have children - all in order to sustain the war. Those who do not make such contributions are highly discriminated and considered as enemies.
Brief history about the conflict in Hauts Plateaux of South Kivu / DRCongo
The "Congolese Tutsi" (please note that we are using this term because we do not have another one to use which is not contested), who at first called themselves Banyamulenge are being considered by other ethnicities as " refugees and migrants" who came from Rwanda in 1958 running away from conflicts. At first the native Bafuliro people gave them land to settle and grow crops to sustain themselves on the Mulenge Hill in South Kivu. But later on and with time they moved into other parts of Hauts Plateaux in South Kivu where they are mainly involved in keeping cattle. However, this history is contested by the Tutsi, who claim they came to Congo in the 16th Century, but we have many reasons to believe that this is not true.
In 1976 former Congolese President Mobutu granted them collectively citizenship, but that was again cancelled in 1978, and since then the so-called "Congolese Tutsi" came up with the name Banyamulenge in order to show that they would be part of a native people. History from other ethnicities on the Hauts Plateaux (Babembe, Bafuliro, Banyindu and Bafuliru) indicates that the same Tutsi supported President Museveni in 1985, and President Paul Kagame in 1990, and as a reward both Uganda and Rwanda were also supposed to help them in 1996 during the war in Congo which they started, with only one mission to have their own land in DRCongo.
The aboriginal Twa people suffer the most in the ongoing conflict while Kahuzi-Biega National Park as well Itombwe National Reserve are more and more destroyed.
Efforts to divide Congo, which seems to be their agenda, have failed and most Congolese believe today that the Tutsi are at the centre of what is believed to be a plan of "balkanization" of the Congo in the interest of Rwanda and Uganda as well as their respective foreign backers and interest groups (corporations) to reap the mineral wealth.
The current Congolese Constitution allows Tutsi to be Congolese as much as this interpretation of the Constitution is differently viewed. But, generally Congolese are not opposed to the citizenship of Tutsi in DRCongo as long as they serve the interest of DRCongo. This, however, has not been the action of those Tutsi who now want a territory called Minembwe. The problem is that Minembwe belongs to the Native Babembe in Fizi South- Kivu and they do not want their land to be given away to the Tutsi. Therefore the Tutsi are now organizing themselves into militia groups in order to control their "promised land" in Minembwe. The Tutsi narrative indicates that they are only fighting for services to be near to their people - an argument which is highly contested by other native communities.
Recently DRCongo President Felix Tshisekedi cancelled the installation of " Minembwe District" which had sparked so much worries and unrest in D.R.Congo.
The other peoples have proposed the integration of these "Tutsi" in Minembwe, but this is totally rejected by the Tutsi who want to control their own part. Congolese believe that such would be the beginning of the split of their country.
Regardless of the present situation, there is no need to fight for land in DRCongo because the country has land for everyone, and the fact is that Minembwe belongs to the native Babembe and they should be the one to decide what to do with it.
It is not easy to remain neutral in this situation in Minembwe but at least we should all stand for the truth and peaceful coexistence. We humbly call upon the Tutsi to abandon their conquest for Minembwe and live there in peace with others as it was before.
However, our major interest is the protection of refugees.
Yours sincerely
Jakson Baguma Ntamuzinda
Regional Coordinator / Goma South Kivu – DRCongo
Global Refugee Leaders Forum - based in DRCongo
formerly
"Foundation People for Peace and Defense of Human Rights based in Uganda"
===

Fury greets Gertler report
The mining billionaire denies any link to online abuse aimed at an investigative consortium's report on money-laundering and grand corruption
Early last month, a joint investigation by news media and NGOs claimed mining magnate Dan Gertler had set up a money-laundering ring which apparently allowed him to evade United States sanctions imposed over bribery in Congo-Kinshasa. Immediately, an online onslaught of tweets and derogatory videos accused the report's authors of forgery, blackmail, being a criminal enterprise and damaging the Congolese economy in order to profit the billionaire philanthropist George Soros.
===
Congo, My Precious. The Curse of the coltan mines in Congo
•Jul 5, 2017
The Democratic Republic of Congo in Africa is one of the world's most resource-rich countries.
A wide range of rare minerals can be found here in abundance, all commanding high prices in world commodity markets. Diamonds for jewellery, tantalum, tungsten and gold for electronics; uranium used in power generation and weaponry and many others.
Congo has copious deposits of raw materials that are in high demand internationally but remains one of the poorest countries in the world. From colonisation, with the horrors of slavery and other atrocities, to a turbulent and equally brutal present in which militant groups control the mines, Congo's richness in natural resources has brought nothing but misery. Referred to as "conflict minerals", these riches leave only a trail of death, destruction and poverty.
Under Belgian rule, Congolese labourers were often required to meet quotas when mining different minerals. Failure could mean punishment by having a hand cut off with a machete.
The country gained independence in 1960, but that didn't put a stop to slave and child labour or to crimes being committed to extract and exploit the minerals. Warring militant fractions from inside the country and beyond seized control of mines for their own benefit while terrorising local populations.
For our translator, Bernard Kalume Buleri, his country's history of turmoil is very personal; like most Congolese people, he and his family fell victim to the unending mineral based power struggle. Born in the year of his country's independence, he has lived through war and seen his homeland torn apart by violent looting and greed. His story is a damning testament, illustrating how nature's bounty, instead of being a blessing, becomes a deadly curse.
Misha from Congo: https://www.youtube.com/playlist?list...