Agenda 21 - the Hidden Takeover of Nature by the UN
By fPcN - 02. July 2020
The United Nations Agenda of the 21st Century, also known as UN Sustainable Development, was signed up to by 178 countries since 1992, though their electorate are not even aware.
Milestones to be reached for the implementation of this plan are: 2020, 2025, 2030 and 2050.
But the UN Sustainable Development is nothing but a resource grab on a global scale for the benefit of the very few at the expense of humanity.
World Conservation Bank > Rio Earth Summit 92 > Agenda 21 (Agenda 2030) > Global Environmental Facility > World Wildlife Fund (and other big CONservation organzations > Debt for Nature Swaps
There are many cases of small peoples victimised by joint Governmental and CONservation organizations like the World Wide Fund for Nature (commonly known as the World Wildlife Fund - WWF) with 'nature conservation' activities and policy.
As with most other conservation programs, this is a front for corporate expansion and destruction.
If the process of civilisation and globalisation is allowed to wipe out the last remaining non-western cultures, we will be left with a human monoculture. If biodiversity is important, then human diversity is too. We must make alliances with and give support to these last bastions of hope for the future of humanity.
Some of these peoples now number only a few hundred, in a couple of years they will be gone for ever, and part of our own humanity will be gone with them - unless we act decisively now.
Whilst we in the 'first' world are trying to get our land back, these people still have it. They live as they have always done. As they die, our dreams die with them. Without them, the future of humanity is sealed in its present course, all alternative futures will be gone and the aberration of ten thousand years ago in Mesopotamia (see agriculture article in this issue - link: https://www.eco-action.org/dod/no7/76-78.html) will have parasitised the whole planet.
The First Nation peoples have very few true friends on Earth. Friends of Peoples Close to Nature, a non-hierarchical network, exists to rectify this situation, both by direct action and by political lobbying.
We need people to get involved. Not to be told what to do, or to just buy t-shirts, but to actively join in the resistance of wild peoples around the world by attacking the heart of the problem right here in the 'rich' world. There can be no social justice within a culture that commits genocide on its neighbours.
In this video just some examples from this single aspect of the UN Sustainable Development program; the "debt for nature swaps".
July 2nd, 2020.
link: https://www.corbettreport.com/episode-322-what-is-sustainable-development/
For more information and to find out what you can do to help, send an SAE to FPCN England & International Office, 50 Hillside Crescent, Whittle-le-Woods, Chorley, Lancashire, PR6 7LT, ENGLAND, Tel/Fax: +44-(0), 1257-230218

"It's the plan to inventory and control all land, plants, minerals, construction, means of production, food, energy, law enforcement, education, information and HUMAN BEINGS". [Rosa Koire]
In the following report independent journalist Spiro Skouras joins a top expert on the UN Agenda 21 Rosa Koire, who also authored a book titled "Behind the Green Mask".

Spiro and Rosa Koire discuss the breakdown how the United Nations global governance agendas are materializing right before our very eyes, hidden just behind the veil of global crisis and social injustice. This isn't just about America. This is happening in every city globally! #Victoria!!!
Rosa Koire. UN Agenda 2030 exposed
•May 30, 2019
Rosa Koire. Agenda 2030 exposed
https://www.democratsagainstunagenda2...
https://www.regeringen.se/regeringens...
Music in this video
Song
If You Tolerate This Your Children Will Be Next
Artist
Album
National Treasures - The Complete Singles
Writers
Sean Moore, Nicholas Jones, James Dean Bradfield
Licensed to YouTube by
The Orchard Music, UMG, SME (on behalf of Columbia); ASCAP, UNIAO BRASILEIRA DE EDITORAS DE MUSICA - UBEM, CMRRA, LatinAutor - SonyATV, LatinAutor, Sony ATV Publishing, SOLAR Music Rights Management, and 7 Music Rights Societies
===
The Hidden Agenda Behind The Planned Destruction of America with Rosa Koire
•Jun 12, 2020
What drives the civil unrest we see unfolding in the streets today?
Is this an organic form of resistance against an oppressive system of control? Or is there an ulterior motive striving to restructure the current system of control under the guise of social and racial injustice?
Many are afraid to ask these questions because they may be labeled a racist, for daring to question the legitimacy of the groups who seem to defy the rule of law with complete immunity from the judicial system.
At the same time they receive the endorsement of political leaders, celebrities and mega corporations. In this report Spiro is joined by Rosa Koire, a top expert on the United Nations Agenda 21 who authored the book titled 'Behind the Green Mask: U.N. Agenda 21'
Spiro and Rosa Koire discuss and break down how the United Nations' long standing global governance agendas are materializing before our eyes hidden just beneath the veil of global crisis and social injustice.
DEMOCRATS AGAINST U. N. AGENDA 21 https://www.democratsagainstunagenda2...
The Post Sustainability Institute https://www.postsustainabilityinstitu...
Behind the Green Mask: U.N. Agenda 21 https://www.amazon.com/Behind-Green-M...
Rosa Koire Twitter https://twitter.com/RosaKoire
America 2050 https://rpa.org/work/reports/america-...
America 2050 https://rpa.org/uploads/pdfs/2050-Pro...
Now is the time for a 'great reset' https://www.weforum.org/agenda/2020/0...
Engineers create 'lifelike' material with artificial metabolism https://news.cornell.edu/stories/2019...
UN Panel demands US take immediate reforms to eliminate structural racism in Police System https://in.news.yahoo.com/un-panel-de...
US must address deep-seated grievances to move beyond history of racism and violence https://news.un.org/en/story/2020/06/...
George Floyd's Family Petitions United Nations to Help Disarm Police in the United States https://www.breitbart.com/politics/20...
Meet Ella: New Zealand Police unveil first artificial intelligence officer https://www.nzherald.co.nz/nz/news/ar...
===
Agenda 21: Land Grab
•Mar 20, 2018
===
SUSTAINABLE DEVELOPMENT AGENDA 21 – ARE YOU WILLING?
Dianne Marshall
Land Grabbing and Stuffed Pork – Not Sustainable!
For those of you who may be wondering what exactly is sustainable development , the answer may floor you. It is a plan for global control, using land and resource restriction, social transformation through education (propaganda), and other programs like depopulation, to accomplish a global order. For those who think I'm crazy or just shouting ridiculous conspiracy theory rhetoric, I encourage you to visit the United Nations Website and read all about Sustainable Development for the 21st Century, Agenda 21. Read all about Smart Growth and Green Projects. Or just review past and the present congressional funding actions, that fund the Department of the Interior, the Bureau of Land Management and all the side deals with the United Nations like the ones that turned our waterways into international domains; no longer our own private resources.
Yes, it is time to talk about these things, especially since Congress has just signed to speed up the TTIP act that will definitely send more manufacturers to other nations, and mandate a list of horrid things. It is actually the twin of Obama Care. Hundreds of thousands, if not millions, have taken to the streets in Germany to protest the TTIP. Why? They know it will end their freedoms of choice and kill their economy. In a nut shell, it strips each nations choice to choose what they want for their country and gives great merchants permission to do as they desire.
NWO Sustainable Development, Agenda 21 is nothing more than a handful of the world's one percent establishment elites golden plan to govern the world. It has been said that in the 2015 NDAA, provisions include designation of 250,000 additional acres of wilderness, four new national parks and seven national park studies (future parks-to-be).
This granted the government more ownership of America's land and more restrictive land-use policies that prohibit energy development, economic activity, and restrictions for human land access. https://www.armed-services.senate.gov/hearings/14-04-02-military-construction-environmental-energy-and-base-closure-programs
Note: Wilderness is created by Acts of Congress under the Wilderness Act of 1964. Designated wilderness is administered by the Bureau of Land Management and U.S. Forest Service as part of the National Wilderness Preservation System.
Like a slow boiling frog, Americans have paid little if no attention to the land grabs taking place every year since 1964. Nor the land use restrictions. Nor the deals made with the United Nations Sustainable Development. It's time to get speak out while we still have the chance to expose this development that is not sustainable for humans, only a handful of great merchants and world elite who have and are controlling each and every asset that belongs to the American Citizens.
It's time to ask the hard questions and demand forthright answers. Like who really benefits in the end? In order to do that we must first understand what is taking place. It's called The Wildlands Project. It is designed to eliminate private property. Specifically to eliminate the human presence on at least 50 percent of the American landscape and to heavily control human activity on most of the rest of American land. Yes they have their goals written down. So wake up and join the conversation, especially since the Government has already seized one third of the United States of America and plans are in the works to exceed their quota!
"It has long been known that liberty is tied to the institution of private property. The Decalogue codified private property in four words: "Thou shalt not steal." "Private property and freedom are inseparable."
__ George Washington
While we were going about our business, past and present presidential administrations have been in lock step with developing a global New Sustainable World Order of things. The plans are designed to eliminate private property through a series of creative methods under the title called the Wildlands Project and smart growth. When these two programs reach their full implementation the result will be the control of all human action.
Since all things ultimately come from natural resources on rural lands, the transfer of the landscape from citizen control to government control should scare the heck out of every freedom loving American. In a nutshell, the Wildlands Project and Smart Growth are U.N. projects designed to subject all human action under Government control. New World Order Government- to be exact.
There is still time to expose the plans behind government land grabbing and stop it. Either that or get ready to experience a typical day in the Orwellian society created by Smart Growth! Imagine, waking up in a government-provided housing unit, eating a ration of government-subsidized foods purchased at a government-sanctioned grocery store, dressing in your government provided "smart" jump suit, walking your children to the government-run child care center, boarding government subsidized public transit to go to your government job, then returning to your government provided housing unit and taking your government mandated sedation pill to sleep. What a life huh? Wake up America!
Excerpts From the pamphlet "Understanding Sustainable Development (Agenda 21) – A Guide For Public Officials
Prepared by Freedom 21 – Santa Cruz
The Wildlands Network
The Wildlands Network (aka Wildlands Project) is the plan to eliminate human presence on "at least" 50 percent of the American landscape,19 and to heavily control human activity on most of the rest of American land. Examples of the piece-by-piece implementation of the Wildlands Network include road closings, the policy of breaching dams and the adoption of United Nations World Heritage Sites – which are systematically being closed to use. "Conservation biologists now agree that protecting isolated pockets of habitat isn't enough to protect our bears, jaguars, beavers, birds and other wildlife – the only way to protect them is to practice conservation on a continental scale," announced Wildlands Project Executive Director, Leanne Klyza Linck, at the Society of Environmental Journalists Conference on September 12, 2003.
The most significant tools of the Wildlands Network is the rapidly expanding imposition of habitat "protection" provisions under the Endangered Species Act, the adoption of "conservation easements" and direct land acquisitions from battered "willing sellers." The Wildlands Network seeks to collectivize all natural resources (e.g., water) and centralize all use decisions under government direction, often implemented through public/private partnerships.
Smart Growth
The rural land-use plan embodied in the Wildlands Network is inextricably tied to its urban counterpart, Smart Growth. As human beings are barred from rural land, there will be a concentration of human activity in urban areas. Through Smart Growth, the infrastructure is being created for a post-private property era in which human action is subject to centralized government control. With the combined implementation of Smart Growth and the Wildlands Network, humans will be caged and the animals will run free. Sometimes called "comprehensive planning" or "growth management," 20 Smart Growth is the centralized control of every aspect of urban life: energy and water use, housing stock and allocation, population levels and control, public health and dietary regimens, resources and recycling, "social justice" and education, toxic technology and waste management, transportation modes and mobility restrictions, business and economic activity including capping and trading energy.
Smart Growth policies include:
Transportation plans that reduce the freedom of mobility, forcing people to live near where they work, and transforming communities into heavily regulated but "self-sufficient" feudalistic "transit villages."
Plans to herd citizens into tax-subsidized, government controlled, mixed use developments, 21 called "human settlements." These settlements are sometimes distinguished from one another by how productive or useful the citizens are for society. 22 Heavy restrictions on development in most areas, and the promotion of extremely dense development, constructed and managed by government "partners," in other selected areas. Rations on public services, such as health care, drinking water 23 and energy resources (and sources).
Equity:
Using the Law to Restructure Human Nature The authors of the Sustainable Development action plan recognized that their environmental and economic objectives, and the corresponding transformation of the American system of equal justice to a system of "social" justice, are radically divergent from the views and objectives of the average person. Therefore, in order to achieve their objectives, they call for a shift in attitudes that can be seen in the educational programs developed by its proponents. This is the premise of Sustainable Development: That individual human wants, needs and desires are to be conformed to the views and dictates of planners. Harvey Ruvin, Vice Chair of the International Council on Local Environmental Initiatives (ICLEI), and Clerk of the Circuit and County Court in Miami-Dade County, Florida, has said that "individual rights will have to take a back seat to the collective" in the process of implementing Sustainable Development.
————————————————————————————————————
It will be the animals rule over man, opposite of what God intended. It's happening before our eyes –land grabbing for a turtle, a minnow, a mouse, a bug, a bird, all in the name of sustainable development land grabbing and the average american really believes it is for preservation for an endangered species. When it it really a way to steal vast amounts of wilderness, and today farm land and ranchs, not to mention any piece of property they deem valuable to a creature. Not for the sake of any animal, bird, bug or fish, but as a tool to confiscate our land. Hey, it has worked well since 1964 why stop now? Why stop because a few people woke up and see what they are doing? Five years ago no one believed there was even a thing called Agenda 21 – It's been here since the inception of the United Nations. What a pill to swallow, huh?
Heck, a year ago people still denied there was an Agenda 21. People called me a conspiracy theory nut job. No one looked at the United Nations web site like I asked them to do. People heard of sustainable development but not agenda 21. Then I learned to say Sustainable Development for the 21st Century, Agenda 21 and their eyes popped out. Those who got it that is.
Author:
Dianne Marshall - the marshall report
===
New Study Promotes Agenda 21-Style "Land Grabs"
By Kevin Samson - 27. June 2014
When one thinks of "redistribution of wealth," one would typically understand that to mean a system designed to take from the wealthy and give to the poor. Controversial in its own right. However, with the United Nations' Agenda 21 it's even worse: the redistribution of wealth means taking resources from poorer populations and opening up those resources for wealthy private interests to collude with government – fascism, essentially.
A shockingly honest new study from the Institute of Physics (IOP) journalEnvironmental Research Letters entitled "Food appropriation through large scale land acquisitions" makes the case for literally disenfranchising local populations in service to the greater multi-national good through "land grabs" – a hallmark of all Agenda 21 propaganda.
Agenda 21's "Green Mask" of sustainability and rectifying global hunger is being used to hoodwink compassionate people's interest in the environment, as well as pander to legitimate concerns over dwindling food and water resources. In reality, Agenda 21 is an enormously complex and multi-faceted stealth program that is creeping into every corner of the world, including the U.S., which is thought to be immune from land grabs due to well-established property rights. However, one look at our Agenda 21 archives is enough to dispel that notion.
Any place where Agenda 21 has arrived under the following snapshot of its methods of intrusion, it has resulted in loss of land, loss of resources and anything but a balanced re-distribution of that which is appropriated:
Smart Growth, Wildlands Project, Resilient Cities, Regional Visioning Projects, STAR Sustainable Communities, Green jobs, Green Building Codes, "Going Green," Alternative Energy, Local Visioning, facilitators, regional planning, historic preservation, conservation easements, development rights, sustainable farming, comprehensive planning, growth management, consensus. (Source – Agenda 21 in One Easy Lesson)
Nevertheless, the findings which are being published by the Institute of Physics state simply:
Crops grown on "land-grabbed" areas in developing countries could have the potential to feed an extra 100 million people worldwide, a new study has shown.
The improved infrastructure brought about by foreign investment could increase the productivity of subsistence farmlands in countries such as Indonesia and Papua New Guinea and could mean these lands can feed at least 300 million people around the world. This is compared to about 190 million people that could be fed if the land was left tended to by the local population.
The following graphic is offered:
Figure 3. Number of people who could be fed by the acquired land in the case of 'balanced diet', assuming a 50% biofuel use for oil palm and sugarcane, and considering different yield gap closure scenarios. (Calculations are based on land deals data as reported by Land Matrix 2013 dataset, accessed on 20 June 2013).
On top of the zero respect for the sovereignty of these areas, and the suggestion that they are all but obligated to outsource their production to "foreign governments and business," we need to consider who might be at the helm of such an initiative.
The press release focuses on the notion that modern techniques, industrialized agricultural methods, and land-grab deals are the potential saviors in the equation to provide food for the planet. Naturally, when we hear about "modern techniques" we are really talking about biotech, and Monsanto primarily. The biotech industry continues to assert that modern-day farming must be driven by genetic modification in order to provide more consistent crop production in ever higher yields, thus we can conclude that this is the direction that will be taken with the stolen acquired land.
When it comes to food production, it is one of the many myths of GMO; GMOs do not provide more food, but do offer Big Ag companies increased profits on the need for more pesticides, herbicides, and patented seeds – all of which are guaranteed to show up on this newly acquired land. For purely propaganda purposes we are often shown images of starving people in Third World countries who presumably need to be saved by corporate conglomerates. However, there are many real-world examples (and studies) illustrating the exact opposite.
If we dig a bit deeper into the IOP statements, we see statistics that form a lot of moving parts showing potentialities and the people who "could be fed," but it's the conclusions which unequivocally state the goals hidden in plain sight:
The results also revealed that the most targeted countries for land grabs are Indonesia, Malaysia, Papua New Guinea and the former Sudan. Altogether, these nations account for around 82 per cent of the total food calories that can be produced by acquired croplands worldwide.
It has been reported in previous studies that around 32.9 million hectares of land have been acquired by large-scale international investors for different purposes. A total of 22 million hectares were acquired for agriculture.
The authors, Maria Cristina Rulli from Politecnico di Milano and Paolo D'Odorico from University of Virginia, said: "Our study has provided a comprehensive assessment of the amount of food that can potentially be produced in land acquired by foreign investors in countries such as Sudan and Indonesia."
Accordingly, "Policy makers need to be aware that if this food were used to feed the local populations it would be sufficient to abate malnourishment in each of these countries even without investments aiming at the closure of the yield gap. Such investments would lead to substantial improvements in crop yields mainly in African countries.
"At the moment there are still open questions which would help inform the debate over what happens to acquired land such as, what happens to food produced? Is it shipped abroad? Were these lands already used for agriculture prior to the acquisition, and (if so) for the cultivation of what crops? With what yields? Answers to these questions would allow us to quantify the decrease in food available to the local communities, and come up with management strategies to mitigate possible negative impacts on the local communities of large scale land acquisition." (emphasis added)
This is nothing short of an open admission that foreign governments and international investors are seeking the most profitable ways to get their claws into sovereign territories, while using the "Green Mask" to shroud their true intentions.
When this is fully understood, we can look at the U.S. government's pledge of billions of dollars to boost Africa's infrastructure in a whole new light. Africa is, in fact, a multi-level resource, as is much of the developing world. The agreements that are being signed by these nations with multi-national corporations are at worst being coerced through UN guidelines, and at best deals with the devil initiated by petty government officials in developing areas.
For additional specific mechanics behind these land grabs, I would refer you to the following articles:
Full Institute of Physics report available here:
https://iopscience.iop.org/1748-9326/9/6/064030/article
Source:
https://www.eurekalert.org/pub_releases/2014-06/iop-gc062414.php
===
AGENDA 21: THINK GLOBALLY, ENSLAVE LOCALLY — A Q&A WITH THRIVE CREATOR, FOSTER GAMBLE
17. October 2013
CURIOUS: Hey, Foster, I heard about a program called Agenda 21 that seems focused on Sustainable Development and preserving nature. What do you think of it?
FOSTER: So glad you asked! My research reveals that Agenda 21 is a dangerous plan that appeals to our glaring need to protect the environment, but actually threatens to move us even closer to a police state. Let's unpack it and do some critical thinking:
Agenda 21 was birthed at the 1992 UN Conference on Environment and Development as a tool to "further sustainable development". It naturally appeals to many environmentalists because on the surface it seems to address critical issues, including combating deforestation, conservation of biological diversity, control of pollution, changing consumption patterns, promoting health, and achieving a more sustainable population. Of course, those are all important. But let's dig deeper.
Agenda 21's plan for Sustainable Development includes:
A "Wildlands Project" to "protect wildlife habitat and corridors". This can sound appealing given that so many species are dying due to irresponsible human development and the destruction of natural habitat. However, the ultimate goal of this is to erase any sign of human activity (houses, roads, trucks, etc.) from wildlands so eventually humans will be pushed out of wildland areas completely. This project allows people's homes and land to be legally taken from them in the name of conservation, similar to the way "eminent domain" works now. Note that nothing about corporate pollution, fracking, coal or nuclear waste is addressed, nor the lack of choice people would have over their housing. I am confident that there are better solutions that protect wildlife and people's rights, such as "trusts" to manage environmental resources that we share in common. You can learn more about them in our article on Environmental Solutions (scroll down to "Stage 2" to learn about successful trust programs).
Monitoring of everyone's activities through "Smart Growth", the federal Real ID Act, and the installation of "Smart Meters" on homes around the world to oversee and regulate energy consumption. Utility companies and Agenda 21 proponents claim that "smart meters" will make energy use more visible to the consumer in real-time, and this data can be used to lessen our impact on the planet. Again, this might sound attractive to some, but in reality "smart meters" are a danger to our health (they emit harmful radiation); allow for increased surveillance of our homes (every time a light bulb, appliance, or TV is used, that information is sent to your utility company — and can be shared with other companies and the government); and any appliance can be turned off remotely. To learn more about smart meters, and how you can stop them from being installed on your home, see my "Smart Meter" blog here.
Population control. Again, some people may agree that there are too many people on the planet and that our current rate of growth is unsustainable. However, Agenda 21 promotes forced sterilization and forcefully limiting the number of children per family. Research shows that populations stabilize naturally in relation to their environment when there is ample education, health and prosperity — all of which thrive in a truly free society of voluntary association — but flounder in totalitarian police states. As we have moved closer and closer to tyranny, our education, health and prosperity have all declined. More tyranny is not the answer.
The adoption of Common Core Standards (CCS) in public schools around the country. The stated goal is to mold children into "equals" by nationalizing standards, which proponents say is to lessen the "achievement gap". In practice it allows the lowest common denominator nationally to determine the standard locally — an essentially socialist model of citizenship.
Agenda 21 seeks to make these policies involuntary. You and your family could be forced to fund Agenda 21 through taxation — as many already are — and then those dollars would be used to enforce environmental regulations that violate your rights. This has happened throughout history with governments around the world. But now we have a chance to say "NO" and choose a course that deals with environmental concerns in a responsible, ethical way, that doesn't violate our rights by giving even more control to a centralized authority.
CURIOUS: But isn't the central authority the United Nations? Don't you trust them to watch out for our best interests?
FOSTER: Do you know who created the United Nations?
CURIOUS: I assume lots of nations came together to try to collaborate for world peace.
FOSTER: After WWI the Rothschilds and the Rockefellers funded meetings to try to create the League of Nations. It failed. After WWII they tried again, calling it the United Nations. The Rockefellers donated the land in New York City. This was part of the Council on Foreign Relations plan to create a front for the eventual one world government they were planning, as documented in THRIVE.
In 1976, the Club of Rome then came up with the notion of controlling people's lives through environmental regulations. Who wouldn't go for less pollution, better city planning, and reduction of carbon emissions? It was a brilliant ploy, but with truly sinister motives.
The plan for global social engineering was conceived in the mid-1980s, and launched by the UN in 1992 at the Earth Summit in Rio de Janeiro. The primary mouthpiece was to be Maurice Strong, a Canadian oil tycoon. He was a Rockefeller agent, member of the infamous Bilderberger secret society, the Club of Rome, the Committee of 300, and the Aspen Institute (formed by fellow Bilderberger Robert O. Anderson of ARCO oil — whose logo is a missing capstone with an all-seeing eye). I wasn't surprised to find Strong's connections to these secret societies or families — in fact, it's quite predictable. As explored in the movie, THRIVE, when you follow the money behind all major industries and sectors of human endeavor, it inevitably leads to big banking families including the Rockefellers, Rothschilds, and Morgans. Strong appears to be yet another puppet in their game of enforcing environmental rules and regulations that look good on the surface and appeal to well-intentioned people all over the world, but in reality slowly chip away at their rights — and get us used to it.
My research indicates that Agenda 21 is a primary part of the blueprint of the New World Order agenda we describe in THRIVE. 178 national governments signed on to the 288 page "programme." President George H. W. Bush signed on behalf of the United States. Since Agenda 21 was "soft law" and not a treaty, Congress had no role to perform. Instead, the cabinet agencies of the Executive branch of government were charged with implementing this 'global to local' program. In 1993, President Bill Clinton established, by executive order, the President's Council on Sustainable Development. Since Clinton's order, every cabinet agency has quietly done its part to advance this plan. There are 600+ cities and towns already signed up in the US and 109 of them are in California, where I live.
CURIOUS: That's a little scary. How is it funded? Is it with dues?
FOSTER: Yes, thousands a year from each town, paid with all of our property taxes, plus millions in subsidies from the Federal Government — once again taxpayer's hard-earned income.
CURIOUS: I didn't know that.
FOSTER: They would prefer that we didn't. Do you know what their main stated goals are?
CURIOUS: Well, I think it's to save natural resources and reduce population, right?
FOSTER: The architects of the plan rally around the concepts within their "three E's" symbol. The three E's are: social Equity, prosperous Economy and quality Environment.
Sounds good, right? But they are simply appealing to our need, and desire, to transform our troubled world by using the usual Orwellian double-speak, just as they did with "No Child Left Behind". "No Child Left Behind" appealed to people's desire to have schools do a better job of educating children and assuring that teachers were doing their jobs. But in practice, NCLB actually:
Imposed a rigid one-size-fits-all framework that now relies solely on test scores to measure children and schools.
Instigated teaching to the test and a more dumbed-down curriculum.
Imposed high stakes testing which has increased the drop-out rate at schools across the country and has lead more schools to "push out" low scoring students to protect their "numbers".
This same kind of disguise happened with the Clean Air Act, the Patriot Act, Operation Iraqi Freedom, among many others. We would be wise to discern the difference between how something sounds and what it actually achieves.
What might Agenda 21's Three E's actually mean if they just said it straight?
What they seem to mean by "quality Environment" is reserving natural resources and pristine eco-systems for corporations and the financial elite, while preventing citizens from being able to own and protect their own properties, instead driving them into urban environments and stacking them upon one another in high-rise dwellings, whether they like it or not.
Their idea of "prosperous Economy" means further centralizing control over money and trade rather than eliminating our fake, debt-based monetary system run by a private corporation (the Federal Reserve), or encouraging a true, un-subsidized, free-market in currencies, pricing and voluntary exchange.
Their version of "social Equity" is to further authorize the government to take people's personally hard-earned money to re-allocate at their own discretion regardless of individual rights. It doesn't empower people with strategies for increasing access to the money they earn.
Some call it the "Re-distribution of wealth through stealth". I see it as a wolf in sheep's clothing.
CURIOUS: But when proponents of Agenda 21 go around to different cities, they hold open public meetings, where people get to give their input and actually be involved in the decision-making.
FOSTER: Let's pause for a moment and make sure we're being discerning here. Is there evidence that the banking elite behind the UN, the carbon tax, and cap & trade have taken our interests to heart? They are the same ones who are behind Agenda 21, after all. If they got away with manipulating us for their own gain before, does it make sense that they might just keep doing it until we stand up and say no?
With this in mind, let's take a closer look at those "community meetings" you mentioned, to see if the customary deceptions might be lurking in the shadows once again when the light of truth is shown on them.
The organization designed to micromanage communities around the globe is called ICLEI — The International Council for Local Environmental Initiatives. Once again at first glance, it can sound like a good idea. But when local governments sign up, they are in fact signing up to pay dues and adopt globalist policies through what is known as the "Delphi Technique." This is a process developed by the Rand Corporation for the US Defense Department where a highly trained, "likeable" facilitator uses divisive processes and covert shills in the community "audience" to subtly guide discussion groups and group conversation to come up with certain ideas and initiatives that have already been predetermined prior to the meeting. This hides the coercive imposition of the agenda by clothing it in pseudo spontaneity and fake inclusiveness. Communities are not aware that they are being "directed" in this covert way.
ICLEI methods also include infiltrating local governments and influencing policy changes through the use of funding incentives and rewards.
These are subtle processes and are important to consider when we contemplate the possibility that the deeper agenda might be to seize people's homes, the natural resources, and increase control over people's lives — under the guise of environmentalism. It's a mixture of socialism and communism, referred to as "Communitarianism." Of course, communities are wonderful…but as anyone in a socialist or communist community will tell you, the determining factor is whether or not what you are doing is mandated by a controlling government, or if it is voluntary.
CURIOUS: But we have to make sure that we steward the environment sustainably somehow, right? And share resources, and don't overrun the planet with too many people? So how would we do that without programs like Agenda 21?
FOSTER: Yes, of course…but not in a way that would use the effort as a fake excuse to take over everyone's lives, privacy, rights, and property! That's where we have been heading with the New World Order. The economy, the ecology and the society are on the verge of total collapse leading to a totalitarian police state. Agenda 21 is just more of the same, perpetrated covertly by the same would-be controllers. We need to wake up and start asking the missing questions on which the survival and thriving of our species and planet depend:
Is it voluntary?
Does it violate our hard-won individual rights?
Does it honor the wholeness of individuals and ecosystems alike?
Is it honest?
Every "resource" we use alters the environment, but we can do it in a way that sustains the wholeness of the vital eco-systems on which life depends. This is not a free-for-all. If systems are violated in unsustainable ways, then the responsible individuals need to be prosecuted — instead of hiding behind corporate liability protections or being able to buy their way out. Imagine the leaps forward we would make in terms of pollution and protecting ecosystems if individuals inside corporations were held accountable for the actions of the corporation.
There is plenty of food to feed all the people on the planet and more if it weren't for government subsidies and controls limiting distribution and honest trade. There is plenty of water for everyone if the people running corporations were prosecuted for fouling it. The release of "New Energy" technologies currently being suppressed by the state would eliminate quickly most of the coal and nuclear pollution.
A free society is not one without regulations. But the regulations need to be protective — of individual rights, voluntary association and honest interchange. The rules are to protect against fraud, counterfeit, theft, coercion, violence, breach of contract etc. They are not arbitrary opinions of politicians about how other people should live.
Which Philosophy?
Source
Natural/Unalienable Rights
US Declaration of Independence
Community Rights/Agenda 21
UN Declaration of Human Rights
Purpose of government
Protect unalienable rights of individual
— "Congress shall make no law …"
Control the individual for the greater good of a global community
— "Rights and freedoms may in no case be exercised contrary to the purposes and principles of the United Nations"
In short
You're born with rights, government exists to protect them. You and the product of your labor belong to you.
Government grants, restricts, or withdraws your rights according to its needs. You and the product of your labor belong to the community.
For Solutions strategies, tactics and groups operating in alignment with these principles, I recommend immersing in the Thrive Movement website.
Let me ask you…Which is more important to you — individual rights or protecting eco-systems?
CURIOUS: What an awful question. We shouldn't have to choose between our rights and a healthy environment.
FOSTER: Well said. And that is exactly what I am getting at. Restoring and protecting our environment can't happen at the expense of human freedom, personal ownership and voluntary exchange — or we will be trading one catastrophe for another.
CURIOUS: I didn't think of it that way before. Sometimes you sound like a Republican and sometimes like a Democrat and sometimes like a Libertarian! I would call myself a Progressive Democrat — a true Liberal, and we are for saving the environment for the good of the group. We all have to pull together. But I don't want to give up our freedoms to do that. Are other political activists also against this?
FOSTER: I am not an adherent to any political party. I believe in Liberty, of a truly transpartisan nature. But I realize we have to start where we are to get to a truly free world, and for that we need to take the best of what all parties, and world views, have to offer.
In terms of Agenda 21, during the last decade, opposition to Agenda 21 has increased within the United States at the local, state, and federal levels. During a space of 18 months in 2011 and 2012, 138 ICLEI member organizations woke up and quit. In July 2013, ICLEI USA removed their membership list from their website. The Republican National Committee has adopted a resolution opposing Agenda 21, and the Republican Party platform stated that "We strongly reject the U.N. Agenda 21 as erosive of American sovereignty." Several state and local governments have considered or passed motions and legislation opposing Agenda 21. Alabama became the first state to prohibit government participation in Agenda 21. Many other states, including Arizona, are drafting, and are close to passing legislation to ban Agenda 21.
Democrats are resisting, too. More and more people are realizing this isn't a partisan issue. It's an issue of intrinsic and unalienable human rights. The political parties are being played off against each other once again, while the controlling elite take over the money, the land and the people. Rosa Koire, a leading activist on this issue maintains a website called, "Democrats against U. N. Agenda 21".
Her book, Behind the Green Mask — U.N. Agenda 21, recounts her own discovery of the true agenda and her courageous attempts to keep it out of her community. She and Albert Burns have both delineated clever, effective ways to expose and dissipate the manipulative techniques used by the Agenda 21/Delphi facilitators.
Agenda 21 is a very shrewd and comprehensive approach — but I am convinced that the unstated goal is further coercion, domination and control. What is needed in response are equally comprehensive, whole-systems strategies — but ones that focus on liberation and restoring wholeness to both individuals and to eco-systems — without violating anyone in the process.
CURIOUS: What about "Transition Towns?" Isn't it a good idea to "transition" to more sustainable ways of living?
FOSTER: Of course, we need to develop sustainable practices. We nonetheless need to be discerning about government-imposed "solutions". A key to understanding Transition Towns is recognizing that the organization was founded and operated out of the United Kingdom as a creation of the British Fabian Socialist Society. Transition Initiatives require local communities to conform to "Energy Descent Action Plans". The same people who are imposing this Plan are the ones suppressing "new energy technologies" — technologies that obsolete the notions that energy is scarce and that using it has to be intrinsically polluting. We live in a boundless sea of energy that can be accessed cleanly, safely and inexpensively.
Could the "Energy Dissent" serve as a disguised means of maintaining the old paradigm of scarcity, limiting access to energy for poor and middle class people while the elite corporate controllers (and polluters) continue unrestrained?
We need to go beneath the surface language and ask, "transition to what," "by whose authority," and "by whose funding?" And how do we avoid simply replacing one problem (pollution) with another (tyranny)?
If your own research convinces you that Agenda 21 is a threat, here is a collection from some of the experts, of specific action steps you can take.
SOLUTIONS — 10 Action Steps
Strategies and Tactics to Defeat Agenda 21
Get informed.
Take back language like "sustainability" to make sure it is based on the non-violation of human rights.
Spread awareness on blogs, social media, and post flyers around your town.
Connect with others in your local or virtual communities who don't want their liberties and property taken away.
Go to local meetings and expose the true agenda.
Get good lawyers on your side and take action — here's a good place to start.
Educate your local politicians.
Refuse local government receipt of federal or state money for new Sustainable Development programs because they breach the principles of liberty and suck money out of your communities.
Avoid local government partnerships with the federal government, NGOs, foundations and corporations that advance the anti-liberty Sustainable Development Agenda.
Learn and teach about human rights and the "non-aggression principle." Do no harm. Reject transparent theft like "Eminent Domain."
This entire mock dialogue is just a brief introduction to this critical and urgent issue. I invite you to dive deeply into it so that you won't be duped to give up even more of your freedom while turning over our natural environment to the governments who are run by the corporations and banks.
Here is a short list of resources you might find useful:
===
Secrets Of The Georgia Guidestones - Identity Of Founder Confirms Sinister Message Of The '10 Commandments Of The Antichrist'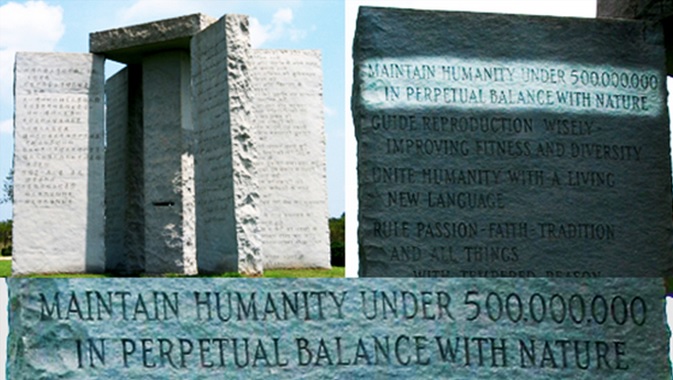 By Susan Duclos - 15. September 2015

SkyWatchTV's Derick Gilbert is joined by Chris Pinto, founder of Adullam Films who discusses his new documentary about the Georgia Guidestones called "Dark Clouds Over Elberton," where Pinto discloses they have discovered the secret identity of the mysterious "R.C. Christian,"... the man behind the construction of the Guidestones.

Sometimes referred to as the "American Stonehenge, the Georgia Guidestones monument is 19 feet 3 inches tall, made from six granite slabs weighing 237,746 pounds and has a set of 10 guidelines is inscribed on the structure in eight modern languages, and a shorter message is inscribed at the top of the structure in four ancient language scripts: Babylonian, Classical Greek, Sanskrit, and Egyptian hieroglyphs. (Source)

According to some the set of 10 guidelines are believed to be the "10 commandments of the Antichrist," and the information uncovered during Mr. Pinto's research confirms the sinister nature of not only the message, but of the man behind the guidestones and his link to Eugenics and the depopulation agenda.

Those 10 guidelines are:

MAINTAIN HUMANITY UNDER 500,000,000 IN PERPETUAL BALANCE WITH NATURE

GUIDE REPRODUCTION WISELY - IMPROVING FITNESS AND DIVERSITY

UNITE HUMANITY WITH A LIVING NEW LANGUAGE

RULE PASSION - FAITH - TRADITION - AND ALL THINGS WITH TEMPERED REASON

PROTECT PEOPLE AND NATIONS WITH FAIR LAWS AND JUST COURTS

LET ALL NATIONS RULE INTERNALLY RESOLVING EXTERNAL DISPUTES IN A WORLD COURT

AVOID PETTY LAWS AND USELESS OFFICIALS

BALANCE PERSONAL RIGHTS WITH SOCIAL DUTIES

PRIZE TRUTH - BEAUTY - LOVE- SEEKING HARMONY WITH THE INFINITE

BE NOT A CANCER ON THE EARTH - LEAVE ROOM FOR NATURE - LEAVE ROOM FOR NATURE




Eugenics is defined by Dictionary.com as " the study of or belief in the possibility of improving the qualities of the human species or a human population, especially by such means as discouraging reproduction by persons having genetic defects or presumed to have inheritable undesirable traits (negative eugenics) or encouraging reproduction by persons presumed to have inheritable desirable traits (positive eugenics)"

Related: The Horrifying American Roots of Nazi Eugenics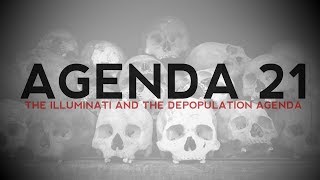 Depopulation Agenda, which is described as a "conspiracy theory by Rational Wiki, despite some very high profile world leaders promoting the agenda, is a plan to reduce population using an overpopulation crisis as the pretext, or a secret eugenics plan cover-up. In other words, an agenda by the elite to kill off the "useless eaters."

Related : 22 Shocking Population Control Quotes From The Global Elite

In part one and part two of the interview below, Pinto describes how they uncovered the identity of R.C. Christian, his connections to the Eugenics and depopulation agenda, how this all fits in with bible prophecy, the elites' plan for a "global government," and more. Pinto also explains why the Georgia Guidestones are referred to as the 10 commandments of the antichrist, as well as connecting them to events and statements we are hearing pushed by the elites in the present day.

Key quote from Pinto - "To me that's the most disturbing part of the monument, is it seems to call for the abolishment of Christianity, and we're seeing such a war on Christianity in the world today. "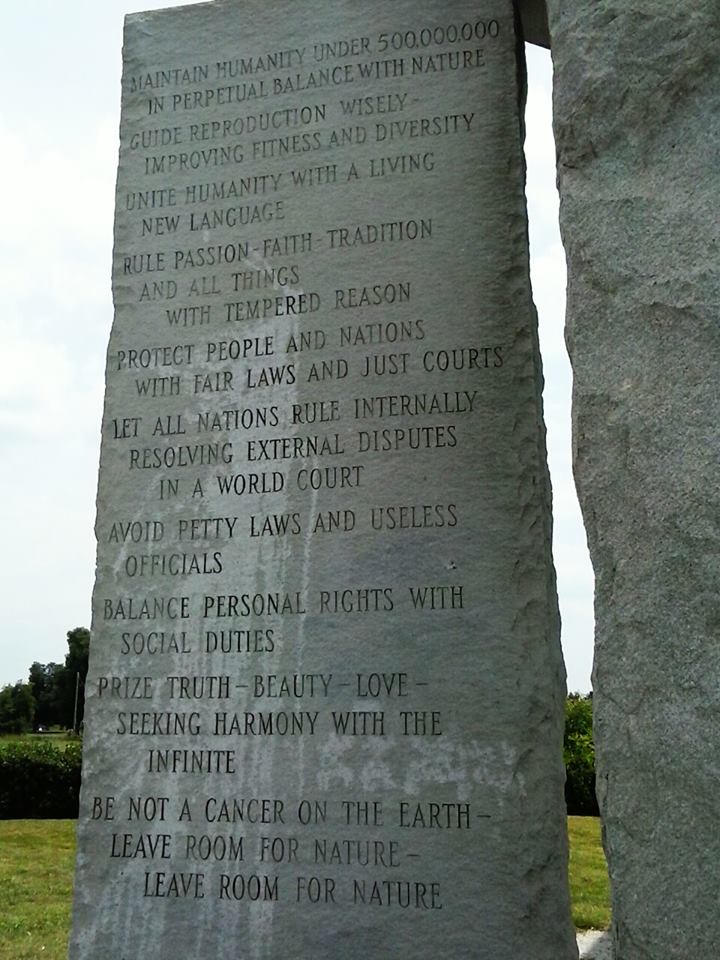 ===
The Matrix of Control→ Silent Weapons For Quiet Wars - DARPA - Agenda 21 - DNA Mapping
•Jun 14, 2014
Download the full transcript of Silent Weapons For Quiet Wars (PDF - 44 Pages): https://www.mediafire.com/view/dh3jjvp...