UPDATE 01. July 2020: ALERT !!! More than 350 elephants have now died in northern Botswana in a mysterious mass die-off. Has the global bio-warfare now reached the elephants or is it targeted foul play?
UPDATE 22. June 2020: Mystery deepens as elephant death toll hits 170. Reportedly the die-off began already in March, but no appropriate response came from the governance.
Botswana investigates 154 elephant deaths, rules out poisoning, poaching
Botswana is investigating the mysterious deaths of at least 154 elephants over two months in the northwest of the country, a wildlife official said recently, although poaching or poisoning have been ruled out.
By Brian Benza - 17. June 12020
"We are still awaiting results on the exact cause of death," Regional Wildlife Coordinator Dimakatso Ntshebe told Reuters.
The carcasses were found intact, suggesting they were not poached. Further investigations have also ruled out poisoning by humans and anthrax, which sometimes hits wildlife in this part of Botswana.
Africa's overall elephant population is declining due to poaching, but Botswana, home to almost a third of the continent's elephants, has seen numbers grow to 130,000 from 80,000 in the late 1990s, owing to well managed reserves.
However, they are seen as a growing nuisance by farmers, whose crops have been destroyed by elephants roaming the southern African country.
President Mokgweetsi Masisi last year lifted a five-year ban on big game hunting, imposed by previous president Ian Khama, but the hunting season failed to take off in April as global travel restrictions meant hunters from many coronavirus-hit countries could not enter Botswana.
Meanwhile, the Wildlife Department has undertaken an operation to relocate and dehorn all rhinos to tackle poaching in Botswana - mirroring efforts elsewhere in the region.
The Okavango Delta rhino population has been the hardest hit, with 25 reported poached between December and the beginning of May, government figures show, as poachers take advantage of the absence of safari tourists during the pandemic.
That compares with a total of 31 rhinos poached from October 2018 to December last year.
"Both white rhino and black rhinos have been severely affected, necessitating the ... relocation of highly endangered black rhinos (and) intensification of surveillance," the Department said.
Chobe National Park is Botswana's first national park, and also the most biologically diverse. Located in the north of the country, it is Botswana's third largest park, after Central Kalahari Game Reserve and Gemsbok National Park, and has one of the greatest concentrations of game in all of Africa.
This park is noted for having a population of lions which prey on elephants, mostly calves or juveniles, but even sub adults.
The original inhabitants of this area were the San bushmen (also known as the Basarwa people in Botswana). They were nomadic hunter-gatherers who were constantly moving from place to place to find food sources, namely fruits, water and wild animals. Nowadays one can find San paintings inside rocky hills of the park.
At the beginning of the 20th century, the region that would become Botswana was divided into different land tenure systems. At that time, a major part of the park's area was classified as crown land. The idea of a national park to protect the varied wildlife found here as well as promote tourism first appeared in 1931. The following year, 24,000 km2 (9,300 sq mi) around Chobe district were officially declared non-hunting area; this area was expanded to 31,600 km2 (12,200 sq mi) two years later.
In 1943, heavy tsetse infestations occurred throughout the region, delaying the creation of the national park. By 1953, the project received governmental attention again: 21,000 km2 (8,100 sq mi) were suggested to become a game reserve. Chobe Game Reserve was officially created in 1960, though smaller than initially desired. In 1967, the reserve was declared a national park.
At that time there were several industrial settlements in the region, especially at Serondela, where the timber industry proliferated. These settlements were gradually moved out of the park, and it was not until 1975 that the whole protected area was exempt from human activity. Nowadays traces of the prior timber industry are still visible at Serondela. Minor expansions of the park took place in 1980 and 1987.
The park is widely known for its large elephant population, estimated to be around 50,000. Elephants living here are Kalahari elephants, the largest in size of all known elephant populations. They are characterized by rather brittle ivory and short tusks, perhaps due to calcium deficiency in the soils. Damage caused by the high numbers of elephants is rife in some areas. In fact, concentration is so high throughout Chobe that culls have been considered, but are too controversial and have thus far been rejected. At dry season, these elephants sojourn in Chobe River and the Linyanti River areas. In the rainy season, they make a 200-kilometre migration to the south-eastern stretch of the park. Their distribution zone however outreaches the park and spreads to north-western Zimbabwe.
===
UPDATES:
Hundreds of elephants dead in mysterious mass die-off
Botswana's government is yet to test the remains of the dead animals in what has been described as a 'conservation disaster'
By Phoebe Weston - 01.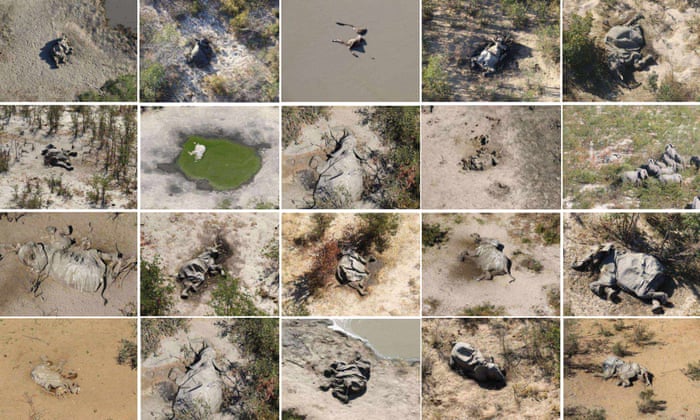 Aerial images of some of the elephant carcasses seen in the Okavango Delta
More than 350 elephants have died in northern Botswana in a mysterious mass die-off described by scientists as a "conservation disaster".
A cluster of elephant deaths was first reported in the Okavango Delta in early May, with 169 individuals dead by the end of the month. By mid June, the number had more than doubled, with 70% of the deaths clustered around waterholes, according to local sources who wish to remain anonymous.
"This is a mass die-off on a level that hasn't been seen in a very, very long time. Outside of drought, I don't know of a die-off that has been this significant," said Dr Niall McCann, the director of conservation at UK-based charity National Park Rescue.
The Botswana government has not yet tested samples so there is no information on what is causing the deaths or whether they could pose a risk to human health. The two main possibilities are poisoning or an unknown pathogen. Anthrax – initially considered the most likely cause – has been ruled out.
McCann said: "When we've got a mass die-off of elephants near human habitation at a time when wildlife disease is very much at the forefront of everyone's minds, it seems extraordinary that the government has not sent the samples to a reputable lab."
Local witnesses say some elephants were seen walking around in circles, which is an indication of neurological impairment. "If you look at the carcasses, some of them have fallen straight on their face, indicating they died very quickly. Others are obviously dying more slowly, like the ones that are wandering around. So it's very difficult to say what this toxin is," said McCann.
Elephants of all ages and both sexes have been dying, local reports found. Several live elephants appeared weak and emaciated, suggesting more will die in the coming weeks. The true number of deaths is likely to be even higher because carcasses can be difficult to spot, say conservationists.
Cyanide poisoning – often used by poachers in Zimbabwe – remains a possibility, but scavenging animals do not seem to be dying at the carcasses. Local reports say there were fewer vultures on carcasses than expected, but none showed signs of abnormal behaviour. "There is no precedent for this being a natural phenomenon but without proper testing, it will never be known," said McCann. Covid-19 has been mentioned as a possible cause but is considered unlikely.
There are about 15,000 elephants in the delta, 10% of the country's total. Eco-tourism contributes between 10-12% of Botswana's GDP, second only to diamonds. "You see elephants as assets of the country. They are the diamonds wandering around the Okavango delta," said McCann. "It's a conservation disaster – it speaks of a country that is failing to protect its most valuable resource."
The tusks of deceased elephants have not been removed and conservationists have urged authorities to guard the carcasses so that poachers do not take them.
There have been no reports of elephant deaths in neighbouring countries.
"There is real concern regarding the delay in getting the samples to an accredited laboratory for testing in order to identify the problem – and then take measures to mitigate it," said Mary Rice, executive director of the Environmental Investigation Agency in London.
"The lack of urgency is of real concern and does not reflect the actions of a responsible custodian. There have been repeated offers of help from private stakeholders to facilitate urgent testing which appear to have fallen on deaf ears … and the increasing numbers are, frankly, shocking."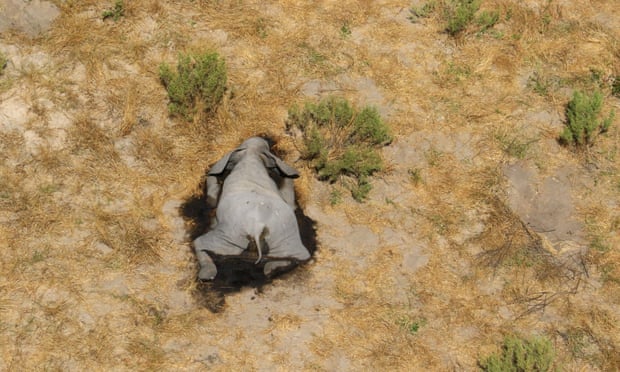 One of the hundreds of elephants that have died from unknown causes
Dr Cyril Taolo, acting director for Botswana's department of wildlife and national parks, told the Guardian: "We are aware of the elephants that are dying. Out of the 350 animals we have confirmed 280 of those animals. We are still in the process of confirming the rest.
"We have sent [samples] off for testing and we are expecting the results over the next couple of weeks or so," he said. "The Covid-19 restrictions have not helped in the transportation of samples in the region and around the world. We're now beginning to emerge from that and that is why we are now in a position to send the samples to other laboratories." Taolo declined to say which laboratories they had been sent to.
Find more age of extinction coverage here, and follow biodiversity reporters Phoebe Weston and Patrick Greenfield on Twitter for all the latest news and features @phoeb0
Conservation in crisis: ecotourism collapse threatens communities and wildlife
===
Hundreds of elephants found dead in Botswana
By BBC - 01. July 2020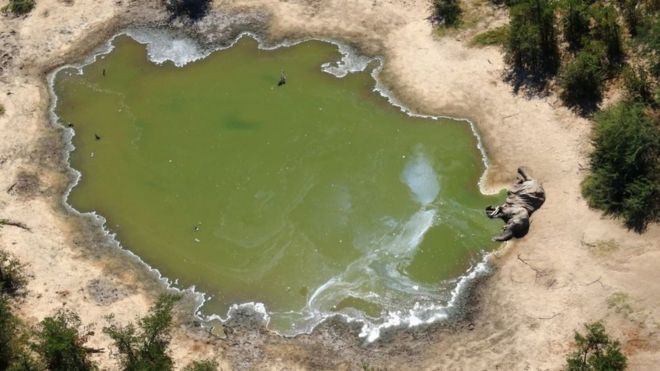 Mystery surrounds the "completely unprecedented" deaths of hundreds of elephants in Botswana over the last two months.
Dr Niall McCann said colleagues in the southern African country had spotted more than 350 elephant carcasses in the Okavango Delta since the start of May.
No one knows why the animals are dying, with lab results on samples still weeks away, according to the government.
Botswana is home to a third of Africa's declining elephant population.
Dr McCann, of the UK-based charity National Park Rescue, told the BBC local conservationists first alerted the government in early May, after they undertook a flight over the delta.
"They spotted 169 in a three-hour flight," he said. "To be able to see and count that many in a three-hour flight was extraordinary.
"A month later, further investigations identified many more carcasses, bringing the total to over 350."
"This is totally unprecedented in terms of numbers of elephants dying in a single event unrelated to drought," he added.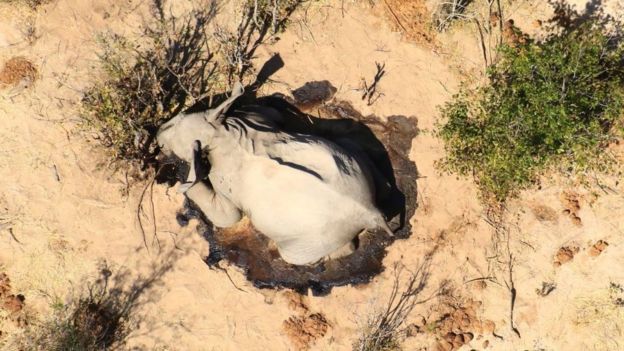 Back in May, Botswana's government ruled out poaching as a reason - noting the tusks had not been removed, according to Phys.org.
There are other things which point to something other than poaching.
"It is only elephants that are dying and nothing else," Dr McCann said. "If it was cyanide used by poachers, you would expect to see other deaths."
Dr McCann has also tentatively ruled out natural anthrax poisoning, which killed at least 100 elephants in Bostwana last year.
But they have been unable to rule out either poisoning or disease. The way the animals appear to be dying - many dropping on their faces - and sightings of other elephants walking in circles points to something potentially attacking their neurological systems, Dr McCann said.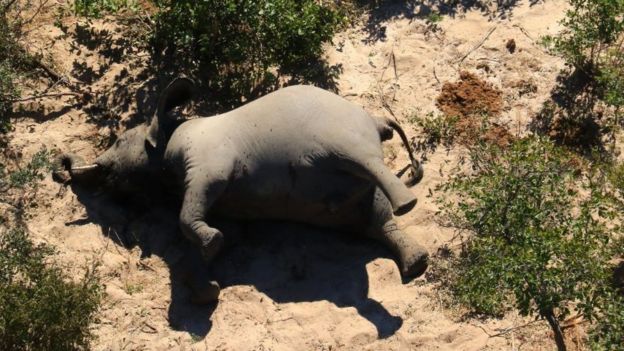 Either way, without knowing the source, it is impossible to rule out the possibility of a disease crossing into the human population - especially if the cause is in either the water sources or the soil. Dr McCann points to the Covid-19 pandemic, which is believed to have started in animals.
"Yes, it is a conservation disaster - but it also has the potential to be a public health crisis," he said.
Dr Cyril Taolo, acting director for Botswana's department of wildlife and national parks, told the Guardian they had so far confirmed at least 280 elephants had died, and were in the process of confirming the rest.
However, they did not know what was causing the animals' deaths.
"We have sent [samples] off for testing and we are expecting the results over the next couple of weeks or so," he said.
===
The mystery around the mortalities of elephants in the North West deepened this week, with reports that the death toll has reached 170 and authorities still have no clue of the cause as samples are stuck in a backlogged South African laboratory.
Exactly a month after the first official carcass was found near Seronga on May 11, the cause of the deaths continues a mystery, while more carcasses, of varying states of decay are reportedly being found.
Samples from the carcasses were sent to South Africa's Onderstepoort Veterinary Laboratory nearly two weeks ago, but Mmegi is informed the results have not returned as they hit a backlog there.
"The lab was in a lockdown due to the Coronavirus and only recently restarted operations," insiders close to the matter told Mmegi.
"The question is how government will get the lab to prioritise its tests over others."
The matter has stirred concern from local wildlife NGOs, private vets and other experts who feel government has iced them out of the matter. Hostile animal rights lobbyists who regularly target Botswana over its elephant policies have restarted their campaigns online, saying the delayed results show that the government is "hiding something".
The anti-hunting lobby that has regularly attacked Botswana, the government and personally targeted President Mokgweetsi Masisi is rumbling online again fortified by the delay in the results.
This week, reports also emerged that government's bid to investigate the deaths had run out of funds at local level in Maun, potentially affecting the payments required to be made to the Pretoria lab.
Regional wildlife coordinator, Dimakatso Ntshebe was quoted by an online publication, Botswana Safari News, as saying while funds had run out, the Ministry would be replenishing the effort soon. Ntshebe was unavailable for comment by press time yesterday.
"The private sector is ready and willing to help with resources both financial and technical," insiders following the matter told Mmegi.
"In fact, if local vets had been involved in the sending of samples, they would have used contacts and platforms at Onderstepoort not available to government and the results would have been out by now.
"From the beginning, government should have pooled experts from various sectors, the Department of Wildlife, elephant
and wildlife experts and others in an emergency team to look at this matter.
"It would have helped build advice and even properly fund the issue."
Meanwhile, while the cause of the elephants' deaths is not clearer. Reports from the area suggest a widespread and crippling agent at work. Elephants are being found having fallen face first, with their tusks in the ground, as though the cause of the death struck them mid-stride.
Other herds have been observed weak, emaciated and even limping, while the deaths are occurring in clusters.
"Those who observed some of the carcasses found scavengers feeding on the elephants without any effect. No other animals are being found dead except the elephants.
"The feeling is that the numbers are higher than 170 but more aerial surveys need to be done.
"The Department is running out of funds at a critical time because more work needs to be done in the field to properly gauge the extent of the problem."
Most of the carcasses are being found in a belt of the Eastern Okavango Panhandle near villages such as Seronga, Betsha, Gunotsoga, Manga and others. From the GPS coordinates that were passed to Mmegi, 74 carcasses were found in a space of 20km along the busy elephant corridor between Gunotsoga and Eretsha.
The elephant corridor is used by elephants to move from their grazing area through the farms, across the road and through the villages to the river to drink water and return.
Authorities previously ruled out poisoning, arguing that this would have affected other species and the animals scavenging on the elephant carcasses. Anthrax has not been ruled out, but it is not in season, Mmegi is informed.
Experts believe that while the first official case was recorded on May 11, the deaths have been taking place for up to two months prior to that.
Repeated efforts to contact Environment, Natural Resources Conservation and Tourism officials were fruitless by yesterday afternoon.