UPDATE 02. June 2020: Leaked WHO files show China 'delayed releasing important information' about virus
ICYMI: Thousands sign up to US class action to sue China over coronavirus
Coronavirus and the Wuhan Laboratory: The CCP Lies, Here Is the Evidence
Chinese propaganda has launched an international offensive of fake news to counter "enormous evidence" that the virus came from a Wuhan laboratory.
By MASSIMO INTROVIGNE - 04. May 2020
Table of Contents
A "marginal" theory moves to the mainline
On March 17, 2020, Bitter Winter told the story of how a paper on the virus responsible for COVID-19 by two respected Chinese scientists, Dr. Botao Xiao from South China University of Technology, Guangzhou, and Dr. Lei Xiao, from Wuhan University of Science and Technology, was first uploaded and then cancelled from the international scholarly database ResearchGate. The paper regarded it as probable that the virus might have leaked from a laboratory in Wuhan.
Bitter Winter and other international media that covered the Xiao and Xiao incident were promptly attacked by the CCP and its fellow travelers throughout the world, which claimed that "mainline science" had "conclusively proved" that the virus had not been artificially created in a laboratory, and that such "conspiracy theories" had been "debunked." The two Xiaos were compelled to state they had been wrong.
Three weeks have passed, and what might have looked like a marginal hypothesis is now the official theory about the origin of the virus of the government of the United States, with Secretary of State Pompeo claiming it is backed by "enormous evidence." Somebody may object that this is just part of the American electoral campaign, but in Australia The Saturday Telegraph, the Saturday edition of one of the country's largest newspaper, The Daily Telegraph, obtained and summarized a report prepared by the "five eyes," i.e. the intelligence services of the U.S.A., the U.K., Canada, Australia, and New Zealand, with similar findings. Most international media upgraded the Wuhan laboratory theory from "fake news" or "conspiracy theory" to "reliable hypothesis."
Predictably, the enormous international propaganda apparatus of the CCP is not sitting idle. It is massively answering, once again, that "science" has proved that the Wuhan laboratory theory is false. What is false here is, however, the Chinese propaganda. It cleverly creates confusion between two different theories. It is thus all-important to understand how this propaganda operates.
Theory 1: A laboratory in Wuhan artificially created the virus
The CCP uses a well-known propaganda tactic: it lumps together two different theories, and by criticizing one it tries to eliminate the other as well. The first theory is that one of two laboratories in Wuhan, probably the Wuhan Institute of Virology, created the virus as a biological weapon. Then, China either intentionally released the virus, or it escaped the laboratory accidentally.
This theory has been criticized by most scientists who have studied the coronavirus. They claim that man-made viruses, no matter how cleverly produced, keep traces of human manipulation, and no such traces have been found in the virus responsible for the present pandemic.
We at Bitter Winter are not virologists. We do not play the amateur virologist game either, and have no reason to doubt the words of what seems to be a majority of credentialed scientists in the field. We maintain that minority positions should also be expressed, and criticized, freely, and that there is no reason for social media and others to prevent the expression of admittedly fringe or marginal theories on the virus, while they allow bizarre conspiracy theories on a variety of other subjects to circulate. This is, however, not the point here. This is Theory 1, and what we presented in Bitter Winter and Western governments are embracing today is Theory 2.
Theory 2: A natural virus was stored in a Wuhan laboratory, and "escaped" from there
Theory 2 is that the virus responsible for COVID-19 was found in nature, most probably in bats. It was not created in a laboratory. There is ample evidence, however, that a laboratory in Wuhan collected and stored viruses that had infected bats, as well as the infected bats themselves. There is evidence that some of these viruses were at least remarkably similar to the one responsible for COVID-19. There is also evidence that security in the Wuhan laboratories was lower than international standards dictate.
Theory 2 suggests that the virus was stored in a Wuhan laboratory and "escaped" from it. There are many possibilities. A bat may have escaped, or the virus may have contaminated somebody working in the laboratory, who then infected others.
Let us repeat it once again, Theory 2 is different from Theory 1. It does not assume that the virus is man-made. The objection that man-made viruses leave traces, and that no such traces have been found, may be effective against Theory 1 but says nothing against Theory 2.
Some scientists still maintain that transmission of a virus that originated in animals to humans is much easier in a wet market than in a laboratory. They may be right, but they have not personally inspected the security environment of the Wuhan laboratories. Also, we hear more and more about leaked documents and conversations within the CCP and Chinese intelligence officers suggesting that the Chinese authorities themselves were considering the leak from a laboratory in Wuhan as a serious possibility.
Conclusion: The CCP lies as usual
Did science "debunk" the theory of the Wuhan laboratory? Mainline scientists criticized Theory 1, but their criticism does not affect Theory 2. Claiming that Theory 2 had been "debunked" by "science" is just CCP propaganda. Entertaining the confusion between Theory 1 and Theory 2 is typical CCP strategy.
Has Theory 2 been "proved"? We never said so, and the notion of "proof" in science is more complicated than in a court of law. We maintained that Theory 2 is possible and perhaps probable, and that the objections against Theory 1 never applied to Theory 2.
Ultimately, Theory 2 relies on the likelihood of an accident, not on traces that can be found in the virus. Scientists will not be able to prove Theory 2. But they will not be able to disprove it either. Evidence corroborating Theory 2 may come in the future from Chinese internal documents obtained by foreign intelligence agencies, or from Chinese defectors. It is more than possible that some of this evidence, as Mr. Pompeo and others implied, is already in the hands of Western leaders. If it is so, we hope that it will be presented to the world as early as possible, and that no amount of Chinese pressure or threat of commercial retaliation would prevent this necessary disclosure.
Key points:
Ms Payne said an inquiry into the outbreak should be run independently of the WHO
The WHO has faced international criticism of its handling of the pandemic
Labor backed the push and urged the Government to secure the support of other nations
===
Republicans try for political leverage over China with bill allowing Americans to sue for 'damage they caused' with coronavirus
By RT - 17. April 2020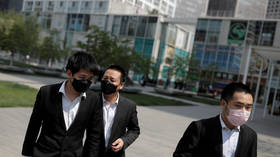 Office workers wear protective gear near Beijing's Central Business District as the spread of the new coronavirus disease continues in China © Reuters / Thomas Peter
Republican officials Tom Cotton and Dan Crenshaw have introduced a bill sure to stir up tensions between the US and China that would allow American citizens to sue for 'damages' caused by the Covid-19 pandemic.
The senator from Arkansas and the representative from Texas, both vocal critics of the Chinese government, want to amend the Foreign Sovereign Immunities Act to create an exception for people to recover "damages caused by China's dangerous handling of the Covid-19 outbreak."
The Immunities Act protects foreign nations and their official agencies from being sued in US courts.
Cotton says China is an exception to the law because "by silencing doctors and journalists who tried to warn the world about the coronavirus, the Chinese Communist Party allowed the virus to spread quickly around the globe."
Republicans and President Donald Trump barraged Beijing with criticism for being too slow to respond to the crisis and endangering the rest of the world, even hinting that the virus might have been created in a lab there. Cotton was one of the lawmakers who actively talked about this theory, although admitting there was no evidence.
Although Cotton and Crenshaw say lawsuits from American citizens would allow them to "recover damages for death, injury, and economic harm caused by the Wuhan Virus," the goal of the bill is to get more leverage.
The lawmakers said the potential "private suits" could be dismissed if the country agrees to pay the US "damage it has caused."
"If the United States and China come to an agreement to settle the claims, then the private suits could be dismissed. In other words, China can take responsibility and agree to pay for the damage it has caused, or it can face potentially millions of claims in federal court," the lawmakers said in a joint announcement.
The legislation introduced could turn out to be a political nightmare marred down by grey areas in the law as it is modeled after the Justice Against Sponsors of Terrorism Act of 2016, which allows families affected by the September 11 terrorist attacks to sue countries they deemed responsible. That bill has faced uphill battles, especially when families sought to sue Saudi Arabia alleging the government had prior knowledge of the attack and included Al-Qaeda sympathizers and organizers.
President Barack Obama vetoed the lawsuit to prevent it from going forward, but Congress voted to override the veto for the first and only time during the former president's time in office.
If the bill manages to get through the almost guaranteed bipartisan political hurdles, there is the potential for the legislation to grow, as the US has a history of similarly broadening laws targeting specific countries.
The Magnitsky Act, for instance, was initially passed in 2012 to punish those considered to be behind Russian accountant Sergey Magnitsky's death in a Russian jail, but was expanded in 2016 to fight corruption and human rights violations on a global scale.
===
Coronavirus, China Kept It Secret for Six Fatal Days
The CCP realized a pandemic was developing on January 13. In a secret meeting on January 14, it decided not to disclose the information, until January 20. The move costed the world tens of thousands of deaths.
By MASSIMO INTROVIGNE - 16. April 2020

The world-record potluck banquet held in Wuhan on January 18, 2020, with more than 40,000 families in attendance, was a crucial factor in spreading the virus (from Weibo).
On April 15, 2020, the Associated Press announced that it had obtained from unnamed Chinese sources, and verified as authentic, documents confirming that the CCP, under personal instructions from President Xi Jinping, waited six days, from January 14 to January 20, before disclosing information about the COVID-19 pandemic. These six days were crucial, both for China and the world. It was during these six days that the city of Wuhan tried to break a Guinness world record by hosting the largest potluck banquet ever, attended by more than 40,000 families, and millions traveled from the city in preparation for the Chinese New Year festivities. Without the six-day delay, this would not have happened, and the epidemics might have been contained in Wuhan, without spreading through the whole world.
What happened exactly, and why? We know that the first case of what was later identified of COVID-19 was detected in Wuhan on November 17, 2019, and in December local doctors started contacting the authorities, telling them that a new deadly coronavirus was at work, and posting their findings on the Internet. As a result, they were arrested on January 1. This intimidated the doctors in Wuhan, who failed to report new cases, even if they were well aware of them.
While preventing doctors to speak about it, Beijing was aware of what was going on. The Associated Press reports that it sent two teams of experts to Wuhan. The head of the first one, Xu Jianguo, told the Hong Kong newspaper Takungpao on January 6, that everything was under control and that there was "absolutely no chance" that travel from Wuhan would spread the disease elsewhere (the link we provide may not work, as Takungpao is controlled by the CCP and may now have removed the article). The CCP itself was not fully persuaded, and sent a second team of experts on January 8. His head, Wang Guangfa, appeared in televisionon January 10 to state that it was just a "pneumonia," with "mild symptoms" and "under control." He fell ill with COVID-19 himself in late January. On March 15, he posted on Weibo, that in fact he "always suspected"that the virus was spreading quickly from human to human—but was not allowed to tell the public.
It seems that, until January 13, the CCP believed that it would be possible to suppress the information about the virus, as long as it was confined to Wuhan. What persuaded the CCP that this would not be possible was a case detected in Thailand on January 13. If the virus was spreading abroad, suppressing information was no longer possible. On January 14, the head of China's National Health Commission, Ma Xiaowei, held a secret teleconference with provincial health officials, and distributed a memo that has now been leaked to the Associated Press. He told them that he was forwarding instructions coming directly from President Xi Jinping, and that Xi was aware that what was developing was "the most severe [health] challenge since SARS in 2003," and that "human-to-human transmission is possible." Ma used the word "pandemic," and insisted that keeping social stability and preparing for the provincial and national CCP congresses was paramount. He admitted, however, that the case in Thailand had "changed significantly" the situation.
The Associated Press has also obtained a 63-page document sent by the National Health Commission to provincial health officials shortly after Ma's teleconference, detailing instructions on how to deal with a serious epidemic, without "publicly disclosing" nor mentioning on the Internet what was going on. The result was that data started flowing to Beijing showing that travelers from Wuhan had spread the virus to several other cities and provinces. Finally, on January 20, President Xi Jinping and his top health advisers went public and told China and the world about the epidemic.
By no means we can consider the six-day delay as short. Between January 13 and 20, thousands were infected in Wuhan, if not tens of thousands, and allowed to travel to other Chinese provinces and abroad. If we are all locked down throughout the world, mourning the deaths of relatives and friends, it is largely because President Xi and the CCP kept secret the information about the virus for political reasons, until it was too late.
===
Targeting China over Covid-19, US & UK open Pandora's Box … they're responsible for a LOT MORE disasters, will THEY pay for that?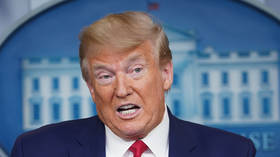 By Finian Cunningham - 09. April 2020
The US and UK are emerging as the worst-hit nations from the Covid-19 pandemic. Instead of admitting inherent failings and facing public accountability, the narrative is to blame it all on China and even demand compensation.
A study by the rightwing London-based Henry Jackson Society claims that China is liable to pay at least $4 trillion in compensation for economic damage incurred by other nations. The neoconservative think tank echoes similar views among US anti-China hawks who accuse Beijing of disinformation and covering up the initial outbreak of the disease back in December.
A British parliamentary foreign affairs committee report made the same conclusion, alleging Chinese disinformation "has cost lives."
Such views tally with President Trump's insistence on labelling the Covid-19 pandemic the "Chinese Flu." His administration has hinted at future litigation against China over the costs of the disease. In similar vein, Trump has intimated he will sanction future US financial contributions to the World Health Organization because of its alleged "China-centric" position and its alleged misdirection about the scale of the pandemic.
Beijing has hit back, accusing American and British politicians of complacency in not adequately preparing their countries' public defenses against Covid-19. China can point to the apparent arrest of the epidemic on its territory as a vindication of its strategy to combat the disease.
Whatever about claims that China downplayed the initial reports of a new viral disease, it seems wackily disproportionate for the US and British authorities to lay the whole of its problems on this cause.
Both Donald Trump and Britain's Prime Minister Boris Johnson – who is in hospital in intensive care with the disease – are on record for having belittled the gravity of Covid-19 in the weeks before the pandemic hit their nations with force.
There are also reports that US intelligence agencies had provided "multiple" warnings of a "cataclysmic event" to the Pentagon and the White House from as early as November 2019 owing to a new disease outbreak in China.
There is too the ultimate background of chronically rundown public health services in the US and Britain. Trump had in particular relegated the Center for Disease Control and deprioritized homeland security agencies concerned with biodefense.
In Britain, as journalist and documentary film-maker John Pilger points out, Conservative governments have systematically underfunded the National Health Service over the past decade. A 2016 study alerting the NHS to the danger of an overwhelming epidemic was suppressed.
There is thus plenty of culpability to be found in US and British government policies for the present crisis without invoking alleged Chinese malfeasance.
Avoiding a brutal backlash from their own citizens for inherent failure to protect public health, the temptation to offload responsibility on others is irresistible, especially for Trump and his demagogic style.
Moreover with Trump's irascible personality and his vainglorious claims about "America First"going up in smoke as the economy nosedives, it is all the more appealing to scapegoat China.
The same goes for Britain where plans for putative Brexit national renewal have no doubt been sunk by the Covid-19 torpedo.
Blaming China is, however, a dangerous game. Pushed to its logical limit, that narrative sets Washington and London on a collision course of conflict with Beijing. If Western ideologues and media become convinced that China is to blame for all the woes in the US and Britain as a result of Covid-19, then litigation is but the polite front for an underlying casus belli.
Remember too that Washington under Trump has already embarked on a recklessly abrasive policy toward China over trade. The Pentagon regularly denounces Beijing as a geopolitical adversary and has openly called for increasing military encirclement of China.
The Covid-19 recriminations are merely a new twist to Washington's antagonism toward China.
Another major question is what kind of precedent the blame-China narrative is setting?
Assuming that Covid-19 is a naturally occurring disease – and not a biowarfare accident – is it legally or morally justifiable to sue China for a pandemic?
In which case, the next time a natural disaster emanates from another country, will it be also sued for repercussions on the other side of the globe? Would Western states, for example, sue African nations over a repeat of the Ebola outbreak?
The logic here seems lamentably selfish and callous, and an upside down way of seeing the world. Diseases will inevitably happen as part of the human condition, especially when that condition is deprived and impoverished. Is it not more effective and morally right for all nations to work together to improve public health care nationally and globally through proper financial and scientific support?
Or are nations to take the Trumpian view of blaming others for misfortune? What is all the more contemptible is that this view is more often a cover-up for one's own inherent failings, failings which border on criminality as the underfunding of public health services arguably amounts to.
And why stop at litigation over diseases?
The calamity of the 2008 global financial crisis cost millions of workers their livelihoods and savings, according to the ILO. Whole societies were plunged into austerity to pay for bailouts to the banks. That austerity has left public health services across Europe and the US threadbare which is all too apparent in the growing death toll from Covid-19.
Most analysts agree that the 2008 global financial crisis stemmed from the toxic subprime mortgage bubble inflated by Wall Street.
Therefore, before the Americans and their British sidekicks go down the route of hounding China over Covid-19, they would be better to keep their mouths shut. Their own logic is making them liable for a hell of a lot more.
FILE PHOTO © AFP / Mandel Ngan
Author:

Finian Cunningham is an award-winning journalist. For over 25 years, he worked as a sub-editor and writer for The Mirror, Irish Times, Irish Independent and Britain's Independent, among others.
===
Coronavirus: China is Sued in the US, Sues Back Claiming the Virus is "American"
What we predicted, happened: American lawyers are suing China. And in China, lawyers sue the U.S. claiming America is responsible for the virus.
By MASSIMO INTROVIGNE - 28. march 2020

The U.S. District Court for the Southern District of Florida: China has been sued there for having spread the virus internationally
In a recent article in Bitter Winter, I discussed comments by American legal scholar James Kraska on possible lawsuits against China, asking it to pay the enormous damages caused by the spread of COVID-19, which was caused or at least made worse by Chinese negligence and cover-ups. I agreed with Professor Kraska that China is legally responsible, but disagreed with him when he identified the International Court of Justice as the proper or likely venue to hear claims for damages. I expressed better hopes in the U.S. civil courts and the creativity of American lawyers.
It has already happened. The Chinese national government and the Hubei provincial authorities have been sued before the U.S. District Court for the Southern District of Florida for damages by American citizens who did not test positive for COVID-19 but claim to have suffered economic losses because of it. The Florida lawsuit named as defendants the People's Republic of China (PRC), the National Health Commission of the PRC, the Ministry of Emergency Management of PRC, the Ministry of Civil Affairs of PRC, the Government of the Hubei Province and the Government of the City of Wuhan.
Chinese scholars Zheng Sophia Tang (currently at Newcastle University) and Zhengxin Huo came to the defense. They argued that American courts should not assert jurisdiction against a foreign sovereign state such as China—although American law allows them to do so in some circumstances. In fact, the Foreign Sovereign Immunities Act (FSIA) of 1976 states that foreign states can be sued "for personal injury or death, or damage to or loss of property, occurring in the United States and caused by the tortious act or omission of that foreign state or of any official or employee of that foreign state while acting within the scope of his office or employment."
Under U.S. law, China can be liable for damages, but the burden of proof is severe for the plaintiffs. It seems another lawsuit against China had also been started. My impression is that these are just preliminary moves. We have not seen yet top, millionaire law firms entering the fray. And, for what is worth, I suggested that suing the CCP as a party may be easier than suing China as a sovereign state.
One curious Chinese reaction has been to start lawsuits against the American government, based on the theory officially promoted by the Chinese government that the virus originated in the United States and came to China through U.S. soldiers who participated in the Wuhan Military Games in October 2019. In theory, local courts in China should seek the guidance of the People's Supreme Court, which should stop the cases since (unlike American law), Chinese laws maintains that foreign sovereign states enjoy absolute immunity from legal prosecution.
But it is obvious that these cases are merely retaliation and political propaganda. Nobody can seriously believe that the U.S. exported the virus to China, and the CCP propaganda machine seems to have already switched to the equally absurd theory that the virus originated in Italy.
The American civil suits are, on the other hand, serious. I personally keep the most aggressive among the American lawyers in my daily prayers, hoping they will be inspired to unleash their heaviest legal artillery against the CCP.
Author: