UPDATE 26. May 2020: Thanks to the initiative of the organizations BloodLions, GABO and others the NSPCA of the RSA had to become active, rescued the lions from that horrific place and gave them a new home under close monitoring. Well done - one abuser less.
Emaciated captive bred lions found again at Mr. Slippers facilities in SA
By BL - 13. May 2020
The National Council of SPCAs (NSPCA) in South Africa are in the process of laying animal cruelty charges in terms of the Animal Protection Act (APA), 71 of 1962, against Mr Walter Slippers, owner of two captive predator breeding facilities in Alldays, Limpopo.
During inspections in April and May 2020, the NSPCA found deplorable conditions with underweight lions, lack of adequate shelter, lack of veterinary treatment, as well as unhygienic and small enclosures. Slippers has 72 lions on his farm that is in liquidation and he allegedly feeds them one giraffe every two to three weeks.
Sadly, this is not the first time that evidence of shocking animal neglect and cruelty has emerged from Slippers farms, with images of malnourished lions surfacing in 2015, 2016, 2018, and 2020.
On 12 May 2020, the NSPCA was informed that seven of the lions housed at one of Slippers' facilities had escaped, which only supports their findings that he is not only negligent in the way these lions are kept from a welfare point of view, but also in terms of public safety.
===
Blood Lions Official @Blood_Lions
FACT: The NSPCA is the only organisation in South Africa that is mandated to monitor and investigate animal welfare issues and enforce the Animal Protection Act. Please help them to continue doing this vital task:
https://different.org/projects/nspca/ensuring-the-welfare-of-wild-animals/?fbclid=IwAR0R2C29J95Q8lcNle0hHcQ_QfxDYkY_iq1i7oDme4NL29u7PyiVMUlcpyc…
@NSPCA_SA @YouthForLions @DifferentOrg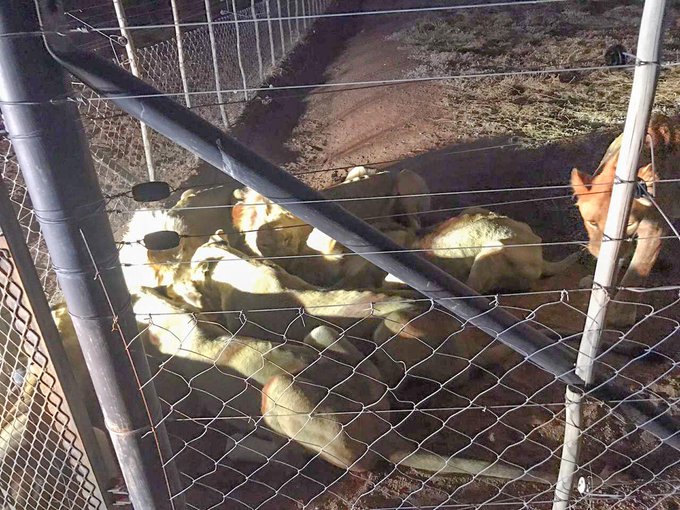 11:05 AM · May 13, 2020
https://twitter.com/Blood_Lions/status/1260481278622793730
"We believe that permits should never have been granted to keep lions, or any other predators like the tigers, as not only was the fencing wholly inadequate, but there are specific dramatic shortfalls on the welfare of these animals – and their welfare has consistently been compromised", said Senior Inspector Douglas Wolhuter (Manager NSPCA Wildlife Protection Unit).
The NSPCA has issued further warnings in terms of contraventions of the APA to all role players concerned. A deadline has also been issued for an action plan regarding the animals and the NSPCA is taking further legal action, which will see criminal charges brought about.
In 2016, Slippers accepted responsibility and promised the NSPCA to address the frequency and quantity of his lion feeding regime, as well as providing them with ongoing vet records. With subsequent evidence of abuse in 2018 and now again in 2020, this shows that a consistent pattern of neglect is emerging from his farm, putting Slippers clearly in breach of his permit conditions and in further non-compliance with the APA.
"In the absence of national norms and standards for the captive keeping and breeding of big cats for commercial purposes, sadly animal cruelty and issues of neglect are rife in this industry", says Dr Louise de Waal (Blood Lions Campaign Manager). "Considering there are at least 8,000 lions in captivity in South Africa, but probably many more, the scale of such welfare issues is of huge concern."
In October 2018, the Lion Coalition wrote a letter to Mr. Sam Makhubele (LEDET's Director for Wildlife Trade and Regulation) asking for Slippers predator breeding permit to be revoked and to ensure he would never be allowed to breed big cats again. Notwithstanding, Limpopo's provincial nature conservation authority has renewed his permit every single time.
Slippers has a history of controversy going back as far as 2010, when he attempted to purchase two white rhino bulls for pseudo-hunts involving Vietnamese citizens. It is also reported that he used to transport cubs from his breeding facility to his restaurant, Toeka Plaas Kombuis, for visitors to interact with.
The NSPCA is the statutory body in the Republic of South Africa tasked with responding to wild animal welfare complaints, conducting its own welfare investigations and attempting to regulate good welfare practices without state funding or resources. They need your help to carry out their duty of looking after the welfare of our wild animals. Please help by donating HERE.
Blood Lions marks its milestones … there is hope?
•Feb 6, 2020
Blood Lions is commemorating its 5th (or Wood) anniversary this year and we are using this time of "strength" to consolidate our efforts.
Since the release of the Blood Lions documentary film, the campaign has made great strides in our aim to raise global awareness around the captive lion breeding and "canned" (captive) hunting industries, as well as its associated tourism activities.
To mark our 2019 milestones, we have released a new video clip to give HOPE to our supporters and the ongoing campaign.
Even though there are now an estimated 12,000 lions in captivity in South Africa, bred purely for commercial purposes, there are also many encouraging developments resulting from our collective voices.
More information:
Contact: Dr Louise de Waal
Blood Lions is an award-winning documentary feature film and campaign that blows the lid off claims made by the predator breeding and canned hunting industries in South Africa.
Blood Lions website: www.bloodlions.org
===
UPDATE:
NSPCA – CAPTIVE LIONS IN DEPLORABLE CONDITIONS RELOCATED
PROLOGUE: The liquidators of the estate of Mr. Walter Slippers and the government office of SA Nature Conservation arranged they had to be moved, after NSPCA threatened legal action. NSPCA is currently finalizing the cruelty charges against the owner and they expect to open the docket within the next 2 weeks.
Tranquillized lions before transport.
By NSPCA - 26 May 2020
Earlier this month, the National Council of SPCAs (NSPCA) Wildlife Protection Unit undertook an investigation at two captive lion facilities, owned by the same person, in All Days, in Limpopo after receiving a complaint about severely underweight lions. The NSPCA Inspectors found deplorable conditions – underweight lions, lack of adequate shelter, lack of veterinary treatment, as well as unhygienic and small enclosures.
Following the warnings issued and impending charges by the NSPCA, a facility in Limpopo offered these lions and other animals held captive at the facilities, a new home. Although this facility is not a sanctuary, the NSPCA, not being the owners of the animals, could not dictate where the lions should be relocated to. However, the conditions at this facility is a vast improvement in comparison to the dismal conditions that these sentient creatures were living in – with 24 hour access to veterinary care, security, clean water, and ample access to food and shelter, the NSPCA is more confident in the care that these lions will now receive.
The NSPCA Wildlife Protection Unit has been intrinsically involved in the translocation of the animals, from planning meetings with the relevant representatives from the Limpopo Department of Economic Development, Environment and Tourism (LEDET) and the new facility, to monitoring the darting, handling and transport of the lions, as well as the offloading at the new facility.
The NSPCA will undertake future inspections at the facility to ensure the consistency in care promised.
We are sure that this is the beginning of a cooperative and fruitful relationship with LEDET to ensure that animal welfare and conservation remain an intertwined set of values in this province.
The NSPCA remains opposed to the keeping of wild animals in captivity.
===
South Africa traffics thousands of endangered wild animals to China in 'corrupt and growing' trade, investigation finds
Stop the Wildlife Trade: Chimps, monkeys, giraffes, tigers and lions illegally sold by exporters linked to crime syndicates, study finds
By Jane Dalton - 17. May 2020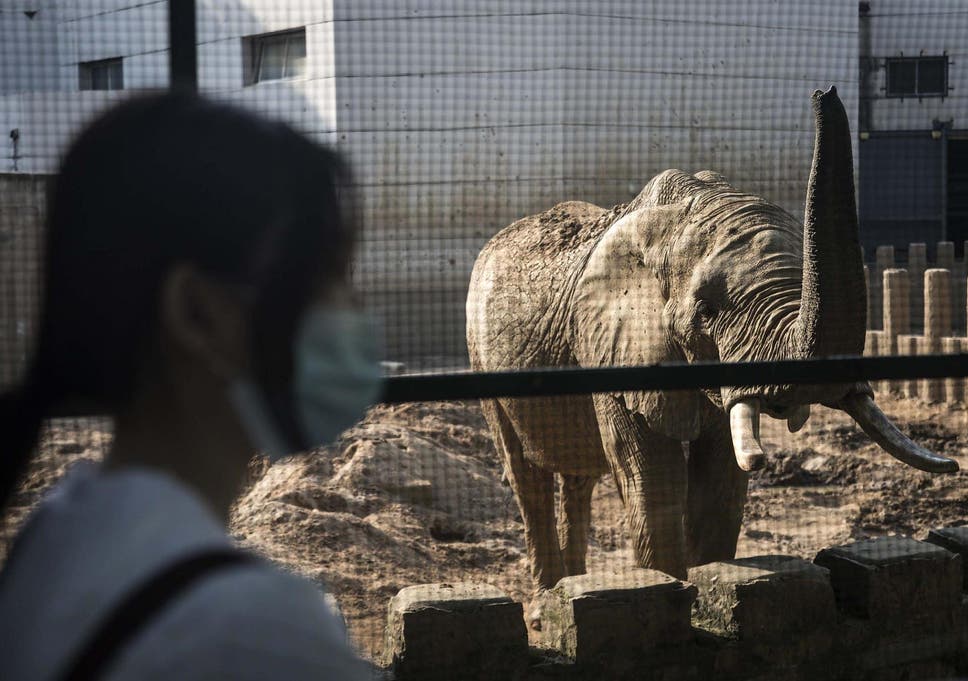 South African traders with China are illegally selling thousands of wild animals threatened with extinction and endangered, under the guise of legal exports, according to an investigation.
Monkeys have been stolen from the wild, and together with cheetahs, tigers, rhinos, lions and meerkats, they have been trafficked to circuses, theme parks, laboratories, zoos and "safari parks", researchers found.
Their report says at least 5,035 live wild animals were exported to China from 2016 to last year – "an extremely conservative" estimate – including chimpanzees and "a bewildering number" of giraffe, which "are also eaten in China".
The researchers uncovered how some traders have links to international organised crime syndicates and the system is riddled with fake permits, but not a single offender has been prosecuted.
After arriving in China, where laws on captive-animal welfare are "non-existent", South Africa's animals often become untraceable or disappeared, suggesting they either died or were sold on, the report says.
To make matters worse, in a trade that is expanding, "treating wildlife as if it is merely a commodity to be farmed" risks "unleashing myriad Covid-type diseases".
The South Africa-based groups Ban Animal Trading (BAT) and the charitable EMS Foundation, which examined wild animal exports from 2016-19, hit out at the supposed myth that legal trade crowds out the illegal trade and that animals are treated well in legal deals.
"The legal and illegal trade are so intertwined as to be functionally inseparable," the report states. "The research demonstrates that South Africa's live wild animal trade with China is riddled with irregularities that are exploited by traffickers. There are gaping loopholes in the global permitting, enforcement and oversight system."
Zoos, as well as brokers and wholesale companies, are behind the trafficking of animals caught from the wild, going to destinations that are often pure fiction; most permits are in breach of regulations, and their verification largely absent, meaning most wild animal exports in 2016-19 were probably illegal, according to the report authors.
Regulation is "failing dismally, imparting a false sense of security for those who believe that the international trade in wildlife is justified and sustainable" while "such security is wildly misplaced and, far from contributing to conservation, the legal trade is one of the single biggest factors currently undermining conservation."
"Our investigation of theme parks and zoos revealed that nearly all trained primates are not bred in captivity, but were wild-caught and illegally traded out of Africa and Indonesia," according to the study, which also says South African exotic primate breeders export hundreds of marmosets to Chinese laboratories or breeding farms each year.
And the trade in chimps violated several regulations, yet there were no repercussions, the groups said.
More than 100 South African giraffes were sent to a Chinese zoo that holds the world record for having the highest number of hybrid animals "which have zero conservation value".
But a global system of paper export permits allows for pervasive fraud, with widespread false declarations by traders, agents and exporters, the research found, and "once animals leave South Africa it is impossible to identify where they will land up".
The South African government says the country ranks as the fifth-richest in Africa and the 24th richest in the world for numbers of endemic species of mammals, birds, reptiles and amphibians. It says rhino horn sales are subject to strict regulation including documentation.
South Africa is not the only country that sells wildlife to Asia. Zimbabwe has regularly exported young elephants to zoos in China since 2012 – 108 in all, according to Humane Society International.
Zimbabwe has previously said it has more elephants than it can cope with, and must be allowed to benefit from their numbers.
Demand in China for products made from all types of wildlife remains high, with a 2018 investigation finding tiger wine openly sold in shops. The report authors note that consumption of animals including tigers, threatening wild populations, is legitimised by captive breeding. There are more tigers in captivity in the world than in the wild, WWF figures show.
The report authors say photos taken at Chinese importing centres, showing barren enclosures, "tell their own story of animal welfare violation and naked greed", while the wildlife trade allows Covid-type disease to spread.
Calling for "transformative changes" to prevent more wildlife exploitation, and prevent more coronaviruses, the study warns: "Nothing short of a global paradigm shift is necessary if we are to prevent further planetary disruption that unleashes Covid-type viruses."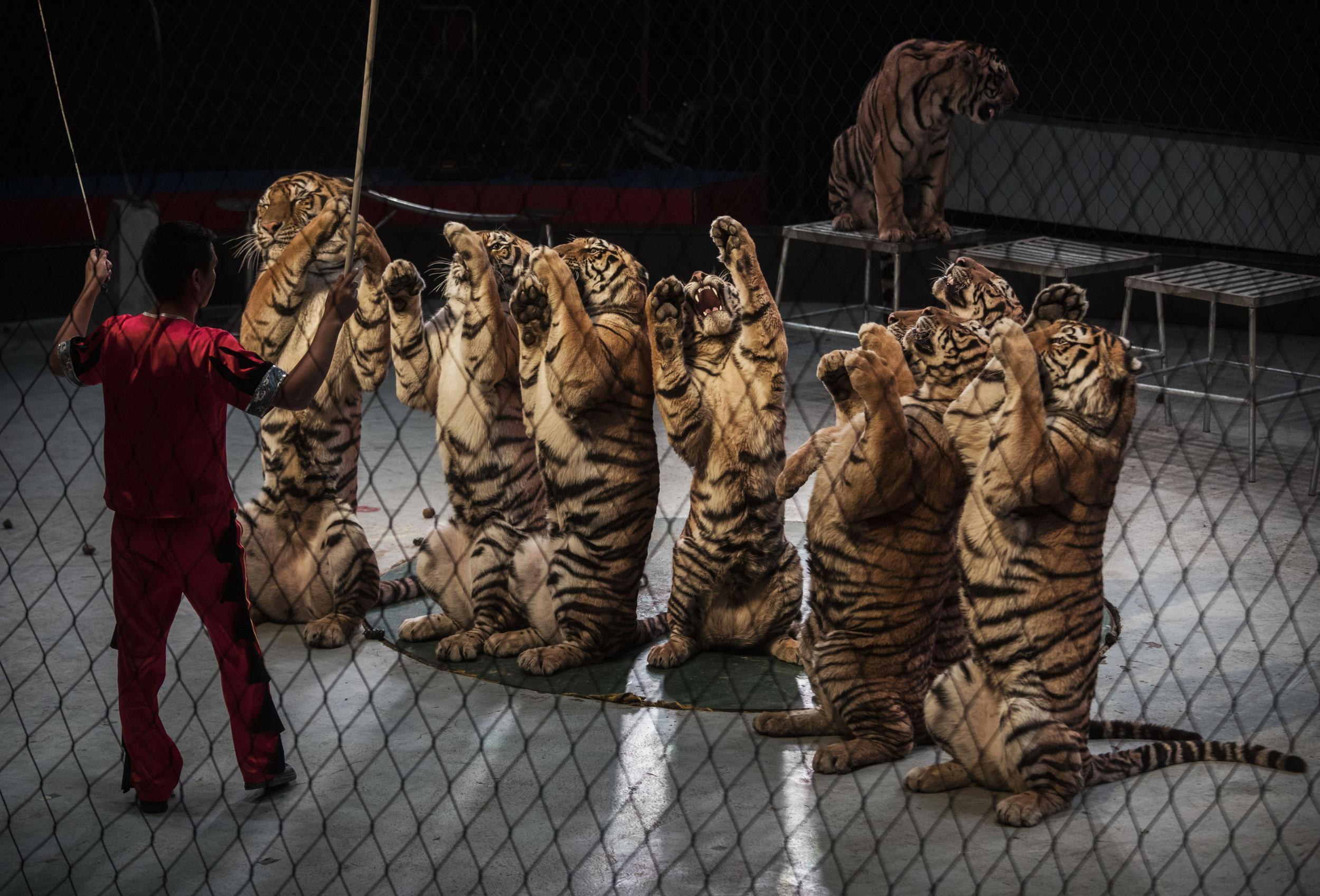 The changes would include a ban on "wet" live animal markets, captive wild animal breeding and the stigmatisation of wildlife trade and consumption.
"Certainly there is no clear evidence that the legal trade somehow crowds out illegal trade," the report says. "If anything, the presence of a legal trade … normalises consumption and triggers demand for wild-origin animals for commercial use and consumption." And it condemns the idea of well regulated markets as a smokescreen for vested interests.
"Animals confined to life in captivity are welfare-deprived to the point that we are eroding our own humanity by continuing to endorse this system," the document says.
Two years ago, a report by the same groups concluded South Africa's growing trade in lion bones should be halted, and keeping and breeding lions and tigers should be curbed.
The Independent is campaigning for tighter regulation of the world's wildlife trade.
Author:
Watch more
Read more