- if we don't stop this together and NOW!
UPDATE 30. May 2020: Minnesota is now using contact tracing to track protestors
UPDATE 26. May 2020: Your "Immunity Passport" Future Begins To Materialize As Airlines Call For Digital ID Tracking Systems [BOYCOTT THESE AIRLINES!]
UPDATE 25. May 2020: Contact Tracing Scarier than you Imagined
UPDATE 21. May 2020: MUST WATCH: How Governments Are Hunting the Infected
International Proposals for Warrantless Location Surveillance To Fight COVID-19
By Katitza Rodriguez and Seth Schoen - 20. May 2020
Time and again, governments have used crises to expand their power, and often their intrusion into citizens' lives. The COVID-19 pandemic has seen this pattern play out on a huge scale. From deploying drones or ankle monitors to enforce quarantine orders to proposals to use face recognition or thermal imaging cameras for monitoring public spaces, governments around the world have been adopting intrusive measures in their quest to contain the pandemic.
EFF has fought for years against the often secretive governmental use of cell phone location data. Governments have repeatedly sought to obtain this data without a court order, dodged oversight of how they used and accessed it, misleadingly downplayed its sensitivity, and forced mobile operators to retain it.
In the past, these uses were most often justified with arguments of law enforcement or national security necessity. Now, some of the same location surveillance powers are being demanded—or sometimes simply seized—without making a significant contribution to containing COVID-19. Despite the lack of evidence to show the effectiveness of location data to stop the spread of the virus, a number of countries' governments have used the crisis to introduce completely new surveillance powers or extend old ones to new COVID-related purposes. For example, data retention laws compel telecom companies to continuously collect and store metadata of a whole population for a certain period of time. In Europe, the Court of Justice of the European Union declared such mandates illegal under EU law.
Like other emergency measures, it may be an uphill battle to roll back new location surveillance once the epidemic subsides. And because governments have not shown its effectiveness, there's no justification for this intrusion on people's fundamental freedoms in the first place.
Individualized Location Tracking
Mobile carriers happen to know their subscribers' phone's locations (usually the same as the locations of the subscribers themselves) from moment to moment because of the way cellular networks work. That knowledge has turned into one of the most extensive data sources for governments—and not infrequently advertisers, stalkers, or spies—interested in tracking people's movements. But while phone location data is sufficient to show whether someone went to church or the movies, it simply is not accurate enough to show whether two people were close enough together to transmit the virus (commonly characterized as a distance of two meters, or about six feet).
While location surveillance is problematic at any time, the coronavirus crisis has led to a rapid uptick in its use; many measures to facilitate it have been passed by fast-tracked legislative procedures during national state of emergencies. Some governments have even bypassed legislators entirely and relied on executive power to roll out expanded location surveillance—making it even less transparent and democratically legitimate than usual. Governments may use the urgency of the crisis to erode limits on the ways people's location histories can be used, demand this data be turned over to authorities in bulk, or require companies to stockpile records of where their customers have been.
COVID-inspired cell phone location surveillance around the globe
Attempts at rapid expansions of government location surveillance authority have come to light in at least seven countries.
In Israel, in a significant win for privacy, Israel's High Court of Justice has recently revoked the authorization of the police to access location data for contact tracing without a court order. On March 16th, the government had approved emergency regulations, 48 hours after Prime Minister Benjamin Netanyahu announced his government's intention to approve health tracking methods. The regulations enabled both the police and Israel's domestic security agency (usually known as Shabak or Shin Bet, after its Hebrew acronym) to track the whereabouts of persons that might be infected or are suspected to be infected with COVID-19 without a warrant. The emergency regulation has now been suspended, and the Court has ordered that the government address the use of mobile phone tracking through legislation. Despite the win, the fight against warrantless access to location data is far from over: on May 5th, the parliament's Intelligence Subcommittee voted 6-3 to extend the Shin Bet's warrantless access to location data to track infected people, while the government is working towards advancing legislation to enable this form of surveillance more permanently. Right after the approval of the emergency regulations on March 16th, the Association for Civil Rights in Israel filed a petition to Israel's High Court stressing the need to protect democracy during the pandemic:
Democracy is measured precisely in those situations when the public is afraid, exposed day and night to nightmare scenarios […]. Precisely in such moments, it is vital to act in a considered and level-headed manner, and not to take draconian and extreme decisions and to accustom the public to the use of undemocratic means […].
In South Africa, where a state of disaster has been in place since March 15th, the government amended a law to create a COVID-19 Tracing Database. The database will include personal data of those who are infected or suspected to be infected of COVID-19, including their COVID-19 test results, as well as the details of those who have come or are suspected to have come into contact with them. The Act authorizes the Director-General of Health to order telecom companies to disclose the location of infected or suspected to be infected person, without prior notice, as well as the location of those who were in contact or suspected to have been in contact with them, and to included all of this data in the COVID-19 Tracing Database. The law was met with severe backlash from civil society, and has since been amended twice. In a win for privacy, the last amendment deleted the provisions that obliged telecommunications companies to disclose location data for inclusion in that database.
Poland, which has been in a state of emergency since mid-March, has a track record of encroaching on the rule of law, even triggering the EU's legal process for addressing violations of European values. The EU Commission has stated that the Polish judiciary is under "the political control of the ruling majority. In the absence of judicial independence, serious questions are raised about the effective application of EU law." Now with COVID-19, the Polish government has also introduced several COVID acts, providing new surveillance powers for the executive. Article 11 of the COVID-19 act obliges telecom operators to collect and give access to location data of people infected with COVID-19 or those under quarantine upon a simple request, as well as aggregate location data of an operator's clients. The new legislation states that these measures will remain in place until the pandemic has ended.
Slovakia is another eastern European country that has expanded telecom companies' obligations to retain metadata during the crisis. Slovakia has been in a partial state of emergency since March 15th, during which several amendments to the country's telecommunications act were fast tracked through parliament. The amendments, which immediately caused outrage, authorized national health authorities to obtain location data from telecommunications operators in the context of a pandemic. As in Poland, the amended law allows both for the retention of anonymized aggregate data, as well as for individual location data. After being challenged before the Slovakian Constitutional Court, these measures have recently been suspended due to their vagueness and insufficient safeguards against misuse.
Croatia's government attempted to introduce similar, fast-tracked amendments to the country's electronic communications law. The bill would have authorized the exceptional processing of location data to "protect national and public safety," and would have obliged telecommunications operators to share the data with the Ministry of Health. As in other countries, the proposal was met with outrage among civil society, experts, and opposition, as more than forty civil society organizations signed onto a letter demanding the government to withdraw the bill. The criticism was eventually successful, but the Croatian example underlines the wider pattern of states looking to expand at any opportunity new surveillance powers in the crisis, in the Balkans and beyond.
Bulgaria, yet another Eastern European country in a state of emergency, has passed an emergency law, which included amendments to the country's electronic communications act. The law now obliges telecommunications companies to store and (upon request) provide metadata to competent authorities, including the police, to monitor citizens' compliance with quarantine measures. The law does not require requests to be authorized by courts but merely provides for a after-the-fact judicial review process which the country also uses when retaining data to prevent terrorist attacks. Not limited in time, the measures will remain in force even after the state of emergency has come to an end. Like Poland, Bulgaria has been showing authoritarian tendencies for several years, and this extension of the country's data retention regime, ushered in during the COVID crisis, may help solidify autocracy. The pattern of European countries reaching for location data surveillance also pokes holes in the popular image of the European Union as particularly protective of the right to privacy.
South Korea, a country with experience fighting coronavirus outbreaks since the Middle East Respiratory Syndrome (MERS) epidemic in 2015, has dramatically restricted the right to privacy in the context of the pandemic. The Infectious Disease Control and Prevention Act allows health officials to obtain sensitive personal data on the infected and those suspected to be infected, as well as their contacts and those suspected to be in contact. Such data includes names, resident registration numbers, addresses, telephone numbers, prescriptions, medical treatment records, immigration control records, credit card records, transit card records, and CCTV recordings from third parties companies. Police can seize this personal data without consent of the data subjects and without any judicial oversight. The Act also allows health officials and administrators of municipalities to collect location data on the infected (or suspected to be infected) and their contacts (or suspected contacts) from telecommunications operators and location data providers (from cell site and GPS).
Conclusion
Location surveillance comes with a host of risks to citizens' privacy, freedom of expression and data protection rights. EFF has long been fighting against warrantless access to location data or blanket data retention mandates, and has called on governments to be more transparent on their surveillance programs. Especially now, during a major health crisis, in which the government has not shown the efficacy of location data about individuals, governments should be as transparent as possible about what data they are collecting for what purposes. Above all, the necessity and proportionality of any location data surveillance schemes must be demonstrated.
Source: EFF.org
Katitza Rodriguez is EFF's international rights director. She concentrates on comparative policy of international privacy issues, with special emphasis on law enforcement, government surveillance, and cross border data flows. Her work in EFF's International Program also focuses on cybersecurity at the intersection of human rights. Katitza also manages EFF's growing Latin American programs. She was an advisor to the UN Internet Governance Forum (2009-2010). In 2018, CNET named Katitza one of 20 most influential latinos in technology in the United States. In 2014, she was also named one of "The heroes in the fight to save the Internet".
Seth Schoen has worked at EFF over a decade, creating the Staff Technologist position and helping other technologists understand the civil liberties implications of their work, EFF staff better understand technology related to EFF's legal work, and the public understand what products they use really do. He helped create the LNX-BBC live CD and has researched phenomena including laser printer forensic tracking codes, ISP packet spoofing, and key recovery from computer RAM after a computer has been turned off. He has testified before the U.S. Copyright Office, U.S. Sentencing Commission, and in several courts.
===
IMPORTANT NOTICE IN COVID-TIMES
We are respectfully asking this of all our members, friends and acquaintances as well as all new contacts: We understand that some of us differ in our beliefs regarding how COVID-19 was has been and is managed. We also understand that some of you are forced or maybe are downloading voluntarily a COVID19 app, which is promoted "for the greater good, for our safety, for the safety of our loved ones"! We are strongly advising against the installation of any such app, since so far no such app, which would fulfil our minimum privacy and security standard, is existing.
If we are in your "contacts" with phone number or e-mail and YOU intend to install any such app, like "Healthy Together" "AB Trace Together" COVI-PASS (the worst, because it is a collaboration of the un and the UK) or a similar tracing apps, please DELETE US from your phone or e-mail contact lists, Facebook, Instagram, LinkedIn, or Twitter pages PRIOR to installing the app on your Smartphone!
Any such app WILL ask for permission to access your contact lists, and NO ONE has our consent to use our phone numbers, e-mail addresses or any other identifying contact info in connection with these tracking apps that will identify and locate us without our knowledge or permission. Even Snopes verifies that GPS capabilities are part of these apps and there are several more in development that have raised serious privacy issues.
To educate yourself simply do an internet search for "COVID19 APP" to read about the implications and ask us for other communication options.
Please feel free to copy and paste this notice to your page or send it on to your contacts.
Thank you for understanding that this is NOTHING personal! ❤
===
THE FUTURE IS HERE FOR YOU TO SEE
Beware: China combined all the experienes - starting from the world's first concentration camps installed by the British in South Africa and India, colonial slave-labour camps and slave reproduction stations, the Nazi concentration camps, Maoist reeducation centres, the UNHCR refugee camps all over the world, the FEMA camps in the USA, their military prison camps like Guantanamo and also their ICE detention centres - and developed a futuristic version into one Chinese Ultra-Camp model that they implemented for the Uyghurs.
===
UPDATES:
Minnesota is now using contact tracing to track protestors, as demonstrations escalate
[N.B.: They did it before - illegally - already, but now they have a reason to publicly state and admit it.]
Minnesota protester stands on a platform in front of a restaurant fire Image Source: Julio Cortez/AP/Shutterstock
By Andy Meek - 30. May 2020
Minnesota protests are continuing to escalate and inspire similar demonstrations around the country in the wake of police killing an unarmed Minneapolis man this week named George Floyd.
Minnesota officials say they're using contact tracing to better understand who the protestors are and where they're coming from.
Contact tracing has previously been used as part of a comprehensive coronavirus response.
As the Minnesota protests have spilled across the country, fueled by protestors angered over the police killing of an unarmed Minneapolis man named George Floyd, the protests have morphed into marches and demonstrations that have turned violent everywhere from New York City to Los Angeles. Curfews are being imposed in major cities around the US at the time of this writing, and at least eight states, as well as the District of Columbia, have requested the National Guard to assist local law enforcement.
In some cities like Minneapolis, though, officials are starting to turn to a familiar tool to investigate networks of protestors. The tool is contact-tracing, and it's a familiar tool in that people have been hearing about it frequently in recent weeks as an important component of a comprehensive coronavirus pandemic response. According to Minnesota Public Safety Commissioner John Harringon, officials there have been using what they describe, without going into much detail, as contact-tracing in order to build out a picture of protestor affiliations — a process that officials in the state say has led them to conclude that much of the protest activity there is being fueled by people from outside coming in.
In fact, Minnesota's Gov. Tim Walz told reporters that as much as 80% of those being destructive are from outside Minnesota.
Setting aside whether or not that's true, the non-protest aspect to this is the fact that it speaks to privacy concerns around contact-tracing in general, since using this tool to fight the coronavirus pandemic is by definition an invasion of privacy. Contact tracers need to know personal details about you, such as who you've been around and where you've gone over a not-insignificant period of time. And now, it's a tool that's apparently being used to build a completely different, non-coronavirus-related informational picture of Americans.
And what makes this even more interesting is the fact that a CNN analysis of Minneapolis data found what appears to be the complete opposite of the assertion about out-of-towners. Per CNN, "More than 80% of people booked into jail in Minneapolis on riot and other potentially riot-related charges over the past two days are from Minnesota, according to a CNN analysis of data from the Hennepin County Sheriff's office. Officials had earlier claimed that most protesters came from out of state."
Meanwhile, the situation in cities around the country is continuing to deteriorate, as protests multiply and escalate. Among the most recent developments as of the time of this writing:
The National Guard has been called up to help protect the White House from protestors.
More than two dozen cities in 16 states have implemented curfews. One of those, Chicago, has imposed a curfew starting at 9 p.m. and ending at 6 a.m. that officials say will be in place nightly "until further notice."
Minnesota's governor has said he's expecting the state to see a spike in coronavirus cases as a result of the crowds protesting.
Author:
Andy Meek @aemeek is a reporter in Memphis who also contributes to outlets like Fast Company and The Guardian. When he's not writing about technology, he can be found hunched protectively over his burgeoning collection of vinyl, as well as nursing his Whovianism and bingeing on a variety of TV shows you probably don't like.
===
Your "Immunity Passport" Future Begins To Materialize As Airlines Call For Digital ID Tracking Systems [BOYCOTT THESE AIRLINES!]
By Derrick Broze - 26 May 2020
The world's largest airline trade group has called for immunity passports, thermal screening, masks, and physical distancing to be a part of the industry's strategy for returning to "normal" operations.
The International Air Transport Association (IATA), which represents 299 airlines, recently issued their publication, Biosecurity for Air Transport A Roadmap for Restarting Aviation, which outlines their strategy to open up air travel as governments begin to lift travel restrictions.
Under a section titled, "The passenger experience" and "Temporary biosecurity measures," the IATA describes their vision of post-COVID-19 flights. The organization calls for contact tracing, a controversial method of tracking the civilian population to track the spread of COVID-19.
"We foresee the need to collect more detailed passenger contact information which can be used for tracing purposes," the report states. "Where possible, the data should be collected in electronic form, and in advance of the passenger arriving at the airport including through eVisa and electronic travel authorization platforms."
Interestingly, this call for pre-boarding check-in using "electronic travel authorization platforms" coincides with the recent announcement of the Covipass and the Health Pass from Clear, both of which call for a digital ID system using biometrics and storing travel, health, and identification data.
Alexandre de Juniac, IATA's CEO, told Arabian Industry that "a layered approach" combining multiple measures which are "globally implemented and mutually recognized by governments" are "the way forward for biosecurity."
The IATA also calls for temperature screening at entry points to airport terminals. They envision the airline experience involving physical distancing of 3-6 feet throughout the airport. The group believes changes to the airport buildings to allow for physical distancing may be necessary. The IATA also recommended "face coverings" for passengers and protective equipment for airline and airport staff.
Although the organization acknowledged that there is not currently a fast reliable test for COVID-19, they believe that once an effective test is developed it could be applied on entry to the terminal. They call for this measure to be "incorporated into the passenger process as soon as an effective test, validated by the medical community, has been developed."
On the topic of immunity passports — an idea discussed by Anthony Fauci, the World Health Organization, and Bill Gates — the IATA states that "immunity passports could play an important role in further facilitating the restart of air travel." The organization believes that if a person is shown to have recovered from COVID-19 and developed immunity they will not need protective measures. Once medical evidence supports the possibility of immunity to COVID-19, IATA believes "it is essential that a recognized global standard be introduced, and that corresponding documents be made available electronically."
Finally, the IATA believes a "general move towards greater use of touchless technology and biometrics should also be pursued." Biometrics would include facial recognition, retina scanning, and/or thumbprints.
This vision painted by the IATA is one where those who choose to fly are faced with invasive security measures, surveillance, biometric tracking, immunity passports, temperature screenings, and generally, less human contact due to physical distancing and less communication with actual people. Of course, this push towards a digital ID which contains an individual's personal identifying information, health records, and other personal data is part of an agenda which predates COVID-19. The "powers that wish they were" are taking every opportunity to expand their technocratic control grid and the panic caused by COVID-19 allows them to accelerate their plans at a rate not seen since the days after the attacks of September 11, 2001.
The only thing stopping the roll out of this Technocratic State is the people of the world coming together, informing those who are in the dark, and unplugging from this control grid.
Question Everything, Come To Your Own Conclusions.
UNHCR, UNICEF and WFP are on the United Nation (UN) forefront of total population control - UNEP to join?
===
Contact Tracing Scarier than you Imagined
Orwellian Warden- and Snitch-Systems using contact tracing and tracking apps close to become law in USA
•May 25, 2020
Source: https://vimeo.com/421657568
===
Coronavirus: Will social distancing be permanent?
Stand up and fight!
•May 22, 2020
International bestselling author, Dr Vernon Coleman MB ChB DSc FRSA, explains how the coronavirus 'crisis' has affected health care and assesses the impact that social distancing has had on the treatment of seriously ill patients.
He points out that politicians are using social distancing to control us, describes how social distancing is wrecking our lives, and suggests that unless we stand up and fight against it, social distancing will be with us forever and will ruin our lives in every conceivable way.
For the truth about the coronavirus and much, much more please visit https://www.vernoncoleman.com
===
How Governments Are Hunting the Infected
By James Corbett - 21. May 2020
Welcome back to Corbett Report #NewWorldNextWeek — the video series from Corbett Report and Media Monarchy that covers some of the most important developments in open source intelligence news.
•May 21, 2020
Welcome back to New World Next Week — the video series from Corbett Report and Media Monarchy that covers some of the most important developments in open source intelligence news.
This week:
Most States Sharing "Covid" Patients' Addresses With "Law Enforcement" https://bit.ly/2TmJ4q8
South Korea's Tracking Of COVID-19 Patients Raises Privacy Concerns https://n.pr/2zRQGdc
===
"Every part of our lives will be subject to control. This virus is about training us for submission, training us to do what we're told. To not go to the beach unless we're told, to not kiss our girlfriend without their permission. They're turning us into production units and consuming entities. They are going to rob us not only of our democracy and our liberties, but our souls. They are going to inject us with the medicines they want and they're going to charge us for the diseases they give us. They are going to control every part of our lives. What we are doing at Children's Health Defense is using the last instruments of democracy we have left - the Courts - to fight them. We are in the last battle. We are in the apocalypse. We are fighting for the salvation of humanity. We all knew this was coming, though I never believed it would come in my lifetime. But here it is."
-- Robert F. Kennedy, Jr.
Robert Kennedy, Jr, Speaks the Unspeakable about Vaccines
By G. Edward Griffin - 18. May 2020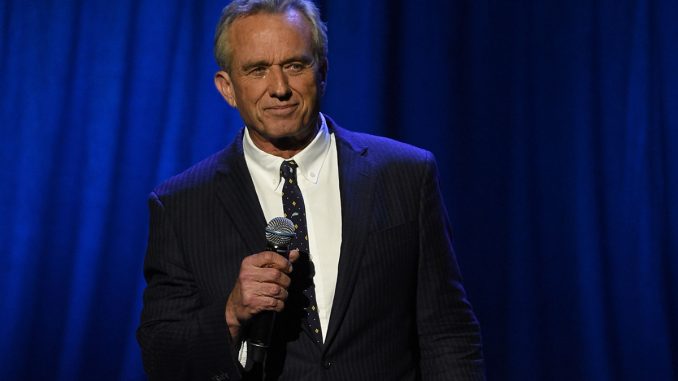 Robert Kennedy, Jr, comes out fighting against those in mainstream media and the Internet who are trying to block him from expressing concerns about vaccines. As a lawyer preparing lawsuits against vaccine companies for damages from their products, his research led him to the realization that the industry is criminally corrupt. In this interview by Patrick Bet-David, Kennedy describes what lies have been forced on the public to cover up the corruption and he shows that the truth is the opposite of what we have been told. For example, Kennedy says his research shows: (1) You are more apt to contract a disease from a vaccinated person than one who is not vaccinated! (2) Vaccines kill more people than the diseases do! (3) Vaccines are insanely profitable to the companies that make them, but that is peanuts compared to the profits from selling drugs and devices to treat illnesses the vaccines create! The business model of the pharmaceutical industry is, not to make people well, but to treat their symptoms and keep them sick so they will be customers for life! These are just a few of the jaw-dropping facts that Kennedy discovered in documents from the companies themselves. He offers references and sources to verify the accuracy of his statements. It is impossible to make sense of the push for mandatory vaccinations without the information in this interview. The information regarding the CIA's role in the assassinations of JFK and RFK (his Uncle and father) is a startling addition. (2 hr. 19 min. Original date 2020 May 2.)
EXCLUSIVE INTERVIEW: Robert Kennedy Jr. Destroys Big Pharma, Fauci & Pro-Vaccine Movement
•Premiered May 2, 2020
Robert F Kennedy Jr talks vaccines, Dr Fauci, family history and JFk assassination with Patrick Bet-David.
About the Guest: Robert F. Kennedy, Jr.'s reputation as a resolute defender of the environment stems from a litany of successful legal actions. Mr. Kennedy was named one of Time magazine's "Heroes for the Planet" for his success helping Riverkeeper lead the fight to restore the Hudson River. The group's achievement helped spawn 300 Waterkeeper organizations across the globe.
Mr. Kennedy serves as Senior Attorney for the Natural Resources Defense Council, Chief Prosecuting Attorney for the Hudson Riverkeeper and President of Waterkeeper Alliance.
He is also a Clinical Professor and Supervising Attorney at Pace University School of Law's Environmental Litigation Clinic and is of counsel to Morgan & Morgan, a nationwide personal injury practice. He is co-host of Ring of Fire on Air America Radio. Earlier in his career he served as Assistant District Attorney in New York City.
He has worked on environmental issues across the Americas and has assisted several indigenous tribes in Latin America and Canada in successfully negotiating treaties protecting traditional homelands. He is credited with leading the fight to protect New York City's water supply. The New York City watershed agreement, which he negotiated on behalf of environmentalists and New York City watershed consumers, is regarded as an international model in stakeholder consensus negotiations and sustainable development.
Among Mr. Kennedy's published books are the New York Times' bestseller Crimes Against Nature (2004), The Riverkeepers (1997), and Judge Frank M. Johnson, Jr: A Biography (1977) and two children's books St Francis of Assisi (2005), American Heroes: Joshua Chamberlain and the American Civil War and Robert Smalls: The Boat Thief (2008). His articles have appeared in The New York Times, The Washington Post, Los Angeles Times, The Wall Street Journal, Newsweek, Rolling Stone, Atlantic Monthly, Esquire, The Nation, Outside Magazine, The Village Voice, and many other publications. His award-winning articles have been included in anthologies of America's Best Crime Writing, Best Political Writing and Best Science Writing.
Mr. Kennedy is a graduate of Harvard University. He studied at the London School of Economics and received his law degree from the University of Virginia Law School. Following graduation he attended Pace University School of Law, where he was awarded a Masters Degree in Environmental Law.
Site for Childrens Health Defense https://bit.ly/2St8XDX Follow him on Instagram: @robertfkennedyjr https://bit.ly/2YpVBw3
About Patrick Bet-David: During the Iranian Revolution of 1978, Patrick's family had to escape to survive and ended up living at a refugee camp in Erlangen, Germany. At 12 years old Patrick found himself collecting cans & beer bottles to raise money that could help his family and get him a Nintendo. These childhood experiences had a major impact on his perspective of freedom, hard work and entrepreneurship. Today, he is CEO of PHP Agency, Inc. a financial services company with over 15,000 agents in 49 states and Puerto Rico and an active YouTube creator commonly known for his investigative journalistic approach to interviews and unorthodox business teachings.
===
Mandatory Vaccines? The U.S. Supreme Court Said Yes! But Wait, There's More…
By Spiro Skouras - 18. May 2020
If there is one topic that even comes close to the amount of coverage the virus gets, it is vaccines, and the big question is will they be mandatory?
Recently Jason Goodman of Crowdsource The Truth interviewed Alan Dershowitz and Dershowitz made some very bold controversial statements…
Dershowitz — a high-profile lawyer who has formerly represented president President Trump, OJ Simpson and even Jeffery Epstein amongst other high-profile clients — stated you have no constitutional protection against being forcibly vaccinated for an infectious disease.
Let's take a closer look…
====
Neurosurgeon: Face Masks Are Grave Risk to Public Health
By Megan Fox - 17. May 2020
Every Karen on Facebook is shaming her neighbors for not wearing a face mask. We are being told by governors that if we don't wear masks we are selfish, horrible human beings with no souls who want Grandma to die a horrible death.
Police are tackling people who don't wear face masks properly in the subway. Grocery stores are throwing maskless people out and denying them service.
But now, there's another doctor weighing in—besides Dr. Fauci, bonafide sex god and ruler of us all, who also said face masks are largely security theater and of no use to the healthy. Dr. Russell Blaylock, a neurosurgeon, has written an editorial saying that "masks pose serious risks to the healthy."
First, Blaylock says, there is no scientific evidence that masks are effective against COVID-19 transmission. Pro-science people should care about this.
As for the scientific support for the use of face mask, a recent careful examination of the literature, in which 17 of the best studies were analyzed, concluded that, " None of the studies established a conclusive relationship between mask/respirator use and protection against influenza infection." Keep in mind, no studies have been done to demonstrate that either a cloth mask or the N95 mask has any effect on transmission of the COVID-19 virus. Any recommendations, therefore, have to be based on studies of influenza virus transmission. And, as you have seen, there is no conclusive evidence of their efficiency in controlling flu virus transmission.

It is also instructive to know that until recently, the CDC did not recommend wearing a face mask or covering of any kind, unless a person was known to be infected, that is, until recently. Non-infected people need not wear a mask. When a person has TB we have them wear a mask, not the entire community of non-infected. The recommendations by the CDC and the WHO are not based on any studies of this virus and have never been used to contain any other virus pandemic or epidemic in history.
Beyond the lack of scientific data to support wearing a mask as a deterrent to a virus, Blaylock says the more pressing concern is what can and will happen to the wearer.
Now that we have established that there is no scientific evidence necessitating the wearing of a face mask for prevention, are there dangers to wearing a face mask, especially for long periods? Several studies have indeed found significant problems with wearing such a mask. This can vary from headaches, to increased airway resistance, carbon dioxide accumulation, to hypoxia, all the way to serious life-threatening complications.
There are studies to back that claim up.
In one such study, researchers surveyed 212 healthcare workers (47 males and 165 females) asking about presence of headaches with N95 mask use, duration of the headaches, type of headaches and if the person had preexisting headaches.

They found that about a third of the workers developed headaches with use of the mask, most had preexisting headaches that were worsened by the mask wearing, and 60% required pain medications for relief. As to the cause of the headaches, while straps and pressure from the mask could be causative, the bulk of the evidence points toward hypoxia and/or hypercapnia as the cause.

That is, a reduction in blood oxygenation (hypoxia) or an elevation in blood C02 (hypercapnia). It is known that the N95 mask, if worn for hours, can reduce blood oxygenation as much as 20%, which can lead to a loss of consciousness, as happened to the hapless fellow driving around alone in his car wearing an N95 mask, causing him to pass out, and to crash his car and sustain injuries.

I am sure that we have several cases of elderly individuals or any person with poor lung function passing out, hitting their head. This, of course, can lead to death.

A more recent study involving 159 healthcare workers aged 21 to 35 years of age found that 81% developed headaches from wearing a face mask. Some had pre-existing headaches that were precipitated by the masks. All felt like the headaches affected their work performance.
Blaylock says studies have also shown that face masks impair oxygen intake dramatically, potentially leading to serious problems.
The importance of these findings is that a drop in oxygen levels (hypoxia) is associated with an impairment in immunity. Studies have shown that hypoxia can inhibit the type of main immune cells used to fight viral infections called the CD4+ T-lymphocyte.

This occurs because the hypoxia increases the level of a compound called hypoxia inducible factor-1 (HIF-1), which inhibits T-lymphocytes and stimulates a powerful immune inhibitor cell called the Tregs. This sets the stage for contracting any infection, including COVID-19 and making the consequences of that infection much graver. In essence, your mask may very well put you at an increased risk of infections and if so, having a much worse outcome.
In other words, if you wear a face mask and contract some sickness, you will not be able to fight it off as effectively as if you had normal blood oxygen levels. The mask could make you sicker. It could also create a "deadly cytokine storm" in some.
There is another danger to wearing these masks on a daily basis, especially if worn for several hours. When a person is infected with a respiratory virus, they will expel some of the virus with each breath.

If they are wearing a mask, especially an N95 mask or other tightly fitting mask, they will be constantly rebreathing the viruses, raising the concentration of the virus in the lungs and the nasal passages. We know that people who have the worst reactions to the coronavirus have the highest concentrations of the virus early on. And this leads to the deadly cytokine storm in a selected number.
How about cancer, heart attacks, and strokes? Blaylock says face masks can make all of those conditions worse.
People with cancer, especially if the cancer has spread, will be at a further risk from prolonged hypoxia as the cancer grows best in a microenvironment that is low in oxygen. Low oxygen also promotes inflammation which can promote the growth, invasion and spread of cancers. Repeated episodes of hypoxia has been proposed as a significant factor in atherosclerosis and hence increases all cardiovascular (heart attacks) and cerebrovascular (strokes) diseases.
If that's not bad enough, how would you like COVID-19 in your brain?
It gets even more frightening. Newer evidence suggests that in some cases the virus can enter the brain. In most instances it enters the brain by way of the olfactory nerves (smell nerves), which connect directly with the area of the brain dealing with recent memory and memory consolidation. By wearing a mask, the exhaled viruses will not be able to escape and will concentrate in the nasal passages, enter the olfactory nerves and travel into the brain.
Why is it that we only listen to dire predictions from Dr. Fauci and we don't consult other experts in the field of medicine? Is Anthony Fauci the only qualified person to talk about this virus? Furthermore, if he is, he agrees with Dr. Blaylock that only sick people should wear them and he said so on 60 Minutes. So why aren't we listening to him?
===
WATCH:
Judicial Watch president Tom Fitton explains why the organization filed a lawsuit on behalf of the Daily Caller seeking Dr. Anthony Fauci and the World Health Organization's records as the coronavirus pandemic affected the U.S.
Now the United States Justice has finalized a sealed indictment against Dr. Anthony Fauci for crimes including treason, conspiring with the enemy and fraud. David Zublick unseals the truth in this breaking story.
===
The David Knight Show
MESSAGE: Community has to stand together against illegally acting law-enforcement to secure our individual, constituional rights! STOP THE THUGS IN UNIFORM!
Beware of a heinous, time-delayed sterilization causing vaccine tested now by Gaxo Smith Kline PLC!
SIGN THE DEMAND FOR THE UK TO UNCOVER THE TRUTH ON THIS VACCINE: www.govote.org.uk
May 12th, 2020
Topics by Timecode:
— 00:04:24 Inmates infect themselves with COVID to get out of jail, business owners put in jail to keep community safe from COVID
— 00:13:54 China is taking a bite out US meat supply (UP 400%) while production FALL 40%. Starvation & famine are being used as a political weapon
— 00:38:06 Testing, tracking, arrest has already come to Canada
— 00:41:57 HR6666 - testing, tracking, arrest coming to schools, churches, homes
— 01:07:53 Apple & Google partner with military AI for contact tracing
— 01:31:06 Seattle cop fired for supporting Constitution
— 01:57:17 Allegations that new COVID vaccine elements cause sterility in 97% of women - Gaxo Smith Kline whistleblower.
Be sure to catch the full show as well as other exclusive content at banned.video/channel/the-david-knight-show

The Professional @science_cited
While everyone has been busy freaking out over the Moderna mRNA vaccine, they missed a DNA vaccine currently in phase 1 trials. INO-4800 - DNA plasmid encoding S protein delivered by electroporation Unlike the RNA vaccine, this will deliver DNA inside the nucleus!
===
African country bans face masks – also reopen schools and shops
The President of Tanzania has reportedly banned the use of face masks after noting that "face mask usage has caused anxiety among Tanzanians."
Dr John Pombe Magufuli, who has been leader of the country since 2015, feels his people should not have to wear them due to CO2 emissions.
In a letter dated 24th of May, which was sent to media outlets across the world, through the Director of Presidential Communication in Tanzania, it outlined that he president effected the ban on face masks as well as giving the green light of normal operation of public transportation and also the reopening of of schools.
The letter was sent to reporters and said:
"To The Media,
President of The Republic of Tanzania Dr John Pombe Magufuli has today on 24, May 2020 banned the use of face masks by Tanzanians as the usage has caused fear and panic to Tanzanians leading to some closing down their businesses.His excellency The President has also allowed normal resumption of public transport as well as normal resumption of schools.We thank God for the defeat against Corona, let continue to wash hands to observe hygene, Bye Corona."
Tanzania has had lack rules regarding the virus with President Magafuli downplaying the corona pandemic and saying that America 'makes up numbers' regarding the cases and deaths.
He and his ministers have also recently told the American envoy to Tanzania not to 'cause panic' to Tanzanians after the American embassy in the capital, Dar es Salaam, stated that the chance of contracting the virus was "extremely high".
The President of Tanzania had also brushed off pressure from the west to put his country in lockdown, keeping establishments open and even churches saying: "Coronavirus cannot survive in churches!"
Tanzania coronavirus kits raise suspicion after goat and pawpaw test positive
'There is something happening. I said before we should not accept that every aid is meant to be good for this nation,' says president
By Kate Ng -
Covid-19 test kits in Tanzania have raised suspicion after samples taken from a goat and a pawpaw fruit came back with positive results, as the president said there were "technical errors".
President John Magufuli said during an event in the north west of Tanzania that the test kits were imported from overseas, but did not say where.
He said that in order to evaluate the quality of the kits, Tanzanian security forces randomly obtained non-human samples, including from a pawpaw, a goat and a sheep. The random samples were assigned human names and ages, and sent to a laboratory to test for coronavirus.
Lab technicians were deliberately not informed about the origins of the samples. The pawpaw and goat samples tested positive for Covid-19, said Mr Magufuli.
The president said the faulty kits meant some people were testing positive for coronavirus without actually being infected, reported Reuters.
He said: "There is something happening. I said before we should not accept that every aid is meant to be good for this nation."
The Tanzanian government has come under scrutiny for its secretive approach to the pandemic. Earlier this week, footage of burials taking place at night under tight security circulated on social media, with activists accusing the government of covering up the real impact of the virus in the country.
Opposition leader Zitto Kabwe was quoted by the BBC as saying: "I don't want to feel like the government is hiding something. I want it to perform its role. Right now, we are witnessing a lot of mourning, burials and dead bodies everywhere.
"Without transparency, the citizens will be more scared, which may cause even more deaths."
===
Don't forget and be aware what Bill Gates has in mind, because, since the French economy minister stated that "there will be no second wave of COVID-19" and Sweden is still doing quite fine by not following the globalist agenda, the masterminds of this plandemic are now challenged to escalate.
Bill Gates: Phase 2 is a Bio Terror Attack
By Spiro Skouras - 26. April 2020
For generations the public has been controlled through fear. The progression of perceived enemies has evolved over time.
We were once told our enemies were nation states and we had to duck and cover because the enemy could strike with great devastation at a moment's notice.
While this outside threat, used to instill fear and bolster the military industrial complex was very effective, this enemy could only last so long and was merely a stepping stone.
The fear of an outside threat later evolved into terrorists who had no borders, which justified military expansionism globally.
We were told They hate us because were free, gradually we became less free as the government has erected a police state and a surveillance state to protect us from the very terror threat they created.
Now we are told our enemy is invisible yet everywhere; we are told our way of life will never be the same, much like we heard in the aftermath of 9/11 — and boy were they right!
The public has been conditioned to live in a constant state of fear, we have been conditioned to rely on the government as our only solution for safety.
This is a solution we have been warned about for hundreds of years. Those who would give up essential Liberty, to purchase a little temporary Safety, deserve neither Liberty nor Safety.