UPDATE 20 April 2020: The Legitimacy of the WHO as a Gold Standard of Health is Dubious. Time to dismantle the World Health Organization
UPDATE 15. April 2021: WHO special adviser placed under investigation by Italian prosecutors for lying about spiked WHO report
UPDATE 31. December 2020: W.H.O. in the vaccine roulette: WHO approves emergency use of BioNTech-Pfizer COVID vaccine
UPDATE 11. December 2020: WHO 'conspired' with Italian govt to remove 'live saving' report into Covid-19 first response, media claim
UPDATE 25. November 2020: International Criminal Court (ICC) complaint to be filed against Tedros Adhanom [Case is filed - ICC response is pending]
UPDATE 20. November 2020: "TEDROS IS A CRIMINAL". - Ethiopia's Army Blames WHO Boss who denies supplying Weapons to TPLF Communist-Islamic rebels. Al Qaeda Spectre in Horn of Africa
UPDATE 02. November 2020: Italy's incompetence and the corruption of Tedros
UPDATE 08. October 2020: WHO (Accidentally) Confirms Covid is No More Dangerous Than Flu - Head of Health Emergencies Program "best estimates" put IFR at 0.14%
UPDATE 27. September 2020: trust WHO? - YouTube-deleted trailer of film documentary now on BITCHUTE
UPDATE 28. August 2020: The Nest Of Vipers At Corruption Inc
UPDATE 24. August 2020: The Great Reset: WHO declares 'We cannot go back to the way things were'
UPDATE 21. August 2020: WHAT IS THE WHO?
UPDATE 22. July 2020: Caught Red Handed!!! W. H. O. admits Vaccines Are Not Safe
UPDATE 16. July 2020: Italian Catholic Association Vicit Leo launches a series of extensive investigations and wants to bring criminal proceedings against the World Health Organization (WHO).
UPDATE 09. July 2020: WHO launches 'independent' inquiry into global response to pandemic - what a joke and scam! The world and all people deserve an Independent International Tribunal and not an UN mock-exercise. If the world's governments are impotent or fear to be implicated, the free world must drive the ITNJ Commission of Inquiry to a higher level to become this Tribunal for Global Justice.
UPDATE: 07. July 2020: As Millions Pulled From WHO, Trump Gives Billions To Gates-Founded Vaccine Alliance GAVI
UPDATE 06. July 2020: - In an email to the media, a U.N. spokesman confirmed that the organization received the notification: "On 6 July 2020, the United States of America notified the Secretary-General ... of its withdrawal from the World Health Organization, effective on 6 July 2021," wrote Stéphane Dujarric, a spokesman for U.N. Secretary-General António Guterres." Unfortunately Trump gives the money now to Big Pharma.
UPDATE 02. July 2020: WHO backtracks on original claim that China self-reported, admits this never happened
UPDATE 12. June 2020: OH NO, W.H.O.! (must watch documentary)
UPDATE 09. June 2020: President Pierre Nkurunziza of Burundi, who had expelled the UN in 2019 and latetly also kicked the WHO mission out of the country, after having agreed to a democratic handing over of power in autumn, died unexpectedly of what was stated a 'heart-attack'. + Timeline up to 14. July 2020.
UPDATE 02. June 2020: Leaked WHO files show China 'delayed releasing important information' about virus
UPDATE 28. May 2020: Dr. Ilaria Capua & Prof. Dr. Martin Haditsch criticize the global measures against corona pandemic
UPDATE 24. May 2020: "We Have Undercover Footage" - The Media DON'T Want This Out!
UPDATE 14. May 2020: Burundi expels the World Health Organization (WHO) from its territory. President orders top WHO official, 3 other virus experts to leave within 24h.
UPDATE 23. April 2020: Change in WHO leadership and structural fix is demanded by USA to possibly resume revoked funding.
BACKGROUND: The Ethiopian Terrorist in Charge of the World Health Organization — Dr. Tedros Adhanom
ICYMI: Coronavirus: How WHO Corruption Helped It Spread + WHO lied, people died & WHO MEMO FROM 1972 EXPLAINS HOW TO TURN VACCINES INTO A MEANS OF KILLING + MUST WATCH: Trust WHO? (full documentary)
The Gangster Head of the WHO
By Thomas C. Mountain - 15. April 2020
The head of the World Health Organization, Dr. Tedros Adhanom Ghebreyesus, was a senior capo for the Tigray Peoples Liberation Front (TPLF) gangster mafia that ruled Ethiopia from 1991-2018. During that time he served as Health Minister and Foreign Minister, cementing his credentials as a member of the inner circle of what was one of if not the most corrupt, brutal and genocidal regimes to set foot on this planet in the past 30 years.
From 2007 to Ethiopia's Peaceful Revolution in 2018 Dr. Tedros was complicit in the TPLF's crime of genocide against the Somali people of the Ogaden with the genocidal blockade of food and medicine to the region. He was part of expelling the Red Cross and Doctors Without Borders from the Ogaden during a series of Cholera outbreaks and in helping deny medicine to the Somali Ogadenis he oversaw the deaths of untold thousands during a series of historical droughts, famines and epidemics.
Dr. Tedros did not just cover up cholera epidemics, he was complicit in a medicine blockade to those affected.
And this gangster is today the head of the WHO? How the hell did this happen? Deja Vu Anthony Lake, the CIA and UNICEF?
In 2016 a revolutionary situation was developing in Ethiopia with the TPLF mafia's days clearly numbered. Dr. Tedros read the writing on the wall and made himself "available" to serve the interests of Pax Americana at the UN. Being the USA is the major contributor to the WHO his vetting for its head by the CIA was a must. Having demonstrated suitability for the job by overseeing genocide made him eminently qualified and during the early days of the Trump Regime in 2017, he made his move from the sinking ship in Addis Ababa to Switzerland and the fat salaries of the UN.
Today he finds himself on the hot seat with a 100-year global flu pandemic raging. For almost three years he remained quiet about the almost total lack of preparation at the WHO for what numerous panels had warned was inevitable, a highly contagious and deadly virus quickly spreading across the world. Where were the stockpiles of protective supplies the public health professionals called for, repeatedly? Where were the stockpiles of medical equipment? Where were the testing kits the esteemed Doctors urgently spoke of?
Where was Dr. Tedros? Holding press conferences expressing the urgency of the matter? Raising a hue and cry about the potential for disaster predicted by his professional colleagues?
Dr. Tedros was missing in action to put it simply, his silence was deafening, just as was his silence when his "comrades" in the once Marxist Leninist Hoxha-ite TPLF mafia in Ethiopia blockaded medicine during a cholera epidemic.
No preparation leads to crisis management and Dr. Adhanom "admitting mistakes were made" by this failure of leadership in the face of a global crisis.
But then what should we expect from someone who made his bones complicit in mass murder in the Ogaden?
===
BACKGROUND:
===
The Ethiopian Terrorist in Charge of the World Health Organization — Dr. Tedros Adhanom
April 14, 2020
President Trump on Tuesday said that he planned to stop United States funding of the World Health Organization while reviewing its role in what he described as "severely mismanaging and covering up the spread of the coronavirus."
"Everybody knows what is going on there," he said, blaming WHO for a "disastrous decision to oppose travel restrictions from China and other nations."
As recently as February, the W.H.O. had advised against imposing travel restrictions to places with outbreaks of the coronavirus, saying it was not an effective way combat its spread.
Now Fred take a look at the Director-General of WHO, Dr. Tedros Adhanom Ghebreyesus [Dr. Tedros].
By Fred
Given that we are all locked down until the World Health Organization approves a vaccination for COVID-19, or so we're being threatened, I decided to do a background check on Dr. Tedros Adhanom Ghebreyesus, Director-General of WHO.
Dr. Tedros has been accused of being "China's man", but on closer inspection, an extremely ugly picture emerges in which he also turns out to be very much the UK's man, illustrating that country's particular influence over WHO.
When I say ugly – Dr Tedros is without question a political thug of the highest order. As a senior member of the Tigray People's Liberation Front (TPLF) he was personally responsible for brutal repression of the Amhara people, using aid money selectively to starve them out and deny them access to basic services.
The TPLF was listed as a terrorist organization by the U.S. government in the 1990s, and the organization still appears on the Global Terror Database for its "unfortunate habit" of carrying out armed attacks in rural areas:
https://www.start.umd.edu/gtd/search/Results.aspx?perpetrator=2127
The latest incident logged was in May 2018, a kidnapping.
Ethiopia is the biggest recipient of donor aid and World Bank funds in Africa. But the TPLF brazenly used this aid to punish political opponents.
According to a senior Western donor official in Addis Ababa: "Every tool at their disposal — fertilizer, loans, safety net — is being used to crush the opposition. We know this."
https://www.hrw.org/news/2010/10/19/ethiopia-donor-aid-supports-repression
Other forms of aid denial involved the refusal of emergency healthcare by ministry of health workers — the same ministry that was at the time being led by Tedros Adhanom:
https://www.roughestimate.org/roughestimate/the-crimes-of-tedros-adhanom
It gets worse:
"In 2016, the Ethiopian government attempted to force relocate 15,000 people in the Oromia region because it wanted to requisition their land. This led to mass protests followed by mass shootings and a stampede that killed 500 people, according to Human Rights Watch. The government then embarked on another brutal crackdown, arresting 70,000 people.
"Adhanom subsequently tried to downplay the violence, falsely claiming the police weren't armed and that the numbers weren't as high as stated."
https://www.zerohedge.com/geopolitical/was-who-director-tedros-top-member-violent-ethiopian-communist-party
The Amhara People's Union, an activist organization based in Washington, noted that Dr. Tedros had been accused of "systematic genocidal violence and human right violations" and argued that he was a completely inappropriate choice for the WHO top job:
https://ecadforum.com/wp-content/uploads/2017/04/APU_opposes_candidacy_of_Dr_TAG.pdf?x35370
https://hnewswire.com/whos-tedros-adhanom-should-be-put-on-trial-for-crimes-against-humanity/
There are claims that 2 million Amhara people disappeared off census records over this period.
While he was health minister of Ethiopia from 2005–2012, Dr Tedros covered up three cholera epidemics in his country, endangering surrounding countries, which found that what he called "acute watery diarrhoea" turned into full-blown cholera the moment it crossed the border:
https://www.foxnews.com/world/who-chief-tedros-questionable-past-coronavirus
His ability to lie about epidemics and get away with it must surely have been one of his biggest recommendations for the job.
When I say that Dr. Tedros is a thug, he was personally involved in the kidnapping and rendition from Yemen of an Ethiopian dissident, Andargachew 'Andy' Tsege, who had already been tried and sentenced to death in absentia in Ethiopia.
"In the evening of May 13, 2014, a delegation of Ethiopia's tyrannical regime headed by the then Foreign Minister Adhanom flew to Sana'a. They were scheduled to have a high-level meeting the next day with Yemeni leaders, security and diplomatic officials":
https://www.zehabesha.com/tedros-adhanom-played-a-key-role-in-kidnapping-of-prominent-dissident-by-abebe-gellaw/
"When Ethiopian migrants and domestic workers in Yemen were routinely beaten, raped, abused and deported back to Ethiopia, neither the Foreign Minister nor the Ethiopian embassy in Sana'a raised concerns. But this time, they were keen to get involved for a special operation – kidnapping and rendition. They wanted Yemen to have dissidents that enter Yemen to seek asylum or use Sana'a International Airport as a transit route, kidnapped and handed over to them, according to two credible former security operatives."
Top of Dr .Tedros's hit list was Andy Tsege, who was snatched at Sana'a' airport in June 2014:
"Tedros Adhanom actually played the most important role in the kidnapping of Andargachew. He was the one who convinced the Yemenis to be part of the illegal kidnapping and rendition. He paved the way and laid the groundwork for the whole operation," one of the sources said.
Tsege was a British subject, yet the UK showed a great reluctance to put pressure on Ethiopia to free him, with Boris Johnson as Foreign Secretary refusing to answer questions about him:
https://news.sky.com/story/boris-johnson-refuses-question-on-death-row-briton-andy-tsege-10622516
The British government said it was working behind the scenes to help Tsege, while feting Dr. Tedros in public when he visited London, saying it stood "shoulder-to-shoulder" with his regime:
https://www.buzzfeed.com/alanwhite/britain-stands-shoulder-to-shoulder-with-ethiopia-while-tryi
At one stage, formal British inquiries into Tsege's whereabouts were answered by a text message from Dr. Tedros saying: "The guy is transferred":
https://inews.co.uk/news/uk/exclusive-2-634982
Dr. Tedros added that Mr. Tsege must simply "behave well for some time and show he regretted what he had done" if he wanted to be pardoned.
This choice of words is interesting: Dr. Tedros actually told Donald Trump that "We will have many body bags in front of us if we don't behave," when Trump threatened to withdraw funding from WHO:
https://www.sciencemag.org/news/2020/04/we-will-have-many-body-bags-who-chief-responds-trumps-criticisms#
"Oh, BEHAVE." Dr. Tedros plays at being Austin Powers.
Andy Tsege was eventually released, and told a story of solitary confinement and torture in Ethiopia's infamous gulags.
The British connections with Dr. Tedros really stand out. For one thing, he was trained in the UK, with a master's degree from the London School of Hygiene and Tropical Medicine and a PhD in community health from the University of Nottingham.
He is, incidentally, the first director-general of WHO not to be a trained medical doctor.
"As Ethiopia's foreign minister from 2012 to 2016, Tedros had a close relationship with the British government. A freedom of information request by Declassified UK found that a senior security official, Olly Robbins, met with Dr Tedros in February 2016 in Addis Ababa to 'deepen UK cooperation with Ethiopia' on stopping migration from East Africa to Europe.
"Not only was the UK keen to support a repressive regime's border guards, it also spent more than £1 million training Ethiopian soldiers. This was despite the fact that a British-Ethiopian man, Andy Tsege, was being held on death row in Ethiopia for criticizing the ruling party.
"Tsege's family criticized Boris Johnson, then Britain's foreign secretary, for not doing enough to raise the matter with his opposite number, Tedros. Some suspected that the UK did not want to jeopardize trade and security ties with the East African country."
https://www.dailymaverick.co.za/article/2020-04-09-who-controls-who/
As this article recounts, Dr. Tedros's biggest rival for the top WHO job was David Nabarro from the UK. The British government spent £101,000 to support Nabarro's campaign:
https://www.who.int/dg/election/Nabarro_campaign_activities.pdf?ua=1
However, Nabarro has now been appointed as one of Dr Tedros's six "special envoys" on COVID-19. Dr. Tedros also appointed Jane Ellison, a British Conservative politician who had recently served as a public health minister in the UK government, as deputy director-general.
The Ethiopian candidate received a glowing endorsement from Andrew Mitchell, Britain's former international development secretary and Conservative MP, who claimed that Dr. Tedros had the ability to "improve the health of billions of people around the world".
According to his Wikipedia entry, Dr. Tedros is also a member of think tanks like the Aspen Institute and the Harvard School of Public Health — this man plays politics at the very top.
So while he has been criticized for supporting China, there's no doubt that Dr. Tedros is also playing the tunes the West wants to hear. Most of WHO's funding comes from Western countries, as well as from Bill and Melinda Gates.
Ethiopia has been a massive recipient of Chinese aid, and all the major development projects in that country have been underwritten by China. Ethiopia has shown a genuine talent for playing the West off against China:
https://www.politico.com/news/2020/02/07/ethiopia-china-west-power-competition-110766
"Diplomats and observers of Ethiopia's economy say that Beijing has grown frustrated after major investments such as the Djibouti railway line failed to generate sufficient revenues.
"China's partial retreat has thrown into relief Ethiopia's indebtedness to Beijing. Observers say upending that equation is perhaps the greatest motivation for Ethiopia's opening up to the West."
One way or another: Dr. Tedros Adhanom Ghebreyesus remains the dodgiest official ever appointed to the top post at WHO, right in the middle of the worst medical crisis ever inflicted on the world.
So I'll just give my personal perspective and dealings with Dr Tedros. The Rockefeller Foundation and friends held a debate for the candidates for director-general of WHO in March 2017:
https://graduateinstitute.ch/sites/default/files/2019-02/DGelection_invitation_20170306_final.pdf
The debate was moderated by one Dr. Ilona Kickbusch of the Global Health Centre in Geneva. She invited queries to be submitted to the candidates.
I submitted an extremely strong query, requesting that the candidates be asked about the health impacts of wireless technology; and pointing to the singular failure of the standing Director-General of WHO Dr. Margaret Chan, to address the issue.
I also tweeted all of the candidates, asking the same question.
I received no reply from Dr Kickbusch. I received no response to my queries to the candidates, all of whom fell over themselves to talk about "transparency" and "consultation" and "being open to the public".
In the debate, not one word was said about the dangers of electromagnetic pollution or the microwave irradiation of the global population.
I managed to tweet the lot of them, in a single message, congratulating all the candidates for passing the one essential requirement to be DG of WHO: total denial of the health risks of wireless technology. I even managed three exclamation points: "Congratulations!!! You all pass the test."
Dr. Margaret Chan's passing of the buck on the issue is best exemplified by her response to a complaint about the WHO International EMF Project made by Dariusz Leszczynski, former top researcher at the Finnish government radiation protection agency.
When he complained to Dr. Chan about the EMF Project's bias towards industry, she passed the letter straight on to the people he was complaining about. He calls this "Handling an inquiry – the WHO-style":
https://betweenrockandhardplace.wordpress.com/2015/02/15/handling-an-inquiry-the-who-style/
This is reminiscent of the "genocide fax" sent to Kofi Annan from Rwanda, when he was in charge of UN peace-keeping. When told by the UN's force on the ground in Rwanda that an informant was showing how the Hutu government was preparing massacres, Annan's office instructed them to hand this information over to the very people alleged to be preparing the slaughter.
https://www.huffpost.com/entry/rwanda-genocide-anniversary_b_4613571
Please remember that with the WHO International EMF Project [Electro Magnetic Fields] we are talking about a global genocide of two billion people, the estimate that Mr. Barrie Trower was given as to the expected toll from 5G and other wireless technology.
Now, Dr. Margaret Chan's appointment was also controversial right from the beginning. Her predecessor, Dr. Gro Harlem Brundtland, unexpectedly resigned after only one five-year term.
Dr. Brundtland, a medical doctor specializing in environmental medicine and a former prime minister of Norway, was a great embarrassment to WHO, because she professed to be electrosensitive and refused to allow mobile phones to be used near her.
She ascribed her sensitivity to an incident with an arcing microwave oven, caused by a ceramic plate with a metallic inlay, which she used to heat something up.
Dr. Devra Davis, a top US epidemiologist and a member of Al Gore's Nobel Prize-winning team, with very good political connections, recounted in her book "Disconnect" some inside information from the UN that Dr Michael Repacholi, the head of the EMF Project, went to Dr. Brundtland's superiors and suggested strongly that she was "crazy", because of her tinfoil hat theories. She apparently felt so threatened and undermined by this, that she resigned.
https://www.emfacts.com/2012/04/former-who-head-attached-by-michael-repacholi-for-creating-fear/
Dr. Chan did not, to my knowledge, utter one single peep about wireless technology during her entire 10-year tenure. This Chinese candidate was the dream ticket for the wireless industry.
So, one final personal story. I was engaged in a particularly bitter battle with a WHO representative a few years ago, an Ethiopian woman, who just kept passing the buck to Geneva. I sent this woman a compendium of various appeals (including my own) to Geneva, from top scientific researchers, medical doctors, government agencies and journalists, as well as citizen appeals and petitions, who all testified that they were unable to get even an acknowledgement of receipt from Geneva, let alone a proper reply.
I was about to take this battle public, when I happened to read a book from our local library called "Spy Games" by Adam Brookes. It was a real cracker, largely set in Ethiopia. The protagonist has a run-in with the Ethiopian intelligence services, where he's quite sure he's about to be killed on the spot. It turns out they're just playing with him.
https://crimethrillerfella.wordpress.com/2016/03/07/the-intel-adam-brookes/
But he learns a lesson: do NOT mess with the Ethiopian secret police. I don't have the book to hand, but it describes how the Ethiopians regard themselves as the absolute elite of Africa, as they were the one African nation that was not subjected to colonial rule (apart from Italy's brief adventures there).
For Ethiopians, there could be no other possible headquarters for the African Union than Addis Ababa. And I think some of this extreme arrogance is showing in the stance of Dr. Tedros.
I took the hint and backed off confronting this Ethiopian doctor. She's since departed the scene, it was a good call. I actually wrote to Adam Brookes, the author of this book, commending him for a jolly good read and thanking him for his warning about the Ethiopian secret police. He was quite surprised to know that his books were circulating in the libraries.
So I am not making these accusations against Dr. Tedros Adhanom Ghebreyesus lightly, because I know this will draw attention from one of the nastiest intelligence services in the world.
One reason I am making bold, is that we have seen a track record of African leaders implementing genocide. I'm talking specifically about Kofi Annan, and also Boutros Boutros Ghali, who was the Secretary General of the UN at the time of the Rwandan massacres.
These two were supposed to be giving an "African" profile to the world body. Now, the Rwandans had for years been trying to get arms from Egypt, with a war on Tutsis clearly on their agenda. Given the instability in Rwanda, the Egyptians had consistently refused.
https://www.ibtimes.co.uk/boutros-boutros-ghalis-most-difficult-hour-how-rwandas-genocide-haunted-former-un-1544241
The person who personally facilitated the initial $5.8 million arms deal was Boutros Boutros Ghali, as a minister in Egypt in 1990. These arms sales continued for three years.
When these weapons were used to murder a million Rwandans in 1994, Boutros said: Who would have thought that "a few thousand rifles" could have changed the situation.
Kofi Annan not only got away with allowing the genocide to happen on his watch as peace-keeping chief. He was then promoted to the top job at the UN itself.
And there's a lesson here. Dr. Tedros got his job because he proved he can cover up epidemics and GET AWAY WITH IT. This is the most crucial qualification for a top political job: you need to show that you can do the dirty work, and not have any dirt stick to you.
We can see exactly the same with Kofi Annan. And I hate to say it, but there's a pattern here, of African leaders being used to facilitate the UN's real filthy jobs, the genocides, the slaughters, the covering up of epidemics.
Right now, Ethiopian journalists are being arrested for filing inconvenient reports about COVID-19:
https://cpj.org/2020/04/ethiopian-journalist-yayesew-shimelis-detained-fol.php
I'm certain that Dr. Tedros would fully approve. Linking the coronavirus epidemic to 5G will probably find you in Ethiopia's gulags chop chop, having a chat with their secret police.
To conclude: Dr. Tedros's words to journalists were: "My short message is please quarantine politicizing COVID."
And yet, despite the fact that Taiwan gave the WHO its very first warning about a new coronavirus from China, which the organization ignored, and despite the fact that Taiwan has contained the epidemic brilliantly, Dr. Tedros is maintaining a very firm political QUARANTINE against Taiwan, doubtless to the satisfaction of the Chinese.
If you want to watch a true slimeball at work, watch UN spokesperson Bruce Aylward pretending not to hear a question about Taiwan, and then cutting the line when it's repeated:
https://twitter.com/studioincendo/status/1243909358133473285
If Taiwan's warning had been heeded, many lives could have been saved; but for Dr, Tedros, political correctness and toeing the Chinese line are far more important than saving human lives.
Dr. Tedros began by speaking out strongly against travel bans:
https://edition.cnn.com/asia/live-news/coronavirus-outbreak-02-04-20/h_267d4c445f4bf4730abca05eccc62c67
Now we sit with the biggest global lockdown in history.
Talk about consistency.
All I can say is: if Donald Trump cuts all American aid to the WHO, these filthy genocide merchants, I will support him 100 percent. And I hope a few more people will be awake to "The Ethiopian terrorist in charge of the World Health Organization":
https://www.politicalite.com/coronavirus/who-boss-exposed-the-ethiopian-terrorist-in-charge-of-the-world-health-organization/
===
UPDATES:
The Legitimacy of the WHO as a Gold Standard of Health is Dubious
Time to dismantle the World Health Organization
Analysis and Review
By Dr. Gary Null and Richard Gale - 20 April 2021
The ultimate international authority for infectious diseases is the World Health Organization (WHO). Due to its widespread acceptance by the world's national governments, it has been extremely successful in assuming the helm to monitor regional and global infectious diseases and dictate medical intervention policies to international health agencies. The organization has become the final word to rule whether the spread of a serious pathogen is a pandemic or not. For the majority of the medical community, the media and the average person, the WHO is the front line command post for medical prevention (i.e., vaccination) and treatment. Consequently its rulings are often regarded as the gold standard. On matters of global health, the WHO holds dominance.
For approximately a year the WHO has propagated the belief that the first line of defense for curtailing the COVID-19 pandemic is self-isolation, distancing, masks and, ultimately, vaccination. Although it approved Ivermectin as a cost-effective treatment against SARS-CoV-2 infections, it disapproved hydroxychloroquine in favor of Gilead Bioscience's and the National Institute of Allergy and Infectious Disease's (NIAID) Anthony Fauci's novel and costly drug Remdesivir. Much of it's funding efforts have been reserved for mass-vaccination with the new generation of experimental vaccines. Throughout these efforts, the WHO has allied itself with the US's and UK's national health systems, and the Bill and Melinda Gates Foundation and his Global Alliance for Vaccines and Immunization (GAVI) initiative.
Most people wrongly assume the WHO acts independently from private commercial and national government interests for the welfare of the world's population. The legitimacy of the WHO as a gold standard of health is dubious. The organization has frequently been accused of conflicts of interests with private pharmaceutical companies and mega-philanthropic organizations such as the Gates' Foundation, as well as being riddled with political alliances, ideologies, and profiteering motives. Despite it's mega-pharmaceutical interests and consultants representing private vaccine interests, in the past the WHO has had the audacity to ridicule the pharmaceutical industry of corruption.
"Corruption in the pharmaceutical sector occurs throughout all stages of the medicine chain, from research and development to dispensing and promotion…. A lack of transparency and accountability within the medicines chain can also contribute to unethical practices and corruption."
These are similar charges that have been leveled against the WHO. An article in the National Review called the WHO "scandal plagued" with "wasteful spending, utter disregard for transparency, pervasive incompetence, and failure to adhere to even basic democratic standards." In his book, Immunization: How Vaccines Became Controversial, University of Amsterdam professor emeritus Dr. Stuart Blume raises the serious problem of the WHO's most influential advisors on emergency health conditions, such as the current Covid-19 pandemic and earlier the 2009 H1N1 swine flu scare that never was, serve as consultants for the vaccine industry. During times of global emergencies and crises, the WHO confers with a separate group of advisors outside its formal sitting Strategic Advisory Group of Experts or SAGE; the names of this group's members are not made public.
We would add that the WHO's level of incompetence has resulted in serious misinformation about pandemics, medical risks of vaccines and other health-threatening chemicals. For example, during the early stage of the COVID-19 outbreak in Wuhan, the organization reported it could not find any evidence of human transmission. However, the WHO has repeatedly kowtowed to China's demands and unscrupulously accepts whatever statistics and statements the Chinese Communist Party (CCP) provides. Responding to a petition signed by over 700,000 signatories demanding the resignation of the current WHO Director General Tedros Adhanom, Japan's Deputy Prime Minister Taro Aso told the Japanese parliament that the organization "should be renamed the Chinese Health Organization" for favoring China's policy to stall and obstruct international investigations and for lauding unsubstantiated praise on the country's transparency and handling of the pandemic. Back on December 31, 2019, Taiwan – which has been barred from WHO membership due to China's political maneuvering – had been warning of a possible human-to-human transmission contrary to the wet-market narrative, but this was largely ignored in order to avoid upsetting the CCP.
The UK's Sunday Times reported that Chinese scientists were forced to destroy their proof of the virus shortly after its discovery. In the province of Hubei, authorities ordered the cessation of further testing and the destruction of existing samples. Other researchers who made efforts to warn the public were punished. Writing for The Hill, University of Texas at San Antonio professor Bradley Thayer wrote, "Tedros apparently turned a blind eye to what happened in Wuhan and the rest of China and… has helped play down the severity, prevalence and scope of the Covid-19 outbreak." Thayer concludes, "Tedros is not fit to lead the WHO." He has no formal medical training as a physician or any international management experience in global health. Many others have voiced similar criticisms pointing out Tedro's unsuitable background. Moreover, the Director General's conflicts of interest with China abound. Immediately before and after his tenure as the Health Minister for Ethiopia's ruling Communist party, the Tigray People's Liberation Front, China had donated an estimated $60 million to the terrorist government and its social programs. Now heading the WHO, Tedros appears to continue lobbying on China's behalf. In 2017, the Washington Post noted the fundamental problem:
"[China] worked tirelessly behind the scenes to help Tedros defeat the United Kingdom candidate for the WHO job, David Nabarro. Tedros's victory was also a victory for Beijing, whose leader Xi Jinping has made public his goal of flexing China's muscle in the world."
Upon assuming his new position at the WHO, Tedros had left Ethiopia's healthcare system in ruin. As one young healthcare worker reported, there was no "bare necessities of a health care office…. Sterile gloves, paper exam gowns and covers, cotton swabs, gauze, tongue depressors, alcohol prep pads, chemical test strips, suturing equipment, syringes, stethoscopes… were non-existent. This is a fact in most health care centers in Ethiopia."
During the more recent re-investigation of SARS-CoV-2 origins, the Chinese authorities refused to provide raw case data and created repressive conditions to curtail reliable analysis and disclosure. The WHO's final report concluded that the virus had an animal origin and did not escape Wuhan's high security pathogen laboratory. But there are viable reasons to discredit the report as untrustworthy at best and perhaps intentionally deceptive.
First, the entire agenda of the investigation was staged theater rather than a deep investigation to uncover empirical evidence. The team simply inspected seafood and open-air markets. Consequently, the WHO team returned empty handed and without laboratory records for a proper forensic examination. To call the entire WHO effort gross incompetence would be an understatement. Based upon all the evidence that has emerged, a large number of professional medical voices are calling the entire investigation a farce.
Most problematic is the appointment of Peter Daszak on the WHO's group to carry out the investigation. Daszak, the founding president of the shadowy non-profit organization EcoHealth Alliance, has headed many hunting adventures worldwide to identify the emergence of potential pathogens that could become pandemics. With the intention to divert attention away from an escaped laboratory virus, Daszak stated on a Going Viral podcast there was no evidential reason to visit and inspect the Wuhan laboratory. According to Independent Science News, despite Daszak's denial of a lab origin, "EcoHealth Alliance funded bat coronavirus research, including virus collection, at the Wuhan Institute of Virology and thus could themselves be directly implicated in the outbreak." The research at the Wuhan lab included 'gain of function" efforts on coronaviruses, and received funds directly approved by Anthony Fauci. Newsweek reports the NIH had given a total of $7.4 million to the Chinese lab for the research. The organization has received over $100 million from a variety of sources, including the Department of Defense, Homeland Security, the NIH and undisclosed amounts from the Chinese government. Daszak himself has authored 25 studies funded by the Chinese Academy of Medical Sciences, think tanks, universities, military institutions, and ministries directly connected with the Chinese Communist Party.
Given the halls of power within the WHO, we are outlining some of the more salient reasons why the organization's declarations about infectious diseases, pandemics and vaccination should not be trusted.
Vaccine Promotional Misconduct
For many years the WHO's recommendations for certain vaccines were kept secret. Writing in a 2006 issue of the Journal of American Physicians and Surgeons, Dr. Marc Girard uncovered "scientific incompetence, misconduct or even criminal malfeasance" over the intentional inflation of vaccines' benefits while undermining toxicity and adverse effects. Dr. Girard testified as a medical expert for a French court in a criminal trial against the WHO after French health officials obliged the organization to launch its universal Hepatitis B vaccine campaign. The campaign resulted in the deaths of French children. Girard gained access to confidential WHO documents. He noted that the WHO's "French figures about chronic liver diseases were simply extrapolated from the U.S. reports." He further accused the WHO serving "merely as a screen for commercial promotion, in particular via the Viral Hepatitis Prevention Board (VHPB), which was created, sponsored, and infiltrated by the manufacturers."
Now during the Covid-19 pandemic, as early as last July, the WHO approved of China's first vaccine for emergency use, long before it had undergone proper clinical trials and much earlier than Moderna's and Pfizer's mRNA vaccines' approval.
Orchestration of Pandemic Panics
Before the current COVID-19 pandemic, there was the H1N1 swine flu scare in 2009. However, at the very start the WHO's fear mongering of a global contagion that could exceed the death counts of the 1918 Spanish flu pandemic was solely based on false rhetoric rather than empirical evidence. The fabrications are believed to have originated from the WHO's senior consultant on viral outbreaks who happens to carry the reputation of being one of the world's leading pandemic alarmists: Dr. Albert Osterhaus, nicknamed "Dr. Flu." At the time, Osterhaus was head of the Department of Virology at Erasmus University in the Netherlands. When the swine flu scare appeared, he was also the president of the European Scientific Working Group on Influenza (ESWI), an organization funded by the major vaccine manufacturers including Baxter, MedImmune, Glaxo, Sanofi Pasteur and others. It was also Osterhaus who transformed an otherwise potentially bad flu season into a global pandemic. The WHO has been criticized harshly in the media for changing the definition of a "pandemic" and in doing so has been charged with benefitting the pharmaceutical industry. The British Medical Journal reported that the WHO failed to report conflicts of interest in its H1N1 advisory group. The journal's Editor-in-Chief Fiona Godlee wrote, "WHO must act now to restore its credibility, and Europe should legislate." The former head of the prestigious Cochrane Database Collaboration's vaccine studies, Dr. Tom Jefferson, told a Der Spiegel interviewer, "the WHO and public health officials, virologists and the pharmaceutical companies… built this machine around the impending [H1N1] pandemic. And there's a lot of money involved, and influence and careers, and entire institutions."
When the 2009 H1N1 influenza strain appeared, the WHO rushed forward to mangle its earlier criteria that would realistically define a pandemic. The organization intentionally removed reference to a pathogen's "severity" as a necessary requirement. "Don't you think there's something noteworthy," Dr. Jefferson continues, "about the fact that the WHO has changed its definition of a pandemic?…. that's how swine flu has been categorized as a pandemic." Moreover, the WHO's decision to label the outbreak as a pandemic was not based upon its own permanent vaccine experts but on the recommendations of a non-disclosed group of outside consultants.
According to a financial forecast published by JP Morgan, the collaboration between the WHO and Osterhaus's ESWI to orchestrate the pandemic would have profited the pharmaceutical industry up to $10 billion. Der Spiegel reported:
"The WHO and those in charge of public health, the virologists and the pharmaceutical laboratories…. created a whole system around the imminence of a pandemic. There is a lot of money at stake, as well as networks of influence, careers and whole institutions! And the minute one of the flu viruses mutates we'd see the whole machine roll into action."
In 2010, the EU's Parliamentary Assembly of the Council of Europe launched an investigation into the evidence that the WHO had created "a fake pandemic" in order to financially benefit the pharmaceutical giants' vaccine market and to strengthen the influence private drug interests have over the health organization. The Assembly's chairperson Dr. Wolfgang Wodarg charged the WHO's fake pandemic as "one of the greatest medical scandals of the century that resulted in "millions being needlessly vaccinated."
Epidemic of Conflict of Interests
According to former World Bank geopolitical analyst Peter Koenig, about half of the WHO's budget is derived from private sources — primarily pharmaceutical companies but also other corporate sectors including the telecommunication and agro-chemical industries. It also receives large donations from large philanthropic organizations such as the Bill and Melinda Gates Foundation and GAVI. Eleven years ago, Gates had committed $10 billion to the WHO; after the US, his Foundation is its second largest donor providing 10 percent of its funding.
His financial commitment aligned with his global ambition to "make this the decade of vaccines." Koenig also believes that Tedros's appointment was due to Gates' influence. This may carry some truth because Tedros is a former Chair of GAVI's Vaccine Alliance. Barbara Loe Fisher at the National Vaccine Information Center estimates that "only about 10 percent of total funding provided by GAVI ($862M) was used to strengthen health systems in developing countries, such as improving sanitation and nutrition, while nearly 80 percent was used to purchase, deliver and promote vaccines."
There is also the deep personal and financial relationship between Gates and the Chinese Communist government that demands further investigation. Gates is a member of the Chinese Academy of Science. For the moment, the WHO has been advising against Covid-19 vaccine passports as a mandate to travel. Nevertheless, China has already launched encrypted digital certificates as proof of vaccination. Given Gates' close relationship with Chinese officials, perhaps he is awaiting on China to establish a precedent for other nations to agree on a global mandate that will eventually be propagated by the Gate's network and the World Economic Forum and its Great Reset. During a 2020 TED talk, Gates had already revealed that digital vaccine passports may be necessary; that part of his speech was edited from the original video, however, Robert Kennedy Jr. tracked down the original footage. Gates has also 1) commissioned MIT to develop injectable a quantum dot dye system for children, 2) funded MicroChips, a company developing implantable chip-based devices, and 3) purchased 3.7 million shares in Serco who is developing tracing technology to track pandemic infections and vaccine compliance.
Finally, Gates shares the Chinese Communist Party's interests in collecting and 'mining" citizens' DNA. A 60 Minutes expose presented the covert activities of BGI Genomics, a CCP-linked firm that has exported Covid-19 tests to "collect, store and exploit biometric information" on American citizens. Independent investigations reveal that the Gates Foundation has collaborated with BGI and it was through Gates' influence over Obama that the Chinese company entered the US market.
BGI's RT-PCR kit was promoted by the WHO back in May 2020 for first line emergency diagnostic use. The rationale was that the test was highly sensitive, specific and user-friendly. Subsequently the EU, FDA, and the Australian, Canadian and Japanese health ministries rapidly purchased and deployed it. On its website, the Gates Foundation acknowledges its role in having the PCR tests supplied to the WHO.
"Nine Chinese PCR tests were approved by WHO during 2020 under its Emergency Use Listing (EUL) mechanism, with one of the foundation's partners supplying tests to WHO"
Three months later, Sweden filed complaints after reports of a high percentage of false positives from the Chinese tests.
There is in our opinion little doubt that the WHO is another one of Gates' bought off entities for furthering his personal agenda to promote vaccines, genetically modified seeds and chemical agriculture in the developing world.
Vaccine Adverse Effects Monitoring System Needs Overhaul
The WHO's Global Advisory Committee on Vaccine Safety is the group responsible for administering vaccine programs in poorer, developing countries. It is also responsible for gathering data on incidents of vaccine injuries. Any deaths following vaccination campaigns are ignored and ruled as coincidental. This policy is based on the erroneous assumption that if no one died during a vaccine's clinical trials, then the vaccine should be regarded as automatically safe and unrelated to any deaths that might occur later. Consequently, the WHO's monitoring system is seriously flawed and requires a major overhaul.
One of the more controversial incidences was the WHO's collaboration with the Bill Gates' GAVI campaign to launch the Pentavalent vaccine (diphtheria, pertussis, tetanus, HIP and Hepatitis B) in Africa and later in South and Southeast Asia. In India, health officials recorded upwards to 8,190 additional infant deaths annually following Pentavalent campaign. The WHO's response was to reclassify its adverse event reporting system to disregard "infant" deaths altogether. Dr. Jacob Puliyel, a member of the Indian government's National Technical Advisory Group on Immunization concluded,
"deaths and other serious adverse events following vaccination in the third world, that use WHO-AEFI classification are not recorded in any database for pharmaco-vigilance. It is as if the deaths of children in low (and middle) income countries are of no consequence."
WHO's Double Standards of Vaccine Safety
A more recent scandal erupted during the WHO's Global Vaccine Safety Summit convened in December 2019. Days before the summit, one of the WHO's medical directors for vaccination, Dr. Soumya Swaminathan, appeared in a public advertisement touting the unquestionable safety of vaccines and ridiculing parents who speak out against vaccination. She assured viewers that the WHO was in control of matters and monitored any potential adverse risks carefully. However, during the Summit, the same Dr. Swaminathan acknowledged vaccine health risks and stated, "We really don't have very good safety monitoring systems." Another Summit participant, Dr. Heidi Larson stated,
"We have a very wobbly 'health professional frontline' that is starting to question vaccines and the safety of vaccines. When the frontline professionals are starting to question or they don't feel like they have enough confidence about the safety to stand up to the person asking the questions. I mean most medical school curriculums, even nursing curriculums, I mean in medical school you are lucky if you have half a day on vaccines."
And more noteworthy were the statements by Dr. Martin Howell Friede, Coordinator of the WHO's Initiative for Vaccine Research,
"… I give courses every year on how do you develop vaccines, how do you make vaccines. And the first lesson is while you're making your vaccine if you can avoid using an adjuvant please do so. Lesson two is if you're going to use an adjuvant use one that has a history of safety. And lesson three is if you're not going to do that, think very carefully."
In other words, what the WHO presents to the public contradicts what is discussed behind closed doors, another example of the veil of secrecy the organization operates within.
Now we are witnessing more countries halting further administration of AstraZeneca's Covid vaccine, a vaccine Trump had committed $1.2 billion towards its development. Subsequently the CDC paused Johnson & Johnson's similar engineered adenovirus vaccine in order to investigate its association with an otherwise rare condition of fatal blood clotting. The WHO on the other hand has ignored these nations' ethical responsibility to adhere to the precautionary principle. Its own review claimed there were no blood clot links to AstraZeneca's vaccine; later the WHO changed its tune to "plausible" after EU regulators found a causal link and the New England Journal of Medicine published two studies providing specific details confirming these adverse reactions. Although acknowledging these risks, the WHO has continued to recommend that mass vaccination proceed as if there were no red alarms.
WHO's Depopulation Efforts with Vaccines
Without doubt, the most nefarious activity conducted by the WHO is its alleged support and distribution of vaccines to poorer developing countries that may have been intentionally designed to decrease population rates. Back in 1989, the WHO sponsored a symposium at its Geneva headquarters on "Antifertility Vaccines and Contraceptive Vaccines." The symposium presented proposals for vaccines that were later discovered to have been laced with the sterilizing hormones HCG and estradiol; the former prevents pregnancy and triggers spontaneous abortions and miscarriages, and the latter can turn men infertile.
In 2015, the Kenyan Conference of Catholic Bishops reported its discovery of a polio vaccine laced with estradiol that was manufactured in India and distributed by the WHO. A year earlier, Dr. Wahome Ngare from the Kenyan Catholic Doctors Association uncovered a tetanus vaccine specifically being administered to women, also distributed by the WHO, that contained the HCG hormone. All of the polio vaccine samples testedcontained HCG, estrogen-related compounds, follicle stimulating and luteinizing hormones, which will damage sperm formation in the testes. Even more disturbing, this vaccine was going to be administered to children under five years of age.
However, this is not the first time the WHO appears to have made efforts to use vaccination campaigns for depopulation. A decade earlier, in 2004, the WHO, UNICIF and CDC launched a vaccination campaign to immunize 74 million African children during a polio outbreak. The initiative encountered a serious obstacle. In Nigeria, laboratory tests on the WHO's vaccine samples resulted in the presence of estrogen and other female hormones. And in the mid-1990s, a tetanus vaccine being administered to Nicaraguan and Filipino girls and women in their child-bearing years was discovered to contain HCG, which accounted for a large number of spontaneous abortions that were reported by Catholic health workers.
Illegal Vaccine Experiments
In 2014, The Economic Times of India published a report that provided details of a joint venture between the WHO and the Gates Foundation to test an experimental HPV vaccine on approximately 16,000 tribal girls between the ages of 9 and 15 unwittingly. The experiment was conducted in 2008, and the vaccine is now what we commonly know as Gardasil. Many of the girls, the report states, became ill and some died.
The following year the WHO and Gates Foundation conducted a similar experiment on 14,000 girls with the HPV vaccine Cervarix. Again "scores of teenage girls were hospitalized." Investigations led by Indian health officials uncovered gross violations in India's laws regarding medical safety. In numerous cases there was no consent and the children had no idea what they were being vaccinated for. The Indian Supreme Court has taken up a case against the duo for criminal charges.
There are many other questionable activities that the WHO has been involved with over the years. However, the above provide sufficient evidence to argue the case that, at least within the upper echelons of the WHO, global health does not stand in high priority. The organization employs over 7,000 people around the world and most of these have deep concern for improving the lives of populations in poor and developing nations. On the other hand, the WHO's leaders are there largely because the powers of Washington, London and the pharmaceutical industry benefit by the organization advancing its agendas.
Of course, the WHO is not the only health entity with a legacy of corruption. Corruption appears to be systemic throughout global health and national health agencies. This topic was featured last year in the prestigious medical journal The Lancet. Author Dr. Patricia Garcia writes,
"Corruption is embedded in health systems. Throughout my life—as a researcher, public health worker, and a Minister of Health—I have been able to see entrenched dishonesty and fraud. But despite being one of the most important barriers to implementing universal health coverage around the world, corruption is rarely openly discussed."
Bear in mind, the WHO, along with Bill Gates and his Foundation, and Anthony Fauci at the National Institutes for Allergy and Infectious Disease, are leading the efforts to get the COVID-19 vaccine administered as quickly as possible. Already the Gates Foundation has given $1.75 billion for developing and distributing these vaccines. Do you believe we can trust their judgment and the intense public relations effort that will immediately follow after such a vaccine reaches the market?
Authors:
Richard Gale is the Executive Producer of the Progressive Radio Network and a former Senior Research Analyst in the biotechnology and genomic industries.
Dr. Gary Null is the host of the nation's longest running public radio program on alternative and nutritional health and a multi-award-winning documentary film director, including The War on Health, Poverty Inc and Plant Codes.
===
WHO special adviser placed under investigation by Italian prosecutors for lying about spiked WHO report
04/15/2021 / By Nolan Barton - 15. April 2021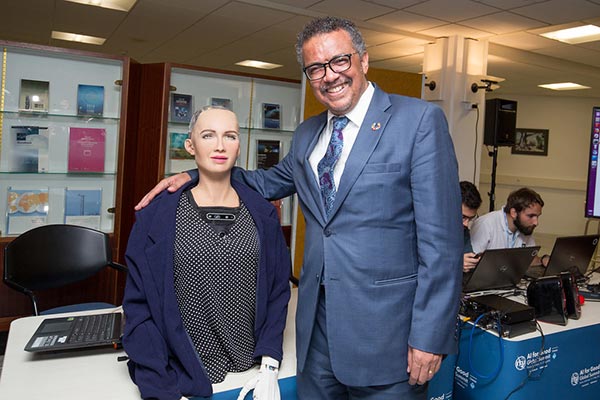 Proscutors in Bergamo, Italy have placed World Health Organization (WHO) Special Adviser Dr. Ranieri Guerra under investigation for lying to them about a spiked WHO report concerning the Italian government's Wuhan coronavirus (COVID-19) response.
Guerra served as the WHO's liaison with the Italian government after Italy became the epicenter of the COVID-19 outbreak in Europe last year.
Italian prosecutors on Friday, April 9, revealed private communications that are likely to embarrass Guerra and the WHO. They outlined their allegations in an interim investigative document sent to Italy's Ministry of Foreign Affairs and Ministry of Justice.
The document listed Guerra as one of six people under investigation in their probe. Guerra was the WHO assistant director-general when he voluntarily agreed to be questioned by prosecutors in November 2020. He has not been charged with any crime.
Guerra told news agency Agenzia Giornalistica Italia that he was shocked and "deeply embittered" that prosecutors had placed him under investigation and that he expected the WHO to respond to them. He also made himself available for further clarifications.
"I have been and am in absolute good faith and I am amazed that the prosecutors have a different impression," said Guerra, adding that he told prosecutors everything he knew at the time but did not have access to all information.
Guerra maneuvered to remove WHO report exposing Italy's outdated pandemic preparedness plan
Prior to the current investigation, prosecutors were investigating whether Italy's lack of preparedness going into the pandemic played a role in the huge COVID-19 death toll in Bergamo. Their probe expanded to include a WHO report into Italy's coronavirus response, which revealed that the Italian government hadn't updated its pandemic preparedness plan since 2006.
The WHO pulled the report from its website on May 14 last year, a day after it went up, and never republished it. Guerra had been in charge of prevention at the Italian Ministry of Health from 2014 to 2017 when the pandemic preparedness plan should have been updated to comply with the directives of the European Union.
When pressed whether Guerra or the Italian government had intervened to pull the report, the WHO said that it was removed by its regional office in Copenhagen due to "factual inaccuracies."
However, documentation compiled by Bergamo prosecutors indicated that Guerra maneuvered to have the report taken down and that the Italian government was upset with it. The documentation included private WhatsApp chats between Guerra and a top Italian public health official, Dr. Silvio Brusaferro.
In one chat, dated May 14, 2020, Guerra told Brusaferro that the decision to pull the report was known to the leadership of the WHO: "In the end I went to Tedros and got the document removed," Guerra wrote, making a reference to WHO Director-General Tedros Adhanom Ghebreyesus. (Related: China sympathizer and WHO director Tedros Ghebreyesus was ranking member of violent Communist movement in Ethiopia.)
In another chat four days later, Guerra told Brusaferro that he was meeting with the Italian health minister's cabinet chief about revising the report and that the minister's office "said to see if we can make it fall into thin air."
The prosecutors noted that Guerra's comments to them were contradicted by facts. They concluded that "Guerra personally worked on the removal of the report from the WHO site."
Meanwhile, the WHO press office told the Associated Press via email that Ghebreyesus was not involved in removing the report and insisted that the decision was done by the Copenhagen office.
"The director-general was not involved himself in the development, publishing or withdrawal of the report," the email said, reiterating that it was removed because it "contained inaccuracies and inconsistencies" and had been published prematurely.
Guerra tried, and failed, to alter data in the controversial report
An email had previously shown that Guerra tried to have Dr. Francesco Zambon, one of the report's main authors, alter data in the report before it was published to say that Italy had "updated" its pandemic plan in 2016.
In an interview with the Associated Press, Zambon cited a May 11, 2020 email from Guerra telling him to "correct" the date to show that the plan had been "last updated in 2016." He said Guerra followed up with a phone call that he described as threatening.
Zambon refused and filed an internal ethics complaint with the WHO in May last year, alleging that Guerra had tried to pressure him to change the data. "We couldn't really say that the plan was updated because it was not true," said Zambon, who related that he suffered from retaliation for speaking out. He recently resigned.
According to Zambon, the only inaccuracy in the spiked document was an out-of-date timeline of the virus in China that he removed immediately. The scandal over the report's withdrawal has made headlines in Italy amid suggestions that the WHO yanked the report to save the Italian government from criticism, embarrassment and liability.
In an interview with La7, Guerra said the earlier plan was considered "current" up until the release of new WHO guidelines in 2018. However, critics say the 2006 plan contains holes in its implementation phases that can help explain Italy's critical shortage of protective equipment and chaotic initial response to COVID-19. (Related: Italy locks down 50,000 people across 10 towns as coronavirus outbreak leapfrogs across Europe.)
Guerra apparently disregarded WHO legal advice in November that told WHO officials they were under no obligation to respond to Italian prosecutors' requests for questioning, given their diplomatic immunity as U.N. officials. He ended up under investigation because of what the prosecutors called "false declarations."
Follow Lies.news for more news about lies and deception propagated by WHO officials.
Sources include:
===
N.B.: That the top-shots of this highly criminal organization W.H.O. - TEDROS ADHANOM GHEBREYESUS and MICHAEL RYAN - placed their bets in the vaccine approval roulette is obvious and certainly has to be scrutinized in the criminal investigations that will have to follow the whole corona virus scandal.
WHO approves emergency use of BioNTech-Pfizer COVID vaccine
By DW - 31. December 2011
The World Health Organization has granted its first emergency use validation to BioNTech-Pfizer's COVID-19 vaccine. That should allow countries to speed up regulatory approval.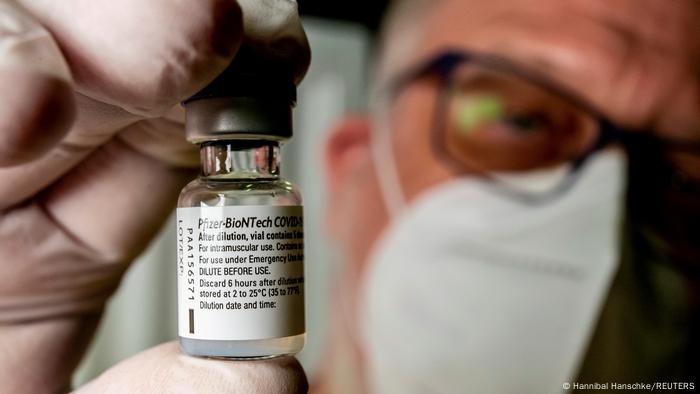 The German-developed vaccine is the first to be approved by the WHO for emergency use
The World Health Organization has granted emergency validation to BioNTech-Pfizer's COVID-19 vaccine, the WHO announced in a statement on Thursday.
The decision should allow countries to quickly approve the import and distribution of the vaccine.
The BioNTech-Pfizer vaccine is the first to receive such approval from the global body.
"This is a very positive step towards ensuring global access to COVID-19 vaccines. But I want to emphasize the need for an even greater global effort to achieve enough vaccine supply to meet the needs of priority populations everywhere," the WHO's assistant director-general for access to medicines and health products, Dr. Mariangela Simao, said in a statement.
"WHO and our partners are working night and day to evaluate other vaccines that have reached safety and efficacy standards. We encourage even more developers to come forward for review and assessment. It's vitally important that we secure the critical supply needed to serve all countries around the world and stem the pandemic."
Bringing vaccines to poorer nations
The EU has already cleared the BioNTech-Pfizer product, allowing its member states to start mass vaccination campaigns. The US, the UK, Israel, Saudi Arabia and several other nations have also given it the green light.
However, many countries with weaker healthcare systems rely on the WHO for vetting the vaccine.
On Thursday, the UN agency said the vaccine "met the must-have criteria for safety and efficacy set by WHO" and that its benefits "offset potential risks."
The organization also said it was "working to support countries in assessing their delivery plans and preparing for use where possible."
The WHO is involved with a global effort to secure and distribute shots to poorer countries. The initiative, dubbed COVAX, aims to deliver the first of nearly 2 billion doses in early 2021.
aw/dj (dpa, Reuters, AP)
===
Conflict of interest? WHO 'conspired' with Italian govt to remove 'live saving' report into Covid-19 first response, media claim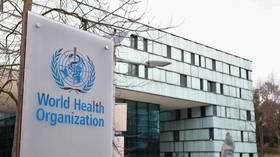 By RT - 11. December 2020
A World Health Organization report on Italy's first response to a Covid-19 outbreak, that could have saved lives across the globe, has been taken down by the UN health watchdog, supposedly to appease Rome, media report.
A key WHO report in the spring detailing anti-Covid measures in the then worst-hit European nation – Italy – has been supposedly taken down to shield the Italian health ministry from criticism since the paper cast some of its actions in a negative light, a fresh report by The Guardian suggests.
Called "An Unprecedented Challenge: Italy's First Response to Covid-19," the report publishedin mid-May notes that Italy's pandemic response strategy had not been substantially updated since 2006. Instead, the strategy papers were simply "reconfirmed" up to at least 2017, even though the WHO and the European Centre for Disease Prevention and Control (ECDC) had issued new guidelines that year.
Italy did issue another "framework" document called National Prevention Plan, the WHO paper notes. Still, planning "remained more theoretical than practical" and the lack of the much-needed readiness translated into Italy's actual Covid-19 response being "improvised, chaotic and creative."
'Great service' to Italy?
The lengthy report that documented Italy's Covid-19 response measures in great detail was, nonetheless, pulled down by the WHO itself less than a day after publication. It is still available on some other resources, like a website of one of Italy's regional medical associations but it apparently did not get widespread circulation following the WHO's sudden change of heart.
According to The Guardian, that might have had something to do with Dr Ranieri Guerra, the WHO's Assistant Director-General for Strategic Initiatives.
Before taking up a high-ranking post with the UN health watchdog, Guerra served as the Director General for Preventive Health of the Italian Ministry of Health and the nation's Chief Medical Officer. In this capacity, he was particularly responsible for updating the ill-fated pandemic response plans. The man is still part of the Italian government Covid-19 task force.
Some emails seen by The Guardian and Italy's Rai TV broadcaster suggest Guerra might have had a stake in making the report disappear. As allegedly did Hans Kluge, the WHO's Europe director, who even wrote an introduction to the paper.
In one of the emails dated May 13 (the day the report was published), Guerra told the report's lead author, Francesco Zambon, that criticizing the Italian health ministry would hardly be "a great service to the country." Another email to Zambon by Kluge says the Italian heath minister was "very disappointed" with the paper while hinting at a certain "relationship" between the minister and the WHO Europe director.
The UN health watchdog had previously told various media that the report was pulled down due to "factual errors" as well as "inaccuracies and inconsistencies". It also said in a statement that it eventually opted for another mechanism to help nations across the globe to assess their Covid-9 responses and follow "best practices," while deciding not to "re-publish" the report.
Zambon, however, challenged this narrative. "Never in nine months was I told that the report … has inaccuracies and inconsistencies," he told Financial Times in early December, adding that the paper went through "several tiers of approvals" at the WHO.
He also said the content of the paper was sound – particularly when it comes to Italy's planning. "The team thoroughly checked this and found that all the plans that came after 2006 were just copied and pasted – not a word or comma was changed in the text," he told The Guardian on Friday.
Above national level?
The role the outdated governmental protocols played in Italy's spring epidemic disaster is now being investigated by Bergamo prosecutors as part of a probe into the Covid-19 crisis. If the probe concludes this failure contributed to the disaster, many Italian former and current top health officials and even prime ministers could potentially face trials.
The WHO somehow appeared to be conspicuously uncooperative when it came to the Bergamo prosecutors' probe. Guerra, who appears to be the only one with the knowledge about the ill-fated report, was questioned by the prosecutors in a closed session.
When it came to the team behind the report, however, the WHO stated such questionings would run precisely counter to its impartiality and independence principles.
Zambon in particular was summoned three times but was prevented from participating by the WHO, which maintains he should "enjoy" immunity. "When I received the first summons, I reported it to the WHO's legal office and soon after they responded saying I couldn't go as I was protected by immunity, despite the fact that I wanted to go as I had something to say," the WHO coordinator for the European Office for Investment for Health and Development told The Guardian.
The WHO said in its statement to The Guardian that its staff are "international civil servants"who should perform their duties "impartially and without fear of retribution."
"To preserve its objectivity and independence, WHO does not normally become involved in legal matters at the national level," the statement said. Previously, the UN health watchdog also told the Italian foreign ministry that "Zambon and other aforementioned WHO experts have been requested not to present themselves at these hearings."
Zambon, however, believes, it is all a result of the lack of impartiality that might even stand in the way of the WHO fulfilling its duties. The report's publication "had life-saving potential," he said. Yet, "a personal conflict of interest was considered more important than sharing lessons learned from the hardest-hit country at that moment," he added.
THE REMOVED REPORT can be seen and downloaded HERE as .pdf
READ ALSO: WHO accused of conspiring with Italy to remove damning Covid report
===
ICC complaint to be filed against Tedros Adhanom
WHO diplomatic immunity no shield for international crimes as Ethiopian foreign minister.
A criminal complaint will be filed with the International Criminal Court prosecutor against WHO Director-General Tedros Adhanom on Tuesday, Dec. 1, 2020, at 5 p.m. GMT+1.
The complaint charges Dr. Tedros with individual and Superior/Command responsibility under the Rome Statute for genocide and crimes against humanity committed when Dr. Tedros was Ethiopian foreign minister and a member of the Tigrayan People's Liberation Front (TPLF) Executive Committee 2012 to 2016.
Ethiopia expert, author and prominent Tedros critic David Steinman will file the complaint.
Mr. Steinman will read a statement and take questions at a virtual press conference hosted by the Hague Nieuwspoort on Tues., Dec. 1, 2020 at 5 p.m. GMT +1.
COMMUNICATION IN SUPPORT OF A REQUEST FOR INVESTIGATION BY THE INTERNATIONAL CRIMINAL COURT OF DR. TEDROS ADHANOM GHEBREYESUS
Filed: Dec. 1, 2020, 5 PM GMT+1
Preliminary Statement
This Communication is a criminal complaint that Dr. Tedros Adhanom Ghebreyesus ("Tedros"), presently employed as the Director-General of the World Health Organization ("WHO"), is liable for Crimes against Humanity and/or Genocide (collectively, "Crimes") pursuant to the Rome Statute. The Crimes were committed by Tedros himself, jointly with others, and/or by effectively controlled Ethiopian security forces, civil servants or regional paramilitaries and local police ("Subordinates") for whom he shares liability when he was a senior Ethiopian official before his employment by the WHO.
Background
From May 1991 to April 2018, the Tigrayan People's Liberation Front ("TPLF"), an ethnic based political organization, effectively controlled Ethiopia's national and regional governments and Subordinates. The TPLF's hold on power in Ethiopia relied on election fraud, violence, and intimidation.
Most power with respect to setting government policy and/or control over Subordinates was concentrated in an eleven-person TPLF Executive Committee that was reduced to nine persons in 2018.
Prior to his 2017 election as director-general of the WHO, Tedros was, from 2012-2016, Ethiopia's third highest official as foreign minister and an influential member of the TPLF Executive Committee. One 2013 media report describes him thusly: "With the retirement of the old guard within the Tigrayan People's Liberation Front (TPLF), Tedros Adhanom Ghebreyesus is one of three influential newcomers at the helm of Tigrayan politics in the emerging post-Meles-Zenawi era." [emphasis added]
Anyone "at the helm" of Tigrayan politics in that period had a substantial role in formulating government policy and shared effective control over Subordinates. In doing so, Tedros joined other senior TPLF officials in a common plan and purpose to use Subordinates to maintain the TPLF's illegitimate hold on power.
His personal responsibility for Subordinates' actions during that period therefore cannot be separated from that of the government's.
Government Control Over Security Force Subordinates 2013-2015
The U.S. State Department 2013, 2014 and 2015 Human Rights Practices Report for Ethiopia state, "Authorities generally maintained control over the security forces… Security forces committed human rights abuses."
It may therefore logically be inferred that Crimes committed by Ethiopian security forces between 2013 and 2015 were generally done by Subordinates effectively controlled by Ethiopian authorities that included Tedros.
Government Control Over Security Force Subordinates in 2016
With respect to 2016, Tedros' last year in power, U.S. State Dept. Human Rights Practices Report for Ethiopia states that, "Civilian authorities at times did not maintain control over the security forces, and local police in rural areas and local militias sometimes acted independently."
Even if one gives the government the benefit of a doubt and, arguendo, liberally assumes all the reported 2016 Crimes such as " excessive force against protesters throughout the year, killing hundreds and injuring many more… arbitrary killings; disappearances; torture and other cruel, inhuman or degrading treatment or punishment," were committed by uncontrolled security, police or militia elements, other documented Crimes in that report were of a type which the government facially did control. This latter category included, but was not limited to, "unfair government tactics, including intimidation of opposition candidates and supporters…more than 10,000 persons were believed still to be detained…. harsh and life-threatening prison conditions; arbitrary arrest, detention without charge, and lengthy pretrial detention… infringement on citizens' privacy rights, including illegal searches; a lack of participatory consultations and information during the implementation of the government's "villagization" program; restrictions on civil liberties including freedom of speech and press, internet freedom, academic freedom and of cultural events, and freedom of assembly, association, and movement; interference in religious affairs; only limited ability of citizens to choose their government; … restrictions on activities of civil society and NGOs…"
Therefore, Ethiopian senior government leadership, including Tedros, controlled Subordinates who committed one or more Crimes in 2016 in addition to those committed 2013-2015.
Control Over Subordinate Civil Servants
Civil service Subordinates of Tedros also committed Crimes by carrying out a government policy of inequitable ethnic discrimination in the distribution of public goods necessary to sustain life, such as food aid, investment, agricultural inputs, and healthcare.
Tedros's civil service Subordinates also maintained and perpetuated an apartheid system.
Liability for Somali Regional Police
The 2013-2016 U.S. State Department Human Rights Practices Reports for Ethiopia also state that the Somali Region Special Police, also known as the "Liyu ," "sometimes acted independently" in committing Crimes. However, the regime's actual control of the Liyu, and knowledge of the Liyu's Crimes, were demonstrated in 2018 when reformist prime minister Abiy Ahmed came to power. Abiy arrested the administrator of the Somali region, Abdi Omar (a.k.a. Abdi Illey), who had used the Liyu to terrorize the local population, and informed the public about the Liyu's Crimes. Abiy also reined in other police and local militia.
Abiy's demonstrated ability to control such forces proved that the predecessor Ethiopian regime which Tedros co-led could have controlled them too. It may thus reasonably be inferred that Tedros and his co-leaders also could have stopped—or at least tried harder to stop–some or all the Crimes by Somali Regional Special Police and other local militias and police but failed to do so.
Some liability for the Crimes of the Somali Regional Police, local police and local militias committed 2013 to 2016 must therefore be apportioned to Ethiopia's federal government in which Tedros played so influential a part.
Knowledge of an Ongoing and Predictable Pattern of Crimes
It was impossible for an Ethiopian foreign minister, TPLF Executive Committee member and long-term TPLF member to be unaware that the TPLF had been committing Crimes for a long time and would probably continue to do so as long as it remained in power.
For example, the annual human rights reports listed in the Supplementary Evidence section below cover Tedros' four years in power. (2012 is excluded because he assumed his post near its end.) However, one only need google the Amnesty International, Human Rights Watch and US State Department Ethiopia Human Rights reports for the 22 years of TPLF rule preceding Tedros' ascension to power, during nine of which Tedros himself also served as Deputy Minister and Minister of Health, to see the prevalence and trend with respect to Crimes.
During the long course of Tedros' rise through the ranks of TPLF officialdom, TPLF Crimes were often reported in well-known and popular media such as Ethiopian Satellite Television (ESAT), Voice of America, BBC, Deutsche Welle, Washington Post, New York Times, Ethiopian Review and many more.
Many TPLF Crimes were widely known and discussed daily by the general Ethiopian public since 1991.
The inevitable discussion of governmental affairs with other senior Ethiopian leadership, foreign diplomats and politicians also had to make Ethiopia's foreign minister aware that his government's Crimes were frequent and ongoing.
As a senior leader and Executive Committee member, Tedros had to receive intelligence briefings that included mention of Crimes committed by Subordinates, himself and/or jointly with others.
International human rights activists often wrote letters to Ethiopia's government concerning human rights cases.
It was therefore impossible for any educated Ethiopian, especially a highly educated, well connected, and powerful top leader like Tedros, to be unaware of the long, ongoing, and predictable pattern of TPLF Crimes.
Throughout his tenure as a senior Ethiopian leader, Tedros therefore obviously knew or consciously disregarded information that clearly indicated that his Subordinates were committing, or were about to commit more, Crimes.
Failure to Take Necessary Measures
The above-mentioned U.S. State Department Human Rights Practice Reports for 2013, 2014, and 2015, and, to a lesser extent, 2016 establish that a pattern of Crimes existed of which Tedros had to be aware.
The same reports also show that Tedros could have stopped—or at least could have reasonably tried harder to stop– the documented Crimes by Subordinates during the aforesaid period but failed to do so.
For example, the U.S. State Department Country Reports on Human Rights Practices for 2013-2016 state, "Impunity was a problem. The government, with some reported exceptions, usually did not take steps to prosecute or otherwise punish officials who committed abuses other than corruption." [emphasis added]
Obviously, despite his evident knowledge of the well-publicized Crimes committed and reasonably expected to be committed in future by Subordinates, Tedros never resigned.
He never spoke out or objected publicly to any Crimes, including from the start of his prominent government service in 2003 as Deputy Health Minister.
Thirteen years of silence and active cooperation with a regime shows constructive support for that regime's policies and actions.
Tedros's acts of commission and omission demonstrate that he failed to take all necessary and reasonable measures within his or her power to prevent or repress the commission of Crimes or to submit the matter to the competent authorities for investigation and prosecution as required under Article 28.
To the contrary, the abovementioned actions by Tedros demonstrate his wholehearted and willing adherence to, and support, for TPLF policies, actions and Subordinates that caused, directed, facilitated, or enabled Crimes.
Genocides Committed by Tedros' Subordinates in Violation of Article 6
The Supplementary Evidence shows that Genocides by Tedros' Subordinates included:
(a) Killing, and causing serious bodily and mental harm to, members of the Amhara, Konso, Oromo and Somali tribes with intent to destroy those tribes in whole or in part. (For proof, see following section and Supplementary Evidence below.) (b) Ethnic discrimination in the allocation of life-saving public goods despite knowledge that their denial would cause the disproportionate and avoidable death and injury of political or non-Tigrayan ethnic groups. (For proof, see following section)
(c) Imposing measures intended to prevent births within the Amhara tribe. (For proof, see (g) in following section.)
Tedros' Crimes therefore fall within the jurisdiction of the ICC under Article 6.
Crimes Against Humanity Committed by Tedros' Subordinates in Violation of Article 7
The Supplementary Evidence to follow shows that the four-year period in which Tedros co-led Ethiopia's government was marked by widespread or systematic Crimes Against Humanity by Subordinates directed against the Amhara, Oromo, Somali, and Konso tribes, members of opposition parties and other civilian populations, with knowledge of the attack. These included: (a) MURDER of political dissidents. See additional reports here, here, here and here. (Also see Supplementary Evidence below) (b) Intentional infliction of conditions of life, inter alia ethnic discrimination in the allocation of life-saving public goods despite knowledge that such action would bring about the partial destruction of non-Tigrayan populations and members of opposition political parties amounting to EXTERMINATION. (See also here, Sec. B, para. 3: "The government favors Tigrayan ethnic interests in economic and political matters, and the Tigrayan People's Liberation Front dominates the EPRDF [federal government].") (c) FORCIBLE TRANSFER of populations to make way for real estate transactions benefitting the TPLF political elite. See also here, here and here. (d) Unlawful imprisonment, including children, in cruel and inhuman conditions that violated fundamental international law. (Also see Supplementary Evidence below) (e) TORTURE of political prisoners. (See additional reports here, here and here and Supplementary Evidence below. Also see putting political prisoners in cells with wild animals by Liyu police.) (f) Mass RAPE by Ethiopian soldiers and/or controlled regional paramilitaries, including "break and rape" (the practice of rape after breaking limbs). (Also see Supplementary Evidence below) (g) FORCED STERILIZATION of Amhara women. (h) ENFORCED DISAPPEARANCE of persons kidnapped or murdered by security or paramilitary forces. (See p. 1 "hundreds, likely more, have been victims of enforced disappearances." Also see Supplementary Evidence below) (i) Intentional and severe deprivation of fundamental rights of non-Tigrayan ethnic and members of opposition parties contrary to international law by reason of the identity of the group or collectivity amounting to PERSECUTION. (Also see Supplementary Evidence below showing the Crimes were disproportionately committed against non-Tigrayans.)
(j) Systematic oppression and domination by the TPLF over Ethiopia's other ethnic groups with the intention of maintaining the TPLF regime amounting to APARTHEID. (Facially evident from political disenfranchisement of non-Tigrayans in an arrangement of "States…structured on the basis of settlement patterns, language, identity and consent of the people." Article 46 (2) of the "Ethiopian" (actually, TPLF-imposed) constitution. (Also see Supplementary Evidence below)
(k) OTHER INHUMANE ACTS, such as Subordinates' beating, slapping, kicking, threatening, and intimidating members of political opposition parties that intentionally caused great suffering, or serious injury to body or to mental or physical health. (See Supplementary Evidence below for examples.)
Many of the abovementioned Crimes occurred in a pattern, volume and duration that amounted to widespread or systematic attacks directed against a civilian population,
with knowledge of the attack or inhumane acts of a similar character intentionally causing great suffering, or serious injury to body or mental or physical health.
Tedros' Crimes therefore fall within the jurisdiction of the ICC under Art. 7.
Tedros' Crimes Were Part of a Plan or Policy Pursuant to Article 8(1)
Under Tedros, Crimes were no mere isolated incident. Crimes committed by Tedros and/or his Subordinates were so widespread, frequent and predictable as to demonstrate the existence of a "plan or policy or a part of a large-scale commission of such Crimes" that demands prosecution pursuant to Article 8(1) of the Rome Treaty.
Firsthand Evidence
The files of the major human rights organizations are filled with firsthand testimony by victims of Tedros' Subordinates with names and contact information. Here, for example, is one of many available firsthand accounts by torture victims.
Many more firsthand witnesses can be found by investigators, inside and outside Ethiopia, particularly if witness protection is available.
There is direct, open source, photographic and video evidence of Crimes by Tedros' Subordinates, including murder and torture, in news media and the files of human rights organizations such as Human Rights Watch.
There is at least one firsthand eyewitness to kidnapping arrangements made by Tedros, a former bodyguard.
Supplementary Evidence of Superior Liability
Taken as a whole, especially in the context of the twenty-two years of prior human rights reports documenting similar Crimes (omitted here but available online), the following annual human rights reports for 2013-2106 demonstrate a pattern of Crimes so systematic, widespread, and predictable as to manifest a permissive, intentional government policy often carried out by Tedros' Subordinates: Amnesty International USA Annual Report Ethiopia 2013 Amnesty International Report Ethiopia 2014/2015 Amnesty International Country Report Ethiopia 2016/2017 Human Rights Watch Country Report for Ethiopia 2013 Human Rights Watch Country Report for Ethiopia 2014 Human Rights Watch Country Report for Ethiopia 2015 Human Rights Watch Country Report for Ethiopia 2016 U.S. State Dept. Country Report on Human Rights Practices: Ethiopia 2013 U.S. State Dept. Country Report on Human Rights Practices: Ethiopia 2014 U.S. State Dept. Country Report on Human Rights Practices: Ethiopia 2015 U.S. State Dept. Country Report on Human Rights Practices: Ethiopia 2016
See also: The Amhara Genocide Ignored by the World (Please refer only to Crimes 2013-2015.) ETHIOPIA: ETHNIC OROMOS ARRESTED, TORTURED AND KILLED BY THE STATE IN RELENTLESS REPRESSION OF DISSENT
Supplementary Evidence of Individual Responsibility and Mens Rea
As foreign minister and Executive Committee member, Tedros advised, shared information with, guided and helped manage the Ethiopian government despite his knowledge that: a) it often committed Crimes and b) was likely to do so again in the future. Tedros personally arranged the widespread and systematic kidnappings of hundreds of Ethiopian dissidents in Yemen. This news account is corroborated by the pattern of kidnappings that began after the meeting. These included kidnapping of dissident and British citizen Mr. Andy Tsege, from Yemen while in transit and rendering him to death row. Tedros suppressed and withheld vital information about his people's humanitarian needs by peddling fake statistics that only 29% of Ethiopians lived in poverty under the EPRDF and attempted to cover up a famine in order to protect his government's reputation. His acts contributed to the loss of many lives by delaying or distorting effective international response. Tedros' failure to report, stop, prevent, or even try to prevent Illicit Financial Outflows controlled by the government caused the waste of life-saving foreign aid from signatory states.
Tedros misrepresented his country's human rights situation to foreign donors and publics who might otherwise have reduced or curtailed their funding if they had known the truth. In this 2015 CNN interview, for example, Tedros is on tape attempting to "spin" the EPRDF's human rights record. (CNN interview) Here, on his own blog, he attempts to whitewash a 2016 massacre. Here, Amnesty International exposes the falsity of his claim that "Ethiopia has won the respect and trust of the world" for human rights.
Tedros' misrepresentation, withholding, and suppression of vital information about Ethiopia's human rights situation helped himself, colleagues and Subordinates who had committed Crimes to hide their guilt and avoid accountability. His fraudulent conduct facilitated and enabled the TPLF's Crimes by polishing the regime's international image and deflected foreign and domestic attempts to hold the government accountable. It perpetuated the government's abuses by helping the regime obtain foreign loans and grants under false pretenses. He was the charming public face of a homicidal dictatorship and played a major role in keeping it afloat.
Tedros' Superior Responsibility for Crimes Against Humanity and Genocide Committed by His Subordinates in Violation of Article 28
The foregoing shows that as Ethiopia's third highest official and TPLF Executive Committee member during the period in question, Tedros:
a. jointly shared effective control over military, paramilitary and civilian Subordinates.
b. knew, or consciously disregarded information which clearly indicated, that his Subordinates were committing or were about to commit Crimes within the jurisdiction of the Court.
c. individually or jointly had effective responsibility and control of activities which the Crimes concerned; and
d. failed to take all necessary and reasonable measures within his power to prevent or repress said Crimes' commission or to submit the matter to the competent authorities for investigation and prosecution.
Tedros therefore is criminally responsible for one or more Crimes committed by Subordinates under the Doctrine of Superior/Command Responsibility per Article 28.
Tedros' Individual Responsibility for Crimes Against Humanity and Genocide Committed in Violation of Article 25
25(3)(a) of the ICC Statute extends to "responsible," or non-innocent, agents. The modality of "control over the organization," has been found suitable to address the involvement of high-level individuals who usually leave the physical commission of violent Crimes to lower level perpetrators.
The ICC thus has jurisdiction over Tedros as a natural person pursuant to Article 25 because he:
(a) committed a Crime within the jurisdiction of the Court.
(b) committed such a Crime, as an individual, jointly with another or through another person.
(b) ordered, solicited, or induced the commission of such a Crime which in fact occurred or was attempted.
(c) for the purpose of facilitating the commission of such a Crime, aided, abetted, or otherwise assisted in its commission or its attempted commission, including providing the means for its commission. For example, Tedros shared responsibility and control over funding of security and paramilitary forces that committed Crimes. He helped obtain foreign grants, loans or other forms of foreign support that were used to perpetrate Crimes directly or indirectly. He also deflected international criticism in a way that made it easier for Crimes to be committed.
(d) contributed to the commission or attempted commission of one or more Crimes by a group of persons acting with a common purpose. Such contribution was intentional and was either: (i) made with the aim of furthering the criminal activity or criminal purpose of the group, where such activity or purpose involved the commission of a Crime within the jurisdiction of the Court; and/or (ii) was made in the knowledge of the intention of the group to commit the Crime.
Tedros therefore is criminally responsible for one or more Crimes committed by Subordinates under the Doctrine of Individual Responsibility per Article 25.
Tedros' Mental Element Pursuant to Article 30
Tedros' own words and deeds on the record demonstrate that he:
(a) meant to engage in his conduct, and
(b) meant to cause the expected consequences or was aware that they would occur in the ordinary course of events.
Recent interpretations of Articles 25 and 30 of the ICC Statute by the Pre-Trial Chambers of the International Criminal Court demonstrate that the Court adopts a broad interpretation of the common plan or agreement element.
Under that interpretation, or even a narrower one, Tedros is criminally responsible and liable for punishment for Crimes within the jurisdiction of the Court because the Crimes' material elements were committed with his intent and knowledge.
Injuries to Ethiopians Caused by Tedros' Crimes
It is no exaggeration to say that millions of Ethiopian and other nationals' lives were negatively impacted by Tedro Crimes.
Hundreds of thousands of victims, many of them children, died or, in many cases, suffered permanent physical or psychological harm as a result of torture, persecution, extermination, genocide, unlawful imprisonment and other Crimes by Subordinates directed against them, family members, caregivers or family breadwinners.
It may reasonably be inferred that thousands of impoverished Ethiopians suffered or died because of Tedros' misrepresentation of Ethiopia's economic statistics that delayed or distorted foreign aid.
The billions of dollars siphoned out of Ethiopia's economy by political elites and their business partners as Illicit Financial Outflows, approximately 10 to 15 billion dollars of which took place while Tedros co-led the country, delayed the country's achievement of several Millennium Development Goals. On the ground, that delay meant thousands of deaths, many or most of them infants or children.
Ethnic discrimination in the distribution of life saving public goods under Tedros may reasonably be inferred to have cost, or otherwise negatively impacted, hundreds of thousands or even millions of lives among non-Tigrayan tribes.
Injuries to Member States of the Rome Statute
Tedros' Crimes affected one or more member states by adding to their refugee flows.
Tedros' Crimes affected one or more member states by causing the waste of foreign aid with the exacerbation of Ethiopian's humanitarian needs.
Tedros' Crimes affected one or more member states by causing the abuse of foreign aid that relied on Ethiopian adherence to human rights norms.
Some Ethiopian residents of member states, who lived in Ethiopia during the years of Tedros' co-rule, suffer to this day from physical or psychology injury caused by Tedros or his Subordinates.
The kidnapping of Mr. Andy Tsege and psychological traumatization of Mr. Tsege's family injured citizens of member state The United Kingdom.
By concealing his Crimes, Tedros subjected member states to Covid-related harm that might have been avoided if his character had been known before his election to lead the WHO.
The ICC Has Jurisdiction
This complaint is based on Jus Cogens, Ergam Omnes, customary international law
and international treaties, especially the Rome Statute of the International Criminal Court (1998).
Tedros' diplomatic status is irrelevant to the ICC under Article 27 of the Rome Statute ("Irrelevance of official capacity").
The Prosecutor may initiate investigations proprio motu based on information on Crimes within the jurisdiction of the Court.
In respect of Articles 12 and 13 of the Rome Statute, the Court may exercise its
jurisdiction over international Crimes if its jurisdiction has been accepted by the State on
the territory in which the Crimes were committed. One or more countries injured by the above-described Crimes are signatories to the Rome Statute, including Switzerland where Tedros resides, works and is often present.
Despite Ethiopia being a non-signatory to the Rome Statute, the ICC has territorial jurisdiction over Tedros' Crimes in Ethiopia under the "Effects Doctrine" which gives the ICC jurisdiction when a signatory state has been injured in some way by the crime in the non-signatory state (Ethiopia). See S.S. Lotus (Fr. V. Turk.), 1927 P.C.I.J., (Ser. A), No. 10 (noting that many countries will find jurisdiction for criminal acts done in another state if their effects are felt within its borders); United States v. ALCOA, 148 F.2d 416, 443 (2d Cir. 1945) (noting that "any state may impose liabilities, even upon persons not within its allegiance, for conduct outside its borders that has consequences within its borders, which the state reprehends").
In the context of the ICC, application of the Lotus principle would mean that sovereign states are free to collectively establish an international jurisdiction applicable to the nationals of non-party states unless it can be shown that this violates a prohibitive rule of international law. So long as states have a legitimate interest in establishing such an arrangement, the question is simply whether any international legal rule exists that would prohibit it. No such rule exists.
The perpetrators of the core Crimes under the ICC's jurisdiction are considered hostis humani generis (enemies of all humankind) and the Crimes themselves (even when committed in an internal conflict) are considered a threat to international peace and security. Thus, there are no special features of territorial jurisdiction that would as a matter of policy preclude the delegation of territorial jurisdiction to an international criminal court.
At least one legal expert asserts that "a close examination of the text of the European Convention, its legislative history, and the writings of experts on its application reveal that the Convention does in fact permit transfer of proceedings in the absence of the consent of the state of nationality." The ICC's Jurisdiction Over the Nationals of Non-Party States: A Critique of the U.S. Position, Scharf, Michael P., Case Western Reserve University School of Law Scholarly Commons, 2001.
Furthermore, one of the bases for the precedent Nuremberg Tribunal's jurisdiction was the universality principle collectively exercised on behalf of the Allied Nations.
Crimes for which Tedros is liable were therefore within the jurisdiction of the Court at the time they took place, pursuant to Article 22 (Nullum crimen sine lege)
In addition, the ICC Prosecutor should ask the Federal Democratic Republic of Ethiopia to refer Tedros to the ICC on an ad hoc basis. Article 87 provides for cooperation with the ICC by non-party states. It stipulates that the Court "may invite any State not party to this statute to provide assistance under this Part on the basis of an ad hoc arrangement, an agreement with such State or any other appropriate basis."
Tedros' Presence on the Soil of a Signatory State
Tedros is in Switzerland, a signatory state to the Rome Statute, or is expected to return there soon. Tedros also sometimes visits other state signatories to the Rome Statute.
Conclusion
Tedros' Superior and Individual liability for Crimes is supported by evidence.
Investigation and prosecution of him by the Prosecutor of the ICC would be a just and appropriate response to Tedros' grave Crimes that caused so much suffering.
Investigation and judgment by the ICC concerning Tedros' Crimes could contribute to the field of international criminal law and establish an important precedent.
Therefore, the Prosecutor is requested herewith to investigate, issue an arrest warrant for, and prosecute Tedros because he violated the Rome Statute, injured signatory states thereto, and the ICC has jurisdiction over him.
The Prosecutor is also requested to ask the Federal Democratic Republic of Ethiopia to refer Tedros to the ICC.
Communicator
The individual communicating this information, Mr. David Steinman, is an Ethiopia expert of American nationality. A Wharton-trained economist and former consulting expert to the U.S. National Security Council on democracy promotion, he was senior foreign adviser to Ethiopia's main opposition coalition. Mr. Steinman exposed TPLF Crimes and corruption in the Washington Post, Forbes.com, New York Times, The National Review, New Europe and other media. He first called for Tedros and other senior TPLF leadership to be held accountable for Crimes in the nonfiction afterword to his historical novel about Ethiopia's human rights struggle, Money, Blood and Conscience.
I affirm the foregoing is true to the best of my knowledge.
_____ Date: Dec. 1, 2020
David Steinman
ADDRESS REDACTED
===
[N.B.: As you can see below - external media reports are extremely censored in this case by BigTech in cohorts with the UN and China. We leave the "missing links" intentionally to demonstrate this. Pease blame and boycott the censors and not us - the messanger.]
"TEDROS IS A CRIMINAL"
Ethiopia's Army Blames WHO Boss who denies supplying Weapons to TPLF Communist-Islamic rebels. Al Qaeda Spectre in Horn of Africa
By Fabio Giuseppe Carlo Carisio - 20 November 2020
Versione originale in Italiano
In recent days we have drawn the profile of the most embarrassing director of the World Health Organization, both for his past as a charismatic leader in a far-left political-paramilitary formation in his African country, and for his inability or knowing will – suspicion is a must at this point – in managing the pandemic.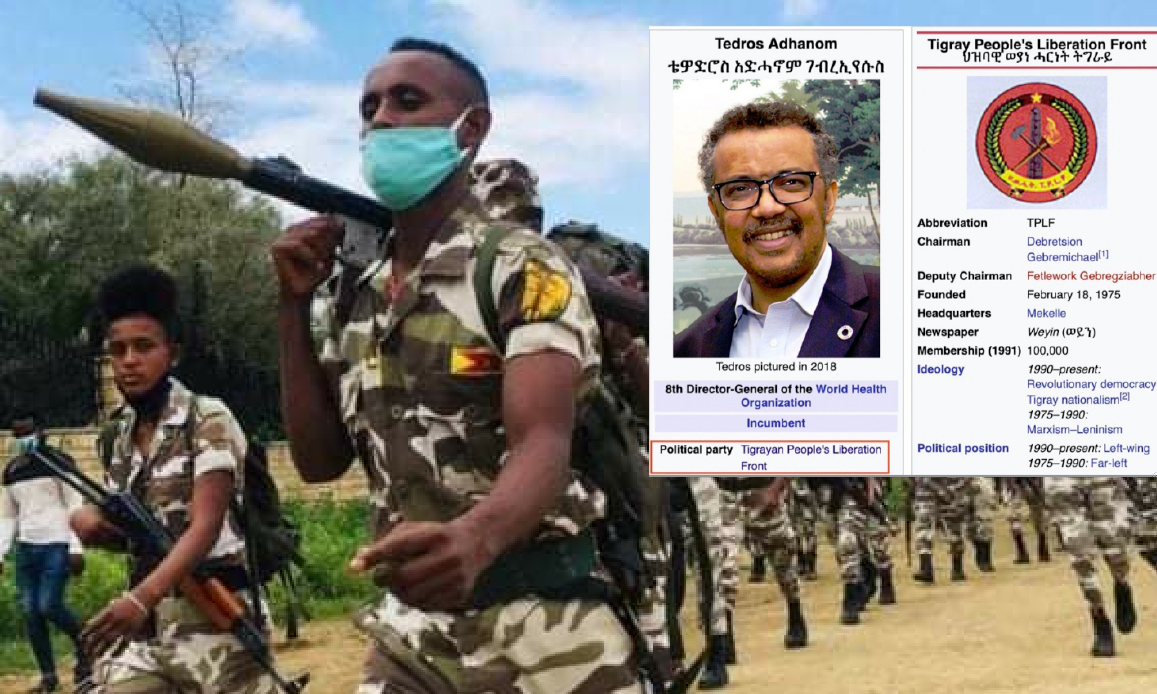 But in the last few hours Tedros Adhanom Ghebreyesus, communist like the TPLF party (Tygray Pepople's Liberation Front that made him minister in Ethiopia from 2005 to 2016 (first for Health and then for Foreign Affairs), was openly accused of being a criminal by some authorities of his own nation, because he would have tried to diplomatically and militarily facilitate, with help in obtaining weapons, the very nationalist rebels of Tigray who have reopened a bloody conflict with the federal government of Addis Ababa.
This has already created a devastating humanitarian crisis that has already caused an unspecified number of civilian deaths (estimated at least a thousand) and more than 30,000 displaced people who fled Ethiopia to Sudan.
The political card of Tedros Adhanom Ghebreyesus and a TPLF militiaman
In 2018, a popular uprising overthrew the national government that the Ethiopian ethnic minority of Tigré, strong of roots in other neighboring African countries such as Eritrea, had held since 1991. On April 2, 2018 Abiy Ahmed Ali, a former military man, came to power son of a Muslim father and Orthodox Christian mother, as Prime Minister of Ethiopia who in 2019 was awarded the Nobel Peace Prize for having reached an armistice with Eritrea but perhaps also for having managed a transition without a bloody conflict despite being of Oromo ethnic group, one of the majority in the country.
"First, the new leader denounced previous governments of corruption and human rights violations and "renewed" ministries and government offices. In fact, he freed himself by removing many members of the Tplf from their positions, which for decades was the dominant political party. Then, in 2019, Abiy decided to merge the ethnic-based parties of the EPRDF government coalition into a single party, the Prosperity Party – wrote Anna Bono in La Nuova Bussola – The TPLF opposed the reform, which it considers a maneuver. to dismantle the country's federal structure, claiming it would divide the country and refused to join the PP. Even the peace signed with Eritrea, which deserved the Nobel Prize in Abiy, was seen as an offense by the leaders of the TPLF because Tigray has a long dispute with the Eritrean government ".
But tensions escalated in September when the government decided to postpone the elections with the excuse of the Covid-19 emergency while the Tigray region decided to address the same, decreeing the overwhelming success, bordering on suspicion, of the TPLF with the 98% and the conquest of 152 seats out of 190.
Ahmed, however, declared them illegal by setting new national and regional elections for 2021. At that point the first bloody events began, however, already announced in August by a meeting of the paramilitary forces of the Tigray in a stadium complete with a parade with kalshnikovs and bazookas.
On November 4, Prime Minister Abiy accused the Tplf of attacking and occupying a military base of the federal troops in Macalle, the capital of the region, called the action, which the TPLF denied having committed, a treason and announced a military offensive, which resulted in the attacks of the aviation and armored divisions against the communist rebels, mainly islamist Sunni.
This escalated after the massacre of hundreds of civilians in the city of Mai-Kadra, Tigré, which Amnesty International attributed to the TPLF special police, which we reported in detail in the previous report on Tedros Adhanom Ghebreyesus, now openly accused of being a criminal, as reported by Reuters and the BBC (links in main sources at the end of article).
"Ethiopia's military on Thursday accused the most prominent Tigrayan abroad, WHO head Tedros Adhanom Ghebreyesus, of trying to procure arms and diplomatic backing for the TPLF – wruites Reuters- Ethiopian army chief Birhanu Jula called Tedros, who served as a minister in a TPLF-led Ethiopian coalition government for more than a decade before taking the helm of the global health body, "a criminal". Bihanu provided no evidence".
In a Twitter message, Tedros denied the accusation and called on all parties in Ethiopia to work for peace, civilian safety and access for health and humanitarian assistance to those in need. Tedros said: "There have been reports suggesting that I am taking sides in this situation. This is not true and I mean that I am on one side and that is the part of peace ".
But as reported by Gospa News in the previous report, still in 2015, a year before leaving his position as Minister of Foreign Affairs and in the run-up to his appointment to the WHO supported by Bill Gates, the main financier of the organization, Dr. Adhanom had posted on FB an image of the 1967-2007 anniversary celebration of the TPLF as proof of a strong emotional involvement.

"We don't expect him to stand on the side of Ethiopians and condemn these people. He has been doing everything to support them, he has campaigned for neighbouring countries to condemn the war," said Gen Berhanu Jula.

Previously there had been rumors of excessive involvement of the WHO director in the conflict that could cross national borders and destabilize the entire Horn of Africa with the risk of favoring a resurgence of Islamic Al Qaeda terrorists, particularly strong in Somalia thanks to the Al Shabaab cell, and the rebirth of the almost defeated ISIS.

This is happening just as the West is facing a major scandal linked to the jihadists. In fact, in London and Florida, Syrian refugees and an American reporter kidnapped in Syria sued two Qatari banks accusing them of having financed the Qaedist terrorists of Al Nusra. The judicial proceedings are hot because they risk revealing the long-standing and close relations between the wealthy emirate of Doha and the friends of the United Kingdom, Italy and the United States.

As reported by InsideOver, according to the Anadolu news agency, which cited an Ethiopian official as a source, Ghebreyesus is fully committed to seeking diplomatic support for the regional authorities of Tigray.

"The WHO leader would have asked the United Nations agencies in particular – reads the Turkish agency – to exert pressure on the Ethiopian government to unconditionally stop its military action against the Tplf and would also have solicited Egypt's military support for in favor of the TPLF, as well as contacting "repeatedly", but without success, senior officials from neighboring countries in East Africa to provide diplomatic and military support to Tigray".

"An escalation in the conflict, perhaps a decisive turning point, took place on the night between 14 and 15 November when Tigris forces fired rockets into Eritrea, which fell near the airport in the capital Asmara. In the days before, Debretsion Gebremichael, leader of the TPLF, had stated that his troops were fighting with 16 eritrean army divisions having entered Ethiopia to help federal forces. Prime Minister Abiy and Eritrean President Isaias Afewerki have denied cooperating, but there are reports of clashes on the border between the two countries and ethiopian soldiers in Eritrean hospitals," anna bosso writes, fearing the most terrible of dangers as well as a humanitarian crisis of unpredictable dimensions.

"One of the foreseeable consequences is that Ethiopia decides or is forced to reduce military support to the Government of Somalia, which is decisive in the fight against al Qaeda-linked al Shabaab jihadists. Abiy has already recalled about 600 soldiers manning the border with Somalia. It would be a disaster if he also withdrew the Ethiopic contingent from Amisom, the African Union peacekeeping mission. This is said by the scholar of international relations Rashid Abdi: it would give the jihadists the opportunity to strengthen and reorganize, with repercussions throughout East Africa", we read again on La Nuova Bussola.

At this point, however, a much more worrying question may be asked. Is this risk an "indirect" consequence or a maneuver budgeted on the global chessboard by the TPLF which, by virtue of its Sunni component, could seek an alliance with the jihadists to put back into play the chessboard of power in the Horn of Africa by recreating there the same context as the still lively civil war in Syria, carried out by Turkey with the use as mcernari of former commanders and cutthroats of the Islamic State and Al Qaeda?

The circumstances under which Tedros Adhanom Ghebreyesus was chosen at the top of the WHO thanks to the support of Bill Gates, chief donor to Barack Obama, director of the Arab Spring (Libya, Syria, Iraq) and financier through the Central Intelligence Agency of TOW anti-tank missiles to extremist jihadist factions, in an attempt to revolutionize against Syrian President Basha Al Assad (planned by the CIA since 1983 when his father ruled in Damascus).

It is evident that at the time of a global emergency such as the pandemic, imposed precisely by the WHO director with an increasingly widespread health dictatorship adopted by western states without the WHO itself seriously investigating the validity of the studies on the SARS-Cov-2 virus created in a laboratory as requested by the nations in the assembly last May, the Horn of Africa would be abandoned to itself ...

Author:

Fabio Giuseppe Carlo Carisio © COPYRIGHT GOSPA NEWS

– Versione originale in Italiano

Read More on this:

REUTERS: Ethiopia moves on Tigray capital, castigates WHO boss Tedros

AlJazeera: Ethiopian army accuses WHO chief of supporting Tigray forces
The conflict has killed hundreds and sent 30,000 refugees into neighbouring Sudan [Ebrahim Hamid/AFP]

Army chief Berhanu Jula said the WHO head helped the rebellious region procure weapons. Jalu said Tedros has "left no stone unturned" in helping the Tigray People's Liberation Front, without offering any evidence.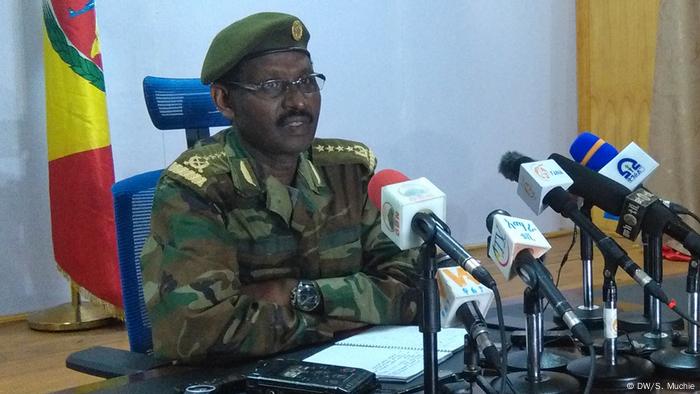 Ethiopia's army chief on Thursday accused WHO boss Tedros Adhanom Ghebreyesus – a Tigrayan himself – of lobbying for the dissident region and helping them procure weapons.
Also on Thursday, US President-elect Joe Biden's foreign policy adviser called for an end to fighting and protection for civilians in the region.
"Deeply concerned about the humanitarian crisis in Ethiopia, reports of targeted ethnic violence, and the risk to regional peace and security," Antony Blinken wrote on Twitter. "The TPLF and Ethiopian authorities should take urgent steps to end the conflict, enable humanitarian access, and protect civilians."
===
Italy's incompetence and the corruption of Tedros
02. November 2020
A documentary by the Italian state television RAI 3, which was broadcast on 02.11.2020, paints a shocking picture of corruption and incompetence in the fight against the pandemic in Italy.
The European section of the WHO, under the leadership of its European head Hans Klug, has compiled an extremely incriminating dossier on Italy's total failure to combat the pandemic. The hot document disappeared in a very short time, until it was passed on to the editorial staff of RAI 3. The editorial team managed to talk to its author, a WHO staff member in Venice. In the interview, the author was very irritated that his work was being kept under lock and key by the WHO.
The fact that the WHO has no interest in publishing the explosive document can be explained by the fact that it reveals that Italy – as well as Spain and Belgium, which also had a high number of coronary deaths – has failed to update its Pan-Academy plans. The Director General of the Ministry of Health, Raineiri, apparently knowingly failed to update the plans. Instead, the plans, which are always the same and outdated, were simply given a current date.
Raineiri is a close friend of WHO Chief Tedros. The suspicion arises that Rainieri, when he learned of the dossier, may have acted on his old confidant to remove the scientifically unobjectionable dossier from circulation.
The RAI editors were not able to obtain a statement from WHO headquarters. Gabriella Stern, WHO communications officer and former employee of the Bill & Melinda Gates Foundation, refused to comment.
The explosive document proves that completely unprepared Italy was defenselessly exposed to a pandemic. There was a lack of suitable protective equipment – the pictures of Italian doctors wrapped in plastic bags are significant -, the doctors were not trained for an emergency, and the instructions they received from the Supreme Health Authority, the Istituto Superiore della Sanità, the Italian RKI, were wrong. These included both the instructions on how to search for infected people and how to treat Covid-19 patients. Response times in Italy were extremely long at the beginning of the pandemic, which led to the problematic development later on.
The politically pale Minister of Health, Speranza, instead of spending the relatively quiet summer months preparing the Italian health system for the winter months, wrote a book on recovery after the pandemic, which was scheduled for publication in October. The book was secretly taken off the market again.
The public prosecutor's office of Bergamo is now investigating and the relatives are planning a class action suit against the political leaders. About two weeks ago, the Financial Guard confiscated documents and service contents (emails etc.) on behalf of the public prosecutor's office in the Ministry of Health and the highest health authority.
The RAI reporter addresses the loss of credibility of the WHO due to the presumed suppression of the document by Tedros on the intervention of his longtime friend Rainieri.
===
WHO (Accidentally) Confirms Covid is No More Dangerous Than Flu - Head of Health Emergencies Program "best estimates" put IFR at 0.14%
By Kit Knightly - 08. October 2020
The World Health Organization has finally confirmed what we (and many experts and studies) have been saying for months – the coronavirus is no more deadly or dangerous than seasonal flu.
The WHO's top brass made this announcement during a special session of the WHO's 34-member executive board on Monday October 5th, it's just nobody seemed to really understand it.
In fact, they didn't seem to completely understand it themselves.
At the session, Dr Michael Ryan, the WHO's Head of Emergencies revealed that they believe roughly 10% of the world has been infected with Sars-Cov-2. This is their "best estimate", and a huge increase over the number of officially recognised cases (around 35 million).
Dr. Margaret Harris, a WHO spokeswoman, later confirmed the figure, stating it was based on the average results of all the broad seroprevalence studies done around the world.
As much as the WHO were attempting to spin this as a bad thing – Dr Ryan even said it means "the vast majority of the world remains at risk." – it's actually good news. And confirms, once more, that the virus is nothing like as deadly as everyone predicted.
The global population is roughly 7.8 billion people, if 10% have been infected that is 780 million cases. The global death toll currently attributed to Sars-Cov-2 infections is 1,061,539.
That's an infection fatality rate of roughly or 0.14%. Right in line with seasonal flu and the predictions of many experts from all around the world.
0.14% is over 24 times LOWER than the WHO's "provisional figure" of3.4% back in March. This figure was used in the models which were used to justify lockdowns and other draconian policies.
In fact, given the over-reporting of alleged Covid deaths, the IFR is likely even lower than 0.14%, and could show Covid to be much less dangerous than flu.
None of the mainstream press picked up on this. Though many outletsreported Dr Ryan's words, they all attempted to make it a scary headline and spread more panic.
Apparently neither they, nor the WHO, were capable of doing the simple maths that shows us this is good news. And that the Covid sceptics have been right all along.
UPDATE 9/10/20: In the interest of thoroughness, a desire to rely on primary sources, and not depending purely on mainstream sources (which may remove or amend articles), I decided to find the actual video of Dr Ryan's remarks.
For some reason, although this was an important WHO meeting during an allegedly hyper-serious pandemic, the video is hard to find. The only place you are able to see it is the WHO's own website, and even then you have to scrub through almost 6 hours of footage. Well, I did that, and you are welcome.
You can't embed the WHO's stream, but I can tell you to go to this page, click "Session 1" and skip to 1:01:33 to hear the exact quote:
Our current best estimates tell us that about ten percent of the global population may have been infected by this virus. This varies depending on country, it varies from urban to rural, it varies between different groups."
I will work on getting an audio clip, for ease of sharing and to make sure it does not get memory holed.
ER Editor: We highly recommend the newly-published slim volume by Drs. Karina Reiss and Sucharit Bhakdi titled "Corona False Alarm? Facts and Figures," which supports an Infection Fatality Rate of around 0.1 – 0.3% (p.29) for covid, 'which is in the range of moderate flu' according to the doctors. 'The conclusion that COVID-19 is comparable to seasonal flu has been reached by many investigators in other countries,' including the highly esteemed Prof. John Ioannidis.
But you'd never know this from listening to WHO videos of October 2(press briefing) and October 5. Their rambling, convoluted word salad tinged with angst and uncertainty around the disease would make you think they were dealing with something far far worse.
===
trust WHO ???
TRUSTWHO OFFICIAL TRAILER
First published on BITCHUTE September 25th, 2020.
When it comes to our health, there are very few institutions that are both competent and independent. We want to rely on doctors, of course, and health officials, as well. They, in turn, take their cues from the World Health Organization. But what if the trust that billions of people around the world put on this institution is misplaced?
trustWHO is now available on:
English:
https://www.amazon.co.uk/gp/video/det...
https://itunes.apple.com/us/movie/tru...
https://play.google.com/store/movies/...
Deutsch: https://www.amazon.de/TrustWHO-OV-Lil...
Français: https://www.primevideo.com/detail/0FW...
===
The Nest Of Vipers At Corruption Inc - David Icke Dot-Connector Videocast
First published at 10:43 UTC on August 28th, 2020.
===
The Great Reset: WHO declares 'We cannot go back to the way things were'
By John O'Sullivan - 24. August 2020
On Friday, WHO Director-General Tedros Adhanom Ghebreyesus during a news conference from the agency's Geneva headquarters pronounced:
"In particular, the Covid-19 pandemic has given new impetus to the need to accelerate efforts to respond to climate change. The Covid-19 pandemic has given us a glimpse of our world as it could be: cleaner skies and rivers."
Climate was always going to be linked to COVID, as we reported yesterday with 'From COVID To Climate Change: Scientific Fraud To Serve Globalism.'
Slowly but surely, more citizens are waking up about the scamdemic – a precision operation, a pre-planned move to ratchet up the globalist control over our lives and implement worldwide eugenics policies.
As Dr Tim Ball, climatologist, warned us in his important book 'The Deliberate Corruption of Climate Science' these elitist actors use the Hegelian dialectic of create a crisis, stir an alarmed reaction then offer the solution.
Dr Ball scored a monumental courtroom victory over the 'world's leading climate scientist fraudster, Michael E Mann exactly a year ago in the 'climate science trial of the century.'
That timely legal decision helped demonstrate that there was no scientific validity to the claims that humans were dangerously warming the climate. In short, there is no basis to cut emissions of carbon dioxide to solve a non-existent crisis. We have been lied to over and over again.
Likewise, in this COVID19 calamity there is no scientific basis to shut down the world economy and implement a 'global reset' which simply serves the interests of the richest one percent.
For anyone new to the machinations of the globalist playbook you need to bone up on Hegelian Dialectic – Problem, Reaction, Solution.
Over on Climate Depot Marc Morano comments:
"You were warned, COVID & Climate – A marriage made in authoritarianism. The morphing of the public health bureaucracy and the climate establishment is at hand. Nothing good can come from this arranged marriage."
Morano points astute readers towards the groundwork that the NWO laid out here:
Flashback: 'Fantastic' for the climate: Activists See Coronavirus Lockdowns As Dress Rehearsal for 'Climate Emergency' – Special Report
Flashback 2018: World Health Organization: 'Climate change is the greatest health challenge of the 21st century, and threatens all aspects of the society in which we live'
To better understand why a fake pandemic has been foisted on the world you need to decipher the strategy behind both these crises. To attain clarity we must first understand "Problem-Reaction-Solution" or the "Hegelian Dialectic" from the German philosopher.
The man-made global warming swindle failed to capture the collective unconscious as planned, despite the best efforts over 30 years of corrupt climate researchers and Holy Greta of Sweden, darling of the UN bureaucrats. In October 2019 Bill Gates took over where Greta left off. These Malthusians share the same goals: they want you and me off their planet permanently. We either fight them or we surrender to oblivion.
---
About the author: John O'Sullivan John is CEO and co-founder (with Dr Tim Ball) of Principia Scientific International (PSI). John is a seasoned science writer and legal analyst who assisted Dr Ball in defeating world leading climate expert, Michael 'hockey stick' Mann in the 'science trial of the century'. O'Sullivan is credited as the visionary who formed the original 'Slayers' group of scientists in 2010 who then collaborated in creating the world's first full-volume debunk of the greenhouse gas theory plus their new follow-up book.
CALLING OUT CHINA: U.S. Nat'l Security Advisor Robert O'Brien on China
•Jun 24, 2020
Sharing a mix of breaking news, top stories, popular culture and engaging discussions.
ORIGINAL SOURCE:
A message on China from National Security Advisor Robert O'Brien
•Jun 25, 2020
Introduced by Governor Doug Ducey, National Security Advisor Robert O'Brien presented a major speech on China to a small group of Arizona business leaders.
===
WHAT IS THE WHO?
What is the WHO? – Questions For Corbett
Corbett • 21, August 2020
Podcast: Play in new window | Download | Embed
John writes in to ask about the founding, the funding and the true intentions of the World Health Organization. Join James as he lays out some of the information connecting the WHO to big pharma, Bill Gates and the Covid World Order agenda.
Watch this video on BitChute / LBRY / Minds.com / YouTube or Download the mp4
SHOW NOTES:
Universal Declaration of Human Rights
WHO Constitution and other basic documents
WHO Appoints H1N1 Cover-Up Committee
Newsweek reports on NATO intervention in PHEIC
Archive of WHO's "influenza pandemic" definition April 2009
Archive of WHO's "influenza pandemic" definition May 2009
The handling of the H1N1 pandemic: more transparency needed
WHO and the pandemic flu "conspiracies"
WHO 'Swine Flu Pope' under investigation for gross conflict of interest
WHO chief yet to be vaccinated against swine flu
Insult to Injury: Why We Must Oppose the WHO Global Tax Proposals
How is the World Health Organization funded?
WHO declares coronavirus outbreak a global health emergency
Michael Ryan – Go into homes and remove sick family members
WHO's Chan: Public's Obedience to Health Officials "May Be Fading"
Filed in: Questions For Corbett
Tagged with: big pharma • bill gates • coronavirus • who
First published at BITCHUTE on August 23rd, 2020.
Reupload: James Corbett
https://www.corbettreport.com
What Is The Who?
===
Caught Red Handed!!! W. H. O. admits Vaccines Are Not Safe
•Jul 22, 2020 - GooTube Censors of course removed it.
REUPLOAD:
Caught on camera! W.H.O admits vaccines are not safe
Shocking clips from inside The W.H.O. Global Vaccine Safety Summit on Dec. 2 & 3 2019.
Rarely does the general public get to hear what vaccine scientists and public health officials really think about vaccines. Instead, the simplistic (and propagandistic) mantra aired ad infinitum for public consumption is that vaccines are "safe and effective"—full stop. As the transcripts from the secret Simpsonwood meeting revealed two decades ago, however, when the experts are among themselves, they tell a different story—and, as a new behind-closed-doors video powerfully reveals, they are still far from convinced of their own safety message.
Credit to The HighWire with Del Bigtree. Please Subscribe to his Channel here: https://www.youtube.com/channel/UCq6o...
SOURCE: World Health Organization Watch the original videos here: https://www.who.int/news-room/events/...
Music: Eternity by Whitesand Subscribe to his Channel: https://www.youtube.com/channel/UCe96...
===
Italian Catholic Association to Bring Criminal Proceedings Against the World Health Organization
By Michael J. Matt - 16. July 2020
Editor's Note: Readers will recall the May 7, 2020 "Appeal for the Church and the World to Catholics and All People of Good Will," which was published here at The Remnant, and signed by eight bishops, three cardinals, many theologians, priests, medical doctors, journalists and Catholic activists.
As editor of The Remnant, I was also one of the original signatories.
The Appeal appeared in The Remnant under the headline: Worse Than Death: A Pandemic Warning from Cardinal Zen, Cardinal Müller and Archbishop Viganò.
It's as three-page document, released in six languages, which demanded that governmental leaders respect people's inalienable rights and fundamental freedoms in light of the Covid-19 pandemic.
"The State has no right to interfere," the Appeal noted, "for any reason whatsoever, in the sovereignty of the Church," and it asked that restrictions on the celebration of public Mass and Sacraments be removed.
Well, that Appeal has now moved on to the next stage. The organization responsible, Vicit Leo, has posted the following press release on their website www.vicitleo.org, in which they announce their intention to "bring criminal proceedings against the World Health Organization and others whom the Vicit Leo association considers may be open to criminal prosecution."
It goes without saying that we here at The Remnant support this initiative and ask our readers to work and pray for the success of this important initiative undertaken by our traditional Catholic Italian allies. MJM
MEDIA RELEASE
Increasing numbers of people around the world are becoming more and more concerned about coercive measures being enforced by governments to combat Covid-19. And perhaps even greater concern is expressed about further measures that are proposed by powerful unelected bodies such as the World Health Organization.
In May an international 'Appeal for the Church and the World', signed by several Cardinals and Bishops, alongside specialists from the legal, medical and scientific professions, including such luminaries as President John F. Kennedy's nephew Robert F. Kennedy Jr., was launched by the Italian Vicit Leo association. The appeal, which can be read here, expressed deep concerns about the human rights implications of worldwide lock-down, phone tracking, and proposed enforcement of mask-wearing and mandatory injections. It claimed that "many authoritative voices in the world of science and medicine confirm that the media's alarmism about Covid-19 appears to be absolutely unjustified."
Two months later and the sentiments behind that appeal are starting to take on the shape of an internationally-networked human rights campaign that aims to bring criminal proceedings against the World Health Organization and others whom the Vicit Leo association considers may be open to criminal prosecution.
A recently issued campaign letter, which can be read here, informs its readers that "in the coming months Vicit Leo will launch a series of extensive meetings and investigations under the supervision of its Scientific Committee, its Juridical Committee, and its Ethics Committee" and that this "will take place in different countries in Europe, the USA, and around the world."
The Vicit Leo association is asking for people who share the concerns expressed in the appeal to help them by making it their own campaign, and for those with professional expertise in law, medicine, natural science, journalism and political lobbying to contact them with a view to becoming part of the professional backbone of this international human rights project.
END
Author:
Published in Remnant Articles
===
Coronavirus and Regime Change: Burundi's Covid Coup
African President of Burundi Calls COVID a Hoax, Expels the WHO and is then Suddenly Found Dead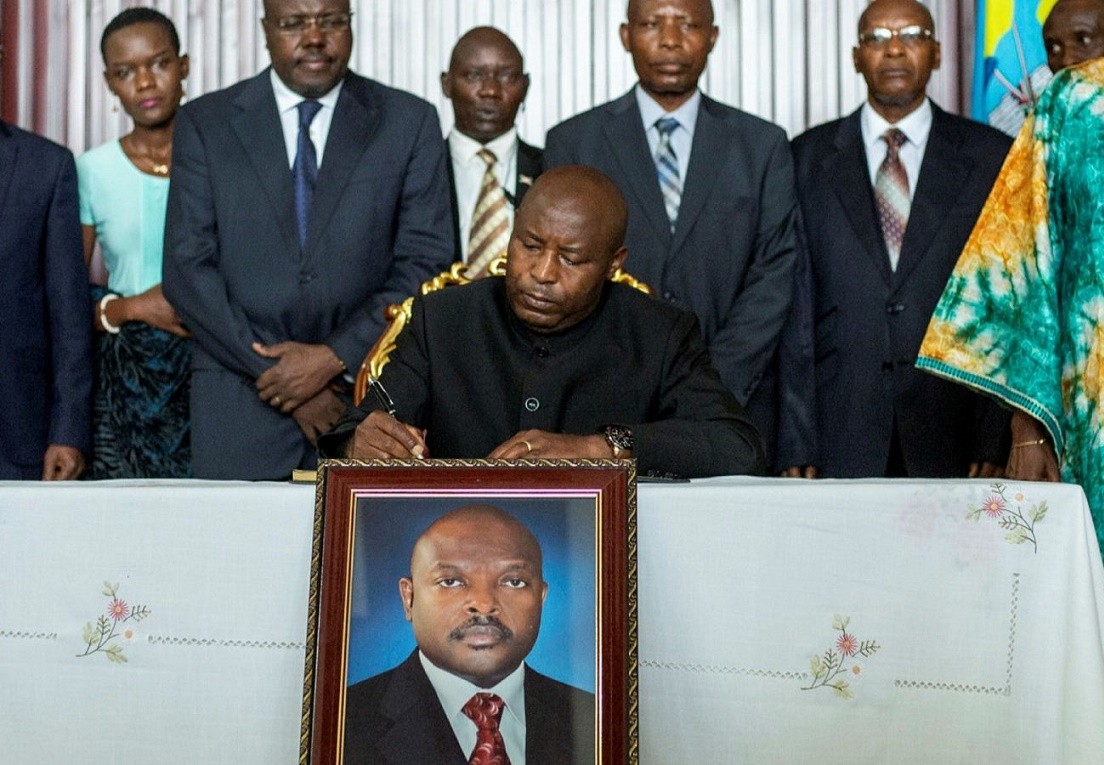 While the people of the western world occupy themselves wearing masks, pointing fingers and using so much hand sanitizer it literally kills them, the big world of Geo-Politics still ticks along, following the same tired old patterns with only slight variations in method. A modern twist, if you will.
Here's a little summary of Burundi's recent history:
The president of Burundi, Pierre Nkurunziza, dismissed covid19 as nonsense.
The president of Burundi was vilified in the Western press.
The president of Burundi expelled the World Health Organization from his country.
The president of Burundi died suddenly of a "heart attack".
The NEW president of Burundi immediately reversed his predecessor's Covid19 policies.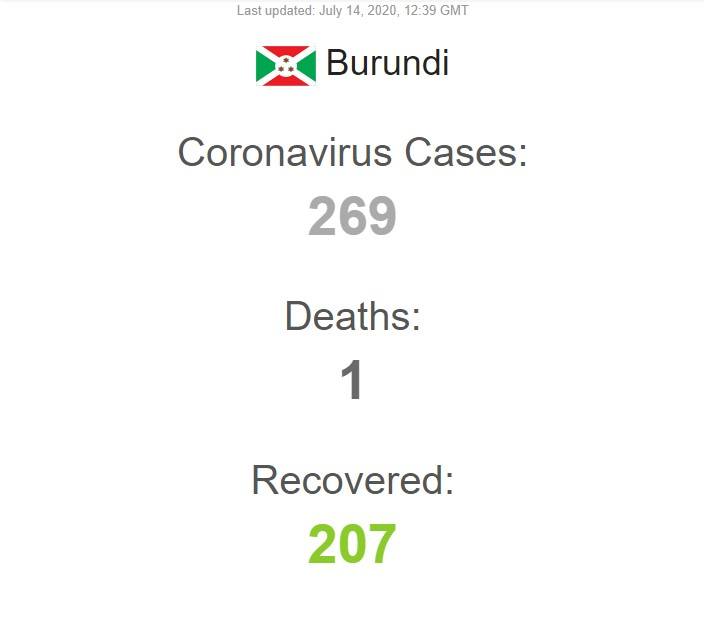 It seems Covid19 is a disease of rare complexity. Not only is it able to understand the importance of some social protests and avoid them entirely, it's also able to sense when the world leader is inconvenient and take him out.
Read the full article at Off-Guardian.org
Text for the long version…
6th May 2020
The Council on Foreign Relations blog posts an article titled "COVID-19 is Coinciding with Dangerous Trends in Burundi's Democracy".
At that time Burundi was listed as having 7 'active cases' of COVID-19.
President Pierre Nukurunziza's reluctance to impose policies aimed at stopping the virus from spreading is converging with his enthusiasm for democratic authoritarianism, putting not only Burundi, but Burundi's neighbors at risk.
[…]
Burundi's trajectory has been apparent for some time. But the pandemic now raises the stakes for neighboring states whose attempts to control the virus are threatened by Burundi's insistence on moving ahead with electoral theater regardless of the public health risks involved.
[…]
Just as the EAC's attempts to advance dialogue in Burundi did nothing to stave off the closing of political space, today the organization seems helpless at best as Burundi and neighboring Tanzania refuse to take COVID-19 seriously.
14th May 2020
Reuters reports that Burundi's government expels the WHO:
Burundi is expelling the national head of the World Health Organisation (WHO) and three members of his team as it prepares for a presidential election that is being held next week despite concern about health risks during the coronavirus pandemic.
The government confirmed on Thursday that a May 12 letter from the foreign ministry was sent to WHO country head Walter Kazadi Mulombo and three others of the U.N. body's health experts, ordering them out by Friday. Bernard Ntahiraja, the foreign affairs assistant minister, said the officials had been declared "persona non grata" but did not give reasons.
[…]
Burundi has so far reported relatively few cases of the COVID-19 disease: 27 infections and one death. But testing remains very low: the nation of 11 million people has carried out only 527 tests, according to the Africa Centres for Disease Control and Prevention (CDC).
[…]
Large crowds have been gathering during the election campaign in Burundi, which has no lockdown measures in place at all, unlike many other African nations.
[…]
Some Burundians say privately they believe COVID-19 infections are higher than officially stated but they say they fear to say so publicly because they could be targeted and punished. Léonce Ngendakumana, a presidential candidate for the opposition FRODEBU party, called the expulsion regrettable. "The country alone won't be able to contain the pandemic," he told Reuters.
10th June 2020
The Guardian reports the death of Burundian President Pierre Nkurunziza of "suspected Covid19" [our emphasis]:
The outgoing president of Burundi has died of a sudden illness, suspected by many to be Covid-19.
The cause of Pierre Nkurunziza's death was described as a heart attack in a government statement. The 55-year-old was due to stand down in August following elections last month.
It was unclear exactly when he died. A government statement said the president, a keen sports enthusiast, had attended a game of volleyball on Saturday but fell ill that night and was taken to hospital.
The former footballer's health improved on Sunday but "surprisingly, on morning of Monday June 8, 2020, his health suddenly deteriorated and he had a heart attack". The statement described Nkurunziza's death as "unexpected" and asked people to remain calm.
15th June 2020
The Financial Times runs an article titled "Coronavirus stalks Burundi's political elite after president's death". It's behind a paywall, but here's a screenshot:
1st July 2020
The Daily Monitor publishes an article from AFP headlined "Burundi changes tack as president declares COVID-19 'biggest enemy'" [our emphasis]:
Burundi's new President Evariste Ndayishimiye has declared the coronavirus the country's "biggest enemy", in a major about-turn for a nation which has largely ignored the dangers of the virus.
Former president Pierre Nkurunziza, who died suddenly last month, and even Ndayishimiye himself, had until now downplayed the gravity of the pandemic, saying God had spared Burundi from its ravages. Burundi held a full-blown campaign ahead of a May election, and unlike its neighbours which have imposed lockdowns and curfews, has taken few measures to combat the spread of the virus.
Officially the country has reported only 170 cases and one death in two months. Ndayishimiye was speaking late Tuesday after the swearing in of his new government in parliament. "From tomorrow (Wednesday), I declare the COVID-19 pandemic the biggest enemy of Burundians, because it is clear it is becoming their biggest concern," he said.
"We firmly commit ourselves to fight this pandemic." He called for "the strict respect for preventative measures which the health ministry will from now on display across the country".
He reminded citizens that coronavirus tests were free, as was treatment, warning those who did not get tested when they had symptoms.
"If in future someone does not go and get tested in such a case, it means he wants to contaminate others voluntarily… and he will be considered a sorcerer and treated as severely as one would be," he said.
14th July 2020
As of today, Worldometers.info lists 1 single death & 269 "Total Cases" of Covid19 for Burundi:
It seems Covid19 is a disease of rare complexity. Not only is it able to understand the importance of some social protests and avoid them entirely, it's also able to sense when the world leader is inconvenient and take him out.
Read the illustrated article at Off-Guardian.org
===
WHO launches independent inquiry into global response to pandemic
Investigation will focus on crucial timeline as coronavirus crisis developed
BY Anna Gross - 09 July 2020
An independent inquiry has been launched by the World Health Organization to begin investigating the global response to the coronavirus pandemic, focusing on the timeline as the health crisis deepened.
Speaking at a press briefing on Thursday, Tedros Adhanom Ghebreyesus, director-general of the WHO, said the inquiry should examine "whether the global health architecture is fit for purpose".
"All of us must look in the mirror — WHO, every member state and all involved in the response," Mr Tedros said, adding "we have to do better. Not just now, but for the future."
The investigation comes amid rising tension between the US, China and the WHO over the handling of the crisis, and just days after the US formally notified António Guterres, UN secretary-general, of its intention to withdraw from the WHO, taking with it the agency's biggest chunk of funding.
Helen Clark, former prime minister of New Zealand, and Ellen Johnson Sirleaf, former president of Liberia and a Nobel peace laureate, will co-chair the inquiry.
The WHO adopted a resolution to allow an investigation into the global response to the pandemic, including its own role, in May. There were no objections to the move from the assembly's 194 member states.
The resolution — which was proposed by the EU and called for an "impartial, independent and comprehensive evaluation" of the international response to the pandemic — amounted to a more moderate version of the entirely independent and China-focused inquiry that Australia and the US had called for.
US health secretary Alex Azar has previously lambasted the WHO for what he said was its failure to obtain vital information on Covid-19 from China.
"We must be frank about one of the primary reasons this outbreak spun out of control: there was a failure by this organisation to obtain the information that the world needed, and that failure cost many lives," Mr Azar said in a video address to the WHO's assembly in May. He went on to demand an independent review into "every aspect" of the agency's response to the pandemic.
While Mr Tedros has previously welcomed the call for a review, he insisted there was no need to overhaul or abandon the agency completely.
"The world doesn't need another plan, another system, another mechanism, another committee or another organisation," he said. Instead, it needed to "strengthen, implement and finance the systems and organisations it has, including WHO."
Ms Clark and Ms Sirleaf will select the other members of the inquiry's panel, though Mr Tedros said he encouraged all member states to put forward "world-class candidates" for the roles.
Recommended
From the archive: The world needs a new, depoliticised WHO
===
Trump Sets Date To End WHO Membership Over Its Handling Of Virus
By Pien Huang - 07. July 2020
The World Health Organization in Geneva has faced criticism from President Trump over its handling of the pandemic.
The U.S. has now sent a letter officially notifying the United Nations that it is leaving the World Health Organization, starting the formal process of withdrawal that President Trump first threatened in April when he halted funding to WHO.
In an email to the media, a U.N. spokesman confirmed that the organization received the notification: "On 6 July 2020, the United States of America notified the Secretary-General ... of its withdrawal from the World Health Organization, effective on 6 July 2021," wrote Stéphane Dujarric, a spokesman for U.N. Secretary-General António Guterres."
Trump has repeatedly criticized WHO for being slow to respond to the pandemic and for being too "China-centric." On May 29, he announced his decision to leave the organization, claiming that it caved to pressure from China "to mislead the world when the virus was first discovered by Chinese authorities" and that it's under the "total control" of China.
Trump has said the money the U.S. would have contributed to WHO will go to various global health initiatives.
The U.N. said it is checking with WHO to see if all the conditions for withdrawal have been met.
===
Vaccine Bait & Switch: As Millions Pulled From WHO, Trump Gives Billions To Gates-Founded GAVI
By Derrick Broze - 07. July 2020
In mid-May US President Donald Trump announced that the US would be ending their financial support for the World Health Organization (WHO) and COVID-19 relief. The move was lambasted in the mainstream press as an out of touch politician pulling funding from a vital global health organization during the middle of a pandemic. To Trump's supporters the decision was met with the typical cheering and celebrated as another Trump victory against the "globalists." To understand what is actually going on we need to examine Donald Trump's actions, not his tweets or media statements.
Let us start by looking at the funding provided by the US government to the WHO in previous years. The latest numbers from fiscal year 2018 (numbers are not available for 2019-20) show an estimated $281.6 million to the WHO from the US. The records indicate that after the US government, the Bill and Melinda Gates Foundation and GAVI, the Vaccine Alliance, are the 2nd and 3rd top financiers of the WHO. The US defunding the WHO actually tightens the technocrats already firm grip on another global institution.
This means when Donald Trump stated the US will no longer fund the WHO, the Gates Foundation and GAVI stepped into the top financial role. Additionally, GAVI was founded by and largely funded by the Bill and Melinda Gates Foundation in 2000. Either way, Bill Gates is the top donor and will continue to expand his influence and dominance of global health policy. As reported in Part 2 of my Bill Gates investigation, in 2010 the Bill and Melinda Gates Foundation launched the "Decade of Vaccines" and called for a "Global Vaccine Action Plan." Since that time they have only grown their network and influence on WHO, GAVI and other organizations in order to shape public health policy in a way that reaps profits for the Gates themselves.
While Trump's supporters viewed the US withdrawal from WHO financing as a win for nationalism or a black eye to the globalists, the truth is a bit more nuanced.
In early June, the Trump administration declared support for GAVI to the tune of a $1.16 billion USD donation. Trump's support for GAVI came via the first ever virtual Global Vaccine Summit. At this summit GAVI surpassed the goal of $7.4 billion, instead raising $8.8 billion USD and securing commitments from most major nations around the world. GAVI even received a $5 million dollar donation from the Rockefeller Foundation. GAVI stated that the funding will go to "routine immunization programs" and will also help the public-private partnership "play a major role in the rollout of a future Covid-19 vaccine."
More than 25 heads of state and 50 leaders of international agencies, NGOs and private industry attended the fundraising event. Participants included Germany's Chancellor Angela Merkel, UN Secretary General António Guterres, European Commission President Ursula von der Leyen, and World Health Organization Director-General Dr Tedros Adhanom Ghebreyesus.
UN Secretary Guterres stated that the vaccine would not be enough and instead called for "global solidarity…to ensure that every person everywhere gets access to the vaccine." Guterres also noted that "our individual health depends on our collective health."
Donald Trump, GAVI, and Bill Gates
It was at this Global Vaccine Summit where a pre-recorded message from Donald Trump was played. In his video statement Trump said UK Prime Minister Boris Johnson asked him to record a message.
During his short speech, Donald Trump stated, "It's great to be partnering with you. We will work hard, we will work strong." Trump also called COVID-19 "mean" and "nasty" and said it has shown "there are no borders, it doesn't discriminate."
Trump's support for GAVI was echoed on the twitter account for the United States Agency for International Development (USAID). "USAID echo's @Realdonaldtrump's words and is proud to be partnering with @Gavi by committing $1.16 billion to protect people through vaccines, because #VaccinesWork," the tweet reads. (It should be noted that USAID has also been accused of creating fake social media networks in an attempt to foment unrest in foreign nations.)
"As the Coronavirus has shown, there are no borders."

USAID echo's @Realdonaldtrump's words and is proud to be partnering with @Gavi by committing $1.16 billion to protect people through vaccines, because #VaccinesWork pic.twitter.com/btSLEEM4et

— USAID (@USAID) June 4, 2020
It was actually USAID who first announced the pledge of US $1.16 billion in February. The Trump administration included that $1.16 commitment as part of the budget for Fiscal Years 2020-2023. The budget for Fiscal Year 2021 included $290 million for GAVI. Remember that the records from fiscal year 2018 show an estimated $281.6 million to the WHO from the US. The Trump administration's announcement of an initial $290 million investment easily surpassed the US investment in the WHO. Over the next three years the US will give more than $800 million to GAVI for their vaccination programs.
Once again, this puts Bill Gates and his organizations at the top of the global health pyramid. So what did Mr. Gates have to say about the success of the Global Vaccine Summit?
"Since its inception GAVI has helped vaccinate more than three-quarters of a billion children … And now, it's stepping up and saying it's willing to deliver a Covid-19 vaccine as soon as one is available to end the pandemic as soon as possible," he said at the Summit. "We must also renew our commitment to delivering every life-saving vaccine there is to every child on earth."
The Trump administration's support for the development of vaccines to fight COVID-19 is also visible in a more recent virtual event organized by Global Citizen and the European Commission. On June 27, Global Citizen hosted the "Global Goal: Unite for Our Future – The Concert" which was supported by Bloomberg Philanthropies, Bill & Melinda Gates Foundation, Wellcome Trust, and Corporate Partners Citi, Procter & Gamble, SAP, Verizon and Vodafone. Once again, the funds raised at the event went to the Gates-founded GAVI.
During this event, Kelly Craft, United States Ambassador to the United Nations announced the US commitment of $545 million for GAVI towards COVID-19 relief efforts. "Together, we must work in an open, transparent, and supportive manner to build a safer, more resilient world. We must be the true multilateralist in the best sense of the word, working toward the common good," Craft said.
At a May 2020 virtual summit, also organized by the European Commission, the Trump administration committed to giving another $775 million in emergency health, humanitarian, economic and development aid for governments, international organizations and charities fighting the pandemic. At this same event the Bill and Melinda Gates Foundation contributed $125 million.
Either Way, Gates Wins
Taken together – the May payment of $775 million; the early June announcement of $1.16 billion; and the late June gift of $545 million – these taxpayer funded investments will provide abundant resources for GAVI, and subsequently, the Bill and Melinda Gates Foundation. These funds easily outweigh the paltry $281.6 million the US was giving to the WHO.
It is important to understand that the WHO is a part of the United Nations, which itself is an "intergovernmental organization" that is attempting to replace nation-states as we know them today in favor of global governance schemes. GAVI is a "public-private partnership" where governmental bodies and private organizations partner up to provide some sort of public service. Neither of these organizations has been elected by the free people of the nations in which they operate.
Despite this fact, the Trump administration is continuing to give billions to GAVI and in doing so, furthering Bill Gates' goal to vaccinate 7 billion people. Trump may have pulled funds from the WHO, but that decision allows Gates to take full control of WHO policy and continue to use US taxpayer dollars to fund vaccine projects, including a rushed vaccine for COVID-19. This was likely the plan the whole time.
As we have clearly demonstrated in previous reports, Gates has an outsized influence on the COVID-19 recovery and global health in general. A 2015 report titled, Philanthropic Power and Development: Who shapes the agenda?, examines the influence of global philanthropy and provides examples of the undue influence Gates and others can wield. The report noted that researchers have been critical of GAVI for following a "Gates-approach" on global health challenges, "focusing on disease-specific vertical health interventions (through vaccines), instead of horizontal and holistic approaches (e.g., health system strengthening)."
Further, in May 2019, Gavi CEO Seth Berkley referred to "anti-vaccine sentiment" as a disease that needs to be censored from the internet. Berkley's statements are perfectly in line with Bill Gates' vision and the larger agenda of eugenics. The public cannot be allowed to question the safety of vaccines — no matter how rushed they are.
This is why the Trump administration appointed a Big Pharma lackey to head "Operation Warp Speed," Trump's plan to fast track the development of vaccines for COVID-19. In May, Trump appointed Moncef Slaoui, a former executive with vaccine manufacturer GlaxoSmithKline, to serve in a volunteer position, assisted by Army Gen. Gustave Perna, the commander of United States Army Materiel Command. According to the Trump administration, Operation Warp Speed program is focusing on four vaccines, with the hopes of testing and producing 100 million doses by October 2020, 200 million by December, and 300 million doses by January. Slaoui has said he believes the goal of vaccines by January 2021 is a "credible goal."
Once again, Gates' fingerprints are all over the situation. Slaoui himself has a long history with the Bill and Melinda Gates Foundation, sitting on the boards of companies that are connected to the organization.
It appears that despite the public pronouncements of divesting from the WHO or tweets about standing up to the globalists, the Trump administration continues to push the agenda to vaccinate every person on the planet.
===
NIH Signed Secret mRNA Vaccine Contract With Moderna In DECEMBER 2019, Before This COVID Event Began
June 30th, 2020.
This is an excerpt of The Daily Wrap Up 6/29.
Full Episodes Can Be Seen Here:
https://www.youtube.com/watch?v=WfvEzcDDyEg
===
VERY IMPORTANT VIDEO DOCUMENTATION (censored by Youtube)
By Del Bigtree, June 12, 2020
Is it rare for asymptomatic carriers to spread covid-19 or not? Should we wear masks or do they do nothing? This week the W.H.O. goes back and forth on recommendations AGAIN! Del breaks down Maria Van Kerkhove's backpedaling comments during a press conference. WHO can we trust at this point?
The Highwire on WHO, Maria van Kerkhove - https://www.bitchute.com/video/V2XPkdQP7KC1/
The Highwire
https://thehighwire.com/
https://www.youtube.com/channel/UCq6oOuhSx7ESreh6m9LGy6Q
===
Leaked WHO files show China 'delayed releasing important information' about virus
By Tom Cheshire - 02. June 2020
China delayed releasing important coronavirus information during the early days of the outbreak, according to leaked WHO documents and recordings of WHO meetings obtained by the Associated Press (AP).
Chinese President Xi Jinping visiting a health centre in Beijing during the pandemic © Reuters
The delay led to frustration for officials in the World Health Organisation (WHO), even as they publicly praised China for its transparency.
The country waited more than one week before publishing the genome of the novel coronavirus on 11 January, despite the fact three different government labs had fully sequenced the genetic code.
"Tight controls on information and competition within the Chinese public health system were to blame, according to dozens of interviews and internal documents," AP reported.
And for two weeks afterwards, China also delayed providing the WHO with more detailed data on patients and cases, according to the recordings, making it difficult for officials to judge whether the virus could spread between people, and what risk it might mean for the rest of the world.
The outbreak began in Wuhan, in China's central Hubei province. File pic © Imagebridge
One WHO official reportedly complained: "We're going on very minimal information. It's clearly not enough for you to do proper planning."
AP said: "WHO staffers debated how to press China for gene sequences and detailed patient data without angering authorities, worried about losing access and getting Chinese scientists into trouble."
The Chinese government did not comment on AP's report, but has repeatedly said it has acted transparently.
"Since the beginning of the outbreak, we have been continuously sharing information on the epidemic with the WHO, and the international community in an open, transparent and responsible manner," said Liu Mingzhu, an official with the National Health Commission's International Department, at a news briefing on 15 May.
In a statement, the WHO said: "Our leadership and staff have worked night and day in compliance with the organisation's rules and regulations to support and share information with all member states equally, and engage in frank and forthright conversations with governments at all levels."
In China, 4,638 have died with the virus, according to the Johns Hopkins University - © Imagebridge
International law requires countries to report information that may affect public health but the WHO does not have enforcement powers.
Officials compared China's lack of cooperation with other countries.
"This would not happen in Congo and did not happen in Congo and other places," Dr Michael Ryan, WHO's chief of emergencies, told colleagues in the second week of January, according to the report.
"We need to see the data. It's absolutely important at this point."
The Wuhan Institute of Virology sequenced the genome of the virus by 2 January - a short time after the first efforts to decode the genetic map of the virus began in late December, and other labs were also racing to sequence the genome.
On 3 January, the Chinese National Health Commission issued a secret notice ordering labs studying the virus to destroy their samples or send them to approved institutes.
The notice also banned labs from publishing information about the virus without the approval of the government.
By the end of 5 January, three other Chinese labs had sequenced it, including the Chinese Centre for Disease Control (CDC).
According to AP, the Shanghai Public Clinical Health Center notified the National Health Commission that, according to the sequence: "It should be contagious through respiratory passages. We recommend taking preventative measures in public areas."
The genetic sequence was finally published on 11 January by the Shanghai lab, a move which angered officials at the Chinese CDC. The Shanghai lab was temporarily closed by authorities.
It was not until 20 January that Chinese authorities confirmed sustained human-to-human transmission of the virus and Chinese President Xi Jinping called for the "timely publication of epidemic information and deepening of international cooperation".
===
"We Have Undercover Footage" - The Media DON'T Want This Out!
•May 24, 2020
Banned Dr. Buttar Shares Undercover Footage Story and Secrets the media don't want out.
🎶 Music: Audiojungle and Motion Array Royalty-Free Music - Intense Trailer & Documentary Thriller by AShamaluevMusic - 🎤
Speakers: Dr. Rashid Buttar 🎬
All footage is licensed via Storyblocks 🎬
✂️ If any content owners will want their images removed please contact us Via email at ✂️
⚠️Video Was Uploaded with Permission from owners
⚠️ * Copyright Disclaimer Under Section 107 of the Copyright Act 1976, allowance is made for "fair use" for purposes such as criticism, commenting, news reporting, teaching, scholarship, and research. Fair use is a use permitted by copyright statute that might otherwise be infringing. Non-profit, educational or personal use tips the balance in favor of fair use.
* 1.) This video has no negative impact on the original works (It would actually be positive for them)
2.) This video is also for teaching purposes.
3.) It is not transformative in nature. 4.) I only used bits and pieces of videos to get the point across where necessary.
===
Follow InspireDiscipline On Social Media
My Instagram: https://www.instagram.com/inspiredisc... My Facebook: https://fb.com/Inspirediscipline My Twitter: https://twitter.com/Inspired_Discip YouTube Subscribe Here: https://goo.gl/hbc1n3
Subscribe and Activate the 🔔 beside the subscribe button to get a notification! Leave us a comment on what you'd like to see in the next video!
===
Burundi orders top WHO official, 3 other virus experts to leave
NAIROBI: Burundi has ordered the expulsion of the country's top World Health Organization (WHO) representative and three other experts coordinating the coronavirus response, the foreign ministry said in a letter seen by AFP on Wednesday.
In a letter dated May 12 and addressed to WHO's Africa headquarters, the foreign ministry said the four officials "are declared persona non grata and as such, must leave the territory of Burundi" by Friday.
The directive expels WHO's top official in Burundi, Doctor Walter Kazadi Mulombo, the country's coronavirus coordinator Doctor Jean Pierre Mulunda Nkata, communicable diseases head Doctor Ruhana Mirindi Bisimwa, and a laboratory expert in the testing for Covid-19, Professor Daniel Tarzy.
"It is the whole WHO team responsible for supporting Burundi in its response against Covid-19," a Burundian official told AFP, speaking on condition of anonymity.
"They are expelled and the health minister has totally excluded WHO, accusing it of unacceptable interference in its management of the coronavirus."
The letter does not provide a reason for the decision. Diplomatic and administrative sources told AFP the foreign ministry aborted a similar attempt to expel the same four officials a month ago.
The announcement comes just days before Burundians go to the polls on May 20 to choose a new president, parliamentarians and local officals.
===
Burundi expels WHO officials coordinating coronavirus response
In a letter addressed to WHO's Africa headquarters, the foreign ministry says the four officials must leave by Friday.
Burundi has ordered the country's top World Health Organization (WHO) representative and three other experts coordinating the coronavirus response to leave the country.
The expelled officials include the WHO's representative Dr Walter Kazadi Mulombo, the country's coronavirus coordinator Dr Jean Pierre Mulunda Nkata, communicable diseases head Dr Ruhana Mirindi Bisimwa, and a laboratory expert in the testing for COVID-19, Professor Daniel Tarzy.
In a letter dated May 12 and addressed to WHO's Africa headquarters, the foreign ministry said the four officials "are declared persona non grata and as such, must leave the territory of Burundi" by Friday.
"It is the whole WHO team responsible for supporting Burundi in its response against COVID-19," a Burundian official told AFP news agency, speaking on condition of anonymity.
"They are expelled and the health minister has totally excluded WHO, accusing it of unacceptable interference in its management of the coronavirus."
The letter does not provide a reason for the decision. Diplomatic and administrative sources told AFP that the foreign ministry aborted a similar attempt to expel the same four officials a month ago.
The Africa Centres for Disease Control and Prevention has described the move as "unfortunate" at a time when greater cooperation was needed to tackle the virus on the continent.
"We are in dire need of technical expertise as a continent, which has a very weak health system and fragile infrastructure, where we don't have the luxury of kicking out WHO," Africa CDC director John Nkengasong told reporters on Thursday.
The announcement comes just days before Burundians go to the polls on May 20 to choose a new president, parliamentarians and local officials.
The landlocked country of some 11 million has officially recorded 27 cases and one death from coronavirus.
But it has taken few precautions against the disease and testing is low, fuelling concern that the true extent of the outbreak is not known.
SOURCE: AFP news agency
===
Burundi expels senior WHO official, experts
In Summary
• Dr Walter Kazadi Mulombo who was the WHO boss in Bujumbura and his three colleagues were declared persona non-grata and given up to May 15 to leave the country.
By AGGREY MUTAMBO - 14. May 2020
Burundi on Wednesday expelled the representative of the World Health Organization and three senior health experts deployed to Bujumbura over unspecified reasons.
Dr Walter Kazadi Mulombo who was the WHO boss in Bujumbura and his three colleagues were declared persona non-grata and given up to May 15 to leave the country.
The other health experts included Prof Daniel Tarzy, Dr Ruhna Mirindi Bisimwa and Dr jean-Pierre Mulunda Nkata.
The local Foreign Ministry wrote a note verbale to the WHO Africa head offices in Brazzaville, asking that the four officials leave the country, but did not specify the reasons. Burundi as of Wednesday reported 15 cases of Covid-19 with one death.
The country has imposed closure of its main airport from international flights. But it has attracted public criticism for going on with planned elections due on May 20 by allowing public rallies and gatherings.
President Pierre Nkurunziza is stepping down after three terms in office.
Author:
AGGREY MUTAMBO
===
By sott.net - 09. July 2020 commenting on The Guardian article By Jason Burke - 10. June 2020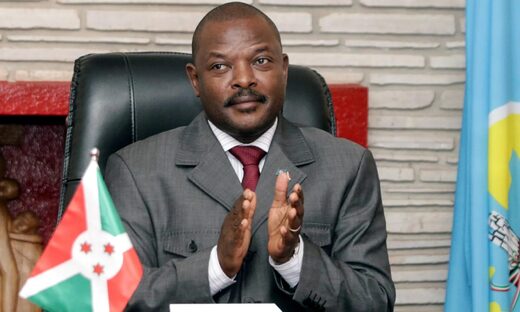 RIP © Evrard Ngendakumana/Reuters
The outgoing president of Burundi has died of a sudden illness, suspected by many to be Covid-19.

Comment: That should be read as "suspected (really, wished) by The Guardian to be Covid-19..."

The cause of Pierre Nkurunziza's death was described as a heart attack in a government statement. The 55-year-old was due to stand down in August following elections last month.

It was unclear exactly when he died. A government statement said the president, a keen sports enthusiast, had attended a game of volleyball on Saturday but fell ill that night and was taken to hospital.

The former footballer's health improved on Sunday but "surprisingly, on morning of Monday June 8, 2020, his health suddenly deteriorated and he had a heart attack". The statement described Nkurunziza's death as "unexpected" and asked people to remain calm. Seven days of mourning have been announced.

Nkurunziza had refused to impose restrictions in the small and poor African country, allowing sporting events and mass political rallies to go ahead.

Speculation about the cause of his death has been fuelled by unconfirmed reports that his wife was flown to Nairobi, the Kenyan capital, 10 days ago after contracting Covid-19.

Comment: Probably also fake news.

Authorities in Burundi have been accused of deliberately playing down the threat posed by the coronavirus pandemic, which has infected 197,000 people on the African continent and killed more than 5,000.

The nation of 11 million people has reported 83 cases of Covid-19 and officials have cited divine protection for Burundi's ostensibly low infection rate and urged citizens to go about their daily lives without fear.

Nkurunziza's spokesperson said that although the country may be hit by the pandemic, "Burundi ... has signed a special covenant with God, whether you believe it or not".

Burundi refused to follow most other African nations in imposing a lockdown and expelled the World Health Organization's expert team working on coronavirus.

Nkurunziza was forced to step aside after 15 years in power by opponents within the country's ruling CNDD-FDD party, but was to become "supreme guide" with wide if ill-defined power. As former leader he would have received a $500,000 (£410,000) gift from the nation along with a luxury villa.

The elections were won by Gen Évariste Ndayishimiye, who analysts say was selected because he was acceptable to a powerful clique of senior military officers. The opposition claimed the poll had been rigged. Rights groups accused the ruling party and its youth wing of systematically crushing dissent.

Between January and March, Ligue Iteka, an exiled Burundian human rights organisation, documented 67 killings, including 14 extrajudicial executions, six disappearances, 15 cases of gender-based violence, 23 cases of torture, and 204 arbitrary arrests. There was also some violence directed against ruling party members and youths - including killings - but at much lower levels.
Comment: What on earth is 'gender-based violence'??

Burundi became diplomatically isolated after 2015, when Nkurunziza's decision to run for a third term - a move his opponents said violated the peace deal that ended the civil war - sparked protests met with extreme violence by the youth wing of the ruling party, known as the Imbonerakure, and the security forces. Hundreds of thousands of Burundians fled into exile.

That was a color revolution hit-job, by the way.

Burundi withdrew from the international criminal court in 2017 and shut down the United Nations office on human rights last year.

"As I learn of the passing of Pierre Nkurunziza, I think of the thousands of lives that his regime cut short. The families that won't see justice," tweeted Thierry Uwamahoro, a democracy activist and prominent government critic who lives in exile.

Journalists and human rights workers in Burundi are routinely targeted. Last week, four journalists from the domestic news website Iwacu were sentenced to two and a half years in prison after they travelled to investigate reports of unrest in the north-west of the country.
===
China Never Reported Existence of Coronavirus to World Health Organization
WHO backtracks on original claim that China self-reported, admits this never happened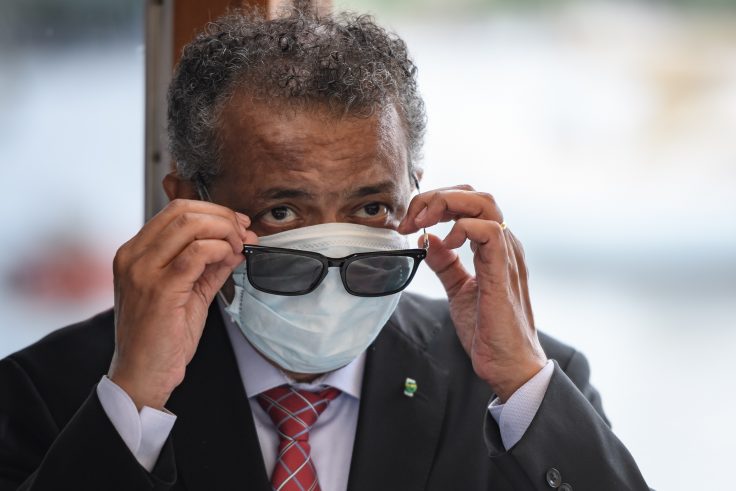 By Adam Kredo - 02.
Contrary to claims from both Chinese officials and the World Health Organization, China did not report the existence of the coronavirus in late 2019, according to a WHO timeline tracking the spread of the virus. Rather, international health officials discovered the virus through information posted to a U.S. website.
The quiet admission from the international health organization, which posted an "updated" timeline to its website this week, flies in the face of claims from some of its top officials, including WHO director general Tedros Adhanom, who maintained for months that China had informed his organization about the emerging sickness.
China and its allies at the WHO insisted in multiple interviews and press conferences that China came to the health organization with information about the virus. This is now known to be false. The WHO's backtracking lends credibility to a recent congressional investigation that determined China concealed information about the virus and did not initially inform the WHO, as it was required to do.
The WHO's updated timeline, posted online this week, now states that officials first learned about the virus on Dec. 31, 2019, through information posted on a U.S. website by doctors working in Wuhan, where the virus first emerged. This contradicts the agency's initial timeline, which said that China first presented this information at that date.
That initial timeline stated that the "Wuhan Municipal Health Commission, China, reported a cluster of cases of pneumonia in Wuhan, Hubei Province" on Dec. 31.
These claims were carried in numerous American media outlets that relied on the WHO's inaccurate timeline, including CNN and Axios.
Chinese officials and state-controlled media also claimed for months that the communist regime informed the WHO on or around Dec. 31. In recent days, however, Chinese officials have dropped that talking point.
Rep. Michael McCaul (Texas), lead Republican on the House Foreign Affairs Committee and a member of Congress's China Task Force, was one of the first lawmakers to expose China's lies about reporting the virus. An interim congressional report on the virus's origins published last month first disclosed the fact that the WHO found out about the virus from online postings, not China.
"I'm glad to see the WHO and the Chinese Communist Party have both read my interim report on the origins of the pandemic and are finally admitting to the world the truth—the CCP never reported the virus outbreak to the WHO in violation of WHO regulation," McCaul told the Washington Free Beacon in a statement. "The question now is whether the CCP will continue their false propaganda campaign that continues to claim they warned the world, or whether they will come clean and begin to work with the world health community to get to the bottom of this deadly pandemic."
McCaul's report makes clear that WHO director general Adhanom parroted China's claim about self-reporting the virus.
"Director General Tedros actively engaged in an effort to defend the CCP's leadership from criticism, negatively impacting the world's understanding of the virus and hampering the global response effort," the report concluded.
The WHO's initial timeline "leaves out the fact that the WHO China Country Office was 'informed' by the WHO headquarters in Geneva—not PRC health authorities," according to McCaul's findings, which are now verified by the WHO's revised timeline.
While initial reports of the virus did in fact originate in Wuhan, WHO officials in its headquarters found the information on an American early-warning site.
"Director General Tedros's comments seem to suggest that Wuhan or the PRC informed the WHO of the outbreak, which is untrue," according to the congressional report.
Adam Kredo is senior writer reporting on national security and foreign policy matters for the Washington Free Beacon. An award-winning political reporter who has broken news from across the globe, Kredo's work has been featured in the Wall Street Journal, the Weekly Standard, Commentary Magazine, the Drudge Report, and the Jerusalem Post, among many others. His Twitter handle is @Kredo0. His email address is .
Picture: Director general Tedros Adhanom Ghebreyesus / Getty Images
===
W.H.O. Chief Scolds World for 'Not Listening' to Coronavirus Warnings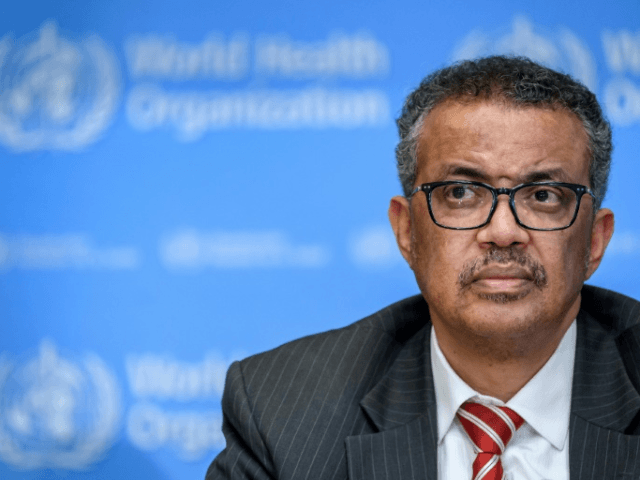 By Simon Kent - 28. April 2020
The World Health Organisation (W.H.O.) chief lamented Monday "the world should have listened" when first alerted by the U.N. subsidiary agency to the dangers posed by the deadly Chinese coronavirus.
Tedros Adhanom Ghebreyesus scolded countries which did not immediately heed the W.H.O.'s advice as far back as January, alleging those that listened were now coping better with the contagion.
"On January 30 we declared the highest level of global emergency on Covid-19 […] During that time, as you may remember, there were only 82 cases outside China. No cases in Latin America or Africa, only 10 cases in Europe. No cases in the rest of the world. So the world should have listened to the W.H.O. then carefully," Tedros claimed during W.H.O.'s latest press briefing in Geneva.
"We advised the whole world to implement a comprehensive public health approach – find, test, contact tracing and so on," he continued.
"The countries who followed that are in a better position than others."
The lamentation by Tedros would appear to defy the evidence as to the quality of that advice, as Breitbart News has reported.
As far back as January 14, the day before the first case to reach the United States reportedly flew from Wuhan to Seattle, Washington, the W.H.O. denied the disease was spreading through human-to-human transmission.
"Preliminary investigations conducted by the Chinese authorities have found no clear evidence of human-to-human transmission of the novel [coronavirus] identified in [Wuhan]," the W.H.O. wrote on Twitter.
Preliminary investigations conducted by the Chinese authorities have found no clear evidence of human-to-human transmission of the novel #coronavirus (2019-nCoV) identified in #Wuhan, #China🇳. pic.twitter.com/Fnl5P877VG

— World Health Organization (WHO) (@WHO) January 14, 2020
On February 4, the U.N. body cast doubt on assertions that asymptomatic persons infected by coronavirus could transmit the disease.
Q: Can #2019nCoV be caught from a person who presents no symptoms?
A: https://t.co/j6HsqP9iJb pic.twitter.com/1wPMoM9BzE

— World Health Organization (WHO) (@WHO) February 5, 2020
Although coronavirus had been traced to an animal market in Wuhan by late January, the W.H.O. claimed in early February that it did not know the source of the outbreak.
"But there is still a lot we don't know.

We don't know the source of the #2019nCoV outbreak, we don't know what its natural reservoir is and we don't properly understand its transmissibility or severity.

To defeat this outbreak, we need answers to all those questions"-@DrTedros

— World Health Organization (WHO) (@WHO) February 6, 2020
As of February 11, the W.H.O. was still doubting the virus even originated from animals in China.
The route of transmission of 2019-nCoV to humans at the start of this event remains unclear.
The current most likely hypothesis is that an intermediary host animal has played a role in the transmission.

WHO Situation Report 11 February 2020 https://t.co/tJX1RDu5Hr#COVID19 pic.twitter.com/Dr9mHhifGl

— World Health Organization (WHO) (@WHO) February 11, 2020
As to the claim by Tedros, "countries who followed that [advice] are in a better position than others," Australia and New Zealand both controlled the virus spread by directly defying W.H.O. advice.
On February 4, the W.H.O. advised against trade and travel restrictions against China, saying such measures could cause "fear and stigma".
While people were right to be concerned, there was "no reason for panic and fear", Tedros said.
Just days earlier Australia's national carrier Qantas announced it would suspend flights to mainland China until further notice.
Prime Minister Scott Morrison also said Australia had upgraded its travel advice to include all of mainland China to level four — "do not travel" in direct defiance of W.H.O.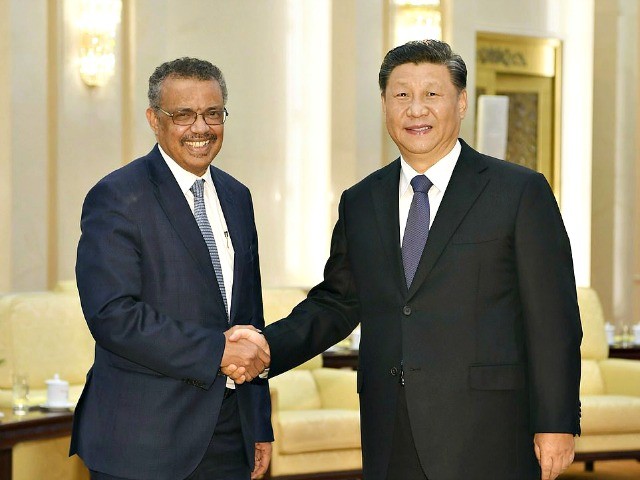 The W.H.O. and its Director-General Tedros Ghebreyesus (left, pictured meeting with Xi Jinping in January) has faced accusations that the organisation is 'China-centric' and has been too quick to praise the regime's coronavirus response (Kyodo News via Getty Images).
Australia then initiated a strict isolation policy for anyone arriving in the country, mandating 14 days of lockdown for each and every arrival including those Australians returning from overseas.
Since that time both New Zealand and Australia have worked together to fight the spread of the disease and are now in the process of inching back social distancing restrictions.
Australia alone reported just 12 new cases of coronavirus on Tuesday and has reduced the rate of infection from above 25 per cent in late March to less than 0.5 per cent over the past week.
Sweden is another country that defied W.H.O. advice and took its own path of keeping the country open.
As Breitbart News reported, its capital Stockholm could reach "herd immunity" (the better term is community immunity) within weeks as a result, the country's chief epidemiologist said last week.
"In major parts of Sweden, around Stockholm, we have reached a plateau (in new cases), and we're already seeing the effect of herd immunity (the better term is community immunity, and in a few weeks' time, we'll see even more of the effects of that. And in the rest of the country, the situation is stable," Dr. Anders Tegnell, the chief epidemiologist at Sweden's Public Health Agency, told CNBC.
Follow Simon Kent on Twitter: Follow @SunSimonKent or e-mail to:
WHO director was a leader of a political group designated as a terrorist organization by US officials
There is a bright spotlight on the WHO and it's not finding good things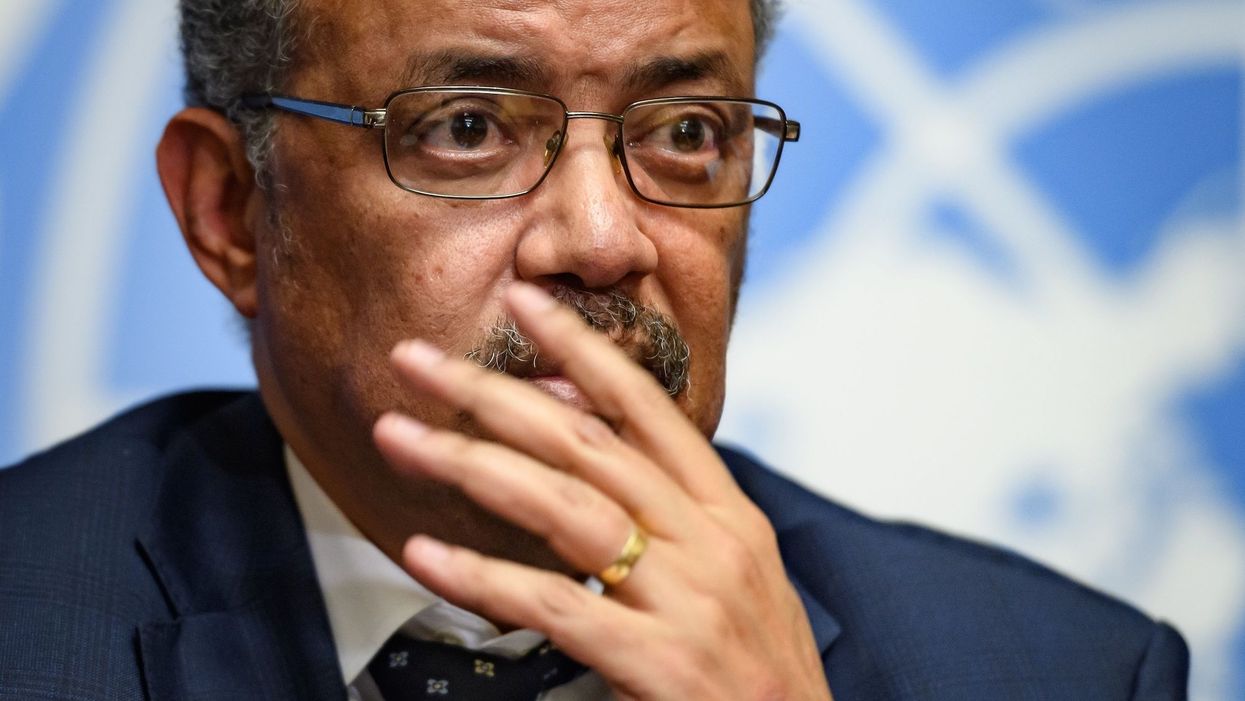 WANTED FOR CRIMES AGAINST HUMANITY : Tedros Adhanom Ghebreyesus - Photo: FABRICE COFFRINI/AFP via Getty Images
By Carlos Garcia - 22. April 2020
World Health Organization Director Dr. Tedros is facing increased scrutiny over his ties to an organization that was designated as a terror group by US officials.
Tedros Adhanom Ghebreyesus, who goes by Dr. Tedros, was a leader of the Ethiopian People's Revolutionary Democratic Front, a group that was designated as a terrorist organization by U.S. officials.
A memo from the Department of Homeland Security in 2014 details the background of the EPRDF.
The TPLF is a political group founded in 1975 in Ethiopia, as an opposition group. The TPLF engaged in prolonged armed conflict with the government of Ethiopia, which, along with other groups, it succeeded in overthrowing in 1991. The TPLF then joined the Ethiopian People's Revolutionary Democratic Front (EPRDF), a political coalition that became the governing coalition in Ethiopia. The EPRDF continues to control the government of Ethiopia. The TPLF qualifies as a Tier III terrorist organization under INA section 212(a)(3)(B)(vi)(III) on the basis of its violent activities before it became part of the ruling coalition and the government of Ethiopia in May 1991.
In 2017, National Review called for the WHO to be defunded in part over Dr. Tedros ties to the terror group.
Dr. Tedros, as he likes to be called (he has a Ph.D. in community health), is a leader of Ethiopia's brutal minority party, the Tigray People's Liberation Front, a wing of the ruling Marxist-rooted Ethiopian People's Revolutionary Democratic Front. He served the violently repressive regime as minister of foreign affairs from 2012 to 2016, after a stint as health minister.
Even before he was elected to lead the WHO, Dr. Tedros was hit with accusations that he had helped cover up numerous epidemics in Ethiopia during his time as the health minister of the country.
There are also claims that Dr. Tedros was aided in his campaign to lead the WHO by China.
President Donald Trump ordered the end of US payments to the World Health Organization over their bungled response to the coronavirus pandemic. Democrats have been very critical of the move and said it was not the proper time to weaken the global institution.
Here's more about the WHO director's very shady history:
Exclusive video
EXPOSED: WHO director accused of coronavirus cover-up linked to radical TERROR group in Africa
YouTube CEO Susan Wojcicki recently said any content that goes against the World Health Organization's recommendations during the coronavirus pandemic will be removed from the platform to prevent the spread of false information. So apparently it won't matter how well researched and documented the information is, if the WHO doesn't like it, it won't be up to the American public to decide whether to watch or listen.
"What I'm about to tell you is going to be banned, most likely, on Facebook, Twitter and YouTube. And every place else, because it goes against the WHO," explained Glenn Beck on Wednesday's radio program. "But three weeks ago, I called for a full audit of the WHO.
"At this point, you know about their assisted cover-up with the overlords of the Chinese Communist Party to try to hide the fact that China is directly responsible for the coronavirus pandemic. And President Trump has rightly halted all US funding to the WHO until we can find out what the heck is going on over there, who is involved, and how deep this is," he continued.
Everything Glenn and his research team discovered about WHO Director Tedros Adhanom Ghebreyesus' is well documented, and his connections, not only to the Chinese Communist Party, but also to radical terror groups in Africa is truly shocking. Suddenly, it all makes sense why the WHO has backed China so adamantly throughout the communist nation's attempts to cover up their culpability in this coronavirus pandemic.
VIDEO: Why President Trump is right to blame WHO, China for ... ›
Related articles around the web
===
Vimeo removes our film "trustWHO" which depicts the hidden practices of the WHO
•Apr 17, 2020
A few days ago, Vimeo deleted our Documentary Feature "trustWHO", directed by Lilian Franck, from their platform, stating that they do not support "Videos that depict or encourage self-harm, falsely claim that mass tragedies are hoaxes, or perpetuate false or misleading claims about vaccine safety."
This claim about our documentary is both misleading and false.
"trustWHO" has been thoroughly researched for 7 years; it has been fact-checked and approved by lawyers, experts in the medical field and even by key executives of the WHO itself.
The documentary simply investigates how efficiency and transparency of the World Health Organization are undermined by both corporate influences and a lack of public funding. It is a journalistic investigation based on facts - and far from what Vimeo makes it out to be. This is our full statement on the matter, presented by Robert Cibis (Filmmaker, Co-author and producer of "trustWHO").
To support our work and further investigations for the current Corona Crisis, please help us by donating here: https://www.indiegogo.com/projects/co...
You will find the links to our full-length documentary "trustWHO" below:
English: https://www.amazon.co.uk/gp/video/det... https://itunes.apple.com/us/movie/tru... https://play.google.com/store/movies/...
Deutsch: https://www.amazon.de/TrustWHO-OV-Lil...
Français: https://www.primevideo.com/detail/0FW...
===
WATCH | "WHO" is Dr. Tedros Adhanom, the Director General of the World Health Organization, anyway? | BRUTAL: 5 awful facts about WHO's Tedros Adhanom
===
'The CDC is actually a vaccine company' – Robert F. Kennedy Jr
•Jan 31, 2020
Attorney Robert F. Kennedy Jr. of Children's Health Defense joins to discuss the much-touted HPV vaccine, which new evidence shows may be ineffective and why it has done tremendous harm. He also explains how legal loopholes exempt vaccine makers from rigorous testing. He goes on to discuss the revolving door between Big Pharma and the bodies that are supposed to oversee it and curtail its abuses. He argues that regulatory capture has turned the Centers for Disease Control and Prevention (CDC) into "a vaccine company."
===
Dr. Ilaria Capua & Prof. Dr. Martin Haditsch criticize the global measures against corona pandemic
•May 28, 2020
Dr. Ilaria Capua & Prof. Dr. Martin Haditsch criticize the global measures we have taken against coronavirus pandemic and Prof. Dr. Martin Haditsch also gives suggestions on how we should have handled it better.
===
Politics and Corruption at the World Health Organization (WHO)
By Pascal Sacré - published 19. April 19, 2020, but this article, translated from French, was written prior to Wuhan Coronavirus epidemic outbreak.
Image Wikimedia Commons
The WHO [OMS in French] is the World Health Organisation. 'WHO' in English – and that's much more appropriate. WHO: who is it really?
Would the world be getting along any better without this outfit, which is in theory such a good idea? Would we be in better health?
The question is as serious as it is relevant.
Though even one death is one too many, compared with the alarmist forecasts from this professional organisation that were foisted on all the ministries of health the world over, one could say that the H1N1 viral pandemic, version 2009, has so far produced not much more than a mouse.
But what a fabulous show for the media!
What a brilliantly organized panic!
How many millions of euros spent, and best of all, what worrying rumours, about the health risks linked this time to the vaccination, which might not even work!
Thus arose a psychosis that might have stolen the headlines even from a much more palpable threat, much more deadly and with effects that have already been felt to the bone by a large part of the world's population: the climatic effects of pollution and of the way of life engendered by the currently prevailing ideology, that of extreme and unfair capitalism, "deregulated" as it is called in the sober phraseology of its well-heeled master thieves.
Meanwhile the media, ignoring for a moment its celebrities and football matches, chose to focus the limelight – and thus the gaze of the spectator sheep – on the representatives, experts and spokespersons of this organization, the WHO. Until this year its existence may have been news to some people, but now its importance is plain to see.
We have been shown people with serious faces and a professional air, the sort to whom ordinary mortals tend to ascribe genuine competence and evident integrity.
Their herald, elevated by some to hero, is called Margaret Chan. If her manner does not excite much sympathy, her curriculum vitae speaks for itself.
WHO: the Facts
Like other world organisations born from the ashes of the war of 1940-45 (the WTO, successor to GATT, the IMF, the UN, successor to the League of Nations), the WHO is a sort of transnational superministry, in this case for health.
Its power overrides that of its national equivalents. It is not subjected to genuinely democratic electoral procedures, in the sense of representing the choice expressed by the populations of its member countries. This is true of all these organisations that in fact control our daily lives in their respective fields. Its constitution came into force on 7 April 1948.
All these organisations are in a way like the arms, the tentacles of an enormous octopus whose purpose is to coordinate, improve and reinforce significant action on a planetary scale.
To clarify a crucial point: it would be misleading to think that these organisations undertake anything at all independently of each other. One could as well imagine that the liver can go on doing its own thing without being at all involved with the heart or the kidneys.
All of them work towards the same goals, each in their own specialist sphere, and all of them answer to the UN and to those who provide their funding.
The WHO has nothing to blame itself for
If you go to the official WHO site, you will of course get the impression that this organisation has a spotless record, and deserves to be praised for its humanitarian deeds.
It's a bit like Monsanto, this multinational that dominates the market in agribusiness and wants to impose on the whole world its GM seeds complete with the Terminator gene (1), yet which tries to make you believe that the well-being and development of poor countries is its main concern.
Anyway, as in any court of law, it's democratic, enlightened, modern, to give the "accused" party the chance to put its case.
As for the accusations of corruption and collusion with the pharmaceutical companies in the context of the worldwide vaccination campaign of 2009, it is Margaret Chan in person who has stepped up to the plate to defend the reputation of the WHO.
It's important to realise that the accusations are weighty, well argued, and made by institutions that are well established, and pronounced by scientists and investigative journalists who are credible and trustworthy. It is difficult to dismiss all of them as a handful of conspiracy theorists, as regularly happens nowadays as soon as an interesting and well-argued debate is launched on a sensitive issue (the official version of the 9/11 attacks, the GIEC's theory of global warming, Iran's nuclear intentions, and so on).
It's true that there is a certain logic in having a measure of collaboration between the WHO and the pharmaceutical companies that produce the medications.
However it is legitimate to ask questions about the exact part played by these firms in the decisions finally taken by the WHO, and on their real influence.
According to the WHO, there are many guarantees in place for managing potential conflicts of interest, as well as how they are perceived by public opinion.
The external experts who advise the WHO are […] obliged to provide a declaration of absence of conflict of interest as well as full professional and financial details that might compromise the impartiality of their opinions. Procedures are in place to identify, research and evaluate any potential conflicts of interest, to divulge them and take appropriate measures, such as excluding an expert from a consultative body, an expert study group or a meeting.
Still according to the WHO, the members of the Emergency Committee have to swear to the absence of any conflict of interest. The members of the Committee are chosen from a list of about 160 experts covering a range of areas of public health. The international health regulations (IHR) that came into force in 2007 envisage also a ruling that aims to coordinate the response to public health emergencies on an international scale, such as the H1N1virus pandemic. But the IHR also includes provisions for setting up, if a pandemic arises, an Emergency Committee that advises the Director General on such questions as the need to raise the level of alert, to recommend temporary measures, and so on. All the members of the Emergency Committee will have signed a confidentiality agreement, provided a declaration of no conflict of interest, and agreed to devote time as a consultant to fulfil their duty, without compensation.
Admirable principles, but without any basis in fact!
More details regarding France:
Who are the French experts? On behalf of France, we find among the consultants for the WHO and the Group SAGE, several members of the Agence de Médecine Préventive (AMP), an agency that lists its industrial partner as Sanofi Pasteur, Sanofi Aventis. We also find Prof. Daniel Floret, President of the Comité Technique de Vaccination, who lists numerous collaborations with the pharmaceutical industry; several members of the Sanofi Pasteurlaboratory, declared as such; a member of the Sanofi Pasteur MSD laboratory; and some other members from the pharmaceutical industry who are based in France.
Thanks to the site Santé log for providing the extracts (in italic, above) of a document from the WHO.
The WHO must give an account of itself
If, unlike most people who only stop to admire the window display, we actually go into the shop, we'll discover two things:
While the fine words are there to soothe our feelings of distrust, it is still true that the close ties between the WHO experts and the pharmaceutical industry are very dangerous, very obscure and difficult to unravel.
Without being a conspiracy theorist for the fun of it, as if it was a sport or a pastime – as the crusaders backing the official versions and the window-dressing of the official sites seem to think – one thing is clear to my mind, that being obscure does not sit well with being truthful.
If the complexity that characterizes all modern institutions bewilders the outsider and puts major hurdles in the way of ordinary people like me pursuing their interests, it is an unintended consequence of modernity and of the ever-multiplying range of tasks and objectives.
Being deliberately obscure is something else. It is intended to hide something, to conceal intentionally.
The financing of the WHO
Have you ever heard anything about public-private partnerships?
In the beginning, the WHO was supposed to receive funds only from the governments of United Nations members, but a few years ago, in order to swell its coffers WHO set up what it calls a "private partnership" that allows it to receive financial support from private industries. But which industries?

Since that time its credibility, seriously tarnished, has not improved very much, and its independence is seriously questioned because of its total lack of transparency with regard to the scientific proof that supports its recommendations, and its collusion with the multinationals. It is obvious that on the world stage, business and politics have a powerful influence on health. (2)
The spotless reputation of the WHO was already besmirched by a book that came out in 1997, Le OMS : Bateau ivre de la santé publique [The WHO, the drunken sailor of public health], ed. L'Harmattan, by Bertrand Deveaud, a journalist, and Bertrand Lemennicier, professor of economics, who had spent two years making enquiries throughout the world and consulting numerous official and confidential reports. Two medical journals well-respected by the profession had already sown doubts as to the integrity and the infallibility of the WHO, The British Medical Journal (BMJ) in regard to the management of the bird flu in 2005, and The Lancet (3), which described the WHO as an institution that was corrupt and on its last legs.
I leave you to ponder awhile these phrases, reported by the journalist Sylvie Simon in one of her articles (4), particularly the passages in bold (my emphasis):
Doctors Andrew Oxman and Atle Fretheim, from the Norwegian Knowledge Centre for the Health Services and Dr John Lavis, from McMaster University in Canada, interviewed the management of the WHO and analysed its various recommendations. Andrew Oxman concluded that "it is difficult to evaluate the confidence thatone can have in the recommendations of the WHO without knowing how they were prepared."* (*Obscurity).

"We know that our credibility is at stake," admitted Dr Tikki Pang, director of research for the WHO. "The lack of time and the shortage of information and of money can sometimes compromise the work of the WHO." Some senior officials of the organisation have also admitted that in many cases the proof that was supposed to be the basis of a recommendation did not exist.
Many testimonies have revealed that when the results don't match those that the industries and companies are hoping for in order to validate their products, standards are altered and the results manipulated.
Contrary to any procedure that is genuinely scientific and independent, which should base its conclusions on the verified results of its experiments, it seems that the tendency is to do just the opposite, and that results are adapted to produce the desired conclusions; desired that is by the firms producing the medicines, vaccines, and other products concerned.
To cite one example:
Dr Oxman criticized the WHO for having its own quality control methods. In 1999 when its views on the treatment of hypertension were criticised, mainly because of the high price of the medicines recommended without any proof that they were more effective than cheaper ones, the Organisation published some "recommendations for preparing recommendations" which led to a revision of the advice on treating hypertension. (5)
Other murky issues have been brought to the surface by courageous researchers: cholesterol and statins (6), mobile telephony, with manipulation of the data on the harmfulness of electromagnetic radiation (7)…and of course, serious doubts are being expressed on the real danger of the 2009 viral H1N1 pandemic, which has enabled the pharmaceutical companies to rake in millions of dollars of profit.
The bank JP Morgan on Wall Street estimated that, thanks mainly to the pandemic alert issued by the WHO, the pharmaceutical giants, who also finance the work of the ESWI run by Albert Osterhaus, were set to make $7.5-$10 billion profit. (8)
The ESWI, European Scientific Working group on Influenza, describes itself as "a multidisciplinary group of leaders of opinion on the flu, whose purpose is to fight against the repercussions of a flu epidemic or pandemic". As its members themselves explain, the ESWI, directed by Osterhaus, is the central pivot "between the WHO in Geneva, the Institut Robert Koch in Berlin and the University of Connecticut in the United States".

The most significant thing about the ESWI is that its work is entirely financed by the same pharmaceutical laboratories that are making millions thanks to the pandemic emergency, while it is the pronouncements made by the WHO that compel the governments of the whole world to buy and to stock the vaccines. The ESWI receives funding from the manufacturers and distributors of the H1N1 vaccines, such as Baxter Vaccines, MedImmune, GlaxoSmithKline, Sanofi Pasteur and others, including

Novartis, who produces the vaccine, and the distributor of Tamiflu, Hofmann-La Roche.(9)
Who is Albert Osterhaus?
Nicknamed "Dr Flu", Albert Osterhaus, the best known virologist in the world, official consultant on the H1N1 virus to the British and Dutch governments and head of the Department of Virology in the Medical Centre of Erasmus University, has a seat among the élite of the WHO gathered together in the SAGE Group, and is president of the ESWI, which is supported by the pharmaceutical industry.
In its turn the ESWI recommended extraordinary measures to vaccinate the whole world, considering that there was a high risk of a new pandemic which, they insisted, could be comparable to the terrifying pandemic of "Spanish" flu in 1918. (10)
Albert Osterhaus is not the only senior consultant to the WHO whose name is implicated in the dossiers on corruption and possible collusion between the WHO and the pharmaceutical firms, and an industry that wants to sell its products whatever it costs: others are David Salisbury (3)(9), Frederick Hayden (9), Arnold Monto (9), Henry L. Niman, Klaus Stöhr (11).
Professor David Salisbury, who is attached to the British Ministry of Health, is the head of SAGE at the WHO. At the same time he directs the Consultative Group on H1N1 at the WHO. Salisbury is a fervent defender of the pharmaceutical industry. In Britain the health action group One Click (10) accused him of concealing the proven correlation between vaccine use and the steep increase in autism in children, as well as the correlation between the vaccine Gardasil and cases of paralysis and even death.

Dr Frederick Hayden is at the same time member of SAGE at the WHO and of the Wellcome Trust in London; in fact he is one of the close friends of Osterhaus. In exchange for "consultative" services, Hayden receives money from Roche and from GlaxoSmithKline as well as from other pharmaceutical giants engaged in producing goods connected with the H1N1 crisis. (12)

There is yet another member of the WHO enjoying close relations with the vaccine manufacturers who profit from SAGE's recommendations, in the person of Dr Arnold Monto, a consultant paid by the vaccine manufacturers MedImmune, Glaxo and ViroPharma. (13)

[interview with Wolfgang Wodarg]…Without going so far as outright corruption, which I'm sure exists, there are a hundred and one ways in which the labs can bring their influence to bear on decisions. I noticed specifically, for example, how Klaus Stöhr, who was the head of the epidemiology department at the WHO during the time of the bird flu, and who had therefore prepared the plans for dealing with a pandemic that I referred to earlier, had meanwhile become part of the senior management at Novartis. And similar links exist between Glaxo, Baxter, etc. and influential WHO members. These big firms have "their people" in the system and somehow manage things so that good political decisions are taken – that's to say, decisions that enable them to pump the maximum amount of money out of the taxpayers. (14)
As for "Dr Flu" Osterhaus, it's so bad that the Dutch Parliament (15) has serious doubts about him and has opened an enquiry into conflict of interest and bribery.
Outside the Netherlands and the Dutch media, only a few lines in the well-respected British journal Science(16) have made mention of the sensational investigation into the affairs of Osterhaus, who still has the confidence of his Minister of Health.
What all these experts have in common is the concealment of their connections with the pharmaceutical companies while they hold a senior and influential position in the decision-making hierarchy at the WHO, and the fact that they are never challenged. The conflict of interest is obvious, yet systematically minimized.
It is not their expertise or their intrinsic competence that is being questioned, but their independence and their integrity.
The whole matter is sufficiently serious, given the topic in question – our health, to sow doubt and to justify pursuing every investigation, every question, with means that match the urgency of the issue, and by organizations of irreproachable reputation that are truly independent.
It is not the WHO that should investigate the WHO
It's as if the accused was allowed to lead the enquiry into the crimes imputed to them. If I were an impartial prosecutor, not aiming for scandal or publicity but only for the truth, whatever it may be, even if it is worse than the worst of the lies, I would call to the bar:
Dr Wolfgang Wodarg, president of the Health Commission of the Council of Europe. This member of the German parliament, an epidemiologist, has just requested the Council for a commission of enquiry. In his interview with the paper Der Spiegel, Dr. Wodarg did not hesitate to talk about "one of the greatest medical scandals of the century". (17)
Next, Alison Katz,
A researcher who spent 17 years at the WHO, and who on 22 January 2007 sent an open letter to the new director of the agency, the Chinese Margaret Chan, accusing the organisation of "corruption, nepotism, violation of its statutes and ineffectiveness in its internal control system", and concluding that "the WHO has become a victim of neo-liberal globalisation". She denounced "the commercialisation of science and the close ties between the industry and academic institutions" and "corporatist" private science, and considered that "the WHO ought to be the leader of a movement to transform the way in which scientific research is done, including its sources of funding, as well as the acquisition and use of knowledge" and that the officials of an international organization do not have the right "not to know". (18)
Lastly, Tom Jefferson, a renowned epidemiologist, member of the Cochrane Collaboration, an organisation of independent scientists including a commission that evaluates all the studies carried out on influenza. In an interview given to the German magazine Der Spiegel, he revealed the consequences of the privatisation of the WHO and the way in which health has been turned into a money-making machine. (19)
Tom Jefferson: "[…] one of the most bizarre characteristics of this flu, and of all the saga that has played out, is that year after year people make more and more pessimistic forecasts. So far none of them has come true, but these people are still there repeating their predictions. For instance, what happened to the bird flu that was supposed to kill us all off? Nothing. But that doesn't stop these people from making their predictions. Sometimes you get the feeling that the whole industry is starting to hope for a pandemic."

Der Spiegel: "Who are you referring to? The WHO?"
J: "The WHO and those in charge of public health, the virologists and the pharmaceutical laboratories. They've created a whole system around the imminence of a pandemic. There is a lot of money at stake, as well as networks of influence, careers and whole institutions! And the minute one of the flu viruses mutates we'd see the whole machine roll into action." (20)
When he was asked if the WHO had deliberately declared a pandemic emergency in order to create a huge market for the H1N1 vaccines and medications, Jefferson replied:

"Don't you find it remarkable that the WHO had changed its definition of a pandemic? The old one specified a new virus, one that spread rapidly, for which there was no immunity and that caused a high rate of illness and of death. Now these last two points on the levels of infection have been deleted, and that's how the A flu became classed in the pandemic category." (21)
Very conveniently, the WHO published the new definition of a pandemic in April 2009, just in time to enable them, on the advice coming from, among others, SAGE, "Dr Flu" (alias Albert Osterhaus), and David Salisbury, to declare that mild cases of the flu, renamed A H1N1, signalled a pandemic emergency. (22)
Yes, Tom Jefferson, Alison Katz, Wolfgang Wodarg, among others, and investigative journalists who are neither conspiracy fanatics nor yes-men, would be on my list of witnesses to call.
Conclusions
Strangely enough, while the media were so agitated at the peak of the virus panic during 2009, as soon as a few rumours started spreading about strange goings-on at the WHO involving some scarcely known names, they switched off the spotlights, preferring to redirect the docile spectators to more amusing topics such as the antics of Johnny Hallyday, the comeback in Belgian women's tennis, the escapades of Michel Daerden or of Nicolas Sarkozy (politicians Belgian and French respectively), and the hopeful proclamations of Barack PeaceObama – at the same time hinting that, while that was all well and good, we should still, as our obedient ministers were saying, be sure to go and get vaccinated while the wicked flu was offering a brief respite.
The dirty conspiracy rumours of corruption, the names so well-known in the business but so unknown to the general public – let's forget them! Above all, let's not rock the boat!
The vaccines have been bought, the recommendations given and millions of doses of poison already injected.
Does the truth frighten us so much that we prefer lies, and more and more of them, in our controlled lives, even when it is our health that is at stake?
It may all look very complicated but actually it is very easy.
For each new item of information, a "lite" sweetened version is made up, relayed by the bought-and-paid-for media and sold to us, the viewers, who swallow it without question.
The main drivers of this globalisation are fear and ignorance, the result of this insipid simplification of everything, which takes away any depth, any questioning that is necessary, in fact indispensable, if one wants to understand what is really happening.
It's the same again with terrorism, where any unexplained event is always blamed on the same scary monster: Al Qaeda – without raising the slightest query about this attribution.(23) An explosion? Al Qaeda. A hijacking? Al Qaeda. An attack on civilians? Al Qaeda. An earthquake? Al Qaeda.
It's the same again with the dogmatic statements about manmade global warming. This no longer brooks any discussion, any further research, any questioning: it's a heresy to even think of it. Human CO2 is the Al Qaeda equivalent of the uncertainty factor in global warming.
It's the same again with pandemics and other health cataclysms of the future. As the GIEC tells us about CO2, the WHO simplifies the problem for us and we thank them: "Get vaccinated. Don't ask any questions. We have the most trustworthy and competent experts. The pharmaceutical firms, overflowing with philanthropy, are working day and night to save us." And we believe it.
Humanity of the 21st century is in grave danger, a deadly danger that lurks within each of us.
It's not Umar Farouk Abdulmutallab (24), this Nigerian student of 23, the Christmas present from Al Qaeda to the war strategy of Peace Obama.
It's not a virus, the St Valentine's present to Baxter, GSK, Novartis and the rest.
It's not our CO2, Nature's present to our bankrupt politicians. It's not even Al Gore, that serial sweet talker, condemned by the courts in Great Britain for no less than 11 flagrant lies and misrepresentations noted in his film, which inconveniences only the truth. (25) It's not Al Qaeda, or any other extremist Islamic organisation.
All those are nothing but scary monsters that press the fear button, that's to say, they are enemies but relatively minor ones.
It's our abdication. That's our enemy number one.
We are living in a time when globalisation has not, as it was expected to in the beginning, brought about a world that is better governed, more just, more transparent, but on the contrary, has created a system that is harder to decipher and understand, and is all-powerful.
This brew of omnipotence and dense secrecy, of being all-powerful and totally resistant to democratic investigation, is deadly. That's the greatest threat to mankind today.
We have surrendered, preferring to go on deluding ourselves, when so many signs that something is going wrong should have impelled us to regain control.
Instead of which we put ourselves in the hands of these great authorities who are suspected of bribery and corruption, endowed with bad faith and a cynicism that balks at nothing.
Guided by the media and looking only at the things they turn their spotlight on, held by the hand, we choose to believe them instead of asking questions.
Given the present situation, I'll answer my own question without hesitating:
The world would be getting along much better without these international organisations whose original mission has been hijacked for the sake of financial profits for the few.
As far as the WHO is concerned, we would be in much better health.
Sources
WTO: World Trade Organisation, succeeded GATT in 1994.
GATT: General Agreement on Trade and Tariffs, created in 1947. https://en.wikipedia.org/wiki/General_Agreement_on_Tariffs_and_Trade
IMF: international Monetary Fund, created in 1944. https://en.wikipedia.org/wiki/IMF
LON: League of Nations, created in 1919, in the aftermath of the First World War. https://en.wikipedia.org/wiki/League_of_Nations
UN: United Nations Organisation, continuation of the LON, created in 1945. https://en.wikipedia.org/wiki/United_Nations
SAGE: Strategic Advisory Group of Experts. https://www.who.int/immunization/sage/SAGE_TORs_Full_21_11_08.pdf
Notes
1. Monsanto Terminator: https://www.greenpeace.org/france/news/ogm-monsanto
2. Article by Sylvie Simon, well-known journalist on health topics: https://www.lepost.fr/article/2009/12/23/1854889_l-oms-ocean-de-corruption-et-d-inefficacite.html
3. The Lancet, https://www.republicain-lorrain.fr/fr/permalien/article/1006828/La-credibilite-de-l-OMS-remise-en-question.html
4. Sylvie Simon, op. cit.
5. Ibid.
6. Cholesterol, lies and propaganda, https://www.lanutrition.fr/Le-lobby-du-cholest%C3%A9rol-au-bord-de-la-crise-cardiaque-a-1708-90.html
7. The worrying connections between Margaret Chan, Michael Repacholi, Bernard Veyret and the mobile phone manufacturers: https://www.next-up.org/pdf/Mobile_phones_and_real_pandemics_05_01_2010.pdfhttps://www.next-up.org/pdf/Serge_Sargentini_Mobilfunk_und_wahre_Pandemien_06_01_2010.pdf
https://videos.next-up.org/FoxNews/Protect_your_self_from_electromagnetic_waves/13_12_2009.html
Mobile phones: falsified data https://www.next-up.org/pdf/Adlkofer_Rudiger_Vienna_Scandal.pdf
8. Quoted in the Dutch article by Louise Voller & Kristian Villesen, "Stærk lobbyisme bag WHO-beslutningom massevaccination", Information, Copenhagen, 15 November 2009.
9. https://www.voltairenet.org/article163315.html, article by F. William Engdahl, an American journalistwho has published many works devoted to questions of energy and geopolitics. engdahl.oilgeopolitics.net/Swine_Flu/Flu_Pope/flu_pope.html
Most recent books in French: Pétrole, une guerre d'un siècle : L'ordre mondial anglo-américain (Jean-
Cyrille Godefroy éd., 2007) et OGM : semences de destruction: L'arme de la faim (Jean-Cyrille Godefroy éd., 2008).
10. Ibid.
12. Jane Bryant et al., "The One Click Group Response: Prof. David Salisbury Threatens Legal Action", 4 March 2009. Download
13. William Engdahl, op.cit.
14. L'Humanité: https://www.humanite.fr/Grippe-A-Ils-ont-organise-la-psychose
15. Tweede Kamer der Staten-Generaal (Lower Chamber of the Dutch Parliament.)
16. Martin Enserink, in "Holland, the Public Face of Flu Takes a Hit", Science, 16 October 2009, Vol. 326, n° 5951, pp. 350–351 ; DOI : 10.1126/science.326_350b.
17. L'Humanité, op.cit., https://www.mondialisation.ca/index.php?context=va&aid=16818 TheEuropean Parliament will investigate the WHO and the "pandemic" scandal: https://www.santelog.com/modules/connaissances/actualite-sante-le-député-européen-w.-wodarg-dénonce-«-une-fausse-pandemie-»_2483.htm
18. Sylvie Simon, op. cit. https://www.next-up.org/pdf/AlisonKatzOpenLetterMargaretChanWHO.pdf
19. William Engdahl, op. cit.
20. Conversation with Tom Jefferson: C'est toute une industrie qui espère une pandémie de grippe, Der Spiegel, 21 July 2009.
21. Ibid.
22. Article in Dutch, Louise Voller & Kristian Villesen, "Mystisk ændring af WHO's definition af enpandemi", Copenhagen Information, 15 November 2009.
23. https://polidics.com/cia/top-ranking-cia-operatives-admit-al-qaeda-is-a-complete-fabrication.html
24. https://www.globalresearch.ca/index.php?context=va&aid=17184
25. https://leconservateur.bafweb.com/index.php?2007/10/11/978-un-juge-britannique-met-en-garde-contre-le-film-d-al-gore-une-verite-qui-derange;timesonline.co.uk/tol/news/science/article2632660.ece
The original source of this article is Copyright © Pascal Sacré, 2020
* Note to readers: Forward this article to your email lists. Crosspost on your blog site, internet fora etc.
===
PLANDEMIC
Their wishful thinking and plan manifested itself !!!
World Health Organisation fears new 'Disease X' could cause a global pandemic
'History tells us that it is likely the next big outbreak will be something we have not seen before'
By Tom Barnes -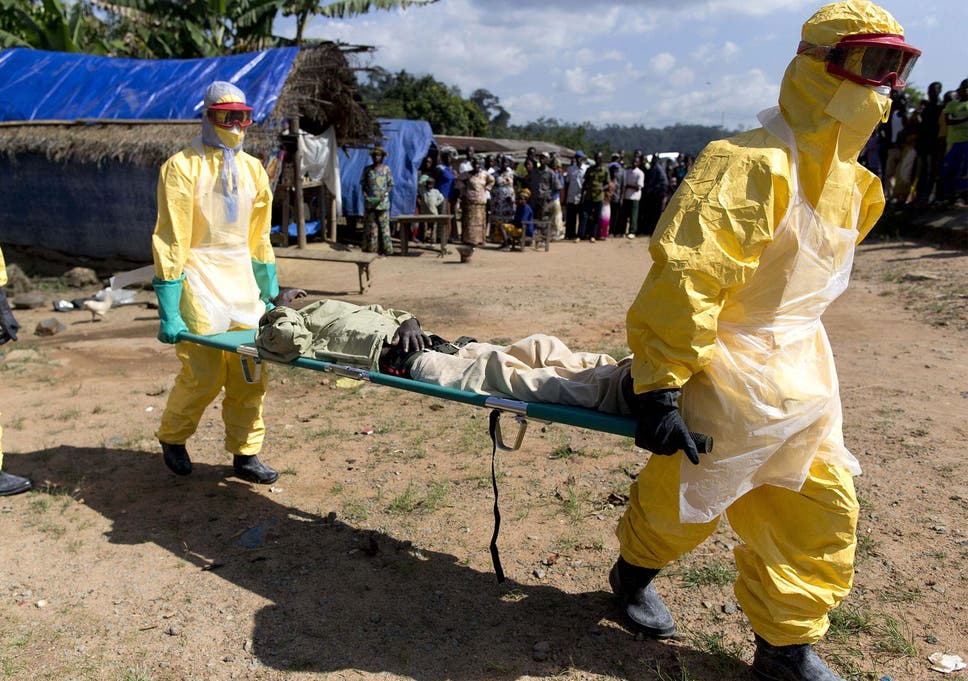 The World Health Organisation has added a mysterious "Disease X" to a list of viruses it fears could cause a global pandemic in the future.
The organisation released a list of diseases it considers pose a high risk to the public due to their potential to spark an epidemic and the limited treatment available to combat them.
Virus such as Ebola, Zika, Lassa fever and severe acute respiratory syndrome (Sars), which have all seen outbreaks in recent years are included as serious threats.
However, the WHO has included the ominous-sounding Disease X to its priority list for the first time this year after a review by health experts in February.
Disease X is in fact not a newly-discovered threat in itself, but a hypothetical virus, which could emerge in the future and cause widespread infection across the globe.
"Disease X represents the knowledge that a serious international epidemic could be caused by a pathogen currently unknown to cause human disease", the WHO said in a statement.
It added healthcare officials were planning for a currently unidentified threat now to ensure: "research and development preparedness that is relevant for an unknown Disease X as far as possible."
"History tells us that it is likely the next big outbreak will be something we have not seen before", John-Arne Rottingen, chief executive of the Research Council of Norway and a scientific adviser to the WHO committee told The Telegraph.
"It may seem strange to be adding an 'X' but the point is to make sure we prepare and plan flexibly in terms of vaccines and diagnostic tests.
"We want to see 'plug and play' platforms developed which will work for any, or a wide number of diseases; systems that will allow us to create countermeasures at speed."
Mr Rottingen said Disease X could come from a variety of sources, although it was most likely developed through zoonotic transmission, where an infectious disease which usually afflicts animals jumps to humans.
Ebola and salmonella infection are both zoonoses, as is HIV, which is thought to have been transferred to humans from chimpanzees other and monkeys in the early 20th Century.
"As the ecosystem and human habitats change there is always the risk of disease jumping from animals to humans", he added.
"It's a natural process and it is vital that we are aware and prepare. It is probably the greatest risk."
The WHO said several other groups of diseases, such as haemorrhagic fevers and emergent non-polio enteroviruses, were omitted from its priority list.
It did however say these pathogens did post a serious risk to public health and need to be "watched carefully" and potentially considered for inclusion next year.
===
NATO in Arms to "Fight Coronavirus"
By Manlio Dinucci - 07. April 2020
The 30 NATO foreign ministers (Luigi Di Maio for Italy), met on April 2 by videoconference, and instructed US general Tod Wolters, Supreme Allied Commander in Europe, to "coordinate the necessary military support to fight the coronavirus crisis".
He is the same general who declared in the United States Senate on February 25 "nuclear forces are supporting every US military operation in Europe" and " I am a fan of a flexible first-use policy" of nuclear weapons, that is nuclear attack by surprise ("Dr. Strangelove takes care of our health", Il manifesto, March 24).
General Wolters is the supreme commander of NATO as head of the United States European Command. He is therefore part of the Pentagon's chain of command, which has absolute priority. Its strict rules are confirmed by a recent episode: the aircraft carrier Roosevelt commander, Brett Crozier, was removed from command because he violated military secrecy by urging aid sending, faced with the spread of the coronavirus on board.
To "fight coronavirus crisis", General Wolters has "fast-track paths through Europe's airspace for military flights", while civilian flights have almost disappeared.
Fast-track paths are also used by the US strategic bombers B2-Spirit for nuclear attack: on March 20, they took off from Fairford in England, together with Norwegian F-16 fighters, they flew to the Arctic towards Russian territory. In this way – General Basham, deputy commander of the US Air Force in Europe – explains "we can promptly and effectively respond to threats in the region, demonstrating our determination to bring our fighting power everywhere in the world".
While NATO is committed to "fighting coronavirus" in Europe, two of the major European Allies, France and Great Britain, sent their warships to the Caribbean.
The amphibious assault ship Dixmund sailed on April 3 from Toulon to French Guiana for what President Macron calls "an unprecedented military operation". called "Resilience", in the framework of the "war to coronavirus".
Dixmund can perform the secondary function of hospital ship with 69 beds and 7 for intensive care. The primary role of this large ship, 200 m long and with a flight deck of 5000 m2, is that of amphibious assault: approaching the enemy coast, it attacks with dozens of helicopters and landing crafts transporting troops and armored vehicles.
Similar characteristics, albeit on a smaller scale, has the British ship RFA Argus, which sailed on April 2 to British Guyana.
The two European ships will take position in the same Caribbean waters near Venezuela, where the war fleet is arriving – with the most modern coastal combat ships (also built by Italian Leonardo Company for US Navy) and thousands of marines – sent by President Trump officially to stop drug trafficking.
He accuses Venezuelan President Maduro of "taking advantage of the coronavirus crisis to increase the drug trafficking, he finances his narco-state with". The purpose of the operation, supported by NATO, is to strengthen the embargo tightening to economically strangle Venezuela (a country with the largest oil reserves in the world), whose situation is aggravated by the coronavirus that has started to spread.
The aim is to depose regularly elected President Maduro (on whose head the US has placed a $ 15 million bounty) and to establish a government that will bring the country into the sphere of US domination. It cannot be excluded that an incident could be caused as a pretext for the invasion of Venezuela. The coronavirus crisis creates favorable international conditions for an operation of this type, perhaps presented as "humanitarian".
This article was originally published in Italian on Il Manifesto. Translated by Jean Toschi Marazzani Visconti
Award winning author and geopolitical analyst Manlio Dinucci is a Research Associate of the Centre for Research on Globalization. (CRG)
The original source of this article is Copyright © Manlio Dinucci, Global Research, 2020
===
Coronavirus: How WHO Corruption Helped It Spread
•Feb 22, 2020
===
WHO: I told you Tedros Adhanom is an empty suit!
Tedros Adhanom - WHO
By Alemayehu G. Mariam - 02. November 2017
What kind of a moron appoints Robert Mugabe as goodwill ambassador for health? That is what the new Ethiopian-born Director General of the World Health Organization did – sparking global consternation. The appointment, now reversed, underlines one fact: Tedros Adhanom lacks what it takes to head even a village clinic.
Last week, Tedros Adhanom, Director-General of the World Health Organization, nominated Robert Mugabe, the 93-year-old president of Zimbabwe as that organization's Goodwill Ambassador for Noncommunciable Diseases, a position currently held by former N.Y. City mayor Michael Bloomberg. WHO ambassadorships are often given to "well-known personalities from the worlds of arts, literature, entertainment, sport or other fields of public life who commit to contribute to WHO's efforts to raise awareness of important health problems and solutions."
In announcing Mugabe's ambassadorship, Adhanom said, "I am honoured to be joined by President Mugabe of Zimbabwe, a country that places universal health coverage and health promotion at the centre of its policies to provide health care to all." Adhanom expressed hope Mugabe would "influence his peers in his region to prioritize non-communicable diseases including heart attacks, cancer and diabetes."
When I read about Mugabe's appointment, only one question came to my mind: On what planet does Adhanom spend most of his time?
For crying out loud, select Robert Mugabe out of the 7 billion people on Planet Earth?
Wouldn't Mugabe have been a better ambassador for geriatric medicine in sleep disorders (as in routinely conking out (falling asleep) at international conferences and diplomatic meetings)?
Who on earth would want to follow in Mugabe's stench as WHO ambassador?
The disgraceful and distressing facts on health care in Zimbabwe leave no room for argument:
More than 11 million Zimbabweans, representing 90% of the population, have no access to medical aid. The country's infant mortality rate: at 57/1,000 live births is one of the highest in the world. About 1000 women out of 100 000 die during giving birth. The major causes of maternal mortality are bacterial infection, uterine rupture. At Independence in 1980, Zimbabwe had a low maternal mortality rate of just 90 per 100 000 live births. Zimbabwe has suffered immensely from a brain drain of doctors. There are now 1,6 doctors for every 10 000 people. Due to poor funding of the health sector, 98% of drugs used in public health centres are funded by donors.
Contrary to Adhanom's beatification, Mugabe has other far more important priorities than health, such as extrajudicial killings, torture and disappearances.
The 2017 Human Rights report concluded, "During 2016, the government of President Robert Mugabe intensified repression against thousands of people who peacefully protested human rights violations and the deteriorating economic situation. It disregarded the rights provisions in the country's 2013 constitution, and implemented no meaningful human rights reforms."
The 2017 U.S. State Department Human Rights report concluded, "The most important human rights problems remained the [Mugabe] government's targeting members of non-ZANU-PF parties and civil society activists for abduction, arrest, torture, abuse, and harassment; partisan application of the rule of law by security forces and the judiciary; and restrictions on civil liberties, including freedoms of expression and assembly."
Robert Mugabe completely destroyed the economy of Zimbabwe.
By 2009, Zimbabwe had an unemployment rate of 94 percent.
Zimbabwe had a hyperinflation rate of 231 million percent.
The Z$10,000,000,000,000 (ten trillion) and Z$1,000,000,000,000 (one trillion), could be exchanged for $0.40 dollars until the end of April 2016. Zimbabwe's economy today is in shambles.
Mugabe would make a first-rate ambassador for "Tanking the National Economy".
Mugabe has been in power since 1980 by stealing elections and crushing the opposition.
In 2006, Mugabe warned his opposition, "Some of you say they want to go out on the streets and protest. That's not the way to go. It will never happen. We will not allow it. If they are looking for death, let them go ahead and follow that route. I mean you, Tsvangirai, and your MDC [the opposition Movement for Democratic Change]."
In 2003, Robert Mugabe proclaimed himself the Hitler of Zimbabwe and declared: "I am still the Hitler of the times. This Hitler has only one objective: Justice for his people. Sovereignty for his people. If that is Hitler, right, then let me be a Hitler ten-fold."
In Mein Kampf (p. 288), the self-proclaimed Fuhrer der Nation of the "master race" wrote blacks are "monstrosities halfway between man and ape."
Africans have deep respect for their elders because they believe wisdom comes with age. Sadly, the 93-year-old Mugabe is (a barely) living proof of the old saying, "There is no fool like an old fool."
Zimbabwe's main opposition leader Morgan Tsvangirai described Mugabe as "a senile president with a vituperative wife".
The State Department condemned Mugabe's appointment as "clearly contradict[ing] the United Nations' ideals of respect for human rights and human dignity." Canadian Prime Minister Justin Trudeau compared the choice to "a bad April Fool's joke." Ireland's health minister Simon Harris chafed at the nomination calling it "offensive and bizarre" and an "appointment [which] distracts from WHO's very important work programme."
Richard Horton, the editor of the leading medical journal The Lancet said, "WHO DG stands for Director-General, not Dictator-General. Tedros, my friend, retract your decision, consult with colleagues, and rethink." Ashish K Jha, the director of the Global Health Institute at Harvard University tried to be encouraging, "The Mugabe appointment, coming at the end of (Tedros's) first 100 days, was a misstep. Reversing will actually be a strong sign that the leadership listens and is willing to be responsive to views of the global public."
Empty suit or …
I have sugarcoated how I really feel about Tedros Adhanom. I have called him, among other things, an empty suit—someone in a position of authority with an impressive title but totally devoid of substance, personality or ability.
Adhanom got the WHO job through nepotism and Big Bill pulling the money string. (BTW: I sent my congratulations to Bill Gates in May when Adhanom snagged the WHO job. In 2010, the Gates Foundation gave WHO $2.5 billion. That Foundation has dumped billions more in handouts to WHO over the past seven years.)
Adhanom is so shallow his public statements on health policy are full of hokum– platitudes, clichés, buzzwords, catchphrases, doublespeak and pretentious nonsense.
Adhanom recently declared, "All roads lead to universal coverage. This will be my central priority." Does Adhanom have a clue what universal coverage is all about? Universal coverage is a phrase used to describe provision of health care and financial protection related to health care to all citizens of a particular country, not all citizens of the world or the universe.
In July he said, "Without health, people have nothing. Without health, we have nothing as humanity." Now, that is deep coming from the head of WHO. Is he trying to implement as global health policy the old saying, "Without your health, you got nothing".
Adhanom has become the laughing stock of the world. Here is a guy from the bush league trying to play in the big leagues. Adhanom wanted to run with the big dogs of the World Health Organization. Their world is a dog-eat-dog world. Adhanom would have been so much better off with the scavenging African wild dogs. (I did not say the T-TPLF.)
At the time of the make-believe search for WHO director in May 2017, I asked, "Can a minor league bench warmer be a starting pitcher in the World Series? Neither can Adhanom be the Director-General of WHO."
For years, I have tried to be politically correct and restrained myself from expressing my true feelings about Tedros Adhanom. His appointment of Mugabe as goodwill ambassador pushes me to pull a Rex Tillerson on him. What kind of a f**king moron would appoint Robert Mugabe as a goodwill ambassador?
Mugabe has as much chance of being a goodwill ambassador among humans as a Tasmanian Devil has in the non-human animal kingdom.
This is not personal. As I have said previously, "I could not care less if Adhanom is head honcho at WHO in Geneva or the Mayor of Whoville in cartoonland." Well, with the appointment of Mugabe, Adhanom has transformed the World Health Organization into WHO-ville, Geneva. (Sometimes I surprise myself when I get it right on the button.)
In previous commentaries, I have demonstrated beyond a shadow of doubt that Adhanom does not have the intellectual candle power, the experience, competence, skill sets, schooling, professionalism or judgment to become the leader of WHO.
Adhanom padded his resume with lies, damned lies and statislies to snag the WHO job with the blessing of Bill Gates. Adhanom crowed his own achievements, "Today, Ethiopia stands as a global model for effective health system reform and governance and as an inspirational story of successful African-led development."
Adhanom's claim is completely contradicted by WHO: "The health status of Ethiopia is poor, even when related to other low-income countries including those in sub-Saharan Africa. The population suffers from a huge burden of potentially preventable diseases such as HIV, malaria, tuberculosis, intestinal parasites, acute respiratory infections and diarrhoeal diseases." (Emphasis added.)
Adhanom has been pulling dumb stuff (to use a more polite word) for years.
In 2013, Adhanom pulled the race card and called a "special summit of the African Union to discuss mass withdrawal from the International Criminal Court" unless the criminal cases against Uhuru Kenyatta and William Ruto of Kenya at the ICC were dropped. Adhanom demanded immunity from crimes against humanity prosecution for African leaders declaring, "sitting heads of state and governments should not be prosecuted while in office." Adhanom effectively made the race-baiting argument that white judges and prosecutors in The Hague were hunting down black African leaders like safari animals and charging them with crimes against humanity.
Adhanom demonized the ICC and specifically demanded charges against Kenyatta and Ruto be dropped and smeared the International Criminal for "transform[ing] itself into a political instrument targeting Africa and Africans." Adhanom jubilantly declared at the end of the summit, "[W]e have rejected the double standard that the ICC is applying in dispensing international justice."
The fact was at that time out of the 19 ICC judges, only 9 come from Western and Eastern Europe. There were 4 judges from Africa and the rest came from Asia and Latin America. The ICC chief prosecutor was a Gambian woman named Fatou B. Bensouda.
When the WHO Board selected Adhanom to be the Director-General, it was manifest that he was not only clueless about WHO's mission and objectives, but also lacked elementary familiarity with English, the lingua franca of WHO. Just watch this 3-minute video to behold how WHO director–general-to-be got tongue-tied and jabbered unable to answer "questions based on his own presentation". At the time, I observed and questioned:
Adhanom presented himself as a pathetic, dopey and downright pitiful caricature of someone aspiring to lead an international organization. How the hell can Adhanom be the public face and spokesman-in-chief for WHO when he is clueless about WHO's history, issues, problems and needs and can barely articulate himself?
Well, I now ask, "How the hell can Adhanom be the face of WHO when Robert Mugabe is the ambassador of WHO?"
I am not at all surprised by Adhanom's appointment of Mugabe.
Adhanom has shown abysmal lack of judgement and common sense throughout his career. In 2013, he let a teenager run an incredible con job on him. It is an absolutely amazing story I discussed in my March 2015 commentary, "A Tale of Tall Tales and Ethiopia's Diplomat-in-Chief".
The Ethio-Australian teenager sat with Adhanom at a press conference (see video here) in Addis Ababa and offered to spend an imaginary AUD$20 million prize she had won in Australia to build schools in Ethiopia. Adhanom bought the teenager's lie hook, line and sinker.
How the teenager was able to pull Adhanom's leg in such a spectacular way is something for the movies: "Teen Scams a Con Man."
This incident opens a window into Adhanom's abysmal lack of judgment and common sense, intellectual poverty and lack of critical thinking skills.
It is not difficult for me to understand how a man bamboozled by a 14 year-old would make a disastrous appointment with Mugabe.
In 2013 when Saudi Arabia undertook a massive deportation program of Ethiopian migrant workers, Adhanom summoned the Saudi ambassador and told him, "Ethiopia would like to express its respect for the decision of the Saudi Authorities and the policy of deporting illegal migrants. At the same time, it condemns the killing of an Ethiopian and mistreatment of its citizens residing in Saudi Arabia."
How servile and bootlicking can one become?! No country on earth that cares for its citizens would say it "respects" the policy of another state that victimizes its citizens.
Adhanom was clueless that he did not discern the critical issue was not Saudi sovereignty over its territory or implementation of its immigration policy but rather the Saudi regime's actions and lack of actions that have made possible commission of crimes against humanity against large numbers of Ethiopian migrant workers.
WHO has been reeling in scandal over the past year. According to a recent Associated Press report, "The World Health Organization routinely spends about $200 million a year on travel – far more than what it doles out to fight some of the biggest problems in public health including AIDS, tuberculosis or malaria."
In 2016, "WHO spent about $71 million on AIDS and hepatitis. On malaria, it spent $61 million. And to slow tuberculosis, WHO invested $59 million."
Margaret Chan, Adhanom's predecessor, spent more than $370,000 in travel in 2016. Yet, WHO complained that "health sector requirements of US$ 103 million are only 23% funded and WHO has received less than 10% of US$ 25 million required for an organizational response."
The amazing irony of the Mugabe appointment is that he was the third leading member of the T-TPLF, a terrorist organization listed in the Global Terrorism Database.
Just like the Mugabe regime, the T-TPLF regime is infamous for its massive and flagrant human rights violations and for massacring tens of thousands of people in Ethiopia.
They say birds of a feather flock together. I say, "African vultures (Gyps africanus) flock together."
In my May 14, 2017 commentary, I asked the WHO Board two questions:
What is the message you are sending out to the world by selecting a terrorist-cum-human-rights violator as your leader?
Does it bother you that the public face and top leader of WHO is an unrepentant terrorist and unindicted human rights violator?
In October 2017, WHO has eggs on its face as Robert Mugabe — the enfant terrible, the holy terror of Zimbabwe – became its ambassador for a few days.
But I warned the WHO Board in May what would happen if they chose Adhanom as WHO DG.
Now, all I can say is that "I told you so, but you would not believe me."
Do you believe me now?!
Post Script and afterthought—What do I really think is going on at WHO?
What Adhanom has done with the appointment of Mugabe attests not only to his lack of intelligence and common sense but also poverty of judgment and prudence. From the Mugabe fiasco, only two conclusions could be drawn about Adhanom as an unfit world leader in the field of health: 1) He is a leader of abysmal gullibility without a trace of critical thinking. 2) He is a leader without depth of understanding, insight and foresight to the point of mindlessness and recklessness. Anyone with an ounce of brain would keep Robert Mugabe away from WHO like The Plague (also known as The Black Death.) (Pun intended.) There is no question in any reasonable mind that any official association of Mugabe with WHO, let alone appointment as ambassador, would spark a firestorm of criticism and bad publicity for WHO.
The one thing WHO absolutely does not need today is bad public relations. WHO is portrayed in the media today as a bloated international bureaucracy that spends more money on travel for its overpaid and underworked bureaucrats than an organization dedicated to bringing health care to the world's poor. A study reported in the Journal of Integrative Medicine & Therapy seeks to answer the shocking question, "Why the Corruption of the World Health Organization (WHO) is the Biggest Threat to the World's Public Health of Our Time".
It's too bad Adhanom did not heed the wisdom of the old adage, "You don't get a second chance to make a first impression."
Everyone at WHO who saw the video of Adhanom's job interview knows he is an empty suit. He ain't got what it takes to be the head of WHO. Unfortunately, at this point there is nothing Adhanom can do to change that perception. His people in WHO-ville may pretend to respect him out of politeness, but he knows they laugh at him behind his back.
Tedros Adhanom is the Rodney Dangerfield of WHO. "He don't get no respect from nobody inside WHO." Nobody in WHO respects him for his leadership, experience, knowledge or expertise. Everyone knows he is a political correctness appointment by the WHO Board.
Having said this, I have strong suspicions that the long-knives are out to get rid of Adhanom from WHO by hook or crook. But "they" are laying the groundwork for the coup de grace by exhibiting Adhanom to the world as an amateurish, bungling, blundering, bumbling and imbecilic nincompoop who is not fit to run a local clinic let alone lead WHO.
I believe (just a belief based on logical analysis of the bits and pieces of facts available) there is a silent but determined organization-wide conspiracy at WHO to get rid of Adhanom. I also believe the die is cast and Adhanom will be shown the door or stressed out of the job long before his term is over.
Adhanom is all alone at WHO. He is not part of the in-group at WHO. He has few supporters in the organization and he does not have the savvy or astuteness to build his own management team or power base. He has limited understanding of bureaucratic warfare in a Western institution. Unlike his experience with the T-TPLF, he cannot kill, jail or torture his people in WHO-ville to get them to obey him. Working at WHO is not the same as working in the T-TPLF echo chamber everybody high-fiving and fist-bumping everybody. He does not have the native intelligence, learned judgement or philosophical discernment to be able to tell the difference between good and bad advice and decisions.
If the disastrous Mugabe appointment is a product of advice by his advisors, Adhanom is doomed.
I cannot imagine that Adhanom on his own, without consulting anyone at WHO, nominated Mugabe. If he did, that testifies to his isolation and reclusion in the organization. I am absolutely sure he consulted his top management team, aides and others.
I am also sure some of his advisors cautioned him that Mugabe's nomination is very likely to ignite a storm of protest that will undermine his leadership and credibility and sink WHO's public image. Any of his advisors who did not strenuously object to the appointment of Mugabe are part of the secret silent conspiracy to get rid of him or they are playing a practical joke on him.
The Mugabe fiasco will not be the end of the conspiracy in the WHO bureaucracy. There is more to come. I believe Adhanom is so embarrassed by the dumb Mugabe appointment, he is going to try and outdo himself to recover some credibility. In his eagerness to salvage his shredded credibility and prove that he is not as dumb as he looks, he will do more outrageous dumb stuff, sealing his fate.
The Adhanom drama will be played out in the months to come. Adhanom will become increasingly frustrated and the pressure of the job and global criticism will weigh him down. In the end, he will crash and burn.
I have been around long enough to know that the "Big Boys" play their political correctness game. The WHO Board appointed Adhanom out of political consideration. They wanted to give lip service to Africa and show them they have finally made it to the table, and don't have to stand outside with their panhandling bowls. The WHO Board learned from Adhanom's race baiting of the International Criminal Court with his slogan of "race hunting African leaders." The WHO Board did not want to be tagged as racist, so they let Adhanom in. Then they put the fix in.
I predicted Adhanom will be WHO Director-General a year before his coronation by the WHO Board in my commentary, "Guess Who is Coming to WHO in 2017?"
I hate to break it down for Adhanom. He is a victim of set-up-to-fail syndrome. Here is how that game is played.
The powers that be (the "Big Boys") will appoint a leader who is unqualified for political purposes or out of political correctness. They will pretend to give that leader free rein to do his thing. They will watch him/her silently (and often actively encouraging him) as s/he makes one blunder after another. They build a record. They begin to complain inside the organization and by proxy in the media about the leader messing up and not performing to standard. The leader gradually accommodates him/herself to low expectations and high criticism. The leader is marginalized and his/her autonomy and scope of action increasingly circumscribed. The leader finds him/herself trapped in a cycle of self-doubt and self-pity. The powers that be will tighten the screw and the leader is cornered and boxed in. In the end, the conspiracy will succeed in breaking the leader in body, mind and spirit. The leader flees the organization and the "Big Boys" will shed crocodile tears and commiserate, "S/he just didn't have what it takes!"
I cannot say I do not pity Adhanom. I feel sorry for him. Some may find it strange when I say despite my opposition to Adhanom's appointment to become WHO Director-General and my low personal opinion of him, I still want him to succeed in leading that organization as the foremost global health monitor and server.
Serving the heath care needs of the world's poor is of paramount importance to me, and if Adhanom succeeds in his mission and becomes a transformational leader at WHO, I will gladly take back every word I have said about him.
But I am sorry to say the fix is in. Adhanom is a goner. His fate at WHO is sealed!
It is countdown time. T minus… Fired!
===
Candidate to Lead the W.H.O. Accused of Covering Up Epidemics
By Donald G. McNeil Jr. - 13.
A leading candidate to head the World Health Organization was accused this week of covering up three cholera epidemics in his home country, Ethiopia, when he was health minister — a charge that could seriously undermine his campaign to run the agency.
The accusation against Tedros Adhanom Ghebreyesus was made by a prominent global health expert who is also an informal adviser to Dr. David Nabarro, a rival candidate in the race for W.H.O. director general.
Dr. Tedros, who uses his first name in his campaign, denied the cover-up accusation and said he was "not surprised at all but quite disappointed" that Dr. Nabarro's camp — which he said included high-ranking British health officials — had switched to running what he called a "last-minute smear campaign."
The vote for the next director general of the W.H.O. is to take place at a weeklong meeting of the world's health ministers in Geneva beginning May 22.
Dr. Nabarro, reached by telephone on Saturday in China, said he knew of the accusations — especially because world health officials believe Ethiopia is suffering a cholera outbreak even now, while still denying it — but he insisted that he had not authorized their release.
"I absolutely did not know," he said.
His adviser, Lawrence O. Gostin, the director of the O'Neill Institute for National and Global Health Law at Georgetown University, called attention to Ethiopia's long history of denying cholera outbreaks even as aid agencies scramble to contain them. Some of those outbreaks occurred on Dr. Tedros's watch.
Mr. Gostin said he acted without consulting Dr. Nabarro, and did so because he believed the W.H.O. "might lose its legitimacy" if it is run by a representative of a country that itself covers up epidemics.
"Dr. Tedros is a compassionate and highly competent public health official," he said. "But he had a duty to speak truth to power and to honestly identify and report verified cholera outbreaks over an extended period."
In an interview, Dr. Tedros, who was Ethiopia's health minister from 2005 to 2012 and remains highly regarded for his accomplishments then, denied covering up cholera.
Outbreaks occurring in 2006, 2009 and 2011, he said, were only "acute watery diarrhea" in remote areas where laboratory testing "is difficult." That is what the Ethiopian government said then and is saying now about an outbreak that began in January.
W.H.O. officials have complained privately that Ethiopian officials are not telling the truth about these outbreaks. Testing for Vibrio cholerae bacteria, which cause cholera, is simple and takes less than two days.
During earlier outbreaks, various news organizations, including The Guardian and The Washington Post, reported that unnamed Ethiopian officials were pressuring aid agencies to avoid using the word "cholera" and not to report the number of people affected.
But cholera bacteria were found in stool samples tested by outside experts. As soon as severe diarrhea began appearing in neighboring countries, the cause was identified as cholera.
United Nations officials said more aid could have been delivered to Ethiopia had the truth been told.
Somalia, which borders Ethiopia, is currently battling a large cholera outbreak, and a new vaccine is being deployed there. Aid officials believe cholera is also circulating in the neighboring regions of Ethiopia, but without confirmation, they cannot release the vaccine. Ethiopia's health ministry is still calling it "acute watery diarrhea," and told VOA News last month that it would not change that report without laboratory confirmation, which it said it did not have.
Under the International Health Regulations, which apply to all W.H.O. members, countries must accurately report disease outbreaks. But the W.H.O. can officially report only what countries say. Historically, some countries have tried to cover up or play down outbreaks of human or animal diseases for fear that travel restrictions would be imposed, tourism would suffer or food exports would be curtailed — or simply as a matter of national pride.
The regulations were strengthened after China denied for months in 2003 that it had a serious outbreak of lethal respiratory disease in its southern cities. That outbreak ultimately became known as SARS, for severe acute respiratory syndrome, and spread to several other countries, including Canada.
Dr. Margaret Chan, the current W.H.O. director general, is from China, but was never accused of participating in China's cover-up. She was the director of health in Hong Kong at the time and led effective responses to both avian flu and SARS.
China has since changed its policy and now is often praised for acknowledging outbreaks promptly, fighting them aggressively and cooperating with other health agencies.
There are many causes of acute watery diarrhea, and the treatment is basically the same as for cholera: intravenous and oral rehydration, accompanied by an antibiotic if the cause is bacterial.
But cholera is especially virulent and kills some victims in less than 24 hours. Since it emerged from the Ganges River Delta in 1817, it has killed tens of millions around the world.
Outbreaks of cholera tend to wax and wane and are affected by many factors, including flooding, population displacement, the immunity of victims and a phage virus that attacks Vibrio bacteria.
Dr. Tedros, who has the backing of the African Union and has been praised by international aid officials and former President George W. Bush, is widely respected for his stint as Ethiopia's health minister.
He trained 40,000 female health workers, improved laboratories, created ambulance fleets and multiplied medical school graduates tenfold. Deaths from AIDS, tuberculosis and malaria, as well as deaths of young children and women in childbirth, fell by more than 50 percent.
He was Ethiopia's foreign minister from 2012 to 2016 and was praised for his diplomatic skills, then left office to run for the W.H.O. job.
During Dr. Tedros's campaign, he has been put on the defensive for working for a repressive government. Human Rights Watch and even the State Department have accused Ethiopia's ruling party of displacing thousands of citizens, gunning down hundreds of protesters and jailing or torturing political opponents and journalists.
He has answered that some human rights violations were serious mistakes, but argues that Ethiopia is a "nascent democracy" with the growing pains common to new governments.
Dr. Nabarro is a British public health specialist who has led United Nations responses to Ebola, avian flu, hunger and other health crises.
The third candidate for the top W.H.O. post is Dr. Sania Nishtar, a Pakistani cardiologist and an expert on noncommunicable diseases.
Dr. Nabarro acknowledged occasionally getting advice from Mr. Gostin, but expressed surprise and some dismay that the issue had come up so late in the race.
"I'm quite keen to be super careful to not pursue any activity that might be considered inappropriate," Dr. Nabarro said.
Dr. Tedros compared the accusation to James B. Comey, then the F.B.I. director, announcing a reopening of the investigation into Hillary Clinton's private email server last year just before Election Day in the United States.
If Dr. Nabarro really did not know, "he is not in control of his team," Dr. Tedros said. He said Dr. Nabarro's backers have a "typical colonial mind-set aimed at winning at any cost and discrediting a candidate from a developing country."
===
The case against WHO director-general candidate Tedros Adhanom
By OPride Staff - 11. May 2017
(OPride) — Ethiopia's former health minister Tedros Adhanom Ghebreyesus is running for the post of WHO Director-General. Tedros, who served as a cabinet minister for more than a decade, most recently as the Horn of Africa country's Foreign Affairs minister, is backed by the African Union. He was Ethiopia's Minister of Health from 2005 to 2012, and a Minister of Foreign Affairs until November 2016, when he quit during a symbolic cabinet reshuffle to focus on his WHO campaign.
But not everyone is cheering for him. In fact, the fiercest opposition to Tedros' elevation to the head of WHO is coming from Ethiopians themselves. Tedros' candidacy has been a subject of contentious debate, particularly on social media, for months. There is an ongoing social media campaign under the hashtag #NoTedros4WHO.
Tedros on the other hand is using a well-oiled lobbying firm to tout his accomplishment and qualifications. It helps that he is the first and only African candidate for the job. His PR machine has emphasized two key accomplishments: Reforming Ethiopia's resource-constrained health system, and his diplomatic prowess gained during his time as Ethiopia's top diplomat.
Tedros is now the Special Adviser to the Prime Minister of Ethiopia. He is also part of the executive committee of the dominant Tigrayan People's Liberation Front, the kingmakers in the ruling Ethiopian People's Revolutionary Democratic Front (EPRDF). EPRDF has been in power since 1991 and has "won" the last five elections, including by a margin of 100 percent in the last two polls.
Tedros' opponents have rightly pounced on Ethiopia's dismal record on human rights, his role and complacency in those abuses, and on his membership in the Tigrayan ruling class. But in the mainstream media, little, if anything, has been done to scrutinize his less than stellar record as Ethiopia's minister of health. We have curated four cases against Tedros' candidacy from his time in office as follows:
Abuse of office and the politicization of foreign aid funds (h/t J. Bonsa)
Hinging arguments [against Tedros' candidacy] on the lack of "democratic governance" in Ethiopia simply does not bite that strongly. ONE NEEDS TO BE VERY VERY SPECIFIC. In his personal capacity, Tedros has abused his offices in many many ways, and it is these abuses of office that are highly relevant to the issue at hand, they need to get dug out and presented to the rest of the world.
There are a great deal of reports that provide details on ways in which Tedros and others in the EPRDF have abused their positions. For example, in a landmark 2010 report, Development without Freedom, the Human Rights Watch found:
"…evidence that (donor) money from the Protection of Basic Services (PBS) program—which funnels $3 billion over three years into district government budgets for agriculture, roads, health, and education—is being used in some areas to encourage teachers and farmers to join the ruling party, even though these benefits should not be allocated according to political affiliation. The Productive Safety Net Programme—a cash-for-work program for vulnerable populations worth $2 billion over three years—is controlled by local officials who also can restrict its use to those who join the ruling party. Local officials even offered to "forgive" opposition members in need of food and give them access to the program if they wrote a letter of regret to the administration for aligning with the opposition. Meanwhile, the World Bank's Public Sector Capacity Building Programme, which is used to train civil servants, is simultaneously a vehicle for government officials to indoctrinate trainees on the ruling party's ideology, and to target opposition supporters in the name of weeding out under-performing staff."
"PBS supports five specific service sectors—health, education, water, agricultural extension, and roads—which are delivered at the local level by civil servants, woreda and kebele officials, teachers, nurses, development agents, doctors, and Ministry of Health officials.
They did measurements of the women and children; then, those that could not pay or the opposition party members were left out. Those who are doing the assessment are government workers, working in cooperation with GOAL [an NGO] since March 2009. The poor ones have another chance to get it, next time, if they can pay, but the opposition members cannot get it at all…. There are many children whose bellies are swelling.
The kebele chairman and manager are the key figures in the kebele, which is in turn the key unit of organization. Most block grants fund salaries of officials and recurrent expenditure of local governments. These local officials—teachers, agricultural and health extension workers, and kebele staff, whose salaries are paid through PBS—decide how to allocate resources, control militias, and write references for students and job seekers. Among the key material resources that PBS funds are schools, seeds, fertilizer, and other agricultural inputs."
"A woman from Boricha said that Ministry of Health extension workers who weighed her child told her that the child was entitled to assistance, but that the kebele chairman denied her the "pink slip" necessary to attend the feeding distribution. A farmer and opposition leader from another woreda in the southern region told a similar story of women and children being required to pay for pink slips:
Padding stats to bolster Ethiopia's image and to attract more foreign aid (via J. Bonsa)
There were numerous similar reports, some specific to scandals within Ministry of Health. For instance, the Millennium Development Goal achievements were entirely based on fabrications, such as reporting constructions of bird-nest-like clinics all over Ethiopia, without any facilities. Even then, it was only a number game – if 100 were built, 500 were reported. There were times when auditors from international organizations demanded to see all clinics but the authorities refused access to all, limiting access to a few locations, as samples. Those that were actually built do not actually qualify to be called clinics. They are often manned by a couple of semi-literate locals who were rushed through mock training over a few days and the so-called clinic was handed over to them. The clinics were built for two purposes: (a) business opportunities for the crony construction contractors at inflated budgets (b) create fake success story to report to the rest of the world. Andhanom was never concerned about the health and welfare of Ethiopians.

There were times when the authorities stood firm, demanding that they could use the funds they received the way they want. The reason was they did not want to even play around with building clinics. They could divert funds away from improving access to health facilities by building clinics, towards other facilities, e.g. buying medicine for HIV AIDS. This change was often reported as "re-prioritization" but the actual motivation was that it was much easier to embezzle HIV AIDS money than clinic budgets. They could provide fake invoices for procurement, report inflated beneficiary numbers, etc.
"…by ignoring many unpleasant details that have facilitated corruption in Ethiopia's ministry of health, when Dr. Tedros Adhanom was the minister (2005-2012) – aid money from governments and philanthropists have been lost in several millions from those that needed treatments for HIV/AIDS in a country that has claimed hugely its toll in lives.
In one instance, while Tedros' was a minister, this resulted in 79 percent cut in US assistance to Ethiopia. In other words, some had estimated at the time, "Aid to Ethiopia's health sector would, according to the US government-run web portal ForeignAssistance.gov fall to $171 million in 2013 from $390.6 million in 2012. A major cut would be felt in HIV/AIDS programmes, which would receive only $54.1 million, a dramatic cut from the $254.1 million allocated in 2012."
It is the severity of the US cuts that made Amanda Glassman, Director at Global Health Policy and a senior fellow at the Center for Global Development, to lament writing on PlusNews on January 9, 2013, "There's an AIDS spending cliff in Ethiopia, and the government is already in free fall. Next year, Ethiopia will experience a 79 percent reduction in US HIV financing from PEPFAR [the US President's Emergency Plan For AIDS Relief]".
Let it be clear that I am not in any form or shape accusing the minister of corruption. Nor has the US Government at the time publicly mentioned the word "corruption." Nonetheless, there was visible movement about preparations in the United States already in February 2012 about the establishment of independent panel "to investigate the Global Fund's fiduciary controls and oversight mechanisms after allegations of grant fraud in several recipient countries."
In Ethiopia's case, there were also widespread complaints by health officials, which included allegations "about unfair hiring practices, nepotism and preferential treatment to well-connected individuals."
Lower level corruptions in Ethiopia's health sector, when Dr. Tedros Adhanom was minister included:
(a) construction and rehabilitation of health institutions;
(b) purchase of equipment, supplies and drugs resulting in bribes, kickbacks;
(c) and political considerations influence specifications and winners of bids, bid rigging during procurement, lack of incentives to choose low cost and high-quality suppliers; and
(d) education of health professionals: bribes to gain place in medical school or other pre-service training, bribes to obtain passing grades, and political influence, nepotism in selection of candidates for training opportunities
Moreover, the reporting by the Center for Global Development in 2006 touched upon malaria prevention and treatment with funds made available by international donors being exposed to abuses. The concrete problems included the sale of unauthorized medicament, whose consequences were not either felt at the time or least anticipated due to the high financial flows from donors into the country when the candidate was minister of health.
In addition, monies were secretly siphoned off by the ruling party's cadres to build the propaganda infrastructures of the TPLF, such as Walta Information Center (WIC) and Fana Broadcast, while weakening state institutions. These were and even more so today are the giants in Ethiopia's tortuous and blood-tainted politics, partly built with health funds that flowed under Dr. Tedros' tenure as minister of health."
For all the money donated by the international community, there is little improvement of health outcomes directly attributable to those funds. For instance, there are over 14 hospitals in Tigray alone. In the south, three regions have less than 14 hospitals combined. There is chronic shortage of primary care facilities; the death rate from preventable diseases is still unacceptably high. Many lakes, rivers, and creeks are polluted by farm and industrial chemicals. Al Jazeera and BBC have reported on the increasing rate of cancer and other diseases directly attributable to human activity.
In a cholera outbreak in Oromia in 2008, scores of people died; the response of the ministry of health was inadequate, to say the least.
More via Ecadforum: An investigative report published by the Society for Disaster Medicine and Public Health paints a disturbing picture of a deliberate inaction on the part of Dr. Adhanom in the face of the tragic health crisis that was rapidly claiming so many lives. Chief among the findings were:
Despite laboratory identification of V cholerae as the cause of the acute watery diarrhea (AWD), the Government of Ethiopia decided not to declare a "cholera outbreak" for fear of economic repercussions resulting from trade embargos and decreased tourism.
The government, in disregard of International Health Regulations, continually refused to declare a cholera epidemic and largely declined international assistance.
The failure to acknowledge a cholera outbreak had several important implications. First, it meant that the WHO could not assume responsibility for managing the epidemic because this requires that the state declare a cholera outbreak and request assistance. Under the WHO International Health Regulations, 2005, cholera is considered a disease "with demonstrated ability to cause serious public health impact and to spread rapidly internationally."
As a signatory to this agreement, the Government of Ethiopia had the obligation to report the outbreak because cholera is not endemic to the country. Second, without official declaration of a cholera outbreak, there was a delay in accessing donor funds. Declaration of a cholera outbreak might have resulted in a much more vigorous international response, and resources might have been mobilized much more rapidly. Also, refusing to acknowledge a cholera epidemic weakens the chances for ongoing surveillance to recognize the potential for cholera endemicity in the region.
The United Nations Office for the Coordination of Humanitarian Affairs reported unacceptably high case fatality rates (in 3 of the 5 affected Oromia zones (Guji, East Shewa, and Bale).

In October 2016 (when Dr. Tedros was still Foreign Minister), Ethiopia's Ministry of Foreign Affairs posted a blog on its official website in response to Human Rights Watch's reporting on Ethiopia. The piece accuses Human Rights Watch of baseless allegations, intentionally misleading its audience, and propagating "scare stories." It focuses on the NGO's response to an October stampede during an anti-government protest at an annual festival in Oromia, though addresses Human Rights Watch's reporting in Ethiopia more generally. Yet Human Rights Watch is widely recognized to employ a gold standard of research. The above-mentioned report, for example, was based on more than 125 interviews, "court documents, photos, videos and various secondary material, including academic articles and reports from nongovernmental organizations, and information collected by other credible experts and independent human rights investigators." All material in the report was verified by two or more independent sources.
In light of Ethiopia's severe human rights abuses and Dr. Tedros's prominent position within the ruling party and the government, a natural question becomes: What was his role in the country's systematic abuses of human rights?
I do not know the answer, or the veracity of other charges that Ethiopian diaspora organizations have lodged. In his role in the TPLF and EPRDF power structures, is it possible that he tried to change things from the inside, using his position of power within the government to oppose the government's repression?
What we do know, though, based on the independent reports of Human Rights Watch, Amnesty International, the U.S. State Department, and others, is that the human rights situation in Ethiopia is dire. And Dr. Tedros has long been an important member of the government.
Dr. Tedros has committed to an open and transparent approach to running WHO. Now is the time for him to demonstrate this commitment, publicly addressing the concerns about human rights during his time in the Ethiopian government, and his role, including as a member of the power structures of the ruling party and coalition. States should evaluate his answers carefully and in light of other evidence.
States should also consider whether regardless of Dr. Tedros's actions within the government – perhaps unless he vigorously fought against rights-abusive policies from the inside – the mere fact of having served (particularly for a considerable length of time) in a high-level post of a government that perpetuates such severe human rights abuses should be an automatic disqualifier from any international leadership position. Would electing someone put forward by such a government, particularly someone who has long served in that government, in some way represent the international community endorsing, accepting, the legitimacy of that government and its policies, and diminish the importance we ascribe to human rights?
===
ICYMI - In Case You Missed It:
The WHO has failed us again
This isn't the first time the World Health Organisation has let politics get in the way of saving lives
BY IAN BIRRELL - 01. April 2020 (... and it is unfortunately NOT an April fools joke)
The WHO failed to react quickly enough to shut down the sorts of live food markets in China that were the source of past pandemics. Credit: China Photos/Getty Images
Like many doctors, Bruce Aylward has been working tirelessly since this coronavirus started its rampage around the planet, although his job takes him away from the medical frontline filled with patients fighting for life. The Canadian physician, a trained epidemiologist, is one of the most influential officials in global efforts to beat this pandemic through his role as assistant director-general at the World Health Organisation (WHO).
Much of his time has been spent in the media, often praising China for its response to an epidemic that emerged last year in the central city of Wuhan. Aylward led a WHO mission there last month and was clearly impressed, even saying if he had the virus he wanted to be treated there.
He has talked in glowing terms of China's 'rigour' and its 'aggressive response' in controlling the disease. "China is really good at keeping people alive," he toldthe New York Times, complaining that sceptical journalists see the nation as "some evil fire-breathing regime that eats babies."
China's leaders do not eat babies. But they do run a very repressive autocracy that banned families from having more than one child, controls citizens with the world's most sophisticated state surveillance system, jails critics and locks up Muslim minorities in horrific prison camps.
Like it or not, they merit criticism also for their failure to clamp down on the wild animal markets that almost certainly sparked our current dystopian nightmare — despite the seemingly similar emergence of SARS in 2002 — while officials stymied efforts to warn about the outbreak for several crucial weeks.
Yet Aylward, raised in one of the world's most benign societies, panders to the crude narrative of Communist Party chieftans, who now pose as heroes of this pandemic. So when a Taiwanese journalist asked about her country's laudable response to the virus, he paused for several seconds, pretended not to hear the question and then appeared to hang up on her call. The reporter dialled back, but was brushed off with the reply that "we've already talked about China — and when you look across all the different areas of China, they've actually done quite a good job."
Such words could have spewed from the mouth of a tremulous Beijing bureaucrat. China wants to reunite Taiwan with its 'motherland' seven decades after it became a refuge for Chiang Kai-Shek's nationalists, defeated by Mao's Communist forces. This desire has hardened under President Xi Jinping, who uses his nation's growing muscle to bully any country, firm or institution showing the slightest sign of support for its minnow of a neighbour. Yet the island remains fiercely independent, as shown by recent elections, and an admirable beacon of democracy, freedom and rule of law.
Aylward's response was significant because it spotlights the pitiful way in which WHO — a branch of the United Nations heavily funded by Britain and the United States — has appeased China and failed in its central task to co-ordinate a global response to public health threats. Such is the absurdity that Taiwan's 24 million citizens can travel around the planet on their own passports — yet not enter a United Nations building. It is far from unique in its approach to this nation, which remains unrecognised by other international bodies such as those governing civil aviation and the Olympics. But when it comes to coronavirus, this approach raises questions over the point of this global body.
Taiwan has one of the world's best healthcare systems. It has responded well to coronavirus, learning valuable lessons from the SARS epidemic, like some other nations in the region, and reacting fast to keep down its death toll. Yet the country, which is barred from attending key WHO summits, was excluded from emergency meetings and expert briefings on the disease. It has accused the global body of ignoring its request for information when the virus broke out, arguing that this put lives at risk at a time when global co-operation was crucial.
Meanwhile Tedros Adhanom Ghebreyesus, the WHO director-general and Aylward's boss, has gone out of his way to praise China's "extraordinary" efforts to curb the deadly virus. "China is actually setting a new standard for outbreak response," he said at one point. He also insisted the country deserved to be "congratulated" for protecting its people, along with "the people of the world".
Just days later, the views of those citizens in China were glimpsed: the death of a doctor who was arrested for trying to warn about the outbreak sparked a rare outburst of open anger against the system.
Perhaps it is not surprising that Tedros endorsed this autocratic regime. He was, after all, health minister for seven years under Meles Zenawi in Ethiopia, who ran one of Africa's most brutal one-party states, which jailed journalists, tortured dissidents and shot pro-democracy protesters. He was accused of covering up cholera outbreaks. Then shortly after defeating his British rival to win WHO's top job, he tried to honour Zimbabwean president Robert Mugabe by naming him a "goodwill ambassador". Mugabe, bear in mind, so devastated his nation that life expectancy plunged by 26 years at one point; meanwhile, the elderly dictator flew abroad for treatment as his health deteriorated, before dying in Singapore last year aged 95.
This ridiculous idea was cancelled after a storm of protest. Human rights groups noted that Mugabe, an ally of China, was head of the African Union when it helped manoeuvre Tedros into the post. The Washington Post also pointed out that China "worked tirelessly behind the scenes" to help his cause, saying his success would be "a victory for Beijing" and for Xi's desire to demonstrate his nation's growing strength.
Does this explain why WHO echoed China's opposition to travel restrictions in the early days of this crisis and now promotes the flawed idea that this nation is a role model for fighting the virus?
It gets worse. WHO was told about the disease on the last day of 2019. There are allegations China already knew about human-to-human transmission even as it was detaining doctors who were trying to protect the public over following days. Yet on January 14 WHO's twitter account claimed that "Preliminary investigations conducted by the Chinese authorities have found no clear evidence of human-to-human transmission of the novel #coronavirus (2019-nCoV) identified in #Wuhan, #China." Just three days later, one of its officials publicly intimated the new virus was being transmitted among humans, a critical revelation that highlighted the epidemic's dangers — then this was confirmed by China after another three days.
Taipei officials said in late December they tipped off WHO — through a warning system designed for exchange of such facts — that medical staff in China were becoming ill: a clear indication of human-to-human transmission. But this critical information was not shared, since Taiwan was excluded from a key WHO platform; indeed, the body did not even bother to reply. "An opportunity to raise the alert level both in China and the wider world was lost," Chen Chien-jen, Taiwan's vice-president and an epidemiologist, told The Financial Times.
It took until the end of January before Tedros finally proclaimed coronavirus to be a public health emergency of international concern — by which time it had spread to 19 nations on four continents. Some experts defend his pragmatic need to work with China to contain the outbreak, despite scepticism over data. And despite WHO's sluggishness to declare a pandemic, the body has been hailed for subsequent work to marshall global efforts to contain the virus. Yet when this crisis is concluded, there needs to be accountability for actions that have again damaged its credibility.
WHO was guilty of disastrous inaction over the deadly ebola outbreak six years ago, when its slack approach was accused of fuelling death and suffering. The terrible epidemic killed more than 11,000 people in three west African nations, provoking fear and paralysing these countries, as I saw for myself in Liberia.
Yet when Médecins Sans Frontières begged the world for help and warned the disease was out of control, it was rebuked by a WHO spokesman on social media. Only after four more months did this body, which is supposed to show global leadership, concede that there was an international health emergency. A devastating inquiry by British and US experts accused it of "the most egregious failure" for failing to sound the alarm.
Reach back further in time and there are other examples of this body's flaws, not least the inept way it coped with the Aids crisis that led the UN to set up a separate body for the disease. Possibly it was restrained in this new crisis by fear of seeming alarmist, having been criticised for calling the 2009 swine flu outbreak a pandemic when it turned out milder than expected. This could explain why, at the end of last month Tedros, still downplayed the disease. "Using the word pandemic carelessly has no tangible benefit, but it does have significant risk in terms of amplifying unnecessary and unjustified fear and stigma, and paralysing systems," he said.
Like other UN bodies, this organisation has a tough job balancing a big leadership role with systemic flaws and competing national interests. Set up in 1948 to help the world attain "highest possible level of health", its strategic scope ranges from curbing smoking and tackling child obesity through to antibiotic resistance and preparing for emergencies. Unfortunately, again like some other UN bodies, it is bloated, bureaucratic, struggles for funds, suffers from organisational dysfunction and is stuffed with political stooges.
When we emerge from this dark cloud, the world may look very different. Yet one thing is certain: this cruel pandemic has exposed with the most terrible clarity that we need a global health body free of politics, unfettered by diplomatic restraints and fearless about telling the truth.
Author:
Ian Birrell is an award-winning foreign reporter and columnist. He is also the founder, with Damon Albarn, of Africa Express. ianbirrell
===
WHO lied, people died
'Not cholera but acute diarrhoea,' WHO chief has a history of covering up epidemics & sucking up to China
By Yash Joshi - 26. March 2020
As the world becomes aware of the Chinese government's lethargy and incompetence which has plunged the world into an unprecedented crisis, the WHO's role in helping spread the Wuhan virus is also becoming clearer by the day. The WHO must be worried as after #chinaliedpeopledied trended on Twitter, its the turn of #wholiedpeopledied as more murky details of Dr Tredos led WHO's collusion with the Chinese government comes out in open.
It all started with the World Health Organisation's initial denial of the possibility of human to human transmission of the Wuhan virus despite the desperate claims of Chinese whistleblowers like Dr Wenliang and Taiwan.
WHO does not recommend any specific health measures for travellers to and from Wuhan,#China🇨🇳
It is generally considered that entry screening offers little benefit, while requiring considerable resources https://t.co/UU8IgFvjpn #coronavirus https://t.co/t2rFsX3cVy
— World Health Organization (WHO) (@WHO) January 10, 2020
Taiwan, which instituted COVID-19 preventive measures before any country, said it alerted WHO on Dec. 31 to human-to-human transmission by detailing how Wuhan medical staff were getting ill. But WHO, deferring to China, said on Jan. 14 there was no evidence of such transmission.
— Brahma Chellaney (@Chellaney) March 21, 2020
But the WHO ignored the warning perhaps because China claims Taiwan to be a part of its territory while in reality, the Chinese Communist Party rules only the Mainland China. Paying heed to Taiwan's warnings would have meant the WHO recognising the global status of Taiwan something which Xi Jinping wouldn't have liked. Hence, the desperate warnings of Taiwan and Dr Wenliang were paid no heed by the WHO.
To put things into perspective, Taiwan was the first country to act against the threat of the Wuhan virus as around 60,000 flights carrying 10 million passengers travel between Taiwan and China every year. However, the WHO decided to play Beijing's political games as it excluded the country from the emergency meetings of the WHO on how to tackle the Wuhan virus.
Since 2016, Taiwan hasn't been allowed to participate at the annual World Health Assembly and WHO technical and experts' meetings — which is a sign of the sway that China has over the WHO.
Much to the glee of Xi Jinping, the WHO continues to address Taiwan as "Chinese Taipei" and all the cases of the Wuhan virus released by the Taiwanese authorities are shockingly placed under China despite the fact that the Xi Jinping government has no jurisdiction over Taiwan.
It is important to note that, Taiwan has been ranked as no.1 for two consecutive years in the Health Care Index and the nation's participation in the WHO meetings would have certainly helped the world.
What's more appalling is the fact that on February 28, the WHO listed Taiwan as "very high risk" at a time when the country had only 34 confirmed cases of the Wuhan virus. This had a devastating impact on Taiwan as countries like Italy, Philippines and Vietnam restricted the flights to and fro from Taiwan and also the entry of Taiwanese nationals.
Ironically, when China was recording thousands of new cases of the Wuhan virus every day, the WHO castigated countries like the USA and India for deciding to restrict travel to and fro from China. Shockingly, the WHO further claimed that there was no need of any screening as it offers little benefit and required deployment of considerable resources.
WHO does not recommend any specific health measures for travellers to and from Wuhan,#China🇨🇳
It is generally considered that entry screening offers little benefit, while requiring considerable resources https://t.co/UU8IgFvjpn #coronavirus https://t.co/t2rFsX3cVy
— World Health Organization (WHO) (@WHO) January 10, 2020
At the same time, China was under the scanner for lack of transparency as from underreporting the numbers to the mysterious disappearance of citizen journalists who dared to expose the callousness of the Chinese government, Xi Jinping did it all. Hence, to tackle the claim of transparency, the WHO earlier this month came out with a 40-page report on how well the Chinese government has tackled the Wuhan virus.
While the Communist government has imposed a two-month lockdown on Wuhan, the WHO report meekly mentions the lockdown as "strict traffic restrictions" and "the cordon sanitaire". The report lauds China's epidemic response measures — but conveniently ignores the late-December / early-January dates that might implicate the party's initial mismanagement of the crisis.
If there were any doubts on the neutrality of the report, a line in the report reads that: "In the face of a previously unknown virus, China has rolled out perhaps the most ambitious, agile and aggressive disease containment effort in history."
However, the WHO wouldn't have been able to vociferously defend the Chinese government without its director-general Dr Tedros. In 2017, everyone was surprised when Dr Tedros who is not a medical doctor and lacking any global health management experience occupied the prestigious position.
Back in 2017, there were red flags raised over the nomination of Dr Tedros as he is accused of covering up deadly epidemics. Dr Tedros was earlier the Health Minister of Ethiopia from 2005 to 2012 and later served as the country's Foreign Minister from 2012-2016.
Under his tenure, the Dr Tedros made a name for himself by covering up the cholera epidemics of 2006, 2009, and 2011. Despite the death toll and the fatality of the virus, the Ethiopian government only labelled them as 'outbreaks'.
At the time of his nomination, the country was suffering from yet another cholera epidemic but the Ethiopian government pushed to label the Cholera epidemic as an acute 'diarrhoea', despite the fact that neighbouring countries like Kenya, South Sudan and Somalia had labelled it as a cholera outbreak. According to various Human rights organizations, the Ethiopian government back then pressured the health professionals to not refer to the current outbreak as cholera, but as diarrhoea.
Under the tenure of Dr Tedros, for the first time ever, decided to endorse China's belief system called "traditional Chinese medicine" which is further proof of how Dr Tedros was directly in bed with Xi Jinping.
When Xi Jinping ordered his health officials to develop drugs using "integrated Chinese traditional herbal medicine and Western medicine," the WHO's "Q&A on COVID19" immediately changed a vital piece of information in the section which pointed out the list of measures deemed ineffective against the coronavirus.
Before Xi Jinping's support for traditional herbal medicine, the WHO listed four items which were deemed ineffective against the Wuhan virus which were namely, smoking, wearing multiple masks, taking antibiotics, and traditional herbal remedies. The publication has now removed the mention of traditional herbal remedies from the list.
China's 'traditional herbal medicine' effectively means trafficking and killing of exotic wildlife, from Tigers to Rhinos, to make medicines which have no clinical proof. China's drug regulator gets more than 230,000 reports of adverse effects from TCM each year.
China's traditional medicine has a major role to play in the dwindling population of the African Rhino. The horns of the few remaining Rhinos are chopped off to be sold to become part of elixirs that some people in China mistakenly believe that it would confer strength, virility, or other health benefits.
An example of barbarity of China's traditional medicine was highlighted when the New York Times reported how black bears were kept in horrible and cruel "animal farms" with a tube always inserted into their abdomen so as to harvest their bile. It also believes in consuming the bones of tigers so as to gain virility.
It is appalling to see how the WHO can endorse such barbaric practices. The WHO's support will further aid China's booming wet market industry which has overseen two of the most devastating viruses since the turn of the century – SARS and the Wuhan virus.
Viruses as deadly as the Wuhan virus usually have a very narrow host range in terms of the species they can infect, and therefore this cross-over was possible only in a place like the Wuhan wet market, which is one of the rare places were bats, pangolins and humans are found at one place, thus resulting in the outbreak of the virus. Pangolins from an endangered species, illegally traded, and faces the risk of being eaten to extinction.
The menu of Wuhan's wet market includes the likes of tiger, camel, snakes, rabbits, bats, bears, foxes and many more varieties of exotic wildlife. The wet markets of China were emboldened by the Communist Party's decision in 1998 to term wildlife as "resources owned by the state" and protected people engaged in the "utilization of wildlife resources".
The WHO's backing would effectively act as a shot in the arm for China's rampant animal trade.
Of course, Dr Tedros is not becoming a willing accomplice only because of his love for Xi Jinping or communism. China has invested (another example of debt-trap diplomacy) heavily in Ethiopia thanks to the Belt and Road Initiative and has emerged as China's point of contact in Africa deservingly getting the tag of East Africa's "Little China".
By 2016-2018, Chinese direct investment (FDI) in Ethiopia had reached US $4 billion and bilateral trade had grown to $5.4 billion. A McKinsley report in 2017 showed how the Chinese investment has continued to grow at an average growth rate of more than 52% a year in Ethiopia.
Dr Tedros is also an executive member of an Ethiopian party which is listed as a perpetrator in the Global Terrorism Database. Hence, it comes as no surprise that Tedros attempted to appoint the barbarian and the then-dictator of Zimbabwe, Robert Mugabe as WHO's goodwill ambassador.
When the world finally wins the battle against the Wuhan virus, Dr Tedros must be tried as a war criminal and the organisations like the WHO must be restructured because in their present form they literally serve no purpose except serving their Chinese masters.
===
Ethiopia: Call for the resignation of Tedros Adhanom, petition launched
Posted by: ECADF in News October 28, 2017
https://ecadforum.com/2017/10/28/ethiopia-call-for-the-resignation-of-tedros-adhanom-petition-launched/
Open letter to the WHO: Purge Dr. Tedros Adhanom out or Face the Shame!
November 27, 2018
https://ecadforum.com/2018/11/27/open-letter-to-the-who-purge-dr-tedros-adhanom-out-or-face-the-shame/
Tedros Adhanom played a key role in kidnapping of prominent dissident
Posted by: ECADF in News May 5, 2017
https://ecadforum.com/2017/05/05/tedros-adhanom-played-a-key-role-in-kidnapping-of-prominent-dissident/
===
WHO MEMO FROM 1972 EXPLAINS HOW TO TURN VACCINES INTO A MEANS OF KILLING
17. March 2020 (First published in 2009)
Two key memorandums from the World Health Organisation (WHO), discovered by Patrick Jordan, prove the WHO has intentionally created the three-shot killer vaccine that people in the USA and other countries could soon be forced to take.
The 1972 WHO Bulletin 47, No 2 Memo #1 and #2 Virus-associated immunopathology state:
Animal models and implications for human disease technically outline the ability to create biological weapons in the form of vaccines that:
1) First totally disable the immune system.
2) Load every cell of the victim's body up
with infection.
3) Switch the immune system on causing the
host to kill itself in a Cytokine Storm.
One, Two, Three, Dead!
These WHO Memoranda describe the three stage impact of the three "shots" many people will be forced to take this autumn to allegedly treat a virus that the WHO also helped create and release.
This is a crucial piece of evidence of the WHO's long-term genocidal intentions that could stand in any court of law because these memorandums give the best and fullest explanation of the WHO's affiliated labs, such as the Centers for Disease Control's (CDC) current activities.
Their patenting of the most lethal bird flu viruses, their sending that virus to Baxter's subsidiary in Austria, which weaponised it and sent out 72 kilos to 16 laboratories in four countries, almost triggered a real global pandemic.
For every crime, there needs to be motive, an indication that it was deliberate and that it was planned.
The WHO memorandums provide the evidence of just that deliberate, long-term planning to kill people by weakening their immune system by use of the first vaccine, injecting a live virus into their body by a second and creating a fatal cytokine storm, using ' squalene', in a third.
Scroll down until you find:
Memoranda
Virus-associated immunopathology : animal models and implications for human disease:
1. Effects of viruses on the immune system, immune-complex diseases, and antibody-mediated immunologic injury
Bull World Health Organ. 1972; 47(2): 257?264.
PMCID: PMC2480894
Virus-associated immunopathology: animal models and implications for human disease:
2. Cell-mediated immunity, autoimmune diseases, genetics, and implications for clinical research
Bull World Health Organ. 1972; 47(2): 265?274
PMCID: PMC2480896
If you find any difficulty please download it from our Download Section : Here or if that is deleted HERE
WSF
blogs.healthfreedomalliance.org
Criminal Charges/Anzeigen: (.pdf)

1. gegen WHO, Baxter u. NZfI, Genf
2. gegen Baxter AG, Baxter Intl., Avir Green Hills Biotechnology AG
3. Criminal Charges Document (12 MB large file - wait for full download)
4. Criminal Charges Sent To FBI, USA
5. Criminal Charges July 23, 2009 in Vienna (English version follows)
(Neue Strafanzeige v. 23. Juli 2009, Wien)
Summary of Criminal charges in German (.txt)
1. Summary of Criminal charges in German

Documents and Attachements/Dokumente und Anlagen: (.pdf)

1. Documents against WHO forced vaccination etc.
2. Bioterrorism Evidence

WHO - Documents: (proving they want to turn vaccines into killers) (.pdf)

1. WHO - Memo 1
2. WHO - Memo 2

Law Suits/Klagen vor Gericht

Misprision - Document for Download

Officials/Behörden: (.pdf)

1. Eingangsbestätigung der Anzeige beim österreichischen Gesundheitsministerium
2. Austrian Parlamentary Answer re Baxter (Antwort des österreichischen Parlaments zu Baxter)
3. Austrian Parlamentary Questions re Baxter (Anfrage an das österreichische Parlament zu Baxter)
4. Austrian Anti Terrorism Unit Invitation (.jpg) Termin/Vorladung der Sicherheitsdirektion Wien, Landesamt für Verfassungsschutz und Terrorbekämpfung
5. Criminal Charges Vienna July 23, 2009 in German Official Stamp of District Attorney in Vienna Eingangsstempel der neuen Strafanzeige in Wien am 23.07.09
6. Complaint to stop enforced vaccinations in Washhington State filed

Press Reports/Presseverweise (.pdf)

1. Profil-Artikel Bobi`s report (Austrian Press involvement)
2. Profil-Report CIA/Journalist - Bobi`s Report Pharmaindusrie "Sicher ist fast sicher" (6.95 MB)

Flyers/Flugblätter (.pdf)

1. FLYER BAXTER (English)
2. Flyer Educate Yourself (English)
Above content copyrights own by Jane Burgermeister's
Update :
Swine Flu Hoax Esposed Roundtable Panel with Dr Bill Deagle Aug. 28, 2009
HOUR 1 MP3
HOUR 2 MP3
HOUR 3 MP3

This three-hour conversation on H1N1 includes (among others):

Dr Bill Deagle MD AAEM – Host
Dr A True Ott PhD ND
Dr Russell Blaylock MD
Dr Mayer Eisenstein MD JD
Dr Arthur Evangelista PhD
Dr Jeff Grupp PhD ND
Don Nicoloff, radio host, researcher/journalist
Alex Studor (a civil injunction filer)
Tim Alexander (Earl of Stirling)
and other guests ….
===
MUST WATCH:
Trust WHO? (OVALmedia, 2018)
First published on BITCHUTE April 30th, 2020.
Although this documentary (in my humble opinion) doesn't dig deep enough, it shows many issues with the WHO, and the current situation makes this movie very relevant. Hopefully some of you can use it to wake some deep sleepers up since it isn't exposing the hardcore conspiratorial stuff (like NWO/Lucis Trust type stuff etc.) so it is maybe more acceptable and is met with less denial than an in-depth exposé.
- FAKE NEWS > Controlled MSM Exposed: https://www.bitchute.com/video/AEY73HH8N1FU/
- The Great Plandemic & the Bigger Picture of the 5G RAC((c))OONvirus?: https://www.bitchute.com/video/rMxep1f3LCnY/
- Crimes against Humanity (Dr. Reiner Fuellmich):
https://www.bitchute.com/video/NngCr0ldZgtL/
- Inside the Brotherhood, Masonry as the nervous System of Corruption: https://www.bitchute.com/video/MEhWUKSWpdZX/
- The Illuminati-CFR conspiracy, their subsidiaries and stooges exposed (Myron C. Fagan, 1967): https://www.bitchute.com/video/EXXdo5soA5de/