UPDATE 15. June 2020: RECLAIM YOUR LIVES - WORLD HEALTH SOVEREIGNTY SUMMIT - 20.-21. June 2020 in Bali
UPDATE 02. April 2020: SARS-CoV-2 is "Lab-Made" | WE HAVE THE EVIDENCE!, says researcher (USA and CHINA involved).
Prologue: What all people of the world now really must demand is:
A) Scientifically established (reproducable) and peer reviewed evidence of the SARS-CoV-2 virus per se and its mutants and strains. (So far even that hasn't been done conclusively).
B) Proper and peer-reviewed tests that really can detect the proven virus (and not something else).
- without A and B there is no reason to believe in any of the circulated figures and no reason for any of the drastic governmental interventions that damage the life and wellbeing of people and the economy.
Now over 100 Million people have allegedly been tested worldwide since January 2020, with a total of over 8 million positive cases (mid June 2020), but the real figures of whatever different entities are testing with different - often highly inaccurate - methods is probably much higher and will dramatically increase as more tests become available. Over 400,000 people have passed away during that time, who allegedly carried the still not clearly proven 'virus', but they did not necessarily die due to just this alleged viral infection. Most fatal cases - e.g. in Italy over 88% - had primary morbidities.
Noam Chomsky: Coronavirus - What is at stake?
With the crisis worsening, 91-year-old American linguist and political analyst Mr Chomsky claimed in a recent interview that COVID-19 is a glaring new example of the cruelty of neoliberal capitalism.
Speaking with Democracy in Europe Movement 2025 (DiEM25) co-founder Srecko Horvat on Saturday, the political philosopher argued the pandemic had been predicted long before its appearance, but actions to prepare for such a crisis were barred by the cruel imperatives of an economic order in which "there's no profit in preventing a future catastrophe".
He said: "We should think about the origins of this crisis. Why is there a coronavirus crisis?
"It is a colossal market failure.
"It goes right back to the essence of markets, exacerbated by the neoliberal savage, neoliberal intensification of deep social economic problems.
"It was known for a long time that pandemics are very likely.
Mr Chomsky noted: "The SARS epidemic was overcome 15 years ago.
"The viruses were identified, sequenced, vaccines were available. Labs around the world could have started working right then on developing protection for potential coronavirus pandemics.
"But they didn't. Why did they not do it?
"Because the market's signals were wrong.
"We have handed over our fate to drug companies – private tyrannies, corporations, which are unaccountable to the public."
The political analyst argued that those companies make body creams instead of finding a vaccine that will protect people from total destruction, because it is much more profitable.
Mr Chomsky added: "Polio, at the time, was a terrifying threat. It was ended by the discovery of the Salk vaccine by a government institution, set off by the Roosevelt administration.
•Premiered Mar 28, 2020
A conversation with philosopher and co-founder of DiEM25, Srecko Horvat.
The coronavirus crisis is revealing that the powers that be of the European Union have learned nothing from the Eurocrisis.
They are currently betraying the interests of the majority of Europeans in the same way that they have done so in 2010 -- by failing to mobilize existing money and public financial instruments in the interests of the many. With their current decisions, they are jeopardizing public health, public goods and the interests of Europeans.
Every day at 19:00 CET switch on the television from the future! We call it TV because we like retro-futurism. But it's much more than TV. In times of global pandemics, DiEM25 is launching a special online and completely free program to understand the current crisis and offer tools and hope to get out of it stronger and more united in building the World After Coronavirus. Everyone will be able to join and pose questions, suggest next topics and next guests!
Events 👉 https://i.diem25.org/donations/to/events
Join us! 👉 https://diem25.org/join
===
UPDATES:
RECLAIM YOUR LIVES
HEALTH SOVEREIGNTY - CIVIL LIBERTIES - FREEDOM OF SPEECH
Register now for this online Global Summit featuring Notable Key Experts speaking to critical questions surrounding the COVID Pandemic, and launching a campaign toward realization of legal remedy in assurance of Human Rights & Civil Liberties
THIS SUMMIT IS FOR THOSE WHO...
​Wish to live in a free world without forced medical experimentation, violations of freedom of speech or the right to work and travel freely.
*VPN is required in some countries (if the video is blocked for you, try to see it HERE )
- ITNJ SUMMATION EVENT -
June 21 - Witness our Expert Testimonies
THE WORLD HEALTH SOVEREIGNTY SUMMIT
- Summation Event & Action Campaign -
This planetary movement intends to galvanize concerned citizens and alliances across the globe who are universally committed to assuring human rights, human dignity, civil liberties, freedom of speech, freedom of choice and the right to life.
WHAT LEADERS HAVE TO SAY
We should all come together to stop a takeover of our lives.
===
WHO director faces calls for resignation over handling of coronavirus, China
By Tyler Olson - 06. April 2020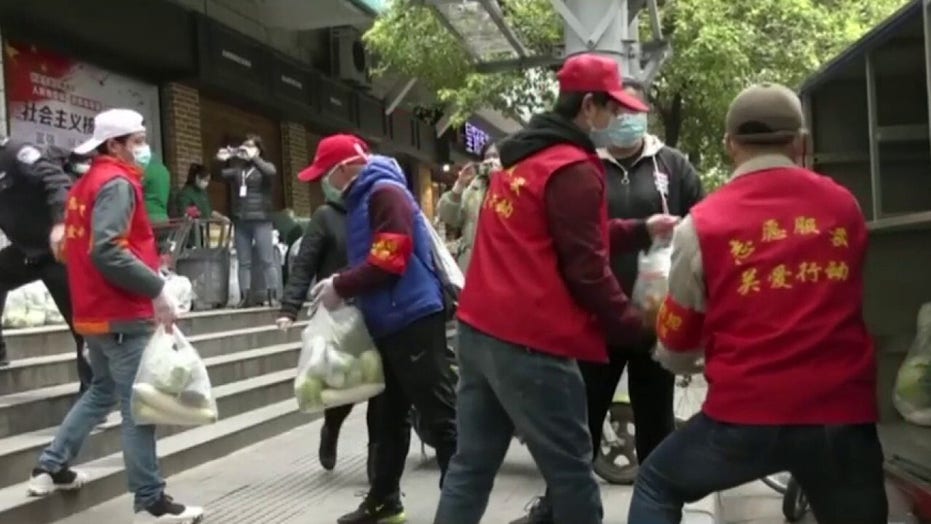 Iris Independent Research President Rebecca Grant joins Jon Scott to discuss the intel that China is concealing the extent of their outbreak.
Get all the latest news on coronavirus and more delivered daily to your inbox. Sign up here.
Amid persistent criticism that his organization failed to properly oversee China's coronavirus response and worked to downplay the communist nation's responsibility for the pandemic, World Health Organization Director-General Tedros Adhanom Ghebreyesus is facing growing calls for his resignation from American politicians and others around the world.
Calls have been led by Sen. Martha McSally, R-Ariz., who last week on Fox Business' "Mornings with Maria" told host Maria Bartiromo that she has "never trusted a communist" and that the Chinese government's "cover-up of this virus that originated with them has caused unnecessary deaths around America and around the world... I think Dr. Tedros needs to step down."
She continued on Friday, placing part of the blame for China's lack of transparency on the WHO director-general.
"Dr. Tedros deceived the world," she said. "At one point, he even praised China's 'transparency during its coronavirus response efforts' despite a mountain of evidence showing the regime concealed the severity of the outbreak. This deception cost lives. "
Tedros' woes have been caused in large part by his regular backing of China during the coronavirus outbreak.
In early February, days after President Trump put in place a travel ban for foreign nationals who had recently been to China, Tedros panned coronavirus responses that "unnecessarily interfere with international travel and trade," according to Reuters.
He also tweeted praise for China on March 20, saying "[f]or the first time, #China has reported no domestic #COVID19 cases yesterday. This is an amazing achievement, which gives us all reassurance that the #coronavirus can be beaten."
That tweet came amid allegations that the coronavirus numbers reported by China were not accurate, but manipulated to make the country's response to the pandemic look stronger than it was.
Tedros' comments, and other communications from the World Health Organization, have been used by China to boost the nation's message as it seeks to deflect blame for the pandemic, which a study by the University of Southampton claims could have been "reduced by 95 percent globally" if China acted three weeks earlier.
As an example of China leaning on WHO in its efforts, Chinese Foreign Ministry Spokesperson Hua Chunying tweeted that America was hellbent on blaming China after Secretary of State Mike Pompeo claimed China had allowed thousands of people to leave Wuhan and travel to places like Italy.
"Stop lying through your teeth!" the spokesperson said of Pompeo. "As WHO experts said, China's efforts averted hundreds of thousands of infection cases."
According to The Washington Free Beacon, Sen. Ted Cruz, R-Texas, said the WHO should consider removing Tedros as its head.
"The World Health Organization has consistently bent to the will of the Chinese Communist Party at the expense of global health and of containing the spread of the coronavirus, from downplaying the extent of the virus to systematically excluding Taiwan," a Cruz spokesperson told the publication. "Sen. Cruz believes that the WHO has lost the credibility necessary for it to be effective, and a reevaluation of its leadership is urgently called for."
Sen. Ben Sasse, R-Neb., also told the Free Beacon that "we need to have a serious reckoning with the World Health Organization."
Sen. Marco Rubio, R-Fla., joined in on calls for Tedros to face accountability for how his organization has performed during the pandemic.
"Once this pandemic is under control, WHO leadership should be held to account. That includes Director-General Tedros Adhanom Ghebreyesus, who has allowed Beijing to use the WHO to mislead the global community," Rubio said. "At this moment, [Tedros] is either complicit or dangerously incompetent. Neither possibility bodes well for his future at the helm of this critical organization."
So did former U.S. Ambassador to the U.N., the WHO's parent organization, Nikki Haley.
"This was posted by the WHO on January 14th," Haley said of a WHO tweet that cited investigations by Chinese authorities saying the communist nation "found no clear evidence of human-to-human transmission" of the coronavirus.
"The WHO owes an explanation to the world of why they took China's word for it," she continued. "So much suffering has been caused by the mishandling of information and lack of accountability by the Chinese."
Sen. Rick Scott, R-Fla., also called for accountability for the WHO on its handling of the coronavirus.
"When it comes to Coronavirus, the WHO failed. They need to be held accountable for their role in promoting misinformation and helping Communist China cover up a global pandemic," Scott said last week. "We know Communist China is lying about how many cases and deaths they have, what they knew and when they knew it – and the WHO never bothered to investigate further."
Scott also called for an investigation and hearing into the WHO, questioning whether it is deserving of American taxpayer money. A spokesperson for Scott told Fox News on Monday that based on information that is currently public, "Dr. Tedros' resignation would definitely be warranted."
The United States is the single largest contributor to the WHO. The most recent invoice from the WHO to the United States, which is one of many countries that fund the organization, was for nearly $116 million per year. The United States also voluntarily gives between approximately $100 million and $400 million more per year to the WHO for specific projects -- contributions that totaled over $400 million in 2017, the most recent year for which figures are available.
That means the United States contributed over $500 million in total to the WHO that year, which is just under one-quarter of the organization's yearly budget. The WHO's total budget for 2016 and 2017 combined was over $4 billion.
The Wall Street Journal Editorial Board also joined in the pile-on in an editorial posted Sunday evening, backing Scott's call for an investigation and warning "foreign-policy elites" that if they "want to know why so many Americans mistrust international institutions, WHO is it."
All this comes as dissatisfaction is also building with Tedros and the WHO internationally. A Change.org petition, reported on by the Jerusalem Post, which has been translated into several different languages and cites Tedros' reluctance to question China's self-reported coronavirus numbers, among other things, has gained over 700,000 signatures.
Additionally, Japanese Deputy Prime Minister Taro Aso, according to Taiwanese television channel Formosa News, said that the WHO should change its name to the Chinese Health Organization over its handling of the coronavirus.
As of Monday morning, the number of coronavirus cases worldwide had surpassed 1.2 million with 69,000 deaths worldwide. In the United States, 337,000 coronavirus cases were reported and 9,600 people have died.
U.S. Surgeon General Jerome Adams in the White House coronavirus task force briefing Sunday night said that this week will be "the hardest and the saddest week of most Americans' lives" — saying it would be "our Pearl Harbor moment, our 9/11 moment."
===
"Lab-Made" | WE HAVE THE EVIDENCE! (US and CHINA involved)
•Apr 2, 2020 (censored and removed by youtube - see below)
Shocking Disclosure!
► Special thanks to Dr. Rashid Buttar.
Watch the entire episode: https://www.youtube.com/watch?v=15YKs...
►► Get FREE access to the AHEAD Map™ developed by Dr Buttar and his team. It has been called the "most informative health assessment tool ever developed". https://www.askdrbuttar.com/join-iadf...
Check out his work. https://www.AdvancedMedicine.com
https://www.advancedmedicineconferenc...
https://www.centersforadvancedmedicin...
YT - https://www.youtube.com/user/drbuttar
THE VIDEO ABOVE WAS REMOVED ON YOUTUBE, AND THIS IS WHAT DR. BUTTAR HAS TO SAY:
===
Emergency 5G: Coronavirus Hearing
•Apr 2, 2020 (censored and removed by youtube - see below)
International Tribunal for Natural Justice
Sacha Stone - ITNJ Founder, Robert David Steele - Fmr. CIA Spy, Mark Steele - Weapons Expert, Sue Grey - ITNJ Commissioner, Dounne Alexander, MBE - ITNJ Commissioner , Tomas J Brown - ITNJ Trustee
N.B: Check for ITNJ videos removed and censored by Youtube
Bitchute https://www.bitchute.com/itnj
Brighteon https://www.brighteon.com/channels/itnj
ITNJ Censorship Message: "Migrate with us"
•May 20, 2020
International Tribunal for Natural Justice
ALERT! This channel is in jeopardy and may soon be terminated by the powers-that-shouldn't be.
To resist the censorship & stay connected...subscribe to our other social media channels and our ITNJ newsletter below:
ITNJ website https://www.itnj.org
ITNJ Commission Page with Inquiry videos https://commission.itnj.org
Subscribe to ITNJ Newsletter or
Facebook https://www.facebook.com/ITNJcommittee/
Facebook https://www.facebook.com/newearthproj
Instagram @itnj_committee and also @newearth_project
Bitchute https://www.bitchute.com/itnj
Brighteon https://www.brighteon.com/channels/itnj
===
PLEASE NOTE:
They also experienced and received reports that many people the world over came down already in October / November / December 2019 with an extraordinary "flu" and pulmonary infections whereby many died, but nobody spoke about it. It is believed that especially Africa was long before the present crisis infested with the initial novel coronavirus that causes COVID-19, but nowhere tests were available. Fear is that the mutant version, the strain of SARS-CoV-2 mutant (ORF3a) [this version is mainly found in Italy and France] will create now a SECOND WAVE - especially in Africa.
===
5G - Lack of risk assessment, Prof. Martin Pall
•Aug 29, 2019
scopro - Klinische Umweltmedizin
Interview with Prof. Martin Pall on the lack of risk assessment in 5G and EMF, the burden of WiFi and pulsation. What we can do about it and what we have to change in politics. More Information on the advanced course "Clinical Environmental Medicine" at www.scopro.de/en
===
Not So Trusted Voices
•Mar 31, 2020
The fear mongers are not well intentioned. I go through the shameful lies & "mistakes" of the mainstream media and their "Trusted Voices" ... and then I show you what citizen journalists are doing to get to the truth. UPDATE & VIDEO: Dana Ashlie has a new video showing the clips from the people who went to #FilmYourHospital!! It's excellent: https://www.youtube.com/watch?v=5pIMD...
amazingpolly.net/contact.html
References:
UK Declaration that COVID is no longer a 'High Consequence Infectious Disease': https://www.gov.uk/guidance/high-cons...
Martin Geddes can be found: wwg1wga.martingeddes.com https://thestorm.martingeddes.com https://qanon.martingeddes.com Gemma O'Doherty can be found: @gemmaod1 and https://gemmaodoherty.com/
WHO travel ban (as of Mar 31, 2020) https://www.who.int/news-room/article...
VIDEO German scientists etc: https://www.youtube.com/watch?time_co...
Italy: https://news.sky.com/story/amp/corona...
NY: https://www.cbsnews.com/news/coronavi...
Adrian YT vid: https://www.youtube.com/watch?time_co...
Hitchens: https://hitchensblog.mailonsunday.co....
NEJM, Fauci, covid: https://www.nejm.org/doi/full/10.1056...
Fauci Birx revise estimates: https://www.thegatewaypundit.com/2020...
McKenna in China: https://enb.iisd.org/cciced/agm/2018/
===
Fauci Ignores WHO Boss Crimes Against Humanity
•Mar 26, 2020
I bet people would be shocked to know that the current head of the World Health Organization was involved in multiple unprosecuted potential crimes against humanity. Corona Task Force Boss Dr. Fauci loves it though. Or maybe the mainstream media has failed so badly he doesn't even know. Too many villains to count.
===
WHO's Tedros Adhanom Should be Tried for Crimes Against Humanity
•Mar 14, 2020
Tedros Adhanom Ghebreyesus, as well as being the first WHO director without a medical degree, also has a somewhat political background.
A full account of the crimes of Tedros Adhanom who should be tried at the ICC at the Hague for human rights violations.
Corrections: 1. Tedros was health minister from 2005 not 2002. 2. His online biography now includes his foreign minister qualifications 3. his name is pronounced with a hard G
You can read the article version of this video on our news site https://roughestimate.org
===
Coronavirus: How WHO Corruption Helped It Spread
•Feb 22, 2020
Rampant corruption within the United Nations World Health Organization is putting lives at risk during the deadly coronavirus outbreak from Wuhan, China. Why did the WHO delay issuing a global emergency? Has Chinese money influenced the WHO and it's Director General Tedros Adhanom? And what about poor Taiwan?
In context with the above and for its importance the following video alrady published in another of our compilations, is repeated and is a MUST WATCH:
NATO's Dark Blueprint For Virus/Vaccine Warfare
•Streamed live on Mar 30, 2020
For Mark Kulacz's brilliant research piece on the shutdown of Ft. Detrick https://www.youtube.com/watch?v=jFvus...
For entire Mark Kulacz Archive of Rogue's Gallery, go to kzdigs.com
Virginia Benassi - Chief Technical Officer, World Health Organization https://www.who.int/medicines/ebola-t...
Both Virginia Benassi and Sina Bavari wrote R&D WHO Blueprint https://www.fredericknewspost.com/new...https://www.nytimes.com/2019/08/05/he...
Sina Bavari LinkedIn - Leaving Ft Detrick in August 2019 To EDGE BioInnovation https://www.linkedin.com/in/sina-bava...
George Webb is an investigative journalist in the Washington, DC area that discovered the DNC blackberries and hard drives used by DNC Chairwoman's IT assistant, Biden Awan. Webb produced a fact witness, a Marine named Andre Taggart, and Taggart confirmed the government marked blackberries and drives stashed by Awan in his home. Webb also interviewed a Capitol Hill staffer with a three decade relationship with Joe Biden that provided insider information about Biden Awan that was later confirmed in a House hearing. The House insider also left the phone with Webb which had Congressional markings, and the blackberry mapped to a DIA staffer on Capitol Hill in the Human Intelligence Services. A summary of his three years of reporting has been summarize in a five video playlist called
The Webb Report and can be found here. https://www.youtube.com/watch?v=H9sjb...
===
We are at War. #FireFauci. End the Shutdown.
- Dr.SHIVA LIVE:
•Streamed live on Apr 4, 2020
===
Teargas, beatings and bleach: the most extreme Covid-19 lockdown controls around the world
Violence and humiliation used to police coronavirus curfews around globe, often affecting the poorest and more vulnerable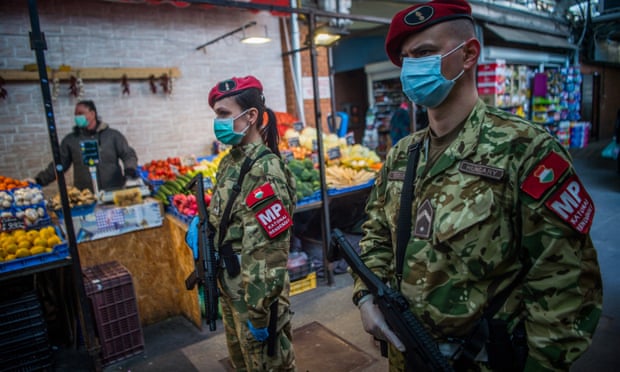 Military police officers patrol a market in Budapest, Hungary, where the nationalist prime minister Viktor Orbán now has now grabbed the power to rule by decree. Photograph: Zoltán Balogh/EPA
As coronavirus lockdowns have been expanded globally, billions of people have found that they are now faced with unprecedented restrictions. Police across the world have been given licence to control behaviour in a way that would normally be extreme even for an authoritarian state.
On Tuesday, police in Kenya gave their "sincere condolences" after a 13-year-old boy was shot and killed on his balcony in Nairobi as police moved through the neighbourhood, enforcing a coronavirus curfew.
"They come in screaming and beating us like cows, and we are law-abiding citizens," said Hussein Moyo, the father of Yasin, the boy who was shot.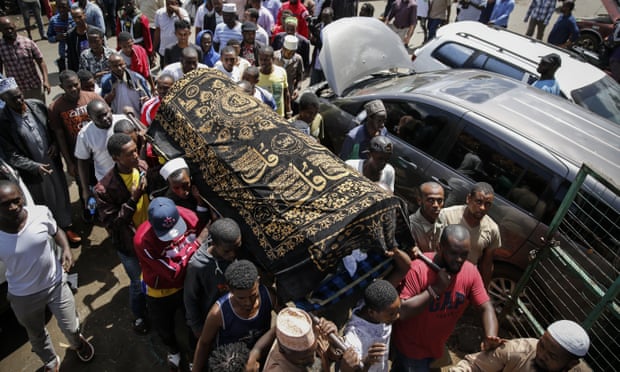 Concerns are growing that police forces around the world are using gruelling and humiliating punishments to enforce quarantine on the poorest and most vulnerable groups, including tens of millions who live hand-to-mouth and risk starving if they do not defy lockdowns and seek work.
Over the past week, footage has emerged showing migrant workers in India crouched on the side of the road as they are sprayed with chemicals, apparently an attempt to disinfect them before they entered their home province.
The workers, who had returned from Delhi, were covered in a bleaching agent, sodium hypochlorite, which can cause damage to the skin, eyes and lungs, Indian Express reported. Elsewhere, in Punjab, people accused of breaking quarantine rules were made to do squats while chanting: "We are enemies of society. We cannot sit at home."
Similarly humiliating tactics have been used by police in Paraguay, where people violating quarantine rules were made to do star jumps and threatened with a taser. Others were asked to repeat "I won't leave my house again, officer" while lying face down on the floor.
Although there is a growing global consensus that efforts to protect public health in the face of the coronavirus pandemic demand temporary sacrifices of some individual freedoms, UN human rights experts have urged countries to ensure their responses by to the pandemic were "proportionate, necessary and non-discriminatory".
It is often the least well off - who cannot afford to stop working, or who are forced to walk for days to return to their family villages from the cities they worked in before the virus emerged - who are targeted by such punishments.
In the Paraguayan capital, Asunción, Alberto Ruíz, a member of a residents' social organisation in the deprived Tacumbú neighbourhood, told the Guardian that authorities had done very little to support families left without any income.
Almost all citizens in the country are confined to their homes. "They tell you to stay at home, to protect your family. But in poor neighbourhoods, you have to go out to earn a living: if you don't, you die of hunger," Ruíz said.
Videos of the punishments in Paraguay – recorded and shared by officers themselves – were praised by the country's interior minister, Euclides Acevedo, who said: "I congratulate them. I don't have the same creativity as those that are making the videos."
In the Philippines, police and local officials trapped curfew violators in dog cages, while others were forced to sit in midday sun as punishment.
The country's main Luzon island has been placed under a month-long lockdown, with more than 40 million residents asked to stay indoors. But remaining at home is a far more comfortable experience if you have the luxury of space. For those sharing cramped rooms with family members, the heat in Manila can be unbearable.
Across the country, more than 17,000 people have been arrested for coronavirus lockdown-related violations, the website Rappler reported. Human Rights Watch has pointed out that such action is most likely to be counterproductive if offenders are then placed in overcrowded detention facilities.
Activists in Kenya have warned that heavy-handed policing not only risks fuelling panic and fear but may also be heightening transmission of the virus.
In the port city of Mombasa last week, police fired teargas at ferry commuters, causing hundreds of people crowded together to cough and wipe tears from their eyes. Officers were also filmed hitting people with batons.
"If the operation was supposed to protect people from spreading the virus, the operation achieved the exact opposite," a statement by Kenya's police reforms working group said.
There are also fears that governments are using concerns over the pandemic to increase their own powers, bringing in sweeping legislation that could be used to quash critical voices. On Monday, Hungary's parliament passed a new set of measures including jail terms for spreading misinformation and allowing the nationalist prime minister, Viktor Orbán, to rule by decree under a state of emergency that has no clear time limit.
===
Squats, drones and angry mayors: policing coronavirus lockdowns around the world
•Mar 25, 2020
A third of the world's population is under lockdown as countries tighten measures to stop the spread of Covid-19. We take a look at some of the strategies – from drones to armed forces, exercises to fines – that governments are using to police their citizens
In the Philippines and Thailand, states of emergency have been declared, granting governments greater powers for a temporary period. This includes the ability to crackdown on the sharing of false information – a vague term that activists fear could be misused by officials.
In a recent report, Human Rights Watch said that freedom of expression and access to information should be protected by governments. While some restrictions on rights, such as those limiting freedom of movement, could be justified, the group called for transparency and "respect for human dignity".
Additional reporting by William Costa in Asunción
===
COVID-19': Curfew vs Police brutality
•Mar 29, 2020
Irungu Houghton, Exec. Dir., Amnesty International, "The questions we need to ask are; How many officers have been identified, how many have been indicted, how many people were injured on the curfew night & how many have died."
POLICE BRUTALITY: Kenyans express anger over beatings
•Mar 29, 2020
PLEASE NOTE: Youtube regularly removes eye-witness videos that show the extreme brutally not shown by the mainstream media. Apart from outright takedown, Youtube applies also shaddow-banning (the publisher still sees the video, but nobody else sees it and can't find the video via search engines) and of late the choking of the connection-speed for certain videos, so that viewers give up.
===
Antifa marches in Montreal despite COVID-19 warnings to avoid large crowds
On Wednesday, Quebec reported its first death due to COVID-19.
By True North Wire - 18. March 2020
Approximately 100 masked Antifa members marched through downtown Montreal on Sunday despite current COVID-19 health recommendations to avoid large crowds and practice social distancing.
The demonstration was a part of an annual protest against police brutality.
According to police spokesperson Manuel Anglade, two people were arrested on the scene for mischief and uttering threats.
A few days earlier, Quebec Premier François Legault announced a ban on public gatherings of 250 people or more.
Health officials have advised Canadians to practice social distancing and avoid large crowds in order to prevent the spread of COVID-19.
According to an article posted Sunday on the anarchist website Montreal Counter-Information, a group calling itself the Collective Opposed to Police Brutality (COBP) took responsibility for the march. Riot police encircled the large crowd of protesters as they marched through the city, setting off fireworks and other incendiary devices as pedestrians looked on.
"Not wanting to reduce the severity of the current health crisis, it must not be used as an excuse to forget and stifle the dissent that is taking place around the world," claimed COBP.
"And this current situation is part of a broader ecological crisis. Obviously, crisis also means repression."
As exclusively reported on by True North, Montreal Counter-Information was also responsible for publishing guides during the national rail blockade crisis on how to create Molotov cocktails and other means of sabotaging national infrastructure.
On January 14, the website called on its followers to disrupt rail lines, saying that "Molotovs can greatly increase our power in the streets."
As of Wednesday, March 18, Quebec reported its first death due to COVID-19. Another 94 people have been infected by the virus in the province.
===
1984 George Orwell - Full Movie - Hollywood best Greatest blockbuster movie Film
•June 29, 2013
Hollywood Greatest Best Blockbuster Movie Films - George Orwell 1984 Full Movie
1984 is a 1956 film loosely based on the novel of the same name by George Orwell.
This is the first cinema rendition of the story, directed by Michael Anderson, and starring Edmond O'Brien. Also starring are Donald Pleasence, Jan Sterling, and Michael Redgrave. Pleasence also appeared in the 1954 television version of the film, playing the character of Syme, which in the film was amalgamated with that of Parsons. O'Brien, the antagonist, was renamed "O'Connor," possibly to avoid confusion with lead actor Edmond O'Brien.
After the customary distributor agreement expired, the film was withdrawn from the theatrical and TV distribution channels by Orwell's estate and was not legally obtainable for many years.
Eric Arthur Blair (25 June 1903 -- 21 January 1950),[1] known by his pen name George Orwell, was an English novelist, essayist, journalist and critic. His work is marked by lucid prose, awareness of social injustice, opposition to totalitarianism and commitment to democratic socialism.[2][3]
Commonly ranked as one of the most influential English writers of the 20th century and as one of the most important chroniclers of English culture of his generation,[4] Orwell wrote literary criticism, poetry, fiction and polemical journalism.
He is best known for the dystopian novel Nineteen Eighty-Four (1949) and the allegorical novella Animal Farm (1945), which together (as of 2009) have sold more copies than any two books by any other 20th-century author.[5] His book Homage to Catalonia (1938), an account of his experiences in the Spanish Civil War, is widely acclaimed, as are his numerous essays on politics, literature, language, and culture. In 2008, The Times ranked him second on a list of "The 50 greatest British writers since 1945".[6]
Orwell's work continues to influence popular and political culture, and the term Orwellian — descriptive of totalitarian or authoritarian social practices — has entered the language together with several of his neologisms, including Cold War, Big Brother, thought police, Room 101, doublethink, and thoughtcrime.