UPDATE 27. March 2020: "I see the world is not waking up." - Indigenous people race into their homelands in the Ecuadorian Amazon forests to escape coronavirus
PROLOGUE: Total Chaos in India, where 1.3 billion people are forced into lockdown. Hugergames are on.
COVID-19 crisis tells world what Indigenous Peoples have been saying for thousands of years
By Emilee Gilpin - 24. March 2020
"The coronavirus is telling the world what Indigenous Peoples have been saying for thousands of years — if we do not help protect biodiversity and nature, we will face this and even worse threats," said Levi Sucre Romero, a BriBri Indigenous person from Costa Rica and co-coordinator of the Mesoamerican Alliance of Peoples and Forests (AMPB).
Romero was one of three Indigenous leaders invited to speak on the panel for an event sponsored by Covering Climate Now, a global partnership of more than 400 news outlets working to increase accurate news coverage on climate change.
"The coronavirus reminds us that the balance of the Earth is in danger, and we need to maintain our delicate balance of diversity," Sucre Romero said. "More than 25 per cent of medicines come from forests. If we lose our forests, we lose our medicines, too."
Sucre Romero coordinates AMPB, an alliance of ten grassroots Indigenous and community groups that manage and preserve more than 50 million hectares of forest, from Mexico to Panama.
He was joined by Dinamam Tuxá, coordinator of the Articulation of the Indigenous Peoples of Brazil, lawyer and Indigenous social activist, and Mina Setra, a Dayak Pompakng Indigenous person from West Kalimantan, Indonesia, and deputy secretary-general of the Indigenous Peoples Alliance of the Archipelago (IPAA).
A growing body of scientific research supports the claims that Indigenous Peoples and knowledge systems have raised for thousands of years around the damaging effects of deforestation, loss of biodiversity and expansion of large-scale industrial development.
Researchers have highlighted the importance of Indigenous lands for global conservation, the role of forest conservation, degradation and disturbance in Indigenous territories and a rights-based approach to conservation and climate action.
"The cure for the next pandemic, and even for this one, can be found in the biodiversity of our Indigenous lands. This is why we need to protect our lands and rights, because the future of life depends on it," said Tuxá, who traveled across Europe last year with a delegation of Indigenous leaders, encouraging investors to boycott companies who benefit from exploitation of Indigenous lands.
Brazil in particular has experienced a consistent assault on the rights of Indigenous Peoples, including several legislative measures — such as Bill 191, legislation that would open the door to mining and large scale agriculture on Indigenous lands — that threaten the biodiversity of the country, Tuxá said.
"The cure for the next pandemic, and even for this one, can be found in the biodiversity of our Indigenous lands. This is why we need to protect our lands and rights, because the future of life depends on it," said Dinamam Tuxá
The government of Brazilian President Jair Bolsonaro has been largely criticized by Indigenous and environmental groups since coming into power in January of last year. According to Tuxa, Indigenous Peoples in Brazil are currently living through the worst political situation possible.
You cannot talk about protecting the land without talking about protecting the rights of the original peoples of the land, according to recent peer-reviewed science. A working group with the World Resources Institute has confirmed what Indigenous Peoples across the world have said for generations: That protecting the rights of Indigenous Peoples who occupy forested areas is the best way to protect the forests themselves, as well as reducing global warming and the loss of precious biodiversity.
During the months of February and March, 200 Guarani Mbya people from a small community outside of São Paulo protested against a project by the Tenda construction company. The land defenders claimed — over weeks of standoffs with authorities — that Tenda cut down about 500 trees from their reserve land without any form of adequate consultation.
"Indigenous Peoples are at risk for defending diversity, biodiversity, for defending our lands, protecting the environment and trying to stabilize climate change," Tuxá said, citing the Guarani Mbya's peoples recent standoff. "Health endemics like coronavirus are proof of the destruction of the forests and the climate, and we will continue to fight against deforestation and related viruses, for the balance of the planet."
If you look to Indigenous communities across the world, you'll discover issues related to land-theft, violation of rights and nonconsensual extraction and exploitation, but you will also find grassroots solutions to the same problems, according to Mina Setra, secretary-general of an alliance that brings together 17 million Indigenous Peoples from across the Indonesia archipelago.
"The orientation of our communities is sustainability," Setra said during an online press briefing. "While everyone is trying to find solutions on what to do to face climate change, they look to the cities, but no one is looking at what we are doing in the villages and communities."
Land-grabbing, encroachment and even forest fires, happen when communities are empty, Setra said, which is why in Indonesia, AMAN started a "homecoming movement," calling Indigenous youth back home to manage their territories.
"We have 53 Indigenous schools established, and others in the process, as well as other initiatives focused on managing the lands, making medicine gardens and transferring knowledge between elders and younger generations," Setra said. "There is so much richness in our territories, our plants can heal so many diseases people think there are no cures for. There are solutions in communities."
Big companies pay a lot of money to see their projects through, Setra said, most of the time without the consent of Indigenous Peoples who occupy the land or will be affected by large projects. But if Indigenous rights are secured, companies can save money by adopting principles of sustainability, by changing their behaviour and simultaneously investing in the rights of people, as well as the futures of their companies.
The number of confirmed COVID-19 cases in Canada rose to 1,739, the number of probable cases to 437 by the end of Tuesday, while the country's death toll from the new coronavirus rose to 25. 18, 804 people have died across the world from the virus. Countries across the world continue to practice and demand citizens stay quarantined, borders have shut, businesses closed, and flights cancelled, while the world tries to contain a difficult endemic that has drastically changed everything from the world's economy to the environment in just a few months.
"In our communities, we have respected a certain biodiversity that protects us today," Romero said. "We plant what we eat, and we have the resources and knowledge needed to get through times like this, and this is what we are trying to tell the rest of the world."
The problem is a culture of exploitation dominating cultures grounded in sustainability, Setra added.
"I remember one elder told me, the problem with city people is they eat and drink dead things … they drink dead water in plastic bottles and eat dead food from supermarkets. There is no guarantee that any of it will be safe," Setra said.
In Canada, Indigenous Peoples and allies continue to stand up against large industrial projects, such as Coastal GasLink's natural gas pipeline, a project that would drive through the unceded territory of the Wet'suwet'en Nation, despite the fact that all hereditary chiefs remain opposed to the construction. Hundreds of thousands of people took to the streets in all major cities in Canada over the past months, while a group of Indigenous youth and supporters took over Victoria's legislature building and Wet'suwet'en community members continued to occupy their lands.
The current health endemic has sent the world spiraling, investigating the social, political and environmental problems that led us to the current global crisis, but it is also a time to look to solutions, the ones tried and tested over millennia. National Observer's First Nations Forward series intends to do just that - continue to highlight community-based stories of success and self-determination, perhaps in a time when we need it the most.
Author:
Emilee Gilpin - Managing Director, First Nations Forward @emileegilpin
===
UPDATE:
Indigenous race into Ecuador's Amazon to escape coronavirus
Fearing repeat of history, Indigenous groups in Ecuador rush back to their territories in an attempt to escape COVID-19.
By Kimberley Brown -
Quito, Ecuador - Nemonte Nenquimo, an Indigenous Waorani leader from Ecuador's Amazon rainforest, watched as her Indigenous colleagues, family and friends rushed back to their territory this past week, attempting to escape the threat of the coronavirus engulfing the region. Some travelled by car or bus, others flew by charter plane or travelled by boat upriver, deep into the rainforest where there are no roads.
Nenquimo stayed behind in the town of Shell, saying she has travelled too much, spoken to too many people and kissed too many cheeks over the past few weeks. It would be too risky to go back to her community now; if she were a silent carrier of COVID-19, it could be devastating to the Indigenous population there.
"We haven't heard of any cases in the communities yet, that's why it's better to take care and protect them," says Nenquimo, leader of the Coordinating Council of the Waorani Nationality of Ecuador Pastaza (CONCONAWEP).
"Now, it's all under control, nobody can enter or leave the territories," she adds.
Last week, the Confederation of Indigenous Nationalities of the Ecuadorian Amazon (CONFENIAE) closed all access to the rainforest, denying entrance to both tourists and Ecuadorian nationals. They also demanded that all oil, mining, hydroelectric and logging companies that operate in the rainforest stop rotating their personnel and bringing people in from the cities, and suspend all activities near communities, says CONFENIAE President Marlon Vargas.
Community houses in the Waorani community of Nemonpare, Ecuadorian Amazon [File: Courtesy of Mitch Anderson/Amazon Frontlines]
If contagion reaches the Indigenous territory, "it would be an extermination of the Indigenous population of the Amazon basin," says Vargas. This would include the 11 nationalities, over 500,000 Indigenous peoples, who currently live in Ecuador's Amazon, he adds.
The Indigenous population grew more concerned after two cases of the coronavirus were confirmed in the Amazon region last week.
The first was in the northern province of Succumbios. A tourist travelling in the Cuyabeno nature reserve there tested positive for COVID-19. The other was identified in the southern province of Morona Santiago, where a resident of the city of Gualaquiza contracted the virus after their partner returned from Spain. Both patients were immediately quarantined, yet numbers in both provinces have since increased to six cases each.
Currently, there are more than 1,082 cases of COVID-19 confirmed in Ecuador as of Tuesday, according to state figures. At least 27 people have died as a result of the virus. The vast majority of cases are in the coastal province of Guayas, where the largest city in the country, Guayaquil, is located.
Last week, the government declared a national state of emergency, ordering everyone to stay home unless they were buying food, medicine or going to work. Those who defy the order could face a fine of up to $6,000 or three years in prison. The government has also closed borders, cancelled all in and outbound international flights, prohibited national travel and implemented a strict nationwide 2pm curfew.
CONFENIAE translated these regulations and other preventive measures into various Indigenous languages. The social media hashtag #StayAtHome, was also translated to Kichwa and Shuar, #WasipiSakiri and #JeminPujusta respectively, to reach as many people as possible.
Repeat of history?
Vargas says communities are rightfully nervous, and recalls past illnesses like yellow fever, cholera and the H1N1 virus that caused similar alarm. Some estimate that, by the early 17th century, as much as 90 percent of the Indigenous population in the Americas was wiped out by the flu and measles, among other diseases, brought by Europeans.
Erika Arteaga Cruz, specialist in global and community health with the Latin American Association of Social Medicine (ALAMES) and the People's Health Movement, says there's no proof that Indigenous communities are more prone to the COVID-19 virus than the rest of the population, as everyone is simultaneously being exposed to it for the first time. But their social conditions do make them more vulnerable to contagion.
The Amazon lifestyle often does not include the use of soap, hand-sanitiser or clean water in some areas, but the bigger risk is their remote location and lack of access to hospitals, doctors and medicine, says Arteaga.
In Nenquimo's case, the closest hospital to her community of Nemonpare is in the Amazon city of Puyo, which is at least 30 minutes away by charter plane, or an eight-hour ride downriver to the nearest port.
Nemonte Nenquimo, Waorani leader in Nemonpare, Ecuadorian Amazon [Fil: Courtesy Mitch Anderson/Amazon Frontlines]
Andres Guncay, epidemiologist responsible for public health surveillance in the provinces of Morona Santiago, Canar and Azuay, says Indigenous communities are more at risk with the coronavirus because many of them suffer from malnutrition. This could compromise their immune system and how well they are able to combat the virus if they do get it, he says.
Nenquimo says she is most concerned for the elder populations, also known as "pikenanis" in Waorani, who are extremely important for the community and maintaining their culture.
"This is a virus that is killing elders around the world, and that worries me. For us, our elders are the wise ones, the authorities, the ones that guide us" she says.
But Guncay says if COVID-19 makes it into the community, the risk would "be a lot more severe". Many live in the humid jungle in open homes with no walls, or share a bedroom with the entire family, making social distancing next to impossible, and spread would be difficult to contain.
In a news conference last week, Ecuador's National Secretary of Risk Management, Alexandra Ocles, said there would be no special security protocols for Indigenous populations in regards to COVID-19. Rather, they are expected to abide by the national state of emergency standards, saying, "It is also their responsibility to comply."
But the strict stay at home measures will be hard for some. Heavy rains have caused several rivers to overflow in the central Amazon that washed away homes, community crops, potable water systems and solar panels from the Indigenous Kichwa territories of Sarayaku and Papayaku, and surrounding communities.
We have been the fighters and protectors of nature, but people keep taking advantage and wanting to destroy it. That's where illnesses come from, that's where climate change comes from. I'm very worried; I see the world is not waking up.

Nemonte Nenquimo, an Indigenous Waorani leader
Patricia Gualinga, Kichwa leader and resident of Sarayaku, says up to 3,000 people have been affected, many of whom had just returned to their territory to escape the coronavirus in the cities.
"They're going to do what they can to survive out there," says Gualinga, who was in Puyo during the floods. "They can't come back, everything is restricted," and they don't have the economic resources to stock up on groceries and live indoors for an extended period of time, she says.
If people do not change their habits of destroying and taking advantage of nature, worse floods, illnesses, and pandemics are bound to happen, says Vargas.
"Now, is a time to reflect and act," he adds.
Nenquimo agrees. For centuries, the Indigenous people lived well in the rainforest, they protected nature and stayed healthy, and it is time people start listening to their struggle, she says.
"We have been the fighters and protectors of nature, but people keep taking advantage and wanting to destroy it. That's where illnesses come from, that's where climate change comes from," says Nenquimo, adding, "I'm very worried; I see the world is not waking up."
===
'Tip of the iceberg': is our destruction of nature responsible for Covid-19?
As habitat and biodiversity loss increase globally, the coronavirus outbreak may be just the beginning of mass pandemics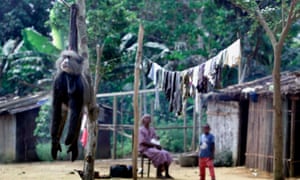 A dead monkey sold as bushmeat hangs outside a villager's house in north-east Gabon. Photograph: Christine Nesbitt/AP
Mayibout 2 is not a healthy place. The 150 or so people who live in the village, which sits on the south bank of the Ivindo River, deep in the great Minkebe Forest in northern Gabon, are used to occasional bouts of diseases such as malaria, dengue, yellow fever and sleeping sickness. Mostly they shrug them off.
But in January 1996, Ebola, a deadly virus then barely known to humans, unexpectedly spilled out of the forest in a wave of small epidemics. The disease killed 21 of 37 villagers who were reported to have been infected, including a number who had carried, skinned, chopped or eaten a chimpanzee from the nearby forest.
I travelled to Mayibout 2 in 2004 to investigate why deadly diseases new to humans were emerging from biodiversity "hotspots" such as tropical rainforests and bushmeat markets in African and Asian cities.
It took a day by canoe and then many hours along degraded forest logging roads, passing Baka villages and a small goldmine, to reach the village. There, I found traumatised people still fearful that the deadly virus, which kills up to 90% of the people it infects, would return.
Villagers told me how children had gone into the forest with dogs that had killed the chimp. They said that everyone who cooked or ate it got a terrible fever within a few hours. Some died immediately, while others were taken down the river to hospital. A few, like Nesto Bematsick, recovered. "We used to love the forest, now we fear it," he told me. Many of Bematsick's family members died.
Only a decade or two ago it was widely thought that tropical forests and intact natural environments teeming with exotic wildlife threatened humans by harbouring the viruses and pathogens that lead to new diseases in humans such as Ebola, HIV and dengue.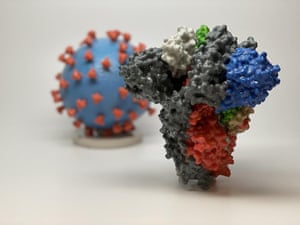 A 3D print of a spike protein and a Covid-19 virus particle. On the virus model (behind), the virus surface (blue) is covered with spike proteins (red) that enable the virus to enter and infect human cells. Photograph: National Institutes of Health/AFP via Getty Images
But a number of researchers today think that it is actually humanity's destruction of biodiversity that creates the conditions for new viruses and diseases such as Covid-19, the viral disease that emerged in China in December 2019, to arise – with profound health and economic impacts in rich and poor countries alike. In fact, a new discipline, planetary health, is emerging that focuses on the increasingly visible connections between the wellbeing of humans, other living things and entire ecosystems.
Is it possible, then, that it was human activity, such as road building, mining, hunting and logging, that triggered the Ebola epidemics in Mayibout 2 and elsewhere in the 1990s and that is unleashing new terrors today?
"We invade tropical forests and other wild landscapes, which harbour so many species of animals and plants – and within those creatures, so many unknown viruses," David Quammen, author of Spillover: Animal Infections and the Next Pandemic, recently wrote in the New York Times. "We cut the trees; we kill the animals or cage them and send them to markets. We disrupt ecosystems, and we shake viruses loose from their natural hosts. When that happens, they need a new host. Often, we are it."
Increasing threat
Research suggests that outbreaks of animal-borne and other infectious diseases such as Ebola, Sars, bird flu and now Covid-19, caused by a novel coronavirus, are on the rise. Pathogens are crossing from animals to humans, and many are able to spread quickly to new places. The US Centers for Disease Control and Prevention (CDC) estimates that three-quarters of new or emerging diseases that infect humans originate in animals.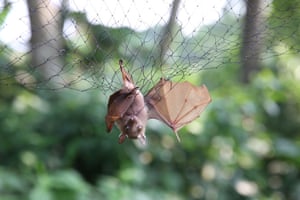 Bats are trapped in nets to be examined for possible viral load at the Franceville International Centre of Medical Research in Gabon. Photograph: Steeve Jordan/AFP via Getty Images
Some, like rabies and plague, crossed from animals centuries ago. Others, such as Marburg, which is thought to be transmitted by bats, are still rare. A few, like Covid-19, which emerged last year in Wuhan, China, and Mers, which is linked to camels in the Middle East, are new to humans and spreading globally.
Other diseases that have crossed into humans include Lassa fever, which was first identified in 1969 in Nigeria; Nipah from Malaysia; and Sars from China, which killed more than 700 people and travelled to 30 countries in 2002–03. Some, like Zika and West Nile virus, which emerged in Africa, have mutated and become established on other continents.
Kate Jones, chair of ecology and biodiversity at UCL, calls emerging animal-borne infectious diseases an "increasing and very significant threat to global health, security and economies".
Amplification effect
In 2008, Jones and a team of researchers identified 335 diseases that emerged between 1960 and 2004, at least 60% of which came from animals.
Increasingly, says Jones, these zoonotic diseases are linked to environmental change and human behaviour. The disruption of pristine forests driven by logging, mining, road building through remote places, rapid urbanisation and population growth is bringing people into closer contact with animal species they may never have been near before, she says.
The resulting transmission of disease from wildlife to humans, she says, is now "a hidden cost of human economic development. There are just so many more of us, in every environment. We are going into largely undisturbed places and being exposed more and more. We are creating habitats where viruses are transmitted more easily, and then we are surprised that we have new ones."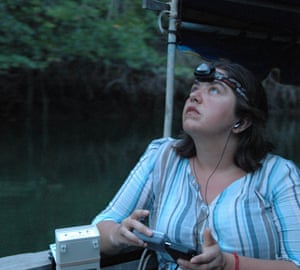 Kate Jones warns of 'a very significant threat to global health, security and economies'. Photograph: Courtesy of Kate Jones
Jones studies how changes in land use contribute to the risk. "We are researching how species in degraded habitats are likely to carry more viruses which can infect humans," she says. "Simpler systems get an amplification effect. Destroy landscapes, and the species you are left with are the ones humans get the diseases from."
"There are countless pathogens out there continuing to evolve which at some point could pose a threat to humans," says Eric Fevre, chair of veterinary infectious diseases at the University of Liverpool's Institute of Infection and Global Health. "The risk [of pathogens jumping from animals to humans] has always been there."
The difference between now and a few decades ago, Fevre says, is that diseases are likely to spring up in both urban and natural environments. "We have created densely packed populations where alongside us are bats and rodents and birds, pets and other living things. That creates intense interaction and opportunities for things to move from species to species," he says.
Tip of the iceberg
"Pathogens do not respect species boundaries," says disease ecologist Thomas Gillespie, an associate professor in Emory University's department of environmental sciences, who studies how shrinking natural habitats and changing behaviour add to the risk of diseases spilling over from animals to humans.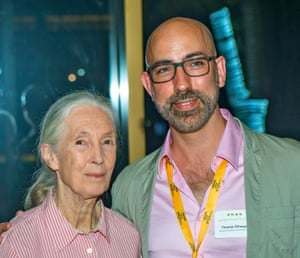 Disease ecologist Thomas Gillespie with primatologist Jane Goodall. Photograph: Courtesy of Thomas Gillespie
"I am not at all surprised about the coronavirus outbreak," he says. "The majority of pathogens are still to be discovered. We are at the very tip of the iceberg."
Humans, says Gillespie, are creating the conditions for the spread of diseases by reducing the natural barriers between host animals – in which the virus is naturally circulating – and themselves. "We fully expect the arrival of pandemic influenza; we can expect large-scale human mortalities; we can expect other pathogens with other impacts. A disease like Ebola is not easily spread. But something with a mortality rate of Ebola spread by something like measles would be catastrophic," Gillespie says.
Wildlife everywhere is being put under more stress, he says. "Major landscape changes are causing animals to lose habitats, which means species become crowded together and also come into greater contact with humans. Species that survive change are now moving and mixing with different animals and with humans."
Gillespie sees this in the US, where suburbs fragment forests and raise the risk of humans contracting Lyme disease. "Altering the ecosystem affects the complex cycle of the Lyme pathogen. People living close by are more likely to get bitten by a tick carrying Lyme bacteria," he says.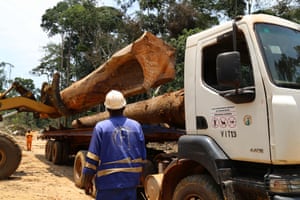 The disruption of pristine forests driven by logging, mining, road building, rapid urbanisation and population growth is bringing people into closer contact with wildlife, increasing the risk of disease. Photograph: Samir Tounsi/AFP/Getty Images
Yet human health research seldom considers the surrounding natural ecosystems, says Richard Ostfeld, distinguished senior scientist at the Cary Institute of Ecosystem Studies in Millbrook, New York. He and others are developing the emerging discipline of planetary health, which looks at the links between human and ecosystem health.
"There's misapprehension among scientists and the public that natural ecosystems are the source of threats to ourselves. It's a mistake. Nature poses threats, it is true, but it's human activities that do the real damage. The health risks in a natural environment can be made much worse when we interfere with it," he says.
Ostfeld points to rats and bats, which are strongly linked with the direct and indirect spread of zoonotic diseases. "Rodents and some bats thrive when we disrupt natural habitats. They are the most likely to promote transmissions [of pathogens]. The more we disturb the forests and habitats the more danger we are in," he says.
Felicia Keesing, professor of biology at Bard College, New York, studies how environmental changes influence the probability that humans will be exposed to infectious diseases. "When we erode biodiversity, we see a proliferation of the species most likely to transmit new diseases to us, but there's also good evidence that those same species are the best hosts for existing diseases," she wrote in an email to Ensia, the nonprofit media outlet that reports on our changing planet.
The market connection
Disease ecologists argue that viruses and other pathogens are also likely to move from animals to humans in the many informal markets that have sprung up to provide fresh meat to fast-growing urban populations around the world. Here, animals are slaughtered, cut up and sold on the spot.
The "wet market" (one that sells fresh produce and meat) in Wuhan, thought by the Chinese government to be the starting point of the current Covid-19 pandemic, was known to sell numerous wild animals, including live wolf pups, salamanders, crocodiles, scorpions, rats, squirrels, foxes, civets and turtles.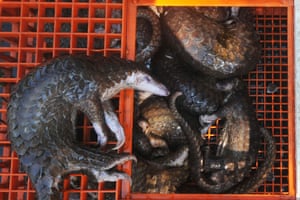 Dead pangolins seized by authorities in North Sumatra. Disease ecologists argue that viruses and other pathogens are likely to move from animals to humans in wildlife markets. Photograph: Gatha Ginting/AFP via Getty Images
Equally, urban markets in west and central Africa sell monkeys, bats, rats, and dozens of species of bird, mammal, insect and rodent slaughtered and sold close to open refuse dumps and with no drainage.
"Wet markets make a perfect storm for cross-species transmission of pathogens," says Gillespie. "Whenever you have novel interactions with a range of species in one place, whether that is in a natural environment like a forest or a wet market, you can have a spillover event."
The Wuhan market, along with others that sell live animals, has been shut by the Chinese authorities, and last month Beijing outlawed the trading and eating of wild animals except for fish and seafood. But bans on live animals being sold in urban areas or informal markets are not the answer, say some scientists.
"The wet market in Lagos is notorious. It's like a nuclear bomb waiting to happen. But it's not fair to demonise places which do not have fridges. These traditional markets provide much of the food for Africa and Asia," says Jones.
"These markets are essential sources of food for hundreds of millions of poor people, and getting rid of them is impossible," says Delia Grace, a senior epidemiologist and veterinarian with the International Livestock Research Institute, which is based in Nairobi, Kenya. She argues that bans force traders underground, where they may pay less attention to hygiene.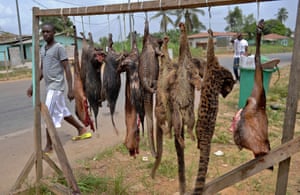 A bushmeat stall with pangolins, bush rats and tiger cats for sale on the roadside outside Bata in Equatorial Guinea. Photograph: Carl de Souza/AFP/Getty Images
Fevre and colleague Cecilia Tacoli, principal researcher in the human settlements research group at the International Institute of Environment and Development (IIED), argue in a blog post that rather than pointing the finger at wet markets, we should look at the burgeoning trade in wild animals.
"It is wild animals rather than farmed animals that are the natural hosts of many viruses," they write. "Wet markets are considered part of the informal food trade that is often blamed for contributing to spreading disease. But … evidence shows the link between informal markets and disease is not always so clear cut."
Changing behaviour
So what, if anything, can we do about all of this?
Jones says that change must come from both rich and poor societies. Demand for wood, minerals and resources from the global north leads to the degraded landscapes and ecological disruption that drives disease, she says. "We must think about global biosecurity, find the weak points and bolster the provision of health care in developing countries. Otherwise we can expect more of the same," she adds.
"The risks are greater now. They were always present and have been there for generations. It is our interactions with that risk which must be changed," says Brian Bird, a research virologist at the University of California, Davis School of Veterinary Medicine One Health Institute, where he leads Ebola-related surveillance activities in Sierra Leone and elsewhere.
"We are in an era now of chronic emergency," Bird says. "Diseases are more likely to travel further and faster than before, which means we must be faster in our responses. It needs investments, change in human behaviour, and it means we must listen to people at community levels."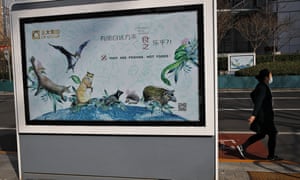 A poster in Beijing promoting wildlife as friends instead of food, after a crackdown on wild animal markets following the coronavirus outbreak. Photograph: Andy Wong/AP
Getting the message about pathogens and disease to hunters, loggers, market traders and consumers is key, Bird says. "These spillovers start with one or two people. The solutions start with education and awareness. We must make people aware things are different now. I have learned from working in Sierra Leone with Ebola-affected people that local communities have the hunger and desire to have information," he says. "They want to know what to do. They want to learn."
Fevre and Tacoli advocate rethinking urban infrastructure, particularly within low-income and informal settlements. "Short-term efforts are focused on containing the spread of infection," they write. "The longer term – given that new infectious diseases will likely continue to spread rapidly into and within cities – calls for an overhaul of current approaches to urban planning and development."
The bottom line, Bird says, is to be prepared. "We can't predict where the next pandemic will come from, so we need mitigation plans to take into account the worst possible scenarios," he says. "The only certain thing is that the next one will certainly come."
===