DRC's Virunga National Park Temporarily Closes Mountain Gorilla Safaris to public due to COVID-19 fears
By VF/ET - 18. March 2019
Democratic Republic Of Congo - Animal lovers will have to wait a little while to see the gorillas in the Democratic Republic of Congo.
The Virunga National Park has closed to the public over fears of COVID-19.
The park, which is home to the Mountain Gorillas, an endangered gorilla species, will not allow tourists to visit the park and the animals before June 1, 2020.
The 7,800-square-kilometres National park was established in 1925 as Africa's first national park and is a UNESCO-designated World Heritage Site.
With about 1004 Mountain gorillas left in the wild, there is no doubt that gorilla safaris are the most trending Africa safari activity done by travelers. Mountain gorillas were only destined to live in three destinations in Africa - cut by the colonial boundaries between Uganda, Rwanda, and DR Congo.
Despite their recent population growth, the mountain gorillas remain threatened and they are dependent on conservation efforts to survive. As of 2018, mountain gorillas were reclassified as Endangered and scrapped off from the critically endangered on the IUCN Red List. These mountain gorillas live in high steep mountain tropical forests of up to 4,500m above sea level hence acquiring their name.
Why Did Virunga National Park Temporarily Close Mountain Gorilla Safaris?
Virunga National Park temporarily closed Mountain Gorilla Safaris Due to COVID-19. Following the rapidly unfolding situation regarding the global spread of COVID-19 coronavirus, Virunga National Park Congo on Wednesday 18th March 2020, decided to temporarily close mountain gorilla safaris in Congo starting Monday 23rd March 2020.
Virunga National Park's temporary closure of Congo mountain gorilla tours is being undertaken as a protective measure that is in line with the World Health Organization's recommendation to restrict movement and limit social contact.
Virunga Park, in particular, reached this decision following advice from scientific experts indicating that all wild animals closely tracked by tourists, including mountain gorillas, are vulnerable to complications arising from the COVID-19 Virus and they may end up losing them. And because of that, the park management is dedicated to safeguarding the reaming of our population of these endangered species in the Virunga National Park.
In accordance, no new bookings for mountain gorilla tours in Congo will be accepted before Monday 1st June. All Congo tour companies and tourists holding bookings with the park in the next two months will have to honor a postponement up to June 2021. A sincere apology has been sent out to visitors that have been impacted and the authorities requested continued support during this challenging time.
The park management is committed to reopening mountain gorilla safaris as soon as the situation allows. Its tourism team will be in touch with those individuals who have booked a Congo trip during the period indicated above (23rd March- 1st June).
Is the Virunga National Park Open?
Yes, Virunga National Park is open however, it is open only for other Virunga National Park activities like the Nyiragongo hike.
A Brief about Virunga National Park
How Big is Virunga National Park?
Virunga National Park is about 3,000sq.mi. Virunga National Park is a UNESCO heritage site and Africa's oldest park. This park alone is home to 25% of the world's estimated 1004 Mountain Gorillas remaining in the world alongside other unique ape species that can be sighted here, including the Chimpanzees.
Where is Virunga National Park?
Virunga National Park is situated in the Democratic Republic of Congo's North Kivu province bordering southwestern Rwanda and southwestern Uganda. Uganda and Rwanda share with Congo the Virunga massif (chain of volcanoes). Rwanda's part is called Volcanoes National Park and Uganda's share is called Mgahinga Gorilla National Park. These parks are all home to Mountain Gorillas.
Attractions in Virunga National Park
Mountain Gorillas
Mountain gorillas are the key attraction within Virunga National Park. The park though believed to have the highest number of mountain gorillas in the Virunga massif has a total of 8 habituated gorilla families tracked by tourists while the rest are still wild mountain gorillas. The park has always been open to travelers interested in gorilla trekking safaris in Congo. A total of 8 tourists allowed to trek a single gorilla family at USD 400 per person per day. A single hour is spent in the presence of the mountain gorillas.
Gorillas just like human beings live a social life, they have families and family hierarchy is followed. Each family group is led by an older male gorilla known as the silverback. This is because of the silver fur that develops on their backs as they grow older. The silverback is responsible for family protection against all forms of danger and feeding. You will enjoy this interaction on your safari.
Mount Nyiragongo Volcano
Mount Nyiragongo is one of Africa's most active volcano with recent volcanic eruption activities in the 20th century. The mountain is about 3,470m high with two distinct lava benches one about 3,175m (10,417ft) and the other at 2,975m (9,760ft). Congo`s volcanic mountains-mount Nyiragongo and mount Nyamuragira, take approximately 40% of the volcanic eruptions in the history of Africa. Mount Nyiragongo in Congo houses the world's largest lava lake. Mount Nyiragongo hike is the most popular activity aside from a Congo gorilla tour.
Chimpanzees
The chimpanzees are another primate species that reside in Virunga national park. Chimpanzees live in the forest of Virunga more so in the areas of Rumangabo. A total of four tourists are allowed to spend a maximum of one hour with the chimpanzees every single day. The chimpanzees have highly been threatened by instability and that's why their protection is very vital. Bookings for a chimpanzee habituation experience and safaris is done at Mikeno lodge only. In case of any illness, a tourist has requested a volunteer to stay behind since chimpanzees are highly susceptible to human diseases.
The Twa People
The Twa (called by Bantu speakers BaTwa or derogatorily 'pygmies') are the tightful owners of these foress, who lived a hunter-gatherer life in harmony with the gorillas in the forests like the Ituri or Virunga forests. Because of conservation purposes and need to boost Congo Gorilla Trekking Tours, the Twa were forced to live in the foothills of the mountains. The survivingTwa are known to be in the foothills of Bwindi Impenetrable National Park and Mgahinga Gorilla National Park in Uganda.
Visit the oldest national park of the continent! Virunga National Park is "untouched" and offers rewarding safaris.
===
COVID-19: protect great apes during human pandemics
SARS-CoV-2, the coronavirus responsible for the current COVID-19 pandemic, is also a threat to our closest living relatives, the great apes. As leading experts in the conservation and health of these animals, we urge governments, conservation practitioners, researchers, tourism professionals and funding agencies to reduce the risk of introducing the virus into these endangered apes. They can do this by applying the International Union for Conservation of Nature's best-practice guidelines for health monitoring and disease control in great-ape populations (see go.nature.com/3b1bq9k).
It is unknown whether the morbidity and mortality associated with SARS-CoV-2 in humans are similar in apes. However, transmission of even mild human pathogens to apes can lead to moderate-to-severe outcomes (L. V. Patrono et al. Emerg. Microbes Infect. 7, 1–4; 2018).
In the present situation, we recommend that great-ape tourism be suspended and field research reduced, subject to risk assessments to maximize conservation outcomes (for example, poaching could rise with fewer people in the vicinity). Such efforts should include ways to offset loss of earnings from tourism, while taking care not to interfere with work to save human lives.
Nature 579, 497 (2020)
doi: 10.1038/d41586-020-00859-y
Supplementary Information
===
Virus which causes COVID-19 threatens great ape conservation
Photo by: Pierre Aden/Visual Hunt
Interview with Johannes Refisch, United Nations Great Apes Survival Partnership Programme, Manager and Coordinator
25 March 2020
Both great ape research and tourism have allowed people to learn about chimpanzees, bonobos, gorillas and orangutans, and to observe them from a close proximity. Great ape tourism also serves as an important source of revenue for governments and communities, and a significant proportion of this income is reinvested in the protection of endangered species and their natural habitats.
However, infectious diseases such as COVID-19—caused by the SARS CoV-2 virus—are a major concern for great ape conservation.
Both humans and great apes are susceptible to infectious diseases; and introducing human pathogens to the great ape population could result in catastrophic losses.
Johannes Refisch is a United Nations Programme Manager and Coordinator who oversees the Great Apes Survival Partnership. In this interview, he explains why disease prevention is critical, and what specific measures are being taken.
In relation to great apes, why is the SARS CoV-2 virus a concern?
The possibility of infection is a conservation risk. We do not yet know whether great apes are susceptible to the SARS CoV-2 virus, but we do know that wild chimpanzees were infected with human coronavirus OC43 in Côte d'Ivoire, and that great apes can be infected with many other human respiratory pathogens.
Among humans, the SARS CoV-2 virus is highly infectious and may survive in the environment for a few days. This being the case, we must assume that great apes are susceptible and prevent them from being infected.
What are the potential consequences of infection among great apes?
The survival of great apes is already threatened by habitat loss, illegal hunting, and other diseases. Ebola, for example­—a hemorrhagic fever that affects both humans and great apes—has led to mortality rates of up to 95 per cent in gorillas; and calculations indicate that some of those populations will need more than 130 years to recover. Contraction of SARS-CoV-2 would add to these challenges.
There would also be economic and livelihood losses. Great ape tourism is an important source of employment, generates income for national governments and local communities, and produces the funds required to sustain conservation activities.
It is also important to note the risk of human infection by great apes. Because of our close genetic proximity, humans can transmit diseases to great apes, but humans can also contract diseases from great apes. Again, Ebola exemplifies a case in which both humans and great apes were affected. There is some evidence that hunters found carcasses of gorillas that had died of Ebola in the forest, and contracted the disease when they consumed infected meat.
What is being done to reduce these risks?
At present, there is no vaccine against SARS CoV-2 infection, and it could take months—if not years—to develop one.
In the meantime, the International Union for Nature's Primate Specialist Group/Section on Great Apes and the Wildlife Health Specialist Group have published a joint statement, recommending that "great ape visitations by humans are reduced to the minimum needed to ensure the safety and health monitoring for the great apes", and are emphatic that strict adherence to best practices for great ape tourism and disease prevention is critical.
Beyond this, the groups recommend that suspension of great ape tourism and reduction of field research should be considered and call for mechanisms "to offset loss of profit and employment from tourism" and to support public health in local communities. To this end, as of 23 March 2020, the majority of gorilla tourism sites have been closed.
In the long term, it will be critical to gain a better understanding of the spread of diseases between animals and people, as there is increasing evidence that loss of habitat and biodiversity has facilitated the spread of zoonotic diseases.
For more information, please contact Johannes Refisch, Great Apes Survival Partnership Programme Manager and Coordinator:
===
Could COVID-19 impact great apes?
A recent commentary, penned by a group of conservation and primate experts, asks the international community to take action to protect the great apes from potential SARS-CoV-2 infection.
The COVID-19 pandemic has touched almost every corner of the globe. Authorities are battling to slow its spread, and human health has rarely been more acutely in the spotlight.
Some scientists, meanwhile, are asking whether this novel virus might impact nonhuman animals, too.
Experts believe that SARS-CoV-2 originated in animals and passed to humans. Most researchers now believe that it began in bats, then passed into pangolins before infecting humans.
However, it is not clear whether this virus might move from humans into other animals, in a process is called reverse zoonosis.
Stay informed with live updates on the current COVID-19 outbreak and visit our coronavirus hub for more advice on prevention and treatment.
Scientists have already shown that great apes are susceptible to human respiratory infections, such as human rhinovirus C, one virus that can cause the common cold.
Because many apes in this group, which includes chimpanzees, bonobos, orangutans, and gorillas, are already endangered, experts are concerned that COVID-19 could devastate populations.
Authored by 25 scientists, a recent commentary published in Nature raises the alarm.
One of the authors, Thomas Gillespie, Ph.D., a disease ecologist at Emory University, in Atlanta, GA, explains that the COVID-19 pandemic is "a potentially dire situation for great apes. There is a lot at stake for those in danger of extinction."
To date, scientists do not know exactly how apes will respond to SARS-CoV-2, as the authors outline:
"It is unknown whether the morbidity and mortality associated with SARS-CoV-2 in humans are similar in apes. However, transmission of even mild human pathogens to apes can lead to moderate-to-severe outcomes."
The authors reference an outbreak of a different coronavirus in 2016. This particular virus, known as OC43, impacted a group of wild chimpanzees in Côte d'Ivoire, West Africa. Over a 2-month period, nine individuals in a group of 33 chimpanzees demonstrated symptoms, such as coughing and sneezing.
Similarly, in 2013, there was a lethal outbreak of human rhinovirus C among wild chimpanzees in Uganda. Throughout the year-long outbreak, most became sick, and five of the 56 chimpanzees died.
As the authors acknowledge, great ape tourism has declined steeply as COVID-19 has progressed, and some countries have already suspended this type of activity.
However, the authors believe that more should be done to safeguard these at-risk animals; they write:
"We urge governments, conservation practitioners, researchers, tourism professionals, and funding agencies to reduce the risk of introducing the virus into these endangered apes. They can do this by applying the International Union for Conservation of Nature's best-practice guidelines for health monitoring and disease control in great ape populations."
The authors also suggest that those involved should carry out risk assessments: There is a concern that if these animals are left without guardians, poaching could increase significantly.
"Essential staff need to remain in place," says Gillespie. "But we need to make sure that staff numbers are low and that they are engaged in proper processes to protect themselves, and the apes, from exposure to COVID-19."
Some people with SARS-CoV-2 infections experience mild or no symptoms. These people, Gillespie explains, "are more apt to be hiking into the national parks of Africa and Asia to see great apes in the wild." He continues, "It would be extremely difficult to monitor whether they were infected with COVID-19, since they may not have obvious symptoms."
In a press release from Emory University, the authors write, "As professionals working with great apes, we bear a responsibility to protect them from our pathogens. We hope for the best but should prepare for the worst and critically consider the impact of our activities on these endangered species."
===
Coronavirus poses lethal threat to great apes, experts warn
Many of our closest living relatives are already at risk of extinction and susceptible to human disease, warn scientists
By Damian Carrington - @dpcarrington -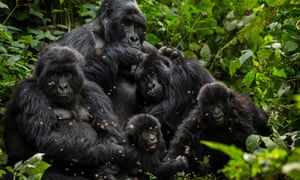 The Bageni family in the gorilla sector of Virunga National Park. Photograph: Brent Stirton/Getty Images
The coronavirus pandemic could wipe out populations of chimpanzees, gorillas and orangutans, leading scientists have warned.
Our closest living relatives, which share about 98% of human DNA, are known to be susceptible to catching respiratory diseases from people.
Even pathogens producing mild symptoms in humans have been lethal to great apes in the past. The fact that Covid-19 is fatal for some humans leads experts to fear it could potentially prove devastating to great apes.
No great apes have yet been reported to have contracted Covid-19, so the true impact is unknown. But many great apes are already at risk of extinction due to forest destruction and poaching, so the researchers say closing national parks, reserves and zoos must be seriously considered.
National parks in Congo and Rwanda have already shut to tourists and researchers, but the decision is not an easy one. Without a human presence, the risk of poaching rises.
"The Covid-19 pandemic is a critical situation for humans, our health and our economies," said Thomas Gillespie, at Emory University, US, and a lead author of a letter from 25 experts published in the journal Nature. "It's also a potentially dire situation for great apes. There is a lot at stake for those in danger of extinction."
"People who are younger, who may be less at risk for severe illness from Covid-19, are the ones who are more likely to be hiking into the national parks of Africa and Asia to see great apes in the wild," Gillespie said. "It would be extremely difficult to monitor whether they were infected with Covid-19 since they may not have obvious symptoms."
Research in 2008 revealed the first direct evidence of virus transmission from humans to wild apes. Since then common human respiratory viruses have caused lethal outbreaks in wild great apes that have become used to people. In 2016 scientists reported the transmission of a human coronavirus to wild chimpanzees in the Taï National Park in Ivory Coast.
In 2017, Gillespie co-authored a report showing that 60% of the more than 500 primate species worldwide are threatened with extinction, while 75% have declining populations.
The number of surviving mountain gorillas has been rising, with about 1,000 now living in the Democratic Republic of Congo and Uganda, and the species was moved from critically endangered to endangered. It is the only great ape believed to be increasing in number.
"But the recent gains could rapidly reverse if disease is introduced, so protection is key at this critical time," said Cath Lawson, Africa conservation manager at WWF UK.
Action is also being taken to protect some orangutans, with the Sepilok Rehabilitation Centre closing in Malaysian Borneo. "This disease could be fatal for the already critically endangered orangutan: it is a risk that we cannot to afford take," said Susan Sheward of Orangutan Appeal UK.
The latest guidance from the International Union for the Conservation of Nature says the distance normally kept between people and great apes should increase from 7m to 10m. It also says no one who is ill, or who has been in contact with anybody ill in the preceding 14 days, should be allowed to visit great apes.
The authors of the Nature article conclude: "We hope for the best but should prepare for the worst and critically consider the impact of our activities on these endangered species."