UPDATE 02. April 2020: With no end in sight to the #COVID19 virus pandemic, #COP26, the UN climate change talks, have been postponed until October 2021. While COVID-19 is "the most urgent threat facing humanity today…we cannot forget that climate change is the biggest threat facing humanity over the long term."
XR Youth join in Europe-wide digital action to say 'get the polluters out of COP26!'
By Extinction Rebellion - 20. March 2020
Today XR Youth joined with young people across Europe to demand that fossil fuel industry representatives are not included in the COP26 negotiations currently scheduled to take place in Glasgow this November
The action, which is organised as part of the Polluters Out campaign, will target communication channels of key polluting industries as well as those involved in organising the conference with a 'cyberstorm'
The day of action includes a series of climate justice webinars intended to be fully accessible to all those who are in isolation as a result of the global COVID-19 pandemic
Extinction Rebellion Youth (XR Youth) join with Polluters Out to demand that representatives of fossil fuel industries are not included in the UN Climate Change Conference (COP26) due to take place in Glasgow this November.
Together young people across Europe will create a 'cyberstorm' – a digital form of direct action which will target major polluters, key european figures associated with the Paris Agreement, as well as the UNFCCC. The young people will bombard their modes of communication by constantly calling their business lines, emailing them, twitter storming with #pollutersout, and posting on their facebook pages. The intention is to disrupt these companies' business for a day, and possibly longer, in order to send the message that they are not welcome at COP26 in Glasgow this year.
The action is being taken as part of the Polluters Out campaign – a global coalition of young people, in over 60 countries, united with scientists to challenge the fossil fuel industry's control of our land and our futures. Groups taking part in the campaign include the UK Student Climate Network (UKSCN), XR Youth and various Fridays For Future (FFF) groups across Europe. Actions are confirmed in Austria, the UK and Ireland, and expected in Germany and Sweden amongst others.
The coalition of young people taking action believe that fossil fuel companies should not be able to partake in climate policy making discussions as they have a vested interest in maintaining the use of the carbon emitting products they create.
The action takes place amid speculation that COP26 will be delayed due to the impact of the global COVID-19 pandemic on diplomatic processes usually undertaken in the run up to the conference. [1]
In addition to the digital action Polluters Out will be organising a series of webinars through the day covering topics like climate inequality, as well as platforming stories from frontline communities on the impacts of the climate crisis in different regions of the world. As many people around the world are currently quarantined, it is hoped that this can be an accessible and informative space that will empower people to take part in the fight for climate action.
COVID-19 and the digital action
While the spread of COVID-19 has had a massive impact on the global community in the past few weeks and is prohibiting mass gatherings, the climate crisis continues. The fight for climate justice should not be ignored or forgotten – every crisis should be treated as a crisis. For this reason, we have had to reconsider the format and way in which our advocacy will continue to take place. So, on March 20, Polluters Out's International Day of Action and mass mobilisation is moving online.
Quotes:
Isabel Fallahi, one of the young people taking part in the day of digital action, said: "Shell being allowed into COP talks is not a climate solution, it's the climate destruction and ecological breakdown that we are here to fight."
A spokesperson for Extinction Rebellion Youth, said: "We are not going to pause our activism just because we can't gather in the streets. We must adapt and find new forms of resistance."
A spokesperson for UKSCN, said: "Coronavirus has been crippling to many of the foundations of our society, and pandemics like it will only be more disruptive as climate and ecological breakdown worsens, due to displacement and reduced resources."
Notes:
[1]Travel clampdown threatens Glasgow climate summit: https://www.ft.com/content/7a0b637e-6862-11ea-800d-da70cff6e4d3
About XR Youth
XR Youth is a network for everyone born after 1990 – we are a generation that has never known a stable climate and that will be defined by how the world responds to the climate and ecological crisis.
Growing fast, we work to bring as many young people into Extinction Rebellion as possible to make sure our voice is heard and is truly representative.
XR Youth is about connection, learning and youth voice – we develop youth focused resources, providing mentoring and learning opportunities; working alongside other great youth campaigns and connecting young people to help amplify our voices!
About Polluters Out
Polluters Out is a global coalition of young people, in over 60 countries, united with scientists to challenge the fossil fuel industry's control of our land and our futures.
We believe that fossil fuel companies should not be able to partake in climate policy making discussions as they have a huge vested interest in maintaining the use of the carbon emitting products they create. Polluters Out are currently focused on kicking polluters out of COP26.
Polluters Out's international demands:
The United Nations Framework Convention on Climate Change rejects fossil fuel money for the Conference of the Parties and in addition revokes the ability of fossil fuel corporations, executives, and lobbyists to take part in negotiations, panels, and critical discussions
Indigenous Rights and Human Rights are added into Article 6 of the Paris Agreement
Increased transparency in all climate related policies and decisions.
Polluters Out's regional demands can be found here.
About Extinction Rebellion
Time has almost entirely run out to address the ecological crisis which is upon us, including the 6th mass species extinction, global pollution, and abrupt, runaway climate change. Societal collapse and mass death are seen as inevitable by scientists and other credible voices, with human extinction also a possibility, if rapid action is not taken.
Extinction Rebellion believes it is a citizen's duty to rebel, using peaceful civil disobedience, when faced with criminal inactivity by their Government.
Extinction Rebellion's key demands are:
Government must tell the truth by declaring a climate and ecological emergency, working with other institutions to communicate the urgency for change.
Government must act now to halt biodiversity loss and reduce greenhouse gas emissions to net zero by 2025.
Government must create and be led by the decisions of a Citizens' Assembly on climate and ecological justice.
What Emergency? | Extinction Rebellion in Numbers |This Is Not A Drill: An Extinction Rebellion Handbook
Get involved
About Rising Up!
Extinction Rebellion emerged from the Rising Up! network, which promotes a fundamental change of our political and economic system to one which maximises well-being and minimises harm. Change needs to be nurtured in a culture of reverence, gratitude and inclusion while the tools of civil disobedience and direct action are used to express our collective power.
Extinction Rebellion Youth contact: / +44(0)7756142621
Polluters Out UK contact:

Instagram | Facebook | Twitter | Media Assets
#pollutersout #cyberstorm #XrYouth
===
OUR DEMANDS
The United Nations Framework Convention on Climate Change and the UK and all governments reject Big Polluter sponsorship of the Conference of the Parties and all UNFCCC associated events. In addition, it revokes the ability of polluting corporations and their executives, trade associations and lobbyists to take part in negotiations, panels, and critical discussions, including through implementing a conflict of interest policy that ends the manipulation of climate action by the greed and self-serving interests of these corporations.

Reject false solutions - especially carbon markets in Article 6 of the Paris Agreement - and advance people-led climate solutions that are proven and that respect traditional knowledge, practices, wisdom, and resilience of indigenous peoples, women, and local communities, and protect rights over their lands and territories.

Advance a conflict of interest policy at the international, national, and sub-national levels to get Polluters Out. Make Big Polluters - both countries and corporations - pay climate reparations for their historic harms. Center the leadership of frontline communities in determining the scope and type of these reparations.
WHY IS THIS URGENT?
Climate change first became a concern for world governments in 1992, when the United Nations Framework Convention on Climate Change and the Kyoto Protocol mandated that the participants reduce their greenhouse gas emissions by 5% between the years 1990-2010.
But this was a non-binding agreement so nations like the U.S. did not take any proactive measures to cut their emissions. Fast-forward to 2015, when the effects of climate change were beginning to show, 195 countries voluntarily committed to an international agreement in Paris to mitigate the effects of climate change and reduce global emissions. This conference is now known as the infamous Paris Agreement summit however the fossil fuel industry played a major role in inhibiting federal energy taxes, carbon taxes or renewable portfolio standards to be created for each nation in the UN.
The lack of structured policy, pluralistic interests and the power of fossil fuel industries is the reason why these conferences have been occurring longer than most youth climate activists have been alive.
Therefore it is almost an understatement to say that the Conference of the Parties (COP) and UN Climate Summits have been completely unproductive.
The UN has had the monetary and political resources for decades now to put in place policies that could stop the earth from heating at the fast pace that it is, but they have not. Instead they've resorted to politics and empty promises. COP25 was supposed to be our last chance to change the course of the climate crisis.
We are now completely out of chances. The UN can now longer bow down to fossil fuel money, if they truly stand for the interests of the people. this is just half of the story, there are polluters, extracting, exploding and causing ecological destruction in countries around the world, banks, governments, and universities are investing in the fossil fuel industry. And in reverse, the fossil fuel industry is in investing in the elections of leaders and politicians worldwide to help reap profits and leave the people behind to face climate crisis.
OUR REGIONAL DEMANDS
Europe
1. Phase out of fossil fuels from Europe by latest 2030.
2. EU needs to reforest in order to achieve genuine carbon neutrality.
3. European Bank must divest from fossil fuels immediately.
4. Indigenous and human rights to be added to Article VI of the Paris climate accords
5. UNFCCC should not allow fossil fuel companies (or any of their representatives/lobbyists) into COP discussions
Australia + Aotearoa (NZ)
1. Immediately cease construction of the Adani Carmichael mine to Stop Adani
2. We call on the media to stop giving a platform for false information. Report science not opinion.
3. Transparency and disclosure of connections, relationships, funding and communication between fossil fuel corporations & lobbyists, and government & political parties
Philippines/ Island Nations
1. The government isn't giving enough attention to natural disasters, even if it is very obvious.
2. The fossil fuels industries should know that a human rights body has stated that their companies can be found legally and morally liable for harms linked to climate change.
3. The government should know that climate change is a human rights issue.
4. The news about disasters and tragedies are not disseminated quickly enough.
5. Illegal logging is prevalent despite the disasters we are already experiencing.
6. Money/ profit is more prioritized than the workers' health and safety in times of calamity.
7. Only a few giant corporations are responsible for humongous amount of pollution in the world, but they remain unaccounted for because the state's power tips is in their favor.
8. Climate issue shall not be divorced from class issues.
9. Just as what is reflected in the Philippines, the Lumads—one of the Indigenous Groups in the country—whose primary lives are centered on the environment and taking care of it, are displaced from their ancestral lands on the mountains to pave way for mining companies' interest.
10. Their alternative schools with the curriculum that specializes in cultivating the environment were also shut down by the government under the pretense of being terrorist breeding grounds despite having no concrete evidence of this.
11. The Government's regulation on logging and bans on these illegal works are not given enough highlight and are not being pursued strictly.
11.1.The Government continues to be complicit to companies actively contaminating the environment, especially promoting the larger, richer brands responsible for greater-impact pollution.
11.2. Littering and other forms of direct pollution is not being .addressed by local governing institutes, only a handful of cities and provinces in the Philippines are able to pursue laws on this concern.
11.3. The government has been idle in addressing Canada and China's constant dump of trash and garbage onto Philippine grounds, efficiently multiplying landfills past the country's capability to carry.
11.4. Instead of doing actions to help protect our ancestral lands, those people in position of enacting laws are also the people making laws to support big companies to build factories or mines.
India
1.National Solar Mission
Aim: increasing the share of solar energy in the total energy mix through development of new solar technologies, while attempting to expand the scope of other renewable and non- fossil options such as nuclear energy, wind energy and biomass. Nodal ministry: Ministry of New and Renewable Energy (MNRE)
2. National Mission on Enhanced Energy Efficiency
Aim: To strengthen the market for energy efficiency by creating conducive regulatory and policy regime and has envisaged fostering innovative and sustainable business models to the energy efficiency sector
Nodal ministry: Ministry of Power
3. National Water Mission
Aim: Conservation of water, minimizing wastage and ensuring its more equitable distribution both across and within States through integrated water resources development and management
Nodal ministry: Ministry of Water Resources, River Development & Ganga Rejuvenation
4. National Mission for a Green Habitat India
Aim: Aims to both increasing the forest and tree cover as well as increasing the quality of the existing forest cover along with increasing forest-based livelihood income of about 3 million households. The Scheme was proposed for a period of 10 years.
Nodal ministry: Ministry of Environment, Forest and Climate Change
5. National Mission on Sustainable habitat
Aim: Aims at promoting sustainability of habitats through improvements in energy efficiency in buildings, urban planning, improved management of solid and liquid waste including
Nodal ministry: Ministry of Housing and Urban Affairs
6. National Mission for Sustainable Agriculture
Aim: Aims at transforming agriculture into an ecologically sustainable climate resilient production system by devising appropriate adaptation strategies for ensuring food security, equitable access to food resources, enhancing livelihood opportunities and contributing to economic stability at the national level.
Nodal ministry: Department of Agriculture Cooperation and Farmers' Welfare
7. National Mission for Sustaining the Himalayan Ecosystem
Nodal ministry: Ministry of Science and Technology
8. National Mission on Strategic Knowledge for Climate Change
Nodal ministry: Ministry of Science and Technology and functionality. It has been pointed out that the NAPCC, in its current form, is also ill-suited institutionally to effectively seek synergy between climate and development concerns in India.
Aim: Protect the Himalayas which is one of the most vulnerable areas to climate change in India by developing a sustainable national capacity to continuously assess the health status of the Himalayan ecosystem
Aim: To generate new information; build scientific and technical capacity; and produce new channels of collaboration between scientists, policy-makers and law-makers to ensure that climate action is based on sound knowledge and science
===
'Nature is taking back Venice': wildlife returns to tourist-free city
With the cruise ships gone and the souvenir stalls closed, the coronavirus lockdown has transformed La Serenissima's waterways
By John Brunton - 20. March 2020
A seabird swims across unusually clear waters by a gondola in a Venice canal. Photograph: Andrea Pattaro/AFP via Getty Images
Look down into the waters of the Venice canals today and there is a surprising sight – not just a clear view of the sandy bed, but shoals of tiny fish, scuttling crabs and multicoloured plant-life.
"The water is blue and clear," said Gloria Beggiato, who owns the celebrated Metropole Hotel a few steps from St Mark's square and has a view over the Venice lagoon. "It is calm like a pond, because there are no more waves caused by motorised boats transporting day-tripper tourists. And of course, the giant cruise ships have disappeared."
Under Venice's strict rules of self-confinement to prevent the spread of the coronavirus – all journeys but a trip to walk the dog or buy food are forbidden – the ancient city has been transformed almost overnight.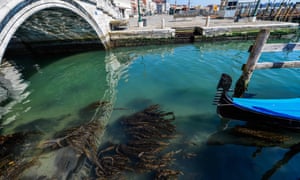 Seaweed can be seen in clear waters in Venice as a result of the stoppage of motorboat traffic. Photograph: Andrea Pattaro/AFP via Getty Images
La Serenissima's hundreds of canals have been emptied of speeding motorboat taxis, transport and tourist boats. The chugging vaporetti water buses now run on a reduced timetable. Even most of the gondolas are moored.
The clarity of the water has improved dramatically. Swans and cormorants have returned to dive for fish they can now see. At the Piazzale Roma vaporetto stop, ducks have even made a nest. "Someone has put up a sign saying, 'Don't tread on the duck eggs,''" Beggiato said. "All totally unimaginable a while ago."
As the death toll from coronavirus in Italy outstrips that of China, the government of Giuseppe Conte has tried to keep citizens at home using a mix of social media and police controls.
But locals are still moving about cautiously to do their daily shopping – except now in a city without visitors. It is a remarkable transformation for a city that until recently saw protests against overtourism under the No Grande Navi ("No more cruise ships") slogan.
At the world-famous and usually overcrowded Rialto market, most of the fish and vegetable stalls are still open, though customers are few and far between. All markets are allowed to serve customers at a minimum one metre distance.
In a queue to buy fish, Franco Fabris, an architect, reminisced: "When I was a kid growing up, there were far less boats in the canals and lots of kids would jump in and go swimming."
"For the moment I am not going out fishing as all the restaurants I supply have closed, so what is the point?" said Franco Folin, a fisherman. "But when this all over, we may well see more fish returning because for the moment pleasure fishing is prohibited – there will be an awful lot of extra marine life in the lagoon."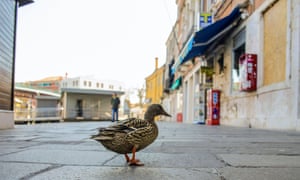 The apparent cleanliness of the water is not in fact due to a lack of pollution, said Davide Tagliapetra, an environmental researcher at the Institute of Marine Science. He told a local TV station that the reason is the absence of motorised transport, which normally churns up the muddy canal floor.
Matteo Bisol runs the vineyard restaurant Venissa on the tiny lagoon island of Mazzorbo, and has been campaigning for a more eco-responsible, sustainable model of tourism in Venice for some time.
The Venice lagoon is a fragile ecosystem. Photograph: Errebi - Mirco Toniolo/REX/Shutterstock
"For goodness sake, it is not surprising there are fish in the canals of Venice," he said. "If there were not, then we should all be worried as the lagoon here is a fragile ecosystem. People need to realise that if we control and cut down boat traffic in Venice and its lagoon then we could all discover a unique biosphere."
It is not just the cruise ships that are gone: the souvenir stalls that line the Riva degli Schiavoni, the Murano glass and lace shops, and the bars and restaurants are all closed.
It is a brutal hit to an economy that relies on tourism, but in the meantime locals appear to be rediscovering their city, in an admittedly constrained way.
"We Venetians have the feeling that nature has returned and is taking back possession of the city," said Beggiato.
"If you ask me today – sunny blue skies, clear canals – then, yes, we would all like Venice to stay like this for a while. But we need, and look forward to, the return of tourists, though maybe not the 20 million a year that we have had to cope with.
"I honestly believe we should take the opportunity of this lockdown to reflect and see how we can be more organised in the future to find a balance between the city and tourism."