Outdoor air pollution is responsible for 3.4 million early deaths each year
By VF/ET - 07.March 2020
In China every year around 10% of the untimely deaths are caused by outdoor air pollution - the official figure for 2017 in China is 1.03 million deaths due to outside pollution.
To maintain the coronavirus-hype, however, officials try now desperately to up the numbers for this flu event and today around 107,490 cases worldwide with 60,914 patients having recovered and around 3,652 death are reported as total since 31. December 2019, when the Orwellian exercise was started. This despite the fact that proper test-kits are lacking everywhere and even where they are available notallasesare tested properly.
The Chinese coronavirus outbreak must also be seen as far less deadly than e.g. 'normal' influenza, where e.g. in the United States a Centers for Disease Control and Prevention report states that 19 million people were infected and at least 10,000 died of the common flu virus in the USA in 2019 and the first part of 2020.
In conclusion it must be realized that the '"normal" airpollution is by farmore deadly than the coronovirus or the common flu combined.
IMPORTANT READ:
Summary
Outdoor air pollution is one of the leading risk factors for premature death. It's responsible for 3.4 million deaths each year.
Ozone and particulate matter both have negative health impacts – global death rates have fallen for both pollutants in recent decades.
6% of global deaths are attributed to outdoor air pollution. In some countries it's responsible for as many as 1-in-10 deaths.
Death rates from outdoor air pollution vary by a factor of 10 across the world. Death rates are typically highest in middle-income countries.
Older populations have the highest death rates from outdoor air pollution.
Globally, and in most countries, the number of deaths from air pollution have increased. Population growth and ageing populations have been key drivers in this.
Death rates have increased in around half of countries, and fallen in half.
Particulate matter exposure is highest across low-to-middle income countries.
95% of the world population are exposed to mean concentrations of particulate matter which exceed the WHO recommended limit of 10 micrograms per cubic meter.
Levels of air pollution in rich countries are much lower than in the past – to limit the health impacts of air pollution we must find solutions which accelerate this process for low-to-middle income countries.
===
According to Stanford University, and looking at respiratory mortality data for the past few months in China, reducing pollution has saved the lives of thousands of premature deaths in children under 5 and the elderly over 70.
Italy's coronavirus response dramatically reduces air pollution emissions, satellites show
By Meghan Bartels - 13. March 2020
As the world scrambles to confront the disease caused by a novel coronavirus, Italy has been forced to take such dramatic measures that the country's emissions have changed, as seen from space.
That's on display in a new video produced by the European Space Agency (ESA) using data gathered by the agency's Copernicus Sentinel-5P satellite. That spacecraft tracks air pollution in the atmosphere, and the satellite has seen a sharp decrease in emissions of nitrogen dioxide over Italy during the first two and a half months of 2020. The Italian prime minister ordered northern Italy into a lockdown on Sunday (March 8) to try to contain the disease, known as COVID-19.
"Although there could be slight variations in the data due to cloud cover and changing weather, we are very confident that the reduction in emissions that we can see coincides with the lockdown in Italy causing less traffic and industrial activities," Claus Zehner, the mission's manager at ESA, said in a statement.
Italy has seen the greatest number of confirmed cases of COVID-19 of any country except China, where the outbreak, which is now classified as a pandemic, began. Cases were particularly prevalent in northern Italy, hence the prime minister's regulations closing public spaces there. Since then, he has extended the measures throughout the country.
As people stayed home more and more, nitrogen dioxide emissions in Italy, particularly the country's northern region, fell. Copernicus Sentinel-5P measures levels of this compound, along with ozone, sulfur dioxide, carbon monoxide and methane, among other substances. All of these gases can affect human health and the climate, which is why the ESA monitors them.
But right now, the spread of COVID-19 is a much more pressing concern, and the reduction in emissions suggests that people are taking steps to reduce their own exposure and that of their neighbors.
Email Meghan Bartels at or follow her @meghanbartels. Follow us on Twitter @Spacedotcom and on Facebook.
===
Air Pollution Shortens Life Span by Three Years, Researchers Say
By Tiffany Duong - 06. March 2020
A woman rides a bicycle past a polluting factory in the Netherlands. Frans Lemmens / Corbis Documentary / Getty Images
Air pollution cuts human life expectancy by three years, according to new research published Wednesday in Cardiovascular Research.
"The loss of life expectancy from air pollution is much higher than many other risk factors and even higher than smoking," said co-author Jos Lelieveld of the Max Planck Institute for Chemistry, reported The Guardian.
Air pollution actually shortens lives on a greater global scale than HIV/AIDS, wars and other forms of violence, parasitic and vector-borne diseases like malaria, and smoking tobacco.
The reason for this is the impact of fine particulate matter (PM2.5, particles with a diameter of less than 2.5 µm) from air pollution on the body. These small particles penetrate more deeply into the lungs, making them less likely to be exhaled, explained the study. Even smaller ultrafine particles with a diameter less than 0.1 µm (PM0.1) pass directly into the bloodstream to affect organs directly, making them "particularly harmful."
Prior research from the same team attributed increased air pollution to higher respiratory, heart disease and stroke mortality rates, and this latest study confirms that air pollution led to 8.8 million extra premature deaths in 2015. This all translates to losing an average of almost three years of life expectancy worldwide for all persons due to air pollution.
In comparison, smoking cuts an average 2.2 years off life expectancy (7.2 million extra deaths), HIV/AIDS 0.7 years (1 million deaths), malaria and similar diseases 0.6 years (600,000 deaths), and all forms of violence (including deaths in wars) 0.3 years (530,000 deaths).
Co-author Thomas Münzel called the global issue an "air pollution pandemic." Roughly 100,000 Americans die prematurely each year because of polluted air and that the annual number of polluted air days has been on the rise, reported Fox News.
Lelieveld and Münzel agreed that air pollution is a leading global health risk but perhaps one that is reducible.
In a statement from the European Society of Cardiology, Münzel explained how the study distinguishes between avoidable, human-made air pollution and pollution from natural resources like wildfire emissions. It found that fossil fuels are the largest source of air pollution.
The researcher said, "We show that about two-thirds of premature deaths are attributable to human-made air pollution, mainly from fossil fuel use; this goes up to 80% in high-income countries. Five and a half million deaths worldwide a year are potentially avoidable."
The study estimates that average life expectancy around the world would increase by over a year simply by removing fossil fuel emissions. If all human-made emissions were removed, average life expectancy would jump by two years.
"Policy-makers and the medical community should be paying much more attention to this," Münzel added. "Both air pollution and smoking are preventable, but over the past decades much less attention has been paid to air pollution than to smoking, especially among cardiologists."
READ ALSO:
===
Air pollution is far deadlier than the coronavirus: new data ranks health threat in cities from worst to best
New air quality data for 2019, compiled by IQAir, highlights climate change and urbanization as key contributing factors for global PM2.5. Whilst gains have been made in air quality monitoring infrastructure, there are still huge gaps in access to data around the world.
By AirVisual - 25. February 2020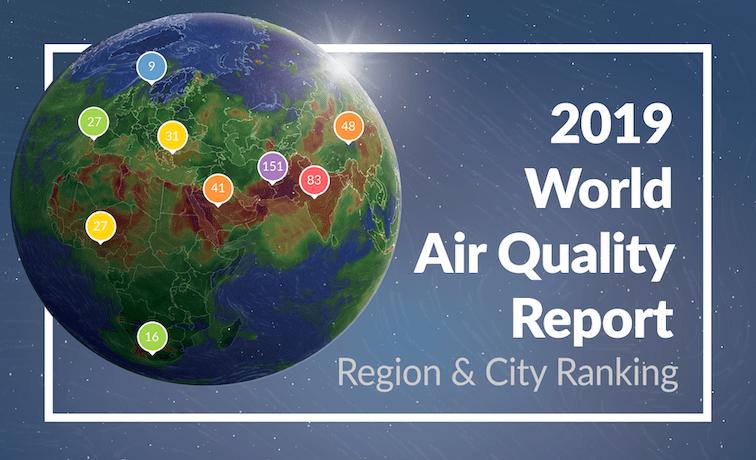 Goldach, Switzerland - Air pollution continues to pose one of the biggest threats to human health, with 90% of the global population breathing unsafe air. The latest data compiled by IQAir, published in the 2019 World Air Quality Report and the most polluted cities ranking, reveals the changing state of particulate pollution (PM2.5) around the world during 2019. The new dataset highlights elevated air pollution levels as a result of climate change events, such as sandstorms and wildfires, and pollution gains from the rapid urbanization of cities, in regions such as Southeast Asia. While some achievements have been made in air quality monitoring infrastructure globally, there are still huge gaps in access to data around the world.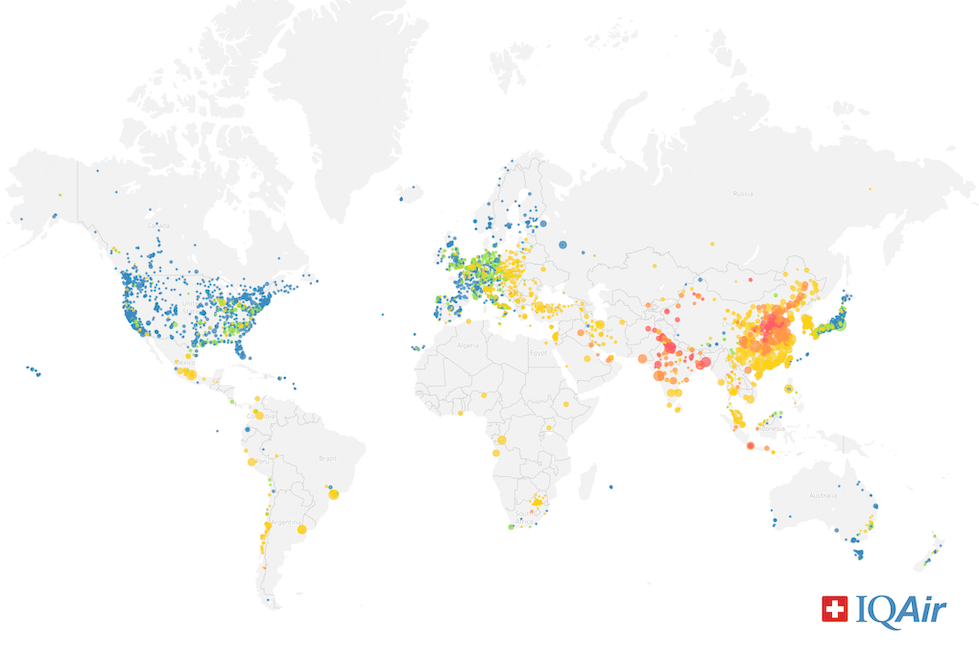 Global map of annual PM2.5 exposure by city with available data in 2019
Frank Hammes, IQAir CEO said:
"While the new coronavirus is dominating international headlines, a silent killer is contributing to nearly 7 million more deaths a year: air pollution. Through compiling and visualizing data from thousands of air quality monitoring stations, the 2019 World Air Quality Report gives new context to the world's leading environmental health threat."
Key findings from the report include:
• In China: Chinese cities achieved a 9% average decrease in PM2.5 levels in 2019, after a 12% decrease in 2018. Still, 98% of cities exceeded WHO guidelines and 53% of cities exceed China's less stringent national targets. In the last decade Beijing has more than halved its annual PM2.5 levels. This year, Beijing dropped out of the ranking's top 200 most polluted cities.


• In South Korea: South Korea was the most polluted country for PM2.5 among OECD countries during 2019. Air quality levels in key cities have remained relatively stagnant over recent years.


• In India: Whilst cities in India, on average, exceed the WHO target for annual PM2.5 exposure by 500%, national air pollution decreased by 20% from 2018 to 2019, with 98% of cities experiencing improvements. These improvements are believed to be largely a result of economic slow-down.


• In South Asia: Indian and Pakistani cities again dominate the world's most polluted cities for PM2.5 in 2019. Twenty-one out of the top 30 most polluted cities are located in India. Five of the top 30 most polluted cities are located in Pakistan.


• In Southeast Asia: In a historic shift reflecting the region's rapid industrialization, urban hubs Jakarta and Hanoi overtook Beijing for the first time, among the world's most PM2.5 polluted capital cities.


• Wildfires and open burning agricultural practices had a major impact on the air quality of cities and countries around the world, including: Singapore, Australia, Indonesia, Brazil, Kuala Lumpur, Bangkok, Chiang Mai, and Los Angeles, among numerous others.


• Desertification and sandstorms play a big role in poor air quality in the Middle East and west China.


• Huge populations around the world still lack access to real-time air pollution data, especially within Africa and the Middle East. Increasing numbers of global citizens and NGOs are deploying their own low-cost air quality sensors to fill in data gaps where they exist. Owing to these efforts, continuous public air quality data is now available for the first time for Angola, the Bahamas, Cambodia, DR Congo, Egypt, Ghana, Latvia, Nigeria and Syria.
2019 air quality data shows clear indications that climate change can directly increase the risk of exposure to air pollution, through increased frequency and intensity of forest fires and sandstorms. Similarly, in many regions the cause of ambient PM2.5 pollution and climate changing greenhouse gases are linked, namely the burning of fossil fuels, such as coal. Urgent action is needed to tackle these emission sources, to protect public health and ecosystems.
"While air quality monitoring is increasing, the lack of air quality data in large parts of the world poses a serious problem, as what is not measured cannot be managed. Areas that lack air quality information are often estimated to have some of the world's most severe air pollution, putting huge populations at risk. Africa, a continent of 1.3 billion people, currently has less than 100 monitoring stations that make PM2.5 data available to the public in real-time. More real-time air quality data leads citizens and governments to make better decisions that will improve the lives of millions for decades to come," added Mr. Hammes.
===
Air Pollution Linked to 30,000 U.S. Deaths in One Year
By Olivia Rosane - 24. July 2019
LA smog. Dave Herholz / Flickr / CC BY-SA 2.0
Air pollution may have killed more than 30,000 Americans in a single year despite the fact that particulate matter levels in most U.S. counties fell within federal safety standards, CNN reported.
That number came from a study led by researchers at Imperial College London and the Center for Air, Climate and Energy Solutions (CACES) at Carnegie Mellon University, published in PLOS Medicine Tuesday. Researchers had sought to discover the health impacts of current particulate matter levels in the U.S., and assess the benefits of the reduction in particulate matter between 1999 and 2015.
"I think the big conclusion is that lowering the limits of air pollution could delay in the U.S., all together, tens of thousands of deaths each year," study lead author and Imperial College London Prof. Majid Ezzati told CNN.
The U.S. Environmental Protection Agency (EPA) sets the current safe level of particulate matter at 12 microgram per cubic meter of air (μg/m3), but researchers still calculated tens of thousands of deaths for 2015, when particulate matter levels fell between 2.8 ug/m3 and 13.2 ug/m3 and were below 12 ug/m3 in all but four counties. They concluded that 2015 levels were linked to 15,612 heart or lung disease deaths in women and 14,757 in men. Overall, that led to a lower life expectancy of 0.15 years for women and 0.13 years for men.
CACES Director Allen Robinson said the study had important political implications.
"These findings are particularly relevant at a time when the EPA is planning to change how it calculates the benefits of cleaner air by dismissing any health benefits below the current standard," Robinson said in a Carnegie Mellon press release. "These benefits are important to consider when evaluating efforts to tackle climate change, such as the Clean Power Plan."
The EPA's own figures show that the Trump administration's weaker replacement for the Clean Power Plan could lead to 1,400 early U.S. air pollution deaths per year by 2030, but the EPA is considering changing how it calculates air pollution deaths to assume there is no benefit to lowering particulate matter below the current national standard. This would reduce the projected death toll for the new plan, but Tuesday's study confirms it flies in the face of science. The study found that decreases in particulate matter pollution coincided with decreases in mortality in all but 14 counties, where particulate matter had actually increased.
The study also had environmental justice implications. It found that the link between air pollution and mortality was greatest in low-income counties, counties with high African American populations and counties with low high-school graduation rates, CNN reported. Regionally, Los Angeles and some Southern states like Arkansas, Oklahoma and Alabama had the greatest reductions in life expectancy due to pollution.
READ ALSO:
===
Coronavirus Lockdown May Save More Lives By Preventing Pollution Than By Preventing Infection
By Jeff McMahon - 11.March 2020
The global lockdown inspired by the novel coronavirus, COVID-19, has shuttered factories and reduced travel, slashing lethal pollution including the greenhouse gases that are heating the climate.
The lockdown may save more lives from pollution reduction than are threatened by the virus itself, said François Gemenne, director of The Hugo Observatory, which studies the interactions between environmental changes, human migration, and politics.
"Strangely enough, I think the death toll of the coronavirus at the end of the day might be positive, if you consider the deaths from atmospheric pollution," said Gemenne, citing, for example, the 48,000 people who die annually in France because of atmospheric pollution and the more than one million in China.
Scientists estimate the U.S. death toll from air pollution at more than 100,000 per year, and the World Health Organization estimates the global toll at 7 million.
The global death toll of an uncontained pandemic remains largely a matter of conjecture. The most dramatic projections that have been released—too hastily to be peer reviewed—put the global death toll of an unchecked pandemic in the millions—total, not annual. Most credible estimates are much less. Some experts have compared it to the 1957 flu outbreak that killed just over 1 million. The toll from a contained outbreak would of course be much smaller.
Reductions in air pollution and global heating could save more lives.
"More than likely the number of lives that would be spared because of these confinement measures would be higher than the number of lives that would be lost because of the pandemic," Gemenne said in an appearance on France 24's The Debate.
The discrepancy in how we react to these divergent threats should give us pause, Gemenne said, to consider why it is that we respond so strongly to one with less lethality and so weakly to one with more.
"These are quite fascinating times. What surprises me most is that the measures that we are ready to take to face this coronavirus are much more severe than the measures we would be ready to take to face climate change or atmospheric pollution," Gemenne said.
"I think this is something that should question us: why are we so much more afraid of the coronavirus than we are of climate change or atmospheric pollution or other kinds of threats. What is so special about the coronavirus that we are ready to put the whole world on lockdown because of that?"
Watch Gemenne on France 24's The Debate:
Author:
Jeff McMahon - I've covered the energy and environment beat since 1985, when I discovered my college was discarding radioactive waste in a dumpster. From Chicago, I write about climate change, green technology, energy. Follow me on Twitter or LinkedIn. Check out my website.
===
Momento Mori – Unpopular Thoughts on Corona Virus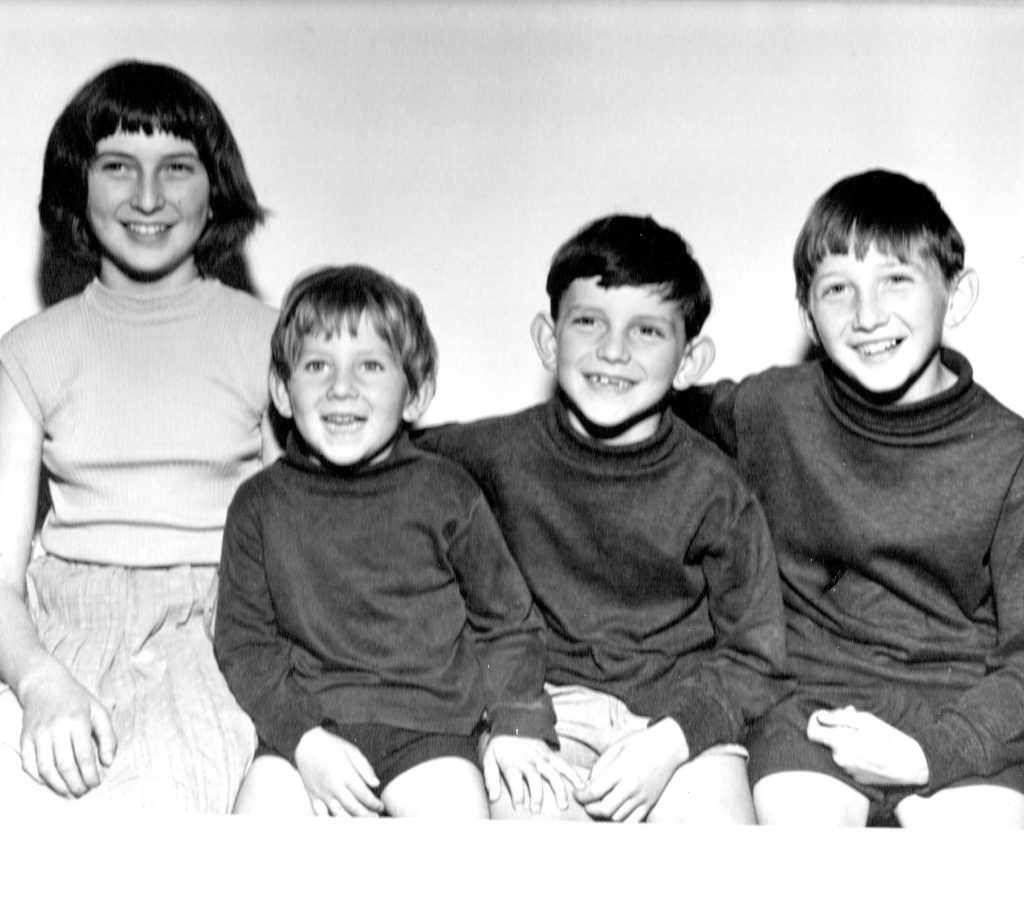 I have always been very fond of this photo, for reasons which are perhaps obvious. We are left to right Celia, Stuart, Neil, Craig and throughout our childhood we really were that close and that happy.
The reason that I post this now is that my mother always told me she was amazed how good we looked in the photo, because it was taken when we were all off school sick with Hong Kong flu.
The Hong Kong flu pandemic of 1968/9 was the last really serious flu pandemic to sweep the UK. They do seem extraordinarily regular – 1919, 1969 and 2020. Flu epidemics have much better punctuality than the trains (though I cheated a bit there and left out the 1958 "Asian flu"). Nowadays "Hong Kong flu" is known as H3N2. Estimates for deaths it caused worldwide vary from 1 to 4 million. In the UK it killed an estimated 80,000 people.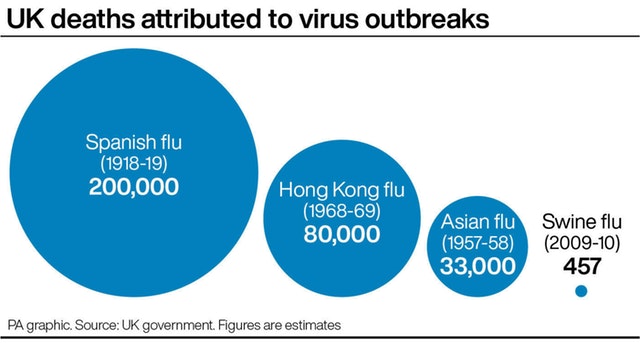 If the current coronavirus had appeared in 1968, it would simply have been called "flu", probably "Wuhan flu". COVID-19 may not be nowadays classified as such, but in my youth flu is definitely what we would have called it. The Hong Kong flu was very similar to the current outbreak in being extremely contagious but with a fairly low mortality rate. 30% of the UK population is estimated to have been infected in the Hong Kong flu pandemic. The death rate was about 0.5%, mostly elderly or with underlying health conditions.
But there was no massive panic, no second by second media hysteria, over Hong Kong flu. Let me start being unpopular. "Man in his 80's already not very well from previous conditions, dies of flu" is not and should not be a news headline. The coverage is prurient, intrusive, unbalanced and designed to cause hysteria.
Consider this: 100% of those who contract coronavirus are going to die. 100% of those who do not contract coronavirus are also going to die. The difference in average life expectancy between the two groups will prove to be only very marginal. That is because the large majority of those who die of COVID-19 will already be nearing the end of life or have other health problems.
Let me make this important statement. I write as somebody whose heart and lungs are damaged and in poor condition, following the multiple bilateral pulmonary emboli which nearly killed me in 2004, which mysteriously appeared at precisely the time the UK and US governments were desperately trying to get rid of me as Ambassador, just a couple of weeks after I had been finally cleared of all the false charges with which the British government had attempted to fit me up. I was in a coma for days and subsequently given a maximum of three years to live (read Murder in Samarkand for the full story). If I get COVID-19 I expect I shall be fairly quickly gone off on my next adventure.
But I am OK with that. I have lived an incredibly full and satisfying life. I have no desire whatsoever to die – I have a wife and children I love deeply and I have important political battles I wish to fight. But human beings are not supposed to live forever and one day my time will come.
What worries me about the current reaction to coronavirus, is that it seems to reflect a belief that death is an aberration, rather than a part of the natural order of things. As the human species continues to expand massively in numbers, and as it continues casually to make other species extinct, it is inevitable that the excessive and crowded human population will become susceptible to disease.
As we see the catastrophic effects of human beings on the environment, including on other species and the climate, I am genuinely perplexed as to what are the underlying assumptions and goals of humankind. Do we really believe that medical science could and should eliminate all disease? There are numerous, well-funded medical scientists working very hard on research into the idea that ageing itself is a process that can be prevented. Because that is a notion very attractive to wealthy westerners, more money is being spent on preventing ageing than on fighting malaria and other tropical diseases. Where does this end? Do we really want a world – or at least a wealthy word – where everybody gets to be a centenarian? What are the effects of that on overall population, on demographics, economics and the allocation of finite resources including food and housing?
The mass hysteria around the current coronavirus is being driven by a societal rejection of the notion that the human species is part of the wider ecology, and that death and disease are unavoidable facts, with which it ought to be part of the human condition to come to terms. Let me offer a comforting thought to those of you who have bought into the hysteria. I have no doubt whatsoever that mortality rates from the coronavirus are being exaggerated. They are all based on extrapolation from those who have been tested, but there exists a very large population of people, worldwide, who have or have had the coronavirus, whose symptoms have been those of a cold or non-existent, who have not put themselves forward for testing. The Hong Kong flu had a mortality rate of 0.5% and I believe that ultimately COVID-19 will prove to be very similar. Just like flu once you get it, the only difference being it is more contagious so more people will get it.
Yes wash your hands, bin your tissues, keep things clean. Don't hang around someone who has the flu. Take advantage of everything modern medicine can do to help you. But don't be too shocked at the idea that some sick people die, especially if they are old. We are not Gods, we are mortal. We need to reconnect to that idea.
All human deaths are individual tragedies. I wish all solace and comfort to the grieving, and in no way wish to minimise the pain of individual loss of anybody of any age (I lost my own mother not long ago), or that even a small number of child deaths in particular will be dreadfully painful. My deepest and heartfelt condolences go to all the bereaved, and my warm regards go to all the sick and the worried. But the perspective of the wider place of human life in the cosmos is a help in grieving. The purpose of this blog remains not to shirk from saying what might be unpopular. I do hope people will start to consider COVID-19 in a more measured way.
Author: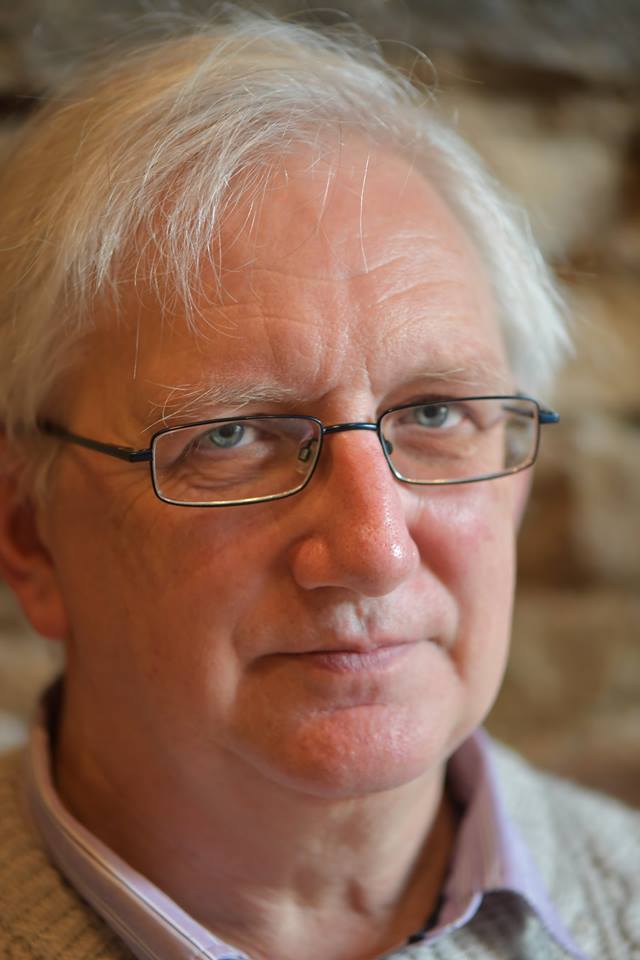 Craig Murray is an author, broadcaster and human rights activist. He was British Ambassador to Uzbekistan from August 2002 to October 2004 and Rector of the University of Dundee from 2007 to 2010.
===
You Won't Believe How Bad Pollution In China Has Become
By Alec - 27. August 2014 (Updated October 8, 2019)
Unbelievable photographs that show just how devastating pollution in China has become.
With a newly-minted elite and an economic growth rate of over 10 percent, the environment has taken a backseat in China, the world's most populous country. Growing pollution has led to unusable waterways, increased incidence of birth defects, and some of the dirtiest air on earth. It's so nasty that there's now a word for it: "smogpocalypse".
With that said, China is not oblivious to its ecological impacts, and according to the Harvard Business Review "is taking this challenge much more seriously than others… doing things differently, making longer-term, sustained commitments that are much larger." In 2010, China ranked as the world's leading investor in low-carbon energy technology, which makes sense given national political leaders' tendency to view clean energy as a great economic opportunity.
The following photographs prove that economic growth indeed comes at a cost, and one whose long-term effects remain unclear: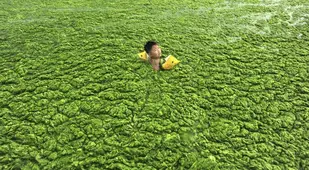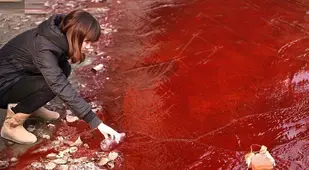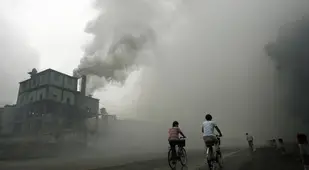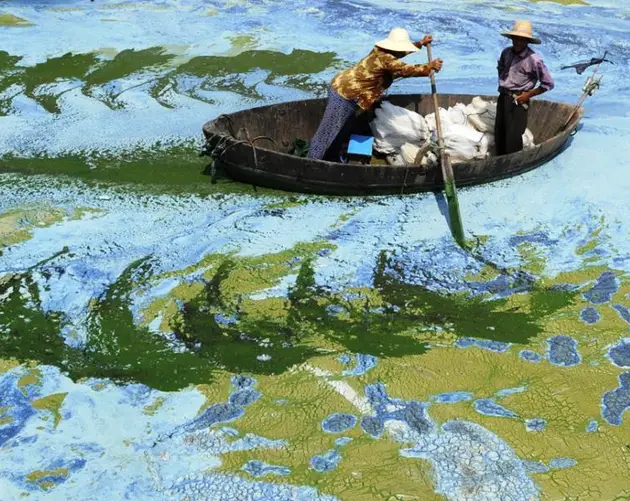 You Won't Believe How Bad Pollution In China Has Become
We also recommend that you check out these videos by Vice about the severity of pollution in China:
Thank you to National Geographic, Business Insider, CBS, and us for the images above.
---
The Coronavirus Is Spreading. Time to Expand the Conversation About Prevention.
By Arianna Huffington -
In the span of a few months, the coronavirus has spread to 81 countries, including the United States, and has claimed more than 3,000 lives around the world. But based on the news coverage, you might think that the only preventive measures we can take are washing our hands regularly, trying not to touch our face, and avoiding people who are sick.
These are, of course, all important steps. But we need to expand the conversation to make room for a crucial aspect of health that has received very little attention: one of the best things we can do to protect ourselves is to proactively strengthen our immune system.
This is beautifully captured in The Lucky Years, by Dr. David Agus (who is also on Thrive's board of directors): "If you throw a lit match into a dewy wet forest, what happens? Nothing. But toss that same incendiary device into a parched landscape that hasn't seen rain in a long time, and you'll soon have a quickly moving fire on your hands. The difference between these two environments — one damp and saturated and another dry and thirsty — means everything in terms of how they respond to that spark."
Dr. Agus's metaphor is an eloquent way of saying: the strength of our immune system matters greatly in our fight against disease. The inner environment we cultivate can truly make a difference.
As The Washington Post puts it, "the severity of the symptoms depends highly on the patient's age and immune system." There is nothing we can do about our age. And there is nothing we can do about how fast the virus spreads or where it goes next. But there is a lot we can do to strengthen our immune system. And at a time when so much is out of our control, this gives us agency.
Early studies of the virus have shown that people with pre-existing illnesses are more likely to become ill and die: "For the elderly and those with underlying heart disease, diabetes or other conditions, coronavirus can cause pneumonia and lead to organ failure and death." It illustrates the difference between the two environments Dr. Agus describes. (For perspective, about 60% of American adults have at least one underlying health condition, according to Tom Frieden, former director of the Centers for Disease Control and Prevention.)
Here are some of the most important healthy habits we can add to our lives to build domains of protections that promote an adaptive immune response to challenges. These, of course, are habits that are very important to our health at all times. But now there is an extra urgency to adopting them.
Sleep is as important for our bodies as it is for our minds. For instance, we may not have a cure for the common cold yet, but we do know how to increase the likelihood of getting one: don't sleep. Researchers at the University of California, San Francisco and Carnegie Mellon University monitored the sleep of participants for one week. Test subjects were then given nasal drops containing the common cold virus. Those who had slept less than six hours a night the week before were four times more likely to catch the cold compared with those who got more than seven hours of sleep.
Another study from the University of Tübingen in Germany found that sleep gives the immune system a chance to regroup. And a study from the University of Washington Medicine found that chronic short sleep shuts down programs involved in immune response.
And as neuroscience professor Matthew Walker puts it in his book Why We Sleep: "No matter what immunological circumstance you find yourself in — be it preparation for receiving a vaccine to help boost immunity, or mobilizing a mighty adaptive immune response to defeat a viral attack — sleep, and a full night of it, is inviolable."
Beyond sleep, staying hydrated and making healthy food choices like avoiding processed foods is critical to boosting our immune system. And as a study from Stanford shows, avoiding sugar can help us reduce chronic inflammation, which contributes to the conditions that put us at greater risk for viral infections. And it can help us fight off obesity, which has been found to be linked to the severity of viral infections.
Finally, a big suppressor of our immune system, as Dr. Caroline Sokol says, is stress. And stress, of course, has cumulative effects on our ability to fall and stay asleep, and on our impulse to stress-eat or drink too much. And here is the coronavirus paradox: every day we are exposed to a constant stream of coronavirus news, but instead of easing our worries, the flood of information about new cases, some of them close to our homes, event cancelations, stock market drops, etc. etc., only makes us more stressed, which in turn suppresses our immune system. As the psychologist Neil Fiore puts it, "calling up the stress response to deal with dangers that are not happening now is similar to pulling a fire alarm for a fire that may happen next year. It would be unfair to the fire department and a misuse of its time and energy to ask firefighters to respond to such an alarm, just as it's unfair to demand that your body continually respond to threats of danger from events that cannot be tackled now."
That's why it's so essential to build practices and mental habits that protect us from cumulative stress and anxiety. Focusing on what we are grateful for and avoiding negative fantasies based on fear rather than data is as important for our mind as sleep and healthy food choices are for our body.
And as so much recent science has confirmed, we have more control than we realize when it comes to building healthy habits and resilience. So when so much of the coronavirus crisis is outside our control, it's not only essential, but empowering, to focus on what we can control, which is more — much more — than washing our hands.
Author: