Prologue: Jair Bolsonaro, who actually is only the poster-boy for extreme right-wing, white supremacists, religious fanatics and military cadres in Brazil - backed by foreign deep pockets of the resource exploiters - poses the greatest threat to the Brazilian society in general and the Aboriginal peoples of Brazil specifically. He must now urgently be dealt with at the International Criminal Court (ICC) for his aggression against Indigenous people and the First Nations of the Amazon a well as for the vast destruction in the Amazon forest and other parts of Brazil. But it is primarily paramount that the Brazilian people as a whole must no longer allow him to wreak havoc in the country and remove him from office. Specifically the female voters, who lifted Bolsnaro to power based on his macho con, have already realized that he is nothing but a front for the military junta and foreign capitalists. It is a big shame that Bolsonaro, who likes to be called Captain Chainsaw or even Nero of the Amazon, turned Brazil, who set with the first and the second Rio Summit a global agenda for nature protection has been turned under Bolsonaro to become the natural world's worst enemy. Under Bolsonaro the Amazon forest was turned for the first time from a carbon sink to a carbon source. Bolsonaro's disastrous policy, backed by USAmerican corporations, influences even neighbouring state governments to become robbers, extortionists as well as the worst enemy for the Indigenous world and intact nature. Also religious fundamentlist Ricardo Lopes Dias must be remove from office immediatly.
Brazil's Bolsonaro proposes bill allowing mining on indigenous land
By DW - 06. February 2020
The Brazilian president described the act as a "dream" while indigenous leaders have labeled it a "genocide bill." A separate announcement naming the new government's head of indigenous affairs also led to outrage.
Brazil's President Jair Bolsonaro introduced a bill on Wednesday to open up indigenous lands to mining, agricultural work and hydraulic energy production.
The measure would permit both indigenous and third-party developers to take part in the new development. [He thereby tries the same "divide-and-rule"-game as Justin Trudeau in Canada and other neo-colonialists elsewhere.]
The president described the act, which still needs parliamentary approval, as a "dream" while indigenous leaders have labeled it a "genocide bill."
"I hope that this dream ... comes true," the 64-year-old president said of the plans. "This big step depends on Congress."
Many of the indigenous lands affected by the bill are situated in the Amazon region of the Latin American country.
Anticipating a backlash, Bolsonaro, a climate skeptic, added: "We will be pressured by the environmentalists. Those people, if I could, I would confine them to the Amazon region since they like the environment so much."
Some 600 Brazilian indigenous chiefs came together in the Amazon state of Mato Grosso last month to denounce what they called the government's "genocide, ethnocide and ecoside."
Ex-missionary to lead indigenous affairs
Earlier on Wednesday, in a move that further angered environmentalists and indigenous leaders, the Brazilian Justice Ministry announced that former missionary Ricardo Lopes Dias was to become the new coordinator-general of the government unit, which is part of the indigenous affairs agency known as Funai. The announcement raised fears about possible threats to health and culture among Indigenous peoples, with some leaders protesting his appointment in an open letter.
Leaders of the Matses community, located near the border with Peru, wrote that in the 2000s Dias had "manipulated part of the Matses population to found a new village" where an evangelical church would be constructed.
Activists have concerns over Dias' track record in the Amazon following a 10-year spell as a member of the 'New Tribes' nonprofit group. Now known as Ethnos360, the Florida-based group sends missionaries from local churches around the world, many of whom head to indigenous areas.
Brazil officially counts 28 groups of isolated Indigenous peoplesIn in the Amazon. President Bolsonaro has previously stated that indigenous communities should integrate into Brazilian society and that their lands can disrupt development, as well as pose a threat to national sovereignty.
jsi/cmb (AFP, AP, Reuters)
Read Also:
===
'Genocide' fears for isolated Aboriginals as ex-missionary named to head Brazil agency
Jair Bolsonaro's 'dangerous' appointment of Ricardo Lopes Dias threatens remote indigenous people, UN special rapporteur says
By Dom Phillips - 0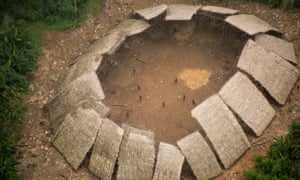 An uncontacted village in the Yanomami indigenous territory in the north of Brazil, close to the Venezuelan border photographed from the air in 2016. Photograph: Guilherme Gnipper Trevisan/Hutukara
Brazil has put a former evangelical missionary in charge of its isolated Indigenous peoples, provoking concern among indigenous groups, NGOs, anthropologists and even government officials, who fear the government of the far-right president, Jair Bolsonaro, is overseeing a new push to spread Christianity among Brazil's indigenous people.
The appointment of Ricardo Lopes Dias, an anthropologist and evangelical pastor, to head the department for isolated and recently contacted ethnicities at the indigenous agency Funai, was announced on Wednesday.
Victoria Tauli-Corpuz, the UN special rapporteur on the rights of indigenous people, said: "This is a dangerous decision that may have the potential to cause genocide among isolated indigenous people."
Bolsonaro has frequently made racist remarks about the country's indigenous people, recently commenting that they were "increasingly becoming human beings just like us".
Critics say he is bargaining indigenous lives for political support from the powerful evangelical lobby, just as his attacks on environmental agencies have appeased wildcat miners and farmers in the Amazon.
"There are those who see nothing but the greed of land-grabbers, cattle ranchers and mining companies driving Bolsonaro's anti-indigenous policies. But it's clear cultural annihilation with religious dividends is also guiding the presidency," the Folha de S Paulo newspaper said on Tuesday.
Critics said Dias's appointment threatened the survival of vulnerable isolated groups, which in the past have been decimated by diseases like measles and flu after coming into contact with evangelical missionaries, government employees and outsiders.
The Brazilian Amazon indigenous organisation Coiab warned of "the crimes of genocide and ethnocide that will be committed against our isolated relatives".
Between 1997 and 2007, Dias worked as a missionary in the same reserve for the controversial group New Tribes Mission, who pledged to convert every last "unreached people group" on earth. The group has since changed its name to Ethnos 360.
"I've been with these peoples and at times you can feel this incredible, intense darkness. But you know what I found? No darkness is too dark for God," CEO Larry Brown says in a video on its website.
In his 2015 dissertation for a social science master's degree, Dias said he decided as a young man to commit himself to the "cause" of evangelizing among indigenous people.
Speaking to O Globo newspaper last week, he refused to say whether he would change Brazil's 37-year rule of "no contact" with uncontacted indigenous people.
"My performance will be technical. I will not promote evangelisation of indigenous people," he said.
But Brazil's public defender's office said such a nomination risked "the mass death of indigenous people from illness resulting from irresponsible contact, or conflicts between religious missions, loggers, wildcat miners, hunters and illegal fishermen".
A photo made available on 1 February 2011 by Survival International shows members of an uncontacted clan in the Brazilian Amazon. Photograph: Gleison Miranda/Funai/EPA
Indigenous experts said the move to allow evangelical missionaries to contact remote ethnic groups has already begun. They allege a missionary group is using a mental health visit to gain access to a remote Amazon clan they were previously expelled from.
Following an alert from a local Funai official, the federal prosecutor for Amazonas state has written to the head of the government's indigenous health service (Sesai) demanding details of the mission to visit the remote Suruwaha people.
According to the alert, the visit will be led by Sesai's boss, Silvia Waiãpi – an indigenous woman, army officer and former soap opera actor who campaigned for Bolsonaro.
It also includes two Suruwaha indigenous women who live in an evangelical community in Brasília run by Jocum– the Brazilian arm of international evangelical missionary group Youth With A Mission.
Four psychologists and a Jocum linguist are also in the group.
Federal prosecutors ordered Funai to expel Jocum missionaries from the Suruwaha reserve in 2003.
The latest mission was launched after five Suruwaha killed themselves last year. About 150 people live in the community, where ritual suicides have long been part of the culture. One Swiss study counted up to 12 suicides a year between 1984 and 2018.
Adriana Huber, an anthropologist with the Indigenous Missionary Council – a Catholic NGO – lived with the Suruwaha from 2006 to 2011. She said suicides are part of the cosmology of the Indigenous people, used as a form of conflict resolution, and have happened since the 1930s. Any move by the Brazilian state to treat mental health issues should be negotiated with the ethnic group, she said, not imposed upon them.
Read Also:
===
Brazil's indigenous communities resist Bolsonaro
The Amazon rainforest is under threat, and so are the Indigenous peoples that call it home. As violence escalates in Brazil, activists have vowed to protect their land and way of life.
Rarely has something so precious fallen into such unsafe hands. Since Jair Bolsonaro took the Brazilian presidency in 2019, the Amazon, which makes up 10% of our planet's biodiversity and absorbs an estimated 5% of global carbon emissions, has been hit with a record number of fires and unprecedented deforestation.
At the same time, those who have proved the most responsible guardians of the forest, are under increasing pressure and threatened by escalating violence. Since Bolsonaro came to power, there has been an increase in invasions of indigenous lands by loggers and miners, and seven indigenous leaders have been killed in land disputes.
In November, a group of Brazilian lawyers and human rights groups asked the International Criminal Court to indict Bolsonaro for inciting genocide against Brazil's indigenous people.
They argue that these communities are at increased risk of violence because "the means of existence of the indigenous peoples are grounded on their relationships to the land, the forest, wildlife and water," and that threats to the forest put them "at risk of falling victim to crimes against humanity."
'Bolsonaro is taking away our future'
Bolsonaro, who has compared indigenous people to zoo animals and accused indigenous leaders of working to promote foreign interests in the Amazon, has repeatedly threatened to end the policy of land demarcation, whereby indigenous communities are granted the right to clearly defined territories.
He has also attacked the National Indigenous Foundation (FUNAI) — the governmental agency for indigenous interests — cutting its funding and powers and forbidding its employees from speaking to the press.
At the same time, the right-wing president has scrapped environmental regulations and is set to legalize 300,000 illegally occupied rural properties — 86% of them in the Amazon territory and many of them commercial farming or logging operations.
The Amazon saw unprecedented fires in 2019, with the equivalent of 8.4 million football pitches going up in flames
"Bolsonaro is taking away our future," indigenous conservationist Olinda Muniz told DW. "A president who encourages genocide and does nothing to curb environmental disasters is a person who should never represent this country."
Indigenous lifestyles vs. economic development
A recent study comparing Brazil, Australia and Canada pointed to greater biodiversity in areas administered by indigenous peoples and is just the latest research to suggest these communities are exceptionally good at preserving the land they live from.
Yet in Brazil, as elsewhere, their way of life has been under threat since colonialists first arrived from Europe and began exploiting the land's natural resources and imposing foreign ways of life on its people.
Now, the lawyers argue in their action against Bolsonaro that indigenous lifestyles are being portrayed as a problem in themselves, "hampering the national development plans," and "infrastructure projects, mining enterprises, logging activities and agribusiness ventures in forested regions."
Muniz and her husband Samuel Wanderley, both of the Pataxó Hã-Hã-Hãe ethnic group, founded the Kaapora project in the Caramuru Paraguaçu indigenous territory in the Brazlian state of Bahia. They are restoring grazing land back to forest, protecting remaining trees and growing new ones, so the land can once more be a refuge for wildlife.
The Amazon's indigenous peoples have lived in the forest for countless generations. Since Europeans arrived, both their culture and envrionment have been under threat
Now she fears that efforts like hers are under threat. "We have no guarantee of compliance with our constitutional rights," Muniz said. "Social movements are being attacked head-on, indigenous, black, environmentalists, landless workers, fishermen, etc."
The Kaapora project is one of many in Brazil through which indigenous communities, independently or in partnership with NGOs, are helping revive the forest and maintain traditional ways of life in the midst of modernity — combining traditional knowledge with new technologies and increasing independence from markets and governments that have rarely worked in their interests.
The Ashaninka in Acre state, for example, have established cooperatives to grow food and provide for their community. They, and groups like the Pataxó in Minas Gerais state, are also teaching non-indigenous communities about sustainable agriculture. By creating a space for dialogue with the external community, and young people in particular, they hope to pass on their respect for nature.
Staking out their own land
Meanwhile, in southern Brazil, the Kaingang are working to reforest their land with araucaria, an indigenous tree which produces a fruit they can eat and sell, and that supports indigenous wildlife. For Marcio Kokoj of the Kaingang Guarani Indigenous Environmental Association, the Bolsonaro government feels like a throwback to Brazil's military dictatorship that murdered thousands of indigenous people, drove thousands more from their lands, and tortured many and enslaved others between 1964 and 1985.
"The greatest concern today is with the attacks on the demarcations of our lands, we therefore need to make self-demarcation," Kokoj said. "If it depends on Bolsonaro, he will open up areas for large-scale agricultural production, multinationals, mining. That worries us a lot."
Self-demarcation is when indigenous communities draw the boundaries of their own territory, often expelling illegal occupants, such as loggers.
Last July, the indigenous Munduruku from the Tapajós region in the Amazon state of Pará, kicked out illegal loggers who had invaded their territory which they began to self-define in 2014.
The Munduruku were armed with arrows, songs, war paint and "the wisdom of our ancestors," they said in a note to the Indigenous Missionary Council that made clear their intention to continue defending their own land if governmental institutions fail to do so.
Calling on the international community
Kokoj too says the Bolsonaro government should not expect the forest's guardians to step aside without a fight. "We indigenous peoples, over the years and the governments, have created resistance that is still effective today," he said.
Indigenous activists protest in Brasilia
In defense of their land and culture, Brazil's indigenous communities have long allied with broader social movements, called out violations of their rights to international bodies, and above all, insisted on remaining in their territories despite threats and violence. Since Bolsonaro came to power, indigenous activists have taken the streets to assert their land rights and protest their treatment by the right-wing government.
But Kokoj stresses that support from the wider population of Brazil and the international community is vital.
The group of Brazilian lawyers lobbying the International Criminal Court says the prosecutor at the international tribunal in the Hague is expected to investigate their complaint. It remains to be seen if this will lead to an indictment of Jair Bolsonaro — and amount to the kind of international pressure Brazil's indigenous communities hope for.
THE AMAZON BURNS, BOLSONARO FEELS THE HEAT

Brazil's burning

Four times the number of forest fires have burned so far this year in the Amazon compared to the whole of 2018, Brazil's National Institute for Space Research says. Ranchers and loggers are responsible for setting most of them as part of efforts to clear land for cattle. Environmental groups say land deforestation has increased dramatically since President Jair Bolsonaro took office in January.
Read more:
Brazil: Experts warn of Bolsonaro threat to the Amazon
Brazil's president-elect Jair Bolsonaro has threatened to close environment agencies and throw open indigenous territories to development. But he would stay in the Paris Agreement. What fate for the lungs of the Earth?
Environmental experts have warned of the severe threat to the Amazon posed by Brazil's far-right president-elect Jair Bolsonaro.
The former army captain and avid supporter of Brazil's former military dictatorship has in the past spoken passionately of closing environmental agencies tasked with forest protection and opening up indigenous territories to mining and agribusiness.
Bolsonaro had also said he would pull out of the Paris Agreement on climate, following in the footsteps of US President Donald Trump — whom he admires deeply.
But last Thursday, Bolsonaro backpedaled on that pledge, likely adopting a more moderate tone ahead of the Sunday election which he won with 56 percent of the vote.
'Disaster' for the Amazon
"A Bolsonaro presidency would be an unmitigated disaster for the Amazon's forests and forest peoples," said Christian Poirier, program director at the nongovernmental organization Amazon Watch, which recently published a report on deforestation in the Amazon.
"His antagonism for the land rights of indigenous and traditional communities and disdain for environmental protections jeopardize vast tracts of preserved forests, which could fall victim to reckless industrial development such as agribusiness and mining," Poirier added.
Brazil is home to around 900,000 Indigenous people, who mostly live in the country's Amazon states.
The Waiapi people have been fighting to defend their land against a massive mining project
Empowering indigenous people is widely seen as among the most effective ways of combating deforestation and buffering the effects of climate change.
At a 2017 event in Rio de Janeiro, Bolsonaro promised crowds that if elected, he would not give "one centimeter" of demarcated territory to indigenous people.
The Tuesday before the election, in a television interview in Brazil's north-eastern Piaui state — a new frontier for soybean production — he reiterated his antagonistic stance on indigenous land demarcation.
"You cannot wake up today and suddenly realize in the newspaper that your farm will be demarcated as indigenous land," he said.
Brazil's Articulation of the Indigenous Peoples of Brazil (Apib) and Indigenous Missionary Council (Cimi) released statements condemning the position.
"Cimi vehemently repudiates the slanderous, defamatory and vile accusations of the candidate Jair Bolsonaro against the indigenous peoples of Brazil, and expresses solidarity with them for the unjust offenses that they once again suffer," read part of the note from Cimi.
===
Brazil's indigenous population fights back
Indigenous under attack
In terms of environmental defenders killed in Brazil, 2017 was the bloodiest on record with 57 murders, making it the deadliest country in overall numbers according to a Global Witness report on worldwide murder of environmental activists.
Although indigenous people make up less than 1 percent of Brazil's population, a disproportionate number are being killed in land conflicts.
"Bolsonaro's authoritarian stance on crime and liberalized gun ownership could drive a brutal wave of rural conflicts benefitting powerful rural mafias vying for control over contested lands and resources," said Poirier.
Environmentalists were offered some brief relief on Thursday as press reports circulated claiming that Bolsonaro would not pull Brazil out of the Paris Climate Agreement if elected, something he had pledged to do in the past.
In 2017, 4.5 million hectares of Brazil's rainforest were destroyed, mostly due to illegal logging and deforestation
In his governing program, Bolsonaro only mentions the environment once — when he proposes a single ministry for environment, agriculture, fishing and rural development. Currently, separate ministries manage these issues.
"We will preserve the environment, but we will not disturb the lives of those producers in Brazil," he told viewers via Facebook live on Wednesday night ahead of the election, referring to agricultural production.
This came just a week after Bolsonaro's likely new agriculture minister, Luiz Antonio Nabhan Garcia, president of the conservative Democratic Association of Ruralists, compared the Paris agreement to "toilet paper."
Meanwhile, Bolsonaro's likely transport minister, retired general Oswaldo Ferreira, has pledged to build more hydroelectric dams in the Amazon to tackle Brazil's power shortage issues — despite environmental concerns.
THREATENED LIFELINE: THE TAPAJOS RIVER

Along the banks - The Munduruku people live mainly in forest regions and riverbanks, in villages spread along the Tapajos River in the Brazilian states of Para, Amazonas and Mato Grosso. With an estimated population of 12,000 to 15,000 people, the Munduruku are the most numerous indigenous group along the free-flowing Tapajos River.
Powerful agribusiness backing
Bolsonaro also has the backing of Brazil's powerful agricultural caucus in congress.
In an official note, Congresswoman Tereza Cristina, president of the Agriculture Parliamentary Front (FPA), said the caucus was "attending to the call of the national productive sector, from individual entrepreneurs to small farmers and representatives of big business."
Last year, the agricultural caucus pushed for legislation to reduce forest protections, give amnesty to land-grabbers and reduce indigenous land demarcations.
"The same threats to the Amazon from congress will continue," said Marcio Astrini, public policy coordinator at Greenpeace Brazil.
"The difference is that they have an ally in the president," he added.
Bolsonaro is greeted by supporters during an agribusiness fair in the Rio Grande do Sul state in southern Brazil
Some agribusiness companies are also concerned about Bolsonaro's environmental agenda.
Just before the presidential election, the Brazilian Coalition on Climate, Forests and Agriculture — including companies such as the biggest private soybean producer Amaggi and international food conglomerate Cargill — signed a public letter calling on the Brazilian government to protect the environment and stick to the Paris Agreement.
Brazil's agricultural sector depends on stable climatic conditions, which can only be ensured by conserving the rainforest, they said.
According to Carlos Nobre, a Brazilian scientist and senior member of the World Resources Institute, a tipping point for the Amazon forest to become savannah is closer than expected, due to climate change and forest fires.
"He would be much worse for Brazil than Trump in the United States," said Nobre of Bolsonaro.
Read also:
The voracious takers, their financial backers and their forces have tried since decades to steal Indigenous lands
New laws could hand miners 10% of Brazil's national parks and indigenous lands
Luke Parry - 06.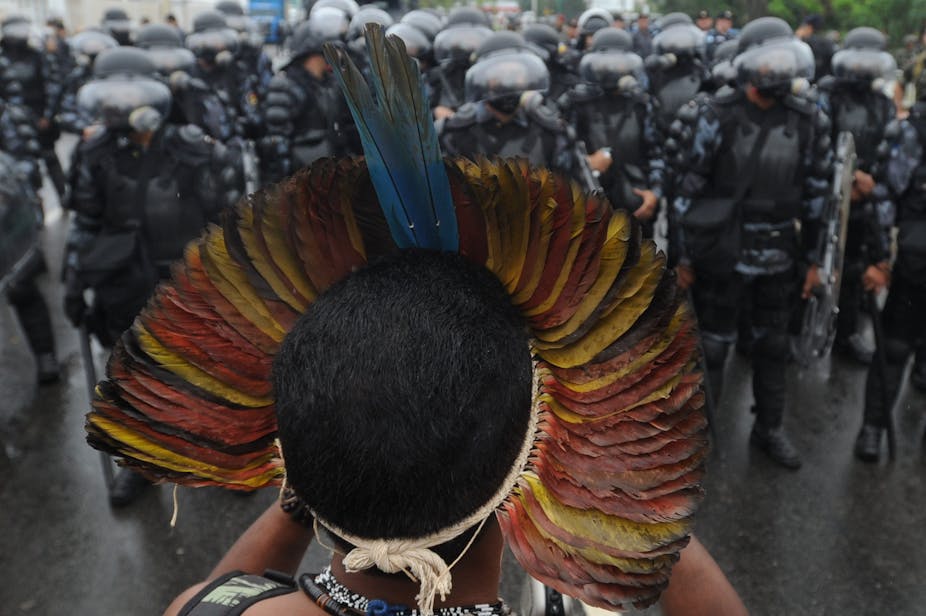 Plans before Brazil's congress pitch nature and tradition against development. EPA
All eyes are on Brazil following the re-election of Dilma Rousseff as president after an eventful campaign in which the strongly pro-environment candidate Marina Silva was squarely defeated.
Now, the country's green credentials are seriously at risk. In a new report in the journal Science, researchers from Brazil and the UK (including myself) highlight the danger of new plans to allow mining and dams in protected areas and indigenous lands.
Congressional debates to approve or reject proposed legislation will decide if Brazil will retain its hard-won status as what The Economist calls "the world leader in reducing environmental degradation".
The new government is at a crossroads: either maintain the integrity and long-term future of its globally significant ecosystems or favour industrial interests by allowing 10% of even strictly protected areas to be mined. While the proposals include mitigation measures (protecting land elsewhere) these are unrealistic and also inadequate because they fail to account for the indirect impacts of mines. Developing mines and hydropower dams in protected areas would represent a reversal for Brazilian law-makers and a body blow to environmental agencies, credited with drastically reducing Amazonian deforestation over the past decade.
Double the trouble
Mega-projects have mega-impacts and in the Amazon, mining and damming go hand in hand. Mining is energy intensive and is one of the underlying reasons for Brazil developing dozens of large hydropower plants in Amazonia.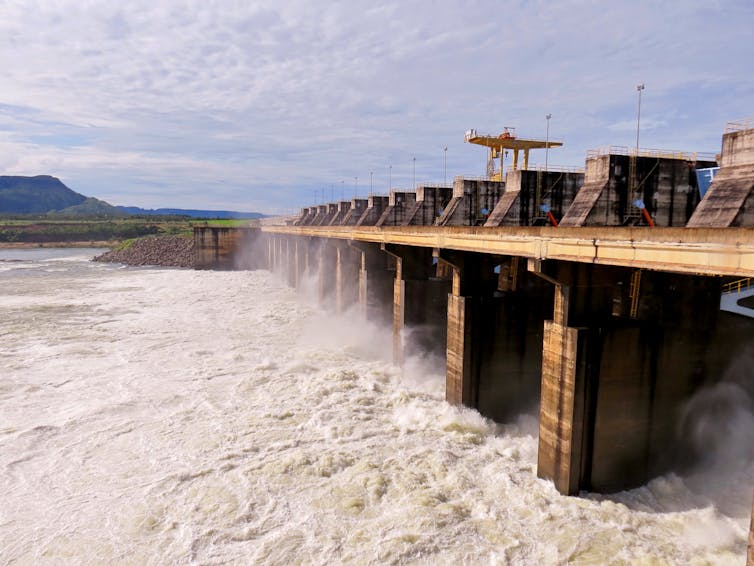 Hydroelectric dams can harm both society and the environment. For example, I was alarmed to see how severe flooding in Rondônia state this year led to economic paralysis and the spread of water-borne diseases in towns and countryside along the Madeira River. The flooding of the Madeira in both Brazil and upriver in Bolivia was suspected to have been caused by the recently completed Jirau hydropower dam. Under current plans, very few protected areas will remain free from the influence of hydroelectric dams.
Mining projects such as the enormous Carajás iron ore mine in eastern Amazonia, powered by construction of the controversial Tucuruí dam in the 1970s, are only the tip of the iceberg. Mineral extraction in Brazil is poised to expand into what were previously considered no-go areas for industrial development.
Our research found that in the Amazon alone 34,117km2 of strictly protected areas and 281,443km2 of indigenous lands are in areas of registered mining interest. Forget football fields, this is an area larger than the whole of the UK.
The direct impacts of mines and dams are eclipsed by the indirect effects, as thousands of workers follow mega-development projects into protected areas. Rapid population growth in service towns causes urban areas, roads and farmland to expand into surrounding forests.
Surplus to requirements?
By 2000, Brazil had created the world's largest protected area network, covering an enormous 2.2m km2 (an area the size of Greenland). These parks have been highly effective. For example, by reducing deforestation rates to only 10-15% of those in surrounding areas, Brazil's protected areas contribute to mitigating future climate change.
The beneficiaries of climate mitigation range from farmers in the south of Brazil who depend on Amazonia for their rainfall, to the poorest people in developing countries who stand to bear the brunt of global warming, sea-level rise and extreme climatic events.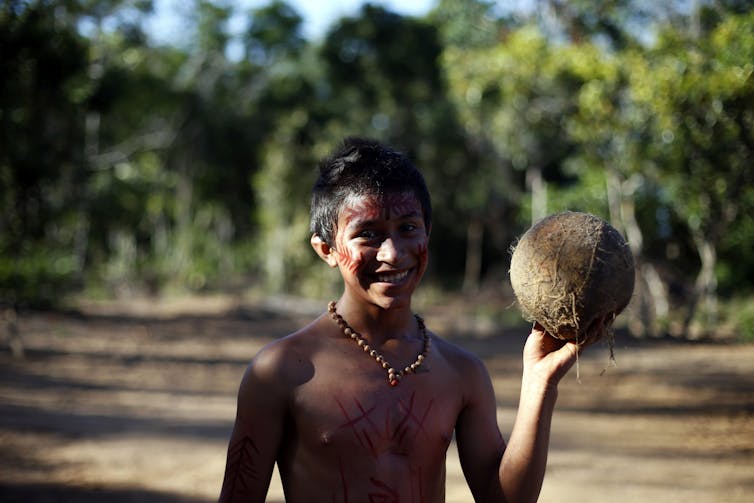 Brazil's protected areas go far beyond just saving the forests themselves and support traditional peoples, including rubber-tappers and Brazil-nut harvesters. In addition, indigenous lands provide a safe space to maintain the traditions and cultures of the country's 305 indigenous ethnic groups, including 69 uncontacted groups.
Searching for solutions
Get-rich-quick mining is not a new threat to Brazil's unique ecosystems. I have witnessed the decade-long struggle of a strictly protected area, the Jari Ecological Station in Pará, to remove illegal gold-mining from within its borders. However, it is harrowing to now see 71% of the park (an area larger than Greater London) being under official consideration for mining operations. Even if "only" 10% of the park is used for mining, indirect effects will change it for ever.
Relevant federal departments need adequate resources to ensure government decisions are made democratically and with reliable impact assessments. Chronic under-staffing in Brazil's protected areas means that many lack basic information on baseline environmental conditions and diversity of plants and animals. Buffer areas designed to protect parks from external threats are put at risk, and a lack of staffing and data puts ICMBio (the agency responsible for protecting parks) in a weak position from which to assess the potential impacts of dams or mining on the integrity of a park.
Brazil's population is growing and increasingly wealthy, which means higher demands for energy and food. Some difficult decisions will have to be made.
However, environmental impact assessments and mitigation measures (in some cases impossible to achieve and in most cases not implemented anyway) surrounding proposed mega-projects have fallen short of international best practice and largely ignore indirect impacts. I hope that Brazil reasserts its status as a leader of green development and does not legislate against her national treasures.
Author
Luke Parry - Lecturer in Ecosystem Services, Lancaster Environment Centre, Lancaster University
Disclosure statement
Luke Parry does not work for, consult, own shares in or receive funding from any company or organisation that would benefit from this article, and has disclosed no relevant affiliations beyond their academic appointment.
Partners

Lancaster University provides funding as a founding partner of The Conversation UK.
The Conversation is funded by the National Research Foundation, eight universities, including the Cape Peninsula University of Technology, Rhodes University, Stellenbosch University and the Universities of Cape Town, Johannesburg, Kwa-Zulu Natal, Pretoria, and South Africa. It is hosted by the Universities of the Witwatersrand and Western Cape, the African Population and Health Research Centre and the Nigerian Academy of Science. The Bill & Melinda Gates Foundation is a Strategic Partner. more

We believe in the free flow of information
Republish our articles for free, online or in print, under Creative Commons licence.