Kenyan Statesman Moi and Kenyan Super Tusker Tim Pass On the Same Day
Kenyans are mourning the loss of two icons on the very same day - one from the human and one from the animal kingdom
Former Kenyan President Daniel arap Moi dies at 95 and Tim, the Tusker, at 50.
By VF/jb/agencies - 04. February 2020
Kenya is mourning the passing of former president Daniel Torotich arap Moi. Moi, who came from simple pastoral roots and ruled for decades, died on Tuesday at the age of 95. He ruled the country from 1978 to 2002.
Under Moi's reign of 24 years Kenya was an island of political stability in Africa. But that came at a cost for his adversaries, because Moi's rule was authoritarian - benevolent, but unwavering.
He appeared mostly with his ivory trademark rungu (staff/club), which denotes leadership among his people.
"Kirungu" — the one with the staff. That's what Kenyans jokingly called their second president.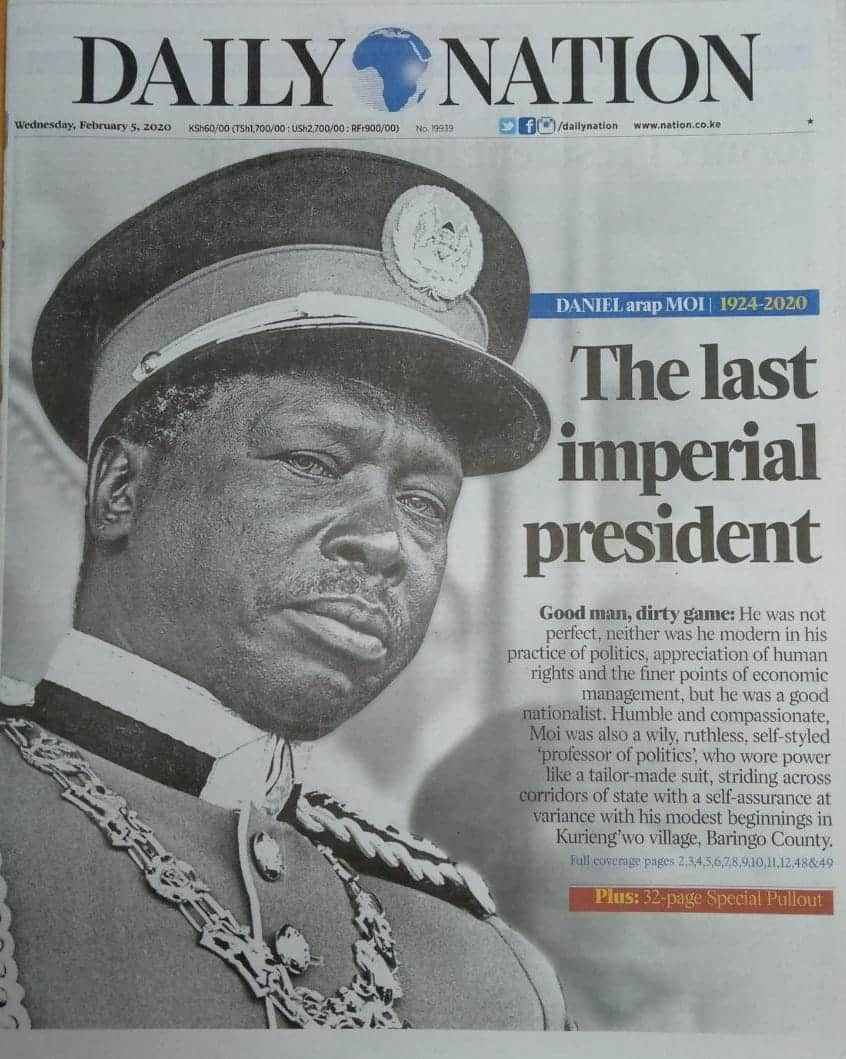 Moi was born in the village of Kurieng'wo in the country's Rift Valley Province on 2 September, 1924. The name Toroitich refers to his roots as the son of a cattle herder. Moi's father died when he was four and an uncle took him in, allowing him to attend school and qualify as a teacher.
He graduated from Kapsabet Teacher Training College; from 1945 to 1947, he taught classes; and he was later the headmaster of a government school.
He married Helena Bommet in 1950. They had five sons and two daughters and adopted a third daughter. The couple separated in 1974. His wife, known as Lena, died in 2004, and their son Jonathan died last year. Mr. Moi is survived by their sons Gideon, Philip, Raymond and John Mark, and their daughters Jennifer, Doris and June. His only brother, William Tuitoek, died in 1995.
He went on to become one of the few Kenyans elected to serve in the British constitutional council in 1955. He was not directly involved in the Kikuyu-led and bloody Mau Mau independence rebellion of the 1950s, but sympathized with the movement and once harbored five fugitives at his home. However, Moi supported the movement and one of its prominent supporters, Jomo Kenyatta, even visiting the country's eventual first post-independence president in prison.
Moi was a member of the Kenya African Democratic Union (KADU), campaigning in contrast to Kenyatta's Kenyan African National Union (KANU) for a federal system. Furthermore, Moi's party concerned itself with the interests of his own ethnic group, the Kalenjin, and other smaller groups in ethnically diverse Kenya. Kenyatta was a member of the more populous ethnic Kikuyu group.
The Kenyan Mau Mau freedom fighter and rebel leader Dedan Kimathi, who was captured by the British and executed in the 1950s, was a hero of South Africa's anti-Apartheid icon Nelson Mandela
When Britain bowed to massive resistance in 1963 and gave up its colonial rule, Kenyatta convinced his rival Moi to merge the parties. Kenya effectively became a de facto one-party state. Moi was named interior minister and, in 1967, Kenyatta appointed him as vice president — despite resistance from the influential Kikuyu elite. After the death of Kenyatta at age 84 in 1978, Moi was elected — as sole candidate — as president. Three years later, he decreed Kenya a constitutional one-party state.
Moi cherished living a healthy life guided by strict wholesome diets. He enjoyed eating traditional foods and among his favourite dishes was boiled maize, porridge and potatoes. The former administrator loved punctuality and lived his life advising his juniors and colleagues to live a sober life free from alcohol.
In Baringo county, his homeland, Moi ordered bars and pubs in Sacho and Tenges divisions to be shut down in the early 1980s, a directive that has remained effective to date.
The locals were bitter, angry and frustrated at first, but surprisingly, they are now happy and are hailing the late KANU leader for enforcing the anti-alcohol policy in the area. In Sacho where Moi was born and brought up, Wilfred Toroitich stated, alcoholism was at its peak and people would be found lying by the road dead drunk, but after the ban the move saw their children go to school and later acquiring jobs; thanks to Moi.
Hard actions against opponents
Unlike his predecessor, Moi sought contact with citizens and regularly traveled across the country. At the same time, he did all he could to ensure government positions and properties for ethnic Kalenjin.
Press freedom shrank under his presidency, which Kenyans until recently claimed led to Moi holding shares in one of the largest media concerns in the country.
When forces loyal to the government foiled a coup in 1982, Moi's reaction was heavy-handed. The coup attempt left more than 120 people dead and led to the arrest of around 900 more, with 12 coup plotters sentenced to death.
President Moi reviewing an honor guard in Nairobi at his swearing-in ceremony in January 1998. In 1982, after crushing an uprising by air force officers, he ordered the arrest of the entire 2,100-member air corps. Hundreds were imprisoned or executed. Credit...Geroge Mulala/Reuters
The president also clamped down hard on opponents within his party. Moi accused the then justice minister Charles Mugane Njonjo of betrayal. After legal proceedings, Njonjo was forced to resign for trying to force Moi from office. The internationally-esteemed foreign minister, Robert Ouko, was brutally killed after he publically denounced the abuse of office and called for a probe into corruption allegations. Ten years later, and after many aborted attempts, a parliamentary inquiry determined that Ouko was killed in Moi's residence. Several witnesses to the incident had in the meantime died in mysterious circumstances, the inquiry found. Meanwhile, other opponents such as Kenneth Matiba and Raila Odinga were jailed without trial.
On 7 July 1990, police and the military violently broke up the first demonstration to call for a multi-party political system. More than 20 people were killed in what became known as the "Saba Saba" (Seven, Seven in Kiswahili) Day.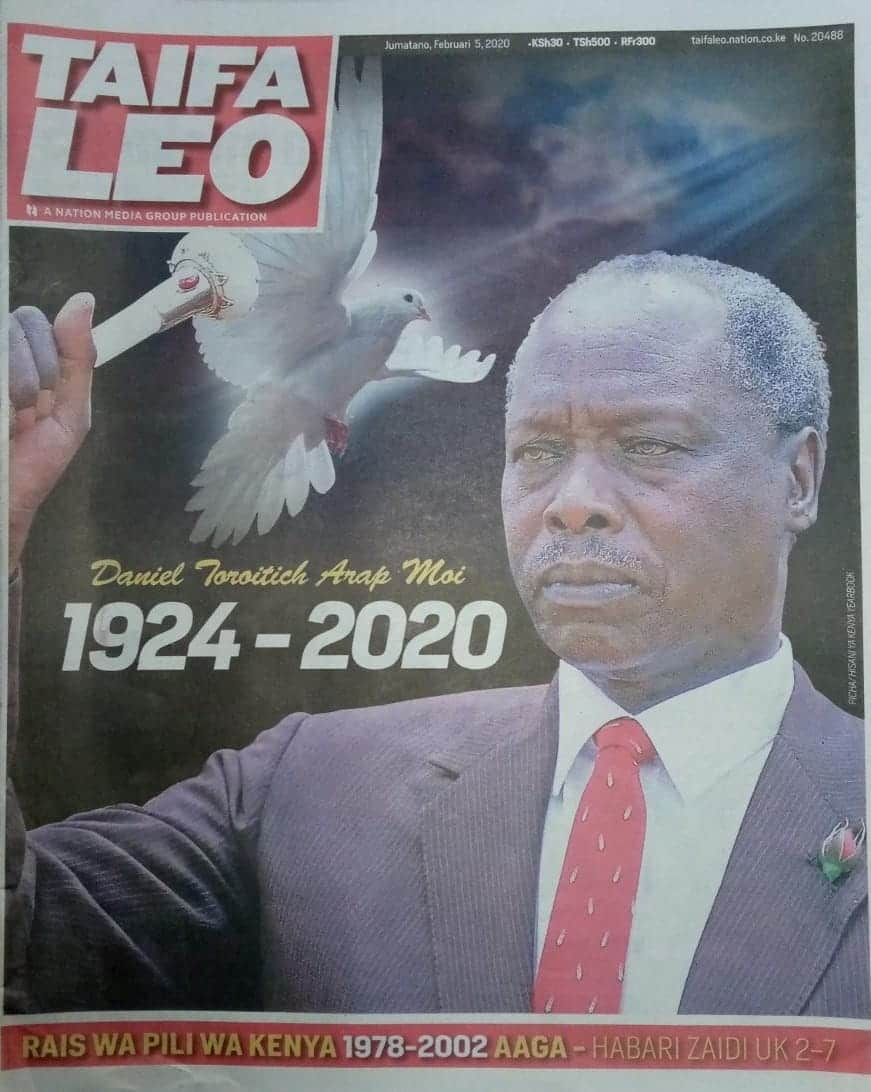 Competition for KANU
Massive international pressure ultimately forced Moi to introduce a multi-party system in 1991 and at the end of the following year, Kenyans cast their ballots in a general election involving different parties.
However, a divided opposition played into Moi's hands. There was also talk of electoral fraud and the vote was accompanied by excessive violence.
Five years later, a similar situation prevailed during elections. Moi emerged the winner — despite a majority of votes against him — because the opposition had failed to agree on a candidate.
Unlike the imperial Mr. Kenyatta, who governed behind closed doors, former president Moi traveled the country, courting its ethnic groups and gaining wide popularity. He introduced free milk for children, and pledged to do away with endemic graft and elevate Kenya's struggling tourism-and-agriculture economy. He won Western support with anticommunist policies during the Cold War.
Moi won five successive elections. In 1979, 1983 and 1988, he and his Kenya African National Union ran unopposed.
Moi provoked fierce international protest in 2002, when he sought to delay parliamentary elections to negotiate a new constitution that would extend his stay in power. However, the election went ahead and Moi's decision to ensure to put forward the young and politically inexperienced son of Kenyatta, Uhuru Kenyatta, as a presidential candidate was cause for much internal party debate.
Indeed, Moi's strategy of ensuring a majority for KANU via a Kikuyu candidate backfired His protégé was to win the top job only 11 years later. Instead, Mwai Kibaki of the National Rainbow Coalition was elected president in 2002.
He was Kenya's longest serving president and his 24 years in office ended on 30 December 2002.
Daniel arap Moi at a rally in Nairobi, Kenya, in 2002. Credit...Karel Prinsloo/Associated Press
As Mr. Moi retired, his successors found even more corruption and human rights abuses than had been suspected. A 2003 inquiry exposed torture cells at Nyayo House in Nairobi, a government building where dungeons yielded evidence supporting the accounts of victims.
Mr. Moi was never prosecuted, though corruption inquiries implicated him and his family. Kenya in 2003 found $1 billion in stolen funds in overseas accounts. Others in his administration were pursued, but Mr. Moi was treated as an elder statesman.
"We recognize that former President Daniel arap Moi is an important democratic commodity, not only for us, but for Africa," Mr. Kibaki's anticorruption chief, John Githongo, told The New York Times in 2003. "He is treated special. He is different. He's just not any other guy."
A state funeral is prepared for 12. February 2020. Kenya has only had four state funerals and they include that of founding President Jomo Kenyatta, former Vice President Kijana Wamalwa, Lucy Kibaki (wife to retired President Mwai Kibaki) and environmentalist Wangari Maathai.
Nature Protection
Former president Moi will not only be remembered for being the first African president handing over power peacefully, but also for his support of nature protection and wildlife conservation.
He played key role in conserving the environment and used to tell the the people to ensure they plant trees in place of one cut. The environment around Tenges and Sacho is calm with a cool breeze courtesy of the late president's initiative. People were provided with free tree seedlings which they planted.
Samuel Kimuge remembered Moi for creating employment for people involved in gabion construction to prevent soil erosion. Those who never went to school, he said, benefited the most from the project as they would often be given maize and an additional stipend of KSh 300 at the end of the week. "Those who participated in gabion construction earned a living, they were paid and each day got some kilograms of maize," said Kimuge.
Soon after President Moi lit the 20-foot pile, artfully arranged by a pyrotechnist who specializes in creating fires for movie sets, flames roared upward, blackening and heating the tusks and rendered them to rubble.
Cabinet ministers, diplomats, land owners from the highlands and conservationists came out to the Nairobi National Park to see the show. The fire was intended as a statement of the Government's political will to stop the poaching that has reduced Kenya's elephant herds to 17,000 from 65,000 in 1979.
''To stop the poacher, the trader must be also be stopped and to stop the trader, the final buyer must be convinced not to buy ivory,'' President Moi said. ''I appeal to people all over the world to stop buying ivory.''
Fear for Tourism
Underlying the call for a ban is the worry that tourism, which is the country's biggest foreign-exchange earner, will fall off if the elephant disappears.
President Moi said Kenya had decided to burn the stored ivory because it could not urge people not to buy ivory jewelery or carved ornaments and at the same time allow ivory's sale.
The tusks, each marked for weight and size, represented more than 2,000 elephants shot during the last four years. On the open market, the tusks could have brought about $3 million. Most were recovered by the Wildlife Conservation Department from elephants that poachers had shot but left behind, said Iain Douglas Hamilton, a leading authority on elephants. ''But this is a tiny fraction of what was killed,'' Mr. Douglas Hamilton said.
The cache of ivory, which had been in a Government storehouse in Nairobi after collection by game wardens, told a lot about Kenya's elephants, he said. ''There is a dearth of big tusks and a heavy preponderence of female,'' he said. ''The males were largely wiped out years ago'' because of larger tusks.
Strategy for a Ban
The burning, apparently the idea of the then new director of the Kenyan Wildlife Conservation Department, Richard E. Leakey, was also organized to emphasize Kenya's determination to win a formal ban on ivory trade at a meeting in Switzerland in that year.
There, both ivory producing and consuming countries, who are members of the Convention on International Trade in Endangered Species (CITES), were to decide whether to declare the elephant an endangered species. Such a declaration would ban trade in elephant products: ivory, skin, meat and hair. South Africa has already said it will not abide by such a ban because its own conservation measures are adequate.
Wildlife officials in Zimbabwe and South Africa, where elephant herds are better protected and the proceeds from sales go back into conservation, described the bonfire as a publicity stunt.
Leakey did not deny that the bonfire was arranged to seek publicity - the Washington firm of Black, Manafort & Stone, Kenya's new lobbying representative in Washington, sent a representative to help organize the event - but he said he was convinced the burning of ivory would generate funds abroad far outweighing the $3 million worth of tusks.
The ban to place African elephants on he list of fully protected species during the CITES meeting in Switzerland didn't come through, but at the CITES convention in Ottawa a moratorium, proposed by Somalia, that broke the stalemate between the camps of the protectors and the users, succeeded. A 10 year ban brought peace to the elephants all over Africa and the populations recovered. Unfortunately that trend was then broken by corrupted CITES itself by allowing sales e.g. from Zimbawe.
==========
Tim: Iconic Amboseli elephant known for its big tusks is dead
One of the last remaining great "tusker" elephants in Kenya has died aged 50.
By VF/et/Erick Kombo Ndubi - 04. February 2020
- Tim was found dead at Mada area in Amboseli National Park on Tuesday, February 4
- He was among the last standing male elephants from the T family which is known to big tusks
- His remains have been transferred to Kenya National Museums in Nairobi for preservation
Kenya's iconic elephant, Tim, known for his big tusks has passed in the early morning hours of 04. February 2020 at Amboseli National Park, the Kenya Wildlife Service (KWS) reported - with the message going viral.
Tim, the 50-year-old tusker, was found dead in the morning of Tuesday, February 4, at Mada area where he used to roam around with other female elephants.
African bull elephants are referred to as "tuskers" when their tusks grow so long that they reach the ground.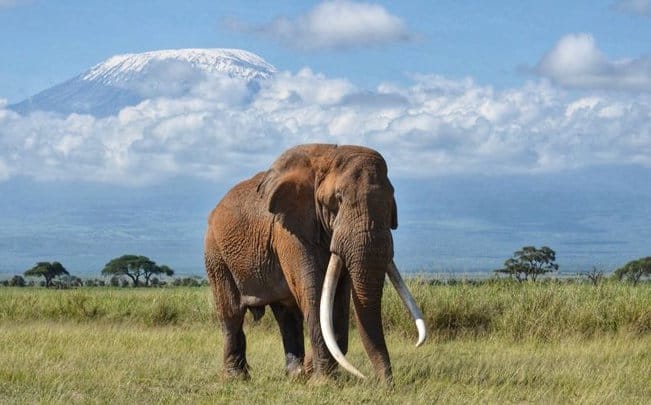 Tim was found dead at Mada area in Amboseli National Park. Photo: Wildlife Direct
In a statement issued by Kenya Wildlife Service, it is said that his remains were transferred to the National Museums of Kenya in Nairobi to prepare the body for preservation and education purposes. Tim's tusks are said to weigh more than 45kg (100lbs) each.
Tim died of natural causes in Amboseli National Park, according to KWS, who said Tim was "well known and loved throughout the country".
He was also well-known in the area due to his crop-raiding habits. During his lifetime, he was speared three times.
In an effort to keep him safe and protect locals' crops, a team comprised of animal protection groups and KWS placed a collar on him. They were able to monitor him more closely and send a team to try and stop his crop raiding habit.
Once the team knew he was approaching crops, they would attempt to intercept him, although he quickly learnt to bypass them.
'Tim was mischievous'
During the first year of radio-observation, he made 183 attempts to enter farmlands and raid crops.
The monitoring team were able to stop around 50% of these from going any further.
Former Save the Elephants field assistant Ryan Wilkie said: "Tim was a special elephant - not just to me but to hundreds, thousands of people who would flock to Amboseli just for the chance to see him.
"He was so incredibly intelligent, mischievous, yes, but also a truly gentle giant and in that way a real ambassador for his species."
"Elephant families are matriarchal and males are solitary from the group when they reach sexual maturity. But Tim was always welcome to travel in the company of females and their families," the KWS statement read in part.
According to KWS director-general John Waweru, the pride of Kenya died out of old age.
Tim was one of the last remaining breeds of Africa's big tuskers that has been roaming in the park for years.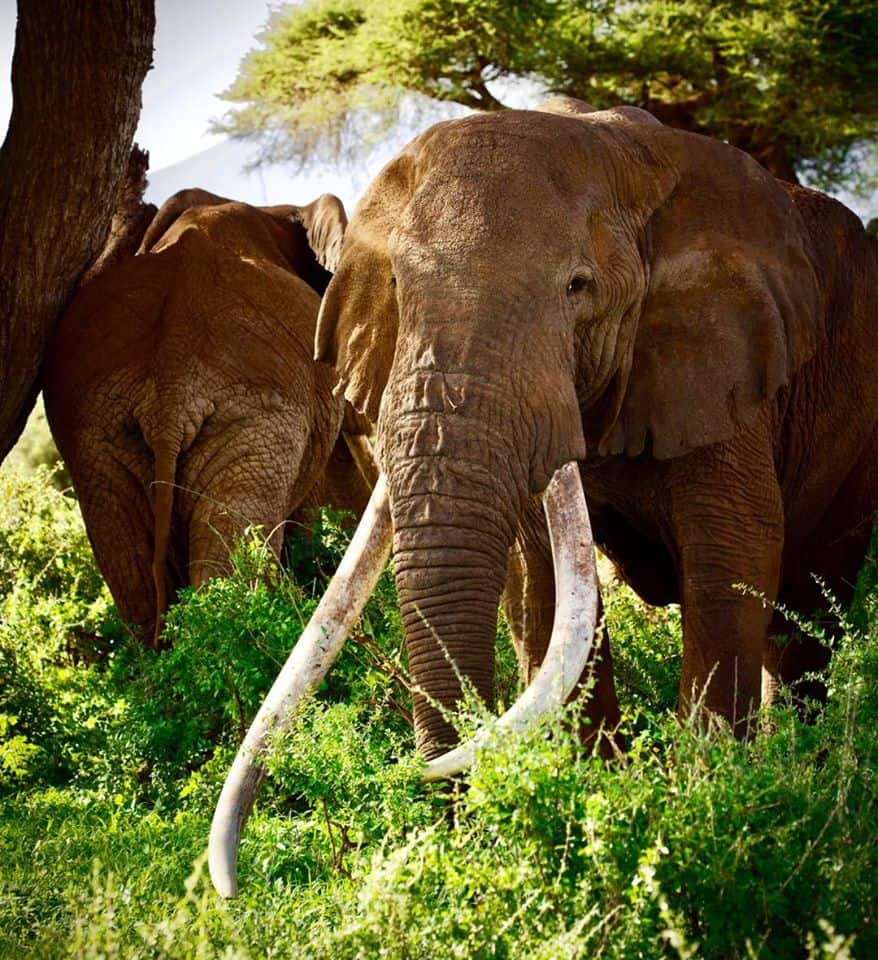 Tim was well known for his big tusks. Photo: John Waweru
Tim nearly died and was on the limelight in 2018, when he got stuck in a muddy swamp at the Amboseli swamps in Kimana sanctuary but was rescued by conservationists who used a tractor and land cruisers to pull him out in an operation that took four hours.
The iconic elephant had over the years survived several spear wounds inflicted on him not by poachers but by people living near the park.
In 2016, the tusker was speared in the head and to the surprise of many, walked itself to the conservationists who removed the spear.
In 2014, he was spotted limping around the park only for conservationists to discover he had been speared in the rump and the wound turned septic.
They smeared the infected area with green clay which has antibacterial properties and he soon recovered.
Kenyans on social media have since sent their tribute to the fallen icon.
I am very saddened to hear this morning that Tim - probably the world's most famous elephant - has passed away at the good old age of 50.

This is sad news, but it is no tragedy -today we should celebrate his life and the efforts of all those in Amboseli.
#RIP_Tim @The_Big_Tusker
Iconic Tim-the big Tusker is dead.

The celebrated elephant died early Tuesday morning aged fifty years in Madaarea of Amboseli National Park.
Hussein Loxontonta @Hus_Loxodonta

On the occasion of Tim of Amboseli death, I hereby request President Uhuru to order flags be flies quarter mast (half for Moi, quarter for Tim) and Matiangi to gazette a day so that we can all go to Amboseli and mourn Tim #JKIA #GuardiansOfTheCorrupt
WHAT THE TWO ICONS HAD IN COMMON: THEY NEVER FORGOT
VIDEO TRANSCRIPT:
Alex Gendler - TED-Ed
Why elephants never forget
00:06
It's a common saying that elephants never forget, but these magnificent animals are more than giant walking hard drives. The more we learn about elephants, the more it appears that their impressive memory is only one aspect of an incredible intelligence that makes them some of the most social, creative, and benevolent creatures on Earth. \00:27
Unlike many proverbs, the one about elephant memory is scientifically accurate. Elephants know every member in their herd, able to recognize as many as 30 companions by sight or smell. This is a great help when migrating or encountering other potentially hostile elephants. They also remember and distinguish particular cues that signal danger and can recall important locations long after their last visit.
00:53
But it's the memories unrelated to survival that are the most fascinating. Elephants remember not only their herd companions but other creatures who have made a strong impression on them. In one case, two circus elephants that had briefly performed together rejoiced when crossing paths 23 years later. This recognition isn't limited to others of their species. Elephants have also recognized humans they've bonded with after decades apart.
01:23
All of this shows that elephant memory goes beyond responses to stimuli. Looking inside their heads, we can see why. The elephant boasts the largest brain of any land mammal, as well as an impressive encephalization quotient. This is the size of the brain relative to what we'd expect for an animal's body size, and the elephant's EQ is nearly as high as a chimpanzee's. And despite the distant relation, convergent evolution has made it remarkably similar to the human brain, with as many neurons and synapses and a highly developed hippocampus and cerebral cortex.
01:59
It is the hippocampus, strongly associated with emotion, that aids recollection by encoding important experiences into long-term memories. The ability to distinguish this importance makes elephant memory a complex and adaptable faculty beyond rote memorization. It's what allows elephants who survived a drought in their youth to recognize its warning signs in adulthood, which is why clans with older matriarchs have higher survival rates. Unfortunately, it's also what makes elephants one of the few non-human animals to suffer from post-traumatic stress disorder.
02:34
The cerebral cortex, on the other hand, enables problem solving, which elephants display in many creative ways. They also tackle problems cooperatively, sometimes even outwitting the researchers and manipulating their partners. And they've grasped basic arithmetic, keeping track of the relative amounts of fruit in two baskets after multiple changes.
02:56
The rare combination of memory and problem solving can explain some of elephants' most clever behaviors, but it doesn't explain some of the things we're just beginning to learn about their mental lives. Elephants communicate using everything from body signals and vocalizations, to infrasound rumbles that can be heard kilometers away. And their understanding of syntax suggests that they have their own language and grammar. This sense of language may even go beyond simple communication. Elephants create art by carefully choosing and combining different colors and elements. They can also recognize twelve distinct tones of music and recreate melodies. And yes, there is an elephant band.
03:39
But perhaps the most amazing thing about elephants is a capacity even more important than cleverness: their sense of empathy, altruism, and justice. Elephants are the only non-human animals to mourn their dead, performing burial rituals and returning to visit graves. They have shown concern for other species, as well. One working elephant refused to set a log down into a hole where a dog was sleeping, while elephants encountering injured humans have sometimes stood guard and gently comforted them with their trunk. On the other hand, elephant attacks on human villages have usually occurred right after massive poachings or cullings, suggesting deliberate revenge.
04:23
When we consider all this evidence, along with the fact that elephants are one of the few species who can recognize themselves in a mirror, it's hard to escape the conclusion that they are conscious, intelligent, and emotional beings. Unfortunately, humanity's treatment of elephants does not reflect this, as they continue to suffer from habitat destruction in Asia, ivory poaching in Africa, and mistreatment in captivity worldwide. Given what we now know about elephants and what they continue to teach us about animal intelligence, it is more important than ever to ensure that what the English poet John Donne described as "nature's great masterpiece" does not vanish from the world's canvas.
Super Tuskers - Tim and Craig
Meeting Tim once again was such a pleasure and to see him with Craig was a blessing. Tim and Craig are some of the last remaining true Super Tuskers of Africa. Bulls with tusks over 100 pounds per side. Nowadays bull elephants have much smaller tusks. The genes to produce such massive ivory has been gradually and selectively targetted by hunters as well as poachers. This is hence one of the last icons of an Africa of old and how it was when thousands of such giant tuskers roamed the continent.
Treating a Giant Bull Elephant Named 'Tim'!
It was Monday 10 November when we heard the news, Tim the famous Amboseli Tusker had a serious injury and ground teams had been unable to locate him. It is the type of news you dread, and immediately brings to mind two other mighty Tuskers of Kenya, Mountain Bull and Satao, both killed this year by poachers.
By Dr Dame Daphne Sheldrick DBE ♦ - 15. November 2017
Rapid helicopter response with our partners KWS ensures the mighty bull elephant named 'Tim' receives emergency treatment for a deep spear wound.
The DSWT's helicopter was requested by the Kenya Wildlife Service (KWS) to help locate Tim and within 20 minutes of the call it was airborne. KWS Vet Dr. Njoroge who heads the DSWT funded Amboseli Mobile Vet Team was collected, along with a KWS Ranger to help spot the injured bull elephant.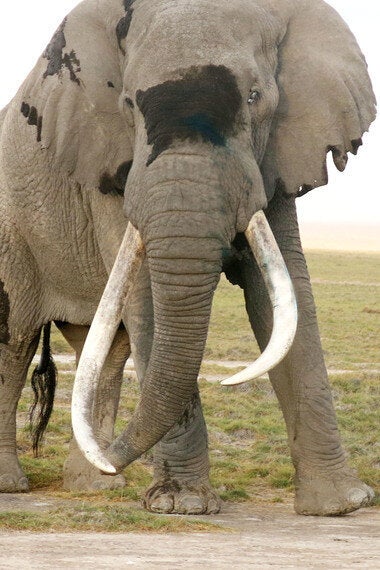 Tim, a giant of Amboseli
Within 45 minutes the team had located the 45 year old elephant in thick bush. He was shepherded into a clearing by the helicopter, Dr. Njoroge prepared the anaesthetic and from his aerial vantage point safely darted Tim.
Nine minutes later Tim lay on the ground, behind him Mount Kilimanjaro, sitting framed within his enormous tusks. The team quickly got to work, treating the septic wound caused by a spear, removing dead flesh and packing the area with healing green clay.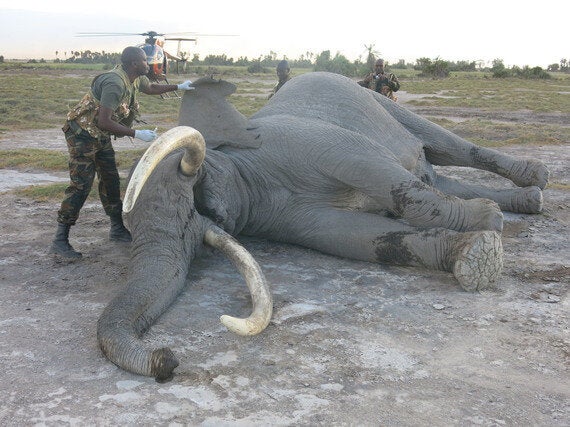 Safely darted, KWS Vet Dr. Njoroge quickly gets to work in treating Tim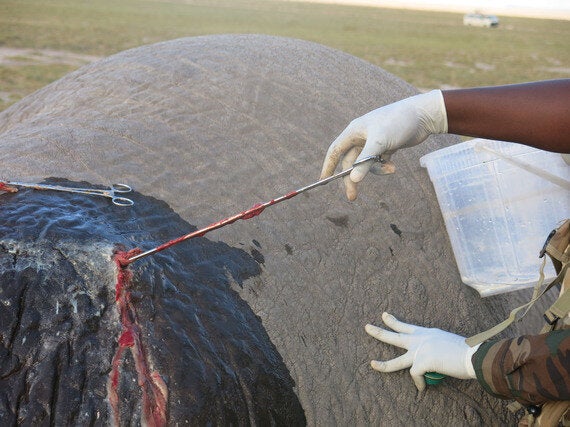 Cleaning out the septic spear wound and removing dead flesh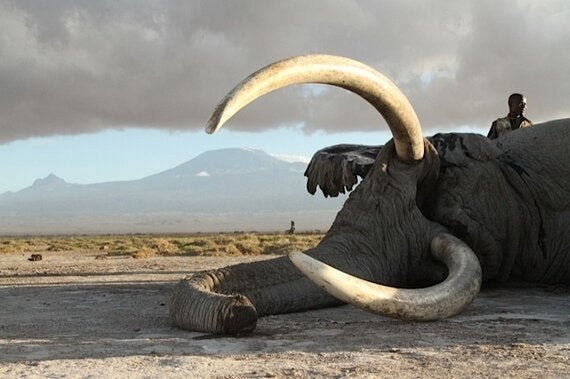 Casting a frame around Mount Kilimanjaro
This intrusion on Tim's life took only 25 minutes; a minuscule period of time in the life of an elephant that has lived 45 years. But a critically important moment of time, for without the emergency veterinary treatment, 45 years could have been the final number for Tim.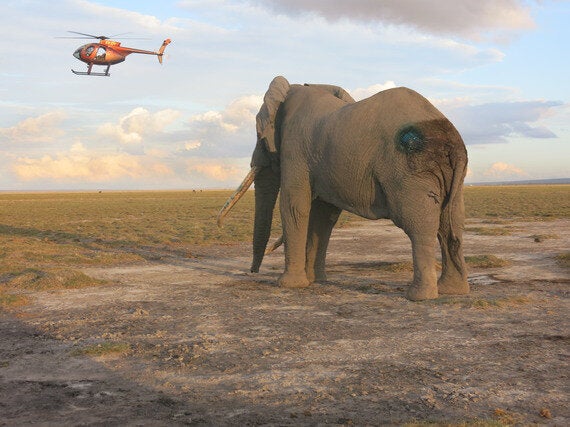 Post operation, Tim watches his helpers depart
As Tim now continues to take his mighty strides across the savannah, it affords a moment of deep reflection. There can be few greater rewards than helping one of Africa's, and the world's, great Tuskers, but one would be a decision by China to ban the sale of ivory, a trade that is decimating elephant populations. While we cannot know whether Tim's injury was the result of a poaching attempt or human-wildlife conflict, the reality is that it's in China's hands to turn the tide for elephants. To afford this intelligent, caring and environmentally critical species the level of respect, love, protection and support it deserves - in much the same way as the Panda is revered and protected in China. So for the sake of Tim and the 300,000 - 350,000 remaining elephants of Africa, and in honour of Satao, Mountain Bull and the 35,000 elephants being killed every year for their ivory, we implore the people of China and the world to please join those of us standing up for elephants, for together we truly can secure their future in the wild.
Watch the video of the DSWT/KWS team treating Tim