PROLOGUE: The present politicians in the governance of Australia are the worst stewards for nature, the land and the people since humans set foot on Australia. The list of grave mistakes, missing foresight and failed disaster responses is endless and only surpassed by their individual and collective greed.
'Koala massacre' feared in Victoria's south-west
Victorian wildlife authorities are investigating reports of a "koala massacre" in the state's south-west, with hundreds of the marsupials alleged to have been starved when their habitat was logged, their bodies then bulldozed into waste piles.
Volunteers and government workers were on the scene at Cape Bridgewater on Sunday, trying to rescue dozens of surviving koalas.
The deaths are believed to be the result of clear-fell logging of a plantation of bluegum trees, according to conservation group Friends of the Earth, with the operation leaving hundreds of koalas to starve, a version of events disputed by the logging industry.
Friends of the Earth said the "koala massacre" came to light when local activists saw bulldozers pushing the bodies of dead koalas into waste piles left over from the main logging operations.
The logging industry group said on Sunday that the forestry contractor who harvested the bluegum plantation in November followed all of the stringent wildlife protocols in place to protect koalas.
The Australian Forest Products Association says the land and its remaining trees were bulldozed after the contractor had left, with the lobby group pledging to hold its own investigation into the incident.
The Department of Environment, Land, Water and Planning confirmed on Sunday morning that it had been at Cape Bridgewater, about 14 kilometres west of Portland, for several days and had rescued a number of animals.
The news comes after many thousands of koala deaths in the bushfires that ravaged the east and north of the state in December and January.
The department said it was prepared to prosecute over the events.
"We are extremely concerned about these reports of a koala population on private land near Cape Bridgewater where animals are showing signs of starvation and injury," a spokeswoman said.
"The conservation regulator is currently investigating this matter, with the department.
"If this is found to be due to deliberate human action, we expect the conservation regulator to act swiftly against those responsible."
The departmental spokeswoman said the rescue and recovery operation was set to continue in the coming days.
"Wildlife welfare assessment and triage will continue with qualified carers and vets," she said.
"[The department] will be onsite ensuring resources and expertise is available to continue to care for wildlife injured."
Australian Forest Products Association chief executive Ross Hampton condemned those responsible for the koala deaths and injuries.
"All those who work in our forest industries join with the community in appalled shock at what appears to be a callous act of animal cruelty," Mr Hampton said.
"It is unclear as yet who bulldozed the trees with the koalas apparently still in them, but it is absolutely certain that this was not a plantation or a forestry company.
"We support all those calling for the full force of the law to be applied to the perpetrator."
===
Ready for burning 500 killed Koalas which have been bulldozed into slash piles
By Bob Brown Foundation - 01. February 2020
Under Coalition's Scomo laws anyone blocking these koala killers faces a year in jail.
Koala death rate now highest since great Aussie shoot-for-fur slaughter of the 1920s.
Where is Labor Premier Daniel Andrews?
Congratulations Friends of the Earth Australia for exposing this shocker.
From researchers: 12-14 km west of Portland. Some of the hundreds of koalas killed during logging of bluegum plantation this week. Company doing logging is South West Fibre, a joint venture between Midway and Mitsui. Latest report suggests 500 koalas have been bulldozed into slash piles. Ready for burning.
* Bob Brown is an outspoken and steadfast environmental defender and former Australian politician
===
UPDATE:
Daniel Andrews' stern warning to land owners after 'terrible' koala logging deaths
'Full force of the law'
An investigation is underway by the conservation regulator and environment department and the premier says anyone found to have done the wrong thing will face a "very stern penalty".
"It's not for the landowner to be telling people what's OK and what isn't, this notion that quote-on-quote 'it wasn't that bad', that's simply wrong," Mr Andrews told reporters on Tuesday.
"This is a terrible incident, it's going to be properly investigated and it won't be for those who have been involved in it to clear themselves.
"If anyone has done the wrong thing and that can be established, then they will feel the full force of the law."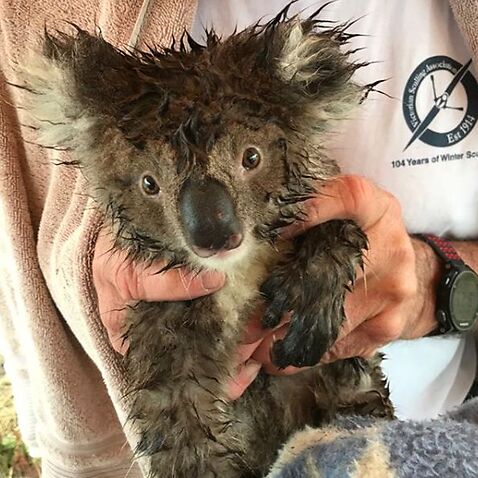 Environment Minister Lily D'Ambrosio had earlier decried what she described as the "abysmal act" and vowed to prosecute those responsible with the full force of the law.
Plantation hardwood processing company South West Fibre has denied being responsible for the koala deaths, saying it complied with all legal obligations during its works in October.
"Following the work the site was handed back to the landowner in November 2019," a statement from the company says.
"SWF left an appropriate number of 'habitat trees' for the existing koala population and provided details of such in a letter to the landowner noting that the koalas were uninjured and in good health."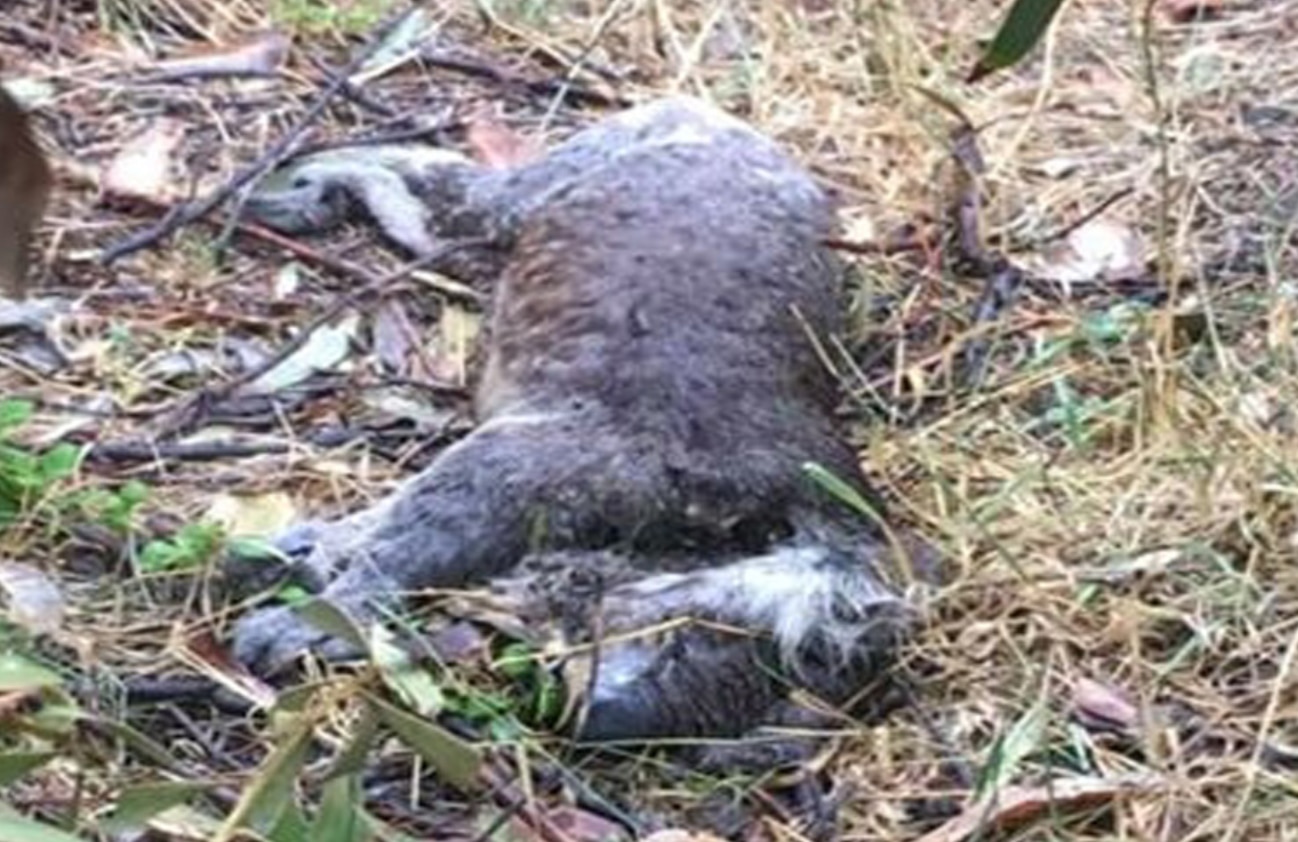 One of the dead koalas at the site. Photo creit: Friends of the Earth
According to the company, the remaining trees have since been cleared.
Industry body Australian Forest Products Association backed the claims from South West Fibre, condemning the "senseless koala deaths uncovered on a private property by a nature group".
"I'm advised that the operators were so careful that they even took an injured koala which they found during inspection to the vet," Australian Forest Products CEO Ross Hampton said.
The AFPA plans to conduct its own investigation parallel to that of the state government and confirmed the land was handed back to the owner before Christmas.
The owner of the farm declined to comment when contacted by AAP.
===
Victorian farmer defends logging after dozens of koala deaths
Vets with compassion have been flown in to care for injured koala's in Victoria Source: Animals Australia
The deaths of dozens of koalas during logging operations at a private property in Victoria's south-west are being investigated.
BY BETHAN SMOLENIEC, ABBY DINHAM - 02. January 2020
The owner of a private farm near Portland in Victoria - where at least 40 koalas have died and 80 others have been found injured - has defended his management of the property, as Victoria's state government launches an investigation into the incident.
Photographs of the maimed koalas sparked public outrage around the world after being shared on social media.
But the landowner - who said he is horrified by what has occurred - said that the number of deaths has been inflated online.
He also said that overpopulation of koalas had resulted in the deaths.
"I did not seek to deliberately doze koalas to death. I am not a killer, I am a farmer, we care too," he said.
'It is not the first time'
Conservation group Friends of Earth (FOE) posted the koala photos online in the hope it would lead to stricter regulations.
The organisation's land-use researcher Anthony Amis said: "It's disturbing because it is not the first time it has happened in the south-west".
"In 2013, similar issues were reported by the press and in 2014, 2015 we were getting reports in from animal carers down there that similar instances were happening - this particular incident seems to be the worst of the lot," he said.
"In south-west Victoria, in the last 20 years there were about 150-200,000 hectares of blue gum plantation planted - koalas love blue gums - so as this industry has moved into the area, koalas have moved into these plantations, then the plantations are logged after 15 years … that's the disaster."
'It's a slap on the wrist'
The state government is investigating whether the incident breaches the Wildlife Act 1975 - which protects koalas from being killed, harassed or disturbed and can attract a fine of $8,000 and an additional fine of more than $800 per animal.
Those convicted can also face six months imprisonment and a lawyer at Environmental Justice Australia, Bruce Lindsay, told SBS News that the government could possibly investigate two other laws as well; one being "the prevention of cruelty to animals act".
"The third area of law is actually the regulation of forestry itself; there is a code of practice which includes the management of plantations and also the protection of biodiversity at plantations," he said.
But Mr Amis said the penalties do not go far enough and are the equivalent of a "slap on the wrist", doing little to deter individuals or logging companies from repeat offending.
"Potentially, even if this guy goes through the court process and is found guilty, could be up to a maybe a $10-20,000 fine max," he said.
"The wildlife isn't respected because the fines aren't there for people that do the wrong thing."
An operation is underway to rescue the remaining koalas.
'There is a difference between logging and land clearing'
Logging company South West Fibre, which worked on the property until November last year, has condemned the incident and adviser Robert Hadler said the company is in no way connected to the koalas' deaths or injuries as the land was returned to the property owner by Christmas.
"We have a koala management plan which includes individual spotters to identify koalas in trees - the trees are then quarantined from harvesting and all koalas are identified, mapped and protected during the harvesting process," he said.
The company harvested around 28 hectares of the 55-hectare property, leaving 12,000 trees behind, an amount Mr Hadler said left sufficient habitat for the 72 koalas they counted on the property.
"There is a difference between logging and land clearing. In the case of South West Fibre the selecting harvesting or logging that occurred was only a partial amount of trees on the property," he said.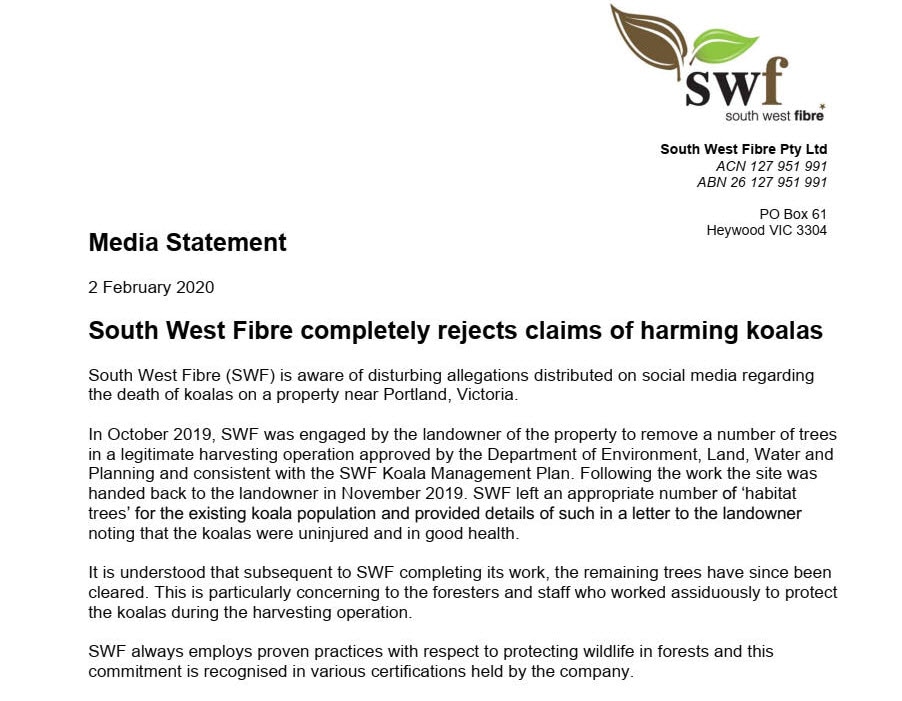 Logging company, South West Fibre Pty Ltd media statement on koala deaths - provided by South West Fibre Pty Ltd
"The subsequent land clearing that appears to have been undertaken was total land clearing where all the trees and remnant vegetation on the property were cleared."
'We've got to look long term'
Mr Amis wants the government to take a long term approach to koala protection which goes beyond enforcing stricter regulations for logging companies, but considers where koalas can be relocated to if their habitats are being cleared, "You can't just take a koala out of its environment and put it somewhere else 50km away and expect everything is going to be fine," he said.
"We call on Dan Andrews to get a koala plan happening that has the long term interests of the animal at heart."
The Victorian government is investigating the incident and the state's Chief Conservation Regulator Kate Gavens said initial assessment suggests the logging of blue gums is to blame.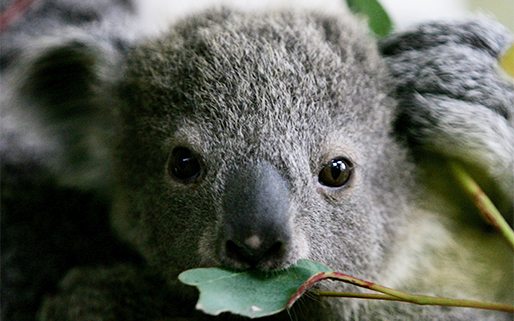 A Joey Koala - Credit: National Geographic Kids
"There are a diverse range of issues here, one of them is starvation and ... potentially, injuries from the harvesting of timber on the site."
Meanwhile Victoria's Environment Minister Lily D'Ambrosio has condemned the act as "abysmal" and pledged to hold those responsible to account, "It is a crime, it is cruel and it should not be allowed to be gotten away with."
BACKGROUND
Koala Massacre Currently Occurring in South West Victoria
By FOE - 01. February 2020
Friends of the Earth has been alarmed to learn of a koala "massacre" occurring during the logging of a bluegum plantation, located approximately 12-14km west of the south west Victorian town of Portland.
According to our local sources hundreds of koalas may have been killed or injured during logging activities this week alone.
Apparently, the land in question was owned by Australian Bluegum Plantations, whose lease expired in 2016.
The plantation was apparently taken over and logged by South West Fibre, a joint operation between Midway and the Japanese company Mitsui.
Apparently, after logging, the land was handed back to a private landholder.
A logging harvest was completed in late December 2019, where reports came in about the plight of hundreds of starving koalas, whose habitat had been logged by the plantation company.
A couple of days ago people apparently witnessed the bulldozing of many dead koalas into slash piles.
Friends of the Earth is alarmed that such wanton destruction and widespread death and injuries continue to plague the south west Victorian plantation industry.
In July 2013, the issue raised national media attention when 7.30 uncovered koala deaths across the region.
In January 2017, the Victorian State Government announced mandatory reporting of koala deaths and injuries in South West Victoria.
Yet the carnage still continues. Friends of the Earth fears that potentially thousands of animals may have been killed or maimed in South West Victoria since 2013 and gone unreported.
The problem is complex, with the animals in question descendants of translocated animals brought in from Gippsland. These animals are chlyamidia free and suffer from booms and busts in their population cycles. In the mid 1990's, the region saw a massive increase in the amount of bluegum plantations established (hundreds of thousands of hectares) and as a result, koalas moved into these plantations, bred and thrived.
Once the plantations are logged after a 14 year growing period, any resident koala population suffers the consequence of logging and also suffers from having their food source eliminated.
Friends of the Earth wrote extensively about these issues in 2014.
Koalas around Australia have suffered mass deaths from bushfires that have ravaged the continent. Tens of thousands of koala deaths were reported to have occurred during the Kangaroo Island fires alone. New South Wales populations have also been ravaged by wildfires.
Friends of the Earth continues to be alarmed at the extent of deaths also associated through plantation logging in South West Victoria and is concerned that the Victorian State Government has done little to understand and resolve this matter. The argument that private landholders are responsible for what happens on their land is no excuse for the wanton cruelty and harm caused by the bluegum plantation industry. What else aren't they telling us? The bluegum plantation is getting away with koala cruelty and animal harm at a scale probably unprecedented for a century.
Friends of the Earth's koala focus is largely monitoring the Strzelecki region, but if you would like to see Friends of the Earth get better informed about South West Victorian issues donations for fuel and equipment are always appreciated.
===
Many Non-Indigenous Australians have a legacy of a often cruel and ignorant relationship with nature. The Emu War is one example. Until today also the senseless kangaroo culling and even the wasteful culling of feral dromedars persist.
===
Koalas Found 'Massacred' at Logging Site
By Olivia Rosane - 03. February
Australian native Koala close up on Raymond Island in the Gippsland Lakes, Victoria. tracielouise / E+ / Getty Images
Australia's iconic koalas cannot catch a break.
Nearly one third of the koalas in the state of New South Wales may have died in the country's devastating wildfire season, according to the Australian Broadcasting Corp (ABC). And now, reports have emerged that dozens of the animals were killed at a timber plantation in the state of Victoria.
"Australia should be ashamed," 63-year-old Helen Oakley, who discovered the koalas while hiking in the area Wednesday, said in a Facebook video reported by ABC. "They've bulldozed 140 acres down and just killed all of our koalas."
On becoming aware of this situation on Friday, we flew in a veterinary team from @Vets_Compassion. A second vet team was flown in to assist with the treatment of surviving animals yesterday.
With the support of local authorities and wildlife carers, Vets are seeking to save as many of these precious animals as possible. We appreciate the of concern from so many caring people, but please know there is no need for further volunteers.

We will update when we can.
Oakley discovered the dead and injured koalas at a blue gum plantation near Cape Bridgewater in southwestern Victoria. She said she had found 10 dead koalas and dozens more trapped in blue gum stands on the property. Some of the trees had been bulldozed with koalas still in them.
Victoria Animal Justice Party member of parliament Andy Meddick visited the scene Sunday and said he had found trees "bulldozed into piles," according to The Guardian.
"I saw at least 10 bodies in just one of those piles. A couple had literally been crushed to death when these trees have been uprooted," he said. "In one instance, a koala had her arm stuck between two branches and she had starved to death. Animals have been killed, injured and left to starve by whoever has done this."
Friends of the Earth described the scene as a "massacre," according to AFP.
Victoria's Conservation Regulation said it had looked at more than 80 koalas since arriving at the site Friday and that it had to euthanize around 30, The Guardian reported. Chief conservation regulator Kate Gavens said that at least 40 koalas had died, but that number was expected to rise as officials looked through another 10 kilometers (approximately 6.2 miles) of downed trees.
Animal welfare group Animals Australia also sent teams to help the government care for the survivors, as BBC News reported.
"Vets are seeking to save as many of these precious animals as possible," the group tweeted.
Victorian environment minister Lily D'Ambrosio said that the government would do "everything possible" to bring the people responsible for the deaths to justice, The Guardian reported.
"Every Victorian can rightly feel not only appalled, deeply saddened and heartbroken, but angry. I am absolutely angry," she said.
Those caught killing or disturbing wildlife can face fines of up to $8,000, as well as an additional penalty of more than $800 per individual harmed, according to the Wildlife Act.
Logging company South West Fibre said that it had been contracted to do some logging on the property in October 2019, but had left "habitat trees" for the koalas, which it said were "uninjured and in good health" when it handed the property back to the owners in November.
The site is run by Keith Troeth for his father, Russell. The younger Troeth told reporters he had cleared the remaining trees to return the land to pasture, but denied reports of a massacre.
"We made every effort to do it professionally, we made every effort to minimise any fatality," he told The Age, as The Guardian reported. "There may have been one or two koalas killed and I'll wear the responsibility, but it's not the big hoo-ha it's been made out to be."
The incident comes as tens of thousands of koalas were killed in wildfires this Australian spring and summer, BBC News reported. Humans are not innocent of those deaths, either: Australia's fires have been made more extreme by the climate crisis.
"We're still going through these fires in East Gippsland — we've lost an enormous amount of animals," Meddick told ABC. "How could anyone possibly, in the light of that, conduct an operation like this?"
===
Rescued joey Koala sitting on a eucalyptus perch at the Currumbin Wildlife Sanctuary. - Credit: ABC News
Leaked report lays bare environmental devastation of Victorian fires
The ecological devastation of the Victorian bushfires has been laid bare in a leaked report which warns some species are likely to already be extinct – even as authorities brace for many more weeks of fires.
"Almost all" eastern ground parrots' Victorian habitat has already been destroyed, according to a draft report on the bushfire emergency delivered to government earlier this week.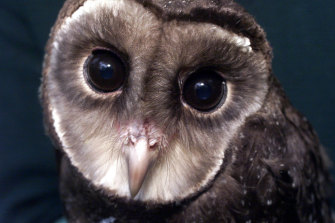 It says more than 40 per cent of the Victorian habitats of the sooty owl, diamond python, long-footed potoroo, long-nosed bandicoot and brush-tailed rock-wallaby have already been wiped out.
An estimated 25 per cent of the sooty owl population has been killed.
The East Gippsland galaxias, a native Australian fish, has had 100 per cent of its potential habitat burnt, while more than 70 per cent of the Gippsland water dragon's habitat has been incinerated.
The Department of Environment, Land, Water and Planning prepared initial advice on the biodiversity costs of Victoria's bushfires emergency for the state government on Tuesday.
It warned that 31 per cent of the state's rainforests had already gone up in flames, as well as 24 per cent of wet or damp forests, and 34 per cent of lowland forests.
Of 104 parks managed by Parks Victoria, 34 were entirely burnt out including the Alfred National Park in Cann River and the Lind National Park between Cann River and Orbost.
Leading conservation biologist Professor David Lindenmayersaid it would take more than 100 years for wet and damp forests to recover from the ferocity of this season's fires.
Of more concern was the increasing severity and regularity of fire seasons, with many of the areas that have already burnt or which are predicted to burn in 2020 being ravaged as recently as 2014.
"A lot of these areas won't even have started to recover from the last fire before they get smashed again by another fire, and they won't go back to what they were," Professor Lindenmayer said.
"They just collapse into something different."
Professor Lindenmayer said the report showed the urgent need to halt both industrial and salvage logging in old-growth forests in Victoria if threatened species had any hope of surviving.
He described calls by the forestry industry to open up native forests for logging this week as "crass" and "revolting", and urged the state government to move to protect the severely damaged habitats of some of the state's most vulnerable plants and animals.
A chief task for government was to move into more aggressive forestry management, including controlling feral cats and foxes, which could move into burnt areas to pick off vulnerable native wildlife, and sambar deer, which would eat the regrowth.
The department's report supports these recommendations.
A government spokeswoman said the government was discussing the "devastating impact" of the fires with the federal government.
"The government's focus right now is on fighting these fires and keeping Victorians safe," she said.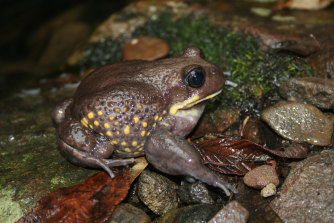 "We're aware of the devastating impact the bushfires are having on our native wildlife and biodiversity but the full extent of this is still being determined."
The report warns the government to expect "high mortalities" of koalas in and around Mallacoota, and says some species of frogs – including alpine tree frogs, green and golden bell frogs — have lost 70 per cent of their habitats. The giant burrowing frog has lost 40 per cent of its habitat.
More than 25 per cent of the state's greater glider population has been lost. Most populations of lace monitors are at risk.
"To date, the fire has burnt in mostly high biodiversity value areas, impacting 9 per cent of the state's highest biodiversity value areas, and 10 per cent of the next highest biodiversity value areas," the report says.
Lastreopsis decomposita, known as the "trim shield" fern, may now be extinct in Victoria.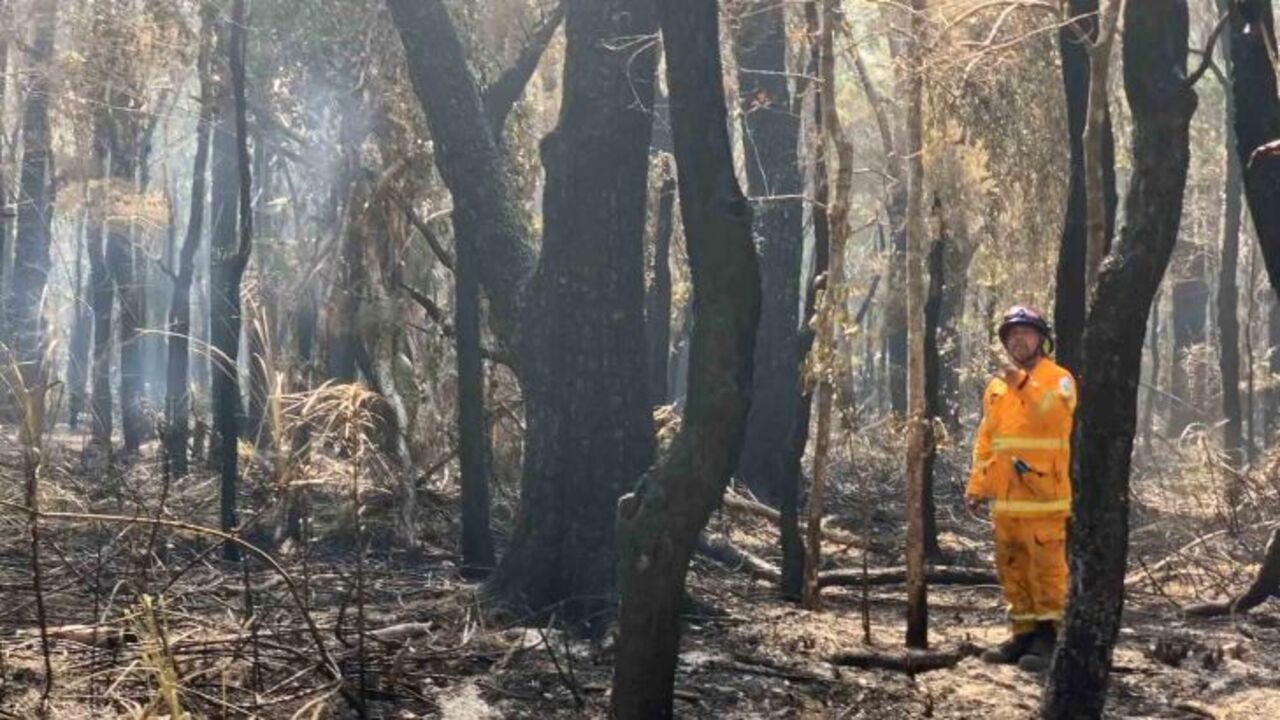 An out of control bushfire likely killed hundreds of koalas living around the Port Macquarie area.
Authors:

Bianca Hall - is a senior reporter for The Age. She has previously worked in the Canberra bureau as immigration correspondent, Sunday political correspondent and deputy editor.

Peter Hannam - writes on environment issues for The Sydney Morning Herald and The Age.