UPDATE 26. March 2021: Against the will of the people: SafariCom launches 5G network. Those in the shaddows want to use the Corona Crisis confusion to roll out 5G in Kenya, where Mastercard and SafariCom are on the next steps to implement total economic slavery in Kenya - following the Chinese model.
UPDATE 14. January 2021: Safaricom Spotted Testing 5G in Kenya - without public approval.
UPDATE 19. OCTOBER 2020: Slowly by slowly the neo-colonial, electronic Kipande noose is closing: Issuance of biometric cards for Kenyans imminent as regulatory framework in place
In Brief: (vf) The High-Court in Kenya ruled that the introduction and the by force executed implementation of the controversial but mandatory central registration-number exercise, that included the collection of massive biometric and life data of all people being in Kenya, dubbed Huduma Namba, was in parts constitutional. The 3-judge bench, however, barred any DNA or GPS data collection, which had been obtained in cases, as completely unconstitutional. The completion and use of the system was further put on hold until serious data privacy and data protection legislation and systems are in place, which would guarantee the integrity and safety of the Huduma Namba as essential part of daily life. While parts of government had protested against foreign and local media discussing the issue, other sections of government complained about the heavy involvement of foreign IT companies pushing for the extremely expensive system and exercise, and welcomed international experiences that warned of the very real possibilities of a potentially very dangerous abuse of the system. East and the Horn of Africa plus Ethiopia have become since some time now the playing ground for foreign entities and complying phone- and internet-services providers that want to sell their surveillance technology and systems - often systems that would not even be permitted in the countries where the companies reside. Corrupt deals ranging from useless electronic "gun-detection"-gadgets for traffic police to easily detectable spyware or hacking tools and mobile phone surveillance systems sold seriously overpriced to government and operators have been reported.
In addition the three plaintiffs that brought the case to the High-Court have indicated that they might appeal against today's decision on grounds that the approved part of the system is still gravely discriminatory and invasive. In practical terms, however, the ruling means that the status quo persists, whereby the activation of the Huduma Namba system is on hold. Since in the intitial layout a Huduma Namba also would be required, if tourists or visiting business people would want to get e.g. a Kenyan phone line, have mobile money options or open a bank account, grave economic damages had been foreseen. People simply do not want to make holidays or initiate business in a Big Brother state.
Court allows Huduma Namba implementation, bars DNA, GPS data collection
By Dzuya Walter - 30. January 2020
The High Court has given the government a go-ahead to implement the National Integrated Identity Management System (NIIMS), popularly known as the Huduma Namba.
A three-judge bench comprising justices Pauline Nyamweya, Mumbi Ngugi and Weldon Korir ruled that introduction of the Huduma Namba was lawful, but its implementation must be done under a comprehensive regulatory framework [Ed.: That does not yet exist.]
The NIIMS is a government controlled digital platform seeking to digitise and centralise records of all citizens and foreigners in Kenya.
The court, however, ruled that collection of DNA and GPS data as had earlier been suggested is "intrusive and unnecessary," declaring it as unconstitutional.
"Collection of DNA & GPS for purposes of identification is intrusive and unnecessary to the extent it is not authorized by anchoring legislation is unconstitutional," ruled the court.
The three-judge bench declared the sub-sections that required collection of DNA and GPS information as null and void, noting that they were in conflict with the Constitution.
The ruling was made following petitions filed by the Kenya Human Rights Commission (KHRC), the Nubian Rights Forum and the Kenya National Commission on Human Rights (KNHCR) which were consolidated.
The cases were challenging the constitutionality of the Huduma Namba system.
Interior PS Karaja Kibicho, while testifying in the case last year, defended the Huduma Namba saying it would curb adulteration of data as captured in the national population record.
"We have had cases of people sharing identity card numbers and in many cases, non-Kenyans who have the documents. The system will cure all these," he said.
MUST READ:
MUST READ ALSO:
===
They Hate Us
By Alexandra Bruce - 30. January 2020
The Amazing Polly has made this amazing video, talking about the Matrix world being built around us by the technocrats, that's halfway constructed and in which we're already participating.
The goal is to put everything – including living beings and their genomes – on the Internet of Things, each with its own blockchain hash code and connected, as a trackable node on the network.
Once everything has been digitized and assigned a financial value, we can formally do away with hard currency, replacing it with digital currency, which is what Facebook is scheduled to do this year, launching Libra, their "global currency and financial infrastructure".
Facebook claims it wants to reach the 1.7 billion people around the world who do not have access to a bank account. What they don't tell you is that the front for Libra is an NGO is Switzerland (home of the BIS, natch) and that nobody can learn many details about it.
What I've also heard from high-level financial sources is that Google, Amazon and Microsoft are planning to do the same thing (use Swiss NGOs to front their cryptocurrencies) and that over ten major banks around the globe are partnering for this eventual shift because over 50% of global population uses these Big Tech companies, who have all of our data. Data is the new money.
Another important step towards this Matrix utopia is the "Circular Economy" (aka "Sustainable Development"), in which private ownership is abolished and everything is leased. A great example of this already in practice is Zipcar®, whose slogan is "Own Less. Have More."
And this is the world they are building
Sure enough GooTube censors killed this video and Polly's channel
Re-upload on YouTube:
In case GooTube censors again -->> here the BACKUP ON BITCHUTE
THEY HATE US
First published on BITCHUTE January 28th, 2020. Backup of the Backup: THEY HATE US [MIRRORED]
All credit to "Amazing Polly"
Polly gets into optogenetics, a form of nanoscale engineering to genetically modify neurons to make them express light-sensitive ion channels, making living tissue controllable by light via a sleek mobile phone interface.
With refinements in CRISPR-Cas9 gene editing, she asks if modifications to our own genomes will make our DNA the Intellectual Property of the corporations who provided us with their service – not unlike the way our data is owned and traded by Big Tech companies now. And how would this work in the context of a Circular Economy, where nobody owns anything?
As Big Pharma has taught us, as soon as you genetically modify an organism, you can patent it and when this happens to be a GM food product, it's no longer in the purview of food safety regulation by the FDA.
The migration of everything into digital space will be complete with Virtual Reality, as seen in The Matrix series of films, where the virtual world seems so real, it replaces "real life" completely. There are people so addicted to Virtual Reality, on sites like Second Life, that they lose everything in the real world (to say nothing of Twitter).
It's a very materialistic, unspiritual world that's coming and she rightly believes that this emerging Singularity comprised of the Internet of Things, Cryptocurrency, Quantum Computing, Artificial Intelligence, Gene Editing and Virtual Reality is the most important story of our times. All else is a distraction and feels like she's done covering "breaking news". I resemble that remark.
She covers many other incredibly fascinating developments with her unique, penetrating insights.
Author:
References:
Circ Economy primer: https://institute.smartprosperity.ca/...
Kate raworth: https://www.youtube.com/watch?v=Rhcrb...
Oliver Scalabre: https://www.youtube.com/watch?v=AyWtI...
Persinger: https://www.youtube.com/watch?v=9l6VP...
What is optogenetics: https://kids.frontiersin.org/article/...
Smartphone optogenetics: https://neurosciencenews.com/smart-ph...
Energy Credits / Accounting: https://technocracy.fandom.com/wiki/E...
Sustainable Accounting: https://www.oecd.org/sd-roundtable/pa...
Forbes on VR: https://www.forbes.com/sites/solroger...
Singularity Hub: https://singularityhub.com/2017/06/23...
===
UPDATES:
Against the will of the people
SafariCom launches 5G network. Those in the shaddows want to use the Corona Crisis confusion to roll out 5G in Kenya, where Mastercard and SafariCom are on the next steps to implement total economic slavery in Kenya - following the Chinese model.
Kenya's Safaricom launches 5G network; first in the region
Daniel Adeyemi - 26. March 2021
Today, Safaricom has announced the launch of 5G technology trials for its customers In Kenya. The trial will begin with both individual and enterprise customers in Nairobi, Kisumu, Kisii and Kakamega. This trial makes Safaricom the first operator to offer 5G services in the region, and the third mobile network operator in Africa, after Vodacom and MTN unveiled their 5G networks in South Africa last year.
As part of its trial, the company plans to expand to more than 150 5G sites across nine towns over the next 12 months. The primary objective during the trial period will be to ensure customers can enjoy speeds of up to 700 Megabits per second (Mbps), with plans to offer more than 1,000 Mbps in the coming months.
Safaricom has seen web data revenue grow more than three times over the past five years from Ksh17.9 billion ($160m) in 2015 when it launched its 4G network to Ksh49.6 billion ($450m) last year.
"Today marks a major milestone for the country. With 5G, we aim to empower our customers with super-fast internet at work, at home and when on the move, supplementing our growing fibre network. At Safaricom, we are proud to be the first in the country and the region to bring this latest innovation to both our retail and enterprise customers empowering them to start exploring new opportunities that 5G provides," said Peter Ndegwa, CEO, Safaricom.
Safaricom has chosen Nokia and Huawei as the two technology partners to implement the roll-out of Safaricom's 5G network. For mobile internet customers, the service will be available on only select 5G smartphones from Samsung, Huawei and Nokia. The company has also revealed plans to later increase 5G internet speeds beyond 1,000 Mbps in later stages of the trial.
5G can support up to 1 million connected devices per square kilometre compared to 4G which can only support up to 100,000 connected devices in a similar area. This makes 5G suitable for providing super-fast internet speeds in high-density areas and for linking thousands of connected devices such as in manufacturing and supply chain management for businesses.
For the half-year ended September 30, 2020, Safaricom reported mobile data revenue of $203.7 million, a 14.1% increase spurred by an increase in monthly active mobile data subscribers. However, voice revenue reduced by 6.5% to $368.7 million due to the rise in the use of data-based voice services such as WhatsApp. The launch of this 5G trial could help maintain the growth in mobile data revenue.
While Safaricom hasn't mentioned the data plan prices, 5G data plans are expected to be much more expensive compared to 4G, raising the question of affordability for over 38 million internet subscribers in Kenya.
===
5G is the new generation of wireless technology that has generated so much hype due to one thing: the speeds. 5G milimeter wave is the fastest of the lot and we have seen tests where they hover above 1Gbps download speeds. These speeds are so much faster than real life 4G speeds and that's why we are hyped.
In Kenya, we have experienced 4G for a while now. Safaricom launched 4G back in December 2014 which is 5 years ago. We have started seeing other countries slowly launching 5G in ther locations so all eyes are on Safaricom now.
Well it seems like Safaricom is actively testing 5G as shown from this tweet.
The photo (looks like a screenshot from WhatsApp Stories) shows a contraption that has logos for the 5G standard, Safaricom's and Huawei's. The equipment is on a trolley which could mean it is being used as a mobile way to test 5G for the network.
This development follows Safaricom and Huawei's installation of a new kind of a base station in Clayworks, Nairobi. According to Huawei, Tubestars support easy 5G deployment and this could be a first of many sites that we will see around when Safaricom deploys their 5G network. That was done back in 2018 which means Safaricom has been testing the possiblity of launching 5G for a while now.
We are also not sure what type of 5G Safaricom will eventually roll out in Kenya. My guess will be the low band 5G which are below the 1Ghz band and the mid band 5G that is between 2-6Ghz. 4G exists within these bands and it seems like the initial obvious start to deploying 5G for the masses. The fast 5G, the milimetre wave that roams between 30-300Ghz will be a hurdle since they don't penetrate structures well and can be affected by rain.
===
Issuance of biometric cards for Kenyans imminent as regulatory framework in place
By Ayang Macdonald - 19.
Citizens of East Africa's biggest economy, Kenya, will soon be issued biometric identification cards which will enable them have access to certain public services. This follows the putting in place of regulations which will guide the process, Kenyan business website Business Daily reports.
Registration for the National Integrated Identity Management Systems (NIIMS) cards, known by Kenyans as Huduma cards, will be a precondition for Kenyans, refugees or foreigners on Kenyan soil to enjoy certain key government services such as the issuance of passports and the registration of SIM cards and land titles, the report adds. The new rules require cards to be issued within 30 days of registration.
About 38 million Kenyans were already registered for the cards by May when the biometric enrolment exercise came to an end. Authorities say only citizens 18 years of age and above are eligible to hold the card, meanwhile another category of the cards will be issues to minors.
Cabinet Secretary of Kenya's Interior Ministry Fred Matiang'i issued a notice recently regarding the new regulations saying "the objects of these rules are to provide mechanisms for operation of the NIIMS (National Integrated Identity Management System) and facilitate the assigning of Huduma Namba and issuance of Huduma card to a resident individual."
"Any government agency requiring personal particulars of an individual shall, at the first instance, rely on the NIIMS database to authenticate the foundational data of an enrolled resident individual. For the purpose of establishing proof of identity, the presentation of the Huduma card or the Huduma Namba authenticated by biometrics constitutes sufficient proof," the senior Kenyan official was quoted by Business Daily as saying.
Although the road to the delivery of the cards has been mired in controversy, the Kenyan President Uhuru Kenyatta hailed the introduction of the digital tool last year saying the system will help reveal the truth about personal identity in Kenya.
While the issuance of the cards has been described by a number of Kenyans as a laudable initiative, others have raised concerns about privacy issues with the biometric and biographic data collected. They fear for the security of personal data collected from citizens for the purpose of issuing the cards.
Two organisations – the Nubian Rights Forum and Kenya Human Rights Commission – have taken legal action against the government of Kenya over what they argued were lack of clear laws on data protection with regard to the NIIMS project. But assurances have been given that all data collected for civil registration purposes shall not be transferred to any other party, except by written approval of the Data Commissioner.
===
State to roll out second phase of Huduma Namba listing
By Hillary Orinde 31st Jan 2020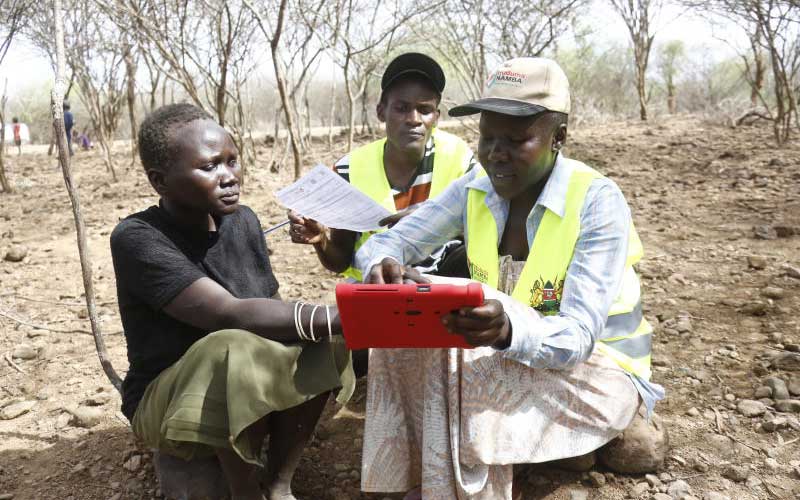 Diana Lomungura (left) registers for Huduma Namba at Barbello village in Tiaty, Baringo County on April 7, 2019. The second phase of the exercise will be rolled out soon. [File, Standard]
If you missed the first mass registration for National Integrated Identification Management System (NIIMS) popularly known as Huduma Namba, you will be listed in the second round of the exercise, the government has said.
This is as those who were listed last year will finally get an identification number and card in phase two of the multi-billion shilling exercise.
The card is expected to collapse all data into one portal, effectively ending the need to carry multiple identifying documents so as to acquire government services.
Over 37 million Kenyans and foreign nationals living in Kenya were registered at the close of the first phase of the exercise.
The Interior Ministry, in its announcement of the planned second phase rollout, did not give timelines but said it was putting in place measures for the exercise.
A High Court yesterday cleared the project on the condition that legislation on data protection is enacted.
"The government will now implement legislation, policies and a regulatory framework for Kenyans to finally acquire a Huduma Namba and a Huduma Card," the Fred Matiang'i-led Interior ministry said.
It added the NIIMS database will serve as a reference point for ease of service delivery to Kenyans.
"Upon the roll-out of this phase, the public will immensely benefit from the ease of service delivery and other advantages that come with a unique identification number," Interior PS Karanja Kibicho said.
The Interior ministry held that NIIMS will help in security surveillance and response strategies as it will ease realising police officer per capita rates across the country.
It added that it will also be able to identify individuals that would potentially pose serious threats to public safety and national security.
"Since an individual's personal details will be consolidated into Huduma Namba, police officers will be able to identify criminal elements and accurately track their operations."
According to the ministry, NIIMS will be interlinked with other databases, including the digital registry of licensed firearm holders and NTSA thus ensuring seamless information sharing between state agencies.
"As such, lawbreakers, rogue motorists and licensed gun owners engaging in criminal activities will be picked out for prosecution at the touch of a button," it said, adding its energies would also be recommitted in tracking down and disrupting terrorist financing.
Minors will still be enlisted in the exercise with the prior consent of their parents and guardians.
President Uhuru Kenyatta in April, last year, launched Huduma Namba registration in Machakos.
It was meant to capture biometrics, identification documents – passport number, Kenya Revenue Authority pin number, national ID, NHIF and NSSF as well as personal emails, among other details.
The project was challenged in court by the Nubian community, Kenya National Commission on Human Rights (KNCHR) and Kenya Human Rights Commission (KHRC) who argued it passed through the backdoor as the public was neither consulted nor involved.
Huduma Namba rollout gets High Court backing
By Kamau Muthoni 31, January 2020
Huduma Namba gadget. [Boniface Okendo, Standard]
The High Court yesterday cleared the State's Sh6 billion Huduma Namba project on the condition that legislation on data protection is enacted.
According to the court, the government will have to put in place regulations on how to run the National Integrated Identification Management System (Niims) and how to protect data collected before it is implemented.
According to the judges, the current laws are not enough to guarantee data protection.
Justices Mumbi Ngugi, Pauline Nyamweya and Weldon Korir found that requirements of DNA and GPRS location were intrusive.
They, however, found the introduction of Niims, through a miscellaneous amendment, was not unconstitutional but cautioned that the path taken by Parliament limits the public from participating.
"Other than the DNA and GPS coordinates, the data collected is necessary and therefore not unconstitutional," the judges found.
In their 500-page judgment, the court found there was enough time for the public to participate and that Senate's input was not required.
"The evidence shows that the public was aware of the bill. It is, therefore, not correct to say that the members of the public had seven days to give views. The doors were not closed for members of the public to participate in the committee hearing. Sufficient time was given for public participation," the judges observed.
The judgment came after lengthy court battle pitting lobby groups against the State.
President Uhuru Kenyatta last week pointed out the case as among government projects that the Judiciary had stalled.
"Ukifunga Huduma Namba,umefungia wakenya wote, hata wewe mwenyewe. (If you block Huduma Namba, know you have locked out Kenyans, including yourself)," said President Uhuru during the launch of Judiciary's status report last Thursday. [OF WHAT IS HE AFRAD, people ask themselves, WHAT PROMISES HE MADE AND WHAT IS HIS STAKE IN THIS?]
At the heart of the case was whether the data collected from millions of Kenyans is secure and free from manipulation by government operatives, whether there was public participation and if the same was anchored on law or not.
In the case filed by lawyers Yussuf Bashir, Waikwa Wanyoike, Martha Karua, Jackson Awele on behalf of the Nubian community, Kenya National Commission on Human Rights (KNCHR) and Kenya Human Rights Commission (KHRC), the court heard that Niims was passed through the backdoor as the public was neither consulted nor involved. Also, no tender was floated to ensure competitiveness.
The State disputed the same, saying the Interior ministry is just collating information from all other government agencies and storing the same in centralised server.
The information which includes mobile phone number, personal email, profession, whether one is involved in agriculture and what acreage of land one has, will be stored in one server as it is allegedly scattered all over government agencies.
"This is a completely harmless exercise. We are consolidating information held by various agencies," argued State lawyer Njoroge Regeru.
BACKGROUND:
Kenya's New Digital IDs May Exclude Millions of Minorities
Millions face hurdles in obtaining documents to get a biometric ID card that will be required to function in the country. Without one, "you are totally a living dead," a human rights advocate said.
By Abdi Latif Dahir - 28.
NAIROBI, Kenya — For all his 73 years, Ahmed Khalil Kafe lived as a citizen of Kenya.
Born in the capital, Nairobi, Mr. Kafe worked as a police officer and even served with the presidential guard, court documents show. But last April, when he tried to register for a national ID in the giant biometric database that President Uhuru Kenyatta has said will be the "single source of truth" on Kenya's population, he was turned away.
Now, Mr. Kafe said, "My life is in limbo."
In an ambitious new initiative, the Kenyan government is planning to assign each citizen a unique identification number that will be required to go to school, get health care and housing, register to vote, get married and obtain a driver's license, bank account and even a mobile phone number. In preparation, nearly 40 million Kenyans have already had their fingerprints and faces scanned by a new biometric system that ramped up last spring.
But millions of ethnic, racial and religious minorities — like Mr. Kafe, who is a Kenyan of Nubian descent — are running into obstacles and facing additional scrutiny when they apply for the documents required to get a biometric ID. Many have faced outright rejection.
Now the biometric ID plan is being challenged in court by civil rights organizations, which say it is disenfranchising members of minority groups. The high court is expected to rule Thursday on whether the project is constitutional.
"The government is digitizing discrimination," said Shafi Ali, the chairman of the Nubian Rights Forum, one of three civil rights groups that brought the court challenge. Without an ID card and identification number, he said, "you are totally a living dead."
The Kenyan Interior Ministry, which is leading the biometric project — known as the National Integrated Identity Management System — declined to comment on anything about it, citing the pending court case.
Such identity projects are increasingly common and sometimes even lauded by global institutions like the World Bank for their potential to increase access to financial services and ensure transparent elections.
But as in India, where the government has come under withering criticism for forcing nearly two million people to prove their citizenship or risk being declared stateless, Kenya's program has been denounced for further marginalizing already vulnerable populations.
"There is the real risk," said Keren Weitzberg, a researcher at University College London who is studying the biometric program in Kenya, that the IDs "will only reproduce existing inequalities and exacerbate debates over who is 'really' a Kenyan."
Kenya is a diverse country with a history of tensions between ethnic groups. Indians and Nubians, whose ancestors were brought to Kenya as workers by the British colonial authorities, have struggled for generations to be accepted as full citizens. Kenyans of Somali descent have faced particular suspicion and discrimination — even being rounded up and held for days in a stadium — in the wake of terrorist attacks by the Shabab militant group.
In Kenya, to secure a biometric identification number — known as a Huduma Namba, or "service number" in Swahili — adults must provide a national identity card, while birth certificates are required for those under 18.
The Kenyan government has long made it harder — or even impossible — for members of some ethnic groups, among them Nubians, Somalis, Maasais, Boranas, Indians and Arabs, to apply for the documents required for national ID cards.
They may be asked to present land titles or the papers of their grandparents, or be questioned by security agents. And often, they can apply only on specific days of the week or in certain seasons, especially in small towns and rural areas.
Members of some of these communities live along Kenya's borders, and government officials say they have introduced some measures to keep out those who pose a security risk, or people fleeing war in neighboring Somalia. But the measures also affect pastoralists who cross back and forth along the country's borders, such as the Maasai and Samburu.
The added hurdles have affected at least five million of Kenya's 47.5 million people, leading to delays in processing their ID cards and outright denials, said Laura Goodwin, the citizenship program director for Namati, an international legal justice group.
Human rights advocates say that many people were turned away during the biometric registration drive last April and May. If the biometric ID system goes ahead, Ms. Goodwin said, millions could end up without identification numbers.
For Mr. Kafe, whose Nubian forbears were brought from Sudan to Kenya by the British colonial authorities over a century ago, the government's plan risks rendering him stateless.
He said that he lost his national identity card in a robbery soon after leaving the police service in the early 70s, and was unable to secure a replacement even after supplying sworn affidavits.
"I lost hope," he said on a recent morning near his home in Kibera, an urban slum southwest of Nairobi. "I was very disappointed in Kenya."
Many Kenyans in towns and villages outside of Nairobi and other major cities lack papers because their local registration centers are far away. Or they have to wait longer for papers because those centers are overwhelmed.
Meimuna Mohamood is a Kenyan citizen of Somali descent, and lives in the northeastern town of Garissa, along the border with Somalia. Garissa has been the target of repeated terrorist attacks by the Shabab extremist group, including one on the university in 2015 that left 148 people dead. Afterward, government officials vowed to tighten security.
Ms. Mohamood has an identity card. But she has not been able to obtain birth certificates — which are necessary for children to get biometric identifiers — for her daughters, who are 5 and 7.
The two girls were born at home, not a hospital, where their births would have easily been recorded. Her efforts to register them have so far been stymied by government officials.
"I keep going back to government offices, and they always say there is something missing," Ms. Mohamood said. "I am afraid for my girls. They are not in any system. I am worried about their future."
The government has also drawn criticism over the mechanism it used to institute the Huduma project, whose initial cost was projected at over $74 million.
It was introduced in Parliament using a procedure usually reserved for minor changes to existing laws, and its first iteration sought to collect DNA and GPS data, both of which were barred by a court in April. The legislation detailing how the system would work was not published until July, after the registration drive had ended.
The law also imposes fines and criminal penalties, including prison time, for failing to register — which critics have called disproportionate.
"You shouldn't have to blackmail people into doing things that are for their own good," said Nanjala Nyabola, the author of "Digital Democracy, Analogue Politics: How the internet Era is Transforming Politics in Kenya."
Then there are questions about privacy, about how the government will keep the information secure and how exactly the data will be used. Kenya approved a data protection law in November that outlined restrictions on data handling and sharing by companies and the government. That law is being challenged in a separate court case.
Most biometric initiatives, said Dr. Weitzberg, the researcher at University College London, involve partnerships between governments and private companies, and could be compromised if they are not fully transparent or regulated by robust laws.
Idemia, the French firm that won the contract to supply Kenya's biometric kits, was already embroiled in controversy for its work on Kenya's 2017 elections and was sanctioned by Parliament last year — a move Idemia is challenging in court.
Testifying in the case before the Kenyan high court, an Indian cybersecurity expert said that Huduma was "functionally and architecturally very similar" to his own country's biometric ID program, Aadhaar, which was itself subject to a constitutional challenge.
The expert, Anand Venkatanarayanan, said the project would create national security risks, including hacking by foreign actors, that Kenya's government did not have the technological capability to mitigate. Huduma's design is like a cart "drawn by a lame horse on the digital highway," he told the court.
"That it would fail and fall behind is a foregone conclusion," he said.
For Mr. Kafe, at least, there may be a glimmer of hope.
After he agreed to testify in court in the challenge to the Huduma program, he said, registration officials visited his home and said they would process his documents.
In September, he was given a "waiting card," which the government supplies while a national ID is being processed. But it could be months or even years before his identity card is delivered, if he receives one at all.
"When does a Kenyan become Kenyan?" Mr. Kafe asked. "We need a system that's good for all. We need equality."
Author:
Abdi Latif Dahir is the East Africa Correspondent for The New York Times. He joined the Times in 2019 after covering East Africa for Quartz for three years. @Lattif
===
New report pokes holes in Huduma Namba
By Frankline Sunday 25. January 2020
The government has been criticised for implementing the Huduma Namba digital identity system without involving the Kenyan public.
A new report by US non-profit firm Mozilla cites Kenya's Huduma Namba and India's Aadhaar as examples where lack of public participation and opacity in the tendering process undermines the perceived benefits of digital identity systems.
"Several countries have implemented digital ID systems without any laws in place to regulate government use of personal data, including India, Kenya, Nigeria and Malaysia," states the report in part.
"In Kenya, the National Integrated Identity Management System (NIIMS), which allows the government to collect several biometrics including DNA, was passed as an amendment buried in a much larger Bill, a clear violation of the Kenyan Constitution's requirement for public participation and consultation on substantive legislation."
According to the report, this demonstrates a trend where "governments are keen to present ID systems as technical systems that can be passed as executive decrees", potentially exposing citizens to increased surveillance from both the state and private companies.
The report comes days after President Uhuru Kenyatta criticised the Judiciary for stopping implementation of the controversial Sh6 billion project after a legal challenge by activist Okiya Omtatah.
The final judgment in the case will be delivered on January 30, even as the government finalises the Huduma Bill 2019 that if passed will make the Huduma Namba compulsory for all Kenyans.
According to Mozilla, lack of transparency and public participation denies citizens the opportunity to weigh in not just on how to implement them but if the project is necessary in the first place.
"Transparency in vendor procurement is another important aspect of any robust consultation process," states the report, and queried "the involvement of French vendor IDEMIA, formerly known as OT Morpho, which provided biometric voter identification systems during the contested 2017 Kenyan presidential elections, where serious concerns were raised regarding the sale of voter data."
PRINCIPIIS OBSTA
Kenya, like other African countries, has been since many decades a playing field for medical and pharmaceutical trials, that as such would not be permitted to be conducted in western states with strict ethical and safety standards. In a similar way the rollout of dystopian technology finds in Kenya an open field to plough.
Blockchain becomes a part of everyday life in Kenya
By Claudia Lacave, in Nairobi - 30. January 2020
The start-up Grassroots Economics has launched Bangla-Pesa, a virtual currency for exchanging goods and services. © Grassroots Economics
Grassroots Economics, a Kenyan non-profit foundation empowering marginalized communities to help manage their economic future, launched Bangla-Pesa, an award-winning virtual currency for exchanging goods and services.
Originating in an informal settlement in Mombasa, known as "Bangladesh", the Bangla-Pesa enabled a small group of traders to work with a new currency.
Now, not surprisingly, Kenya, considered the cradle of mobile payment, is at the forefront of the development of the blockchain. This technique is used to exchange goods, ensure product traceability, or even acquire government bonds.
Bitcoin, encryption, peer-to-peer, and now blockchain…
Blockchain is a way of storing and exchanging information through several hundred computers that form a network. Thus dispersed, the information is protected. It requires a password, held only by those concerned, to be assembled, made understandable, and used.
The technique appeared with the first crypto money in 2009. Today, it has financial, environmental, social, and managerial applications. Africa is not lagging behind on the subject, and in Kenya entrepreneurs and the government are already out of the starting blocks..
David Irungu, head of business development at the Nairobi Securities Exchange, said bluntly, "It's time to implement the blockchain." He is also the co-author of a white paper on the use of the blockchain and a member of the implementation team for M-Akiba, the world's first mobile bond selling platform, which carries issues of Kenyan government bonds for development projects.
Initiatives closely monitored by the government
[But does that mean that "government" has the necessary expertise and oversight or does it only mean that certain officials or politicians are in on the take???]
The blockchain platform allows people to create an account in ten minutes instead of the usual three to 21 days for this type of debt and the issuer can receive the funds daily instead of monthly. Its move to a blockchain system should allow for more transparency and trust but also open the platform to international investments.
As a result of the project, Kenya has been invited to several international forums and round tables, such as the one in Paris in July 2018 organised by the United Nations Environment Programme (UNEP). Along with South Africa and Nigeria, the country is an African leader in the field.
The initiative is supported by the think tank on blockchain and artificial intelligence, commissioned by the government in March 2018. Although there is still no law governing the blockchain, the government is closely monitoring the subject.
"We need to see the how it is used, to identify the real problems," explained Irungu.
Virtual wallets and traceability
Blockchain technology, however, was not waiting for government regulators. Entrepreneurs Caroline Dama and Will Ruddick, founders of Grassroots Economics, took the plunge in 2012 when they launched their first community currency programme, the Bangla-Pesa. [Kenyans seem to have forgotten that U.S.American Will Ruddick was subsequently arrested and put in remand prison for counterfeighting money.]
Available via a mobile application, the system allows residents far from the banking system and without access to cash to exchange goods and services via virtual wallets. The equivalent of Ksh87,200 (800 euros) circulates in the form of vouchers in the 200 shops that are part of the network, and the experience has been replicated in five other communities in the country.
Techno Brain, a technology, consulting, and outsourcing solutions company, has taken over the blockchain to ensure the traceability of products made in Kenya. This is thanks to Number Series, an identification tool that records in a database the codes assigned to each product created.
Wellington Ayugi, the Blockchain Sales Lead Director, said, "The goal is to digitalize the Kenyan industrial sector. It will eliminate batch codes that are impossible for consumers to verify, and will reduce the risk of counterfeiting."
Currently, Kenya's "largest garment manufacturer" is the only client of the program.
Another start-up entering the field is TheBhub, born from the meeting of two innovation enthusiasts, Granville Wafula and Shariff Abdulwalli, who wanted to use "blockchain and artificial intelligence to solve our country's problems". The company, founded in January 2018, trains Kenyan developers to create solutions based on blockchain systems.
One of their projects, Makao, which aims to match real estate demand with construction projects, is currently being studied in a government incubator. Its idea is to enable buyers to get in touch with real estate partners via a blockchain-based platform and give their opinion on the design of the properties. In the second phase, the technology will allow payment tracking and access to crowdfunding for the projects. The aim is to reduce the number of people living in slums (23% of urban dwellers in 2018).
This article first appeared in Jeune Afrique.
===
Published on May 4th, 2019
HUDUMA NUMBER system HACKED"Huduma namba HACKED "3/5/2019
HUDUMA NUMBER KENYA-Systems HACKED ALL PRIVATE INFORMATION COMPROMISED!!!! 3/5/2019.
Hi guys since huduma number delivered im kenya citizens were confirmed no interference with their personal information but yesterday (2/5/2019) a nairobi university student was arrested concerning hacking of huduma systems and deleting some files.
Its still allegations because getting evidence on hacking is alot of work.
Lets dig out what happenned!!!