UPDATE 22. February 2021: Myanmar coup: Protesters defy military warning in mass strike + United States Targets Members of Burma's State Administrative Council following Violence against Protestors + Promoting Accountability for Those Responsible for Violence Against Protestors in Burma
UPDATE 21. February 2021: Myanmar coup: UN chief Guterres slams 'deadly violence'
UPDATE 19. February 2021: The 20-year-old woman shot in the head during anti-coup demonstrations in Myanmar has died of her injuries, while two more protesters were shot and killed by armed forces with live bullets.
UPDATE 18. February 2021: Watch: Myanmar's digital coup — what can we do to resist?
UPDATE 14. February 2021: Detention of former leader Aung San Suu Kyi extended for at least two more days to then stand trial. Internet cut now regularly over nighttime.
UPDATE 12. February 2021: Myanmar military releases more than 23,000 prisoners in their annual amnesty for prisoners at the Union Day celebrations. This year it will help them to free space in the overcrowded jails for the arrested protesters and to pitch those released criminals against the unruly civilian population especially at night. The young female protester named Mya Thweh Thweh Khine remains in critical condition Friday morning at a hospital in the capital Naypyidaw with a gunshot wound in the head. Internet partly restored, but serious new cyber bill will curb human rights.
UPDATE 11. February 2021: United States Targets Leaders of Burma's Military Coup Under New Executive Order + Designating Officials and Entities in Connection with the Military Coup in Burma
​​​​​​​UPDATE 10. February 2021: Protests rock Myanmar for fifth day, West condemns security response (report below) Female protester critically shot in the head.
UPDATE 09. February 2021: Well-funded 'civil disobedience' movements by the opposition youth since four days remind us of other 'colour revolutions' - especially because now also the orange-clad Buddhist monks joined in. Foreign instigation, however, is pitching the majority Bamar youth - now equipped HongKong-style with helmets, gasmasks and backpacks - against the Bamar military leaders, while the Indigenous Karen and Mon as well as other ethnicities like the Rakhine people and the Kachin, Chin, Rohingya continue to be the ones who really suffer. New Zealand, the best-role country of the globalists, is the first country that officially now broke diplomatic relations with the Junta of Burma (well, they also expelled the MP from the Maori Indigenous People, the Aboriginals and real owners of that land, from parliament today, because he refused to wear the colonial neck-tie). True freedom for the people of Myanmar lies neither with the Junta nor with foreign mastered insurgents and setups. ICJ and ICC must get down to real work on those who committed and continue to commit crimes against humanity and genocide in Burma.
UPDATE 07. February 2021: As predicted, the internet is coming back on - not because one Mark Zuckerberg, who has a special deal with the military junta of Burma, demanded it, no, because intel needs to monitor what it is going on in this war for the biggest source of opium, where the Brits seem to be on the loosing side with their "Mother Suu" as well as her British minder the "economic adviser" being held in lockdown.
UPDATE: 06. February 2021: Myanmar Coup in Progress as Globalists Attempt Color Revolution to Enforce Vote Steal
UPDATE 03. February 2021: IMF Sent $350 Million In Cash To Myanmar Just Days Before Military Coup
UPDATE 03. February 2021: Burma flipped the kill-switch now also on BigTech FacistBook, one of the few means remaining through which people could still access the outside world via the internet. Facebook had lured Burmese users by offering facebook-subscribers free bandwidth via the telecoms that were allowed to set up a network in the country some years back. Thereby facebook actually is or was the internet in Burma. Since the junta of course had been monitoring facebook-users since years, they only throw the cloak now over the 'facebook-channeled' internet while they pick up those whom they consider a threat. The junta recons it will take around four days and thereafter the BigTech/Government joint-venture of monitoring might just continue. A clear warning to all those in other countries, who still use facebook, because the sword of surveillance is hanging over them already.
UPDATE 02. February 2021: As predicted, the UN Security Council could not come up with anything meaningful, because China holds Veto powers and shields the Burmese junta.
UPDATE 01. February 2021: WIN³ for the Opium Regime of Myanmar
UPDATE 14. September 2020: Myanmar casualties may represent war crimes, U.N.'s Bachelet says
World Court Rules Against Myanmar on Rohingya
International Court of Justice Unanimously Orders Measures to Prevent Genocide in Burma
By HRW - 23. January 2020
(Brussels) – The International Court of Justice (ICJ) order on January 23, 2020, directing Myanmar to prevent all genocidal acts against Rohingya Muslims is crucial for protecting the remaining Rohingya in Rakhine State, Human Rights Watch said today. The court unanimously adopted "provisional measures" that require Myanmar to prevent genocide and take steps to preserve evidence.
Myanmar's military committed extensive atrocities against the Rohingya, including murder, rape, and arson, that peaked during its late 2017 campaign of ethnic cleansing, forcing more than 740,000 Rohingya to flee to Bangladesh. In September 2019, the United Nations-backed International Independent Fact-Finding Mission on Myanmar found that the 600,000 Rohingya remaining in Myanmar "may face a greater threat of genocide than ever."
"The ICJ order to Myanmar to take concrete steps to prevent the genocide of the Rohingya is a landmark step to stop further atrocities against one of the world's most persecuted people," said Param-Preet Singh, associate international justice director at Human Rights Watch. "Concerned governments and UN bodies should now weigh in to ensure that the order is enforced as the genocide case moves forward."
The order follows Gambia's November 11, 2019 application to the court alleging that abuses by Myanmar's military in Rakhine State against the Rohingya violate the Convention on the Prevention and Punishment of the Crime of Genocide and urgently seeking provisional measures. The ICJ held hearings on Gambia's provisional measures request in December.
The ICJ provisional measures order is legally binding on the parties. In November, Myanmar explicitly recognized the ICJ's authority and in December, Aung San Suu Kyi, representing Myanmar before the ICJ in her capacity as foreign minister, acknowledged the court's role as a "vital refuge of international justice."
The court unanimously ordered Myanmar to prevent all acts under article 2 of the Genocide Convention, ensure that its military does not commit genocide, and take effective measures to preserve evidence related to the underlying genocide case. The court has also ordered Myanmar to report on its implementation of the order in four months, and then every six months afterwards.
The order does not prejudge the question of the court's jurisdiction to deal with the merits of the case, the case's admissibility before the court, or the merits of Gambia's allegation that Myanmar has violated provisions of the Genocide Convention. A case before the ICJ can take years to reach a resolution.
Under article 41(2) of the ICJ Statute, the court's provisional measures orders are automatically sent to the UN Security Council. Such an order will increase pressure on the council to take concrete action in Myanmar, including through a binding resolution to address some of the indicators of genocidal intent outlined in the comprehensive 2018 report of the international fact-finding mission.
For example, the Security Council could pass a resolution directing Myanmar to lift restrictions on Rohingya's freedom of movement, eliminate unnecessary restrictions on humanitarian access to Rakhine State, repeal discriminatory laws, and ban practices that limit Rohingya access to education, health care, and livelihoods. Thus far, the Security Council has not taken significant action on Myanmar, in part because of Russia and China's apparent willingness to use their vetoes to shield Myanmar's government and military.
"The ICJ order brings increased scrutiny of Myanmar's horrific brutality against the Rohingya and raises the political cost of the UN Security Council's weak response to the crisis so far," Singh said. "China and Russia should stop blocking the Security Council from taking action to protect the Rohingya."
Even with a deadlocked Security Council, UN Secretary-General Antonio Guterres could bring the matter of Myanmar before the council under article 99 of the UN Charter. On September 2, 2017, Guterres wrote a letter to the Security Council president urging the council to "press for restraint and calm to avoid a humanitarian catastrophe,'' and for "full respect for human rights and international humanitarian law, and the continued presence and safety of the United Nations partners to provide humanitarian assistance to those in need without disruption."
Other UN bodies should take steps to reinforce the order, Human Rights Watch said. The UN Human Rights Council and the UN General Assembly could pass resolutions calling on Myanmar to comply with its terms. This could spur other countries to take concrete action in their bilateral relations with Myanmar.
In filing the genocide case, Gambia has the backing of the 57 members of the Organisation of Islamic Cooperation. On December 9, 2019, the governments of Canada and the Netherlands, both parties to the Genocide Convention, announced that they considered it "their obligation to support the Gambia before the ICJ, as it should concern all of humanity." On January 9, 2020, the British government welcomed Gambia's case against Myanmar. Other parties to the convention should press Myanmar to comply with the court's order, Human Rights Watch said. If Myanmar fails to act, Gambia could raise Myanmar's non-compliance with the Security Council under article 94 of the UN charter.
"The growing global support for Gambia's case raises the stakes for Myanmar to engage in the ICJ process in a meaningful way and change its approach to the Rohingya," Singh said. "The Myanmar government cannot hide behind its powerful friends or the banner of sovereignty to escape its responsibilities under the Genocide Convention."
===
UPDATES:
FEBRUARY 22, 2021
FEBRUARY 22, 2021
===
Myanmar coup: Protesters defy military warning in mass strike
By BBC - 22. February 2021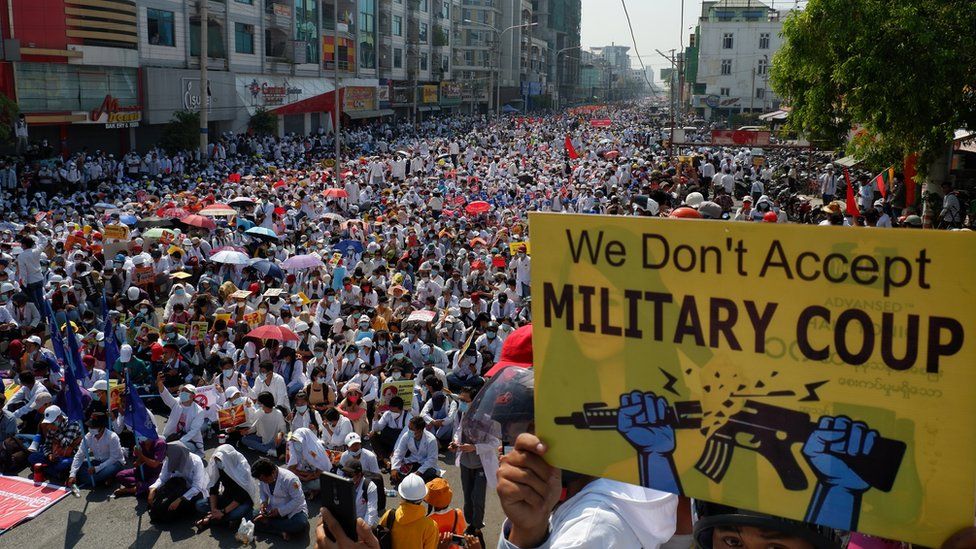 Hundreds of thousands of protesters have taken to the streets of Myanmar in one of the largest demonstrations yet against the country's military coup.
Businesses closed as employees joined a general strike, despite a military statement that said protesters were risking their lives by turning out.
Police dispersed crowds in the capital, Nay Pyi Taw, and a water cannon truck was seen moving into position.
Myanmar has seen weeks of protest following the coup on 1 February.
Military leaders overthrew Aung San Suu Kyi's elected government and have placed her under house arrest, charging her with possessing illegal walkie-talkies and violating the country's Natural Disaster Law.
"We don't want the junta, we want democracy. We want to create our own future," one protester, Htet Htet Hlaing, told the Reuters news agency in Yangon.
A statement from the military carried on state-run broadcaster MRTV said that protesters were "now inciting the people, especially emotional teenagers and youths, to a confrontation path where they will suffer the loss of life".
It cautioned people against "riot and anarchy". The warning prompted Facebook to remove the broadcaster's pages for violating its "violence and incitement" policies.
It comes after at least two people were killed in protests on Sunday - the worst violence yet in more than two weeks of demonstrations.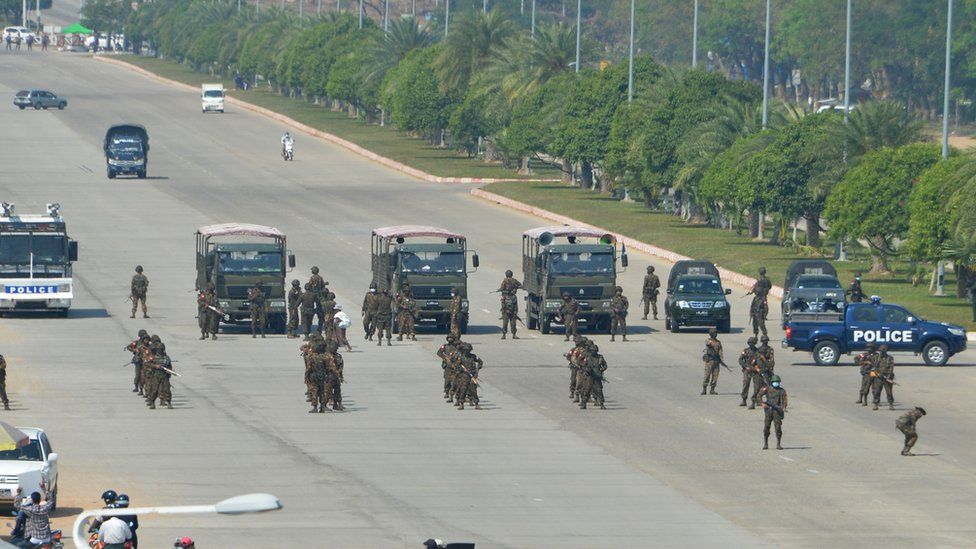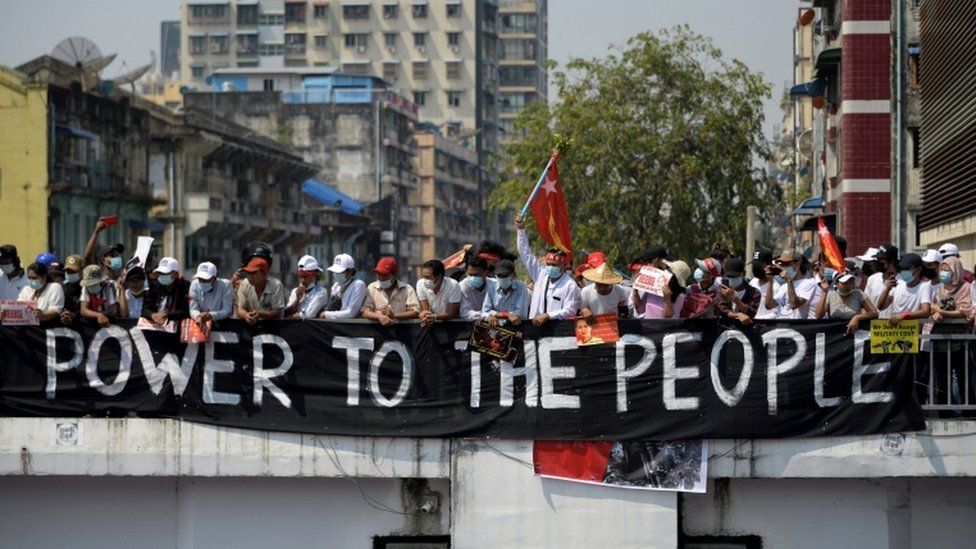 Protesters are demanding an end to military rule and want Ms San Suu Kyi released, along with senior members of her National League for Democracy (NLD) party.
Foreign pressure on military leaders has also been high. In a speech later on Monday, UK Foreign Secretary Dominic Raab will demand Ms Suu Kyi's release.
What's the latest?
Demonstrations are taking place in all of Myanmar's main cities, with people waving flags and chanting.
Local media have been tweeting out images of the massive crowds.

Monday's protest has been nicknamed the "22222 Revolution" because it is taking place on 22 February. It is being compared by protesters to demonstrations on 8 Aug 1988 - known as the 8888 uprising - when Myanmar saw one of its most violent protests.
The military cracked down on anti-government demonstrations, killing hundreds of protesters. For many, the date is seen as a watershed moment in Myanmar.
"Everyone is joining this," protester San San Maw told Reuters. "We need to come out."
"We came out today to join in the protest, to fight until we win," another told AFP. "We are worried about the crackdown, but we will move forward. We are so angry."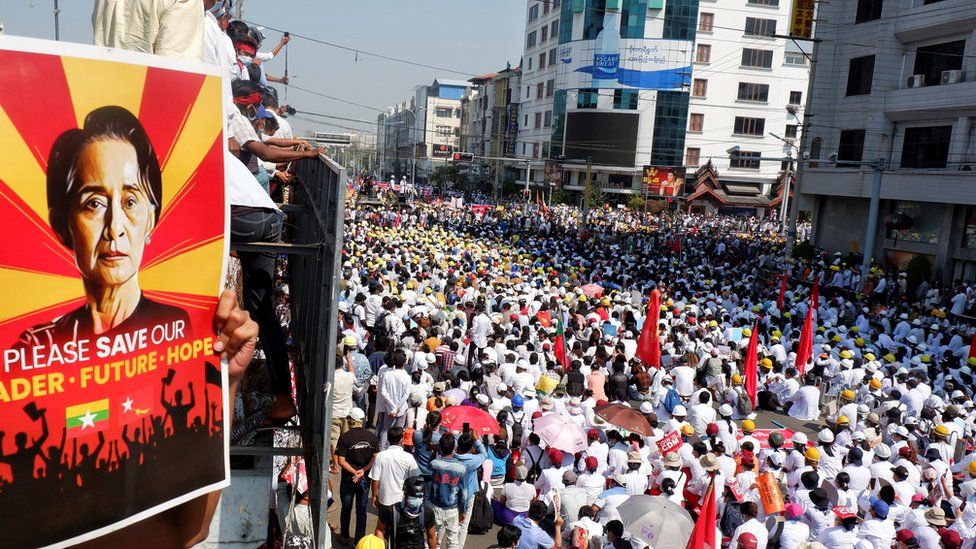 Thompson Chau, editor of local media outlet Frontier, told the BBC's World Service that the protests seemed "a lot bigger than before, with more roads blocked, highways blocked and shops closed everywhere we go".
"Today is more of a huge strike in a sense that everyone is not going to work. All the shops are closed."
Mr Chau added that even those working for "official state companies" as well as "government doctors [and] engineers" were going on strike.
There have not been reports of widespread violence, despite the stern warnings delivered by the military on state media.
Images on social media appeared to show some protesters forming the shape of 22222, while others waved signs and banners bearing the number.
What has the reaction been?
As the protests grew on Monday, international pressure mounted on Myanmar's generals to hand back power to the ousted government.
"I call on the Myanmar military to stop the repression immediately," United Nations Secretary General António Guterres said in his annual address to the UN Human Rights Council.
"Release the prisoners. End the violence. Respect human rights, and the will of the people expressed in recent elections," he said, before insisting that "coups have no place in our modern world".
From blind-folded protests to dressing like Aung San Suu Kyi, creatives protest against Myanmar's army.
Myanmar's foreign ministry accused the UN and foreign governments of "flagrant interference" in its internal affairs.
The US, Canada and the UK have all imposed sanctions on the leaders of the coup.
And on Monday, the European Union said it was ready to impose its own sanctions on Myanmar's top generals.
"The EU stands ready to adopt restrictive measures targeting those directly responsible for the military coup and their economic interests," the bloc's foreign ministers said in a joint statement.
They also called for "a de-escalation of the current crisis through... the restoration of the legitimate civilian government and the opening of the newly elected parliament".


Myanmar in profile
Myanmar, also known as Burma, became independent from Britain in 1948. For much of its modern history it has been under military rule
Restrictions began loosening from 2010 onwards, leading to free elections in 2015 and the installation of a government led by veteran opposition leader Aung San Suu Kyi the following year
In 2017, militants from the Rohingya ethnic group attacked police posts, and Myanmar's army and local Buddhist mobs responded with a deadly crackdown, reportedly killing thousands of Rohingya. More than half a million Rohingya fled across the border into Bangladesh, and the UN later called it a "textbook example of ethnic cleansing"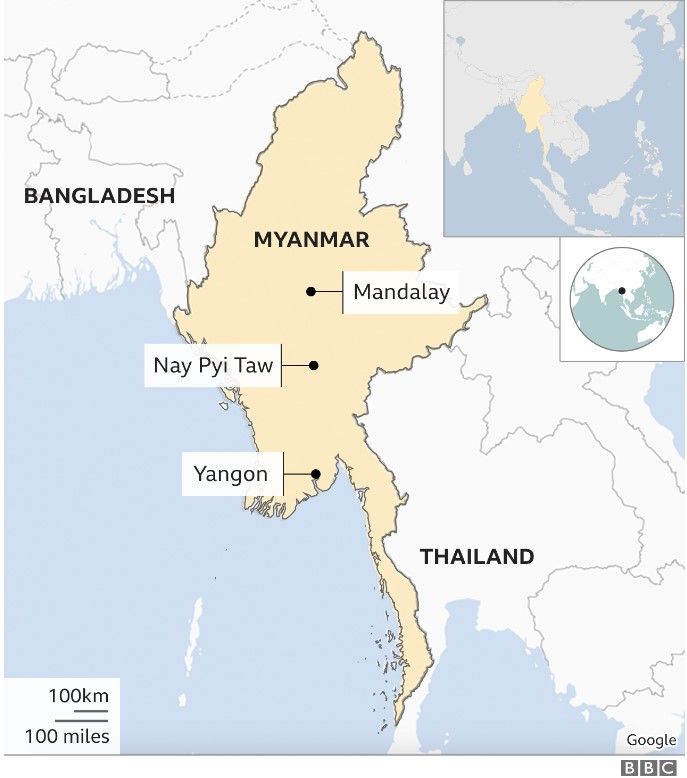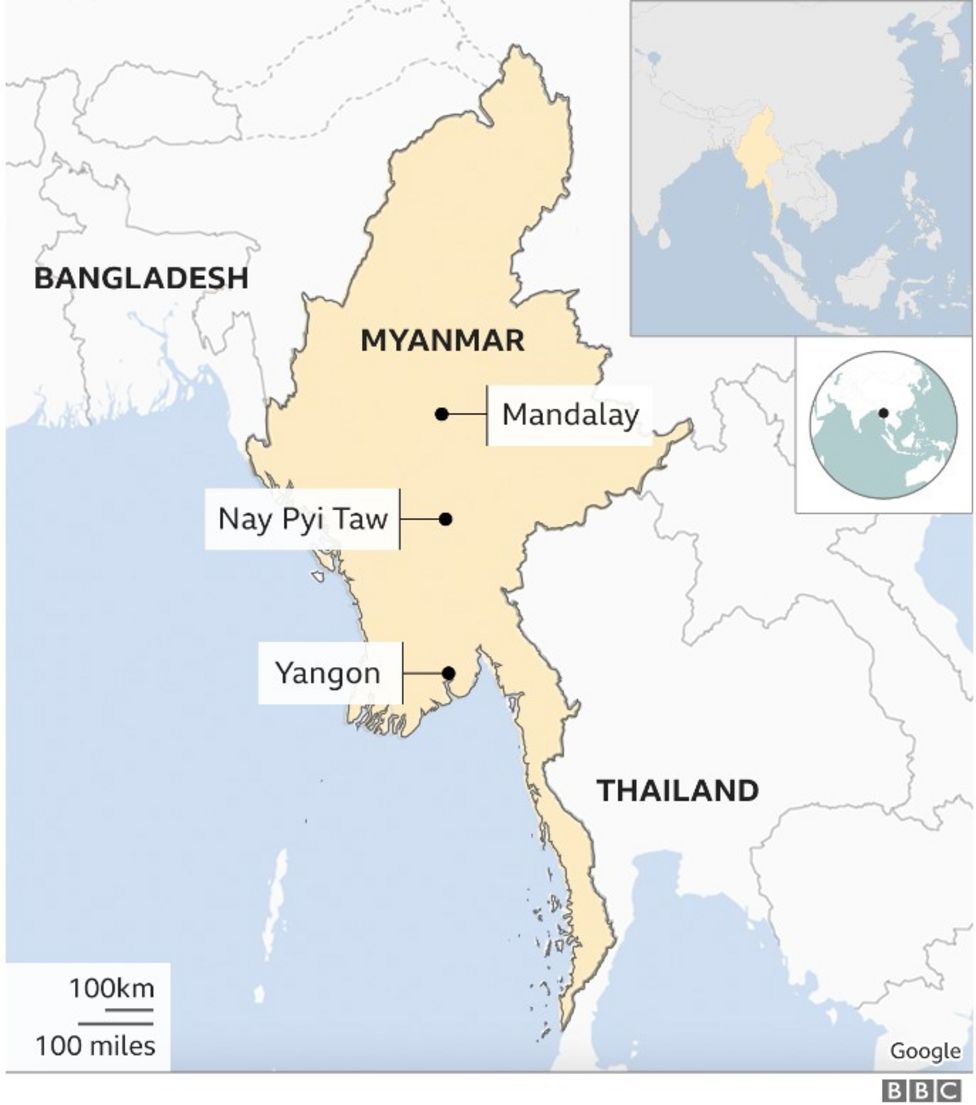 Myanmar coup: UN chief Guterres slams 'deadly violence'
By DW - 21. February 2021
Security forces have opened fire on protesters in Mandalay, as anti-coup rallies honored a young woman who was killed by police at an earlier demonstration. UN Secretary-General Guterres spoke out.
Two people killed in anti-coup protests in Myanmar
UN Secretary-General Antonio Guterres spoke out against the "use of deadly violence in Myanmar," in a tweet early on Sunday.
He commented after security forces in Myanmar fired live rounds, tear gas and rubber bullets at anti-coup protesters in the country's second-largest city, Mandalay.
At least two people were killed, emergency workers said.
The country has seen over two weeks of protests after the military ousted civilian leader Aung San Suu Kyi on February 1.
"The use of lethal force, intimidation and harassment against peaceful demonstrators is unacceptable. Everyone has a right to peaceful assembly," the UN chief said.
"I call on all parties to respect election results and return to civilian rule," Guterres added.
What happened in Myanmar on Saturday
More than 1,000 people joined Saturday's protest in Mandalay.
They marched to commemorate a 20-year-old woman who died after being shot by police at a demonstration on February 9 in Myanmar's capital, Naypyidaw.
About 30 others were injured in the violence near a shipyard, Hlaing Min Oo, the head of a Mandalay-based volunteer emergency rescue team said. Around half of them were shot with live rounds.
The protesters in Mandalay and Myanmar's largest city, Yangon, carried flowers and banners with photos of Mya Thwet Thwet Khine, who was confirmed dead on Friday after spending a week on life support in a hospital.
Some other protesters on Saturday held signs that read "CDM," in reference to the civil disobedience movement which workers in several industries have recently joined.
Myanmar protester dies after being shot by police
Police crack down on protests
Security forces around Myanmar have used tear gas, water cannon and rubber bullets to disperse protesters since the anti-coup rallies began earlier this month.
According to The Assistance Association for Political Prisoners, an independent monitoring group, authorities have arrested at least 546 people since the coup.
More countries condemn violence
The European Union's foreign affairs chief, Josep Borrell, condemned the latest violence against protesters, adding that Brussels will address the events "to take appropriate decisions."
The US is said it is "deeply concerned" by reports that Myanmar security forces have fired on protesters, US State Department spokesman Ned Price said in tweet on Saturday.
"We stand with the people of Burma," Price added. Myanmar is also known as Burma.
"The violence committed in Mandalay today is unacceptable," the French government said in a statement.
UK Foreign Minister Dominic Raab also condemned the shooting of peaceful protesters and said the UK is considering further action.
"The shooting of peaceful protesters is beyond the pale," Raab tweeted, adding "we will consider further action, with our international partners, against those crushing democracy and choking dissent."
The United States, Canada and Britain have recently announced sanctions on military generals.
The opposition in Myanmar called on international institutions to impose sanctions on the junta leaders. The bloc is set to discuss the situation on February 22.
fb,wd,kmm/sri (AFP, Reuters)
===
The 20-year-old woman shot in the head during anti-coup demonstrations in Myanmar has died of her injuries, while two more protesters were shot and killed by armed forces with live bullets.
By Alice Cuddy - 19. February 2021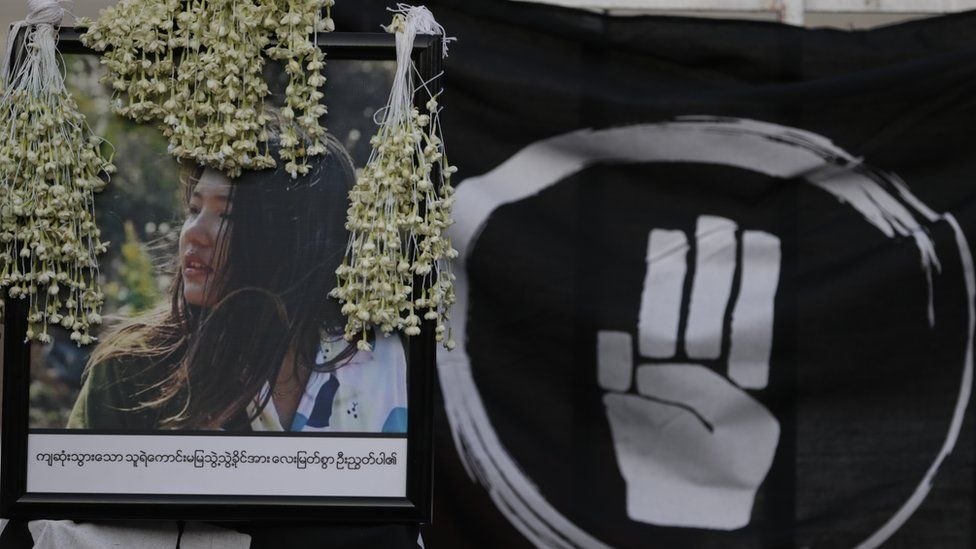 Mya Thwe Thwe Khaing was taken to hospital last week, after police used water cannon, rubber bullets and live ammunition to try to disperse protesters.
The country has seen mass demonstrations after the armed forces arrested the country's elected leader, Aung San Suu Kyi, and members of her party.
Meanwhile two other protesters were shot and killed by the armed forces, who use now live ammunition against unarmed civilians..
===
Watch: Myanmar's digital coup — what can we do to resist?
It's easier to topple a democracy when no one can see what is really going on. But as Myanmar's military junta imposes routine internet blackouts and pushes a "cybersecurity" bill to extend its control of the internet, the resistance is growing. Tune in to this recording of a webinar hosted by the Manushya Foundation to hear from anti-coup activists, journalists, and digital rights experts from South East Asia, including Raman Jit Singh Chima, Asia Policy Director at Access Now.
Watch now via Manushya Foundation (FascitBook)
Hosted by ALTSEAN-Burma and Manushya Foundation
===
Myanmar junta pushes punitive cybersecurity bill
As thousands of people flood the streets to protest the coup attempt in Myanmar, the junta has proposed a new "cybersecurity" law to control the internet and silence them. If it's implemented, it will affect more than the people protesting. "The fear of digital surveillance and being persecuted for one's communications and associations online is having a deep chilling effect on many communities — tech developers, journalists and media sector workers, activists, and others," says Access Now's Raman Jit Singh Chima. Read more via Financial Times
#WhatsHappeningInMyanmar
Myanmar civil society appeals to ISPs for connectivity, protection of rights
Every company has a duty to respect human rights — including Telenor, an internet service provider in Myanmar that claims the junta's internet shutdowns have a legal basis. Access Now strongly supports the civil society groups challenging these claims. Read their open letter. Read more via Access Now
Myanmar's internet shutdown: A global problem which needs global solutions
Myanmar is no stranger to state violence taking place in the dark. The government perpetrated one of the world's longest shutdowns in Rakhine and Chin states, the site of genocidal attacks against Rohingya Muslims. The military's use of shutdowns during the coup shows how "precariously vulnerable the fundamental architecture of the internet is to abusive interference," says ARTICLE 19's Michael Caster. He argues for "greater global coordination between the human rights community, policy makers, and technologists" to strengthen our defense against shutdowns and other forms of digital repression. Read more via Thompson Reuters Foundation
===
FEBRUARY 11, 2021
FEBRUARY 11, 2021
===
Protests rock Myanmar for fifth day, West condemns security response
By Reuters - 10. February 2021
Protesters took to the streets of Myanmar for a fifth day on Wednesday, vowing to keep up demonstrations against last week's military coup even after a woman was shot and critically wounded during clashes the previous day.
The United States and United Nations condemned Tuesday's use of force against the protesters who are demanding the reversal of the Feb. 1 coup and the release of deposed leader Aung San Suu Kyi, and other leaders of her National League for Democracy (NLD).
"We cannot stay quiet," youth leader Esther Ze Naw told Reuters. "If there is blood shed during our peaceful protests, then there will be more if we let them take over the country."
Thousands of people joined demonstrations in the main city of Yangon. In the capital, Naypyitaw, hundreds of government workers marched in support of a growing civil disobedience campaign.
A group of police in Kayah state in the east joined the protesters and marched in uniform with a sign that said "We don't want dictatorship", according to pictures published in media.
There were no reports of violence on Wednesday but soldiers took over a clinic that had been treating wounded protesters in Naypyitaw on Tuesday, a doctor there said.
Another doctor said a woman protester was expected to die from a gunshot wound to the head sustained during a Tuesday confrontation with police in Naypyitaw.
She was wounded when police fired, mostly into the air, to clear the protesters. Three other people were being treated for wounds from suspected rubber bullets, doctors said.
Protesters were also hurt in Mandalay and other cities, where security forces used water cannon and arrested dozens.
Four policemen were injured on Tuesday as they tried to disperse protesters, some of whom threw stones and bricks, the military said.
The military has imposed restrictions on gatherings and a night curfew in the biggest cities.
'DISPROPORTIONATE'
The protests are the largest in Myanmar in more than a decade, reviving memories of almost half a century of direct army rule and spasms of bloody uprisings until the military began relinquishing some power in 2011.
The military justified its takeover on the grounds of fraud in a Nov. 8 election that Suu Kyi's NLD party won by a landslide, as expected. The electoral commission dismissed the army's complaints.
Western countries have condemned the coup but taken little concrete action to press for the restoration of democracy.
The U.S. State Department said it was reviewing assistance to Myanmar to ensure those responsible for the coup faced "significant consequences".
"We repeat our calls for the military to relinquish power, restore democratically elected government, release those detained and lift all telecommunication restrictions and to refrain from violence," spokesman Ned Price said in Washington.
The United Nations called on Myanmar's security forces to respect people's right to protest peacefully.
"The use of disproportionate force against demonstrators is unacceptable," Ola Almgren, the U.N. representative in Myanmar, said.
Avinash Paliwal, a senior lecturer in international relations at London University's School of Oriental and African Studies, said Myanmar will not be as isolated now as it was in the past, with China, India, Southeast Asian neighbours and Japan unlikely to cut ties.
"The country is too important geo-strategically for that to happen. The U.S. and other Western countries will put sanctions - but this coup and its ramifications will be an Asian story, not a Western one," Paliwal said.
A doctor in Naypyitaw said the woman who was shot in the head was in a critical condition and not expected to survive. Social media video verified by Reuters showed her with other protesters some distance from a row of riot police as a water cannon sprayed and several shots could be heard.
The woman, wearing a motorcycle helmet, suddenly collapsed. Pictures of her helmet showed what appeared to be a bullet hole.
"Now we see the military takes brutal action against us," said Htet Shar Ko, an interpreter. "But we young people will keep fighting against the regime under our motto - military dictatorship must fail."
Alongside the protests, a civil disobedience movement has affected hospitals, schools and government offices.
Veteran activist Min Ko Naing called in a Facebook post on all government workers to join the disobedience campaign and for people to take note of those who didn't.
Protesters are also seeking the abolition of a 2008 constitution drawn up under military supervision that gave the generals a veto in parliament and control of several ministries, and for a federal system in ethnically diverse Myanmar.
Suu Kyi, 75, won the Nobel Peace Prize in 1991 for campaigning for democracy and spent nearly 15 years under house arrest. She faces charges of illegally importing six walkie-talkies and her lawyer said he has not been allowed to see her.
Suu Kyi remains hugely popular at home despite damage to her international reputation over the plight of the Muslim Rohingya minority.
===
Myanmar Coup in Progress as Globalists Attempt Color Revolution to Enforce Vote Steal
The same color revolution playbook at work.
By Shane Trejo - 06. February 2021
A color revolution coup in Myanmar is in progress as globalists line up hapless useful idiots on the streets to defend a recent vote steal that recently took place in the country.
Students and teachers lined up at the behest of the globalists to defend the vote steal and demand the military allow the election to be rigged. The military has taken control after finding a colossal amount of evidence indicating election fraud.
The duped students and teachers used symbols from The Hunger Games, echoing propaganda from Hollywood media content to do their masters' bidding. The useful idiots chanted "Long live Mother Suu," referring to deposed leader Aung San Suu Kyi, who is a product of the George Soros network.
[Editorial Note: THE THREE FINGER SALUTE "It is an old and previously rarely used gesture, occasionally seen at funerals. It means thanks, it means admiration, it means goodbye to someone you love."
The original sign is made by pressing your three middle fingers of your left hand to your lips and then hold them out to the person, or people, that you want to show respect to. In the books, the left hand is used, but in the first film it is the right hand, and the fingers are simply held up by their side. Later on, in the second film, the left hand is used like in the book.
The three finger salute (of the right hand) has been used by Scouting and Girl Guides since 1908.
Inspired by its use in The Hunger Games, the three finger salute is now used in Thailand as a way to protest the military coup in control of the Thai government. The protest usage began in 2014 during the release of Mockingjay: Part 1 and is now illegal in Thailand. It has also been used to protest against another military coup in 2021 in Myanmar.
It is distinct from the Serbian Three Finger Salute as well as the diver's 'all ok' three finger sign with thumb and digit forming an 'O'.]
Suu has met with Soros personally, and she is a linchpin of the Open Society Foundations' "Burmese Project" to impose globalist influence on the nation. There are over 100 organizations in Myanmar constantly agitating to inflict Soros' far-left agenda on the nation regardless of whether the people want it or not.
"I have been and remain very much guided by her vision in my involvement in Burma," Soros said after meeting Suu in 2012.
Former Secretary of State and failed presidential candidate Hillary Clinton even talked up Suu in her book, Hard Choices.
"After so many years of reading and thinking about this celebrated Burmese dissident, we were finally face to face," Clinton wrote of her first meeting with Suu. "I felt we had known each other for a lifetime, even though we had just met…Soon we were chatting, strategizing and laughing like old friends."
Clinton was influential in the launch of Suu's career, and she was awarded the U.S. Congressional Gold Medal in 2012 by former president Barack Hussein Obama, who also slapped crippling economic sanctions on Myanmar to coerce the nation into giving Suu more authority.
What is happening in Myanmar follows the globalist color revolution playbook to overthrow established governments, which Big League Politics has reported about extensively:
A Soros-backed "election integrity" group is setting the stage for a revolution against President Donald Trump after November's election…

Revolver believes that this TIP group may be the organization tasked with fomenting a color revolution to get President Trump out of office regardless of the results of November's election. They compared Brooks' recent Washington Post op/ed with The Democracy Playbook, a guide to color revolutions published by the globalist Brookings Institution. They concluded that TIP is about creating a self-fulfilling prophecy that keeps Trump from a second presidential term regardless of what the American people decide.
Do not be surprised if U.S. troops are occupying Myanmar before long. President-imposed Biden will enforce voter fraud not just in the homeland, but throughout the entire world, as part of the Great Reset plan.
Author:

===
IMF Sent $350 Million In Cash To Myanmar Just Days Before Military Coup
The IMF (International Monetary Fund) sent $350 million in cash to the Myanmar government just days before the military coup as part of an emergency aid package to help the country tackle the COVID-19 pandemic.
The money was sent days before Myanmar's State Counsellor Aung San Suu Kyi and other senior figures from the governing National League for Democracy were arrested in an early morning raid on Monday in the capital Naypyitaw.
Reuters cited unnamed sources as saying that "there appears to be little the IMF can do to claw back" the emergency aid funds.
The IMF earlier expressed hope that the money would help Myanmar meet "urgent balance-of-payments needs arising from the COVID-19 pandemic, especially the government's recovery measures to ensure macroeconomic and financial stability while supporting affected sectors and vulnerable groups".
An IMF spokesperson pointed out that they are closely "following the unfolding developments" in Myanmar and that they are "deeply concerned about the impact of events" on the country's economy and "on the people" of this nation.
The remarks came as the country's military announced the formation of a State Administrative Council chaired by senior general Min Aung Hlaing, according to the newspaper The Myanmar Times.
The news outlet reported the council was created in line with Section 419 of the nation's 2008 Constitution, which stipulates that a commander-in-chief of the Defence Services, to whom sovereign power has been transferred shall have the right to exercise the powers of the legislature, executive, and judiciary".
===
WIN³ for the Opium Regime of Myanmar
Aung San Suu Kyi, President Win Myint and other NLD leaders were "taken" in the early hours of the morning as the police and military carried out dawn raids across Myanmar, according to NLD spokesman Myo Nyunt. (Image: GETTY)
By VF and agencies - 02. February 2021
The military junta of Burma has declared a one-year state of emergency in Myanmar, and the coup ends a decade of pseudo-civilian rule in the country dubbed Myanmar.
The military ruled the country for nearly five decades. The country's generals, led by Min Aung Hlaing, had disputed the results of the November 8 elections, allegedly won by Suu Kyi's National League for Democracy (NLD) party and seized power over its claims of voter fraud.
Myo Nyunt, the spokesman for the NLD, said Suu Kyi, along with President Win Myint, had been "detained" in the capital Naypyidaw.
While the celebrity media decry the military "coup" staged by the rulers of Burma and that "Myanmar's military has detained the country's de facto leader Aung San Suu Kyi", the Covid-embattled mainstream buys into their tales, which have three goals:
Get Aung San Suu Kyi off the hook of the ICC. [ The International Criminal Court has already authorised a criminal prosecution of Myanmar under the Rome Statute.]
Increase the opium price
Make it impossible for the almost one million Rohingya people to claim their rights and return to their homeland in Rakhine State under UN protecion.
Suu Kyi is the daughter of General Aung San, who fought for independence from British colonial rule and she played a key role in the 1988 protests against the military junta, reportedly then spending nearly 15 years under house arrest in the period from 1989 to 2010.
The Nobel laureate was once seen as a human rights champion on the international stage. She won the Nobel Peace Prize in 1991, with the jury hailing her as "an outstanding example of the power of powerless."
But in recent years, her reputation has been overshadowed by the country's treatment of its mostly Muslim Rohingya minority.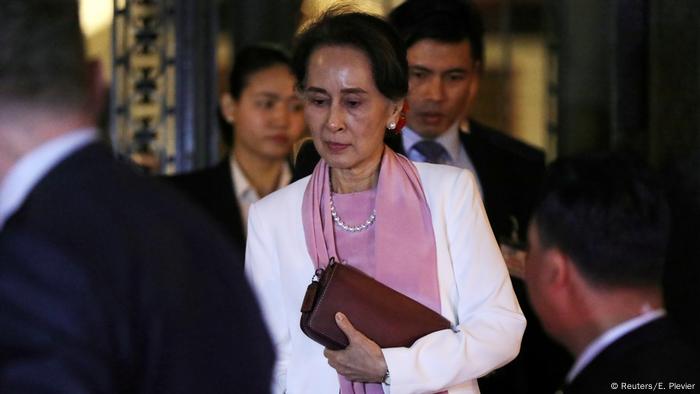 Aung San Suu Kyi leaves the International Court of Justice in 2019
In 2017, more than 750,000 Rohingya were forced to flee to neighbouring Bangladesh due to a military crackdown after a series of deadly attacks on police stations in the state of Rakhine, United Nations investigators said.
Her former supporters say she turned a blind eye to rape, murder and genocide by refusing to condemn the military or acknowledge accounts of atrocities.
Meanwhile the Swiss-based Khazar core of the international opium trafficking Mafia is frolicking together with China, who will have Myanmar even more closely tied up to its plans as soon e.g. the USA would impose sanctions.
Myanmar is a vital piece of China's Belt and Road Initiative -- Chinese President Xi Jinping's $1 trillion vision for maritime, rail and road projects across Asia, Africa and Europe -- including a proposed $8.9 billion high-speed rail link from southern Yunnan province to Myanmar's west coast.
China has veto powers at the UN security council, which is why the Burmese Junta will have nothing to fear from the UN, espite the bitter words uttered by it General Secretary Antonio Guterres on the arrest of the LDP leaders.
Earlier and ncommented by Guterres, a WHO driver carrying Coronavirus samples was shot dead in Myanmar, in May 2020. The World Health Organization (WHO) vehicle carrying coronavirus test samples came under attack, leaving the driver dead and a government official seriously injured. Pyae Sone Win Maung was driving a well-marked United Nations vehicle when it was hit by gunfire in Rakhine State. Meanwhile there were several attempts to mislead the search for the origin of the SARS-CoV-2 contagion into the direction of Myanmar and even Vietnam.
New President: Myint Swe
Myint Swe was elevated from vice-president to president in the coup. Photograph: Aung Shine Oo/AP
Myint Swe was the army-appointed vice-president when he was named on Monday to take over after the military arrested the civilian leader, Aung San Suu Kyi, and other leaders of her party.
Immediately after he was named president, Myint Swe, 69, handed power to the country's top military commander, Min Aung Hlaing. Under Myanmar's 2008 constitution, the president can hand power to the military commander in cases of emergency.
Gen Min Aung Hlaing, 64, who acually had initiated the coup on Monday, has now been appointed Myanmar's leader for the next year. He has been a prominent figure in the armed forces for almost a decade.
In 2019, the US imposed sanctions on him and three other military officers due o Myanmar's 2017 operation against the Rohingya people that included mass killings, gang rapes and widespread arson and was executed with "genocidal intent". The US Treasury also froze his US-based assets and banned doing business with him and three other Myanmar military leaders.
In July 2020, Britain also imposed sanctions on Min Aung Hlaing, accusing him and his deputy army commander, Soe Win, of orchestrating systematic violence against the Rohingya.
Today television signals were cut across the country, as was phone and internet access in Naypyitaw, the capital, while passenger flights were grounded. Phone services in other parts of the country were also reported down, though people were still able to use the internet in many areas.
As word of the military's actions spread in Yangon, the country's biggest city, there was a growing sense of unease among residents who earlier in the day had packed into tea shops for breakfast and went about their morning shopping.
By midday, people were removing the bright red flags of Suu Kyi's party that once adorned their homes and businesses. Lines formed at ATMs as people waited to take out cash, efforts that were being complicated by internet disruptions. Workers at some businesses decided to go home.
Youth wingers from the NLD called fo civil disobedience.
Read also:
===
Myanmar casualties may represent war crimes, U.N.'s Bachelet says
14. September 2020
Myanmar police officer poses for a photograph in Maungdaw, Rakhine © Reuters/ANN WANG FILE PHOTO:
GENEVA (Reuters) - The U.N. human rights chief said on Monday that three years after a Rohingya exodus "no concrete measures" on accountability had been taken by authorities and said some cases of recent civilian casualties in Myanmar may represent war crimes.
Myanmar police officer stands guard in Maungdaw, Rakhine © Reuters/ANN WANG FILE PHOTO
"In some cases, they appear to have been targeted or attacked indiscriminately, which may constitute further war crimes or even crimes against humanity," U.N. High Commissioner for Human Rights Michelle Bachelet told the Human Rights Council in Geneva, speaking of casualties in Rakhine and Chin States.
Michelle Bachelet at UN Human Rights Council session in Geneva © Reuters/DENIS BALIBOUSE FILE PHOTO
She also noted satellite images and eyewitness accounts indicating that areas of northern Rakhine had been burnt in recent months, describing this as "troubling" and calling for an independent investigation.
(Reporting by Emma Farge and Poppy McPherson)