Prologue: But make no mistake, the change of tact in BlackRock is not just because the investment and locust company came under serious fire from the environmental movement. They have clear risk and economic reasons.
Here's an interesting new strategy in the fight against climate breakdown: Put public pressure on law firms to drop fossil fuel clients. On 14. January 2020 Harvard Law students shut down a fancy recruitment session by @PaulWeissLLP over their defense of Exxon. #DropExxon.
The Important Question that all investors and shareholders have to ask themselves is: Would my children and grand-children approve this investment?
BlackRock C.E.O. Larry Fink: Climate Crisis Will Reshape Finance
In his influential annual letter to chief executives, Mr. Fink said his firm would avoid investments in companies that "present a high sustainability-related risk."
By Andrew Ross Sorkin - 14. January 2020
Laurence D. Fink, the founder and chief executive of BlackRock, announced Tuesday that his firm would make investment decisions with environmental sustainability as a core goal.
BlackRock is the world's largest asset manager with nearly $7 trillion in investments, and this move will fundamentally shift its investing policy — and could reshape how corporate America does business and put pressure on other large money managers to follow suit.
Mr. Fink's annual letter to the chief executives of the world's largest companies is closely watched, and in the 2020 edition he said BlackRock would begin to exit certain investments that "present a high sustainability-related risk," such as those in coal producers. His intent is to encourage every company, not just energy firms, to rethink their carbon footprints.
"Awareness is rapidly changing, and I believe we are on the edge of a fundamental reshaping of finance," Mr. Fink wrote in the letter, which was obtained by The New York Times. "The evidence on climate risk is compelling investors to reassess core assumptions about modern finance."
The firm, he wrote, would also introduce new funds that shun fossil fuel-oriented stocks, move more aggressively to vote against management teams that are not making progress on sustainability, and press companies to disclose plans "for operating under a scenario where the Paris Agreement's goal of limiting global warming to less than two degrees is fully realized."
Mr. Fink has not always been the first to address social issues, but his annual letter — such as his dictum two years ago that companies needed to have a purpose beyond profits — has the influence to change the conversations inside boardrooms around the globe.
And now Mr. Fink is sounding an alarm on a crisis that he believes is the most profound in his 40 years in finance. "Even if only a fraction of the science is right today, this is a much more structural, long-term crisis," he wrote.
A longtime Democrat, Mr. Fink insisted in an interview that the decision was strictly business. "We are fiduciaries," he said. "Politics isn't part of this."
BlackRock itself has come under criticism from both industry and environmental groups for being behind on pushing these issues. Just last month, a British hedge fund manager, Christopher Hohn, said that it was "appalling" of BlackRock not to require companies to disclose their sustainability efforts, and that the firm's previous efforts had been "full of greenwash."
Climate activists staged several protests outside BlackRock's offices last year, and Mr. Fink himself has received letters from members of Congress urging more action on climate-related investing. According to Ceres and FundVotes, a unit of Morningstar, BlackRock had among the worst voting records on climate issues.
In recent years, many companies and investors have committed to focusing on the environmental impact of business, but none of the largest investors in the country have been willing to make it a central component of their investment strategy.
In that context, Mr. Fink's move is a watershed — one that could spur a national conversation among financiers and policymakers. However, it's also possible that some of the most ardent climate activists will see it as falling short.
Even so, the new approach may put pressure on the other large money managers and financial firms in the United States — Vanguard, T. Rowe Price and JPMorgan Chase, among them — to articulate more ambitious strategies around sustainability.
When 631 investors from around the world, representing some $37 trillion in assets, signed a letter last month calling on governments to step up their efforts against climate change, the biggest American firms were conspicuously absent.
BlackRock's decision may give C.E.O.s license to change their own companies' strategy and focus more on sustainability, even if doing so cuts into short-term profits. Such a shift could also provide cover for banks and other financial institutions that finance carbon-emitting businesses to change their own policies.
Had Mr. Fink moved a decade ago to pull BlackRock's funds out of companies that contribute to climate change, his clients would have been well served. In the past 10 years, through Friday, companies in the S&P 500 energy sector had gained just 2 percent in total. In the same period, the broader S&P 500 nearly tripled.
In an interview, Mr. Fink said the decision developed from conversations with "business leaders and how they're thinking about it, talking to different scientists, reading different research." Mr. Fink asked BlackRock to research the economic impacts of climate change; it found that they are already appearing in a meaningful way in the form of higher insurance premiums, for fires and floods, and expects cities to have to pay more for their bonds.
Wherever he goes, he said, he is bombarded with climate questions from investors, often to the exclusion of issues that until recently were once considered more important. "Climate change is almost invariably the top issue that clients around the world raise with BlackRock," he wrote in his letter.
He wrote that he anticipated a major shift, much sooner than many might imagine, in the way money will be allocated.
"This dynamic will accelerate as the next generation takes the helm of government and business," he wrote. "As trillions of dollars shift to millennials over the next few decades, as they become C.E.O.s and C.I.O.s, as they become the policymakers and heads of state, they will further reshape the world's approach to sustainability."
While BlackRock makes its green push, the Trump administration is going in the opposite direction, repealing and weakening laws aimed at protecting the environment and promoting sustainability. Indeed, Mr. Fink's effort appeared to be another example of the private sector pressing on issues that the White House has abandoned.
Still, Mr. Fink made plain that while he intends for the firm to consider climate risks, he would not pursue an across-the-board sale of energy companies that produce fossil fuels. Because of its sheer size, BlackRock will remain one of the world's largest investors in fossil-fuel companies.
"Despite recent rapid advances in technology, the science does not yet exist to replace many of today's essential uses of hydrocarbons," he wrote. "We need to be mindful of the economic, scientific, social and political realities of the energy transition."
BlackRock manages money for countries across the globe as well as states and municipalities across the nation. It could face opposition for its new stance in areas that benefit from fossil fuels, like countries in the Middle East or states where oil has become a significant part of their economies.
Mr. Fink said that because much of the money BlackRock manages is invested in passive index funds like those that track the S&P 500, the firm was unable to simply sell shares in companies that it felt were not focused on sustainability. But he did say that the firm could do so in what are known as "actively managed funds," in which BlackRock can choose which stocks are included.
BlackRock also plans to offer new passive funds — including target-date funds that are based on a person's age and are meant to be used to prepare for retirement — that will not include fossil fuel companies. Investors will be able to choose these instead of more traditional funds. To the extent that fossil fuel companies are in an index, BlackRock plans to push them to consider their eventual transition to renewable energy. Mr. Fink said the company would vote against them if they are not moving fast enough.
"We will be increasingly disposed to vote against management and board directors when companies are not making sufficient progress on sustainability-related disclosures and the business practices and plans underlying them," he wrote.
Author:
Naming and Shaming can create change!
... t is Tim Buckley, for BlackRock it is Larry Fink - who are also among the top polluters on Earth: https://ecoterra.info/index.php/en/1077-the-3-top-polluters-of-earth For Aberdeen Standard Investmen ...
Deforestation in the Amazon and the role of investors and their clients BlackRock under CEO Larry Fink is World's largest investor in Amazon deforestation and destruction. The Amazon deforestatio ...
Tim Buckley, Larry Fink and Ron O'Hanley are the three on top of the global pollution pyramid. The CEOs of BlackRock, Vanguard and State Street together oversee assets worth more than China's entir ...
... is committed to responsible environmental stewardship." Similarly, earlier this year, the BlackRock CEO Larry Finkurged his fellow executives to think beyond the bottom line. "Companies must demonstrat ...
... has reportedly taken no such actions, despite the public statements by CEO Larry Fink that companies need to have a "social purpose". "Responsible stewardship is about more than just nice public statements. ...
... y update as inadequate. BlackRock, for its part, has supported the Paris Climate Accord and its chief executive, LarryFink, has been called the "conscience of Wall Street" for his exhortations to ...
BlackRock is changing its investment strategy because of climate change
By Julia Horowitz - 14. January 2020
London (CNN Business)A version of this story first appeared in CNN Business' Before the Bell newsletter. Not a subscriber? You can sign up right here.
BlackRock, the massive asset manager in charge of $7 trillion, will ditch investments that it considers a sustainability risk, including thermal coal producers — part of an effort to put sustainability at the center of its approach to investing.
"Awareness is rapidly changing, and I believe we are on the edge of a fundamental reshaping of finance," CEO Larry Fink said in his widely-read letter to other chief executives released Tuesday.
Fink predicted that significant changes to how capital is allocated globally are coming, and "sooner than most anticipate."
Other pledges: BlackRock told clients that it intends to double its offering of exchange-traded funds that track companies that meet certain environmental metrics. It's also asking the companies it invests in to disclose plans for operating in a world in which the Paris Agreement's goal of limited global warming to less than 2 degrees Celsius "is fully realized."
"We will be increasingly disposed to vote against management and board directors when companies are not making sufficient progress on sustainability-related disclosures and the business practices and plans underlying them," Fink said.
BlackRock has faced growing pressure to do more to promote sustainability given its clout. "I think the large passive managers have a real difficult decision to make," former US Vice President Al Gore told the Financial Times in December. "Do they want to continue to finance the destruction of human civilization, or not?"
Earlier this month, BlackRock joined Climate Action 100+, a group of roughly 370 global investors that now represents more than $41 trillion in assets. Its members lobby companies to lower their carbon emissions in line with the Paris Agreement.
What it means: An industry leader, BlackRock's actions turn up the heat on other big asset managers. Fink's 2018 letter arguing that companies need to "serve a social purpose" resonated widely.
BlackRock (BLK) reports earnings for the final three months of 2019 on Wednesday.
Author:

UPDATE:
BlackRock Has Bigger Weapons in Its Climate Armory
To reduce coal use in Asia, the fund manager should use its power as a sovereign debt investor.

By Clara Ferreira Marques - 20.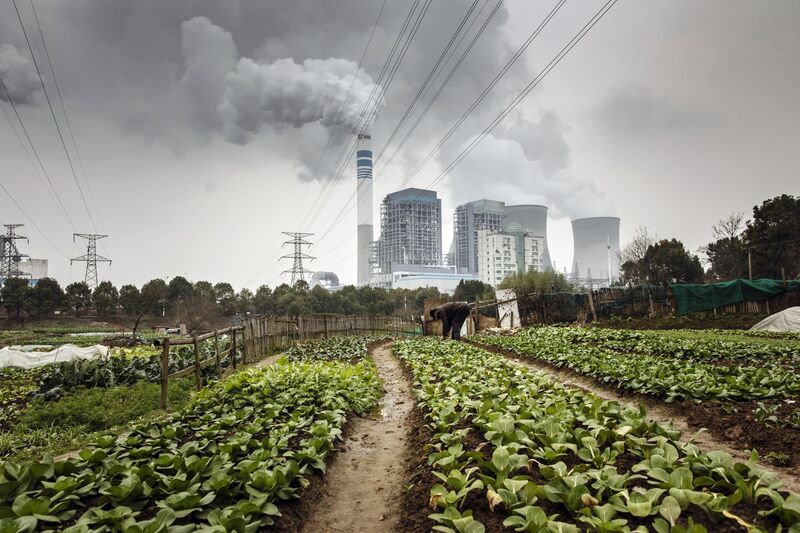 Coal power generation has fallen steeply in Europe and the U.S. in the past year or so, thanks to cheap natural gas, higher carbon prices and green pressure. Yet in Asia, once you iron out some local peculiarities, demand for the black stuff remains remarkably resilient. That suggests that even if global appetite peaks soon, as most analysts estimate, it could well remain at high levels for years to come. Analysts at UBS Group AG estimated last July that on current trends the last coal-fired power station may close only in 2079. To blame are the likes of China, India and Vietnam. Their fleet is young, still growing and often state-backed; Western money managers selling out of public securities won't change that.
There is good news. BlackRock is an investment giant, with $7.4 trillion of assets under management, so Fink's call to arms last week marks a significant move. Cutting off funds for coal producers and driving up their cost of capital is key to suffocating a sector that is the single largest cause of increased global temperatures.
BlackRock's strategic shift is also driven by self-interest. That's encouraging, as such initiatives tend to outlast moral outrage. Heat from activists, like the BlackRock's Big Problem campaign, helped, but Fink argues he is making sustainability the new standard because it makes financial sense. The surge of inflows into the firm's environmentally friendly funds last week will encourage that view.
The devil, as ever, is in the detail. BlackRock's aim to divest thermal coal equity and debt will apply to its actively managed funds. Yet those amount to only under a third of the money it manages.
As worrying is the threshold to be used to determine what has to go: The fund manager will sell out of any company where 25% of revenue or more is derived from thermal coal. That gets at narrowly focused producers like Australia's Whitehaven Coal Ltd., but leaves untouched stakes in diversified heavyweights, like BlackRock's 6% holding in Glencore Plc, the world's top producer of seaborne thermal coal, or other sprawling conglomerates. It also tackles primarily miners, not utilities that consume the fuel.
It's possible to aim higher: Axa SA last year vowed to reduce its exposure to the thermal coal industry to zero by 2040.
The bigger problem is that while such moves are necessary, they aren't sufficient. That's firstly because of the haven offered by private markets. If a large investment fund divests a stock or bond, or pressures companies into selling out of coal projects, what next? BlackRock investors may feel better, but will global production reduce overall? Quite possibly not. Will the world be greener? Also, possibly not, if the pit is sold to owners out of the public eye. Arguably, it may become harder to monitor.
That suggests a more effective pressure point is demand, and that means tackling governments and state-backed firms still funding and supporting the fuel. Indeed, real impact will require a change in policy in Asian markets like Vietnam where coal is still a major employer and seen as a driver of economic growth. As a major investor in sovereign debt, even if much of it is in passive funds, BlackRock has enough leverage for meaningful dialogue at least.
The challenge is significant. Consider China, which wants to reduce its reliance on coal. At least 200 million tons of coal capacity were ready to start production in 2019, while another 409 million tons of government-approved capacity are under construction, according to Bloomberg Intelligence numbers published last September. Together, that's almost a quarter of China's up-and-running thermal coal capacity. In Indonesia, coal consumption may grow at the world's fastest pace. Earlier this month, Jakarta ordered coal miners to slash production after record output last year. Prices immediately turned higher.
Policy, then, is the lever to significantly reduce coal use in the region where it's still growing: Asia. Go back to the UBS numbers. On current trends, the last coal-fired power station closes in six decades. But a red alert scenario where leaders accelerate closures would shutter the last plant in 2058, according to the bank, closer to the 2050 target set by the Intergovernmental Panel on Climate Change.
Indonesia's tussle with JPMorgan Chase & Co. in 2017 — when Jakarta temporarily severed business ties over a negative research report — is a reminder of just how much emerging market governments care about perception. BlackRock can make that count.
Author:
Clara Ferreira Marques is a Bloomberg Opinion columnist covering commodities and environmental, social and governance issues. Previously, she was an associate editor for Reuters Breakingviews, and editor and correspondent for Reuters in Singapore, India, the U.K., Italy and Russia.