Australian wildfires: Tens of thousands told to evacuate in Victoria as bushfires intensify
Authorities warn of one of most significant fire weather days in state's history
By Andy Gregory - 30. December 2019
Tens of thousands of residents and holidaygoers in the Australian state of Victoria have been urged to evacuate "immediately to survive", as escalating bushfires threaten an area the size of Montenegro.
The popular summer holiday destination of east Gippsland is experiencing temperatures north of 40C, with strong winds expected to fan already out-of-control blazes and dry lightning forecasted to spark new fires.
Emergencies chief Andrew Crisp told those in the region to leave no later than Monday morning to avoid what authorities warned would be one of the most significant fire weather days in Victoria's history.
But the Australian Broadcasting Corporation reports that some residents appear dismissive of the fire risk, claiming "it will be fine", while others are choosing to stay put lest they put additional pressure one of the few remaining thoroughfares out of the region – the Princes Highway.
With other highways already shut due to bushfires, authorities urged people to heed the evacuation warnings early, suggesting a panicked last minute exit – and wildfires – could block the road. It has now reopened after being partly closed for several hours late on Sunday.
States of emergency declared as bushfires rage across Australia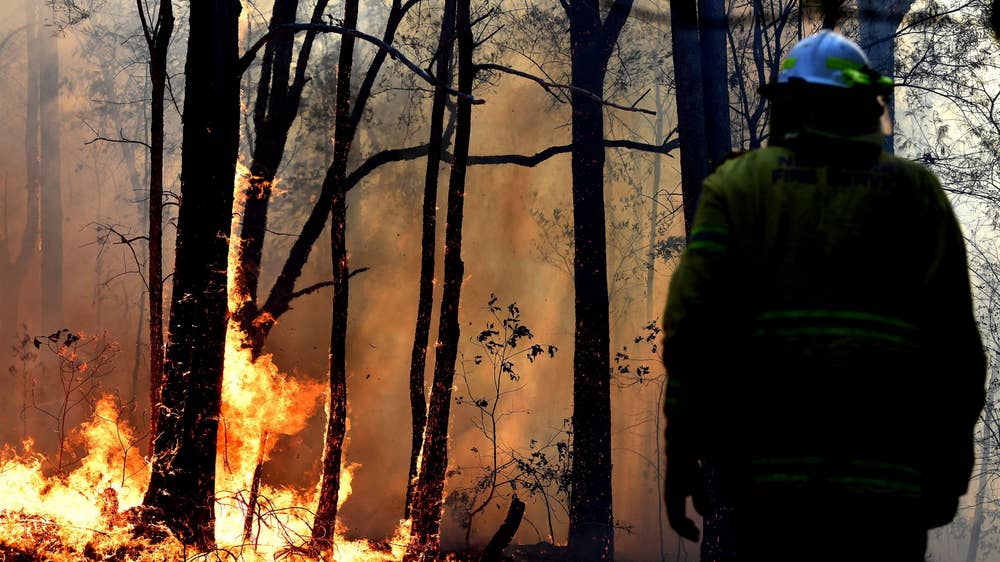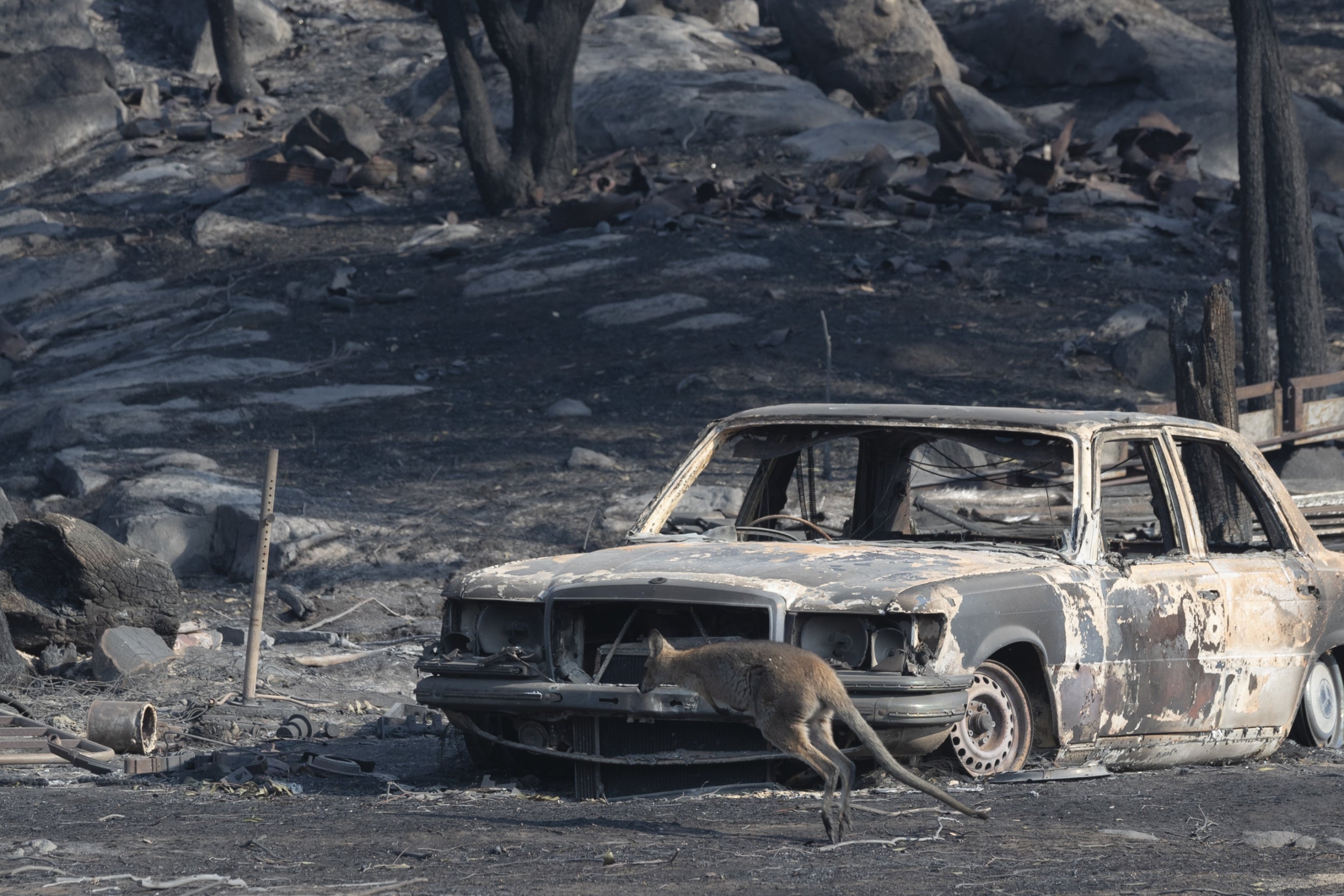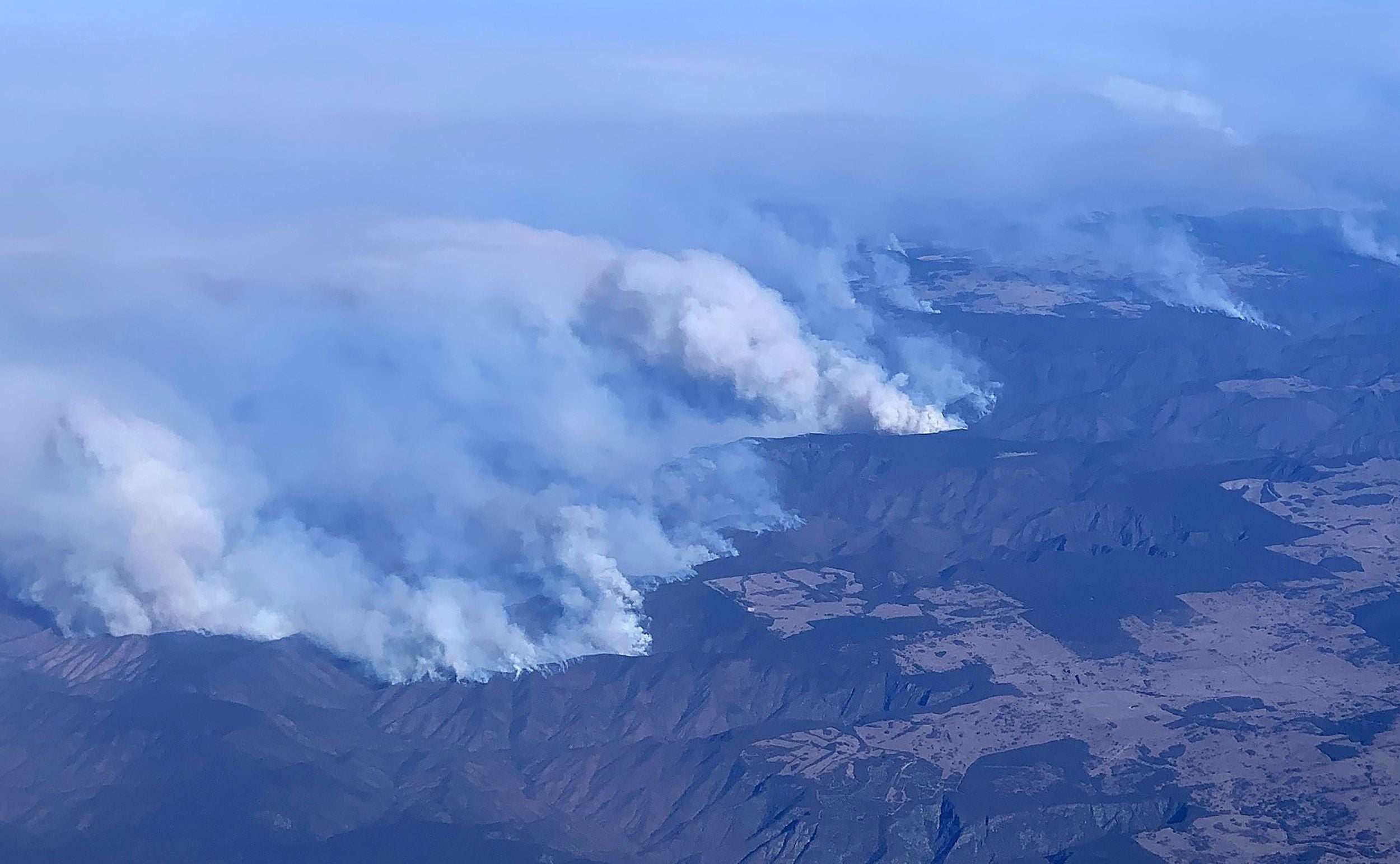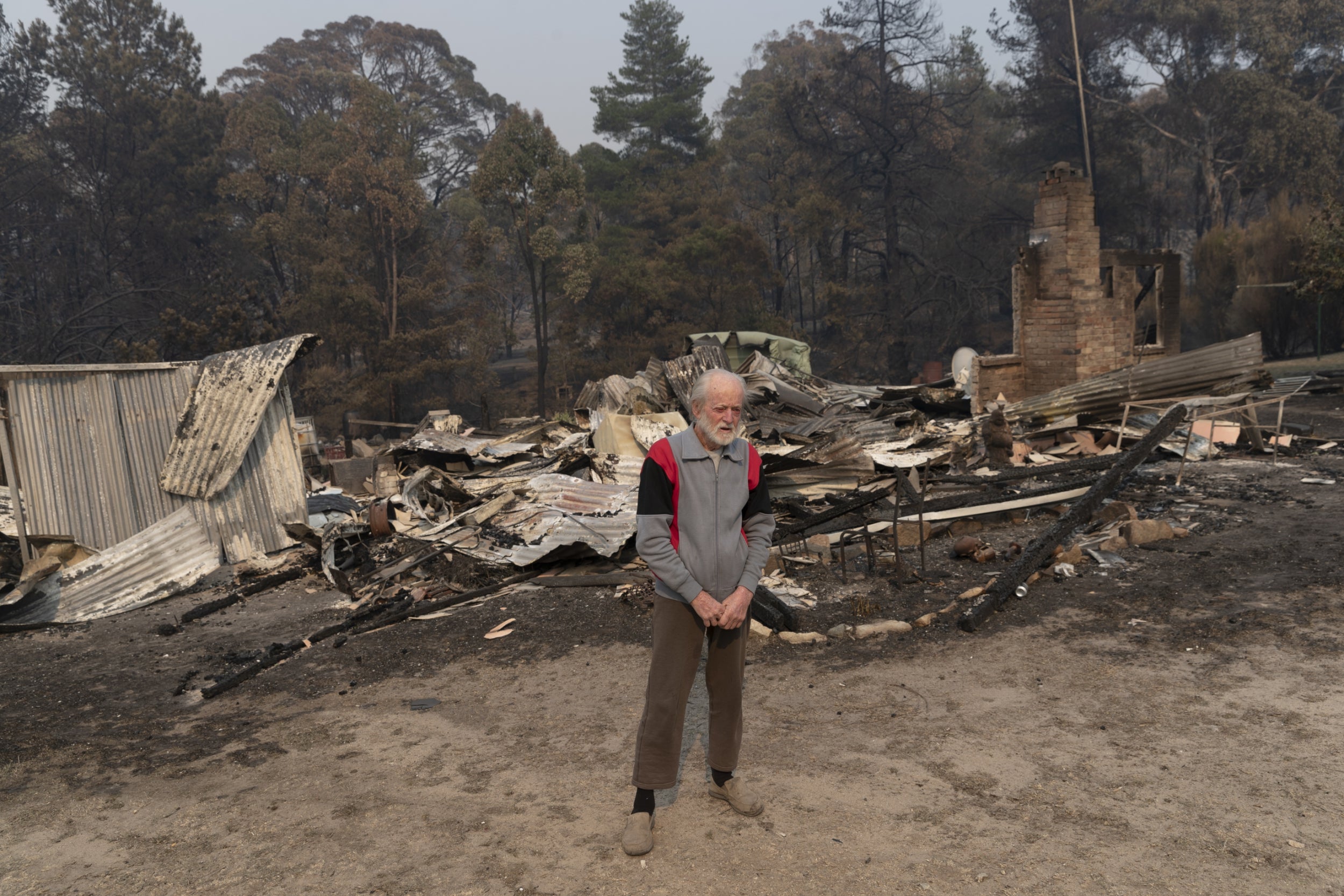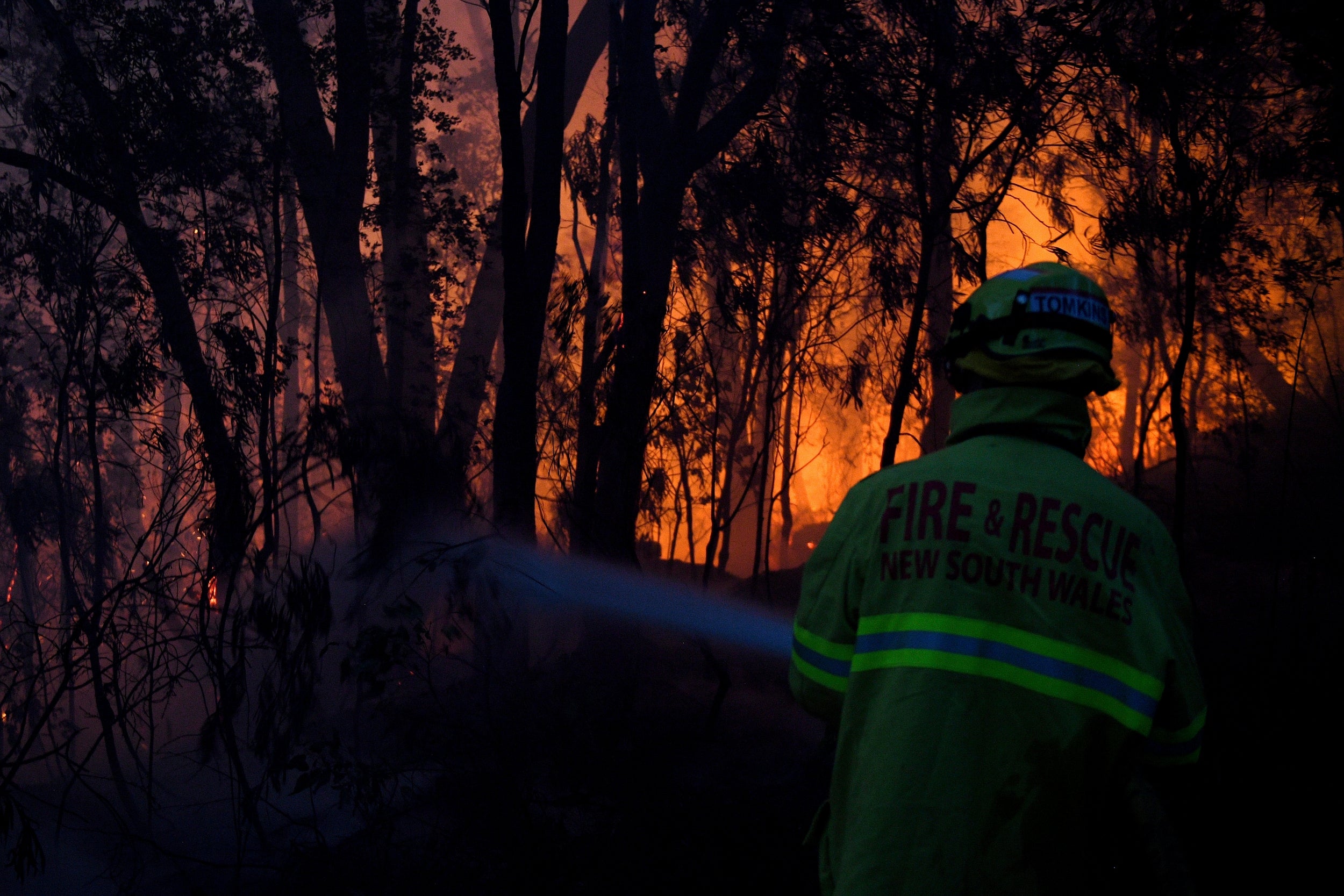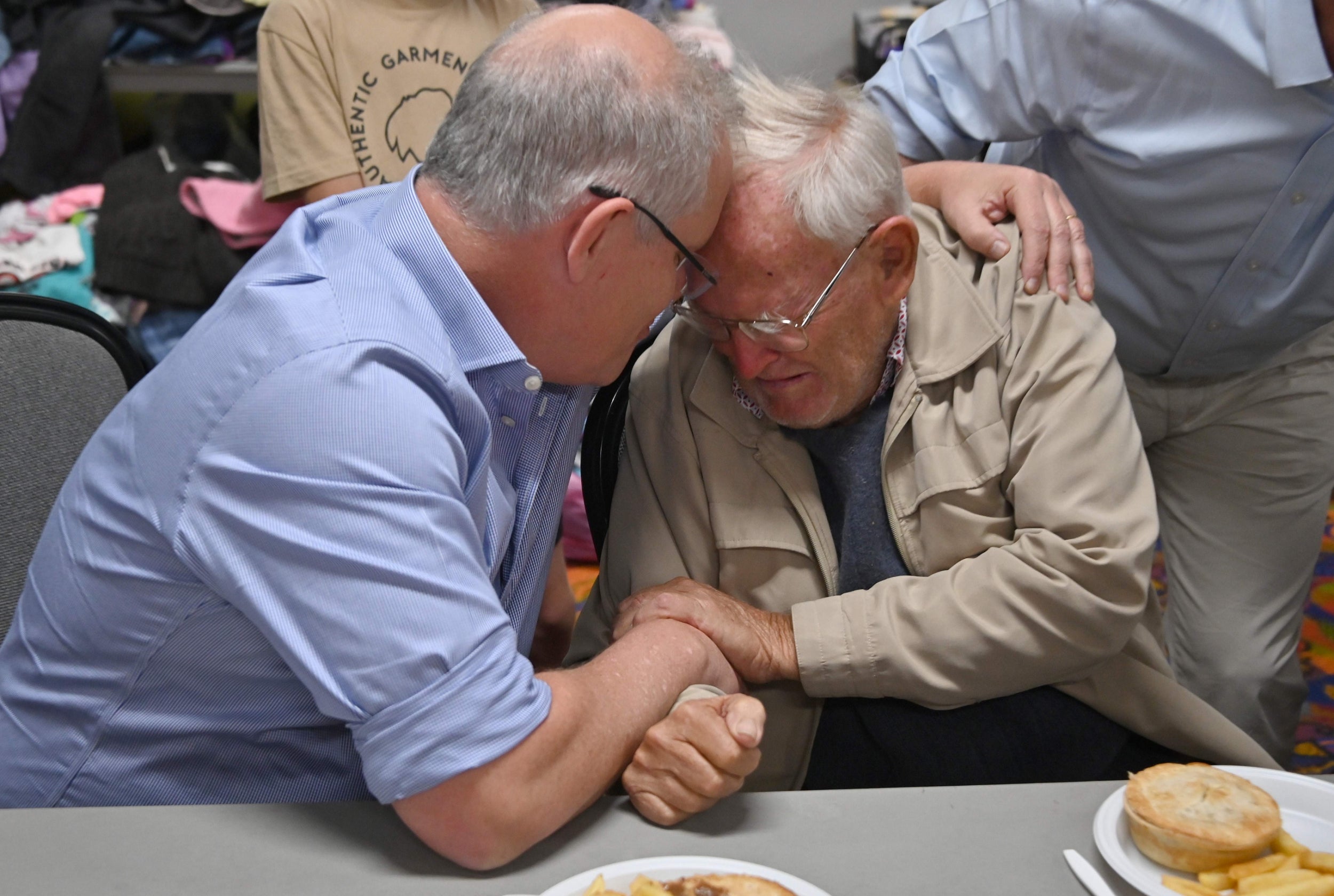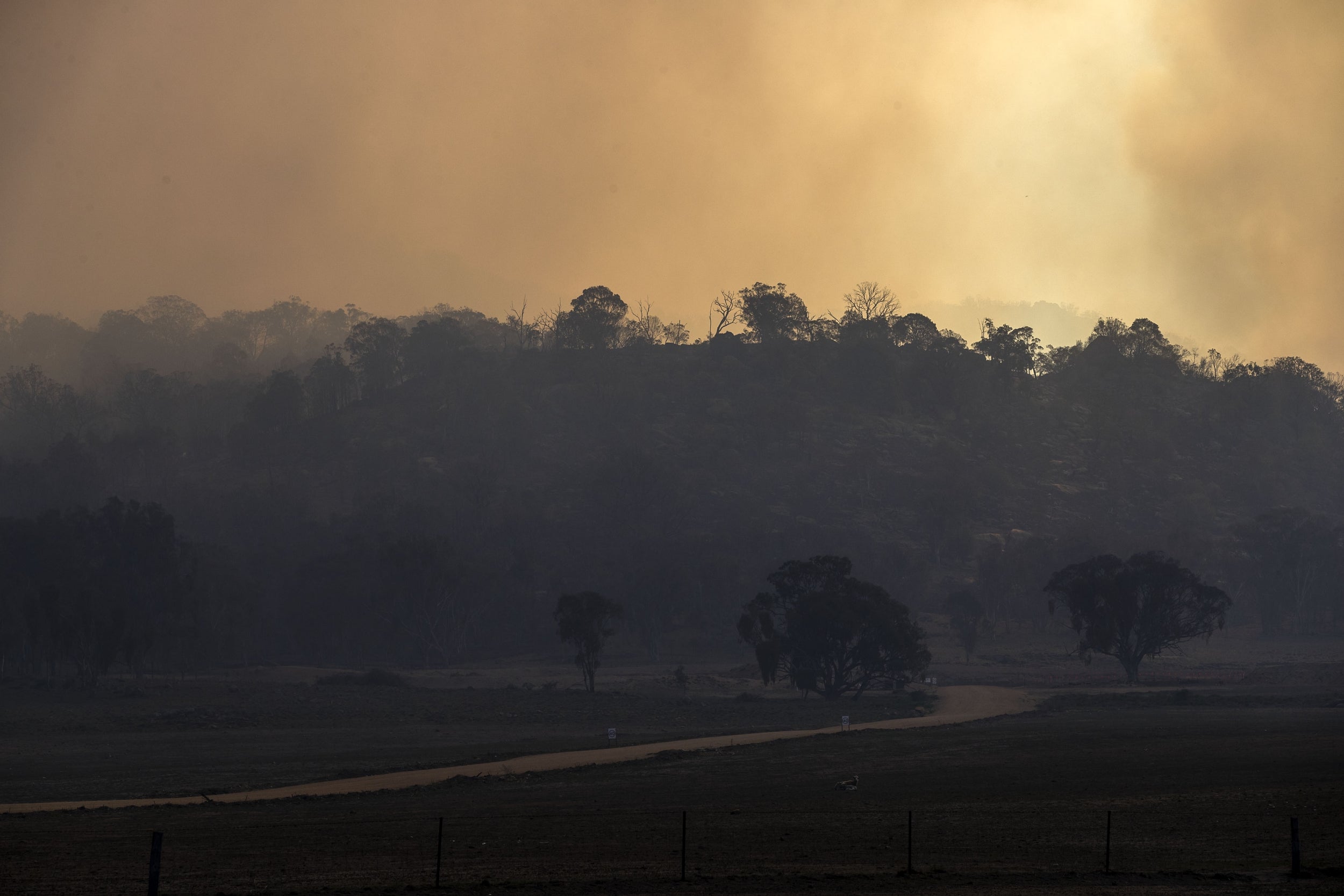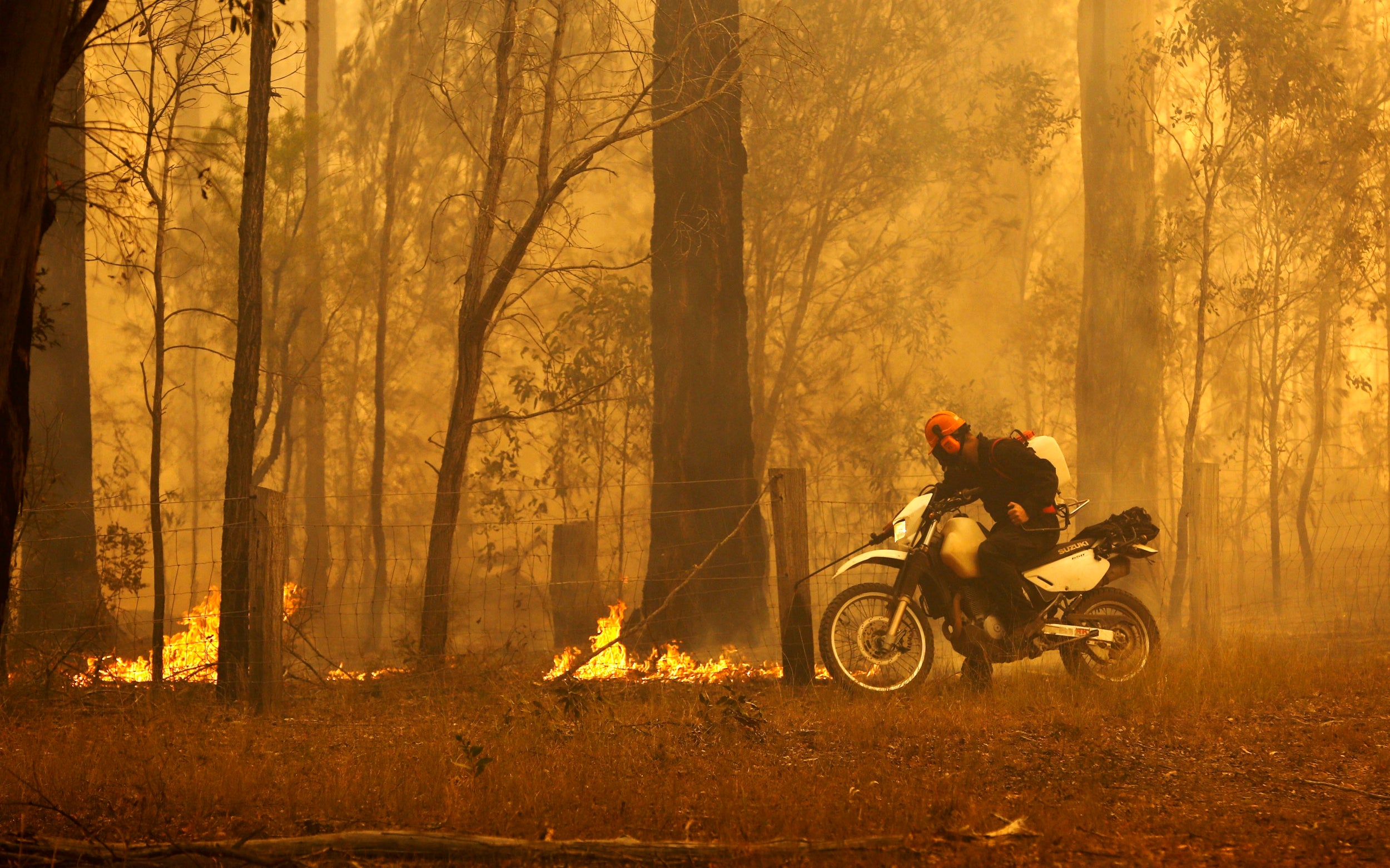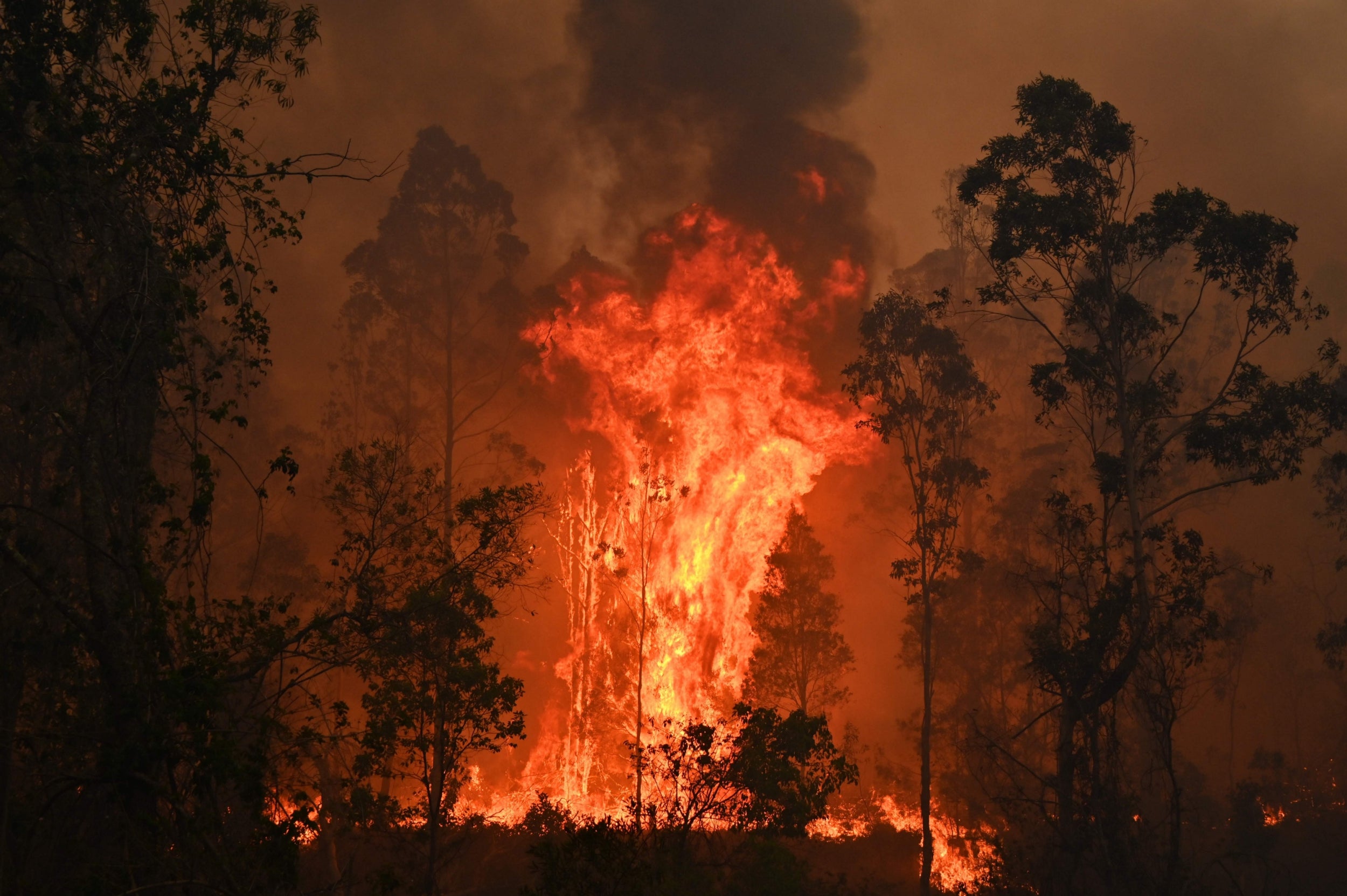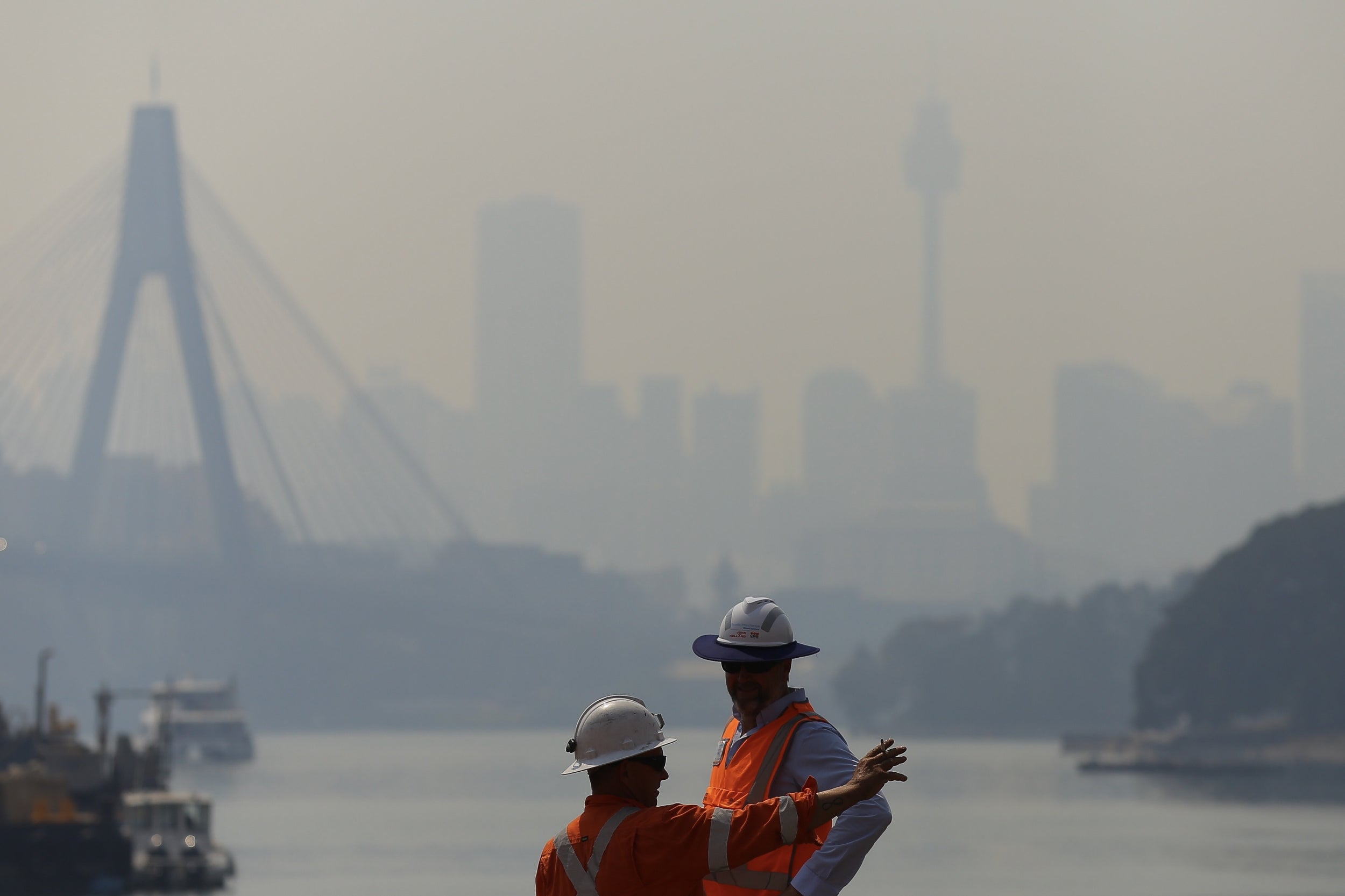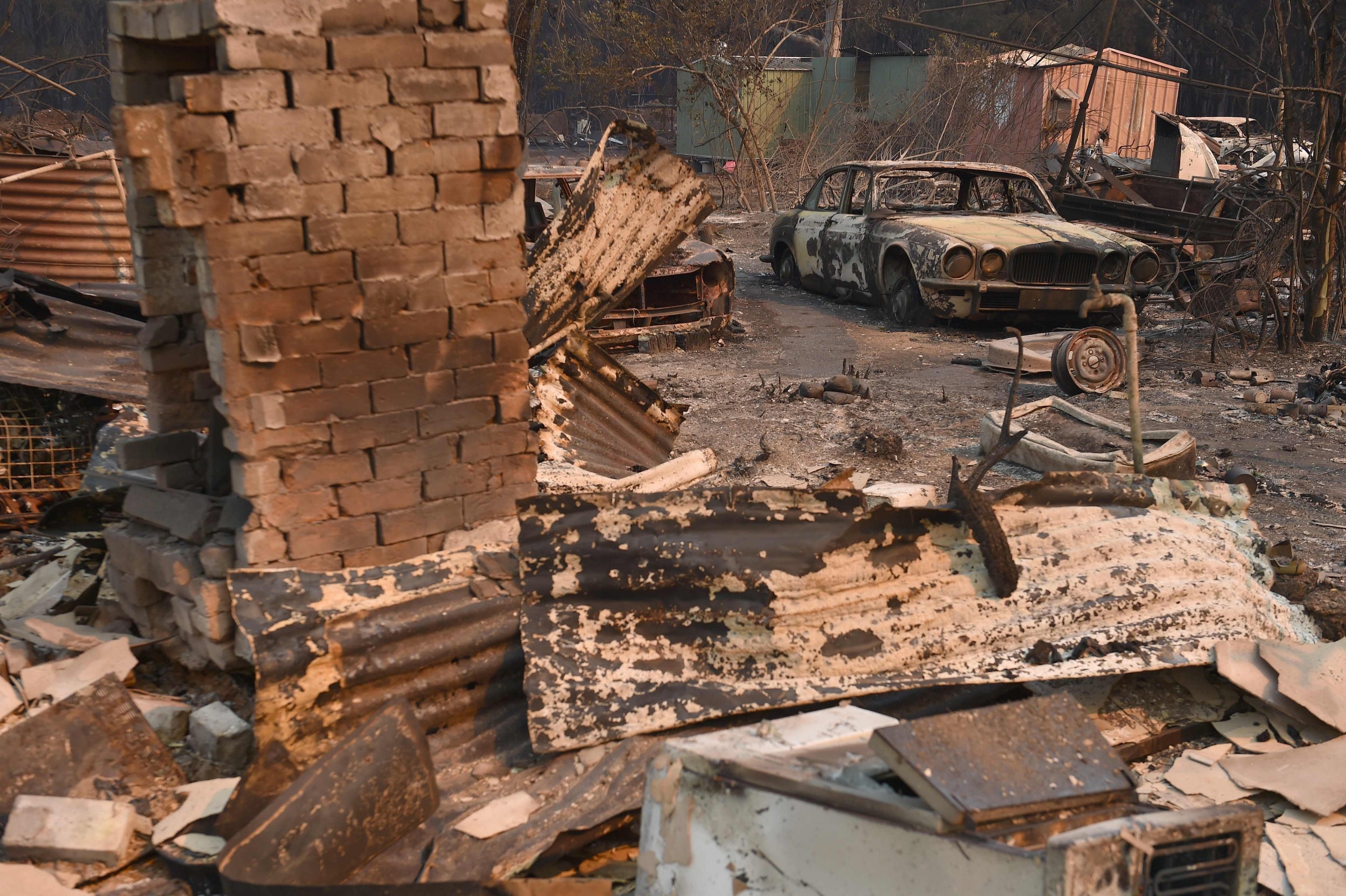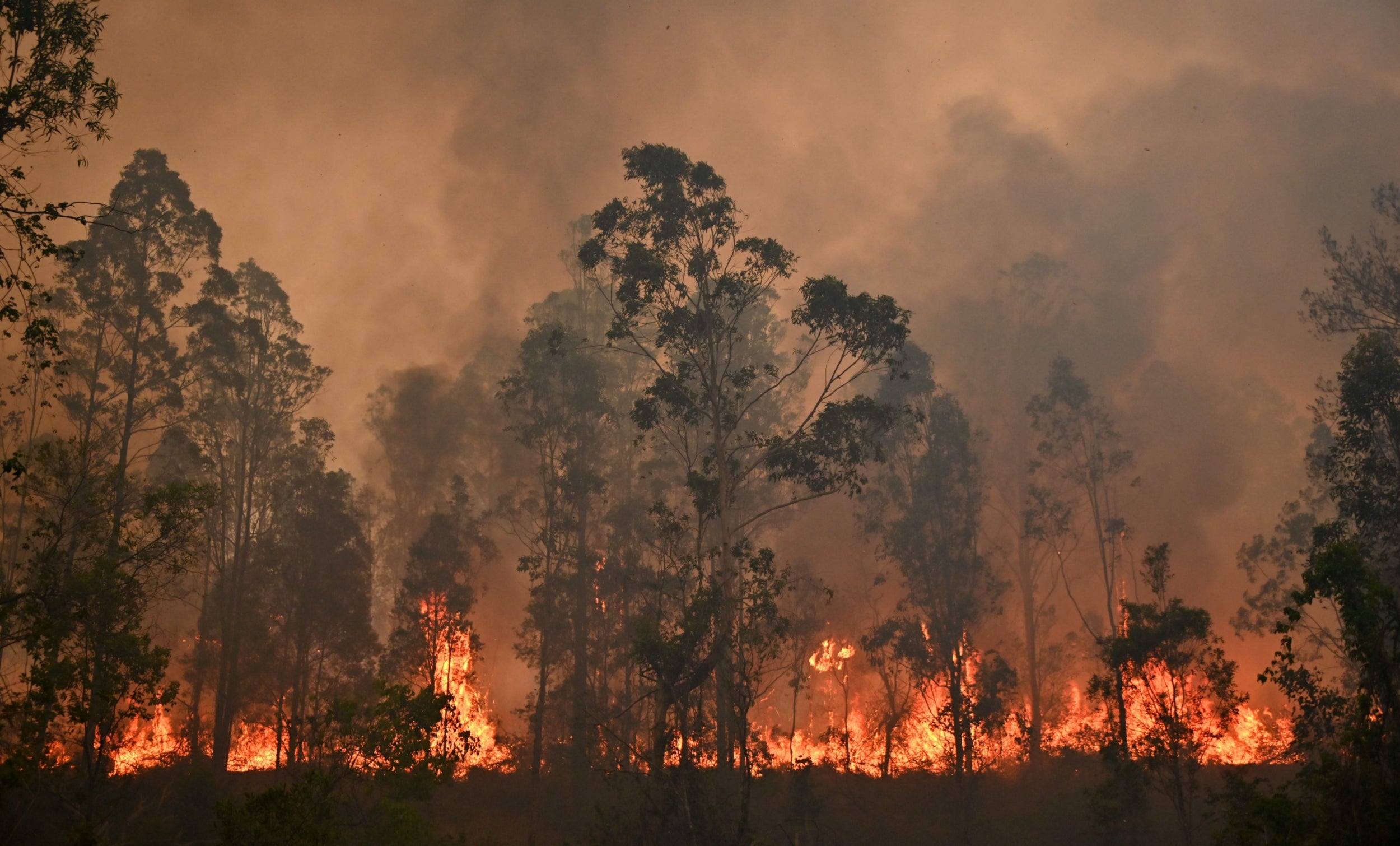 "You should not be there tomorrow and we want you to get out now," Mr Crisp said. But the Country Fire Authority began to warn on Monday morning that for those in some areas, it was already too late to leave.
The state broadcaster estimates 30,000 people had been holidaying in east Gippsland when the "severe" fire warnings were issued.
There are a further seven "extreme" warnings in place across Victoria, with a warning in each of the vast state's districts.
Earlier on Sunday, organisers of a music festival in the state, expected to run until New Year's Eve, cancelled the event due to the fire risk. About 9,000 people were already camping on site.
Mr Crisp warned that while 1000 firefighters, 60 trucks and more than 70 helicopters and planes were on standby, "rest assured there aren't enough trucks to go around".
The state of New South Wales (NSW) is also facing severe fire conditions over coming days, with conditions expected to reach their most dangerous on Tuesday.
Everyone in East Gippsland must leave the area today due to the fire danger forecast for tomorrow. Do not travel to this area. It is not possible to provide support and aid to all the visitors currently in the East Gippsland region.

Full info here: https://go.vic.gov.au/JYsnt6
NSW is one of Australia's most populous koala habitats, and environment minister Sussan Ley warned up to 9,000 koalas may have been killed in this year's fires – accounting for roughly one third of their population.
Ecologists also believe 480 million animals could have been killed since the fires started in September, which have burnt more than five million hectares (12 million acres) and killed eight people.
Dramatic aerials of Australia bushfires – watch
Australia's most populous state was paralysed by "catastrophic" fire conditions on Saturday amid extreme temperatures, while one person died as wildfires also ravaged the country's southeast. Near the town of Bilpin, large fires raged above treetops and approached properties in the Blue Mountains World Heritage area. Areas in New South Wales state had been forecast to hit 47 degrees Celsius (115 Fahrenheit) on Saturday before a cooling change was expected to move through the region.
On Sunday, prime minister Scott Morrison, risked controversy as he said world-famous fireworks in Sydney would go ahead, despite more than 250,000 people signing a petition to the contrary, fearing they could spark new fires or risk further traumatising individuals affected by the crisis.
Firefighting authorities, however, have refused to rule out the chance of cancelling the display at the last minute.
Additional reporting by agencies
Read more
The bushfires in Australia are so big they're generating their own weather — 'pyrocumulonimbus' thunderstorms that can start more fires
The Australia bushfiresr are generating "pyrocumulonimbus" clouds, which create their own thunderstorms that can start more fires.
Here's how the process works and why it's so dangerous.
The bushfires in Australia are now so big that they are generating their own weather, in the form of giant thunderstorms that start more fires, according to the Bureau of Meteorology in Victoria.
"Pyro-cumulonimbus clouds have developed to altitudes over 16km in East #Gippsland this afternoon. These fire-induced storms can spread fires through lightning, lofting of embers and generation of severe wind outflows," the bureau tweeted on Monday.
Satellite photography shows the intense smoke generating atmospheric clouds:
Intense fires generate smoke, obviously. But their heat can also create a localized updraft powerful enough to create its own changes in the atmosphere above. As the heat and smoke rise, the cloud plume can cool off, generating a large, puffy cloud full of potential rain. The plume can also scatter embers and hot ash over a wider area.
Eventually, water droplets in the cloud condense, generating a downburst of rain - maybe. But the "front" between the calm air outside the fire zone and a pyrocumulonimbus storm cloud is so sharp that it also generates lightning - and that can start new fires.
If powerful enough, a pyrocumulonimbus storm can generate a fire tornado, which happened during the Canberra bushfires in 2003.
Scientists worry that "pyroCbs" are on the rise around the world, driven by warmer temperatures and more intense fires, Yale E360 reported. Their plumes are so strong that they can even shoot smoke into the stratosphere, 6 to 30 miles above the Earth's surface.
Here is a time lapse of a pyrocumulonimbus storm in action, from a different Australian fire:
Bushfires reach Melbourne as heatwave fans Australia blazes
A helicopter dumps water on a fire in Victoria's East Gippsland region. Tourists and firefighters were forced to flee vast fires burning in southeastern Australia. AFP/Department of Environment, Land, Water and Planning
MELBOURNE - Around 100,000 people were urged to flee five Melbourne suburbs on Monday evening as Australia's spiralling bushfire crisis killed a volunteer firefighter battling a separate blaze in the countryside.
Authorities in the country's second-biggest city downgraded an earlier bushfire emergency warning but said residents should steer clear of the blaze, which has burned through 40 hectares of grassland.
In Bundoora -- just 16 kilometres north of the city centre and home to two major Australian university campuses -- the fire's spread toward houses had been halted for now but it was yet to be brought under control, said Victoria Emergency.
Local media showed images of water bombers flying over neighbourhoods, and families hosing down their homes in the hope of halting the fire's spread.
A volunteer firefighter died in New South Wales state and two others suffered burns while working on a blaze more than five hours south-west of Sydney, the Rural Fire Service said.
"It's believed that the truck rolled when hit by extreme winds," the agency said in a tweet.
Ten others, including two volunteer firefighters, have been killed so far this fire season.
The crisis has focused attention on climate change -- which scientists say is creating a longer and more intense bushfire season -- and sparked street protests calling for immediate action to tackle global warming.
While conservative Prime Minister Scott Morrison belatedly acknowledged a link between the fires and climate change, he has continued his staunch support of Australia's lucrative coal mining industry and ruled out further action to reduce emissions.
The blazes have also destroyed more than 1,000 homes and scorched more than three million hectares -- an area bigger than Belgium.
A heatwave sweeping the country Monday fuelled the latest destruction in Australia's devastating summer fire season, which has been turbocharged by a prolonged drought and climate change.
Conditions worsened on Friday with high winds and temperatures soaring across the country -- reaching 47 degrees Celsius in Western Australia and topping 40 degrees in every region -- including the usually temperate island of Tasmania.
More than a dozen blazes are also raging in Victoria's East Gippsland countryside, where authorities said "quite a number" of the 30,000 tourists visiting the usually picturesque region had heeded calls to evacuate.
Some of the fires were burning so intensely that hundreds of firefighters were pulled back beyond a front estimated to stretch 1,000 kilometres.
It was deemed "unsafe" for them to remain in bushland areas, Gippsland fire incident controller Ben Rankin said, describing the situation as "very intense".
MUST READ
===
Omnicide: Who is responsible for the gravest of all crimes?
By Danielle Celermajer -
As the full extent of the devastation of the Holocaust became apparent, a Polish Jew whose entire family had been killed, Raphael Lemkin, came to realise that there was no word for the distinctive crime that had been committed: the murder of a people. His life work became finding a word to name the crime and then convincing the world to use it and condemn it: genocide. Today, not only has genocide become a dreadful part of our lexicon. We recognise it as perhaps the gravest of all crimes.
During these first days of the third decade of the twenty-first century, as we watch humans, animals, trees, insects, fungi, ecosystems, forests, rivers (and on and on) being killed, we find ourselves without a word to name what is happening. True, in recent years, environmentalists have coined the term ecocide, the killing of ecosystems — but this is something more. This is the killing of everything. Omnicide.
Some will object, no doubt, that this does not count as a "cide" — a murder or killing — but is rather a natural phenomenon, albeit an unspeakably regrettable one. Where is the murderous intent? Difficult to locate, admittedly, but a new crime also requires a new understanding of culpability. Indeed, one of the most serious problems with the laws against genocide is that they were written in a way that requires that the specific intent to destroy a people can be shown to have existed. Even where it did exist, such intent most often remains hidden in people's dark hearts.
This time, though, we need to go much further. We need to understand that the responsibility for omnicide is various and layered. The role that those responsible play this time is almost always less direct, but its effect no less devastating. We are unlikely to identify anyone actively scheming the death of the five-hundred million wild animals whom we believe to have died in the first month of this summer's Australian bushfires.
We can, however, identify the political representatives who refused to meet with fire chiefs who had been seeking to warn of, and act to mitigate, the impending disaster. The same political representatives who approved and continue to approve new coalmines in the face of scientific consensus on the effect that continuing to burn fossil fuels will have on climate in general, and drought and temperatures in particular. The same political representatives who approve water being diverted to support resource extraction, when living beings are dying for want of water and drying to the point of conflagration.
We can identify the media owners who sponsor mass denial of the scientific evidence of the effects of a fossil fuel addicted economy on the climate. The same media owners who deploy the tools of mass manipulation to stoke fear, seed confusion, breed ignorance and create and then fuel hostile divisions within communities.
We can identify the financial institutions that continue to invest in, and thereby prop up toxic industries, and who support the abovementioned media owners so as to protect themselves from accumulating stranded assets. We can identify the investors who use their financial and social capital to support politicians who will protect their financial interests. We can identify a corporate culture and a legal system, populated by lawyers, management consultants and financial analysts, that incentivise or even require companies to maximise short term shareholder profit and externalise costs to the future and the planet.
And then we can identify parties closer to home. Business owners and investors whose profits depend on systems of extraction and resource exploitation. Consumers addicted to lifestyles based on resource extraction and the exploitation of the natural world. Citizens who prioritise narrow short-term interests over the sustainability of the planet. Citizens who lack the courage or fortitude to take ourselves through the social and economic transformations required to give our children and the more-than-human-world a future. Citizens who do not bother to take the time or make the effort to develop well-informed opinions, but would rather run to the comfort of the truisms of their tribe.
We can also identify the humans and human cultures that have told ourselves that we are superior to, and thus have the right to dominate and exploit, other animals and the natural world. That we are the ones who get to flourish, and that everything else that is here, is here for our use. That other beings are not life but resource.
None on this long list developed a specific intent to kill everything. But all of us have created and are creating the conditions in which omnicide is inevitable.
When I was growing up, my parents used to play a Bob Dylan song called "Who Killed Davey Moore?" about a boxer who died in the ring when he was just 30 years old. Each verse begins with some party — the coach, the crowd, the manager, the gambling man, the boxing writer, the other fighter — answering the title's question, "Who killed Davey Moore?" They each respond, "Not I …" and then explain that they were just doing what it is that they do: going to the fight, writing about the fight, throwing the punches and so on. And of course, they each told the truth.
We too are just doing what it is that we do: ensuring that the largest political donors support our political campaigns; maximising profits; ensuring a high share price; living a comfortable life style; avoiding change; lazily buying back in to the conceit that we humans are special. But sometimes, just doing what it is that we do is sufficient to kill, not just Davey Moore, but everything.
Omnicide, the gravest of all crimes. And as with all crimes, those responsible must be held accountable.
Danielle Celermajer is Professor of Sociology and Social Policy at the University of Sydney. She is the author of The Sins of the Nation and the Ritual of Apologies and The Prevention of Torture: An Ecological Approach.
Can human stupidity get any worse ?
The majority of conditioned Aussies simply do not care.
Sydney Harbour New Year's Eve fireworks display to go ahead despite bushfire risk
By Victoria Pengilley - 30. December 2019
Photo: Fireworks explode over the Sydney Harbour during New Year's Eve celebrations last year. (AAP: Brendan Esposito)
The City of Sydney Council says the harbour's New Year's Eve fireworks will go ahead as planned but the Rural Fire Service (RFS) has refused to rule out cancelling the event at the last minute.
Key points:
Rural Fire Service Commissioner Shane Fitzsimmons refuses to rule out cancelling fireworks display if deemed too risky
City of Sydney Council said harbour fireworks display will go ahead despite thousands signing a petition
NSW Premier Gladys Berejiklian backs the decision but will consult with RFS over safety concerns
Heatwave conditions are expected across large parts of the state next week, with forecasts of more than 40C in Western Sydney and regional NSW.
Total fire bans are enforced across the state on Monday, with a decision still to be made for the remainder of the week.
Many communities postponed their fireworks displays, including Armidale in the state's Northern Tablelands.
But the City of Sydney on Sunday said its famous display would go ahead despite the bushfire crisis that has gripped the state.
"Like everyone, we at the City of Sydney are deeply affected by what we've been seeing over these last months," Tanya Goldberg, Head of Audience for Major Events and Festivals at the City of Sydney said.
"But we are of the firm view that Sydney New Year's Eve should not be cancelled."
The council said lengthy planning had gone into the event.
"Preparations for these celebrations began 15 months ago, which means most of the budget, largely used for crowd safety, has already been spent," Ms Goldberg said.
"Cancelling would have little practical benefit for devastated communities."
Photo: RFS Commissioner Shane Fitzsimmons refused to rule out cancelling the fireworks display. (AAP: Damian Shaw)
NSW Premier Gladys Berejiklian backed the City of Sydney decision to go ahead with the fireworks display.
"Sydney is one of the first cities in the world welcoming in the New Year. If it is safe to do so, we should continue to do it as we have done every other year," Ms Berejiklian said.
But NSW RFS Commissioner Shane Fitzsimmons refused to rule out the possibility of calling off the harbour fireworks at the last minute.
When asked about the cost of cancelling the fireworks at the last minute, Mr Fitzsimmons said: "If I determine it to be too risky, that doesn't concern me.
"The pyrotechnics organisations and local authorities are used to working with us around exemptions in the summer period, whether it is Christmas, New Year or some other event.
"They know the arrangements, the procedures, and we will work through to make sure that risk is appropriately addressed and, where necessary, we won't allow them to go ahead."
Ms Berejiklian said she would consult with the RFS about safety concerns.
"We're elected on behalf of the community to protect our community, to protect our citizens," the Premier said.
"But if there is no safety reason why those fireworks shouldn't continue, we will proceed."
City of Sydney Lord Mayor Clover Moore said if there was a total fire ban on New Year's Eve the council would "do what we need to do".
A petition, started six weeks ago, called for the $5.8 million budget for the fireworks to be redirected to bushfire and drought-relief projects.
The petition states: "$5.8 million was spent in Sydney alone for fireworks last year.
"All states should say NO to FIREWORKS. This may traumatise some people as there is enough smoke in the air."
In response to the backlash, the Council said it would promote the Red Cross Disaster Recovery and Relief Fund during the fireworks broadcast and donate more than $600,000 to support communities and wildlife affected by bushfire and the drought.
Photo: The City of Sydney Council says cancelling the display will ruin the plans of thousands. (Supplied: City of Sydney)
Scrapping the show would ultimately do more harm than good, the Council said.
"Cancelling would seriously hurt Sydney businesses, particularly in the wake of recent reports of a weaker retail season and would also ruin plans for thousands of people who have come from across the country and overseas who have made their plans," Ms Goldberg said.
"The opportunity to come together and celebrate what is good, to express hope, a little happiness and sense of togetherness is arguably even more important than ever."
Related Story: Adelaide Council rejects calls to cancel NYE fireworks
Australia bushfires: Firefighter accused of arson in 'ultimate betrayal'
By BBC - 27. November 2019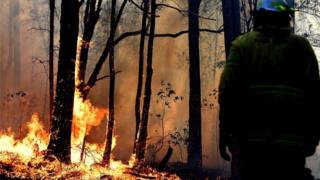 A volunteer firefighter in Australia has been charged with deliberately lighting blazes during the nation's bushfire crisis.
Police arrested the man, 19, for seven counts of alleged arson in an area south of Sydney, New South Wales (NSW).
The fire service there described the alleged acts as the "ultimate betrayal" to crews already under immense strain.
Six people have died and over 650 homes have been lost in bushfires which have ravaged the east coast since September.
The man is not accused over those tragedies.
The NSW Rural Fire Service calls itself the largest volunteer-based firefighting service in the world. The majority of its crews are staffed by trained volunteers.
"Over the past few weeks, we've seen firefighters going above and beyond in difficult and dangerous conditions," said Commissioner Shane Fitzsimmons on Wednesday.
"Our members will be rightly angry that the alleged actions of one individual can tarnish the reputation and hard work of so many."
How was he arrested?
Police said they had been investigating a "spate" of fires believed to have been deliberately lit in the Bega Valley in the state's south since October.
On Tuesday, officers spotted a man sitting in his car next to a river in the area. Shortly afterwards, they saw smoke and a pile of grass and trees on fire.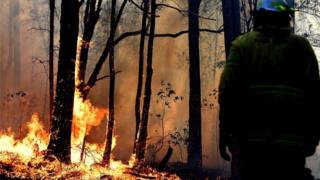 "Police will allege in court that the man lit the fire and left the area before returning to respond to the fire as part of his duties as a volunteer firefighter," said New South Wales Police on Wednesday.
He was arrested shortly after and was due to face a court on Wednesday.
More than 120 blazes continue to burn across the state. Officials have warned that the worst of Australia's season is still to come.