'World's oldest' rhino dies in Ngorongoro sanctuary in Tanzania
The 57-year-old female black rhino, named Fausta, spent most of her life in the wild
By AFP -
A black rhino believed to be the oldest in the world has died in Tanzania at the age of 57, according to authorities in Ngorongoro where the animal was living.
The female rhino, named Fausta, died of what is believed to be natural causes on 27 December in a sanctuary, after living most of her life in the wild, the Ngorongoro Conservation Area Authority said in a statement on Saturday.
"Records show that Fausta lived longer than any rhino in the world and survived in the Ngorongoro, free-ranging, for more than 54 years" before she was moved to a sanctuary in 2016, said the statement.
"Fausta was first located in the Ngorongoro crater in 1965 by a scientist from the University of Dar Es Salaam, at the age of between three and four years. Her health began to deteriorate in 2016, when we were forced to put the animal in captivity, after several attacks from hyenas and severe wounds," it added.
Sana, a female southern white rhino, aged 55, was considered the world's oldest white rhino when she died in captivity at the Planète Sauvage zoological park in France, in 2017.
The Ngorongoro conservation area estimates the life expectancy of rhinos to be between 37 and 43 years in the wild, while they can live to older than 50 in captivity.
===
MUST READ:
===
South Africa gets go-ahead to increase black rhino trophy hunting
Conservation groups split on impact of move agreed at international wildlife summit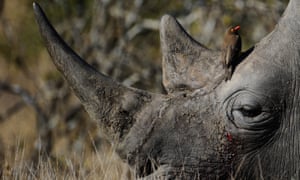 There are now about 5,000 black rhinos, almost 2,000 of them in South Africa. Photograph: Pierre-Philippe Marcou/AFP/Getty Images
South Africa has won permission to almost double the number of black rhinos that can be killed as trophies after arguing the money raised will support conservation of the critically endangered species.
The decision was made at the Convention on International Trade in Endangered Species (Cites) after receiving support from some African nations and opposition from others.
Poachers supplying the illegal trade in rhino horn decimated numbers in the past but the population is now growing. About 5,000 black rhinos exist today, almost 2,000 of them in South Africa.
Since 2003, South Africa has been allowed to sell hunting rights for five black rhinos a year. The latest decision means it can take up to 0.5% of the population, meaning nine rhinos at today's levels. South Africa said adult males would be targeted, to protect breeding females.
The request was opposed by Gabon, whose delegate said: "It is a very small population and threatened by poaching." Kenya's delegate said the move, along with poaching, would mean almost half the black rhino population increase each year being lost. NGOs also opposed the move, with Born Free's delegate noting South Africa rarely used its existing quota.
But South Africa was supported by other rhino range states including Botswana, Zimbabwe and Eswatini (formerly Swaziland), as well as the EU and Canada. South Africa agreed not to use the full quota if the rhino population fell below a certain level, but did not specify what this would be.
Tom Milliken of Traffic, a wildlife trade monitoring group, said the higher quota could help increase black rhino numbers. Older males could cause conflicts, prevent younger males from breeding and even kill females, he said. "It is a positive: you are basically preventing bar-room brawls and getting faster reproduction rates going," Milliken said.
He said the black rhino was one of the highest-priced trophy animals, costing tens of thousands of dollars to hunt. "It really is providing conservation funds," Milliken said.
But Elizabeth Bennett of the Wildlife Conservation Society said: "WCS remains concerned about the impact of illegal hunting and trafficking of black rhinos for their horns. We encourage major efforts to ensure their protection, the prevention of trafficking, and that any trophy hunting is truly sustainable and supports, not undermines, the conservation of the species."
An earlier vote at the Cites meeting delivered a ban on wild African elephants being exported to zoos. Zimbabwe has sold dozens of elephants to Chinese attractions in recent years. The new rule says the only acceptable destinations are wild, native habitats.
The vote outcome could be overturned in the final session of the summit, which signs off all decisions. This is because the EU, which opposed the move, failed to vote.
Ivonne Higuero, the secretary general of Cites, said: "There was some confusion about credentials [proofs of identity required to vote]. Maybe there was a lack of preparation. Everyone can raise their voice at [the final session]."
The meeting of 183 nations, being held in Geneva, also considered the plight of sea creatures, and there was unanimous support for giving seahorses more high-profile protection. They are much sought after in the aquarium trade and for traditional Chinese medicine.
Cites has restricted international trade in all 44 seahorse species since 2002. Trade in live and dried specimens has fallen by 75% and 90% respectively in the past decade, but many millions still change hands each year.
The US delegate told the summit: "They are vulnerable because of their low birth rate, long parental care and habitat degradation. Ongoing illegal trade poses a threat to the survival of the species."
The summit also agreed to increase focus on the soaring trade in marine ornamental fish, including many coral reef fish and sharks. The trade supplying public and private aquariums has increased 60-fold since 2000, with 1.5bn fish now sold each year.
The EU delegate said: "There is an obvious need to assess the trade as [it is] one of the major threats." However, the European Pet Association said the approved Cites initiative was not balanced.
High price of rhino horn leaves bloody trail across the globe
The recent killing of a rhino in a Paris zoo marks a shocking new development in this ruthless global trade but rhino experts remain optimistic that the situation can be reversed.
By Damian Carrington -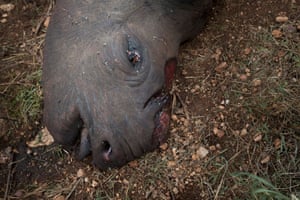 A mutilated corpse of a pregnant poached black rhino in the Lewa wildlife conservancy in northern Kenya. Photograph: Dai Kurokawa/EPA
On the black market it is reputedly worth more than its weight in gold or cocaine, and this week the lure of rhino horn brought the bloody business of poaching to a zoo near Paris. There, in the dead of night, criminals broke in, shot a white rhino called Vince three times in the head and then hacked off its eight-inch horn with a chainsaw.
The attack marks a shocking new development in a crisis that sees more than three rhinos killed every day in their southern African homelands. Trade in rhino horn is completely illegal but demand from Vietnam and China fuels poaching and smuggling, putting the rhinos at risk of extinction.
Rhino horn is made of keratin – the same material as human fingernails – but an urban myth about a senior Vietnamese figure being cured of cancer pushed up demand in recent years and as its price rose, it has become a status symbol and hangover tonic. Longer-standing uses such as a supposed fever treatment in traditional Chinese medicine and as ornamental carvings have also driven up prices.
With the prices high and, until recently, the penalties very low, international organised crime networks mobilised to supply the illegal trade – wildlife trafficking is a multi-billion dollar enterprise only surpassed by the smuggling of drugs, arms and people.
The zoo raid, and thefts from museums across Europe in recent years, reveal how the criminals have been keeping ahead of authorities. "The criminal networks involved have shown themselves to be far more innovative and utterly ruthless," said Julian Rademeyer, an expert on rhino horn at Traffic, the leading wildlife trade monitoring organisation. "They are often outthinking law enforcement and government regulations, finding new loopholes to exploit."
The criminals have even shown a brazen marketing flair: the idea that powdered rhino horn is an aphrodisiac began as a western myth, said Rademeyer, but the syndicates latched on to it and now sell wine laced with rhino horn as aphrodisiacs in Vietnam.
Rademeyer and all the key wildlife trade groups decline to detail the current price of rhino horn, for fear of encouraging more crime. But it is public knowledge that the horn peaked in price at about $65,000 a kilogram in 2012. It is thought to have fallen significantly since then, though it remains many times more valuable than elephant ivory.
There has been a crackdown on poaching in South Africa, home to about 70% of all rhinos, but killings have spiked in Namibia and Zimbabwe as poachers seek easier targets.
"There have been warnings for the last four to five years that zoos need to tighten up security," Rademeyer said. Police are visiting every zoo and wildlife park in the UK that houses rhinos – 111 in total – to provide security advice.
Rademeyer said there have been hundreds of rhino horn thefts across Europe in recent years. In 2016, seven men received lengthy jail sentences in the UK over a series of museum raids which targeted horns and jade artefacts estimated to be worth over £50m.
However, the epicentre of the rhino crisis remains in southern Africa, where poor young men are willing to risk their lives by poaching. They receive just a tiny fraction of the horns' ultimate value, but even a few hundred dollars is a huge sum in their communities.
Hundreds of poachers have been killed in the last seven years and a much smaller but significant number of rangers, soldiers and policemen have also died. "People have limited sympathy for poachers but I think [their poverty] is a reality that has to be grappled with," said Rademeyer.
"Shooting and jailing the poachers is not a long term solution," he said. "They are very easy [for the crime syndicates] to find and very easy to exploit. Whether they get killed or arrested means very little to the syndicates, and the same applies to the couriers. The kingpins who are making the big money are getting away with it."
Rademeyer said police cooperation is crucial to tackling the global rhino horn trade: "You are dealing with very sophisticated transnational organised crime syndicates in many cases and yet your law enforcement is hampered by international borders. Police tend to police their own backyard." He says campaigns in Asia to stigmatise rhino horn use are important too, and have helped cut the shark fin trade.
The Paris poaching also raises the controversial question of whether a legalised trade in rhino horn, harvested sustainably from wild or farmed animals, could destroy the black market. Many nations and organisations strongly oppose the idea, saying it would simply allow illegal horns to be laundered with fake permits, but South Africa backs the idea.
Duan Biggs, a researcher at Griffith University in Australia, said: "The issue is complex, but a well managed and enforced legal trade that is structured to fund rhino protection and deliver community benefits is likely to work better than the status quo." He accepts some people might find it unethical, but said: "I think that poaching a rhino in a zoo or in the wild is even more morally repugnant than a well regulated legal trade."
However, a legalised rhino horn trade is unlikely any time soon. Swaziland made such a proposal at an international wildlife trade summit in Johannesburg in September and it was soundly defeated.
Rademeyer remains cautiously optimistic that the perilous decline of the world's rhino can be reversed, pointing to their comeback from the brink of extinction in the 1950s. "We have beaten this before," he said.
(*) Author: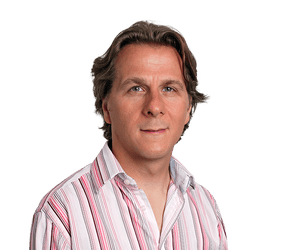 Damian Carrington @dpcarrington