Prologue: The trees are most likely the least concern for the Ethiopian PM, who had been installed in a US-led and masterminded soft-coup, since fresh violence has broken out in Amhara Region, while the Oromo nation is still not free. But Abiy got now his first spy-satellite (see report underneath), due to Chinese loan and tech. Maybe he can then see better how denuded of forests Ethiopia is - especially also in the Southern Nations State areas, once covered by lush forests, from where the central regime drove the Indigenous peoples away to clear land for foreign investors (incl. USA, China and Germany) engaging in cash-crop agriculture next to the infamous Omo River Dam, that als causes Lake Turkana in neighbouring Kenya to dry up.
Did Ethiopia plant four billion trees this year?
By Peter Mwai - BBC Reality Check - 20 December 2019
Ethiopia undertook a major national reforestation programme this year, with the ambitious target of planting four billion trees in just three months.
The highlight was a single day in July, on which people across the country turned out to help with planting 350 million tree seedlings.
At the end of August, the government claimed to have just about achieved these goals. But is it really possible to plant that many trees in such a short time and what evidence is there that the overall target has been met?
The campaign, known as the Green Legacy Initiative, has been championed by the country's Nobel peace prize-winning Prime Minister, Abiy Ahmed.
Politicians around the world have pointed to Ethiopia as an example of what can be done to reforest their own countries and reverse the effects of both damaging farming techniques and climate change.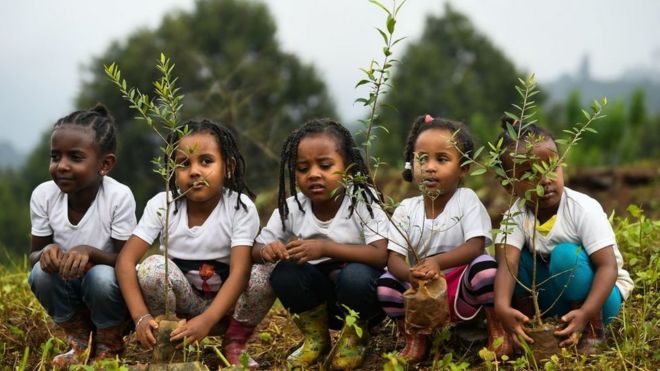 Millions of Ethiopians took part in a tree planting day across the country Image copyright Getty Images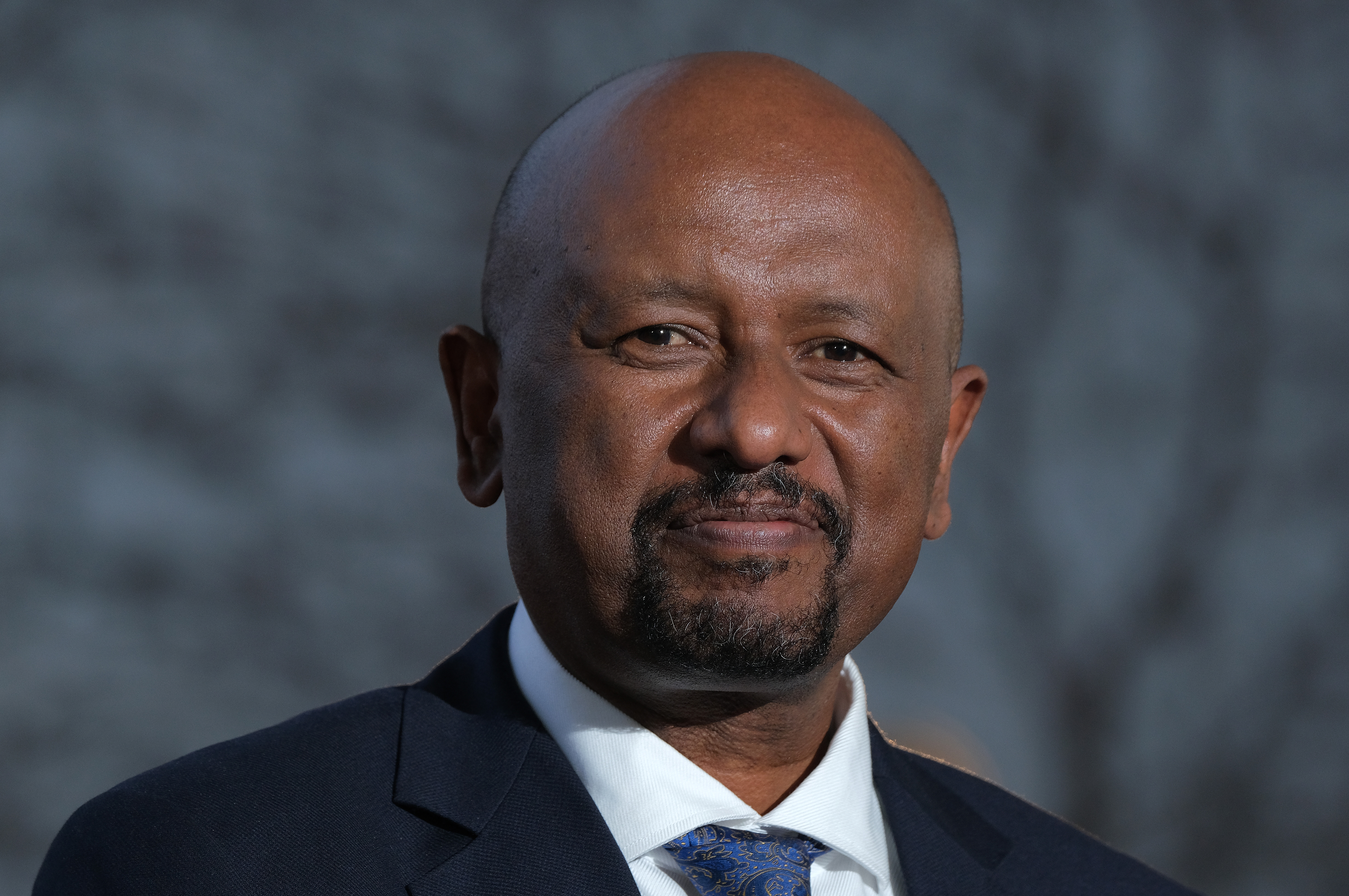 We have reached both targets that we have set for ourselves....We have also learned a lot from this project in terms of agro-forestry for the country.
During the recent UK election campaign, major political parties made expansive promises to plant millions more trees, and referred to Ethiopia's initiative.
The Labour party pledged to plant two billion trees by 2040, the Conservatives at least 30 million more trees every year, and the Green Party 700 million by 2030.
Canada has plans to plant two billion trees over 10 years.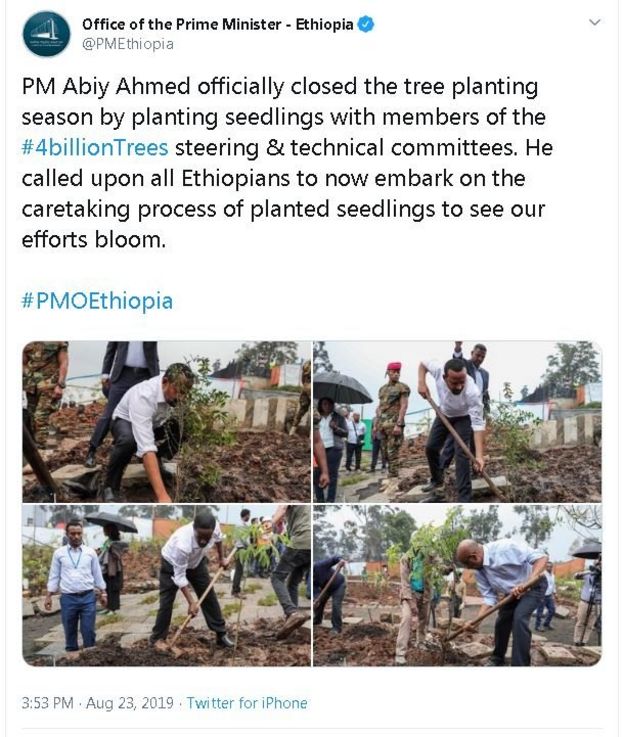 Record breaking attempt
Ethiopia held a one-day tree planting event on 29 July, with an initial target to plant 200 million tree saplings across the country.
The government announced that the target had been exceeded, with more than 350 million planted over a 12-hour period. They gave a very precise number - 353,633,660 trees planted that day.
The government had promoted the day as an attempt at an official Guinness World Record (GWR). But GWR told the BBC they are yet to receive any evidence.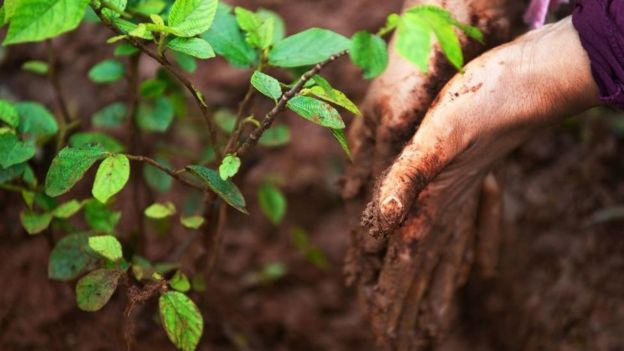 Image copyright Getty Images
"We would encourage the organisers to get in touch with this for our records management team to review," said spokeswoman Jessica Spillane.
The prime minister's office declined to comment on the figures and the status of the record verification, saying the country has already answered most questions around the tree planting.
For more on what we were able to find out about this planting day, see our Reality Check article here.
Is it possible to plant four billion trees?
If you look at the three-month project to plant four billion trees, that's at least 45 million planted each day.
If you take into account the bumper planting day on which 350 million were claimed to have been planted, then that's just over 40 million every other day over the period.
The Ethiopian government's plan has been to plant the trees on 6.5 million hectares of rural land.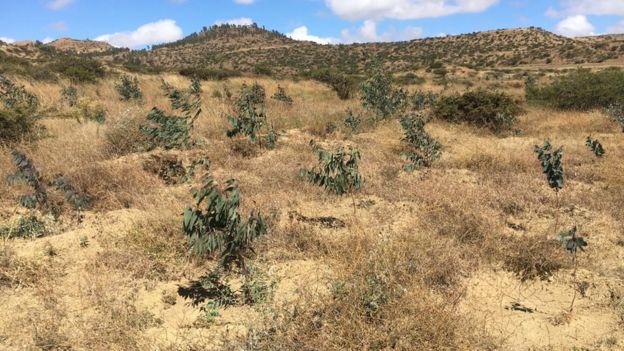 Newly planted seedlings need water to survive harsh conditions in Tigray province Image copyright Girmay Gebru, BBC
Assuming an average tree density of around 1,500 per hectare, that's certainly enough land to plant four billion trees.
But that doesn't tell us anything about what was actually planted.
The only planting figures we have are provided by the Ethiopian government itself. According to these, just over 3.5 billion trees were planted in three months from June to August. A further 1.3 billion seedlings were grown, but not planted.
How do you count so many trees?
We can't count them all ourselves, but we did send one of our reporters to a newly-planted area to take some photographs of saplings, struggling in the arid conditions of the Tigray region in the north of country.
We contacted a satellite imaging company that works with high-resolution images, who told us that the newly planted saplings would be difficult to identify, their small crowns and narrow trunks largely indistinguishable from scrub or other cultivated land.
Tim Christophersen, a forestry expert at the UN, told us he had been encouraged by Ethiopia's commitment to reforestation, but could not give a verdict on its tree planting challenge.
"Ethiopia has asked the international community for support with planting, but more importantly with the maintenance and nurturing of the trees," he told the BBC, adding that the country has pledged to restore 15 million hectares of degraded forests and landscapes by 2030, as part of a global effort to tackle deforestation.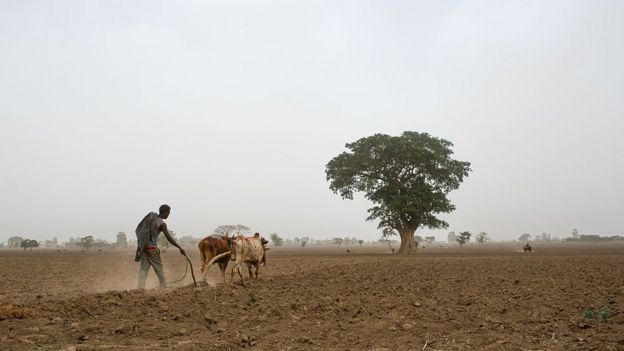 Tree planting needs to be balanced against the need for farmland Image copyright Getty Images
It seems clear that whilst Ethiopia's ambition to plant billions of trees has been praised by environmentalists, there has been no significant work done on evaluating exactly how many trees have been planted this year.
Part of the problem may be to do with the way the tree planting has been remunerated.
In July, the EU and the Ethiopian government signed a 36m euros ($40m; £31m) financing agreement to help the country grow greener.
Local organisations all across Ethiopia have been provided with funds to plant a set number of trees, and it is not too surprising to learn that they have been reporting a high planting rate to local officials who have then collated the figures at the national level.
Environmental challenges ahead
Whatever the actual numbers, there's no doubt there has been a major effort on the part of the Ethiopian government to tackle very serious deforestation problems.
Half a century ago, Ethiopia had around 40% forest cover. Today that figure is 15%.
If the recent tree planting programme is to tackle this problem, the seedlings will have to be watered on a regular basis.
It will take a great deal of precious water in a country that already has a significant shortfall, but it could also create an environment better suited to retaining water.
===
Deforestation: Did Ethiopia plant 350 million trees in a day?
By Reality Check team BBC News - 11 August 2019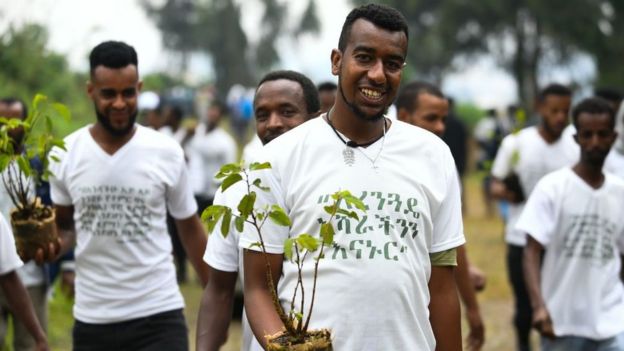 Claim: Ethiopia says it planted more than 350 million trees in just one day which, if verified, would be a world record.
Verdict: If it's true what the government says that 23 million people took part it's possible they could have planted this many trees, but it hasn't been independently confirmed.
Why plant trees?
Ethiopia's government launched the £1.1bn tree planting project earlier this year to tackle deforestation and climate change.
The United Nations says forest cover in Ethiopia fell from 35% of total land area in the early 20th Century to a little above 4% by the 2000s.
The initial target was to plant 200 million tree saplings in 12 hours on 29 July, but Getahun Mekuria, the Innovation and Technology minister, said the country ended up planting more than 350 million tree seedlings.

BREAKING NEWS!! ETHIOPIA PLANTED 353,633,660 TREE SEEDLINGS IN 12Hours #GreenLegacyEthiopia #PMOEthiopia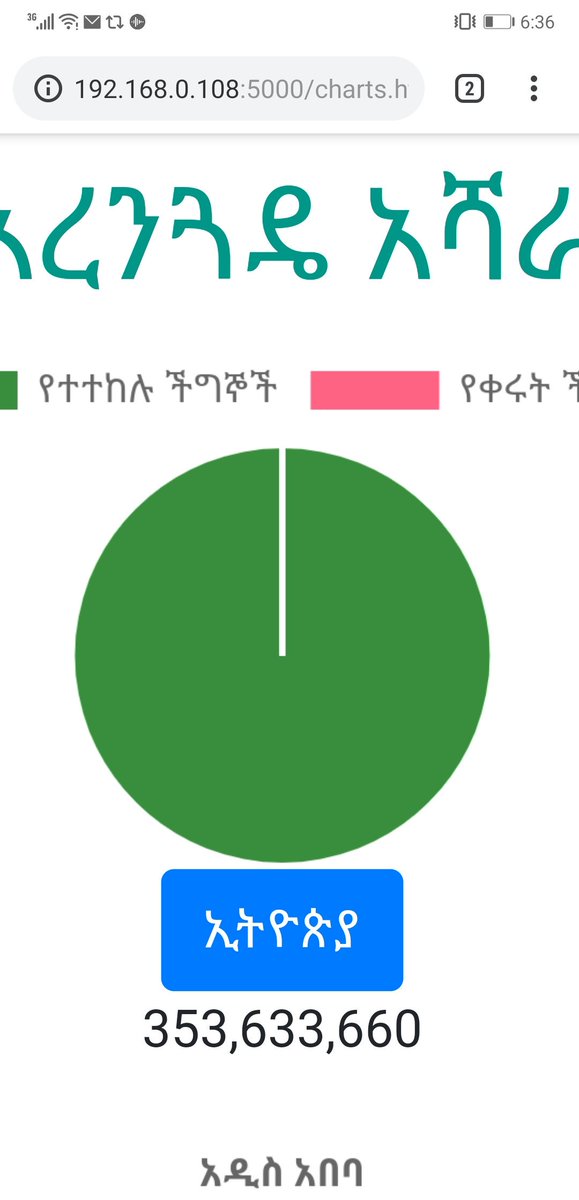 6:45 PM · Jul 29, 2019·Twitter for Android
Their aim is to plant four billion trees by October this year.
How was it organised?
The handing out of the seedlings to volunteers across the country was completed three days before the event, the government says.
Some government employees were given the day off to help and officials from the UN, African Union and foreign diplomats also took part.
Most of the seedlings were of an indigenous species, but there were also fruit trees such as the avocado.
Officials were assigned to count the seedlings being planted by volunteers.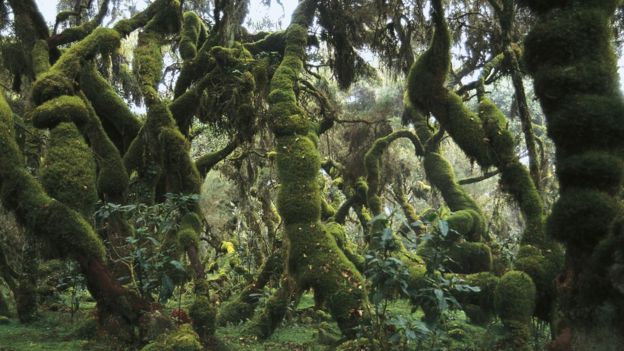 Ethiopia has lost lots of its natural forests Image copyright Getty Images
So how likely is it that such a high number of trees were planted?
An expert said it is possible but only with proper planning.
"It is not impossible, but it would take a very well-organised effort," said Tim Christophersen, who coordinates work on forests and climate change at the UN.
He told AFP that one volunteer could realistically plant about 100 trees a day.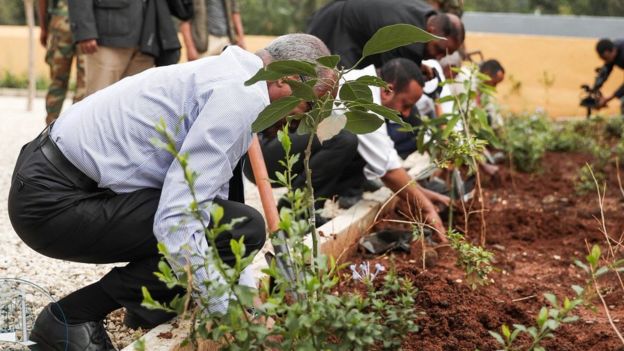 Some government offices were shut down to allow civil servants to take part in the campaign
More than 23 million of Ethiopia's 105 million people took part, says Dr Tefera Mengistu, the National Forest Sector Development Program coordinator.
So if all these people planted 100 seedlings - the 350 million figure would be surpassed easily. However, there is no available tally for how many trees each person planted.
Planting 350 million trees, Mr Christophersen said, would require about 864,000 acres of land.
But we don't know much land was used during this 12-hour effort.
The head of one government-linked organisation told the BBC they'd been ordered to plant 10,000 trees, but had to pay for them out of their own budget.
So they planted 5,000, but reported the full amount.
And there is also a discrepancy between figures for some areas given out by the Innovation and Technology minister and the numbers posted on the website of the prime minister.
We have asked the prime minister's office for clarification but have yet to get a response.
The UN has praised the Ethiopian government and called on the region to follow its lead.
"Other African nations should move with speed and challenge the status quo," said Juliette Biao Koudenoukpo, director of UN environment's Africa office.
However, the claim has also been viewed with scepticism by some.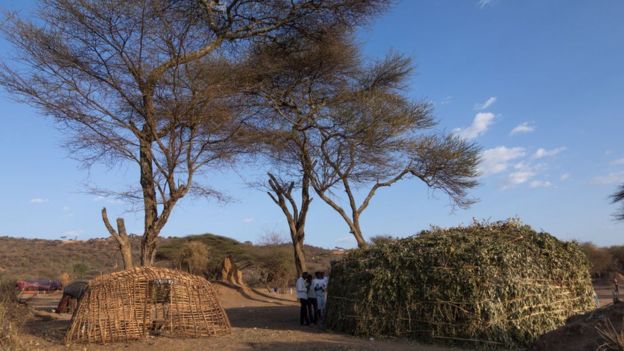 Some are viewing the tree-planting figures with scepticism Image copyright Getty Images
"I personally don't believe that we planted this much… It might be impossible to plant this many trees within a day," said a spokesperson for the opposition Ezema party.
Some critics of the prime minister say he is using the campaign to distract from the challenges his government is facing, including ethnic conflicts which have forced some 2.5 million people from their homes.
Was it an official record?
Guinness World Records says it has not received an application from Ethiopia to verify the record-breaking attempt.
"We are always on the lookout for new record-breaking achievements however, and so we would encourage the organisers of this event to get in touch with us to register an application," said Jessica Dawes, a spokeswoman for the organisation.
Ethiopia would need to provide accurate evidence of the tree-planting, the people who took part, where it took place and timings. There also have to be two independent witnesses who can confirm the record results.
The current world record holder is India.
In 2016, 50 million trees were planted by more than 800,000 people in the northern state of Uttar Pradesh.
And if you're wondering about the record for the most trees planted in a day by one person, that's currently held by someone in Canada who planted 15,170 red pine seedlings in 2001.
READ ALSO:
Ethiopia has launched its first satellite into space with China's help
By Yinka Adegoke - 20.
Ethiopia launched its first observatory satellite into space on Friday (Dec. 20), according to local reports.
The 70 kilogram remote sensing satellite is to be used for agricultural, climate, mining and environmental observations, allowing the Horn of Africa to collect data and improve its ability to plan for changing weather patterns for example. The satellite will operate from space around 700 kilometers above the surface of earth.
The launch, which was originally scheduled for September, took place at 03.21hours GMT from the Taiyuan Satellite Launch Center in Xinzhou, Shanxi Province, China. The satellite was carried on board a Long March 4B rocket.
The rocket launched was aired live on Ethiopian Broadcasting Corporation.
The Chinese satellite was designed and built at a cost of $8 million, with China paying around $6 million of the capsule's price, according to the head of the Ethiopian Space Science and Technology Institute (ESSTI) at Addis Ababa University. Though it was launched from China its command and control center is based at the Entoto Observatory and Space Science Research Center (EORC) in Ethiopia, which is part of the Ethiopian Space, Science and Technology Institute (ESSTI).
In 2016, the Ethiopian government established ESSTI as a way to fully exploit space technologies for development purposes. In Jan. 2017, the ministry of science and technology announced it would launch a satellite into orbit in three to five years to improve its weather-monitoring capabilities. This followed the launch of a privately-funded, multi-million-dollar astronomical observatory in the Entoto hills overlooking Addis Ababa—a one-of-its-kind station that would allow Ethiopia to observe both the northern and southern hemisphere skies.
As satellites get smaller and cheaper, an increasing number of African nations are declaring their plans to look skyward. Countries including Kenya, Egypt, Nigeria, South Africa, and Morocco have partnered to launch or launched their own programs to power their own scientific, technological and military ambitions. In January 2018, China gave $550 million to Nigeria for the purchase of two satellites from Chinese manufacturers both of which are slated for launch in the next year.
The African Union has also introduced an African space policy, which calls for the development of a continental outer-space program and the adoption of a framework to use satellite communication for economic progress. And as criticisms abound over the anomalous use of resources in the face of more pressing day-to-day concerns, the demand for satellite capacity is expected to double in the next five years in sub-Saharan Africa as climate change concerns grow and governments try to get ahead of the challenge.
However, China's technological transfers to Africa have increasingly come under scrutiny, with experts warning these digital systems could be used for Beijing's intelligence operations and electronic surveillance. While Addis Ababa says it would use the satellite to monitor crops and the weather, it could just as well be used for spying.