UN climate talks failing to address urgency of crisis, says top scientist
COP25 in Madrid criticised for focusing on details instead of agreeing deep cuts to emissions
By Fiona Harvey in Madrid -
Urgent UN talks on tackling the climate emergency are still not addressing the true scale of the crisis, one of the world's leading climate scientists has warned, as high-ranking ministers from governments around the world began to arriving in Madrid for the final days of negotiations.
Talks are focusing on some of the rules for implementing the 2015 Paris agreement, but the overriding issue of how fast the world needs to cut greenhouse gas emissions has received little official attention.
"We are at risk of getting so bogged down in incremental technicalities at these negotiations that we forget to see the forest for the trees," said Johan Rockström, joint director of the Potsdam Institute for Climate Impact Research. "There is a risk of disappointment in the UN process because of the inability to recognise that there is an emergency."
In the next few days, environment and finance ministers from more than 190 governments will begin the "high-level segment" of the UN talks, which began on 2 December, and will finish on Friday. Over the weekend, negotiators produced the latest draft of a key text on carbon markets, which still does not have the consensus needed to pass.
The stately pace of negotiations was in stark contrast with the scenes outside the conference in Madrid, where on Friday evening more than 500,000 people marched through the Spanish capital led by the Swedish school striker Greta Thunberg. Protests continued through the weekend, with Extinction Rebellion and groups from across the world. On Monday, Thunberg and other youth activists will hold meetings with officials inside the conference.
Rockström said the UN conference must grapple urgently with reversing emissions of greenhouse gases, which are still on the rise despite repeated scientific warnings over three decades and multiple resolutions by governments to tackle the problem.
"We must bend the curve next year," he told the Guardian, citing stark warnings from the Intergovernmental Panel on Climate Change. "Next year is the year of truth. The year when we must move decisively to an economy that really starts to reduce investments in fossil fuels."
Even the coal-fired power plants currently planned or in construction are enough to produce double the amount of carbon that can safely be put in the atmosphere for the next century, Rockström said.
The situation was so dire that governments should be starting to consider geoengineering technology, he said. Such projects could use a combination of natural and artificial means, from seeding clouds to erecting reflectors in space.
"Geoengineering has to be assessed, maybe even piloted already in case we need to deploy it," he said. "It makes me very nervous. That is really playing with biological processes that might kick back in very unexpected ways. But I don't think we should rule anything out – an emergency is an emergency."
As the UN conference enters its final stages, the role of the UK is likely to come under much greater scrutiny. Britain will play host to next year's conference at which world leaders must pledge much greater cuts in emissions than have yet been made, if the 2015 Paris accord is to succeed.
Claire O'Neill, the former Tory climate minister designated to lead next year's conference, is in Madrid but cannot make official announcements because of the "purdah" rules surrounding political announcements in the run-up to the general election.
However, the UK's plans were rated as "insufficient" in a key independent analysis called the Climate Action Tracker. Despite the government's eye-catching commitment last summer to cut carbon emissions to net zero by 2050 – one of the first major economies to make such a pledge – few measures are in place to keep pace with the target.
"There has been a dearth of new significant climate policies in recent years which, if left unaddressed, will leave the UK missing its medium and long-term targets," concluded the analysis of global emissions-cutting plans.
That would damage the host nation's credibility at next year's crucial talks in Glasgow, campaigners said.
Dr Bill Hare, a climate scientist and the chief executive of Climate Analytics, which carried out the study, said it was clear which of the two biggest parties had the better plans on the issue before this week's general election.
"While both major political parties have proposed further climate action, the Conservatives have not put sufficient proposals on the table to close this gap, whereas [our analysis shows] the Labour's £250bn could easily close that gap and push on towards a 1.5C pathway," Hare said.
The UN conference move shows global heating plus inequality is a recipe for chaos
Global heating plus inequality is a recipe for chaos – just look at Chile
By Maisa Rojas (*) - 0
The protests that forced the COP25 climate conference from Santiago to Madrid had the climate crisis at their core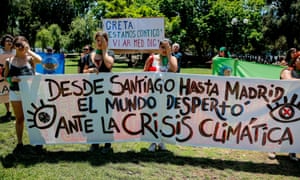 'We should be meeting in Santiago.' Environmental protesters in Santiago, Chile. Their banner reads: 'From Santiago to Madrid, the world has woken up to the climate crisis.' Photograph: Javier Torres/AFP via Getty Images
It's a grey winter day as I walk through the UN climate conference (known as COP25) in Madrid. The pavilions and rooms all have the names of cities, regions and rivers in Chile. They're especially familiar to me: as well as being scientific coordinator for COP25, I'm director of Chile's Centre for Climate and Resilience Research. It's all a stark reminder that we should be in Santiago.
But on 18 October 2019, the president of Chile declared a state of emergency and instituted a curfew to quell three days of public unrest that started because of an increase in metro fares. The outbreak of anger was summed up by the message, "This is not about 30 pesos, it is about 30 years", referring to discontent lasting three decades, which appeared on walls across the city and on social media. The protests ultimately led to COP25's move to Madrid.
The movement they spawned continues to this day. Its demands are wide-ranging: better pensions, education, health, a minimum wage; but also water rights and action on environmental degradation. What they have in common is their roots in a profoundly unequal society that can be traced back to Augusto Pinochet's dictatorship. The economic framework he instituted has hardly changed since the return of democracy in the 90s.
But why did this violence and rage explode so suddenly? Chile ranks as one of the most unequal countries among the OECD nations according to the Gini index (the most widely used measure of inequality). The latest survey by the Chilean government shows that the richest 10% of the Chilean population has 39 times more income than the poorest 10% – worse than it was in 2015.
The same survey shows that more than a million people live in poverty, almost 400,000 in extreme poverty. Not only that, more than half of workers earn less than 400,000 pesos (£390) a month. To put that in context, the average monthly rent in Santiago is 300,000 pesos.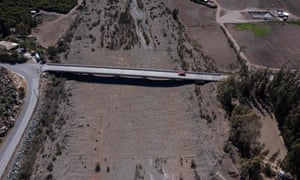 'A 10-year drought has resulted in many small-scale animal farmers losing their livelihoods.' The dry La Ligua river in Petorca province, Valparaiso, Chile. Photograph: Martin Bernetti/AFP/Getty Images
At first glance, other than disrupting a climate summit, this kind of social unrest doesn't seem to have much to do with the climate crisis. But look again.
We know that climate change acts as an amplifier of social inequality, disproportionately affecting the most vulnerable. Think for example about heatwaves, of which we saw several this year. The impacts of such extreme events are experienced very differently depending on whether you have access to air conditioning or whether you have a park or green space close by. The ability to recover from the impact of a tropical storm also depends on your access to insurance or finance, and to natural resources such as water.
In Chile, just a month before the social crisis exploded, we saw the first internal displacement as a result of the climate crisis. A 10-year-long drought has resulted in many small-scale and subsistence animal farmers losing their livelihoods. In the same areas, competition for water is fierce between local people and agriculture, particularly avocado producers. So as the impacts of the climate crisis become more intense, we can expect more displacement and more unrest. Not just in Chile but around the world.
But it's not just the direct effects of climate change that have the potential to cause social instability. The way we respond to those effects – if done without care and consent – can threaten even more social turbulence.
In order to achieve the Paris Agreement goal – limiting warming to 1.5C – the global community needs transformations that are unprecedented in scale and scope. Only recently we heard from the UN that, to reach this target, the world needs to reduce the emissions of greenhouse gases every year by about 7%. Part of the work that needs to be accomplished by this climate meeting and the next one, which will be held in Glasgow in 2020, is that countries must become much more ambitious about their commitments.
Can we implement these transformations without addressing all the other social challenges that our countries face? Clearly not. The Chilean crisis illustrates this very vividly, highlighting the great social, economic and environmental obstacles ahead of us. Climate emergency plus growing inequality is a recipe for chaos.
We can see what happens when those whose social demands have been ignored are asked to contribute to the climate effort: the gilets jaunes (yellow vests)movement in France grew up in response to rising fuel prices. Protests in Ecuador, over an end to fuel subsidies, brought the capital Quito to a standstill and forced the government to back down. These, along with events in Santiago, demonstrate that we need to pay attention to social and cultural impacts, too.
Addressing those problems might feel like adding even more complexity to an already uphill struggle. In the long run, however, only if social demands are met will ambitious and rapid climate action be feasible.
The good news is that addressing social issues alongside the climate crisis has the potential to generate powerful, long-lasting solutions. In Chile, one of the measures to achieve carbon neutrality is phasing out coal power plants. The closures come with a host of benefits, from better air quality to – eventually – cheaper energy. Those who work in the industry, however, are naturally concerned about their employment rights. If the government can support the community through the transition, they will emerge into a better, cleaner and safer future. In other words, making sure "no one is left behind" is key.
It is crucial that the connection between social and climate upheaval is made clear in Madrid – otherwise we will have lost the opportunity to learn that every crisis should bring. As the delegates walk to their negotiations, I hope the names they pass – of rivers, regions and cities of Chile – serve as a reminder.
(*) Maisa Rojas is the scientific coordinator for the COP25 climate summit, director of Chile's Centre for Climate and Resilience Research, and a visiting professor at the Environmental Change Institute, University of Oxford
Madrid COP25:
What does Africa want from the UN climate summit?
By Navin Singh Khadka - BBC - 09. December 2019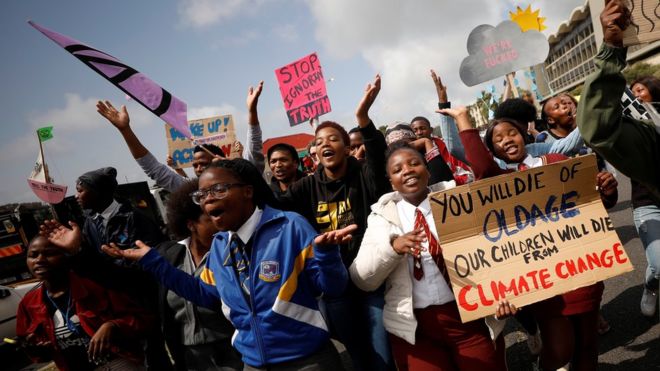 Africa accounts for less than 4% of the global total of carbon emissions but the continent is the most vulnerable in terms of the impact of climate change, the UN says.
While most of the world works to significantly reduce their carbon footprint, in Africa the debate is different.
The focus is instead on finding ways to cope with the increasing numbers of climate-related disasters and also achieving economic development with minimum carbon emissions.
Both of these objectives need huge funds which African countries cannot afford.
Ahead of the ongoing UN climate meeting in Madrid (COP25) scientists had been warning that the world needs to reduce carbon emissions - five times more than what had been pledged - if we are to avoid dangerous climate change.
While that agenda is proving to be a tough nut to crack, different negotiating blocs at the UN meeting have their own priorities depending on their circumstances.
Africa's agenda
A UN study has estimated that sub-Saharan Africa would alone need climate adaptation finance of around $50bn (£37bn) annually by 2050.
"Africa needs to receive means of implementation," Tosi Mpanu Mpanu, a lead negotiator from the Africa Group, said at a COP25 press meeting in Madrid.
"We need to receive financial resources, technology transfer, and capacity building. And these are not outrageous asks."
His comments came amid concern among many poor African countries - 33 are listed among the 47 least developed countries - that they had not received the climate finance promised by rich countries and whatever was made available through international bodies was very difficult to access.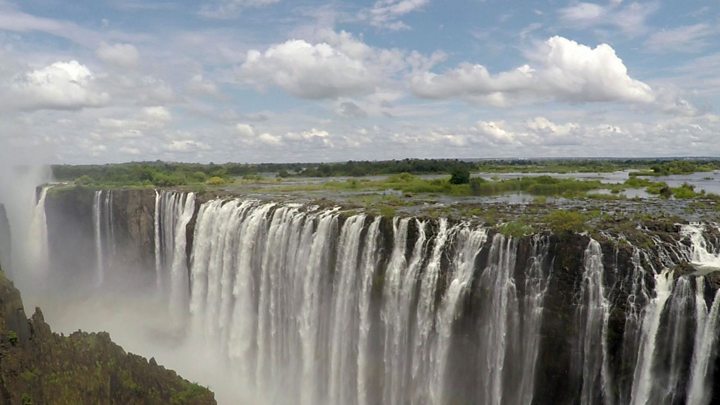 The Organisation of Economic Cooperation and Development (OECD) - a body representing 36 of the world's most developed countries - however said last year that public climate finance from developed countries to developing countries had increased from $37.9bn in 2013 to $54.5bn in 2017.
Bad governance and corruption in some poor countries have been cited as a reason for ineffective use of climate funds.
'Africa already hit by climate'
Africa's need for adapting to extreme weather events, many of them linked to climate change impacts, is becoming increasingly urgent, experts say.
They point at recent examples of cyclones, floods and severe droughts.
"The health, livelihoods and food security of people in Africa have been affected by climate change," the Intergovernmental Panel on Climate Change, the UN body on climate science, said in its fifth assessment report, some five years ago.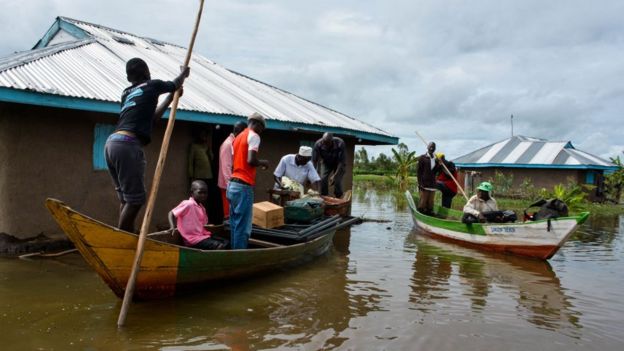 The report said production of wheat and maize in parts of Africa had already been impacted by climate change, as had the productivity of fisheries of the Great Lakes and Lake Kariba on the Zambia-Zimbabwe border and fruit-bearing trees in the Sahel.
More than half a decade since the report was published, climate experts say the effects have intensified and have become more frequent.
"No continent will be struck as severely by the impacts of climate change as Africa," the United Nations Environment Programme said in a report.
"Given its geographical position, the continent will be particularly vulnerable due to the considerably limited adaptive capacity, and exacerbated by widespread poverty," it said.
African negotiators at COP25 have been pressing for funds to adapt to the impact of climate change while demanding that major carbon emitters make significant cuts in their emissions to prevent dangerous warming.
"We from the Least Developed Countries bloc were very hopeful about adaptation financing in this meeting," said Sonam Wangdi, from Bhutan, who heads the LDC bloc that has 33 African countries as members.
"But all of our member countries, including those from Africa, are quite disappointed because we see nothing concrete happening," Mr Wangdi said.
Negotiators from the developing world have said climate adaptation and its financing were still not high enough on the main agenda.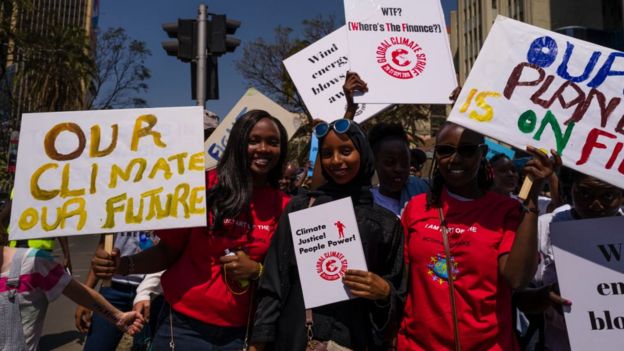 An analysis by the OECD found that of the total climate finance mobilised by rich countries, less than 20% went for adaptation projects in 2017.
Another study by the London-based International Institute for Environment and Development estimated that less than 10% of $17bn international climate finance was committed for local level activities between 2013 and 2016.
The share for least developed countries would be lower still, with some climate finance experts putting the figure at around 5%.
"The main reason for Africa not getting adequate climate adaptation finance is because most international financing organisations don't see it bankable as there is no profit in the short-term," said Colin McQuistan, head of climate resilience with Practical Action, an NGO helping several African countries with climate adaptation.
"Africa is still largely a farming economy and it is mainly about small scale farmers... which means international climate financing agencies will have to deal with these farmers individually and that will mean huge administrative costs," added Mr McQuistan.
'Loss and Damage'
This is another contentious issue developed and developing countries have locked horns over, and Africa is very much involved.
The Warsaw International Mechanism, a special forum established six years ago to deal with the loss and damage idea, is being reviewed at COP25 and developing countries want it to be properly funded within the UN climate set-up.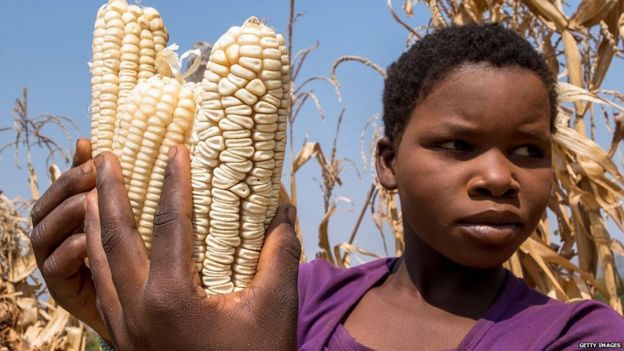 Some experts consider "loss" to apply to the complete destruction of something such as human lives, habitats and species. "Damage" refers to something that can be repaired, such as roads or buildings.
However, developed countries have not yet recognised the concept of compensating impacted countries in the developing world.
African negotiators are actively involved in this negotiation but one of them said there wasn't any progress on this front either.
"Just like on adaptation finance, we thought we would be able to create a robust mechanism for loss and damage, but that has not happened so far," said the negotiator who wanted to remain anonymous.
"If we don't receive money, we will not only fail to adapt to climate impacts... we will also have no choice but to carry on with carbon-intensive economic development, like burning fossil fuels," said the African negotiator.
The meeting in Madrid is halfway through and last week largely focussed on technical sessions. With ministers joining this week, all eyes are now on them.

You may be interested in: