Climate change: Oceans running out of oxygen as temperatures rise
By Matt McGrath - 07. December 2019
That's the conclusion of the biggest study of its kind, undertaken by conservation group IUCN.Climate change and nutrient pollution are driving the oxygen from our oceans, and threatening many species of fish.
While nutrient run-off has been known for decades, researchers say that climate change is making the lack of oxygen worse.
Around 700 ocean sites are now suffering from low oxygen, compared with 45 in the 1960s.
Researchers say the depletion is threatening species including tuna, marlin and sharks.
The threat to oceans from nutrient run-off of chemicals such as nitrogen and phosphorus from farms and industry has long been known to impact the levels of oxygen in the sea waters and still remains the primary factor, especially closer to coasts.
However, in recent years the threat from climate change has increased.
As more carbon dioxide is released enhancing the greenhouse effect, much of the heat is absorbed by the oceans. In turn, this warmer water can hold less oxygen. The scientists estimate that between 1960 and 2010, the amount of the gas dissolved in the oceans declined by 2%.
That may not seem like much as it is a global average, but in some tropical locations the loss can range up to 40%.
Even small changes can impact marine life in a significant way. So waters with less oxygen favour species such as jellyfish, but not so good for bigger, fast-swimming species like tuna.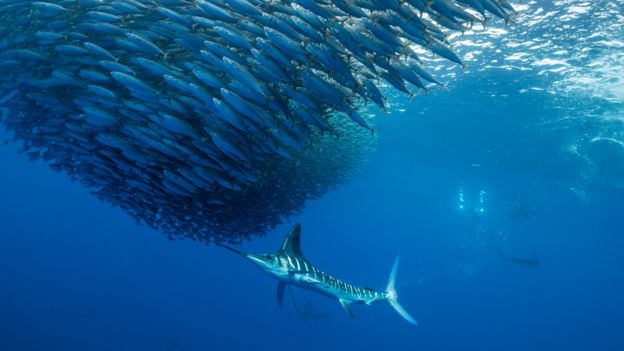 Marlin and school of Sardines - Image copyright IUCN
"We have known about de-oxygenation but we haven't known the linkages to climate change and this is really worrying," said Minna Epps from IUCN.
"Not only has the decline of oxygen quadrupled in the past 50 years but even in the best case emissions scenario, oxygen is still going to decline in the oceans."
For species like tuna, marlin and some sharks that are particularly sensitive to lack of oxygen - this is bad news.
Bigger fish like these have greater energy needs. According to the authors, these animals are starting to move to the shallow surface layers of the seas where there is more of the gas dissolved. However, this make the species much more vulnerable to over-fishing.
If countries continue with a business-as-usual approach to emissions, the world's oceans are expected to lose 3-4% of their oxygen by the year 2100.
This is likely to be worse in the tropical regions of the world. Much of the loss is expected in the top 1,000m of the water column, which is richest in biodiversity.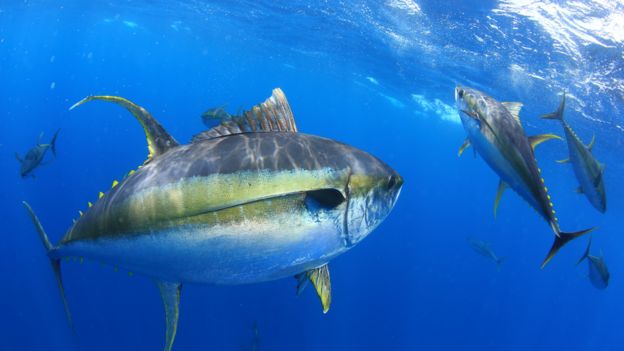 Tuna are suffering from lack of oxygen, says IUCN - Image copyright IUCN
Low levels of oxygen are also bad for basic processes like the cycling of elements crucial for life on Earth, including nitrogen and phosphorous.
"If we run out of oxygen it will mean habitat loss and biodiversity loss and a slippery slope down to slime and more jellyfish," said Minna Epps.
"It will also change the energy and the biochemical cycling in the oceans and we don't know what these biological and chemical shifts in the oceans can actually do."
Changing the outcomes for the oceans is down to the world's political leaders which is why the report has been launched here at COP25.
"Ocean oxygen depletion is menacing marine ecosystems already under stress from ocean warming and acidification," said Dan Laffoley, also from IUCN and the report's co-editor.
"To stop the worrying expansion of oxygen-poor areas, we need to decisively curb greenhouse gas emissions as well as nutrient pollution from agriculture and other sources."
=======
New IUCN report on ocean oxygen loss gives 'ultimate wake-up call' to act on climate
Royalty-free stock photo ID: 1339306877 Sydney, Australia - March 15, 2019 - Thousands of Australian students gather in climate change protests, School Strike 4 Climate, defying calls by the Government to stay in school.
By Andrea Germanos - 08.
A new report on ocean oxygen loss released Saturday should serve as the "ultimate wake-up call" to take bold action to rein in planet-warming emissions and save the world's "suffocating seas," researchers said.
The publication from the International Union for Conservation of Nature (IUCN) shows how the problem known as ocean deoxygenation, driven by global warming and human-caused nutrient pollution, is expanding, with impacts on humans and marine ecosystems alike.
"With this report, the scale of damage climate change is wreaking upon the ocean comes into stark focus. As the warming ocean loses oxygen, the delicate balance of marine life is thrown into disarray," said IUCN acting director general Dr. Grethel Aguilar.
Representing the expertise of over five dozens scientists across 17 countries, the report is framed as "the largest peer-reviewed study conducted so far on ocean deoxygenation."
Driving the problem is climate change, both directly, as oxygen is less soluble in warmer waters, and indirectly by affecting ocean dynamics. Deoxygenation is also being fueled by nutrient pollution, such as phosphorus and nitrogen, from sewage, agriculture, and aquaculture. Those factors are summed up in an infographic from IUCN:
A four-minute video entitled "A Breathless Ocean" released by the IUCN explains the process further:

The researchers found that from 1960-2010 overall ocean oxygen reserves fell by 2%, and they say the level could drop by as much as a further 7% by 2100.
While there were just 45 ocean sites around the world with low oxygen conditions in the 1960s, 700 such sites now exist. The number of areas in the global ocean depleted of oxygen, or anoxic waters, has quadrupled, the report found.
That's bad news, because changes in oxygen levels mess with species distribution. Species like jellyfish want low-oxygen areas, but low-oxygen sensitive ones, including most fish, don't.
Those species are then driven to other areas not affected by deoxygenation, but that can leave them susceptible to over-fishing by commercial operations.
Humans dependent on the affected species, especially smaller-scale fisheries, are adversely impacted. Communities may have a reduced catch or are forced to spend more to obtain the affected species—impacts that threaten not only nutrient loss but cultural loss.
"We are now seeing increasingly low levels of dissolved oxygen across large areas of the open ocean. This is perhaps the ultimate wake-up call from the uncontrolled experiment humanity is unleashing on the world's ocean as carbon emissions continue to increase," said report co-editor Dan Laffoley, the principal advisor on Marine Science and Conservation for IUCN's Global Marine and Polar Program.
"To stop the worrying expansion of oxygen-poor areas," said Laffoley, "we need to decisively curb greenhouse gas emissions as well as nutrient pollution from agriculture and other sources."
That points to action global leaders must commit to right now as they attend COP 25.
According to Minna Epps, IUCN Global Marine and Polar Program director, "Decisions taken at the ongoing climate conference will determine whether our ocean continues to sustain a rich variety of life, or whether habitable, oxygen-rich marine areas are increasingly, progressively, and irrevocably lost."
===
OXYGEN MEANS FOOD
Agriculture may not be able to feed the extra 2 billion people that are estimated to inhabit Earth by 2050. Eating mussels could solve the problem and help the planet — but to grow mussels and clams in ocean-farms to produce highly-nutricious superfoods naturally would stall without sufficint oxygen.
One of the solutions to the coming food crisis is to grow seaweed for human consumption and for organic feed to farm ocean-fish better and more efficient. But without sufficient oxygen in the water that all would collapse.
In theory we could feed 10 billion people with the protein from marine permacultur alone - but without sufficient oxygen in the water that will no longer be a better option.
Since the most recent observations show that oxygen depletion has started to affect even deeper water bodies, also this future oriented fish-farming technology could become obsolete.
Better ways to cultivate our future food sources.
Whether it's found on a plate of sushi, grilled in our backyard, or thrown on pasta, seafood is a staple for many diets around the world, and demand is growing.
And as the commercial seafood industry booms, fish stocks worldwide face perilous declines.
We've surpassed our capacity to sustainably fish wild caught fish, shrimp, and mollusks from the ocean, and so we've turned to aquaculture, or fish farming, as a strategy to meet demand for our growing appetites for water-borne critters. The aquaculture industry is growing fast.
According to the FAO, per capita production of seafood from aquaculture has increased 6.9 percent annually since 1970. Unfortunately for us and for our Earth, current methods of fish farming often involve crowded, tethered pens, which can have poor water circulation and contribute to the spread of disease, and put large amounts of environmental stress on the surrounding waterways.
This is where Steve Page of Ocean Farm Technologies comes in. Taking inspiration from naturally-occurring schools of fish and Buckminster Fuller's geodesic domes, Page co-designed the Aquapod, a free floating, untethered deep ocean fish habitat which reduces overcrowding, and creates less stress on surrounding environments due to its unique ability to change location with the ocean's current.
But without sufficient oxygen in the water - all would not work.
READ ALSO: