COP25: youth 'leadership' contrasts with government inaction, says UN chief
Ahead of Madrid climate change conference António Guterres says political will missing
By Fiona Harvey - TG - 0
António Guterres, the United Nations secretary general, contrasted the "leadership" and "mobilisation" shown by the world's youth on the climate emergency with the lack of action by governments, which were failing to keep up with the urgency of the problem despite increasing signs that the climate was reaching breakdown.
Before the start of a critical conference on the climate crisis on Monday, he said the world had the technical and economic means to halt climate chaos, but what was missing was political will.
"The technologies that are necessary to make this possible are already available. Signals of hope are multiplying. Public opinion is waking up everywhere. Young people are showing remarkable leadership and mobilisation. [But we need] political will to put a price on carbon, political will to stop subsidies on fossil fuels [and start] taxing pollution instead of people."
Guterres called for further investment from rich countries and support for poor nations to make the changes needed to reduce greenhouse gas emissions and cope with the impacts of global heating. Amid rising temperatures, wildfires, heatwaves, droughts and floods, the danger signals were clear and must be acted on without further delay, he said.
"In the crucial 12 months ahead, it is essential that we secure more ambitious national commitments – particularly from the main emitters – to immediately start reducing greenhouse gas emissions at a pace consistent to reaching carbon neutrality by 2050."
He was joined in his call by the leaders and representatives of some of the world's poorest countries, which are suffering most from climate change.
The countries most at risk of deluge from climate chaos have issued an impassioned plea to the industrialised world ahead of crucial negotiations on the Paris agreement that start on Monday in Madrid.
"We see [these talks] as the last opportunity to take decisive action," Janine Felson, deputy chair of the Alliance of Small Island States (AOSIS) told the Guardian.
"Anything short of vastly greater commitment to emission reduction, a new climate finance goal and tangible support for disaster risk reduction will signal a willingness to accept catastrophe."
Pacific atolls and other low-lying islands are likely to be inundated if temperatures rise to more than 1.5C above preindustrial levels, while current Paris commitments put the world on track for a "disastrous" 3C.
"We are mired in a planetary emergency of existential proportion," said the leaders of the 44 states of AOSIS, in a joint statement. "The impacts are real and current for people living on small islands. This does not have to be our destiny or legacy."
While small islands are at greatest risk, rich countries were also suffering, said Clarence Samuel, lead negotiator for the Marshall Islands.
"None of us are immune," he said. "All month we have watched in horror as our Pacific cousins Australia have literally watched their country burn, fuelled by a climate crisis of our own making."
To fulfil the Paris goals, far tougher targets on emissions are needed, while this year's negotiations – known as COP25, running from 2 December to 13 December – will focus on technical issues such as a mechanism for trading carbon within the Paris agreement.
Resolving these technicalities will allow the UN to wrap up the Paris "rulebook", setting out how to measure and achieve emissions cuts, but experts are concerned that it leaves too little time for the substantive question of targets, which under the rules must be resolved by the end of 2020.
Lord Stern of Brentford, one of the world's leading climate economists, said: "It's very important that this COP is not just tidying up, but starting [the process] of the next one. It's positive that finance ministers and central bank governors will come this year, and countries like the EU and China need to show leadership."
Under the 2015 Paris agreement, countries are supposed to set out more ambitious climate action in 2020, when current targets expire. Governments were given the five-year grace period to ratchet up their national goals.
Some countries – including the UK – have put in place long-term goals of reaching net-zero carbon emissions by 2050. However, that leaves hanging the question of 2030 targets, which are needed to keep countries on track.
Talks on the crucial matter of 2030 commitments will largely be relegated to informal meetings on the sidelines of COP25, though these are what will determine the success of the Paris agreement – and the future of the climate.
There are also continuing tensions at the talks over funding to help developing economies curb emissions and cope with the consequences of climate disaster, and whether poor countries should be compensated by the rich for the loss and damage caused by global heating.
Patricia Espinosa, executive secretary of UN Framework Convention on Climate Change, said: "The world's small window of opportunity is closing rapidly. We must urgently deploy all the tools of multilateral cooperation to make COP25 the launchpad for more climate ambition to put the world on a transformational path towards low carbon and resilience."
The talks, taking place in Madrid after the original host nation, Chile, pulled out owing to its political crisis, will also be overshadowed by US president Donald Trump's decision to withdraw from the Paris agreement.
The US last month formally submitted the one year's notice legally required for withdrawal under the accord. The withdrawal will formally take effect the day after the next US presidential election, and just before the next UN talks in November 2020, to be hosted by the UK in Glasgow.
A US State Department spokesperson told the Guardian: "The US delegation at COP25 will actively engage in negotiations to protect US interests and level the playing field for US businesses."
Timeline
Half a century of dither and denial – a climate crisis timeline
Fossil fuel companies have been aware of their impact on the planet since at least the 1950s
The physicist Edward Teller tells the American Petroleum Institute (API) a 10% increase in CO2 will be sufficient to melt the icecap and submerge New York. "I think that this chemical contamination is more serious than most people tend to believe."
Lyndon Johnson's President's Science Advisory Committee states that "pollutants have altered on a global scale the carbon dioxide content of the air", with effects that "could be deleterious from the point of view of human beings". Summarising the findings, the head of the API warned the industry: "Time is running out."
Shell and BP begin funding scientific research in Britain this decade to examine climate impacts from greenhouse gases.
A recently filed lawsuit claims Exxon scientists told management in 1977 there was an "overwhelming" consensus that fossil fuels were responsible for atmospheric carbon dioxide increases.
An internal Exxon memo warns "it is distinctly possible" that CO2 emissions from the company's 50-year plan "will later produce effects which will indeed be catastrophic (at least for a substantial fraction of the Earth's population)".
The Nasa scientist James Hansen testifies to the US Senate that "the greenhouse effect has been detected, and it is changing our climate now". In the US presidential campaign, George Bush Sr says: "Those who think we are powerless to do anything about the greenhouse effect forget about the White House effect … As president, I intend to do something about it."
A confidential report prepared for Shell's environmental conservation committee finds CO2 could raise temperatures by 1C to 2C over the next 40 years with changes that may be "the greatest in recorded history". It urges rapid action by the energy industry. "By the time the global warming becomes detectable it could be too late to take effective countermeasures to reduce the effects or even stabilise the situation," it states.
Exxon, Shell, BP and other fossil fuel companies establish the Global Climate Coalition (GCC), a lobbying group that challenges the science on global warming and delays action to reduce emissions.
Exxon funds two researchers, Dr Fred Seitz and Dr Fred Singer, who dispute the mainstream consensus on climate science. Seitz and Singer were previously paid by the tobacco industry and questioned the hazards of smoking. Singer, who has denied being on the payroll of the tobacco or energy industry, has said his financial relationships do not influence his research.
Shell's public information film Climate of Concern acknowledges there is a "possibility of change faster than at any time since the end of the ice age, change too fast, perhaps, for life to adapt without severe dislocation".
At the Rio Earth summit, countries sign up to the world's first international agreement to stabilise greenhouse gases and prevent dangerous manmade interference with the climate system. This establishes the UN framework convention on climate change. Bush Sr says: "The US fully intends to be the pre-eminent world leader in protecting the global environment."
Two month's before the Kyoto climate conference, Mobil (later merged with Exxon) takes out an ad in The New York Times titled Reset the Alarm, which says: "Let's face it: the science of climate change is too uncertain to mandate a plan of action that could plunge economies into turmoil."
The US refuses to ratify the Kyoto protocol after intense opposition from oil companies and the GCC.
The US senator Jim Inhofe, whose main donors are in the oil and gas industry, leads the "Climategate" misinformation attack on scientists on the opening day of the crucial UN climate conference in Copenhagen, which ends in disarray.
A study by Richard Heede, published in the journal Climatic Change, reveals 90 companies are responsible for producing two-thirds of the carbon that has entered the atmosphere since the start of the industrial age in the mid-18th century.
The API removes a claim on its website that the human contribution to climate change is "uncertain", after an outcry.
Exxon, Chevron and BP each donate at least $500,000 for the inauguration of Donald Trump as president.
Mohammed Barkindo, secretary general of Opec, which represents Saudi Arabia, Kuwait, Algeria, Iran and several other oil states, says climate campaigners are the biggest threat to the industry and claims they are misleading the public with unscientific warnings about global warming.
Compilation by: Jonathan Watts, Garry Blight and Pablo Gutiérrez
Punish directors who don't make climate disclosures, says hedge fund
TCI threatens to dump stakes in firms that do not have plan to reduce emissions
Julia Kollewe - TG -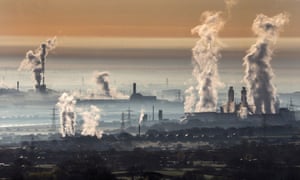 Investors are putting more pressure on companies to step up their disclosure on climate risks. Photograph: Christopher Furlong/Getty Images
The activist hedge fund TCI plans to target directors of companies that fail to disclose their carbon emissions, in the latest sign that investors are putting more pressure on boardrooms to step up their disclosure on climate risks.

TCI, which manages assets worth $28bn (£22bn), has written to companies including Airbus, Moody's and Google parent Alphabet warning them to improve their pollution disclosures or it would vote against their directors.
Letters to those companies published on the TCI website say: "TCI believes that climate change-related risks, in particular a company's greenhouse gas emissions, will have a material effect on a company's long-term profitability, sustainability and investor returns. These risks include regulation, taxation, competitive disadvantage, brand impairment, financing, physical asset impairment and litigation." TCI said disclosure should include targets for emissions reduction.
The hedge fund also warned it would vote against auditors where the annual report and accounts failed to report material climate risks. It threatened to dump investments where a "portfolio company refuses to disclose emissions and does not have a credible plan for their reduction".
Sir Christopher Hohn, the billionaire hedge fund manager who set up and runs TCI, told the Financial Times: "Investing in a company that doesn't disclose its pollution is like investing in a company that doesn't disclose its balance sheet. If governments won't force disclosure, then investors can force it themselves."
The UK government is working with regulators in London to decide whether mandatory reporting on climate risks is necessary for publicly listed companies and big investment funds and pension schemes.
This summer the UK became the first G7 country to sign into law a commitment to reach net zero carbon emissions by 2050, and its green finance strategy published in July said the financial sector must lead the way. It called for more investment in sustainable projects and infrastructure, and said changes include "setting expectations for publicly listed companies and large asset owners to disclose by 2022 how climate change risk impacts their activities".
Hohn accused BlackRock, the world's largest fund manager, of "greenwash" because it does not require emissions disclosures. "Asset owners should fire asset managers that do not require such disclosure," he said.
"Investors don't need to wait on regulators who are asleep at the switch and unwilling or unable to regulate emissions properly," he said. "They can use their voting power to force change on companies who refuse to take their environmental emissions seriously. Investors have the power, and they have to use it."
TCI's move comes as the world's governments meet in Madrid this week for the UN climate summit, and as the UN appointed the Bank of England governor, Mark Carney, who steps down in January, as its special envoy for climate action and finance from February.
A new report shows almost half of UK boards (46%) spent zero hours discussing the climate emergency this year, and they were the least likely of all the countries studied to do so.
Almost a third of UK boards (32%) feel little or no responsibility for the climate crisis, according to a global survey of 640 chairs and non-executive directors by recruitment firm Harvey Nash and London Business School's Leadership Institute.\
COP25: 'Signals of hope' multiplying in face of global climate crisis, insists UN's Guterres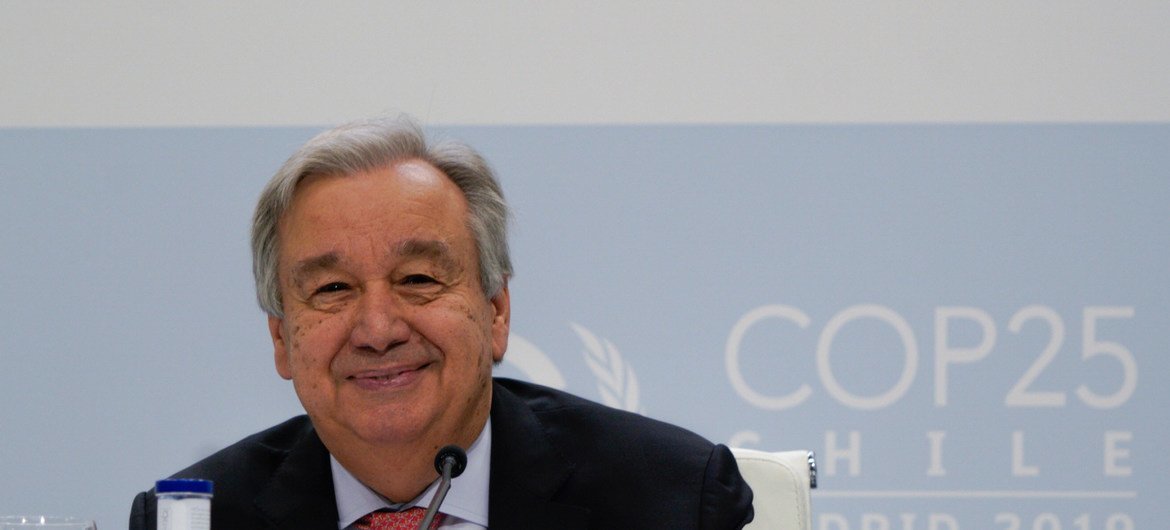 The UN Secretary-General makes remarks at a pre-COP25 UN climate change conference press conference in Madrid on 1 December, 2019. UNFCC flickr
By UN - 1 December 2019
The UN Secretary-General has outlined the "increased ambition and commitment" that the world needs from governments during the coming days of the COP25 UN climate change conference which opens in Madrid on Monday, calling for "accountability, responsibility and leadership" to end the global climate crisis.
"My message here today is one of hope not of despair" said UN chief António Guterres addressing journalists at a press conference in the Spanish capital on Sunday, after revealing the key takeaways from the World Meteorological Organization's State of the Climate report, due to be published during COP25.
I expect a clear demonstration of increased #ClimateAction ambition & commitment out of #COP25. Leaders of all countries need to show accountability & responsibility. Anything less wold be a betrayal of our entire human family and all generations to come. pic.twitter.com/jnKjMRYRmI

— António Guterres (@antonioguterres) December 1, 2019
"The last five years have been the hottest ever recorded. Sea levels are at the highest in human history", he said, listing the benchmarks which indicate that "the point of no return is no longer over the horizon. It is in sight and is hurtling towards us".
But scientists have provided a roadmap away from that point, which will allow us to limit global temperature rise to just 1.5 degrees Celsius above pre-industrial levels, reach carbon neutrality by 2050 and cut greenhouse gas emissions by 45 per cent from 2010 levels, by 2030.
1.5 degrees 'still within reach'
Efforts so far have been "utterly inadequate" and the Paris Agreement commitments still mean a rise of 3.2 degrees unless more drastic action is taken, said the UN chief, but 1.5 degrees "is still within reach."
"The technologies that are necessary to make this possible are already available", he added, "the signals of hope are multiplying. Public opinion is waking up everywhere. Young people are showing remarkable leadership and mobilization."
The key missing ingredient is a lack of political will he said: "Political will to put a price on carbon. Political will to stop subsidies on fossil fuels", or to shift taxation from income to carbon, "taxing pollution instead of people."
Stop digging and drilling
He said digging and drilling had to stop, replaced by renewable energy and nature-based solutions to drastically slow climate change.
"In the crucial 12 months ahead, it is essential that we secure more ambitious national commitments – particularly from the main emitters – to immediately start reducing greenhouse gas emissions at a pace consistent to reaching carbon neutrality by 2050."
Mr. Guterres said at least $100 billion dollars must be made available to developing countries for mitigation and adaptation and to take into account their "legitimate expectations to have the resources necessary to build resilience and for disaster response and recovery."
The "social dimension" of climate change must also be paramount, so that national commitments include "a just transition for people whose jobs and livelihoods are affected as we move from the grey to the green economy."
In conclusion he noted: "We are in a deep hole and we are are still digging. Soon it will be too deep to escape."
Mark Carney to be new Special Envoy for Climate Action
The Secretary-General announced on Sunday that the current head of the Bank of England, Mark Carney, is to become the UN's new Special Envoy for Climate Action.
Describing the Canadian as "a remarkable pioneer in pushing the financial sector to act on climate", Mr. Guterres said the new envoy would be focusing on ambitious implementation of action, especially shifting markets and mobilizing private finance, towards limiting global warming to the key 1.5 degrees mark. Mr. Carney replaces former New York mayor and billionaire philanthropist, Michael Bloomberg, who has embarked on a US presidential run.
A statement from the Spokespersons' office said his tasks would include "building the frameworks for financial reporting, risk management and returns in order to bring the impacts of climate change to the mainstream of private financial decision making and to support the transition to a net zero carbon economy."
The Bank of England Governor has held numerous positions in finance in both the private and public sectors and will become a member of UN staff at the point at which he ceases to work for the Bank. He also served, from 2011 to 2018, as Chair of the Financial Stability Board and Governor of the Bank of Canada from 2008-2013.
"The Secretary-General will count on Mark Carney to galvanise climate action and transform climate finance", as the UN looks to next year's 26th Conference of the Parties (COP26), due to take place in Glasgow, Scotland.
Global Promises to Reduce CO2 Are Falling Short of 1.5-Degree-C Warming Goal
U.N. Secretary-General António Guterres is trying to push countries to ratchet up their emissions reduction efforts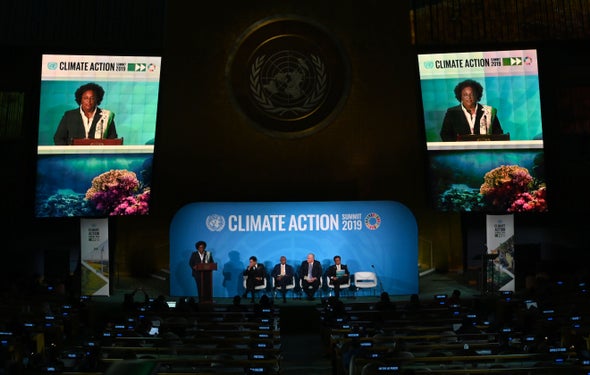 United Nations Secretary-General António Guterres made yesterday's climate summit all about keeping global warming to 1.5 degrees Celsius.
That's a new goal for the United Nations. Only four years ago, 195 countries agreed to hold warming to well below 2 C under the Paris Agreement, with 1.5 C tacked on as an aspirational target at the insistence of small island states.
That changed when the Intergovernmental Panel on Climate Change confirmed in a landmark report last year that exceeding the 1.5 C threshold would result in widespread damage and suffering.
"I haven't heard any country questioning or saying anything against the idea of 1.5 C objective," said Manuel Pulgar-Vidal, who heads international climate work for the World Wildlife Fund and served as president of a U.N. climate summit in 2014. "It has not been challenged, fortunately."
But getting there will be hard.
"It will require fundamental transformations in all aspects of society—how we grow food, use land, fuel our transport and power our economies," Guterres said in his opening statement yesterday at U.N. headquarters.
To have a better-than-even chance of holding to the 1.5 C threshold, the world must cut emissions 45% over the next 11 years, the IPCC said. That would require rapid expansion of clean energy, maximizing carbon sinks, policies that sideline fossil fuels and an abrupt end to investment in high-carbon infrastructure.
So yesterday's official goal included the end of new coal-fired power by next year, an embrace of carbon pricing and the abandonment of fossil fuels.
"It is time to shift taxes from salaries to carbon, and to tax pollution, not people," Guterres said yesterday.
How to do it is the question.
"The international organizations are not all lined up around that kind of aggression," said Rachel Kyte, the secretary-general's special envoy for sustainable energy. "He's really, really gone for it."
Guterres also reminded participants that the "ticket to entry" for time at the podium was "concrete action"—preferably in the form of commitments to strengthen their pledges to the Paris Agreement by next year and to turn in blueprints to become carbon neutral by midcentury.
A set of countries have responded. The Chilean presidency of the U.N. climate talks that begin in Santiago in December announced yesterday morning that 59 countries had signaled that they would turn in stronger Paris commitments next year, while 11 are undergoing internal processes that are likely to get them there. Sixty-six countries have either committed to provide plans next year for stopping net emissions by 2050 or are taking steps toward it.
Carbon neutrality is also key to maintaining the 1.5 C threshold. With the addition yesterday of Italy and Japan, all Group of Seven developed nations except for the United States have made that pledge.
Generally, the same set of countries have promised new Paris pledges and deep decarbonization strategies. Environmentalists say that if next year's crop of Paris pledges set those countries on a trajectory to become climate neutral by midcentury, it will put the 2050 commitments on firmer ground.
"In order to reach decarbonization globally by 2050, the road to that has to go through 2030," said David Waskow, director of the World Resources Institute's International Climate Initiative.
But it also means the divide is deepening between countries that have embraced 1.5 C as a guiding principle and those that have not. Both lists are long on low-income countries, vulnerable island states and European nations. They're short on major emerging nations—India, Brazil and China are not on either list. And, of course, neither is the United States.
In the end. only about one-third of the U.N.'s members qualified to speak yesterday by meeting Guterres' standard for "concrete action."
President Trump made a brief, unexpected appearance but was never on the schedule. Australia and Japan are widely believed to have applied for time to speak but were denied because of their role in funding coal. Protesters flew a blimp of Japanese President Shinzo Abe in a bucket of coal outside U.N. headquarters to drive their point home.
But China and India did make the list, despite statements that Kyte called "very generic and disappointing."
While those two countries didn't pledge to move the world's needle closer to the 1.5 C goal, Kyte and Laurence Tubiana, a former French official and an architect of the Paris Agreement, noted that they showed greater ambition on some of the summit's other tracks. India took an active role in joint announcements on low-carbon manufacturing, while China led a workstream devoted to protecting and expanding natural carbon sinks.
While India all but ruled out updating its nationally determined contribution to the Paris Agreement this week before 2023, observers hope China might yet announce plans next year to peak emissions earlier than the 2030 deadline it promised in Paris.
German Chancellor Angela Merkel is hosting a European Union-China summit in November 2020, a month before a key round of U.N. climate talks in Glasgow, Scotland. That might be a natural opportunity for European leaders to engage China on a new NDC.
"Europe must be in the vanguard, and especially as the U.S., unfortunately, is no longer here, there has to be a very close link with China, India and Europe," said Laurent Fabius, a former French foreign minister, who served as president of the Paris summit.
Fabius said the 1.5 C goal is now the proper objective of the Paris Agreement.
"We have to stick with it because the consequences if we don't achieve our objectives are very, very bad."
Reprinted from Climatewire with permission from E&E News. E&E provides daily coverage of essential energy and environmental news atwww.eenews.net.