There's A Message In Protests Occurring Worldwide, From Hong Kong To Chile, #OKboomer?
By Ken Roberts - 30.
Tucked away in the often-massive protests occuring in Asia, Europe, the Middle East and South America is an important message, the beginning of an inflection point in world affairs.
The issues of the old guard — think #OKboomer — are giving way to issues important to those entering and in the early years of adulthood.
Think about it. Globalization, which has incurred the wrath of protesters for decades, is this time the enabler for millions of demonstrators.
They are all armed with cell phones and apps.
They are communicating and collaborating, using AirDrop, WhatsApp, Telegram and other apps. Not just locally but across borders.
Because it is not about globalization, is not about export-import trade, it signals that the debate that has held sway, that continues to told sway among the generation that still holds the reigns of formal power, is likely to wither away.
While it is not about globalization, it is also not about any one thing.
In Lebanon, a oft-cited trigger was a proposed tax of 20 cents per day on WhatsApp and other internet voice calls. As many as 1.3 million people eventually took to the streets, angered by government inaction on a range of issues — and the pro-Western leader resigned.
In Hong Kong, the trigger was China's attempt to have the right to extradite Hong Kong citizens charged with a crime on the island. Hundreds of thousands have protested for months. Hong Kong quickly relented and recently held elections won by those favoring increased rather than diminished autonomy. Today, protesters want complete universal suffrage, an independent inquiry into alleged police brutality and amnesty for demonstrators who have been arrested
In Spain, as many as 500,000 people protested in Barcelona over the national government's strong response against Catalonian separatist leaders after a vote for to separate from the country. Protesters were reported to have chanted "We're going to do a Hong Kong," referring to a strategy to blockade the airport.
In Indonesia, thousands of protesters in Jakarta clashed with police last month because a new criminal code would outlaw sex outside of marriage and set a jail sentence of six months for unmarried couples living together, among other laws. As a result of the protests, the Indonesian parliament delayed a vote on approving the code.
In Chile, it was a proposed 4-cent increase in bus and metro fares. In Ecuador, it was an attempt to revoke taxpayer subsidies.
In Bolivia and Algeria, it was leaders who appeared interested in being president for life.
In Iraq, one trigger is thought to have been be the demotion of Abdul-Wahab al-Saadi, an army officer who became prominent during the fight against Isis and was regarded as a rare hero across sectarian lines. The reason he lost his position has not been publicly explained, but many Iraqis suspect it is because he tried to fight corruption in the country's counter-terrorism service.
In Muslim-dominated Pakistan, it was the timidity of the government response to Hindu-dominated Indian incursion into Kashmir. In the Netherlands, it was protests by farmers angered they were being punished for global warming while others equally if not more responsible were not.
If the demonstrators even think about globalization, or export-import trade, they see a world that is generally enriched by those forces rather than hurt by them. Again, if they even think about it, they think in terms of jobs they create, of new technologies and new opportunities.
It is those in the older generation, those 55 and older, who are the ones most likely to waggle an accusing finger at globalization and export-import trade.
Among those running for president in this country, for example, it is the septuagenarians most likely to want to unravel and re-order globalization and trade, from current President Trump who is less than two weeks from taking the teeth out of the World Trade Organization to Democratic Party candidates and senators Elizabeth Warren and Bernie Sanders.
They can be neither ignored or dismissed out of hand, of course.
The younger candidates, like so many of the younger-still protesters, also see a world that benefits from globalization, one that is generally helping and not hurting people with whom they come into contact.
Andrew Yang may see problems with technological advance but wants to prepare for it rather than run from it. Pete Buttigieg, Camela Harris, Corey Booker and Tulsi Gabbard focus on other priorities.
Globalization is largely an issue of the older generation while the younger generation, the one that will be coming to power in the next decade or so, is paying attention to climate change, income inequality and the impact of technology on work and life, among other issues.
And they want everyone else to know, #OKboomer?
"The data shows that the amount of protests is increasing and is as high as the roaring 60s, and has been since about 2009," says Jacquelien van Stekelenburg, a professor who studies social change and conflict at Vrije University in Amsterdam quoted in the Guardian.
Author:
Ken Roberts - I didn't leave the womb thinking I would find my life's work writing and speaking about trade data, trying to make it interesting and relevant. But this is where I find myself. Today, the company I founded in 1998, WorldCity, has published annual TradeNumbers publications around the country, from Seattle to Miami, Los Angeles to New York and numerous points in between. Monthly, we upload more than 10 million pages and page views of Census data at ustradenumbers.com, on hundreds of airports, seaports, countries, and export and import commodities. I serve on the Federal Reserve's Trade and Transportation Advisory Council. In the last year, I have spoken about trade in Washington, D.C., Los Angeles, Laredo, Miami and Chicago. I also post a weekly Trade Matters video. I don't expect you to fawn over it like I do, but I hope I bring a little clarity, a different perspective or some insights that are helpful. Follow me on Twitter or LinkedIn. Check out my website.
CHILE: Rapist In Your Way [Un violador en tu camino] Las Tesis strong chant on police rape, HR abuse
On Monday, 25. November 2019, the International Day for the Elimination of Violence Against Women, feminist collective Lastesis from Valparaiso took the streets in the center of Santiago de Chile and showed a stunning performance in front of the Ministry of Women's Rights and Gender Equality. The powerful statement against sexual assault of women by men can be seen as an allegory of the accusation of the suppressive Chilean state, whose police and military forces have killed, tortured and violated numerous protesters as well as innocent bystanders during the biggest civil protests since the end of the military dictatorship in 1989.
In front of the Chilean Court of Justice –and even in front of a police station– a most strong message delivered by female protesters on brutal state-repression, disappearance of detainees, police rapes and judges' complicity.
Here the translation by The Indicter Channel of the original (in Spanish) chant:
"A rapist in your way" - Powerful feminist intervention during the Chilean protests in Santiago
FULL TEXT IN SPANISH
El patriarcado es un juez
que nos juzga por nacer
y nuestro castigo
es la violencia que ya ves.
Es femicidio.
Impunidad para mi asesino.
Es la desaparición.
Es la violación.
¡Y la culpa no era mía, ni donde estaba ni como vestia!
¡Y la culpa no era mía, ni donde estaba ni como vestia!
¡Y la culpa no era mía, ni donde estaba ni como vestia!
¡Y la culpa no era mía, ni donde estaba ni como vestia!
¡El violador eres tú!
¡El violador eres tú!
¡Son los pacos!
¡Los jueces!
¡El estado!
¡El presidente!
¡El estado opresor es un macho violador!
¡El estado opresor es un macho violador!
¡El violador eres tú!
¡El violador eres tú!
Duerme tranquila, niña inocente
sin preocuparte del bandolero.
Que por tu sueño dulce y sonriente
vela tu amante Carabinero.
¡El violador eres tú!
¡El violador eres tú!
¡El violador eres tú!
¡El violador eres tú!
FULL TEXT IN ENGLISH
The patriarchy is a judge
who judges us by birth
and our punishment
is the violence you can see.
It is femicide.
Impunity for my killer.
It is disappearance.
It is rape.
And it was not my fault, not the place where I was nor the dress that I chose!
And it was not my fault, not the place where I was nor the dress that I chose!
And it was not my fault, not the place where I was nor the dress that I chose!
The rapist are you!
The rapist are you!
It's the cops!
The judges!
The state!
The president!
The oppressive state is a male rapist!
The oppressive state is a male rapist!
Sleep well, innocent girl.
You don't have to worry about the bandit
Your sweet and smiling dreams
are taken care of by your Carabinero* lover.
The rapist are you!
The rapist are you!
The rapist are you!
The rapist are you!
*Carabineros = Official name of the Chilean police, derive from the word carabine, a long gun firearm.
FULL TEXT IN GERMAN
Das Patriarchat ist ein Richter.
Er verurteilt uns nach der Geburt.
Und unsere Strafe
ist die Gewalt, die du siehst.
Es ist Femizid.
Straffreiheit für meinen Mörder.
Es ist das Verschwinden.
Es ist die Vergewaltigung.
Und es ist nicht meine Schuld, dass ich an jenem Ort war oder jenes Kleid trug.
Und es ist nicht meine Schuld, dass ich an jenem Ort war oder jenes Kleid trug.
Und es ist nicht meine Schuld, dass ich an jenem Ort war oder jenes Kleid trug.
Der Vergewaltiger bist du!
Der Vergewaltiger bist du!
Es sind die Bullen!
Die Richter!
Der Staat!
Der Präsident!
Der Unterdrückerstaat ist ein Mann, der vergewaltigt!
Der Vergewaltiger bist du!
Der Vergewaltiger bist du!
Schlaf gut, unschuldiges Mädchen
mach dir keine Sorgen wegen des Banditen
Während du lächelnd schläfst ...wacht dein Liebhaber von den Carabineros* über dich.
Der Vergewaltiger bist du!
Der Vergewaltiger bist du!
Der Vergewaltiger bist du!
Der Vergewaltiger bist du!
*Carabineros = Offizieller Name der chilenischen Polizei, von "Karabiner", kurzläufiges Gewehr.
MOST VIDEOS (e.g. by RUPTLY) on this years women's protests are age-cencored by Youtube.
Here some file pictures of the state-police violence against the protesters.
Bandaged Eyes Have Become a Symbol of Resistance in Chile
Almost 300 people have been shot in the face. We talked to four who lost an eye.
By Andrea Guzman - 27. November 2019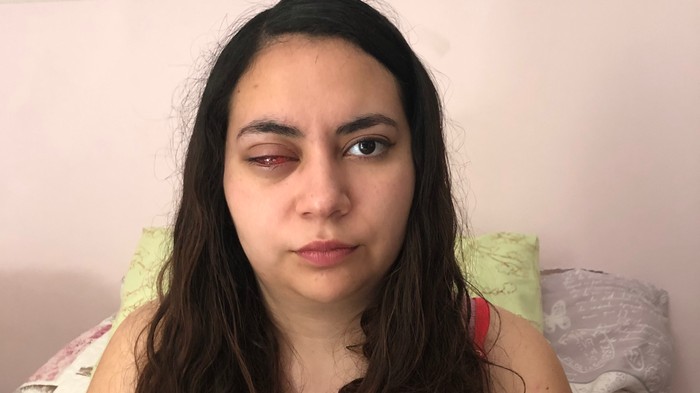 Natalia Aravena
One Friday this month, a 21-year-old psychology student named Gustavo Gatica decided to take pictures of a large protest in the Plaza Italia—historically the epicenter of protests in Santiago, Chile. Since protests began there with a one million-person march in October, thousands of people have appeared at the Plaza every day to rail against the extreme economic inequality that ravages the country.
Gatica's attendance that Friday would change the course of his life. While there, he was attacked by police forces who, unprovoked, shot their pellet guns directly at his face. That day, a picture of Gatica bleeding from both of his mutilated eyes went up on social media and quickly made its way around the country. The gravity of his case has become an emblem of the uncontrolled police violence in Chile.
Gatica is one of 294 protesters in Chile who suffered severe eye trauma from pellets and tear gas canisters shot by police since the protests began on October 18. These many cases of ocular trauma, now considered an emergency with no precedent in Chilean history, suggest the police are violating protocol by shooting directly at people's faces. Last week, the national police director, Mario Rozas, announced that they would restrict the use of pellets after a study showed they contain dense metals, including lead. Nevertheless, at least 10 new cases of ocular trauma have been reported since then. People have started attending protests with one eye covered in solidarity.
Gatica's story echoes other protesters' testimonies of police violence in the local press. They claim the police, seemingly exhausted and full of rage, have erupted into the crowds several times without any warning, and shot indiscriminately. There have been 369 claims of torture, 79 claims of sexual abuse, and 26 deaths, at least 6 directly from police officers, according to the last report by the National Institute of Human Rights (INDH).
"There was no intention on their part to help, even when Gustavo was wounded on the floor," said Enrique Gatica, Gustavo's older brother. "People took him out of the square using makeshift shields, as police insisted on continuing to shoot at them."
Earlier this month, Amnesty International put out a detailed report denouncing the violation of human rights in Chile. The government categorically rejected it. "Let's say this is cancer, you have to treat it with chemo and along the way, you kill good cells and bad cells," Enrique Bassaletti, the head of the Santiago Police Department, said in a press conference. This week, Human Rights Watch stepped in, recommended reforming the practices of the Chilean police force.
Last Wednesday, Gatica underwent a second surgery that finally succeed in pulling out the pellets lodged inside his eyes. He was released from the hospital yesterday. Doctors confirmed that he is permanently blind in both eyes. His brother, Enrique, said Gatica is "oddly optimistic, because he's very certain he was fighting for something fair."
VICE spoke to four other protesters who, like Gatica, have lost their eyes at the hands of the police. Here are their stories.
Diego Foppiano, 22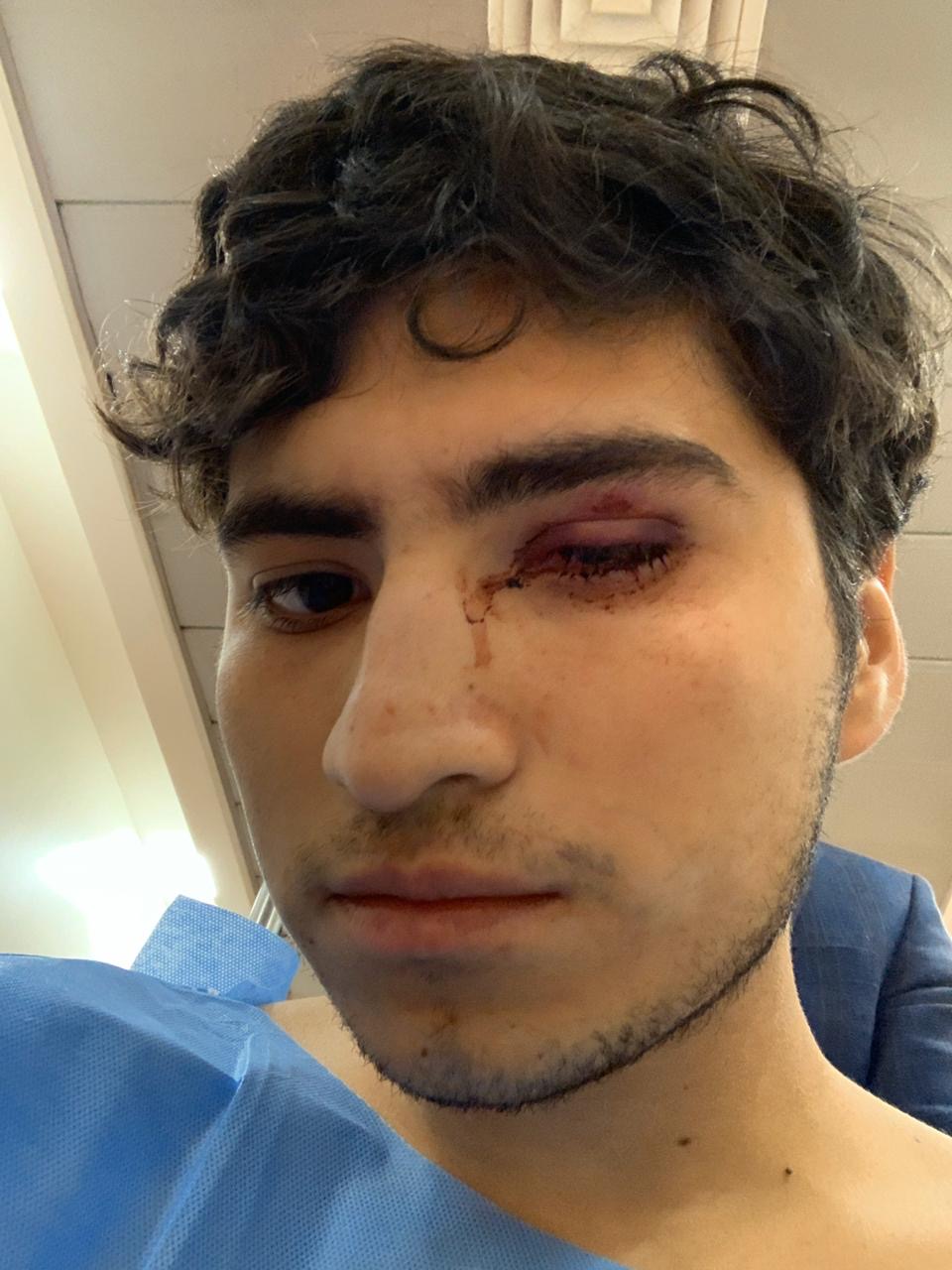 I live with my family in Puente Alto, on the southern outskirts of Santiago. On October 19, during the second day of protests in the country, the streets were very crowded. There was a big protest planned in the square of my neighborhood, Plaza Puente Alto, so I met a friend at 6 p.m. and we started walking there. The protest had spread all over the avenue and there was a long line of people walking to the spot.
When I arrived, the police were already there. They were just standing and looking at us quietly. I realized that there were only a few of them and I wasn't scared, I didn't think anything would happen.
I stood in front of them and I looked at them directly, and then one of them just stepped out of line and shot me in the face. There was no reason for it. I wasn't even wearing a hood. My face was uncovered. We were all very shocked. We had been in protests before and we had never seen the police using those weapons. Since it was the second day of protests, mine was one of the first cases of ocular trauma. We didn't know they could shoot like that, and they didn't give any warning.
I fell, I lost consciousness and then people surrounded me. While they were trying to help me, police kept on shooting, and many people who assisted me ended up with pellets in their arms and legs. I started walking by myself with the help of my friend to the nearest care center in Puente Alto (SAPU), which does not have sufficient resources, so they sent me to another hospital. The hospitals were so full in those first days that they didn't have ambulances; I went there with my mom in my uncle's truck. That day, the state of emergency was declared.
The doctor who treated me said my surgery was one of the longest and most complicated ones. They couldn't get the pellet out of my eye until a month later, in the third surgery, which was last week. I have a constant headache now, so I spend the days mostly sleeping, trying to recover. I tried to go back to school immediately, but I couldn't stay. I felt very weak and I couldn't see anything. I'm not getting used to this yet.
I have given some interviews on TV. I've been getting trolled on social media; they're saying nasty things, like I'm faking it or I deserve it. Since I can't go to the protests anymore I tried to respond to them, but now I think it's useless. My friends are in the streets right now, they say they're doing it for me. I appreciate it but I fear for them.
Natalia Aravena, 25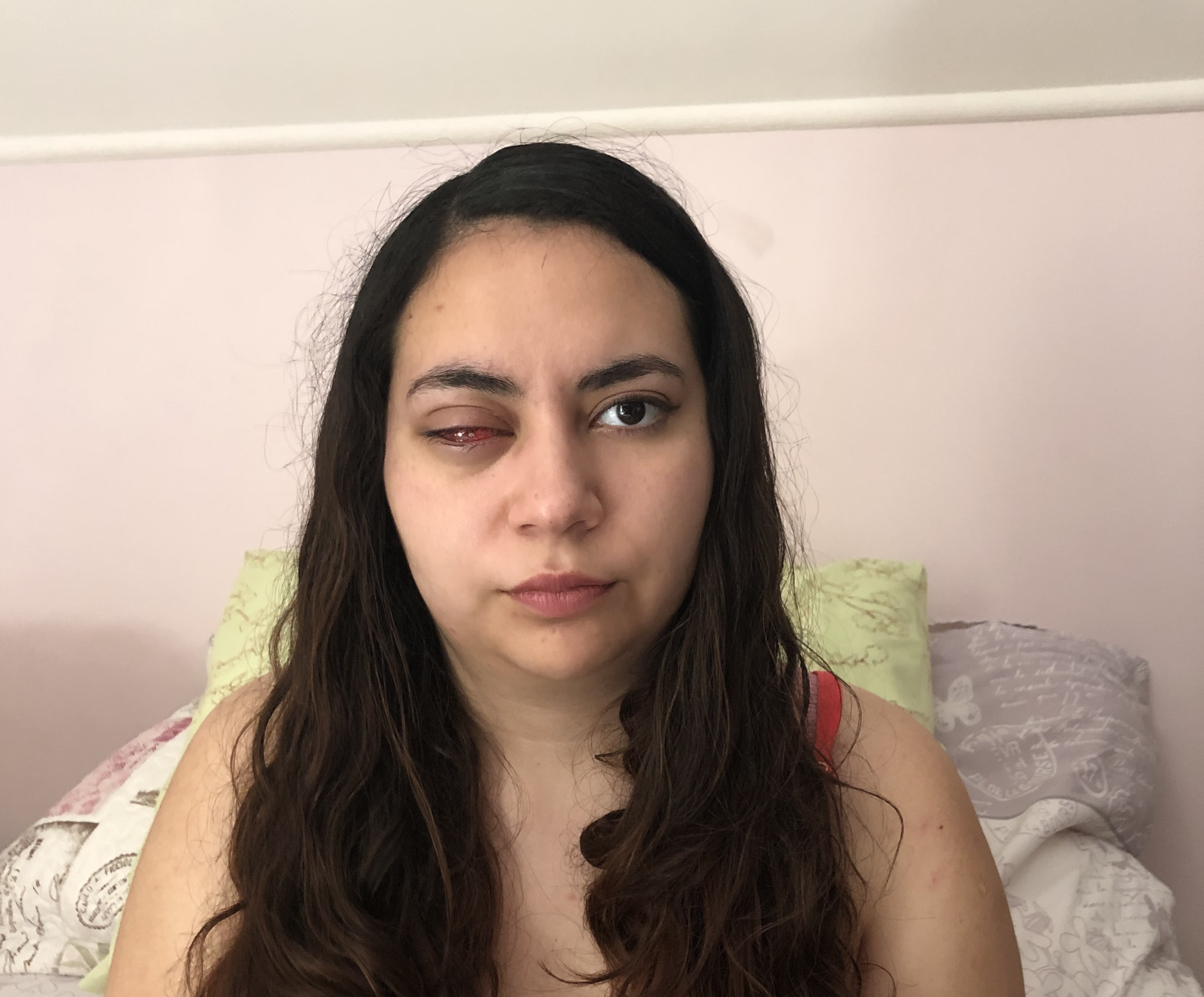 I heard the noise and immediately felt the impact. They shot a tear gas bomb directly at my face. It was intentional—I know because I saw them 5 meters away from me.
They often refer to Chile as a great stable country in Latin America. They show great economic indicators, but people use credit cards to buy food here and they go into debt for 20 years to take out credit to pay for college.
I was meeting a friend at Paseo Bulnes downtown, but I never got there. When I walked out of the subway, I saw a group of people protesting with banners and started to walk through them. They started running, since the police were approaching us very fast and very violently using a water cannon truck. I start running too and got into a small alley, assuming they would stay on the big avenue. It was very difficult to move; there were so many cars and people there. I looked back to see if they were still coming and then I felt the impact.
A paramedic who was assisting people on the streets found me surrounded by a cloud of gas. I was trying to escape but I was stunned, so he took me into a store they were using as a health base, then they cleaned my eye and then I went to the public emergency room, Posta Central.
When I first saw my own eye, it was a little red dot. Being a nurse has helped me so much these days, not to be too obsessed with myself, not to lose my temper. Then, at Clínica Indisa, a private hospital that I could only reach because I have private health insurance, they made me do a light test. I couldn't see anything. That's a bad sign. If you don't see any light, there is a very little chance that you will see again. I went into surgery. They sutured my eye and my eyelid, and we waited for a week to see if the eyeball could be saved, but it couldn't.
As the youngest and only woman of a family of four siblings, I'm overprotected. My family keeps feeling guilty for a thing they couldn't possibly have anticipated. I'm a pacifist. Many years ago, I became a vegetarian. I try to recycle, not to consume so much when I don't need to. It is not much, but is my personal attempt to make my existence in the world as harmless as possible. I didn't go out to destroy or hurt anybody. I went out to ask for equality, and in exchange, they mutilated my eye.
Alejandro Muñoz, 36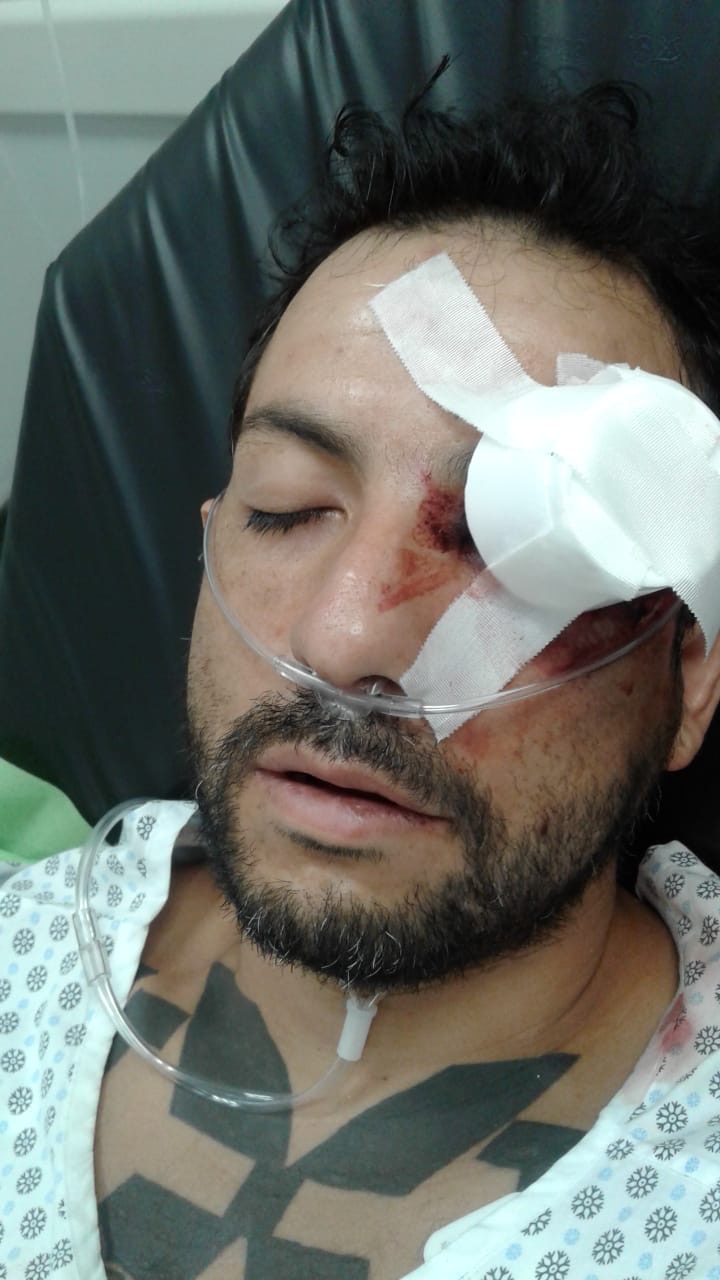 On Wednesday October 23, I went downtown with my band, as I had many other times since the protests started. It was noon, and we were at the point of Santa Lucia's Hill, about ten minutes away from Plaza Italia, when the street started to get violent. There was a water cannon truck there, and the police were throwing tear gas bombs to disperse the people.
Before we separated, we hugged each other and wished each other good luck. Then we each started to do our own thing. I was turning off tear gas bombs by collecting them and putting them in plastic water canisters—like many young people do these days, so the rest of the crowd can continue marching without danger. I wasn't wearing a shield or throwing stones.
One of those tear gas bombs split my eye open. The doctor said I'm alive because I was wearing goggles. Otherwise, the bomb would have gone right through my eye socket. While some kids dragged me across the street into the trees, the police kept on shooting. In fact, they followed us to the doors of the Catholic University Hospital in that neighborhood, where they left me.
I was hospitalized for five days. I was lucky enough to be in that private clinic and instead of emptying my eye, a plastic surgeon saved the eyeball with a little silicone that filled it. I lost vision completely.
I'm in a band called Anarkía Tropical. I'm the band's mascot, which means I use a mask and a costume as a social critique. It is a kind of clown costume similar to the Chilean carnival style. It's a tribute to an anarchist kid who died 11 years ago. I have to rest for a year now, and the band helped me a lot. They keep playing in the streets.
For me, every day is a new thing. I am starting to get to know what it's like to live with only one eye. I was a very active person. I'd truly like the protests to continue. But also I want everyone to know what is happening here, that people are being tortured, that women are being raped in police stations, that people are being killed on the streets.
Carlos Puebla, 46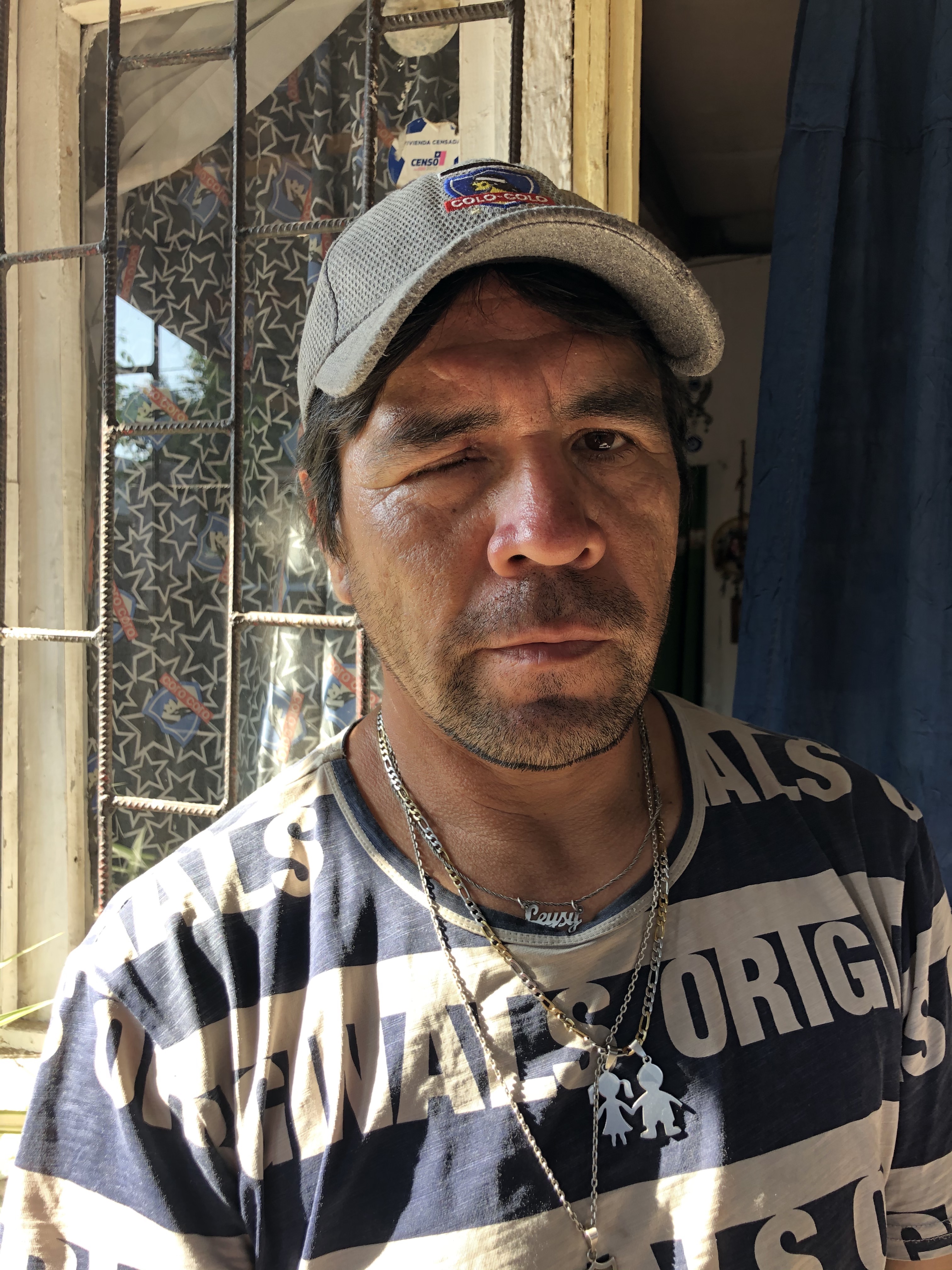 "I don't want to lie to you," Dr. Torres told me at the Unit of Ocular Trauma of El Salvador Public Hospital, "I'm going to have to empty your eye." She proceeded to remove the pellet inside of it. Then, she removed my right eye completely. They had burst my eyeball. There was nothing she could save.
On Thursday October 24, a week after the protest started, I left work at 4 p.m. I worked as a construction laborer and I had decided to join the march. I really felt it was my right.
The streets were so crowded. There were families and children in Plaza Italia and we all were jumping, singing and yelling. I remember feeling so happy, so hopeful. Fifteen minutes later and without any provocation, the special forces appeared from Vicuña Mackenna, one of the corners of the square. They started to disperse the people very violently with tear gas trucks and water cannon trucks.
Cases of rape and torture by the police went public that same week. There were so many awfully violent videos of them on the internet. People were so angry, so furious, the situation immediately became chaotic.
As the water cannon approached us, I saw many policemen through the corner of my eye. They were hiding behind a newspaper kiosk 15 meters from me. One of them peered out and I saw him put the gun at his shoulder, he was pointing at my face. I immediately felt the impact. I felt my eye swell and I started to bleed. My face was hot. I ran 5 meters and fell on the ground.
People dragged me to the Red Cross volunteers, just one of the many groups of students and doctors that have organized independently to assist wounded people during the protests. I couldn't breathe. I was scared. I tried to see those people but couldn't open my eyes. While I was there, wounded people kept coming and coming to the spot. One of the paramedics shouted that they needed an ambulance for me. Then I knew it was serious.
I'm waiting now for a prosthesis, which is a kind of contact lens that will firm up the skin of the eye. I'm not the same person, of course. I have nightmares and I lost my sense of space. I'll have to get a safer job with less pay. I have refused to quit participating in the protests, though. My children join me every time. This can't end this way.
... AND IN THE USA?:
The Women's March Just Compared Itself to ... the Hong Kong Protests?
Organizers say they want the annual demonstration to be more than just a march next year.
By Marie Solis - 27. November 2019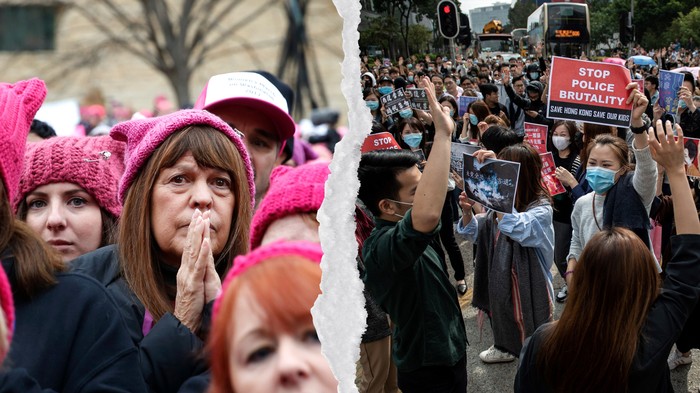 Jessica Rinaldi/The Boston Globe via Getty Images, Nicolas Asfouri/AFP via Getty Images
The Women's March—whose inaugural demonstration was characterized by a sea of pink pussy hats, celebrity speakers, and pithy signs that said things like "If Hillary was president we'd be at brunch"—is promising to make a much more radical showing next year.
In a Monday email, organizers suggested the 2020 march would follow in the footsteps of recent protests around the globe. "For weeks, people have been asking when Americans will rise up and take to the streets the way that people have in Hong Kong, Puerto Rico, Lebanon, and Chile," the email reads. "The answer is January 18, 2020."
The group is referring to anti-capitalist protests like the ones in Hong Kong, where hundreds of thousands of protesters have stormed parliament and cancelled hundreds of flights after a proposed bill threatened to permit extraditions to mainland China, and in Chile, where residents are protesting the country's austerity politics and demanding a new constitution. Both protests have resulted in multiple deaths. In Puerto Rico, protesters demonstrated outside the governor's mansion around the clock until he announced his resignation inJuly.
As of publication time, the Women's March had not responded to VICE's request for comment.
To say that this vision is incongruous with the past three women's marches is something of an understatement. After the 2017 Women's March, which came the day after President Donald Trump's inauguration, some boasted that the mass demonstrations hadn't seen a single arrest, making it a peaceful—and therefore, the implicit argument was, an exemplary—protest. By contrast, the J20 protests of the day before, which were organized to purposely disrupt Trump's inauguration, resulted in damaged property and more than 200 arrests on felony riot charges in Washington D.C.
In her book Being Numerous: Essays on Non-Fascist Life, journalist Natasha Lennard warned against enforcing the notion that there are "good" and "bad" protesters, the latter category being the one police assigned to the J20 protesters and used to prosecute them.
"Of course I was pleased no one got arrested, but if you're congratulating yourself for that, you're also tacitly condemning the people who got arrested en masse protesting on Inauguration Day," Lennard told VICE earlier this year. "The desire to be a 'good' protester is a dangerous game, because the government will decide who is or isn't a good or bad protester. We're better off not to throw each other under the bus because we have slightly different tactics."
For Lennard, the 2017 Women's March had been "vast but placid," much like most marches, which she argues often amount to little more than a "grand parade." As such, a demonstration like the Women's March doesn't have much in common with the anti-fascist protests raging abroad at the moment, which, while organized, are not carefully coordinated with authorities or government officials, who will issue the proper permits. After the 2017 Women's March, some protesters recalled that police officers cheered them on, or gave them high-fives as they marched through the streets—hardly the sort of reception protesters have been met with in Hong Kong, Puerto Rico, Chile, or Lebanon. Or, for that matter, the sort of treatment people of color, like those who were involved in Black Lives Matter protests, could expect to receive from authorities, as some pointed out at the time.
"A large group of mostly white women wearing knit pink hats is simply not going to be policed in the same way a large group of people of color would be," HuffPost senior writer Zeba Blay wrote after the 2017 march.
Some of this may owe to the very nature of marches as well, according to Lennard: "March routes are delineated; traffic, while slowed, is smoothly redirected and at the end of the day, traffic and commerce buzzes along as if nothing ever happened," she writes in her book. "Parades are scheduled… Disruptions, by definition are not. Not every disruption is a riot, but most every riot is a disruption."
It may be that the Women's March is ready to adopt a more radical stance. Three members of the organization's original leadership—Linda Sarsour, Tamika Mallory, and Bob Bland—stepped down from their roles in September, and 17 new board members have risen up in their place. In Monday's email, one of the organization's new co-presidents, Isa Noyola, the deputy director of the Transgender Law Center, said that the 2020 Women's March would involve demonstrators "putting [their] bodies on the line" in a series of actions leading up to the march itself.
"History will remember what we chose to do in the age of Trump and how we demanded accountability from our leaders," Noyola wrote.
===
First protester dies in Colombia unrest as marches press on
Students, women's activists and indigenous people have marched through the center of Colombia's capital in a fifth day of protests against the government as the country recorded the first death of a demonstrator
By MANUEL RUEDA - AP - 26 November 2019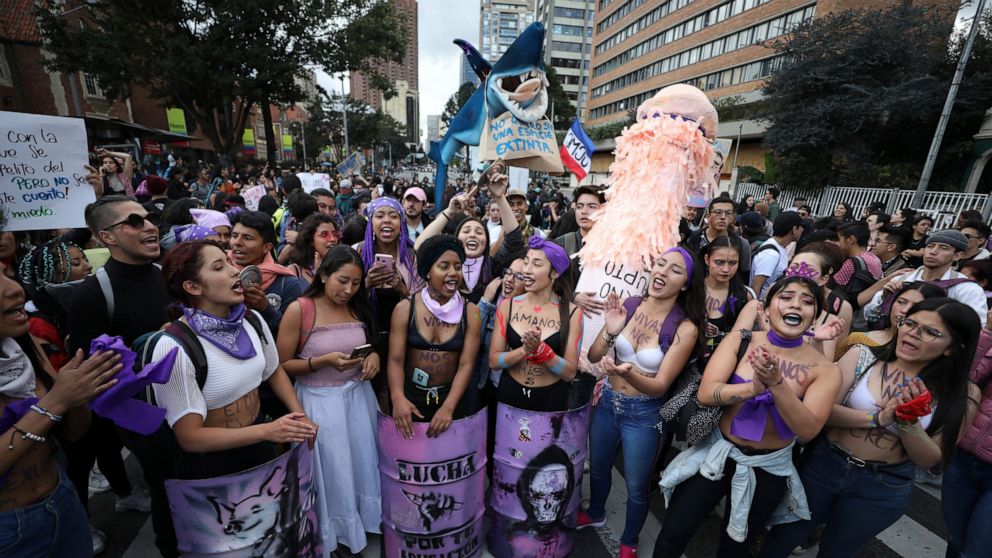 Anti-government demonstrators rally in Bogota, Colombia, Monday, Nov. 25, 2019. Authorities are maintaining a heightened police presence amidst scattered unrest in the aftermath of a mass protest that drew about 250,000 to the streets Thursday. (AP Photo/Fernando Vergara)
Students, women's activists and indigenous people marched through the center of Colombia's capital Monday in a fifth day of protests against the government as the country recorded the first death of a demonstrator.
Dilan Cruz, an 18-year-old high school student, died two days after being hit in the head by a projectile reportedly fired by riot police during a protest. His case has resonated in Colombian society, touching off a debate about excessive use of force and making him a symbol for many young protesters.
"It hurts," said Melissa Ceballos. She said Cruz was a friend who died "for asking for changes, for wanting for things to improve for Colombians."
As news of his death spread, protesters began gathering to bang pots and pans while chanting "The state killed him!" on the Bogota street where he was wounded.
President Ivan Duque expressed his condolences on Twitter, saying in a statement that he was "profoundly saddened" by Cruz's death and had shared his solidarity with the family. Duque has promised a swift investigation of the incident in which Cruz was injured.
Colombia has been rattled by protests since Thursday, when an estimated 250,000 people took to the streets amid a strike organized by unions, student groups and indigenous organizations.
The protest was the largest Colombia had seen in years, and it has been followed by dozens of smaller demonstrations as well as looting that resulted in the deaths of three people and prompted authorities to impose a curfew in Bogota for the first time since 1977.
The unrest comes after mass anti-government demonstrations erupted in Ecuador, Bolivia and Chile. Those outbursts caused leaders in Ecuador and Chile to propose changes in economic policies and forced Bolivia's president to resign.
Some Colombian protesters say they have been inspired by the events elsewhere in the region.
"The people have awoken" said Julio Pardo, a social sciences teacher who attended Monday's march in Bogota. "We will no longer allow our leaders to humiliate us."
In response to the growing unrest, Colombia's president launched a "national dialogue" Sunday to address such issues as rural violence, environmental policy and "growth with equity."
Duque met with recently elected governors and mayors Sunday night and held talks with business leaders and some unions Monday.
He also invited the National Strike Committee, a steering group that jumpstarted the protests to talks on Tuesday. But its leaders said Duque had only offered to spend one hour with the group, and they refused to attend.
"In one hour we cannot expose our grievances" said Diogenes Orjuela, president of the Central Workers Union. "Under those conditions we cannot start talks."
Members of the steering committee said they want a greater say over any overhaul of the pension system and labor laws as well as a tax reform plan that the government recently presented to the congress.
They have also called for more funding for public universities and are demanding a ban on fracking, a method for drilling oil which Duque has said he is open to.
It's not clear, though, how much success the movement will have in pressing its demands.
Sergio Guzman, director of Colombia Risk Analysis, said that while protests have been steady, they have drawn only a few thousand people since Friday and momentum could fade as the holiday season approaches.
"The only way for the strike committee to get an upper hand over the government is if they intensify pressure on the streets," Guzman said. "If they can't do that, they will have to lower their list of demands."
The government sought to keep order by arresting more than 160 people in the first two days of protests.
On Monday, Colombia's immigration agency initiated the deportation of 59 Venezuelan nationals who were arrested by police for allegedly conducting "acts of vandalism" during the protests.
Officials tried to fly the Venezuelans to Puerto Inirida, a remote border town in the Amazon jungle, but residents who feared the group would stay there prevented the plane from landing by occupying the town's airstrip.
The immigrants were then taken to a military base in Puerto Carreño, another town on the border with Venezuela that has limited road access to the rest of Colombia. Officials plan to drop them off at a Venezuelan village on the other side of the Orinoco River.
"We want to make it harder for them to return to our country," said Christian Kruger, director of Colombia's immigration agency.
———
Associated Press writer Cesar Garcia contributed to this report.