UPDATE: While Canberra cancelled the New Years fireworks, Sydney argues against a massively supported call to stop it, that the display, watched by an estimated one billion people globally, is worth A$130 million annually to the NSW economy and "Cancelling the event would seriously hurt Sydney businesses ... while most of the budget, largely used for crowd safety and cleaning measures, has already been spent". All lame arguments, since the major cost is the firework istself and that could just be shelved for next year and the city neds security an claning anyway. For Australian governance everything is only about money - and that is why they are in such mess. The money would be better spent on supporting volunteer firefighters and farmers
Koalas 'Functionally Extinct' After Australia Bushfires Destroy 80% Of Their Habitat
By Trevor Nace (*) - 23. November 2019 - see update below
As Australia experiences record-breaking drought and bushfires, koala populations have dwindled along with their habitat, leaving them "functionally extinct."
The chairman of the Australian Koala Foundation, Deborah Tabart, estimates that over 1,000 koalas have been killed from the fires and that 80 percent of their habitat has been destroyed.
Recent bushfires, along with prolonged drought and deforestation has led to koalas becoming "functionally extinct" according to experts.
Functional extinction is when a population becomes so limited that they no longer play a significant role in their ecosystem and the population becomes no longer viable.
While some individuals could produce, the limited number of koalas makes the long-term viability of the species unlikely and highly susceptible to disease.
Deforestation and bushfires destroy the main nutrient source of koalas, the eucalyptus tree. An adult koala will eat up to 2 pounds of eucalyptus leaves per day as it's main staple of nutrients. While eucalyptus plants will grow back after a fire, it will take months, leaving no suitable food source for koalas and starvation a likely scenario for many.
Many are urging the Australian government to enact the Koala Protection Act, written in 2016 but never passed into law and molded after the Bald Eagle Protection Act in the U.S. The Koala Protection Act would work to protect habitats and trees vital to koalas as well as protect koalas from hunting.
Recent viral videos of Australians rescuing koalas has led to increased donation to support hospitalization and help for burned koalas.
The Port Macquarie Koala Hospital setup a Go Fund Me page seeking donations to help the hospital treat injured koalas. To date, they have raised $1.33 million, well over their $25,000 goal. This comes from over 30,000 donors.
Part of their effort is to install drinking stations for koalas in areas devastated by the fires. The funds will also be used for a "Koala Ark" as a refuge for burned koalas to live in a healthy habitat during rehabilitation.
(*) Author:
Trevor Nace - Senior Scence Contributor. I am a geologist passionate about sharing Earth's intricacies with you. I received my PhD from Duke University where I studied the geology and climate of the Amazon. - Follow me on Twitter or LinkedIn.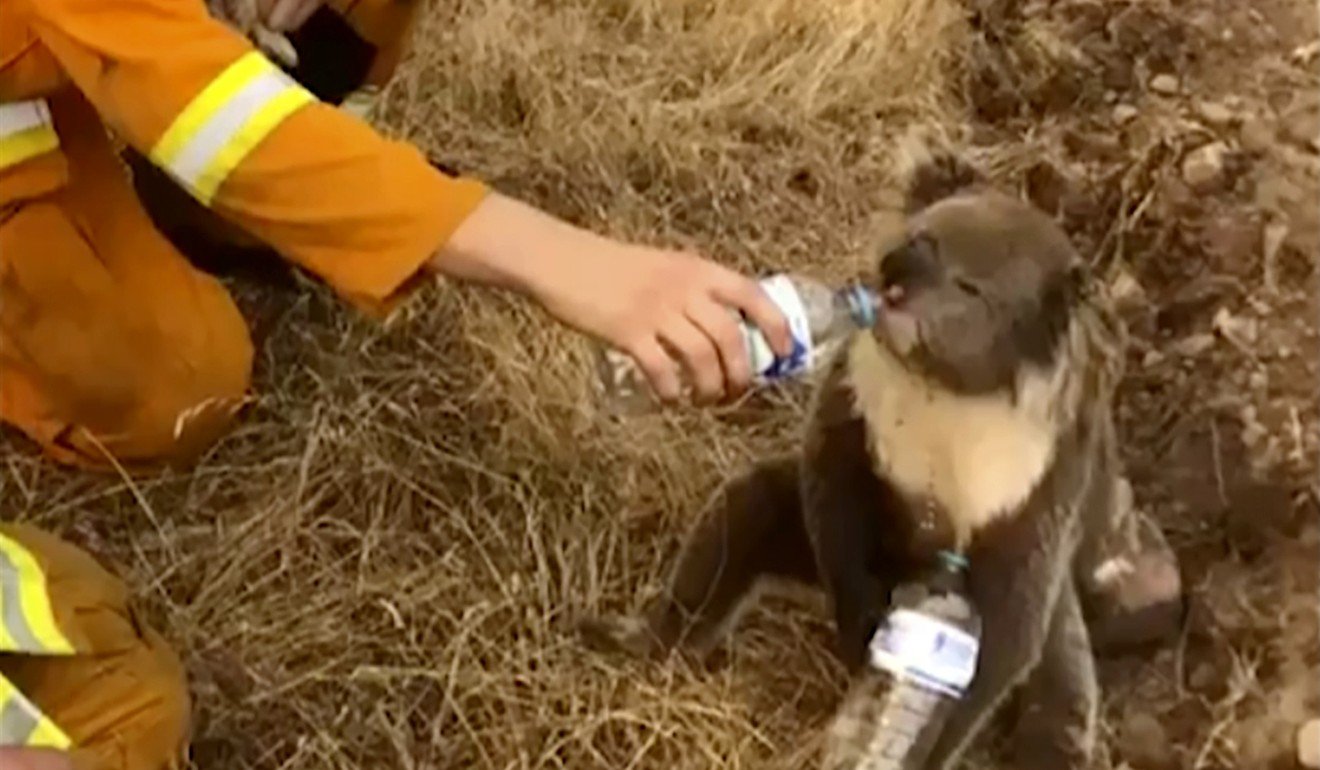 A koala drinks water from a bottle given by a firefighter in Cudlee Creek, South Australia. Photo: AP
The recent bushfires have seen a renewed call for the Australian government to enact the Koala Protection Act, written in 2016 but still to be put into action. It would help to protect koala habitats and eucalyptus trees – a main staple of a koala's diet – as well as protecting the creatures.
Thousands of Koalas Feared Dead in Australia Wildfires
Record wildfires continue: "I think this is the single loudest alarm bell I've ever heard on global heating."
By Common Dreams - 28. December 28, 2019
Female koala Anwen recovering from burns at The Port Macquarie Koala Hospital in Port Macquarie, Australia. Volunteers from the Koala Hospital have been working alongside National Parks and Wildlife Service crews searching for koalas following weeks of devastating bushfires across New South Wales and Queensland. Koalas rescued from fire grounds have been brought back to the hospital for treatment. An estimated million hectares of land has been burned by bushfire across Australia following catastrophic fire conditions in recent weeks, killing thousands of koalas along with other wildlife. (Photo by Nathan Edwards/Getty Images)
Australia is still on fire.
And now thousands of koalas are feared to have died in a wildfire-ravaged area north of Sydney.
"Up to 30 percent of their habitat has been destroyed," Environment Minister Sussan Ley told the Australian Broadcasting Corporation Friday. "We'll know more when the fires are calmed down and a proper assessment can be made." Land clearing and development over time has meant a loss of habitat for the tree-dwelling koalas.
Last year, a World Wide Fund for Nature (WWF) Australia report said there were fewer than 20,000 koalas left in New South Wales and they risked becoming extinct as early as 2050, largely because of "excessive tree-clearing for farming." Minister Ley said up to 30% of the koalas in the region had been killed in recent days.
Australia has just endured a heatwave that broke records for highest temperature ever for consecutive days. And the fires accelerated on Saturday in the country's east as temperatures soared.
"I think this is the single loudest alarm bell I've ever heard on global heating," said Kees van der Leun, a director at the American consultancy firm Navigant.
Common Dreams has reported that Australian Prime Minister Scott Morrison attacked environmental activists in a November speech, warning of a "new breed of radical activism" that was "apocalyptic in tone" and pledging to outlaw boycott campaigns that he argued could hurt the country's mining industry.
"We are working to identify mechanisms that can successfully outlaw these indulgent and selfish practices that threaten the livelihoods of fellow Australians, especially in rural and regional areas," Morrison said. "New threats to the future of the resources sector have emerged," he said. "A new breed of radical activism is on the march. Apocalyptic in tone. It brooks no compromise. It's all or nothing."
===
It is not only dirty coal that needs to be targeted with boycott actions and consumers need to switch to green energy sources, but also politicians like Morrison must be ousted, who went on holiday after initiating counterspin, but the facts remain:
No, koalas are not 'functionally extinct', but they are in trouble
By Michael Le Page - NewScientist - 17 May 2019 , updated 25 November 2019
These iconic animals aren't dying out
This story was written in May 2019. The claim that koalas are functionally extinct was repeated after forest fires in November 2019. This time it has also been claimed that 80 per cent of their habitat has been destroyed. But ecologist Diana Fisher says the fires damaged only 1 million hectares of the 100 million hectares of forest in eastern Australia, and that koalas are still nowhere near functionally extinct.
Who has said koalas are "functionally extinct"?
The Australian Koala Foundation, which lobbies for the animals' protection, has put out a press release stating that it "believes koalas may be functionally extinct in the entire landscape of Australia". The release triggered a flurry of worried headlines.
So are they?
No, although many populations of koalas are falling sharply due to habitat loss and global warming.
Could they go extinct?
There is no danger of koalas going extinct in Australia overall, says biologist Christine Adams-Hosking of the University of Queensland, who has studied the marsupials' plight. "But at the rate of habitat clearing that is going on, we are going to see increased local population extinctions," she says.
Why has the AKF made this claim now?
The claim was made on the eve of elections in Australia in which environmental issues such as climate change have become a big issue. The AFK has called on politicians to act. "There's a lot of politics going on, and somehow the koala gets involved," says Adams-Hosking.
What does functionally extinct even mean?
The term is used in several different senses. It can mean that a species has declined to a point where it can no longer plays the role it once did in a ecosystem, with significant effects on that ecosystem. Some define it even more narrowly, saying a species is functionally extinct when its decline leads to the extinction of other species. That's not what we're talking about here.
There are more meanings?
Yes. Others use it – arguably incorrectly – to describe a species that is probably extinct but we can't be sure. For instance, when researchers failed to find any river dolphins in China in 2006, they declared the baiji "functionally extinct".
Surely this isn't what the AKF meant?
No. The term is also used to describe a species where there are still many surviving individuals but the species is thought to be doomed in the long-term because, say, of the loss of genetic diversity. This is the sense of functionally extinct meant by the AKF. "This is a scientific term to describe 'beyond the point of recovery'," wrote the head of the AKF, Deborah Tabart, in a blog post.
But koalas haven't passed this point?
Some local populations of koalas are indeed heading towards functional extinction, says Adams-Hosking. "But Australia is a big country, there are koalas all over the place and some of them are doing fine," she says. "You can't just make that statement broad-brush." Adams-Hoskins also questions the AKF's claim that just 80,000 koalas remain. In 2016, she and colleagues estimated that there are around 300,000.
That sounds better…
No one knows for sure how many are left. What we do know is that koala numbers are falling as the eucalyptus forests they live in and feed on are cut down to make way for cities and farms. Habitat loss is the biggest threat, as it is to most wildlife.
What about climate change?
It is already having a big impact, says Adams-Hosking, causing some populations to decline 80 per cent. Koalas can't cope with day after day of temperatures above 36°C, as has been happening in the west of the country during the many recent heatwaves. Extreme droughts are also harming the eucalyptus trees they feed on.