UPDATE 02. May 2021: Chinese Leader Xi Jinping Lays out Plan to Control the Global Internet: Leaked Documents
UPDATE 29. April 2021: Bill Gates, China, 23andMe, and Your DNA
UPDATE 23. Nov. 2019: Officials speaking for CCP China are stating that Wang Liqiang had been accused of economic crimes and actually would be a fugitive - a rather lame counter-claim issued by the surprised Chinese. A man claiming to have worked as a secret Chinese operative for five years says Beijing has directed overseas assassinations, including in HongKong, Taiwan and on Australian soil.
Wang Liqiang has provided new information about the kidnapping of five booksellers from Hong Kong and their rendition to mainland China, according to Nine Newspapers

He has also reportedly revealed information about spies from Beijing infiltrating the Hong Kong democracy movement, Taiwan's elections and involvement in Australian affairs
ICYMI: China's gold-backed crypto looming as 'Pearl Harbor type event' for US dollar in 2020 – Keiser Report
Defecting Chinese spy offers information trove to Australian government
A Chinese spy has risked his life to defect to Australia and is now offering a trove of unprecedented inside intelligence on how China conducts its interference operations abroad.
Wang "William" Liqiang is the first Chinese operative to ever blow his cover. He has revealed the identities of China's senior military intelligence officers in Hong Kong, as well as providing details of how they fund and conduct political interference operations in Hong Kong, Taiwan and Australia.
Mr Wang has taken his material to Australia's counter-espionage agency, ASIO, and is seeking political asylum – potentially opening another front in Australia's challenging bilateral relationship with China.
A sworn statement Mr Wang provided to ASIO in October states: "I have personally been involved and participated in a series of espionage activities". He faces certain detention and possible execution if he returns to China.
Mr Wang is currently at an undisclosed location in Sydney on a tourist visa and seeking urgent protection from the Australian government – a plea he says he has passed on in multiple meetings with ASIO.
In interviews with The Age, The Sydney Morning Herald and 60 Minutes, he has revealed in granular detail how Beijing covertly controls listed companies to fund intelligence operations, including the surveillance and profiling of dissidents and the co-opting of media organisations.
He has given previously unheard details about the kidnapping of five booksellers from Hong Kong and their rendition to the Chinese mainland. His testimony shows how Beijing's spies are infiltrating Hong Kong's democracy movement, manipulating Taiwan's elections and operating with impunity in Australia.
ASIO has repeatedly warned that the current threat of foreign interference is "unprecedented" and that the number of foreign intelligence officers currently operating in Australia is higher than it was during the Cold War. ASIO has never publicly named China as a primary source of its concerns, as the government grapples with how to balance public awareness with the risk of diplomatic and economic retaliation.
However, on Friday, former ASIO boss Duncan Lewis said the Chinese government was seeking to "take over" Australia's political system through its "insidious" foreign interference operations.
Among his key revelations, Mr Wang said he had met the head of a deep-cover spy ring operating with impunity in Australia.
Mr Wang said he was part of an intelligence operation hidden within a Hong Kong-listed company, China Innovation Investment Limited (CIIL), which infiltrated Hong Kong's universities and media with pro-Chinese Communist Party operatives who could be activated to counter the democracy movement. He says he had personal involvement in an October 2015 operation to kidnap and abduct to the Chinese mainland a Hong Kong bookseller, Lee Bo, and played a role in a clandestine organisation that also directed bashings or cyber attacks on Hong Kong dissidents.
His handlers in China issued him a fake South Korean passport to gain entry to Taiwan and help China's efforts to systematically infiltrate its political system, including directing a "cyber army" and Taiwanese operatives to meddle in the 2018 municipal elections. Plans are underway to influence the 2020 presidential election - plans that partly motivated him to defect to Australia.
Mr Wang said the Chinese Communist Party under Xi Jinping "infiltrates all countries in areas such as military, business and culture, in order to achieve its goal."
"You shouldn't underestimate our organisation ... We were cultivated and trained by the organisation for many years before taking up important positions". The Chinese Communist Party "wants to ensure no one threatens its authority".
Hong Kong's Mr Big
Mr Wang claimed his cover in Hong Kong was as a businessman working for CIIL, which he described as a front company used by various Chinese intelligence agencies and Communist Party officials. His boss, Xiang Xin, was a senior intelligence operative, he said.
Mr Wang's main task was coordinating the relationships between his organisation and other intelligence agencies and "collecting information related to pro-independence" activists. He took instructions from Chinese military intelligence officials.
A key area of operations, he said, were Hong Kong universities. Mr Wang claimed his organisation had "infiltrated into all universities, including student associations and other student groups and bodies." He had responsibility for recruiting mainland students using scholarships, travel grants, alumni associations and an education foundation.
"I influenced them with patriotism, guiding them to love the country, love the Party and our leaders, and fight back strongly against those independence and democracy activists in Hong Kong."
His organisation directed cyber and physical attacks on independence movement leaders.
"We sent some students to join the student association and they pretended to support Hong Kong independence," Mr Wang said. "They found out information about those pro-independence activists … and made public all their personal data, their parents' and family members'."
He said he personally helped to organise the infamous kidnapping to the mainland of Causeway Bay Bookshop owner Lee Bo. Mr Wang says one of the aims of his intelligence work and the targeting of dissidents was to spread fear: "to make all troublemakers in Hong Kong terrified."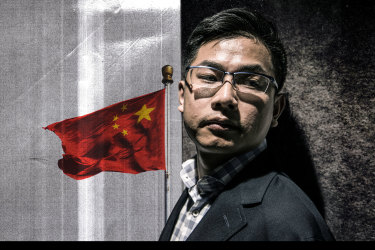 A spokesman for CIIL said Mr Xiang did not want to answer questions from The Age, the Herald and 60 Minutes over the phone, because he had never spoken to the journalists who were calling, and when questions were emailed to Mr Xiang, the spokesman said Mr Xiang would not answer because he could not verify that the email was not sent covertly by the Australian government in order to obtain intelligence.
After the story was initially published, an email response from a man called Edison Li said, "Anyone with a little common sense will know that these problems are ridiculous and untrue, and the accuser very likely did this for economic purposes. We will refer the matter to the lawyer."
Infiltrating the media
Mr Wang claimed his organisation had infiltrated Hong Kong media outlets, financing some and planting operatives in others. A senior manager at a major Asian television network "is a current military cadre with a Division Commander rank," said Wang.
"He was the one responsible for organising the agents to kidnap and persecute Hong Kong democracy activists," he said.
In Taiwan, Mr Wang said his intelligence operation was in contact with media executives in order to influence Taiwan's political system as part of a systemic election meddling campaign being waged by Beijing to topple candidates (including President Tsai Ing-Wen) considered hostile. He said his operation had backed presidential candidate Han Kuo-yu.
Mr Wang said he was responsible for coordinating a "cyber army" to shift political opinion, similar to Russia's cyber interference operations in the US elections.
"Our work on Taiwan was the most important work of ours – the infiltration into media, temples and grassroots organisations," said Wang.
Mr Wang said his operation successfully meddled in the "nine-in-one" elections in Taiwan in 2018, leading to victories for pro-Beijing candidates. In May, he was given a fake South Korean passport and ordered to commence an operation on the ground in Taipei to influence the 2020 presidential elections with the aim of bringing down President Tsai Ing-wen.
"I was requested to change my name and whole identity to go to Taiwan and be a spy there," he says.
Mr Wang said he had also met a high ranking intelligence operative he believed was conducting spy operations in Australia via a front company in the energy sector.
"He told me at the time he is based in Canberra. I know his position is very important."
Mr Wang said that his organisation had dealings with several significant Australian political donors, including a one-time staffer in a federal MP's office. Mr Wang provided bank account transactions to back his claims.
More on Chinese operations in Australia in The Sunday Age, The Sun-Herald, 60 Minutes and The Age and the Herald on Monday.

Nick McKenzie is an investigative reporter for The Age. He's won seven Walkley awards and covers politics, business, foreign affairs and defence, human rights issues, the criminal justice system and social affairs.

Paul is a reporter for The Age.
Related Articles
EXCLUSIVE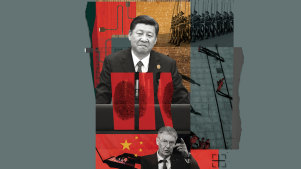 Investigation
===
UPDATES:
Chinese Leader Xi Jinping Lays out Plan to Control the Global Internet: Leaked Documents
By Nicole Hao and Cathy He - 02. May 2021
Chinese leader Xi Jinping personally directed the communist regime to focus its efforts to control the global internet, displacing the influential role of the United States, according to internal government documents recently obtained by The Epoch Times.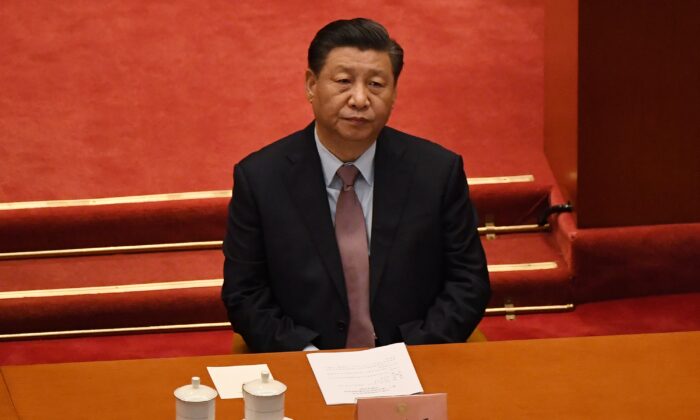 Chinese leader Xi Jinping attends the opening ceremony of the Chinese People's Political Consultative Conference (CPPCC) in Beijing on March 4, 2021. (Leo Ramirez/AFP via Getty Images)
In a January 2017 speech, Xi said the "power to control the internet" had become the "new focal point of [China's] national strategic contest," and singled out the United States as a "rival force" standing in the way of the regime's ambitions.
The ultimate goal was for the Chinese Communist Party (CCP) to control all content on the global internet, so the regime could wield what Xi described as "discourse power" over communications and discussions on the world stage.
Xi articulated a vision of "using technology to rule the internet" to achieve total control over every part of the online ecosystem—over applications, content, quality, capital, and manpower.
His remarks were made at the fourth leadership meeting of the regime's top internet regulator, the Central Cyberspace Affairs Commission, in Beijing on Jan. 4, 2017, and detailed in internal documents issued by the Liaoning Provincial Government in China's southeast.
The statements confirm efforts made by Beijing in the past few years to promote its own authoritarian version of the internet as a model for the world.
In another speech given in April 2016, detailed in an internal document by the Anshan City Government in Liaoning Province, Xi confidently proclaimed that in the "struggle" to control the internet, the CCP has transformed from playing "passive defense" to playing both "attack and defense" at the same time.
Having successfully built the world's most sprawling and sophisticated online censorship and surveillance apparatus, known as the Great Firewall, the CCP under Xi is turning outwards, championing a Chinese internet whose values run counter to the open model advocated by the West. Rather than prioritizing the free flow of information, the CCP's system centers on giving the state the ability to censor, spy on, and control internet data.
Countering the US
The Chinese leader acknowledged the regime lagged behind its rival the United States—the dominant player in this field—in key areas such as technology, investments, and talent.
To realize its ambitions, Xi emphasized the need to "manage internet relations with the United States," while "making preparations for fighting a hard war" with the country in this area.
American companies should be used by the regime to reach its goal, Xi said, without elaborating on how this would be done.
He also directed the regime to increase its cooperation with Europe, developing countries, and member states of Beijing's "Belt and Road Initiative," to form a "strategic counterbalance" against the United States.
The Belt and Road Initiative (BRI) is a massive infrastructure investment project launched by Beijing to connect Europe, Asia, Africa, and the Middle East through a network of rail, sea, and road linkages. The plan has been criticized by the United States and other Western countries as a conduit for Beijing to increase its political and commercial interests in member states while saddling developing countries with heavy debt burdens.
The BRI has also pushed countries to sign up to "digital silk road" projects—those involving information and communications technology infrastructure. At least 16 countries have signed memoranda of understanding with the regime to work in this area.
Three-pronged Strategy
Xi ordered the regime to focus on three "critical" areas in its pursuit of controlling the global internet.
First, Beijing needs to be able to "set the rules" governing the international system. Second, it should install CCP surrogates in important positions in global internet organizations. Third, the regime should gain control over the infrastructure that underlies the internet, such as root servers, Xi said.
Domain Name System (DNS) root servers are key to internet communications around the world. It directs users to websites they intend to visit. There are more than 1,300 root servers in the world, about 20 of which are located in China while the United States has about 10 times that, according to the website root-servers.org.
If the Chinese regime were to gain control over more root servers, they could then redirect traffic to wherever they want, Gary Miliefsky, cybersecurity expert and publisher of Cyber Defense Magazine, told The Epoch Times. For example, if a user wants to go to a news article about a topic deemed sensitive by Beijing, then the regime's DNS server could route the user to a fake page saying the article is no longer online.
"The minute you control the root, you can spoof or fake anything," he said. "You can control what people see, what people don't see."
In recent years, the regime has made headway in advancing Xi's strategy.
In 2019, Chinese telecom giant Huawei first proposed the idea for an entirely new internet, called New IP (internet protocol), to replace the half-century-old infrastructure underpinning the web. New IP is touted to be faster, more efficient, flexible, and secure than the current internet, and will be built by the Chinese.
While New IP may indeed bring about an improved global network, Miliefsky said, "the price for that is freedom."
"There's going to be no free speech. And there's going to be eavesdropping in real-time, all the time, on everyone," he said. "Everyone who joins it is going to be eavesdropped by a single government."
The proposal was made at a September 2019 meeting held at the International Telecommunications Union (ITU), a U.N. agency responsible for setting standards for computing and communications issues that is currently headed by Chinese national Zhao Houlin. New IP is set to be formally debated at the ITU World Telecommunication Standardization Assembly to be held in March 2022.
Miliefsky said the plan is unlikely to gain widespread support among countries, but may be adopted by like-minded authoritarian states such as North Korea, and later by countries that signed onto BRI and are struggling to repay its loans to China.
This would accelerate a bifurcation of the internet, what analysts such as former Google CEO Eric Schmidt have dubbed the "splinternet," Miliefsky said. "The communist net and the rest of the world."
The Epoch Times has reached out to Huawei for comment.
Importing Talent
According to the document, Xi ordered the CCP regime to set up "three ecosystems"—technology, industry, and policy—to develop core internet technologies.
Having skilled workers was key to this plan, with Xi directing that talent should be hired from around the globe. This would be done through Chinese companies, Xi prescribed.
He told Chinese firms to "proactively" invite foreign "high-end talents," and to set up research centers overseas and hire leading ethnic Chinese and foreign specialists to work for them.
Meanwhile, Xi asked the regime to set up a professional training system in China, which can systematically develop a highly skilled workforce in the long run.
He also directed officials in each level of government to guide Chinese companies to develop their business plans to align with the regime's strategic goals, and encourage capable enterprises to take the lead in developing innovations in core technologies.
Enterprises were to be educated in having "national awareness and safeguarding national interests," Xi said. Only then should the regime support and encourage their expansion.
Because talent and critical technology are concentrated overseas, the Chinese leader also ordered authorities to support the development of a group of multinational internet companies that can have global influence.
Turning the Internet Red
Xi, in his 2016 speech, described all online content as falling into three categories: "red zone, black zone, and gray zone."
"Red zone" content refers to discourse aligned with the CCP's propaganda requirements, while "black zone" material falls foul of these rules. "Gray zone" content lies in the middle.
"We must consolidate and expand the red zone and expand its influence in society," Xi said in a leaked speech in August 2013. "We must bravely enter into the black zone [and fight hard] to gradually get it to change its color. We must launch large-scale actions targeting the gray zone to accelerate its conversion to the red zone and prevent it from turning into the black zone."
Inside China, the CCP has a stranglehold on online content and discussion through the Great Firewall, a massive internet censorship apparatus that blockades foreign websites and censors content deemed unacceptable to the party. It also hires a massive online troll army, dubbed the "50-cent army," to manipulate online discussion. A recent report found that the CCP engages 2 million paid internet commentators and draws on a network of 20 million part-time volunteers to carry out online trolling.
Freedom House, in its 2020 annual internet freedom report, labeled China as the world's worst abuser of online freedom for the sixth straight year. Chinese citizens have been arrested for using software to circumvent the Great Firewall and punished for posting comments online unfavorable to the Chinese regime. In a now-notorious incident during the early stages of the pandemic, whistleblower doctor Li Wenliang was reprimanded by police for "rumor-mongering" after warning colleagues in a social media chat group about a SARS-like virus in Wuhan City.
In the 2017 remarks, Xi told the regime to develop a larger group of "red" online influencers to shape users' perceptions of the CCP. He also called for an expansion of the 50 cent army to operate both inside and outside of China's internet.
Since the pandemic, the CCP has sharply escalated its efforts to influence online opinion overseas. Using large networks of troll accounts on Twitter and Facebook, the regime has been able to propagate and amplify propaganda and disinformation on topics such as the pandemic, racial tensions in the United States, and the regime's oppression of Uyghur Muslims in Xinjiang.
Follow Cathy on Twitter: @CathyHe_ET
===
Bill Gates, China, 23andMe, and Your DNA
By Derrick Broze - 29. April 2021
Is there a connection between China, Bill Gates, YouTube, and DNA collection?
Recent reports reveal that a Chinese company with connections to the Gates Foundation is involved in COVID-19 testing and poses a potential threat to American privacy, particularly the medical and health data of those who have been tested for COVID-19.
In late January, CBS' 60 Minutes reported:
"60 Minutes has learned Chinese company BGI Group, the largest biotech firm in the world, offered to build COVID labs in at least six states, and U.S. intelligence officials issued warnings not to share health data with BGI.

The largest biotech firm in the world wasted no time in offering to build and run COVID testing labs in Washington, contacting its governor right after the first major COVID outbreak in the U.S. occurred there. The Chinese company, the BGI Group, made the same offer to at least five other states, including New York and California, 60 Minutes has learned. This, along with other COVID testing offers by BGI, so worried Bill Evanina, then the country's top counterintelligence officer, that he authorized a rare public warning."
"Foreign powers can collect, store and exploit biometric information from COVID tests" declared the notice. Evanina believes the Chinese are trying to collect Americans' DNA to win a race to control the world's biodata."
Evanina said a foreign entity could learn about a person's current or future medical conditions by studying their DNA and using this information to gain a monopoly over necessary drugs and treatments.
BGI Group declined to be interviewed by 60 Minutes and said the idea that Americans genomic data has been compromised by BGI is "groundless".
Concerns around BGI also arose in late January when Reuters reported that more than 40 publicly available documents and research papers show BGI's links to the People's Liberation Army (PLA). Reuters said the research dealt with topics as varied as mass testing for respiratory pathogens to brain science.
The Gates Foundation and BGI
In March, journalist Natalie Winter of National Pulse uncovered documentation of a relationship between the Bill and Melinda Gates Foundation and BGI going back nearly a decade. Winter found a Memorandum of Understanding (MOU) between the Gates Foundation and BGI to "form a collaboration on global health and agricultural development with the goal of achieving common objectives in health and agricultural development."
Specifically, this collaboration deals with developments in human, plant, and animal genomics, the study of DNA. In the press release for the MOU, the co-founder of BGI directly mentions the partnership as focused on genomics.
"BGI looks forward to partnering with the Bill & Melinda Gates Foundation in this significant collaboration to apply genomics research to benefit global human health," said Dr. Huanming Yang, Chairman and Co-Founder of BGI.
Bill Gates also visited BGI headquarters in 2010, according to a report from the Financial Times. The Times stated that BGI "is working towards a goal of building a huge library based on the DNA of many millions of people." BGI's goal is to use this information for new drugs, genetic research, and "transforming public health policy".
It would appear the COVID-19 crisis has helped BGI and the Gates Foundation step into the role of influencing and transforming international health policy.
Winter's report also notes that:
"the Gates Foundation has also funded BGI projects relating to genome sequencing alongside Chinese Communist Party bodies such as the Ministry of Science and Technology and Academy of Agricultural Sciences.

Similarly, Dr. Tadataka Yamada, the former president of the Bill & Melinda Gates Foundation's global health program, serves as the Chairman of BGI's Scientific Advisory Board."
It's clear that BGI Group and the Gates Foundation have a documented relationship over the last the decade. It's equally apparent that BGI Group has an extensive relationship with the Chinese military and government. It is these connections – the relationship that exists between the Chinese government, the BGI Group, and the Gates Foundation – which has sparked fears regarding the potential misuse for the COVID-19 tests manufactured by BGI.
BGI and the DNA Testing Industry
Since March 2020, BGI has sold millions of their COVID-19 test kits around the world, including the United States, Europe, and Australia. Reuters reports that shares of BGI Genomics Co. have doubled in the last year, giving BGI a market value of around $9 billion USD.
The company is based in Shenzhen, on the coast of Guangdong, China. They have made a name for themselves by selling genetic sequencing services around the world, which has helped them to create a large database of DNA. BGI is also well known for creating a cloned pig in 2010.
The company has regularly partnered with the Chinese People's Liberation Army. BGI and the PLA's Academy of Military Medical Science share a dozen patents for DNA tests. Coincidentally, Reuters notes that one patent from 2015 is for a "low-cost test kit to detect respiratory pathogens, including SARS (Severe Acute Respiratory Syndrome) and coronaviruses."
Further, Chen Weijun, BGI's chief infectious disease expert, is listed as an inventor on the patent while also holding the title of one of the first scientists reported to have sequenced COVID-19 used samples from a military hospital in Wuhan.
BGI says the test kit developed with the Chinese military is not the same one sold to foreign countries.
The danger of COVID-19 tests being used as a method for gathering genomic data on the unsuspecting public is part of a larger conversation about the dangers posed by genealogy companies generally. Millions of people around the world have voluntarily submitted their DNA in exchange for information about their ancestry. The vast majority of the users of these companies, such as Ancestry and 23andMe, do not read the Terms of Service which outline how the genealogy firms can use the data.
One of the ways this data is used is to sell it to biotech companies who are interested in developing new drugs and therapies. Clearly, there are governments and militaries who also have an interest in collecting this data.
Evanina, the former counterintelligence officer, told 60 Minutes that Chinese companies are investing in U.S. biotech companies to gain access to the health data. He says most people do not realize that their genetic material represents "your past and your future as well as your children's future."
While there are clearly reasons to be concerned about the influence of the Chinese government and what they might do with your DNA, the reality is most governments with the resources will likely seek to mine DNA as well. This absolutely includes the United States government, military, and private companies.
One such company is the aforementioned 23andMe. In the January 60 Minutes report Anne Wojcicki, CEO of 23andMe, answered questions regarding her company's use of the data they are collecting. While Wojcicki says that her company has "empowered individuals with this opportunity to come together, to crowd source research", she doesn't shy away from acknowledging that her company plans to use the information to develop drugs.
"And I absolutely stand behind: we are going to develop drugs. So that everyone is actually benefiting from the human genome. So absolutely the data is valuable," Wojcicki told 60 Minutes.
While she says she agrees that Americans should be concerned about China's investments in genomic research, she believes the answer is for the United States to invest in genetic programs.
Wojcicki and 23andMe have faced their own criticisms regarding how they use the data and whether the public can truly expect records of their DNA to be safe. In February it was announced 23andMe would become a publicly traded company with help from billionaire Richard Branson. The Guardian noted that Branson's Virgin Acquisition Group said 23andMe and their "vast proprietary dataset" of DNA would allow Virgin to "unlock revenue streams across digital health, therapeutics, and more".
Branson's interest in the study of DNA resembles the interests of wannabe billionaire Jeffrey Epstein. Epstein had an obsession with funding DNA programs. Bill Gates is also a part of this web because of his relationship with Epstein and partnership with the BGI Group. TLAV's Whitney Webb recently reported:
"Epstein donated hundreds of thousands of dollars to the institution and Epstein was also used as a channel for making donations to MIT by billionaire Bill Gates. Gates has yet to explain why he would funnel his donations through Epstein as opposed to publicly donating via his well-known "philanthropic" foundation. Epstein's funding of the MIT Media Lab in particular led to the resignation of its former director Joi Ito in September 2019 following Epstein's arrest and subsequent 'suicide.'"
The DNA-Biosecurity-Big Tech Web
What is not mentioned in the 60 Minutes piece – or anywhere else – is the fact that Anne Wojcicki, CEO of 23andMe, is the sister of Susan Wojcicki, CEO of YouTube. Additionally, Anne Wojcicki's husband until 2015 was Sergey Brin, one of the founders of Google and president of Google's parent company, Alphabet Inc, until December 2019. Google also owns YouTube.
The reason these connections matter is because there are common threads between Google, the Gates Foundation, companies like 23andMe, and the Chinese government. While Anne Wojcicki and 23andMe work on DNA mining, her sister at YouTube censors reports on such topics that are often labeled misinformation. Understanding the incredible conflicts of interests here is of the utmost importance.
In a coming report I will dive deeper into this tangled web of Big Tech, Big Philanthropy, and the Chinese government.
===
ICYMI:
China's gold-backed crypto looming as 'Pearl Harbor type event' for US dollar in 2020 – Keiser Report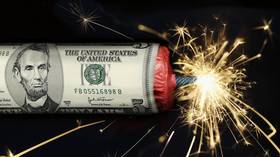 By RT - 12 November 2019
There are two economies in the United States, says RT's Keiser Report, the real economy, where the 99 percent live, and the one-percent economy, where bankers and the corporate elite live.
"Consumers are spending and life is going on," whereas on Wall Street one can see "non-stop interventions, quantitative easing is needed, interest rates were cut again this week for the top one percent," Stacy Herbert says.
"There's never enough money," as those from the one percent "want more and more..."
According to Max Keiser, there could be "a catastrophic trapdoor opening underneath the US economy."
When China announces as a surprise its 20,000 tons of gold and a gold-backed cryptocurrency that "will kill the US dollar deader than a doornail," it will be a "Pearl Harbor-type event and it's coming in the next six to nine months," he predicts.
© Global Look Press / Christian Ohde