UPDATE: - see down below the important speech by our colleague Director Nimmo Bassey who is at present in Colombia.
Three killed following marches across Colombia, defence minister says
More than 250,000 took to streets to express growing discontent with Duque government
By Agencies - 21/22. November 2019
Three people were killed in events following Thursday marches across Colombia, the defence minister said, as cities woke on Friday to widespread public transportation problems and calls for another protest.
More than 250,000 people marched on Thursday to express growing discontent with president Ivan Duque's government, including rumoured economic reforms and ongoing anger at what protesters say is a lack of government action to stop corruption and the murder of human rights activists.
Former leftist presidential candidate Gustavo Petro called for another demonstration on Friday afternoon, urging people to bang pots and pans in Bogota's central square in a traditional expression of protest known as a "cacerolazo". His call is not supported by the unions which organized Thursday's march.
The protest coincided with demonstrations in other Latin American countries, including anti-austerity marches in Chile, protests over vote-tampering allegations in Bolivia that led president Evo Morales to resign and inflamed tensions in crisis-hit Nicaragua.
'Violent aggression'
The details surrounding the deaths, in Valle del Cauca province, were under investigation, defence minister Carlos Holmes Trujillo told journalists.
"In the last few hours authorities have confirmed the death of two people in Buenaventura in the midst of disturbances and one more in Candelaria, both municipalities of Valle," he said, adding that a group of people intended to loot the Viva Buenaventura mall.
"Because of this violent act, the security forces went to confront the event, while being subject to violent aggression with the throwing of rocks and sticks. As a result of the confrontation between vandals and security forces and in events that are the subject of investigation by the attorney general's office, two people were killed."
Blockades continued in four municipalities, Mr Trujillo added. Though the vast majority of marchers participated peacefully, 98 people were arrested, while 122 civilians and 151 members of the security forces were injured, he said.
The authorities were conducting 11 preliminary investigations into misconduct by members of the security forces, Mr Trujillo added, after images circulated on social media of police treating protesters roughly, including a riot cop kicking a protester in the face.
Alcohol ban
Commuters in Bogota and other cities faced long delays on Friday as authorities tried to normalise service at dozens of mass transit stations vandalised on Thursday. Bogota's mayor announced a ban on alcohol sales beginning at noon and said repairs would cost millions of dollars.
Petro's calls for a Friday protest were not echoed by unions, the head of the General Work Confederacy union told local radio, warning against political "opportunism" associated with the marches.
"We'll have to wait a few days to see when we are going to meet with the president," said Julio Roberto Gomez, referring to meetings promised by Duque in a brief speech late on Thursday night.
Clashes In Colombia As Hundreds Of Thousands Protest Against Government
Colombia protests: Three dead as more than 200,000 demonstrate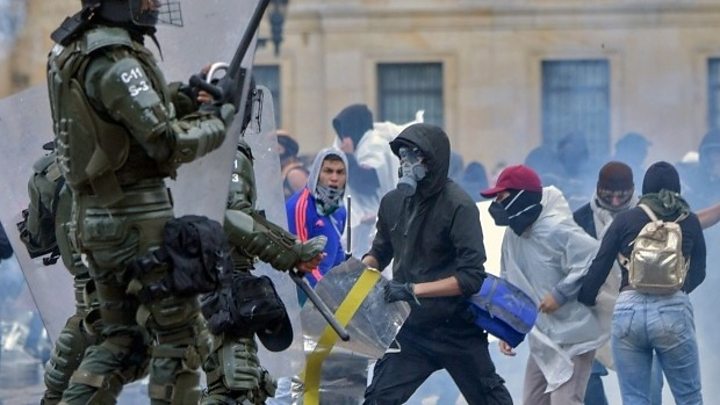 Police fire tear gas on protesters in Bogotá's Bolívar Square
Three people were killed in Colombia on Thursday amid nationwide mass protests against the right-wing government of President Iván Duque, officials say.
More than 200,000 people took to the streets to show discontent over possible austerity measures.
The protests were mostly peaceful but clashes between demonstrators and police broke out in cities including the capital, Bogotá, and Cali.
There has been a surge in anti-government protests in Latin America.
Colombian protesters are concerned about possible changes to the minimum wage, pension and tax reforms, and the privatisation of state companies. The government insists there are no planned pension or labour reforms and that any changes would take place in consultation with labour groups.
Protesters are also angry about alleged corruption and what some see as the government's failure to honour a 2016 peace deal with left-wing Farc rebels amid a rise in violence.
Thursday's general strike was called by unions and student groups, and more protests were expected on Friday. President Duque said he had heard Colombians and vowed to deepen "social dialogue".
What's known about the deaths?
The details of the deaths, all of them in the western province of Valle del Cauca, were still under investigation, Defence Minister Carlos Holmes Trujillo told journalists on Friday.
Two people died in the city of Buenaventura, where a group of people tried to loot a shopping centre. "Because of this violent act, the security forces went to confront the event, while being subject to violent aggression with the throwing of rocks and sticks," Mr Trujillo said.
A third death was reported in the town of Candelaria, he added.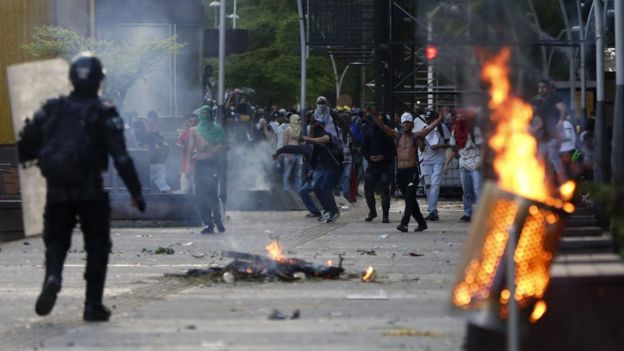 According to Mr Trujillo, 98 people were arrested nationwide while 122 civilians and 151 members of the security forces were injured.
Eleven preliminary investigations into alleged misconduct by members of the security forces were being carried out, Mr Trujillo said, after images were posted on social media of police treating protesters roughly. They included a riot police officer kicking a protester in the face.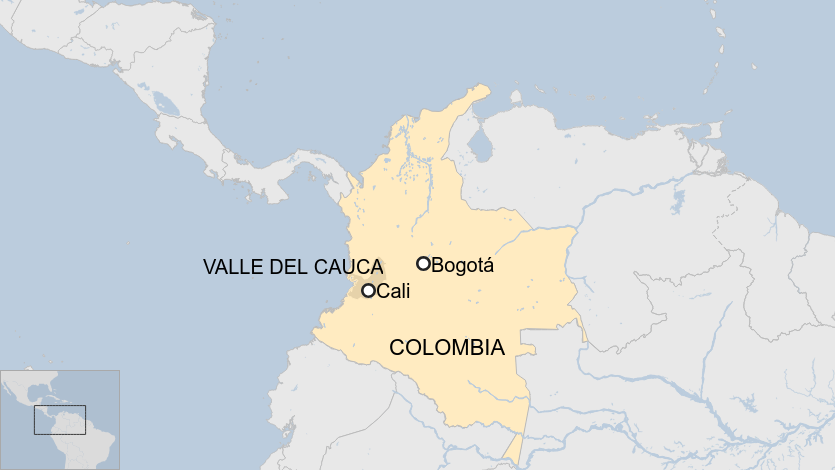 In Valle del Cauca's capital, Cali, security forces clashed with demonstrators who blocked roads and vandalised buses and shops.
In Bogotá, police fired tear gas against crowds gathered in the historic Bolívar Square next to the president's office. Buses and public buildings were attacked and the mayor, Enrique Peñalosa, estimated $5.8m (£4.5m) in damages.
A ban on alcohol sales in the capital will be imposed from 12:00 local time (17:00 GMT) on Friday until 12:00 on Saturday.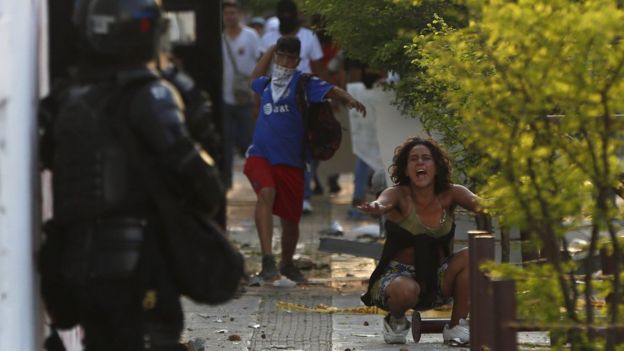 The demonstrations were the largest in the country in many years, and authorities said rallies were held in 350 towns and cities.
The organisers of the protests, the National Strike Committee, said in a statement (in Spanish): "Colombia won on this historic day of citizen mobilization... We call on all citizens to be ready to take further action in the street if the national government continues to neglect our demands."
A 65-year-old pensioner and Duque voter, Pablo Merchan, told Reuters news agency: "People from across the spectrum marched and I hope our president understands he has to grab the reins of the country and give us an assured path and hope for the young."
What has the president said?
In a televised address on Thursday, Mr Duque said: "Today, Colombians spoke. We hear them. Social dialogue has been a main principle of this government and we need to deepen it with all sectors of society and speed up the social agenda and the fight against corruption."
The president, who took office in August 2018, also condemned the violence, saying the government would not tolerate "lootings and attacks on private property".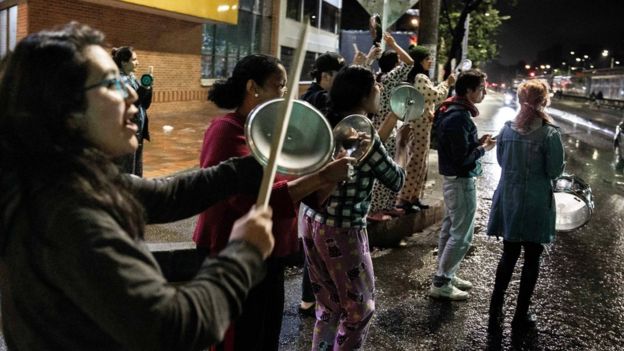 Protesters have taken to the streets in several Latin American countries in recent months, including in Chile, where conservative President Sebastián Piñera is grappling with the country's biggest crisis since its return to democracy in 1990.
In Bolivia, claims of election fraud led to the resignation of long-time leftist President Evo Morales amid nationwide protests. Demonstrations have also taken place in Ecuador and Nicaragua.
Despite all the chaos, our collegue Nimmo Bassey was able to remind people and deliver this important speech in Colombia:
Colonisation of Nature:
Need for development with environmental justice
In a presentation made on Friday, November 22, 2019 at the International Symposium on Environmental Thinking & Development Alternatives: South-South and South-North Views hosted by Universidad Nacional, Colombia, Nnimmo Bassey, Director, Health of Mother Earth Foundation (HOMEF), warns that protests will continue until governments wake up to the fact that they are elected to govern and not to babysit corporations and others who profiteer from the misery of citizens
The colonisation of the Nature persists in its raw form and tends to be intensified as time goes by. The intensification of the colonisation of Nature increases as resources that humans have learned to transform for the preservation of current civilisations run out.
The dearth of resources to be exploited should have been obvious to humans since we live on a finite planet. The race for what can still be reached has thrown up situations where governments are not necessarily defined by political ideologies but by their stance towards dependency on revenue and materials from extractive activities and on corporate forces that support their electoral needs.
The range of political leadership we see in the world today tends to be birthed by alignment of perception of populations on which leadership promises to bring back the good old days. The factor of nostalgia has sometimes been spiced with a promise to bring about change. Common in all situations is the fact that the voters do not question the past that they desire and do not interrogate the promised change. The result has been that the disappointing reality sets in very quickly when the promises turn to dust.
The thought pattern that offers Nature as something to be exploited has become so ingrained that we only wake up to ask questions when the environment is thoroughly degraded and where damage can no longer be compensated for. The heavy loss and damage tied to the extractivist model has gone so deep that financial compensation cannot sufficiently pay for the harms. This shows clearly that the remedies must be sought on the altar of justice.
Humans need to seek a reconciliation with Nature of which we are an integral part. One pathway towards this reconciliation is through the acceptance of ecocide as a crime punishable under national and international laws. The acceptance of ecocide as a crime will greatly incentivize good behaviour by ecological devourers.
Reconciliation with Nature will take both physical and cultural actions. It will require an acceptance that carrying out so-called corporate social responsibility acts are blatantly hypocritical when the harm done is irreversible. Beautiful concepts like benefit sharing should be seen as drawing in victims as accessories to crimes when the ecological harms done in the process of resource exploitation cannot be remedied. Talks of good governance and transparency stand out as scaffolds for continued irresponsible exploitation in many cases when it is known that the baseline for assessing transparency is not in existence in the first place.
The cultural actions that require immediate consideration have to do with our mindsets. For too long, policies have been based on ideas formulated to ensure that the oppressive and exploitative systems persist. We accept concepts such as green or blue economies without question. Some policy makers even swear that the blue economy is Africa's chance to enter the development train.
We do not even pause to question the origins of the concept of development and the classification of nations as developed, developing or underdeveloped. So unthinking have we been that there was a time that nations competed to be classified as poor and highly indebted nations to qualify for loans and prescriptions that would actually ensure their poverty.
And, have you considered the concepts of cash cropping as a major means of foreign exchange earnings by governments? Where did the idea that you can literally cultivate crops for cash and not for food take root in our psyches? Think about that.
The pursuit and accumulation of cash has become the reason for living by many. Those who are not able to raise enough cash to cover more than their daily needs are seen as poor and as failures. Humans have accepted the notion that collective organisation provided by government should only be for the purpose of propping up corporate interests and the powerful forces behind them. People readily mouth the falsehood that governments have no business in business and extend that to mean that citizens must pay for everything. Allowing citizens to swim or sink has become the creed, and this further opens the scope for exploitation of the helpless.
Governments pursue revenue generation and do all they can to ensure the enlargement of the space for ease of doing business. You don't hear of ease of survival for citizens of nations. No, there are no measures for that. We speak up against child labour, but we have normalised poverty and force kids to work in order to support parents whose labour cannot pay their bills. So, we have children buried in mines for hours, digging up metals that end up adorning the rich and the powerful. We see artisanal miners breaking their backs and getting buried in unsafe mine pits across the African continent. And, then we point our fingers to accuse these struggling citizens with notions that poverty drives ecological degradation. No one asks to unearth the roots of the calamitous circumstances that we live in and the extent to which the planet has been wreaked.
The abandonment of social responsibilities by governments is one of the reasons for the spate of protests going on in the world today. And it does appear that the protests will continue until governments wake up to the fact that they are elected to govern and not to babysit corporations and others who profiteer from the misery of citizens. And we should add here that laws like the proposed Hate Speech Bill in Nigeria cannot stem the tide of pains that must be voiced.
Is Colombia Exploding? In some Cities the 21N is Not Over Yet – State Terrorism?
23.
"The strike continues", that is one of the hashtags used by Colombians that have flooded the streets of claims against the Government of Iván Duque in the framework of the national strike on November 21. Sputnik reviews key moments during the mobilization that was historic.
"And now that?". That is the question that resonates in Colombia. With songs, banners and multiple claims, on November 21 (21N) a national strike was held against Duque and the 'package' that aims to boost with reductions in the minimum wage for young people, a 'fare hike' of electricity and changes in the pension system .
In addition, there were demonstrations against the death of social leaders , attempts to regulate social protest and demanding Police Riot Squadron to be dismantled and peace agreements with the FARC be fully implemented.
Unemployment and demonstrations were called by various groups of workers and students, and social organizations. The day was the biggest wave of protests against Duque , was topped with a "cacerolazo". After the massive peaceful demonstrations that took place throughout the country, the incidents have been concentrated in Bogotá and Valle del Cauca, where three people died.
Lo que esta pasando en este momento no es broma, Colombia se canso y el paro no se va a detener #ElParoSigue #22Nov @IvanDuque pic.twitter.com/0twlREFoB0

— COLOMBIA DESPERTÓ 🇨🇴 (@heroeswild) November 22, 2019
There were denunciations of police abuse during the "cacerolazos", with police brigades braking windows of houses and apartments participating in the "cacerolazo" along with car windows.
Policía rompe vidrios de casas en el barrio Policarpa de Bogotá #Cacerolazo @MafeCarrascal @GataFranca #21N pic.twitter.com/9S8rOcwOvR

— Yoana Arenas Bedoya (@yarenasb) November 22, 2019
The 21N in figures:
253,000 Colombians participated in the protests,
622 activities and concentrations were carried out throughout the country, in 350 municipalities,
3 dead people and
273 people injured.
Venezuelan Attorney General, Tarek William Saab, called it State Terrorism, posting in his twitter account a video showing how an unarmed demonstrator was killed by a police gunshot from the back.
This is how Ivan Duque's exercises "democracy" in Colombia. https://t.co/u9tEAXXSWz

— Orinoco Tribune (@OrinocoTribune) November 23, 2019
The situation in Cali: "collective panic"
The Mayor's Office of Cali had decreed a curfew between 19:00 on November 21 (GMT-5) and 6:00 on November 22. The Colombian Army confirmed the deployment of the Third Brigade military troops that, along with the Police, patrolled the streets of Cali, the third most populous city in Colombia.
However, at nightfall on the night of the 21st, the dissemination of false and true news about impending robberies caused people to arm themselves with sticks, stones and firearms to defend themselves, the magazine Semana published . A "collective panic" was generated, said Maurice Armitage, mayor of Cali, at a press conference.
About 125 people were injured in the riots, police coordinator Major General William Ruiz said.
"We have 46 injured police, we have 51 injured civilians, 56 looting, 19 buses that were vandalized," Ruiz told reporters.
Thirsty bogota
The local government decided to decree "ley seca" (liquor sales prohibition). According to the right-wing mayor of Bogotá, Enrique Peñalosa, we want to "avoid tragedies and that the combination of alcohol with possible excesses that could be presented generate alterations in the city; we want to control and guarantee the safety of all citizens," published El Tiempo.
⚡️ El ministro de Defensa de Colombia reporta 3 muertos en protestas contra el Gobierno https://t.co/FZUuwJPKU7 pic.twitter.com/GOWWC5L6MF

— Sputnik Mundo (@SputnikMundo) November 22, 2019
"There are political interests that enjoy violence and criminal actions, and would like to make Colombia into another Venezuela," Peñalosa said and warned citizens "not to be used politically these days."
The national government movements
Duque convened an extraordinary council of ministers at the Casa de Nariño (seat of the Government, in Bogotá), to evaluate the effects of the marches of the eve protesting against his Administration.
Featured image: © REUTERS / Luisa González
Source: Mundo Sputnik with OT content (Translated by JRE / OT)