Why is Cuba having the healthiest bees ?
By Aleks Evtimov - 25. January 2017
We hear it all the time : bees populations around the world are drastically declining, but it turns out that there is an exception to this global trend. Today organic honey is one of Cuba's main exports, besides rum and cigars. The country is a kind of a bee paradise and the explanation behind this really shouldn't come as a surprise to anyone. For many years we've been talking about the very negative effects that pesticides have on bees and other native pollinators. Cuba gives us a chance to take a look the future of organic agriculture and observe its benefits.
The negative effect of the fall of the Soviet Union on Cuba's economy turned out to be a blessing in disguise for nature on the island. Since Cuba couldn't afford to buy pesticides anymore they were forced to look for an alternative and turned to organic farming. It took time before the country started to reap its rewards, but the government didn't change its policy and today this is paying off. Bees populations in Cuba are thriving and since the country is pesticide-free all the honey produced is marketed as organic. Honey is now Cuba's fourth most valuable export.
"The overall use of pesticides is fairly controlled, "Cuba has been immune to the bee die-offs [hitting other regions]." – said the FAO's Friedrich, quote from The Guardian
Meanwhile around the world the declining bee population has become a serious problem. Most countries are intensely using pesticides, many of which have been known to kill bees and other pollinators. Bee farmers from across the United States , Canada and Europe have raised their concerns over the effects of pesticides and neonicotinoids in particular on the bees. The problems that honey (and fruit) producers in the West are going to face might be bad news for us, but it will certainly be good news for Cuban farmers who believe that the business is just picking up, they are sure it will only expand.
"I don't think there are any doubts that populations of honeybees [in the United States and Europe] have declined … since the second world war," Norman Carreck, science director of the UK-based International Bee Research Association told the Thomson Reuters Foundation , quote from The Guardian.
Are we going to be smart enough to learn from the Cuban example and do our best to shift our agricultural practices ? The benefits of respectful farming techniques are not just going to affect the bees, but the entire ecosystem, our own health. We can and should support organic, permaculture and small scale farming through our daily consumer choices. We should also push for action from our governments for harsher regulations on pesticide and herbicide use as well as for more subsidies for truly sustainable food production.
Sources :
https://www.theguardian.com/world/2016/feb/09/organic-honey-is-a-sweet-success-for-cuba-as-other-bee-populations-suffer
https://www.reuters.com/article/us-cuba-farming-honey-idUSKCN0VI172
https://www.latinone.com/articles/32482/20160210/organic-honey-cuba-success-amidst-declining-bee-populations.htm
Organic honey is a sweet success for Cuba as other bee populations suffer
When the Caribbean state was no longer able to afford pesticides – which have been linked with declining bee populations – it made a virtue out of a necessity
By Reuters in San Antonio de los Baños -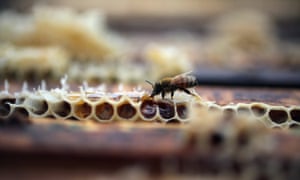 Organic honey is now Cuba's fourth biggest agricultural export – ahead of sugar and coffee – and local producers hope that with investment they could expand markedly. Photograph: Joe Raedle/Getty Images
Long known for its cigars and rum, Cuba has added organic honey to its list of key agricultural exports, creating a buzz among farmers as pesticide use has been linked to declining bee populations elsewhere.
Organic honey has become Cuba's fourth most valuable agricultural export behind fish products, tobacco and drinks, but ahead of the Caribbean island's more famous sugar and coffee, said Theodor Friedrich, the UN Food and Agriculture Organisation's (FAO) representative for Cuba.
"All of [Cuba's] honey can be certified as organic," Friedrich told the Thomson Reuters Foundation. "Its honey has a very specific, typical taste; in monetary value, it's a high-ranking product."
After the collapse in 1991 of the Soviet Union, Cuba's main trading partner, the island was unable to afford pesticides due to a lack of foreign currency, coupled with the US trade embargo. By necessity, the government embraced organic agriculture, and the policies have largely stuck.
Now that the United States is easing its embargo following the restoration of diplomatic ties last year, Cuba's organic honey exporters could see significant growth if the government supports the industry, bee keepers said.
Cuba produced more than 7,200 tonnes of organic honey in 2014, worth about $23.3m, according to government statistics cited by the FAO.
The country's industry is still tiny compared with honey heavyweights such as China, Turkey and Argentina. But with a commodity worth more per litre than oil, Cuban honey producers believe they could be on the verge of a lucrative era.
With 80 boxes swarming with bees, each producing 45kg (100lb) of honey a year, farm manager Javier Alfonso believes Cuba's exports could grow markedly in the coming years.
His apiary, down a dirt track in San Antonio de los Baños, a farming town an hour's drive from the capital, Havana, was built from scratch by employees, Alfonso said.
"There is just a bit of production now, but it can get bigger," he said, looking at the rows of colourful wooden boxes.
Like other Cuban bee farmers, he sells honey exclusively to the government, which pays him according to the world market price and then takes responsibility for marketing the product overseas.
Most of Cuba's honey exports go to Europe, he said. He would like to be able to borrow money to expand production, but getting credit is difficult, he said, so for now his team of farmers build their own infrastructure for the bees.
"It's a very natural environment here," said Raul Vásquez, a farm employee. "The government is not allowed to sell us chemicals – this could be the reason why the bees aren't dying here" as they have been in other places.
While Cuba's small, organic honey industry aims to reap the rewards of increased trade with the United States, honey producers in other regions are under threat, industry officials said.
Bee keepers in the United States, Canada and other regions have long complained that pesticides are responsible for killing their bees and hurting the honey industry more broadly.
The US Environmental Protection Agency released a study in January indicating that a widely used insecticide used on cotton plants and citrus groves can harm bee populations.
"I don't think there are any doubts that populations of honeybees [in the United States and Europe] have declined … since the second world war," Norman Carreck, science director of the UK-based International Bee Research Association told the Thomson Reuters Foundation.
Climate change, fewer places for wild bees to nest, shifts in land use, diseases and pesticides are blamed for the decline, he said.
Because it is pesticide-free, Cuba's organic bee industry could act as protection from the problems hitting other honey exporters, said the FAO's Friedrich, and could be a growing income stream for the island's farmers.
"The overall use of pesticides is fairly controlled, he said. "Cuba has been immune to the bee die-offs [hitting other regions]."
Bees are worth billions to farmers across the globe, study suggests
Pollination by wild bees contributes an average $3,251 per hectare per year to crop production, researchers find
Agence France-Presse -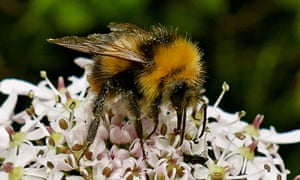 Researchers followed the activities of nearly 74,000 bees from more than 780 species at 90 projects around the world. Photograph: Geoffrey Swaine/Rex Shutterstock
Wild bees provide crop pollination services worth more than $3,250 per hectare per year, a study reported on Tuesday.
Their value to the food system is "in the billions, globally," its authors wrote in the journal Nature Communications.
Over three years, researchers followed the activities of nearly 74,000 bees from more than 780 species. The team looked at 90 projects to monitor bee pollination at 1,394 crop fields around the world.
They found that on average, wild bees contribute $3,251 a hectare to crop production, ahead of managed honeybee colonies, which were worth $2,913 a hectare.
The study adds to attempts to place a dollar figure on "ecosystem services" – the natural resources that feed us – to discourage environmental plundering.
Amazingly, 2% of wild bee species – the most common types – fertilise about 80% of bee-pollinated crops worldwide, the team found.
The rest, while crucial for the ecosystem, are less so for agriculture – so conservationists may undermine their own argument by promoting a purely economic argument for the protection of bee biodiversity, the authors said.
"Rare and threatened species may play a less significant role economically than common species but this does not mean their protection is less important," said David Kleijn, a professor at Wageningen University in the Netherlands, who led the study.
A healthy diversity of bee species was essential, given major fluctuations in populations, he added.
Honeybees in many parts of the world are suffering a catastrophic decline, variously blamed on pesticides, mites, viruses or fungus. Last month US watchdogs reported that US beekeepers had lost 42% of their colonies from the previous year, a level deemed too high to be sustainable.
"This study shows us that wild bees provide enormous economic benefits but reaffirms that the justification for protecting species cannot always be economic," said a co-author, Taylor Ricketts of the University of Vermont.
"We still have to agree that protecting biodiversity is the right thing to do."
According to the UN's Food and Agricultural Organisation, about 80% of flowering plant species are pollinated by insects, as well as by birds and bats.
At least a third of the world's agricultural crops depend on these unpaid workers, the UN agency says on its website. Crops that require pollination include coffee, cocoa and many fruit and vegetable types.
The economic value of pollination was estimated in a 2005 study at €153bn, accounting for 9.5% of farm production for human food.
Commentators not involved in the study said it may play an invaluable part in the campaign to save bees.
"Crucially, the commonest wild bees are the most important, which gives us the 'win-win' situation where relatively cheap and easy conservation measures can support these and give maximum benefit for the crops," said Pat Willmer, a professor of biology at Scotland's University of St Andrews.
"For example, planting wildflowers with wider grassy margins around crops, as well as less intensive or more organic farming, all enhance abundance of the key crop-visiting bees," she told Britain's Science Media Centre.
Nearly one in 10 of Europe's wild bee species face extinction, says study
Read more