Tim Buckley, Larry Fink and Ron O'Hanley are the three on top of the global pollution pyramid.
Data reveals crucial role of BlackRock, State Street and Vanguard in climate crisis. World's top three asset managers oversee $300bn fossil fuel investments.
By Patrick Greenfield - The Guardian -
BlackRock, Vanguard and State Street, which together oversee assets worth more than China's entire GDP, have continued to grow billion-dollar stakes in some of the most carbon-intensive companies since the Paris agreement, financial data shows.
The two largest asset managers, BlackRock and Vanguard, have also routinely opposed motions at fossil fuel companies that would have forced directors to take more action on climate change, the analysis reveals.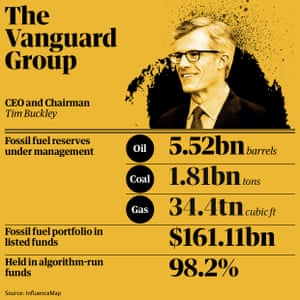 The investment rise is driven by the success in the last decade of tracker funds that use algorithms to follow major stock exchange indices such as the FTSE 100 and S&P 500.
The Guardian has worked with the thinktank InfluenceMap and the business data specialists ProxyInsight to analyse the role played by asset managers in the financing and management of some of the world's biggest fossil fuel companies.
Figures compiled by InfluenceMap show how Blackrock, Vanguard and State Street – known as the big three – have become crucial climate actors in the financial world. They are the largest money managers in the $74tn industry.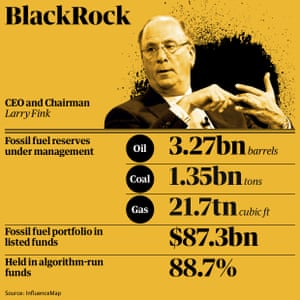 According to an analysis of the data, their effective thermal coal, oil and gas reserve holdings through the companies they manage have surged 34.8% since 2016.
This means they are now the largest investors in public oil, gas and coal companies, managing funds for large pension funds, university endowments and insurance companies.
While asset managers do not own the companies in which they invest, they often exercise shareholders rights on behalf of clients to vote on board members and company policy issues.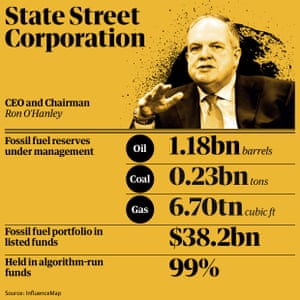 Disclosures for publicly available company reports show that from 2015 to 2019 Vanguard and BlackRock used their votes to frequently oppose efforts to improve climate-related financial disclosures.
The investigation by the Guardian has found:
Vanguard ($161.1bn), BlackRock ($87.3bn) and State Street ($38.3bn) oversee a combined $286.7bn of shares in oil, coal and gas companies through 1,712 funds. Their total combined portfolio is likely to be higher as the calculation excludes direct holdings and non-listed fund holdings.

The potential CO2 emissions from the investments have increased from 10.593 gigatonnes (Gt) to 14.283Gt since the Paris agreement, equivalent to 38% of global fossil fuel CO2 emissions last year.

BlackRock and Vanguard opposed or abstained on more than 80% of climate-related motions at FTSE 100 and S&P 500 fossil fuel companies between 2015 and 2019, according to data provided by ProxyInsight.

The big three are among a number of asset managers that offer "climate-friendly" and "sustainable" investment funds that have substantial holdings in fossil fuel companies.

They told the Guardian they prioritised private engagements with company boards, where the climate crisis was regularly discussed. They said they had increased the size of their teams responsible for investment stewardship, opting to use their votes as a final resort.BlackRock, Vanguard and State Street did not challenge the findings.
Vanguard said it neither managed the companies in which it invested nor sought to influence their business strategy. "As a steward of lifetime savings for more than 20 million people around the world, and a practically permanent investor in more than 10,000 companies, Vanguard is concerned about the long-term impact of climate risk," a spokesman said.
"While voting at shareholder meetings is important … it is only one part of the larger corporate governance process. We regularly engage with companies on our shareholders' behalf and believe that engagement and broader advocacy, in addition to voting, can effect meaningful changes that generate long-term value for all shareholders."
BlackRock said it "offers investors a wide range of environmentally sustainable investment options … [and] is also a leading investor in renewable power generation globally. Our award-winning climate research helps investors understand and mitigate the impact of climate change on their portfolios."
State Street said: "If an investor wants to buy an ETF [exchange-traded fund] that tracks the FTSE 100, we would purchase the shares (proportionately) of all the companies in that FTSE 100 index in order to meet the objective of that strategy. That will today undoubtedly include energy companies.
"We do not proactively determine whether to exclude a particular company or sector since it would be inconsistent with the stated ETF objective. If an investor did want a strategy that considered climate issues or other ESG [environmental, social and governance] factors, that would be a different product with a different index; we can provide that too."
Asset managers are increasingly finding themselves at the heart of social and environmental issues, and corporate governance experts have raised concerns about conflicts of interest in their business models.
Campaigners are demanding asset managers vote out company directors who are not deemed to be taking sufficient action.
In June, the London-based Legal & General, formerly a top 20 investor in ExxonMobil, announced it was selling a $300m stake in the company and would use remaining shares to vote against the chief executive, Darren Woods.
But environmental shareholder proposals face increasing challenges from the management of fossil fuel companies, which are being sustained by the American regulator, the Securities and Exchange Commission. The SEC declined to comment.
Data for the 2019 season of annual general meetings for shareholders, provided by Institutional Shareholder Services, shows that only a quarter of proposals made it to a vote at companies in the US, with 79 of the 105 motions either withdrawn or omitted.In April, ExxonMobil shareholders were denied a vote on whether the company should set targets for cutting greenhouse gas emissions by the SEC, which called the proposal an attempt to "micromanage" the company.
Despite setbacks, other proposals and engagements by asset managers have been more successful. In an industry first last year, intense pressure from shareholders forced Royal Dutch Shell to set carbon emission targets linked to executive pay. The decision was backed by Climate Action 100+, a group of $35tn investors who are pushing fossil fuel companies to react to the crisis.
Many pension funds and asset managers support schemes to improve information about how climate-critical companies are responding to environmental concerns, including the Transition Pathway Initiative, which grades the boards of fossil fuel, energy and transport companies on their response.
BlackRock, Vanguard and State Street are supporters of the Task Force on Climate-related Financial Disclosures, a voluntary scheme chaired by the former New York mayor Michael Bloomberg to improve information.
Illustration: Guardian Design
"WE MUST CHANGE THE SYSTEM!"
Confessions of an Economic Hitman
and in addition:
U.S. Military Is World's Biggest Polluter
Abandoned Air Force Base in Greenland. Ken Bower
On Earth Day, Remembering the US Military's Toxic Legacy
On Earth Day, MintPress brings you a piece originally published last May, on the U.S. Department of Defense's toxic legacy throughout the world. The DoD produces more hazardous waste than the five largest U.S. chemical companies combined.
By Whitney Webb - 22. April 2019
Mainstream media outlets gave minimal attention to the news that the U.S. Naval station in Virginia Beach had spilled an estimated 94,000 gallons of jet fuel into a nearby waterway, less than a mile from the Atlantic Ocean.
While the incident was by no means as catastrophic as some other pipeline spills, it underscores an important yet little-known fact—that the U.S. Department of Defense is both the nation's and the world's, largest polluter.
Producing more hazardous waste than the five largest U.S. chemical companies combined, the U.S. Department of Defense has left its toxic legacy throughout the world in the form of depleted uranium, oil, jet fuel, pesticides, defoliants like Agent Orange and lead, among others.
In 2014, the former head of the Pentagon's environmental program told Newsweek that her office has to contend with 39,000 contaminated areas spread across 19 million acres just in the U.S. alone.
U.S. military bases, both domestic and foreign, consistently rank among some of the most polluted places in the world, as perchlorate and other components of jet and rocket fuel contaminate sources of drinking water, aquifers, and soil. Hundreds of military bases can be found on the Environmental Protection Agency's list of Superfund sites, which qualify for clean-up grants from the government.
Almost 900 of the nearly 1,200 Superfund sites in the U.S. are abandoned military facilities or sites that otherwise support military needs, not counting the military bases themselves.
"Almost every military site in this country is seriously contaminated," John D. Dingell, a retired Michigan congressman and war veteran, told Newsweek in 2014. Camp Lejeune in Jacksonville, North Carolina is one such base. Lejeune's contamination became widespread and even deadly after its groundwater was polluted with a sizable amount of carcinogens from 1953 to 1987.
However, it was not until this February that the government allowed those exposed to chemicals at Lejeune to make official compensation claims. Numerous bases abroad have also contaminated local drinking water supplies, most famously the Kadena Air Force Base in Okinawa.
In addition, the U.S., which has conducted more nuclear weapons tests than all other nations combined, is also responsible for the massive amount of radiation that continues to contaminate many islands in the Pacific Ocean. The Marshall Islands, where the U.S. dropped more than sixty nuclear weapons between 1946 and 1958, are a particularly notable example. Inhabitants of the Marshall Islands and nearby Guam continue to experience an exceedingly high rate of cancer.
The American Southwest was also the site of numerous nuclear weapons tests that contaminated large swaths of land. Navajo Indian reservations have been polluted by long-abandoned uranium mines where nuclear material was obtained by U.S. military contractors.
One of the most recent testaments to the U.S. military's horrendous environmental record is Iraq. U.S. military action there has resulted in the desertification of 90 percent of Iraqi territory, crippling the country's agricultural industry and forcing it to import more than 80 percent of its food. The U.S.' use of depleted uranium in Iraq during the Gulf War also caused a massive environmental burden for Iraqis. In addition, the U.S. military's policy of using open-air burn pits to dispose of waste from the 2003 invasion has caused a surge in cancer among U.S. servicemen and Iraqi civilians alike.
While the U.S. military's past environmental record suggests that its current policies are not sustainable, this has by no means dissuaded the U.S. military from openly planning future contamination of the environment through misguided waste disposal efforts. Last November, the U.S. Navy announced its plan to release 20,000 tons of environmental "stressors," including heavy metals and explosives, into the coastal waters of the U.S. Pacific Northwest over the course of this year.
The plan, laid out in the Navy's Northwest Training and Testing Environmental Impact Statement (EIS), fails to mention that these "stressors" are described by the EPA as known hazards, many of which are highly toxic at both acute and chronic levels.
The 20,000 tons of "stressors" mentioned in the EIS do not account for the additional 4.7 to 14 tons of "metals with potential toxicity" that the Navy plans to release annually, from now on, into inland waters along the Puget Sound in Washington state.
In response to concerns about these plans, a Navy spokeswoman said that heavy metals and even depleted uranium are no more dangerous than any other metal, a statement that represents a clear rejection of scientific fact. It seems that the very U.S. military operations meant to "keep Americans safe" come at a higher cost than most people realize – a cost that will be felt for generations to come both within the United States and abroad.
Author:
Whitney Webb is a MintPress News journalist based in Chile. She has contributed to several independent media outlets including Global Research, EcoWatch, the Ron Paul Institute and 21st Century Wire, among others. She has made several radio and television appearances and is the 2019 winner of the Serena Shim Award for Uncompromised Integrity in Journalism.
This article was first published on May 15, 2017 and updated on 22. April 2019 by MintPress News