UPDATE - 24. October 2019: BOYCOTT ZIMBABWE GOVERNMENT - they exported the baby Elephants to China - see update below the call to stop.
Previously Mugabe exported ivory for weapons to China, his successor - dubbed "the Crocodile" - now exports baby Elephants to China ... and for What? Done against the will of the Zimbabweans and the International Community. Outrageous!
Zimbabwe activists bid to stop alleged plan to export 35 baby elephants
By Jack Guy, Columbus S. Mavhunga, CNN - 16. October 2019
Harare (CNN) - Wildlife activists in Zimbabwe are pushing to halt an alleged plan to sell 35 baby elephants to China and Pakistan as part of an ongoing row over wildlife exports.
The sale has been in the works since last year, according to Advocates4Earth, an environmental lobby group that is suing the government over the alleged plan.
Activists claim the shipment of the baby animals has only been delayed because of a High Court application filed in May this year.
Zimbabwean wildlife authorities, meanwhile, deny they plan to sell the elephants.
Back in May, the government revealed it had made $2.7 million from the sale of 90 elephants to Dubai and China.
In June, President Emmerson Mnangagwa said the country needs to sell wild elephants to reduce its population of the animals and fund conservation efforts.
Advocates4Earth, previously known as the "People and Earth Solidarity Law Network," is trying to prevent further sales, but director Lenin Chisaira told CNN he has reliable information that the animals could be shipped Wednesday and Thursday.
"The elephants are currently detained in Hwange (Zimbabwe's biggest national park) but they are barring anyone, including us environmentalists and the media, from at least getting the details of the sale," he said.
Tinashe Farawo, a spokesman for the Zimbabwe Parks and Wild Life Management Authority, told CNN that no sale is planned.
"The most important thing you need to know is we don't sell them," Farawo said, adding that baby elephants are normally captured for "management purposes" such as medical treatment.
He said people are "selling stories" that are "fiction" but said he would not discuss a matter that is before the courts any further.
In court documents seen by CNN, Advocates4Earth petitioned Harare's High Court to prevent the sale. No date has been set for a hearing.
The activists said that if the government goes ahead with the sale, it will not only be in contempt of court but also in violation of the country's and international animal welfare regulations.
Completing a sale when the matter is before the courts would "amount to reckless disregard of the court process," People and Earth Solidarity Law Network said in the court documents.
"Kindly advise your client to stop forthwith the translocation of elephants which is at an advanced (stage)," lawyers for the group later wrote to government attorneys.
Chisaira cited a recent resolution at the Convention on International Trade in Endangered Species of Wild Fauna and Flora (CITES) meeting, which said elephants from Africa should no longer be sold outside the continent.
"Although the agreement is not yet binding, Zimbabwe is trying to run ahead of time before the law is effected," he said.
Farawo, of the Zimbabwe Parks and Wild Life Management Authority, said people should be more concerned by the conflict between humans and wildlife. "People are quiet about lives which are being lost as a result of wildlife, we have a serious problem of overpopulation of animals," he said. "There is no water, food and these animals end up invading communities in search of those resources."
Zimbabwe meanwhile issued recently a license to a German hunter for nearly £40,000, to shoot what environmentalists claimed was one of the largest elephants ever seen in the country. The license triggered international outrage, including from celebrities such as British comedian Ricky Gervais, who tweeted to his 13 million Twitter followers, "Elephants will be extinct by 2030 if the ivory trade remains the same. And for what? For trinkets for morons to own?"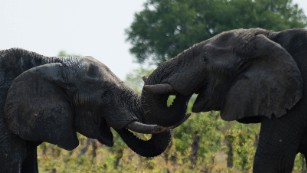 Zimbabwe sells elephants to China and Dubai for $2.7 million
Zimbabwe must sell or donate many of its wild elephants, President says
How community-led conservation can save wildlife | Moreangels Mbizah
Conservationist and TED Fellow Moreangels Mbizah studied the famous Cecil the lion until he was shot by a trophy hunter in 2015. She wonders how things could've gone differently, asking: "What if the community that lived next to Cecil was involved in protecting him?" In a quick talk, Mbizah shares the state of conservation in her home of Zimbabwe -- and why she thinks that communities living with wildlife are the ones best positioned to help them.
UPDATE:
Outrage after over 30 baby elephants are exported from Zimbabwe to Chinese zoos
FILE -- In this Dec. 2. 2015 file photo Chinese President Xi Jinping, centre, admires elephants at a private game park in Harare, Zimbabwe. About 30 elephants, estimated to be 2 to 6 years old, were separated from maternal herds and held at Zimbabwe's Hwange National Park for nearly a year before being flown to China Friday Oct. 25, 2019, where they will be held in zoos, according to the Humane Society International.

Photo: Tsvangirayi Mukwazhi, AP
Breaking: Campaigners outraged as Zimbabwe exports 30+ baby elephants to Chinese zoos
By News Desk 25. October 2019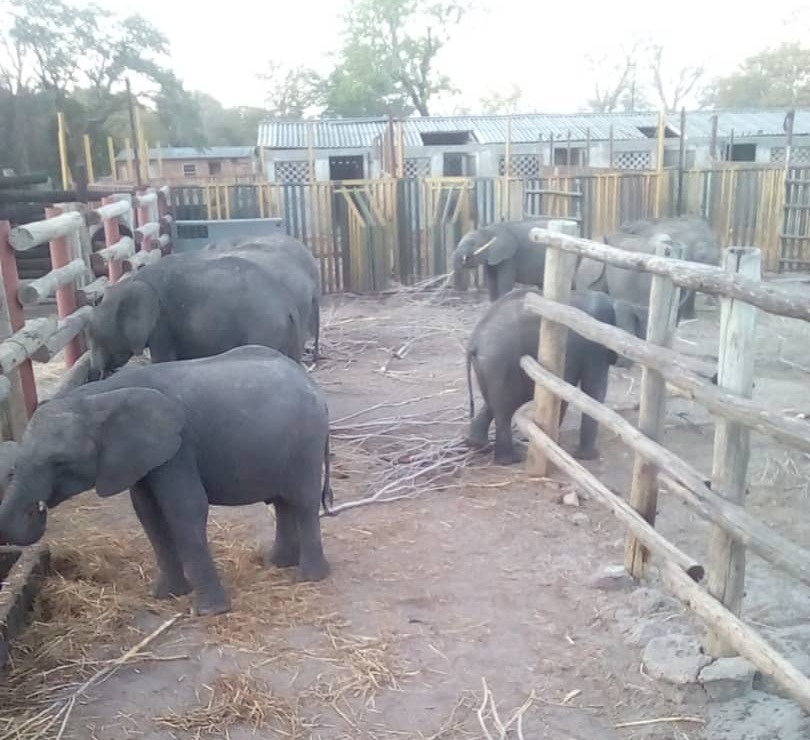 NEWS DESK POST by Humane Society International/Africa (HSI/Africa)
Animal protection experts at Humane Society International/Africa and Zimbabwe animal groups have expressed their outrage and heartbreak at the news that on Thursday more than 30 wild-caught baby elephants, held captive for nearly a year in Hwange National Park, were flown out of the country via Victoria Falls Airport. The news came on the same day Zimbabwe National Society for the Prevention of Cruelty to Animals (ZNSPCA), supported by HSI/Africa, Advocates4Earth, and Sibanye Animal & Welfare Conservancy Trust, filed urgent court papers at Harare High Court in an attempt to stop the shipment to Chinese zoos. Zimbabwe has exported 108 young elephants to zoos in China since 2012.
HSI/Africa has released new, exclusive footage (see below) of the young elephants taken just days ago, showing them eating dry branches and walking around a small waterhole in their fenced boma. These are the last known images of the elephants before their removal yesterday.
HSI/Africa's sources on the ground report that army trucks moved in to remove the elephants, and that ZimParks staff on the scene had their mobile phones removed, presumably to .stop news of the shipment getting out. Sources previously reported that ZimParks officials – apparently planning to accompany the baby elephants to China – had applied for visas to China.
The shipment to China is in defiance of the spirit of a landmark vote at the August meeting of the Convention on International Trade in Endangered Species of Wild Fauna and Flora (CITES) at which a near total ban on live elephant exports from Zimbabwe and Botswana to zoos was agreed. The new CITES rules don't take effect until 26th November, so it appears that Zimbabwe is attempting to export the elephants before the deadline.
Elephant biologist Audrey Delsink, wildlife director at Humane Society International/Africa, said: "We are left feeling outraged and heartbroken at this news today that the Zimbabwe authorities have shipped these poor baby elephants out of the country. Zimbabwe is showing total disregard for the spirit of the CITES ruling as well as ignoring local and global criticism. Condemning these elephants to a life of captivity in Chinese zoos is a tragedy. We and others have been working for months to try and stop these elephants being shipped because all that awaits them in China is a life of monotonous deprivation in zoos or circuses. As an elephant biologist used to observing these magnificent animals in their natural wild habitat, I am devastated by this outcome. These animals should be roaming in the wild with their families but instead they have been ripped away from their mothers for more than a year and now sold off for lifelong captivity."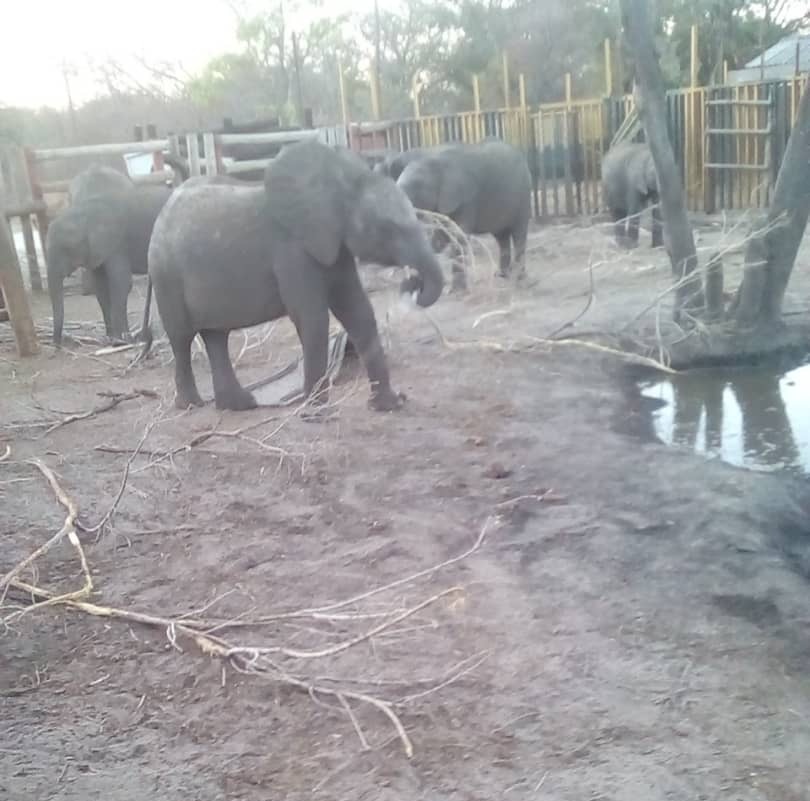 Lenin Chisaira, an environmental lawyer from Zimbabwe-based Advocates4Earth who filed an interdict to try to stop the exports in May 2019, and which has been working with HSI/Africa and others on efforts to release the elephants, said: "The secrecy around the ongoing capture and trade of Zimbabwe's wildlife exposes lack of accountability, transparency and a hint of arrogance by Zimbabwean authorities. They seem prepared to go ahead despite global outcry and advice. They also seem keen to go against local pressure , and local legal processes considering the case we launched early this year which is centred on the welfare and trading of these elephants."
Over the past year, elephant experts and wildlife protection groups across Africa have called for the elephant export to be halted and for all future captures to be stopped. The African Elephant Coalition, an alliance of 32 African countries, has called on Zimbabwe to end the export of wild elephants to zoos and other captive facilities.
Nomusa Dube, founder of Zimbabwe Elephant Foundation, said: "The Zimbabwe Constitution Wild Life Act states that all Zimbabwe wildlife is owned by the citizens, and right now Constitutional national laws have been broken. The capture and export of wildlife in Zimbabwe is unconstitutional and unlawful thus any CITES permits are illegal."
Zoo trade in baby elephants banned internationally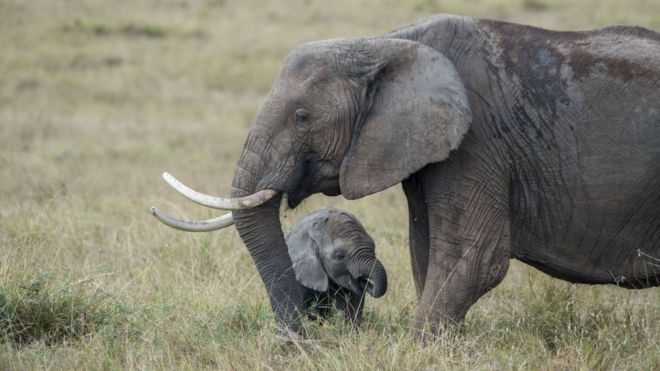 A near-total ban on taking baby African elephants from the wild and selling them to zoos has been approved at a meeting in Geneva.
Parties to the Convention on International Trade in Endangered Species (Cites) decided to tighten the rules after days of debate.
The European Union decided to back the ban late in the day, despite concerns, and the move passed by 87 votes to 29.
But Zimbabwe, the main exporter, voted against, as did the United States.
Zimbabwe and Botswana, which have healthier elephant populations than other African nations, have been permitted to export elephants to "appropriate and acceptable" destinations.
Under that rule, the country has captured and exported more than 100 baby elephants to Chinese zoos since 2012, Humane Society International says.
Tuesday's decision significantly strengthens the restrictions on the elephant trade.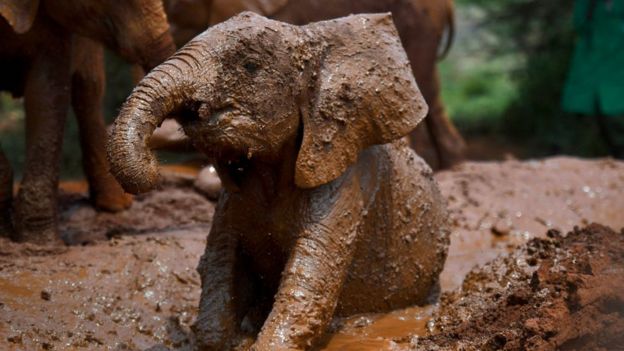 Now elephants can only be taken from the wild and placed in "captive facilities" elsewhere in the world under exceptional circumstances - and subject to approval by a committee of Cites members.
The ban was approved by committee last week, but it was far from certain to pass a new vote at the end of the two-week conference. Zimbabwe had campaigned fiercely against the move, and the EU had initially opposed it because of concerns over genetic variation in zoos around the world.
But the EU changed its vote after some amendments were made to allow trade in exceptional circumstances, and once it was made clear that elephants already in zoos could be transferred between them.
"It doesn't mean that no elephant will ever be taken from the wild and put into a captive facility overseas," said Will Travers, president of the Born Free Foundation.
"But it's going to tighten it up so much that mass shipments of elephants to zoos in the Far East, for example, simply won't happen."
Humane Society International said it was "celebrating a momentous win".
"Despite compromise language being introduced by the EU, we are relieved by its passing," said Audrey Delsink, the group's Africa wildlife director.
She said the highly sociable animals found separations "incredibly traumatising".
"Speaking personally as an elephant field biologist, I am jubilant that we have secured this victory for all the elephants who will now be spared the ordeal of being ripped away from their families."
Some African nations had pushed for a re-opening of the ivory trade during the convention, arguing that existing stocks - confiscated from poachers or left over from already-dead animals - were worth vast sums of money that could be used for conservation.
Zim baby elephants: From the comfort of the jungle to 'steel prisons' in China
By The Zim Standard -
Fresh evidence has revealed that some 32 baby elephants that were sold to Chinese buyers by Zimbabwean authorities under a thick veil of secrecy and without the approval of the Convention on International Trade in Endangered Species (CITES) have been quarantined and are living under harsh conditions in China.
The holding facility is inside Taihu Lake Longemont Paradise, which is located on the south bank of Taihu Lake, some 11,000km away from the baby elephants' natural home in Zimbabwe.
Investigations carried out in collaboration with the Information for Development Trust, a Zimbabwean non-profit organisation helping journalists to probe corruption, revealed that, initially, the government had intended to sell 37 baby elephants but five were withdrawn just before their transportation to the airport because they were sick.
A fresh video leaked by trusted sources in China shows the captive young jumbos displaying restlessness, signs of stress, fatigue and timidity in cages that measure approximately six metres high, four and a half metres long and three metres wide.
The new steel cages are made of roughly 30-centimetre thick round bars, and each cubicle has a shallow rectangular water pond, a metre above the floor.
There is grass hay inside, the timid animals shy away from the gates and there are no recreational facilities for the baby elephants.
"Their (baby elephants') skin looks grey and dry and they have sunken temporal areas indicative of stress," said an animal expert based in the capital Harare on condition of anonymity.
The Paradise park is yet to officially open to the public, according to China Daily, an online publication.
It is a tourist project comprising luxury hotels, care apartments for the aged, an international circus city, a wild animal world, an amusement park, a shopping centre and wetland parks.
The park is projected to become the biggest of its kind in the world when fully operational, with the capacity to exhibit 11,500 animals representing 425 species.
The baby elephants, it has been established, are meant to be entertainment animals in the zoo, as has become the norm in China and other parts of Asia.
They were plucked away from their families in the Hwange National Park in February this year and moved to bomas awaiting exportation to China and, before the recent video leak, their exact location was not known to the world even though it is known that they went to the Asian country late last month.
They were transported aboard a Saudi Arabian Flight number SV3049 from Victoria Falls.
According to Chinese sources, at least five ZimParks officials accompanied the elephants and three of them were at one time spotted at a hotel close to the animal park.
Whiles CITES must issue export permits, reliable sources said this has not been the case with Zimbabwean baby elephants, implying that they have been taken out of the country in violation of international protocols.
Both Zimbabwe and China are signatories to the CITES, even though the former recently voted against a popular provision to ban the forced removal of wild elephants from their natural habitats into captive conditions.
Quarantining the baby elephants, it was learnt, is meant to acclamatise them to the new environment and weather before making them full time entertainers at the zoo.
But considering that harsh winter is approaching in the region, their release into the zoo could be delayed.
China is known for experiencing extreme weather conditions that include heat waves and biting colds.
Zimbabwe has been selling live animals to other countries across the world for a long time now and, in 1983, the southern African nation made history by becoming the first country on the continent to send away live elephants.
Zimbabwe continued to export jumbos in subsequent years during which alleged fake CITES permits were used.
This raised eyebrows among wildlife conservationists as well as animal activists, who repeatedly complained that there was lack of transparency in the exportations.
"We ended up suing the government in May this year, for lack of access to information regarding the exports," a Harare-based environmental lawyer working with Advocates4Earth, Lenin Chisaira, said.
According to Chisaira, there was suspicion that Zimbabwe was failing to satisfy the basic principles of animal welfare that include provision of a suitable environment and diet, proper housing, and protection from pain, trauma and disease.
The High Court challenge against the exportation of the baby elephants is yet to be heard despite being filed as an urgent application but even if that were to happen anytime, it would be academic as chances of the return of the animals are minimal.
The May High Court application seeking to bar the Zimbabwe National Parks and Wildlife Management Authority (ZimParks) from exporting the animals could not deter the shipment of the baby elephants from Hwange to China on 24 October.
Zimbabwe National Society for the Prevention of Cruelty to Animals (ZNSPCA) inspectors were barred from accessing the baby elephants while in the holding camp in Hwange, leading to a police report being made.
According to a Dete police report against Zimparks Hwange cluster manager, Samson Chibaya, the authority acted illegally by barring the inspectors.
It is alleged that a few days ahead of the departure of the jumbos to China, Chibaya denied ZNSPCA inspectors, access to the ZimParks Game Capture Unit located at Umtsibi within the Hwange National Park.
Subsequent attempts were also unsuccessful as there were specific instructions from top officials in government, sources revealed, to frustrate the inspectors' efforts.
"ZNSPCA inspectors are government appointed in terms of The Prevention of Cruelty to Animals Act (19:09) and their obstruction is a jailable offence.
"We understand a high degree of secrecy and lack of transparency surrounded this particular shipment of young elephants," the ZNSPCA statement reads.
Subsequently, ZNSPCA approached the Bulawayo High Court compelling ZimParks to allow the inspectors to access the holding facility but an order is yet to be granted.
Animal welfare activists have over the years queried where the money realised from the unconventional exportation of the baby — and adult — elephants goes.
Apparently buckling under the pressure, Zimparks released a statement in early November claiming that it had made some US$3.2 million from 2016, selling 101 elephants and using all of the money on operational costs that included the purchase of rough terrain Toyota Landcruisers.
The authority also bought vehicles spare parts, introduced dog patrols with part of the money and boosted its armoury with ammunition worth US$192,000.
Information at hand shows that during the period covered by Zimparks in its statement, the first batch of more than 30 elephants was transported in 2016, facilitated by a Chinese born businesswoman Li Song for an amount of US$1,065,000.
The animals were transported to Beijing Tianhaobouri.
The second batch of 30 animals was transported to Tianjin Junheng International and were sold for US$930,000.
In the case of the animals dispatched on 24 October, 20 were paid for at an amount of US$700,000 and US$372,000 was later paid for the other 12.
Li reportedly facilitated the deal according to the first leaked ZimParks document whereas in the second document Liang Zhao was named as the facilitator. A name search revealed Liang Zhao is a circus performer.
The wildlife agency said it had received the green-light to export from the Office of the President and Cabinet.
But stubborn reports have repeatedly linked the irregular exportation and poaching of baby and adult elephants to senior politicians, bureaucrats, secret service operatives, powerful military officers, Zimparks officials and politically linked business tycoons who are believed to be pocketing some of the proceeds.
Li is a name that is refusing to go away in all this. According to her national identity card, she hails from Henan province in China and was born in 1973 but is now a Zimbabwean citizen.
Li is a major shareholder in Eagle Tannery that is based in Marondera in Mashonaland East province, as one of her multiple international entities, but the company is now dormant, it emerged.
She is also the chairperson of China Trade Association in Zimbabwe that links Chinese businesses with local investors, in addition to running a purported anti-poaching entity, Eagle Tannery used to export hides and crocodile skins and provided steady suppliers of hide to the Zimbabwean army, police, air force and prisons services for the manufacture of military boots and other leather products.
Among other senior politicians, Li is believed to have enjoyed a close relationship with Sydney Sekeramayi, the former Defence minister thought to have played an active role in facilitating business deals with the military and in the irregular exportation of elephants as well as poaching in the Zambezi Valley.
But Sekeramayi dismissed the accusations in a terse telephone response. "I have never been involved in anything that broke the Zimbabwean law nor with any individual or institution acting criminally," he said.
Li hung up the moment she learnt that she had been called by the reporter investigating her alleged involvement in the exportation of baby elephants and ignored numerous subsequent calls.
When contacted for comments on the matter ZimParks spokesperson, Tinashe Farawo, instead said the authority's focus was on reducing the human-animal conflict in the Hwange National Park.