UK rights advocate co-owns firm whose spyware is 'used to target dissidents'
Exclusive: Yana Peel co-owns NSO Group that licensed Pegasus software to authoritarian regimes
By Jon Swaine in New York and Stephanie Kirchgaessner in Washington - TG -
N.B.: This article is the subject of a legal complaint made on behalf of Yana Peel.

This note was added on 30 August 2019 to reflect Yana Peel's position: "Yana Peel is not, and was not, involved at all in the management or operations of NSO. Yana Peel has an indirect and passive interest in the Novalpina Capital investment fund ("the fund") that acquired NSO in 2019. She is not, and was not, personally involved in the operation or decisions of the fund, which is managed by her husband, Stephen Peel and others. Mrs Peel was not involved in any decision-making relating to the fund's acquisition of NSO."
A leading human rights campaigner and head of a prestigious London art gallery is the co-owner of an Israeli cyberweapons company whose software has allegedly been used by authoritarian regimes to spy on dissidents, the Guardian can reveal.
Yana Peel, the chief executive of the Serpentine Galleries and a self-proclaimed champion of free speech, co-owns NSO Group, a $1bn (£790m) Israeli tech firm, according to corporate records in the US and Luxembourg.
NSO is the subject of multiple ongoing lawsuits and has been criticised by human rights groups, including Amnesty International, which has asked Israel's ministry of defence to revoke the company's export licences.
However, Peel, who has declared the Serpentine a "safe space for unsafe ideas" and served as a judge for international freedom-of-expression awards, defended her stake in NSO, which she has held since February. She described criticism of the company as "misinformed".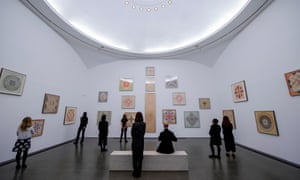 People view an Emma Kunz exhibition at the Serpentine Gallery earlier this year. Photograph: Guy Bell / Rex / Shutterstock
Human rights groups, activists, and surveillance experts have accused NSO of licensing its powerful Pegasus software to countries, including Saudi Arabia, that have used it to target individuals, hack into their phones, and monitor their communications.
Lawsuits against NSO allege the technology was used to target dissidents and their associates, including a friend of the Washington Post journalist Jamal Khashoggi, who was murdered in the Saudi consulate in Istanbul last year.
Amnesty's intervention followed a separate allegation that Pegasus was used in an attempted attack onthe mobile phone of a staff member.
NSO has not commented on the claims but promised to investigate all "credible allegations of misuse".
The company was taken over earlier this year by Novalpina Capital, a London-based private equity firm co-founded by Peel's husband, Stephen. Novalpina took a majority of NSO shares, and NSO's Israeli founders hold a minority stake.
Stephen Peel resigned from the board of Global Witness after the deal was announced because of the human rights group's concerns over the "potential for the abuse of surveillance technology".
While it was assumed Stephen Peel and his two fellow founders owned Novalpina Capital – and therefore ultimately own a controlling stake in NSO Group – corporate records show Yana Peel holds a one-third stake in Novalpina.
The allegations against NSO contrast sharply with the public persona of Yana Peel, who is a fixture of London's art and fashion world.
In articles and talks, Peel has celebrated the work of activists such as the dissident Chinese artist Ai Weiwei. Last year, she judged Index on Censorship's Freedom of Expression awards, which honoured the work of an Egyptian human rights group that was targeted by cyber-attacks.
Asked about her ownership of Novalpina, Yana Peel told the Guardian in a statement: "The Peel family has an investment in Novalpina. I have no involvement in the operations or decisions of Novalpina, which is managed by my husband, Stephen Peel, and his partners."
She said there had been no attempt to conceal her co-ownership but declined to discuss any of the allegations against NSO, after saying the Guardian was "quite misinformed" about the firm's technology.
"Throughout my entire adult life I have campaigned in public and private for free speech and defence of human rights. This is something I feel very strongly about and these values guide decisions in all aspects of my life and work," she said.
But alleged targets of NSO's technology, which has been described as having capabilities to rival those of government spy agencies, such as the US National Security Agency, have decried the alleged use of such powerful technology against them.
One person who works in human rights and was allegedly targeted with the company's spyware spoke to the Guardian on the condition of anonymity. They said being attacked by Pegasus was "the worst kind of loss of privacy".
"We are not only talking about access to private communication: the attackers have access to the victims' innermost thoughts. It is like sitting in someone's brain," they said. "What is even more scary is how the private information will be used."
At the time of Novalpina's takeover, NSO was hailed as a company that "helps government intelligence and law enforcement agencies prevent and investigate terrorism and crime to save lives" through its use of "cyber intelligence and analytics".
NSO, whose founders are reportedly veterans of Israel's military and intelligence services, has argued its software is necessary to combat the use of encrypted applications such as Signal and WhatsApp by terrorists and criminals.
John Scott-Railton, a senior researcher at the independent research group Citizen Lab, at the University of Toronto, said: "Of course governments need to be technologically empowered to investigate tough criminal targets. But if you sell sophisticated spying technology to unaccountable and repressive security services, they are going to abuse it. Is NSO taking the problem seriously? They say so, yet their products continue to be implicated in abuses."
NSO spyware was revealed in May to be infecting phones via the messaging service WhatsApp, leaving engineers at its owner, Facebook, scrambling to secure the app.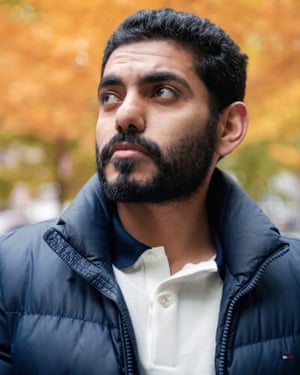 Alleged victims have emerged in several countries. Omar Abdulaziz, a Saudi dissident based in Canada, alleges in a lawsuit filed in Israel that Saudi spies used NSO software to hack his phone and access his conversations with Khashoggi, who was later murdered by government operatives.
A group of Mexican activists and journalists is also suing NSO in Israel. They allege Mexican authorities targeted their phones with Pegasus after paying NSO $32m to licence the software.
Panama's government used NSO software to spy on opposition politicians, judges and journalists, according to testimony from a whistleblower filed to a court in Florida.
And Ahmed Mansoor, an award-winning human rights activist based in the United Arab Emirates, intercepted an alleged hacking attempt on his phone with Pegasus in 2016. He was later arrested and sentenced to 10 years in prison for criticising the Emirati regime on social media.
NSO claimed its internal controls were more robust than at rival firms. Decisions to take on clients were reviewed by the Israeli government, and by an internal ethics committee that NSO said was comprised of independent experts who may veto potential customers. NSO declined to say who was on the committee. Omar Abdulaziz. Photograph: Getty Images
The firm said it took a country's human rights record into account when it made licensing decisions, but it declined to answer any questions about its alleged work with Saudi Arabia, a known violator of human rights, because it said it was barred from identifying clients.
"This technology helps prevent terrorist attacks, stop drug and sex trafficking rings, and rescue kidnapped children, and it is licensed to government intelligence and law enforcement agencies for use on an extremely small scale and only for the prevention or investigation of terror and crime," an NSO spokesperson said.
"If there is risk or suspicion of the products being used for anything else, we investigate it and take the appropriate actions, including suspending or terminating a contract."
When Novalpina Capital's purchase of NSO was announced in February, it was seen as a controversial move by Stephen Peel, a Cambridge-educated financier who rowed for Great Britain at the 1988 Olympics. On resigning from Global Witness, he promised to ensure that NSO "followed the highest governance practices".
While his public role at Novalpina put him in the spotlight, corporate filings in Luxembourg show that well before the February takeover, Stephen Peel transferred his stake in NSO's parent company to his wife.
NSO's corporate structure is complicated, involving more than a dozen vehicles across international jurisdictions, including Cyprus, the Cayman Islands and the US.
Born in the former Soviet Union, Yana Peel moved to Canada with her family as a young girl and was raised outside Toronto. After graduating from McGill University in Quebec, where she read Russian, she won a scholarship for postgraduate study at the London School of Economics.
Peel was then employed by Goldman Sachs, where she has said she worked with Israeli technology companies. She told the Guardian that work was "completely unrelated" to Novalpina's takeover of NSO.
Having moved from international finance to the elite art world, Peel counts Michael Bloomberg – the Serpentine's chairman – as a friend and mentor. A spokeswoman for Bloomberg declined to comment on Peel's part-ownership of NSO.