By Ali Cheaib - 17. July 2019
Apart from the U.S. military, who is the single largest polluter on Earth, just 100 companies are causing 71% of ALL the pollution on the planet.
More than half of global pollution since 1988 can be traced to ONLY 25 private and state-owned entities!
It's the for-profit corporations who decided to use fossil fuel as the primary energy source when eco-friendly alternatives were readily available at the time such as hemp fuel and the electric engine.
Anything that petroleum-based hashtag#Plastics or hashtag#FossilFuel can be used for, hashtag#HempSeeds can readily and cheaply come as a renewable replacement.
In fact, one of hashtag#HenryFord's first cars ran on hemp ethanol and was made from hemp plastic, which is 10x stronger than steel! So why did corporations decide to force consumers to use fossil fuel instead of hemp ethanol?
The answer, of course, is hashtag#IndustryConcentration. Anyone anywhere in the world can produce hemp ethanol but only a few countries have hashtag#FossilOil. In other words, fossil fuel can be monopolized for profit while hashtag#HempEthanol cannot.
And thanks to corporate propaganda, corporations successfully brainwashed citizens into thinking that they are responsible for the pollution and for picking up the trash that the corporations are creating!
Through the hashtag#MassMedia propaganda, the responsibility to maintain the environment shifted from corporations to citizens.
100 Companies Are The Cause Of It
These 100 Companies Are to Blame For 71% of The World's Greenhouse Gas Emissions
By SIGNE DEAN - 11 JUL 2017
Since 1988, a mere 100 companies have been responsible for 71 percent of the entire world's industrial greenhouse gas emissions.
This data comes from an inaugural report published by the Carbon Disclosure Project (CDP), an environmental non-profit. Charting the rapid expansion of the fossil fuel industry in the last 28 years, they have now released some truly staggering numbers on the world's major carbon polluters.
Greenhouse gas (GHG) emissions are typically assessed by country, with China, the US and India ranking as the top emissions producers in the world. But the new CDP report takes a different approach, tracing emissions back to specific entities it dubs 'carbon majors'.
The report focusses on carbon and methane emissions from industrial activity by fossil fuel producers, accounting for a whopping 923 billion tonnes of carbon dioxide-equivalent emissions since 1988, the year when the Intergovernmental Panel on Climate Change was established.
If it sounds like a lot, that's because it really is a huge amount. In fact, it's more than half of all global industrial GHG emissions since the beginning of the Industrial Revolution in 1751, according to the report.
What's even more crazy is the fact that a mere 25 corporate and state-owned entities have produced over half of all industrial emissions in the time period between 1988 and 2015.
The top emitter amongst these is the Chinese state-owned coal industry, followed by the Saudi Aramco. The third biggest emitter is the Russian Gazprom, with the Russian state-owned coal industry not far behind.
Amongst public investor-owned firms, ExxonMobil, Shell, BP and Chevron are responsible for the most industrial greenhouse gases.
But this is not just a naming and shaming exercise. The goal of this report is to equip investors with a comprehensive breakdown of the carbon emissions associated with their financial ties in the fossil fuel industry. Public investment back about one fifth of industrial GHG emissions, according to the report.
"That puts a significant responsibility on those investors to engage with carbon majors and urge them to disclose climate risk," CDP technical director Pedro Faria told Tess Riley at The Guardian.
Having these numbers on hand gives us a much clearer picture of the main influencers when it comes to enforcing the goals stated in the landmark Paris Climate Agreement.
"Climate action is no longer confined to the direction given by policy makers; it is now a social movement, commanded by both economic and ethical imperatives and supported by growing amounts of data," Faria writes in the report.
"Those that ignore this reality do so at their own peril."
The report also presents a vision for the future, outlining the key steps companies can take to successfully transition to a business model in which emissions are capped, decoupling them from economic growth in order to stop us from digging up more fossil fuels.
"If the trend in fossil fuel extraction continues over the next 28 years as it has over the previous 28, then global average temperatures would be on course to rise around 4ºC above preindustrial levels by the end of the century," states the report.
The resulting changes to our planet would put us on track for a climate that no human that's ever lived has experienced, threatening our food security and rendering whole regions of Earth unsuitable for living.
And even though we can't go back to the way things were in the preindustrial era, now is the time to intensify our global efforts to curb emissions and switch over to more sustainable energy sources.
"Fossil fuel companies are also going to have to demonstrate leadership as part of this transition," states Faria.
"We should all be conscious of our shared responsibility, which implies learning from the past while keeping our eyes on the future."
You can see a full list of the 100 companies and read the full report here.
Read Also
Soft loans, subsidies and World Bank funding mean nations are 'talking out of both sides of their mouths' on climate, says report
Just 100 companies responsible for 71% of global emissions, study says
A relatively small number of fossil fuel producers and their investors could hold the key to tackling climate change
By Tess Riley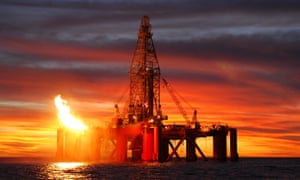 An oil rig exploring for oil and gas. A new report says more than 50% of global industrial emissions since 1988 can be traced to just 25 companies. Photograph: Dazman/Getty Images/iStockphoto
Just 100 companies have been the source of more than 70% of the world's greenhouse gas emissions since 1988, according to a new report.
The Carbon Majors Report (pdf) "pinpoints how a relatively small set of fossil fuel producers may hold the key to systemic change on carbon emissions," says Pedro Faria, technical director at environmental non-profit CDP, which published the report in collaboration with the Climate Accountability Institute.
Traditionally, large scale greenhouse gas emissions data is collected at a national level but this report focuses on fossil fuel producers. Compiled from a database of publicly available emissions figures, it is intended as the first in a series of publications to highlight the role companies and their investors could play in tackling climate change.
The report found that more than half of global industrial emissions since 1988 – the year the Intergovernmental Panel on Climate Change was established – can be traced to just 25 corporate and state-owned entities. The scale of historical emissions associated with these fossil fuel producers is large enough to have contributed significantly to climate change, according to the report.
ExxonMobil, Shell, BP and Chevron are identified as among the highest emitting investor-owned companies since 1988. If fossil fuels continue to be extracted at the same rate over the next 28 years as they were between 1988 and 2017, says the report, global average temperatures would be on course to rise by 4C by the end of the century. This is likely to have catastrophic consequences including substantial species extinction and global food scarcity risks.
While companies have a huge role to play in driving climate change, says Faria, the barrier is the "absolute tension" between short-term profitability and the urgent need to reduce emissions.
A Carbon Tracker study in 2015 found that fossil fuel companies risked wasting more than $2tn over the coming decade by pursuing coal, oil and gas projects that could be worthless in the face of international action on climate change and advances in renewables – in turn posing substantial threats to investor returns.
CDP says its aims with the carbon majors project are both to improve transparency among fossil fuel producers and to help investors understand the emissions associated with their fossil fuel holdings.
A fifth of global industrial greenhouse gas emissions are backed by public investment, according to the report. "That puts a significant responsibility on those investors to engage with carbon majors and urge them to disclose climate risk," says Faria.
Investors should move out of fossil fuels, says Michael Brune, executive director of US environmental organisation the Sierra Club. "Not only is it morally risky, it's economically risky. The world is moving away from fossil fuels towards clean energy and is doing so at an accelerated pace. Those left holding investments in fossil fuel companies will find their investments becoming more and more risky over time."
There is a "growing wave of companies that are acting in the opposite manner to the companies in this report," says Brune. Nearly 100 companies including Apple, Facebook, Google and Ikea have committed to 100% renewable power under the RE100 initiative. Volvo recently announced that all its cars would be electric or hybrid from 2019.
And oil and gas companies are also embarking on green investments. Shell set up a renewables arm in 2015 with a $1.7bn investment attached and a spokesperson for Chevron says it's "committed to managing its [greenhouse gas] emissions" and is investing in two of the world's largest carbon dioxide injection projects to capture and store carbon. A BP spokesperson says its "determined to be part of the solution" for climate change and is "investing in renewables and low-carbon innovation." And ExxonMobil, which has faced heavy criticism for its environmental record, has been exploring carbon capture and storage.
But for many the sums involved and pace of change are nowhere near enough. A research paper published last year by Paul Stevens, an academic at think tank Chatham House, said international oil companies were no longer fit for purpose and warned these multinationals that they faced a "nasty, brutish and short" end within the next 10 years if they did not completely change their business models.
Investors now have a choice, according to Charlie Kronick, senior programme advisor at Greenpeace UK. "The future of the oil industry has already been written: the choice is will its decline be managed, returning capital to shareholders to be reinvested in the genuine industries of the future, or will they hold on, hoping not be the last one standing when the music stops?"
(*) Author Tess Riley can be reachd via @tess_riley
READ THE FULL REPORT:
Top 100 producers and their cumulative greenhouse gas emissions from 1988-2015
Summary - Top 100 producers and their cumulative greenhouse gas emissions from 1988-2015
| Count | Company | Percentage of global industrial greenhouse gas emissions |
| --- | --- | --- |
| 1 | China (Coal) | 14.32% |
| 2 | Saudi Arabian Oil Company (Aramco) | 4.50% |
| 3 | Gazprom OAO | 3.91% |
| 4 | National Iranian Oil Co | 2.28% |
| 5 | ExxonMobil Corp | 1.98% |
| 6 | Coal India | 1.87% |
| 7 | Petroleos Mexicanos (Pemex) | 1.87% |
| 8 | Russia (Coal) | 1.86% |
| 9 | Royal Dutch Shell PLC | 1.67% |
| 10 | China National Petroleum Corp (CNPC) | 1.56% |
| 11 | BP PLC | 1.53% |
| 12 | Chevron Corp | 1.31% |
| 13 | Petroleos de Venezuela SA (PDVSA) | 1.23% |
| 14 | Abu Dhabi National Oil Co | 1.20% |
| 15 | Poland Coal | 1.16% |
| 16 | Peabody Energy Corp | 1.15% |
| 17 | Sonatrach SPA | 1.00% |
| 18 | Kuwait Petroleum Corp | 1.00% |
| 19 | Total SA | 0.95% |
| 20 | BHP Billiton Ltd | 0.91% |
| 21 | ConocoPhillips | 0.91% |
| 22 | Petroleo Brasileiro SA (Petrobras) | 0.77% |
| 23 | Lukoil OAO | 0.75% |
| 24 | Rio Tinto | 0.75% |
| 25 | Nigerian National Petroleum Corp | 0.72% |
| 26 | Petroliam Nasional Berhad (Petronas) | 0.69% |
| 27 | Rosneft OAO | 0.65% |
| 28 | Arch Coal Inc | 0.63% |
| 29 | Iraq National Oil Co | 0.60% |
| 30 | Eni SPA | 0.59% |
| 31 | Anglo American | 0.59% |
| 32 | Surgutneftegas OAO | 0.57% |
| 33 | Alpha Natural Resources Inc | 0.54% |
| 34 | Qatar Petroleum Corp | 0.54% |
| 35 | PT Pertamina | 0.54% |
| 36 | Kazakhstan Coal | 0.53% |
| 37 | Statoil ASA | 0.52% |
| 38 | National Oil Corporation of Libya | 0.50% |
| 39 | Consol Energy Inc | 0.50% |
| 40 | Ukraine Coal | 0.49% |
| 41 | RWE AG | 0.47% |
| 42 | Oil & Natural Gas Corp Ltd | 0.40% |
| 43 | Glencore PLC | 0.38% |
| 44 | TurkmenGaz | 0.36% |
| 45 | Sasol Ltd | 0.35% |
| 46 | Repsol SA | 0.33% |
| 47 | Anadarko Petroleum Corp | 0.33% |
| 48 | Egyptian General Petroleum Corp | 0.31% |
| 49 | Petroleum Development Oman LLC | 0.31% |
| 50 | Czech Republic Coal | 0.30% |
| 51 | China Petrochemical Corp (Sinopec) | 0.29% |
| 52 | China National Offshore Oil Corp Ltd (CNOOC) | 0.28% |
| 53 | Ecopetrol SA | 0.27% |
| 54 | Singareni Collieries Company | 0.27% |
| 55 | Occidental Petroleum Corp | 0.26% |
| 56 | Sonangol EP | 0.26% |
| 57 | Tatneft OAO | 0.23% |
| 58 | North Korea Coal | 0.23% |
| 59 | Bumi Resources | 0.23% |
| 60 | Suncor Energy Inc | 0.22% |
| 61 | Petoro AS | 0.21% |
| 62 | Devon Energy Corp | 0.20% |
| 63 | Natural Resource Partners LP | 0.19% |
| 64 | Marathon Oil Corp | 0.19% |
| 65 | Vistra Energy | 0.19% |
| 66 | Encana Corp | 0.18% |
| 67 | Canadian Natural Resources Ltd | 0.17% |
| 68 | Hess Corp | 0.16% |
| 69 | Exxaro Resources Ltd | 0.16% |
| 70 | YPF SA | 0.15% |
| 71 | Apache Corp | 0.15% |
| 72 | Murray Coal | 0.15% |
| 73 | Alliance Resource Partners LP | 0.15% |
| 74 | Syrian Petroleum Co | 0.15% |
| 75 | Novatek OAO | 0.14% |
| 76 | NACCO Industries Inc | 0.13% |
| 77 | KazMunayGas | 0.13% |
| 78 | Adaro Energy PT | 0.13% |
| 79 | Petroleos del Ecuador | 0.12% |
| 80 | Inpex Corp | 0.12% |
| 81 | Kiewit Mining Group | 0.12% |
| 82 | AP Moller (Maersk) | 0.11% |
| 83 | Banpu Public Co Ltd | 0.11% |
| 84 | EOG Resources Inc | 0.11% |
| 85 | Husky Energy Inc | 0.11% |
| 86 | Kideco Jaya Agung PT | 0.10% |
| 87 | Bahrain Petroleum Co (BAPCO) | 0.10% |
| 88 | Westmoreland Coal Co | 0.10% |
| 89 | Cloud Peak Energy Inc | 0.10% |
| 90 | Chesapeake Energy Corp | 0.10% |
| 91 | Drummond Co | 0.09% |
| 92 | Teck Resources Ltd | 0.09% |
| 93 | Turkmennebit | 0.07% |
| 94 | OMV AG | 0.06% |
| 95 | Noble Energy Inc | 0.06% |
| 96 | Murphy Oil Corp | 0.06% |
| 97 | Berau Coal Energy Tbk PT | 0.06% |
| 98 | Bukit Asam (Persero) Tbk PT | 0.05% |
| 99 | Indika Energy Tbk PT | 0.04% |
| 100 | Southwestern Energy Co | 0.04% |