Donkeys are stolen, skinned in Africa to feed Chinese demand
No donkey could be left in Kenya in five years (sign the petition - below)
Dawn was just beginning to break when Joseph Kamonjo Kariuki woke to find his donkeys missing. The villager searched the bush frantically for the animals he depends on to deliver water for a living. But they were nowhere to be found.
It was the village's children who led Kariuki to the ghastly remains. Three bloody, severed donkey heads lying on the ground. "I was in shock," said Kariuki, who is known in his Kenyan village of Naivasha as "Jose wa Mapunda". "Joseph of the Donkeys" in Swahili.
The latest victims of a black market for donkey skins
Kariuki believes his donkeys were the latest victims of a black market for donkey skins. These skins are a key ingredient in a Chinese health fad. Which is threatening the beasts of burden many Africans rely on for farm work and transporting loads.
From Kenya to Burkina Faso, Egypt to Nigeria, agents are seeking to feed China's insatiable appetite for a gelatin they call ejiao. A product made from stewed donkey skins that purports to provide health benefits.
Shrinking donkey herds in China have driven ejiao producers to seek out donkey skins from Africa. But also from Australia and South America. This is threatening the world's donkey population and driving violent crime and protests across Africa, the activists say.
Kariuki founded a protest group "Tunza Punda Wako" or "Take Care of Your Donkey" in Swahili. They've picketed the abattoir in Naivasha, accusing it of driving the skin thefts.
Fourteen African governments have banned the export of donkey skins, according to the U.K.-based animal welfare group Donkey Sanctuary.
U.S.Americans and Israeli were in the 1960's just similar thieves when they robbed animals from the last Somali Wild Ass population in Northern Somalia.
Superstitious concepts
Donkey vs. money
In response to the surging demand, state-built donkey abattoirs have sprung up in the African nations of Namibia, Tanzania, Kenya, Ethiopia and Botswana. Niger's hide exports tripled. Botswana slaughtered 3 percent of its total donkey population in six months, according the Donkey Sanctuary.
More than 2 million of the world's 44 million donkeys are killed for their skins every year, according to Donkey Sanctuary.
In rural parts of western Zimbabwe, there are often more donkeys than cars on the roads. Farmers like the Chingodza family are resisting market pressure to sell their donkeys, vital for farm work and transportation to the biggest nearby town, Seke, about 40 kilometers (25 miles) outside of Harare.
"I like my donkeys. They help a lot and are dear to me," said Jeffrey Chingodza, 65, as he put a yoke on a donkey. "I won't sell for export to Chinese abattoirs," he said.
His son 20-year old son Tawanda, however, said surging prices are tempting.
"When you have a car and you get the first buyer saying 'I will give you $3,000 for it and the second buyer says I will give you $6,000,' what would you do?" Tawanda said. "I will definitely sell. All of us want money.
If you understand the KiSwahili language, HERE IS AN OUTSTANDING DOCUMENTARY
UPDATE:
Amy McLean has always had a soft spot for long ears. The animal scientist at the University of California, Davis, grew up on a Georgia farm that bred donkeys and mules and has competed in mule riding world championships. Now, she studies donkey behavior and cognition, and she knows that despite popular negative stereotypes, donkeys are "highly intelligent and highly sensitive."
No wonder she calls the current plight of the world's donkeys "horrific."
Over the past 6 years, Chinese traders have been buying the hides of millions of butchered donkeys (Equus asinus) from developing countries and shipping them to China, where they're used to manufacture ejiao, a traditional Chinese medicine. The trade has led to an animal welfare nightmare, along with a threat to donkey populations, the severity of which is only now emerging. Without drastic measures, the number of donkeys worldwide will drop by half within 5 years, according to a 21 November report by the Donkey Sanctuary, an international equine welfare charity based in Sidmouth, U.K. The crisis threatens many of the world's rarer donkey breeds and a vital means of transport for the poor. But it is also spurring new studies of donkey biology—including how to speed their reproduction.
Ejiao, in use for thousands of years, purportedly treats or prevents many problems, including miscarriage, circulatory issues, and premature aging, although no rigorous clinical trials support those claims. The preparation combines mineral-rich water from China's Shandong province and collagen extracted from donkey hides, traditionally produced by boiling the skins in a 99-step process done at specific times of the year. Once reserved for China's elites, ejiao is now marketed to the country's booming middle class, causing demand to surge. One producer, Dong'e Ejiao in Liaocheng, China, touts it as "a creation of heaven and earth" that's now passing "from the royal tribute to the home of ordinary people."
Despite government incentives for new donkey farmers, farms in China can't keep up with the exploding demand, which the Donkey Sanctuary currently estimates at 4.8 million hides per year. Donkeys' gestation period is one full year, and they only reach their adult size after 2 years. So the industry has embarked on a frenzied hunt for donkeys elsewhere. (Importing hides is not illegal in China, and the import tax was lowered from 5% to 2% last year.) This has triggered steep population declines. In Brazil, the population dropped by 28% between 2007 and 2017, according to the new report.
African populations are crashing, too, says Philip Mshelia, an equine veterinarian and researcher at Ahmadu Bello University in Zaria, Nigeria. After buying donkeys at markets, traders often drive large herds to slaughter, sometimes covering hundreds of kilometers with no rest, food, or water. Those transported by truck fare worse: Handlers tie their legs together and sling them onto piles or strap them to the top of the truck, Mshelia says. Animals that survive the journey—many with broken or severed limbs, as well as other injuries—are unloaded by the ears and tails and tossed in front of a slaughterhouse. Some meet their end in an open field where humans await them with hammers, axes, and knives.
For donkey owners, selling their animal means quick cash—now more than $200 in parts of Africa—but it's often a shortsighted deal: The report estimates that working donkeys support the livelihood of half a billion people by carrying people and goods to markets, schools, and health clinics. Losing donkeys means "the people become the donkey again," McLean says. Women most often shoulder that burden.
Ironically, the booming ejiao trade, along with a developing donkey dairy industry in Eastern Europe, has stirred scientific interest in donkeys. The number of PubMed-indexed papers with "donkeys" in the title shot up from six in 2000 to 46 so far this year, for example, including many from China.
Zhen Shenming, a reproductive biologist at the China Agricultural University in Beijing, says Chinese efforts are focused on increasing yields, for instance through artificial insemination and harmonization of the estrus in female donkeys, which allows farmers to inseminate them more efficiently. "We're improving techniques so jennies don't end up empty," Zhen says. Those improvements include better techniques to freeze and thaw sperm; for reasons that are unclear, breeding with cryopreserved semen is much less successful in donkeys than in horses. Zhen takes ejiao himself occasionally for "better color" and "more energy," although he says scientists "still don't know the bioactivity of the product."
We need people to think of donkeys in terms of savings accounts.
Chinese breeders are also testing new nutrition programs that expedite growth, leading to an adult-size donkey in only 18 months. McLean believes improving welfare at donkey farms could further increase yields. During her visits to China, she encourages farmers to respect animal welfare rules from the Paris-based World Organisation for Animal Health. Some Chinese farms have already installed electric fans to cool the animals or added "enrichment," such as sand pits—donkeys love rolling in the dirt—and scratching posts. Next year, McLean hopes to start to screen Chinese populations for asinine and equine herpesviruses, three of which are known to cause abortion in donkeys.
Faith Burden, research director at the Donkey Sanctuary, hopes ejiao can one day be produced without donkeys. A few years ago, researchers at the University of Barcelona in Spain grew hairless, bloodless horse skin in a laboratory, suggesting that lab-grown donkey skin might be feasible. A recent survey by the University of Reading in the United Kingdom showed that 48% of ejiao consumers in China were open to accepting such a product.
McLean's own research so far has focused on behavior—and has made a misnomer of the word "asinine" in its common use, she says. "Donkeys have good reasoning skills. They are very observant and sentient animals, and they create very strong bonds with other donkeys." That's one reason she abhors the current slaughtering practice, in which the animals often await their turn while watching other donkeys being beaten unconscious, slaughtered, and skinned. "They're certainly quite well aware of what's happening and what's to come," McLean says. (Reputable slaughterhouses usually prevent animals from witnessing such scenes.)
In the meantime, education programs in developing countries could help preserve the threatened herds, McLean says. "We need people to think of donkeys in terms of savings accounts," she says. "If they need to sell a donkey for the money, they need to keep one they can breed so that they always have at least one."
Exposed Again: Donkeys Abused and Slaughtered for Traditional Chinese Medicine
I

n 2017, a PETA Asia investigation revealed that donkeys in China—some as young as 5 months old—are bashed in the head with a sledgehammer and their throats are slit so their skin can be boiled down to make gelatin for a traditional Chinese medicine called ejiao. A breaking PETA Asia investigation has found horrific abuse inside Kenya's donkey slaughter industry, which exists only to meet the demand for this product in China.
The footage shows workers at government-sanctioned slaughterhouses mercilessly beating frightened donkeys.
Donkeys Face Harrowing Journeys, Denied Food and Water
Kenya has opened three donkey slaughterhouses in the last three years. The donkeys are transported by truck from neighboring countries such as Ethiopia, Tanzania, and Uganda that have already enacted policies to stop this cruel practice. The grueling trip can take several days, during which the donkeys are deprived of both food and water.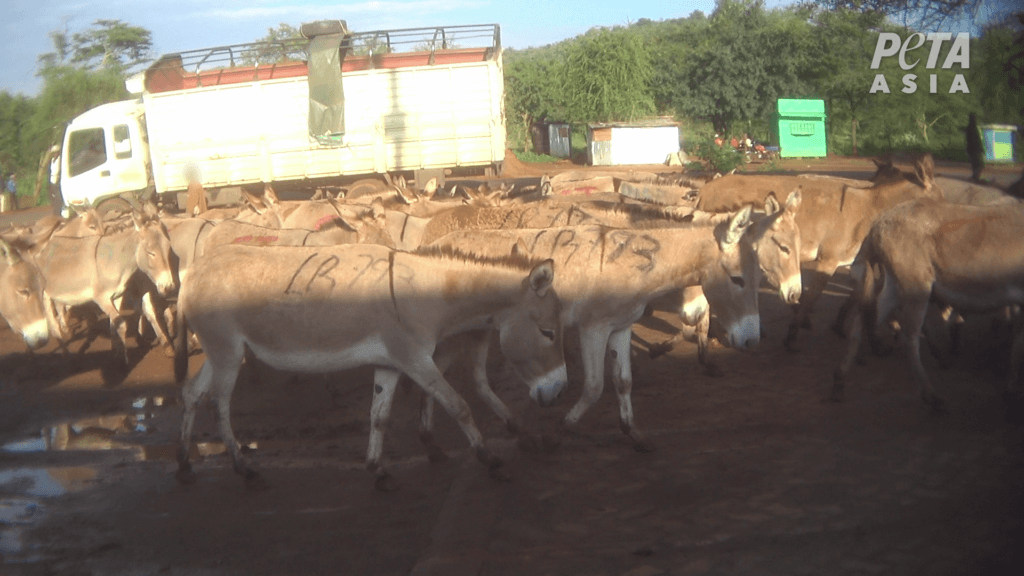 Donkeys Are Injured and Some Die During Transport
Eyewitnesses found dead donkeys who had not survived the torturous journey dumped outside a slaughterhouse. One donkey on a truck appeared to be injured and was unable to stand up. Workers dragged her out, left her at the front gate of the same facility, and kicked her. Eyewitnesses didn't see her receive any pain relief or treatment—she was simply left to suffer from her injuries.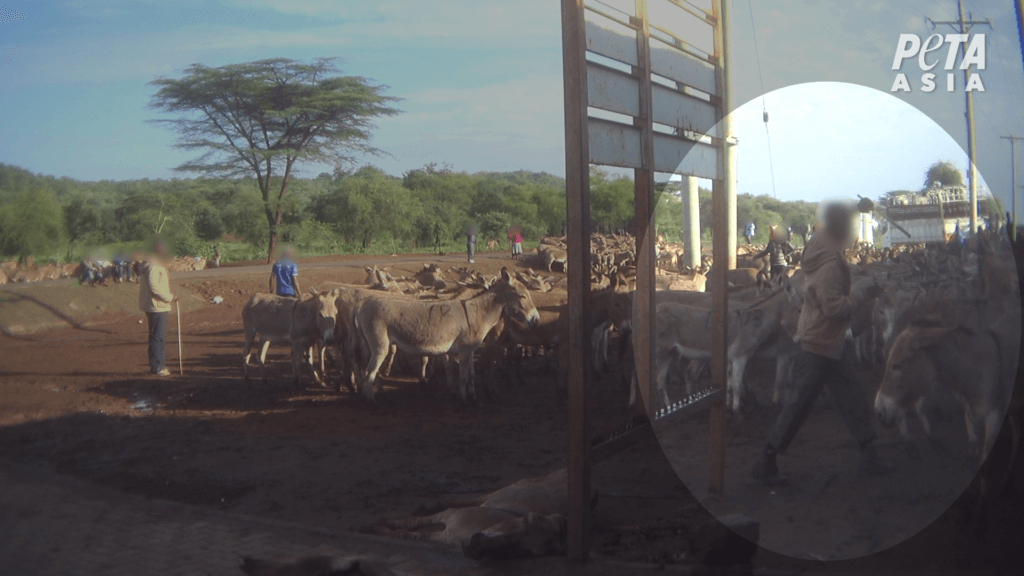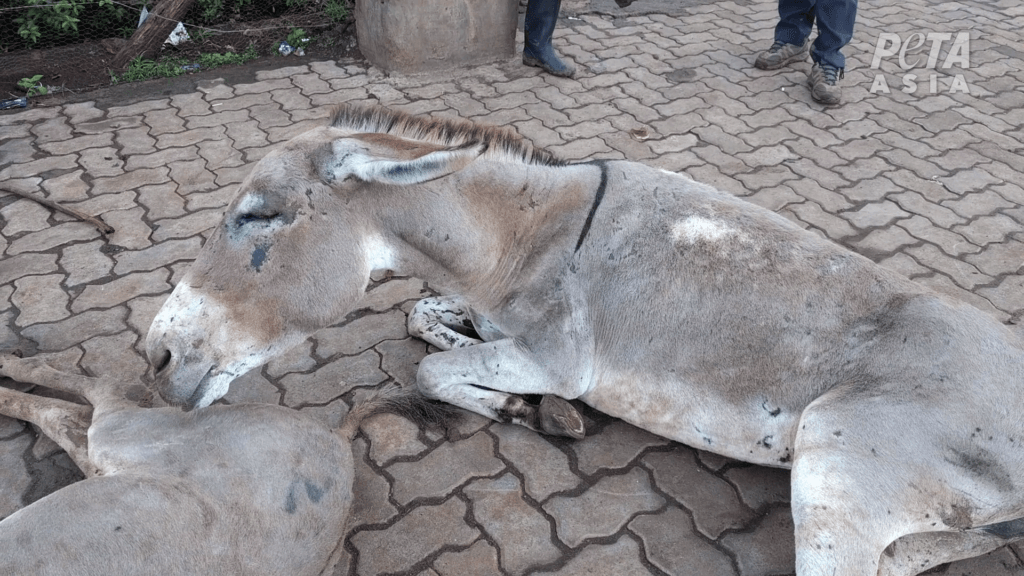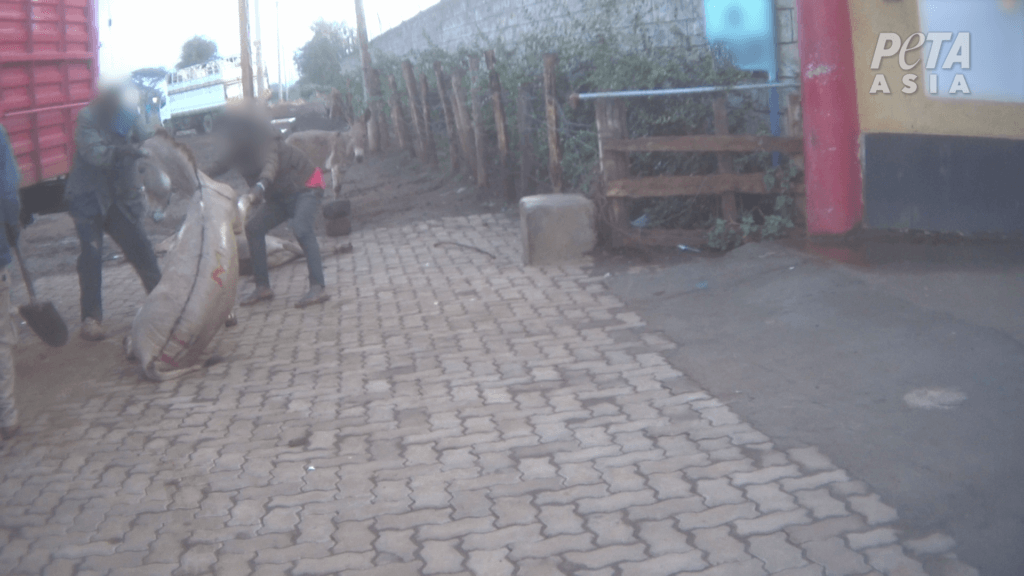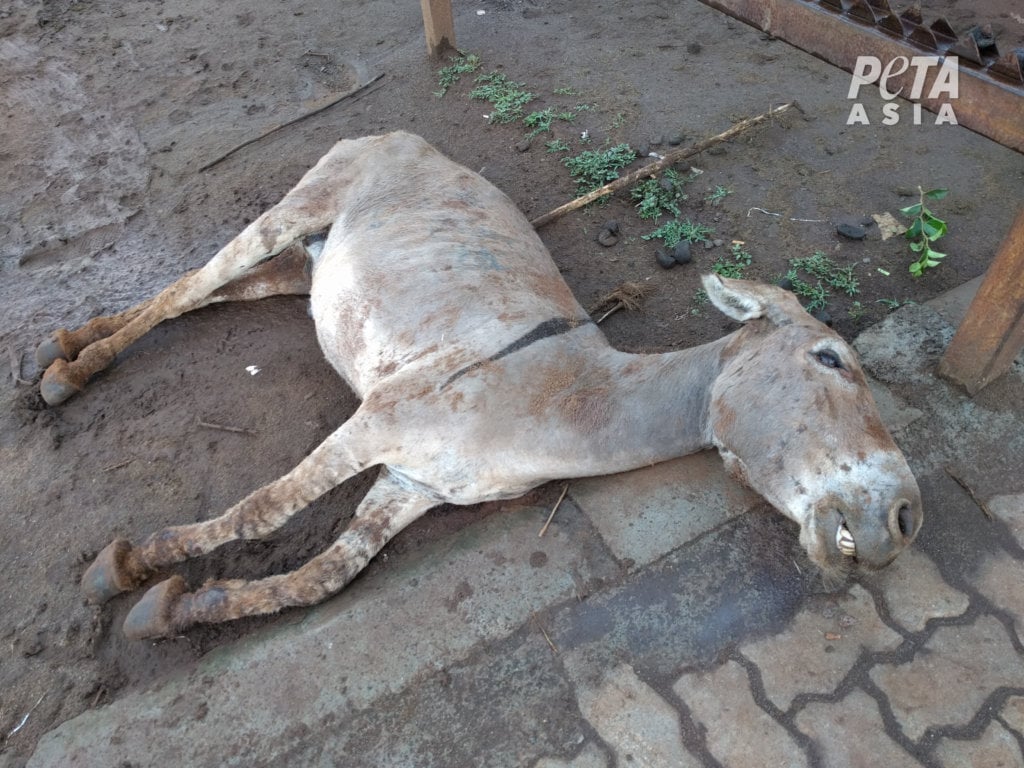 Other Countries Have Already Banned This Cruel Practice
Many African countries including Botswana, Burkina Faso, Mali, Niger, Senegal, Tanzania, and Uganda—have banned the export of donkey skin or have closed down Chinese-owned slaughterhouses. Yet, despite a warning from China's official National Health and Family Planning Commission that ejiao is really just "boiled donkey skin," donkey slaughterhouses continue to operate in countries like Kenya in order to meet China's demand for the product.
There are virtually no regulations against the abuse of animals on farms or in slaughterhouses in Kenya, so none of the violence captured in the footage is punishable by law.
PETA and its affiliates have been pressuring officials, companies, and consumers around the world to stop supporting this cruel industry. There are numerous alternatives to ejiao, including modern medications and herbal medicines, that are more effective and don't require that any animals be killed.
What You Can Do
Medicine made from animal parts doesn't belong in this century. As consumers, we can reject cruelty to animals and save donkeys' lives simply by choosing vegan alternatives, never buying ejiao products, and refusing to shop at stores that sell them. For the sake of suffering donkeys, please read ingredient lists and steer clear of medicines, beauty products, candy, and beverages containing ejiao.
Please also call on Kenya's cabinet secretary for agriculture to ban all Kenyan donkey slaughterhouses and to stop supporting China's cruel trade in ejiao.