UPDATE 11. March 2021: Covid-19: Several European countries suspend AstraZeneca vaccinations over blood clot fears + BOMBSHELL report – Same tech industry that powered Holocaust computational machines now backing VACCINE compliance tracking and food allowance
UPDATE 09. March 2021: Coronavirus vaccine deaths aren't covered by life insurance because jabs are "experimental medical intervention"
UPDATE 05. March 2021: Fertility warning: 34 cases of spontaneous miscarriage and stillbirth reported after experimental mRNA vaccines
UPDATE 03. March 2021: 'Tip Of the Iceberg': Interpol Says Fake COVID-19 Vaccines Were Smuggled Across Continents + 'Orders of Magnitude Higher Deaths in the Vaccinated': Israel's Vaccine Data Reveals a Frightening Picture
UPDATE 27. February 2021: Pfizer Demanding Bank Reserves, Military Bases And Embassy Buildings As Collateral For COVID-19 Vaccines - Pharma giant Pfizer has been holding sovereign governments to ransom
UPDATE 25. Febrary 2021: Legal immunity & state assets as collateral: Latin American govts 'held to ransom' by Pfizer during vaccine talks, report says
UPDATE 17. February 2021: Young nurse suffers from hemorrhage and brain swelling after second dose of Pfizer's COVID-19 vaccine + Human 2.0 ? A Wake-Up About COVID19 Vaccine - Dr. Carrie Madej (video) + Germany To Offer Free COVID-19 Rapid Tests for All Citizens
UPDATE 16. February 2021: Pregnant doctor celebrates taking COVID vaccine, tragically miscarries days later + Can Covid Vaccinations Drive Covid Deaths?
UPDATE 15. February 2021: 46 residents in Spanish nursing home die after receiving COVID-19 vaccine - Health authorities have reportedly halted the administering of the second shot of Pfizer's vaccine
ICYMI: Immunologist: Pfizer, Moderna Vaccines Could Cause Long-Term Chronic Illness + 31 Reasons Why I Won't Take the 'Vaccine'
The Covid Vaccine On Trial: If You Only Knew…
11. February 2021
Topics
Are they safe and effective?
Can you be forced to take one?
Who's liable if anything goes wrong?
How do I protect my right to choose?
Discover what the mainstream media is not telling you!
World renowned experts (physicians, scientists, lawyers, activists etc.) discussed the many unanswered questions regarding the safety and effectiveness of the COVID vaccine on February 10, 2021.
Speakers
Robert F. Kennedy, Jr.
Del Bigtree
Thomas Cowan, MD
Mary Holland, Esq.
Christiane Northrup,MD
John Gilmore
Michael Kane
Larry Palevsky,MD
Sherri Tenpenny, DO
David Rasnick, PhD
Kevin Jenkins
Emcees
Curtis Cost
Maureen McDonnell
Sponsors
Children's Health Defense
Additional Groups
NY Alliance For Vaccine Rights
Family Freedom Alliance
Liberate NY
Please note: The views of the speakers do not necessarily represent those of Children's Health Defense. We embrace free expression and believe that all viewpoints should be considered on this important matter.
===
---
Bill Gates is close to German Chancellor Angela Merkel who was used together with her protegée Ursula van der Leyen as EU Commissioner to push the financial arrangements for the gobal vaccine drives from which Bill Gates receives a financial return on his investment of over 20 to one. Follow the money ...
===
BOMBSHELL report – Same tech industry that powered Holocaust computational machines now backing VACCINE compliance tracking and food allowance
By Mike Adams - 11. March 2021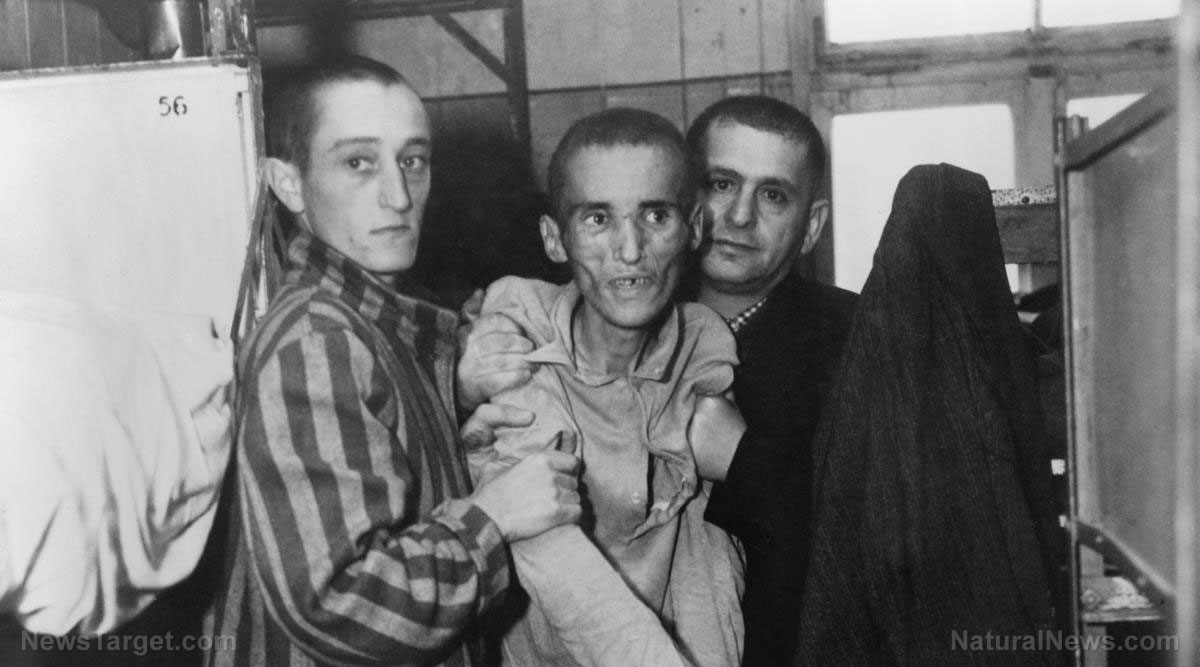 In the late 1930s and early 40s, IBM (International Business Machines) began partnering with the Third Reich to provide computational machines for tracking Jews for extermination. This is fully detailed in the book, "IBM and the Holocaust" by Edwin Black, available at Amazon and elsewhere.
Now, as published by Mint Press News, IBM is partnering with mRNA vaccine developer Moderna to provide its computational platforms and machines to enforce vaccine compliance. In my view, this is all part of a global "vaccine Holocaust" program that's engineered to achieve a mass extermination of the human race. And tech giants like IBM are happy to participate.
Mass murdering six million Jews isn't enough for IBM, it seems. Now they're targeting six billion human beings with deadly vaccines that install a kind of "operating system" into the human body, hijacking the body's cells to produce alien proteins via mRNA "software code" that isn't even human.
Private businesses turned into militant vaccine enforcers, powered by IBM tech
The same IBM that sold its technology to Adolf Hitler, in other words, is now running a "Covid-19 Digital Health Pass" pilot program in New York which, according to MPN, "deputizes private businesses to enforce government-imposed Covid-19 regulations."
In other words, IBM provides the computational power and tracking that will turn local businesses into medical fascist compliance officers, reminiscent of the Nazi SS, but now applied to the field of medicine and vaccines.
IBM also uses its same blockchain and cloud computing technology to power its "Food Trust" services, which will of course be used to restrict food supplies from people who refuse to comply with vaccination demands by the government. By controlling vaccine compliance and the food supply, IBM is concentrating power in the hands of evil anti-human tyrants (like NY Gov. Cuomo) in a way that Adolf Hitler could have only dreamed.
Microsoft thrilled to do more business with the genocidal, organ harvesting communist China regime
At the same time, Microsoft is now expanding its business with the world's leading genocide nation, communist China. As the Free Beacon reports, the Bill Gates-founded company isn't at all concerned that China is carrying out every action of genocide and anti-human cruelty that fits in the definition of the term "genocide." Yet even when the CCP deploys hackers to compromise and infiltrate Microsoft's MS Exchange programs to exploit customer email data, Microsoft is still happy to do more business with communist China.
That's because Microsoft has zero ethics. And neither does IBM. In fact, there is no prominent tech company that has any morals, ethics or humanity remaining whatsoever. They're all about the profit and the control over humanity, and if they have to watch while six billion human beings are mass murdered on the planet, they're fine with that as long as they get to sell more computing services to the executioners.
IBM hasn't changed since the days of the Third Reich, in other words, and newer companies like Microsoft have already made deals with the Devil to promote the mass extermination of human beings in order to achieve Bill Gates' depopulation goals.
Big Tech endorses mass murder on a scale that few people can even grasp. The full details of this horrifying, techno-fascist criminal cartel are revealed in today's Situation Update podcast that I consider a "can't miss" episode if you want to understand the real world:
Brighteon.com/e5ffc8d6-a5af-4f68-8a8e-14a175680cd7
Discover a new Situation Update podcast episode each day at:
===
Covid-19: Several European countries suspend AstraZeneca vaccinations over blood clot fears
Seven European countries – Denmark, Norway, Austria, Estonia, Latvia, Lithuania and Luxembourg – have suspended all or part of their AstraZeneca vaccine roll-out as a precaution while they investigate concerns relating to blood clots.
Danish health authorities on Thursday suspended all AstraZeneca vaccinations for two weeks after a 60-year old woman who had been vaccinated formed a blood clot and died.
The move "follows reports of serious cases of blood clots among people vaccinated with AstraZeneca's Covid-19 vaccine", the Danish Health Authority said in a statement.
But it cautiously added that "it has not been determined, at the time being, that there is a link between the vaccine and the blood clots".
Norway soon followed suit, supending all AstraZeneca vaccinations.
Austria earlier announced it had suspended the use of a batch of AstraZeneca vaccines after a 49-year-old nurse died of "severe blood coagulation problems" days after receiving an anti-Covid shot.
Four other European countries – Estonia, Latvia, Lithuania and Luxembourg – have also suspended the use of vaccines from this batch, which was sent to 17 European countries and consisted of one million jabs.
Spain said Thursday that it has not registered any cases of blood clots related to AstraZeneca's Covid-19 vaccine so far and will continue administering the shots.
Spanish Health Minister Carolina Darias said she had been informed of cases of blood clots among recently vaccinated people in Austria, but added that "so far, no causal relation between the vaccine and the blood clot events has been established", and the European Medicines Agency (EMA) was evaluating the situation.
On Wednesday, EMA, Europe's medicines watchdog, said a preliminary probe showed that the batch of AstraZeneca vaccines used in Austria was likely not to blame for the nurse's death.
Preliminary view from EMA's safety committee (#PRAC): there is no specific issue with a batch of #COVID19 Vaccine AstraZeneca that has been suspended in Austria after cases of multiple thrombosis were reported.
👉https://t.co/292s0fSNJs pic.twitter.com/lh3BXG4e1m

— EU Medicines Agency (@EMA_News) March 10, 2021
As of March 9, 22 cases of blood clots had been reported among more than three million people vaccinated in the European Economic Area, the EMA said.
Some health experts said there was little evidence to suggest the AstraZeneca vaccine should not be administered and that the cases of blood clots corresponded with the rate of such cases in the general population.
"This is a super-cautious approach based on some isolated reports in Europe," Stephen Evans, professor of pharmacoepidemiology at the London School of Hygiene & Tropical Medicine, told REUTERS.
"The problem with spontaneous reports of suspected adverse reactions to a vaccine are the enormous difficulty of distinguishing a causal effect from a coincidence," he said, adding that the Covid-19 disease was very strongly associated with blood clotting.
AstraZeneca on Thursday said the safety of its vaccine had been extensively studied in human trials and peer-reviewed data had confirmed the vaccine was generally well tolerated.
(FRANCE 24 with AFP and REUTERS)
===
===
Coronavirus vaccine deaths aren't covered by life insurance because jabs are "experimental medical intervention"
By Ethan Huff - 09. March 2021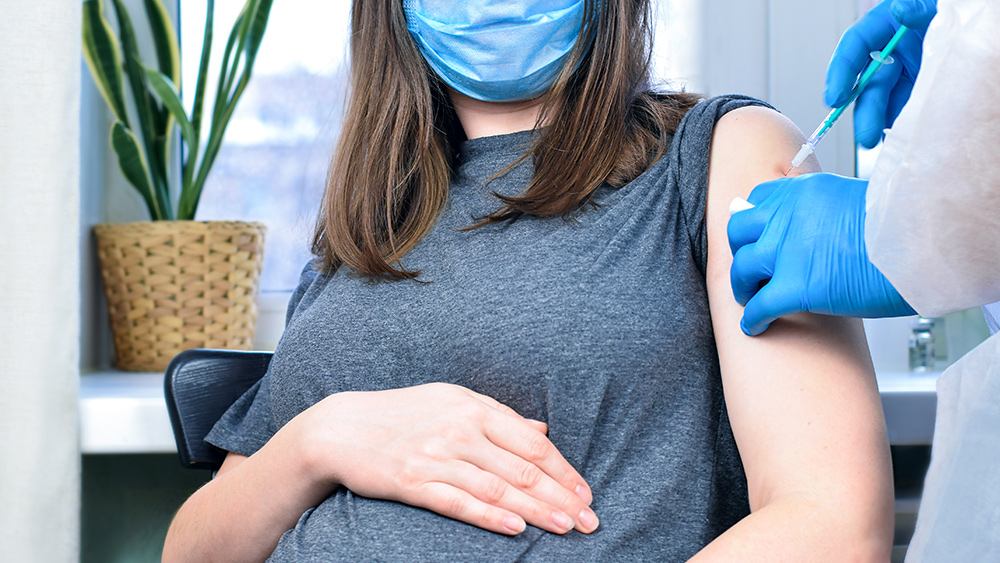 Before rushing out to get vaccinated for the Wuhan coronavirus (Covid-19), you might want to contact your life insurance company first to see if your coverage will still be valid after the jab.
Reports indicate that getting injected for Chinese germs could void people's coverage without them knowing about it due to the experimental nature of Donald Trump's "Operation Warp Speed" gene therapy operation.
In the event that you die after getting needled with messenger RNA (mRNA) poison from Pfizer-BioNTech or Moderna, many life insurance companies will not pay out because the injections are an "experimental medical intervention" that has not undergone the normal testing and vetting process.
While some insurers are still accepting life insurance applications from people who have been jabbed, others are "delaying" applications for people gullible enough to take a "vaccine" for the plandemic virus.
To keep up with the latest news about the Chinese virus, visit Pandemic.news.
Even a "positive" coronavirus test can make you ineligible for life insurance coverage
According to reports, even a "positive" Wuhan coronavirus (Covid-19) test is enough to disqualify someone from life insurance coverage, depending on the carrier.
"Some insurers are delaying applications if you are currently testing positive for coronavirus and need to provide medical evidence, but this does not mean you cannot apply again in the future," reports explain.
Some of the questions that life insurance carriers are now asking prospective clients include:
• Have you tested positive for coronavirus?
• Are you currently in self-isolation?
• Have you had any symptoms of coronavirus?
• Have you been in direct contact with anyone who has been diagnosed or suspected of having a coronavirus?
Note in the last question that it asks about having a coronavirus, not just the "novel" coronavirus. This means that anyone who is testing "positive" for any coronavirus, including the one associated with the common cold, could be denied life insurance coverage.
"If you answer yes to some of these questions, your decision may be delayed until you have recovered," reports explain. "The decisions may vary between insurer."
"High-risk" people with coronavirus might never be allowed to hold life insurance coverage
Those who answer yes to some or all of these questions and who also have diabetes, asthma, autoimmune disease, heart disease, or some other "high-risk" condition could be barred from ever holding any type of life insurance.
This is why getting tested and playing the plandemic game is a no-go for people who still want their lives to be insured for the safety and protection of their families in the event that they die from the vaccine or some other cause.
One wonders if the Portuguese nurse who died from her jab had a life insurance policy, and if it was still paid out despite all the widespread coverage about her cause of death.
Policyholders who are still alive and wanting to get vaccinated are calling their insurance carriers to ask whether or not they will still be covered, only to be told that getting the jab effectively nullifies coverage.
"'Vaccine' for what?" asked one commenter at Tap Newswire in response to the news.
"An unidentified (alleged) pathogen? How does this new, rushed through 'miracle cure' protect the gullible fools who allow themselves to be injected with it, protect them from anything, when whatever it's supposed to protect them from is yet to be identified?"
Another pointed out simply that whoever agrees to get jabbed will "get what they deserve." This to-the-point response hits the nail on the head considering the plethora of evidence out there to suggest the vaccines do absolutely nothing, are free of liability for their manufacturers, and are highly dangerous.
Sources for this article include:
===
Fertility warning: 34 cases of spontaneous miscarriage and stillbirth reported after experimental mRNA vaccines
By Lance D Johnson - 05. March 2021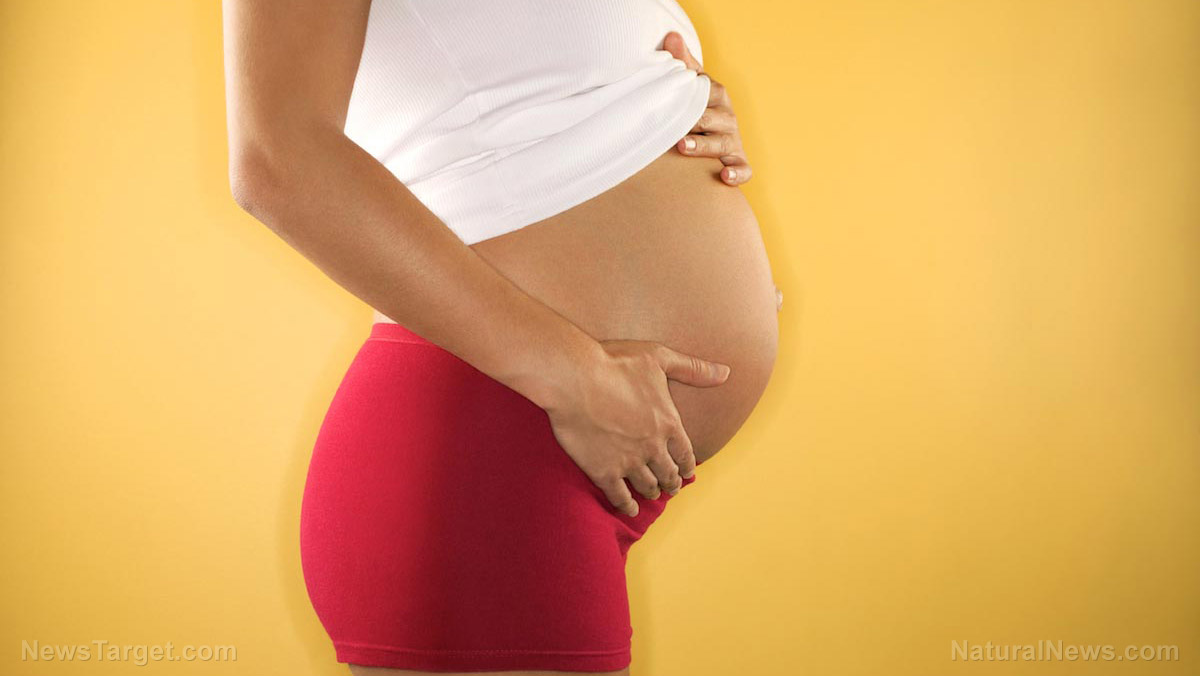 In the rush to vaccinate every man, woman and child against a year-old coronavirus strain, sacrifices are being made. The Vaccine Adverse Event Reporting System (VAERS) is now reporting thirty-four cases of miscarriage and stillbirth associated with the experimental COVID-19 vaccinations. The initial guidelines warn pregnant women not to partake in these real-world vaccine trials, but the experiment is taking place regardless, as healthcare workers are pressured to take the shots, pregnant or not.
VAERS is a passive vaccine injury surveillance system run by the Centers for Disease Control and Prevention (CDC) and Food and Drug Administration (FDA). Many vaccine injuries are not recorded because healthcare officials do not want to be held accountable for administering something that did harm to a healthy patient. Because vaccine injury reporting is often discouraged, VAERS only captures less than one percent of all adverse events observed after vaccination. This means that there could already be 3,400 or more cases of miscarriage or stillbirth. A silent epidemic of infertility could be upon us.
Previously healthy healthcare workers suffer miscarriage, stillbirth after experimental vaccine
Most of the miscarriages occurred in the first trimester, when prenatal development is most tedious. Twenty-five of the miscarriages occurred within two weeks after the Pfizer-BioNTech vaccine was administered, with some miscarriage symptoms beginning within 48 hours after the shot was administered. Even more shocking, there were four stillborn babies after vaccination, all occurring in the second and third trimester.
One of the cases involves a 31-year-old physician from Tennessee. At five weeks pregnant, she suffered a miscarriage thirteen days after taking Pfizer's mRNA shot. A 33-year-old nurse from Indiana suffered a miscarriage just five days after receiving a second dose of the Pfizer shot. She had no previous allergies to vaccines. A 32-year-old Virginia woman suffered a miscarriage just five days after receiving the Moderna shot. Prior to receiving the vaccine, she was checked over and cleared as healthy by two OBGYNs. The adverse event began just two days after the shot, starting with abdominal cramping, vaginal bleeding and then she suffered a miscarriage.
A 35-year-old Michigan woman monitored her baby's movements after she was vaccinated with Pfizer's experimental mRNA. She got the vaccine at 28 weeks and five days pregnant, and only two days later, she noticed her baby's movements had slowed inside of her. Soon after, she gave birth at 29 weeks to a stillborn baby who weighed two pounds and seven ounces.
These serious issues have not stopped Pfizer from authorizing a new trial on 4,000 pregnant women who will be administered the experimental shots in the second and third trimester. After initially advising against vaccination of pregnant women, the World Health Organization is now giving doctors the green light to do so. The regulatory agencies concur that any pregnant woman is at greater risk of complications from a COVID-19 infection, as if their pregnancy is some kind of underlying condition, as if proper prenatal nutrition is not good enough. (Related: Why is the CDC withholding critical COVID-19 vaccine safety data from the public?)
Doctors warn that pregnant women are unnecessarily coerced, misled and used as guinea pigs
Dr. Shelley Cole, MD, OB-GYN is troubled that pregnant women are being lied to and coerced to take an experimental vaccine that involves deliberate risks to their body and their baby's life. "It concerns me that the CDC says that there are no studies, but it's okay to get it and you don't even need to discuss it with your doctor," Cole said in an interview with the Epoch Times. "I mean this is the opposite of everything that the scientific models and methods, and standard of care has been for a century." Doctors have previously warned that new mRNA coronavirus vaccines will likely cause immune cells to attack placenta cells, causing female infertility, miscarriage or birth defects.
Dr. Cole has successfully treated over 550 patients with COVID-19 and understands that women don't want to labor through an infection while they are pregnant. However, Dr. Cole knows from first-hand experience that COVID-19 doesn't have to be a horrifying experience. She says pregnant women should be given the option to have hydroxychloroquine, zinc, and other immune enhancements, so they don't suffer if an infection does arise. Dr. Cole recommends her patients take 1000 milligrams of whole food vitamin C twice a day and up to 5000 iu of vitamin D.
If medical authorities gave true informed consent, then pregnant women would be encouraged to adopt strategies that help them cope with all the immune and developmental challenges throughout their pregnancy. Minerals such as magnesium, calcium, selenium and chromium play a healthy role in pregnancy. Scaring women to take experimental vaccines is coercion. Giving them false assurance that the vaccines block all infections is misguided, especially when the mortality rate for a potential COVID-19 infection is practically nonexistent for women of this age group.
"So it is scary, it is scary, but the vast majority of women that are pregnant are under the age of 40, the death rate is extremely low," said Dr. Cole. "And people do not have to go to the hospital if they're treated early, or if they use early prevention."
Learn more about the ill effects of Wuhan coronavirus (COVID-19) vaccines at VaccineDamage.news.
Sources include:
DigitalAHRQ.gov[PDF]
===
'Tip Of the Iceberg': Interpol Says Fake COVID-19 Vaccines Were Smuggled Across Continents
By Simon Shuster 03. March 2021
By the time police discovered the shipment of fake COVID-19 vaccines, the vials had travelled over 6,000 miles from China to South Africa, the work of a smuggling ring that has produced thousands of counterfeit doses, according to Interpol, the global police agency that helped break up the operation.
The trafficking case, involving a shipment of at least 2,400 doses, is the first confirmed instance of fake vaccines being smuggled across continents, an Interpol spokesperson told TIME—though there are likely more that have occurred, and more still that may be uncovered in the future. "This is only the tip of the iceberg when it comes to COVID-19 vaccine related crime," said Jürgen Stock, the agency's secretary general, in a statement on March 3.
Interpol first issued a warning about such the potential for such crimes in early December, alerting law enforcement agents in its 194 member countries that criminal networks were trying to "infiltrate and disrupt supply chains" involved in the global rollout of vaccines to fight the COVID-19 pandemic.
These networks are not expected to corrupt vaccination programs that are supplied by reputable companies and administered by national governments, which account for nearly all vaccines available around the world. But small batches of fake vaccines could reach consumers through the Internet or other informal channels, especially in developing countries that have been unable to get sufficient supplies.
The international smuggling ring that Interpol reported on March 3 began to unravel in November, when police in South Africa discovered a consignment of fake COVID-19 vaccines in a warehouse near Johannesburg. Police officials told local media at the time that the vials were found among a large batch of counterfeit N95 masks, and that two individuals were arrested in connection with the haul: one was a Chinese national, the other a citizen of Zambia.
At around the same time, Chinese state television aired footage of police seizing what they described as fake COVID-19 vaccines in Kushan, a city in eastern China. The authorities then arrested more than 80 members of a suspected criminal group, for allegedly producing and selling fake COVID-19 vaccines that consisted of saline solution, Xinhua news—a state-run press agency—reported on Feb. 1. Wang Wenbin, a spokesman for China's foreign ministry, told reporters the following day that Chinese authorities had alerted "relevant countries" about the apparent smuggling ring, but did not specify what countries were involved.
It would be another month before Interpol revealed that some of the fake vaccines allegedly manufactured in China had made their way to South Africa, which has struggled to secure enough COVID-19 vaccines to inoculate its most vulnerable citizens. Nearly half of the COVID-19 deaths reported on the African continent have been recorded in South Africa, which only launched its vaccination drive on Feb. 17, far behind most developed nations.
China, by contrast, has said it delivered 24 million doses of two domestically made (and authorized) vaccines to its citizens as of early February. Despite concerns about the efficacy of the vaccines—one produced by Sinopharm, and one from Sinovac—the Chinese government has also pledged about half a billion doses of these vaccines to 45 countries around the world, according to a tally published by the Associated Press.
In addition to the arrests in China and South Africa, Interpol said in its statement on March 3 that it has received other reports from member countries about "fake vaccine distribution and scam attempts targeting health bodies, such as nursing homes."
Interpol said it is continuing to work with police forces around the world to combat such scams. But the organization also urged consumers to be vigilant, pointing out in its statement that there are no approved vaccines currently available for sale online, and that any COVID-19 vaccines offered for purchase over the Internet "will not have been tested and may be dangerous."
===
'Orders of Magnitude Higher Deaths in the Vaccinated': Israel's Vaccine Data Reveals a Frightening Picture
By GMI 03. March 2021
In the article republished from Nakim.org, research is presented indicating orders of magnitude increases in death rates during the 5-week long vaccination process analyzed in Israel, as compared to the unvaccinated and those after completing the vaccination process.
On February 11 2021 Ynet (the most known Israeli News website) published a confused and confusing article entitled "Vaccination efficiency data in Israel, and its rapid effects on the young".

Our reanalyses of these data explain why during the massive vaccination project initiated mid-December 2020 during a confinement, daily new confirmed COVID-19 cases failed to decrease as they do during confinements, and, more importantly, why numbers of serious, critical and death cases increased during that period that covered at least one month. From mid-December to mid-February (two months), 2337 among all Israeli 5351 official COVID-deaths occurred. Our analyses indicate orders of magnitude increases in deaths rates during the 5-week long vaccination process, as compared to the unvaccinated and those after completing the vaccination process. Presumably, asymptomatic cases before vaccination, and those infected shortly after the 1st dose, tend to develop graver symptoms than those unvaccinated.
The Ynet article is organised in an exciting way and uses data provided in an erroneous way by the Ministry of Health. It is unclear whether this was intentional to prove the vaccine's efficiency or if this was done erroneously because the provided data were misunderstood. Note that in Israel, all vaccines are from Pfizer.

We bring a very important example from the article, in relation to the table provided by the Ministry of Health. As per the text "However, 546 among the dead were such that were not at all vaccinated or got the first vaccination dose within two weeks before their death" differs from the table. This is clearly unfounded because all data presented in the table and provided below describe only COVID-19 patients that got at least the first vaccination dose. This is clear from examining the table. The grand total is 43781 COVID patients who got the first or the second vaccine dose. Among the total of 660 deaths, 546 got only the first dose.

The data in the table, rather than indicating the vaccine efficiency, indicate the vaccine's adverse effects.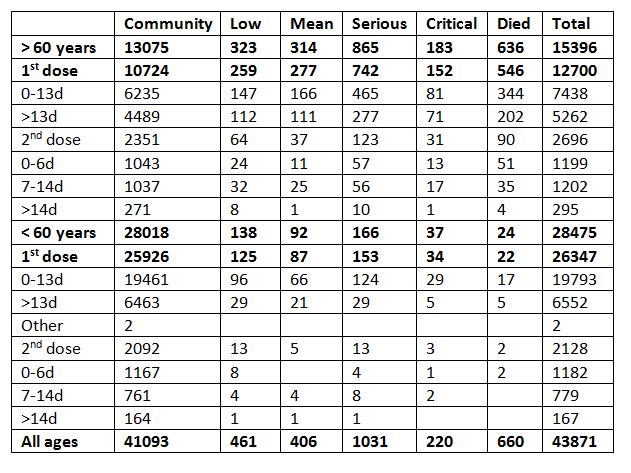 For that purpose we need first to understand that the provided table describes the state of COVID-19 patients that got the first or the second vaccine dose at given dates, as started in the article "…emerges from the data that among 856 patients above 60 years in serious state hospitalized at this time…" we assume that the article published February 11 reflects the situation in hospitals the previous day, hence February 10 2021, or February 11 2021.

On February 10, the number of serious active cases was 1056 according to the control panel of the Ministry of Health, see photo below.

This surprisingly shows that most serious hospitalized cases on February 10 or at a near date were in fact vaccinated with the first dose or up to two weeks after the second dose. See the table of the vaccinated patients showing 1031 serious and 220 critical cases at the time the table was done. This matches the article in hebrew from February 1st 2021 "Can one show that the vaccine from Pfizer is today's major cause for high death rates in Israel and the world?".
However, this is not the last surprise we get from examining the data from the Ministry of Health. We can substract the number of people with the first vaccine dose on January 19 2021 from that on February 10 2021. During these 21 days, 1331881 Israeli citizens got the first dose. The table shows that 568 among these died, hence 0.042% and that 39047 among them became a COVID-19 case, hence 2.9 %. For the 2nd dose we focus on data specific to two weeks after the 2nd vaccination according to the table.

From January 26 to February 10 2021 909102 Israeli citizens got the 2nd vaccine dose. Among these according to the table, 92 died, 0.01%. Hence, during the 5 weeks since the first dose at least 0.05% of first dose recipients died. This death rate relates mainly to a relatively young population whose vaccination stated on January 19, a period during which most vaccinated were below 65. In order to estimate the death rate of those above 65 which were mostly vaccinated before that period we use data reported by the USA-based VAERS,

There we found, see article in english, that the ratio of deaths by those above 65 vs those below 65 is about 4.42 (155/35). Hence the death rate of those above 65 between the first and the second vaccination dose should be until January 19 0.042 (the death rate of those below 65) multiplied by 4.42, resulting in 0.186%, which is close to the 0.2% reported by the Ministry of Health on January 21 2021. This value of 0.2 % death has been mysteriously modified later on by the Ministry of Health and was switched to 0.005 without any explanation, see article in hebrew. Above considerations show that the death rate data provided first were correct, the updated death rate data might have been intended to suggest lower death rates among the elderly.

The exposures do not end here.
The number of COVID-19 deaths among the vaccinated since the start of the vaccination action seems to explain the increased death rates from COVID-19 observed since December 2020. For that purpose, we calculate the products of the number of vaccinated people above age 65 by 0.2 and the number of vaccinated people below 65 by 0.04. This shows that most COVID-19 deaths in that period are for vaccinated people, as shows the table provided by the Ministry of health at the beginning of February.

During the vaccination action from mid-December until mid-February, 2337 among all 5351 COVID-19 deaths reported for Israel occurred, 43.7%. Among these, since January 19, 1271 COVID-19 deaths were reported for Israel.The table provided by the Ministry of Health on February 10 states 660 COVID-19 deaths among the vaccinated, 51.9% of the deaths for that period. Only 1.3 million Israeli, among 8 million (about 1 in 8, 12.5%), were vaccinated during that period. Accordingly, vaccination promotes deaths because 51.9% of deaths during that period are for the 12.5% vaccinated in that period. In addition the serious and critical cases during that period is more than the reported serious cases, the adverse effect of the vaccination process is most likely worse than what appears from the data at hand.

The horror continues. The deaths among those vaccinated should be added to the numerous AVC and cardiac events reported just after vaccination that are not included among COVID-19 deaths which about double the deaths among those vaccinated, whose numbers remain unknown and which we will try to find in the coming days. At this point we state that vaccinations caused more deaths than the coronavirus would have during the same period. Among those vaccinated and above 65, 0.2% of those vaccinated died during the 3-week period between doses, hence about 200 among 100000 vaccinated. This is to be compared to the 4.91 dead among 100000 dying from COVID-19 without vaccination, see below. This should not be confused with the COVID-19 0.279 deaths among 100000 reported for those who completed the vaccination process, meaning 2 weeks after the second dose, see below table from the Ynet article.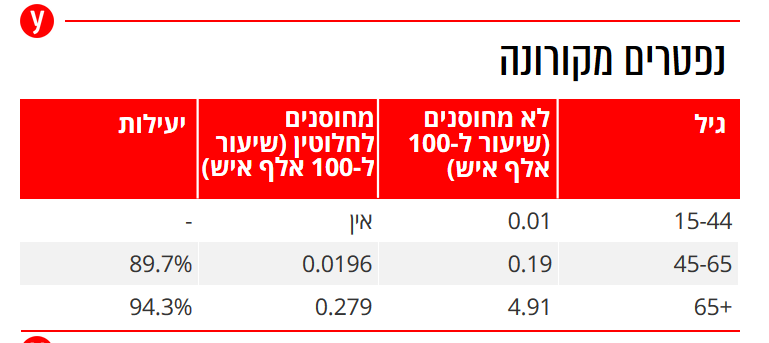 This scary picture also extends to those below 65, among which, for the 5 weeks during the complete vaccination process 0.05%, meaning 50 among 100000, died. This is to be compared to the 0.19 per 100000 dying from COVID-19 and that are not vaccinated in that age group, as per the above table. Hence the death rate of this age group increased by 260 during this 5-week period of the vaccination process, as compared to their natural COVID-19 death rate.
A simple way to pass these points across relate to the monthly COVID-19 deaths rates since the start of the pandemic and until mid-December, 3014 deaths, hence 3014/9 = 334.9 deaths per month. Monthly death rates since mid-December are 2337/2 = 1168.5 deaths per month, hence 3.5 times greater.

We conclude that the Pfizer vaccines, for the elderly, killed during the 5-week vaccination period about 40 times more people than the disease itself would have killed, and about 260 times more people than the disease among the younger age class. We stress that this is in order to produce a green passport valid at most 6 months, and promote Pfizer sales.
These estimated numbers of deaths from the vaccine are probably much lower than actual numbers as it accounts only for those defined as COVID-19 deaths for that short time period and does not include AVC and cardiac (and other) events resulting from the inflammatory reactions in tens of reports documented on the NAKIM site, which themselves are only the iceberg's tip, see here.

This does not account for long-term complications described in a criminal complaint filed in December 2020 in France and which was translated to english, see here.
Looking back, this explains why the serious COVID-19 cases increased as vaccination started, and why cases started to decline when vaccination was opened to the young and continue to decline as the vaccination national campaign is losing its momentum.

We hope that this massacre will not include those below 13, as these have an increased adverse reaction rate, including death, to vaccines as shown by multi-decennial data from the VAERS reports in the USA.
We summarise that the pandemic may be predicted for the coming weeks. The decrease in vaccinations and in vaccination age will cause a decrease in serious cases, mainly not because of the protection by the vaccine, but because fewer people will die from the vaccine and other adverse vaccine reactions.

This will be temporary as in a few months we expect to face mid- and long-term adverse effects of the vaccination as ADE (Antibody-dependent Enhancement) and the vaccination-resistant mutants selected by the vaccines. But this should occur after the soon coming elections and the (survivor) voters won't have another opportunity to express their disappointment at the voting poll.

Thanks to Dr Hervé Seligmann for his huge support on data analysis.

Haim Yativ
===
===
Pfizer Demanding Bank Reserves, Military Bases And Embassy Buildings As Collateral For COVID-19 Vaccines
I am not sure what you would call this. Attempting to take over a country via drug blackmail maybe. Part of the World Economic Forums Agenda is to take over land. I guess Pfizer wants into the land grab.
They really do not want the vaccine as it is dangerous anyway. As noted over the past two months.
February 27, 2021
Pharma giant Pfizer has been holding sovereign governments to ransom making bizarre demands asking for bank reserves, embassy buildings and military bases as collateral in return for COVID-19 vaccines.
The US-based company Pfizer is holding governments to ransom, interfering with their legislation, and even demanding military bases as guarantee.
Pfizer asked the Govt of Argentina to be compensated for the cost of any future civil lawsuits, reported WION.
If someone files a civil lawsuit against Pfizer in Argentina and wins that case, the government of Argentina and not Pfizer would pay the compensation.
So, Argentina's parliament passed a new law in October 2020, but Pfizer was unhappy with its phrasing.
The law said Pfizer needs to at least pay for negligence, for its own mistakes if it happens to make any in the future.
Pfizer rejected this, after which Argentina offered to amend the law to define negligence more clearly – to include only vaccine distribution and delivery under negligence.
Pfizer was still not happy and demanded the law be amended through a new decree, which Argentina refused.
Pfizer then asked Argentina to buy an international insurance to pay for potential future cases against Pfizer, to which the country agreed.
But that was not enough, in December 2020, Pfizer again came back with more demands.
And this time Pfizer demanded Argentina's sovereign assets as collateral. Pfizer demanded that Argentina put its bank reserves, military bases and embassy buildings at stake.
Argentina did not agree with Pfizer's demands.
Another country Pfizer made such bizarre demands is with Brazil. Pfizer told the Govt of Brazil to create a guarantee fund, and deposit money in a foreign bank account.
On January 23, 2021 – Brazil's Health Ministry put out a statement citing excerpts from Pfizer's pre-contract clauses.
Here's a list of Pfizer's demands:
• Brazil waives the sovereignty of its assets abroad in favour of Pfizer,
• that the rules of the land – be not applied on Pfizer,
• that Brazil take into consideration a delay in delivery,
• that Pfizer is not penalised for a delayed delivery, and
• that in case of any side effects, Pfizer be exempted from all civil liability.
The government of Brazil calls these clauses abusive. The Pfizer deal with Brazil failed too.
Pfizer even wanted India to order its COVID-19 vaccines without any local trials.
According to the co-founder of BioNTech Dr Ugur Sahin, the COVID-19 vaccine he designed for Pfizer was designed in just few hours in a single day on January 25, 2020. No other vaccine in history has been created and manufactured so quickly.
Previously, the fastest vaccine ever developed took more than four years.
As reported by GreatGameIndia earlier, Pfizer has paid $2.3 billion in the largest healthcare fraud settlement in history to resolve criminal and civil liability arising from the illegal promotion of certain pharmaceutical products.
Even, the US government paid over $57 million in compensation for vaccine injuries and deaths till March 2020 alone. Source
Deaths and Injuries due to Covid vaccines.
In Israel it seems the more vaccines they give the more so Called Covid and deaths they are getting. This episode covers a lot. The World is FED UP with Covid19; Testing on Children Begins; Israel's New Covid Pass; Owner of the Busiest No-Mask Store in FL; Cattle Rancher Exposes Our Fragile Food Supply
Reiner Fuellmich With Other German Lawyers Class Action
Ottawa Canada: Parliament Hill Protest Feb 14, 2021
Recently updated. Canada has become a complete insult to human dignity (your friends or relatives could just vanish)
Corona Fake Pandemic: Italy Subjected to a Holy Inquisition of False Science
Message to BC Educators from a Concerned Parent
Experimenting on Babies as young as 6 months old-Wake up People
Metals, Micro- Nanocontamination found in Vaccines
===
Legal immunity & state assets as collateral: Latin American govts 'held to ransom' by Pfizer during vaccine talks, report says
By RT - 25. February 2021
FILE PHOTO. © Matthew Childs
A number of Latin American countries have reportedly experienced extremely aggressive negotiating tactics by US pharmaceutical giant Pfizer, which has demanded full immunity from any civil claims and state assets as a guarantee.
The questionable negotiating tactics by the pharmaceutical giant have been highlighted in a fresh report by the UK-based Bureau of Investigative Journalism (BIJ). Officials from Argentina, as well as from another unspecified Latin American country, talked to the outlet, describing Pfizer's approach to negotiations as "high-level bullying" that made the governments feel like they were being "held to ransom."
Argentina was among the first countries to begin negotiations with the company. The talks started last June, yet ultimately flopped as Pfizer's demands became less and less reasonable, an official told the BIJ.
The pharmaceutical giant assertively demanded additional clauses that would make it immune against any civil claims citizens might file over side effects from receiving the Pfizer jab. While a new bill regulating the vaccination process was adopted in October, the company was still unhappy with its wording, as it did not grant full immunity to pharmaceutical companies but rather allowed a change of jurisdiction established in advance in the contract. Pfizer ultimately requested a "new law" from the government, then-Health Minister Gonzalez Garcia said in December, describing the demands as "somewhat unacceptable."
"Argentina could compensate for the vaccine's adverse effects, but not if Pfizer makes a mistake,"the official, cited by BIJ, said. "For example, what would happen if Pfizer unintentionally interrupted the vaccine's cold … and a citizen wants to sue them? It would not be fair for Argentina to pay for a Pfizer error."
The company then urged Argentina to take out international insurance to pay for potential future cases against the manufacturer, and ultimately demanded that it put up unspecified sovereign assets as collateral in December.
"We offered to pay for millions of doses in advance, we accepted this international insurance, but the last request was unusual: Pfizer demanded that the sovereign assets of Argentina also be part of the legal support," the official said.
It was an extreme demand that I had only heard when the foreign debt had to be negotiated, but both in that case and in this one, we rejected it immediately.
Argentina is not the only Latin American country to have faced these tactics – Brazil went public in late January with its condemnation of the "abusive" negotiations. According to the country's Health Ministry, Pfizer demanded to be indemnified from civil cases and urged the government to create a guarantee fund deposited into a foreign bank account. Brazil was asked to put up assets as collateral as well.
Approached by BIJ, Pfizer did not elaborate on its negotiating practices, insisting that it has already "allocated doses to low- and lower-middle-income countries at a not-for-profit price." The company also declined to comment on ongoing private negotiations.
"Pfizer and BioNTech are firmly committed to working with governments and other relevant stakeholders to ensure equitable and affordable access to our Covid-19 vaccine for people around the world," the pharmaceutical giant stated.
===
Young nurse suffers from hemorrhage and brain swelling after second dose of Pfizer's COVID-19 vaccine
By Lance D Johnson - 17. February 2021

A 28-year-old healthcare worker from the Swedish American Hospital, in Beloit, Wisconsin was recently admitted to the ICU just five days after receiving a second dose of Pfizer's experimental mRNA vaccine. The previously healthy young woman was pronounced brain dead after cerebral angiography confirmed a severe hemorrhage stroke in her brain stem.
Her family members confirmed that she was "breaking out in rashes" after the vaccine. She also suffered from sudden migraine headaches, and got "sick" after taking the second dose of the vaccine. At the very end, she lost the ability to speak and went unconscious. The migraines, nausea, and loss of speech were all symptoms of a brain bleed and brain swelling, something her family did not understand at the time, and something nobody would expect after vaccination.
While on life support, neurologists used angiography to image the damage inside the brain. They found a subarachnoid hemorrhage, whereas a bulging blood vessel burst in the brain, bleeding out in the space between the brain and the tissue covering the brain. The ensuing swelling cut off oxygen to the brain and caused brain death. On February 10, 2021, Sarah reportedly had "no brain activity." Some of the woman's organs are now being procured, so they can be donated to other people around the world.
Doctors warn FDA about COVID vaccines causing autoimmune attacks in the heart and brain
Experimental COVID-19 vaccines may cause inflammation along the cardiovascular system, leading to heart attack and/or stroke. This serious issue was brought forth to the Food and Drug Administration (FDA) by Dr. J. Patrick Whelan, M.D., Ph.D. and further confirmed by cardiothoracic surgeon, Dr. Hooman Noorchashm, M.D., Ph.D. The two doctors warned that a recently-infected patient who is subject to COVID-19 vaccination is likely to suffer from autoimmune attacks along the ACE-2 receptors present in the heart, and in the microvasculature of the brain, liver and kidney. If viral antigens are present in the tissues of recipients at the time of vaccination, the vaccine-augmented immune response will turn the immune system against those tissues, causing inflammation that can lead to blood clot formation.
This severe adverse event is likely cause of death for the elderly who are vaccinated despite recently being infected. There is no adequate screening process to ensure that this autoimmune attack doesn't occur. The elderly are not the only people vulnerable to vaccine injury and death. Pfizer's experimental COVID-19 vaccine could be the main cause behind the sudden death of Sarah Sickles, a 28-year-old nurse from Wisconsin. The Vaccine Adverse Events Reporting System has captured five permanent disabilities in Wisconsin, 58 ER visits, and eleven deaths in just one month. This is the first case in Wisconsin of someone under 44 years of age suffering from severe COVID-19 vaccine side effects and death. There are now more than 1,170 deaths recorded in the U.S. related to the experimental mRNA vaccines, a reality that the FDA and CDC continue to ignore.
FDA warns that COVID vaccines could cause internal bleeding and organ failure
Another problem that the FDA is monitoring with the experimental COVID-19 vaccines is disseminated intravascular coagulation. This condition causes blood clots to form throughout the body, blocking small blood vessels. Some vaccine recipients report shortness of breath, chest pain, leg pain, or problems speaking, which are all symptoms of this adverse event. If the vaccine initiates this response in the blood, clotting factors and platelets get used up quickly, leading to internal bleeding. This can show up in the urine, the stool, or under the skin, and may even lead to organ failure.
Read VaccineDamage.News for more information on the damage being done by this hasty mRNA experiment.
Sources include:
===
Human 2.0 ? A Wake-Up About COVID19 Vaccine
- Dr. Carrie Madej
First published on BITCHUTE February 17th, 2021.
All of the information is available: So your ignorance is not an excuse,
it makes you a liability.
===
Germany To Offer Free COVID-19 Rapid Tests for All Citizens
By teleSUR/SM - 17. February 2021
The German government has expanded the use of COVID-19 rapid tests to nursing homes, hospitals, and schools.
Germany's Health Minister Jens Spahn announced that all citizens in his country will be able to be tested free of charge by trained personnel with COVID-19 rapid antigen tests from March onwards.
Rapid antigen tests are "now sufficiently available on the market," Spahn said, adding that "these testing possibilities can contribute to a safe everyday life, particularly in schools and daycare centers."
Municipalities in Germany could commission COVID-19 test centers or pharmacies to provide such rapid testing services.
Furthermore, COVID-19 self-tests should also be "accessible to everyone" in Germany after their approval by the Federal Institute for Drugs and Medical Devices (BfArM), which is expected soon.
The German government has already expanded the use of COVID-19 rapid tests to nursing homes, hospitals and schools. However, all rapid antigen testing with kits currently on the market can only be conducted by trained staff.
Vaccination is currently underway in many European countries. Around 242 candidate vaccines are still being developed worldwide -- 63 of them in clinical trials -- in countries including Germany, China, Russia, Britain, and the United States.
As of Wednesday morning, Germany had recorded 2,352,766 COVID-19 cases and 66,536 related deaths.
===
Pregnant doctor celebrates taking COVID vaccine, tragically miscarries days later
Multiple doctors have warned that experimental COVID-19 vaccines present potential risks to pregnancies
By Patrick Delaney - 16. Fenruary 2021
MILWAUKEE, Wisconsin, February 16, 2021 (LifeSiteNews) — A physician-advocate for the experimental COVID-19 vaccines has tragically miscarried her baby in the second trimester of pregnancy just days after publicly celebrating her reception of the injections.
Dr. Sara Beltrán Ponce, a Milwaukee resident physician in Radiation Oncology, tweeted on January 28 that she was "14 weeks pregnant and fully vaccinated!" She shared that she had received the experimental COVID vaccine "to protect myself, my baby, my family, my patients, and my community! When it's available to you, I encourage you to do the same."
Ponce did not specify which of the experimental COVID vaccines she received, but went on to reemphasize several of the media-narrative talking-points with regards to COVID-19 government mandates, including the necessity for masks, social distancing and vaccination.
Less than a week later, she announced the heartbreaking news of the loss of her baby "at 14 ½ weeks. My husband and I are devastated, but blessed to have each other and our sweet Eva. Rest in Peace, angel," she wrote.
Such a sad scenario may have a rational explanation that was known and could be foreseen.
In early December of last year, Dr. Michael Yeadon, a former vice president and chief scientist for Pfizer, along with another colleague, petitioned the European Medicines Agency (EMA) for the immediate suspension of all COVID-19 vaccine studies in Europe citing four primary concerns including dangers to mid-term pregnancies.
Of note, was the possibility of causing infertility "of indefinite duration" in women. As they explained, these experimental vaccines are expected to produce anti-bodies to attack "spike proteins" such as COVID-19. However, "spike proteins also contain syncytin-homologous proteins, which are essential for the formation of the placenta in mammals such as humans." Therefore, the petitioners demanded that "[it] must be absolutely ruled out" that a coronavirus vaccine would not trigger an immune reaction against this protein, "as otherwise infertility of indefinite duration could result in vaccinated women."
Government guidance in the U.K. urges various groups, including pregnant mothers, not to take the Pfizer experimental COVID vaccine, as well as stating that its impact on fertility is unknown.
In a tweet to the young grieving mother last week, fellow physician and founder of American Frontline Doctors (AFLD), Simone Gold explained this concern further stating the "[t]here is a known potential mid-pregnancy fertility risk of the experimental vaccine." The outer layer of the placenta, she wrote, "becomes inflamed causing miscarriage. The vaccine is NOT cleared of infertility risk."
.@SaraBelPonMD As a mom and Founder of AFLDS, please DM me...

There is a known potential mid-pregnancy fertility risk of the experimental vaccine. "Synciciotrophoblast" becomes inflamed causing miscarriage. The vaccine is NOT cleared of infertility risk. pic.twitter.com/FKfHCe3c5Q

— Dr. Simone Gold (@drsimonegold) February 8, 2021
Clarifying this topic further in a recent interview, Dr. Gold explained how losing a pregnancy "in the second trimester is not very common," and that the typical reason this happens is that "the placenta has some kind of failure."
This can occur, she said, with pregnant mothers who become infected with COVID-19, as is documented in the AFLD's white paper.
"The concern with the experimental COVID vaccine is that it may mimic kind of a permanent COVID status," she explained. "So, you're taking a situation that would be time limited," only for the short duration one endures an infection with the virus, with even the sad possibility of having a miscarriage due to the virus.
"But what would be much worse," Gold said, would be a scenario where a woman "forever more cannot maintain a pregnancy" because of receiving an experimental COVID-19 vaccine. "So, instead of just the one-time episode of the illness," Gold continued, a woman may find she instead has "a lifelong episode of infertility."
Attached to Dr. Gold's tweet were screen shots of pages 23-24 of an AFLD white paper on the topic of these COVID-19 experimental vaccines. Explaining this significant risk in "layman's terms," the volunteer physicians organization explains that "getting COVID-19 has been associated with a high risk of mid-pregnancy miscarriage because the placenta fails – but the vaccine may do the exact same thing – but not for just the few weeks of being sick – but forever." What this means, they continued, is "repeated pregnancies would keep failing ~mid-pregnancy."
As the survival rate for individuals under 50 years is 99.98% (without early treatment), the AFLD's white paper affirmed,"[i]t is completely reckless to give this vaccine to millions of people who would otherwise all be expected to recover" from COVID-19.
Dr. Gold put it even a little stronger. "It's lunacy to get this experimental vaccine if you're a young female," she said. "It's that simple … I would flat out forbid any young female from getting this vaccine, and I think it's very unethical for any physician to offer this to a young female."
Author:
Patrick Delaney FOLLOW
LifeSiteNews has produced an extensive COVID-19 vaccines resources page.  View it here.
LifeSiteNews has been permanently banned on YouTube. Click HERE to sign up to receive emails when we add to our video library.
RELATED:
Doctors petition EU to stop all COVID vaccine studies due to grave risks
Frontline Doctors: Experimental vaccines are 'not safer' than COVID-19
YouTube bans Frontline Doctors speech criticizing 'experimental agent' COVID vaccine
Physicians: 'Masks don't control viruses, they control you,' 'pandemic is over'
Former Pfizer VP: 'No need for vaccines,' 'the pandemic is effectively over'
===
Can Covid Vaccinations Drive Covid Deaths?
By SPR - 16. February 2021
A British author has noted that while covid infections and deaths have declined sharply in most countries since the beginning of the year, countries with some of the highest vaccination rates have seen much slower declines or, in some cases, even increases in infections and deaths. Examples include Israel, Gibraltar, the Seychelles, the United Arab Emirates, the United Kingdom, Bahrein, Serbia, Chile, Malta, and Monaco (see cumulative chart above; the curves should have leveled off).
In the best case, this correlation is simply coincidental. In the worst case, vaccines might, theoretically, have something to do with it. But there is a third possible explanation: the process of mass vaccination – with millions of high-risk people visiting vaccination centers, or being visited by mobile vaccination teams, e.g. in nursing homes – might accelerate infections, and ultimately deaths, in high-risk groups, before full vaccine protection becomes effective.
Indeed, several countries have reported large covid outbreaks in nursing homes shortly after residents had received their first or even second vaccine doses.
The obvious solution to reduce this danger is to put high-risk groups on ivermectin-based prophylaxis until they are fully vaccinated. But apparently, most Western health authorities want to prevent this at all costs, perhaps fearing that it might question their vaccination campaign.
Related: Covid RNA Vaccines: Already More Than 1000 Post-Vaccination Deaths (SPR)
See also
===
46 residents in Spanish nursing home die after receiving COVID-19 vaccine
Health authorities have reportedly halted the administering of the second shot of Pfizer's vaccine
By Celeste McGovern - 15. February 2021
SPAIN—Forty-six nursing home residents who had received their first dose of Pfizer-BioNTech's fast-tracked vaccination against COVID-19 at the beginning of January had died by the end of the month, Spanish media have reported.
Staff first reported a coronavirus outbreak at Nuestra Señora del Rosario (Our Lady of the Rosary), a nursing home in the province of Cadiz, Andalusia in Spain on January 12, in the wake of a vaccine distribution campaign.
The Ministry of Housing and Families intervened in the private facility which houses up to 145 residents and where local media reported on February 4ththat a further 28 of 94 residents as well as 12 staff members had tested positive for COVID-19.
At another nursing home in the same southwestern Spanish province, in Novo Sancti Petri, in Chiclani, 22 elderly residents died and 103 were infected following a vaccination campaign.
Similar outbreaks and death clusters following vaccination have been reported across the globe, including:
29 elderly people died in Norway shortly after receiving Pfizer's vaccination.

13 deaths among 40 residents following vaccination at one nursing home in Germany were dismissed as "tragic coincidence."
The UK Medical Freedom Alliance – a group of doctors, scientists, lawyers and other professionals who advocate for informed consent in the United Kingdom – published an urgent open letter to Nadhim Zahawi, Minister for COVID-19 Vaccine Deployment; Matt Hancock, the Secretary of State for Health and Social Care; and two vaccine oversight agencies calling for an immediate audit of the deaths following vaccination in the U.K.
The group refers to graphs showing a surge in care home deaths and cites data from the Office for National Statistics that residents' deaths tripled in the two weeks between 8th and 22nd January 2021 at a time when there was a massive increase in the rate of vaccinations in care homes.
Similar graphs for Israel, Ireland, Bahrain and Jordan show a similar correlation.
The UKMFA points to the "statistically insignificant" safety data on elderly people in COVID-19, who they say were "under represented" in vaccine clinical trials.
"We postulated that there may be increased vaccine side-effects in this group, which would only become apparent when many thousands of them had received vaccinations," the letter states.
The World Health Organization's Strategic Advisory Group of Experts (SAGE) updated its recommendations for Moderna's vaccine administration on January 26 stating that while vaccination is recommended for older persons due to the risks of Covid infection, "very frail older persons with an anticipated life expectancy of less than 3 months" should not be automatically vaccinated but should be "individually assessed."
Author:
Celeste McGovern - Independent investigative journalist.
LifeSiteNews has produced an extensive COVID-19 vaccines resources page.  View it here.
LifeSiteNews has been permanently banned on YouTube. Click HERE to sign up to receive emails when we add to our video library.
===
ICYMI:
Immunologist: Pfizer, Moderna Vaccines Could Cause Long-Term Chronic Illness
In new research published in Microbiology & Infectious Diseases, immunologist J. Bart Classen warns the mRNA technology used in the Pfizer and Moderna COVID "vaccines" could create "new potential mechanisms" of adverse events that may take years to come to light.
By Children's Health Defense Team - 09. February 2021
Back in 1999, leading U.S. Food and Drug Administration (FDA) official Dr. Peter Patriarca contended that modern advances in vaccine technology were rapidly "outpacing researchers' ability to predict potential vaccine-related adverse events." Patriarca mused that this could lead to "a situation of unforeseen and unpredictable vaccine outcomes."
In a new research article published in Microbiology & Infectious Diseases, veteran immunologist J. Bart Classen expresses similar concerns and writes that "RNA-based COVID vaccines have the potential to cause more disease than the epidemic of COVID-19."
For decades, Classen has published papers exploring how vaccination can give rise to chronic conditions such as Type 1 and Type 2 diabetes — not right away, but three or four years down the road.
In this latest paper, Classen warns that the RNA-based vaccine technology could create "new potential mechanisms" of vaccine adverse events that may take years to come to light.
Classen's study establishes the potential for the messenger RNA (mRNA) vaccines developed by Pfizer and Moderna to activate human proteins to take on "pathologic configurations" — configurations associated with chronic degenerative neurological diseases.
Although his specific interest is in prion diseases (conditions associated with misfolded versions of normal proteins), Classen also outlines a handful of other mechanisms whereby RNA-based vaccines could give rise to "multiple other potential fatal adverse events."
Ensuring that patients clearly understand risks — including known risks as well as potential unknown risks — is an important component of the informed consent process. This is all the more true when the intervention is experimental and lacks long-term safety data, as is the case with the Pfizer and Moderna vaccines against COVID-19. The FDA authorized the two vaccines for widespread emergency use based on just two months of clinical trial data.
Unfortunately, it is not unusual for researchers' communication of risks to be perfunctory. In October, researchers at New York University and Tulane reported that the information communicated to participants in the coronavirus clinical trials about a worrisome problem known as pathogenic priming was "sufficiently obscured" as to make "adequate patient comprehension" of risks "unlikely."
It would be interesting to know what those researchers would say about Classen's blunt conclusion that "Approving a vaccine, utilizing novel RNA technology without extensive testing is extremely dangerous."
Those contemplating COVID injections may be ignoring potential risks at their own peril.
===
31 Reasons Why I Won't Take the Vaccine
The following list was created by the Israeli rabbi Chananya Weissman. Many thanks to MC for the tip.
31 Reasons Why I Won't Take the Vaccine
By Chananya Weissman - 03. February 2021
1.
It's not a vaccine. A vaccine by definition provides immunity to a disease. This does not provide immunity to anything. In a best-case scenario, it merely reduces the chance of getting a severe case of a virus if one catches it. Hence, it is a medical treatment, not a vaccine. I do not want to take a medical treatment for an illness I do not have.
2.
The drug companies, politicians, medical establishment, and media have joined forces to universally refer to this as a vaccine when it is not one, with the intention of manipulating people into feeling safer about undergoing a medical treatment. Because they are being deceitful, I do not trust them, and want nothing to do with their medical treatment.
3.
The presumed benefits of this medical treatment are minimal and would not last long in any case. The establishment acknowledges this, and is already talking about additional shots and ever-increasing numbers of new "vaccines" that would be required on a regular basis. I refuse to turn myself into a chronic patient who receives injections of new pharmaceutical products on a regular basis simply to reduce my chances of getting a severe case of a virus that these injections do not even prevent.
4.
I can reduce my chances of getting a severe case of a virus by strengthening my immune system naturally. In the event I catch a virus, there are vitamins and well-established drugs that have had wonderful results in warding off the illness, without the risks and unknowns of this medical treatment.
5.
The establishment insists that this medical treatment is safe. They cannot possibly know this because the long-term effects are entirely unknown, and will not be known for many years. They may speculate that it is safe, but it is disingenuous for them to make such a claim that cannot possibly be known. Because they are being disingenuous, I do not trust them, and I want no part of their treatment.
6.
The drug companies have zero liability if anything goes wrong, and cannot be sued. Same for the politicians who are pushing this treatment. I will not inject myself with a new, experimental medical device when the people behind it accept no liability or responsibility if something goes wrong. I will not risk my health and my life when they refuse to risk anything.
7.
Israel's Prime Minister has openly admitted that the Israeli people are the world's laboratory for this experimental treatment. I am not interested in being a guinea pig or donating my body to science.
8.
Israel agreed to share medical data of its citizens with a foreign drug company as a fundamental part of their agreement to receive this treatment. I never consented for my personal medical data to be shared with any such entity, nor was I even asked. I will not contribute to this sleazy enterprise.
9.
The executives and board members at Pfizer are on record that they have not taken their own treatment, despite all the fanfare and assurances. They are claiming that they would consider it unfair to "cut the line". This is a preposterous excuse, and it takes an unbelievable amount of chutzpah to even say such a thing. Such a "line" is a figment of their own imagination; if they hogged a couple of injections for themselves no one would cry foul. In addition, billionaires with private jets and private islands are not known for waiting in line until hundreds of millions of peasants all over the world go first to receive anything these billionaires want for themselves.
10.
The establishment media have accepted this preposterous excuse without question or concern. Moreover, they laud Pfizer's executives for their supposed self-sacrifice in not taking their own experimental treatment until we go first. Since they consider us such fools, I do not trust them, and do not want their new treatment. They can have my place in line. I'll go to the very back of the line.
11.
Three facts that must be put together:

Bill Gates is touting these vaccines as essential to the survival of the human race.
Bill Gates believes the world has too many people and needs to be "depopulated".
Bill Gates, perhaps the richest man in the world, has also not been injected. No rush.

Uh, no. I'll pass on any medical treatments he wants me to take.

12.
The establishment has been entirely one-sided in celebrating this treatment. The politicians and media are urging people to take it as both a moral and civic duty. The benefits of the treatment are being greatly exaggerated, the risks are being ignored, and the unknowns are being brushed aside. Because they are being deceitful and manipulative, I will not gamble my personal wellbeing on their integrity.
13.
There is an intense propaganda campaign for people to take this treatment. Politicians and celebrities are taking selfies of themselves getting injected (perhaps in some cases pretending to get injected), the media is hyping this as the coolest, smartest, most happy and fun thing to do. It is the most widespread marketing campaign in history. This is not at all appropriate for any medical treatment, let alone a brand new one, and it makes me recoil.
14.
The masses are following in tow, posting pictures of themselves getting injected with a drug, feeding the mass peer pressure to do the same. There is something very alarming and sick about this, and I want no part of it. I never took drugs just because "everyone's doing it" and it's cool. I'm certainly not going to start now.

15.
Those who raise concerns about this medical treatment are being bullied, slandered, mocked, censored, ostracized, threatened, and fired from their jobs. This includes medical professionals who have science-based concerns about the drug and caregivers who have witnessed people under their charge suffering horrible reactions and death shortly after being injected. When the establishment is purging good people who risk everything simply to raise concerns about a new medical treatment — even if they don't outright oppose it — I will trust these brave people over the establishment every time. I cannot think of a single similar case in history when truth and morality turned out to be on the side of the establishment.
16.
This is the greatest medical experiment in the history of the human race.
17.
It is purposely not being portrayed as the greatest medical experiment in the history of the human race, and the fact that it is a medical experiment at all is being severely downplayed.
18.
Were they up front with the masses, very few would agree to participate in such an experiment. Manipulating the masses to participate in a medical experiment under false pretenses violates the foundations of medical ethics and democratic law. I will not allow unethical people who engage in such conduct to inject me with anything.
19.
The medical establishment is not informing people about any of this. They have become marketing agents for an experimental drug, serving huge companies and politicians who have made deals with them. This is a direct conflict with their mandate to concern themselves exclusively with the wellbeing of the people under their care. Since the medical establishment has become corrupted, and has become nothing more than a corporate and political tool, I do not trust the experimental drug they want so badly to inject me with.
20.
We are being pressured in various ways to get injected, which violates medical ethics and the foundations of democratic society. The best way to get me not to do something is to pressure me to do it.
21.
The government has sealed their protocol related to the virus and treatments for THIRTY YEARS. This is information that the public has a right to know, and the government has a responsibility to share. What are they covering up? Do they really expect me to believe that everything is kosher about all this, and that they are concerned first and foremost with my health? The last time they did this was with the Yemenite Children Affair. If you're not familiar with it, look it up. Now they're pulling the same shtick. They didn't fool me the first time, and they're definitely not fooling me now.
22.
The government can share our personal medical data with foreign corporations, but they won't share their own protocol on the matter with us? I'm out.
23.
The establishment has recruited doctors, rabbis, the media, and the masses to harangue people who don't want to get injected with a new drug. We are being called the worst sort of names. We are being told that we believe in crazy conspiracies, that we are against science, that we are selfish, that we are murderers, that we don't care about the elderly, that it's our fault that the government continues to impose draconian restrictions on the public. It's all because we don't want to get injected with an experimental treatment, no questions asked. We are even being told that we have a religious obligation to do this, and that we are grave sinners if we do not. They say that if we do not agree to get injected, we should be forced to stay inside our homes forever and be ostracized from public life.
This is horrific, disgusting, a perversion of common sense, morality, and the Torah. It makes me recoil, and only further cements my distrust of these people and my opposition to taking their experimental drug. How dare they?
24.
I know of many people who got injected, but none of them studied the science in depth, carefully weighed the potential benefits against the risks, compared this option to other alternatives, was truly informed, and decided this medical treatment was the best option for them. On the contrary, they got injected because of the hype, the propaganda, the pressure, the fear, blind trust in what "the majority of experts" supposedly believed (assuming THEY all studied everything in depth and were completely objective, which is highly dubious), blind trust in what certain influential rabbis urged them to do (ditto the above), or hysterical fear that the only option was getting injected or getting seriously ill from the virus. When I see mass hysteria and cult-like behavior surrounding a medical treatment, I will be extremely suspicious and avoid it.
25.
The drug companies have a long and glorious history of causing mass carnage with wonder drugs they thrust on unsuspecting populations, even after serious problems had already become known. Instead of pressing the pause button and halting the marketing of these drugs until these issues could be properly investigated, the drug companies did everything in their power to suppress the information and keep pushing their products. When companies and people have demonstrated such gross lack of concern for human life, I will not trust them when they hype a new wonder drug. This isn't our first rodeo.
26.
Indeed, the horror stories are already coming in at warp speed, but the politicians are not the least bit concerned, the medical establishment is brushing them aside as unrelated or negligible, the media is ignoring it, the drug companies are steaming ahead at full speed, and those who raise a red flag continue to be bullied, censored, and punished. Clearly my life and my wellbeing are not their primary concern. I will not be their next guinea pig in their laboratory. I will not risk being the next "coincidence".
27.
Although many people have died shortly after getting injected — including perfectly healthy young people — we are not allowed to imply that the injection had anything to do with it. Somehow this is anti-science and will cause more people to die. I believe that denying any possible link, abusing people who speculate that there might be a link, and demonstrating not the slightest curiosity to even explore if there might be a link is what is anti-science and could very well cause more people to die. These same people believe I am obligated to get injected as well. No freaking thanks.
28.
I am repulsed by the religious, cult-like worship of a pharmaceutical product, and will not participate in this ritual.
29.
My "healthcare" provider keeps badgering me to get injected, yet they have provided me no information on this treatment or any possible alternatives. Everything I know I learned from others outside the establishment. Informed consent has become conformed consent. I decline.
30.
I see all the lies, corruption, propaganda, manipulation, censorship, bullying, violation of medical ethics, lack of integrity in the scientific process, suppression of inconvenient adverse reactions, dismissal of legitimate concerns, hysteria, cult-like behavior, ignorance, closed-mindedness, fear, medical and political tyranny, concealment of protocols, lack of true concern for human life, lack of respect for basic human rights and freedoms, perversion of the Torah and common sense, demonization of good people, the greatest medical experiment of all time being conducted by greedy, untrustworthy, godless people, the lack of liability for those who demand I risk everything… I see all this and I have decided they can all have my place in line. I will put my trust in God. I will use the mind He blessed me with and trust my natural instincts. Which leads to the final reason which sums up why I will not get "vaccinated."
31.

The whole thing stinks.