UPDATE 11. April 2021: Ethiopia for once seems to offer a peaceful dam solution
UPDATE 09. April 2021: FascistBook in support of fascist dicatorship Ethiopia + No real intelligence - just politics and economic power games + After Germany and the EU, now also the USA lines up to shovel money to the Ethiopian dictatorship
UPDATE 08. April 2021: 'THE WEEKND' fans wonder why he just throws money away to the UN instead of getting engaged in direct humanitarian work. - Tigray crisis: The Weeknd donates $1m to Ethiopians in conflict
UPDATE 25. March 2021: ​​​​​Ethiopia PM admits Eritrean soldiers entered Tigray region, says Eritrea has agreed to withdraw forces from Tigray region
UPDATE 19. March 2021: While all decent states reprimand Ethiopia for warcrimes, the EU engages in big deals
UPDATE - 11. March 2010: 'People are starving': New exodus in Ethiopia's Tigray area
UPDATE 02. February 2021: Tigray opposition parties assert 50,000-plus civilian deaths + Ethiopia: UN says 20,000 refugees missing in Tigray
UPDATE 01. February 2021: The plight of Eritrean refugees in Tigray camps
UPDATE 31. January 2021: Removed leader of Ethiopia's Tigray promises 'resistance'
UPDATE 22. January 2021: UN warns of 'serious' rape charges in Ethiopia's Tigray
UPDATE 14. January 2021: Who Killed Ethiopia's Respected Former Foreign Minister? - In Memoriam: Seyoum Mesfin, Ethiopian Peacemaker and Patriot
Shame on the BBC and other Western outlets who are silent in the face of huge crimes.
Refugees having fled for their lives from Abiy Ahmed's warcrimes and atrocities to Sudan © AP Photo / Marwan Ali
By Finian Cunningham - 28. December 2020
A feel-good headline on the BBC this week reads: "How a pariah and Nobel laureate became friends". It was referring to the leaders of Eritrea and Ethiopia, as if their "friendship" was some kind of benign development to be lauded.
The feature article opens with: "In a sign of the changing political fortunes of a man who was once a pariah, Eritrea's President Isaias Afwerki has proven to be a staunch ally of Ethiopia's Nobel Peace Prize winner and Prime Minister Abiy Ahmed, giving his troops much-needed support to fight the Tigray People's Liberation Front (TPLF) in Tigray."
The state-owned British broadcaster quotes the Ethiopian premier thanking Eritrea which "had fed, clothed and armed retreating Ethiopian soldiers when the TPLF first attacked them and seized their bases in Tigray, an Ethiopian region which borders Eritrea."
The BBC went on to note: "This was a significant acknowledgement by Mr Abiy, though he did not go as far as to admit claims that Mr Isaias had also sent troops to help defeat the TPLF, a long-time foe of the Eritrean leader who has been in power since 1993."
This is how the BBC and other Western media outlets are spinning cover for what is really going on in Ethiopia's northern Tigray region. There is an ongoing aggression against the Tigray people by the Abiy regime which is referred to as the Ethiopian "government". Abiy was never elected. He took power in early 2018 as part of a backroom political deal. [N.B.: ... and postponed the elections set for October 2019 - invocing first a state of emergency and then the medical-military law based on the Corona crisis.]
In his effort to crush the political opposition represented by the Tigray people and their political leadership, Abiy has enlisted the full military support of Eritrea to invade Tigray along with Abiy regime forces.
An Ethiopian refugee, who fled Ethiopia's Tigray conflict, carries collected branches at Um Raquba refugee camp in Gedaref, eastern Sudan, on December 7, 2020. © AFP 2020 / YASUYOSHI CHIBA
Eritrean military and paramilitaries are deep inside Tigray territory, killing civilians and looting the towns and villages with the collusion of the Ethiopian so-called Nobel laureate.
Abiy's claims of launching a "law and order operation" to round up the Tigray "junta" which began on November is a sick joke. What was supposed to be a quick operation in the national interest has escalated into an ongoing guerrilla war which has seen millions of impoverished people turned into refugees internally and externally, with up to 45,000 fleeing to neighboring Sudan.
Sources in Tigray have confirmed the presence of Eritrean brigades – some even wearing Ethiopian national military garb – working alongside Abiy's regime forces. Towns and villages have been shelled from Eritrea and hit by air strikes carried out by the Abiy regime.
UN human rights commissioner Michele Bachelet has condemned these massive violations, although she added that Tigray rebels have also perpetrated war crimes. The rebels have hit the Eritrean capital, Asmara, with rockets claiming retaliation.
The US State Department also stated that it had evidence of Eritrean forces deployed in Tigray region.
In the above BBC report it did refer to "unconfirmed claims" of atrocities carried out by Abiy regime and Eritrean forces.
Nevertheless, the main thrust of the BBC's coverage has been to give more credibility to the version put out by the "Nobel-peace-prize-winning Prime Minister" Abiy Ahmed.
The reality is, however, that so-called laureate has ganged up with the Eritrean dictator to launch a war on the Tigray people. That's what is really going on, yet the BBC would have us believe that these two de facto war criminals are "staunch allies" who have become unlikely "friends" as if it is a rosy story of political romance.
Since Abiy ascended to the premiership (and has postponed elections promised as part of his interim office), he has been waging a low-intensity war of aggression against the Tigray region. Electricity and water supply cuts over the past two years have worn the people down. Then he attempted a daring covert military operation on November 3 in collusion with Eritrean commandoes in the Tigray capital of Mekelle, according to local sources. The Tigray forces thwarted that offensive, which Abiy then fabricated as an unprovoked attack on the national army by "terrorists".
The BBC and other Western media outlets have been dutifully spinning events in Ethiopia. Two years of hostility towards Tigray by the unelected Abiy regime has been spun as "reforms" by a "pro-democracy" figure. Now when this same figure is waging a genocide aided and abetted by a foreign army from Eritrea, the BBC is endeavoring to tell us this is a sign of "friendship".
Shame on the BBC and other Western outlets who are silent in the face of huge crimes. Evidently, their condemnations only happen when it is politically expedient to undermine a nation which is an official enemy of Western governments.
Author:
Finian Cunningham has written extensively on international affairs, with articles published in several languages. He is a Master's graduate in Agricultural Chemistry and worked as a scientific editor for the Royal Society of Chemistry, Cambridge, England, before pursuing a career in newspaper journalism. He is also a musician and songwriter. For nearly 20 years, he worked as an editor and writer in major news media organisations, including The Mirror, Irish Times and Independent. - "Source" -Finian Cunningham has written extensively on international affairs, with articles published in several languages. He is a Master's graduate in Agricultural Chemistry and worked as a scientific editor for the Royal Society of Chemistry, Cambridge, England, before pursuing a career in newspaper journalism. He is also a musician and songwriter. For nearly 20 years, he worked as an editor and writer in major news media organisations, including The Mirror, Irish Times and Independent. - "Source" -
READ ALSO:
===
UPDATES:
FascistBook in support of fascist dicatorship Ethiopia
Mark Zuckerberg's platform is reportedly paid for enabling the Ethiopian governance to spy on their citizens and especially dissidents.
Patriot Africa News @Patriot_Africa_News
Tech giant Facebook says that it has removed more than a dozen accounts and pages on Facebook and Instagram from Egypt that targeted
Ethiopia,
Sudan and
Turkey. "We removed 17 Facebook accounts, six Pages, and three Instagram accounts from Egypt that targeted Ethiopia, Sudan, and Turkey. We found this network as part of our internal investigation and linked it to Bee Interactive, a marketing firm in Egypt," the social media company said. It said the pages had violated Facebook policy against foreign interference and had been involved in "coordinated inauthentic behavior". The accounts have shared stories in the Amharic language which is widely spoken in Ethiopia. The content includes criticism of the massive dam that Ethiopia has built on a tributary of the River Nile as well as Turkey's foreign policy while sharing "positive commentary about Egypt," Facebook said. The pages have combined followers of more than 300,000 and appear to have some engagement from Ethiopia.


Le géant de la technologie Facebook affirme avoir supprimé plus d'une douzaine de comptes et de pages sur Facebook et Instagram de l'Égypte qui ciblaient l'Éthiopie,
le Soudan et
la Turquie. «Nous avons supprimé 17 comptes Facebook, six pages et trois comptes Instagram d'Égypte qui ciblaient l'Éthiopie, le Soudan et la Turquie. Nous avons trouvé ce réseau dans le cadre de notre enquête interne et l'avons lié à Bee Interactive, une société de marketing en Égypte », a déclaré la société de médias sociaux. Il a déclaré que les pages avaient violé la politique de Facebook contre l'ingérence étrangère et avaient été impliquées dans un «comportement coordonné inauthentique». Les récits ont partagé des histoires dans la langue amharique qui est largement parlée en Éthiopie. Le contenu comprend la critique du barrage massif que l'Éthiopie a construit sur un affluent du Nil ainsi que la politique étrangère de la Turquie tout en partageant «des commentaires positifs sur l'Égypte», a déclaré Facebook. Les pages regroupent plus de 300 000 adeptes et semblent avoir un certain engagement de l'Éthiopie.
===
Ethiopia for once seems to offer a peaceful dam solution
Howver, analysts state that the gesture comes a bit late and only after international pressure on Ethiopia to act rationally.
Egypt demonstrated recently what it means for world trade, if the Suez Canal is blocked.
Patriot Africa News @Patriot_Africa_News
The Minister of Water, Irrigation, and Energy of
Ethiopia, Dr. Seleshi Bekele formally invited the Republic of
Sudan and the Arab Republic of
Egypt to nominate dam operators to exchange data before the second filling of the GERD commences in the upcoming rainy seasons in Ethiopia. In the letters addressed to Minister of Water Affairs of Sudan and Egypt, the Minister of Water Affairs of Ethiopia invited the two countries to nominate focal persons/ dam operators to exchange data among the three countries with regards to the second-year filling which will take place in July and August 2021. According to the letters, the invitation was based on the consensus that was reached on the filling schedule formulated by the National Independent Scientific Research Group (NISRG) of the three countries along with the period of the filling in July and August and it may continue in September depending on the hydrology.


Le ministre de l'Eau, de l'Irrigation et de l'Énergie de
Éthiopie, le Dr Seleshi Bekele a officiellement invité la République du Soudan et la République arabe d'Égypte à désigner des opérateurs de barrage pour échanger des données avant le début du deuxième remplissage du DIRD au cours des prochaines saisons des pluies. en Ethiopie. Dans les lettres adressées au Ministre des affaires de l'eau du
Soudan et de l'Égypte, le Ministre des affaires de l'eau de l'Éthiopie a invité les deux pays à désigner des personnes focales.
===
No real intelligence - just politics and economic power games
Patriot Africa News@Patriot_Africa_News
Uganda announced, on Wednesday evening, that it has signed a military intelligence-sharing agreement with Egypt, against the backdrop of rising tensions between Egypt and Ethiopia over the latter's massive dam on the Blue Nile, according to a statement by the Uganda People's Defence Forces (UPDF).The agreement was signed by UPDF's Chieftaincy of Military Intelligence (CMI) and the Egyptian Intelligence Department. "The fact that Uganda and Egypt share the Nile, cooperation between the two countries is inevitable because what affects Ugandans will in one way or another affect Egypt," Maj. Gen. Sameh Saber El-Degwi, a top Egyptian intelligence official who headed Cairo's delegation to Kampala, was quoted in the UPDF statement as saying.

L'Ouganda a annoncé, mercredi soir, avoir signé un accord de partage de renseignements militaires avec l'Égypte, dans un contexte de tensions croissantes entre l'Égypte et l'Éthiopie au sujet de l'énorme barrage de cette dernière sur le Nil bleu, selon un communiqué du peuple ougandais. Forces de défense (UPDF): l'accord a été signé par la chefferie du renseignement militaire (CMI) de l'UPDF et le département égyptien des renseignements. «Le fait que l'Ouganda et l'Égypte partagent le Nil, la coopération entre les deux pays est inévitable car ce qui affecte les Ougandais affectera d'une manière ou d'une autre l'Égypte», a déclaré le major général Sameh Saber El-Degwi, un haut responsable du renseignement égyptien qui dirigeait le Caire. délégation à Kampala, a été citée dans la déclaration de l'UPDF.
===
After Germany and the EU, now also the USA lines up to shovel money to the Ethiopian dictatorship
While the PR sounds nice, USAID is noways no longer known for ensuring that the 'aid' does really reach needy civilians. Often such support just feeds militias and governmental troops.
Patriot Africa News @Patriot_Africa_News
The United States is providing an additional 152 million US Dollars in humanitarian assistance in response to the Tigray crisis in
Ethiopia, enabling USAID to reach 3 million people with food and non-food item supports. Aid package includes food and safe drinking water, medical support, shelter, and protection and psycho-social support. "The American people are again standing shoulder-to-shoulder with our Ethiopian brothers and sisters to alleviate the needs and suffering of millions of people." USAID Ethiopia Mission Director Sean Jones, said.

Les États-Unis fournissent une aide humanitaire supplémentaire de 152 millions de dollars américains en réponse à la crise du Tigray en
Éthiopie, permettant à l'USAID d'atteindre 3 millions de personnes avec des soutiens alimentaires et non alimentaires. Le programme d'aide comprend de la nourriture et de l'eau potable, un soutien médical, un abri, une protection et un soutien psychosocial. «Le peuple américain se tient à nouveau côte à côte avec nos frères et sœurs éthiopiens pour soulager les besoins et les souffrances de millions de personnes.» Le directeur de la mission de l'USAID en Ethiopie, Sean Jones, a déclaré.
===
'THE WEEKND' fans wonder why he just throws money away to the UN instead of getting engaged in direct humanitarian work - or is it just a tax-game?
Tigray crisis: The Weeknd donates $1m to Ethiopians in conflict
R&B singer The Weeknd has promised to donate $1m (£700,000) to Ethiopians caught up in the conflict in Tigray.
The star, born Abel Tesfaye in Canada, is the son of Ethiopian immigrants.
"My heart breaks for my people of Ethiopia as innocent civilians ranging from small children to the elderly are being senselessly murdered," he said.
Fighting between the Ethiopian army and the Tigray People's Liberation Front (TPLF) began in November and has left millions of people homeless.
The fighting started when Prime Minister Abiy Ahmed sent forces to the Tigray region, after accusing the TPLF of attacking a government military base.
The TPLF had been the ruling party in the area, but fell out with Mr Abiy over his efforts to increase the central government's power.
Last week, a BBC Africa Eye investigation uncovered evidence suggesting the Ethiopian military had carried out a massacre in Tigray, killing at least 15 men.
So far more than two million people have left their homes to get away from the fighting, according to Tigray's interim administration.
The government estimates that 4.5 million people need emergency food assistance, according to the UN's World Food Programme (WFP).
The WFP adds in a statement that the government has asked WFP to provide food for 1.4 million people.
The Weeknd's donation to WFP "will provide lifesaving food to those affected by conflict in Ethiopia's northern Tigray Region", WFP adds.
The Weeknd said on Twitter and Instagram that his $1m donation would go to the UN's World Food Programme to pay for two million meals.
https://www.instagram.com/p/CNQBL4ihjUU/
The singer has become one of the biggest chart stars of the last decade with hits including Blinding Lights.
He has spoken before about his Ethiopian heritage, telling Rolling Stone magazine in 2015 that his grandmother would take him to services at their Ethiopian Orthodox church in Canada, that his first language was Amharic, and that his vocal style was influenced by Ethiopian singer Aster Aweke.
More about the conflict in Tigray:
The conflict in Tigray spread over international borders as forces from neighbouring Eritrea joined Ethiopian government troops in fighting the TPLF.
Eritrean troops are reported to have started to withdraw after the G7 group of industrialised nations called for them to do so on 2 April.
The G7 group also said it is "strongly concerned" by reports of human rights abuses in Tigray. These include mass killings of civilians, sexual violence, looting and the abuse of refugees.
Ethiopia's prime minister has previously denied that any civilians have been killed.
Tigrayan forces, meanwhile, have also faced accusations of human rights abuses.
===
​​​​​Ethiopia PM admits Eritrean soldiers entered Tigray region
Abiy Ahmed acknowledges 'atrocities committed' during the conflict in the northern region amid concerns over the humanitarian crisis.
By AJ - 25. March 2021
Heads of nine UN agencies and other officials demanded a halt to attacks against civilians in Tigray, 'including rape and other horrific forms of sexual violence' [File: Phill Magakoe/AFP]
Ethiopian Prime Minister Abiy Ahmed has admitted for the first time that troops from neighbouring Eritrea entered the northern region of Tigray during the conflict that broke out five months ago, suggesting they may have been involved in abuses against civilians.
The admission on Tuesday comes after months of denials from Ethiopia and Eritrea, even as credible accusations from rights groups and residents mounted that Eritrean soldiers have carried out massacres in Tigray following the start of the Ethiopian government's offensive against the Tigray People's Liberation Front (TPLF), then the region's governing party.
In a wide-ranging speech to parliament, Abiy said on Tuesday Eritrean troops had crossed the border and entered the region because they were concerned they would be attacked by the longtime foe – the TPLF, which dominated Ethiopian politics for decades until Abiy came to power in 2018, had presided over a brutal 1998-2000 war with Eritrea.
Abiy said Eritreans had promised to leave when Ethiopia's military was able to control the border.
He added that the "Eritrean people and government did a lasting favour to our soldiers", during the conflict, without giving more details.
"However, after the Eritrean army crossed the border and was operating in Ethiopia, any damage it did to our people was unacceptable," he said.
"We don't accept it because it is the Eritrean army, and we would not accept it if it were our soldiers. The military campaign was against our clearly targeted enemies, not against the people. We have discussed this four or five times with the Eritrean government."
'War narrative'
The comments also marked the first time Abiy appeared to acknowledge that serious crimes have taken place in Tigray, home to six million people.
"Reports indicate that atrocities have been committed in Tigray region," Abiy said.
War is "a nasty thing", he added, speaking the local Amharic language. "We know the destruction this war has caused."
After months of tension, fighting erupted in Tigray after forces loyal to the TPLF – whose leaders challenged Abiy's legitimacy after the postponement of elections last year – attacked army bases across the region overnight and in the early hours of November 4.
The attacks initially overwhelmed the federal military, which later launched a counteroffensive alongside Eritrean soldiers and forces from the neighbouring region of Amhara. The federal army is now hunting the fugitive TPLF leadership.
Abiy said soldiers who raped women or committed other war crimes will be held responsible, even though he cited "propaganda of exaggeration".
He spoke as concerns continue to grow over the humanitarian situation in the embattled region.
Abiy accused the TPLF's leaders of drumming "a war narrative" while the area faced challenges such as a destructive invasion of locusts and the COVID-19 pandemic.
"This was misplaced and untimely arrogance," he said.
The Ethiopian prime minister, who won the Nobel Peace Prize in 2019 for his efforts to make peace with Eritrea, faces pressure to end the conflict in Tigray as well as to institute an international investigation into alleged war crimes.
The government's critics say a continuing federal inquiry is not enough because the government cannot effectively investigate itself.
On Monday, the heads of nine UN agencies and other officials demanded a halt to attacks against civilians in Tigray, "including rape and other horrific forms of sexual violence".
In a joint statement, the UN agencies, the UN special investigator on the human rights of internally displaced people, and two umbrella organisations representing NGOs also called on all parties in Tigray to explicitly condemn all sexual violence and ensure their forces "respect and protect civilian populations, particularly women and children, from all human rights abuses".
UN deputy spokesman Farhan Haq said on Monday the conflict continues to drive massive displacement, with tens of thousands of people arriving into Shire, Axum and Adwa, most fleeing fighting in western Tigray in the last few weeks.
There are also reports of people uprooted by violence in the northwest and central areas, he said.
Earlier this month, Human Rights Watch reported that Eritrean forces shot dead hundreds of children and civilians in a November massacre in Tigray.
An Amnesty International investigation into the same events detailed how Eritrean troops "went on a rampage and systematically killed hundreds of civilians in cold blood".
UN Secretary-General Antonio Guterres joined calls for the Eritrean troops to leave Tigray while the UN human rights chief, Michelle Bachelet, urged an investigation into the situation.
© Al Jazeera 2021
===
While all decent states reprimand Ethiopia for warcrimes, the EU engages in big deals
Patriot Africa News @Patriot_Africa_News
Ethiopia and the European Union
(EU) have held consultations on their future cooperation for the next 2021-2027 period. The discussion focused on incorporating Ethiopia's 10-year development plan and EU's development policy in a draft document prepared regarding their future cooperation. Ethiopia is the largest aid recipient from EU in Africa under the post-Cotonou Agreement.

L'Éthiopie et l'Union européenne
(UE) ont tenu des consultations sur leur future coopération pour la prochaine période 2021-2027. La discussion a porté sur l'incorporation du plan de développement décennal de l'Éthiopie et de la politique de développement de l'UE dans un projet de document préparé concernant leur future coopération. L'Éthiopie est le plus grand bénéficiaire de l'aide de l'UE en Afrique dans le cadre de l'accord post-Cotonou.
===
'People are starving': New exodus in Ethiopia's Tigray area
Skinny, hungry, fleeing threats of violence, thousands of people who have been hiding in rural areas of Ethiopia's Tigray region have begun arriving in a community that can barely support them — and more are said to be on the way
By APnw - 11. March 2021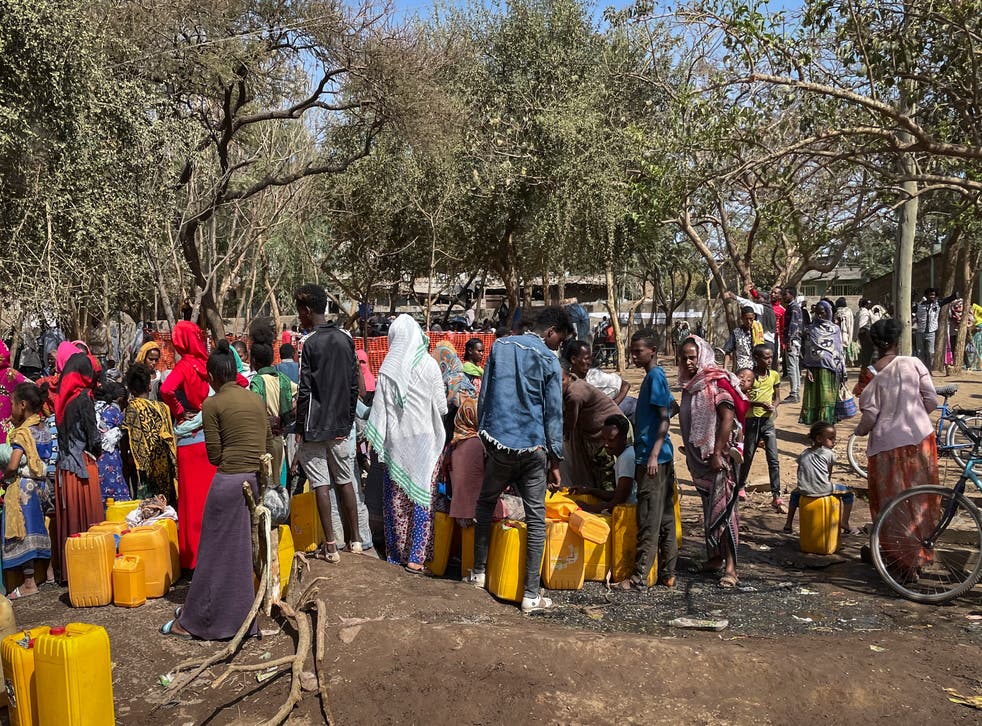 Skinny, hungry, fleeing threats of violence, thousands of people who have been hiding in rural areas of Ethiopia's Tigray region have begun arriving in a community that can barely support them — and more are said to be on the way.
For months, one great unknown in the Tigray conflict has been the fate of hundreds of thousands of people in vast rural areas beyond the reach of outside aid. With the region largely cut off from the world since November, fears of violence and starvation have grown.
Now those people are starting to arrive, many by foot, in the community of Shire aid workers who are there and who have visited say. The Associated Press obtained permission to use rare photos largely from the International Rescue Committee of the dire conditions facing these displaced people. Photos from the region have been hard to come by, with electricity cut for much of the conflict and ethnic Tigrayans telling the AP that being caught with photos endangered their lives.
Some 5,000 people had arrived between last Wednesday and Sunday, and humanitarian teams are being sent to find those said to be on the way, Oliver Behn, general director for Doctors Without Borders-Holland, told the AP.
"They are coming in very bad conditions … very exhausted, dehydrated, skinny," Behn said after a visit. "It's becoming a desperate situation very quickly."
The people arriving bring an idea of the deprivation gnawing at the Tigray countryside. Aid workers say some describe surviving by eating leaves — or the seeds they had put aside for planting, in a sign of even worse hunger to come.
It is not clear exactly what new threats of violence caused these thousands of people to flee western Tigray, where U.S. Secretary of State Antony Blinken on Wednesday said "acts of ethnic cleansing" have been seen. Some people from Ethiopia's neighboring Amhara region are accused of occupying communities. In speaking with humanitarian workers, the ethnic Tigrayans described hiding in the hills for weeks after the fighting erupted between Ethiopian and allied forces and those of the Tigray regional leaders who once dominated the country's government but were sidelined under Prime Minister Abiy Ahmed.
Shire is a base of operations for humanitarian efforts that workers say are not enough to meet the growing needs. Some 16,000 displaced people already occupy three crowded camps set up in schools, including unfinished buildings with perilous drop-offs and empty elevator shafts. Some people sleep 40 or 50 to a room, possessing little but mats and clothes.
There is no space in these camps for the thousands of new arrivals. Hundreds are now sleeping outdoors.
Communities across Tigray have been in little condition to support even their own residents. The conflict erupted on the brink of harvest, and after months of a locust outbreak. Banks were closed, and stores were looted. Even now, as Ethiopia's government asserts that it has reached over 4 million people with food aid, it is not enough.
"People are starving," Madiha Raza with the International Rescue Committee told the AP after visiting Shire recently. "There is a severe issue of access to food. One interviewee told me she survived on just leaves for a month while she hid in a forest. There have been some food distributions at the internally displaced people centers but not nearly sufficient amounts."
The United States estimates that 4 million people, or two-thirds of Tigray's population, urgently need food aid. Even as access slowly improves to the region, worries grow.
"What we know is extremely concerning, but what we don't know might be even worse," said Manuel Fontaine, director of emergency programs with UNICEF.
The newly arriving people from rural areas are a constant reminder of how grim life might be for those still hiding from the conflict.
"Our teams have seen people arriving in main towns, (internally displaced people's) sites that are in extremely bad shape," Dominik Stillhart, director of operations with the International Committee of the Red Cross, told reporters late last month.
Some Tigray communities remain out of reach. Only in recent weeks have Doctors Without Borders workers begun arriving in places that had been inaccessible.
Health centers have been looted and few health workers remain, Behn said, meaning that people have had little or no help for childbirths and other emergencies or even basic care.
"It's very clear these communities are in significant need," he said. "Coping mechanisms after four months are really at the edge."
===
Ethiopia: UN says 20,000 refugees missing in Tigray
Two camps destroyed during fighting in November left thousands of mostly Eritrean refugees vulnerable, caught in conflict, says UN.
By AJ - 02. February 2021
As many as 20,000 refugees are missing after two camps in Ethiopia's war-torn Tigray region were destroyed, the United Nations said.
The refugees, most of whom are from neighbouring Eritrea, fled from the Hitsats and Shimelba shelters that were destroyed in fighting that erupted in Tigray in November.
In January, satellite images showed the destruction of the two refugee camps sheltering thousands of Eritreans in the region.
About 3,000 people made it to another camp in Mai-Aini, which the United Nations has access to, according to Filippo Grandi, the UN's High Commissioner for Refugees.
Many refugees "were caught in crossfire, abducted and forced to return to Eritrea under duress by Eritrean forces", Grandi said, citing testimony presented to him at a visit to the camp while on a four-day trip for meetings with officials in Ethiopia.
Hundreds of thousands displaced
Ethiopian federal troops entered Tigray in response to an alleged attack on November 4 and toppled a dissident ruling party that set itself in opposition to Prime Minister Abiy Ahmed since he came to power in April 2018.
Though the government announced victory on November 28, the region's leader has vowed to continue with the conflict.
Since fighting began, thousands of people have died and hundreds of thousands have been forced from their homes. There are shortages of food, water and medicine across the region of more than five million people.
Only little relief has reached some towns from which the people already have fled.
Grandi called on the Ethiopian government to do more to protect civilians in the Tigray region from the consequences of the conflict.
"Whilst it is not in my place to make [a] more political judgement, I have a responsibility to tell the government to help minimise and eliminate the impact on civilians of this situation," Grandi said.
The situation in Tigray is extremely grave and urgent support is necessary to prevent the situation worsening, Grandi said. "Our main priority is to gain access to deliver aid and protection."
A Mekelle-based regional caretaker administration has claimed life is returning to normal and Abiy's government says it is sending aid.
Yet aid workers and some officials in Tigray have warned of a humanitarian disaster marked by widespread starvation.
Reports from all sides are difficult to verify since the government has largely sealed off Tigray from media and foreign aid workers. Telecommunications in many areas are not working.
'Very grave'
Relief agencies including the International Committee of the Red Cross have said they are unable to access many areas to deliver humanitarian aid.
Grandi said the humanitarian situation in Tigray was "very grave, very urgent" and that "without further action, it will get worse", adding the biggest barriers to getting aid to those in need are the security situation and permits from the authorities.
According to the UN report, an estimated 100,000 people are displaced in Tigray and some 60,000 people have taken refuge in Sudan.
Some countries have called for an investigation into reports of looting, sexual violence, and assaults in refugee camps as experts warn the window of opportunity to gather evidence is quickly closing.
===
Tigray opposition parties assert 50,000-plus civilian deaths
Civilians are still fleeing Tigray across the border-river into Sudan.
By AP - 02. February 2021
NAIROBI, Kenya — A trio of opposition parties in Ethiopia's embattled Tigray region estimates that more than 50,000 civilians have been killed in the three-month conflict, and they urge the international community to intervene before a "humanitarian disaster of biblical proportion will become a gruesome reality."
The statement posted Tuesday does not say where the estimate comes from, and the parties could not immediately be reached. Communication links remain challenging in much of the region, making it difficult to verify claims by any side.
No official death toll has emerged since the fighting began in early November between Ethiopian and allied forces and those of the Tigray region who dominated the government for almost three decades before Prime Minister Abiy Ahmed took office in 2018. Each side now views the other as illegitimate.
The opposition parties say the international community should ensure the immediate withdrawal of fighters including soldiers from neighboring Eritrea, who witnesses say are supporting Ethiopian forces. The parties also urge an independent investigation into the conflict, dialogue, more humanitarian aid and media access to "cover what is happening."
Civilians throughout Tigray, a region of some 6 million people, have been dying from targeted attacks, crossfire, disease and lack of resources, according to witnesses. Even some of the new administrators appointed by Abiy's government have warned that people are dying of starvation as vast areas beyond main roads and towns still cannot be reached.
The opposition parties assert that the hunger is man-made as cattle have been killed and raided, crops burned and homes looted and destroyed. The statement was signed by the Tigray Independence Party, the National Congress of Great Tigray and Salsay Weyane Tigray.
Their statement accuses Ethiopia's government of "using hunger as a weapon to subdue Tigray since it has been obstructing international efforts for humanitarian assistance." Ethiopia's government, however, has asserted that aid is being delivered and nearly 1.5 million people have been reached.
The United Nations and others have pressed for more humanitarian access and a solution to a complicated system of clearances with a variety of authorities, including ones on the ground.
"In 40 years (as) a humanitarian, I've rarely seen an aid response so impeded," the head of the Norwegian Refugee Council, Jan Egeland, tweeted on Monday.
U.N. refugee chief Filippo Grandi after a visit to Tigray told reporters on Monday that the situation is "extremely grave." He said his team had heard a "very strong appeal" from appointed authorities in Tigray and Ethiopian ministries for more international help, and he pointed out that the U.N. works in "northern Syria, in Yemen, in areas of high insecurity."
The Tigray region hosted 96,000 refugees from Eritrea before the fighting, and Grandi said he had spoken to some who were caught in the crossfire and then resorted to "eating leaves" after being cut off from support for several weeks. Others were forcibly returned to Eritrea by Eritrean forces, he said. It was not clear how many.
Two of the refugees' four camps remain inaccessible, and "most likely there is no refugee presence here anymore," he said. Citing satellite imagery, the U.K.-based DX Open Network nonprofit this week reported further destruction at the Hitsats and Shimelba camps in recent weeks by unnamed armed groups, with humanitarian facilities among those targeted.
Up to 20,000 of the refugees have been "dispersed" into areas where humanitarian workers don't have access, Grandi said.
The U.N. refugee chief also called for an independent, transparent investigation into alleged abuses. "The situation is very complex," he said. "There has been a lot of crossfire, a lot of violations on all sides," including Tigray-allied fighters.
Pressure continued Tuesday as Germany said Chancellor Angela Merkel in a phone call with Abiy "underscored the significance of a peaceful solution to the conflict in the Tigray region and of humanitarian supplies to the people affected." Merkel added that "humanitarian aid organizations and media must be granted free access."
U.N. Secretary-General Antonio Guterres underlined the need for "urgent steps to alleviate the humanitarian situation and extend the necessary protections to those at risk," U.N. spokesman Stephane Dujarric said.
Guterres welcomed Ethiopia's "positive engagement" during recent visits by Grandi, U.N. security and safety chief Gilles Michaud and World Food Program Executive Director David Beasley, Dujarric said. They were undertaken to spur "sustained, impartial and unimpeded humanitarian access" to Tigray and to refugees and internally displaced people, he said.
—-
Associated Press writer Geir Moulson in Berlin contributed to this report.
===
The plight of Eritrean refugees in Tigray camps
By Robbie COREY-BOULET - 01. February 2021
They have survived gun battles, attempted abductions, attacks by angry militiamen and days-long treks to safety with nothing to eat but moringa leaves.
Yet Eritrean refugees in Ethiopia fear their suffering may not be over, as Prime Minister Abiy Ahmed strains to end a brutal conflict in the northern region of Tigray that has rendered them uniquely vulnerable.
Nearly 100,000 refugees from Eritrea, an oppressive, authoritarian nation bordering Ethiopia to the north, were registered in four camps in Tigray when fighting erupted in November between Abiy's government and the regional ruling party, the Tigray People's Liberation Front (TPLF).
Two of those camps, Hitsats and Shimelba, were caught up in hostilities and remain inaccessible to the United Nations refugee agency and its Ethiopian counterpart, the Agency for Refugee and Returnee Affairs (ARRA).
The information vacuum has spurred dire speculation over the refugees' fate.
The UN has sounded the alarm over reported targeted killings and abductions by Eritrean soldiers, whose role in the conflict is widely documented but officially denied by Addis Ababa and Asmara.
The US State Department last week cited "credible reports" of looting and sexual violence in the camps.
On his first trip to Ethiopia since the conflict began, UN refugees chief Filippo Grandi over the weekend visited Mai Aini, one of two camps in southern Tigray where the UN has regained access.
The camp is now home to hundreds of refugees from Hitsats, some of whom told AFP of the horrors they left behind.
"Most of the people, if you search this camp, they'll start crying when they talk about what happened," said Girmay, who like other refugees insisted on using only one name, fearing reprisals.
"Our friends could be alive or dead. We don't know."
- 'They came and killed'-
The TPLF dominated Ethiopian politics for almost three decades -- it was in power when Ethiopia and Eritrea fought a border war that killed tens of thousands between 1998 and 2000 and led to a two-decade stalemate.
After taking office in 2018, Abiy initiated a surprise rapprochement with Eritrean President Isaias Afwerki, a move that won him the Nobel Peace Prize the following year.
Yet Isaias and the TPLF -- whose region borders Eritrea -- remain bitter enemies, heightening the risks for Eritrean refugees caught up in the conflict.
Once fighting reached Hitsats in late November, pro-TPLF militiamen targeted refugees in reprisal killings after suffering battlefield setbacks against Eritrean troops, several refugees told AFP.
On one morning the militiamen shot dead nine young Eritrean men outside a church, they said.
Pro-TPLF forces based themselves out of Hitsats for weeks, forbidding hungry residents from going out in search of food and shooting dead several who tried anyway.
"At first we couldn't believe it because they speak the same language as us," Girmay said of the pro-TPLF forces.
"Before we are friends... Suddenly they came and killed."
Eritrean soldiers also committed abuses, the refugees said, arresting dozens of people, likely more, and whisking them to an unknown destination.
"The Eritrean soldiers caught some people and started asking them questions. I've counted 26 or 27," one refugee said.
"The next day they took them somewhere else. We don't know where they are."
Many refugees fled Eritrea to avoid its notorious system of compulsory national service, which inspires descriptions of the nation as an "open-air prison", and among their greatest fears is to be forced back.
Ethiopia's government is investigating abuses and will try to account for all of Hitsats' pre-conflict population, which it estimates at around 11,000, said Tesfahun Gobezay, ARRA's executive director.
"With regard to Eritrean soldiers taking Eritrean refugees, we don't have any solid evidence yet," Tesfahun told reporters.
-'How can I feel safe?'-
Eritrean forces assumed control of Hitsats in early January and forced those remaining in the camp to evacuate, refugees said.
"They threatened to kill us and people were afraid," said one refugee now in Addis Ababa, who asked that his name not be used.
Roughly 3,000 refugees from Hitsats and the other inaccessible northern camp, Shimelba, have since reached the two camps in southern Tigray, many travelling by foot with no water and only leaves for food.
In Mai Aini some new arrivals complained of poor access to clean water and of not having a place to sleep.
But their biggest concern, shared by some longtime residents, was for their security, with several worrying that pro-TPLF militias could attack the camp despite an extensive federal military presence nearby.
"How can I feel safe here?" said Natnael, who has lived in Mai Aini since he was a boy. "There are many militias around the camp."
ARRA's Tesfahun said progress had been made in re-establishing basic services in the southern camps.
He also said the camps were safe, though he added that "security is more of a feeling than reality, so they may feel that they are still insecure even if the reality shows otherwise."
-'Systematically targeted'-
It remains to be seen what has become of the two camps in northern Tigray that are still out of contact.
Satellite imagery shows widespread damage to both, suggesting a campaign to destroy them, the British-based investigations firm DX Open Network said.
"There are clear and consistent patterns across both camps over a two-month period demonstrating that these refugee camps were systematically targeted despite their protected humanitarian status," it said in a statement.
Well before the conflict, Abiy's government made no secret of its goal to get rid of the northern camps and relocate the refugees.
Tesfahun said the plan had been "sabotaged" by the TPLF, but that it was now "resuming."
===
Removed leader of Ethiopia's Tigray promises 'resistance'
In unverified recording attributed to Debretsion Gebremichael, TPLF leader calls on supporters to 'organise and fight' against federal gov't.
By AlJ - 31. January 2021
Debretsion Gebremichael has remained on the run for months [File: Tiksa Negeri/Reuters] A Tigrayan media outlet has released an audio statement of what it said is Debretsion Gebremichael, the removed leader of Ethiopia's conflict-hit region, in which he issues a fresh call to arms.
The authenticity of the recording attributed to Debretsion could not be independently verified.
The statement, which would be his first public statement in nearly two months, was aired on Facebook on Saturday via the United States-based Tigrai Media House, a media outlet affiliated with the Tigray People's Liberation Front (TPLF).
In November, Ethiopian Prime Minister Abiy Ahmed ordered military operations targeting leaders of the TPLF, the regional governing party, a move he said came in response to TPLF-orchestrated attacks on federal army camps.
Abiy, winner of the 2019 Nobel Peace Prize, declared victory in late November when federal forces took the regional capital, Mekelle, but reports of low-level fighting have continued and TPLF leader Debretsion has remained on the run.
"They [the federal government] have temporary military dominance," said the recording, alleging abuses such as rape and looting, reports of which have also been highlighted by the United Nations.
"We are engaged in extended resistance."
In the audio, Debretsion purportedly said: "The cities and rural areas of Tigray are being bombarded day and night by heavy artilleries.
"I call upon you, wherever you are … to organise and fight and to strive to make all who have reached fighting age take up the fight, and through this to shorten the lifespan of the enemy."
It was not clear when or where the recording was made.
But Kjetil Tronvoll, an expert on the TPLF with contacts deep within the party, said he believed the recording was genuine.
"Though I have not spoken to [Debretsion] personally, he has spoken to other contacts of mine in recent days," Tronvoll, of Bjorknes University College in Norway, told the AFP news agency.
Asked to comment, Billene Seyoum, spokeswoman for Abiy, said: I "cannot to speak to the delusions of a criminal clique's Facebook page."
The TPLF and foreign backers have sought to divert attention with unfounded genocide claims since November to cover up their own "horrendous crimes", she told the Reuters news agency, urging foreign nations and media to expose them.
Thousands killed
Since fighting began, thousands of people have died and hundreds of thousands have been forced from their homes and there are shortages of food, water and medicine across the region of more than five million people.
A Mekelle-based regional caretaker administration claims life is returning to normal and Abiy's government says it is sending aid.
Yet aid workers and some officials in Tigray have warned of a humanitarian disaster marked by widespread starvation.
Reports from all sides are difficult to verify since the government has largely sealed off Tigray from media and foreign aid workers. Telecommunications to many areas are not working.
The recording called on Tigrayans abroad to contribute time and money to support the fighters and foreign nations to condemn the Ethiopian government, saying Abiy and Eritrean President Isaias Afwerki should be charged in an international court.
Dozens of witnesses have said Eritrean troops are present in Tigray to support Ethiopian forces, though both nations deny that.
Meanwhile, the government-affiliated Fana broadcaster reported the authorities were establishing a task force to investigate heightened concern over violence against women in Tigray.
Minister of Women, Children and Youth Filsan Abdullahi was quoted as saying the government had a zero-tolerance policy towards any form of sexual violence.
===
UN warns of 'serious' rape charges in Ethiopia's Tigray
NAIROBI, Kenya (AP) — The U.N. special representative on sexual violence in conflict says "serious allegations of sexual violence" have emerged in Ethiopia's embattled Tigray region, while women and girls face shortages of rape kits and HIV drugs amid restrictions on humanitarian access.
"There are also disturbing reports of individuals allegedly forced to rape members of their own family, under threats of imminent violence," Pramila Patten said in a statement released late Thursday. "Some women have also reportedly been forced by military elements to have sex in exchange for basic commodities, while medical centers have indicated an increase in the demand for emergency contraception and testing for sexually transmitted infections."
Patten joined growing calls for immediate and unconditional access to the Tigray region, where fighting broke out in early November between Ethiopian forces and those of the now-fugitive Tigray leaders who once dominated the country's government.
A spokeswoman for Patten's office wouldn't say which "military elements" were involved. The fighters in Tigray include those from the neighboring Amhara region and other parts of Ethiopia as well as soldiers from neighboring Eritrea.
New arrivals in camps for refugees and internally displaced people are reporting sexual violence, and "there are increasing reports of sexual violence against women and girls" inside the camps, Patten's statement said.
Ethiopia's government says aid has begun flowing into the Tigray region, and Deputy Prime Minister Demeke Mekonnen on Friday said 85% of all humanitarian aid corridors in Tigray are now open. He was speaking with visiting British Foreign Secretary Dominic Raab.
But humanitarian workers have told The Associated Press that access remains limited. In addition, aid is sometimes accompanied by Ethiopian forces.
"We are horrified by the reports and allegations we have received of sexual violence during the conflict in Tigray," the U.N. humanitarian chief for East and southern Africa, Gemma Connell, said in a separate statement Friday.
"The survivors of these alleged attacks must not be seen as statistics but as individual women and girls whose lives have been profoundly altered by the violations committed against them."
===
Who Killed Ethiopia's Respected Former Foreign Minister?
Seyoum Mesfin, Ethiopia's longest-serving foreign minister (1991-2010) and a veteran Tigrayan activist, "exemplified the country's tradition of enlightened and progressive patriotism," says Alex de Waal, an academic expert on the Horn of Africa and a former adviser on Sudan to the African Union. But on January 13, the Ethiopian News Agency announced that he was one of three Tigrayan "junta senior leaders" who had been killed "in a shoot-out". De Waal writes that the killings, as part of "a pattern of systematic targeting of Tigrayans" consistent with the politics of genocide, warrant an immediate high-level international investigation.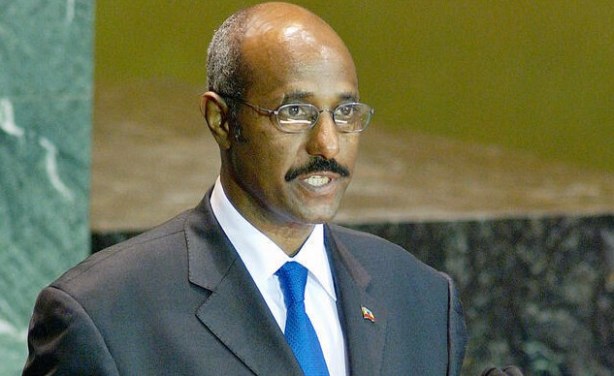 Former Ethiopian foreign minister Seyoum Mesfin addressing the United Nations General Assembly in 2003. UN Photo/Mark Garten
In Memoriam: Seyoum Mesfin, Ethiopian Peacemaker and Patriot
By Alex de Waal - 14 January 2021

Debating Ideas is a new section that aims to reflect the values and editorial ethos of the African Arguments book series, publishing engaged, often radical, scholarship, original and activist writing from within the African continent and beyond. It will offer debates and engagements, contexts and controversies, and reviews and responses flowing from the African Arguments books.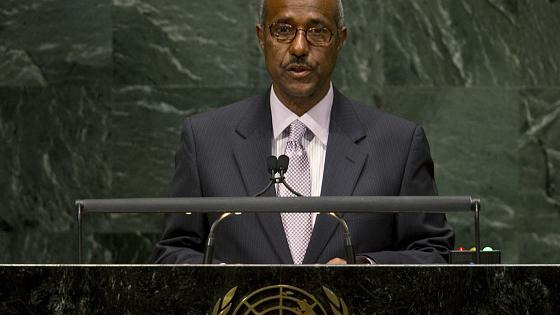 Seyoum Mesfin, who was killed in Tigray this week at the age of 71, was Ethiopia's longest-serving foreign minister. His untimely death robs Ethiopia of a man who exemplified the country's tradition of enlightened and progressive patriotism. Under other circumstances we would expect a national day of mourning and a state funeral, including national and international recognition of Seyoum's exceptional contribution to the norms, principles and practices of peace in Africa.
As a radical student activist, Seyoum was one of the founders of the Tigray People's Liberation Front in 1975. Like many of his generation, he was an avid debater of different revolutionary ideas, and was one of the first to articulate the agenda of self-determination for the diverse nations, nationalities and peoples within the Ethiopian empire. He was appointed as head of foreign relations for the TPLF and became well-known internationally as the face of the Tigrayan struggle. I first met him in 1988, travelling within the TPLF-held areas of the country, and recall well the vigorous discussions we had about the challenges of the revolution and what should be their agenda when they took power. One of the things that most struck me about Seyoum was his lack of any personal bitterness towards the members of the military regime that was, at that time, waging unlimited war against the people of Tigray. The leaders of the Dergue, he assured me, would face justice.
Three years later, when he was in the Foreign Minister's office in Addis Ababa as a leader of the transitional EPRDF government, he reminded me of this promise, and sent me to visit the Dergue leaders. They were all detained in a university dormitory, with just two guards on the gate—to deter angry citizens from breaking in and attacking them. General Legesse Asfaw, who had ordered the most murderous aerial assault of the war when fighter jets bombed the market town of Hausien and killed about 1800 civilians, was kept in a special room for his own protection. The TPLF could easily have executed him. But for Seyoum and his comrades, 'revolutionary justice' meant a transformation in the practice of killing your defeated enemies.
The dictator Mengistu Haile Mariam had executed 61 senior officials of the overthrown imperial government in November 1974 in his seizure of power. Among them was Seyoum's predecessor in the foreign ministry, Aklilu Habtewold, shot dead within earshot of the headquarters of the Organisation of African Unity, an institution he had done so much to create—without any international condemnation. The EPRDF would not follow that path of arbitrary revenge: instead, officials of the military regime were to be brought to court and charged according to due process of law. By a quirk of the Ethiopian Penal Code, the definition of genocide under domestic law included attempts to eliminate not just national, ethnic, racial or religious groups, but political groups as well, and so it was possible to convict (in absentia) Mengistu for acts of genocide for crimes perpetrated during the 'Red Terror' of 1977-78.
Mengistu himself fled to Zimbabwe with his family. When his children's passports expired, the Ethiopian ambassador in Harare asked for advice. Seyoum responded without hesitation. He said that the sins of the father should not be visited on the children: they were Ethiopians entitled to passports and should be issued with them at once.
In the same spirit, Foreign Minister Seyoum was a driving force behind the setting up of the International Panel of Eminent Personalities (IPEP) to investigate the genocide in Rwanda in 1994. The IPEP report was the first formulation of the doctrine of 'non-indifference': the responsibility of countries to intervene to prevent genocide. The United Nations later reconfigured this as the 'Responsibility to Protect'. Had he been a less modest man, Seyoum might have clamoured for international prizes to reflect his contribution. Instead, he invested his efforts in making sure that African nations adopted the norm and incorporated it into the Constitutive Act of the African Union.
Another example of Seyoum's quietly principled diplomacy is the Declaration of Principles for the resolution of the conflict in Sudan. In 1993-94, when the north-east African regional grouping the InterGovernmental Authority on Development (IGAD) was mandated with taking forward the mediation of Sudan's war, Seyoum convened the IGAD foreign ministers and made the case that their efforts needed to be guided by principles that would ensure a just and lasting peace. Among them he identified the right of southern Sudanese to self-determination, should the Sudanese government fail to respect the ethnic diversity and democratic rights of all Sudanese. This was a radical innovation: never before had an African intergovernmental organization formally recognized the right to self-determination of an oppressed minority in a sovereign country. It is no exaggeration to say that the IGAD Declaration of Principles, penned by Seyoum in his office in Addis Ababa, surmounted the single biggest legal and political hurdle in the southern Sudanese road to independence.
Indeed, during his 19 years in office, Seyoum presided over the rehabilitation of Ethiopia's international standing. From being a pariah under the Dergue, Ethiopia became widely respected. Ethiopia succeeded in making friends with the United States, Europe and China, with Africa and with the Middle East. Long-running rivalry with Sudan was peaceably resolved. The countries that Ethiopia saw as long-term rivals and potential threats—Egypt and the Gulf States—were kept at bay. Under Seyoum's guiding hand, Ethiopia became admired as Africa's biggest contributor to peace and security, a reliable contributor of high-quality troops to peacekeeping operations, and a partner in conflict resolution.
In some ways, Seyoum returned Ethiopia's foreign policy to the traditions of Emperor Haile Selassie: seeking to be on good terms with all but dependent on none, using soft power to build alliances that allowed the country to chart a path all of its own. In his ministry, he retained the most professional and capable officials from the previous government, arguing that the country needed both their skills and also respect for an institution of state. Like Aklilu bringing Ethiopia's foreign policy skills to bear on building the OAU, Seyoum was a discreet but influential architect of the creation of the African Union.
The big exception to the 'friendship with all' strategy was Eritrea, and Seyoum resisted calls for Ethiopia to seek a military solution to the dispute, opting instead for containing and isolating Eritrea in the hope that time would bring about an end to the ruthless regime of President Isseyas Afewerki. I recall Seyoum lamenting that the most progressive and democratically-minded members of the Eritrean political elite—such as his former counterparts in the Eritrean foreign ministry, Petros Solomon and Haile 'Duru' Woldensae—had been first sidelined and then destroyed. Like Mengistu during the darkest days of the Red Terror, Isseyas's approach to any political challenge was total elimination, and that included his closest comrades in arms, consigned to incommunicado imprisonment without charge, trial or contact with even their closest families. Isseyas made his move on September 18, 2001, knowing that world attention was elsewhere and he could act without international scrutiny. 'Duru' is feared to have died; Petros's fate, along with so many others, isn't known. Seyoum mourned his colleagues' demise. And he insisted that the culture of systematic elite murder—politicide, or genocide of political groups—was something that should never be allowed to re-enter Ethiopia.
After retiring as foreign minister, Seyoum served as ambassador to China and as chief mediator for the peace talks in the conflict in South Sudan. The civil war erupted in South Sudan on December 13, 2013 and within a week, a delegation of foreign ministers of IGAD countries was in Juba insisting that the fighting should cease and a political solution should be found. Overruling the predictable objections that it was an internal affair and the opposition were traitors, IGAD and the African Union put the welfare of the country above the anger and ambition of South Sudan's warring politicians. Seyoum was the mediator: patient and fair, continually frustrated by the mercenary callousness of his interlocutors.
As the EPRDF began the process of liberalization in Ethiopia three years ago, leading to the selection of Abiy Ahmed as prime minister, Seyoum was prominent among a small group of Tigrayans who stayed on within the highest levels of government, trying to steer the transition towards consensus. He remained in a post as advisor within the Prime Minister's Office until late 2019, though the extent to which the PM called upon his experience and wisdom isn't at all clear. Certainly, Abiy's readiness to partner with autocratic Eritrea disturbed him.
As a person, Seyoum was always warm and accessible, and ready to talk without regard for rank or protocol. He had a well-deserved reputation for treating all his staff with care and respect, for keeping his door open.
Seyoum became less active in politics, planning to spend more time reflecting on the lessons learned from his unparalleled career, and building up the think tank, the Centre for Dialogue, Research and Cooperation that he founded. His health also suffered: he had a serious back problem and had difficulty walking more than short distances.
The circumstances of Seyoum's killing aren't clear. The Ethiopian government is not a reliable source of information. Eritrea—which may well have carried out the assassinations—is remaining silent. The official report that Seyoum and his colleagues 'refused to surrender' is opaque. The other two elderly Tigrayans killed in the same incident were Abay Tsehaye, who just had heart surgery, and Asmelash Woldeselassie, who is blind.
Seyoum is survived by his wife and sons. His wife and son were imprisoned in Addis Ababa and were recently released on bail.
The circumstances of the killing of Seyoum, Abay and Asmelash warrant an immediate high-level international investigation. It is hard to see how these three men posed a military threat. Their killing is part of a pattern of systematic targeting of Tigrayans, which goes beyond removing their political influence in Ethiopia to the wholesale elimination of a political class representing an ethnic or national group. It is consistent with the politics of genocide practised by Mengistu Haile Mariam and his generals and by Isseyas Afewerki inside Eritrea and in his ongoing military operations inside Tigray today.
Seyoum deserved to end his days in comfortable retirement with all the respect due to a statesman and patriot. His killing should be a red line. The world should not repeat the error of its silence over the extra-judicial execution of his predecessor Aklilu.
The killing must stop today.