UPDATE 21 October 2020: MUST WATCH: AFRICA AND THE WORLD
UPDATE 16. September 220: AGRA Forum 2020 in Rwanda: No improvement, no committment only show!
Prologue: The "Alliance for a Green Revolution in Africa" (AGRA) is nothing short of being a massive fraud. "But that was the plan, stupid, right from the word go!" - stated one observer. It was created as the retirement money-shaker for the late Kofi Annan, the Nigerian former Secretary General of the United Nations (UN) and his Swedish wife - the link to the Cult of the Elite through the Wallenberg family. And it is still a key tool to achieve the overall goal: "Drive the people from their land into the 'smart' cities to control the population and auction off the land to the corporations, including the CCP of China, while pushing GMOs in crop-production and the eternal dependency on patented seeds and the chemical industry." It was and is one of the top and core issues of the so-called Sustainable Development Goals (SDGs) of the biggest global fraud-operation of the past and the present Millennium - the UN itself. With the BILL & MELINDA GATES FOUNDATION (BMGF) as the top-sponsor of AGRA, the aim is now to introduce pharming, the growing of genetically engineered food-crops like Tomato that serve as the carriers for absolutely crazy vaccination and contraception drives targeting innocent and uninformed human populations. Since the BMGF funds already the gene-altering vaccination of humans using engineered RNA against the propped-up SARS-CoV-2 (COVID-19), thereby changing the human DNA of the recipients and their descendents irreversibly and with unknown consequences, these lunatics want to have it their way in this way - especially in Africa, Asia and Latin-America. If the AGRA Forum - now headquartered in dictatorial Rwanda, an easy playing ground for Bill Gates himself - fails at this year's meeting to categorically rule out GMOs, rna-vaccines and pharming, the organization must be defunded, banned and dissolved; and its key-criminals, including the chair - the ex-Dictator and Ethiopian war-criminal Hailemariam Desalegn - be put on trial. Stop these organized trans-national crimes, these white-collar and white-supremacy crimes against humanity with their black frontline-managers, but STOP THEM RIGHT NOW!
The Corporate Crime-Syndicates that partner with AGRA - among them BMFG (Operations DNA change, vaccine monopoly, depopulation, food monopoly, GMO mosquito), BAYER (Operations Monsanto GMO crops and seeds, pesticides, chemical fertilizers, pharming), The Rockefeller Foundation (Operation LOCKSTEP), MasterCard (Operation TRUSTSTAMP) and the notorious Anglo-American link. Not shown is the World Economic Forum - WEF (Operation: The Great Reset) and the communications providers like VodaCom / SafariCom etc. that support population surveillance and monitoring as well as financial control via the easy phone-money transfer-control.
Together they have already such a huge number of criminal, public and civil law cases on their dock that it would take a single court hundreds of years to work through them. BUT THEY DON'T STOP, because the corrupt governmental systems allow them to just go ahead. Therefore it is now up to the people to stop them and to stop them everywhere. In the case of IKEA it should be easy: Just do no longer buy anything from them and shred your MasterCard. There are much better options.
Failing Africa's Farmers, Starving the Continent
By Timothy A. Wise - 08. September 2020
BOSTON, Sep 8 2020 (IPS) - African organizations are demanding answers after a recent report found that Alliance for a Green Revolution in Africa (AGRA) strategies have failed spectacularly to meet its goals of increasing productivity and incomes for millions of small-scale farming households by 2020 while reducing food insecurity on the continent.
The theme for the tenth annual African Green Revolution Forum, a virtual weeklong event hosted by Rwanda that opens September 8, is "Feed the Cities, Grow the Continent."
Based on the findings of a recent report on the host, AGRA, a more appropriate theme would be "Failing Africa's Farmers, Starving the Continent." The report, "False Promises: The Alliance for a Green Revolution in Africa," found that the 14-year, billion-dollar AGRA initiative has failed spectacularly to meet its self-proclaimed objectives.
My background research, which contributed to the report, showed that yields have risen slowly, poverty remains endemic, and there has been an alarming 31% increase in the number of undernourished people in AGRA's 13 focus countries.
After AGRA offered no substantive responses to the findings from the July 10 report, three African organizations are issuing a public letter to AGRA demanding it release internal documents on its impacts.
They demand that AGRA provide "evidence to refute the study's findings that AGRA and the larger Green Revolution project are failing to meet its goals of doubling yields and incomes for 30 million small-scale farming households by 2020 while reducing food insecurity by half."
As Zambian researcher Mutinta Nketani told the German outlet DW, when an organization like AGRA "fails to achieve the goals it had set itself, all alarm bells should go off — not only amid civil society, but also amid AGRA itself as well as its donors."
Failed policies of the past
The annual Green Revolution Forum brings together (virtually this year) leaders from government, business, civil society, research institutions, and the donors who have funded the latest effort to promote commercial seeds, fertilizers, and the markets that deliver them to Africa's millions of small-scale farmers. Since its launch in 2006, AGRA has received about $1 billion in funding to lead this productivity revolution in its target countries.
African governments, though, have provided the bulk of the Green Revolution funding. Many use significant portions of their agricultural development budgets to subsidize the purchase of these commercial inputs for farmers who otherwise would not buy them. Collectively, those subsidies have totaled as much as $1 billion per year.
The strategy promises that commercial seeds and fertilizers will dramatically increase yields, allowing small-scale farmers to sell surplus crops, increase their incomes, and improve their food security.
According to the False Promises report, none of that has happened as AGRA reaches its self-declared 2020 deadline:
Instead of doubling yields (a 100% increase), yields have gone up only 18% over 12 years for staple crops. Even for maize, heavily promoted by AGRA and subsidized by governments, yields increased a disappointing 29%.
All the subsidies to maize diverted land and investment from other crops, some more nutritious and climate-resilient than maize. Millet production fell 24% under AGRA with yields declining 21%.
Not only did farmer incomes fail to rise, hunger increased dramatically in AGRA countries, rising 31% since 2006 according to United Nations estimates.
These policies, heavily funded now for 14 years, have failed.
Rwanda: "AGRA's hungry poster child"
Not only does AGRA have a lot to answer for at this year's forum, so does Rwanda, which now hosts these annual gatherings. According to former Ethiopian Prime Minister Hailemariam Desalegn, who is now chair of AGRA's board, Rwanda was selected to host the AGRF because "Rwanda has shown the best example in agriculture transformation." Based on that reputation, Rwanda's former Agriculture Minister Agnes Kalibata now leads AGRA.
According to the False Promises report, Rwanda is a very poor example for sustainable and inclusive agricultural development. Under the government's strict mandates to increase maize production, crop diversity declined dramatically.
Kalibata may point to a 300% increase in maize production and a 66% increase in yields, but traditional and nutritious crops like sorghum and sweet potato withered from neglect.
Overall yields for a basket of staple crops increased just 24%. And according to the latest U.N. figures, the number of undernourished Rwandans increased an alarming 41% since 2006 in spite of the boom in maize production.
The report calls Rwanda "AGRA's hungry poster child."
A former U.N. official recently decried Rwanda's approach under Kalibata as "replacing hunger with malnutrition." He and others have questioned her appointment by the U.N. Director General to lead next year's scheduled Global Food Systems Summit.
Demand for accountability
In the public letter, PELUM-Zambia, BIBA-Kenya, and HOMEF of Nigeria ask Andrew Cox, AGRA's Chief of Staff and Strategy, to provide evidence from AGRA's own monitoring and evaluation to address the serious concerns raised in the False Promises report.
They note that AGRA refused researchers' requests for such data to inform the report. They pose a provocative series of concrete questions about AGRA's impacts.
"African farmers deserve a substantive response from AGRA to the findings in the report. So do AGRA's public sector donors, who would seem to be getting a very poor return on their investments. African governments also need to provide a clear accounting for the impacts of their own budget outlays that support Green Revolution programs."
They conclude with a plea that could be addressed to all the esteemed stakeholders at this year's Green Revolution Forum: "We hope this request can refocus this important discussion on AGRA's 14-year record in increasing productivity, incomes, and food security for smallholder farmers in Africa."
That would be a better theme for the forum to take up.
Author:
Timothy A. Wise is a senior advisor at the Institute for Agriculture and Trade Policy and the author of Eating Tomorrow: Agribusiness, Family Farmers, and the Future of Food (New Press 2019). He provided a background paper that contributed to the report, "False Promises: The Alliance for a Green Revolution in Africa."
===
UPDATES:
AFRICA AND THE WORLD
•Oct 21, 2020
This talk was given at a local TEDx event, produced independently of the TED Conferences.
Mallence Bart-Williams introduced her second home Sierra Leone and its talented people, who are part of her project FOLORUNSHO.
Find out more via https://www.tedxberlin.de
===
"We must not relent in our effort to transform food systems for the benefit of everyone and build stronger, resilient, and more sustainable food systems," @Agnes_Kalibata, President @AGRAAlliance on #AGRF 2020. Read the outcome of the summit on https://t.co/S7RkAna5NV pic.twitter.com/QmKLwmRsiX

— African Green Revolution Forum (@TheAGRF) September 22, 2020
AGRA Forum 2020 in Rwanda: No committment to organic agriculture, no committment against GMOs, no committment to stop harmful pesticides - just cruel foreign-lead business by the usual suspects and their stirrup-holders.
---
Fruitful exchange today at @TheAGRF with @AbiyAhmedAli @IsraeliPM @AUC_MoussaFaki @AminaJMohammed @HMDessalegn @G_MachelTrust Rt Hon Tony Blair & H.E Olusegun Obasanjo on transforming African food systems. I thank @AGRAAlliance for hosting this hybrid gathering in Rwanda.

— Paul Kagame (@PaulKagame) September 11, 2020
---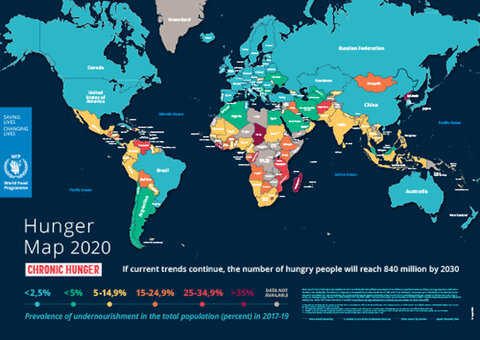 WFP's Hunger Map 2020 depicts the prevalence of undernourishment in the population of each country in 2017-2019 - If current trends continue, the number of hungry people will reach 840 million by 2030. Our downloadable Hunger Map provides invaluable info that helps school teachers and children to learn more about the biggest single risk to global health.
It is a high resolution pdf (1.54 MB) that can be printed for display purposes.
===
BACKGROUND:
Gates Foundation Also Destabilizing Africa's Food Economy. The 'Great Reset' of Global Food Production
By William Engdahl - 07. September 2020
Gates Foundation is Also Destabilizing Africa's Food Economy. The Restructuring of Global Food Production
The same Gates Foundation which is behind every aspect of the COVID-19 pandemic from financing much of the WHO budget, to investing in favored vaccine-makers like Moderna, is engaged in a major project in Africa which is destroying traditional small farmer production of essential food crops in favor of monoculture crops and introduction of expensive chemical fertilizers and GMO seeds that are bankrupting small farmers. The project, the Alliance for a Green Revolution in Africa (AGRA), is directly connected with key global institutions behind the World Economic Forum's Great Reset.
If we know the actual history of the Rockefeller Foundation and related tax-free undertakings of one of the world's most influential families, it is clear that, in key areas, the Bill and Melinda Gates Foundation has inherited the Rockefeller agenda from the medical industrial complex to education to agriculture transformation.
The Bill and Melinda Gates Foundation, working in tandem with the closely allied Rockefeller Foundation, is not only at the center of the orchestration of unheard-of severe economic lockdown measures for the much-disputed COVID-19 illness. The Gates foundation is also at the very center of the UN Agenda 30 push to transform world agriculture into what they call "sustainable" agriculture. A keystone project for the past 14 years has been Gates' funding of something called the Alliance for a Green Revolution in Africa or AGRA.
AGRA Fraud on Africa
When the Bill and Melinda Gates Foundation founded AGRA in 2006, joined by their close ally, the Rockefeller Foundation, they proclaimed their goal was to "tackle hunger in Africa by working to achieve a food secure and prosperous Africa through the promotion of rapid, sustainable agricultural growth based on
smallholder farmers." AGRA promised to double the agricultural yields and incomes of 30 million small-scale food producer households by 2020. It is now 2020 and it has been a total failure in this regard. Notably, AGRA deleted these goals in June 2020 from its website without explanation. Based on what they have done, we can assume that was never the true goal of Gates and Rockefeller foundations.
In a 2009 speech in Iowa promoting his New Green Revolution for Africa, Bill Gates declared, "The next Green Revolution must be guided by smallholder farmers, adapted to local circumstances, and sustainable for the economy and the environment." The Gates Foundation proclaimed that the AGRA "is an Africa-based and African-led effort to develop a thriving agricultural sector in sub-Saharan Africa." Sounds very nice. Reality is quite different.
To further that "Africa-led" impression, Gates hired the former UN Secretary General, Ghana's Kofi Annan. Annan had just retired amid an Iraq oil-for-food corruption scandal at the UN involving his son. Annan was to be the front face, the chairman of AGRA. In reality the Gates Foundation ran things, with their guy, Rajiv "Raj" Shah, directing implementation of policies in African target countries. When initial attempts to push Monsanto GMO seeds and pesticides on GMO-free African farmers met with great resistance, they shifted instead to sell conventional but Monsanto-owned seeds, along with costly chemical fertilizers and pesticides.
Suspiciously, the Gates Foundation and AGRA have been anything but open and transparent about what they have accomplished in 14 years. For good reason. The model they have pushed in 13 African countries has significantly worsened the food self-sufficiency of small farmers and, instead, created debt traps in which small producers are forced to take on heavy debt to buy expensive patented seeds, are forbidden to use their own seeds or mixed crops, and forced to produce cash crops in a monoculture for export. AGRA has received more than $1 billion dollars from mainly the Gates Foundation, with USAID and the UK and German governments adding smaller sums.
False Promises
In a new detailed report evaluating results country-by-country, the reality of the Gates Africa agriculture project shows alarming, but not surprising, results. The report is called 'False Promises: The Green Revolution in Africa'. It was prepared by a group of African and European NGO'S in collaboration with Timothy A. Wise, Senior Advisor at the Institute for Agriculture and Trade Policy of Tufts University. The report concluded,
"yield increases for key staple crops in the years before AGRA were just as low as during AGRA. Instead of halving hunger, the situation in the 13 focus countries has worsened since AGRA was launched. The number of people going hungry has increased by 30 percent during the AGRA years… affecting 130 million people in the 13 AGRA focus countries."
That is no minor failure.
In an approach that is little different from the 19th Century racist European colonial practices, the Gates Foundation and its AGRA have seriously harmed small-scale food producers by subjecting them to high levels of debt. In Zambia and Tanzania, small-scale food producers were unable to repay the loans for fertilizer and hybrid seeds after the first harvest. AGRA projects also restrict the freedom of choice for small-scale food producers to decide for themselves what they want to grow. AGRA forces them to a one-sided cultivation of mainly maize for export markets, what global agribusiness wants. Not surprising as Bunge and other international grain cartel companies are involved with AGRA. Traditional climate-resistant and nutrient-rich crops have declined in alarming degrees in many cases.
The study found that for millet, an indigenous and vital cereal and fodder grain favored for 7,000 years due to its productivity and short growing season under dry, high-temperature conditions, AGRA has produced disaster. The report notes,"millet production fell by 24 percent in the 13 AGRA focus countries from 2006 to 2018. Moreover, AGRA lobbies governments on behalf of agricultural corporations to pass legislation that will benefit fertilizer producers and seed companies instead of strengthening small-scale food production."
Rather than help local small farmers to improve their yield per acre, the AGRA merely repackages the 1960's Green Revolution in Mexico and India for Africa, home to some of the world's richest farmland soils. That Green Revolution of the 1960s, initiated by the Rockefeller Foundation, introduced industrial large-scale agriculture mechanization and introduction of chemical fertilizers and seeds from multinationals, which went to the benefit of large farmers and destroyed much of the economy of small producers. That predictably bankrupted countless small producers. The result was that while select wealthy producers thrived, millions of poorer farmers were forced to flee to the cities where they settled in urban slums. But that in fact was a major aim of the first Green Revolution as it created a cheap workforce for the globalization drive of manufacture that was to follow.
The Gates and Rockefeller foundation-led AGRA in Africa is little different. In 14 years, AGRA in Africa has influenced member governments to promote the buying of multinational companies' commercial seeds every year and expensive chemical fertilizers, by promising grand gains that do not materialize. In the process, traditional small farmers or farming communities are forbidden to use farm-saved or -bred seeds.
This is the same dependency model Monsanto and agribusiness has used with patented GMO seeds in the USA. The Gates Foundation is a significant shareholder in Monsanto, now part of Bayer AG. AGRA has done little or nothing to protect small farmers from being bankrupted by subsidized EU or USA imports. Instead, their traditional food crops are being displaced by monoculture maize production for international export, leaving African countries more than ever dependent on more imported foods. The Gates AGRA is succeeding, but not in its cosmetic stated goals. Rather, it has made African food production more globalized and dependent than ever on the will of global multinationals whose aim is cheap inputs. Under the ruse of giving farmers a "wider choice" of patented high-yield seeds (most for maize), they in fact limit a farmer's choice. He must buy those seeds and is forbidden to reuse his own indigenous seeds. If at harvest time farmers are unable to sell his AGRA-mandated maize to repay his debt for seeds and fertilizer, they often are forced to sell their precious cattle or to incur even more debt-a classic colonial debt slavery model.
Dubious Leadership
The Gates Foundation has promoted AGRA as an "African initiative" and put itself as far as possible in the background. The new chairman of AGFA since August 2019 is Hailemariam Desalegn (pictured right), Former Prime Minister of Ethiopia. Desalegn, former chairman of the Chair of the Ethiopian People's Revolutionary Democratic Front (EPRDF), the dictatorial ruling party where WHO head Tedros was also a Politburo member, was forced to resign in 2018 following mass protests.
Less public board members of AGRA include two leading executives of the agribusiness giant, Unilever, and two senior officials of the Gates Foundation, as well as from the Rockefeller-founded CGIAR- Consultative Group on International Agricultural Research. Other board members include a member of the Rockefeller Foundation trustees and a former Africa partner for the French bank, Rothschild & Cie.
As well, the new President of the Rockefeller Foundation, the founding perpetrator of the AGRA agenda, Dr. Rajiv J. Shah (pictured left), is on the AGRA board. Shah left his earlier position with the Gates Foundation and was named USAID director under Obama. USAID not surprisingly became a partner of AGRA. In 2017 Shah moved from USAID to be tapped as President of the Rockefeller Foundation. Small world. The same Rockefeller Foundation is deeply involved in the World Economic Forum Great Reset. Shah just released a Rockefeller report, 'Reset the Table: Meeting the Moment to Transform the US Food System'. It is a precursor to a major global "reset" of the food system being prepared by the circles around Gates and Rockefeller and the UN. More on that another time.
Since 2014 the President of AGRA has been a controversial Rwandan former Agriculture Minister under the corrupt Kagame dictatorship. Agnes Kalibata (pictured below) is also a member of the Global Agenda Council of the World Economic Forum, the International Fertilizer Development Corporation (IFDC), based in USA.
In December, 2019, just before the public alarm over outbreak of a "novel coronavirus" in Wuhan China, UN Secretary General, António Guterres, named Kalibata to head the 2021 UN Food Systems Summit. In
response, some 176 organizations from 83 countries wrote to Guterres to repeal her appointment. Their letter stated,
"Founded by the Bill and Melinda Gates Foundation and the Rockefeller Foundation, AGRA's efforts have centered on capturing and diverting public resources to benefit large corporate interests. Their finance-intensive and high input agricultural model is not sustainable beyond constant subsidy, which is drawn from increasingly scarce public resources. Since 2006, AGRA has worked to open up Africa—seen as an untapped market for corporate monopolies controlling commercial seeds, genetically modified crops, fossil fuel-heavy synthetic fertilizers and polluting pesticides."
In her defense, 12 voices wrote to Guterres urging him to stand firm. Eleven of the 12 had links to the Gates Foundation. Their voice prevailed.
During the global grain crisis of the mid-1970's, then-US Secretary of State Henry Kissinger, another Rockefeller protégé, allegedly declared
"Who controls the food controls the people."
The globalization of world food production and creation of agribusiness, first guided by the Rockefeller Foundation and today with the Gates Foundation taking a more visible lead, is perhaps the most threatening factor to world health and mortality, far more than any coronavirus has shown.
Notably the same people promoting fear and lockdowns for that putative virus are busy reorganizing world food production in an unhealthy manner. It seems to be no coincidence as Bill Gates is a known advocate of eugenics and population reduction.
************
F. William Engdahl is strategic risk consultant and lecturer, he holds a degree in politics from Princeton University and is a best-selling author on oil and geopolitics, exclusively for the online magazine "New Eastern Outlook" where this article was originally published. He is a Research Associate of the Centre for Research on Globalization.
Featured image is from NEO
===
ADDENDUM:
The GRAYZONE reported already on 08. July 2020 in addition:
The (BMGF) foundation's preference for weak public health systems, and for techno-centric solutions to public health problems is not limited to its work with the drug industry. It also shapes policy in the crucial sector of food.
Early this year, Gates set up a new non-profit institute based in St. Louis, Missouri, home of Monsanto. The foundation said the new organization, dubbed Gates Ag One, will "enable the advancement of resilient, yield enhancing seeds" and introduce them into "crops essential to smallholder farmers, particularly in sub-Saharan Africa and South Asia."
Yet while helping small farmers sounds like a noble endeavor, the foundation has worked to ensure that the Global South is dependent on Western industry, whether through drugs or high-tech seeds and agrochemicals.
Much of this activity began in 2006 when the Gates Foundation partnered with the Rockefeller Foundation to give birth to the Alliance for a Green Revolution in Africa (AGRA). Gates committed $100 million, while the Rockefeller Foundation ponied up $50 million.
The approach of AGRA, which opened up African markets to U.S. agribusiness, is based on the belief that hunger is due to a lack of Western tech, instead of the result of inequality or exploitation.
According to a report by the African Center for Biosafety, "It is striking that none of those in the forefront of the revolution is African. No different from the colonial project in Africa, this new revolution is created and most ardently advocated by white men claiming to fight for the emancipation of Africans from the clutches of hunger and poverty."
Through AGRA, the Foundation pushes for the introduction of patented, genetically modified (GM) seeds and fertilizers. While these technologies help seed and chemical giants like Monsanto, they often undermine food security.
Dr. Vandana Shiva maintains that the idea that GM crops increase yields is a "scientific falsehood." For another, the foundation again ensures that valuable resources are diverted away from systemic solutions to hunger and poverty.
As The Ecologist asserted, Gates and Monsanto partner in the "inappropriate and fraudulent GMO project which promotes a technical quick fix ahead of tackling the structural issues that create hunger, poverty and food insecurity."
What's more, the Gates Foundation actually influences African governments to change laws to accommodate the agriculture industry
According to Grain.org:
"In Ghana … AGRA helped the government review its seed policies with the goal of identifying barriers to the private sector getting more involved. With technical and financial support from AGRA, the country's seed legislation was revised and a new pro-business seed law was passed in mid-2010. Among other things it established a register of varieties that can be marketed. In Tanzania, discussions between AGRA and government representatives facilitated a major policy change to privatise seed production. In Malawi, AGRA supported the government in revising its maize pricing and trade policies."
Commenting on the role of Gates in reshaping agriculture markets, Shiva told The Grayzone, "You create a new field, you invest in it. You force governments to invest in it, you destroy the regulation. You destroy the alternatives, you attack the scientists. And you create a whole machinery for your monopoly."
As in the case of Gates and Big Pharma, these moves can be explained by the Gates Foundation's apparent conflicts of interest. And as before, the examples go on and on.
Former deputy director of the foundation's agriculture program, Robert Horsch, was previously a high-ranking executive at Monsanto, where he worked for 25 years. Horsch led the team that manages agricultural grants, and according to Global Policy Forum, "he was asked to join the Gates Foundation particularly for the purpose of continuing his Monsanto research."
Sam Dryden, the former director of the Gates Foundation's agriculture program, previously led two of the largest genetically modified seed companies, Emergent Genetics and Agragentics Corporation. In 2005, Emergent was bought by Monsanto, where Dryen stayed for six months. While he was at the Gates Foundation, The Guardian called him "the most powerful figure in the global south's agriculture."
The former program officer for Gates' agriculture program, Don Doering, was previously a founding member of Monsanto's Biotechnology Advisory Council. Doering led an agricultural development team that directed money into "help[ing] poor farmers in Sub-Saharan Africa and Asia."
Then there's Kenyan-American Florence Wambugu, who authored the book "Modifying Africa" and has been called "an apostle of Monsanto in Africa." After receiving a scholarship from USAID, Wambugu became a researcher at Monsanto. She was then appointed to the Gates Foundation's Global Development board.
As with several of its pharmaceutical endeavors, the Gates Foundation works with USAID in the agriculture sector. Pamela K. Anderson, the current director of agriculture development at the Gates Foundation, is currently on the board of USAID.
22,000 children die each day due to poverty. Yet socio-economic causes of health problems can be neglected when industry aligned interests call the shots. Such is the case with the Gates Foundation's primacy in the global health arena.
In short, the foundation's leadership in previous global health efforts displays an allegiance not to public health, but to the imperatives of Western capital. It prefers not to strengthen health systems, but to ensure nations remain dependent on Big Pharma and/or Big Agriculture for as long as possible.
It is in this light the Gates' leadership in the global fight against Covid-19 must be understood.
===
Has Africa's green revolution failed?
By Daniel Pelz - 15. August 2020
The Alliance for a Green Revolution in Africa (AGRA) is a favorite cause among Western donors — including Germany. But a study finds that the work of the organization is actually counterproductive.
The Alliance for a Green Revolution in Africa (AGRA) seems to enjoy boasting with numbers and statistics: Its website is full of figures, highlighting some of the organization's self-declared milestones such as the 550 million euros ($650 million) it has invested across the continent, the 119 seed companies AGRA has founded, the 700 scientific papers it has financed, and the almost 23 million small farmers the organization has reportedly impacted.
But there is another number, which now is sorely missing on AGRA's website; on older versions of the website stored on Internet archives it can, however, still be found: AGRA had set itself the ambitious objective of doubling the earnings of 20 million small farmers by 2020 while halving food shortages in 20 African countries. This is what the organization had pledged to do when it was founded in 2006.
More and more women are working as farmers across Africa
Ready. Set. Fail.
Some critics say that this is not the only shortcoming they have witnessed in terms of AGRA delivering on its promises. Zambian agricultural expert Mutinta Nketani says that when an organization like AGRA "fails to achieve the goals it had set itself, all alarm bells should go off — not only amid civil society, but also amid AGRA itself as well as its donors."
Nketani is one of the authors of a current review published by several German and African development organizations together with the left-leaning Rosa Luxemburg Foundation. The figures highlighted in the report do not paint AGRA in a good light: The number of starving people in AGRA's 13 partner countries across Africa is said not to have fallen at all but is reported to rather have risen — by almost a third.
Meanwhile, agricultural output is purported to have risen at a slower rate than before ever since AGRA's involvement began in eight of those countries. In two of those countries, it even decreased over that period, according to the analysis.
Critics say that AGRA's goals were too ambitious from the start
The debt trap
AGRA says it mainly supports small farmers. The Nairobi-based organization says it has invested around 500 million euros ($590 million) to this end to date, training small farmers in how to best employ certain resources. AGRA President Agnes Kalibata said in a DW interview in 2017 that "farmers need access to technology, quality seeds and fertilizer."
But the researchers behind the current analysis write that farmers in Zambia, for example, were subsequently forced to take out loans to buy such fertilizer and seeds, adding that when their anticipated proceeds failed to materialize, they were no longer able to repay their debts.
Much like the farmers themselves, Zambia's government is also burdened by a huge pile of debt amid this agricultural crisis. Having also purchased seeds and fertilizer at high market prices, the government started to distribute them to small farmers. According to the current evaluation, the Zambian government is currently sitting on outstanding invoices to the tune of $106 million (89 million euros).
Similar examples are reported to have occurred in other African countries.
Global influence on Africa
Zambian researcher Nketani wants to know: "Whose interests does AGRA actually represent?
"In most cases, it's the interests of private companies, such as seed and fertilizer producers. And in Zambia, those are mostly multinational corporations."
The study further highlights that an increasing amount of soil in the country is now becoming acidic due to the excessive use of fertilizers. With AGRA concentrating on monocultures such as corn, local plants are likely to eventually vanish altogether.
The accusations against AGRA are particularly serious as the organization is a favorite among Western donors. Dirk Schattschneider, representative of the special initiative "OneWorld No Hunger" at Germany's Federal Ministry for Economic Cooperation and Development (BMZ), says that AGRA "is highly respected by many African governments, the African Union and civil society."
However, the initiative was founded in 2006 by two US organizations: The Gates Foundation and the Rockefeller Foundation.
The Gates Foundation alone has so far supported AGRA with the equivalent of 498 million euros ($589 million). AGRA refers to itself as an African initiative nowadays; however, both those US-American foundations remain its largest donors to date.
AGRA's rising star
Dr. Agnes Kalibata, AGRA's President, has built up a strong international network and knows how to go about getting people to listen to her.
In 2017, she co-authored a declaration at an international nutrition conference hosted by Germany on the occasion of its G20 presidency — later in the same year, AGRA and the federal German government agreed on embarking on a cooperation that has proven to be valuable for both parties: In 2019, the annual meeting of the AGRA board of directors took place in Berlin.
Kalibata's star continues to rise with each major global cooperation projects being signed off; currently, she is preparing a World Food Summit next year as Special Envoy of UN Secretary General Antonio Guterres. Reputation Poll International even ranked Kalibata as among the "100 Most Reputable Africans of 2020."
Dr. Agnes Kalibata started her career as Minister of Agriculture of Rwanda
PR work designed to distract from real issues
But AGRA's growing influence is also the result of an offensive public relations campaign: AGRA has always been open to responding to media interviews, inviting journalists to pen guest commentaries, and paying their travel expenses to cover AGRA events. It is only now, in the midst of the mounting allegations against AGRA, that the organization for the first time failed to answer an interview request by Deutsche Welle for days.
In the end, AGRA's head of strategy, Andrew Cox, sent a written reply, saying: "We reject the criticism arising of this 'analysis', which was not conducted in a transparent manner. AGRA was not afforded any opportunity to comment on these 'results.' We therefore find it impossible to comment any further."
AGRA meanwhile also announced that it would evaluate its practices of recent years by the end of 2021 — without making any changes to its basic approach for the moment: "AGRA has demonstrated that household incomes rise sharply whenever farmers have access to modern seeds and technology," Cox added.
Germany to continue cooperation — for now
The BMZ meanwhile says it intends to continue its cooperation with the organization: Since 2017, the BMZ has been funding two projects in Burkina Faso and Ghana at a cost of 10 million euros. According to BMZ representative Schattschneider, their current cooperation would be fully completed as planned, adding that AGRA may have set goals that were too ambitious ambitious to achieve when it first was founded.
The BMZ added that it would, however, take note of the results of the current analysis while deferring to external factors that might have also influenced the negative results of the study: "First and foremost, there was the world financial crisis, which had a major impact on the agricultural and farming markets, as well as various natural disasters and a number of other factors that may have played a role," Schattschneider said.
"In the future, AGRA must provide better validation of its impact data from its activities. Secondly, AGRA projects must be given more room for agro-ecological approaches in the future," Schattschneider argued, saying that these aspects were already being discussed with AGRA.
Mutinta Nketani might meanwhile be rather disappointed to hear that; she wants to witness a radical sea change on how investors deal with African agriculture: "They must support agricultural projects based on local techniques and experience," she said in an interview, adding that every without AGRA's help, African farmers already know how to produce seeds and organic fertilizers while protecting the environment.
Read more: Africa's organic farmers struggle to get certified
===
World hunger on the rise for a third year
By Zipporah Nyambura - 11. September 2018
Hunger levels have been rising for three years in a row, states a new report by the UN's Food and Agriculture Organization. In 2017, Africa and South America saw the highest increase.
One in nine people in the world is affected by hunger. That is what the latest report by the UN's Food and Agriculture Organization (FAO) has found. Heavy droughts and conflict are some of the main drivers behind the rise. If the trend continues, the FAO warns, the world will fall far short of achieving the UN's 2030 goal of eradicating hunger.
The report points out that a few advances have been made. Stunting levels in children have for instance decreased and the practice of exclusive breastfeeding has risen in Africa and Asia, while they have declined in North America. DW spoke to Cindy Holleman, a senior economist at the FAO about the report.
DW: In your report,you say that the number of hungry people in the world is rising. But how serious is the situation in Africa?
Cindy Holleman: The key finding that's coming out this year is that indeed world hunger globally is rising for the third year in a row. And this is very worrying because it basically sets us back to the levels of hunger of almost a decade ago. So it is quite an alarming situation. Hunger is continuing to rise especially in Africa. We also see this in South America and a stagnation of hunger in Asia. But Africa keeps coming out on top in terms of the most vulnerable and also the highest rises in terms of hunger.
Cindy Holleman is a senior economist at the FAO
Why is a situation not changing in Africa?
There are three reasons that are driving the rise in hunger. The first is a conflict which is contributing to the rise in hunger. The second reason is the economic slowdown in some countries. And the third is the increasing climate variability and extremes we see. In the Horn of Africa and other countries, you have both the fact happening. However, the underlying problem with hunger and why we see so much hunger is also poverty, income inequalities and the marginalization of populations. But what's new is we're seeing increasing climate variability and Africa has been hard hit in the last 10 years especially with climate variability and extremes.
Which are the most affected countries in Africa?
If we focus on climate variability in extremes, we see that there is there are a few regions that have been hard hit from this. The El Nino [weather phenomenon] of 2015 and 2016 hit many parts of Africa with very extreme droughts. Southern Africa is a good example. It's an area that's not really affected by conflict like the Horn of Africa but they experience three consecutive years of drought in 2015, 2016 and 2017. It was the worst drought in 35 years and resulted in a problem of the availability of cereals which is quite significant. There was a cereal deficit of almost 8 million tons (8 billion kilograms) in 2016. And then you had rising food prices and as a result, SADC (Southern African Development Community) called out a regional drought emergency which affected 26 million people. But also we see in the Horn of Africa,conflict combined with climate variability. When you have the two together the severity of the situation is quite extreme.
Empowering the next generation of farmers in Nigeria
How is insecurity affecting efforts to reach people who need food?
I think one thing I'd like to point to is that we need to take two different approaches. One is, we need to be prepared to do disaster risk reduction and management to help farmers and smallholder populations be able to anticipate extreme weather and also to limit the effects it has on their food income. Sometimes, when it's severe drought, we also need to prepare to respond with food aid and also, more importantly, to help protect their livelihoods so that they can become more resilient to climatic extremes. A need for Africa is that we need to combine disaster risk reduction with climate change adaptation.
What can small-scale farmers do to cut back the losses?
There are a number of different things that can be done and some farmers in Africa are already doing it. For example, in Zambia, we have farmers that are diversifying. Evidence shows that that actually makes them spread the risk and there is a more steady stream of income. There are also examples where you can combine traditional varieties with hybrid varieties to make food crops more resilient. Many countries in Africa are monocultures and so they just rely on maize. It's really important to diversify. But there are many other things that need to be done in terms of ensuring that there are food stocks, community food stocks as well as making sure that the most marginalized and the poor have access to credits so they can invest in their agriculture.
Cindy Holleman is a senior economist, in the Food, Security & Nutrition program of the Food and Agriculture Organization of the United Nations (FAO). She edited the FAO's 2018 report on the "State of Food Security & Nutrition around the World."
Author
and Interviewer: Zipporah Nyambura
===
The Right to Food and Food Security
By Silke Bollmohr RTF - 2020
Each one of us has the Right to Food. It is a universal human right protected by international law. To achieve the Right to Food means that all people should have access to adequate food. Despite this, food insecurity and malnourishment plagues millions of people around the world.
During the 1996 World Food Summit, the definition of food security was agreed. "Food security exists when all people, at all times, have physical and economic access to sufficient, safe and nutritious food that meets their dietary needs and food preferences for an active and healthy life." Therefore, food security is understood in terms of food being available and accessible over time. Food security is also understood in terms of how nutritious food is and whether it aligns with our cultural preferences.
* The number of acutely food-insecure people in need of emergency food assistance increased throughout 2019 from an estimated 1.1 Million in February to 1.6 Million in May and 2.6 Million by July
Food Security in Kenya
We all have our favourite dishes of chakula. From githeri to mursik to nyama choma, or pilau, our different food cultures are important. They are part of our identity. The government has a constitutional and civic duty to achieve the Right to Food for all Kenyans as required under Article 43 of the Constitution.
This human right should ensure your favourite plate of chakula is available and affordable. It is a right that ensures our mama mbogas sell safe produce. It is a right that should ensure all Kenyans are free from hunger and our children don't go to bed hungry or have to attend school on an empty stomach. Unfortunately, chronic food insecurity is a daily reality for more than 10 million Kenyans.
Where Are We Going Wrong?
How we think about the problem is part of the problem.
Despite decades of independence and promises made by successive regimes, Kenyans are still going to bed hungry. The politics of food by our leaders and the lack of meaningful political commitment backed by implementation of laws and policies needs our urgent attention.
We need to re-think whether the cause of food insecurity is only a consequence of climate change or whether we should be looking at the underlying systemic issues that lead to hunger, such as cultural gender barriers that undermine the role of women and their contribution to food and nutrition security.
We need to improve how we do agriculture by adopting food systems that are good for the environment, and good for us. We need to know our farmers, and learn about how they grow our food. We need to support local supply-chains. We need to vote with our forks.
As active citizens, we can change the perception that there is nothing we can do about hunger in Kenya and around the world. Change, starts with you.
===
Kenya's hunger crisis fueled by history of rural neglect
War-torn South Sudan and Somalia are being badly hit by East Africa's hunger crisis. But in Kenya, which is at peace, millions also need food aid. Critics blame the political class.
By DW - 24.April 2017
It is late afternoon in a small settlement in Kakuma, Turkana County, northwestern Kenya. Many of the residents have red, glazed-over eyes and the smell of home-made alcohol lingers in the air. The people who live here in the huts built of branches, animal hide and plastic sheeting belong to the Turkana community. Because of the drought they have abandoned their nomadic lifestyle and have settled next to the Kakuma refugee camp where the United Nations gives sanctuary to some 180,000 people.
The refugees in the camp come from South Sudan or Somalia, Kenya's crisis-ridden neighbors, where war and drought have brought hunger and deprivation. In the small run-down settlement near the camp, Kenyans like Ekiru Elimlim also want help from the UN. "We should be getting the same aid as the refugees. We also need food, water and jobs. These refugees are living here on our land and we should be compensated accordingly," he said.
Living in limbo
The whole of Elimlim's family is in a state of agitation. They are all talking at the tops of their voices. Elimlim has to wait until they have calmed down before continuing. "We have never received aid from anyone so we can settle down. Nobody's going to build houses for us. The refugees are given help. We get nothing. It's not fair," he added.
Kakuma is the second largest refugee camp in Kenya after Dadaab which is on the border to Somalia. As in all large UN refugee camps, the UN assumes the role of the state providing inmates with basic necessities such food, water and medical supplies. But funding is running short. The aid the refugees receive ensures their survival but it is not enough to help them make a life for themselves outside the camp. Over time, the refugees become dependent on the aid from the international community. They live in limbo.
Ekiru Elimlim wants equal treatment for the Turkana community and refugees
The Turkana people are the responsibility of the Kenyan government, not the United Nations. As pastoralists, they depend on their livestock in order to survive. If their animals perish, they lose their livelihoods. And so the small settlement, where Ekiro Elimlim lives, is home to beggars and day laborers hoping for outside help.
President Uhuru Kenyatta declared the drought a national disaster on February 10. But the Kenyan government's crisis management effort leaves much to be desired. The country is in the middle of campaigning ahead of parliamentary and presidential elections in August and apart from trading mutual recriminations, politicians have done little to ease the drought crisis.
Coordination with Nairobi lacking
Emathe Namwar is the official in the government of Turkana County responsible for water supplies. His sympathies are with the opposition and he is critical of the central government in far away Nairobi.
"There is no attempt at coordination. The national government does not involve us in the search for a solution. It could be that financial relief will be forthcoming, but if there is no coordination, then we will just expend a lot energy without achieving very much," Namar said.
Emathe Namwar says diesel for his fleet of water trucks is in short supply
In Nairobi, Andrew Tuimur, principal secretary at the agricultural ministry, passes the buck to the Turkana local government. He said the Nairobi government was having to support the local governments because they weren't prepared for the drought. They didn't have any reserves in their budgets to fall back on.
"The national government was forced to intervene. The local governments only started to respond to the crisis after we started to apply pressure. We recommend that they prepare themselves better in future," Tuimir said.
Tuimiur claims that Preisdent Kenyatta is constantly mediating between pastoralist communities fighting over land and water rights. While on a trip to Uganda, Kenyatta secured permission for Kenyan pastoralists to cross the border into the neigboring country and search for fresh pasture for their livestock. Tuimur believes the situation in Kenya will get worse.
"The weather forecasters say that the drought will continue. There will be sporadic rainfall at best and no rain at all in the dry regions. This year's harvest will probably be very bad. We have to assume that we are heading for a food crisis and the government is preparing for this eventuality," he said.
No diesel for generators at bore holes
It is as yet unknown what form these preparations will take. Last week, the national government sent diesel generators to Turkana to supply electricity for water pumps driving bore holes. But there is no diesel fuel for the generators because the local government says it cannot afford it. The local government is running a fleet of 18 water trucks to keep the population supplied with drinking water. These trucks have a large diesel consumption, which is already a heavy financial burden. Some of them are kept off the road because fuel is so short. Turkana's roads are also in a deplorable stater. Emanthe Namwar from the local government believes the blame lies solely with the national government in Nairobi. "Why don't they do something. The government of Turkana is suffering from 50 years of neglect at the hands of the government in Nairobi, " he said.
Members of the Turkana community in their small settlement in Kakuma
Yet both local and national government officials have yet to explain why so little money flows into rural development, even though the international community is supplying aid for this very purpose. Climate change and drought are the external factors that cause food insecurity. But ignorance and corruption among the political class has left the country vulnerable to the horrendous consequences of drought. As an African country, Kenya is not unique in this regard. Of some 40 countries worldwide that are dependent on food aid, just under 30 are in Africa.
A very high price is being paid for the neglect of rural development by Africa's urban elites. In the Kenyan election campaign, government and opposition are accusing one another of incompetence and misuse of funds. They are not arguing over the ways or means by which sustainable development could be promoted in Turkana. The plight of a million Turkana pastoralists would appear far too insignificant politically to warrant any pledges of a better future. Kenya's political class is relying instead on the oil they hope will soon start flowing from the reserves which were discovered in Turkana in 2012. The proceeds will, of course, be highly coveted while pastoralists turn into beggars next to a UN refugee camp.