Congo Republic Jails Gangleader Accused of Killing 500 Elephants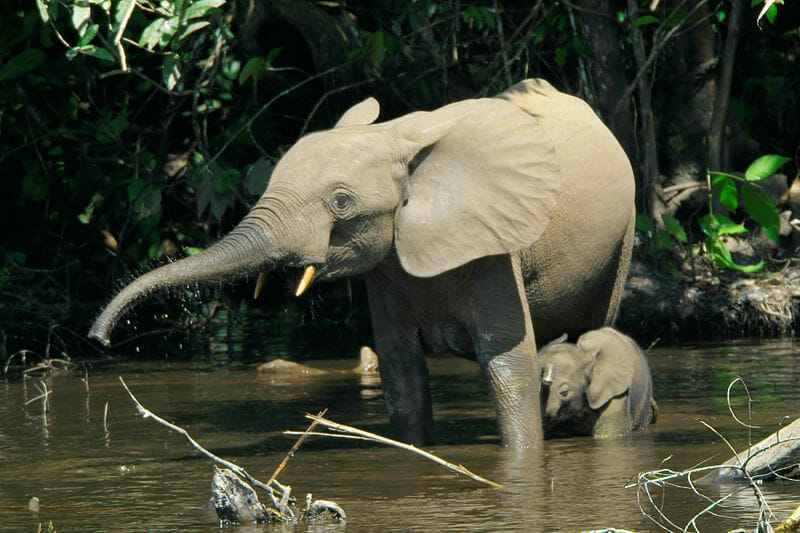 By VF (*) - 24.
Guyvanho was sentenced to 30 years in prison by the court
Sentence is first criminal conviction of a commercial wildlife killer and trafficker in the Republic of Congo
Thirty-five-year-old Mobanza Mobembo Gerard reportedly led poaching expeditions into Nouabale Ndoki National Park, an internationally protected UNESCO World Heritage Site, famous for its Forest Elephants (picture).
The Democratic Republic of Congo finally managed now to arrest this well-known criminal and to imprison him for a time of up to 30 years as punishment for the attempted murder of park rangers and the smuggling of elephant tusks. This is marking the first conviction by a criminal court in that country of a wildlife trafficker. In addition, Gerard has been convicted for the possession of military weapons and ivory trafficking.
Guyvanho headed a gang that killed elephants and other wildlife in the country's Nouabalé-Ndoki National Park since 2008, the Wildlife Conservation Society said in a statement Monday. It is estimated that he and his gang had slaughtered up to 500 forest elephants.
In 2018, Guyvanho and his team engaged in a gunfight with park rangers after having killed 11 elephants, and escaped. But Park officials followed up and Gerard, who directed the group of around 25 poachers, was then initially arrested in May 2018.
Again, while awaiting trial, he escaped and was sentenced in absentia to five years in prison and $9,000 in fines. Authorities finally captured the ruthless poacher a year later, following another exchange of gunfire that seriously wounded two park rangers.
Wildlife and other environmental crimes were previously tried in civil courts, who could only issue a maximum penalty of up to five years prison.
"This unprecedented conviction in the criminal court is a major milestone in the protection of wildlife in the Republic of Congo," Emma Stokes, the organization's regional director for Central Africa, said in the statement. "It sends an extremely strong message. We are confident that today's sentence will serve as a deterrent to would-be criminals, letting them know that you will serve hard time if you break the wildlife protection laws and put park rangers and Congo's national security in danger," Stokes said.
The sentencing followed more than three years of work by the Nouabalé-Ndoki National Park's Wildlife Crime Unit and Anti-Poaching department, as well as repeated attempts to arrest Guyvanho, according to WCS.
Nouabalé-Ndoki National Park is part of the Sangha Tri National Conservation Zone where the Republic of Congo, the Central African Republic and Cameroon form a border triangle and the three countries cooperate in transboudary wildlife protection.
(*) With texts by Pauline Bax and Katie Valentine
Image Credit: Wikimedia Commons / Thomas Breuer