Incredible Photos Capture Last Glimpse of Long-Tusked 'Elephant Queen'
By Mindy Weisberger - 19.
An elephant matriarch in Kenya that recently died of old age was an impressive sight to the very end, thanks to a pair of tusks that were so unusually long that they resembled those of a woolly mammoth.
The elephant, known as F_MU1, lived in Kenya's Tsavo region for more than 60 years, according to wildlife photographer Will Burrard-Lucas, who captured stunning images of the stately pachyderm in the weeks prior to her death.
The group caught up with F_MU1 and other elephants in a clearing, and Burrard-Lucas photographed her using a remote-controlled, robot-mounted camera called BeetleCam. He chose the BeetleCam because it travels close to the ground, so its low-slung perspective would showcase the astonishing length of the elephant's tusks, Burrard-Lucas wrote.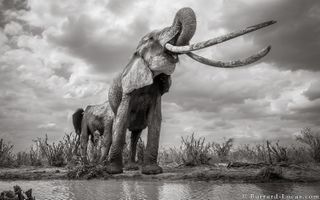 The astounding sweep of this old female elephant's tusks recalls an extinct relative — the wooly mammoth. (Image: © Burrad-Lucas Photography)
Over several days, Burrard-Lucas photographed F_MU1 near watering holes and acacia trees (where she fed), with the beast sometimes passing only inches away from the rolling camera. Though she was old and very skinny, she proved to be "an exceptional subject," Burrard-Lucas said.
"If I hadn't looked upon her with my own eyes, I might not have believed that such an elephant could exist in our world," he wrote.
F_MU1's tusks were so long that they brushed the ground in front of her. (Image credit: Burrad-Lucas Photography)
F_MU1 died of natural causes, but big tuskers usually aren't so lucky, as their massive tusks make them targets for ivory poachers. In 2017, poachers killed and mutilated a big tusker named Satao II who was nearly 50 years old; one of the creature's tusks weighed 114 lbs. (51.5 kilograms) and the other weighed 111 lbs. (50.5 kg), The Guardian reported that year.
To date, only about 25 big tuskers remain in the wild, according to The Guardian.
===
A reconstruction of the Stegotetrabelodon syrticus herd that likely made the tracks in the Arabian Desert. (Image credit: © Mauricio Antón.)
Kite Photographer
Nathan Craig preparing a kite for low-altitude photography of the elephant trackway site. The researchers mounted a pocket digital camera onto the kite, stitching the hundreds of pictures it took into a single large mosaic image that gave a broad overview of the site. (Image credit: © Faysal Bibi.)
Footprint Mosaic
Close-up of the kite aerial photomosaic with color mapping of the trackways. (Image credit: © Authors.)
Elephant Trackway
The footprints in the trackway (shown at left) likely came from 13 four-tusked elephant ancestors. Shown right, one of the better-preserved prints in the trackway. (Image credit: Biology Letters)
Aerial Trackway
An aerial view of the elephant tracks, covering an area equal to nine U.S. football fields, revealed the stunning footprints (Image credit: Biology Letters)
Single Track

An isolated track from the herd of proboscideans in the Arabian Desert. (Image credit: © Faysal Bibi.)
Tracking Elephant Tracks
Researchers at the so-called Mleisa 1 trackway site in the Arabian Desert where the 7-million-year-old footprints from a four-tusked elephant ancestor were found. From left to right, Ahmed Abdalla Al-Haj (ADTCA), and co-authors, Brian Kraatz, Mark Beech, and Faysal Bibi. (Image credit: © Mathieu Schuster.)
Desert Fieldwork
From left to right, co-author Faysal Bibi collecting field data with archaeologists, Abdul Rahman Al-Nuaimi and Abdulla Al Kaabi at the elephant trackway site. (Image credit: © Faysal Bibi.)
===
The Most Surprising Elephant Relatives on Earth
You'd never know some of these creatures are related to the biggest beasts on land.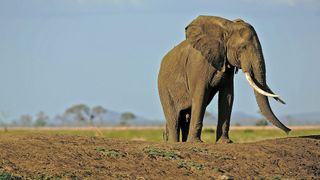 A picture taken on October 14, 2013 shows an elephant in Mikumi National Park, which borders the Selous Game Reserve, Tanzania. (Image: © Daniel Hayduk/AFP/Getty)
About 66 million years ago, an asteroid collided with Earth, wiping out the dinosaurs and giving a group of small terrestrial herbivores a tremendous evolutionary opportunity. With dinosaurs (except birds) out of the picture, an untold number of niches were suddenly available. Descendants of those mammals, which belong to a taxonomic group scientists call Paenungulata, spread across the world and evolved into some of the most well-known mammals — living and extinct — that have ever roamed Earth or swum its seas, Advait Jukar, a paleobiologist at the National Museum of Natural History at the Smithsonian in Washington, D.C., told Live Science. The most famous is the elephant.
Though some of these strange creatures look like the enormous, beloved beasts, you'd be shocked to learn that others are also related to the terrestrial giants of today. From the sea cow to the hyrax, here are seven surprising, long-lost relatives of elephants.
Species: Pezosiren
(Image credit: Getty)
Status: Went extinct 40 million years ago
Last common ancestor to elephants: 60 million years ago
This four-legged mammal was closely related to manatees, dugongs and the recently extinct Steller's sea cow, but fossils indicate that the pezosiren wasn't as well suited to aquatic life as its relatives were. Paleontologists think this long-tailed guy, whose remains were unearthed in the country of Jamaica, existed for a short time between 40 million and 50 million years ago.
Pezosiren shared a distant ancestor with elephants, hyraxes and other sea cows. That long-lost creature evolved in Africa and found its way to the New World very early. Scientists hypothesize that an ancestral panungulate may have made the journey by floating across the Atlantic on large rafts of vegetation. Back then, the trip would have been shorter, as the ancient Atlantic was much narrower at that time than it is today.
Species: Manatee
(Image credit: Shutterstock)
Status: Endangered
Last common ancestor to elephants: 60 million years ago
Another descendant of the ancestral panungulate is the manatee (Trichechus), found today on both sides of the Atlantic. One species lives in West Africa and two live in the New World: one in the Amazon and the other in rivers and coastlines in Florida. All sea cows, including manatees, evolved from pig-like animals that moved from land into the sea, and the last ancestor they share with elephants lived about 60 million years ago.
Species: Dugong
(Image credit: Getty)
Status: Vulnerable
Last common ancestor to elephants: 60 million years ago
Dugongs (Dugong dugon) are a marine sea cow and live in tropical waters, from the Red Sea to the coastlines of Australia and New Guinea. Like all panungulates, dugongs are herbivores that share subtle anatomical features, such as cheek bones that tend to flare out and certain characteristics of the bones in their inner ears.
Dugongs can grow up to 10 feet (3 meters) long and live for a whopping 70 years, according to National Geographic. Some historians believe that dugong sightings helped inspire the myth about mermaids and mermen.
Species: Steller's sea cow
(Image credit: National Library of France )
Status: Went extinct in the 18th century
Last common ancestor to elephants: 60 million years ago
The Steller's sea cow was a marine sea cow that lived in the Bering Sea until the 18th century, when Europeans hunted them into extinction. The naive creatures were 25 to 30 feet (7.6 to 9.1 m) in length, making them the largest of the sea cows and especially desirable for their meat. The herbivores would float to the surface to eat kelp, making them easy targets. Steller's sea cows were driven to extinction in less than 30 years after their discovery by Europeans.
Species: Woolly mammoth
(Image credit: Print Collector/Getty)
Status: Went extinct about 4,000 years ago
Last common ancestor to elephants: 6 million years ago
The woolly mammoth is perhaps the most well-known extinct mammal, but the charismatic creature wasn't around for very long. As members of the family Elephantidae, woolly mammoths were themselves elephants. Their last common ancestor with modern-day elephants lived somewhere in Africa about 6 million years ago. Scientists think woolly mammoths evolved about 700,000 years ago from populations of steppe mammoths living in Siberia. Wooly mammoths were roaming Earth's northern latitudes during the construction of the Great Pyramid of Giza.
The last mammoths lived on islands off the coast of Alaska and Siberia and fell victim to human activity.
Species: Columbian mammoth
(Image credit: Getty)
Columbian mammoths were giants that roamed North America in the Pleistocene. During a period of glaciation, sea levels dropped, allowing populations to spread onto Santa Rosa Island off the coast of California. The Columbian mammoths that ventured onto the island were stranded as the glaciers receded and sea levels rose once again. Scientists think that limited space and resources favored smaller individuals and eventually led to the creation of a new, much smaller species, called the pygmy mammoth.
Weighing less than a ton, the members of the new species were less than one-tenth the mass of their mainland ancestors.
Species: Hyrax
(Image credit: Getty)
Status: Least concern, near threatened (depending on species)
Last common ancestor to elephants: 60 million years ago
Hyraxes are small, furry mammals that more closely resemble rodents than elephants. Though their bodies are different in some ways, hyraxes share some important features with elephants, including certain dental characteristics, the arrangement of bones in their wrists and ankles, and the absence of external testicles. Though there were once many species, only five survive today.
Hyraxes are native to Africa and southwestern Asia. They typically spend their morning hours sunbathing and chowing down with their families on grasses, leaves, fruits, insects, lizards and bird eggs, according to the African Wildlife Foundation. They even have designated potties — that is, latrines where the whole family does its bathroom business.
Species: Arsinoitherium
(Image credit: De Agostini/Getty)
Status: Went Extinct 30 Million Years Ago
Relationship to elephants: Uncertain
Fossils suggest this two-horned creature lived in swamps in Africa and Asia about 56 million to 23 million years ago. Fossils discovered in 2008 suggest that Arsinoitherium was able to travel between the African continent and the Arabian Peninsula. Scientists have known for a long time that the species wasn't closely related to the rhinoceros, but until recently paleobiologists believed that Arsinoitherium was a member of Paenungulata. Recent research has led researchers to thinkthat it is less closely related to elephants than the other animals in this presentation.
===
This palm-sized elephant relative was just sighted for the first time in 50 years
By Yasemin Saplakoglu -
t's related to an elephant, has a long nose, a fur tuft on its tail and big, spectacled eyes.
A teensy animal, with a long nose, a fur tuft on its tail and big, spectacled eyes hadn't been seen in nearly half a century. That is, until a whiff of peanut butter lured the wee mouse-sized mammal out from the rocky, rugged lands of Djibouti in the Horn of Africa.
The recently "rediscovered" mammal, called a Somali sengi (Elephantulus revoilii), is a species of elephant shrew. While elephant shrews are related to elephants, aardvarks and manatees — they're not elephants and they're not shrews.
The Somali sengi has not been seen since 1973. Everything known about the obscure mini mammal came from 39 individual specimens that were collected decades and centuries ago and that are now stored in museums, according to a statement from Global Wildlife Conservation.
This is the first-ever photo of a live Somali Sengi, a tiny mammal that was recently rediscovered in Africa. (Image credit: Photo by Steven Heritage, Duke University Lemur Center)
In 2019, a group of scientists from the U.S. and Djibouti set out to look for the species after receiving tips that the creatures could be hiding in Djibouti, although the animals had only previously been found in Somalia, according to the statement.
"For us living in Djibouti, and by extension the Horn of Africa, we never considered the sengis to be 'lost,' but this new research does bring the Somali sengi back into the scientific community, which we value," co-author Houssein Rayaleh, a research ecologist and conservationist with the nonprofit organization Association Djibouti Nature, said in the statement. Rayaleh had seen the creature before — and locals had too, correctly identifying it in photos during interviews with the scientists, according to the statement.
This Somali Sengi was spotted way up north, greatly expanding the range of the species. (Image credit: Photo by Houssein Rayaleh, Association Djibouti Nature)
Using information from interviews, analysis of dung piles at candidate sites and assessments of terrain and sheltering potential, the researchers set up 1,259 traps at 12 different locations across the rocky terrain. They lured the animals to the traps by setting out peanut butter, oatmeal and yeast. They caught one of the elusive mammals in the first trap they set.
In total, they found 12 Somali sengis, which they could distinguish from a similar species by the tuft of fur on their tails, according to the statement. "For Djibouti, this is an important story that highlights the great biodiversity of the country and the region and shows that there are opportunities for new science and research here," Rayaleh said.
They found all of sengis by rocky outcrops and relatively sparse vegetation, areas that are typically inhospitable to human activities, meaning the tiny creatures are not likely to experience habitat destruction, according to the statement. Because they found comparable numbers to other sengi taxa and because they now know that the creatures live beyond just Somalia, the authors recommended that the IUCN Red List of Threatened Species change the Somali sengi's current "data deficient" status to "least concern," according to the statement.
"Usually when we rediscover lost species, we find just one or two individuals and have to act quickly to try to prevent their imminent extinction," Robin Moore, one of GWC's Search for Lost Species program leads, said in the statement. "This is a welcome and wonderful rediscovery during a time of turmoil for our planet, and one that fills us with renewed hope for the remaining small mammal species on our most wanted list." (GWC crafted a list of 25 of the most wanted "lost" species.)
The findings were published today (Aug. 18) in the journal PeerJ.
===
Dead Elephant Found Lying on Top of a Squashed Crocodile. What Happened?
There was no winner in the deadly showdown between these two titans.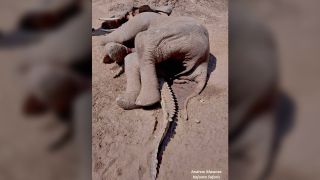 The reptile's long tail is visible, but most of the crocodile's body is hidden under the bulk of the elephant that crushed it to death. (Image: © Copyright Kafunta Safaris, Zambia/Image by Andrew Mwanza)
A recent confrontation between an elephant and a crocodile ended in a surprising twist that left both combatants dead, with the crocodile flattened underneath the fallen pachyderm.
A photo that was captured in Zambia's South Luangwa National Park by a guide with Kafunta Safaris showed the grim and surprising scene: A dead elephant lay on top of an equally dead crocodile, the reptile's long tail extending beyond the elephant's splayed hind legs. Other photos of the gruesome scene show dozens of vultures and other scavengers crowding around the carcasses.
Safari guide Andrew Mwanza discovered the carcasses on Oct. 8 on a bank of the Luangwa River near one of Kafunta Safaris' campsites, a company representative told Live Science in an email. Accompanying Mwanza at the time were several safari guests and an armed scout from Zambia's Department of National Park and Wildlife (DNPW).
The dead elephant and crocodile both appeared to be young individuals, based on their body sizes; a later inspection by the DNPW and officials with Conservation South Luangwa ruled out poaching as the elephant's cause of death, as there were no bullets found in the body, according to the email.
Nile crocodiles (Crocodylus niloticus) are plentiful in the Luangwa River, and they often prey on elephants that come to cross the river or to drink from the water's edge, the representative said. Adult crocodiles can grow to be 20 feet (6 meters) long and can weigh as much as 1,650 lbs. (748 kilograms), according to National Geographic. By comparison, an adult African elephant (Loxodonta africana) weighs between 5,000 and 14,000 lbs. (2,268 and 6,350 kg), so crocodiles typically avoid attacking healthy adult elephants, said Marisa Tellez, co-founder of the Crocodile Research Coalition with the Marine Science Institute at the University of California in Santa Barbara.
"From the pictures I've seen, the croc was a small subadult or small adult, and I highly doubt it was trying to take an injured adult elephant down. That seems like a lot of work for a smaller predator, and not in its favor," Tellez told Live Science in an email. "Of course, you will always have more bold individuals that will take more than they bargained for," Tellez added. "I am also wondering if this may have been a young female defending her nest from an elephant possibly trampling all over it."
When the animals' corpses were discovered, hyenas had already devoured part of the elephant's head and trunk. One of the crocodile's front legs is visible, sticking out from underneath the elephant. (Image credit: Copyright Kafunta Safaris, Zambia/Image by Andrew Mwanza)
In general, crocodiles are more likely to target elephants that are young, ill or injured. The dead elephant in the photo was probably sick or hurt — "maybe previously attacked by lions" — when it encountered the crocodile, said the representative.
Crocodiles are ambush predators, and when they lunge at an elephant they usually grab its vulnerable trunk, said Agata Staniewicz, a crocodile researcher and doctoral candidate with the Behavioural, Acoustic and Sensory Ecology Lab at the University of Bristol in the United Kingdom.
"A healthy adult (sometimes with the assistance of the herd) can usually fight off the crocodile, though it may sustain severe injuries to the trunk," Staniewicz told Live Science in an email. "However, an injured or sick elephant might not have been strong enough to fight."
After struggling with the river predator, the elephant may have simply collapsed from its injuries or from exhaustion, and as it fell it landed on the reptile and crushed it to death, the Kafunta Safaris representative said.
Although this story had an unhappy ending for the elephant and crocodile, plenty of nearby scavengers were clearly thrilled with the outcome, Kafunta Safaris representatives wrote on Facebook.