Meet Caroline Tegeret, the first female Ogiek lawyer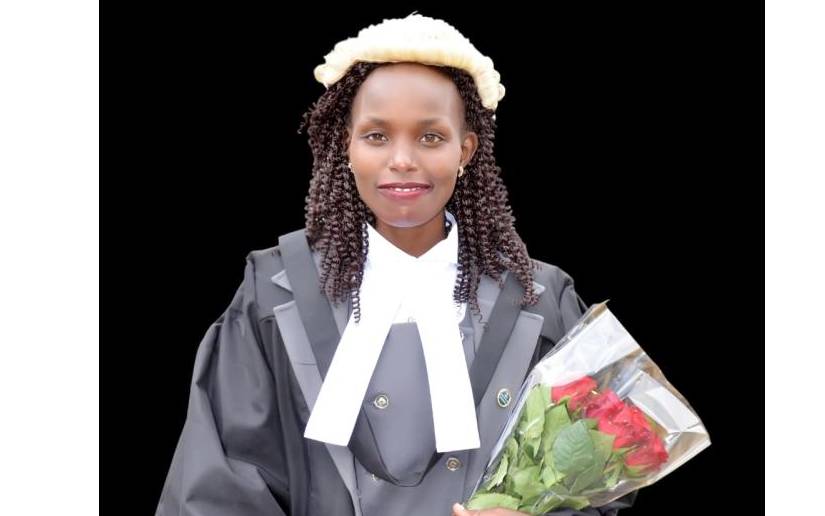 By Caroline Chebet - 06. July 2020
Behind her shy demeanour, tiny frame and girlish smile is a story of resilience that has seen Caroline Tegeret accomplish a rare fete.
It was the struggle for recognition of the Ogiek community's land rights that birthed a desire in Tegeret, 25, to take up a career in law. That desire would eventually culminate in her being admitted to the bar, making her the first female from the 52,000-member community to attain such status.
She talks about an unwavering love for her community, the plight of women and girls that has been the force behind her achievement.
Caroline Tegeret, 25, is the first Ogiek woman to be admitted to the bar. [Picture above - Courtesy, Standard]
"Almost everyone knows the story of the Ogiek community of Mau. They are known as the indigenous hunter-gatherer community but what is even famous of the Ogiek is their struggle for land rights that has seen them in court many times-both local and international," Tegeret says.
She says the community's struggle for land rights in courts propelled her further into chasing her dreams as a young girl growing up in a village in Nessuit, Nakuru County, to the Kenya School of law and finally into the bar.
"Yes- that is part of what made we want to pursue law, the community's quest to have a place to call home. Retrogressive practices against women and girls is another reason. Female genital mutilation and early marriages are highly practised and I wanted the girls to know their rights and chase their dreams as well," she says.
While Tegeret has never been affected by forceful evictions in the Mau, something that has affected many of the community members; she saw her relatives wander by the edges of the forest and putting up makeshift structures to accommodate them on many nights.
"My family lives in Nessuit, away from the cutline but that does not mean it did not affect us. This is an indigenous community that knows the forest as their home and many of my relatives have suffered the fate whenever they are flushed out of the only place they call home. It is painful watching women and children roam the streets, a phenomenon that always repeats itself almost every year," she adds.
The second born in a family of eight said she studied at Kapropita Girls High Schoolin Mogotio where she developed the interest of pursuing law.
School and inspiration
Her father, James Tegeret, a teacher, also played a role in mentoring her to pursue her career. Her mother, Jane, is a housewife.
"My parents played a key role. As a firstborn daughter, my father always encouraged me to change the script of the Ogiek girls. He inspired me to dream and work on those dreams so I can set the bar for my younger siblings and it has been great," she adds.
Although she had no one to look up to as a lawyer from the community, she said retrogressive cultural practices that saw most of her peers subjected to the cut and married off made her to defy the odds. The trend, she says, would see young girls never dreaming beyond marriage and not taking their studies seriously. School dropout rates too, were high as a result of the cut, early marriages and evictions.
"I knew women and children had the rights but then, I also had to rise up and be that example to many girls," she adds.
Tegeret graduated from Moi University with a Bachelors of Law in 2017 and proceeded to Kenya School of Law in 2018 and pursued her internship with Kiplenge and Kurgat Advocates in Nakuru before being admitted to the bar last week.
Mentorship
But as much as her schedule has been busy with studies, she has always mentored the young girls from Ogiek while also following up on court cases by the community.
"I am a keen follower with interest in Ogiek cases. I always followed and Ogiek People Development Programme have always supported me to achieve my dreams, always tagging me along whenever there is a case of interest. Through the programme, I have also been able to reach out to Ogiek women and girls for civil education and their rights," she adds
Daniel Kobey, the programme's executive director said Caroline's achievement is a big milestone for the community that has over the years had several cases on land rights both in local and international cases.
"We have always encouraged learners from the Ogiek community to consider pursuing law because that has been our weak point. We spend a lot of money as a community on litigation and having our own onboard feels like a relief. Not that we have never had lawyers but this is the first lady lawyer, also with community's interest at heart," Mr Kobey said.
He added that Tegeret has also been working with the programme to mentor youth and learners with more focus on women and girls. He said she has also been key in career development among many learners in the community and was to be part of our delegation to African courts on Human rights in March, a case that was postponed due to Covid-19 travel restrictions.
"Our biggest challenge as the Ogiek community is early marriages and the female cut. The furthest most girls go is to finish high school and get married. Most of these girls are wives with unfulfilled dreams and Caroline being ion board, is a great milestone as an example to youth within the community," he said.
Tegeret says her dream is to promote rights of minority and marginalised groups and empowering the girl child.
"I am celebrating because everything is achievable and I want to have every girl child from the minority and indigenous communities believe that they can dream big, work on the dreams, achieve and compete for opportunities with the world. I also aspire to work with institutions to promote the rights of minority and marginalised groups," she added.
===
I'M NOT A LESSER BEING
First Ogiek woman lawyer wants to be Chief Justice
One of eight children whose father, a primary school teacher, inspired to aim high.
In Summary
• Woman lawyer wants to educate her community to end backward cultural practices such as FGM and early marriage and change their dim view of women's abilities.
• Wants to fight for her community's land and cultural rights.
FIRST: Caroline Tegeret upon her admission to the bar - Image: COURTESY
Caroline Tegeret, the first female lawyer in the marginalised Ogiek community, wants to become the Chief Justice of Kenya.
Tegeret, 25, is the second-born in a family of eight and defeated the odds to climb the academic ladder and be admitted to the Bar last Thursday. She studied at the Kenya School of Law.
She told the Star in an interview on Monday she was inspired by the marginalisation of her Ogiek community, especially the women, and wants to help them advance. Eradicating FGM is one of her goals.
"Besides financial constraints, I was disadvantaged by negative cultural practices and views that a woman is a lesser being unable to pursue a course like mine," she said.
The latest census report indicates the 52,000 Ogiek forest dwellers live east and west of the Mau Forest water tower in Nakuru county.
Before massive deforestation and invasion by other communities, the Ogieks depended on bee farming, hunting and gathering.
After excelling in her KCSE exam at Kapropita Girls, Tegeret was admitted to Moi University where she earned a Bachelor of Laws degree.
Deep-rooted illiteracy, school dropouts, early marriages and FGM have been major setbacks to women in my community. - Caroline Tegeret
The cost of school fees, she said, was her greatest challenge since she came from a "humble, happy family" in Nessuit, Nakuru.
She is grateful to her father James Tegeret, a primary school teacher, for his steadfast support.
"Deep-rooted illiteracy, school dropouts, early marriages and FGM have been major setbacks to women in my community," Tegeret said.
Her admission as an advocate of the High Court of Kenya is evidence that members of the Ogiek community can achieve anything other communities have achieved, she said.
Now she plans to work with government and partners to empower indigenous and marginalised communities.
Tegeret cites the failed quest by Ogiek community elders to fight for land rights and justice over decades. She said their struggle inspired her to help find solutions.
"The famous Ogiek struggle for land rights that has seen them in court many times, both locally and internationally, is part of what made me want to pursue law" she said.
Tegeret, the firstborn daughter, calls her father her role model.
"My father has seen many girls drop out of school for early marriages. He always encouraged me to change that story of Ogiek girls by raising the bar of excellence for my siblings and the entire community," she said.
Tegeret said she admires her father's resilience and determination. "Having come from a humble background and marginalised community, he still managed to pursue a successful teaching career.
"He has inspired many in the Ogiek community."
She also wants to play a key role in sensitising her community to end FGM, early marriages and change their dim view of women.
"My next move is to work with NGOs and government entities to empower indigenous and marginalised communities. I have always had a passion for working with communities," Tegeret said.
The legal profession is tough, especially for a woman from a marginalised community but she has set her sights on becoming president of the Supreme Court and head of the Judiciary.
Tegeret graduated from Moi University in 2017, proceeded to the Kenya School of Law in 2018 and pursued her internship with Kiplenge and Kurgat Advocates in Nakuru.
Stephen Lelei of the Ogiek Community Development Programme called Tegeret's achievements a boost to the community that has been struggling for recognition locally and internationally.
"We are very happy to have our own first lawyer who will help us put an end to the setbacks that have been jeopardising our efforts," he said.
Lelei is also a coordinator of a registered Ogiek community radio station that focusses on environmental conservation.
Sogoot FM is to be launched this year. It is based at Marioshoni Shopping Centre in Nakuru.
In 2006, Ogiek community members filed a case in the International Court of African Justice in Arusha, Tanzania. They complained the Kenya Forest Service issued them with notices to vacate the forest without considering how this would affect their lives.
On May 26, 2017, the Arusha-based African Court on Human and Peoples' Rights, directed the Kenyan government to resettle thousands of members of the community in their indigenous homes.
The verdict is yet to be implemented, although Kenya is a signatory to the court's protocol, hence, its rulings are binding.
The court recognised the Ogieks' indigenous status and their right to reparations from the Kenyan government for the suffering they have endured through forced evictions.
It acknowledged their strong attachment to the forest and their freedom to practise their traditions and deemed evictions to be disproportionate to conservation aims.
(Edited by V. Graham)
===
===