UPDATE 22. May 2020: Pentagon claim of zero civilian deaths in Yemen is divorced from reality
UPDATE 13. April 2020: Saudis are preventing aid from entering Yemen
ALERT UPDATE 08. April 2020: Obviously some test-kits have finally been brought to Yemen and the first case of COVID-19 has been established in eastern Yemen. Another catastrophe in the making.
ICYMI: War Crimes & Genocide: What You Aren't Being Told About US Involvement In Yemen
PROLOQUE: Almost all humanitarian and nature protection work in Yemen is brought to a near stand-still by the onslaught of the British-led and U.S.-financed war machine - targeting mainly civilians - under the banner of Saudi-Arabia and the UAE. These are the same war-crimes as they were committed by British troops - now under official investigation - in Afghanistan. Together with U.S.troops the Brits also continue to violate the sacrosanct World Heritage Site of the Island of Socotra, though the world had demanded that they should leave immediately. Bad Karma from all the civilian deaths seems to haunt now Boris Johnson.
Corona-filled papers ignore Britain's Yemen invasion
Unreported in British media, British troops have landed in Aden. All that awaits them is the graveyard of imperialist ambitions.
By PW - 04. April 2020
Five years into Riyadh's imperialist-sponsored war against the Yemeni people, a war conducted with the maximum savagery and cowardice, the corrupt feudal sheikhdom of Saudi Arabia is further than ever from achieving any of its goals – or any of the war aims of its imperialist sponsors in the USA and Britain.
The much-loathed and deservedly ousted former president, Abdrabbuh Mansur Hadi, continues to cool his heels in Riyadh, waiting in vain for his hosts to succeed in bludgeoning his fellow countrymen into having him back.
Meanwhile, the national resistance forces continue to hold their own, whilst the Saudi alliance is increasingly weak and divided – its mercenary forces being consistently hammered in the ground war, and only able to function at all thanks to the brutal air war conducted against the civilian population.
If the war could have been won simply by piling misery upon misery on the long-suffering Yemeni people, Hadi and his sponsors would long ago have prevailed.
It is impossible to overstate the horrors to which millions of Yemenis have been exposed through blockade, blitzkrieg, hunger and disease. The United Nations estimates that over 24 million Yemenis are in dire need of aid, 10 million of whom are suffering from extreme levels of hunger.
The Yemen Data Project calculates that the Saudi gang has carried out nearly 20,500 air raids, meaning that the spread of cholera and other diseases has been facilitated by the systematic destruction of hospitals, schools, bridges, roads and all manner of vital infrastructure, not least the specially targeted water purification plants. (Saudi-led coalition launches air raids in Yemen's Hudaydah, PressTV, 8 March 2020)
As well as infrastructural destruction, they make a speciality of targeting weddings, funerals and refugee camps.
British imperialist war crimes
Britain's role in this criminal enterprise has been substantial throughout. A Guardian article published last June demonstrated conclusively that British imperialism is up to its elbows in blood.
It reported: "Every day Yemen is hit by British bombs – dropped by British planes that are flown by British-trained pilots and maintained and prepared inside Saudi Arabia by thousands of British contractors." The bombs are manufactured in Glenrothes, Stevenage and Harlow. (The Saudis couldn't do it without us': the UK's true role in Yemen's deadly war by Arron Merat, Guardian, 18 June 2019)
RAF engineers are sent to train Saudi pilots and targetters, whilst BAE Systems personnel work in the field, providing weapons, maintenance and engineers. One BAE worker told Channel 4's Dispatches: "If we weren't there, in seven to 14 days there wouldn't be a jet in the sky."
The Guardian article explained how BAE is contracted by the government to provide "in-country" services, with around 6,300 contractors "stationed at forward operating bases in Saudi Arabia. There, they train Saudi pilots and conduct essential maintenance night and day on planes worn out from flying thousands of miles across the Saudi desert to their targets in Yemen.
"They also supervise Saudi soldiers to load bombs on to planes and set their fuses for their intended targets."
The RAF provides liaison officers to work inside the Saudi command-and-control centre, which decides who is to get targeted. Meanwhile, inside "Saudi forward operating bases, there are thousands of British contractors working to keep the war machine moving.
"British contractors coordinate the distribution of bombs and aircraft parts. They manage climate-controlled armouries and work in shifts to ensure bombs are dispatched in a timely manner for fresh raids."
In short, in an impeccable public/private partnership, the RAF and BAE between them do everything short of pulling the trigger.
However, even that last caveat is of dubious validity. As the Guardian article also noted: "In May 2018, an unknown number of British troops were sent to Yemen to assist Saudi ground forces. Since then, multiple newspapers have published reports of British special forces wounded in gun battles inside Houthi-controlled territory."
Three thousand British and US troops heading for Yemen?
And now, on 12 March, the Iranian news agency Press TV has reported a claim by the so-called Southern Transitional Council (STC, a breakaway separatist faction within the Saudi coalition that is sponsored by the UAE) that hundreds of US and British soldiers "have arrived in the port city of Aden as the first batch of a large military force that Washington and London seek to deploy to the Arab country's resource-rich areas under the guise of fighting terrorism". (US, British troops in Aden, more to arrive in Yemen strategic areas, PressTV, 12 March 2020)
According to Fadi al-Murshidi, media official of the STC, some 450 US and British soldiers had already arrived in Aden, the first batch of a planned 3,000-strong contingent which is aimed to directly occupy Aden, al-Anad base in Lahj province, Socotra Island in the Arabian Sea, Hadhramaut, Mahrah and Shabwah provinces.
In the same Press TV report, unspecified "southern local media" are said to have reported that a US force of 110 soldiers reinforced by ten Black Hawk aircraft, 30 Harvey armoured vehicles, four Patriot air defence systems and an integrated field operations room had reached the coast of Balhaf in the oil-producing Shabwa province, where are also docked two US warships.
Balhaf happens to be the main port for the export of Yemen's liquified natural gas (LNG).
The significance of this report, so far uncorroborated by any other source seen by this writer, is not immediately clear. As is plain from the Guardian piece cited above, Saudi Arabia is already teeming with British contractors, engineers, special forces and RAF advisers. A few thousand more troops need not of itself necessarily radically alter the facts on the ground. An imperialist mercenary smells the same in or out of uniform.
However, if this development signals a qualitative shift in strategy, abandoning reliance on proxies to deliver the imperialist agenda in favour of a more blatant direct intervention by the puppet-masters themselves, then this suggests just how little confidence imperialism on either side of the pond has in the ability of Saudi Arabia and its partners-in-crime in the UAE to bring home the bacon.
The concentration of US and British forces in the oil-producing Shabwa province, complete with two US warships docked at the main LNG-exporting port, looks more like a clumsy smash-and-grab of the nation's mineral wealth than a confident assertion of imperialist dominance – much like America's blatant theft of Syria's oil wealth.
In both cases, it looks more like a shoplifter stuffing his pockets whilst heading for the exit than a serious plan of settled domination.
Thieves fall out
The Southern Transitional Council (STC), from whose spokesman the Press TV story originates, is sponsored by the UAE, a key ally in the war against Yemen. The STC has previously been instrumental in the attempt to restore Hadi, which was in line with the imperialist attempt to force the Yemeni people to submit to being ruled by a Saudi stooge.
However, last year the STC turned against Hadi and seized Aden, the nominal 'capital' of Hadi's shadow government, with the involvement of the UAE's military. Faced with the prospect of a squabble amongst rival militias undermining the war effort and driving a wedge between the UAE and Saudi Arabia, a peace deal was brokered under which Saudi forces took control of most of south Yemen and UAE forces withdrew.
But the deal is not holding, tensions are escalating between Saudi-backed militias and STC fighters, and now the Saudi coalition is preventing STC leaders returning to Aden. It seems probable that the intention of sending in the imperialist soldiery is in part to shore up the Saudi-led fighters and refocus minds on the imperialist agenda.
These quarrels erupting within the ranks of the Saudi coalition, with even a danger that Saudi Arabia and the UAE could find themselves drawn into open collision, are clearly weakening and dividing the forces of oppression.
They are also making it harder for 'allies' to maintain a united propaganda front – as illustrated by the STC apparently letting the cat out of the bag about the influx of imperialist troops.
The struggle continues
And through it all, the forces of national liberation led by the Ansarullah movement (or 'Houthi rebels' as the imperialist media like to dismiss them) not only remain unbroken but have since last summer been making substantial military gains against the oppressor.
These are putting maximum pressure on Riyadh to put an end to the humanitarian disaster prolonged by its unwinnable war and come to the negotiating table. As Ansarullah leader Abdul-Malik al-Houthi pointed out in a recent televised address, the US is humiliating Riyadh and Abu Dhabi to pursue its own agenda.
Al-Houthi noted: "Evaluation and studies confirm that economic losses inflicted on the Saudi regime have been huge and its ambitions have not been realised. The Saudi and UAE economies are suffering from economic crises, and continue to decline." (US only humiliating, blackmailing Saudi Arabia, UAE: Ansarullah leader, Press TV, 26 March 2020)
Militarily, the reality is that Riyadh has never got over the massive humiliation of seeing 50 percent of its oil production shut down by drone attacks last September. Taken together with the pro-Hadi fighters' dismal showing in the ongoing ground war, this has left the mercenaries demoralised and on the back foot.
In January, the Yemeni liberation forces recaptured key positions in the Nehm district of Sana'a province and also advanced into Serwah district, 40km west of Ma'arib city.
Then at the beginning of March it was reported that liberation forces had captured al-Hazm, capital of al-Jawf province, as Saudi-led mercenaries retreated into neighbouring Ma'arib province. The mercenaries lost at least 30 of their number over two days, including some high-ranking pro-Hadi officers.
Commenting on this development, Maged al-Madhaji, executive director of the Sana'a Center, a Yemeni think-tank, said: "Control of the capital of al-Jawf could totally change the course of the war. Houthis have made an exceptional advance and are changing the balance," adding that the advance would enable the Ansarullah-backed forces to surround neighbouring oil-rich Ma'rib province, the most significant territory in the hands of the pro-Saudi mercenaries.
By taking al-Hazm, he suggested, "Houthi forces have cleared away the last obstacle in front of the vast, largely empty desert areas across the north of Marib. The Houthi movement, therefore, gains an easy military path to the vein of Marib's wealth – its oil wells and a refinery – without having to capture Marib city, the governorate's well-fortif
"The new achievement by Yemeni forces and the Houthi fighters also secures supply lines between Sana'a and the Houthi northern stronghold of Saada." (Yemenis seize capital of strategic al-Jawf as Saudi-led mercenaries retreat, 1 March 2020)
The Saudi gang responded with the usual cowardly air strikes a week later, this time against the western province of Hudaydah. War planes raided the Salif area and targets in the Bab al-Mandeb strait.
Fierce fighting continued in Ma'arib province, and then at the end of March came news of the first strikes against targets in Saudi Arabia itself since last September. This latest bold attack mobilised a mix of home-made drones and ballistic missiles, demonstrating that Yemen is fully capable of bringing the war back home to Riyadh.
Saudi Arabia is in no fit condition to be acting as imperialist catspaw in the middle east; and if it is really the intention to send in thousands of US and British troops to do the job instead, all that awaits them is the graveyard of imperialist ambitions.
===
UPDATES:
Pentagon claim of zero civilian deaths in Yemen is divorced from reality
By CJ Werleman - 22. May 2020
There are innumerable accounts from local sources and media as well as rights organisations that contradict the U.S. claim.
It is right that former US President Barack Obama deserves the blame being aimed in his direction for greenlighting the Saudi-led war in Yemen, a situation that has left the Middle East's poorest country now dealing with the world's worst humanitarian disaster.
But the White House's current resident, President Donald Trump, is responsible for escalating Yemeni misery by approving record arms deals to the Kingdom and blocking bipartisan congressional bills to end the five-year conflict.
"Year after year, the bombs fell — on wedding tents, funeral halls, fishing boats and a school bus, killing thousands of civilians and helping turn Yemen into the world's worst humanitarian crisis," observes an investigation by the New York Times into how US weapons have come to kill civilians.
"Weapons supplied by American companies, approved by American officials, allowed Saudi Arabia to pursue the reckless campaign."
Last week, the US Pentagon hit back by saying it had not killed any civilians in Yemen during 2019, a claim it also made the previous year in its annual report on civilian casualties in connection with American military operations.
These claims border on the absurd and are at their core, deceitful, only serving as a reminder that the US remains committed to continuing its policy of holding zero accountability towards the innocent men, women and children killed by its kinetic actions and foreign policy.
It is in fact what the Pentagon's annual report on civilian casualties omits that really does answer and reveal why the US military hasn't recorded or acknowledged a single civilian death in Yemen during the course of its participation in the conflict for the past two years.
It chooses to not mention CIA-led operations and US military supported actions, including those carried out by Saudi coalition partners guided or supported by US military assets.
Naturally, The Pentagon only acknowledges its own findings and ignores those of human rights organisations, and others from local and US media sources, international aid groups, and other non-government agencies.
For instance, the Yemeni-based human rights organisation Mwatana for Human Rights, has alone documented dozens of casualties from US air strikes.
According to Mwatana – whose staff visit strike sites, gather eyewitness testimonies and analyse weapon remnants – the US killed 17 Yemeni civilians in 2018 in six alleged drone strikes.
"We left our area (Al Mahashimah) and came to the Al Ruwaik Desert as IDPs because this area is safe and far from the conflict," Abdullah bin Saeed Al Wahair told Mwanta, after a US drone strike struck a Toyota Land Cruiser pick-up truck on 8 March, 2018.
"But we got none of the security that we were looking for, and an American drone struck a vehicle with six members of our family on it. ..Three of them were my sons… and two my grandchildren. All of them were killed in a horrible manner. They were good people and supported large families. Some of them were truck drivers, and others were labourers."
Official policy?
But here's the thing – under President Trump, the US has made it official policy to deny civilian casualties caused by its secretive drone program.
Amnesty International accuses the US military of providing "zero accountability" for these deaths, particularly when it comes to its drone war against the militant group, Al Shabaab in Somalia.
"Not only does AFRICOM [US African Command] utterly fail at its mission to report civilian casualties in Somalia, but it doesn't seem to care about the fate of the numerous families it has completely torn apart," Deprose Muchena, Amnesty's east and southern Africa director, told The Guardian newspaper.
In a recent investigative piece for Byline Times, my Somalia-based colleagues and I, concluded that more than a dozen Somali civilians in the Janaale region were killed by US drone strikes in the month of March 2020 alone. This was based on video testimonies that we gathered from survivors at an IDP camp located on the outskirts of Mogadishu.
"One of those killed was my husband. Another one was my sister's son. And another is my nephew," said one of the survivors.
"Our homes destroyed, livestock destroyed, crops destroyed, people obliterated, our children and I faced so much agony and suffering after being forced to flee. And now we don't even have a single bag, let alone a home to go to."
Another explained how she witnessed her grandmother being struck through the heart by shrapnel from the missile, saying, "They [US] began firing down on crops. We saw dead and wounded everywhere. Then the next day it happened again [more strikes] and then it happened a third day in a row."
While Africa Command, which coordinates US military operations in Somalia, has publicly acknowledged it carried out a dozen or so drone strikes in the Janaale region during March, it has not taken responsibility for a single civilian casualty, and it did not reply to our request for comment.
To put this into context, the US military carried out 36 aerial attacks in Yemen during 2018, according to Mwatana, but maintains that they did not result in a single civilian casualty.
The US position stands directly in contradiction to those affected by its operations on the ground and the numerous rights organisations whose job it is to document the crimes.
"The US military should better facilitate receiving reports from, and opening dialogue with, civil society in countries where it conducts military operations. Groups like ours, working on the ground in areas of conflict, have access to information the military does not and often are well-placed to quickly and credibly raise concerns about civilian impact and wider patterns of harm," writes Abdulrasheed al Faqih, executive director of Mwatana, and Kristine Beckerle, the group's legal director.
To the rest of the world, the US sends out strong signals when they choose to actively deny the consequences of their actions.
Principly, that the lives of Africans, Arabs, and Asians have inferior significance, which, of course, only exacerbates and feeds the very thing it is trying to end: anti-American driven terrorism.
Saudi preventing aid from entering Yemen: Commentator
Political commentator Paul Larudee says Riyadh is under pressure from both inside and outside Saudi Arabia to halt its war on Yemen.
===
'The Saudis couldn't do it without us': the UK's true role in Yemen's deadly war
Britain does not merely supply the bombs that fall on Yemen – it provides the personnel and expertise that keep the war going. But is the government breaking the law?
By Arron Merat -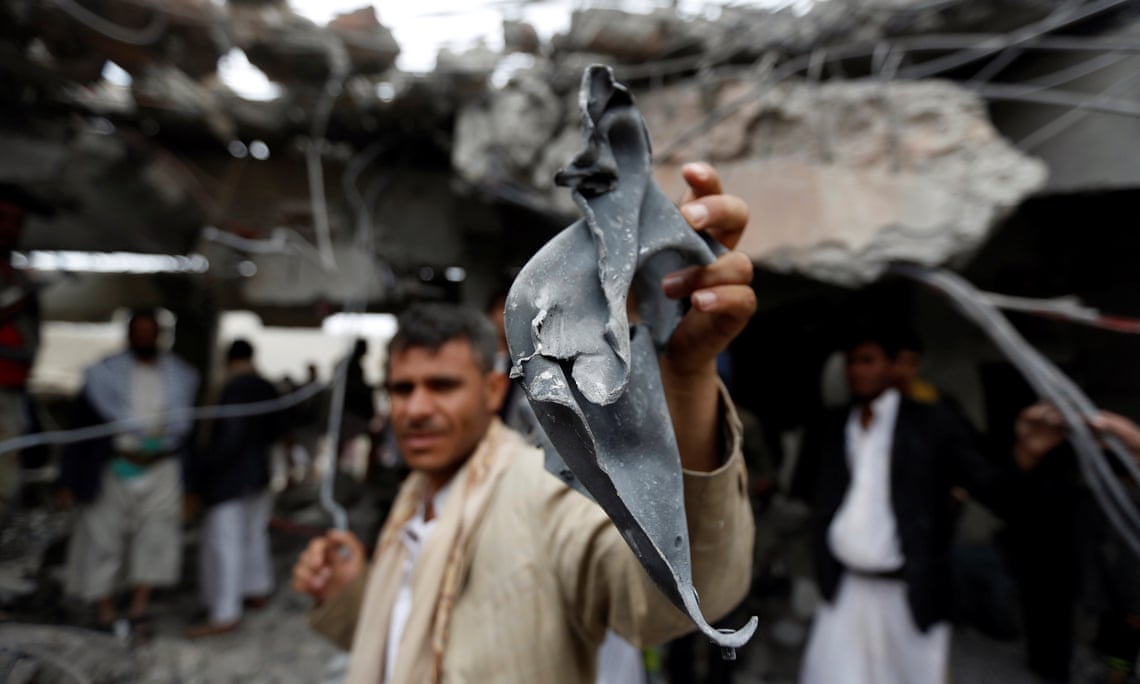 A man with a fragment of a missile found at the site of a Saudi-led air strike in Yemen in 2016. Photograph: Khaled Abdullah/Reuters

For more than four years, a brutal Saudi air campaign has bombarded Yemen, killing tens of thousands, injuring hundreds of thousands and displacing millions – creating the world's worst humanitarian crisis. And British weapons are doing much of the killing. Every day Yemen is hit by British bombs – dropped by British planes that are flown by British-trained pilots and maintained and prepared inside Saudi Arabia by thousands of British contractors.

The Saudi-led military coalition, which includes the UAE, Bahrain and Kuwait, has "targeted civilians … in a widespread and systematic manner", according to the UN – dropping bombs on hospitals, schools, weddings, funerals and even camps for displaced people fleeing the bombing.

Saudi Arabia has in effect contracted out vital parts of its war against Yemen's Houthi movement to the US and the UK. Britain does not merely supply weapons for this war: it provides the personnel and expertise required to keep the war going. The British government has deployed RAF personnel to work as engineers, and to train Saudi pilots and targeteers – while an even larger role is played by BAE Systems, Britain's biggest arms company, which the government has subcontracted to provide weapons, maintenance and engineers inside Saudi Arabia.

"The Saudi bosses absolutely depend on BAE Systems," John Deverell, a former MoD mandarin and defence attache to Saudi Arabia and Yemen, told me. "They couldn't do it without us." A BAE employee recently put it more plainly to Channel 4's Dispatches: "If we weren't there, in seven to 14 days there wouldn't be a jet in the sky."

The British bombs that rain down on Yemen are produced in three towns: Glenrothes in Scotland, and Harlow and Stevenage in south-east England. Bombs roll off production lines owned by Raytheon UK and BAE Systems, firms contracted by the government to manufacture Paveway bombs (£22,000 apiece), Brimstone bombs (£105,000 apiece), and Storm Shadow cruise missiles (£790,000 apiece) for the Saudi Royal Air Force. BAE, under government contract, also assembles the jets that drop these bombs in hangars just outside the village of Warton, Lancashire.

Once these weapons arrive in Saudi Arabia, Britain's involvement is far from over. The Saudi military lacks the expertise to use these weapons to fight a sustained air war – so BAE, under another contract to the UK government, provides what are known as "in-country" services. In practice, this means that around 6,300 British contractors are stationed at forward operating bases in Saudi Arabia. There, they train Saudi pilots and conduct essential maintenance night and day on planes worn out from flying thousands of miles across the Saudi desert to their targets in Yemen. They also supervise Saudi soldiers to load bombs on to planes and set their fuses for their intended targets.

Around 80 serving RAF personnel work inside Saudi Arabia. Sometimes they work for BAE to assist in maintaining and preparing aircraft. At other times they work as auditors to ensure that BAE is fulfilling its Ministry of Defence contracts. Additional RAF "liaison officers" work inside the command-and-control centre, from where targets in Yemen are selected.

Aircraft alone have never defeated a guerrilla insurgency. Despite atrocities committed by the Houthis on the ground, the rebel group's domestic support has only been bolstered by outrage over years of Saudi bombing. Facing up to this reality, last year Saudi Arabia decided to deploy significant ground forces across the border – and here too, the British have joined the mission. In May 2018, an unknown number of British troops were sent to Yemen to assist Saudi ground forces. Since then, multiple newspapers have published reports of British special forces wounded in gun battles inside Houthi-controlled territory.

Under British law, it is illegal to licence arms exports if they might be used deliberately or recklessly against civilians – or in legal terms, to violate international humanitarian law. There is overwhelming evidence that the Saudis are flagrantly in violation, and yet when questions are raised in Parliament about Britain's role in the atrocities occurring in Yemen, Conservative ministers typically limit themselves to three well-worn responses.

First, they claim that Britain operates "one of the most robust arms export regimes in the world". Second, they say that while Britain may arm Saudi Arabia, it does not pick the targets in Yemen. Third, they say that the Saudi-led coalition already investigates its own alleged violations of international humanitarian law.

These responses have long since been overtaken by the bloody reality of the Yemen war. In fact, as the conflict has continued, the killing of civilians has actually accelerated. According to Larry Lewis, a former US State Department official who was sent to Saudi Arabia in 2015 in an attempt to reduce civilian harm, the proportion of strikes against civilians by Saudi-led forces almost doubled between 2017 and 2018.

The UK government's argument that it does not pick the targets in Yemen resembles nothing so much as the logic of the American gun lobby, with its infamous claim that it's not guns that kill people, but the people who use them. Since 2016, many countries have revoked or suspended arms sales to Saudi Arabia – including Austria, Belgium, Germany, Finland, Netherlands, Norway, Sweden and Switzerland. But Britain and the US, whose planes constitute the backbone of Saudi Arabia's combat fleet, are still holding out.

This could soon change. Three of Britain's most senior judges are now mulling whether the government's licensing of billions of pounds of arms to the Saudi Royal Air Force has been legal. The court of appeal's judgment, expected this week, could force the government to suspend the licences that keep the bombs and spare parts flowing to Saudi Arabia, which would ground half of Saudi Arabia's fleet in a matter of weeks.

The judiciary may now decide to curtail Britain's ability to sustain Saudi Arabia's doomed and destructive air war. The British and Saudi governments may also decide to send more aid to help the 24 million Yemenis now dependent on an underfunded UN relief fund. But a generation of Yemenis who have lost their families, their homes, educations and livelihoods will not get them back.

On a 2016 trip to Yemen, the Conservative MP Andrew Mitchell visited a school in the capital. It had been built, he said, with British aid – only to be destroyed, in all likelihood, by a British bomb. "I asked my host what the children were chanting," he recalled to me in his Westminster office. His host translated for him: "'Death to the Saudis', 'Death to the Americans' – and in respect for your visit today, they have cut out the third stanza."

On 27 March 2015, one day after the first bombs fell on Yemen, foreign secretary Philip Hammond told reporters that Britain would "support the Saudis in every practical way short of engaging in combat". This would prove to be an understatement.

BAE and Raytheon production lines in Britain sped up to keep up with Saudi bombing. It is impossible to say how many bombs the UK has sent to Yemen, because the government in 2013 and 2014 granted BAE three special arms-export licences that permit the sale of an unlimited number of bombs to Saudi Arabia without requiring disclosure of how many have been sold. As a result, the full scale of the UK's rearmament programme has remained hidden.

But even discounting this secret trade, British military exports to Riyadh multiplied almost 35-fold in one year, from £83m in 2014 to £2.9bn in 2015.

Saudi Arabia, the world's biggest oil exporter, can afford to buy these weapons, but it has traditionally lacked the skills and manpower to deploy them. A retired US defence official joked that in the past, all the kingdom's pilots were selected from the king's immediate family – because "only they could be trusted not to drop a bomb on his palace".

British personnel have played a major role in picking up the slack. Government contractors carry out around 95% of the tasks necessary to fight the air war, one former BAE employee told Channel 4's Dispatches – an estimate confirmed to me by a former senior British official who worked in Saudi Arabia during the air war.

Inside Saudi forward operating bases, there are thousands of British contractors working to keep the war machine moving. British contractors coordinate the distribution of bombs and aircraft parts. They manage climate-controlled armories and work in shifts to ensure bombs are dispatched in a timely manner for fresh raids. Alongside RAF personnel, British contractors train Saudi pilots to conduct hazardous bombing raids in Yemen's rugged northern mountains and over its cities. They also manage avionics and radar systems to ensure that Saudi planes can get to and from their targets, and conduct the deep aircraft maintenance necessary to keep them circling over Yemen.

The British government is keen to stress that it has no role in targeting, and insists that only Saudi Arabia chooses what to hit in Yemen. But there is no disputing the fact that British contractors enable Saudi Arabia to hit its targets – and that Britain is well aware of the nature of these targets.

Michael Knights, a Gulf military expert at the Washington Institute for Near East Policy, has made two visits since the war began to the Saudi airbase at Khamis Mushayt, near the border with Yemen. Planes from this base, he told me, had waged an "out-and-out coercive air campaign" of "terror bombing" over the city of Saada in 2015 and 2016. "You couldn't have hit more civilian targets," he said. Saudi military chiefs "worked their way down a list of all the national infrastructure targets like we did [when the US and UK bombed Iraq during the Gulf war] in 1991 … that meant everything: cranes, bridges, ministries … water treatment plants."

Human rights groups have criticised the Saudi-led coalition for its use of so-called "double-tap" attacks – in which a second bomb is dropped a few minutes after the first, targeting civilians and emergency responders who have rushed to the site of the first explosion. One such staggered attack on 8 October 2016 hit a funeral in Sana'a, killing 155 mourners and wounding at least 525. Another double-tap strike hit a wedding party in the remote village of Al-Wahijah on 28 Sept 2015, killing 131 civilians. "The corpses were scattered among the trees," the father of the groom, Mohammed Busaibis, told the Yemeni human rights group Mwatana, adding that he learned his own mother had died when he saw her familiar scar on a disembodied leg. "Why did they attack us? There is nothing around here. No military camps, not even a police station."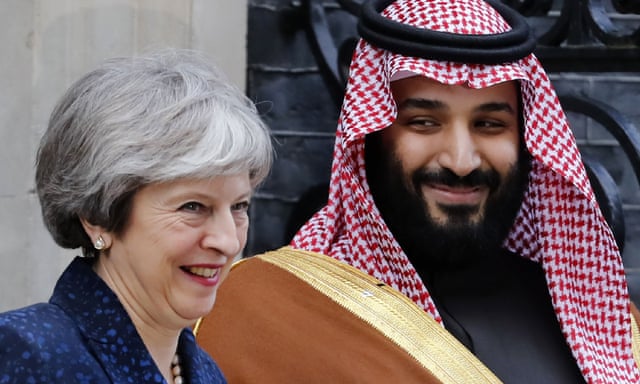 Theresa May and Mohammed bin Salman in London in March 2018. Photograph: Tolga Akmen/AFP/Getty
The former senior British official told me he was aghast at the recklessness of Saudi targeting. "This is what would happen regularly," he told me. "We'd be sitting down for lunch and a Yemeni [from the government in exile] would get a WhatsApp message with a pin on Google Maps saying that there will be Houthis here. On that basis, an awful lot of the targeting was conducted without any verification whatsoever."
Larry Lewis, the State Department advisor for civilian protection, described Saudi targeting to me as "incredibly loose". "In the US and the UK," he explained, "we have very formal processes" for airstrikes, but "this coalition is not using them … And when you mess up, bad things happen."
Lewis says that in September 2016 – a few weeks before the funeral strike – he took his concerns to the chairman of the Saudi armed forces. "I laid out all of the very actionable things he could do to reduce civilian harm," he told me. "The chairman didn't really seem very interested … he just didn't respond." Last July, crown prince Mohammed bin Salman (MBS), the architect of the air war, issued a royal decree "pardoning all military personnel who have taken part in Operation Restoring Hope of their respective military and disciplinary penalties."
After Saudi Arabia realised it could not defeat the Houthis with airstrikes alone, it launched a ground operation in northern Yemen, which includes thousands of Saudi troops, a wide assortment of Yemeni and foreign fighters, and British special forces.
The presence of British special forces in Yemen has not been officially acknowledged, but has become an open secret in defence circles. A senior British diplomatic source told me that the decision to approve military assistance to Saudi Arabia emerged from a meeting in London between British ministers and Bin Salman during his state visit to the UK in March 2018 – when he met the Queen and signed a memorandum of intent to buy 48 more jets worth £10bn to upgrade his war-ravaged fleet.
Two months later, on 23 May 2018, Boris Johnson, then foreign secretary, released a carefully worded statement committing an undisclosed number of UK troops to provide "information, advice and assistance" to "mitigate" the threat to Saudi Arabia from Houthi missiles.
The UK government refuses to confirm or deny whether it has deployed troops inside Yemen. In April, when asked in parliament about allegations published in the Mail on Sunday that British special forces were fighting in Yemen alongside Saudi-backed child soldiers, foreign minister Mark Field called for an investigation, while refusing to confirm whether British troops were in the country at all.
In March of this year, the foreign secretary, Jeremy Hunt, marked the fourth anniversary of Saudi Arabia's intervention in Yemen with an audacious defence of Britain's role in the conflict. In an opinion piece for Politico, Hunt insisted it would be "morally bankrupt" to cut off the Saudis, with the counterintuitive argument that Britain's pursuit of peace in Yemen requires the government to continue selling weapons to one of the combatants. Otherwise, he warned, we would "surrender our influence and make ourselves irrelevant to the course of events in Yemen."
In short, UK arms sales buy Britain influence with Saudi Arabia; influence that it can use to sue for peace. Hunt refers obliquely to "frank conversations" about human rights with his Saudi counterparts, while the government has defended its arms sales in court by citing "extensive UK training" provided to Saudi pilots and targeteers in order to reduce civilian harm, along with the presence of RAF liaison officers who work inside the Saudi air operations centre to "support Saudi compliance with International Humanitarian Law".
But the notion that Britain is a benign influence on the air war is betrayed by the stark fact that the rate of civilian attacks has risen throughout the war, according to a report analysing air-strike data, authored by Larry Lewis for a US government-backed thinktank and published in May. Other British officials with first-hand experience of Saudi military operations dismiss suggestions that our role on the ground in Saudi Arabia makes any difference.
"Bollocks" is how the former senior British official who worked in Saudi Arabia put it. "With MBS, our influence was gone. He was in a hurry, and surrounded himself by people who are not prepared to question his judgment.
"Militaries are like onions. At the very centre is where the final decisions are made on targeting … but we only had access to the fourth or fifth layer," he told me. "We had no access at all to the Saudis who selected the targets. Not even the Yemenis did," he said – referring to members of the Yemeni government government in exile, on whose behalf this war is ostensibly being fought.
Engagement at senior levels, the official recalled, amounted to reminding the Saudis that Britain had "concerns" about civilian deaths. "You'll say: 'My government wants me to stress how important it is that you comply with international humanitarian law – and if you haven't got it, here it is printed out in Arabic.' That will be it."
"We Brits tend to pussyfoot around, despite having considerable leverage on the Saudis," I was told by John Deverell, the former director of defence diplomacy at the MoD, who was defence attache to Saudi Arabia and Yemen between 2001 and 2003. Unless Britain is willing "to use the threat of pulling arms sales and personnel linked to the war in Yemen", Deverell added, any gestures of concern will be ineffectual. "We are worried that if we do speak truth to power, we will endanger the commercial relationship."
It is this commercial relationship that is keeping Britain firmly ensnared in the Yemen war. Its foundation is an multi-billion pound, government-to-government arms deal signed in 1985 called al-Yamamah. This guarantees British maintenance, training and rearmament of any British aircraft sold to Saudi Arabia, in war and peacetime. The deal is open-ended, which means that its terms, which in the 1980s applied to Tornado aircraft, now cover the export of BAE's newer Typhoon jets.
In response to a recent parliamentary question, the government refused to disclose the total income from the Al-Yamamah contract because it "would, or would be likely to, prejudice relations with another State" – but former BAE CEO Mike Turner put it at more than £40bn in 2005. Nick Gilby, a researcher who has written a book on the deal, estimates the current sales figure to be "conservatively, £60bn" based on BAE statements and annual reports.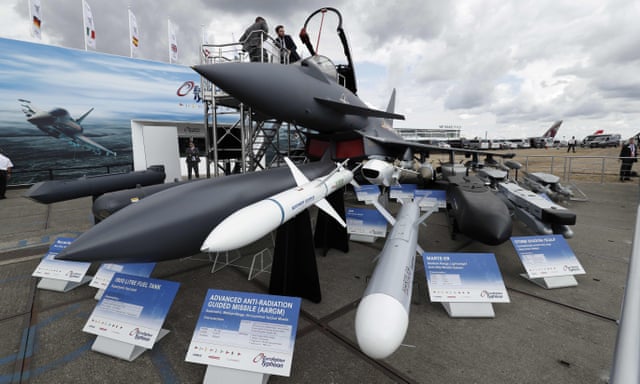 A BAE Typhoon jet at the Farnborough Airshow in 2018. Photograph: Adrian Dennis/AFP/Getty Images
Under the terms of the deal, Saudi Arabia reimburses the British Ministry of Defence for the costs it incurs by paying BAE to arm and maintain the Saudi air force, plus a 2% fee for the time of civil servants administering the procurement. BAE depends on this state contract for its survival, but it also wields enormous sway with the government as the principal executor of this multi-billion dollar deal. (The former foreign secretary Robin Cook once described the firm as having "the key to the garden door to No 10".)
Although al-Yamamah does not generate any income per se for the British treasury, it is the bedrock of a deeper financial relationship between London and Riyadh. The House of Saud uses its oil revenues to buy British stocks, bonds and luxury property; it currently has £93bn invested in the British economy. David Wearing, a specialist on UK-Saudi relations at Royal Holloway University, estimates that a fifth of the UK current account deficit is financed by Saudi cash, which "stabilises an increasingly vulnerable pound".
A former Conservative minister told me that just before Saudi Arabia started bombing Yemen in 2015, Riyadh privately communicated that it would squeeze Britain financially if the government wavered in its military cooperation. "At the outset, the imperative was conveyed that they saw British support of its war as a key test," the minister recalled. "If you fail, you're out, as far as commercial opportunities and influence in the future."
The groundwork for the al-Yamamah deal was laid during Britain's imperial era. In the 1960s, the House of Saud financed an off-the-books war against Egyptian troops that had occupied Yemen, threatening both Saudi rule and Britain's colony in Aden. David Stirling, the founder of the SAS, used his sway with the Saudi King to broker a deal for the kingdom to buy British Lightning jets, radar systems and in-country services.
A decade later, events swung Saudi Arabia and Britain even closer together. In 1979, religious zealots seized Mecca's Grand Mosque to demand the overthrow of the Saudi monarch – months after the Iranian revolution deposed the Shah and ushered in an Islamic Republic that openly challenged the House of Saud. Meanwhile, Britain was in financial disarray. It could not afford to buy the Tornado combat jet it had developed in a consortium with Italy and Germany. If Britain wanted an independent air deterrent, it would need a rich foreign buyer to subsidise the cost of its fleet. An insecure royal family sitting on the world's largest oil reserves was the perfect customer.
Saudi Arabia wanted the best aircraft money could buy: the American F-16. Iran had the next model down, the F-14, but Israel was vehemently opposed to an Arab country getting planes that could challenge its own F-16s. The US found a workaround. Under a Nato framework, it would back the export of British Tornados to the House of Saud, which would keep the Soviets out of the Gulf and bring down the cost to Britain of upgrading its own fleet. Al-Yamamah was the result. It was the biggest arms deal in the world – and one that would save arms manufacturing in Britain.
In a "secret and personal" letter to US president Ronald Reagan in 1988 – whose contents have not been previously reported – Thatcher confided that Saudi Arabia had given her assurances that it would not use British weapons aggressively against other states. According to a report by Mike Lewis, a former UN weapons inspector, Thatcher's government overruled Foreign Office officials who advised against committing Britain to a clause that explicitly obliged Britain to rearm Saudi Arabia in the event it went to war. It would, they said, expose the country to accusations of involvement in "unlawful military adventures".
---
In March, I attended a government-organised convention in Farnborough for arms companies that want to break into lucrative export markets. Executives talked shop with government officials in the Export Growth Zone over chicken paprika sandwiches. We watched an "SAS motivational speaker" extol the importance of positive mental attitude.
The convention featured a slide presentation on the details of arms control law by a senior official from the UK government's export-licensing agency. "Ignorance is no use for breaking the law," the official told the attendees. Afterwards, I asked the official how it was possible that his own department – the Export Control Joint Unit (ECJU) – had issued blanket approvals for arms exports used in Yemen. "I don't know, it just is," he answered. "I'm doing what I'm told and doing my job," he added. "But I'm uncomfortably aware that Adolf Eichmann said the same thing."
The head of the ECJU, Edward Bell, has also expressed discomfort with re-arming the Saudi air campaign. "My gut tells me we should suspend [exports to Saudi Arabia]," he wrote in a 2016 email to Sajid Javid, who was then the minister responsible for arms licensing. Javid ignored Bell's advice.
In 2015, Vince Cable, Javid's predecessor, delayed the export of a shipment of Saudi-bound Paveway bombs in the wake of reports alleging that the air campaign had targeted hospitals in Yemen. But Cable told me that he quickly came under pressure from the then defence secretary, Michael Fallon, and prime minister David Cameron, to release the shipment.
During the early phases of the air war, the British government replied to critics of its involvement by explaining that it conducted investigations into allegations of Saudi attacks on civilians in Yemen. But in 2016 – citing "infelicities of expression" – the government reversed itself, and revised earlier ministerial statements that said it did investigate. Instead, when pushed on the use of British weapons in alleged war crimes in Yemen, the government pointed out that the Saudi-led coalition investigates itself.
This work is done by the Joint Incident Assessment Team (JIAT), a body composed of around 20 military officers from Saudi Arabia and the UAE, which is charged with investigating reports of civilian deaths in Yemen. Larry Lewis, the US official who urged the Saudis to establish the JIAT, told me that the team does not have researchers on the ground inside Yemen, so it must rely on the Saudi Royal Air Force to provide it with information. "Occasionally they will take trips to Yemen to investigate high-visibility incidents," he said.
Lewis also said the JIAT was "designed to reduce common mistakes" such as hitting targets on the no-strike list – wells, hospitals, schools. Similarly, it was supposed to reduce the chances of Saudi forces "failing to deploy tactical patience" – for instance, bombing Houthi militiamen when they stop at a market, rather than waiting for them to leave to minimise civilian casualties. But Lewis now says the JIAT failed on its own terms, because it was simply ignored by the Saudi defence ministry.
A Saudi-led airstrike on the outskirts of Yemen's capital, Sanaa in 2016. Photograph: Hani Mohammed/AP
For the British government, however, the JIAT provides a convenient figleaf for the continued licensing of arms exports to Riyadh. Researchers at the open-source investigative agency Bellingcat have accused the coalition of dishonesty in "the vast majority of JIAT assessments". Rawan Shaif, who heads the group's Yemen project, told me that "the information that [the UK] has been relying on" is coming from "a partner you have been directly supporting in a conflict, who is lying to you about the majority of strikes".
In the case of two particularly deadly attacks in May and July 2015 – in which more than 100 people were killed by airstrikes on outdoor markets in the town of Zabid and Fayoush, a suburb of Aden – the JIAT assessment simply insisted that the coalition had not bombed either location, in spite of reports by the UN, the BBC, Human Rights Watchand Amnesty, as well as camera-smartphone footage from the sites making it clear that an airstrike had taken place.
Elsewhere the JIAT has justified strikes by flatly asserting that the targets were military ones. After reports of civilian deaths in an airstrike in al-Jawf governorate in September 2016, JIAT released a statement claiming that the coalition had hit "Houthi commanders" travelling in a pickup truck. But when the UN and the Yemeni human rights group Mwatana made independent visits to the site, they discovered that the victims were a woman driving with her two sisters-in-law and their 12 children.
Parliamentary scrutiny of Britain's compliance with arms export control laws is the responsibility of the Committees for Arms Export Controls (CAEC). This cross-party grouping, which includes 18 MPs, is chaired by Graham Jones, a Labour MP who has criticised the "dishonesty" of NGOs reporting on human-rights violations in Yemen, written in support of Bin Salman and the Saudi-led coalition, and touted BAE's "vital role" for employment and the economy in his Lancashire constituency.
Dr Anna Stavrianakis, an academic researching arms licensing at the University of Sussex, who has regularly given evidence to CAEC, accused Jones of keeping Yemen off the committee's agenda. "The government deliberately mobilises doubt and ambiguity when it comes to international humanitarian law violations in Yemen," she told me. "And the chair acts in support of government policy rather than acting impartially to scrutinise it." In an email to the Guardian, Jones replied that his critics were "far-left Marxists [who] back a violent, racist, Islamic fascist militia" in Yemen, and said he had been "at the forefront of discussions on Yemeni issues".
The ruling from the court of appeal, expected this Thursday, will determine whether the government's political will to arm Saudi Arabia has violated the law. The case, which was brought by Campaign Against the Arms Trade (CAAT), an NGO, was heard before three judges on April 9. The result hinges on the interpretation of two words: "clear risk". British law bans the licensing of arms if there is a "clear risk" that they could be used in a "serious violation of IHL". The three judges will decide if the government has broken this law.
"I struggle to think of a case where the evidence has been so overwhelming and compelling than this one," said Rosa Curling of Leigh Day, the legal firm instructed by CAAT. "If arms can be exported legally in this scenario, then when could they not?"
The government argued that it has information, shared with the judges in secret, that gives it confidence there is not "clear risk" of Saudi Arabia needlessly killing civilians. Lawyers for CAAT countered that there is more than enough evidence in the public domain to prove this risk is real. CAAT lost its first case in 2017, when the high court ruled in favour of the government after hearing parts of the government's defence in secret.
The QC Philippe Sands, who is not involved in this case, says that ministers should be personally concerned about the prospect of facing criminal charges for their role in arming Saudi Arabia. "If the United Kingdom is supplying weapons that are being used to commit crimes, then the possibility cannot be excluded that a minister who signs off on the sales in that knowledge could in the future be hauled before a court of law, national or international," he told me.
British case law is clear that knowingly supplying a weapon that is used to commit a crime can mean that the supplier of the weapon is also liable for that crime. "The coalition claims that it only targets the Houthis and that it tries very hard to avoid civilian casualties, but the evidence suggests otherwise," said Dearbhla Minogue of the Global Legal Action Network, which is working with Bellingcat to investigate whether individual airstrikes in Yemen have violated international law. "UK nationals involved in the transfer of arms in such a situation should be concerned about that," she said.
According to Wayne Jordash QC, government officials would face a higher risk of prosecution if Britain is a "party to the conflict", an innocuous-sounding legal phrase that has exercised the civil service as evidence of civilian casualties has piled up. "A lot of energy is spent on trying to keep us not a party," one Whitehall official remarked to me in April.
Under international law, being a party to a conflict means providing military, financial or logistical support that directly degrades the military capacity of another belligerent and weakens their ability to conduct hostilities. A spokesperson for the International Committee of the Red Cross told me it had made a determination as to whether Britain is a party to the Yemen war – but could not publicly disclose the result because it was still mediating between belligerents of the war and did not want to risk prejudicing relations.
Ministers regularly tell parliament that Britain is not a party to the conflict. "Let me make it very clear that we are not a party to the conflict … That is not the position of the United Kingdom," the then foreign minister Alister Burt told parliament in January, an assertion he repeated to me in an interview in April. The foreign office minister Mark Field similarly told parliament in March: "We still hold to the firm view that we are not a party to the conflict."
But the senior British diplomatic source, citing internal Foreign Office legal advice, told me that "anybody who says that is is misspeaking". The cabinet decided to provide "military assistance" to Saudi Arabia last year, he said, referring to the deployment of special forces, "and by doing that we became a party to the conflict".
The contortions of the British government to obscure its involvement in the Yemen war are nothing short of acrobatic. The government has tethered Britain, its military and its economy to the richest nation in the Arab world as it brutalises the poorest. Saudi Arabia is estimated to have spent $60-70bn every year on its failing war, nearly four times the current GDP of Yemen, and enough money to have secured the livelihoods of a generation of Yemenis.
Farea Al-Muslimi, the son of a Yemeni farmer who now works at Chatham House, Britain's pre-eminent foreign-affairs thinktank, described to me the toll that war has taken on his country. "Tomorrow you're going to end up with a dead body called Yemen," he told me. "And no one will want to clean or bury it – and the Saudis, the Houthis, the British will realise they are fighting for something that doesn't exist."
Author:
Arron Merat was a Tehran correspondent for the Economist between 2011 and 2014. He tweets at @a_merat
===
ICYMI:
War Crimes & Genocide: What You Aren't Being Told About US Involvement In Yemen
If the public were to rely solely on the U.S. government and its respective mouthpieces for its source of news, one might assume Iran is to blame for the current crisis engulfing Yemen, the Arab world's poorest country.
"At least 10,000 people have been killed and more than 3 million displaced in the war in Yemen, now in its third year. Millions of people are also struggling to feed themselves.

"'We will have to overcome Iran's efforts to destabilize yet another country and create another militia in their image of Lebanese Hezbollah, but the bottom line is we are on the right path for it,' Mattis [Secretary of Defense Jim Mattis] told reporters in Riyadh after meeting senior Saudi officials."
Note how the Reuters report explains the current humanitarian crisis but then transitions into a statement from the Trump administration that directly apportions the blame for that crisis to the Iranian government.
Is Iran to blame for the current crisis in Yemen?
In 2015, I wrote an article for Truthout in which I analyzed a number of Guardian articles that claimed, without question, that the Houthi rebels leading an insurrection in Yemen were "Iran-backed." Most of the time, the claim was presented without any evidence, though the Guardian occasionally provided a hyperlink for the source. By clicking on the hyperlinks I found the Guardian was failing to provide evidence that Iran was backing rebels in Yemen. In one of the examples, the hyperlinked article was an article where a "source" had revealed that fighters who were trained in one of the Gulf States (which was not specified) — who numbered no more than ten altogether — had arrived in Yemen; hardly proof of anything.
In turn, Media Lens, an organization that analyzes media bias and propaganda, shared the article with the Guardian author in question, Ian Black, to illicit a response on Twitter. The Guardian author did respond (indirectly), by sharing an article from Reuters titled "Iranian support seen crucial for Yemen's Houthis."
Sounds promising, right? Here is a direct quote from the article:
"Exactly how much support Iran has given the Houthis, who share a Shi'ite ideology, has never been clear."[emphasis added]
The article relies entirely on unnamed sources in order to promulgate a number of claims that even Reuters couldn't verify. For example:
"He [an unnamed Iranian official] said about 100 Houthis had traveled to Iran this year for training at a Revolutionary Guards base near the city of Qom. It was not immediately possible to verify this claim."[emphasis added].
If Iran, which has relatively low military spending — and is mired by crippling economic sanctions imposed by the U.S. — is truly capable of destabilizing Yemen, then surely the mainstream media would be able to provide concrete evidence of this Iranian-Houthi relationship. Claims that there is an Iranian arms supply to Yemen have been extensively debunked. A recent report that attempted to show that Iran had an arms supply route to Yemen concluded that some (emphasis on some) weapons that arrived in Yemen via Somalia were "probably supplied with the complicity of Iranian security forces."
Probably supplied…would this hold up in a court of law?
In addition to their lack of direct proof, these reports also fail to answer two important questions. First, how is it that Iran is able to ship weapons to Yemen in the face of a Saudi-imposed blockade, which has completely devastated the country?
And second, why is it that as late as January of this year, U.N. experts were unable to find any evidence of large-scale Iranian involvement? As noted by the U.N. experts who presented a report of their findings to the U.N. Security Council:
"The panel has not seen sufficient evidence to confirm any direct large-scale supply of arms from the Government of the Islamic Republic of Iran, although there are indicators that anti-tank guided weapons being supplied to the Houthi or Saleh forces are of Iranian manufacture." [emphasis added]
If you are inclined to think that the origin of manufacture is proof of direct interference, perhaps you should read this report that outlines how the U.S. has armed both sides of the conflict.
Though the U.N. experts could not find ample evidence of Iranian interference, they did find mounting evidence of war crimes committed by Saudi Arabia(in fact, this was the sole purpose of the report).
It is because of this complete lack of evidence of any tangible Iranian involvement in Yemen that even the Washington Post had no choice but to publish the following:
"Yet as [the author] argued in a recent article in the May 2016 issue of International Affairs, the Chatham House journal, Tehran's support for the Houthis is limited, and its influence in Yemen is marginal. It is simply inaccurate to claim that the Houthis are Iranian proxies."
But we should never let these facts get in the way of a good story. If you repeat a lie enough times, people will believe it. If you repeat the claim that Saddam Hussein is developing weapons of mass destruction, people will believe it is justified to attack Iraq. If you repeat the claim that in 2011 Muammar Gaddafi was a genocidal maniac who ordered his forces to commit mass rape (the same people he offered free health care), people will believe it is justified to attack Libya. If you repeat the claim that Bashar al-Assad used chemical weapons in the major documented attacks in 2013 (even though U.N. investigators concluded he didn't) and that he used them again in 2017 (even though very prominent intellectuals have concluded the U.S. intelligence does not support this conclusion), then people will believe it is justified to attack Syria.
If you repeat the claim over and over that the Houthi rebels are backed by Iran, people will believe it.
No one doubts that Iran has a stake in the Yemen conflict and has probably tried its best to send support in some way or another (whether political, symbolic, or by direct military assistance). But the fact remains that the mainstream media is unable to provide any shred of direct intelligence or conclusive evidence of any large scale involvement that has contributed to the destabilization of Yemen.
The other twisted aspect of this narrative worth highlighting is that if Iran was arming rebels in Yemen, it would be the most literal translation of the phrase "chickens coming home to roost," as Saudi Arabia has spent vast sums of money arming fanatical jihadist rebels to topple Iran's close ally in Syria. Hillary Clinton's leaked emails show the Obama administration was well aware that Saudi Arabia and Qatar were directly sponsoring ISIS.
War Crimes, Genocide, and Mass Starvation
Yemen is home to al-Qaeda in the Arabian Peninsula (AQAP), the brand of al-Qaeda that Washington previously regarded as the deadliest. It is also home to ISIS because the terror group capitalized on the instability and managed to latch itself onto a decent foothold in the war-torn country. Yet Saudi Arabia is not targeting either of these two groups. Further, the Houthi rebels are actually sworn enemies of these two violent terror groups; if Washington were genuine in prosecuting its war against al-Qaeda, then the Houthis would technically be a natural ally.
So who are the Saudis bombing? Civilians, plain and simple.
On October 8, 2016, an aerial bombardment targeted a crowded funeral in Sana'a, the capital of Yemen. According to the U.N., more than 140 Yemenis were killed and at least 525 others were injured. The aftermath of this attack was aptly dubbed a "lake of blood."
To date, the coalition has struck well over 100 hospitals, as well as wedding parties, refugee camps, food trucks, factories, transport routes, agricultural land, residential areas, and schools, to name a few.
According to Martha Mundy, professor emeritus at the London School of Economics, the Saudi coalition has been hitting agricultural land. Noting just 2.8 percent of Yemen's land is cultivated, she has argued that "[t]o hit that small amount of agricultural land, you have to target it."
Even before the war broke out, Yemen was already dependent on imports for 90 percent of its staple foods and almost all of its fuel and medical supplies. When the coalition isn't directly bombing civilians and civilian infrastructure, the rest of Yemen's population is suffering due to the Saudi-imposed blockade, which has put half the population at risk of starvation. According to the U.N., over 462,000 children under the age of five are suffering from severe acute malnutrition. (Still believe the U.S.-led coalition, including Saudi Arabia, cares about human rights in Syria?)
The Obama administration, and in turn the recent Trump administration, are well aware that Saudi Arabia's complete disregard for human rights and its incompetence have led to widespread civilian suffering. As the New York Times reported:
"The first problem was the ability of Saudi pilots, who were inexperienced in flying missions over Yemen and fearful of enemy ground fire. As a result, they flew at high altitudes to avoid the threat below. But flying high also reduced the accuracy of their bombing and increased civilian casualties, American officials said.

"American advisers suggested how the pilots could safely fly lower, among other tactics. But the airstrikes still landed on markets, homes, hospitals, factories and ports, and are responsible for the majority of the 3,000 civilian deaths during the yearlong war, according to the United Nations."
In addition to supplying billions of dollars' worth of arms to the Saudi kingdom, U.S. and U.K. personnel provide overwhelming assistance to the Saudi-led coalition to wreak this devastation on Yemen by sitting in the Saudi's command and control center, for example.
As if this barbarism wasn't cruel enough, the Saudi-led coalition purposely destroyed the cranes that Yemen used at its port of Hodeidah to uplift cargo, meaning any food and aid that actually makes it through the Saudi blockade never makes it to shore. From Truthout:
"The climax of the blockade strategy was a series of airstrikes on August 17, 2015, that destroyed all of the cranes used to unload container ships at the main commercial port of Hodeidah, Yemen's only port capable of receiving such ships. The strikes also destroyed an entire World Food Program warehouse, one of the berths, the port authority warehouse, the port control building and the customs building."
Even at the time of this article's publication, the Saudis are attempting to take over this key port in Yemen knowing full well the real suffering will be felt by the civilian population. Hodeidah port is "Yemen's lifeline," according to the director of the Sana'a Center for Strategic Studies.
The Houthi Movement
Despite all of this mainstream evidence that Saudi Arabia is unleashing the true horror and devastation in Yemen, somehow the Trump administration continues to blame Iran for this catastrophe. In reality, the Houthis are not extensively backed by Iran but are directly assisted on the ground by forces loyal to Yemen's former president, Ali Abdullah Saleh. Saleh was ousted in 2012 but continues to retain the loyalty of much of the armed forces.
In this context, Yemeni armed forces marched towards its capital, Sana'a, in 2014 and forced the removal of then president Abd-Rabbu Mansour Hadi. In other words, an organic uprising displaced a leader that was widely viewed as a Saudi puppet. Saudi Arabia, with U.S. and U.K. assistance and with the backing of a number of Gulf States, has since insisted on Hadi's reinstatement by force.
Hadi was already overthrown (by his people nonetheless). What gives Saudi Arabia the right to force this leader on a population that doesn't want him anymore? Bear in mind, overthrowing one's leader is something the Saudis claim should happen in Syria, despite the fact that Assad retained his post as Syria's president with an overwhelming election victory in 2014.
What makes Yemen's uprising bad and, conversely, what makes Syria's uprising good? The fact that the Houthis are not al-Qaeda-aligned?
Not to mention that Assad has not been overthrown in almost six years of fighting, compared with Hadi, who was overthrown in a mere matter of months. This should tell one something about the difference between these conflicts. Even with the assistance of Saudi air power — completely empowered by the U.S. and the U.K. — Saudi Arabia is struggling to beat the Houthi movement.
As this conflict rages on at a catastrophic rate with millions upon millions of civilians suffering, it is almost impossible to take the Trump administration's claims regarding human rights in Syria seriously. Legal experts have already warned the U.S. government that its complicity in these attacks can make them a co-belligerent in Saudi Arabia's vast, extensive list of war crimes. This warning has not helped at all in deterring the Trump administration from continuing some of Barack Obama's worst policies.
If the U.S. pulled its support for Saudi Arabia, Yemen's suffering could stop tomorrow. Rather, the words of Britain's foreign secretary Boris Johnson brilliantly capture the West's lack of empathy towards Yemen's civilian population. He stated that if the U.K. didn't supply arms to Saudi Arabia, someone else would.
If that's really how our respective governments feel about war crimes, crimes of aggression, and crimes against humanity, then they should stop pretending to care about human rights in Syria — because they don't.
To the powers-that-be, Yemenis are nothing more than ants in a warped and barbaric geopolitical chess game that sees Saudi Arabia attempting to assert itself as a regional power.
In this context, the notion that the U.S. would consider supplying Saudi Arabia – a country so backward that women aren't allowed to drive – with nuclear weapons is nothing short of suicidal.
Meanwhile, Yemen's plight continues in complete silence. How can this be?
Author: