ICYMI: The Settler Playbook: Understanding Responses to #ShutDownCanada in Historical Context & Do you know who owns all the land in Canada? Not its citizens
A Historical Perspective on Coercion as a Colonial Strategy
By Sean Carleton - 21. February 2020
I, like many Canadians, watched in horror as the RCMP's invasion of unceded Wet'suwet'en territory in early February was livestreamed over the internet.
In real time, we saw heavily-armed RCMP officers, accompanied by snipers and attack dogs, arrest unarmed Wet'suwet'en matriarchs on their Yintah (homeland) and dismantle the Unist'ot'en bridge blockade that had "reconciliation" written on it.
It was difficult to watch.
Sadly, though, the Wet'suwet'en raid is all too familiar for those who understand the history of Indigenous-settler relations in what is currently Canada.
As I have argued elsewhere, the RCMP raid on Wet'suwet'en territory is not an anomaly but rather a predictable response and part of a historical pattern of governments using police and military forces to suppress Indigenous resistance and clear the way for capitalist accumulation by colonial dispossession.
Coercion is a tried and true method of the colonizer's playbook, the common tactics and strategies used by settlers to defend the colonial status quo. In the past few weeks, we've seen many Canadian politicians, mostly white male conservatives, pump their chests and call for the use of force to end the #ShutDownCanada actions that have sprung up in solidarity with the Wet'suwet'en struggle.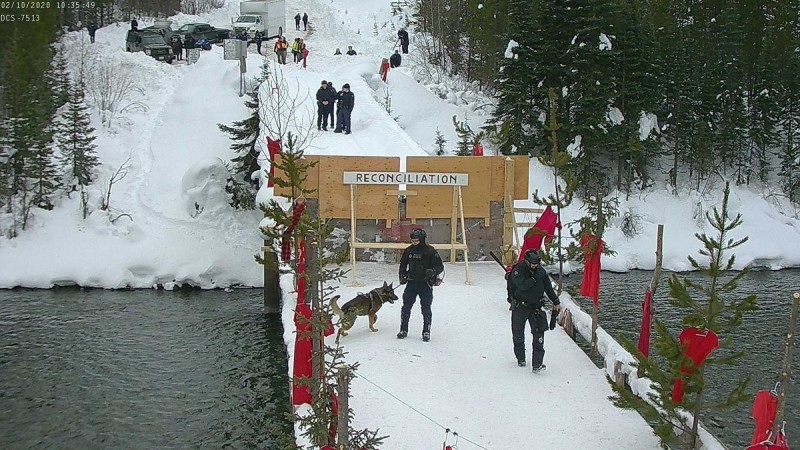 The performed machismo of Andrew Scheer, Peter MacKay, Erin O'Toole, and Jason Kenney is unhelpful and dangerous; their comments and proposed tactics risk escalating the situation by legitimizing a "might is right" approach. This aggressive approach is part of Canada's historical pattern of responding to conflicts with Indigenous peoples with more coercion.
It is important to understand he RCMP's role as a colonial paramilitary force in its historical context. Canada's first prime minister, John A. Macdonald, created the RCMP's predecessor–the North-West Mounted Police–in 1873 to extend Canada's colonial control over Indigenous territories in what would become Western Canada. In 1885, the NWMP joined Canada's military forces in war against different Métis, Cree, Assiniboine, and Saulteaux communities in the west. Afterwards, the police played a key role in forcibly relocating Indigenous peoples onto reserves to help clear the way for the construction of the Canadian Pacific Railway.
In the early twentieth century, the police surveilled Indigenous organizers, such as F.O. Loft, and they enforced "the rule of law" by acting as truant officers and removing Indigenous children from their communities and taking them to residential schools.
This history is difficult for some Canadians to accept, especially those who still cling to the mythology of the Mounties as red-coated riders who brought "law and order" to the west. In reality, the police were invented to serve and protect the interests of capital, settler colonialism, and Canadian nation-building.
In recent years, Canadian military and police forces have continued to play a central role in suppressing Indigenous resistance. Many of these conflicts have been captured on film. Below is a collection of clips that show the government's use of police and military force to suppress Indigenous resistance. These events are part of what Sioux scholar Nick Estes calls an "accumulation of prior anti-colonial experiences, sentiments, and struggles" that is shaping #ShutDownCanada actions today.
In 1968, the Ontario Provincial Police and the RCMP illegally arrested a number of Mohawk citizens of Akwesasne who blocked a bridge built through their reserve near Cornwall, Ontario without proper consultation and in contravention of the 1794 Jay Treaty.
In 1980, the RCMP arrested several members of the Blood Tribe when they staged a blockade along Highway 5, a stretch of blacktop that divides the reserve and the town of Cardston, Alberta, to pressure the federal government to resolve an outstanding land claim.
Clip from a video by Rick Tailfeathers shows the 1980 Cardston Blockade by Blood Tribe members. Reserve lands appropriated by CPR were supposed to be returned to the Bloods but were not. Trudeau was PM.
TW: colonial violence, forcible removal of Indigenous women, elders dragged. pic.twitter.com/FQbJ3qe7G4

— Terrill Tailfeathers (@Terrilltf) November 24, 2019
In 1981, the Sûreté du Québec (SQ) launched two raids on the Listuguj Mi'gmaq First Nation (Restigouche), as part of the Quebec government's efforts to impose new restrictions on Indigenous salmon fishing.
Incident at Restigouche , Alanis Obomsawin, provided by the National Film Board of Canada
In 1990, during the Oka conflict Mohawks at Kanehsatà:ke endured a 78-day siege by the SQ and the Canadian military for opposing the expansion of a nine-hole golf course on unceded Kanien'kéha:ka territory.
In 1995, the OPP shot and killed Ojibwa activist Dudley George during the Ipperwash Crisis. That same year, the RCMP carried out a 31-day siege of Secwepemc territory and arrested numerous Ts'peten land defenders during the Gustafsen Lake Standoff in BC.
In 2013, the RCMP arrested more than 40 members of the Elsipogtog First Nation in New Brunswick for blocking a road to resist shalegas and fracking activity on their territory.
In January 2019, the RCMP invaded Wet'suwet'en territory and arrested land defenders at the Unist'ot'en camp, just as they did earlier this month.
This list of incidents demonstrates that the most recent events in Wet'suwet'en territory are part of a long historical pattern of Canada using a "might is right" approach to suppress Indigenous resistance to colonization. The recent outpouring of support for the Wet'suwet'en hereditary chiefs and their supporters indicates that many Canadians are no longer willing to sit idly by while their governments and police forces ignore legal rulings and violate the rights of Indigenous peoples. Meaningful reconciliation will require Canada to have the courage to switch strategies, trading coercion and violence for nation-to-nation negotiations and diplomacy.
Author:
Sean Carleton is a historian and an assistant professor at Mount Royal University. He is also a member of the Canadian Dimension Coordinating Committee.
===
ICYMI:
The Settler Playbook: Understanding Responses to #ShutDownCanada in Historical Context
By Sarah Rotz, Daniel Rück, and Sean Carleton - 18.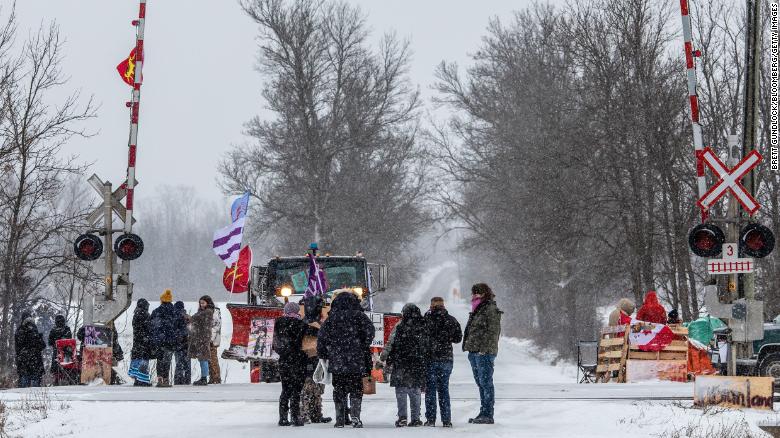 On February 7, militarized RCMP arrested and removed Wet'suwet'en land defenders from their unceded territories, triggering demonstrations and blockades across the country. With large parts of the country's rail traffic at a standstill, and shipping vessels unable to move goods, people are seeing that peaceful civil disobedience can #ShutDownCanada.
As solidarity actions spread, Canadian politicians of all stripes struggled to respond. On February 14, Conservative opposition leader Andrew Scheer called the rail blockades and political disruptions "illegal" and said Indigenous land defenders and their supporters should "check their privilege." Scheer's statement was ill-informed and arrogant, but it was also predictable. These kinds of statements are standard fare in settler colonial societies like Canada, and they are part of a pattern of behaviour consistent with what Cherokee scholar Daniel Heath Justice has described as "Settlers With Opinions."
When movements like Idle No More or #ShutDownCanada emerge, when non-Indigenous Canadians are inconvenienced by Indigenous assertions of nationhood and sovereignty, settlers often respond with what Eve Tuck and K. Wayne Yang call "moves to innocence." Tuck and Yang define settler moves to innocence as "strategies to remove involvement in and culpability for systems of domination." These "moves" or "plays" form a key part of the settler playbook: the common tactics and strategies used by settlers to defend the colonial status quo. Violence and coercion are a key part of the playbook; however, settlers also use a number of discursive manoeuvres to maintain the material conditions of colonialism. Exposing the settler playbook can help counter these strategies and advance decolonization. As activists and settler scholars, we offer this short primer to the settler playbook.
Play 1: Distorting or Dismissing the Past
One of the most common strategies in the settler playbook is warping the writing of history to protect and privilege the colonial perspective. In the Wretched of the Earth, anti-colonial writer Frantz Fanon notes that the "colonist makes history and he knows it." Similarly, Indigenous scholars like Sto:lo writer Lee Maracle consistently point out that Canadians often use a distorted account of the past to justify colonialism as commonsensical. Sometimes the past is crafted into righteous mythology (e.g. the history of the RCMP), while at other times the past is ignored all together (e.g. government starvation policies) or dismissed as too complicated to understand (e.g. treaties and nation-to-nation agreements).
British Columbia premier John Horgan employed this tactic last week when he stated that #ShutDownCanada activists engaged in rail blockades in Ontario "haven't got a clue, quite frankly, of how complex these issues are." The most significant action in Ontario is a CN rail blockade being undertaken by the Mohawks of Tyendinaga. The Mohawks' long history of engaging in blockades and solidarity actions demonstrate that Horgan's comments were flat out wrong. Meanwhile, recognizing that many settlers "haven't got a clue" about the history of Indigenous-settler relations, the Mohawks have been using the blockade to educate those willing to listen and learn about the nation-to-nation agreements that govern these lands. On day six of the blockade, they brought out the two-row wampum belts to clarify and affirm the relationship coming out of the 1764 Treaty of Niagara. Contrary to Horgan's comments, Indigenous peoples such as the Wet'suwet'en and Mohawks have a clear and precise understanding of history and are using it to hold settlers to the founding agreements of these lands that provide frameworks for peaceful coexistence.
Play 2: Doublespeak and Deceit
Another tactic in the settler playbook is doublespeak and deceit. Canadian government relations with Indigenous peoples have historically been defined by lies and broken promises. For example, in its numbered treaties Canada promised Indigenous people on the Prairies farming tools and seeds at a time when bison herds were nearly gone and people were starving. Historian Sarah Carter has shown the many ways in which Canada broke those promises by providing shoddy implements, delivering seeds far too late, and making it impossible for Indigenous farmers to sell their produce. As well, Canada and Britain often negotiated treaties in bad faith, including sending treaty negotiators with the treaty text already printed.
On 11 February, Horgan stated, "We are also engaged in ongoing reconciliation discussions, which are focused on rights, title, self-government and self-determination. Those channels of communication remain open." He went on to say that the BC government has made a commitment to reconciliation in good faith and intends to see it through; "it is a shared journey." Horgan's pleasant words confirm that reconciliation has become primarily a metaphor. The reality of the events unfolding in Wet'suwet'en territory stand in stark contrast to settler appeals to dialogue, consultation, sharing, and mutual respect. The day after Horgan made these comments, and two months after the BC government signed the United Nations Declaration on the Rights of Indigenous Peoples into law, at least fifty heavily armed RCMP officers invaded Wet'suwet'en territory. They threatened the lives of unarmed Indigenous people with high-powered weapons and removed them from their lands. This is an example of doublespeak: using language to obscure or hide an often disrespectful or violent reality. Doublespeak has been a foundational tool for colonial decision-makers, and Indigenous peoples have a lot of experience recognizing and navigating it. It is deceitful and disingenuous when Canadian leaders, at all levels, speak of reconciliation and sharing while ignoring Indigenous legal orders and making choices that dispossess and harm Indigenous peoples.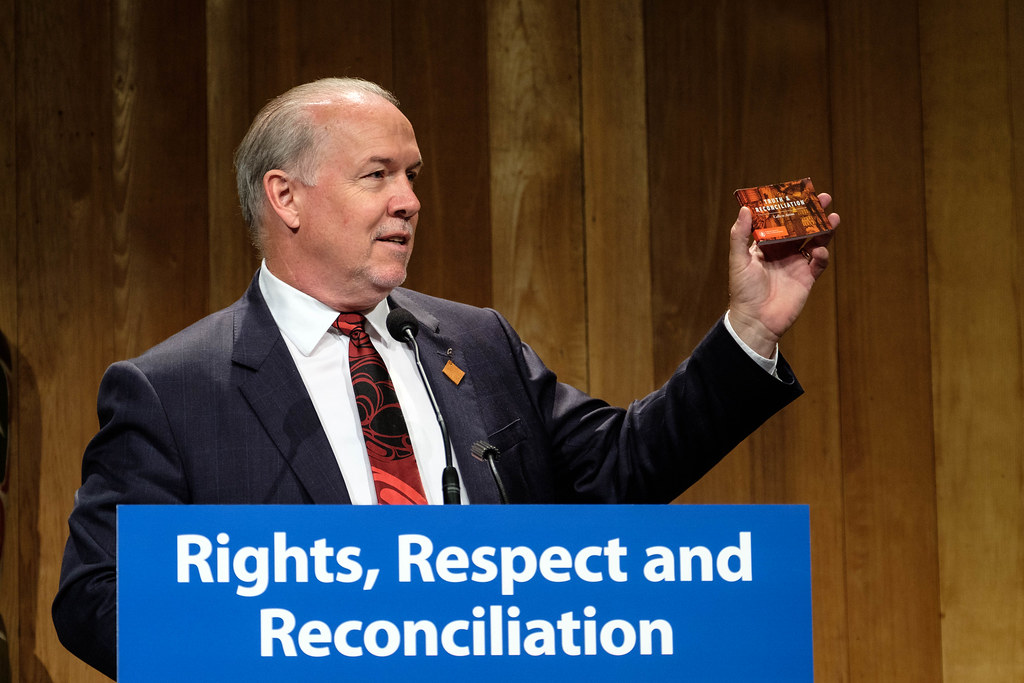 Play 3: Divide and Conquer
Colonial powers also employ strategies of "divide-and-conquer" to rule over colonized peoples. In the case of the Mohawk nation, the Department of Indian Affairs coerced the community of Kahnewake into accepting the elected band council system in the 1880s by promising Mohawks they could return to their traditional government system if they did not like it. When a majority of Kahnawake Mohawks were dissatisfied and asked to return to their own system, the Department said it would require 100% consensus in the community, an outrageous and impossible hurdle.
A similar "divide-and-conquer" strategy is playing out right now in Wet'suwet'en lands. Many politicians and settler Canadians are pointing to the fact that although the Wet'suwet'en hereditary chiefs oppose the proposed route, twenty band councils have signed benefits agreements with Coastal GasLink. As Horgan stated, "I think it's disingenuous to suggest that a handful of people can stop progress and success for people who have been waiting for a break like this for many, many years." Here Horgan attempts to exploit internal differences within the Wet'suwet'en nation to justify his government's already-existing support of the project. It is convenient for him and others to ignore how the long history of settler colonialism has shaped and fomented such divisions. Since its founding (and before), Canada has been dividing large Indigenous nations into small bands under the Indian Act, scattering Métis land holdings through the scrip system and undermining existing Indigenous governments and legal orders. These efforts to divide and conquer are well documented by historians and intimately understood by Indigenous peoples. Successive Canadian governments have cultivated and used these divisions to undermine Indigenous rights and appropriate lands, and it continues to this day.
Play 4: Paternalism
Another common strategy in the settler playbook is paternalism: the assumption that Indigenous legal orders don't exist or aren't worth considering, that Indigenous people are uncivilized, and that assimilation will be beneficial. Every aspect of the history of Indigenous-settler relations is marked by paternalism. You don't have to look far for condescending, paternalistic statements from settlers in moments like these. See, for example, historian Ken Coates' recent editorial where he explains to Indigenous people that #ShutDownCanada is against their own interests. Coates imposes his own moral assumptions and biases by defining Idle No More as 'peaceful', 'legal', and thus acceptable in contrast to the current disruptions which are, to Coates, being co-opted by anti-pipeline activists – suggesting that Indigenous anger is misdirected. In moments of open conflict, like right now, many settler leaders and spokespeople deploy an arrogant "I know better" attitude. In reality, settlers have been wrong about what is good for Indigenous peoples over and over again: dispossession, residential schools, resource extraction, the Sixties Scoop, the Indian Act, etc. – all of these things have been imposed on Indigenous peoples "for their own good" and have caused (and are still causing) immense harm.
Play 5 : Invoking the "Rule of Law"
Settlers often refer to the "rule of law" as if Canadian law is a self-evident, singular reality. In fact, Canada is marked by legal pluralism: common law, civil law, and Indigenous law co-exist and interact in a complicated legal environment. As Kate Gunn and Bruce McIvor argue in their recent article, Indigenous law and title does not depend on recognition by Canadian law. Nevertheless, settlers often invoke the "rule of law" to justify their control of Indigenous lands and legitimize resource accumulation by continued dispossession. On January 13, Horgan declared,"this project is proceeding and the rule of law needs to prevail in BC." In a recent press conference, Prime Minister Justin Trudeau similarly stated that Canada is "a country of the rule of law and we need to make sure those laws are respected."
By referring to the rule of law, settlers naturalize and universalize their own idea of what law is and should be and ignore Indigenous legal orders. For settlers, our law becomes the law. Following this logic, settlers frame Indigenous peoples as devoid of law – as lawless. Stephen LeDrew made this argument in his recent editorial, "Canada should enforce the law with Wet'suwet'en anti-pipeline protests." Such ignorance of Indigenous law is central to maintaining colonial control because it allows settlers to frame Indigenous peoples as trespassers and law-breakers and to deny their own participation and culpability in continued violence against Indigenous peoples. In a context where Indigenous legal orders are ignored and erased, reconciliation means integration and inclusion of Indigenous nations rather than acknowledging their legal sovereignty. #ShutDownCanada is partly a response to this denial.
Conclusion
Settlers use a number of strategies to maintain the colonial status quo, including distorting or dismissing the past, doublespeak and deceit, divide-and-conquer politics, paternalism, invoking a singular "rule of law," and, of course, violence and coercion. Our hope is that by exposing some of the discursive tactics in the settler playbook – and putting them in historical context – we can help settlers to see these "moves to innocence" for what they are. As well, we want to show that settlers can choose how to respond in these moments. Instead of treading the familiar paths of colonial hubris that have led to so much pain and damage, we invite settlers to recognize the limits of our knowledge and experience and to listen to Indigenous elders, youth, scholars, and knowledge keepers. In the case of the Wet'suwet'en hereditary chiefs, their calls are clear: the RCMP must leave their territory and the Coastal GasLink project must pause for nation-to-nation negotiations.
We have heard from the brave people putting their bodies on the line at numerous blockades that they are not there for themselves but for future generations. As Dr. Karla Tait, director of programming for the Unist'ot'en Healing Centre, states, Wet'suwet'en women are taking a stand "to protect the lands for all the future generations that depend on it." Land defenders are acting out of love and are taking risks to protect land and life for us all. Instead of deploying the same old tactics and strategies to talk down to Indigenous people and to justify violence against them, we want to find generative and life-affirming ways to respond that might help shape a new playbook based on respect, good relations, and reciprocity.
Authors:
Sarah Rotz is an Assistant Professor in the Department of Social Science at York University in Toronto, Ontario, Treaty 13.
Daniel Rück is Assistant Professor in the Department of History and the Institute of Indigenous Research and Studies at the University of Ottawa, unceded Algonquin territory.
Sean Carleton is an Assistant Professor in the Department of General Education at Mount Royal University in Calgary, Alberta, Treaty 7.
---
Further Reading
Borrows, John. "Indigenous Legal Traditions in Canada." Washington University Journal of Law and Policy 19, (2005): 167-223.
Carter, Sarah. Lost Harvests: Prairie Indian reserve farmers and government policy. Montreal and Kingston: McGill-Queen's University Press, 1990.
Fanon, Frantz. The Wretched of the Earth. New York: Grove Press, 1966.
Harris, Cole. "How did colonialism dispossess? Comments from an edge of empire." Annals of the Association of American Geographers, 94, no. 1 (2004): 165–182.
Lowman, Emma Battell and Adam J. Barker. Settler: Identity and Colonialism in 21st Century Canada. Halifax and Winnipeg: Fernwood, 2015.
Maracle, Lee. My Conversations with Canadians. Book*hug Press, 2017.
Treaty 7 Elders, Tribal Council, Walter Hildebrandt, Dorothy First Rider, and Sarah Carter. The True Spirit and Original Intent of Treaty 7. Montreal and Kingston: McGill-Queen's University Press, 1996.
Tuck, Eve, and K. Wayne Yank. "Decolonization is not a metaphor." Decolonization: Indigeneity, Education & Society 1, no. 1 (2012): 1-40.
---
THE NEXT OKA WILL TRIGGER A REAL WAR !!!
- AND TRUDEAU JUNIOR WANTS IT.
... AND IF YOU STILL DON'T UNDERSTAND THE HISTORIC AND PRESENT DAY CONTEXT OR WHY THE MAJORITY OF CANADIAN CITIZENS TELLS THEIR OWN GENOCIDAL SETTLER-GOVERNANCE AS WELL AS THE VORACIOUS AND GREEDY CORPORATE THUGS TO GET OUT OF NATIVE PEOPLE'S LANDS OR WHY ALMOST ALL DECENT STUDENTS OF CANADIAN UNIVERSITIES AND UNIVERSITIES THE WORLD OVER STAND BESIDES THE FIRST NATIONS AND INDIGENOUS PEOPLE ON TURTLE ISLAND AND ELSEWHERE IN THE STRUGGLE, THEN ...
TO UNDERSTAND THIS:
The Oka Crisis: Trouble In "The Pines" - (July 11th – September 26th 1990)
By Jaguar Bird
This is a combination of video clips, photos and words about The Oka Crisis .. (a.k.a.: "Indian Summer").. ..that occurred in Oka, Quebec, Canada.., July 11th – September 26th 1990..
Various interviews.., news footage.. and LIVE! clips
The Oka Crisis was a 78-day standoff (11 July – 26 September 1990) between Mohawk protesters, police, and army. At the heart of the crisis was the proposed expansion of a golf course and development of condominiums on disputed land that included a Mohawk burial ground.
Tensions were high, particularly after the death of Corporal Marcel Lemay, a police officer, and the situation was only resolved after the army was called in. While the golf course expansion was cancelled, and the land purchased by the federal government, it has not yet been transferred to the Kanesatake community.
TheCanadianEncylopedia.ca -----------------------------------------
I claim no ownership of any of the clips, video and words expressed in this video...and employ my borrowing of them with much respect and thanks.
Fair use policy applies for all material used in this video. All song versions and video clips used, are cleared for public use in all countries..,on all devices ..
Thank You../ Miigwetch!
I thank Mohawk Grand Chief Serge Simon..; CBC..; The Canadian Encyclopedia.ca..; National Film Board of Canada..; Gord Hill..; SHAWNEE..; BEAR CREEK SINGERS..; NORTHERN CREE SINGERS..; HALFORD..; Gord Downie.. (in Spirit).. ..and to all the other brothers and sisters who have saved some great photos & video clips..
"No personal monetization is being done with this video, by me..., nor am I receiving any other benefits from any of my videos..
They are meant for all.., to heal, teach, discuss, inspire and inform...and to share.., share.., share..." Nia:wen!..
Many Blessings & Thanks.. Chi Miigwetch!..
Music in this video
Song
Artist
Shawnee
Album
Sioux War Dance
Licensed by
Believe Music (on behalf of GR8 AL Music); UMPG Publishing, and 2 Music Rights Societies
Song
Artist
Shawnee
Album
Sioux War Dance
Licensed by
Believe Music (on behalf of GR8 AL Music); UMPG Publishing, and 3 Music Rights Societies
Song
Artist
Northern Cree
Album
The Very Best of Northern Cree
Licensed by
A Train Entertainment (Masters) (on behalf of Canyon Records); ASCAP, CMRRA, UMPG Publishing, BMI - Broadcast Music Inc., and 10 Music Rights Societies
Song
Genocide (1st Encore) (Live Insurrection)
Artist
Halford, Rob Halford
Writers
Kenneth Downing, Glenn Tipton, Rob Halford
Licensed by
SME (on behalf of SMCMG); CMRRA, Peermusic, and 7 Music Rights Societies
Song
Artist
Bear Creek
Album
XI - Pow-Wow Songs Recorded Live At San Manuel
Licensed by
A Train Entertainment (Masters) (on behalf of Canyon); CMRRA, Rumblefish (Publishing), ASCAP, and 1 Music Rights Societies
===
Do you know who owns all the land in Canada? Not its citizens
By RT - 19. September 2019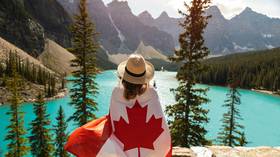 © pexels.com
The second largest country in the world by total area, Canada, is one of the most highly urbanized globally. However, none of its citizens have the right to own physical land in the country.
Land in Canada is solely owned by Britain's Queen Elizabeth II, who is also the head of state.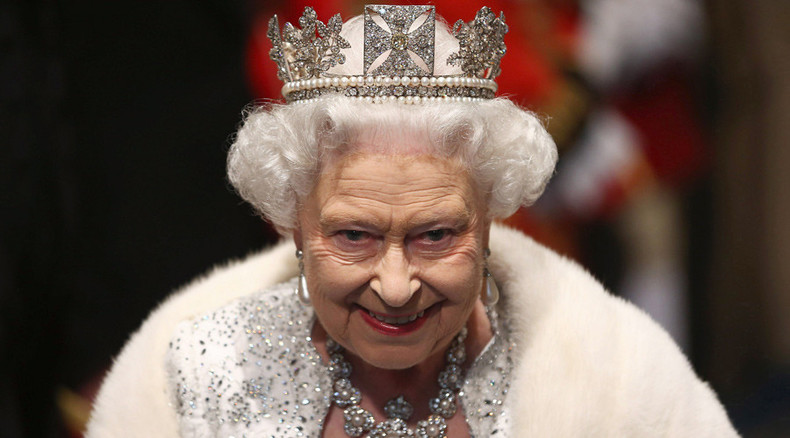 Canadian law in most provinces evolved from British common law, so instead of directly owning land, Canadians have land tenure. That means they can only own an interest in an estate.
Only 9.7 percent of the total land is privately owned, while the rest is Crown Land. It is administered on behalf of the Crown by various agencies or departments of the government of Canada.
Of the land owned by the Queen, 50 percent is managed by the provincial government and the rest by the federal government. All of those lands are held as public (known as Crown Lands) and mainly used as national parks, forests, private homes, and for agriculture.
According to the latest United Nations estimates, the current population of Canada is more than 37 million people.