PROLOGUE: But Kenyans still need to be vigilant, since - despite the now imposed 'total' ban on trade and consumption of wildlife in China - the CCP regime still allows meat and products of pigs, chicken, cattle, rabbit, lamb, donkey, ducks, geese, pigeons, dogs and cats as well as fish and seafood.
Kenya bans commercial slaughter of donkeys
By VF/BBC - 25 February 2020
Abattoirs in Kenya will be banned from slaughtering donkeys from next month, the agriculture minister has said.
The East African nation legalised trade in donkey meat and hide in 2012 to meet growing demand in China.
Minister Peter Munya said that decision back then had been a mistake as it has caused the donkey population to fall.
Many people in rural areas use donkeys to fetch water and firewood, raising fears that their dwindling numbers will increase the workload of women and children.
Kenya has todday only about 1.2 million donkeys left compared to 1.8 million a decade ago, according to government data published last week.
Women and men from farming communities protested outside Mr Munya's offices in the capital, Nairobi, on Monday to demand action to protect the donkey population.
"When donkeys are stolen or killed, women are turned into donkeys," read a placard held by the protesters.
Mr Munya later told reporters that abattoirs licensed to slaughter donkeys had a month to switch to slaughtering other animals - or else they would be closed.
"The policy of slaughtering donkeys for meat was not well thought out," the minister said.
"The benefits that are brought by the traditional work that donkeys do are much more than whatever benefit you might get by slaughtering a donkey and eating the meat," he added
The mass slaughtering of donkeys has also spawned a black market with skin-smuggling networks hiring gangs to steal donkeys, locals say.
Kenya has four abattoirs licensed to slaughter the animals.
Brooke East Africa, a donkey advocacy group, estimates that at least 1,000 donkeys are slaughtered each day in Kenya.
The value of an adult donkey more than quadrupled in Kenya after their meat was legalised for human consumption in 2012, according to the Africa Network for Animal Welfare.
There is huge demand for donkey skin in China.
When skins are boiled, they produce a brown gelatine, which is the essential ingredient in Chinese "ejiao" products - popular health foods and traditional medicines.
Donkey trade - the facts: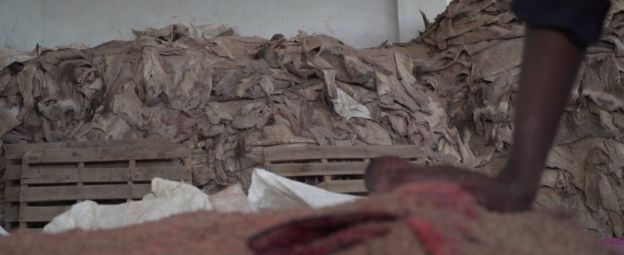 Donkey hides piled up ready for export
1.8 million skins are traded every year - according to estimates from UK-based charity The Donkey Sanctuary - but the demand is as high as 10 million
China's donkey population dropped from 11 million in 1990 to 3 million today, based on government data
Ejiao, the gelatine produced by boiling donkey skins, can sell for up to $388 (£300) per kg
Uganda, Tanzania, Botswana, Niger, Burkina Faso, Mali and Senegal have banned donkey exports to China
===
MUST READ ABOUT OUR CAMPAIGN:
===
Kenya shuts slaughterhouses over loss of donkeys to China
By Nita Bhalla - 25.
NAIROBI, Feb 25 (Thomson Reuters Foundation) - Kenya's agriculture minister has ordered donkey slaughterhouses to be shut down as concerns rise over the theft of the animals by gangs seeking their skin for use in Chinese medicines.
Kenya has become the epicentre of a fast-growing industry in Africa to supply donkey skins to China, where a gelatin called ejiao made from boiling them down is used in a traditional medicine believed to stop ageing and boost libido.
Kenya has four licensed donkey abattoirs - more than any other country on the continent - which slaughter around 1,000 donkeys a day, according to government data.
But growing Chinese demand for ejiao has led to a black market with gangs hired by skin-smuggling networks to steal donkeys, inciting anger in communities who depend on the animals for livelihoods, farming or transport.
"We want to stop that criminality. We want to stop that brutality," Agriculture Minister Peter Munya told reporters on Monday after meeting protesting donkey owners in Nairobi.
"(We want) to restore the donkey to its rightful place in our society - that of supporting livelihoods and providing crucial transport that is not easy to get, especially for the lower echelons of our society."
If the trade continued, donkey populations would be decimated, he said, adding this would hit the country's economy. The slaughterhouses have been ordered to close within a month.
More than 300,000 donkeys - 15% of Kenya's population - have been slaughtered for skin and meat export in less than three years, according to the Kenya Agriculture and Livestock Research Organization (KALRO).
More than 4,000 were reported stolen over the same period from April 2016 to December 2018, KALRO said in a report in June last year.
The report warned the animals were being slaughtered at a rate five times higher than their population was growing, which could wipe out Kenya's donkey population by as early as 2023.
Donkey owners who have lost their animals to the trade welcomed the decision, but expressed fears it would continue underground.
"God is good. He remembered the poor people in Kenya who have nothing but their donkeys," said John Nduhiu Kuiyaki, chairman of a donkey owners association in Naivasha.
"We have lost a lot of money from the theft of our donkeys – this has impacted everything from being able to send our kids to good schools to our inability to buy land."
The group of 30 owners used to have 100 donkeys, but thefts over the last three years left them with only 50, he told the Thomson Reuters Foundation by phone.
Animal rights groups said the decision by the Kenyan government could encourage other African nations to follow suit.
"Countries like Tanzania have only engaged in the trade because they were losing donkeys in numbers into Kenya.
"They now have no reason to allow donkey slaughterhouses to operate either and we call on them to follow Kenya's lead."
Donkey slaughter has surged in Africa as demand for ejiao has jumped 10-fold to about 6,000 tonnes a year in China.
The donkey population in China – once the world's largest – has plummeted to 4.5 million from 11 million in 1990, United Nations data shows.
Once a luxury for the elite, ejiao, which comes as a tablet to dissolve in water or in anti-ageing cream, is now widely used by China's increasingly wealthy middle class and diaspora.
Prices have surged to over $780 a kilogram (2.2 lb) from about $30 in 2000, according Chinese state-run media reports.
Author:
Nita Bhalla, Thomson Reuters Foundation
Kenya bans slaughter of donkeys as China demand soars
Donkeys are used for transport and agriculture
Kenya's agriculture minister has banned the slaughter of donkeys and ordered the closure of all donkey abattoirs in the country.

Peter Munya gave the owners of the Kenya's four donkey abattoirs a month to transition to slaughtering other livestock such as cattle and goats. The minister said those who did not comply would have their businesses closed.

Mr Munya's announcement came late on Monday, after speaking to a group of farmers who had been protesting outside the agricultural ministry's offices.

Farmers say an increase in demand has led to rampant theft of their donkeys.

In rural Kenya, donkeys are an essential part of life, relied on to fetch firewood and water among other uses, and it is a taboo to eat donkey meat in some communities.

There are fears in Kenya that the country's donkey population could be wiped out if nothing is done to stop the slaughter rate.

It is estimated that as many as 1,000 donkeys are being slaughtered every day, and that the population could be wiped out in 10 years.

Exports to China have driven the demand as the gelatine produced from boiling donkey skins is the essential ingredient in Chinese "ejiao" products - popular health foods and traditional medicines.

When the first donkey abattoir was set up in 2016, an adult donkey sold for about $50 (£39), but prices have skyrocketed to about $200, according to a recent report by the Africa Network for Animal Welfare.