Smuggled pangolin scales seized in joint operation
By Ma Zhenhuan in Hangzhou - 12. December 2019
The anti-smuggling bureau of Hangzhou Customs and the public security department in Wenzhou, Zhejiang province, jointly seized over 23 metric tons of smuggled pangolin scales and detained 18 suspects in late October after one year of investigation and anti-smuggling efforts, Hangzhou Customs announced on Wednesday.
Given that only 400 to 600 grams of scales can be extracted from each pangolin, a nationally protected species, the plate-like scales seized in Wenzhou and smuggled from Busan, South Korea, in batches since November last year were estimated to be extracted from around 50,000 pangolins.
It is believed to be the largest haul of smuggled wildlife products in recent years, China Central Television reported.
In September, customs authorities in Wenzhou found that two people from the city were selling pangolin scales, which are often used in traditional Chinese medicine, in a black market in the Guangxi Zhuang autonomous region.
At the end of October, customs received a tip that a batch of scales would be smuggled into China and those two people would be involved.
"A man surnamed Cai purchased pangolin scales in Nigeria and entrusted an overseas smuggling group to transport them to Busan first. Then, the man's two partners in Wenzhou hired another group to deliver them to Wenzhou via Shanghai," said Feng Chenxue, a Hangzhou Customs official.
The containers with scales, mixed with slices of ginger, were unloaded at a wharf in Shanghai and then transferred to Wenzhou where local customs authorities seized the containers and caught the suspects, according to Feng.
"The smuggled pangolin scales were wrapped with layers of ginger slices in bags, which makes them hard to detect during routine spot checks," said Chen Ling, a policeman from Wenzhou Public Security Bureau.
The cost of pangolin scales overseas is about 80 to 150 yuan ($11.40 to $21.30) per kilogram, while the selling price in China could reach 800 yuan as the scales are believed to be beneficial for health, Feng said.
Hangzhou Customs said they will continue working with local public security authorities to crack down on the smuggling of wildlife and endangered species into and out of China.
Qin Jirong contributed to this story.
Concerns mount for Chinese pangolin
By Yang Wanli - 11. September 2019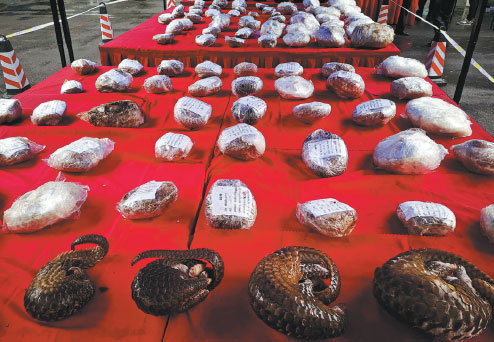 Creature threatened by habitat destruction, poaching and smuggling
On a late summer evening, Qingtian County Forestry Department in Zhejiang province received a call from a woman who had found a frightened animal trapped in the center of a busy road amid blaring car horns.
"I thought it was a cat, but when I picked it up, it quickly curled into a tight ball about the size of a melon, and I noticed that it was covered in crocodile-like scales," the woman said.
Two days later, the local wildlife rescue center collected the animal from the department and confirmed that it was a male Chinese pangolin about 2 years old. The creature weighed 6 kilograms.
It was the fourth time that a Chinese pangolin had been found in the wild in the second quarter of this year.
In July, during a sustainable development conference in Beijing, a representative of the environmental organization China Biodiversity and Conservation Green Development Foundation, whose work involves pangolin conservation, made an eye-catching claim.
She announced the "functional extinction" of the Chinese pangolin, as the organization had not observed any of the creatures in the wild for the past three years. The announcement triggered widespread public concern for the mammal.
The Chinese pangolin is a shy, elusive and secretive animal whose body is covered in hard, keratin scales. In the past five years, about 50 of the creatures have been found in the wild, nine of them newborns, according to Zeng Yan, an engineer at the Chinese Academy of Sciences' Institute of Zoology.
"This indicated that the species is not functionally extinct - a term used to describe any animal that has lost the ability to reproduce in the wild, or that reports of its existence have not been made in recent years," she said.
While experts said the species cannot be labeled "functionally extinct", they believe the Chinese pangolin population is falling significantly and is in urgent need of protection.
Wu Shibao, a zoology and ecology professor from South China Normal University in Guangzhou, capital of Guangdong province, who has conducted research into pangolins for years, said the exact Chinese pangolin population remains unknown.
"It is very difficult to calculate the current population, as this nocturnal animal usually lives underground during the day and moves from one place to another more than 10 times a year," he said. "But there is no doubt the species will be on the verge of extinction if no further protective measures are introduced".
Declining population
According to a national wildlife survey conducted by forestry authorities in the 1990s, there were some 60,000 Chinese pangolins in 11 provinces, including Yunnan, Hunan, Guangdong, Sichuan and Zhejiang.
However, in recent years, the number has witnessed a sharp decline due to habitat destruction, rampant poaching and smuggling. In 2017, the International Union for Conservation of Nature placed Chinese pangolins on the Red List of Endangered Species, as a team of experts believed that the population had dropped by 90 percent in the previous decade.
Smugglers have targeted the animal for its scales, which are used in traditional Chinese medicine as a cure for hangovers, to treat liver conditions and help new mothers to breastfeed. Pangolin meat is also high in nutritional value.
The demand for pangolins can be attributed to the high profit to be made from the creatures. A CNN report in 2013 investigated the illegal pangolin trade and found that a poacher could earn $22.50 from a 1-kilogram pangolin.
"Sensing danger, pangolins curl themselves into tight balls instinctively. In the wild, this reflex protects them from predators such as bears and large cats. But they have little defense against wildlife traffickers," Wu said.
In addition to the threat from poachers, the Chinese pangolin is facing challenges from lost habitat due to environmental pollution, commercial logging and urbanization, Wu said.
"All these factors have resulted in the population decline. As the Chinese pangolin only produces one newborn a year, it will take a long time for the species to recover," he said.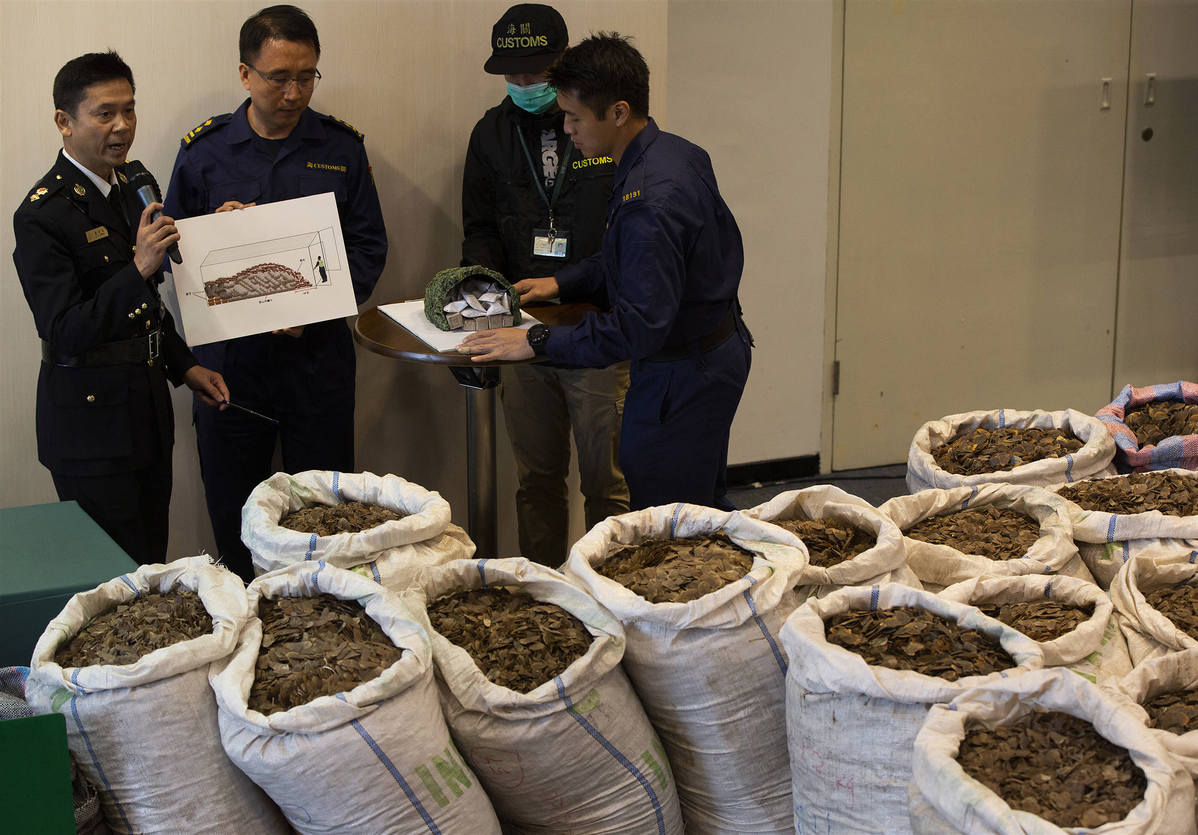 Response to stress
To save a wild species from extinction, breeding in captivity is the preferred option in most cases.
But according to Chen Jinping, a researcher from the Guangdong Institute of Applied Biological Resources, as studies on the Chinese pangolin are still at a very early stage, scientists have not even reached a consensus on the species' duration of pregnancy.
Moreover, Chen said the pangolin has a very strong response to stress, meaning it easily becomes nervous in captivity.
"Their immune system is weaker under heavy stress. Also, their willingness to mate is affected," Chen said. "In the 1990s, some medical companies invested a lot of money on breeding Chinese pangolins in captivity, but the results were disappointing."
The decline in the Chinese pangolin population has triggered fears from animal protection groups, not only for the future of the species itself, but also for other pangolins, mostly in Africa and Southeast Asia.
According to the wildlife trade monitoring network TRAFFIC, Chinese customs officials cracked 209 pangolin smuggling cases between 2007 and 2016, seizing 35 metric tons of scales, 2,405 live pangolins and 11,419 pangolin body parts.
A major proportion of these cases involved the Sunda pangolin that mainly lives in Southeast Asia, including Vietnam, Myanmar, Laos, Malaysia and Indonesia.
According to the State Forestry and Grassland Administration, all eight pangolin species worldwide are listed in CITES (the Convention on International Trade in Endangered Species of Wild Fauna and Flora) Appendix I, which essentially bans international trade in pangolins and their parts or derivatives.
Both the Chinese pangolin and the Sunda pangolin are classified as endangered on the International Union for Conservation of Nature's Red List of Threatened Species.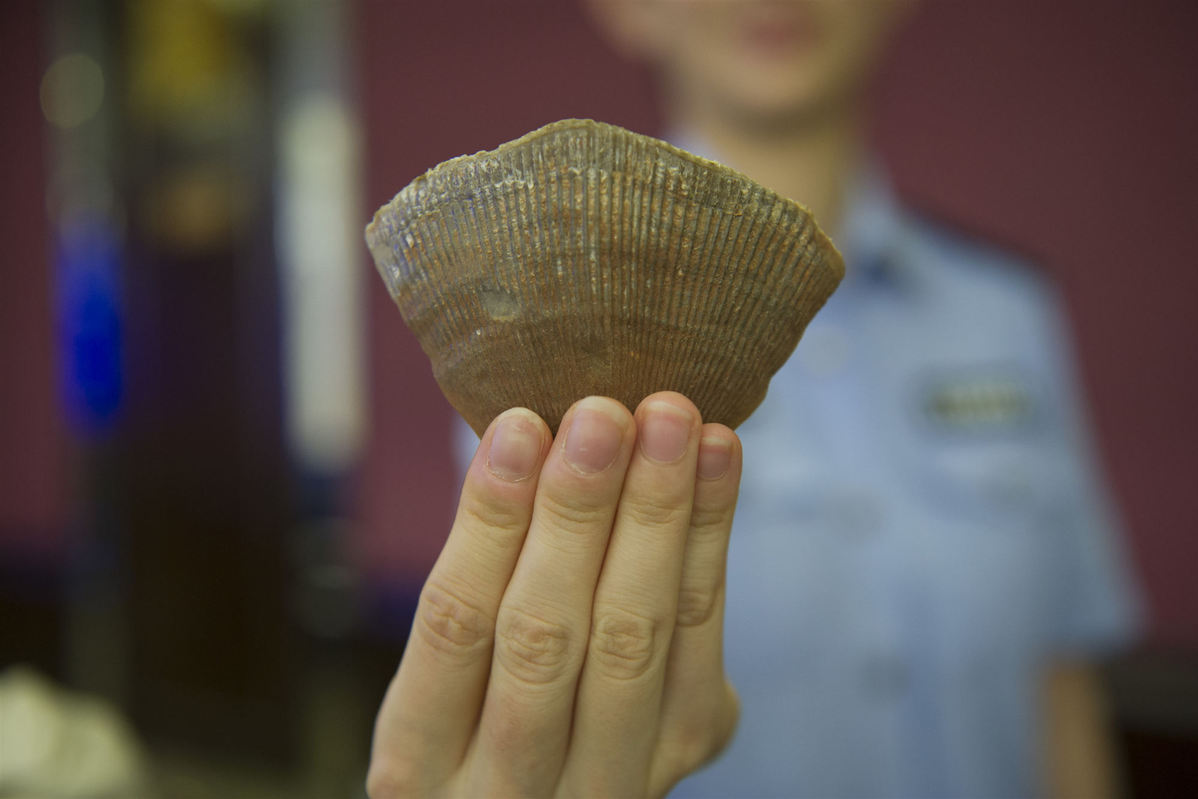 Action to take
In 2007, China banned pangolin hunting, and since October has suspended all commercial imports of pangolins and related products. Under the Wild Animal Protection Law, the Chinese pangolin is a national second-class protected species, and trade in its meat is prohibited. An amendment to the law, enacted in 2016, banned the trading of pangolins on the internet.
In August, an official from the State Forestry and Grassland Administration said the authorities were considering upgrading protection of the Chinese pangolin to the highest level, due to its population declining in the wild.
Wu Zhimin, director of the administration's animal and plant department, said a document to this effect is awaiting central government approval, and the decision will be announced by the end of the year.
Meanwhile, Wu said the administration is facing another challenge in pangolin protection. The number of live Sunda pangolins being saved from illegal cross-border trade has posed a heavy financial burden on local wildlife animal rescue and protection centers, most of which lack experience in breeding pangolins in captivity and do not have the budget to house the animals.
Under CITES guidelines, nations must send confiscated animals back to the home country, or to a "government-designated rescue center", or other "appropriate" places.
But this does not always happen, according to protection advocates, who said it can be expensive or impractical to transport some wild animals to their home country and that some member nations do not have designated rescue centers.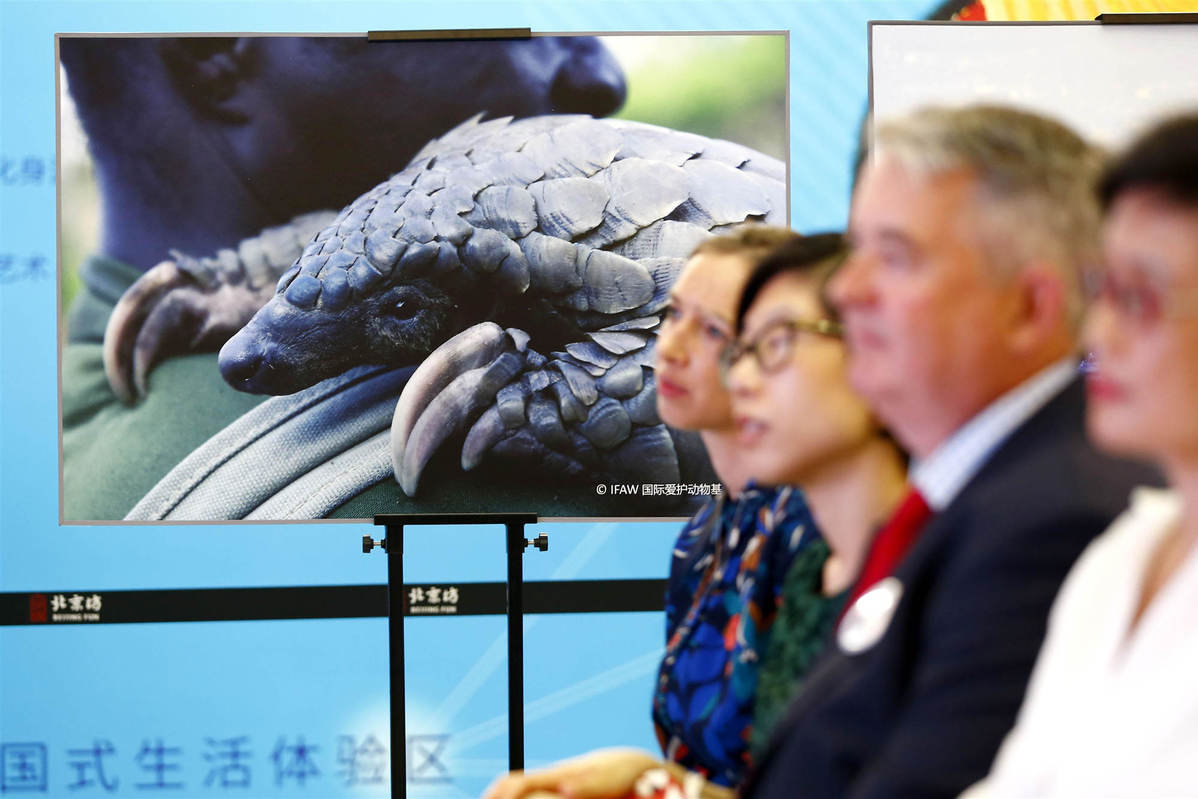 Closer to the wild
Li Linhai, deputy director of the State Forestry and Grassland Administration Wild Animal Management Office, said, "The administration is hearing opinions from experts who are considering releasing the Sunda pangolins into the wild in China as a possible solution."
Meng Zhibin, associate researcher from the Chinese Academy of Science's Institute of Zoology, said there is no evidence to show that the Sunda pangolin originated in China. Releasing them into the wild in China might pose a risk to other species.
"Cross-fertilization of the Sunda pangolin and Chinese pangolin is also likely to cause physical degradation of the two species," he said. "If the authorities approve the release, this should only be carried out as a pilot program within a certain area to avoid potential risks to local wildlife species or the environment."
Before any such pilot program is launched, Li said pangolins being saved through anti-trafficking actions must remain in wildlife rescue centers - most of them in cages.
In Guangdong, wildlife experts are trying to provide more pangolin-friendly homes for the animals seized from smugglers.
Chen, from the Guangdong Institute of Applied Biological Resources, said three major rescue centers in the province have built Sunda pangolin houses, complete with areas for outdoor activities. Some of the houses are big enough for several pangolins, enabling them to form communities.
"We are calling for the authorities to release a national standard for pangolin preservation and protection work, or to build several regional pangolin care and rescue centers. This would be very helpful in boosting the pangolin survival rate and guaranteeing their welfare while they are bred in captivity before being released into the wild," Chen said.
China mulls upgrading protection level of pangolin
By Xinhua - 03. August 2019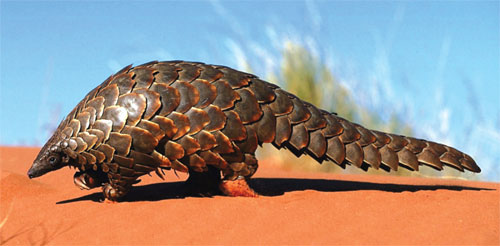 CHANGSHA -- China is considering upgrading the protection of pangolin to the highest level due to its grim living conditions in the wild.
The pangolin population showed a marked decline in China because of habitat destruction and rampant poaching in the past, and it is hard to come across wild pangolins, said Wu Zhimin, head of the wildlife conservation department of the National Forestry and Grassland Administration at a meeting in Changsha in Central China.
"Even so, pangolins have been spotted in southern and eastern China, and we conclude that there are still pangolin groups living in the wild," said Wu Shibao, a professor with South China Normal University.
The country has two levels for the protection of endangered wild animals according to the wild animal conservation law. Pangolins are currently under the class-two state protection.
China issued a ban on pangolin hunting in 2007, and has suspended all commercial import of pangolin and its products since October 2018.
Wu Zhimin said the central government has introduced multiple measures to crack down on wildlife crimes, stepped up efforts to restore habitats and rescue pangolins in recent years.