'Guardian of the Forest' ambushed and murdered in Brazilian Amazon
by Karla Mendes - 2 November 2019
Paulo Paulino Guajajara, a 26-years-old indigenous Guajajara leader was killed on Friday in an Amazon rainforest ambush allegedly by loggers in the Araribóia Indigenous Reserve, one of the country's most threatened indigenous territories, which is located in Brazil's Maranhão state.
Paulo was a member of "Guardians of the Forest," a group of 120 indigenous Guajajara who risk their lives fighting illegal logging in the Araribóia reserve. The Guardians also protect the uncontacted Awá Guajá hunter-gatherers — one of the most at risk indigenous groups on the planet.
Indigenous leader Laércio Guajajara, also a Guardian, was hit by gunfire too, but was able to escape and was later taken to a hospital, said indigenous chief Olímpio Iwyramu Guajajara, the Guardians' leader. All three Guardians have reportedly been threatened by loggers recently.
Federal Police and Maranhão state police are investigating the attack, which also reportedly resulted in a logger being killed; Paulo's body has yet to be found. The killing is the most recent in a rising tide of violence against indigenous activists since Jair Bolsonaro took power in January.
A young indigenous Guajajara leader was murdered reportedly by loggers Friday in the Brazilian Amazon, raising concerns about escalating violence against forest protectors under the government of President Jair Bolsonaro.
Paulo Paulino Guajajara, 26-years-old, was shot in the head and killed in an ambush in the Araribóia Indigenous Reserve, in the Northeast state of Maranhão, indigenous chief Olímpio Iwyramu Guajajara confirmed to Mongabay. The murder was also confirmed on Friday night by Mídia Índia, a collective of indigenous communicators of various ethnicities.
Paulo was a member of "Guardians of the Forest," a group of 120 indigenous Guajajara that risk their lives fighting illegal logging in the Araribóia reserve, one of the country's most threatened indigenous territories. The Guardians also act to protect the Awá Guajá people, an uncontacted group of hunter-gatherers described by NGO Survival International as the most threatened indigenous group on the planet.
"It is very sad news. We lost one warrior who protected life and the forest… He was cowardly murdered because of his work to defend life… The Brazilian justice [system] has to punish the responsible," Olímpio, the Guardians' leader, told Mongabay.
Indigenous leader Laércio Guajajara, also a "Guardian," was hit by two grazing shots in his back and his arm during the ambush, but was able to escape the scene and was later taken to a hospital, the chief said. According to Olímpio, all three have been threatened by loggers over the past several months.
"Guardians of the Forest" Paulo Paulino Guajajara (left) and Laércio Guajajara (right) pose for a photo before going on patrol in the Araribóia indigenous reserve, in Maranhão state, on Jan 30, 2019. Image by Karla Mendes/Mongabay
The Federal Police and the Maranhão state police are investigating the case, which also reportedly resulted in a logger being killed; Paulo's body has yet to be found.
FUNAI, Brazil's indigenous agency, issued a statement announcing the assignment of a special technical advisor and retired Federal Police officer to closely investigate the case. In a post on Twitter, Minister of Justice Sergio Moro said that no effort will be spared "to bring those responsible for this serious crime to justice."
Rising violence under Temer and now Bolsonaro
Violence against indigenous peoples has escalated in Brazil over recent years, making it one of the most dangerous nations on earth for indigenous and environmental activists: 135 indigenous people were murdered in 2018, an increase of almost 23 percent from 2017, according to a report released last month by Brazil's Indigenous Missionary Council (CIMI).
The report also included preliminary data for 2019, noting 160 cases of land invasion, illegal exploitation of natural resources, and damage to property in 153 indigenous territories during the first nine months of the Bolsonaro administration. These figures mark a significant increase from 2018, when 111 incidents of these types were reported in just 76 indigenous territories over the entire year, according to CIMI.
The Guardians group was established late in 2012 and has since destroyed some 200 illegal logging camps within the indigenous reserve, according to Olímpio. He said the situation in Araribóia has worsened under the new government. The Guardians are currently setting up an NGO and a website in order to receive donations aimed at protecting the Araribóia territory.
Since Bolsonaro took office in January, the president has announced controversial policies, including plans to open up indigenous reserves for large-scale mining and agribusiness, as well as measures to weaken environmental regulations and agencies. Although most of these policies have yet to be implemented, some critics say that Bolsonaro's election and incendiary language have encouraged illegal loggers and land grabbers to encroach on indigenous lands in the Amazon and elsewhere, for which there is some hard evidence.
A response of outrage
The assassination of Guardian Paulo Paulino Guajajara immediately prompted reactions from indigenous groups and international NGOs.
"To our regret, this is a finding of authorized genocide resulting from an alliance [of the Bolsonaro government] with agribusiness and businessmen… The 'Guardians' are doing their monitoring work but the [President's] speech all the time of opening the Amazon for agribusiness and mining promotes this violence," Sônia Guajajara, the leader of the Articulação dos Povos Indígenas do Brasil, the National Articulation of Indigenous Peoples of Brazil (APIB), told Mongabay.
APIB also released a note of regret following Paulo's assassination, as did CIMI and the Coordination of the Indigenous Organizations of the Brazilian Amazon (COIAB), as well as NGOs ECOTERRA Intl., Survival International, Greenpeace and Amazon Watch among others.
After leaving the hospital, the wounded Laércio was taken to a "safe-hiding place," and he is out of danger for now, according to indigenous leader Sílvio Santana Guajajara. Sílvio told Mongabay by phone that Laércio is still in shock and has refused so far to give testimony to police.
However, the wounded Guardian immediately agreed to say a few words after Sílvio mentioned that a Mongabay reporter was on the line: "I will not stop. I will fight until the end," Laércio told this reporter.
Olímpio reinforced Laércio's statement: "While we exist we'll be the defenders of the forest and life."
When this reporter followed the Guardians on patrol for a documentary film in January, Paulo proudly showed us a video in which he ate the still pulsing heart of a land turtle — an ancestral ritual meant to protect him and make him stronger.
"Our culture is our life. It's in our blood, and nature is always part of our life," Paulo said in the documentary film released by the Thomson Reuters Foundation in May.
Article published by Karla Mendes
Brazilian 'forest guardian' killed by illegal loggers in ambush
Paulo Paulino Guajajara was killed by armed loggers in the Araribóia region in Maranhão
By Sam Cowie @samcowie84 in São Paulo -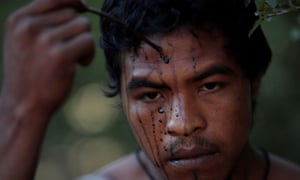 Paulo Paulino was a member of Guardians of the Forest, formed to ward off illegal logging gangs. Photograph: Ueslei Marcelino/Reuters
A Brazilian indigenous land defender has been killed in an ambush by illegal loggers in an Amazon frontier region.
According to a statement by the Brazilian Indigenous Peoples Association, Paulo Paulino Guajajara was shot and killed inside the Araribóia indigenous territory in Maranhão state. Another tribesman, Laércio Guajajara, was also shot and hospitalised and a logger has been reported missing. No body has yet been recovered.
Sérgio Moro, the justice minister of far-right president Jair Bolsonaro's government, confirmed that Brazil's federal police were investigating the killing. "We will spare no effort to bring those responsible for this serious crime to justice," he tweeted.
The tribesmen are members of an indigenous forest guard called Guardians of the Forest, which formed in 2012 to ward off logging gangs pillaging their rare, hardwood-rich reserve.
Their work involves armed patrols and destroying logging encampments and has earned them dangerous enemies. Several Guardians in Maranhão have been killed in recent years, including three from Araribóia.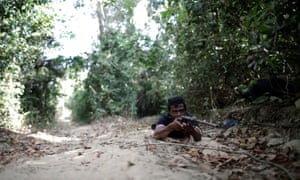 Paulo Paulino Guajajara holds a gun during the search for illegal loggers on Arariboia indigenous land near the city of Amarante, Brazil. Photograph: Ueslei Marcelino/Reuters
According to Gilderlan Rodrigues, Maranhão regional coordinator of Brazil's indigenous missionary council, the murdered tribesman had been threatened several times. "Their work bothers those that want to loot their territory," he said, adding that the killers were from a nearby rural settlement and had entered the reserve without permission. "These criminal actions must be combated so that more lives are not lost."
The 4,130 sq km (1,595 sq miles) Araribóia indigenous reserve is home to an estimated 5,300 indigenous Brazilians of the Guajajara tribe and the Awá, an isolated group described as the "world's most endangered tribe". It concentrates much of the last remaining Amazon rainforest in Maranhão state.
Sarah Shenker, senior research and advocacy officer at Survival International, who knew the murdered man, described it as an "island of green amid a sea of deforestation". She said the killing was "a crime foretold".
Earlier this year Paulino told Survival International: "It makes me so mad to see this [forest destruction]. These people think they can come here, into our home, and help themselves to our forest? No. We won't allow it. We don't break into their houses and rob them, do we? My blood is boiling. I'm so angry."
The reserve is officially protected by the Brazilian government but is constantly targeted by logging gangs and has long been a hotbed of violent conflict. In 2015, a former enforcement operations coordinator with Brazil's environmental agency Ibama, Roberto Cabral, was shot there.
In June this year, the Araribóia Guardians' leader, Olímpio Guajajara, recorded a video calling for help from the Brazilian state after reporting that gunmen were being paid to kill them and indigenous houses had been shot at.
"We don't want war, we want to resist," he said. "We want the Brazilian authorities to help protect the lives of the Guardians that are threatened." The video was sent to the Brazilian government.
Few land conflict-related killings in Brazil result in convictions, which advocates say has produced a culture of impunity. According to Brazil's pastoral land commission, a rural violence watchdog, of 157 land conflict killings in Maranhão state between 1985 and 2017, just five cases went to court.
Since the beginning of this year, when Bolsonaro took office, observers noted that attacks and invasions of indigenous lands had soared in Brazil as environmental and indigenous protection agencies suffered cuts and interference.
"The indigenous genocide of Brazil is legitimised by the discourse of the president," said indigenous leader Sonia Bone Guajajara, who is from the Araribóia reserve and is currently in Europe with the campaign Indigenous Blood: Not a Single Drop More.
Brazil: Amazon land defender killed by illegal loggers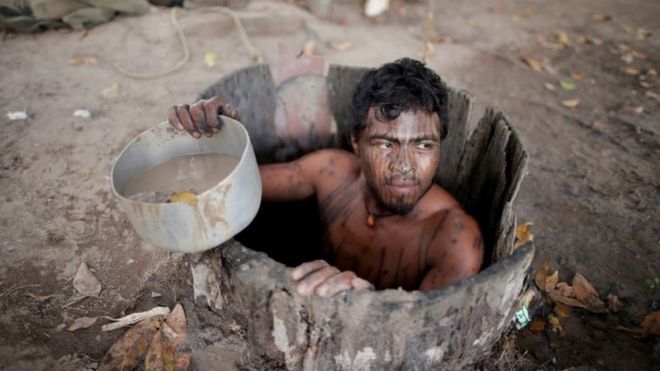 A young indigenous land defender has been shot dead and another wounded by illegal loggers in Brazil's Amazon.
Paulo Paulino Guajajara was reportedly attacked and shot in the head while hunting on Friday inside the Arariboia reservation in Maranhao state.
He was a member of Guardians of the Forest, a group formed to combat logging gangs in the area.
The killing increases concerns about escalating violence against Amazon forest protectors.
Non-profit group Survival International, which advocates for isolated communities, says at least three Guardians have previously been killed, along with many of their relatives.
In September, an official who had worked to protect indigenous people was murdered in the city of Tabatinga.
Brazil's populist President Jair Bolsonaro has drawn intense domestic and international criticism for failing to protect the Guardians' territory in the eastern Amazon region.
He has often stated support for farmers and loggers working in the area, while criticising environmental campaigners and slashing the budget of the Brazil's environmental agency.
Brazil's justice minister Sérgio Moro said federal police were investigating the incident. "We will spare no effort to bring those responsible for this serious crime to justice," he tweeted.
What happened to Paulo Paulino Guajajara?
Authorities say he was shot in the head during an ambush by illegal loggers who had invaded the reservation.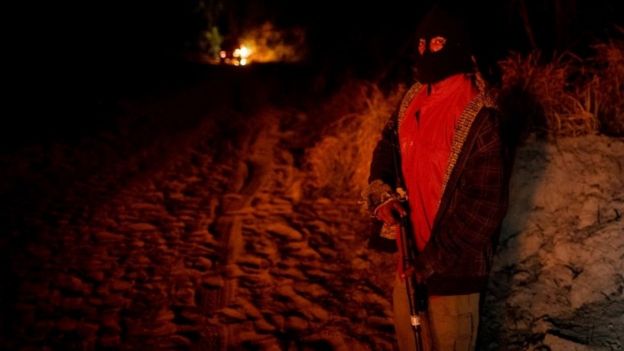 Another indigenous man, Tainaky Tenetehar, was injured in the attack.
Brazilian police said one of the loggers was also killed in a subsequent shootout.
Brazil's pan-indigenous organization APIB said Paulo Paulino Guajajara's body was still lying in the forest where he was gunned down.
What has the reaction been?
The APIB, which represents many of Brazil's 900,000 indigenous people, said Mr Bolsonaro's government had serious questions to answer.
"The Bolsonaro government has indigenous blood on its hands," it said in a statement.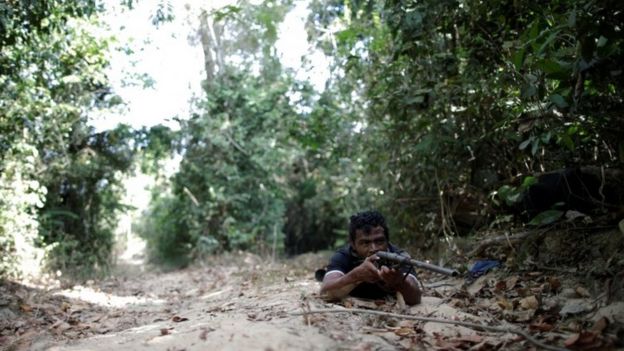 "The increase in violence in indigenous territories is a direct result of his hateful speeches and steps taken against our people."
Who was Paulo Paulino Guajajara?
The land defender, who was in his late twenties and had a son, was a Guajajara leader.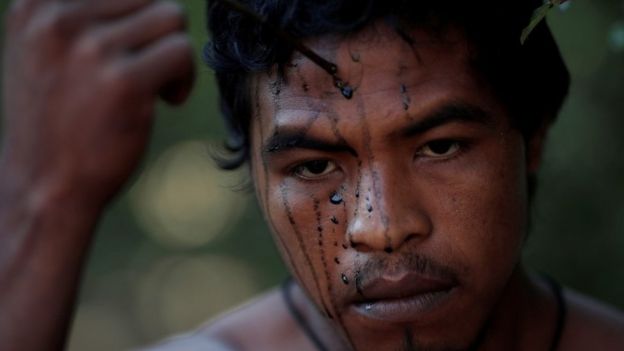 The Guajajaras are one of Brazil's largest indigenous groups with some 20,000 people. In 2012, they started the Guardians of the Forest to protect the Arariboia Indigenous Territory.
"I'm scared at times, but we have to lift up our heads and act. We are here fighting," he told Reuters news agency this year.
"There is so much destruction of nature happening, good trees with wood as hard as steel being cut down and taken away," he added.
"We have to preserve this life for our children's future."
Colombia violence: Dissident rebels kill indigenous leader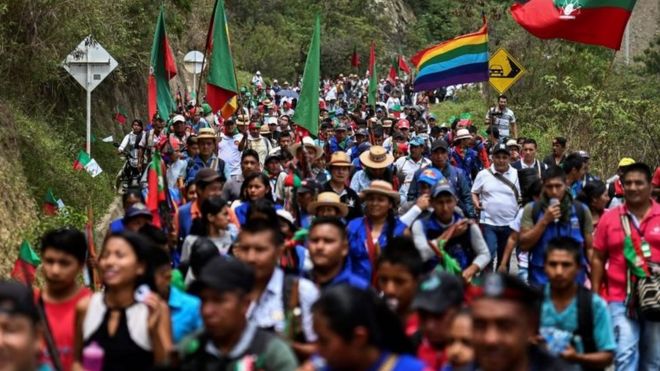 An indigenous leader, Cristina Bautista, and four volunteer community guards have been killed in south-west Colombia.
The security forces say that members of a dissident rebel group are behind the attack in Cauca province.
The number of indigenous Colombians killed has risen steeply amid a resurgence of violence by dissident rebel groups and paramilitaries.
President Iván Duque has sent the interior minister to the area.
He also said that he had ordered the military to "find the criminal group responsible for the attack".
What happened?
According to the local indigenous council, members of the Nasa indigenous guard tried to stop a car as part of routine checks on Tuesday afternoon.
Inside the vehicle was reportedly the leader of a dissident rebel group along with two of his men, who demanded they be let through.
A stand-off ensued with the indigenous guard raising the alarm, prompting more locals to gather.
The rebels opened fire killing four members of the guard and Cristina Bautista, the indigenous governor of the area. Six others were injured.
An ambulance carrying the injured was shot at and more dissident rebels rushed to the scene to try and "spring" those stopped by the indigenous guard, according to a statement by the council.
The Colombian army has confirmed that a breakaway group from the Farc rebel group was behind the attack.
They said all dissident rebels involved had managed to escape.
Who are the Nasa?
The Nasa are an indigenous group which lives in Cauca province, in the mountainous south-west of Colombia.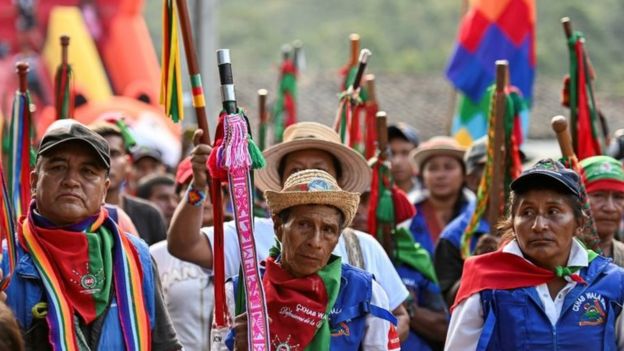 Many of them live on land which they themselves administer, patrol and govern.
They have their own indigenous guard which is made up of volunteers. The guard describes itself as less than a police force and more as mediators who do not carry arms but only wooden staffs adorned with the red and green colours of the Nasa.
What's behind the clash?
Many of the Nasa live in areas where Marxist Farc rebels used to be active.
The Farc rebel group signed a peace agreement with the Colombian government in 2016 and ordered its fighters to lay down arms. But not all the Farc rebels agreed with their leadership's strategy and some broke away to continue fighting the state and engaging in criminal activities, such as drug trafficking and extortion.
As the dissident rebels try to expand the territory they control they increasingly clash with the indigenous guard protecting it.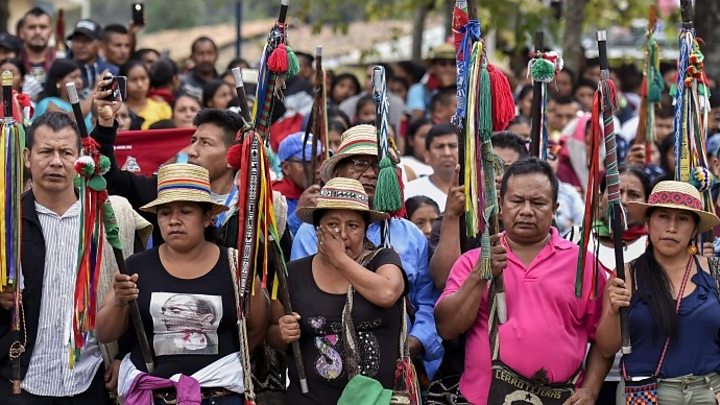 Dozens of Nasa, many of them members of the guard, have been killed this year. The United Nations has urged the Colombian government to do more to protect its indigenous people.
In August, two members of the Nasa indigenous guard were shot dead when gunmen opened fire on the bus they were travelling in.
Ecuador protests: UN calls on government to investigate deaths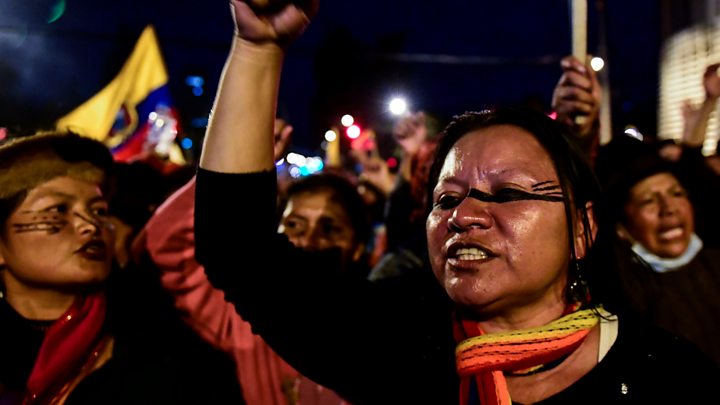 Protesters in Ecuador have released 10 police officers who were taken hostage amid violent demonstrations triggered by austerity measures.
Indigenous demonstrators paraded the officers, including one woman, on a stage in Quito before a crowd.
Before being freed, some of the officers were forced to carry the coffin of an indigenous activist allegedly killed during the unrest.
President Lenín Moreno was forced to move the government out of the capital.
The protesters, led by indigenous groups, are demanding the return of fuel subsidies, scrapped by the government last week. Some have called for the resignation of the president, who has declared a two-month national emergency.
On Thursday, the officers were detained at a cultural centre in Quito that has been used by thousands of indigenous protesters as their base since they arrived in the city last weekend.
Hours later in an evening address, Interior Minister María Paula Romo said they had been released along with some 30 journalists who were covering the incident and who had also been prevented from leaving the building.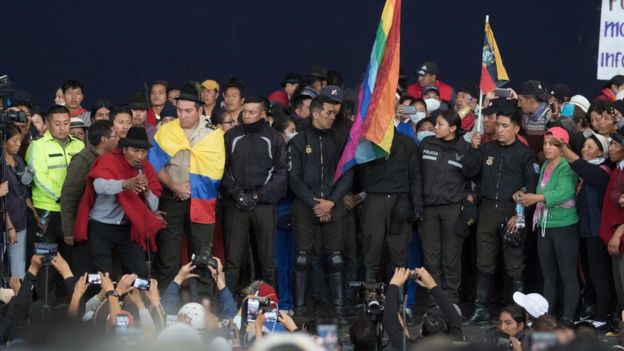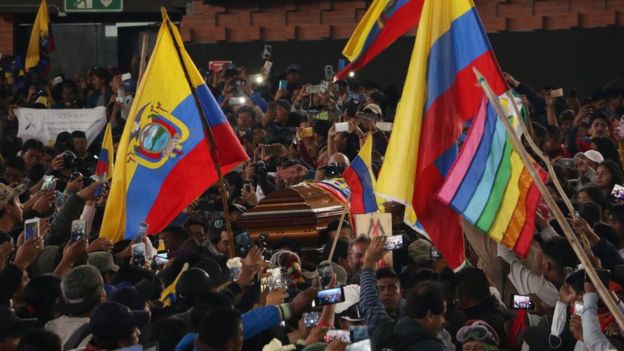 Indigenous leaders - who have complained of excessive police force - say Inocencio Tucumbí, whose coffin was taken to the centre, died after being hit by a tear gas canister fired by the police at a protest on Wednesday.
But Ms Romo said Tucumbí died from a fall, without giving further details. Three other people have died as a result of the unrest so far, she said, adding that some 650 people have been detained by police.
President Moreno has said he will not quit and, without offering evidence, has accused his predecessor Rafael Correa and Venezuelan President Nicolás Maduro of plotting to oust him.
The United Nations said it was ready to mediate after receiving a request from the government.

Uncompromising rhetoric
By Will Grant, BBC Latin America correspondent
The police officers held by the protesters were forced on to a stage and made to remove their helmets, bullet-proof vests and boots.
The officers look visibly worried as they were paraded in front of an angry crowd in which many were incensed at several days of a heavy-handed police response to the demonstrations.
President Moreno has been pushing for further talks with the indigenous leaders but the rhetoric coming from the groups that took the police officers is uncompromising.
With some pushing for nothing less than the president's resignation, it seems there will be more protests to come over the weekend: "We're going to radicalise with more force," an indigenous leader, Jaime Vargas, told the crowd.

What's the background?
Protests began after the government announced an end to fuel subsidies as part of public spending cuts agreed with the International Monetary Fund (IMF) in return for a loan. The deal reached in March will allow Ecuador to borrow $4.2bn (£3.4bn).
Mr Moreno has said the fuel subsidies, introduced in the 1970s with an annual cost of $1.3bn, were no longer affordable. Eliminating them is part of his plan to shore up Ecuador's flagging economy and ease its debt burden.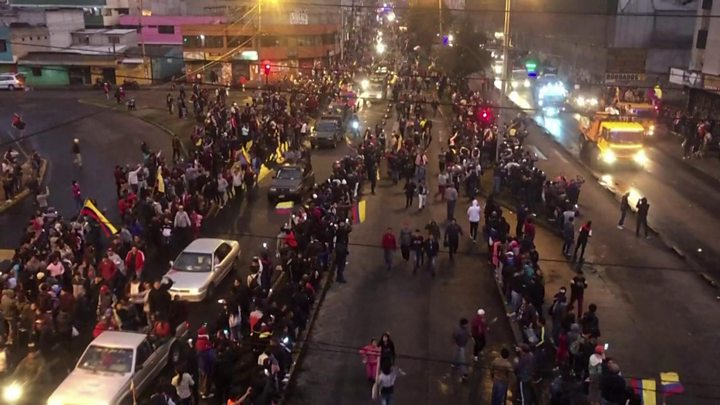 Petrol prices soared and thousands took to the streets. In recent days, they set up barricades, stormed buildings and clashed with security forces, who have tried to disperse the crowds with tear gas.
Protesters have also entered some oil fields, impacting production of the Andean nation, a member of the Organization of the Petroleum Exporting Countries.
Indigenous-led protests toppled three presidents in the past few decades. Since the current unrest began, protesters have taken dozens of officers hostage in various locations throughout the country .
Brazil worker who protected indigenous tribes killed in Amazon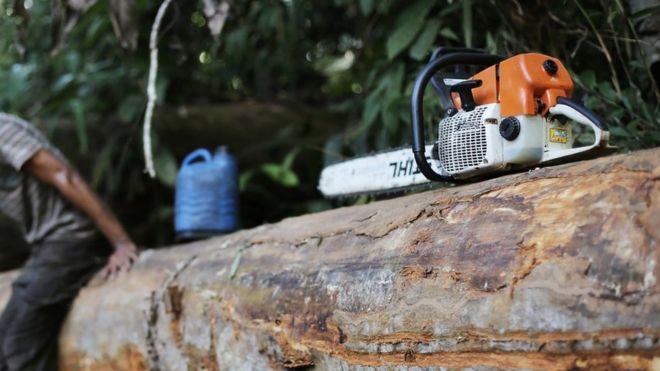 Police in Brazil are investigating the murder of an official who had worked to protect indigenous people from farmers and loggers attempting to seize land.
Maxciel Pereira dos Santos was reportedly shot twice in the head in the city of Tabatinga, near Brazil's borders with Colombia and Peru.
Union officials said Mr Santos was shot in front of members of his family.
The killing comes amid international outrage over the rate of destruction of the Amazon rainforest in Brazil.
At least 80,000 fires were recorded there between January and August this year - more than double the number in the same period last year.
Brazil's populist President Jair Bolsonaro has drawn intense domestic and international criticism for failing to protect the region.
He has often stated support for farmers and loggers working in the region, while criticising environmental campaigners and slashing the budget of the country's environmental agency.
Murder on a busy street
The union which represents staff at Brazil's indigenous protection agency, Funai, said Mr Santos had been shot twice in the head as he drove his motorcycle down a busy street.
INA officials said he was killed in retaliation for his work at the Vale do Javari reserve, where for years he helped prevent hunters, farmers and loggers illegally entering the area.
The reserve is said to be home to the world's highest concentration of uncontacted indigenous tribes.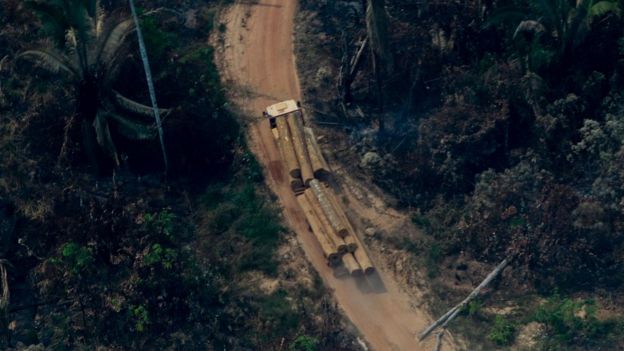 Mr Santos served more than 12 years at Funai, including five as chief of environment services at the Vale do Javari reservation, INA said.
The union called on the Brazilian government to demonstrate Brazil "no longer condones violence against those who engage, under the rule of law, in the protection and promotion of indigenous rights".
Brazil's land and environmental activists have long been a target for the mining and logging industry. According to the environmental watchdog Global Witness, Brazil was the deadliest country in 2017, with a record 57 such activists killed, of 201 deaths worldwide.
Brazil was eclipsed last year by the Philippines, where 30 activists were killed, of 164 worldwide, Global Witness said.
Hundreds of government environment workers in Brazil last month signed an open letter warning that their work had been hampered by President Bolsonaro.
Since Mr Bolsonaro took office on 1 January, the government body charged with protecting the rainforest has seen its budget cut by 25%, while funding for the prevention of forest fires has been cut by 23%, according to data collected by the Reuters news agency.
In the same period, the number of fines issued to environmental criminals fell 29% and the collective value of the fines fell 43%, according to the Reuters data.
At a summit in Colombia on Friday, seven South American countries agreed measures to protect the Amazon river basin.
Colombia indigenous leader killed in Cauca province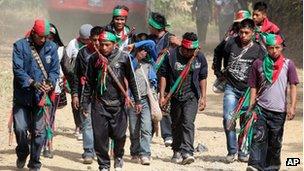 An indigenous spiritual leader has been killed in south-western Colombia amid mounting tension between his tribe and left-wing rebels.
Lisandro Tenorio, a traditional healer of the Nasa tribe, was shot dead by unidentified gunmen on Sunday.
Members of his tribe said he had received death threats from Colombia's largest rebel group, the Farc.
The Nasa have demanded that the rebels and the Colombian security forces leave their land.
They say they have had enough of being caught in the middle of confrontations between the two sides.
Mr Tenorio's wife described how two men came to their cabin on Sunday. One shook Mr Tenorio's hand, while the other shot him in the head three times, she said.
Mr Tenorio had been the spiritual leader for the Nasa indigenous community of Lopez Adentro, in Cauca province, for more than 30 years.
Cauca province is a stronghold of the left-wing Farc guerrilla group. It is used by the rebels and criminal groups as a key corridor for drug smuggling.
The Nasa of Lopez Adentro say Mr Tenorio and his son had repeatedly been threatened by Farc rebels.
Rising tension
Last month, the Nasa demanded that all armed men leave their land, be they rebels, paramilitaries, police or army.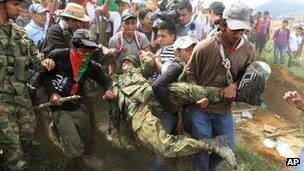 They dragged a group of soldiers from the army post they were guarding and also sent a delegation to nearby Farc camps to tell them they had two weeks to take their fight elsewhere.
The tribe also put three of its members who had joined the rebels on trial. The three were sentenced to a public whipping according to traditional Nasa law.
Tensions between the tribe and the rebels have since been running high, and the Nasa have reported repeated incursions of armed men into their territory.
About 15,000 members of the Nasa and other indigenous groups from the region are currently gathered in La Maria, in Cauca province, for a tribal meeting.
On Sunday, indigenous leaders met a government delegation to discuss the tribes' demands for a military pull-out.
The indigenous groups walked out after they were told their demand to negotiate directly with President Juan Manuel Santos would not be met.
Interior Minister Federico Renjifo said the government remained willing to talk to the indigenous groups, but that tangible progress would have to be made before the president would consider holding a meeting with them.
Brazil's indigenous people: Miners kill one in invasion of protected reserve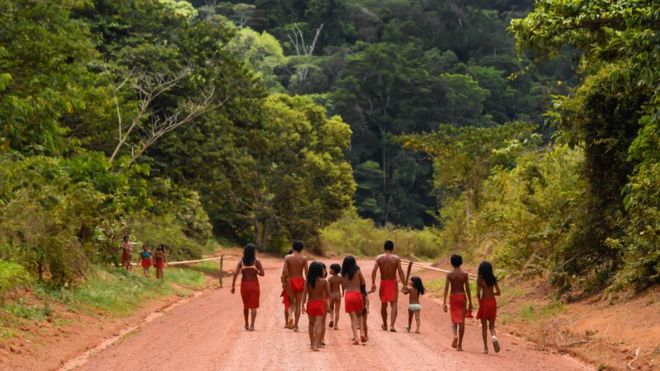 Heavily armed gold miners have invaded a remote indigenous reserve in northern Brazil and stabbed to death one of its leaders, officials say.
Residents of the village in Amapá state fled in fear and there were concerns violent clashes could erupt if they tried to reclaim the gold-rich land.
Police have arrived in the area.
Tensions in the Amazon region are on the rise as far-right President Jair Bolsonaro, who is against the reserves, vows to open some of them to mining.
Mr Bolsonaro says the indigenous territories are too big given the number of people living there, and critics accuse him of encouraging illegal mining and invasions of reserves.
The group of 10 to 15 heavily armed miners overran the village Yvytotõ of the Wajãpi community and "tensions were high", according to Brazil's indigenous rights agency, Funai.
The residents fled to the Mariry village, some 40 minutes away by foot, and have been warned not to try to come into any contact with the invaders.
Based on accounts from the Wajãpi, Funai said the miners had killed 68-year-old Emyra Wajãpi, whose body was found with stab marks in a river near Mariry on Wednesday. It said, though, it had not been to the crime scene because of the difficulty of access.
Despite the rising tensions, killings of indigenous leaders in Brazil are rare.
The incident appears to confirm the worst fears for the fate of Brazil's protected indigenous territories, the BBC's Julia Carneiro in Rio reports.
Federal police and an elite force arrived in the area on Sunday, and both the federal police and the federal prosecutors' office said they will investigate the events, reported by a local leader on Saturday.
"This is the first violent invasion in 30 years since the demarcation of the indigenous reserves in Amapá," Senator Rodolfe Rodrigues told local newspaper Diário do Amapá (in Portuguese), warning of a "blood bath".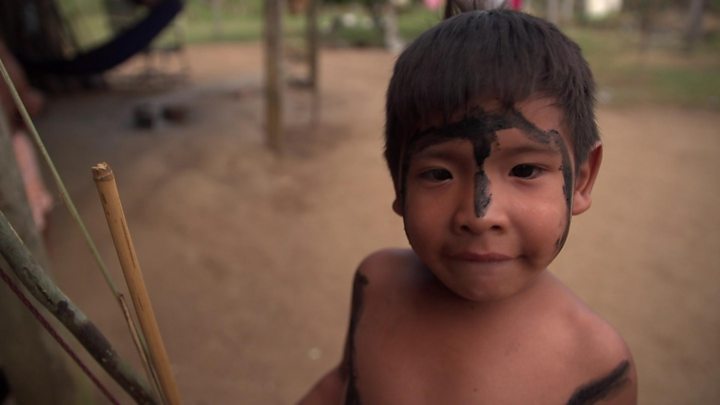 The 1,200 members of the Wajãpi community live in dozens of villages in a 600,000-hectare reserve in Amapá, next to French Guiana.
Speaking earlier on Saturday, Mr Bolsonaro said some of the indigenous territories were on "very rich [mineral] land" and that he was "looking for the 'first world' to explore these areas in partnership and add value," according to O Globo newspaper (in Portuguese).
"That's the reason for my decision to get closer to the US. That's why I want a person of trust in the embassy in the US," said Mr Bolsonaro, who wants to appoint his own congressman son, Eduardo, as ambassador.
He has not commented on the events in Amapá.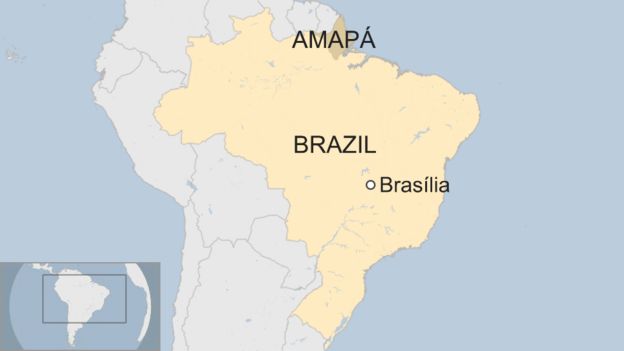 Mr Bolsonaro, who took office in January, has promised to integrate indigenous people into the rest of the population and questioned the existence of their protected territories, which are rights guaranteed in the country's Constitution.
The president has also criticised the environmental protection agency, Ibama, and accused the national space institute, Inpe, of lying about the scale of deforestation in the Amazon.
Activists say the relaxation of the protections could lead to greater deforestation of the Amazon rainforest and threaten the existence of indigenous people.