Australian newspapers black out front pages to fight back against secrecy laws
United campaign by media companies highlights government moves to penalise whistleblowing and criminalise journalism
By Calla Wahlquist - @callapilla -
The front page of every newspaper in Australia was blacked out on Monday as part of a campaign against moves by successive federal governments to penalise whistleblowing and, in some cases, criminalise journalism.
The campaign, by the Australia's Right to Know Coalition, follows raids on the ABC's Sydney headquarters and the home of a News Corp journalist in June, the legality of which is being challenged in the high court.
It also comes as Witness K and his lawyer, Bernard Collaery, are facing jail time for revealing that the Australian Secret Intelligence Service bugged the office Timor-Leste officials during a multimillion dollar resource negotiation in 2004, and while Australian Tax Office whistleblower Richard Boyle is facing a maximum 161 years in prison for revealing that the ATO was abusing its powers.
Guardian Australia has joined the campaign. It has called for the right to challenge government applications for warrants against journalists, exemptions for journalists to laws that would see them jailed for doing their job, legislated protections for public sector whistleblowers, and reforms to both freedom of information and defamation laws. It also calls for a new regime to limit which documents can be stamped as secret.
The Australian parliament has passed more than 60 laws relating to secrecy and spying in the past 20 years. It is currently reviewing whistleblower laws. Twenty-two have been passed in the past two years.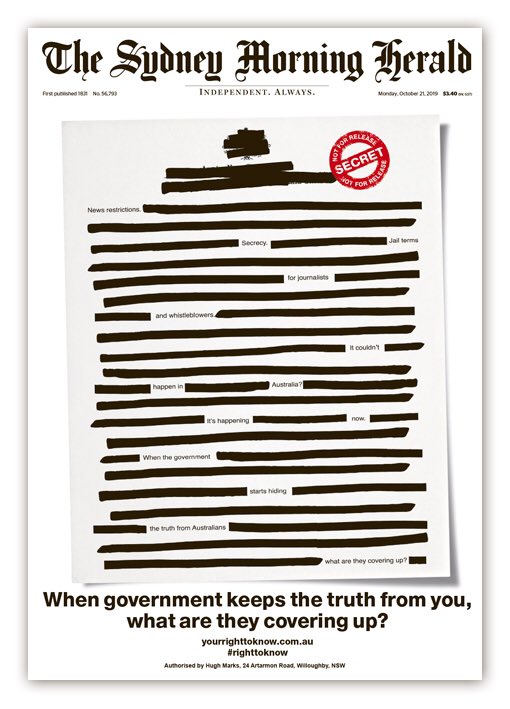 "The truth is, those in power don't want the public to know what they're up to and are shutting down transparency and accountability to serve their own interests," the Greens senator Sarah Hanson-Young said.
A survey conducted by the Australian Right to Know coalition in October found that while 87% of respondents said it was important that Australia be a free, open and transparent democracy, only 37% felt that currently described Australia.
Eighty-eight per cent of respondents agreed that people who call out wrongdoing are critical to keeping the government accountable and should be protected, and 80% said whistleblowers should not be treated like criminals even if they broke the law to tell the truth.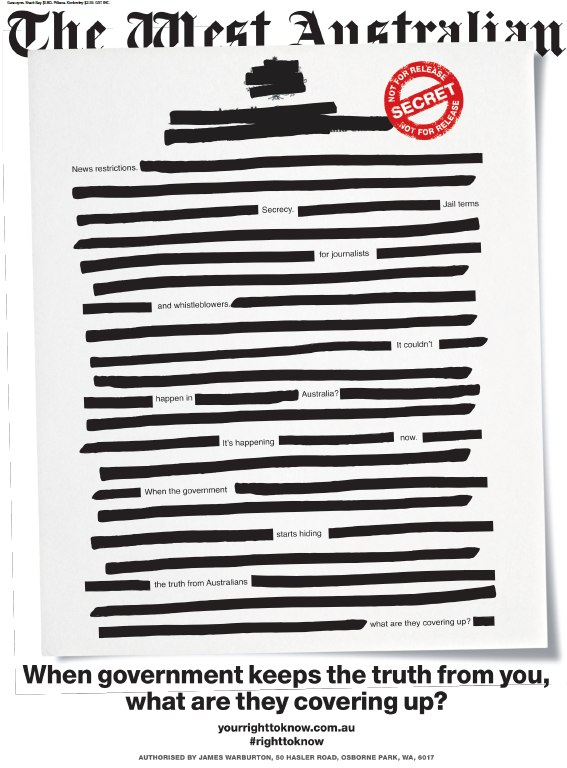 A further 76% said journalists should be protected from prosecution and imprisonment when they report on information the public has a right to know about, and only 35% said the government was keeping them as informed as possible about that kind of information.
A majority of people said they had the right to know if the federal government was considering new powers to allow an intelligence agency to collect information on Australian citizens, an issue for which News Corp journalist Annika Smethurst's home was raided by the Australian federal police in June.
Respondents also said they had a right to know about reports of abuse in aged care homes, and about foreign companies selling private land.
The federal department of health last year refused requests about aged care complaints to a Four Corners investigation.
A request by the Age to the Foreign Investment Review Board for information about a $415m sale of forestry land to a Canadian superannuation fund was also refused, leading to a two-year battle before the information commissioner and the final release of freedom of information documents so heavily redacted that the story could not be published.
Respondents to the survey also said the government was less transparent on a majority of key issues – including political campaign funding, climate change and immigration – than it was a decade ago.
Australia does not require real-time disclosure of political donations. An investigation by Guardian Australia found that the Tasmanian Liberal party received a $500,000 donation from the gambling lobby before the 2018 election, in which Labor was campaigning on an anti-gambling platform, but the source of the donation was not disclosed until 11 months after the polls closed. The Liberal party won the election.
Even the most innocuous requests for a copy of the menu of the members' dining room in Parliament House have been refused. Journalist William Summers was eventually granted the menus on the condition that he never published them.
===
ABC head David Anderson said, "Australia is in danger of becoming the world's most mysterious democracy."
The action is mainly related to recent police action against journalists:
On June 4, police searched the news-corp journalist Annika Smethurst's home in Canberra for hours. She had published information from several papers classified as "secret" - a plan by the authorities that would have made it easier for Australian citizens to intercept.
A day later, it hit the headquarters of the public broadcaster ABC. The raid was a report from the station in 2017, which accused Australian elite units of committing war crimes in Afghanistan. The official search warrant listed the names of several ABC journalists who contributed to the report. Confidential information had been leaked to them.
On the road to a fascistoid Australia
The Turnbull government recently introduced legislation into parliament designed to lower the threshold for calling out the Australian Defence Force (ADF) to assist state police forces with public incidents.
The Defence Amendment (Call Out of the Australian Defence Force) Bill 2018 revises Part IIIAAA of the Defence Act 1903, which was inserted into the Act in the lead up to the 2000 Sydney Olympics.
Currently, the military can only be called upon by state and territory authorities when they've exhausted all other options. The new bill would allow for a call out request to be actioned, when it's decided that ADF personnel can "enhance" the ability of state police in dealing with an incident.
The new legislation also allows the PM and other authorised ministers to send in the troops when state authorities haven't requested assistance, but Commonwealth interests are at stake. And it provides ADF members with enhanced search capabilities and limited shoot-to-kill powers.
A much broader scope
Australian attorney general Christian Porter told journalists that the Lindt Café siege, along with the potential for a Paris terrorist attack-style incident being carried out in Australia, make streamlining the process of calling out "SAS or commando regiments" necessary.
However, the call out powers don't just apply to terrorism. They target "domestic violence." This is a broad term set out under section 119 of the Australian Constitution, which provides that the federal government should protect states and territories against invasion and rebellion.
Indeed, Mr Porter has stated that the ADF could be sent in to quell widespread rioting. While civil liberties advocates stress that these new powers have the potential to be used upon peaceful protests and industrial actions.
Against strikes and demonstrations
Civil Liberties Australia CEO Bill Rowlings points out that the bill allows the government to call out the ADF to protect declared infrastructure. "Given the current government's policies, troops are likely to be called out around coal-fired power stations and ports that export coal," he explained.
"The federal government can use the army to break environmental protests just like the government did in the late 1940s to break coal strikes," Mr Rowlings told Sydney Criminal Lawyers®. "And this new law makes it clear troops can again be used to break strikes."
The legislation also provides that military personnel can use lethal force during certain civilian incidents. Proposed section 51N(3) outlines that this can be done in the protection of an individual's life, to take action against an aircraft or vessel, as well as in the protection of declared infrastructure.
Military police
The Defence Call Out Bill makes "it sound like the military will only be supporting local police, yet troops under this law get powers to detain, search and question Australians," Mr Rowlings made clear. These are "powers that ought to be exercised only by police."
Under proposed paragraph 46(7)(d) of the bill, ADF members have "the power to search persons, locations or things for things that may be seized." While proposed paragraph 46(7)(f) allows them to detain people found during a search.
And several proposed new powers for ADF personnel are set out under paragraphs 46(7)(g), (h) and (i). These allow the military to provide security, question people and compel them to produce documents, as well as allowing them to operate a facility, machinery or equipment.
These powers only apply to certain actions set out in subsection 46(6), which the new legislation has expanded to include the "capture or recapture" of "a location – including a facility – or thing."
The call out provisions
Proposed sections 33 through to 35 of the legislation outline how and when the Australian governor general can send in the troops, after state or territory authorities have requested assistance in protecting either Commonwealth interests or states and territories from domestic violence.
This can be done when authorised ministers are satisfied that the ADF should be sent out to aid state authorities. There are three authorised ministers: the prime minister, the attorney general and the defence minister. And the home affairs minister will be added as an alternative minister.
Troops can be sent in to assist with a civilian incident when domestic violence is occurring or is likely to occur. And there are also contingency call out measures that allow for the ADF to be sent in to deal with anticipated civilian threats.
Blurring the powers
However, authorising ministers can send out the ADF to protect Commonwealth interests in circumstances where states haven't requested assistance. Proposed section 38 outlines this can be done when a domestic violence incident is underway or in cases where there is a perceived threat.
"Our Constitution's section 119 was created to support the states, not take over their police powers," Mr Rowlings said. Nor was it "about the Commonwealth being able to override the local state authorities, which is a new centralised power in this law."
The legislation also makes clear that state authorities remain in control during these incidents. Proposed section 40 provides that ADF personnel, who remain under military command, can only carry out tasks requested by state police. Although, this only holds "as far as reasonably practical."
"The worry is that this law blurs the lines between troops and using military assets, and policing," Mr Rowlings continued. Using the ADF "to supplement or boost local police risks escalating incidents and infecting local police forces with the enemy/combatant mindset."
An incremental erosion
"A real danger of laws like these are how they might be used by a more extreme government in five, ten or twenty years from now." Mr Rowlings warned. He added that current situations in Turkey and Hungary should serve as "cautionary examples."
The Defence Call Out Bill is currently being reviewed by the Senate Legal and Constitutional Affairs Legislation Committee, which is accepting submissions until 31 July.
The new bill comes on the back of more than 70 pieces of legislation that have been enacted at the federal level since 9/11 in the name of national security and counterterrorism, which have consistently been whittling away at citizens' civil rights.
"Before 9/11, Australians had very few, legally-enforceable rights," Mr Rowlings concluded. "Today, Australians have none except those that parliament hasn't yet turned its mind to overturning or abolishing."
Read More: